Everton finally agree fee for Schneiderlin

215 Comments [Jump to last]
Tuesday 10 January 2017
Midfielder undergoes medical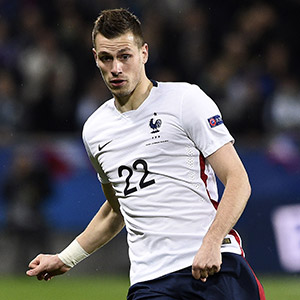 Franck Fife/AFP/Getty Images
Everton are set to unveil Morgan Schneiderlin as their new signing after reaching a deal worth an initial £22m with Manchester United for the Frenchman.
The Telegraph's John Percy broke the news earlier today that the announcement should come within 48 hours and he has been followed by almost all the major national news outlets — including the BBC and Sky Sports — in reporting that talks over the final fee were successfully concluded today.
Ronald Koeman had made the 27-year-old a top target this transfer window after it emerged that he would be available for purchase but negotiations over the final fee have held up a move that appeared to be a mere formality a few days ago.
Reports from the Manchester press that the clubs have been haggling over a £2m difference in valuation, perhaps complicated by monies due to Scheneiderlin for the remaining two years on his contract, may have been the stumbling blocks. The final amount could reach £24m with appearance-related add-ons.
Contrary to earlier reports, it does it appear as though Schneiderlin has undergone a medical — the Liverpool Echo report that he is due to have one at Finch Farm tomorrow with a view to him being included in the squad to face Manchester City on Sunday.
Schneiderlin has spent almost a decade in England having signed for Southampton from Strasbourg in 2008 before making a £24m switch to Manchester United in 2015.
He has been surplus to Jose Mourinho's requirements this season, however, and his arrival at Goodison Park would bolster Koeman's midfield while Idrissa Gueye is at the Africa Cup of Nations.
Mourinho confirmed after Man Utd's EFL Cup win over over Hull City this evening that the transfer of Schneiderlin to Goodison Park was "almost there", while he admitted that he has mixed feelings about letting him go.
"Before the match, Mr Woodward told me, 'it's almost there,'" the Portuguese told reporters. "I'm sad because I like him and because he could be an option for us during a long season.
"I'm happy because this is what he wants; he wants to play every game, he wants to be an important player in the team, so if this is what he wants, I'm happy for a very good professional."
---
Reader Comments (215)
Note: the following content is not moderated or vetted by the site owners at the time of submission. Comments are the responsibility of the poster. Disclaimer
Joe Digney
1
Posted 10/01/2017 at 19:41:23
Happy days if true but still won't hold me breath!
Trev Patterson
2
Posted 10/01/2017 at 19:46:52
I really can't believe that the two clubs were, if reported correctly, haggling over ٠M to complete the signing of Schniederlin.
Please get this one over the line and sign a commanding goalkeeper, Sigurdsson and someone to offer some real support for Rom. It's time for Walsh to prove himself.
Mark Riding
3
Posted 10/01/2017 at 19:48:04
Everton "finally agree fee"?
A full 10 days the window has been open...
Brian Williams
4
Posted 10/01/2017 at 19:48:30
Hu-fucking-rahhh!
Charlie Lloyd
5
Posted 10/01/2017 at 19:50:25
I'll be happy when I see him wearing the shirt and being unveiled.
Too much media coverage on transfers these days. That why they all seem protracted.
Ian McDowell
6
Posted 10/01/2017 at 19:53:06
Brilliant news if correct.
Conor Skelly
7
Posted 10/01/2017 at 19:57:39
Brilliant signing if true. He'll be our best player. Also represents the first bit of real evidence that we have got some money and it's not the usual smoke and mirrors.
Adam Luszniak
8
Posted 10/01/2017 at 20:00:18
Hope this is true!
Colin Gee
9
Posted 10/01/2017 at 20:03:06
"48 Hours" The dreaded words.
Like Ceefax used to be in the 90s with the words "Signing Imminent"...
Joseph Terrence
10
Posted 10/01/2017 at 20:03:48
Great news. A midfield 3 of Gana, McCarthy and Schneiderlin will bring lots of energy which is obviously what Koeman wants. Here's hoping that it'll allow Ross to be given more of a free role which I think he'd relish.
Let's hope Depay will follow
Mike Powell
11
Posted 10/01/2017 at 20:04:24
Hope its true. Get him him in and a few others, you never know we might have a good end to the season.
Kevin Rowlands
12
Posted 10/01/2017 at 20:07:04
Great signing.
As I've been reminded quite a few times on here, Mourinho didn't rate and got rid of De Bruyne; how foolish does that look now?
Hopefully Martin Schneiderlin will make him look a fool like De Bruyne has.
Now go and get Sigurdsson, Ron!
John G Davies
13
Posted 10/01/2017 at 20:08:04
Now you're talking.
Top class signing by Koeman.

Carl Milverton
14
Posted 10/01/2017 at 20:08:23
Buzzing about this great signing...
I hope more will follow. We finally got this one over the line!!!
Colin Glassar
16
Posted 10/01/2017 at 20:09:09
About time. Now let's get three more (at least) in.
Chris Gould
17
Posted 10/01/2017 at 20:10:29
Very happy with this news. I think he'll make a dynamic partnership with Gueye. Now please get in Depay. I don't care what Mourinho thinks of Depay. The boy can play and would set Goodison alight. Far better than any wide player we have. I rate him more highly than Rashford and Martial.
If we get him it will be a De Bruyne size mistake by Mourinho.
Ah, Kevin, just noticed that you've already used the De Bruyne analogy. Great minds and all that.
Tom Flower
18
Posted 10/01/2017 at 20:10:32
Next up Depay please. Schneiderlin, McCarthy and Gueye gives us one hell of an engine room. Use Barry as a sub to close games out and give Ross a bit more licence and I am sure more goals will. Just need a goalie and striker as well!
Muj Rasul
19
Posted 10/01/2017 at 20:10:42
Hopefully the first of 5 signings in January. Next Depay, Manolas, Van dijk and then Sigurdsson then either Berahino or Gabbiadini.
Stephen Scofield
21
Posted 10/01/2017 at 20:16:15
Is this our marquee signing? Looking forward to seeing him though. Would be great to have someone as good as him in midfield.
Mark Morrissey
22
Posted 10/01/2017 at 20:16:30
And breathe....
Trevor Lynes
23
Posted 10/01/2017 at 20:16:55
If we can get Depay and (Brahimi), I would be delighted. Surely we can get big Rom smiling again with better opportunities and less heavy marking as our only goal threat?If Bolasie fully recovers, we will have much better wide men.I can understand Koeman's refusing loan deals. We really need to jettison some baggage for good.
Graham Mockford
24
Posted 10/01/2017 at 20:17:54
Is he cup-tied?
Peter Carpenter
25
Posted 10/01/2017 at 20:19:28
No, but we are.
Aidy Dews
26
Posted 10/01/2017 at 20:20:13
Hopefully this is it now and we get the deal done before Friday! We need him in and registered before then so he's available for Man City on Sunday.
Hopefully this signing will have a knock-on effect for others and we start to see more bodies coming into the club.
Dave Ganley
27
Posted 10/01/2017 at 20:20:31
It's a great start if true. Would like to see more before the window closes but am made up with this
Dean Peamum
28
Posted 10/01/2017 at 20:20:39
A couple of points.
Firstly, this signing was mooted about 3 months ago. Why wasn't he signed on January 1st and could have played against Leicester in the cup (as one of their new signings did against us)? Who knows – we could still be in the cup now and not having our end of season party in January.
Secondly, if reports are true, we haggled with Man Utd over ٠m yet paid what could end up as 㿇m for Bolasie? I know who I rate as better value.
Eugene Kearney
29
Posted 10/01/2017 at 20:23:15
At last!
Barry will see more of the bench now.
Paul Birmingham
30
Posted 10/01/2017 at 20:23:55
Hopefully this is genuine good news for EFC. I recall he played well a couple of seasons back when we got done 3-0.
Hopefully he will soon be match ready, may be Man City is too soon. Here's for a striker and centre-back or 2, asap.
Sam Hoare
31
Posted 10/01/2017 at 20:27:34
Excellent. Think he could well be a very important part of the jigsaw for the next few years.
Any team with Gana and Schneiderlin in the middle is going to be harder work to play through. Would like to see them with Davies as a midfield 3 all able to cover the ground, get tackles in and distribute effectively.
Colin Glassar
32
Posted 10/01/2017 at 20:30:40
Dean, I've been saying the same for ages now. With our "transfer committee", and their sweet shop management style, it's a wonder we ever get any deals done.
Ian Hollingworth
33
Posted 10/01/2017 at 20:31:18
Hooray at last a quality player.
Let's hope we see him in the shirt very soon.
Gerard Carey
34
Posted 10/01/2017 at 20:31:35
Great news. Get it done and dusted.
Brian Williams
35
Posted 10/01/2017 at 20:31:54
Dean (#28).
Come on mate cheer up, look on the bright side, it's GOOD news.
Having a moan in that way is like winning the lottery and moaning that you didn't win it a few weeks ago and save a few weeks worth of buying tickets.
I hope you'll be happier when we get Rooney in should he break Charlton's record before the end of January. ;-)
Mike Green
36
Posted 10/01/2017 at 20:34:58
Peter Carpenter #25 - take a bow :D

Paul Hay
37
Posted 10/01/2017 at 20:35:20
Excellent news!
Be interesting to see how Ross will be used now that he should have more of a free role with MS joining our midfield.
Keep the faith.
Steven Sturm
38
Posted 10/01/2017 at 20:36:00
Excellent news. Who's next?
Brian Williams
39
Posted 10/01/2017 at 20:39:50
Steven. See post 35.
I've heard when he scores to break the record he's gonna roll up the front of his Man Utd shirt to reveal "Once a Blue always a Blue" ..
Joe O'Brien
40
Posted 10/01/2017 at 20:40:18
At long last.
I see their point in trying to negotiate a better price, shows other teams that we won't go in and pay the asking price first go – like the RS did when they were buying half the Southampton team. But it was obvious that Man Utd weren't going to budge so might as well just give them the money they wanted.
But looks like it's finally a done deal which is great news. He's after making our midfield very strong. Happy days.
Steve Bingham
41
Posted 10/01/2017 at 20:40:31
Hopefully the first of a few good quality signings in
John Pierce
42
Posted 10/01/2017 at 20:44:56
Way too suspicious that we loan Niasse, with his wages covered and 10secs later Schneiderlin is signed. Something fishy 🐟🐟🐟🐟🐟
Brian Williams
43
Posted 10/01/2017 at 20:47:07
John (#42).
...and there's me thinking I'd be the only one to think that!!
Mike Gaynes
44
Posted 10/01/2017 at 20:47:09
In the words of the renowned Zen philosopher Austin Powers:
YEAH, BABY!!!!!!!!
Brent Stephens
45
Posted 10/01/2017 at 20:49:37
Mike, whenever you now post I will see those big teeth of yours...
SHAGADELIC BABY!!!!
Anthony Hughes
46
Posted 10/01/2017 at 20:49:57
Good replacement for Gareth Barry, now lets get some exciting attacking talent in and maybe we'll start to see some football being played. Oh and a goalie and a monster centre half please.
Kenny Smith
47
Posted 10/01/2017 at 20:50:01
At this stage of the so-called 'project', this is the sort of player we should be looking at. He's a quality player and importantly much better than what we've got at the minute.
Now let's get rid of some of the so-called squad players, who can't get anywhere near the match day squad, plus the odd one or two who unfortunately do.
Sigurdsson plus a centre-half needed though...

Denis Richardson
48
Posted 10/01/2017 at 20:50:35
This would really be a top signing when/ if it comes true.
Gana and Schneiderlin in the middle of the park would be on a completely different level to the crap we've had there the last couple of years. (Yes Barry has done a decent job for his age but he shouldn't have been starting regularly the last couple of seasons!)
Slowly a decent first XI is taking shape.
Nathan Jones
49
Posted 10/01/2017 at 20:50:45
Happy about this, he was awesome at Southampton. Him and Gana could form a solid and expansive midfield base.
I'd like to see Depay also – I know Mourhino said no loans, but I think that will be a loan so probably not till the end of the window...
John Pierce
50
Posted 10/01/2017 at 20:53:36
Brian,
Despite my generally sunny disposition, all things Everton ALWAYS have an angle. I wish I could shrug it off, but too many past events!
I posted if this a sticking point through sheer stinginess or FFP, I'd cancel both McGeady's & Kone's contracts and offer Cleverley on a free. Radical but quick and decisive, I think that would ease the burden.
From what I understand the fees aren't as much the issue as the wages players occupy.
Hey ho we will see.
Brian Williams
51
Posted 10/01/2017 at 20:55:52
John.
We will indeed mate. Fingers crossed here!
Jack Convery
52
Posted 10/01/2017 at 20:55:58
The new stadium should be called Poundland the Home of the Blues, the way we haggle over bloody pennies. In football terms ٠m is pennies. Welcome Morgan. Can you ask Wyatt if he'd like to join too!
Graham Mockford
53
Posted 10/01/2017 at 20:57:16
John Pierce (#50),
I suspect Kone and McGeady may not agree!
Paul Ellam
54
Posted 10/01/2017 at 21:00:08
Will require the obligatory photo with said Schneiderlin and an Everton shirt before I am 100% convinced.
Bob Parrington
55
Posted 10/01/2017 at 21:00:42
Good news. Hopefully we'll keep clear of Depay.
Frank Wade
56
Posted 10/01/2017 at 21:01:12
Sign of our changing financial status. In the past, I reckon a £2M disagreement would represent a 'no deal' from our side.
Strengthens the squad. Pushes Gibson down the pecking order!!
John Pierce
57
Posted 10/01/2017 at 21:02:11
What's not to like Graham. Amicable severance, free agent which won't restrict them even after the window shuts.
We won't get anything for them. Not sure there's a down side? Should we suffer some sort of outbreak in the first team.
Ron would play himself and his bro before those two.
Both must be in the last 18 months of their contract, wouldn't even cost hat much I'd have thought?
Danny Broderick
58
Posted 10/01/2017 at 21:02:30
Good news. Now let's bring in a striker. I don't rate Depay. Another inconsistent winger is not what we need when you look at our squad.
We are desperate for someone to play off Lukaku though. We could do worse than Berahino. Wouldn't cost the earth as his contract is running down. He's young and talented, although he has gone off the boil. Could always be moved on if it doesn't work out...
Ricardo Gimpardsle
59
Posted 10/01/2017 at 21:03:36
Delighted if true!
Tony Hill
60
Posted 10/01/2017 at 21:07:13
Top player who was instrumental in Southampton's best form. Delighted.
Gavin Johnson
61
Posted 10/01/2017 at 21:09:31
Dean (#28)
I shouldn't think we'll be paying more than the initial 㿂m on Bolasie after his injury. I'd like to think that the level of signings we make in the next 12 months mean he's nothing more than a squad player on his return.
Glad this deal looks like it's going to get over the line. It's a bit more than I expected. I thought they'd settle for 㿀m + 2m in add-ons.
I also hope we sign Depay but there's no way we can pay more than around 㾻m + add-ons. The guy is quality but he's a massive gamble. He's the epitome of everything that's wrong with the game. From the bits I've seen he seems to be more focussed on wanting to emulate Floyd Mayweather's lifestyle than get serious on the field.
Please sign a striker and centre-back too.
Muj Rasul
62
Posted 10/01/2017 at 21:10:18
The hold up was over a loyalty payment between Schneiderlin and Man Utd. Nothing to do with Everton penny-pinching.
Ricardo Gimpardsle
63
Posted 10/01/2017 at 21:10:21
If Wayne scores tonight, does he become a top target?
Gary Willock
64
Posted 10/01/2017 at 21:11:04
Schneiderlin, Gana and Macca as a 3, with Ross and Del in free roles between them and Rom.
A top goalkeeper, Holgate (and galloway next year) more involved and a Striker in the Dunc mold please...
A man can dream.
Brian Williams
65
Posted 10/01/2017 at 21:14:50
Ricardo. See post 35.
Mike Gaynes
66
Posted 10/01/2017 at 21:15:03
Chris, Tom, Trevor and others advocating Depay... sorry, but I give that idea a thumb's down since Mou said he would only sell him, not loan him.
If we could work a loan deal, I'd be all for it... that kind of talent would be worth taking the chance that Koeman could straighten out his head. But with his well-known attitude issues, I say an outright buy at the quoted price of €17m would be too big a risk. Way too big.
Geoff Evans
67
Posted 10/01/2017 at 21:17:10
At last, INTENT.

Dave Older
68
Posted 10/01/2017 at 21:18:13
I am quite encouraged by this signing, we normally leave our business in Jan until the last minute so if we are getting him now then we must have a few more deals coming our way.
I would actually be just as pleased if we could get rid of some dead wood. Cleverley, Lennon, McGeady, Kone please just go. I will drive each of you to which ever clubs are stupid enough to buy you.
I can book a day off work, hire a minibus and drop you off with a farewell that won't involve any swear words. I promise. Ahhh I can dream...
Mike Gaynes
69
Posted 10/01/2017 at 21:21:42
Danny (#58), reports say Stoke is ready to pay £20M for Berahino. I like him too, but I'm not sure I'd want to pay that kind of tag for him.
Ricardo Gimpardsle
70
Posted 10/01/2017 at 21:25:20
Brian Williams 65
Sorry mate didn't see that, bloody eyesight!! Seriously would improve our team. Probably he wont score tonight though, he will score two on the weekend!!! haha :-)
Ian Jones
71
Posted 10/01/2017 at 21:26:52
Interesting one for us, and dare I say it, one for the future..should perhaps get acclimatised in the U23s first.
Then perhaps a loan spell at Wigan enabling him to get match fit and knock out Man United in the next round of the FA Cup, then recall him to finish the season playing left wing-back with a view to starting him next year as a false number 9.
I jest before anyone has a go.
Brian Williams
72
Posted 10/01/2017 at 21:27:23
I hope you're right Ricardo. He's been subbed btw so no record tonight.
Danny Broderick
73
Posted 10/01/2017 at 21:31:28
Mike (69),
The reports I am seeing are quoting £12 million.
Jay Griffiths
74
Posted 10/01/2017 at 21:35:10
Happy to get this lad. He won't win us games but he will stop us losing as many.
I think it's right we draw a line in the sand on what the value of a player is. Niasse should be a good example that we need to be professional in our negotiations and due diligence.
A good play maker who will enhance our chances of winning and a good centre half would be a good window in my opinion.
Not too sure about Depay. I'm not basing that on ability, more on his attitude within the squad and the dressing room. Chemistry plays a huge part in success. More a gut feeling I have than a fact about his attitude.
Graham Mockford
75
Posted 10/01/2017 at 21:36:38
John (#57),
What does 'amicable severance' mean?
Because, unless you pay up the residual value of their contract that is 18 months wages, they will be going nowhere.
Kevin O'Regan
76
Posted 10/01/2017 at 21:37:03
Peter Carpenter.(25).. sad but brilliant.
Paul Hewitt
77
Posted 10/01/2017 at 21:38:39
Debut goal against Man City would be nice.
Anthony Dwyer
78
Posted 10/01/2017 at 21:39:43
Let's get this deal over the line before anything goes wrong, then let's kick on an show we mean business by adding one or two more.
Just please please don't sign Fonte, he's too old and not good enough,having him and Williams brought to the club in the same 6 months would put our club back light years.
Need to move a few out too before the window closes.
Kevin Rowlands
79
Posted 10/01/2017 at 21:41:30
Nice thing about a signing like this is he is coming in with a point to prove, just like De Bryune at Man City. That's also why I like the Berahino call by some, the lad's a big talent.
He copped an attitude because he felt the West Brom Chairman screwed him around. He would be a good strike partner for my favourite player and would definitely come in with a point to prove.
It's a Yes from me.
John Critchley
80
Posted 10/01/2017 at 21:44:50
Would anyone take Sakho off the redshite? £20m, better option than Fonte in my opinion.
Steavey Buckley
81
Posted 10/01/2017 at 21:45:29
Should have bought him this time last week, as the party is nearly over for this season as Everton went out of the FA cup in a whimper.
Mike Gaynes
82
Posted 10/01/2017 at 21:51:36
Danny #73, at that price I'd take a chance.
Graham #75, I once had to pay "amicable severance". At least that's what I called it.
The divorce attorney kept insisting on calling it something else.
Mark Morrissey
83
Posted 10/01/2017 at 21:54:01
John Critch? Yes, all day long.
Karl Jones
84
Posted 10/01/2017 at 21:54:44
Good signing, but what we really need is a goalscoring midfielder.
Our midfield players are all very similar types that rarely score and Morgan Schneiderlin is another of the same variety: 14 in 238 for Southampton, 1 in 36 for Ma Utd isn't great.
I'd love us to resign Fellaini as he gives so many different options and is good defending set pieces, our Achilles heel for the last three seasons.
Christy Ring
85
Posted 10/01/2017 at 22:07:07
Hope it's concluded tomorrow, a good signing, and hopefully both he and Mccarthy are fit for Sunday. I also believe we could get Berahino for a lot less than Depay, a better option.
Chris Watts
86
Posted 10/01/2017 at 22:09:58
Let's wrap it up soon. Apologies in advance for repeating something on another thread but I still think we need our Robinho / bergkamp / cantona signing- someone that states our intent to the world and says we're back.
Greizman is oils be a great choice!! Hopefully we get 2 more absolute quality players in their mid 20s that can provide and score goals and then kick on with the defence / keeper in the summer
Keith Monaghan
87
Posted 10/01/2017 at 22:10:57
The last thing we need is players with bad attitudes – Berahino has consistently displayed this for 2 years, and from fairly good sources in South Manchester I've heard Depay's attitude stinks – so very much hope we steer well clear of these. We cannot afford to waste money like we did on Niasse, McGeady, Kone, Gibson, Lennon etc.
Also, no way is McCarthy anywhere near good enough to play in the midfield of a top (our aim) Premier League team – the evidence of the last two & a half seasons shows him to be a very mediocre player; a decent hour vs Arsenal and 45 mins against the RS do not prove otherwise.
We urgently need a strong, creative midfield player who scores a few goals – problem is I can't name one we can get. Over to you Steve Walsh!!!
Brian Hennessy
88
Posted 10/01/2017 at 22:24:35
A good signing, but I think a midfield trio of Gana, Schneiderlin and McCarthy leaves us short of creativity.
If we are to have ambition of being a top 6 club, McCarthy needs to be replaced with someone with more quality, with James only as cover for the two above.
Joe O'Brien
89
Posted 10/01/2017 at 22:47:36
Put a sneaky £15mil + McCarthy bid in for Dembele, Brian?
Celtic want McCarthy and know Dembele will be gone soon. Could be worth a shot.
Brent Stephens
90
Posted 10/01/2017 at 22:49:16
I'm no expert on Schneiderlin but, from what I've seen, although he might be more of a defensive midfielder, he can pick a pass – has the perception to see what's on and can quickly execute an incisive pass. In that respect, he's like Barry – but with younger legs (both the same age I believe).
James Doran
92
Posted 10/01/2017 at 22:55:13
At least a couple of people have said on this thread that they want to see Schneiderlin alongside Gana and McCarthy. I'd much rather see Davies alongside Schneiderlin and Gana.
Mick Davies
93
Posted 10/01/2017 at 23:02:17
Keith @ 87, Well done, you've won the January dope of the month comment award
James Doran
94
Posted 10/01/2017 at 23:06:39
For which comment Mick?
Tony Hill
95
Posted 10/01/2017 at 23:08:00
I suspect McCarthy may go, injury permitting. If so, I will be sorry because we saw what he is worth, at his best, when he went off against the RS and the game changed entirely.
Andy Crooks
97
Posted 10/01/2017 at 23:10:05
Mick, Keith has no chance. I am currently working on a piece about Walter Smith which I suspect will, in the eyes of many, trump it.
Jay Harris
98
Posted 10/01/2017 at 23:15:16
I have a feeling this lad is next:
"Everton reportedly bid £8.5 million for Ishak Belfodil"
Dont know much about him but apparently he has started knocking them in and has been watched by the top clubs.
Watch this space.
John Raftery
99
Posted 10/01/2017 at 23:17:06
Potentially we will soon have six defensive midfielders, Schneiderlin, Gana, Barry, McCarthy, Davies and if he ever gets fit, Besic. It would be surprising if one of them did not move on in the summer if not before.
Mick Davies
100
Posted 10/01/2017 at 23:19:44
James Doran @ 94,
Also, no way is McCarthy anywhere near good enough to play in the midfield of a top (our aim) Premier League team
I put McCarthy's and Schneiderlins stats on another thread, and James is a year younger, and superior to MS in almost every dept. So if McCarthy, at 㾹m isn't good enough, then it looks like 㿄m to the Man Utd benevolent fund.
Andy Meighan
101
Posted 10/01/2017 at 23:21:11
He's played 11 minutes of football all season and some on here expect him to walk into Sunday's side. Not going to happen. He needs time to bed in so let's give him time.
I'm not overwhelmed like some at this signing because we desperately need a schemer in the – dare I say it – Coutinho mould. (Big ask obviously) And a striker.
The one I would steer clear of is Depay. Looks like he's more interested in the rapper lifestyle than football and he'd view us as a massive step down The last thing we need is someone with a bad attitude. We've got enough wingers like that at the club already.
I just hope he doesn't throw silly money at ordinary players...
Dan Brierley
102
Posted 10/01/2017 at 23:22:45
A solid player, but not sure if it's a position we needed to strengthen? Barry, McCarthy, Besic, Gana, Davies and now Schneiderlin.
I thought Davies was well on the way to replacing Barry, but seems certain to lose his place now?
Creativity going forward seems to be the most obvious position we desperately need players for. Let's hope Koeman also has this covered
Kieran Kinsella
103
Posted 10/01/2017 at 23:24:52
Keith
I disagree. Gibson was worth a punt at $500k. He did a good job for a while but injuries killed him. The new contract though was a mistake.
Lennon likewise came in and did a decent job. Sadly he's lost some pace which was a big part of his game in his earlier days. He puts in a shift he's just not that effective without his blistering pace.
Kone is a smart player. Never prolific but a useful front man like Graeme Sharp, Boksic or Bent in 2004. Injuries wiped him out too.
None of these guys were obvious duds beforehand. McGeady, yes he was a big mistake and Niasse too.
Oliver Molloy
104
Posted 10/01/2017 at 23:25:34
Looks like Koeman's message to the board to get their finger out has been taken seriously. Koeman obviously knows the player well so let's hope he has got it right and will make a difference.
We must sign better players than we have already, no more taking chances on guys like McGeady, Lennon, Gibson, Niasse, Kone, and the likes...

Joe O'Brien
105
Posted 10/01/2017 at 23:26:35
John @99,
I would hardly call Davies a defensive midfielder!
Gordon Crawford
106
Posted 10/01/2017 at 23:32:13
I hope he proves to be a great signing. Now let's get four more in.
Drew Shortis
107
Posted 10/01/2017 at 23:35:49
Great addition.
If we could only manage one more I would love to see someone in the Sigurdsson attacking midfielder/playmaker mould as that is the one area we are really lacking.
Just a point to those talking about cancelling players contracts. Unless we can convince them to voluntarily agree to a mutual termination (highly unlikely), we would have to pay off the remainder of the money owed to them meaning you gain nothing other than an extra spare locker and space in the car park!
I completely agree with cutting our losses and giving some of the deadwood free transfers, but the players are not obliged to leave even if clubs come in for them. They are only likely to agree to a move if they are offered similar wages, unless they are one of the rare breed of modern footballers who will choose playing time over wages.
How many teams are going to be willing to pay full whack for McGeady or pay Gibson's wage to keep their physios busy? We may well be stuck with some of these players until their contracts expire, I'm afraid.
Drew Shortis
108
Posted 10/01/2017 at 23:40:34
Joe O'Brien (#89),
A swap deal with Celtic McCarthy + cash for Dembele would be some solid business and might just tempt the Scots. As you say, his days north of the border must be numbered now and they have apparently been looking at McCarthy.
Even better would be their old boy McGeady, Gibson, Kone and Niasse plus a big wadge of cash to sweeten the deal, but I doubt the Jocks are that daft!
Tom Bowers
109
Posted 10/01/2017 at 23:42:18
Hopefully the lad can make an impact in a team that has shown little impact over the team of last season. It seems they are stuck in the same gear match after match with no intensity level to scare even the poorest of opposition.
Some players quite honestly have been no-shows just basically collecting their wages. Some fingers rightly so can be pointed at Koeman who hasn't yet shown any glimpses of motivating the squad into a force to be reckoned with.
Now they have two new signings which we hope sooner than later will make a difference but being an Evertonian these days makes it easy to be cynical so we will just wait and not expect too much.
Drew Shortis
110
Posted 10/01/2017 at 23:44:44
One last comment (I promise).
Best sign about this deal: Almost every comment I have read from Man Utd fans on Twitter over the past few months has been about how sorry they are Morgan didn't work out there as they all seem to think he's a great player.
I can't recall one Tweet saying "good riddance", and Twitter isn't a forum where people hold back on their negativity!
Peter Roberts
111
Posted 10/01/2017 at 23:47:32
Not seen much of the lad but based on many reactions it's a good one.
I'd like a bit more guile but we can't continue playing Barry. A great product and a tremendous footballing brain but lacks the athleticism required now.
David Pearl
112
Posted 10/01/2017 at 23:49:26
Woo and hoo. Finally!!
We are not going to see Morgan, Gana and Davies/McCarthy any time soon die to injury and Africa Cup. But perhaps Koeman can stop blaming the players and concentrate more on his own performance.
I'd love to see Rooney or similar in now to play with Ross and Rom. Not sure we need a winger if we play with high full backs.
Anyway, onwards and upwards. He hasn't played much so we have to patient, again.
Rob Lloyd
113
Posted 10/01/2017 at 23:52:14
Kieran 103: Kone "a useful front man like Graeme Sharp, Boksic or Bent "

Graeme Sharp? Really?? That's how you would describe Graeme Sharp??? A useful front man????

I'll stop now I think I've used up my quota of question marks but I hope you see my point...

Albert Perkins
114
Posted 10/01/2017 at 23:58:01
Klopp decided he wanted a pressing team and stuck with it through some difficult times last season. Now he has the players he needed, has something very close to what he wants and is having success, the kind of success I want to see for the Blues. I'm hoping Koeman does the same and gets the players he wants.
Raymond Fox
115
Posted 10/01/2017 at 00:03:06
Welcome aboard to him, better with him than without.
Do I think he was a priority, no not really, its Silva, Mata type that we need more, its been obvious for at least 2 seasons.
Now I know they don't grow on trees but if we are to claw our way out of mediocrity we need to find one willing to come.
Eddie Dunn
116
Posted 10/01/2017 at 00:16:34
Good news, I have been an admirer for a few years.
However, for all of the people above predicting Barry on the bench... think again! Once Gueye gets back or Macca is ready, Tommy lad will resume bench-warming duties. Barry is the daddy as far as Big Ronnie is concerned.
It is a cracking bit of business, the player is very good, and will improve the squad.
Who's next?
David Barks
117
Posted 11/01/2017 at 00:22:45
Who is Tommy lad?
Bill Watson
118
Posted 11/01/2017 at 00:37:30
I assume Eddie means Tom Davies.
David Booth
119
Posted 11/01/2017 at 00:38:17
Is it pure fantasy to think we may also get one or more of the following:
An established, commanding keeper?
A young, dominant centre half?
A clever, creative midfielder?
A proven goal scorer to play alongside Lukaku?
Or do I need to wake up and remember who I support?
Some 㿍m spent so far, which is wonderful, but I venture to suggest that the four above remain greater priorities?
And this being Everton, how is this being financed?
Are we dipping into reserves that we should have used in Summer - instead of just spending what we earned on Stones?
Or are we going to sell the only player we have who is capable of commanding a significant fee, Lukaku (whose last goal "celebrations" have been worryingly curious to say the least)?
I fervently hope Moshiri is at last baring his teeth, because getting Niasse off the payroll and lending out the likes of Cleverley will not be sufficient.
Dan Davies
120
Posted 11/01/2017 at 00:45:05
Don't think 'finally' is needed in the headline really. Just puts a negative on something that's not negative at all.
Snap out of it we are doing good business. Get used to it.
David Barks
122
Posted 11/01/2017 at 00:49:54
Ah right, Davies is Tommy lad. Thought Tommy Gravesen was coming back for a minute there!
Anthony Dwyer
123
Posted 11/01/2017 at 00:50:44
There's players out there who we can add to Schneiderlin that can give us a chance to really kick on.
Some decent ideas already on this thread, if we can get some money in for our unused players we may really stand a chance.
McGeady (ٞ.5m), Lennon (١.5), Cleverley (٥m), McCarthy who I like, and would keep, but doesn't seem to be first choice (㾹m), Kone (ٟm), Niasse (٣m), Oviedo (٠m), would fetch in around 㿊m and I'm not sure Ronald would even notice them missing. Add to the transfer fees we would be freeing up something in the region of 𧶲,000 a week (ٟm a month).
Gibson, Jagielka, Barry and Stekelenburg could also be moved on, and although they wouldn't command fees they would free up wages in the region of 𧵬,000 - 𧶀,000 a week too.
In my humble opinion we could replace half of them players with the U23 players.
Galloway, Pennington and Holgate are easily good enough to replace Jags and Oviedo.
Deulofeu, Mirallas and Lookman should be enough to allow Lennon and McGeady to move on, we still need to buy a player to replace Bolasie though. (€17m seems to be the price utd have set for Depay who Koeman seems to like - 㾻m)
Cleverley and McCarthy don't seem to be part of Ronald's plans, Davies, Gana and Schniederlin do, plus Besic isn't far off a return.
Kone and Niasse could be replaced in the current squad by Valencia as none of them have made any impact at all this season.
Stekelenburg should be replaced with Joe Hart or someone like that, probably looking at around 㾻m to replace him with a top notch keeper.
Up to now we could pretty much free up 11 players with only needing to buy 2 (Depay and a keeper), this would make the team a stronger 11 as the 2 mentioned players would play every week unlike the 11 mentioned players who don't play.
With the above we would have only spent around 㿊m and we will have hugely reduced the wage bill.
I'd them love the club to show ambition and sign another attacking player, either a busy forward who can work the channels and chip in with 15-20 goals, or buy a top notch link up man like a Juan Mata, Sigurdsson or someone of similar stature.
If we didn't sign a striker and went for an attacking mid, we would need at least one of our young strikers to burst onto the scene, or we would have to buy a talented youngster.
The above isn't something that can be tied up in this transfer window, but it would be nice to see it start to take shape in time for a massive shake up in the summer.
The biggest issues may be the contracts we have bog standard players on. We may have to take a hit somewhere, but that's part and parcel in the world of football.
2017-18 starting 11.
Hart;
Coleman, Holgate, Funes Mori, Baines
Schneiderlin, Gana
Depay, Barkley, Sigurdsson
Lukaku
Subs; Joel, Galloway, Bolasie (fingers crossed), Davies, Lookman, Deulofeu, Calvert-Lewin,
The bench would have talented youngsters on it who are ready to push for a starting place along with Bolasie who looked our best weapon before he got injured.

James Watts
124
Posted 11/01/2017 at 00:53:11
I think 'finally' is fully deserved Dan #120. This signing (as well as others) should have been completed on Jan 1st, not Jan 11th.
Great news however, hopefully he'll do as well for us as he did at Southampton.
Keep 'em coming (and the deadwood going) ! ;)
Iain Love
125
Posted 11/01/2017 at 00:54:35
David (#119)
Joe Hart
Virgil Van Dyke
Sigurdsson
Not sure about the striker, but if we had Sigurdsson that should enable Ross to score more goals a bit like Eriksen does with Alli at Spurs.
Steve Ferns
126
Posted 11/01/2017 at 01:00:44
㿊m for all of them, I think you need to put the booze down and get some sleep!
Also, you would spend half of that on agents to tout them around, agents to buy them, and all the other leeches involved in football these days.
You guys really fail to grasp the mechanics of football transfers, you never get in half of what you read. Kenwright's smoke and mirrors, and the pressure of showing "Where' the Arteta money" was has led to the financial mess Moshiri had to clear up. We had loans on loans on loans.
I hope Moshiri's financial sense will prevent us going down this route again in the future. But stop thinking we got 㿞m for Stones, just sitting in the bank. We won't have received even 25% of that yet, and a good 25% will be spent on agents, lawyer fees, finance arrangers, and a good load of other shadowy figures.
Keith Monaghan
127
Posted 11/01/2017 at 01:00:54
Kieran @ 103;
Gibson was very frequently injured at Man Utd just like he's been with us – Mancs fans laughing their heads off when Moyes signed him.
Lennon never achieved anything with Spurs or England.
Kone was aging but looked half-decent at Wigan – perhaps we were unlucky with his knee injury?
I hope history's not repeating itself with Bolasie?
Steve Ferns
128
Posted 11/01/2017 at 01:09:29
Keith, Bolasie is a few months off 28, and the recovery time is 18 months, which means he will be back at 29. He will never recover the explosiveness he had before, and probably not the full range of movement.
Just look at the others we had who did their ACL. Arteta, Jags, and another, maybe Yakubu? Anyway, forget Jags who is a defender and doesn't need to twist and turn like an attacker, but Arteta was never the same player again. Yes he was still a very good player for Arsenal, but he was never that matador he used to be for us. Gone was the tricks, the dribbling, the speed.
Now if Bolasie loses all of that, what has he got left? He is too old to change into something else. He's too old to slowly recover. Can't see anyway back for him. Not on an 18 month recovery from an ACL, it's not that long since they wrecked careers.
Dan Egerton
129
Posted 11/01/2017 at 01:13:03
"The first bit of real evidence that we have got some money and it's not the usual smoke and mirrors."
A huge interest free loan that was used to now make our club debt free didn't do that for you?
Victor Jones
130
Posted 11/01/2017 at 01:13:25
After reading through all these comments, it's very clear that most of us want shot of Gibson, Kone, McGeady, Cleverley and Lennon. Barry is now also finished.We should not build a team around any of these players. But I also add McCarthy (his stats must be great... for passing sideways). Besic (never fit), Oviedo (Championship at best), Deulofeu (how much time does he need?). Barkley (one decent game out if every ten). Jagielka (finished), Mirallas (what is up with this guy?)
And also our once great fullbacks (their days must be numbered). Our keepers (not exactly world beaters).
We all know this, that this squad is just not good enough. Question marks also over Funes Mori, Williams and our big centre-forward.Not great reading when you break this squad down to the bare bones. Hard work ahead for all concerned.Hopefully we build a team around our youngsters... Plus Gueye and Lukaku (even with his faults)...Welcome to Everton, Mr Schneiderlin. Good luck.
Dan Egerton
131
Posted 11/01/2017 at 01:22:01
Siggurdson is happy at Swansea. Never gonna happen.
Dan Parker
132
Posted 11/01/2017 at 01:23:04
For all our bad luck on transfers/injuries, we dodged a huge bullet with Sissoko.
Anthony Dwyer
133
Posted 11/01/2017 at 01:29:04
Steve Ferns... aka The Accountant @ 126.
We all know that agents etc milk money out of the fees, were also all aware that clubs pay other clubs in instalments.
Don't you grasp that we too are a club? Therefore don't we pay other clubs in the same instalments? Or is there some special rule that applies only to Everton were as we pay full hit at once?
Also as for the 㿊m, I was setting ball part figures,can I ask what price you think we will receive for the players mentioned as I think McCarthy, Cleverly and Lennon took up a good chunk of that figure with 8 players left to add the rest.
Anyways I'm sure you understand the working ways of a football club as you have probably won the league on champ manager hundreds of times. I'm more than aware our club was in debt, I'm also well aware Moshiri is putting out fires left right and centre to fix the issues at hand.
But in my opinion Moshiri must want to run something that at least resembles a decent team or why would he be paying bug money out to make us debt free.< Anyways how do you see it, o wise one?
Can you enlighten us on your interpretation of fees for players etc.
I put something together that I feel clubs like Liverpool and Spurs have done in getting shut of the old players and the dead wood and bringing through younger players, while adding some quality players at the right age group.
If were to build on what we have then we need a few players, presuming Schneiderlin is already as good as done I only added a goalkeeper and a wide man, I didn't put Messi, Bale, Neymar and Ronaldo on a list!
Victor Jones
134
Posted 11/01/2017 at 01:29:44
Sorry, Anthony but Depay and Barkley in the same midfield? Not for me. That's as bad as shoehorning Deulofeu, Mirallas and Barkley all into the same team and that rarely works.
IMO, it's time that we started looking beyond Barkley... sorry folks.
Anthony Dwyer
135
Posted 11/01/2017 at 01:43:30
Dan (#131),
Agree that Sigurdsson is or maybe was happy at Swansea, but he must be starting to see the cracks appearing as they look like relegation fodder to me.
Also Sigurdsson was just an example, as was Mata, there must be others out there that Steve Walsh can find as its his job !!
Dan Egerton
136
Posted 11/01/2017 at 01:50:48
"A solid player, but not sure if it's a position we needed to strengthen? Barry, McCarthy, Besic, Gana, Davies and now Schneiderlin."
Barry not getting younger. McCarthy injured. Besic injured. Gana gone to play in Africa. So let's retype that quote – "A solid player in an area we need more players. We only have Barry and Davies."

Daniel Lim
137
Posted 11/01/2017 at 03:21:03
David @122
Don't mind getting Tommy G back, just to stand at the sideline staring at the opposition players. His stare was quite scary TBH...
John Daley
138
Posted 11/01/2017 at 03:21:11
When did he last get a game for Man Utd? Hopefully he's ready to go from the off and won't need easing in.
Dan Egerton
139
Posted 11/01/2017 at 04:02:09
I think Sigurdsson is a great creative player. He provides assists, averages around 7 or 8 goals a year and he'd be a solid addition since he can play CAM, STriker and AMR, AML.
I just don't think it'll happen. We've been trying to sign him since Moyse and keep failing. With Swansea near the bottom though it might. I hope it does, but just don't see it.
Dan Egerton
140
Posted 11/01/2017 at 04:06:03
Schneiderlin, Davies and Gana is going to be brilliant to watch. Schneiderlin doesn't fit with Maureen's style. Koeman obviously feels he fits in with his. It's a win-win move.

Tony Draper
141
Posted 11/01/2017 at 04:36:57
Lookman, Schneiderlin .
£33M spent .
This can never end
'Cause I want more
More, give me more
Give me more
This will never end
'Cause I want more
More, give me more
Give me More
If I had a heart I could love you
If I had a voice I would sing
After the night when I wake up
I'll see what tomorrow brings
If I had a voice, I would sing
Crushed and filled with all I found
Underneath and inside
Just to come around
More, give me more, give me more
If I had a voice, I would sing
Mike Gaynes
142
Posted 11/01/2017 at 05:37:29
Steve Ferns #128, the recovery from an ACL is now way less than 18 months, and the odds are actually pretty good that Bolasie can recover fully and get back to his best. It depends on the injury, the surgeon, the rehab, and luck. Callum Wilson at Bournemouth just made his return after six months.
Arteta may have been slowed, but ACL tears certainly didn't slow down Van Nistelrooy, Shearer, Pires and Del Piero... they all came back full speed. So have US women's star Alex Morgan and an absolutely shitload of NBA stars, who work their knees even harder than footy folk do.
So don't write off Bolasie yet.
BTW... Yakubu did an Achilles, not an ACL.
Darren Hind
143
Posted 11/01/2017 at 05:52:28
A decent player who is an improvement on what we have, but if he is top five material ? He's yet to show it.
Still, on a thread where Sharpie is described as a "useful front man" and is bracketed with the likes of Kone and Marcus Bent, I guess the excitement is giving way to reason.
I'm satisfied with both of our signing so far, but the game is about creating chances and scoring goals and we cant do enough of either.
If this window is to be a turning point, we either need to change direction and sell the Lump/Beast, getting as much as we can for him and bringing in a different "sort" OR we need to get a player in who can play alongside him. Somebody who knows how to occupy defenders.
My wish for the rest of the season, is to see opposition defenders forced to think when they face Everton . .or at least be made to put the cigars out
Mike Dolan
144
Posted 11/01/2017 at 06:00:17
Overjoyed by the news of Schneiderlin's signing. He is not going to change things overnight but he is IMHO the most significant signing Everton has made in a lot of years.

He just is total class a better player than Barry ever was even at the peak of his powers. Thanks all of the powers that be for this signing. It's a great, great signing. Forward and Onward, Blues!

Alex Jones
145
Posted 11/01/2017 at 06:48:13
Can't say I'm particularly excited by the signing of yet another defensive midfielder who doesn't score or create.
We seem to always sign these players and never attacking midfielders.
He's possibly better than Besic, Barry and McCarthy but doubt he's going to change our lethargic style of play much.
Christopher Timmins
146
Posted 11/01/2017 at 06:52:17
An improvement and let's hope there are one or two more to come before the window closes!
Douglas McClenaghan
147
Posted 11/01/2017 at 07:12:27
Dave #68, I hope for your sake that no Chinese clubs come in for any of them!
Tony Abrahams
148
Posted 11/01/2017 at 07:20:40
The more I think about this signing, the happier I feel about it, and think back to the Derby the other week, and how poor we became, when we lost McCarthy's ENERGY.
Darren, I posted something similar, on a thread last night, but it never went through for some reason. I would go with the former quite simply because every time the beast, does a couple of good runs, he then becomes a lump, for the next couple of minutes whilst he regains his breath?
I also like the look of Dembelle, but am basing it on maybe not having watched him enough just yet. Big, strong, quick, athletic, scores goals, looks like he's got a decent first touch under pressure. I would'nt mind pairing these two up, but if we can't we deffo need more ENERGY, at the top end of the pitch?
Paul Tran
149
Posted 11/01/2017 at 07:41:50
A good signing. Before we get too excited, he's a good, solid player who will help keep us where we are. A plus that he and Koeman know each other.
Now we need some quality further up the pitch, playmaker and goalscorer, please. That's what we need to progress. And be entertained.
Paul Tran
150
Posted 11/01/2017 at 07:49:06
Tony, Dembele looks like the real deal to me. He had a dip in form, which is inevitable, then he played himself back into form, which I really like.
I just think we may have missed the boat. He'll aim higher than us now. Unless Koeman uses the 'you'll definitely get a game here' argument. We'll have to pay at least what we've done for Schneiderlin. Word up here is that he won't be going till the summer.
Dave Older
151
Posted 11/01/2017 at 08:44:00
Douglas (#147), good point actually. Okay, I will buy them a one way ticket on British Airways. It may cost me a bit but I can't wait to see them go, can you?
Douglas McClenaghan
152
Posted 11/01/2017 at 08:58:58
No, they have not meaningfully contributed to the club and when you think of their wages...
Craig Walker
153
Posted 11/01/2017 at 09:38:57
I think Schneiderlin will be a good signing for us. I'd like to see us get more goals in the team though. We can't just rely on Lukaku.
I hate playing Football Manager but there are rumours today that Allardyce wants rid of Benteke. Is he not worth pursuing? Berahino might be a cheaper alternative but I don't like his attitude.
John Keating
154
Posted 11/01/2017 at 09:50:28
Dembele is doing okay at Celtic but for sure but as an out-and-out goalscorer Griffiths is better.
Then for cheapness there's young Cummings at Hibs.
David Pearl
155
Posted 11/01/2017 at 10:09:10
Craig, isn't Benteke another expert penalty taker too? He has a couple good games then goes missing for 6. Better in the air than Rom but not much else.
It's hard as fans and spectators to find good shouts. Everyone is talking about Dembele but he is maybe looking better than he really is. If it was up to ToffeeWeb recruitment services we'd have McManaman and Eagles playing for us. We got Walsh in to do a job, let's hope he does it.
Mike Berry
156
Posted 11/01/2017 at 10:17:25
Schneiderlin will be the boss in midfield, no doubts, with Gana and add Besic, who when fit could be just the type of player that Ronald wants with that energy, and we have our new "dogs of war".
Watch their space...
Adam McManus
158
Posted 11/01/2017 at 10:41:45
I'll believe it when I see him holding that Everton shirt, but it looks like a done deal. That's two positive signings.
Perhaps Koeman can stop being stroppy and get his players doing their job now. A couple of more signings on the cards and he can stop sulking.
Paul Thompson
159
Posted 11/01/2017 at 10:58:29
The first six posts on a recent thread were all doom and gloom, summarised by the claim 'This window like all the others is going to be a pile of shite'. Well that 'shite' now includes a top midflieder (£22m), a highly promising youngster (£11m) and getting Niasse off our hands (potential £10m) – and all by the first 10 days or so of the window.
The club has done well so far and there is plenty of time to bring other players in. Any sign of words being eaten? Thought not.
Kunal Desai
160
Posted 11/01/2017 at 11:16:23
I think we should now go for Benteke. Him and Lukaku upfront could be a brutal force.
Tony Hill
161
Posted 11/01/2017 at 11:34:15
Well, let's not get carried away. The next 20 days are also very important.
Gordon Roberts
162
Posted 11/01/2017 at 11:45:33
Looking forward to seeing how the team operates with Schneiderlin and Gana in tandem. Hoping to see the addition of a centre back with pace and strength and another striker. Keep the faith.
Thomas Surgenor
163
Posted 11/01/2017 at 12:01:39
Prepared to give him a chance but not sure he is going to set the world alight. Thought we could have done better but in fairness he is probably the best available on our budget.
Redcafe don't seem to bothered to have lost him.
Lets hope he finds his Southampton form.
Gary Edwards
164
Posted 11/01/2017 at 12:16:30
If true as reported then what excites me most is that someone other than the Flowerpot Men must be managing our transfer business .. i.e. transfer concluded in a decent time frame in what is otherwise a 'slow' t/f window and for a reasonable price.
If this is the case ... oh happy days, we call all knock ourselves out and play fantasy football.
I would love to see the following:
In: Bergovic, Manolas, Kessie and Teodorczyk (assuming Lukaku stays). Harry Charsley and Liam Walsh as options to play the '10' role, Kenny and Robinson as wing backs to replace Coleman and Baines ..
Sell (where possible) in the next 2 windows: Robles, Coleman, Jagielka, Baines, Geri, Lennon, Barry, McGeady, McCarthy, Kone, Gibson and anyone else who doesn't play regularly
Kevin Day
165
Posted 11/01/2017 at 12:18:48
Sky now reporting he's having his medical at Finch Farm.
Hopefully we'll see him in Royal Blue colours sometime tomorrow.
Alan McGuffog
166
Posted 11/01/2017 at 12:32:17
Great signing. Just waiting to hear from the club what sort of knock he is carrying and that he should be match-fit by May...
Tony J Williams
167
Posted 11/01/2017 at 12:36:26
Should have been done 10 days ago.
Months and months we have been linked with him,should have signed him on the 1st and he could have played in 2 games to get match fit.
We are still cheap arses even with money, haggling over £2m for a player who wants to cone to us and we wanted.
God I hate myself for typing that...only £2m, football as we know it is dead.
Should piss the medical, as he has been getting his own personal trainer after Man U training so will be fitter than about 99% of our players already.
Hopefully we don't see a Leroy Fer type medical where we are informed that his knee is about to explode how many years now and counting? 3+?
Kevin Tully
168
Posted 11/01/2017 at 12:49:54
Some interesting stats from F365:
No player in the Premier League that season made more tackles and interceptions per 90 minutes than Schneiderlin. Even in 2015-16, he ranked third for tackles at Manchester United despite ranking seventh for minutes played. In his final three years at Southampton, no Premier League player made more tackles.
This season, Everton are the joint-highest tacklers in the Premier League following Koeman's arrival, but the Dutchman has struggled to mirror his Southampton system with Everton's personnel. Idrissa Gueye is enjoying Koeman's 4-2-3-1, but the the workload is finally proving too much for an ageing Gareth Barry. In 2014-15, Schneiderlin tackled every 22.76 minutes and intercepted every 34.68. Barry's averages this season are 29.34 and 59.96 minutes respectively, but he is slowing down. Schneiderlin's arrival would give added protection for the defence, and allow Seamus Coleman and Leighton Baines to attack without leaving their side vulnerable to the counter-attack.
Schneiderlin is not just a firefighter. Of all the central midfielders to complete 1,000 or more passes in 2014-15, only three had a higher pass success than his 89.3%. That statistic indicates both an eye for the artistic and a willingness to play the water carrier role, taking the ball from a central defender or full-back and passing it simply into the feet of an attacking midfielder. Ross Barkley may be an indirect beneficiary of Schneiderlin's arrival.
Ben Howard
169
Posted 11/01/2017 at 12:54:20
Good player. Acceptable price. Next.
Tim Wardrop
170
Posted 11/01/2017 at 12:57:32
Can't get excited about this. Yes, he's a good player, but is he a game changer? One that's much better than what we have already (Gueye, McCarthy...even Davies and Besic)?
Basically, is Morgan Schneiderlin going to make the difference between us winning games we might previously draw, or drawing games we might previously lose? No, I don't think so.
However, he is a very good player, so I can't moan too much! Onwards and upwards!!
And, please, please, please - NO to Memphis Depay! How exactly is he an upgrade on Deulofeu or Mirallas? That's right, he isn't.
Graham Mockford
171
Posted 11/01/2017 at 13:00:16
Gary Edwards (#164),
Sell Baines and Coleman and replace them with two kids who we have no idea will make it at Premier League level.
One of the most ridiculous suggestions I have ever heard on here and there's a lot of competition.
Ray Roche
172
Posted 11/01/2017 at 13:20:39
Kevin#168
Thanks, Kevin, very interesting stats. Should make a big improvement to our team.
John G Davies
173
Posted 11/01/2017 at 13:27:26
Tim (#170)
To answer your question:
Yes, he is much better than McCarthy, Besic and Davies.

Scott Hall
174
Posted 11/01/2017 at 13:40:11
We still desperately need a quality number 10. I'd go for Bojan at Stoke who is out of favour but has real class. He certainly ripped us apart last season.
Depay is another one of those players like Balotelli and Adebayor, who is just there for the cash, cars and instagram. He'd be shite for us.
Tom Bowers
175
Posted 11/01/2017 at 13:40:44
What Everton do need is a more intense positive attitude from the opening whistle. It just seems in many games they come out cold and lacking confidence which results in a feel good aura for the opposition.
Sure we can expect new arrivals to make a difference but so far it hasn't happened so will it now? Koeman is the man we look at for all this and pretty soon he has to face the music.
David Barks
176
Posted 11/01/2017 at 13:41:12
If his passing is more than side to side, then good. That's one part of the game Gana has struggled with. So if he's more in the Carrick role it's a positive. But if his biggest attribute is a ton of tackles, that's duplicating Gana. Hopefully he improves our midfield and can connect with the forward players.
Eddie Dunn
177
Posted 11/01/2017 at 13:55:11
Kevin, some of the stats are revealing, but if you have ever listened to "More or Less" on Radio 4, you would be amazed at how misleading stats can also be.
For instance, your conclusion that... "Of all the central midfielders to complete 1,000 or more passes in 2014-15, only three had a higher pass success than his 89.3%. That statistic indicates both an eye for the artistic and a willingness to play the water-carrier role, taking the ball from a central defender or full-back and passing it simply into the feet of an attacking midfielder," Is a good example.
We see only a number of passes and like us under Martinez, there can have been an awful lot of 3 yard passes between him and any teammate . Much like Ross Barkley has done with Barry or Coleman. To you, to me, to you, to me etc.
Carrick is a player who can pick a pass. It is the occasional brilliant pass that is most important, and if it is not a direct assist, it gets lost by the statistic.
As you say, wouldn't it be great if Schneiderlin brings more out of Barkley?

David Booth
178
Posted 11/01/2017 at 14:08:03
Pleased we've signed him and he sounds like a class act, but two concerns:
Firstly, alongside Gana, that means we will be playing at least six defenders in our first eleven. Seven if McCarthy also comes back into favour - although I hope he's being moved out before the window ends, especially if part of a swap deal.
Secondly, we seem to have a fetish for this type of player right now. Injuries and African Cup notwithstanding, we already have Barry, Besic, Davies, Gibson, McCarthy and Cleverley.
We're also looking similarly oversubscribed on the wide player front too with Deulofeu, Lennon, Lookman, Mirallas and Bolasie. So I wonder about the validity of pursuing another, allegedly, in Depay?
Unless there are going to be wholesale departures and arrivals - and this is Everton, remember - we seem to overloading in non-priority areas and neglecting those where we are desperate for new recruits, namely: goalkeeper, centre half, creative midfield and second striker?
Jim Burns
179
Posted 11/01/2017 at 14:08:26
And so it begins... The first pale light of dawn?
Kevin Tully
180
Posted 11/01/2017 at 14:11:26
I Agree, Eddie, on the pass completion stat's. They can be extremely misleading, especially for a central defender who has 100% pass completion (to his goalie or right back) but tackles & interceptions are just that and cannot be disputed, especially over three seasons which is a rather large sample size!
Hopefully two tough tackling defensive midfielders will give Ross more of a licence to play his natural game going forward. Now there's a lad who couldn't tackle a full breakfast.
Soren Moyer
181
Posted 11/01/2017 at 14:11:38
Now, go get Berahino!
Brent Stephens
182
Posted 11/01/2017 at 14:19:24
Tony #167 "We are still cheap arses even with money, haggling over £2m for a player who wants to cone to us and we wanted".
Tony, I think if you get that message, then so do other clubs. Which should mean they can't assume they can screw us just because they think we'll pay whatever anybody asks.
Job done - Schneiderlin signed and the message reinforced that we're no pushovers on transfer fees (except in the past where we've paid over the odds!).
Tony Draper
183
Posted 11/01/2017 at 14:46:37
Kevin @168.
Very nice information. Many thanks.
Chris Williams
184
Posted 11/01/2017 at 14:46:49
I see there's a report saying our bid for Belfodil has been accepted. Increased to €12m and accepted by Standard Liege.
Tony Draper
185
Posted 11/01/2017 at 14:51:28
Tim @170.
Completely agree.
Soren @181.
I bloody well hope not !
He'll be asking for a move to a "bigger club" during his medical !
Gary Edwards
186
Posted 11/01/2017 at 15:02:43
Graham Mockford .. have you seen Kenny and Robinson play?
Replacing Baines & Coleman with 2 lads from the ressies may seem a bit dramatic but I'm in the camp that believes that the first team squad needs a major overhaul inc. the clear out of some of the established 'names' and IMO we've seen the best of Baines and Coleman therefore why not sell whilst their stock has some value and use the money to improve the squad.
Between Kenny, Robinson, Jones, Connolly, Browning, Galloway, Lees I believe that we have sufficient talent at the club to cover the FB/WB positions IF we sort of the spine if the team right, particularly a top goalie (hence Bergovic) ... and a top CB e.g. Manolas.
Dismissing Kenny & Co as youngsters implies that they're not physically ready for the fray. Not true, most of those named above are impressive physical specimens, furthermore they play with great pace, put crunching tackles in... they're proper defenders.
John Daley
187
Posted 11/01/2017 at 15:14:41
To be fair David @178, (although I agree the team is crying out for a commanding goalkeeper and someone who can contribute on the goalscoring front) given the formation Koeman likes to play, we're not as well stocked with viable options in those positions as the numbers would seem to suggest.
Of the defensive minded midfielders you list, Barry is seemingly on his last legs, Besic, Gibson and McCarthy have been beset by injury, Davies is raw and inexperienced and Cleverley (whilst a trier) doesn't seem to contribute much. Personally, I don't see the need for two defensive midfielders every game, but Koeman seems set on sticking with it and, as such, you can see why it would make sense to him to bring in a player he knows well and who he believes he can count on to play in tandem with Gueye going forward.
It's a similar story with the wide players. Koeman doesn't seem to trust Deulofeu. Lennon's form plummeted once his loan deal was made permanent and he hasn't really looked effective since. Mirallas is as inconsistent as they come. Bolasie's misfortune has seen him removed from the equation for the time being. Lookman is likely considered one for the future, rather than one to be thrown straight in.
So, whilst not the positions I would be prioritising, I can see why Koeman might consider he needs other options there.
Bill Griffiths
188
Posted 11/01/2017 at 15:18:57
Graham/Gary, I have seen Robinson twice, once pre-season 2015-16 for U21s vs Wrexham and this season's U23 cup game vs Blackpool – both games being against tough seasoned professionals.
Got to say in both games he was as good as any player on the pitch and looks a terrific prospect. While I personally think it's too soon to get shut of Baines, I wouldn't t mind seeing Robinson given a few outings from the bench.
Eddie Dunn
189
Posted 11/01/2017 at 16:12:40
Kevin, there is some hope for Barkley – I remember Paul Scholes wasn't the best tackler in the world!
Graham Mockford
190
Posted 11/01/2017 at 16:14:25
Gary 186
I have in fact seen the one appearance that Kenny made and I thought the lad looked to have a bit about him.
You cannot possibly know how a youngster will fare until they are actually tested at the highest level.
So whilst I agree with your assessment that the squad needs overhauling I disagree that either Baines or Coleman need to be part of that currently.
And even if I felt they did to suggest they be replaced in the first team by two kids with a combined 45 mins of Premier League experience is lunacy.
Ciarán McGlone
191
Posted 11/01/2017 at 16:35:15
Great signing.
If ever Barkley is going to improve it'll be playing along side this guy and Gana.
David Booth
192
Posted 11/01/2017 at 16:38:49
Whoah: Grauniad just reporting that we've also agreed a 㾶.4m fee for Standard Liege forward, Ishak Belfodil.
Are we witnessing the long-awaited dawn of a new Everton here, or will Lukaku be on his way on 31 January?
Tony Abrahams
193
Posted 11/01/2017 at 16:41:14
Paul Tran, I agree about Dembelle not being available till the summer, and would actually think a lot less about him as a person if he left Celtic now.
It wouldn't surprise me to see Jagielka go to Sunderland and Fonte come to Everton; I feel it's possibly the only way people would accept another ageing defender coming into the club.
James Hughes
194
Posted 11/01/2017 at 17:29:19
I can't see Dembele making the transition from SPL to EPL. Yes, he plays for a decent club but, week-in & week-out, he does not face quality opposition.
John Pierce
195
Posted 11/01/2017 at 17:40:41
I think Gana & Schneiderlin will be more progressive than we think.
Everton will play much higher up the field as a result and both better offensive players than people credit them with.
Interested to see if they are part of a 3/4/5 man midfield.
I think they can hold down the middle of the park as a two. Long time since Everton could play with 4 in midfield and nit get over run.
Tony Abrahams
196
Posted 11/01/2017 at 18:29:31
Only one game but I'm sure Dembelle got a hat-trick against one of the finest teams in Europe this season. Barca might not be the best defensive team around but he was only playing for Celtic!
James Marshall
197
Posted 11/01/2017 at 18:51:34
I don't understand why people think we're 'overloading' in midfield or on the wings – almost every player in midfield or wide in our current first eleven (whichever first 11 you want to choose) has been mostly shite, occasionally good, but always inconsistent. That's why the manager is buying midfielders and wingers.
You can't rely on any one of our current players, aside from Gana to be consistently worth his place.
Point being, we need a new (and settled) first 11. It's not rocket science – we/you all moan week in, week out about it, then we sign players and people question the validity of the signings because we already have players in those positions – it doesn't make any sense to complain about it!
Ian Brandes
198
Posted 11/01/2017 at 23:39:32
We are sadly lacking in goals from midfield, and, while I like this signing, will he do much to remedy this?
As for the window in general, I would applaud the rumoured signing of a decent striker, but only if the books were not to be balanced by the departure of someone better.
I feel sad to be worried about the latter, but this is Everton after all,
Peter Thistle
199
Posted 12/01/2017 at 09:17:56
He plays a bit like Besic. When he wins the ball back his instincts are to press forward and pass it.
I wouldn't call him a creative midfielder (that we crave) but think he would be a massive improvement over McCarthy, Gibson, Cleverley, Barry, and possibly Gana Gueye. He also has skills and reads the game quickly, decent signing apart from the price.
Geoff Evans
200
Posted 12/01/2017 at 11:23:14
Top signing, may even bring out the what some on here see in Mr Potential.
At least someone at this club is prepared to bag the manager's judgement.

Mark Boulle
201
Posted 12/01/2017 at 14:44:26
I wonder where he is...? The usual curious delay which might be over the medical, might be over something like image rights, might be over personal terms...just announce the signing already!
Drew O'Neall
202
Posted 12/01/2017 at 14:59:46
Ahem Lyndon!
USM Finch Farm, please.
Drew O'Neall
203
Posted 12/01/2017 at 15:02:02
Peter (#199),
Add to that very right footed indeed and a decent exponent of the long pass.
I'm not sure he will benefit Ross Barkley necessarily but he may benefit Rom and our wingers.
Denis Richardson
204
Posted 12/01/2017 at 15:10:41
Any chance Schneiderlin can play this weekend?
If the medical and contract are sorted today, player registration submitted soon thereafter, can he be in the squad for the weekend?
Don't know if there is a lead time or anything between registration and being eligible. He'll help to fill the massive gap left by Gana and ensure Barry doesn't need to start.
Brian Williams
205
Posted 12/01/2017 at 15:52:38
Denis. If he has his medical today etc then he could play at the weekend no problem.
Daniel Taylor
206
Posted 12/01/2017 at 16:07:27
That is a big IF, Brian. WTF takes us so long every fucking time? It's really doing my head in now!
Brent Stephens
208
Posted 12/01/2017 at 16:46:22
Patience, Daniel! Due process and all that.
Brian, I wonder if he's had enough game time for the weekend? Maybe as a sub appearance when we're 3 up?
Denis Richardson
209
Posted 12/01/2017 at 16:48:05
Cheers Brian - current players available for city on Sunday doesn't fill me with a lot of hope!
Chris Williams
210
Posted 12/01/2017 at 16:53:24
He had his medical yesterday
Brian Williams
211
Posted 12/01/2017 at 16:55:23
Lads, be calm. By the time Sunday's game comes around we'll have signed another three!!!
We're being linked with some unknown Argentinian seemingly. Missi, Massi, something like that.
Shane Corcoran
212
Posted 12/01/2017 at 17:00:55
Done.
Stan Ashbourne
213
Posted 12/01/2017 at 17:02:52
Just on Sky Sports News... deal done.
Shane Corcoran
214
Posted 12/01/2017 at 17:06:38
They've unusually released the price too.
Brent Stephens
215
Posted 12/01/2017 at 17:08:34
Shane I can't get into EFC website. What was the fee?
Shane Corcoran
216
Posted 12/01/2017 at 17:09:44
Brent, 㿀m with potential to rise to 㿄m.
Brent Stephens
217
Posted 12/01/2017 at 17:12:56
Thanks, Shane. Do you have a picture of his wife?
Shane Corcoran
218
Posted 12/01/2017 at 17:16:40
On my ceiling, Brent.
Brent Stephens
219
Posted 12/01/2017 at 17:19:29
Alongside Bill's, Shane?
Shane Corcoran
220
Posted 12/01/2017 at 17:21:23
Ha, it was too hard to choose between them.
Brian Williams
221
Posted 12/01/2017 at 17:24:04
Just read Schneiderlin's first words as an Everton player. Now I know they're expected to say this and that and come out with all sorts of shite but what he said was the sort of thing I expect to hear from major signings.
Excellent start in my book!
Welcome to Everton, Morgan.
Denis Richardson
222
Posted 12/01/2017 at 18:29:09
He said he was "hungry as ever and ready to eat football again".
Can't think of anything better a player can say on joining a new club. Welcome and thank fook!
Gana and Schneiderlin in the middle – that is some serious quality, energy and bite in there now. FINALLY!
Barry, Besic, Cleverley, Gibson – thanks for the memories. Goodbye.
---
Add Your Comments
In order to post a comment, you need to be logged in as a registered user of the site.
Or Sign up as a ToffeeWeb Member — it's free, takes just a few minutes and will allow you to post your comments on articles and Talking Points submissions across the site.