Besic raring to go as he nears fitness goal

76 Comments [Jump to last]
Friday 27 January 2017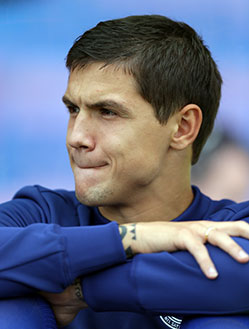 Muhamed Besic is trying to remain patient as he nears the end of his rehabilitation from a torn anterior cruciate knee ligament that has sidelined him for the entire season so far.
The Bosnia-Herzegovina international suffered the injury during pre-season and had been pencilled in for a mid-February return, a target he remains more or less on schedule to meet now that he is back on the training field at Finch Farm.
Besic is still training away from the first team has he builds his strength and conditioning and he admits that he is straining at the leash to complete his recovery and get on the field for Everton.
"I'm now at five-and-a-half months after my operation," Besic told evertonfc.com, but [this injury] always takes between six and eight months.
"I had three or four months just in the gym. The first month I was just on a bed waiting to progress. Now I want to progress even more, to train with the team. I'm looking forward to it.
"I had three injuries before. Believe me, it doesn't matter. It could happen three times more, I will always keep fighting because I'm like that. I'm looking forward. I want to train every day and make my leg stronger so nothing like this can happen again."
Besic's instinct to keep fighting and pushing are qualities that have endeared him to many Everton fans but he acknowledges that he is being held in check by the club's medical staff so that he doesn't rush his recuperation.
"The medical staff have been really good," he praises. "I am always pushing and pushing but they know better than me. They have been holding me back all the time and that's good because they want me to have a safe recovery.
"The last step is training with the first-team and maybe some matches with the Under-23s, just to make sure my knee is strong. After that I can start to play, hopefully."
Read the full interview at evertonfc.com
---
Reader Comments (76)
Note: the following content is not moderated or vetted by the site owners at the time of submission. Comments are the responsibility of the poster. Disclaimer
Mike Gaynes
1
Posted 27/01/2017 at 20:26:40
Best wishes to the lad for a complete recovery... and great success at his next club. Wherever it is.
Oliver Molloy
2
Posted 27/01/2017 at 20:27:15
Big big heart and wears it on his sleeve.
Get well soon and come fighting strong!

Bobby Mallon
3
Posted 27/01/2017 at 20:27:56
This boy is a fabulous role model to any aspiring footballer out there. If you want to be a top footballer then this is the attitude that you will need throughout your career. I love this lad Everton through and through.
Bobby Mallon
4
Posted 27/01/2017 at 20:30:08
Mike @1 we need a bloody strong squad and you want to get rid of one of our best midfielders who can play center half?I'm so glad you are not in charge.
Oliver Molloy
5
Posted 27/01/2017 at 20:31:00
Mike, you are being a little premature in my opinion.
Andrew W James
6
Posted 27/01/2017 at 20:33:35
Really hope he comes back fitter and stronger. Many have been quick to write him off but IMO he is a big talent that we have yet to see fruition of.
Yes, he will face stiff competition from Gana, Davies, etc but we need competition and depth as Barry is gradually going to be playing less and Macca maybe heading off for more game time.
Remember how he bullied Toure last season? If he can get fit, we really will have a seriously strong spine to the team with strong cover from the bench.
Julian Exshaw
7
Posted 27/01/2017 at 20:39:47
At least as good as McCarthy in my opinion but we need to see him over a longer period. Looked very useful when he was in the team this time last season. It all depends on whether Koeman likes him. I hope he does.
John Malone
8
Posted 27/01/2017 at 20:43:13
Mike (#1) – what a shithouse of a comment about a lad who's given his all every time he's worn the royal blue shirt!
I think Besic will suit Koeman's high-energy, high-pressing style down to the ground – he is fearless and never stops! He also has a fair bit of quality which could improve under Koeman!
I'm looking forward to seeing him back!

Nathan Ford
9
Posted 27/01/2017 at 20:46:23
Don't know why but I love this boy. He seems desperate to succeed and if he can stay fit, I think he could be a major player for the club. Combative, good touch, eye for a pass and versatile – what more could you want? I hope he stays fit and comes back 100%.
With all I've said, I wouldn't mind him going out on loan to get a few months of competitive football to come back next season fit and ready. Keep McCarthy till summer and then look to sell him on with hopefully a fully fit Besic to come back in.
Mike Gaynes
10
Posted 27/01/2017 at 20:51:21
Not a shithouse of a comment on the lad at all, John. I love his attitude and sincerely wish him the best.
He simply has no future at the club. As I've pointed out many times before, Koeman had a real good look at him before his injury and immediately began pursuing defensive mids in all directions. Gueye, Witsel, Sissoko and more... all BEFORE Besic was hurt on August 3.
He is now SIXTH choice at his position behind Gueye, Schneiderlin, Davies, Macca and Barry. And being an absolute zero contributor offensively -- he's scored exactly one goal in his entire professional career and doesn't even have an assist for us in 35 appearances -- I see no possibility of him leapfrogging any of the players ahead of him to regain his place.
I think his Everton career was over when Koeman arrived, and certainly after the injury. He will be moved on and I wish him nothing but success.
Terence Tyler
11
Posted 27/01/2017 at 21:10:08
Mike Gaynes is right, he will never get a game with our current crop of midfielders. Martinez not one for admitting his own mistakes, took him off at half-time against Arsenal as he was totally out of his depth.
Great heart though; good luck to him in future, wherever that might be.
Ciarán McGlone
12
Posted 27/01/2017 at 21:29:08
There's a very good footballer in Besic.
Ray Smith
13
Posted 27/01/2017 at 21:31:59
Mike (#10),
Besic was injured in a pre-season game.
How could Koeman have had a good look at him?
James Morgan
14
Posted 27/01/2017 at 21:34:38
I liked Besic when he got a run of games and looked decent but he will struggle to oust Schneiderlin, Davies and Gueye. Barry's time is up at the end of the season in my opinion and I reckon McCarthy might be moved on so it would be useful to keep him around if fit.
John Keating
15
Posted 27/01/2017 at 21:38:15
Sadly, I agree with Mike. I think Besic will be well down the pecking order when fit.
I just hope he also does not become the new Gibson.
Ian Guignet
16
Posted 27/01/2017 at 21:39:17
A fit Besic is better than any of the players Koeman was looking at. He will play again as he's got something most of the others haven't. Passion and aggression.
Graham Mockford
17
Posted 27/01/2017 at 21:40:03
Personally I've not seen enough to convince me he's a player who could play in a side wanting to break into the Champions League.
Watching tonight, I'd be breaking the bank for Will Hughes. 21 years of age with already 100+ Championship games. He has a bit of Reidy about him.
Mike Gaynes
18
Posted 27/01/2017 at 21:41:56
Ray (#13), Koeman managed against him several times (Mo started for us against Southampton last spring) and saw him in practice and in five preseason games, including the full 90 against Betis.
Apparently that was enough. A manager who rates Besic doesn't lay out £30M for Sissoko.
Mark Hughes
19
Posted 27/01/2017 at 21:43:43
Besic, if free from injury for an extended period, would get in our side.
James Lauwervine
20
Posted 27/01/2017 at 21:43:50
I feel for Besic as his injuries must have really fucked him off. I really want him to do well and he's only 24 and could still come good.
If he can get to the point where is is fit enough to compete for a place in the first team, after proving himself first in our excellent U23s team, then hopefully Koeman will give him a chance.
He'd be like a new signing if he got back in the first team squad and I love that aggressive bastard streak in him.
Denis Richardson
21
Posted 27/01/2017 at 21:48:43
I have to agree with Mike too. Tbh, when RM signed him the main reasons I was happy was that he was young, cheap, with a bit of potential. However, let's not forget this is his 3rd season with us now and he hasn't pulled up any trees (when fit).
Many people go on about his attitude but ffs trying 100% is the least I'd expect of any professional sportsman, let alone those getting paid thousands a week. The fact that others sometimes don't seem to doesn't mean we need to put those that do on a pedestal. He seems a good kid and I really hope he proves me wrong but all I've really seen is a lot of huff and puff and then back to the treatment table.
At 24, he's not exactly 'one for the future' anymore so he either starts making a positive contribution on the pitch soon or it's probably worth moving him on in the summer or next season. With Gana, Schneiderlin, Barkley and Davies, he has some competition as it is. I'm predicting McCarthy won't be with us much longer.
This is also another example of where the club hands out contract extensions like confetti. He signed a 5-year deal in summer 2014 then got a two year extension in Feb 2016, when he still had over three years left on his original contract. If he doesn't make the grade he can sit and pick up his wages till 2021! Wtf makes these decisions?
Trouble is with Sky, the club doesn't need to do anything other than avoid relegation to earn hundreds of millions. Another example of the Dutch disease. Easy come easy go.
Robin Cannon
22
Posted 27/01/2017 at 21:51:02
Doesn't he also potentially provide cover at central defence. Something that's more feasible if we move more permanently to three at the back.
Tony Hill
23
Posted 27/01/2017 at 21:52:05
I think he's a good player, he dominated in a serious game against Man City last season and no-one who is mediocre does that. He also played well for a good few games under Martinez when he was a crowd favourite.
His problem is that he is horribly injury-prone. He will not be match fit until the start of next season at best and then who knows? Not 25 till September though. He hasn't had a long enough run of games for us to know how good he might be.
Last chance with us, at best.
Paul Smith
24
Posted 27/01/2017 at 21:53:47
Tough, leaves it all on the field but lacks any real quality. He'll be gone in the summer.
Roger Helm
25
Posted 27/01/2017 at 21:57:54
He may be cover for central defence like other midfielders who have converted to that position. He doesn't seem to have the quality to play in our midfield, irrespective of his heart.
Denis, the Sky bonanza may not last too much longer – their subscriptions have dropped about twenty percent since every teenager discovered how to stream live football for free.
Mike Gaynes
26
Posted 27/01/2017 at 22:01:03
Tony (#23), he dominated defensively in that game, massive job on Toure, but he simply cannot contribute in attack. According to the official Premier League stats, in 35 games with us he has zero goals, zero assists, only five shots on target and exactly two chances created. Our keepers create more than that.
https://www.premierleague.com/players/10451/Muhamed-Besic/stats
Robin (#22), agree he has potential as a centre-back, but in Spain or France, not in the Premier League, where tall is needed. At 180 cm he's even shorter than Jags.
Graham Mockford
27
Posted 27/01/2017 at 22:05:25
Mike #26
Doing a job on Toure is not as tough as it once was. The guy has been stealing a living for 18 months. I watched him overtaken by the referee last week.
Jamie Crowley
28
Posted 27/01/2017 at 22:06:00
Mike, I'm not too sure about your stance. I actually think he's a hard, hard player and one Koeman would really like.
Time will tell. I do hope we see him with the Club for years to come. I truly enjoy his intensity and physicality, and believe he can be an asset to the team.
On his day, he's a beast. He'd slap his Mama to win a ball.

Andy Meighan
29
Posted 27/01/2017 at 22:07:04
In all the time he's been here, he's stood out once. Man City at home in the semi-final last season... he was outstanding that night. But for me, I can't recall any other game where he's stood out.
Sorry to disapoint but I'm afraid he looks like he's got no future here and I for one don't care. We've got well better than him.
Kieran Kinsella
30
Posted 27/01/2017 at 22:08:43
Koeman didn't seem too keen on Davies until his hand was forced and now he seems to love him so things can change. I don't see Besic featuring much this season as (a) he's not yet fit, and (b) we have only 16 games left. But if he hangs on through the summer, he may get a chance to play in the cups and or Europe – if we qualify.
Mike Gaynes
31
Posted 27/01/2017 at 22:12:40
Graham, right you are, but some of those refs can be pacey!
Thanks for the chuckle.
Alan Bodell
33
Posted 27/01/2017 at 22:14:19
I really rate Besic from what little i've seen of him which has mainly been for Bosnia where hardly put a foot wrong against some top sides with a real engine box to box but of course he hasn't had a chance for us with his appalling injuries but it'll be great to see him back adding to the quality now we have in midfield.

Tony Hill
34
Posted 27/01/2017 at 22:17:33
Mike (#36), I recall him winning the penalty against West Ham last year which, if Rom had converted it, would have won us the game. He was excellent in that match coming on as a sub I think. As I say, he hasn't had a consistent, injury-free run.
Steve Ferns
35
Posted 27/01/2017 at 22:18:00
Besic has attributes no doubt. But he's essentially a defensive midfielder, and it's important that he doesn't pick up too many cards and that he holds his position.
He runs about the pitch kicking everyone he can, and is a complete liability. But worst of all, he cannot maintain the discipline to hold his position. I remember tearing my hair out when he charged the length of the pitch to close down a centre back, and everyone was going mad with support and shouting "that's how it's done Rom". 5 seconds later, the opposition, I forget which, were through on goal having exploited Besic being out of position.
The lad plays football like he's 10. He has no idea of tactics or shape, and he never will.
Good luck on your comeback, but find a club in the Championship, that's your level.
Denis Richardson
36
Posted 27/01/2017 at 22:21:04
Roger (#25), that makes it even more important that the club don't hand out long term contracts to players until they've at least proven their value.
7 years for Besic and the same for Gibson is just madness whichever (none dodgy) way you look at it. I apologise if I drone on a bit but I cannot think of any logical reason why these contracts were handed out.
The extension for Howard was another one that springs to mind. One that would have kept him at the club until the age of 39, ffs. At the time he was already 34 and had a contract running to when he was 36 or 37. Why did he get an extension?
Has to be something dodgy going on, no normal business would act this way and given all the articles and books about back handers, bungs etc in football, I'm 100% convinced cash is consistently being siphoned off to god knows where. However, as long as the Sky goose keeps laying those golden eggs, no one in football is going to rock the boat and lose out. A multi billion pound industry that has zero regulation or oversight.
No surprise Kenwright is still in the thick of things.
Mike Berry
37
Posted 27/01/2017 at 22:27:02
I still think the jury is out because Ronald is in charge now.
If Mo can stay fit he could be just down Ronald's street as he likes players who are 90-minute men and can press. Mo has this in his locker so it will be interesting to see how this develops.
Paul Conway
38
Posted 27/01/2017 at 22:30:20
I agree with Mike @ 1,
He was bought by Martinez off the back of a good game in the World Cup, where according to Martinez, he twated Messi. Apart from a great game against Chelsea, he was labouring in the midfield. He never commanded his post on a regular basis.
IMO, he doesn't look anywhere near a top six player, including injuries aside. Good luck to him if he has anything else to offer, but he has had far more bad games than good (including being a substitute and being substituted). I don't see much changing.
You have to ask yourself, if he was playing for another club and was available for transfer, would Koeman be interested? Even at –6 million!!

Chris Gould
39
Posted 27/01/2017 at 22:45:54
Mike Gaynes, I'm not convinced Koeman was looking at midfield targets in the summer to specifically replace Besic. I'm pretty sure McCarthy was headed for the exit door until Sissoko messed us around on the last day of the window. Koeman was looking to add quality, but that doesn't mean he was looking to move Besic on.
I agree it will be difficult for Besic to get in the team, but if we make it into the Europa League next season then it will be worth keeping him.
Lewis Barclay
40
Posted 27/01/2017 at 22:49:19
Robles
Coleman Holgate Williams Baines
Besic Davies Gueye
Barkley Mirallas
Lukaku

Anthony Dwyer
41
Posted 27/01/2017 at 23:04:36
Besic was signed for a modest fee, his wages won't be anything too heavy, his attitude is second to none, and he's shown glimpses of real ability, this is a lad who deserves the remainder of this season and all of next.
I'm rooting for Mo as I feel he's a real trooper, a genuinely honest professional who has a great desire to make it at Everton.
Chris Corn
42
Posted 27/01/2017 at 23:15:17
Lewis (#40), so you've written Schneiderlin off already?!
John Hughes
43
Posted 27/01/2017 at 23:24:31
I like the lad a lot, fantastic attitude but bottom line is that Steve Ferns (#35) is absolutely spot on in his analysis.
Andy Crooks
44
Posted 27/01/2017 at 23:28:01
Graham (#27), that comment made me laugh. However, do any Evertonians recall a referee, late sixties / early seventies, called Maurce Fussey?
He was like fucking lightning. He booked a player and took no no dissent. Reason being he had sprinted 50 yards away in 3 seconds. He was, over 20 yards, faster than George Best.
Dan Davies
46
Posted 28/01/2017 at 00:13:29
And there's me thinking Barry and McCarthy would go before Besic, shows how much I know about football.
Nick Armitage
47
Posted 27/01/2017 at 00:15:43
Inconsistent and unreliable, on the pitch he swings from the sublime to the ridiculous often in a single game. Even if he gets fit, he'll never displace the players who are ahead of him. Time for Mo to move on.
Jack Convery
48
Posted 28/01/2017 at 00:23:13
I believe Besic will prove to be a very good midfielder for us given a run of games and luck with injuries. He has a great positive mental attitude that a lot of our squad have lacked over the past two seasons.
Whenever he gets the chance to play fully fit, he will give his all for the blue shirt and not without a lot of skill too. I for one hope he makes it at EFC and spends the next several seasons with us.
Mick Davies
49
Posted 28/01/2017 at 00:38:35
Dan @ 46, Barry and McCarthy have contributed exponentially compared to Besic.
In my opinion, Koeman wouldn't have bought Schneiderlin after the Cup KO if he knew Besic was back a month later, and fancied him to push ahead of the others he already had. I also think he's not disciplined or tall enough to play as a centre-back
Danny Broderick
50
Posted 28/01/2017 at 00:45:37
He's a good squad man.
James Flynn
51
Posted 28/01/2017 at 01:41:38
He was injury-prone from his arrival. And every injury was him just running around, then collapsing. Not one injury from a collision. Now, he's coming back from a ruptured ACL.
Does anyone expect him to be the same athlete; which is what he brought to the table; his athleticism. Injury prone to begin with, now coming back from a major knee injury. How will that affect the tremendous pace and acceleration that got him noticed in the first place?
If that's gone, there's nothing to talk about. He's the size of Baines and Pienaar without anything remotely close to their technical skill.
Don't know if he'll EVER play for Everton again, but think Mike Gaynes has it right in general. The clock is ticking on when he departs Everton. Just the matter of the date.
Like at Everton, he'd be a fan favorite over here in MLS. Everyone loves a terrier. And his technical deficiencies wouldn't be as glaring.

Mike Green
52
Posted 28/01/2017 at 07:22:49
Welcome back Mo, stick it up them.
Mike Mulhall
53
Posted 28/01/2017 at 07:41:55
Some say he beat Johnny Heitinga in an arm wrestle!
David Price
54
Posted 28/01/2017 at 09:30:36
Love this guy!!! His attitude is first class and, whether he has a future at the club or not, I'm sure the first team will benefit from his enthusiasm and love for the club.
I for one hope he has a future as unlike Deulofeu, who seems to think we owe him a living, this man seems to give a shit!
Ian Herbert
55
Posted 28/01/2017 at 09:47:06
Actually Mike (#10), Koeman said exactly the opposite of what you are suggesting. If you read the pre-season comments, Koeman actually said Besic is exactly the type of player he likes, as the lad can play in at least 2 positions.
I firmly belieive Besic will play again for Everton and will, eventually,become one of the regulars.We all know Besic gives 100% when he is fit and this is something Koeman particularly likes.
As for him being 6th choice now, I would seriously question that comment. I would have him in the side in front of Barry now and I also feel he is a better player than McCarthy.
At this moment in time, I would suggest he is number 4 in the midfield rankings,with plenty of time to prove he can earn a regular spot
Ian Jones
56
Posted 28/01/2017 at 09:47:35
Re Besic as a centre back. You don't necessarily need to be tall to be a successful central defender. I give you Fabio Cannavaro, Mascherano and Puyol, all smaller than Mo.
They didn't too badly but probably played in the centre of a 3 man defensive unit with 2 tall guys!
I expect being able to jump, have a desire to win the ball and get in the midst of things like Tim Cahill helps now he would of made a great defender!
Eddie Dunn
57
Posted 28/01/2017 at 10:14:54
I remember him in a preseason game against Paderborn. Besic looked to have good awareness, and he was passing well, looking to break forward. I think he was encouraged, like McCarthy, too hold back and cover the defence.
I hope that Koeman gives him a chance and that he can overcome these injuries. It is as if his eagerness to do well somehow makes his body too tense, resulting in pulls, strains etc.
He has a great attitude, and I hope he gets past his problems.
Matt Williams
58
Posted 28/01/2017 at 10:48:44
I too think Mo's days are numbered with us. If he does stay, however, he could teach the prodigal son Baxter a thing or two about attitude and how to conduct yourself.
Mark Fraser
59
Posted 28/01/2017 at 10:48:47
Love the lad's attitude but I don't see him being happy as a squad player who gets the odd cup game and acts purely as cover.
A certain 18-year-old who plays a very similar game has already shown this season that you can get around the pitch, bite a few ankles and still be a goal threat... So I'm pretty sure that a less-disciplined goal-shy player is not going to get ahead of him in the pecking order.
I'd love Mo to stay but unless he can prove that hes not a crock and rein in that reckless streak I just don't see it happening unless both McCarthy and Barry are not available.
Geoff Williams
60
Posted 28/01/2017 at 11:08:46
I would play in a back three with Holgate and Fumes Mori once he's fit.
Bobby Thomas
61
Posted 28/01/2017 at 11:12:14
I do think he has a bit about him despite having scoffed at his pencil thin, phoney "hardman" routine. A lot of lads have a bit of that about them when they are young though. All bluff and bluster.
To be fair he also seems like he is strong mentally and could handle big occasions, unlike many of our mentally weak squad of the last decade. Long and short of it is I think he may be a bit immobile for Koeman, as was showed by the right back cameo Martinez put him through. Plus I agree with those who say he is a wild, yellow card waiting to happen.
However, you cant improve if you aren't playing. Besic has had the early part of his career wiped out by injury. I hope we stick by him and give him the chance to come back, get fit and, vitally for him this time, stay fit. Because he needs to this time, even if he gets a few niggles when he first returns. If Koeman doesn't rate him that's okay, get him out on loan. I'm sure all he wants to do is play some football now, he must be desperate.
If he can stay fit he will have a decent career, more than likely away from us. We are also probably the best club he will play for, by a street. He's decent though.
Teddy Bertin
62
Posted 28/01/2017 at 11:34:09
I disagree, Mike, I can see him staying as a squad player. For me he can pick a pass much better than McCarthy but he's also sometimes a rash risk taker in his passing and tackling, which will ultimately stop him being 1st choice in a Premier League team.
He could certainly come on in midfield to shut down a game and also sit in a back three to provide some extra energy and quality of passing.
If he can live with not being a regular starter, then I think he'll stay.
Andrew Ellams
64
Posted 28/01/2017 at 11:44:03
Unfortunately his latest injury has pushed him too far down the pecking order. If Barry hadn't extended into next season then maybe, but we need to dispose of some of those defensively minded midfielders to make room for some proper competition for Barkley.
Frank Crewe
65
Posted 28/01/2017 at 12:35:51
We have a tendency to root for players who we think have missed their chance due to injury. Besic is one of those players.
We cannot keep every player. We currently have a preponderance of defensive midfielders Besic, Barry, McCarthy, Gueye, Schneiderlin, Davies, Gibson. Having this many is simply a drain on the clubs wage bill and it stifles the development of the youth players. Would Davies be getting game time if Gibson and Besic were fit to play?
Now without doubt Barry will be retiring within the next year but that still leaves six players.
Unless something totally unexpected happens Gueye, Schneiderlin, and Davies are going to be the first choice for the foreseeable future.
That leaves McCarthy, Besic, and Gibson. Now McCarthy is a saleable asset and will in all probability leave the club in this window or the next.
So we are left with Besic and Gibson. Whether we like them or not, they have become injury prone players. I think we will have difficulty moving them on but I doubt they will see much first team action assuming they ever get fit enough to be picked. More than likely they will simply see out the remainder of their contracts and leave on a free.
Andy King
66
Posted 28/01/2017 at 13:43:59
The Man City game last season always springs to mind when I think of Besic. Not because he bossed a half arsed Toure but because he bossed the whole midfield. He respected none of them and therefore feared none of them.
This is something I feel has been missing from Everton for quite a while. I expect nothing less than 100% from a player but many have lacked a real conviction in their own ability. Mainly for this reason, I'd always make a place in the squad for Mo.
The other issue about just getting rid of players who aren't quite as good as the current 11 doesn't sit well with me. On current fitness and form my midfield three would be Gueye, Schneiderlin and Davies. But there are clearly two enormous variables there as fitness and form are passing states.
If we sell McCarthy and Besic and keep the aging Barry for cover then we're gambling on no injuries. Also, I want the players in the team to be there on merit, not simply because there's nobody to take their place.
James Marshall
67
Posted 28/01/2017 at 14:08:05
Steve Ferns @35 has it about bang on – Besic does play football like he's 10. He charges about making tackles, and doing things that please supporters for about 4 seconds, then he get shown up for being a liability.
I wouldn't question his spirit, but I absolutely question his ability as a top-pro in the Premier League. Decent player at times, clearly injury prone, and lacks the discipline to play at a top club.
With our midfield options, I would be extremely surprised to see him stay with the club once he's fit.
Paul Mackie
68
Posted 28/01/2017 at 14:44:40
Koeman wants aggression from the players and this lad has it in spades. Would like to see him get some appearances.
Dave Pritchard
69
Posted 28/01/2017 at 15:31:58
I find it surprising how some hold Besic in such high regard. Based on what we've seen when he is on the pitch I would say that he shows promise. All Evertonians will hope that he stays fit and then has the chance to prove that he can be a first team regular but he is a long way from being this at the moment. Wish him well though.
Mike Gaynes
70
Posted 28/01/2017 at 15:40:27
Teddy (#62), that's a very big IF.
Hard for me to imagine such a competitive guy being willing to settle for being a squad player at 24.
Peter Morris
71
Posted 28/01/2017 at 16:47:48
Welcome back Mo. Like his aggressive style, but I worry he lacks the pace, energy and stamina needed for a ball winning midfielder role in the Premier League. That said, he should provide good competition and back up. His pending return to fitness probably influenced the decision to let Cleverley move on.
Kim Vivian
72
Posted 28/01/2017 at 17:19:10
Peter...
....never?
And I am a big fan of Mo B. Needs a bit of work on his game but great attitude and I hope he stays and develops.
George Cumiskey
73
Posted 28/01/2017 at 17:48:05
Andy@66 spot on let's give him a chance to get fit and get a run of games before we write him off. He's the type of player we need gets stuck in, afraid of no-one, and can pick a pass. Exactly what Koeman needs for the pressing game .
Darren Hind
74
Posted 28/01/2017 at 18:07:32
He has a rare will and determination. I think he will play for us again
Mark Pringle
75
Posted 28/01/2017 at 19:27:14
Can't believe Besic being written off as a Premier League player because he once closed down all over the pitch in a game. No tactical discipline, yeah that's right so let's play tit for tat.
That lack of tactical discipline was clearly evident when he man marked Messi out of a world cup game and of course our manager and coaching staff will not have been able to assess this at all, hope they listen to some if these comments for guidance!! Laughable!!
As for Besic not playing for us again, ill wager any amount on that! Its blatantly obvious that McCarthy is on his way, Gibson will be offloaded and Barry winding out. Besic is exactly what Koeman likes in a player and he will flourish under this manager providing strong competition to Davies, Schneiderlin and Gana.
Squad game, boys; you can't just keep your 1st team and hope for no injuries or suspension.
Kevin Rowlands
76
Posted 28/01/2017 at 19:48:28
Made up, time to get my Besic shirt out again... Him, Schneiderlin and Gueye, top draw defensive midfielders. Goodbye, Jimmy Mac... thanks for the occasional good memories.
Des Farren
77
Posted 28/01/2017 at 21:04:14
If Besic is the extent of our ambition as an Everton first team player for next season then God help us. Our ambitions are modest, at best.
Mike Dolan
78
Posted 28/01/2017 at 21:18:52
Mo is a Koeman type of player. Let's wish him well for a quick and permanent recovery and hope he's wearing the Blue shirt soon.

Dan Egerton
79
Posted 29/01/2017 at 08:24:06
Its an injury you never really recover from in that you'll never be as good ever every again. Never as fast, strong or as courageous, but its encouraging to see his attitude is perfect. He's still a young Man with a lot to bring our club so lets hope for the best.
---
Add Your Comments
In order to post a comment, you need to be logged in as a registered user of the site.
Or Sign up as a ToffeeWeb Member — it's free, takes just a few minutes and will allow you to post your comments on articles and Talking Points submissions across the site.