Koeman reveals affinity for character of young English players

64 Comments [Jump to last]
Saturday 28 January 2017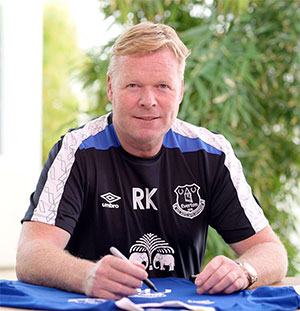 Ronald Koeman has expressed his admiration for the spirit and eagerness he sees in young English players as well as his reluctance to impede their progressto the first team.
In his latest column for De Telegraaf in his native Netherlands, the Blues manager described the importance of a productive youth system, something he has had the privilege to experience first-hand at Southampton and Everton.
With three of his summer signings, and his most recent acquisition, Morgan Schneiderlin, the early indications were that Koeman was focused on building a side capable of making a quick return to the top six, with less of an eye on youth development.
He has already promoted Mason Holgate and Tom Davies to regular first-team roles in recent weeks and handed debuts to Dominic Calvert-Lewin (20) and Ademola Lookman (19), however, and he suggests that blooding youth will remain an important part of his recruitment policy.
"As a coach, I will see if a new signing [will] hinder the development of a new talent. We can go and sign [a player], but in six months a [homegrown] talent might just be ready."
"Then you want to give him [opportunity]. I think it's nice to see the young players from their own training centres in England knocking on the door. I want to give them confidence.
"In England, they generally hesitate and don't play young players too early but as a Dutchman, I just don't hesitate to give them a chance.
"The Premier League has made many foreign purchases and sometimes that's inevitable, but I get to see the appreciation of everything just by walking in the training ground," he continued.
"I admire the attitude, the mentality and behaviour of the young English footballers. [Y]ou don't need to do anything to motivate them and I have to slow them down rather than push [them]. They possess a certain character that you don't see in the Netherlands or in other countries. It's a different culture."
---
Reader Comments (64)
Note: the following content is not moderated or vetted by the site owners at the time of submission. Comments are the responsibility of the poster. Disclaimer
David Edwards
1
Posted 29/01/2017 at 00:05:33
Ronald finally gets on board with our view that we love our kids and they deserve a run . Or is this a way of saying any marque signings aren't going to have by Tuesday? Interesting
Stan Schofield
2
Posted 29/01/2017 at 00:24:38
This is good. There are often complaints about young British talent not getting enough opportunity because of the spending on so-called marque signings that happens in the PL. Proper management, including bringing talented younger players like Davies and Holgate into the 1st team in a targeted way, is preferable to splashing cash for the sake of it. If we don't make further signings this window, that's fine in my opinion.
Will Mabon
3
Posted 29/01/2017 at 01:13:22
Have to agree there, Stanley.
Few would complain were we to bring in a huge signing or two, of top quality. However is it necessary at this stage? We're not going to be Chelsea any time soon; that's a goal for a few seasons away.
We're in a pretty good place right now. The team has been stabilized a little, the rot stopped. The culture and ethos is being/has been repaired some in the last two months. This is evidenced by the fact that recent results have been mostly due to the improvement by pre-Koeman players and the blending of younger players. The spirit of the team is improved - the most important thing.
Equally, though I'm still not his biggest fan, Koeman has presided over this, and appears to be more flexible than it looked earlier. I doubt you'd have got an article like this out of him a few months back, with a gun to his head. He seems to've stopped gobbing off for now, too.
If we're ever to get back to the top, it will take time and gradual evolution. Those kind of steps usually sustain long term. This is why I personally believe the route of only releasing certain players at the right time is as important as not chasing everything available. Do we really regret not having the likes of Witsel and Slimani now?
Top quality of only the right type, at the right time should be the goal... whilst constantly honing the basis of the team and club. Too much knee jerk will get us nowhere. Slimani incidentally, is rumoured to be considering China - already!
Let's continue as we are. Working on the spirit, the fitness, the belief. Improving some of the good and excellent players we have now, and moving towards carefully integrating some of the very good young players we're lucky to have.
Wouldn't harm to get Barkley's contract sorted, either - and maybe try to nail Lukaku down.
Anthony Dwyer
4
Posted 29/01/2017 at 01:21:46
Blooding a few kids saves major money in transfer fees.
If Mori can replace Jags, and Holgate be there main competitor then that's easy £10m saved.
Davies replacing Barry is a £15m saving, I'm not pricing Davies up, I'm just saying if Gana and Schneiderlin are first choice, and we want to be a top 6 side then £15m is the going rate as back up.
Lookman is a expensive teen, but he could be worth every penny, while all eyes are on him we can see were Calvin-Lewin is up to in his development and he may end up replacing Kone or Niasse for nothing, again saving millions.
Robles could also save us a fortune and he's young for a keeper.
Them type of gems can free up millions, it then allows us to make big money signings who are relatively low risk and almost guaranteed first team starters (like Rom and Fellaini in recent past).
Phil Sammon
5
Posted 29/01/2017 at 02:10:06
I agree, Ant.
The trouble is, I don't think these foreign players, signed for £10-20M are ever brought in just to make up the numbers. They're usually purchased because they've lit up another European league for the previous twelve months. Everyone hopes for a Mahrez...but you usually end up with a Slimani. Or you get a Demba Ba / Papiss Cisse scenario. Wonderful for six months and then they slip away.
Anyway, the sentiment at Everton seems right at the moment. Hopefully these young lads continue to step up and make the grade. Pat on the back for them, Unsy and all the youth setup.
Gavin Johnson
6
Posted 29/01/2017 at 02:46:49
I watched the interview with Francis Jeffers on Everton TV and he was saying that Liam Walsh is ready for the 1st team. He was pretty adamant about his ability.
From Koeman's interview it sounds like he's impressed with the youth set-up and we'll see someone like Walsh or Dowell playing before the end of the season.
We still need to buy a striker by Tuesday. We are desperately short up front.
Craig Fletcher
7
Posted 29/01/2017 at 05:02:02
Anthony (4) the other part to your argument is if we get into Europe next year, the Europa League group stage (should we get that far) will be a brilliant experience for the likes of Kenny, Walsh, Dowell, Pennington etc. while also resting some first-team players where required.
Not saying we should field "weakened teams" for Europe, but if the younger kids are good enough for the first team, extra games will give them the opportunity to press their claims for greater inclusion.
Dermot Byrne
8
Posted 29/01/2017 at 07:23:55
This sends exactly the right message to me. I hate to bring up the RS but watching the problems they are having, it seems to me that this is the consequence of headline purchases over years and forgetting their own academy. As clubs made their huge signings, we were investing heavily in Finch Farm.
Now I like to see us pay money for big signings if they have the skill, track record and, very importantly, the spirit we need and want but nothing is better than homegrown youngsters or great youngsters who the very rich missed.
Enjoyable as Anfield was yesterday, the more serious issue was that was an example of a team of players whose main loyalty is to their agent and investment manager.
Kieran Fitzgerald
9
Posted 29/01/2017 at 08:00:58
We paid 28m a couple of seasons ago for Lukaku and we were all shocked that we had spent it. This season figures of 28m, Bolaise, and 21m, schneiderlin, bounce off us like it was nothing.
For Everton, even with t.v money, these sums, while the norm in the P.L, aren't sustainable. We aren't going to get a 7m Gueye every transfer window.
As stated above, putting one of our own into the first team saves millions and allows us to spend money on one decent player. Bidding that extra couple of million we have saved on a quality player we need can make all the difference in getting him.
Mike Mulhall
10
Posted 29/01/2017 at 09:03:38
Kieran I get the point your making but thats why steve walsh is in place is it not? To find the next kante, mahrez, gueye et all?
Its great that yourh are given a chance and given that all we have to play for between now and may is cementing at least 7th there is no reason why dowell, walsh etc are not given a run in the forst team. This could shape next season and allow the team to gel needing only a couple of additions in the summer. I like whats going on at efc, odd saying that after all these years 😀
Paul Conway
11
Posted 29/01/2017 at 09:34:15
A lot of comments on these pages were for Koeman to give the youth a chance. A lot of the fans saw it before before Koeman (myself excluded).
Only a couple of weeks ago, Unsy stated he wasn't surprised by Davies's performance against Man City, as he had seen it regularly. He also stated that he has at least 6, 7 or 8 young players who would be ready to make their debut in the first team.
Koeman has seen this, but I think a huge portion of the credit goes to David Unsworth Another gem!
Nigel Munford
12
Posted 29/01/2017 at 10:04:01
Mike 10, given the RS are in free fall I think 6th should be our aim.
Stan Schofield
13
Posted 29/01/2017 at 10:14:00
Nigel, I think our aim should be as high as we can possibly get. We should aim to win every game. Some would say that's unlikely or not realistic, but likelihood and realism are influenced by attitude and confidence, in addition to the ability that we clearly have in the squad. A winner's mentality.
Dermot@8: Spot on. Klopp's approach of gegenpressing has always been questionable, and now it may be catching up on them. They were looking like their legs had gone, halfway through the season. And playing so many youngsters at the same time looks like desperation, certainly unbalanced management of young players, putting unreasonable pressures on them rather than blooding them gradually. In stark contrast to the more measured way we handle our younger players.
John G Davies
14
Posted 29/01/2017 at 10:24:31
He has had a look at the young players and decided when the time was right to introduce them to the first team squad. Looking at the impact they are having I think he has managed the situation well.
We have Lookmans development to look forward to now. Koeman has a different approach to Ademola. Whereas in the development of Mason and Tom he watched them in training and he decided they were not quite ready on what he saw on a daily basis. Alternatively after saying on the day Ademola signed that he was one for the future, he watched Ademola in training for two weeks and stated he would have no problem starting him in the first team.
I think we need to trust Koeman in his development of young players.

John Pickles
16
Posted 29/01/2017 at 10:24:39
The problem is, most kids need to find their feet at this level.
Every time we pitched a handful of them in, in say a cup game, we would lose. A few iffy performances equate to a few defeats and all of a sudden, managers know they are looking at the sack. Few are going to risk losing their jobs waiting for a few youngsters to get up to speed in the Premier League when they can get consistent, if uninspired, performances out of a seasoned pro.
Colin Glassar
17
Posted 29/01/2017 at 10:25:47
Forward, striker, attacker, centre forward etc call him what you want but this window we need support/alternative for Lukaku. I don't care now if we buy anyone else but I do think we need cover up front.
Chuffed for the kids btw, long may it continue.
Barry Pearce
18
Posted 29/01/2017 at 10:37:06
If Liam Walsh remains injury free, Ronald will have an even bigger problem picking his best midfield, because he will at some stage definitely be in it.
Anthony Dwyer
19
Posted 29/01/2017 at 11:19:57
Great Browning, Walsh, and Dowell into the squad would be a huge boost to the transfer activity through the summer.
I'm not saying play them all together straight away, but game time this season could be huge for our future.
Ray Smith
20
Posted 29/01/2017 at 11:36:39
Koeman and Moshiri have a vision for the future of our club. Bill Kenwright does not have that vision and took us as far as he was able.
I have pinched a quote from Andrew Kakabadse (Kakabadse's Curve), which I think is where we are currently.
"In creating a new vision, there is that need for a new strategy and goals and a new culture and values. The difficulty is that the current culture and values may be so strong and embedded that they destroy or severely inhibit the ability to achieve a new vision. In this case, a full frontal assault may be required to change the current culture and values".
That's where we were, and the combined vision of Moshiri and Koeman is where we are going.
That's my view, but it will take time 😀
Mark Morrissey
21
Posted 29/01/2017 at 11:51:48
I'm all for blooding youth but just look at what Ibrahimovich has done for Man Utd. They would not be where they are this season without him.
We need either a top centre-back or striker in this window. Nothing more at this stage but we have to qualify for the Europa League or the Champions League. Both are within our reach if we shore up the defence or give Rom some solid support.
Valencia and Kone are not class, we need class. Without that investment we'll be also rans, 8th or 9th. If you're happy with that, fair enough.
Gareth Clark
22
Posted 29/01/2017 at 12:01:15
I think we need to send a few out on loan.
Walsh & Dowell need to get 6 month playing every game at a championship team, or a league 1 team going for promotion.
So disappointed that Galloway has had a wasted year though - if they go out on loan, they need to play!
I also think either Browning or Pennington need to go out!
To get them to the level we need.
Patrick Murphy
23
Posted 29/01/2017 at 12:24:50
Ray #21 I agree, however, in the 1970s for example John Moores still owned the club but different Chairmen during that period, had different ideas on the direction of the club - of course money became tighter during that era than it had been during the sixties.
Bill remains the Chairman and therefore still wields considerable influence on the direction that Everton FC take. Moshiri may like to play fantasy football for real, whilst Bill will will often take the cheapest route, as that has been, from his point of view a successful method of operating during his tenure.
Could it be that Koeman has been told that Everton FC will resist the temptation to build the team by throwing money at it and has been persuaded to integrate more of the youngsters into the squad?
I'm all for Everton being pragmatic and to use sustainable methods to build the team, however, I hope that when the manager wants to buy or sell a player he is given full licence to do so, as and when he sees fit and it isn't solely left to the Chairman to decide which players are sold or bought.
We can only rely upon the youngsters if they are truly good enough to be in the first team and not because they are the best option financially.
Ray Smith
24
Posted 29/01/2017 at 12:42:25
Patrick 24
Very true.
Until BK steps down Moshiri and Koeman will have to bide their time to fully implement their vision for the future.
Frank Crewe
25
Posted 29/01/2017 at 12:56:20
@Gareth 23
I don't think loaning out youngsters does them any good at all. They don't get games. They probably put noses out of joint at the new club supplanting players already there. They get home sick and paranoid about their future at Everton. How many times have we loaned out Garbutt? Didn't do him any good. Look at Galloway. Can't get games at West Brom. If we pay up the remainder of his loan fee they'd send him back. Look at Pennington. Wasn't he going to be our future CB? He's now 22. Only made four first team appearances. Been loaned out three times. In the meantime Stones and now Holgate have supplanted him in the first team. His chances of ever being a first team regular are now almost nonexistent. Not to mention loaning youngsters out reduces competition for places in the youth sides.
The facts are that big clubs simply hoover up all the local young talent knowing perfectly well that almost none of them will make it into the first team and all the loaning out in the world won't change that fact. They just hope that in all those young hopefuls their will be a Rooney. Rodwell, Barkley or Davies that they can use themselves or sell for big money.
As harsh as it may sound I think the best young players come from the smaller lower division clubs. When they arrive they already have first team experience against bigger, stronger, more experienced players under their belts so they don't need so much building up from scratch. Just look at Stones, Holgate and Lookman. They didn't need to be loaned out at all and their first team experience at their previous clubs gave them both the physical and psychological edge over the other young players Everton already have.
Paul Thompson
26
Posted 29/01/2017 at 12:59:28
The claims, popular on TW earlier in the season, that Koeman was hostile to developing or playing younger players was based largely on rumours of his time at Southampton. This interview and his recent selections prove that such interpretations were never true or that he is pragmatic enough to like what he sees at Goodison. Either way, it's a good sign.
Connolly, Walsh and Dowell are the most obvious young players knocking on the first team door. The only area that we don't seem to be producing real talent is striker, hence Unsworth has been buying (or loaning) in (Calvert-Lewin, Donkor). This means, hopefully, that if another purchase is imminent in the transfer window, it will be up front.
Sven Pillêt
27
Posted 29/01/2017 at 13:21:31
Everton have always done a fantastic job in sensibly raising and nurturing their young ones and I don't believe lack of talent was ever an issue, how can it be?
The system as such is flawed to the hilt and the Premier League of course plays into the hands of those who reduce it simply to "the way it is, commercial and all that". This is an area that requires a hard look and some will, want, and most of all incentive to change otherwise we as a football nation will forever running in the spot to the delight of the Germans and such like.
Trust me, I've played in Germany and there's no comparison.
Clive Rogers
28
Posted 29/01/2017 at 13:38:56
Patrick, Ray 24/25,
I don't see it the same as you. Moshiri is running the show and has control of the board. Kenwright is now just a figurehead with very little say on policy. He didn't want Martinez sacked ("I was devastated") and wanted Moyes back before Koeman.
He is still involved in transfer negotiations, but I understand not as much as he was in the summer, but that's about it. Thank god.
Colin Glassar
29
Posted 29/01/2017 at 13:50:40
I see that old chestnut, Yarmolenko, has popped up again. Still hope for Riquelme and Moutinho then.
Dave Abrahams
30
Posted 29/01/2017 at 14:22:40
Frank, there's a lot of sense in what you say about players going out on loan. I think the player's character has a lot to do in whether they are to be loaned out or not.
Last season, two players, Jonjoe Kenny and Liam Walsh, were loaned out and both thrived on the experience at Oxford and Yeovil, these were two young lads from working class areas of Liverpool, they both grew up while away. I wouldn't send them out on loan again but keep them both in and around the first-team squad.
Keiran Dowell is a very talented player with the ball but drifts in and out of the game and hardly gets involved when he hasn't got the ball. I think he needs to go out on loan, in fact he recently said himself that he wants to go on loan and grow up and come back a man; I agree with him, I think he needs and wants to toughen up.
John G Davies
31
Posted 29/01/2017 at 14:26:45
Colin #30th.
Not a bad player Yarmalenko.
Don't think he would get into our starting eleven at the moment though but would offer an option.
I would like to see the club play them at their own game and offer £8 million for a player who wants away.
Alan J Thompson
32
Posted 29/01/2017 at 14:54:37
Paul (#27); is it possible that his mind has been changed by Holgate and Davies?
Ciarán McGlone
33
Posted 29/01/2017 at 15:21:39
"You don't need to do anything to motivate them"..
Is this the same guy who spent the last 6 months moaning at Barkley.
Tony Graham
34
Posted 29/01/2017 at 15:26:18
Is youth our new policy, to save squillions to fund our new waterfront stadium?
John G Davies
35
Posted 29/01/2017 at 15:35:52
Cairan.
I don't think it has been moaning from Koeman. But whatever it is it has worked. Barkley looks a lot more motivated in the last couple of months.
Tony Hill
36
Posted 29/01/2017 at 15:40:14
According to the Echo, Koeman says he didn't need to tell Davies that he'd done well against Man City, because everyone else had already done that. Instead, he and the coaches sat down with the video and showed him where he didn't do as well as he could have.
That sounds very promising indeed to me if that is now the mindset at the Club.
Tony Hill
37
Posted 29/01/2017 at 15:45:38
PS provided that the feedback wasn't to the effect that he needed to curb his instincts and start passing sideways.
Dean Adams
38
Posted 29/01/2017 at 15:51:34
Frank Crewe (#25),
I would suggest that the loaning of young players would depend on the club that you loan the player to, the style of play and many other facets.
I seem to remember a few years back that a young and raw right-sided player went to Blackpool for a season and did wonders whilst there, becoming a fixture in our first team and possibly the best right back we have had in decades!!
Frank Wade
39
Posted 29/01/2017 at 16:19:32
Talking of the advantage of players going on loan. Look at the invaluable experience Callum Connolly is getting. He has started well for Wigan at Old Trafford, stinging the keepers hands with a sharp volley from edge of box on 10 minutes, LIVE on BBC now. I am delighted to hear Koeman speak well of the young players as opposed to his 'pressure' comments earlier this season.
Will Mabon
40
Posted 29/01/2017 at 16:30:09
"Enjoyable as Anfield was yesterday..."
Made even funnier by one headline - "Dunces with Wolves".
Top stuff.
Simon Jones
41
Posted 29/01/2017 at 16:41:25
Good time for us to blood some youngsters in the first team. I guess we already have enough points to not get relegated, I'm not convinced we will break into the top six either; out of the cups, so what else are we playing for?
Imagine that we find another 18- or 19-year-old who makes the grade in the Premier League, we could really hit the ground running next season with a much lower average age first team alongside Holgate, Davies & Calvert-Lewin. I have no idea who might make the grade, but the opportunity really exists in these next 16 games to find out.
Mike Gaynes
42
Posted 29/01/2017 at 16:50:40
Frank #39, unfortunately young Callum just got overpowered by Fellaini for the goal.
Darren Hind
43
Posted 29/01/2017 at 17:11:25
Thousands of knowledgeable scousers told Koeman when he was spouting bollocks "telling it like it is" many on this site alone.
Glad to see the penny has dropped and very amusing to see the back tracking from those who claimed he was just giving us "the unpalatable truth"
I hope he now realises the Red Shite wont be winning the league too!
Frank Wade
44
Posted 29/01/2017 at 17:47:55
Mike (42), all part of the learning experience. Maybe next time he would attack the ball and try to get a head on it, rather than try to hold Fellaini off, a major challenge for even the strongest defender. Having said that, would Fellaini in a blue shirt have been whistled for a foul?
Paul Tran
45
Posted 29/01/2017 at 17:54:25
His column in De Telegraaf is always a good read. He's slightly less inarticulate in his own language and is helped by a ghost writer to soften the edges. What he said in his latest column is nothing new.
Honest Ron? Not sure about that. He is yet another football manager who is honest when it suits him and sees/misses things when it suits him. I would describe him, like most Dutch people I know, as forthright. They tend to tell you what they think, in very direct terms.
He has a track record of playing and developing young players in Holland. The comments last summer derived from a bitter Southampton fan site that was so pleased he left, they decided to spend loads of time slagging him off.
He was certainly wrong dropping Holgate, who has been superb this season. I hadn't seen enough of the other younger players to have a view. It'll be interesting to see if Davies keeps his place now Gana is back - I think he should.
I'd still like to see at least one quality striker.
George Cumiskey
46
Posted 29/01/2017 at 18:02:55
I can't understand why we never had a look at a loan move for Bojan a number ten in the Mata mould. IMO would have been worth a punt till the end of the season .
John G Davies
47
Posted 29/01/2017 at 19:10:39
Koeman decided to play the kids because he watched their development and HE decided when they were ready Or he read ToffeeWeb and listened to the advice?
Bottom line? Koeman is improving the club. Anyone who denies that is blinkered.
A few would rather the improvement hadn't happened so they could be right in wanting Koeman out than being happy with our improvement. Shame that.
Frank Crewe
48
Posted 29/01/2017 at 19:25:29
Dean Adams @38
If we are going to be picky about the style of play this or that club use we would never loan a player out at all. We were lucky with Coleman. He was gone for an entire season and he was at a club that was on the up at that time but had a small squad so he got plenty of game time. Really it was just fluke luck.
But generally speaking young players come back from loans pretty much as they left and what's worse is that in the meantime the club has brought other players in thus restricting their chances even more... eg, Galloway was brought in while Garbutt was gone.Stones and now Holgate were brought in while Pennington was gone.
What do you think that kind of thing says to a young player? Because I'll bet it's not "you have a future a this club" when they are even further down the pecking order than before they went out on loan.
Dean Adams
49
Posted 29/01/2017 at 19:41:50
Frank, you might be right.
The other example I was going to use was of a midfielder who went to Derby on loan a while back, came back and was a first team regular for a little while!!
Trevor Lynes
50
Posted 29/01/2017 at 20:13:59
All this article implies is that after watching Davies and Holgate for a couple of games EFC can close the transfer business with no more new signings.We may well lose a few but incomings are shelved for this window.This article is IMO to excuse the lack of business.
In actuality we have signed ONE proven Premier League player and one youngster who may make the grade (or may not).Where is the second striker we need to cover or partner Lukaku.Where is the one top quality midfield general we have been crying out for.
So far we have loaned out Deulofeu, Niasse and Cleverley.Strongest talk is for Jagielka leaving and perhaps McCarthy.All the players we are being linked with are defenders and that is not what we need as a first priority.
Its nice to hear praise for our young players but none of them are strikers and certainly not play makers.
Don Alexander
51
Posted 29/01/2017 at 20:18:26
It's not a "slagging Unsy" point but I have long wondered if academies inadvertently breed something less than team spirit, where the result is all that matters, compared to playing in the first team wherever you might be on loan, where the result is all that matters. In academies the players first priority is too often "looking after number one" from what little I've admittedly seen.
Whilst Seamus was at Blackpool he worked his bollocks off from first to last. He was their player of the season, and they had Charlie Adam in tip-top form too, and it never was the case that they ever looked likely for promotion. The key was talent allied to hard work, the latter being indispensable.
I think Koeman is oblivious to where his young players come from. He just wants talent, and bloody hard work, minimum. That's why he has said what he said since he got here and anyone who doesn't knuckle down can do one. His words, not mine. Simples!
Bill Gall
52
Posted 29/01/2017 at 20:55:02
I think Koeman's comments are just trying to soften the blow, in that there is only 4 days left in the transfer window and he realizes that with the master of failure in the transfer window (Bullshit Bill) still involved, we will get the usual excuses in the final minutes of why X amount of players did not sign.
Just happy we have got a couple of players in earlier.
Laurie Hartley
53
Posted 29/01/2017 at 22:22:59
I think Koeman has had time to assess what resources he has "in house" at Everton and has come to the conclusion that the youth set up will produce plenty of talent. His comment about young English players having a different (better) attitude than their Dutch counterparts was very significant. Koeman values attitude and aggression.
I watched David Unsworth and his newly appointed offsider Jamie Hoyland in an interview on the official website and was very impressed with both men. Having listened to them I am confident they will indeed produce plenty of youngsters that will be promoted to the first team.
What I am seeing is that Koeman and the board have decided to "buy big when necessary" but bring young talent in through the academy or from the lower leagues if they think they are good enough. They could not fail to have been impressed by the performances that young Davies and Holgate have produced.
There is something very satisfying and exciting about a young bloke coming into the first team and succeeding. I think it's the fearlessness and enthusiasm that they display that gets me in.
In recent weeks I have seen both Davies and Lookman totally destroy a defense with their first touch. It reminded me of when a young Wayne Rooney turned the best centre half in England at the time (Sol Campbell) inside out to score at Goodison. I think he was 17 at the time.
So in summary it looks like a strategy of youth and experience is what we can expect. Let us not forget it has been done before by Everton in the late 60s and more recently by Manchester United under Ferguson.
Stan Schofield
54
Posted 29/01/2017 at 22:31:45
Bill @52: I think there would have been something in that if we hadn't already got Schneiderlin and Lookman, but on balance I get the feeling that most of us aren't too fussed if we don't bring further signings in this window, in contrast to the drama of the previous window. Combined with the fact that our performances are better of late. If they hadn't been, I imagine many would be brassed off.
Laurie @53: I agree, and perhaps Koeman is chuffed at seeing the energy that the youngsters have brought to the side, given that he's focused on the need for energy for his pressing game.
Terry Underwood
55
Posted 29/01/2017 at 22:40:51
We should beware of signing a new player "just because". For me, it's the right man or no man.
On a different note, I was in the pub after the RS got beat on Saturday, several plastic reds all moaning about the ref, the weather, and Brexit, any excuse for the invincible reds getting fucked. I could not resist a passing comment. "And you call us blues bitter"... the reply "Whatcha on about?" The definition of a plastic red.
Phil Roberts
56
Posted 30/01/2017 at 05:03:43
One interesting scenario is that when BREXIT happens, the FA and Premier League will not be bound by European legislation on employment.
There is the possibility that a limit on the number of foreign players could be introduced (I think there is already for non-EU) to also promote English talent and so make the national team stronger.
Therefore we could find in 4-5 years time we will have to have 7 or more UK players in the team.
I am sure the money teams will moan that that reduces the chance of winning or challenging for the Champions League but it could be a possible scenario and therefore our academy could be even more important.
It also will mean that players from Brasil will have equal status as those from France in terms of overseas registration.
Darren Hind
57
Posted 30/01/2017 at 05:41:50
"A few would rather the improvement hadn't happened so they could be right in wanting Koeman out. Than be happy with our improvement."
This is a forum for Evertonians. EVERY poster on here wants to see improvement.
"Koeman is improving the club." Yeah, of course he is. Let's first see if he can manage to improve the team after spending around £80 million (and rising) made available to him by the man who really is improving the club.
Let's see if he can generate some more funds by moving players on for an actual transfer fee... Cue desperate claims that it was him who negotiated the £50m deal involving Stones.
He'll need to start bringing some money back in – that's how it works... anyone can move players on if they are giving away their services. He'll also need to start seeing what's under his nose... and I don't mean weeks after the rest of us.
Hugh Jenkins
58
Posted 30/01/2017 at 06:51:29
Darren (57). Koeman has been at pains to point out, in several interviews quoted on this site, that he is not involved in any way with the financial negotiations in respect of incoming players. It is therefore reasonable to assume that he is also not involved in the financial process of selling outgoing players.
Steve Walsh in conjunction with Koeman has been appointed to identify the players needed, Bill Kenwright et al negotiate the financial aspects of those deals.
Again, it is reasonable to assume that Koeman and Walsh decide who needs to leave the club and Kenwright et al negotiate the selling price (or otherwise) of those leaving the club.
Koeman's sole role is to train the first team squad, pick the first team match day squad, decide the match day tactics and manage the game and game plan on the day.
The evidence of the past few weeks suggests that he is "improving" the team, having now been in the job for eight months.
Long may it continue.

John G Davies
59
Posted 30/01/2017 at 07:37:34
Always with the negativity. Enough already. Koeman has a net spend of 㿅 million. The improvement shown in the team and squad is tremendous considering that relatively small sum. Especially when you look at the transfer fees this week.
A Chinese team have offered £27 million for Ighalo from Watford. Hardly a prolific centre-forward with two goals this season.
While you mention John Stones, to get 㿛 million was fantastic business. Unless you still think he is the "next Bobby Moore"?
Stan Schofield
60
Posted 30/01/2017 at 10:10:35
The reality (setting aside polarised opinion from 'Koeman is improving us' to 'no he isn't') is that only time will tell. We all of course HOPE for improvement, and there are signs from the most recent games that we're getting there, but you only need a slump in form to change perception.
Being cautiously optimistic is one thing, but being negative or overly positive, at this stage, are others.
Kevin Day
61
Posted 30/01/2017 at 12:11:43
Phil @56.
Employment laws will remain the same as the European laws are now after Brexit, Theresa May has already said all current combined laws in this field will remain unchanged and will adopt new outlines in the future if they are appropriate.
What will change is the application process on coming to ply their trade here and what they will contribute to the country but, seeing as they will be paying the 40% tax rate, I for one do not see any problems.
John Wilson
62
Posted 30/01/2017 at 17:36:26
Kevin Day, is this the same Theresa May (the government) who believed that the UK could leave the EU by a government minister triggering article 150: (From EU side: UK leaves the EU), without a Parliament act: (From UK side: for UK to legally leave the EU).
Employment transfers where the EU is concerned relates to Freedom of Movement. I don't know how Freedom of Movement survives as the legal and political EU institutions will no longer be legally effective (ie no binding) when the UK leaves the EU. How can the government outline employment transfers in UK law after the event, ie when the UK leaves the EU, where Freedom of Movement is an agreement between EU member states: Treaty of the Functioning of the European Union (as amended).
Tony Abrahams
63
Posted 30/01/2017 at 17:42:22
That ٥.5 Million for Gibson and Oviedo is a good start, Darren!
Stan Schofield
64
Posted 30/01/2017 at 17:45:53
All assuming 'Brexit' goes ahead. Parliament might decide it's not. And even if it does, Parliament's intervention will likely mean a Brexit a lot different from what many folks who voted for it perceived it to be.
Theresa May has spoken a lot of nonesense, inconsistent with constructional constraints, so I'd take with a pinch of salt what she might have said about laws.
Darren Hind
65
Posted 30/01/2017 at 18:35:33
It always makes me laugh that people who accept shite performance after shite performance, ignore early exits from the cups, apologise for a manager who constantly dithers and makes up nonsense to make him look better seem to think they are "positive"... and those who want a better manager (one who would have avoided those things) are somehow deemed as "negative".
Personally; I've always believed the sort of blind devotion which drives people to deny every bit of criticism levelled at a manager is the most negative thing about this club
Some people learned nothing after blindly following Martinez.....
---
Add Your Comments
In order to post a comment, you need to be logged in as a registered user of the site.
Or Sign up as a ToffeeWeb Member — it's free, takes just a few minutes and will allow you to post your comments on articles and Talking Points submissions across the site.