Blues head to Dubai training camp

97 Comments [Jump to last]
Monday 13 February 2017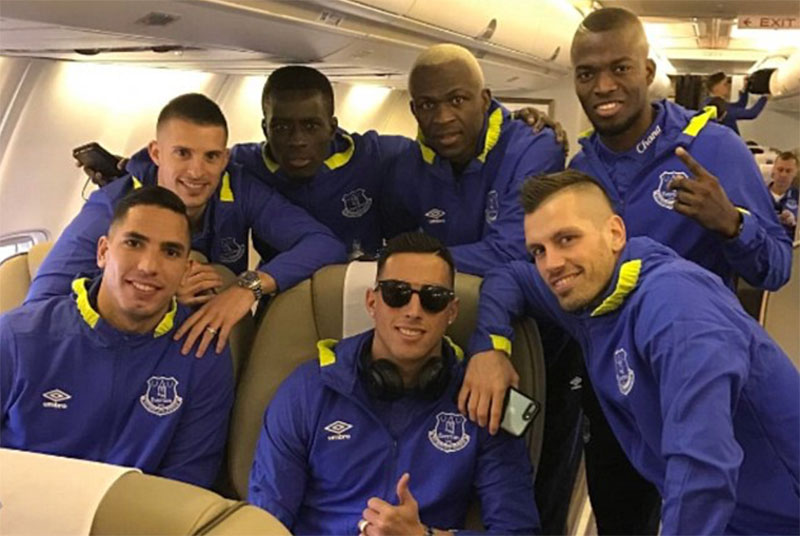 Instagram / funesmoriofi
Everton's first-team squad has flown to Dubai today for a five-day warm-weather training camp, taking advantage of the week off due to other clubs' participation in the fifth round of the FA Cup.
The party includes Dominic Calvert-Lewin, Mateusz Hewelt, Jonjoe Kenny and Matty Pennington while Muhamed Besic has also travelled to continue his rehabilitation from a ruptured ACL.
After the sleet and rain-lashed goalless draw at Middlesbrough, Ronald Koeman was looking forward to getting the team away for a few days to train in what he hopes will be better conditions.
"We go to Dubai," the manager said after Saturday's draw at The Riverside, "but I saw the weather forecast and I hope it's not the same as today!
"It's good. We have some new faces in the squad and we need to recover. It's not a holiday. We do really good training sessions in better conditions and we stay together from Monday until Saturday.
"Then we have one week to prepare for Sunderland.
"We will train every day and play a friendly on Friday. It's a chance to stay together, have good communication and keep up the momentum of the season. It's all about aiming to finish strongly in the league."
Romelu Lukaku hasn't joined his team-mates in Dubai, due to a calf-strain; instead, he has headed off to Belgium to seek medical attention. Everton's leading goalscorer is expected to be fit for Everton's next match against Sunderland at Goodison Park on the 25th February.
---
Reader Comments (97)
Note: the following content is not moderated or vetted by the site owners at the time of submission. Comments are the responsibility of the poster. Disclaimer
Minik Hansen
1
Posted 13/02/2017 at 17:51:53
Good to give the players some new surroundings and for the team spirit, I hope.
Rob Dolby
2
Posted 13/02/2017 at 17:57:28
Just reward for getting knocked out of the cup at home to struggling Leicester. Defies logic... but so do the wages that Premier League players get. How do you motivate multi-millionaires when failure gets you a holiday? Bemused.
Drew O'Neall
3
Posted 13/02/2017 at 18:02:36
'Warm-weather training camp'.... yeah.
John Keating
4
Posted 13/02/2017 at 18:03:05
Rob, I agree.
It's a bloody disgrace and just shows how disconnected these arseholes are with ordinary supporters. I'd make them do double sessions every day including weekends on Formby beach.
John G Davies
5
Posted 13/02/2017 at 18:08:49
Me too.
No supper and no TV for a week.
Liam Reilly
6
Posted 13/02/2017 at 18:14:33
Interesting to see who's he's brought from the U23s set-up: no Dowell or Walsh; so it's unlikely he's got those in mind for the step-up anytime soon then.
Chris Gould
7
Posted 13/02/2017 at 18:18:13
Hope they come back refreshed and injury free.
As long as they get 3 points against Sunderland, I don't care where they go to train/tan.

Mike Green
8
Posted 13/02/2017 at 18:34:26
I'm pretty cynical about this too.
I'm sure we've done it before and can't remember an uplift in our fortunes afterwards, I might be imagining things but from memory it was the opposite. Wouldn't logic say that you would train in cold weather conditions if you were going to play in cold weather conditions though? Why not a few days inside the Arctic Circle...? ;-)
But, maybe it's not the jolly it seems to be from the outside and if it sprinkles some extra team spirit magic dust onto the squad then so be it. Enjoy the sun, lads... I'll go and put another log on the fire.
Paul Ferry
9
Posted 13/02/2017 at 18:38:50
All of Everton's players are 'arseholes', eh, John Keating (#4)?
Dear God. Defies belief.
Stan Schofield
10
Posted 13/02/2017 at 18:42:43
Mike, inside the Arctic Circle is a good idea, a few days doing interval training around a track, for the pressing game. In Lapland.
Mark Riding
11
Posted 13/02/2017 at 18:52:16
Sounds dead boring. Get them over to Vegas for a week, gambling and brasses. Proper team build that.
Mike Berry
12
Posted 13/02/2017 at 18:53:36
Makes perfect sense. Great to see the younger players being involved too.
John Daley
13
Posted 13/02/2017 at 19:00:45
Those fearing an element of slacking off could easily sneak up on the squad during a warm weather sojourn surely need only look at the sheepish grin, shades and gigantic 'me roommate's on the job' mufflers Funes Mori is sporting to set their mind at ease. As the tepid thumbs up signals, this is strictly business.
After all, not like Mori (or any other member of the squad) could possibly have missed Koeman's warning shot that "It's about keeping our momentum and finishing the season strongly, not taking a holiday", is it?:
John Ronnie
14
Posted 13/02/2017 at 19:47:40
Those moaning about the destination – get a grip, FFS. It's what all the top clubs and athletes in all modern day sports do these days It's 2017 – not the 1970s
Bonding, feel good factor, camaraderie, relaxation – who doesn't feel better ready to fire on all cylinders after a break!
Half of them happy to get away from the stress of families! Leave them be and let's see how we get on against Sunderland – if I was Koeman, however, I'd give them a punishment for anything less than 3 points – double training every day for 2 weeks.
Soren Moyer
16
Posted 13/02/2017 at 19:51:33
Next 5 days Dubai weather forecast is cloudy every day. Hee hee.
Julian Wait
17
Posted 13/02/2017 at 20:35:28
Pretty standard to do offsite team building. If it helps with team spirit and player – Lukaku – retention, then what's not to like?
Paul Kelly
18
Posted 13/02/2017 at 20:41:26
The price of failure.
Colin Glassar
19
Posted 13/02/2017 at 20:48:30
I'd make them run across the Mersey, at low tide, with a sack of coal on their backs. Make men out of them.
Will Mabon
20
Posted 13/02/2017 at 21:01:17
"I'd make them run across the Mersey, at low tide, with a sack of coal on their backs. Make men out of them."
...barefoot, towing a bag of sand, under musket fire. Last one across to be eaten raw by the rest, no other food. They don't know they're born.
Jack Convery
21
Posted 13/02/2017 at 21:24:18
I'm available to carry a bag or too. 40 years of work and I've never been offered a freebie winter break – how come?
Ah yes, of course... I'm not someone who gets a lot of dosh for kicking a ball better than some others.
John Keating
22
Posted 13/02/2017 at 21:40:41
Will,
We shouldn't mollycoddle them. I don't think we've ever come back from one of these "honest it's not really a holiday" and actually done well in following games.
Regardless they should be flogged.
Colin Glassar
23
Posted 13/02/2017 at 22:24:14
I don't know why they just can't go to Rhyl or Colwyn Bay like we used to when we were kids. I bet the weather will be better in Wales anyway.
Thomas James
24
Posted 13/02/2017 at 22:31:31
I don't care what Koeman says, for the likes of Kone and Lennon who don't get a game this is a holiday...
Interesting to read that Moyes has taken his team to chilly NY. His logic was that its colder in the US, so players would feel the benefit on their return. Let's see who wins when we play them!
Ian Jones
25
Posted 13/02/2017 at 23:57:25
Whilst this may seem like a jolly etc, I imagine most of the players would prefer to be back here preparing to play in an FA Cup game.
Mick Davies
26
Posted 14/02/2017 at 01:05:59
Colin @ 19, only Bob Latchford could do that.
Mark Andersson
27
Posted 14/02/2017 at 03:37:49
Are these the same players you idolize when they win a game and played well. Perks of the job for modern day footballers. If you don't like it find another sport to moan about.
Good luck to them, hope they have a great time come back fitter.
David Nicholls
28
Posted 14/02/2017 at 03:48:06
Who's the guy on the plane between Mirallas and Kone? Have we re-signed Segundo Castillo?
Steve Hopkins
29
Posted 14/02/2017 at 05:56:16
Idrissa Gueye.
Dave Long
30
Posted 14/02/2017 at 07:21:35
Sunderland are in New York on an Irish pub crawl in the snow organized by Darren Gibson. We are sipping soft drinks in the sun in Dubai. Who will take the 3 points?
Colin Glassar
31
Posted 14/02/2017 at 07:54:37
Didn't Koeman say there would be no smiling on this trip? They are clearly smiling in that photo.
Ian Jones
32
Posted 14/02/2017 at 08:22:21
It appears Lukaku hasn't travelled to Dubai. Has a calf problem. Should be fit for next League game. The news is on the main Everton site.
Will Mabon
33
Posted 14/02/2017 at 08:35:49
They can smile but it must be a fake smile. No laughing though.
David Nicholls
34
Posted 14/02/2017 at 09:12:32
Thanks Steve! It's Gueye, of course. I didn't recognise him. I thought young Baningime had been promoted for a second.
Rob Halligan
35
Posted 14/02/2017 at 09:29:24
Soren Moyer (#16): "Next 5 days Dubai weather forecast is cloudy every day. Hee hee."
Don't know if you have ever been to Dubai, Soren, but if the next 5 days is meant to be cloudy every day, then the squad will be made up with that. I've been to Dubai when the temperature has been in the mid-50s and trust me, it's unbearable.
Even this next 5 days, the temperature is in the high 20s, temperatures okay for training in, but not what they would be used to playing a full 90 minutes game in.
You seem to me like the kind of person who would complain to your travel agent that your holiday was spoilt because the weather was cloudy every day.
Your comment was pathetic!!
Dermot Byrne
36
Posted 14/02/2017 at 09:55:03
There is an irony here. Many of us glibly say pay £xyz million for some player we heard mentioned on Sky during transfer windows and slag off the Board and Manager when they don't. But then we moan about this. Of course, we are moaning because of our knowledge of effective modern training techniques, not some bitter jealousy!
I think this negativity is the top of a slippery slope. Next you will be saying bankers and traders should not get their bonuses. Where will it end? Imagine a world where other "entertainers" like Little Mix or worse, a Kardashian did not have more money than they need.
In the end, all the excess is down to us. We buy the "products" and given them our money. Sadly as private companies they can do what the hell they like with it and we will still buy the product.
Steavey Buckley
37
Posted 14/02/2017 at 09:55:58
Lukaku still on Merseyside receiving treatment for an injury but hopes to play against Sunderland. Injury reported as not too serious.
Calvert-Lewin and Mo Besic hope to get game time in Everton's friendly on Friday in their step up to get back into the first team.
Brian Hennessy
38
Posted 14/02/2017 at 10:13:32
Rob (#35) – A bit strong there in your comments about Soren, it was a light-hearted comment on his part.
Hardly warranted being called pathetic..
John Malone
39
Posted 14/02/2017 at 10:14:49
I'm always suspect when a footballer get's a muscle 'strain' – it's usually right before an international friendly!
You'd think that if it was just a tight calf, Rom could still go on the jolly and get his deep heat massages while the rest of the lads were on a bike ride!!
Call me paranoid, but I can just see Rom and Raiola sat in a spa in a top Paris hotel with the sheikh who owns PSG, sorting out a deal for the summer!
Phil Walling
40
Posted 14/02/2017 at 10:21:10
'Not for me', says Romelu 'But I'll be okay for Sunderland.'
Fishy or what?
Graham Mockford
41
Posted 14/02/2017 at 10:27:30
Phil
Dead suspicious. Footballer has calf injury. Do they think we are stupid?
Dermot Byrne
42
Posted 14/02/2017 at 10:43:11
Phil (#40)... I think, in answer to your question, the answer is "what"?!
Rob Halligan
43
Posted 14/02/2017 at 10:48:01
It was pathetic, Brian. There was no need for the little laughter at the end of his post. It's like he's saying he's made up that it's going to be cloudy for the five days the club are in Dubai, that it's going to spoil their little jaunt away. Trust me, they will be glad if indeed it is cloudy.
Will Mabon
44
Posted 14/02/2017 at 10:49:50
Phil might have a point, Graham. The Everton website says he is seeing a doctor in Belgium for treatment of the injury. For a Belgian guy with family and friends in Belgium, and during a break from playing, that's a very happy coincidence.
Barry Pearce
45
Posted 14/02/2017 at 10:54:45
Liam (#6), I agree with you about Dowell and Walsh. Looks like they don't be getting any game time, anytime soon.
Got to say I'm a bit surprised about Walsh. I believed him to be in front of Davies, at one stage. I know he's had some niggly injuries, also we are overloaded in the position he plays in at the moment. Hopefully his time will come.
John Daley
47
Posted 14/02/2017 at 11:08:36
Belgian international has a Belgian doctor who lives in Belgium
Peter Sullivan
48
Posted 14/02/2017 at 11:14:23
I just don't get some of these comments here. Never heard so much negative shite. These are professional footballers going to warmer climes to do some serious training for 5 days. Do you think it's a holiday?
Hopefully they come back ready to kick on – like it's not that they have been terrible lately. They are getting there – just ask Bournemouth.
Fucking hell, have you people ever played football? Some of the comments leave me fucking dumbfounded!!
Jason Bowen
49
Posted 14/02/2017 at 11:16:08
I will be honest, I will be disappointed if it is only cloudy as I want it to fucking piss down the whole time they are there!
I think sending the whole squad to Dubai is a friggin disgrace! What kind of message does this send out???
Get knocked out the cup and end up doing a couple of training sessions and spending their millions in Dubai!
Fucking joke! Should've been a few days at a boot camp at some end-of-the-earth shithole with no shops, no wi-fi, no fuck-all... fucking Dubai! Cheeky twats.

John G Davies
50
Posted 14/02/2017 at 11:20:29
I agree.
They should be hung, drawn and quartered.
David Pearl
51
Posted 14/02/2017 at 11:37:17
I'm sure the push is to get into Europe, and if we do it's not such a bad season after all. Although If Lukaku can't be bothered how serious are they? Dubai isn't such a great place anyway.., they still allow women drivers and clouds.
Joe O'Brien
52
Posted 14/02/2017 at 11:45:02
Or maybe he's just injured, John? I hope the club have a tracking device on him so they'll know if he goes near Paris... I'm sure in this day and age of paranoia they have.
Eddy Grundy
53
Posted 14/02/2017 at 12:08:44
I hope we turn up the undersoil heating for the poor lads when they get back to Goodison, don't want them getting a chill when they make a tackle.
If they beat the living shit out of Sunderland, I won't say another word on the subject.
Graham Mockford
54
Posted 14/02/2017 at 12:09:05
This may be useful
Peter Morris
55
Posted 14/02/2017 at 12:27:36
Interesting to see Matt Pennington on the trip, him having been praised to the heavens in recent weeks by Unsy. This is maybe also a sign that Koeman isn't convinced with the paring he is currently picking.
I think Pennington is a great prospect, with a good brain, albeit he doesn't solve the gaping weakness in the squad for a quality, tall, header of the ball in the central defensive partnership.
Funes Mori has the 'tall' bit, but his defensive positioning and general reading of the game is woeful. Headless chicken who spreads panic throughout the ranks with aplomb. He was generally poor on Saturday, yet again.
A signing in the summer has to be a priority, although I think Van Dijk will probably be beyond us.
Clive Rogers
56
Posted 14/02/2017 at 12:37:05
Peter (#52),
Williams isn't much better either. He seems to have gone really slow. We bought him too late in his career.
Tony Cunningham
58
Posted 14/02/2017 at 12:46:21
I don't get why so many people are worked up about this?
Sure, to us on sensible income levels it seems crazy to go on a work trip to Dubai but for people who are being paid 㿞,000+ a week it's not that crazy and also not that crazy for an employer to spend whatever it costs for 5 days there. These people live in extreme opulence thanks to their crazy wages.
As someone else wrote, this is 2017 and not the 1970s.
Barry Pearce
59
Posted 14/02/2017 at 13:22:01
Michael Keane, would be a good signing if we could get him. Good defender, good positional awareness, also very good in the air.
Agree about Funes Mori, and Williams. Not good enough for a team with Champions League aspirations.
Andrew Ellams
60
Posted 14/02/2017 at 13:26:04
How will the club ever move into the 21st century if the fans can't. Sports science has moved on.
Peter Murray
62
Posted 14/02/2017 at 13:49:17
All Everton players are equal, BUT some are more equal than others!!
Lukaku cannot be really bad, as surely our own medical staff & not Belgium's can follow or handle this calf-strain... just another player-power decision, nothing different. Warm air training another word for "change of scenery" – nothing new.
Julian Wait
63
Posted 14/02/2017 at 14:46:49
Concerning that Lukaku didn't go, per my comments about team building above. I hope that's not a signal that he won't stay after the summer. Yes, I may be reading WAY too much into that.
Paul Kossoff
64
Posted 14/02/2017 at 15:22:40
Kone on the plane! This waste of space, time and money must be thinking he's died and gone to Heaven. 㿨,000 a week for little to fuck-all!
Flight to Dubai free, week in the sun free, still gets paid, and still wished all the best by some... Unbelievable!
It can only be bettered by Sunderland's trip to New York after being beaten four-nil at home. Footballers are truly in dreamland on another planet. Rant over, I feel a lot better now, nurse, nurse.😜
Eddie Dunn
65
Posted 14/02/2017 at 15:28:07
Strange that Lukaku has the option of having his so-called "calf-injury" looked at in his homeland. Is he given special treatment?
Perhaps he has had a niggle, and that is why he played rather poorly at Boro', who, incidentally had a trip to Spain last week – they looked to have benefitted from it.
Jay Harris
66
Posted 14/02/2017 at 15:42:39
I am astounded by the sarcastic negativity on here, lads. Do we want to get behind the team or not?
I am also surprised that Lukaku could not have travelled and had his treatment in Dubai.
Maybe it will be a battle of the Kones v Sunderland.
Shane Corcoran
67
Posted 14/02/2017 at 15:54:42
Think before you type, lads.
On the assumption this is Koeman's call, do you think that he decided to bring them to Dubai because they deserve a break? Or do you think he thinks that the whole thing will help Everton gain more points in the Premier League?
Dave Williams
68
Posted 14/02/2017 at 17:01:55
On the basis that the entire squad could easily afford a break in Dubai, I really can't see it as a huge freebie for them.
A few days training in warmer weather is no big deal and there are far more serious things to get worked up about.
If Ron sees benefit in this then that's good enough for me.
Peter Fearon
69
Posted 14/02/2017 at 17:25:54
Amid all the sarcasm and negativity and just plain mardiness, there is a serious point. There is very little down side to losing or playing poorly in the Premier League. The vast majority of players never win even a loser's medal.
You get knocked out of the cup, it's a week in the sun. You lose your place in the 1st team, you still pick up more in a week than most earn in a year. You play mediocre football week after week, but still keep your place because there is no competition for your spot...
Well there's the shit kicking grin on your Instagram post to prove you don't care. If you think players care about losing, check out the smiles on their faces when they get on the team bus for the ride home.
There was once a connection between success and salary. Now there is very little. Yes, some players get £200k a week and some £60k but you think the daily life of a bench player on a mid-table or bottom-half club is that radically different from a regular starter on a top four club? It really isn't. Ask Kone or Gibson or Cleverley how tough it gets!

Dermot Byrne
72
Posted 14/02/2017 at 17:44:56
Peter (#69), I refer to my previous post. Those on average incomes provide the money for this. Catch-22... and the owners know that. Especially with clubs who have such loyal fans like us.
Peter Fearon
73
Posted 14/02/2017 at 18:11:00
Dermot, I agree in broad terms but excess is not really the issue. If a singer or an actor or a film director performs poorly there are ultimately consequences. There are very few consequences for players. You take your team down at the end of the season you get a transfer to a more successful club!
If a surgeon or air traffic controller or even a waiter who made repeated significant errors would be on the bins very quickly. The worst thing that happens to a mediocre player is he plays poorly somewhere else for similar money.
Mark Morrissey
74
Posted 14/02/2017 at 18:24:06
Sunderland off for a jolly in New York to "take in some basketball" matches, says Mr Moyes. A jolly and they are rock bottom!! Beggars belief. They should be giving trip to New York to young Bradley and his family and learning how to score some goals and stay in the Premier League.
It's an unnecessary trip and we have never done well after one of these bonding sessions. It's a huge waste of money all round. Rock stars on rock stars' wages and some of em play like rock stars... ha ha.
Will Mabon
75
Posted 14/02/2017 at 18:33:57
Belgium – world-renowned centre of excellence in chocolate and calf doctors.
Stan Schofield
76
Posted 15/02/2017 at 00:20:40
To those who complain about the high salaries the players get, the supposedly cushy conditions they have, and not having to try hard to be a winner to get these things, I've got a very simple suggestion: vote with your feet, don't watch them play, don't contribute to their income.
Darryl Ritchie
77
Posted 15/02/2017 at 00:54:41
I remember watching a Canadian TV sports talk show, a few years back. It featured an Olympic gold medal winning swimmer, a very successful pro curler and a Toronto Raptor bench warmer.
The moderator asked the swimmer if he had received any commercial endorsements as a result of his medal. Yes. he answered, but not much and they were only for that year.
The curler played in a total of 8 bonspiels a season, and that the purse for each was $100,000, split 5 ways. (Only if they won, of course.)
The pro basketball bench warmer pipes up; "I only make $850,000 a year! How's a person supposed to live on that!" The look the other two gave him, was hilarious.
From that day on, I consider pro athletes a different species. What they consider normal, is totally alien to the rest of us.
Michael Penley
78
Posted 15/02/2017 at 02:45:30
I had no idea people rated a trip to Dubai so highly. It's Dubai, lads. 50 degree heat, shopping malls, and camels. I wouldn't want to go there.
Eddie Dunn
79
Posted 15/02/2017 at 08:55:30
Consider the Sunderland team.
The team is on the bottom of the pile, so someone comes up with the idea of a trip to New York.
Imagine how depressed they already are, and now they will be spending some uplifting, inspirational time with their light-hearted, happy-go-lucky manager... I would rather stick pins in my eyes.
John Raftery
80
Posted 15/02/2017 at 09:04:27
Why has a few days' training and a practice match in Dubai provoked so much bile on this site? When the squad go to Austria in the summer for a few days' training and a practice match, nobody says a word.
What is the difference? The truth is there is no difference.
Guy Hastings
81
Posted 15/02/2017 at 09:22:58
Five days in Dubai and a week after that to prepare for Sunderland! God knows what they'll have to do to prepare for Chelsea.
Stan Schofield
82
Posted 15/02/2017 at 09:34:48
Michael@78: Yes, I went there once, wouldn't want to go again. Maybe Koeman is punishing them.
John@80: Give me Austria any time, apart from training in Lederhosen.
Matthew Williams
83
Posted 15/02/2017 at 10:44:41
If they come back & win at Anfield then I couldn't care less.
Maybe they could've gone to Chile to play our namesakes there... just a thought like!
Brian Harrison
84
Posted 15/02/2017 at 11:11:35
How come Valencia didn't go to Dubai, just seen a picture of him and his wife kissing in Paris yesterday to celebrate Valentine's Day?
Oliver Molloy
85
Posted 15/02/2017 at 11:20:55
I believe this is a team building exercise and don't understand some of the comments on here.
I'm sure the lads will have down time with some intense training also for good measure!
David Connor
86
Posted 15/02/2017 at 11:29:43
I thought this wasnt a jolly for the players? It obviously is if Kone's on it. He definitely should've been left behind. Unbelievable.
Nothing less than 3 pts against Sunderland, lads, otherwise the speckies will be well pissed-off.
Dave Abrahams
87
Posted 15/02/2017 at 12:12:59
Brian (#84),
I don't think Valencia has had a fair crack at proving himself at Everton, he has hardly played and when he has it was was in between weeks of sitting on the bench, much the same as Aarron Lennon.
I am not saying they are great players, just that they have never had a decent run in the side to really have a chance to convince anyone how good or bad they are.
Valencia will go back to WHU with his time at Goodison considered to be a blot on his career when the reality is he wasn't used hardly at all, a waste of time for Valencia and Everton.
By the way, I know he will have been well paid.
Tony J Williams
88
Posted 15/02/2017 at 12:47:04
Reads article, looks out of window and sees a grey sky.
Looks at weather forecast: 11 C with wind and rain/showers.
Looks at weather forecast in Dubai: 27 C mostly cloudy
Looks at fixture list – Next game, Sunderland at home.
Looks at 14-day weather forecast for 25 February – High of 8 C; low of 3 C.
Looks out of window again, scratches head and wonders why training in extreme heat will help for a match with weather of a high 8 C?
Goes back to work still scratching head...

Alun Jones
89
Posted 15/02/2017 at 12:51:57
Brian, please take another look at the picture...
Geoff Trenner
90
Posted 15/02/2017 at 13:15:33
Tony @ 88. I suggest that you try a different shampoo.
Ciarán McGlone
91
Posted 15/02/2017 at 13:17:38
This appears to be a non story. These people are extremely overpaid and lead luxurious lives. A week in Dubai is neither here nor there for them.
They can train on the moon for all I care.
Liam Reilly
92
Posted 15/02/2017 at 13:49:13
Can't believe this thread has made nearly 100 comments.
What's more concerning (depending upon which side of the fence you sit on, of course) is the betting for Barcelona's next manager after last night's drubbing.

Tony Sullivan
93
Posted 15/02/2017 at 15:55:45
In the 50s the first team went to Buxton in Derbyshire for special training. Apparently the air was a lot cleaner. I seem to remember a special diet was part of training it included sherry and eggs and lots of steak.
From memory, this special training usually preceded a cup tie. It didn't work because, apart from a semi-final in 1954 (I think), we never did anything special until the great year of '66.
Alan McGuffog
94
Posted 15/02/2017 at 16:50:09
Tony,
Buxton is definitely bracing. Lancs had to abandon the cricket there in June 1975 due to snow.

Patrick Murphy
95
Posted 15/02/2017 at 17:30:05
Tony # 93 You are correct that Everton did go to Buxton prior to the FA Cup Semi-Final of 1950, it didn't do the team much good though as that menace from over the park (Bob Paisley) put paid to our first post-war trip to Wembley, we also lost again to Bolton three years later, again at Maine Road and once again following a stint at Buxton.
Fourteen Everton players set out this morning for special F.A. Cup training at Buxton, and in the party is the Blues' latest casualty, Harry Catterick, the centre forward. Catterick fell heavily in the game against Chelsea on Saturday and tore a muscle behind the right shoulder. Catterick finished the game at outside-right, and although it was hoped the injury was not serious. Harry did not have a good night on Saturday, and Manager Cliff Britton had a note of gloom in his voice when I spoke to him. However, Catterick goes to Buxton where he will be given special treatment at the spa thermal baths, and while it would be merely conjecture to forecast anything for Saturday's visit to Stoke City, I am sure that things will work out all right, for the Cup-tie on Saturday week. Those thermal baths worked wonders with Everton injuries 17 years ago and can do so again. Of to Buxton, too, went Eddie Wainwright, who was injured in the cup-tie at Derby, and Cyril Lello who was injured in the match against Aston Villa on February 4 and who has not played since, Mr. Britton is happy about the position of both these players and in fact added; "I think Cyril will be quite fit by the week-end." That news should hearten the Everton fans. The following players in the party. Burnett; Moore, Saunders; Hedley, Grant, Falder, Farrell; Lello, Buckle, Wainwright, Higgins, Catterick, Fielding and Eglington. They will remain at Buxton, the Blues favourite training centre until Saturday when they travel through to the Victoria Grounds to play Stoke. After the match the players will come home to train until the following Thursday when they will return to Buxton to rest until the game with Liverpool at Maine-road.
http://www.Evertonresults.com/match25031950.html
Everton with a week of home training and the near certainty of Hickson and Lindsay being perfectly fit go off to Buxton overnight before the tie and come up for the last hurdle but one next day with the hopes of all Merseyside behind them. Meantime, it is not unknown for people to call out to an Evertonian "Big head" and for Evertonians to reply without hesitation "Gateshead." I assume because Gateshead had given Bolton a game as they only lost 1-0 to Bolton in the 6th round.
http://www.Evertonresults.com/match21031953.html
Patrick Murphy
96
Posted 15/02/2017 at 17:38:53
According to the author of the link below Mark Williams, he says that:
"Last year's approach was more with the ball. There was definitely no let-up in today's session, as opposed to the players going full pace after every ball, but as soon as one ball went out of play, another was thrown in straight away, and they worked on being put under pressure.
"I know a lot of fans think this is a holiday for the players, but it's not. The facility they're at is one of the best in the world and the training sessions are intensive.
"Hopefully they'll get the opportunity to spend time together and get to know each other, but it's more boot camp than holiday camp."
Tony J Williams
97
Posted 15/02/2017 at 17:45:08
Geoff. Used to use Wash & Go.
I washed and it went...
Slap head I'm affraid.
Peter Mills
98
Posted 15/02/2017 at 21:31:04
I drove through Buxton twice today. I would not want the bronchial tubes of any of our players to be there for 5 days.
Tony Hill
99
Posted 15/02/2017 at 22:00:34
Interesting to hear Ballack speaking about how the important thing is delivering when it matters and having the right attitude even in the tunnel. Munich's fitness and intensity were frightening tonight and Arsenal were jellies.
Let's hope Ronald is instilling the hardness, fitness and confidence which we've lacked for a very long time.
Charlie Lloyd
100
Posted 16/02/2017 at 00:10:24
This trip to Dubai has certainly stoked up some opinion.
Me personally, only based on assumption, I'm not sure I'd want to be in Dubai with Koeman. I'd hardly expect an easy time.
And that's the point.
Anybody thinking the players are going to get it easy compared to being at Finch Farm are probably mistaken. He's going to drill them, no doubts about it.
If we come back and stumble against Sunderland then it's open to criticism but I believe the idea is there to train them hard and indoctrinate them more in the Koeman way.
Jim Bennings
101
Posted 16/02/2017 at 09:02:07
It seems weird why clubs these days feel the need go travel halfway across the globe to do training, why not just pick a camp in Spain or Portugal?
Sunderland off to bloody America, us off to Dubai... to be honest, yes, I get the fact that we are in a different generation in football but I'll still never understand how this kind of thing benefits a team.
Last time we went off to Dubai was in January 2015 and our immediate results read as following...
Crystal Palace: won 1-0
Liverpool: drew 0-0
Chelsea: lost 0-1
Leicester City: drew 2-2
Arsenal: lost 0-2
Stoke City: lost 0-2
Let's hope for a better impact than that.
Patrick Murphy
102
Posted 16/02/2017 at 09:15:46
Jim (#101):
It's funny how people will relate certain aspects of history to suit their narrative; the games prior to the Crystal Palace victory read:
Spurs: Lost 1-2
Hull City: Drew 1-1
Man City: Lost 0-1
QPR: Won 3-1
Southampton: Lost 0-3
Stoke City: Lost 0-1
Newcastle Utd: Lost 2-3
Hull City: Lost 0-2....
Followed by four draws against West Ham x2 in the FA cup, Man City and West Brom.
So it could be argued that the Dubai trip didn't impact on Everton's form one way or the other.

Jim Bennings
103
Posted 16/02/2017 at 11:52:47
Patrick
I hear what your saying but the fact is what you say is what I was saying.
Going to Dubai made no real difference either way to the form, we never came back in blistering form and we never came back in worse form so I was simply saying I don't fully understand the need to go halfway across the globe to do a fitness camp, I've never got my head around warm weather training because when you arrive back in England your playing and training in cold conditions.
Maybe the players feel some benefit or maybe it's just a jolly in the sun who knows, we'll find out when they come back if it's damaged or helped us perhaps.
Add Your Comments
In order to post a comment, you need to be logged in as a registered user of the site.
Or Sign up as a ToffeeWeb Member — it's free, takes just a few minutes and will allow you to post your comments on articles and Talking Points submissions across the site.