O'Neill includes McCarthy in preliminary squad to face Wales

31 Comments [Jump to last]
Tuesday 14 March 2017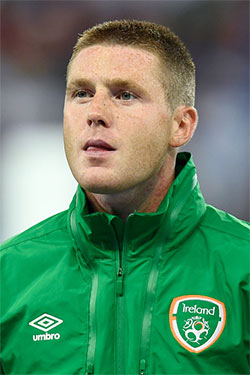 Republic of Ireland boss Martin O'Neill could risk further another wrangle with Ronald Koeman by calling James McCarthy up for international duty despite his fresh hamstring problem.
The respective managers traded barbs last autumn when O'Neill selected McCarthy to play in back-to-back World Cup qualifiers despite the midfielder having played no Premier League football since undergoing surgery on his groin five weeks earlier.
McCarthy was able to play in both games for his country but suffered a hamstring strain upon his return to Everton, a situation Koeman blamed on him being "overworked" by Ireland.
Since then, the 26-year-old has been in and out of the Blues' team because of recurring soft-tissue injuries, the latest of which kept him out of Saturday's 3-0 win over West Bromwich Albion.
Koeman explained then that, although the injury was said to be minor and that he only expected McCarthy to be out for a couple of weeks, he was keen for the club's medical staff to get to the bottom of the underlying problem.
That would obviously be complicated if he went away with Ireland but O'Neill, who has named McCarthy in his 39-man preliminary squad, said the Irish camp will assess him in training. Regardless, he indicated that he won't accept any blame if McCarthy breaks down again.
"He's upbeat, he said he'll monitor it this week," O'Neill is quoted as saying by the Irish Independent. "He's hoping to be back in full training. He's had issues with Everton but this particular time, I think we are blameless.
"We've not had him for quite a few months, Everton had him for quite a period of time, so I don't think they will attach any blame us... but you never know."
The newspaper's report says that Koeman accepts Ireland are within their rights to call McCarthy up again but he would no doubt prefer that he stay at Finch Farm.
---
Reader Comments (31)
Note: the following content is not moderated or vetted by the site owners at the time of submission. Comments are the responsibility of the poster. Disclaimer
Gerard Carey
1
Posted 14/03/2017 at 17:32:05
I think O'Neill is stirring the brown stuff on this already. If Macca is injured, he needs to be rested, regardless of whether it's for us or Ireland.
Mick Davies
2
Posted 14/03/2017 at 20:31:17
I'm beginning to hate O'Neill more than any other manager in football: an overblown egotistical media darling with the track record of Steve McClaren.
John Daley
3
Posted 15/03/2017 at 00:54:32
Nice to see dwindling managerial success doesn't necessarily serve as a handbrake for needlessly abrasive smart-arsery. 
A thought spared for the player stuck in the middle would have been even nicer though.
Jim Hardin
4
Posted 15/03/2017 at 01:06:03
I wonder if the notification to Everton included a picture of a giant middle finger to Koeman on the front? Say what you will about him but O'Neill certainly has a brass pair it would seem.
Brian Porter
5
Posted 15/03/2017 at 06:10:22
Koeman had announced that McCarthy would be out for a couple of weeks before the call up from O'Neill. The Irish 'manager' should therefore have respected the fact that the player is not fit to play for his club who assess his fitness daily and left him out of the squad.
Not only is O'Neill showing blatant disrespect to Everton FC's medical staff, but most of all, to James's long term health and fitness. If they play him when it's obvious he has an underlying long-term problem they are risking his future as a professional footballer.
McCarthy should be man enough to tell him that he is not fit and must share some of the blame for the situation by not having the guts to stand up to O'Neill. He should remember who pays his wages and it is not the Irish FA.
John Codling
6
Posted 15/03/2017 at 07:37:41
Just tell the Irish twat and his useless assistant to get fucked.
Jim Bennings
7
Posted 15/03/2017 at 12:19:44
I got one am totally sick of these international fixtures at the business end of the season, it's just stupid!!
They need to really look at the amount of matches teams play in these groups thst never seem to involve anything other than part time dross making the numbers up and adding to the amount of games needed.

Brian Furey
8
Posted 15/03/2017 at 12:52:38
There's always two sides to a story, lads, and as an Irish fan this is a very important match for Ireland. Unlike England, we don't have a lot of good midfielders and have a few injuries. If we win this match, we could actually win the group.
If he's injured and can't play then no problem but if he's not too bad then I'm sure he'll want to play. It's not as if he's crucial to Everton's season at the moment with him being 4th or 5th choice currently. It would be different if we were dependent on him for vital games.
Anthony Hughes
9
Posted 15/03/2017 at 15:49:01
If he's not fit enough to play for us then he isn't fit enough to play for Ireland. I'm not sure what that prick O'Neill doesn't get about the situation.
Steavey Buckley
10
Posted 15/03/2017 at 19:13:01
FIFA are allowing international managers like O'Neill to risk playing injured players on the basis they will be fit enough when there are international matches again in 6 months time.
O'Neil did it with Gibson, but he was out injured for 12 months due a cruciate liagament injury suffered on international duty when playing a second full game in 4 days for the ROI when not match fit.
Charlie Lloyd
11
Posted 15/03/2017 at 20:41:09
Martin O'Neill loves a good argument.
He tries to disguise his irritant nature by having a bigger irritant alongside him. Roy Keane.
Enough said.
Mick Davies
12
Posted 16/03/2017 at 00:17:45
Brian @ 8, I don't know if you're an Evertonian or not, but if McCarthy was English, I wouldn't want him playing for England while he's injured: international football holds no interest for me, and a manager threatening to play an injured player should be sacked immediately. It's a disgusting state of affairs when an employee is told he must go and risk his career by working for a third party
Will Mabon
13
Posted 16/03/2017 at 11:57:46
I don't know the regulatory procedure in these cases (if there is one?) but surely such lunacy can't be allowed to occur. Who has the final say if there's a dispute – anyone know? The player?
He's fit or he's not, full stop. Clubs give players diet sheets telling them what not to eat, won't let them take part in other risky sports/pastimes – but have to swallow this?
I know it works the other way sometimes, players with fake injuries at their club, that suddenly heal for the next match day... but surely there's a procedure... isn't there?
Steavey – do FIFA have some kind of power to compel the player?
Edit: compel the player to play based on their assessment, as opposed to attend?
Steavey Buckley
14
Posted 16/03/2017 at 12:35:46
Will, if a player agrees to turn up for international training with a view to playing in any forthcoming international match, a club has to agree to allow him or face sanctions imposed by FIFA, even if the player is injured or not match fit.
Stan Schofield
15
Posted 16/03/2017 at 23:58:40
Will, perhaps the health, safety and welfare of professional footballers is protected under the Health and Safety at Work Act. If it is, it would be interesting to see how the HSE might assess the situation of a player being called up for international duty when his club has already stated that he is injured.
A regulator could take appropriate enforcement action regardless of the wishes or judgement of the player involved if independent medical evidence confirmed the club's judgement.
Will Mabon
16
Posted 17/03/2017 at 04:39:38
Steavey and Stan, thanks.
Seems then, it's the player that makes the decision to respond to the call up? That's quite a pressure, more so for some personalities than others. If a player feels press-ganged by the likes of O'Neill and Keane at the risk of jeopardizing their international future, a patriotic calling separate to their pro' club career - well it's easy to see what can happen.
A dated and unsuitable system, a clash of two interests. Time for yet more bureaucracy in the form of properly independent medical assessment maybe; though that takes away clubs' options of playing their jokers.
I'd envision the HSE more likely to be involved in serious cases after the SHTF, it often works that way.
Not an easy one to resolve. Over to you James.
Steve Bell
17
Posted 17/03/2017 at 09:10:53
This cycle of playing for us, getting injured then getting automatically picked for Ireland anyway is not doing the player or the cub any favours. It's almost as if O'Neill's goading us on purpose for some reason.
Stan Schofield
18
Posted 17/03/2017 at 09:21:11
Will, regarding the HSE, they will get involved if there is a real identified risk to the individual, which on the face of it seems to be the case here. It's not the decision of the individual, but the regulator (HSE).
Often, individuals need protecting from themselves as well as protecting from others. The HSE work on the principle of avoidance of an injury, over taking action after the event.
Will Mabon
19
Posted 17/03/2017 at 16:30:15
Stan, having had to wade through the HSE treacle in the past, I know what you're saying. In some areas they're right there in your face, others not so unless things are highlighted or reported... identified risk... or something serious happens. Then more regs. come along. They're not yet everywhere as far as I know, but I've been out of that game a long time.
Could be a can of worms if someone initiates something in this area of football but what's the answer? It's an incredibly amateur set up.
Stan Schofield
20
Posted 17/03/2017 at 19:12:21
Will, it's an interesting thing. To think that a player like McCarthy could end up with a more serious chronic problem because of being called up when injured, there must be a system to regulate this, to control the behaviour of managers with vested interests. And to put a control on the player himself pushing himself against his best interests.
It would be interesting to get the HSE's view on the situation. The national headquarters of the HSE, Redgrave Court in Bootle, are about half a mile from Goodison.
Oliver Molloy
21
Posted 17/03/2017 at 19:32:14
If McCarthy is not fit and is being treated for an injury, he should not be risked, and the Ireland management team should respect that, end of story.
Even more importantly, if the player himself knows he is risking prolonging his current injury, but doesn't seem to care for whatever reason he should expect and accept no sympathy from the manager of Everton.

Joe McMahon
22
Posted 17/03/2017 at 19:32:39
McCarthy could always tell O'Neill he's not match fit of course, and that's why he hasn't been playing for Everton. Just a thought.
Ian Bennett
23
Posted 17/03/2017 at 19:50:43
If he plays and breaks down again he deserves no sympathy. On loan at some awful club awaits.
Stan Schofield
24
Posted 17/03/2017 at 19:52:16
Joe, I think that's part of the problem, in that McCarthy seems reluctant to miss the chance of playing for his country, with the possible worsening of his injury due to inadequate recovery time. It shouldn't be down to him, that's when O'Neill can take advantage of him.
Eddie Dunn
25
Posted 17/03/2017 at 19:59:47
We must remember, of course that our own club have encouraged our players to take risks with their long term health too.
So before blaming O'Neill (who I have always respected as a deep thinker in the football world) let us remember Baines playing on for most of a season with a gammy ankle, injections before games, eventually leading to a long rest and two operations.
The player has to have more sense, and if these managers really cared about them, then they would be more circumspect.

Stan Schofield
26
Posted 17/03/2017 at 20:44:35
Eddie, spot on. But you can't rely on the players having more sense, or the managers caring about them. That's why it ends up in a prolonged dispute between O'Neill and Koeman.
And sometimes you have to force managers to do the right thing, that's why they might need some form of policing from a regulator, to inject some common sense.
And if this did happen, the requirements set down by the regulator would take precedence over any rules from FIFA and the like, thereby cutting through a load of bullshit of the kind we see from FIFA.
Oliver Molloy
27
Posted 17/03/2017 at 21:37:27
Yes Eddie,
And we must remember also that it is the clubs that pay the player vast sums of money, week-in & week-out, injured or not – for me, club vs country is no contest.
Eddie Dunn
28
Posted 17/03/2017 at 22:16:09
Stan, good point, perhaps it is time that there was an independent arbiter in these "club v country" spats.
Oliver, I agree, it is the clubs who have the most to lose, and EFC have suffered with our Irish boys being particularly hit. I remember Fergie rarely allowing Giggs to play for Wales unless it was a big game-; Giggs always pulled out with an injury.
Perhaps it is typical of modern player power, that the clubs are finding it hard to restrict availability for these meaningless friendlies (not Ireland in this case). Who knows what is in the contracts of our players?
Phil Walling
29
Posted 18/03/2017 at 09:47:52
Cue another 'dispute' between club and country managers. Boring, boring!
Will Mabon
30
Posted 19/03/2017 at 01:41:15
OK, with Morgan crocked we need him now, to put the RS in his pocket again. Get him cured and fit in this otherwise irritating international break.
Sorry Martin, Lad.
Stan Schofield
31
Posted 19/03/2017 at 13:57:43
Will, the regulator needs to issue a prohibition notice against O'Neill, under the COTH (Control of Twat Head) regulations, together with an improvement notice under the POTS (Prevention of Talking Shite) regulations. That should do the trick.
Add Your Comments
In order to post a comment, you need to be logged in as a registered user of the site.
Or Sign up as a ToffeeWeb Member — it's free, takes just a few minutes and will allow you to post your comments on articles and Talking Points submissions across the site.