Funes Mori to undergo surgery on injured knee

233 Comments [Jump to last]
Tuesday 28 March 2017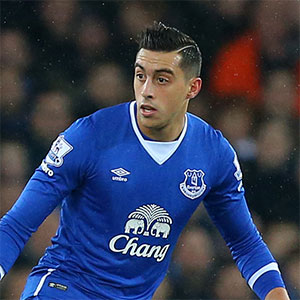 Updated
The international break took a further toll on Everton's this week as Ramiro Funes Mori was stretchered off with a knee injury.
The defender was in his customary role in Argentina's back line as they took on Bolivia in CONMEBOL World Cup qualifying but forced play to be stopped after 37 minutes when he sat on the pitch feeling his knee.
He was withdrawn with his country trailing 1-0 — they ended up losing, throwing into doubt their ability to qualify for Russia in 2018 — likely leaving Blues boss Ronald Koeman another man short ahead of Saturday's Merseyside derby.
29/3/2017 Update: Indications out of South America were initially not conclusive regarding the extent of Funes Mori's injury but it has now been confirmed that he tore his meniscus and will undergo an operation following a surgical opinion.
Argentina head coach, Edgardo Bauza, admitted to the press afterwards that they fear something more serious than a sprain and those concerns appear to have been realised.
Funes Mori apparently ruptured a ligament in the same knee five years ago was believed to have flown back to Merseyside via private jet to undergo scans at Finch Farm.
---
Reader Comments (233)
Note: the following content is not moderated or vetted by the site owners at the time of submission. Comments are the responsibility of the poster. Disclaimer
Kieran Kinsella
1
Posted 28/03/2017 at 21:59:42
After his bizarre badge-kissing incident last year, maybe it's for the best if he misses the derby. But in reality this is a big blow coupled with Coleman.
We now have two creaking old center halves and one promising but still developing centre-back who may be deployed at right-back. Perhaps now would be a good time to give Pennington a run out.
Chris Gould
2
Posted 28/03/2017 at 22:01:50
Bloody hell, this is ridiculous.
At least Lallana has been ruled out of the derby. Henderson is doubtful too.
They are both starters for them, so it's pretty even on the injury front and no excuse for a poor performance.
Soren Moyer
3
Posted 28/03/2017 at 22:03:16
I am watching the game. His knee is swollen ffs!

Stephen Brown
4
Posted 28/03/2017 at 22:07:44
What about Holgate, Williams, Jags at the back with Lennon and Baines as wing backs?
Davies, Schneiderlin (if fit), Gana
Ross
Lukaku
To complete the team!! We need to adopt a siege mentality for this one!
Vijay Nair
5
Posted 28/03/2017 at 22:12:00
The two senior citizens, Williams and Jags will not be able to keep up with the pace at which the RS play. I'd rather have Kenny at right back, and Holgate paired with Williams in the centre of defence. Jags is prone to brain farts and this is one game where one mistake could lose/win it.
Kieran Kinsella
6
Posted 28/03/2017 at 22:15:14
Vijay,
I'm inclined to agree. Liverpool could smash the geriatric pairing. But will Koeman be more concerned with that? Or the risk of throwing a youngster into the derby day cauldron?
The first half of this season I'd say he pick Jags/Williams but now I'm not so sure. He was bold enough to blood Davies and Lookman so maybe he will take a chance with a younger guy.
Liam Reilly
7
Posted 28/03/2017 at 22:15:54
Ya couldn't make this up.
We're now short of two likely defenders and two midfielders.
Three at the back against their pace is dangerous. I'm thinking seriously about taking Monday off.
Will Mabon
8
Posted 28/03/2017 at 22:19:17
Liam: not to bemoan Evertons's luck... but this is just Everton's luck.
Chris Gould
9
Posted 28/03/2017 at 22:19:43
Firminho, Coutinho, and Mane are going to be a difficult front 3 to stop. There's a lot of pace and skill there.
Not sure Jags and Williams are going to be able to keep them out. I think we should attack with reckless abandonment and just roll the dice.
Which is why I'd make a terrible manager. Hopefully Koeman will come up with a tactical masterclass, and hopefully whoever plays will play out of their skins for Seamus.
Kenny Smith
10
Posted 28/03/2017 at 22:21:57
Get yer boots on, Ronald!
Kieran Kinsella
11
Posted 28/03/2017 at 22:26:17
I'd go
Baines, William, Pennington, Holgate
Gana, Davies, Barkley
Mirallas, Lookman
Lukaku
Keith Purcell
12
Posted 28/03/2017 at 22:36:02
Looks like we're gonna have a makeshift defence for the derby. Probably the best tactics will be to sit back, soak up the pressure, and hit them with long balls and counter-attack. It seems their defence can't handle long balls with quick counter-attacks.
Eddie Dunn
13
Posted 28/03/2017 at 22:51:35
Damn, I can see Barry in front of Jags and Ashley. An invitation for anyone with a bit of pace to jog through and get chopped down... pens aplenty!
James Stewart
14
Posted 28/03/2017 at 22:59:45
No need for any of that, Eddie.
Stekelenburg
Browning Holgate Williams Baines
Gana Davies Barkley
Valencia Lukaku Mirallas
Tom Bowers
15
Posted 28/03/2017 at 23:08:41
More bad news. It's bad enough these players have to travel 10,000 miles for these games without getting injured. Don't sign any more South Americans, period!
Anyway, Everton held the RS well in the last game and they only scored at the end, as they usually do.
Everton have to get to them early and ram the advantage home. They rely heavily on Coutinho and Mane so get them bottled up and with Lallana out, we have a chance.
Kieran Kinsella
16
Posted 28/03/2017 at 23:12:45
On the bright side Geri scored and, better yet, with the Brexit, the pre-agreed resale to Barcelona is worth more now in pounds sterling.
We can use that money to build a flood barrier for the new stadium.
Brian Wilkinson
17
Posted 28/03/2017 at 23:15:12
Could work in our favour, I would have gone for Baines, Jags, Williams and Holgate but, if fit, I think Ronnie would have played Funes Mori instead of Jags.
Colin Glassar
18
Posted 28/03/2017 at 23:17:02
When it rains, it pours. In our case, it's pissing down right now.
Anthony Dwyer
19
Posted 28/03/2017 at 23:17:30
Robles
Holgate (rb)
Baines (lb)
Jagielka and Williams (cb)
Schneiderlin and Gana (cdm)
Davies (cm)
Barkley and Calvert-Lewin (am)
Lukaku (st)
Lookman or miralas in for calvin-lewin only other possibility.
Barry has to be sub at best only to be used to keep our lead if we have one.
Valencia, Pennington, Stekelenburg etc as subs.
I'd prefer Coleman, Funes Mori, Bolasie and McCarthy all to be fit enough to give us a headache but shit happens.
Colin Hughes
20
Posted 28/03/2017 at 23:19:32
Liverpool have struggled this season against teams that have put quality crosses into the box, notably at home to Swansea and away to Leicester recently, yet they have had no problems winning against the so-called footballing sides of Arsenal, Man City, Spurs and even Chelsea.
That just tells me we should just bombard them with crosses... bloody shame Koeman has released all the wide men.

Kiern Moran
21
Posted 28/03/2017 at 23:22:56
More disappointment news. I think Stephen Brown makes a good point. I had quite forgotten about Lennon, he could fill in at right back.
Nick Armitage
22
Posted 28/03/2017 at 23:27:30
I don't care what happens or who plays as long as we beat them. They're nothing special. We were poor at Goodison and they needed their customary fluke to beat us.
Charlie Lloyd
24
Posted 28/03/2017 at 23:40:25
Bad news... less options.
Koeman has some massive decisions to make for the derby. Jags and Williams at the back would mean not much pace, sitting back to deny space behind but difficult to high press as a team. Introducing the pace that youngsters like Holgate and Pennington can give is attractive but the lack of experience could tell.
Apart from CB there is the RB issue and at LB I expect Baines to be occupied by Mane which curtails his offensive. So the supply forward has got to come from other sources. Hopefully Schneiderlin is fit to play alongside Gana and Davies and scrap in the middle.
Then there's a mixture of Mirallas, Lookman or Calvert-Lewin supporting Barkley with a massive point to prove Southgate should have played him and Lukaku who can get something out of their defence.
It might not be pretty but I'd love us to put a shift in and turn over the media darlings.
Joe O'Brien
25
Posted 28/03/2017 at 23:54:01
Steven, when you mention a siege mentality, are you thinking of sit back and hold firm? They'd run us over... we have to press them and attack. I don't mean go all gung-ho but can't just try to hold them out.
Jags is nearing his end with us but I think he could do the job for us on Saturday. We couldn't risk putting Pennington or Browning for their first match in ages. Although Pennington would have to make the bench. This forced move could be a silver lining in this cloud. He's a good prospect.
I wouldn't go near Lennon in the starting 11; Holgate is a better defender and a better attacking full back. Fingers crossed that Morgan is fit, if he is combined with their losses we can win... not sneak a draw, but win the match. We've got to be positive or else we'll get nothing.

Gordon Crawford
26
Posted 28/03/2017 at 23:59:34
It just keeps getting better. I seriously hate internationals these days.
And on a even better note, some university dude thinks that our stadium could be flooded within 80 years. Seems the media likes to take the piss out of us.
On a positive note I watched Logan, very good movie, I highly recommend it. 😝
Julian Wait
27
Posted 29/03/2017 at 00:25:22
Lennon at right-back was a failure last time. I'd rather see Holgate right-back and Pennington with Jags, Williams and Baines.
Paul Kelly
28
Posted 29/03/2017 at 00:28:55
Just when you thought it couldn't get any worse.
Mark Andersson
30
Posted 29/03/2017 at 01:28:37
Liverpool can be beaten, if we turn up with a winning mentality...
This is where Koeman earns his millions, a sound game plan and have the players up for the challenge. Any player picked has a opportunity to cement a place for the rest of the season and secure a starting place for next season.
Ross and Rom to be on target 3 -1 to the blues... There you go positive mentality...
Mick Davies
31
Posted 29/03/2017 at 01:28:44
The squatters curse strikes again. Why is it always just before we play THEM?
Paul Ferry
32
Posted 29/03/2017 at 01:45:15
James Stewart (#14) – Isn't Browning on loan at Preston?
Jim Hardin
33
Posted 29/03/2017 at 01:46:54
Kieran,
What? FFS, give it a rest. He showed the loyalty to the badge certain posters on here want or require of all players, so stop knocking him.
As for Tom Bowers, right, because South America produces no good footballers. BTW, how far exactly did Coleman travel? Should you just limit the distance to the outskirts of Liverpool then? I swear, the comments on here just get dumber and dumber but yours wins the gong award.
Andrew Keatley
34
Posted 29/03/2017 at 02:00:46
What about Jonjoe Kenny at right back/wingback? It's his position.
Bill Watson
35
Posted 29/03/2017 at 02:12:17
I can't say I'm that fussed about Funes Mori being out as he's always an accident waiting to happen.
What was the Belgian trip to Russia all about? A friendly when all the major leagues are approaching the crucial stage of the season? Ffs.
Daniel Lim
36
Posted 29/03/2017 at 02:16:38
So it's 3 down now?
I just wonder if there is any casualties over at Mordor?
Nigel Johnson
37
Posted 29/03/2017 at 02:19:20
Well why not play 4-4-2, long-ball game for one match only.
Put Lukaku and Valencia up-top; Holgate right-back; Barkley right midfield; Jagielka and Williams centre-backs; Gana and Davis central midfield; Mirallas left midfield... with both wide players given instructions to put the ball in the box early.
Beckham has made a life out of doing that; I've not once saw him run past a full back. Doing this, you'll be deep enough to help out our defenders, it might be boring but who cares if we beat Liverpool playing this way?
Laurie Hartley
38
Posted 29/03/2017 at 04:53:16
Well, first and foremost, bad luck for Funes Mori – get well soon, son.
As far as the derby goes, and concerns about the lack of pace at the back, I could have my wires crossed but I was of the understanding that Jags was one of the fastest players in the club? I would certainly play him in this match, and also play Kenny at right back.
Provided Schneiderlin is fit, I have no concerns about the rest of the team. We still have options in midfield and plenty of fire power up front.
My team would be (checked to make sure I haven't tried to sneak a 12th man in, Michael):
Robles,
Kenny, Jagielka, Williams, Baines
Gueye, Schneiderlin, Davies,
Barkley, Mirallas
Lukaku
Plenty of good options on the bench – Lookman, Calvert-Lewin, Valencia, Lennon, Holgate.
I would have no qualms about playing Davies and Kenny. They will be up for it.
Dan Egerton
39
Posted 29/03/2017 at 05:46:39
Williams plays better as part of a back three than two and Jagielka's mares will be lessened with two centre-backs, not one helping if we set up like this:
Baines. Jagielka, Williams, Holgate, Kenny.

Dan Egerton
40
Posted 29/03/2017 at 05:47:17
Kenny is another Tom Davies in waiting. I watch the youth teams as much as I can and he'll surprise many of you.
Paul Ferry
41
Posted 29/03/2017 at 05:47:49
Laurie, mate, Holgate for Williams.
Kim Vivian
42
Posted 29/03/2017 at 05:48:50
Thank you, Jim Hardin, for writing my post for me.
Brian Porter
43
Posted 29/03/2017 at 06:05:47
Jim Hardin (#33), thanks for saying exactly what I was about to say. I'll give my typing finger a rest. Get well soon, Ramiro. We need you.
Vijay Nair
44
Posted 29/03/2017 at 06:08:53
Agree with Dan (#40). Like I said in my earlier post, I'd like to see Holgate and Williams as centre backs, with Kenny at right back.
Michael Kenrick
Editorial Team
45
Posted 29/03/2017 at 06:27:58
And you spelt every name dead right, Laurie. Nice one!!!
Nigel Munford
46
Posted 29/03/2017 at 06:29:07
Couldn't believe I was reading the first post on here, Kieran seemingly pleased Funes Mori is injured, unbelievable.
Let's hope it's nothing serious; get fit soon RFM.
James Hughes
47
Posted 29/03/2017 at 06:39:54
If there was an upside to this, it would only be Funes Mori hasn't started the past couple of games and we have won those games.
Tony Hill
48
Posted 29/03/2017 at 06:49:05
It's crucial we don't go into Saturday with a self-pitying attitude and a performance then to match. They won't have Lallana and Henderson, they're weak defensively and we have every chance.
As Charlie Lloyd notes above, I expect them to try and go at Baines through Mane, and Leighton will need help. We obviously have to set ourselves up astutely but I think Koeman will do that and we absolutely must not go there on our knees.
Gareth Clark
49
Posted 29/03/2017 at 06:49:09
Big shame that Funes Mori is out!
I would have played 5 at the back
Kenny, Holgate, Williams, Funes Mori, Baines
But now will probably go 4 at the back:
Robles
Holgate, Jagielka (c), Williams, Baines
Idrissa, Schneiderlin, Davies
Mirallas, Barkley
Lukaku
Subs: Stekelenburg, Pennington, Kenny, Barry, Lookman, Calvert-Lewin, Valencia.
We are a little short in midfield cover but Barkley can drop deeper if necessary... Pennington & Kenny are both capable enough off the bench, in my opinion.
Hopefully Schneiderlin is fit – if not; Barry in for him and Walsh on the bench.
Christopher Timmins
50
Posted 29/03/2017 at 07:06:46
We can cope with his loss and we can get the 3 points on Saturday!
Martin Nicholls
51
Posted 29/03/2017 at 07:08:56
My first derby at Anfield was in 1964 when an injury-hit Everton were given no chance. I witnessed a magnificent performance from Andy Rankin in goal and a great 4-0 victory against all the odds. The build-up to this game is eerily similar!
Think positive, Blue Boys – I'll be there on Saturday praying for a repeat of that great performance all those years ago. COYB
Bob Parrington
52
Posted 29/03/2017 at 07:24:40
Coutinho and Firmino both played almost a full game vs Paraguay in World Cup Qualifiers and might be slowed down too by all the travel.
This might be a bit of compensation against our 2 injuries.
Just a thought? Any of you got the flu? Maybe go shake Mane's hand, eh?
Jonathan Bevan
53
Posted 29/03/2017 at 08:02:12
Mark (#30),
Totally agree... now pass it on to the Blue Army at Anfield on Saturday.
John Daley
54
Posted 29/03/2017 at 08:20:58
Jim @35,
How does 'kissing the badge', after needlessly getting sent off and dragging your teammates deeper into the shit, demonstrate "loyalty" to anything other than the latent desire to cover your own arse and a liking for amateur dramatics?
It was nothing more than shameful playing-up to the crowd in an attempt to convince them he hadn't just pissed all over their shoes.
The fact some lapped it up is bemusing. Since when do people go around beating their chest after dropping a bollock and how does it in anyway make the act itself, or the consequences, any 'better' or easier to bear?
It would have been a far greater display of 'loyalty to the cause' if he could have concentrated on not acting like a self-destructive loon and did his best to stay on the pitch.
As for those now worrying about a lack of pace at the back after his loss? Since when has Funes Mori been faster than Jagielka? He moves like a disorientated Daddy Long Legs after it's just been lamped by a fucking dish cloth half the time.
Oh and, no, none of the above means I'm "pleased Funes Mori is injured", but it does mean I'm not exactly gutted, cursing the God's or looking for a ready made excuse just in case we rollover far too easily on Saturday once again.

Tony Steele
55
Posted 29/03/2017 at 08:30:36
It's like a new signing!
Shane Corcoran
56
Posted 29/03/2017 at 08:40:47
John Daley, it's been widely reported that the bruising on our beloved Argie's knee is completely blue, indicating his undying love for our beloved club. What more do you need?
I'm also not bothered he's out for the derby (from a selection point of view). I find the general feeling towards Jagielka baffling. He's getting on alright but isn't he one of the quicker players at the club? If he could just stop giving away silly penalties, we'd be sorted.
The team more or less picks itself depending on whether Schneiderlin and McCarthy are fit.
Less whingeing and talk of "just our luck".
Stan Schofield
57
Posted 29/03/2017 at 08:45:33
Sorry to see Funes Mori injured, but we have plenty of options for the next match, whatever the opposition. We just need Koeman to set us up to go out to win rather than contain, as if we were at home.
2-0 to the blues.
Ajay Gopal
58
Posted 29/03/2017 at 09:14:21
Koeman will play safe, and assuming Schneiderlin is fit, I think the team picks itself:
Robles
Holgate Jagielka Williams Baines
Gueye Schneiderlin Davies
Barkley Lukaku Mirallas
Subs: Stekelenburg, Kenny, Pennington, Barry, Calvert-Lewin, Lookman, Valencia.
Laurie Hartley
59
Posted 29/03/2017 at 09:28:05
Aw thanks Michael.
Martin Nicholls (#51) – I was at that game also. As you say Andy Rankin played a blinder and pulled off one of the best saves I have ever seen in my life from a shot by Roger Hunt. Here it is (have a look at the state of their midden).
I can remember being very worried we would get hammered before the game – but, as Ken would say – oh the joy!
Much merriment was to follow in Tarleton Street that night.
But that was then and this is now – we need a win against this shower. I am convinced that the next time we beat them (this weekend) will see us on then road back to the glory days of the sixties.
Bob Parrington
60
Posted 29/03/2017 at 10:23:37
Did I hear anybody mention Johnny Morrissey?
James Flynn
61
Posted 29/03/2017 at 10:39:07
Get better, Funes Mori.
Besides Kevin and Delboy scoring, there was this:
"Elsewhere, Dominic Calvert-Lewin scored for his English youth side against Senegal, helping them to a 2-0 victory in the Four Nations Tournament. Ademola Lookman registered an assist in the game as well."
Geoff Trenner
62
Posted 29/03/2017 at 10:41:08
I used to love Animal Magic as a nipper, Bob!
Brian Furey
63
Posted 29/03/2017 at 10:46:11
I see the RS are flying back their Brazilian players on private jet today after their win last night. Coutinho scored in their 3-0 win over Paraguay.
It's been a bad few days for Coleman, McCarthy and now Funes Mori but Deulofeu must be delighted with himself since his move to Milan. I was shocked he got picked for the Spanish squad but to come on as a sub and actually score will give his confidence a huge boost. His girlfriend must be due to have their baby soon too so life is looking up for Geri... though you would worry he won't want to come back to England now and it will be interesting to see if Barca show interest in taking him back now he's pushing for the Spanish team. I think he wants to stay with Milan.
Mirallas also scored a penalty last night for Belgium which will help his confidence for Saturday.
It's hard to believe we've not won an Anfield since 1999. We had Barmby, Xavier and Hutchinson all in our team that year. When you look at our team back then and compare it to now, you would imagine we have a better chance now but it depends how we approach the game.
Everton last beat Liverpool at Anfield in 1999... Sportsmail looks at what became of the men who played all those years ago.
Kim Vivian
64
Posted 29/03/2017 at 10:53:57
You don't rate Funes Mori then, John D? I enjoy most of your posts but pass on that one.
Martin Nicholls
65
Posted 29/03/2017 at 11:09:58
Laurie (#59). Great link – thanks
Bob Parrington
66
Posted 29/03/2017 at 11:23:50
Geoff, Martin Nicholls mentioned 1964 at Anfield: 0- 4 to us! This was a great moment, wasn't it? I think the scorers were Derek Thomas, Fred Pickering, Colin Harvey and (the illustrious) Johnny (drum roll) Morrissey, who'd crossed the park a couple of years earlier.
Would a player dare to do that now? In those days the relationship was a little more 'polite' (tongue in cheek)... years before the RS fans ruined our chances of the European Cup with their crap behaviour!
Time to get back the Mojo!
Eugene Ruane
67
Posted 29/03/2017 at 11:30:54
So a successful event-free international break, three players fucked with injuries and one legged off the park by pitch invaders.
Steve Woods
68
Posted 29/03/2017 at 11:33:15
Eugene, I think its time to stop calling these events an International break!
Daniel A Johnson
69
Posted 29/03/2017 at 11:36:43
I have to ask... do we get compensation?
With Coleman and Funes Mori now out, that's a large chunk of weekly wage – cash being spent by the club on players who were injured not playing for EFC.
Geoff Williams
70
Posted 29/03/2017 at 11:42:15
It is strange how our views of players differ. We have a centre back who plays regularly for one of the top international teams but few on TW rate.
We loan out a winger who can't get a game for us but he makes his international debut for Spain and scores. We sell a 20-year-old midfield player to Oxford for a nominal fee and within 6 months he has been nominated as Football League Player of the Year.
Then we have a whole host of contributors to TW who include Ashley Williams in their suggested line ups. When will people realise that he is useless. That isn't an opinion, it is a fact. Slow, can't head a ball and can't pass to save his life so why is he anywhere near the first team?
Dave Abrahams
71
Posted 29/03/2017 at 11:47:05
Bob (#66), slip of your finger there... it was Derek Temple not Derek Thomas.
Bobby Thomas
72
Posted 29/03/2017 at 11:50:39
Geoff (#70),
Who do you play centre-back then?
Holgate's playing right back, most likely.
Kim Vivian
73
Posted 29/03/2017 at 11:55:19
David Graves
74
Posted 29/03/2017 at 12:22:55
Geoff;
"He is useless. That isn't an opinion, it is a fact".
Guess there's no point in debating then.
Colin Malone
75
Posted 29/03/2017 at 12:31:26
Martinez let Shane Duffy leave because of his possession skills. Just the player we need now, for Saturday.
Derek Thomas
76
Posted 29/03/2017 at 12:41:15
I was there, though, Dave, just the wrong side of the wall and the white line... I coulda been a contender though – honest.
Paul Birmingham
77
Posted 29/03/2017 at 13:16:35
Sods Law, but let's be upbeat and have the resolve to believe and win this game.
Adversity is what we have faced before and let's hope Morgan is fit.
I hope Funes Mori makes a swift recovery but this may be a mixed blessing for us: good if Holgate plays.
Ernie Baywood
78
Posted 29/03/2017 at 13:17:58
Some of our best moments come when our backs are against the walls.
Seamus is a big loss but we won't lose the derby due to not having Funes Mori available. Would anyone have thrown a half-fit McCarthy in anyway?
Any update on Schneiderlin yet?
Regardless, we'll put out a team that is capable of winning there against the odds. Let's not forget, we have the most effective English player and the league's top scorer. We've got a bloke in midfield that covers enough ground for two or three men.
Come on, you Blues!
David Booth
79
Posted 29/03/2017 at 13:31:34
I'm as guilty as the rest, but we need to stop doffing our cap to this lot and fretting about who they are and what they'll do to us... again.
Time we, as fans, put the boot on the other foot, turned the telescope around and focused on what threat we pose to them for a change?
For the majority of the last 10 to 15 years, we all know we should at least have shared the spoils with the rag bag assortment of players they have put in front of us. Instead, we've showed them far too much respect and allowed their 'reputation' to continually intimidate us.
Same thing this time. But they have Henderson and likely, Lallana missing and although Mane, Coutinho and Firmino are lively, they are not Messi, Suarez and Neymar.
Wolves, Southampton, Swansea, Leicester and Hull have beaten them convincingly out of the 10 games they have played this year and they've only won three.
We, meanwhile, have won six and drawn two over the same period, losing in a freak performance to Leicester and by a similar one goal margin to Spurs.
We have the league's top scorer, backed up by Ross Barkley and the most exciting youngster to debut this year in Tom Davies.
We have the league's best tackler in Gana and if Schneiderlin is fit, we can surely boss the midfield against the likes of Can, Lucas and Wijnaldum, for goodness's sake?
So let's get some perspective here when it comes to who should be more worried about who?
If we, the fans, don't have confidence in our team, how can we expect the players themselves to have any?
I'm thoroughly fed-up of this 'we are not worthy' approach to those arrogant Anfield arseholes.
Time to think positive. Play to our strengths. Exploit their obvious weaknesses and go for it, not sit back and try to eke it out.
Believe, Blues. We are better than them right now. Get out there and show that we're a club that's ambitious to go places – elbowing the likes of the Gobshites aside on the way.
Martin Nicholls
80
Posted 29/03/2017 at 14:05:27
David (#79) – well said!
John Daley
81
Posted 29/03/2017 at 14:08:45
Kim,
Clearly I'm keeping my cards close to my chest on that one.
If I did rate him, it certainly wouldn't be on the back of a bravura display of "loyalty to the badge" such as him... err... licking it, during a walk of shame, after stupidly wellying a Red Shite and waving goodbye to any remote chance of us getting something out of the game, or for him bring selected for Argentina.
If I were to hold him in high esteem, it would be on account of his actual performances, while on the pitch (not while taking his leave from it), for Everton alone. In that respect, he has been decidedly hit and miss.
Give him his due, since regaining a starting place this season, he had been half-decent, but then came the Spurs game and a 30-minute spell of absolute fucking insanity the likes of which I don't recall ever seeing from an International centre-half before. He was doing perfectly fine one minute and the next he was all over the shop and got steadily worse and worse as the pressure was cranked up. He was shocking.
If we were to come under the cosh on Saturday, would you have full confidence in Funes Mori standing firm in the face of it, remaining composed and running no risk of a repeat performance?
I worry I wouldn't be able to unclench my arse for a week if it was a matter of watching to find out.

Dermot Byrne
82
Posted 29/03/2017 at 14:24:14
John... Why keep cards close to chest? We are an open site. Funes Mori can be good and then mess up through being too ambitious with his play.
Always split by him. But Jags worries me more these days... Hope I am wrong.

Dave Abrahams
83
Posted 29/03/2017 at 14:26:58
Derek (#76), of course you could have been a contender, so could I, only for my paper round, as Yosser Hughes claimed in Boys from the Black Stuff!!!
Paul Kossoff
84
Posted 29/03/2017 at 14:28:53
You couldn't make this up, could you? Playing the evil twats is bad enough but these injuries just prove even more that those red fuckers have the evil eye on us.
Only two games that I get sick with worry over in a season, and both are against the Red Shite. Behind the couch for me on Saturday – no radio, no TV, and my son with strict orders: "Don't come near me with scores unless it's a blue win or a draw."
Tony McNulty
85
Posted 29/03/2017 at 15:04:23
John Daley,
I share your nervousness with regard to Funes Mori. The journos were yacking on about six months ago about Barcelona wanting him, but that seems to have died down. Some of his passing manoeuvres from defence have me reaching for the Rennies (or worse). One thing he does bring though is a genuine threat when we get a corner.
I see him as a poor man's Derek Mountfield: not as good as Degsie in defence; and not the same level of threat up front (anyone remember his 14 goals in a season?)
I used to feel the same level of nervousness about Robles, but he seems to have brought much more consistency to his game of late.
Ed Fitzgerald
88
Posted 29/03/2017 at 15:46:26
Whatever Funes Mori's deficiencies are, we could have still done with him on Saturday, that's for certain. I am more concerned about a centre-back pairing of Williams and Jagielka as they are dreadfully slow in action and in thought.
Whatever the final score, I don't want to see the capitulation begin before we have even kicked off, confirmed by an ultra-negative line up. We have nothing to lose as they are no world beaters.
I would like us to assume a 'fuck you' nasty attitude from the off, and by that I don't mean kicking shite out of them from the first minute but a desire to attack them. It seems like a lifetime ago since we didn't look like we were shitting ourselves when we played at Anfield, probably got to go back to Joe Royle's time as manager for that mental approach.
I would play people in their proper positions so, to my mind, that would mean Holgate and Kenny should both start. Of course, it's unlikely to happen as Koeman will probably be desperate to accommodate Barry in the team should Schneiderlin not be fit.
Mike Gaynes
89
Posted 29/03/2017 at 15:54:12
Colin (#75), seriously? Shane Duffy is "just the player we need"???
Duffy wasn't good enough, simple as that.
Peter Cummings
90
Posted 29/03/2017 at 16:40:20
Obviously it will be much harder to get a positive result on against 'them' on Saturday with players like Mane and Coutinho who can cause problems, especially to a weakened defence.
Like several on TW, my main concern is with Williams who can be unreliable in dealing with crosses into the box, Our main threat of course will be Lukaku and he will the target for special attention from the likes of Can & Co, as will Barkley – one hopes his England snub will fire him up,
Just read about young McAleny's second hat-trick for Oxford and his nomination for top player in his league. As far as I know, Geoff (#70), the lad is on loan to them for the season only
I'm not very optimistic for Saturday, but have set my alarm for 6 am as the game is live here in Ontario, at 7 am. Fingers crossed it will be worth watching; I fancy at least one pen could be given. COYB
Mike Gaynes
91
Posted 29/03/2017 at 17:16:42
Peter (#90), you are correct. McAleny is on loan to Oxford, NOT sold as Geoff said. I always thought he had the talent if he was strong enough, so I'm delighted that he is reviving his career. And if Rom does depart he may yet get another chance.
To Ed, Laurie and others who have Kenny in their preferred starting lineup... I say no thank you. The little lad might have fine potential, but to have him make his starting debut for the first team at Anfield of all places would be lunacy in my opinion. (His only previous first-team appearance was as a sub against Norwich last year, and few of us have seen him except for that.) We can win this game without taking shots in the dark like Kenny.
Brian Wilkinson
92
Posted 29/03/2017 at 17:18:22
Why are people so down beat before the Derby, yes big loss Coleman, but Holgate will do a job as replacement, Jagielka more than capable of covering for Mori.
If Schneiderin is passed fit we have a great chance of getting a result, I keep hearing Coutinho Mane, what about the form of Schneirderin, Barkley, Gana, Davies, Lukaku.
When was the last time we could have danger players like Lookman, Valencia, Calvert-Lewin, Mirallas fighting to even get into the starting 11.
Which team have only lost one premier league game this year, who are regularly bagging 3 goals.
If the players get rid of the fear factor, without being biased, we have the form team and better all round team than our neighbours.
The only team that will beat Everton on Saturday is themselves, go there believing in themselves and there will only be one result, a win for the Blues.
Forget the hiding behind settees, bad feeling, lady bad luck etc, this is it Blues, our big chance, time to deliver, coyb.

Jeff Armstrong
93
Posted 29/03/2017 at 17:29:01
Remember when people where up in arms about Tim Vickery's assessment of Funes Mori when he signed, seems he was correct after all

He's unpredictable, cannot pass out of defence accurately, lacks consistency, and his discipline is also suspect.
Brian Wilkinson
94
Posted 29/03/2017 at 17:46:21
Before people call for the men in white coats, I would go as far as starting with either Lookman, Calvert-Lewin or Valencia any two from three and benching Lukaku.
Liverpool will be facing the unknown, Lukaku will be like a raging bull when he comes off the bench.
Liverpool know everything about Lukaku, their game plan will go right out of the window, their tactics will change and that could work in our favour, we need to try something different, catch our neighbours with their kicks down.
It's madness to drop Lukaku, but sometimes you need to try something different, if it goes pearshaped then bring the big guy on earlier, but it might just work trying two in attack.
Stan Schofield
95
Posted 29/03/2017 at 17:52:36
Brian, I agree, good chance we'll win this one. I believe we have better players, and it'll come down to Koeman using a team selection and tactics aimed at winning, not containing. I also have a feeling that they'll just go for it this time, without fear. Having the injuries could actually lead Koeman to a less predictable approach, and we could be well up for this.
Geoff Williams
96
Posted 29/03/2017 at 18:01:07
I was referring to Ledson, not McAleny.
Jay Griffiths
97
Posted 29/03/2017 at 18:07:10
Last season I suggested to my son at half time, 2-0 down, that we'd leave when they get their third. Couldn't'vebeen more certain. Sure enough, we left on the third. By the time we got to County Road, it was four. The fear was all pervasive through the team and our crowd.
Williams is without doubt a dubious defender at times but, if there's one reason I'd pick him for Saturday, it would be the fact that the lad does have bottle. We need some attitude. Schneiderlin, Gana and Holgate too for the same reason plus their undoubted ability.
Now if we can see Ross and Rom with some real passion and fight then Saturday could bear some joy. Every season it feels like going to the dentist for an extraction, walking up to that ground. We need the "all clear" before it's dentures all round.
This week we really do have a chance I feel. Gana can stop Coutinho. Schneiderlin is key to our plans. The main thing is the fear factor. It has to stop. No rolling over.
Ben Howard
98
Posted 29/03/2017 at 18:12:43
Not sure it's a game for Browning or Pennington, but they should make the bench. I'd go 3 at the back to give us some width from wing backs and a strong core in the centre. I think Lennon could really work in this role. He played RB well for Spurs in his younger days and 3 at the back diminishes his defensive responsibilities. Barry to shore up the game if we need it and Lookman and Mirallas to change things offensively. Looks like a good team to me!
----------------- Robles -----------------
----- Holgate - Williams - Jags ----
Lennon ----------------------- Baines
---- Schneids - Gana - Davies ----
------------------------- Barkley --------
------------- Lukaku --------------------
Brian Cleveland
99
Posted 29/03/2017 at 18:33:28
If anyone has watched the interview that GOT did with an ex redshite player and currently flavour of the month pundit that used to play as a defender and was originally a blue (won't write his name!)... he did say something interesting...
that when the prematch handshake took place the Everton players were saying "hello" and he was thinking "wtf", basically the game was already won as far as he was concerned because of the mental approach. The players were weak mentally and expected to lose and were too nice. The RS players were wound up and ready to kick ass.
Something that definitely needs to change. I wonder if Koeman has instilled any of that mentality.
Brian Wilkinson
100
Posted 29/03/2017 at 18:35:50
Robles
Holgate. Williams. Jags. Baines
Davies. Gana. Schneiderin Barkley
Lookman. Valencia or Calvert-Lewin
Lukaku and Marallas to come off the bench.
I have no doubt Klopp will be working his tactics around attack and isolating Lukaku, throwing two into the mix and their game plan goes down the pan, outfox him.
Tom Bowers
101
Posted 29/03/2017 at 18:36:46
We cannot worry too much about the RS game after all they are always favourites to win given the big money they have always had to have a bigger squad depthwise and when they have injuries they don't feel it as much as Everton.
Having said that Everton do have a lot of talented young guns coming through and won't let them down.
Obviously like everyone else the loss of Seamus and Funes isn't good and the mobility issue with Williams and Barry may cause concern although Jags is still quick.
I am not keen as yet on Pennington so would like Holgate to play and hope the central defence holds their own.
To beat the RS or most teams in the Prem. you need total commitment and intensity from the off and providing the referee has a good game Everton have a chance.
I feel better about the offence with Calvert-Lewin emerging along with Lookman, plus the experience of Mirallas and Valencia it certainly gives the Blues more options to strike at the RS.
Ciarán McGlone
102
Posted 29/03/2017 at 18:42:33
If we have to start Barry, we will be in trouble.. otherwise we should give them a game. It's as simple as that for me.
Brian Wilkinson
103
Posted 29/03/2017 at 18:47:48
Spot on Tom@101, I think we should start with two strikers and that does not include Lukaku, he will be like a raging bull coming off the bench, we know what Lookman, Valencia and Calvert are capable of, our neighbours do not, all this week Klopp will have been working on isolating Lukaku.
Can you imagine his face an hour before kick off and we have two strikers, less than an hour to try and rework his game plan.
It could be sheer madness to attempt it, on the other hand it just might work.
Andy Meighan
104
Posted 29/03/2017 at 19:06:29
David (#79)... but we are not better than them, though, are we? The Premier League table doesn't lie and if you're referring to current form, well, our recent home form is a bit better – that's all.
Our away form is a concern. Draws against Stoke and a very poor Boro,coupled with albeit a deserved win at Palace hardly fill me with optimism. Let's face it – no matter what we think of them, their a tough side to beat at home and always turn up for the big games. Whereas we don't.
We were totally walloped at Chelsea, overran at Spurs, and lucky at Man City due to the missed penalties. And that alone will tell you where we are as far as big games go.
Talk all the blind optimism you want but the truth is we are fucking petrified of them and that ground of theirs – as 18 years without a win there will tell you. Call me a pessimist all you want; I prefer to call myself a realist. I'm shitting myself for Saturday because I've seen it against them all my life. Nearly 58 now and I doubt if ill see an Everton victory there as long as I live... And how sad is that?
Dave Williams
105
Posted 29/03/2017 at 19:27:46
Bench Lukaku????????? Pure insanity – he would sulk, not be inspired.
Play him and the Red Shite will be very wary and dare not move too high up the pitch for fear of him getting the chance to run at them.
They don't have a natural goalscorer but we do – we must give him plenty of service... and, if we do, we will win.
Paul Conway
106
Posted 29/03/2017 at 19:35:09
I thought Funes Mori was going to be the answer to our defensive problems when we first signed him. That was a long way back and he still hasn't showed promise and consistency.
So, no surprise to see Argentina floundering in their World Cup qualifying group.
Brian Williams
107
Posted 29/03/2017 at 19:45:00
You don't "drop" (which is what not starting him from the off amounts to) the Premier League's leading goalscorer.
Talk about playing into their hands....
Graham Mockford
108
Posted 29/03/2017 at 19:47:42
Brian Wilkinson
That's fucking insane. Even on here, on the subject of Lukaku.
Mike Gwyer
109
Posted 29/03/2017 at 19:56:38
Jay Griffiths (#97). Excellent post. Fear, yep it's definitely one way. As I see it, they couldn't give a fuck about us crossing the park and giving them a game.
Brian Wilkinson (#100). Seriously? Going to Anfield with no Lukaku in our first 11, may as well chuck them the 3 points and refund all the away tickets. Their game plan will involve getting the ball and playing around our aged centre backs, which won't be fucking hard. To give us some sort of hope we need our number one striker and top scorer in the Premier League, presently in the form of his life, to give them something to worry about... and that's not Valencia.
Dave Abrahams
110
Posted 29/03/2017 at 20:07:20
Mike (#91), Jonjoe Kenny might be a little lad to you but I would have no worries about him playing at Anfield. He would relish the opportunity, have no fear of that.
I think Holgate will get the nod and that will be fine with me but Jonjoe would also be fine with me. He's 20 years of age and will not let Everton down and will not bottle it – that's for sure.
Chris Gould
111
Posted 29/03/2017 at 20:11:11
Brian Wilkinson,
So your masterplan is to leave our best player on the bench...because they wouldn't be expecting it?!!!
That's genius.
Brian Wilkinson
112
Posted 29/03/2017 at 20:18:13
No not at all. I said try something different at Anfield; even with Lukaku in the side, we have struggled there.
My post clearly states a Plan B: try something different; how does anyone know how two strikers will do there? We've gone there even with our best attacking options and have to go back to Kevin Campbell's goal for our last success.
I simply said give those two a run out, nothing to do with Lukaku being dropped, just a case of a different formation... then, when those two have had the defence chasing, bring Lukaku on to reap the rewards.
Brian Wilkinson
113
Posted 29/03/2017 at 20:28:39
If we start with just Lukaku in attack, we can forget it. We will play right into their hands, with Lukaku barely getting a sniff... whereas the pace of Lookman can get behind their defence.
If we go with Rom at the start, then we need one of the other strikers alongside him.
I stand by what I said so feel free to correct me on Saturday if we start with Lukaku as a lone striker and he bags a goal or two.

Eddie Dunn
114
Posted 29/03/2017 at 20:53:33
Peter Cummings; Williams is a good reader of the game, is unflappable, and is a good header of the ball. I have watched him clear his lines numerous times this season with no fanfare...he does the simple things well, is brave and cool.
He is liable to be caught for pace or on the turn. With the right partner, he can be very good. Wales got to the semis in the the European Championships. That's way better than England . Ashley Williams is just the player for the derby, but he needs some pace alongside. Jags still has pace, he just needs to stop his eagerness to put a foot in.
Holgate should start on the right, but I would put Lennon in front of him , with a defensive brief. Lukaku has to have Valencia or Calvert-Lewin with him from the start. I'd rather go out on my shield than die hiding under it.
Mike Dolan
115
Posted 29/03/2017 at 20:58:21
I think the key to this game will be whether Schneiderlin plays. If he doesn't and Barry is in midfield then I think I would bring Pennington in. I'd have Holgate at fullback. If Schneiderlin is fit, I would play Jags and Williams. I would play Valencia from the start and have him running at the heart of their defense.
I just hope we go to attack them. Any away game is uphill but I like our chances... we're due.
David Graves
116
Posted 29/03/2017 at 20:59:17
Brian, I see what you are doing with your cunning plan to bamboozle them re: Lukaku. They will also be expecting us to play a goalkeeper, won't they?
Drew O'Neall
117
Posted 29/03/2017 at 21:28:53
Liverpool need their opposition to attack them.
Their most dangerous player is Mane with his pace and dribbling skill but that is negated when the opposition sits deep.
With our aged centre-halves I would pick a team to defend deep with pace up-front for the direct-ball counter-attack.
Gana, Barry and Davies to sit deep with Coutinho man-marked. Lukaku, Lookman and Mirallas up-top for the breakaway.
Ciarán McGlone
118
Posted 29/03/2017 at 21:38:01
That is the worst idea ever, Drew. Did you watch the Spurs match? Sit deep and we'll be hammered.
Joe O'Brien
119
Posted 29/03/2017 at 21:51:20
Totally agree, Ciaràn, sit deep and we'll be run over... I think Jags and Williams can do a job, if we take the game to them. Sit back and they'll get through eventually. There's a high possibility that Henderson might not make it so we have to take the game to them – not all gung-ho but definitely not just try to contain them.
Schneiderlin fit gives us a massive chance to take 3pts. It would be great just to view this as another 3 pts... just another match to catch up with the rest above us and get the derby thing out of our heads. We've got a better team than them. Let's just bloody well prove it.
Graham Mockford
120
Posted 29/03/2017 at 21:51:29
Brian
Why don't we start with Jags in goal, he played there for Sheffield United apparently.
Imagine how pissed off Robles will be, imagine his face. He will be steaming mad. By the time we get him on, no-one is going to score one past him.
David Graves
121
Posted 29/03/2017 at 22:13:04
Hold on, Ciaran... that isn't quite the worst idea ever?
[See above...]
Jack Convery
122
Posted 29/03/2017 at 22:13:49
A repeat of the mental attitude shown at the Etihad earlier in the season, with Williams scoring the winner, will do for me.
Brian Wilkinson
123
Posted 29/03/2017 at 22:16:01
The difference, Graham, is I'm swapping two attackers in the place of one attacker; switching a goalie for a defender is totally different.
Last few comments have said if we sit deep we will be overrun – that is why I suggested playing Lookman and one of the other strikers, so we can get behind them.
If we play Lukaku as a lone striker, they will snuff out and ensure he doesn't see much of the ball.
Play the likes of Lookman, Calvert-Lewin or Valencia and we have a chance of not sitting deep but getting behind their back line.
We never seem to start a game til midway through the first half; change might or might not be the answer.
Lukaku coming off the bench at half-time will certainly strengthen our hand.
Ciarán McGlone
124
Posted 29/03/2017 at 22:16:37
Okay... it's the second worst idea ever... Second to the omission of Lukaku.
Mick Davies
125
Posted 29/03/2017 at 22:19:37
Just watched the 1st 11 mins of the Jose Mourhino channel (sorry, Sky Sports News), and it was all about Man Utd and the loss of Smalling and Jones! FFS they are the richest club in the world, while we have lost two first-choice defenders and two defensive midfielders, and we have the most important game of the season on Saturday. Blatant Sky favouritism.
Graham Mockford
126
Posted 29/03/2017 at 22:24:07
Brian,
You are seriously deluded. If your issue is two strikers, play someone alongside him.
Not playing your leading goalscorer and the Premier League's leading goalscorer is just crazy.
What might surprise the fuckers is if we go out and have a go at them for a change.
Graham Mockford
127
Posted 29/03/2017 at 22:27:27
Mind you, Brian,
If an element of surprise is your plan, why not have the players line up before the game and dance to The Macarena?
Their heads will be spinning.
David Graves
128
Posted 29/03/2017 at 22:27:59
Sorry, Brian, but the comments about a cunning plan to change the goalkeeper were sarcastic. Your suggestion of playing two up top is a good one but leaving Lukaku on the bench has to be the craziest suggestion I've heard all season.
Joe O'Brien
129
Posted 29/03/2017 at 22:34:41
And for the next 5 seasons, David... at least.
Sorry, Brian, but it's just nuts.
Jay Wood
130
Posted 29/03/2017 at 22:35:52
Brian @ 94.
That knocking at your door, it's the fellahs in the white coats wanting a quick word.
You should have stopped at your post @ 92. That was a cracking rallying call and a sentiment I can agree with.
Drop Lukaku? Our best player? The Premier League's leading goalscorer? For the Mersey derby? At Mordor?
Very recently, Wenger tried that for the Arsenal at Anfield and started without his best player, Sanchez. It didn't end well.
David Graves
131
Posted 29/03/2017 at 22:36:13
Brilliant, Graham.
Laurie Hartley
132
Posted 29/03/2017 at 22:42:34
Andy (#104) – that is indeed sad.
For what it's worth, all I can say to you is that I believe I will see the day when we will beat them fair and square at Mordor – and they will be amazed.
Try to imagine the post-match interviews:
Klopp, wide-eyed brushing his hands through his hair and waffling – "I felt alone".
Koeman looking down at the ground with a smile on his face then looking up at the interviewer saying: "That's what we want!"
Never, never, never, give up.
David Graves
133
Posted 29/03/2017 at 22:43:54
In ascending order of "wtf-edness";
3. Brexit
2. Trump
1. Brian's team selection.
Brian Wilkinson
134
Posted 29/03/2017 at 22:45:34
I have no problems being in a majority of one. Year after year of heartaches at their ground needs addressing... A fear factor or tactical change, god knows... but playing 2 strikers is not the worst idea.
If we managed to hold them or even nick a goal, then having Lukaku and Mirallas come off the bench would make us strong for the second part of the match.
Fair enough with everyone else saying Rom dropped is madness; on that point, then play another striker alongside if need be.
If we play Rom as a lone striker and pack the midfield, we can kiss goodbye to this great chance of getting a result over there.
Graham Mockford
135
Posted 29/03/2017 at 22:55:08
Brian
I hate to be the one telling you this but...
You are in a minority of one.
Ciarán McGlone
136
Posted 29/03/2017 at 23:00:52
I think we should play Leo Sayer up front... they'll shit themselves.
Stan Schofield
137
Posted 29/03/2017 at 23:09:17
Andy@104: Bloody hell mate, that's a bit pessimistic. Koeman just needs to change the away tactics from containing to setting out to win, to give us a better chance of winning compared with the Chelsea, Man City and Spurs away games. It's not an unsolvable problem.
The past is the past, and it'll repeat itself only if Koeman hasn't learned from past tactical mistakes. I'm hoping he's learning, and that he's instilling a winning mentality.
Stan Schofield
138
Posted 29/03/2017 at 23:19:17
Ciaran@136: Not as a lone striker. Might be okay if partnered with David Cassidy.
David Graves
139
Posted 29/03/2017 at 23:20:22
Brian, please stop it now. The ToffeeWeb community has come together to offer you advice and guidance – even providing 1970s pop stars as a distraction from your "Lukaku should be dropped" folly.
Jim Burns
140
Posted 30/03/2017 at 00:44:00
Brian – even Custer eventually thought "Fuck it – I'm on a loser here'.
Franny Porter
141
Posted 30/03/2017 at 00:47:10
If I can take one positive going into this derby, it's that Brian Wilkinson has no say over the team or tactics.
Ernie Baywood
142
Posted 30/03/2017 at 03:02:23
Plenty of people on here were suggesting we should drop Rom before his current hot streak... but no, it's not for me.
On the right back position... I just got a memory of Tom Davies running a game from that position in pre-season (or early in the season). Did I imagine that? No idea who it was against either. Could be an option...
John Pierce
143
Posted 30/03/2017 at 03:38:02
Probably Funes Mori's last game in a blue shirt, maybe if lucky a squad place next season.
His rashness and hot head won't be missed in the derby. I thought he was unlikely to figure anyway.
The team needs to be fit and mobile. Oh what the fuck we doing at centre-back then?
Rephrase, 'fittish & able to walk'. Ultimately Koeman now has the green light to play cautiously with the red carpet excuse of injuries.
The lack of pace at the back will force us to sit deep. Nothing changes for me, I want to see Koeman make a go of this game and show me why he gets paid £6M a year.
Be brave, Ronnie laa.
William Cartwright
144
Posted 30/03/2017 at 04:12:18
David @79;
Extremely well said sir. I watched (by accident) a snippet from the RedShite's equivalent of ToffeeTV last night and I couldn't believe the smugness of the debate:
How many were they going to win by, who in Blue was going to get sent off, would we fill out our miserly ticket allocation, and why should the Council help us secure Bramley-Moore Dock.
And then the hilarity over the potential flood risk of global warming! Come on you blues. As Jack Nicholson's secretary in the film 'Wolf' commented on his new found aggression... "It's about fucking time..."
Derek Thomas
145
Posted 30/03/2017 at 04:24:44
WHEN! we win all the headlines will be along the lines of... 'Injury hit redmen fall short in derby'
Up to now, they haven't been able to cope too well with teams who sit back... Commence 'Operation Rope-a-Dope'
Mike Gaynes
146
Posted 30/03/2017 at 04:54:15
Derek, they "haven't been able to cope too well" with teams that are GOOD at sitting back, whose style is sitting back. That ain't us. When we sit back, we topple into the crapper. Your "Operation" would be all dope, no rope.
Challenge them from the outset.
Will Mabon
147
Posted 30/03/2017 at 05:05:47
Some great tactical imagination shown in many posts here! It's going to be interesting, Saturday.
Personally, I've slipped into over-think mode and have nothing further of any use to offer, without posting about seven different speculative line-ups.
I do think we need to go at it hard, and a little differently, though. With the enforced variables we have due to injuries, belief and team spirit are going to be the most important elements.
Mick Davies
148
Posted 30/03/2017 at 05:21:19
Surgery now!!! This season is one step forward and two steps back.
Darren Hind
149
Posted 30/03/2017 at 06:53:16
Mockers
Not sure how many times you intend to tell Brian how mad/insane/deluded his idea is, but before your next attempt, you may want to check the number of derby victories The big fella has on his CV.
I'm not advocating Lukaku to be dropped, but it's not as daft an idea as those acting like we don't have any hope at all if he doesn't play. What will you do if he gets an early injury? Stop watching?
Lukaku is having the season of his life, but in football, there has always been more than one way to skin a cat. You need to start imagining life without Lukaku, because, at some stage, he WILL leave.

Ernie Baywood
150
Posted 30/03/2017 at 06:59:29
Darren, if our plan is to revert to sitting everyone deep and narrow while hitting long balls straight over Barry's head towards a forward, then yes I wouldn't bother with Rom. His lack of defending from the front makes him more liability than help in that 'system'.
I'm sure we all hope that's not the plan though.
Selection will be intriguing and tell us a lot about Ronald. As John Piece said... he doesn't have to look too hard for an excuse to go negative... hopefully he's not looking for excuses at all.
Paul Tran
151
Posted 30/03/2017 at 07:37:51
I'm quite open on tactics. I'd like to see us tear into their very suspect defence, in the knowledge that they will open us up as well.
Looking at it logically, we're the form team, they're the ones with the pressure on and poor record against non-top six.
I've seen worse Everton teams beat better Liverpool teams. If we play the game rather than the 'mental block', I'm confident.
John G Davies
152
Posted 30/03/2017 at 07:59:50
We need the win to have any chance of top Four.
Thinking caps on... Let's drop Lukaku.
Seen some corkers on here, that's right up there with the best.
Mike Price
153
Posted 30/03/2017 at 08:12:51
As someone mentioned earlier, Carragher's interview revealed exactly what our problem has been in recent years. Our soft, mentally weak players with no leaders or aggression meant we were beat before we kicked off.
Lots of us have long suspected as much; our entire team has been made up of quiet, nice boys and until we get a nasty streak we'll have no chance. He even said it was one of the things he was most proud of in his career, stopping them being bullied by our 'dogs of war'!
The interview is on GOT TV and is a definite eye-opener for anyone interested.
Peter Murray
154
Posted 30/03/2017 at 09:03:07
Another depleted team for our depleted RS fixture... What odds on a blue sending off – surely a bookies' cert!!!
Going in hope rather than expectation – never say die – but normally, we just go there to collect the cash... Oh for a Reid, Bracewell, Labone etc – players who cared.
If it moves... tackle it please... just tackle, and hope for officials' incompetence... but it's on the box, so perhaps, forget it!!!
COYB

Chris Gould
155
Posted 30/03/2017 at 09:54:52
Darren,
It's not time to consider how to play without Lukaku while he's still here and banging in the goals. We need to be focusing on how to create for him opportunities to score. The idea of dropping him is ridiculous. He is on current form one of the top strikers in the league. Whatever tactical plan we have will only work if Lukaku is on the pitch.
When he has gone, we can worry about finding a replacement and moving forward without him. But at the moment, he is here, in the form of his life, aspiring to finish as the league's top scorer, and by far the best we have.
To say that he hasn't been involved in any derby victories is true, but it also applies to our entire current squad apart from Jags, Baines, and Coleman. Lukaku has scored 5 in his last 9 league appearances against them which is far better than most!
Our team has improved, he has improved. He has earned his chance to smash into them in full beast mode. I fully expect him to do so on Saturday.
It's not that we have zero chance without him, we simply have a far greater chance with him. Therefore Brian's suggestion will thankfully not be under consideration.
I recognise the fact that you were not advocating it, and that you were simply stating that it may not be as daft as most of us believe. It is daft and beyond comprehension.
Dennis Stevens
156
Posted 30/03/2017 at 10:50:19
I agree with Brian, & so does my wife!
Chris Gould
157
Posted 30/03/2017 at 11:04:55
In that case, Dennis, I take back the last sentence of my previous post. I would never have suggested it was daft if I knew your wife agreed with it.
My apologies.
Graham Mockford
158
Posted 30/03/2017 at 11:09:33
Darren,
Maybe it's the pasting you got on the other thread from Eugene makes you want to get right back in the saddle.
I considered your viewpoint and reconsidered Brian's post.
On reflection, I still think it's batshit crazy.
Brent Stephens
159
Posted 30/03/2017 at 11:33:43
Start without Lukaku?! Crazy! Of course he'll start. If he hasn't got a great record against the RedShite... how many have?! Just bizarre.
Chris Gould
160
Posted 30/03/2017 at 12:18:01
5 goals in his last 9 league appearances may not be considered great, but it's certainly very good.
Brian Williams
161
Posted 30/03/2017 at 12:24:38
I think, using Darren's philosophy@149, that I'm going to find myself another woman at the weekend because my Mrs won't be around forever.
She's bound to understand, isn't she?
Ray Roche
162
Posted 30/03/2017 at 13:04:21
Good idea, Brian.
How fond are you of your testicles? Have you made your will?
David Graves
163
Posted 30/03/2017 at 13:28:42
"It's not as daft an idea as those acting like we don't have any hope at all if he doesn't play."
Well it is. And of course one day he will leave but I don't think that should influence whether or not he starts the derby!!
Nigel Johnson
164
Posted 30/03/2017 at 13:29:00
Hi Guy's, with Saturday soon upon us, and the team selection a big topic, does anyone know if Besic is fit? He has been training with the first team for some time now. So if Schneiderlin is unavailable, why not replace him with Besic. He is quicker than Barry and is a good passer of the ball.
James Stewart
165
Posted 30/03/2017 at 13:39:09
Can't see Funes Mori playing again for us if its true he is out for the season. I would take Keane or Maguire all day long over him, though.
Brian Wilkinson
166
Posted 30/03/2017 at 15:25:08
I have not once said drop our leading scorer because he needs dropping, I have said try a 4-4-2 against them, if it does not go to plan, you have Lukaku as back up to try and change the game.
Let's see how many who have made me more of a whipping boy than McGeady and Osman put together, post on Saturday if we play a lone striker and Lukaku gets isolated with his hands on his hips.
Lukaku might have a stormer as a lone striker, so too might an alternate two strikers starting. No-one knows, but I will guarantee one thing: if Lukaku gets snuffed out, you can bet your life most posters will be commenting, shite, same old Everton, he did not get the service etc, come Saturday afternoon.
If it goes the other way and we win without the need of Calvert-Lewin, Lookman or Valencia, and Lukaku bags a couple, I will come on ToffeeWeb and apologise to each and everyone of you, it's the least I can do.
Amit Vithlani
167
Posted 30/03/2017 at 15:38:27
If my auntie had bollocks she'd be my uncle.
And if she did not acquire said bollocks, and was therefore still my auntie, I apologise for suggesting she could have been my uncle.
I think thats the gist of your post @166?
Graham Mockford
168
Posted 30/03/2017 at 15:42:56
Brian,
I think you would get a lot of support for 4-4-2. On a number of occasions this season Rom has been left isolated because of our overly defensive set up.
What still doesn't make sense is not having him as one of the two strikers. It's absurd frankly.
Personally I would like to see 4-4-2 with Valencia partnering Rom. They seem to have built a good understanding and sometimes trying to overcome a high press having a willing runner like Valencia running into channels can be effective.
David Graves
169
Posted 30/03/2017 at 16:05:29
Brian – two forwards against Liverpool is not a contentious suggestion and I don't think you've been called out for that. What has been battered though is your suggestion of two up front and Lukaku on the bench.
Surprisingly you still seem to be proposing that as an option despite the weight of argument against it. Be prepared to remain the current whipping boy then!
Fortunately though your suggestion is never, ever going to happen.


Brian Wilkinson
170
Posted 30/03/2017 at 16:43:29
I have looked at everything in hindsight.
Lukaku's goals against top 4 sides, not the best, could very well be down to playing only one striker in those games. I've looked at Lukaku's biggest impact and his goals more often than not come in the latter end of matches.
If my suggestion of trying out two forwards and trying something different against a top four side, using Lukaku's strength if needed at half time.
Everyone one else wants Lukaku to start, undroppable, I get that by you all, but we need to try something different, a lone striker against the top 4 is not going to bridge the gap we need, one point is no good, we need maximum points against our neighbours and Man Utd; with that it has to be two strikers.
I'm sick to death of every season, going over the park, rolling over and having our bellies tickled.
It's time to take the game to them, put them on the backfoot; to do that, we need 90 minutes from our players and that includes two attackers.
Graham Mockford
171
Posted 30/03/2017 at 17:16:11
Brian
Forget the lone striker argument, it's just confusing you.
Let's accept for a minute we are going to play two strikers. It's your suggestion that Rom shouldn't be one of the two that is the ridiculous thing.
Firstly, the three players you mention have a grand total of four career Premier League goals between them. Rom has 21 this season including 13 goals in his last 12 games in all comps in 2017.
I think we all agree that we are fed up with our record over there. Let's hope we see something different this Saturday. And if that includes Rom's Blackfoot, all the better.

Brent Stephens
172
Posted 30/03/2017 at 17:52:21
"His goals more often than not come in the latter end of matches".
Excellent, point. We do them at the very death. Great point.
Tony Draper
173
Posted 30/03/2017 at 18:05:11
I want us to play two up front.
My logic is that we have few options defensively. Hanging out for a narrow win could see us hand out a freebie.
Their defence is dysfunctional. Despite the opinions of many; I feel that Valencia is returned to the player he was when he joined WHU.
Everton, Koeman & Koeman have restored him.
Organise to win. We can. Plus, our Diamond from Wavertree.
Darren Hind
174
Posted 30/03/2017 at 18:51:31
Pasting Mockers? (#158),
I'm sure you would have liked it to be, you've done your level best to try to deem it so, but sorry, you are talking out of your rear end.
I enjoyed the back and forth with Eugene last night. He is a funny man and, although I realise that it was his links that caused a lot of chuckles, I also noticed a lot of people saying they were enjoying the thread too, so I carried on... but only the exceptionally dim or somebody with an axe to grind would deem a couple of funny links in a footy debate a "pasting".
I don't think any of my points were disproven and my main point about Lukaku not enjoying the support of the "overwhelming majority" still, IMO remains incontestable.
I'm always suspicious about people who desperately want to refer back to another thread. I get the feeling they are unsure about their own points and are looking for a diversion. So back to this one.
Take your claim @135 for instance, the one where you gleefully told Brian that he is in "a minority of one". I hate to tell you this, but Its bollocks, utter bollocks and if you believe it you know nothing about this club and the wide range of opinions held by the fans – not just those who want Lukaku gone.
Do I believe Brian is right? Well no, IMO Lukaku represents our most likely source of goals and I want him starting... but the existence and future success of this club does not and will not depend upon one player, Lukaku is no exception. If Brian is talking shite, then the members of the flat earth society who have convinced themselves that we we will fall off the end of the world without Lukaku are talking even more shite.
Garry Lineker scored nearly twice as many as Lukaku, but that didn't stop us absolutely pissing the league when he left. Comments like "whatever tactical plan we have will only work if Lukaku is on the pitch" make me despair.
Lukaku will leave, Mockers and those who think the fortunes of this club rest upon him better start preparing themselves. People like you will feel a huge void in their lives. (What on earth will you talk about?)
Seamus's injury was heart breaking, Funes Mori's and Macca's were bitter blows too, but we need to stop lamenting our outrageously terrible luck, we need to free ourselves of the belief that we are absolutely dependant on any one player, we need to remember (cliché alert) that it still is eleven v eleven.
The last sentence in post #151 may not be an irrefutable fact, but it doesn't half feel like one to me. That's what I'll be taking into Saturday's game.
Chris Gould
175
Posted 30/03/2017 at 19:21:10
Why does that comment make you despair, Darren? Do you honestly think we could devise a tactical plan that will win us the match at Anfield without Lukaku? Would love to hear it.
Obviously any tactical plan to win the game will require Lukaku. Why are you so concerned with life without Lukaku while he is still here? If he goes, then we will replace him.
Life will go on and we will move forward, but right now he is here and is arguably our best player. Any tactical plan should and will revolve around him. So despair away.
Graham Mockford
176
Posted 30/03/2017 at 19:31:05
Darren,
I'm always suspicious of people who want to call people by a name no one else uses. It's all a bit passive-aggressive. No-one other than you calls me Mockers. Mocky normally suffices.
When you quote me saying he was 'a minority of one', I was obviously referring to his description of being 'a majority of one'. You know, that context thing.
As it happens I have not yet seen anyone who agrees with his view that Lukaku should be benched on Saturday, not even you. However, there be some other crazed lunatics out there. Maybe with your super attuned hearing, you might have picked up a few at the game last week.
You as usual play the game of telling me what I think. To save you time, let me tell you what I actually think.
We could beat Liverpool without Lukaku.
It is more likely though if he plays.
I expect him to leave this summer. I'd prefer him to stay.
The club continues whatever. There is a chance Lukaku leaving could be to the club's long term benefit.
Hope this all helps.
Brent Stephens
177
Posted 30/03/2017 at 19:33:37
I agree, Chris. Lukaku will one day be gone but in the meantime he plays at Anfield. Madness to even consider otherwise. I don't know what sort of tactical plan anybody could realistically imagine without him this Saturday. I would like to see Dominic Calvert-Lewin alongside him.
John G Davies
178
Posted 30/03/2017 at 19:41:27
Darren,
Looking at the thread. What team and formation would you like to see start on Saturday?
Let's assume Schneiderlin and McCarthy are both fit.
Here is my team and formation. Let us know yours.
Robles
Holgate Williams Jags Baines
Gana Schneiderlin Davies
Mirallas Lukaku Barkley
4-3-3
David Graves
179
Posted 30/03/2017 at 19:59:40
Darren, how on earth have those of us pointing out the significant flaws in Brian's tactical plan become an ill-informed mob panicking over the (possible) moving on of Lukaku?
Just read what has been written and stop making such ridiculous assumptions.
Chris Gould
180
Posted 30/03/2017 at 20:20:39
So would I, Brent, but I suspect that won't happen. Much depends on whether Schneiderlin is fit.
I think it's fair to assume that McCarthy won't start, and with Coleman and Mori out, I don't think we can go with 3 centre backs. Holgate will probably play on the right and is unlikely to replicate the attacking threat of Coleman.
I can't see us going two up top with an unsettled defence. I think we'll start with a 4-3-2-1. I'd love to see us take it to them with attacking intent, but I suspect we will begin with caution.
Any formation is, of course, subject to change, and all 3 of Davies, Gueye, and Schneiderlin have shown they aren't afraid to go forward. So a 4-3-2-1 can quickly become 4-1-4-1 or 4-1-3-2 and we have players that can adapt.
I am trying to feel confident but am filled with dread.
Tony Abrahams
181
Posted 30/03/2017 at 20:56:14
This thread has shown me that we have got enough fit and talented players to go to Anfield and win.
I also thought Paul's final paragraph was telling, and for that reason I would play Jonjoe Kenny, who is another scouse kid, who won't give a fuck about Liverpool, or reputations, which is exactly what you need when you're going into games like this?
Graham Mockford
182
Posted 30/03/2017 at 21:09:39
Tony,
Hear hear... I'd go:
Robles
Kenny Jagielka Williams Baines
Gueye Schneiderlin Davies Barkley
Valencia Lukaku
I suspect Koeman will go for Holgate and Barry instead of Valencia.

Andy Crooks
183
Posted 30/03/2017 at 21:20:43
Graham, I was just about to write a piece, the outcome of which would have had me naming your eleven. I think the selection of Valencia would suggest that Koeman gets what this means. I fear he will not. I fear that he will play deep and negative.
For me, this is a defining game for the coach. We can win, we can win well. They are, in my view, fragile and spineless. This is the day to hurt them. It is time for Ross to be great, it is time for Lukaku to answer every doubter and be a legend.
Tony Abrahams
184
Posted 30/03/2017 at 21:30:43
Not sure about that team, Graham, because I think you need better width when playing 4-4-2, rather than playing central midfielders out wide?
I would bring Holgate into a back three, and use both Kenny and Baines out wide but I would play them both conservatively. I would play Gana with Davies and then use Barkley just ahead of them, at the point of the triangle, with Kid Calvert-Lewin, playing up-top with Lukaku.
5 defenders, with 2 midfielders looking to break up Liverpool, and then Barkley looking to break-away, and get forward to help the two strikers? Good subs in Mirallas and Valencia because I would expect our forward players to run out of steam!
Graham, it's all about opinions of course, but Liverpool are the most energetic team in the league for me and I think they struggle more when teams deny them space to stop them doing what they are good at, which is essentially running and working very hard?
Colin Metcalfe
185
Posted 30/03/2017 at 21:35:30
How good is Kenny? I have only seen play briefly against Norwich last season, it is a bit of a problem that we don't have a natural back up for Seamus.
I do feel it's a big risk to throw Kenny into the Derby at their place for his first senior start this season; however, he is a right back, as for Holgate he looks more comfortable at center back, he didn't look too convincing out on the right when we went to Stoke.
Tony Abrahams
186
Posted 30/03/2017 at 21:55:06
I don't know how good Kenny is, Colin, but he his as you say a natural defender, and this is the reason I would play him before Lennon, if we did play with Wingbacks.
Jonjoe's been at Everton, for a long time, and he was brought up about half a mile from both grounds, so I would imagine that he would fuckin love to roll up his sleeves, and have a good go at Liverpool?
Andy Crooks
187
Posted 30/03/2017 at 22:02:11
Exactly, Tony. Imagine being Jonjoe and being told your time has come. My God – the lad will give it all.
Tony Abrahams
188
Posted 30/03/2017 at 22:12:54
And it's usually something kids do very well when they have been brought up in inner city Liverpool, Andy!
We can talk all we want on ToffeeWeb but alls I want from every Everton player is to give what you say, Andy... give everything, and if they do, then Saturday could be a special day for us all, especially for the young kids including my own who have never seen us win a game at our old ground!
One thing kids do is play without fear, which is something Everton haven't done for fuckin years, mate.
Brian Wilkinson
189
Posted 30/03/2017 at 22:52:39
Why is it madness to use Lukaku as an Impact player? No-one knows how Valencia and Lookman would play up front or even Calvert-Lewin What better motivation than Rom coming off the bench if needed.
We are not a one man team, anyone who think we would be in relegation without Rom's goals, here are the facts for this season alone taking Lukaku goals out of the equation.
We would have dropped 2 points against Sunderland, one point against Man City, 1 point against Palace and finally 3 points against Bournemouth, that's a total of 7 points.
On that showing, other players goals have given Everton the points total this season.
People think without Lukaku we are beaten, each and everyone can croon til the cows come home about Lukaku, the one player that has given 23 points out of 30 is Tom Davies and Barkley's form since Davies inclusion.
So I still stick by saying we could do worse than play 2 strikers, leaving Lukaku as the trump card if needed.
Brent Stephens
190
Posted 30/03/2017 at 23:18:42
Brian "Why is it madness to use Lukaku as an Impact player? No-one knows how Valencia and Lookman would play up front, or even Calvert-Lewin."
Out of your own mouth – "No-one knows how Valencia and Lookman would play up front, or even Calvert-Lewin."
Brent Stephens
191
Posted 30/03/2017 at 23:22:25
Brian "the one player that has given 23 points out of 30 is Tom Davies and Barkley's form since Davies inclusion".
Tom or Ross? Either way, how has one of them scored the goals to deliver 23 points out of 30?

Brian Wilkinson
192
Posted 30/03/2017 at 23:24:39
If you want to go to last season's stats we would have dropped 8 points with Lukaku goals taken out: 3 points at West Brom, 1 point Liverpool, 1 point West Ham, 1 point Bournemouth, 1 point Palace and finally 1 point Norwich, that is assuming none of Lukaku's stand in would have failed to score in any of the games.
Amazing how many can say we would be fighting relegation or struggling without Rom's goals, yet just over a month ago comments of lazy bone idle, sell him were filling the comments boards.
Now it's everyone singing from a different hymnsheet and suddenly Everton are screwed if we use him as a sub or he gets a suspension or injury.
All my post was saying was try something different, try two of Calvert-Lewin, Lookman or Valencia to try and get behind them, have Lukaku there raring to go off the bench if needed, but don't put too much onus on Lukaku being the only one who can deliver a win and the wheel will fall off dare we not start with the guy.
Brian Wilkinson
193
Posted 30/03/2017 at 23:26:56
Both Brent; since Davies came into the team, we have picked up 23 points out of 30 which also includes Barkley's turn of form since Davies came into the team.
Brian Wilkinson
194
Posted 30/03/2017 at 23:28:26
Davies has made the difference so if that includes Barkley's form since then, then you have to say Tom Davies has made the difference.

Eugene Ruane
195
Posted 30/03/2017 at 23:30:20
Graham Mockford
196
Posted 30/03/2017 at 23:37:40
Brian,
In those 23 points out of 30 who was playing up front? Here's a clue: it was the chap who scored 11 goals in 10 games.
You can't have it both ways; using your logic, Tom Davies has contributed zero points based on goals scored or even assists for that matter.
Does that mean I think Tom Davies is not important. Hell no, I think he is brilliant.
Brent Stephens
197
Posted 30/03/2017 at 23:47:00
"Davies has made the difference so if that includes Barkley's form since then, then you have to say Tom Davies has made the difference".
Ridiculous logic. Laughable. Correlation is not causation.
Brent Stephens
198
Posted 30/03/2017 at 23:48:49
Who needs to comment when you have a link like #195! RIb-tickler.
Laurie Hartley
199
Posted 30/03/2017 at 00:11:32
Despite the fact that I have been very critical of Romelu Lukaku's off-field indiscretions, there is no way I would drop him for this game. Lukaku is the Everton player all teams fear.
I desperately want us to win this game and I think starting with Lukaku gives us an edge over them.
Gueye and Davies are made of the right stuff for this game, as are Williams and, if he plays, Schneiderlin.
In my opinion (market value 3s/6d) the two players we need to perform to their full potential in this game are Mirallas and Barkley. If they do, we will win.
Brian Wilkinson
200
Posted 31/03/2017 at 00:43:55
Graham, Lukaku was playing up front and out of the 11 goals scored, only the Bournemouth 6-3 was a winning goal, so it's not all about Lukaku's goals. Others have chipped in so I tip my hat to you – we would have 20 points out of 30 instead of 23.

Eric Myles
201
Posted 31/03/2017 at 00:49:48
Brian (#200) – "it's not all about Lukaku's goals, others have chipped in"
Indeed, we have 15 different goalscorers in the team this season with Lukaku's goals alone securing 2 wins and rescuing 2 draws for a total gain of 8 points.
Brian Wilkinson
202
Posted 31/03/2017 at 00:54:56
What I have tried to say in vain is to try out 2 of the strikers to get behind them. Logic by most say we cannot win without Lukaku's goals; stats say otherwise.
All I am saying is use two of them, have Lukaku as backup to come on, like for like, swap for one of the two strikers, it just might pay off.
I do not even know why I am having this debate because I am pretty sure Ronnie will play a lone striker and pack the midfield.

Brian Wilkinson
203
Posted 31/03/2017 at 01:00:48
Let's see what happens Saturday, I will eat humble pie if we start with Lukaku as a lone striker and we get a win without one of the strikers I mentioned not being on the pitch.
See how many "he's lazy, bone idle" posters come on if it goes tits up. As for me, nothing would give me more pleasure than eating humble pie and a great Everton win.
Derek Thomas
204
Posted 31/03/2017 at 02:09:14
...and in other news; TW will next debate just how many angels CAN dance on the head of a pin. Ans; as many as want to, aka, there is no wrong, or right answer.
Darren Hind
205
Posted 31/03/2017 at 06:05:59
David Graves @179,
"Just read what is written and stop making such ridiculous assumptions."
Okay, let's start with you. Lets start with the "significant flaws" in your argument, let's read what you say. Firstly,I think you'll find it was you who used the word "mob".
So I got to thinking why? Then I looked at the rhetoric you were using. I wonder if you realise you actually warned another poster to stop posting his opinion, telling him if he didn't take your "expert" advice, He would remain the current "whipping boy"? - mob mentality?
I wonder where you have been if you don't believe there are large sections of people who ARE panicking at the prospect of Lukaku leaving. Have you missed all those thousands of posts? Take this thread for instance, look at the reaction.
Look what Chris Gould has to say. Chris is normally a calm logical guy, but he seems to lose all sense of proportion where Lukaku is concerned, he believes that NO plan can work if it doesn't involve Lukaku – Abandon all hope, those who take to the field without our saviour.
Brent Stephens agrees with him – no surprises there.

"Mocky" (try typing that without laughing) would get himself into such a state when people criticised his hero, he decided to exile himself from Lukaku related threads. Mind you, he made no mention of non-related threads where Lukaku's name is mentioned. Take this one for example. He's turned into a Dia Wolf. Not because somebody attacked Lukaku, he has returned a dozen times to the thread to express his rage at the very suggestion Lukaku be used in another capacity.
You really believe Mocky isn't panicking at the thought of Lukaku leaving? Trust me, He's sweating like a glass blowers arse.
Like many Evertonians, I've seen Lukaku come on from the bench to devastating effect. I remember seeing him turn the game on its fucking head at Upton Park. If you people really think its the craziest idea you guys have ever heard? You must have lead sheltered lives.
I once drove like a fucking maniac from Edinburgh to London (another match at Upton Park). I made it by the skin of my teeth The players were already on the pitch ready to kick off when I got in. The guy next to me said "You'll never guess what's happened. That Ginger twat has dropped ALL of his strikers". THAT my friends is what you call a crazy idea.
Chris Gould
207
Posted 31/03/2017 at 07:18:53
Darren,
I'll rephrase: of course there is always a chance we could win without Lukaku. Hell, on their day, if everything went their way, the U23s could beat them. Burnley should have beaten them, and they don't have a player anywhere near Rom's quality.
However, we, without doubt, have a better chance of beating them with Rom in the side. Something which you acknowledge.
So, with that in mind, we shouldn't be concerning ourselves with life without Lukaku. We should embrace our greatest goalscoring threat, and hopefully watch him smash into them.
I believe he will score a brace on Saturday, but whether that will be enough may depend on what we have left after these wretched injuries.
Paul Tran
208
Posted 31/03/2017 at 07:39:06
I'm not concerned about Lukaku leaving; it's a fact of life that any club with a quality player is vulnerable to them leaving. Enjoy him while he's with us.
I hope he stays, but I don't blame anyone for seeking a better offer as long as they do the business. And he's currently doing it.
Seamus McCrudden
209
Posted 31/03/2017 at 07:44:31
Imagine if Lukaku was named on the bench & the news filtering through to the Liverpool dressing room pre-match. 'They've dropped their top scorer for the derby?' Is this idea supposed to baffle them into submission?
They are at home and the idea of giving them another psychological advantage a half-hour before kick off is crazy in my opinion. Your best players start matches – not come on as impact subs.
Brian Wilkinson
210
Posted 31/03/2017 at 08:12:15
Thank the lord for Darren Hind, not just for not dismissing such a thought, but to see someone else's view and not shoot it down in flames.
How many people have previously commented about Lukaku scoring in the latter end of matches, how many times have posters posted "Same old Everton always start slow, why can't we start a game like we finish one?"
It's well known we have been slow starters in a few of our games, on that basis I merely suggested why not try to change this? Use Lookman and Valencia or Calvert-Lewin to see if it reaps any rewards; both are pacy players and will certainly get behind the Liverpool backs.
Let's make one thing clear: I am not shooting Lukaku down. Yes, he is one hell of a player. I am not saying drop the guy because he is shite; I am saying let's try something different. If it goes tits up early on, then we have the big guy to come on.
Bringing a fresh Lukaku on will only strengthen our hands for the Lukaku backers.
Seamus McCrudden
211
Posted 31/03/2017 at 08:16:54
Brian, the theory is all well and good. You can try this idea when at home to a bottom half side or when Lukaku has picked up a knock. Certainly not in a derby away.
It all sounds a bit Ruud Gullit when he left Alan Shearer out of the Newcastle team. We know how that turned out.
Brian Wilkinson
212
Posted 31/03/2017 at 08:50:02
Okay, I bow to all the Lukaku backers: he will be the saviour, no Plan B. We've been there before, Lukaku starting as the messiah: 2014, got our arses kicked 4-0; 2016, got our arses kicked again 4-0; got a well respected 1-1 draw previous to that. Rom the messiah? Try again, Jagielka.
I have no doubt Lukaku could be a match winner. For me though, he struggles against the big teams... we struggle when we go to Anfield, more so when we play a lone striker. So, unless I am missing something and Lukaku is going to bag a couple early on, then I take my hat off for the majority of Mystic Megs amongst you.
Trying two different strikers early doors just might be the difference to past results.
I say 'might' and not 'will' before I get pulled up again and corrected.
Brian Wilkinson
213
Posted 31/03/2017 at 09:01:24
So, on the above basis, Seamus, you tell me what I am missing in Lukaku's appearances at Anfield in past meetings that you see and I don't.
Amit Vithlani
214
Posted 31/03/2017 at 09:20:12
Brian, I do think you make some valid points about Lukaku going missing in big games in the past. Against Man Utd when we lost at Old Trafford 1-0, the tortoise-like Blind had him in his pocket and of course in the semi-final he had a shocker in front of goal.
But against the RS I do not think you can blame him completely.
3-3 draw: he changed the game in our favour
0-4: injured by Gerrard; draws at Goodison and Anfield – Martinez sent the team out to defend and he really had no support.
1-1 when Rogers was sacked: got us an equaliser and I thought he played well.
0-4 when Funes Mori kissed his badge: whole team stopped playing, although Rom was generally poor in the matches after the Chelsea quarterfinal win, almost dining out on his reputation.
0-1 earlier this season: he was poor... no excuses, granted.
This time, there should be no excuses for Rom or indeed Koeman. Koeman has to set the team up to use our strengths. He has a confident front 3 in Rom, Kev and Ross. What is crucial however is how well our back line does.
Dropping Rom will not solve the fact that Baines has been exposed on the left a number of times and the RS have done us from set pieces over the years. Robles had brain farts against Spurs. Williams and Jags have looked shaky. Get the back line right and our front players have a chance.
Eugene Ruane
215
Posted 31/03/2017 at 09:26:14
Do we have a good TW comic-strip artist?
I'm (seriously) seeing a monthly story here..
The Semantics Antics of Bri n' Daz ("We always get the last word!")
Characters drawn like the 'casketeers' from the Real Ale Twats in Viz.
Daz: "This is ridiculous, SURELY it was obvious that when we said he was a fat, lazy, idle, hopeless fucker who should be dropped immediately, this was in fact a compliment."
Bri: "Absolutely! Nice to see someone gets it! Anyway of course if we win 7-0 with Lukaku as lone striker, I will of course hold my hands up and say I got it wrong...(pause)...ANY other result however and I will be claiming victory."

Ray Roche
216
Posted 31/03/2017 at 09:34:20
Brian Wilkinson (#170) and Brent Stephens (#172),
"His goals more often than not come in the latter end of matches."
Could this have anything to do with bringing on Valencia or Lookman late on, which gives Lukaku the support he needs? It's been mentioned on here many times (but not recently for obvious reasons) that Lukaku looked better with Kone along side of him.
Dave Abrahams
217
Posted 31/03/2017 at 09:34:20
I think not many Everton fans would start the game without Lukaku in the side. After some games, lots of fans wonder why he was selected...
Opinions change on which Lukaku turns up; this season, since Christmas, he has mostly been on the ball regards to scoring.
I hope he keeps it up tomorrow and he at least lets Liverpool know he is on the field by using his weight and harassing and bullying them. He can do it; it's up to you, Rom.
David Graves
218
Posted 31/03/2017 at 10:02:30
Wow, Darren, a diatribe with far far too much concentration on semantics and minor details to try and support what is clearly a flawed argument.
Nobody, in response to Brian, appears to be panicking about Lukaku leaving. They are highlighting a ridiculous tactical suggestion. That's what I have done and I stand by that 100%.
Finally Brian goes as far as to say "Thank the Lord for Darren Hind". Positively evangelical, isn't it. I'll leave the two of you to continue to debate between yourselves other inspirational and perhaps even "God sent" tactical suggestions.

Graham Mockford
219
Posted 31/03/2017 at 10:13:27
Eugene
I getting more of this vibe
John G Davies
220
Posted 31/03/2017 at 10:25:54
Eugene, Mocky.
Brilliant.
Brent Stephens
221
Posted 31/03/2017 at 11:03:39
Ray (#216). I totally agree. My post was meant to counter the notion that Rom's goals at the end of a game don't matter. I was suggesting it would be great if he could delay his goal(s) against hem until the dying moments and win the game right at the end.
I also think this "all his goals at the end of a game when it doesn't matter" may well be a statistical quirk, and if we look at previous and future seasons we might see a different pattern.
Brent Stephens
222
Posted 31/03/2017 at 11:08:34
Brian Wilkinson
223
Posted 31/03/2017 at 11:29:33
Nothing to do with getting the last word, Eugene. If someone responds to my comments I will rightly reply to them. You all have your views; I have mine... we all differ. I certainly believe in having a right to suggest my views. If others disagree, then they have every right to view comments they all believe in. That's why it's a fans forum, for people to have opinions.
That's fine I have my opinion, I am not asking anyone to agree with it, just to read my post, air alternate views if needed – that's every posters right, to voice their opinions.
By all means feel free to get a cartoon strip, but just because you think your opinion is right, does not mean "Shut up, Brian, your idea is wrong. Now kindly leave the forum, Brian, your suggestion is a joke."
Listen to what I had to say.
Brian Wilkinson
224
Posted 31/03/2017 at 11:32:48
Ignore last sentence. I haven't a scoobies to where "listen to what I said" popped up from.

Brent Stephens
225
Posted 31/03/2017 at 11:56:01
Brian, that last line was probably the Russians! Anyway, we're all behind our lads at Anfield tomorrow, whoever starts or finishes up front. I just have a feeling that, despite our injury problems, this is a match we'll win. No reason, pure emotion!
Come on, Ronnie... set them up to get at them at the back – their weak point.
Seamus McCrudden
226
Posted 31/03/2017 at 14:15:01
Brian, I actually agree with you re two up top – especially if its Rom and Valencia who seem to have a good understanding when played together. Might be our best bet by hitting them on the break as no doubt Ron will set up defensively.
Seamus McCrudden
227
Posted 31/03/2017 at 14:19:06
Also you can hardly point out Lukaku as any sort of weak link in past performances at Anfield. We were dreadful to a man.
Gary Russell
228
Posted 31/03/2017 at 14:41:40
Are Brian Hind and Darren Wilkinson twins by any chance?
Brian Wilkinson
229
Posted 31/03/2017 at 14:56:46
We are the old gits from Harry Enfield; Gary, meet Alf Git.
Will meet you halfway, Seamus, if we play 2 strikers; anything but a lone striker and a packed midfield like the Spurs game.
A A draw is no good; we need maximum points in the next two games. We may as well give it a good go and bang 2 strikers on.
Darren Hind
230
Posted 31/03/2017 at 16:48:21
Brian Wilkinson (repeatedly) – Nope, don't want Lukaku to play.
Darren Hind – I want Lukaku to play, he represents our best chance of goals.
Eugene Ruane - "Ha ha ha ha I've got them . . .not since Genghis Khan and Leon Trotsky have there been two more like minded people. Two peas in a fucking pod".
Mocky, John Davies and Brent Stephens – "Baaaaahhh, I don't care if Eugene has got it arse about face.... Baaaaaahhhhh"
Eugene, stick to your links, fella. So what if you come across as a one-trick pony, at least they keeps the easily led happy and they masks an awful lot.
Brian Wilkinson
231
Posted 31/03/2017 at 17:08:13
Hang on, Darren, I didn't say I did not want Lukaku to play. I said not to start but to play a part as an impact sub.
I thought it was worth a go trying two speedy strikers. Everyone thinks it's better to start with Lukaku; on that basis, try Valencia alongside him from the start.
Last thing we need is to pack the midfield and play a lone striker.
Graham Mockford
232
Posted 31/03/2017 at 17:08:55
Eugene Ruane
233
Posted 31/03/2017 at 17:57:57
Brian # 223 -
'Nothing to do with getting the last word, Eugene. If someone responds to my comments I will rightly reply to them.'
Why on EARTH would you tell me a thing like that?
I mean with that information, if I fancied, I could just make you dance about on TW for my own amusement
All I'd have to do is post "How do you arrive at that bollocks?" two or three times a day and you'd be guaranteed to come-a-runnin'.
Remember, loose lips sink ships.
Darren, see the feller complaining about the feller drawing 'penises.' Link?
That's you that is.
Darren Hind
236
Posted 31/03/2017 at 18:50:12
Depends. You may have to be the Marx Brothers instead.
If Eugene gets his wish and a comic strip artist surfaces, It could mean the death of the side-splitting link. Eugene would be goosed. How would he communicate? Mime?
I could just imagine him tearing his curly blonde syrup to shreds and squeezing the fucking life out of his hooter in a desperate attempt to recycle another Paul Daniels rib tickler.

Brian Wilkinson
238
Posted 31/03/2017 at 19:11:32
I'm up for that, Eugene, if you turn the handle on the organ, oh I say Mrs.
Not sure if I can still get in my flairs but if it adds entertainment to the site, will have a dabble at the Macarena. I draw the line to the ketchup song though, the boogies are okay but doubt my buggy buggy wuggy would would hold out.
Right, wrong subject, but first of my two part sports fix for the weekend coming up, here's hoping my two teams, Everton and Wigan Warriors, make it the perfect weekend for me.
Eugene Ruane
239
Posted 31/03/2017 at 19:30:35
Sorry Daz, I'm in no fit state to reply properly to your post, perforated eardrum according to the doc.
He reckons it might be a result of the incredibly loud cheer Rom got at the Hull game.
(he told me he was at the game, sitting next to some feller who had cotton wool in his ears and who was sitting next to an embarrassed looking grandson).
Graham Mockford
241
Posted 31/03/2017 at 20:48:03
One last one for you, Dazza:
Seamus McCrudden
242
Posted 31/03/2017 at 21:26:22
Brian, I'm with you, feck it – let's go for it.
A 2-1 win to us with Davies popping up with the winner.
---
Add Your Comments
In order to post a comment, you need to be logged in as a registered user of the site.
Or Sign up as a ToffeeWeb Member — it's free, takes just a few minutes and will allow you to post your comments on articles and Talking Points submissions across the site.