Irish camp dismisses Koeman accusations over McCarthy
Friday 31 March 2017

51 Comments [Jump to last]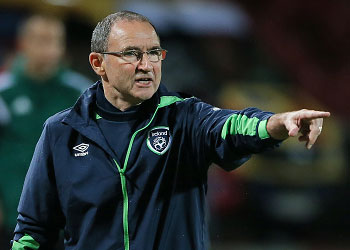 The détente between Ronald Koeman and the Republic of Ireland management continues with a source indicating that Martin O'Neill is "livid" with the Dutchman over his latest comments.
The Everton boss offered some thinly-veiled comments at the direction of both the player and O'Neill this week for the fact that McCarthy aggravated his hamstring injury in the warm-up before last Friday's World Cup qualifier. Koeman felt that the fact that the midfielder was in the line-up to start with went against the club's medical advice.
Fresh reports, however, have it that an Irish insider has dismissed Koeman's assertions as "rubbish" and "nonsense".
"The medical advice was that he was fit to play and the player felt he was fit to play," the source told the Irish Examiner.
For his part, O'Neill explained the situation to the press after Tuesday's friendly against Iceland, in which McCarthy obviously played no part, saying that the player "wanted to play and was fit to play".
"I wasn't thinking he was going to pull up in the warm-up," he continued, "but he overstretched himself."
McCarthy will resume his rehabilitation from this latest hamstring problem now that he is back at Finch Farm, with Everton's medical staff keen to find a solution to his frequent relapses.
---
Reader Comments (51)
Note: the following content is not moderated or vetted by the site owners at the time of submission. Comments are the responsibility of the poster. Disclaimer
James Watts
1
Posted 31/03/2017 at 05:55:15
"The medical advice was that he was fit to play ". Well, they were proved wrong. Again.
It baffles any kind of logic that McCarthy would have been fit.
Wonder if the medical team meeting went like this.
"hey Paddy, hear the one about McCarthy and hamstring injuries?"
"No such thing Murphy. He's good to play!"
McCarthy pulls out with hamstring injury.
Paddy and Murphy look at each other "Ahhh... THAT hamstring!"
Darren Hind
2
Posted 31/03/2017 at 06:20:57
Or maybe its another case of Koeman telling it like it isn't.
More to come on this...
Ian Cowhig
3
Posted 31/03/2017 at 06:43:56
Darren,
In November, Koeman advised McCarthy should not meet up with Ireland. Ditto this time. Seems clear what he was saying to me.
It is obvious that there is some underlying problem which the medical teams need to sort. And he hasn't been available for Everton.
I've seen lots of messages on here suggesting Koeman doesn't rate James. Personally I think he does, which is why he wants him 100% fit before he plays.
Rob Hooton
4
Posted 31/03/2017 at 06:47:17
Roy Keane used to complain that the Irish set up was "a joke"; maybe not much has changed or maybe they have moved along nicely since those days.
I can't see anything funny about it though as if the medical team did indeed pass him as fit then they were obviously completely wrong due to McCarthy not even making it onto the pitch despite 'declaring himself fit'.
Looks like Everton staff were correct in their evaluation and the player and Irish team got this one wrong, rubbing salt into the wound in the process.
Christopher Timmins
5
Posted 31/03/2017 at 06:49:26
The guy has been breaking down all season, a long-term solution is needed here. He started the derby game against Liverpool and did not finish it, he started the Bournemount game and did not finish it, he came on against Spurs and was in trouble the next day.
The manner in which the Irish coaching staff treated him was not a help but his problems are on going and long term.
In the not-so-distant past there was a rule that if you did not play for your club before an International game, you did not travel. One of the better rules!
Jason Pullen
6
Posted 31/03/2017 at 06:54:54
If he was fit to play, surely he would have lasted longer than the warm up.
Dan Egerton
7
Posted 31/03/2017 at 07:03:05
"I've seen lots of messages on here suggesting Koeman doesn't rate James. Personally I think he does, which is why he wants him 100% fit before he plays."
Agreed. He had an opportunity to move him off in the summer/January window and chose not to.
"If he was fit to play, surely he would have lasted longer than the warm up."
Chris Gould
9
Posted 31/03/2017 at 07:07:42
"I wasn't thinking he was going to pull up in the warm up, but he over stretched himself."
So all he managed was a hammy stretch and he felt a niggle?! What on earth did they think would happen when he started sprinting and lunging?
Duncan McDine
10
Posted 31/03/2017 at 07:16:27
When Gibbo left, I was fearful that we wouldn't have enough injuries to moan about. Now I feel very foolish.
In the case of Macca, you just can't blame him or his judgement. It's the dream of every young Scottish kid to play for Ireland.
Paul Setter
11
Posted 31/03/2017 at 07:17:55
There will be one winner here and that is Koeman and rightly so. He won't worry one bit how much he upsets anyone to get his way and at ٤ million a year he can throw his weight around as much as he likes if it makes us better.
As for that no-mark clown O'Neill your be hearing him go on about this until the day when he realises that no one rates this turnip anymore and he is jobless
Gerry Ring
12
Posted 31/03/2017 at 07:56:07
I don't particularly like the anti-Irish sentiment here. The Irish medical team is extremely proficient which was evidenced a number of years ago when Shane Duffy suffered a bad injury.
I'm a life long Irish Evertonian. My cousin Tommy Ring played for Everton in the 60s; however, I feel the Everton medical team need to answer some questions as to why this injury is dragging on.
The other issue I have is that when McCarthy was fit, Barry was getting picked ahead of him. I'd say he wanted to prove a point. From reading the comments from the Irish camp, McCarthy didn't "break down" in the warm up, he felt a twinge and could have played but O'Neill said no!
Paul Smith
13
Posted 31/03/2017 at 08:04:49
Hey Duncan - very funny.
Internationals are a joke and take away my weekly fix of all things Blue.
Won't be at West Ham but will be at the Emirates last game of the season, hope to see you there? Take care.
Liam Reilly
14
Posted 31/03/2017 at 08:10:58
Or put it another way, Watts (#1),
'Paddy' or 'Murphy' flags your racist comments and you're suspended from the site.
Arsehole comment.

Duncan McDine
15
Posted 31/03/2017 at 08:52:08
Hi Paul, it's been a while mate. I'm heading up to the Man Utd game on Tuesday but will probably also give West Ham a miss. See you at Arsenal bud.
Tony Abrahams
16
Posted 31/03/2017 at 09:34:56
Telling it like it isn't, Darren? He said that the two people responsible were the player and his manager, who should have been protecting him better and considering this has been a long-term problem, then I think it's impossible not to agree with the Everton manager on this one.
I agree with you that there is a lot more to come on this one, but Martin O'Neill only needs McCarthy fit occasionally, whereas Ronald Koeman needs him fit every week and, as much as the player would have wanted to play last week, he's either stupid, or doesn't give much of a fuck for Koeman, who does seem to be the only one who is really trying to protect him at present?
Maybe McCarthy doesn't like his Everton manager, who knows? But he plays for Everton and they are the ones that pay his wages, so trying to play when he knows he's not really fit, is only going to do him a lot more damage in the long-term, and the only man who does seem to be acting responsibly in all of this is Koeman.
Des Farren
17
Posted 31/03/2017 at 09:40:06
Exactly Darren.
Oh yes, I'm the great dissembler...
Ron can sing it like the best!
James Watts
18
Posted 31/03/2017 at 09:44:59
Ah come on, Liam (#14), don't be so tetchy. Apologies if I offended you. None was meant, it was purely tongue in cheek. Didn't know the medics names, so went with generic Irish names.
I'm as Aussie. Fire something back and we'll call it evens. Or if they were Aussie docs I'd been happy to call them Brad and Shane. Or am I getting myself in more trouble?!
Liam Reilly
19
Posted 31/03/2017 at 09:53:29
It's OK James; no harm done.
It's farcical that this has come to this; Koeman and O'Neill need to speak on the phone, in private and just sort it out.
.
Shane Corcoran
20
Posted 31/03/2017 at 10:53:16
Duncan, how in shite's name would you know what young boys in Scotland dream of... ???
Alan J Thompson
21
Posted 31/03/2017 at 11:34:05
His club say he isn't fit but his International side say he is but he doesn't get past the warm-up and this is the second time with the same injury.
Where do you think the blame should lie? It used to be called the bleedin' obvious!
Christopher Timmins
22
Posted 31/03/2017 at 11:38:11
Dan, I am sure you are correct; the manager rates the guy big time and wants him fit.
John Raftery
23
Posted 31/03/2017 at 11:51:06
McCarthy was stupid to declare himself fit. O'Neill was stupid to think the player would be anything like fit enough to play after his recent problems with the injury. Koeman has been left to draw his own conclusions.
McCarthy will be moved on in the summer. No club can afford to keep a player who seems to prioritise international football over playing for his club.
Brian Williams
24
Posted 31/03/2017 at 12:02:44
Irony Shane, irony.
Shane Corcoran
25
Posted 31/03/2017 at 13:42:20
Thanks for pointing that out Brian. You obviously couldn't spot the irony in my post, however.
Matthew Williams
26
Posted 31/03/2017 at 16:04:17
Ideal scenario would be to sell McCarthy and Seamus calls time on his international career after his rehabilitation.
Brian Williams
27
Posted 31/03/2017 at 16:10:10
T' be sure I did, Shane.
John Crawley
28
Posted 31/03/2017 at 17:45:42
The reality is McCarthy hasn't been fit all season. If something goes in the warm up, all the facts point to the fact that Koeman is correct. O'Neill is embarrassing himself with those comments.
By the way you may want to change the word 'detente' in the above article – it doesn't make sense.
Peter Roberts
29
Posted 31/03/2017 at 18:07:18
Martin O'Neill has gone from destroying Aston Villa to destroying hamstrings...
He's as petulant as he is arrogant.
Des Farren
30
Posted 31/03/2017 at 18:43:31
Duncan @ 10. "It's the dream of every young Scottish kid to play for Ireland" Only those with Irish Ancestry I would suggest but possibly you are correct.
What you are saying is that Scots have no interest in playing for Scotland?
In 2015 RWC more than one third of players selected were not Scottish born. Quite a few of these deserted Scotland when their 3-year residency requirement expired. Few, if any, had ancestral connections.
Your point therefore is probably correct.
Damian Wilde
31
Posted 31/03/2017 at 18:45:05
This guy is an absolute idiot.
Ernie Baywood
32
Posted 31/03/2017 at 23:20:49
It's common sense that a player who had a recurring problem shouldn't be suddenly picked for an international. It's common sense that McCarthy should be considering his career – he only has one contract and that's with his club.
But... O'Neill is defending himself against the accusation by Koeman that both the club and Irish medical teams declared him unfit and he picked him anyway.
He's entitled to do that. Maybe Ron told a porkie? Or are we too biased to read the news without going into uproar.
Maybe O'Neill is telling fibs? The truth will come out.
Dan Davies
33
Posted 31/03/2017 at 23:30:44
Squad player at best. Sell him to the highest bidder sharpish.
Ian Riley
34
Posted 31/03/2017 at 23:37:06
This is not about medical teams or managers. The blame lies with the player. He either doesn't give a thought to Everton regarding injuring himself further or lacks the understanding of the injury.
For the Irish manager to blame lack of rest post-European Championship 2016 and three games in a week early season is complete nonsense. Lukaku has played almost every game this season for club and country. Oh yes and the later stages of the European Championship!
The current Irish management team have made comments previously back in 2014 regarding fitness of our players and how lucky we are to have Irish players in our team. The future recruitment of Irish players must be looked at while this current Irish management team are in place.
The player must be sold in the summer. Get him fit and sell him. Total lack of thought and respect for the club. Sell him to Celtic, his home club.
I am hopeful that our recruitment of players in the summer will not involve playing at international level with Ireland. They are becoming a distraction for our manager. Statements made should come from the Director of Football and not Koeman.
Ernie Baywood
35
Posted 31/03/2017 at 23:56:14
O'Neill's latest statement is a bit more pointed!
'Once again the Everton manager, master tactician of the blame game, has struck out in his comments today, criticising both myself and James McCarthy.

'Perhaps a review of Everton's pre-season programme might provide some enlightenment.

'James had a magnificent tournament for the Republic of Ireland last summer during Euro 2016, playing his last game in very late June. He then returned to Everton after a very short break, but only 11 days later, he played his first of three games, all within an eight-day period, against Real Betis, Manchester United and Espanyol. Overloading?

'It should be added that James last played for his country on the October 9, 2016 - almost half a year ago. Since that time he has been totally under Everton's supervision.

'James is diligent and conscientious in his professional preparation.

'Perhaps, in this instance, quiet introspection may serve the Everton manager and his medical staff better.'
Ernie Baywood
36
Posted 31/03/2017 at 23:59:50
And Koeman now tweets:
James McCarthy began his pre-season three and a half weeks after Ireland were knocked out of the Euros. From the master tactician.
Ha ha
Trevor Powell
38
Posted 01/04/2017 at 08:30:44
O'Neill is a washed up has been who never really achieved much. Keane is a bearded thug who believed mote in injuring players and has proved that he has minimal management skills since retiring as a player. They get the criticism they deserve and have spent their careers blaming others!
Peter Murray
39
Posted 01/04/2017 at 08:38:56
O'Neill is right on one thing. Koeman is a master tactician.
The blarney is mere envy.
Trevor Peers
40
Posted 01/04/2017 at 08:47:15
Nice to see the blues trading insults with the Irish management, at last! O'Neil and Keane seem to think they can kick Everton in the teeth whenever it suits them.
If Keane thinks he's so hard why not arrange a boxing match with Big Dunc for charity?
Daniel Lim
41
Posted 01/04/2017 at 08:51:30
I second that, Trevor
Oliver Molloy
42
Posted 01/04/2017 at 09:06:54
Declan,
What match were you watching. Did Ireland get away with a few bits and pieces in the first half? Of course, Coleman was going to get stuck into his team and told them to give as good as they got in the second half, and of course by saying that I am not supporting the tackle on Coleman / O'Shea etc.
If Liverpool start messing with us tomorrow what do you want Everton to do – lie down and take it?
If Koeman can prove that the Irish medical team advised O'Neill that it was a risk to play McCarthy then he should come out and provide the evidence.
I know for a fact that O'Neill was in McCarthy's ear the whole time he was with Ireland telling him how much he needed him to play, make of that what you will, I am in Koeman's corner.
McCarthy and O'Neill both made bad decisions, and O'Neill in particular is. Not doing himself any favours.

Mike Green
43
Posted 01/04/2017 at 09:34:16
O'Neill is a football media luvvy of the highest order and he's just annoyed that someones showing him up in the medium he's plied with drinks over cards games in hotel rooms for years to rub up the right way. They have a right craic you know. What a waste of time when this Dutch guy can just walk in and start using it against him. How frustrating.
His protestations are those of a man who knows he's fucked up – and has been shown up for fucking up – and he doesn't like it and has hit the "Behave Like A Baby" button – and hit it hard.
Then enter his henchman Keane – only appointed to play Bad Cop because the IFA think football can be complimented by having a Despicable Me / Addams Family sideshow to run alongside it and there we have it – a modern day pantomime.
I would sell McCarthy off the back of this and let him, O'Neill and Keane be someone else's problem.
Ungrateful bastards.
Charles Brewer
44
Posted 01/04/2017 at 15:44:07
McCarthy can take a small amount of blame for this, but then he's a young man who loves playing football. He's going to say he's fine even when it's marginal.
On the other hand, there are supposed to be medically qualified staff who can evaluate this kind of thing and are dealing with assets (players) worth millions to hundreds of millions.
Clearly the Irish medics involved are worthless, as is their manager.
If I were Koeman, I'd be looking to find ways of getting players disqualified from internationals.
Mark Stone
45
Posted 02/04/2017 at 15:41:51
If you are fit to play, you don't pull up with a hamstring injury the warm-up.
If they deemed him fit to play, they need better screening.
Mick Davies
46
Posted 04/04/2017 at 01:02:26
It's not a new thing: Martinez was playing James when unfit, as were Ireland, and I get the impression he's not a very bright young man, and will play where and whenever he's told, regardless of fitness.
That is the reason he never got back to his 2013-14 levels, when he was working for himself and Barry. I fear he is never going to get over the damage, especially if Martian O'Knowitall keeps selecting him.
I stand by Koeman on this, and I hope he publicly questions that moronic sidekick why it was okay for him to walk away from a World Cup when fully fit, but McCarthy can't be rested with a career-threatening injury.
Eamonn Long
47
Posted 04/04/2017 at 05:16:27
Ireland have a right to play the player if their medical staff and the player think he's capable. End of. Nothing to do with Everton.
Oh, but wait... a twinge felt during warm-up... okay... player has to pull out. Bad luck, James! Bad luck, Ireland!
But what' all this BS about O'Neill ignoring advice from *both* medical teams? A case of adorning Booby's old shoes I think.
And as for last Saturday...master tactician, my arse!
Mark Stone
48
Posted 04/04/2017 at 10:24:03
Eamonn, as above, if you are fit to play you don't pull up with a loss-of-time muscle injury during the warm up. If they thought he was fit, they need better screening. Clearly.
Ernie Baywood
49
Posted 04/04/2017 at 10:51:07
Mark, surely you could say the same about any muscle injury? We see this all the time... Player declared fit, player re-injures himself. Not a new thing whatsoever.
Do I think James' first game back from injury should be for Ireland? Absolutely not. Terrible decision by all concerned when his career is on the line.
But...
Koeman claimed both the Everton and Irish medical staff had advised against playing him. It's beginning to look like he was telling porkies, in his own 'refreshingly honest' way.
Mark Stone
50
Posted 04/04/2017 at 14:09:10
Ernie, no we can't say that about any muscle injury. It's about screening and assessment of the risk.
Sure, the risk can only be minimised, and McCarthy will always be at heightened risk of a recurrence, but there is a difference between pulling up in a game and in the warm up.
If he is so fragile he is pulling up in the warm-up, he should have been nowhere near the match day squad. That is avoidable.
Peter Thistle
52
Posted 05/04/2017 at 08:17:14
I'd love us to ban our players from playing for Ireland. They have no respect for us. O'Neill and especially Keane need a good fuckin' kicking.
Paul Burns
53
Posted 06/04/2017 at 20:22:06
Everton should stop paying his wages till he's fit. Let Ireland pay them and his medical fees.
International football is a joke, bunch of strangers borrowed from clubs who they are contracted to play for coming together every blue moon.
Maybe international players should just play for their countries and not get involved in club football, their bread and butter. Let's see how they like surviving on sporadic, low wages. serve them right.
Roger Helm
54
Posted 13/04/2017 at 15:47:40
Whatever is happening between the Ireland management and Everton, it's not detente!
---
Add Your Comments
In order to post a comment, you need to be logged in as a registered user of the site.
Or Sign up as a ToffeeWeb Member — it's free, takes just a few minutes and will allow you to post your comments on articles and Talking Points submissions across the site.