Koeman: 'A lot of negatives' in Hammers draw

127 Comments [Jump to last]
Saturday 22 April 2017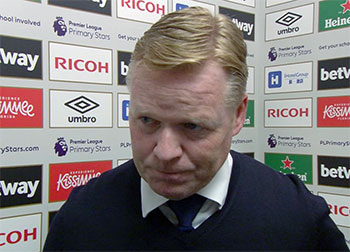 Ronald Koeman made no secret of his deep disappointment with his team's performance at West Ham today, saying that there were a lot of negatives to take from the dreadful 0-0 draw.
Flying at home and enjoying a glut of goals in front of their own fans, the Blues made their first trip to the London Stadium hoping to register a win that would have moved them back into 5th place in the table but they failed to register a shot on target in 90 minutes.
Koeman admitted that he could have changed half his side at the break, such was his disillusionment with what he had seen in the first 45 minutes, but he elected to make two changes that, ultimately, did not have the desired effect.
"[This was] really far below our normal levels of performance," Koeman said after the game. "From the first minute to the last second, we didn't bring that intensity.
"It was a really poor performance with a lot of negatives in our football and in the intensity of our game.
"The one positive thing was we kept a clean sheet but we like to do more, we like to perform on the level that we can and today was far from that.
"I wasn't happy at half-time. You try to do something and as a manager you can change and, okay, I could not change four, five, six, seven [players] but at least to send a signal to the team that I wasn't happy about the first half.
"It wasn't at the level that I expect from my team. The problem now is we need wins to get maybe a chance to finish 6th or 5th but for sure today's performance won't bring that position in the table."
---
Reader Comments (127)
Note: the following content is not moderated or vetted by the site owners at the time of submission. Comments are the responsibility of the poster. Disclaimer
John Keating
1
Posted 23/04/2017 at 07:53:41
Inexcusable. Every supporter who travelled should be fully reimbursed, including travel money, from the players and manager – not the Club.
Ian Hollingworth
2
Posted 23/04/2017 at 07:55:53
I really hope we have some top quality players lined up for the summer – even without relying on the Rom transfer money.
Jim Bennings
3
Posted 23/04/2017 at 08:48:56
With all due respect, though, this kind of match has been bubbling away in the pot for a long time because nearly all of our away games since we won at Sunderland in September has been a real low key event.
Maybe for this reason, we shouldn't be too surprised by the abject nature of the result given the fact West Ham were playing at a venue they aren't comfortable with and missing players themselves; sooner or later the home team were going to be equally as bad as us.
Koeman seriously needs to work out why the hell we look like relegation fodder away from home yet Champions League chasers at Goodison. It's gone on all season and we rarely put in a great away performance where we actually deserve to win.
The performances are true to the results, we haven't been unlucky, apart from United but even that we were to blame for not killing off the game.
We look clueless, ponderous, sluggish and frankly we look downright poor.
He needs a whole new attacking unit next season if we are going to trouble the sides above us. It's all well and good looking world beaters at home to also-rans but you can't get any momentum if there's problems winning on the road.
The midfield are far too negative, he should have seen after halftime last Saturday Schneiderlin and Gueye doesn't work.
Davies has a great future but he wouldn't be playing weekly if we possessed a truly top class creative attacking midfielder... and Barkley?? Well still don't get me started on where he's at!
Looks good at home to dross but looks anonymously poor in away games or against decent opposition.
Lukaku will have had better service in a closed down restaurant than yesterday and we should thank our lucky stars he's scored 24 goals this season because there's nobody else in that team that will even sniff double figures.
A lot of work needs doing in the summer.
Anthony Dwyer
4
Posted 23/04/2017 at 08:49:22
John, not every player failed to do there jobs!!!!
A clean sheet must mean Stekelenburg and the back line done enough; the rest can refund everyone. 😉
Paul A Smith
5
Posted 23/04/2017 at 09:15:26
Like someone said to me yesterday, when we lose, it's all Barkley's and Lukaku's fault but when we win its mostly because of them and Coleman.
And Gueye's energy at times. Gueye gets total bullied away from home though.
Stan Schofield
7
Posted 23/04/2017 at 09:34:09
On home form, we'd be title material, but on away form we're mid-table material. This surely suggests a problem with tactics (which have been a problem away from home) and mentality (particularly a winning mentality where we go out for a win). Yesterday, it was mentality, or seemed to be.
We could change a lot of the players in the summer, but that doesn't guarantee that the two problems of away tactics and mentality will be solved. There appears to be a problem deeper than simply changing players. This problem should be solvable with the current players.
John Keating
9
Posted 23/04/2017 at 09:39:03
Anthony.
Play as a team. Pay as a team.
Seems fair to me.
They can certainly afford it – even the youngsters!
Ian Bennett
10
Posted 23/04/2017 at 09:43:05
No real invention in the team, with the ball going to Holgate a lot at right back. He's a fine player, but his attacking instincts are not of the level of Coleman – so why West Ham doubled up elsewhere and let him have the ball.
No real options on the bench either, it tells us we need a big summer of 4 to 5 top quality signings that will add another 8 plus away wins a season. Not sure if that's top 4 material, but fans need to be realistic of the steps in one season from the basket case situation we played at the end of last season. Money in the club does make this possible that we can invest and progress.
Jim Bennings
11
Posted 23/04/2017 at 09:54:20
I think we are realistic as fans to not expect too many miracles in one season and certainly the restoration of a proud home record is particularly pleasing (although next week will be a test) but we need to make sure next season that lessons are quickly learned on how to deal with certain games.
The set up for too many away games this season has been all wrong and we have never looked cohesive, since the injury of Bolasie and the release of Deulofeu (even as a sub) we lack pace and incision going forward.
I don't think we realise how much we miss Bolasie until we play away from home, no coincidence that he played a huge part in two of our four away wins at West Brom and Sunderland back in the late summer.
Martinez teams couldn't defend but he played a lot of wingers like Deulofeu and it did hurt the opposition and give them more to worry about than this current formation used by Koeman, although obviously at least in general, Koeman's side is more solid defensively.
But it's for Koeman to see this and get it right, there will be no Bolasie until Christmas at least and even then he won't be the player he was so I think our manager really needs to take a look at the lack of pace currently in midfield, another quick direct wide player needs adding to the list of targets in my opinion.
Don Alexander
12
Posted 23/04/2017 at 10:19:28
This summer poses several important issues.
If we are to keep Lukaku and Barkley I'd suggest we need to sign impressive players early doors, concentrating on offensive types. By doing this those two may re-sign, but is that best for us given their all-too-visible respective shortcomings in personal inability to grab a game by the bollocks, as top players sometimes do, which are being rightly commented on as time goes by?
If we sell them, we'll maybe take a huge risk but will surely release even more funds than may already be earmarked. That should mean we'll be able to acquire three of four top-class creator/scorers who can sometimes grab a game by the bollocks and enable a win against dross like WHU.
I'm not too worried about the defence or keepers. Yes, by summer 2018 the need to replenish will be more valid but this season they're pretty good, even to stats fans, and that's with Lukaku & Barkley always doing fuck-all to help out when the ball is lost in the opposition's half (no other team in the Premier League has such idle players in this regard in my opinion).
As I've said before, the defence next season will surely be under less pressure if our opponents have to worry about the threat we pose from talented, enthused new signings.
Trevor Lynes
13
Posted 23/04/2017 at 10:44:21
When Lukaku is heavily marked then surely it is up to Mirallas and Barkley to get on the score sheet. Barkley has never reached his supposed potential and a true attacking player should score goals. If Lukaku does not score then who will step up to the plate?
We have been desperately in need of a second striker for much too long and none of our midfielders have the guile to open up determined defences away from home.
Eddie Dunn
14
Posted 23/04/2017 at 11:42:52
Thinking about Mirallas and the other "wingers" like Deulofeu and Bolasie, could it be that the answer to the trade-off between defensive solidity and attacking effectiveness is that we can only use these players sparingly in the last 30 minutes of a game?
In such instances, the opposition are beginning to tire and pacey attackers can run at guys who are not as quick as in the first half of a game.
In Rugby Union, we now see the bench make a huge impact on the result. It is time that certain individuals, like Mirallas were seen purely as a "finisher" (as Eddie Jones calls them).
Time and again, Kevin has showed flashes in one game, and then had many of us clamouring for him to start, but when he started the following game, we would see a different player.
Even Chelsea, yesterday left Hazard on the bench, and he had looked lacklustre in his game against Man Utd but, once introduced at Wembley, his fleetness of foot caused the tiring Spurs defence all manner of problems.
Perhaps we should not expect Deulofeu to last a whole game, just half. I have heard it mooted that the authorities are looking at expanding the amount of subs allowed. The game could go the way of basketball and Ice Hockey.
In athletics we don't expect sprinters to run the 100 metres more than twice in one meeting, and yet we all moan when a winger looks puffed with half an hour to go. The same applies to Lukaku, it is crazy to expect a 15-stone guy to be able to run the channels for 90 minutes... he has to pick his runs , or when the right ball is provided, he won't have the gas left to make it.
If Everton had another decent striker at our disposal, we could play Rom for an hour, and bring on another one to give it a blast. Chelsea started with Batshuayi and then brought on a rejuvenated, fresh Costa for the last 25 minutes.
We need reinforcements for next season.
Anthony Jones
15
Posted 23/04/2017 at 13:54:46
Well said, Eddie. I have been reading this site for years, and very rarely do the physical demands of the modern game get the respect they deserve.
Saha was a classic case: Lazy this, lazy that. He was getting on when he joined us and he was still capable of bursts of speed that could skin defenders 10 years younger than him.
But they are paid this, but they train all week, but all they do is kick a ball around... yawn.
Kim Vivian
16
Posted 23/04/2017 at 14:47:29
Rom is probably off and it troubles me that people think if he was not there we would have scored like maybe 20 fewer goals this term. If he wasn't there taking up his (designated) position on the pitch, then someone would have been – whether it was Kone (God Forbid), Valencia (mind boggles), Calvert-Lewin (relatively untried) or An Other (not yet signed), or even Mirallas who I personally believe could do a half decent job leading the line, and we would have collected goals from other areas.
I may be wrong but I think we have one of, if not the, highest number of different goal scorers in the league this season, so clearly there is potential there. So can someone tell me – if Rom wasn't there, given we would actually still be playing with 11 players, were do you think we would be?
I want Lukaku to stay and develop but will not be distraught if he goes for a decent wedge.
Kim Vivian
17
Posted 23/04/2017 at 15:21:03
Just reading the match day thread and I think my post at 16 might be in better context on there. Feel free to move it over if you agree, Michael/Lyndon.
Mike Dolan
18
Posted 23/04/2017 at 15:27:33
It is easy to forget but this is not by a long way Koeman's team. He was not brought in here to do a patch job.
We have had two transfer windows since the great leap forward the first last summer was a bit of a wash – we shored up our leaky defense with Williams and Gana added a bit of flare and speed with Bolasie and got rid of a lot of dreck. In January we added a real Koeman player in Schniederlin and the promising Lookman.
This summer I expect we say goodbye to more of our aging vets and start the major reconstruction of the defense. We need physically and bigger faster players all of whom can defend and pass the ball forward accurately.
Our full backs who looked like one of our end to end strengths just 18 months ago are looking shaky now (who knows if Seamus will ever be the same). Lukaku is probably gone which IMHO will not be the most terrible thing. Two fast foraging forwards would replace his output and while we might not have one of the worlds highest goal scorers padding his stats we might just have a more consistently effective team.
Finally, I thought that the look and body language that Lukaku gave Lookman after the kid had the temerity to come closest to scoring instead of passing it to the worlds greatest scorer yesterday says just about everything you need to know about Lukaku's blissfully ignorant concept of 'team'.
John Pierce
19
Posted 23/04/2017 at 16:06:41
Koeman neatly and somewhat subversively talked about subbing 10 players at half time. It was posted all over the web with Evertonians a plenty lapping it up like the elixir and cure for all.
"Clap, clap, so honest is Ronko."
The lad is a magician, he failed to step up and admit he got the selection wrong, again, away from home against middling opposition, all about the players nothing about him.
So worried was he about a piss poor West Ham, a team we beat wind rain or shine, champions or chumps he included too many DMs for the game. AGAIN!
We had no width on the right as Ross was doing his pirouettes in the middle of the park, Holgate is adventurous as a hermit. AGAIN, he had to make a tactical change at half time in a game.
The middle of the park was a car park with West Ham playing three at the back, total gridlock!
The tactics are cautious, dated and ineffective. It's no secret why we are poor away from home, we accommodate too much hope to hang in and get stronger as the game unfolds. Koeman!
Dull, pragmatic cow turd is what you get. It was a game we had nothing to fear, yet he sent them out to contain, West Ham happy enough to sit, resulting in impasse. "After you, sir," "No, no, after you. "
To the players, they are limited yes, but no so limited we cannot beat that pile of scrap iron.
We have two star players yet they are consistently excused from playing above the dross, because they need players to help them. Sure that is true, but can I ask that once they just dig us out of the shit singled-handedly?
But they both seem limited by the quality of game, mentally both don't have it when it's all going tits up.
It leads me to think, Rom is the diamond tip of a well oiled machine, when the machine falters he is rendered blunt.
Ross needs options apparently, why can't the Wavertree Wonder dribble past three and stick it in the top corner?
Leads me to think the lad is good but not top drawer. Name one game this year were he has risen above the crud and pulled us through a game? Stoke?, Boro?
Today is a day I'd let both go in a heartbeat. Tomorrow might be different.
Koeman, not so much.
James Hughes
20
Posted 23/04/2017 at 16:11:24
West Ham were missing key players and Bilic set his team up to be negative and frustrate. The fact that we played into his hands and cooperated with his plan was galling. The players and manager seemed to shrug shoulders and give up.
Listening to Radio 5 before the semi-final start and they opine that Man City will back Pep and spend big (𧶲m) and Man Utd will try and match that.
So we need Moshri to weave some magic on the cash side. Koeman Bros and Walsh to make some plans about players and style of play.
Otherwise I fear it will be same old, same old next season –and we will still be looking for the Arteta money.
Mike Gaynes
21
Posted 23/04/2017 at 16:15:54
Not that the comments on our performance yesterday aren't well-deserved, but Hammers deserve some credit too. They're a quick side with excellent pace at the back, and Bilic had them well up for it and well organized in defense. They pressured the ball for 90 minutes and kept things well locked down outside the 18. Collins and Fonte are tough old veterans and they showed their experience.
I was particularly impressed with Masuaku, a player I'd never seen before. Has blistering pace going forward and excellent anticipation at the back. Much better than Cresswell. I know there are a lot of Chilwell fans here, but when we go looking for a left back in the summer, we could do worse than starting with Masuaku.
Yeah, we sucked, but Hammers earned their point and then some.
Mike Gaynes
22
Posted 23/04/2017 at 16:37:12
John (#19), you spend a lot of time talking about Koeman getting the selection wrong.
Funny thing, but neither in the live forum nor the in-game posts do I ever see you pointing out where, exactly, his selection is wrong beforehand. It's always after the fact.
Nor in your hindsight posts do you seem to say who you would have started instead, or what your tactics would have been.

James Hughes
23
Posted 23/04/2017 at 16:45:52
Mike (#22), sometimes you are so unreasonable. :)
Don't know if you are watching the semi-final game but we are miles behind and yesterday has made that even more evident.
John Pierce
24
Posted 23/04/2017 at 16:56:06
Ah, Mike, you want me to be part of the solution not the problem.
Let's be fair he has gotten it wrong repeatedly, please don't attempt to bait me into my preferences to ignore the fact tactically he is left wanting outside of L4.
The away record is abysmal. It's not a solution you want – it's a stick to beat me with.
I do however say if you care or not to trawl through my addled gibberish that he is too cautious, pragmatic. I'm consistent in that too many defensive players against poor opposition that don't need it.
Surely it's clear that a more attacking line-up and formation is appropriate instead. Again by simple deduction I want him to win the game first then if he needs, to close it out.
That itself is demonstrably clear? But to let you have some crumb of cake. Away from home he believes to my eye midfield is the solution to win a game, especially against better sides. On each occasion we've been awful. Perhaps taking the battle to another area of the field would negate that fight?
Width and extra players in attacking areas would do this but he wants simply to strong arm the opposition to submission. A little guile and trickery might prove more profitable?
How can a defensively minded side ever occupy three centre-backs? Never.
Anyway, roast lamb to cook; Koeman not for me, but you know that already. Chin chin.
Mike Gaynes
26
Posted 23/04/2017 at 18:01:21
James (#23), no argument on that. We're the 7th place side because we have the 7th best talent in the Premier League. Definitely looking forward to improvement there.
John (#24), you've specifically called out Koeman for fielding too many DMs. Davies, Gueye and Schneiderlin started the last three games against inferior competition. They were all great against Leicester.
Schneiderlin and Davies were fine against Burnley while Gana had an off day. All three were poor yesterday. How exactly is player inconsistency Koeman's fault? And who would you have started yesterday instead of one of the DMs? I don't think that's a stick, it's a perfectly valid question.
I have no idea why the away form has been so poor, but I don't think excessive caution is to blame when the selection remains essentially the same home and away.
But after 50 years of playing, I'm much more likely to hold the players responsible for inconsistent performance than the manager. When I stink on the pitch, I don't blame my gaffer.
Mike Gaynes
27
Posted 23/04/2017 at 18:01:42
PS... enjoy the lamb. Corned beef for me today.
Chris Williams
28
Posted 23/04/2017 at 18:19:32
There's an article on the Echo showing that Everton trained last week with only 17 outfield players who were probably the ones who played or were on the bench yesterday.
The question that occurs to me is, how could he have changed things yesterday?
The other question that occurs to me is how much has Seamus's injury affected or our overall set up and performance, or would having Bolasie or McCarthy available have made a difference? Or Funes Mori?
The only unused attacking option at his disposal was Kone; Valencia was ineligible and Kenny had played a full 90 minutes the previous night.
Tell me who else he could have used please.
Peter Gorman
29
Posted 23/04/2017 at 18:21:53
Having not watched the match, can someone please explain how Koeman got his tactics wrong? Was it the player selection? He only changed the goalie from a winning team at home. What tactics do people feel should have been employed?
Sometimes the players need to be held accountable and hopefully they get a good rocket up the proverbial for being so utterly lacklustre.
Mike Hughes
30
Posted 23/04/2017 at 18:27:05
Not a bad weekend in the end despite the WHU disappointment.
It's our year.
Klopp out.
Phone-in on.
(Snigger)

Jim Bennings
31
Posted 23/04/2017 at 18:32:53
Palace go to Anfield for a third year on the spin and make easy work of winning, not that hard as Everton make out really is it?.
Kieran Kinsella
32
Posted 23/04/2017 at 18:47:56
Peter,
I don't think "he got it wrong" I just think the players didn't perform. With the players available, there wasn't much else Koeman could do in terms of selection or tactics.
Mike Hughes
33
Posted 23/04/2017 at 18:51:42
Correct, Jim.
It is infuriating that the rs rise to the occasion against the bigger clubs – much to our cost.
Still, let's hope we can herald a new era soon by dominating them home (on the banks of the Royal Blue Mersey) and away (in their dog-shit laden eyesore).
And it's Sunday night so I'm going to have a drink and raise a glass to Palace. Life is short and these moments must be enjoyed.
Klopp out!
Colin Glassar
34
Posted 23/04/2017 at 19:01:04
I think all the hugging and kissing on the sidelines has exhausted them. Klopp looked knackered and totally bummed after the game.
Ajay Gopal
35
Posted 23/04/2017 at 19:20:55
Mike (#30) and Colin (#34), always nice to enjoy a Liverpool loss, but just think – if we had won yesterday, we would have been only 4 points away from our neighbours. With 4 games still to play.
Who knows, if they continue to implode, and Koeman manages to drag the team from the dreadful performance yesterday, something interesting might still happen.
I will cut Koeman some slack here - with so many injuries (Coleman, McCarthy, Lennon, Besic, Bolasie, Valencia not available), and the U23s having just played the previous day -meaning players like Walsh, Kenny, Dowell could not feature in the squad, his hands were tied.
Ian Hollingworth
36
Posted 23/04/2017 at 19:25:50
Ffs, we all love the RS losing but – reality check – we are not consistent enough or have a good enough team to finish above them.
Colin Glassar
37
Posted 23/04/2017 at 19:28:58
It's gut wrenching Ajay but also so typical of us. Yesterday it sounded like the players were in holiday mode. No wonder Ronald wasn't happy.
Dave Williams
38
Posted 23/04/2017 at 19:59:32
Can't blame Ron – look at who was on the bench – injuries and Valencia's loan meant he had little choice.
Sometimes, a team just fails to spark and there are plenty apart from us who have done that this season.
We are a work in progress and it won't all be plain sailing but there are reasons to think we might just get there.
Mark Andersson
39
Posted 24/04/2017 at 02:26:51
Just back from Hawaii what a lovely island. Anyway while I was there I watched a few footie documentaries to pass away the dark hours..
I was a big fan of ol' bighead Brain Clough. Seems the players loved him or hated him but they all said they would run through a brick wall for him.
That is the problem with modern footballers... they are hard to motivate and don't have enough professional pride to motivate themselves for the paying fans.
I know nothing about tactics team set up but last season's champions was a throwback to the Clough era, the team gelled, played for each other and the manager, and pulled off a miracle.
It's now up to Koeman to get new players who want to be here and play for pride...
Tony Marsh
40
Posted 24/04/2017 at 12:53:28
I can't understand why Koeman turns in to David "The Grim Reaper" Moyes when we play away from home? Let's face it, West Ham are crap and Koeman sets up with six defenders and a lone striker. Why?
We will not finish any higher or lower than 7th in the league so why not go there on Saturday all guns blazing and try to blitz them off the park? We are well capable, aren't we?
I am still of the opinion that Koeman is a fraud and, if it were not for Lukaku this season, we would be in deep shit. Romelu wasn't a Koeman signing either – he brought in Bolasie and Valencia to the Everton attack... enough said. Please stop being a shithouse, Ronald – you messed up at Spurs at Anfield and again on Saturday. Grow a pair, FFS!!!
Alex Rowe
41
Posted 25/04/2017 at 02:13:20
I find it hard to understand the view that Koeman got the starting line up and tactics wrong. We had a good performance and win the previous match so he stuck with the same team (barring Robles).
That is what I would want him to do but the players just didn't turn up. There was no movement or urgency all game, the whole play just looked lethargic.
Brent Stephens
42
Posted 25/04/2017 at 12:08:09
Alex, I agree the players never turned up, in the sense that they never really provided any width for example, or moved the ball on quickly.
But my impression is that Koeman (who made the point about both deficiencies in the first half) might not contribute a great deal from the sideline. If it were Klopp, I bet he'd be ripping them apart to get wide (left field especially).
Barry Jones
43
Posted 25/04/2017 at 12:41:24
I think that we expect too much all of the time. Footballers are human, coaches are human, they have off days. It wasn't a great game but we took away a point from a mediocre performance. I would rather see the glass half-full.
I love Koeman's honesty. He sees it, and says it like it is. This is so refreshing after Martinez, who would have been telling us that we were world beaters after performances like that. As you have probably realised already, I am a major supporter of Koeman (and Moshiri) and I believe that their desire, craft and intelligence will place us firmly in the mix of the "big seven".
Onwards and upwards.
Dave Wilson
44
Posted 25/04/2017 at 13:03:16
Tony Marsh: I don't think there is any comparison between Moyes and Koeman.
Baines and Coleman would be like wingers driving forward under Moyes. Pienaar and Osman full of adventure with Cahill always driving into the box to get on the end of crosses. The Yak scoring for fun. with Arteta full of flair and skill.
We simply leave our center forward to create and score his own goals these days while we keep ten men behind the ball. Nobody ventures forward in support.
Old Davey was guilty of being a tad over cautious from time to time, but the Dutchman makes him look like Ossie Ardilles or Kevin Keegan
Josh Barber
45
Posted 25/04/2017 at 15:31:05
You have to at least admire that Koeman feels exactly the same way as the fans finally – 1 point is a huge disappointment against these low-table teams. Last year we couldn't even get as much as that from Martinez.
That type of comment at least shows me his expectation from the team. While I do agree that in some games against big teams Koeman has tinkered and "got it wrong" tactically – I don't think that is the case vs West Ham. Our players just look disinterested. Yes, West Ham parked the bus and played counter attack but no one made any kind of run to get some movement going on the attack.
Anyway, we can hope that next year is different.
Darren Hind
46
Posted 25/04/2017 at 18:57:43
Well, well, well. "Tell it like it is" Ron has taken a proper and richly deserved kicking from those who prefer to judge by what they have seen for themselves.
Some chillingly accurate analysis of the tripe Koeman has served up: "if it wasn't for Lukaku we would be in deep shit" – not a Koeman signing. "Please stop being a shithouse, Ronald."
"How can a defensive minded side ever occupy three centre-backs?" Never!
"Inexcusable; every supporter that travelled should be fully reimbursed."
"The Dutchman makes Davey Moyes look like Ossie Ardiles or Kevin Keegan" – It's kinda funny to read a thread that has somehow gone under the radar of the dozen or so people who fall over themselves to excuse and apologise for every ugly away performance.
One thing is certain; the idiotic and oft spouted "you're in a minority of one" garbage has been blown to pieces. Plenty are not happy with Koeman and the longer he perseveres with these Gutless tactics the greater their numbers will become.
Replace ten players? bollocks. Tony Marsh nails him to the floor. The man is a complete fraud.
Graham Mockford
47
Posted 25/04/2017 at 19:21:39
Darren
You make me chuckle.
"One thing is certain; The idiotic and oft spouted "you're in a minority of one" garbage has been blown to pieces."
I see a lot of people venting after a pretty abysmal performance.
I still don't see a lot of posters advocating we should sack him now. And I'm quite happy to tell any that do exactly what I told you.
Way too early.
Darren Hind
48
Posted 25/04/2017 at 19:33:31
Yeah, Mockers, people are generally happy with managers they see as a fraud or a shithouse, or thinks he makes Davie Moyes look like Kevin Keegan... and when they say "Koeman, not for me" you no doubt see a big thumbs up.
The idiotic "minority of one" claim has been exposed for the mindless pap it is. Your claims to the contrary look, frankly a little desperate.
But don't fret. The usual suspects will be along soon to excuse your man and blame the players as usual... and you can start to feel all unanimous again.
And I make YOU chuckle?
Graham Mockford
49
Posted 25/04/2017 at 19:48:09
Darren,
I have never claimed you are in 'a minority of one'. You don't have a monopoly on ridiculous ideas.
Of course I suspect, without any actual statistical evidence, that a large majority of Evertonians would disagree with your notion of sacking him at this time.
In fact, I think you are the only person on this forum following Saturday who has suggested such a course of action that I have read. It does of course mean that, if it all goes tits up next season and you can get your bandwagon going, you can tell everyone you were on to him first.

Dean Adams
50
Posted 25/04/2017 at 20:19:01
Nice to know that even a fraud can get us European football.
Colin Metcalfe
51
Posted 25/04/2017 at 20:20:04
Watching Saints play Chelsea and I must say they play some very nice football! I would love the blues to get that same swagger.
John Pierce
52
Posted 25/04/2017 at 20:29:26
I tend to look at things quite critically, regardless of my general persuasion towards the manager of the time. So forgive the tendency to be cut throat.
Even when we've been winning at home, very little of the football has gotten me off my seat. Winning glosses over many deficiencies and it's whether you think that's part of an overall process towards an end goal or it's a systematic issue regardless of results.
I happen to believe it's the latter, which I lay at the manager's door. I will cede he's delivered the bare minimum: 7th and Europe. He gets another go at it!
But I cannot have that the rubbish spouted about the paradox or our form; home versus away. Completely unacceptable. The charge sheet is riddled with repetitious offences. Losing is acceptable if you'd had a performance which is reflective of the sentiment "at least we had an 'effing go!" Not one defeat this season I can put in that category.
Whilst personal has ebbed and flowed especially later in the season this travel sickness has stalked the team all season. Everton under Koeman are mechanical, stilted but becoming more powerful as a team. A steamroller without any rapier.
With the exception of Lukaku, every player we have picked to play "up there" becomes a defender as soon as we lose the ball away from home. That's the manager's influence – not the limitations of the players. Formations 3-4-3, 3-5-2 & 4-2-3-1 all 'played' in a defensive manner becoming 3-5-1-1, 5-4-1 & 4-5-1. each balancing out towards more defending players.
We have the ball but can barely play a forward pass. So we have a tighter defence, an improvement yes, but we are impotent away from home as a result.
I cannot see this fella shaking this defensive mantra even with better players at his disposal.
Maybe we turn into Barcelona next year but I doubt it will be under Ronko. With anniversaries of the Bayern game and Carrow Road drifting by, it makes the my bitterness ever more acrid!
Dave Abrahams
53
Posted 25/04/2017 at 20:48:34
Colin Metcalfe (#51), yes, I have been watching Southampton. Very impressed with the quality of their football, and most of the time going forward. No drab passing sideways and backwards, they are losing but are still very much in this game.
John Pierce
54
Posted 25/04/2017 at 20:58:29
Dave 'n' Colin, have to agree. 3-1 Chelsea now but Southampton outplayed them with some panache for 20 mins there.
Scant evidence under Koeman he can make Everton play with more style – especially away from home.


Graham Mockford
55
Posted 25/04/2017 at 21:24:33
This Southampton side, playing with such style and panache, are on track to lose their 14th game out of 32. They have scored 38 goals at just over a goal a game.
But if that floats your boat, fair enough.
Darren Hind
56
Posted 25/04/2017 at 21:27:42
It won't go tits up, Mockers. This is it. The way it will be until he fucks off. We will still be racking up points against lesser teams at home and we will still be stinking out stadiums all over the country with our artless misery-inducing brand of ugly.
The dullard will not alter his ways, because, like the last two, He knows he can take a sizable amount of the fanbase for complete mugs.
You of course will readily be taken for a mug. This is your Everton. You will still be coming on here with an endless stream of of excuses and the promise of Jam Tomorrow.
No doubt you are a passionate Evertonian, Mockers, we all are, but you are totally oblivious to the soul-destroying effect this Zombie football has on people who truly love both the club and the beautiful game.
Graham Mockford
58
Posted 25/04/2017 at 21:46:24
Darren,
I've read some hyperbolic nonsense on here but 'Zombie football' is a new high.
I keep coming back to the core point that you want to sack a manager after nine months. It's sheer idiocy.
You make it sound like we have had a desperately poor season. The reality is any reasonable-minded assessment would say some progress, some positives, some negatives. But you need to make more progress next season to earn the lucrative contract you have been given.
You can keep blathering all you like. I don't see many others coming on and saying we should sack Koeman now. Of course just because you are in a minority doesn't make you wrong; however, you are.
Ian Bennett
59
Posted 25/04/2017 at 21:48:50
My ten cents is that we won't have another 10 years plus of a single manager. Kenwright was comfortable with it, but it doesn't look like Moshiri would accept Best of the Rest on a long term basis. Time will tell.
Walsh and Koeman need to deliver over the next 2 to 3 years, or he will hire those with a track record that can.
John Pierce
60
Posted 25/04/2017 at 21:50:58
Surely, Graham, you want to see more style under Koeman? Win, lose or draw there's any barely footy that gets my pulse beyond 70!
He has taken most of our flair away and replaced it with power, and solidified a defensively poor side. That's surely 101 managing? That's fine to a point.
So do you think just buying better players will transform Koeman into a more attacking, flair-filled manager?
Can't see it myself. Keep an eye out for my boat though. It's a small ship! Probably will have to sell when the ground goes up! That's what Jeff from West Derby says!

Dave Abrahams
61
Posted 25/04/2017 at 21:54:17
Graham (#55), come on Graham, you are usually fairer than that, especially if you are watching the game. Southampton have contributed to a good game of football and have played a good attacking game. No disgrace getting beat by a team that will probably going to win the league, and they never gave up even though got beat 4-2.
Graham Mockford
62
Posted 25/04/2017 at 22:03:29
John,
Of course I do. But teams that develop need to start with a few basics.
Yes, we've been poor on occasions but I don't get the whole narrative that we are playing dull anti-football.
We will find out if Koeman takes us to a higher level but not to give him the chance seems ludicrous.
By the way, if you have been or watched the last eight home games, we have scored 28 goals; they normally get me out of my seat.
Graham Mockford
63
Posted 25/04/2017 at 22:13:25
Dave,
I thought they played well. But taking 30 minutes of a game and then projecting that as an example of something we should aspire to stretches it a bit for me.
Their record against Top 6 teams this season makes us look like Barca. P9 W0 D2 L7.
I point out their whole seasons record to illustrate they have actually not been particularly attacking most of the year.
Ian Jones
64
Posted 25/04/2017 at 22:15:28
It's surely too soon to pre-judge Koeman. We are getting harder to beat. Not quite the soft touch we had become under Martinez.
Granted, our football may not be too pretty at times but a new Manager has to start somewhere. The foundations are being created. I may not be experiencing a totally feel good factor yet. It seems more of a feel better!
Onwards and upwards.
John Francis
65
Posted 25/04/2017 at 22:16:25
Watched that game tonight, I have to say Forster looks on the same level as Robles. Not for me. Unless he is playing to get away?
I think our first signing should be a top goalie. I don't know enough of the European leagues to throw a name in here, but I am guessing there's many on here who do.
We need a name to make everyone to sit up and take notice, an eye popper, just like Niasse's when he seen that red card.
Over to you, Mr Walsh.
John Francis
66
Posted 25/04/2017 at 22:22:36
Oh, for what it's worth, my own personal choice would be Schmeichel. Love Butland but what's that lay off done for him?
My thinking is it's a wait-and-see situation for young Jack. Wish him all the very best though. Unless he signs for the Red Shite.
Patrick Murphy
67
Posted 25/04/2017 at 22:34:39
I agree that the away performances and results are a disgrace for a club with lofty ambitions and the manager, staff and players should be doing a lot more than they have been doing thus far this season to address it. It's not new, in fact it looks as if it's become ingrained into the fabric of the club.
As for the home form and performances up until Christmas, we were fed much the same as we had witnessed for the last few years but, since the turn of the year, Everton at Goodison have been pretty good to watch and have racked up the points too. Any side can only beat the team in front of them and not too far away from Goodison a team has fallen flat on its face on more than one occasion when facing these 'lower league' sides.
This time last year I saw one of the most abject performances I've ever witnessed from any Everton team when Sunderland beat us 3-0 at the Stadium of Light, and whilst this season the current manager and team still have issues that need addressing, mostly I am satisfied with the progress they have made.
The proof of the pudding will be in how we shape up next season and, if we are still going to away grounds with little or no ambition most of the time, then perhaps Ronald isn't the right man to take us forward but for the moment I think he's done a solid if at times unspectacular job in steadying the ship.
Focussing on an isolated performance by Southampton who have had 10 days to get ready for Chelsea and comparing them to what Everton have done is a little bit churlish as Everton have scored 20 more goals than Saints during this season and they have 18 points less than the Blues. Only a strange run of results, ie, Saints winning all six of their remaining matches and Everton losing all four of theirs, would allow Southampton to match the Toffees current tally and even then the Blues would probably edge them out on Goal Difference.
The current Everton team aren't fantastic but they have been a lot worse in the recent past and it will depend on which players we can attract and which players we lose in the summer that will likely influence what sort of season we may have next time round.
Whatever else happens, it would seem that many fans are relatively happy as the sell-out signs at Goodison look set to be seen as often next season as they have been this.

Jim Hardin
68
Posted 25/04/2017 at 22:51:11
Graham,
I will confess that I have not called for his sacking. However, I called for his not being hired in the first place, if that counts. That said, I believe that nearly any manager needs at least one season plus part of another to see how much quality the manager may possess.
do wonder though about how many of the top four clubs (excluding Arsenal), and Liverpool, would have sacked Ronald already or at least lined up his summer replacement? Would the management have the patience to wait through a season and excuse such a poor tally of away points, too much boring stagnant football, home and away, and a trending towards continuing mediocrity?
It would appear that besides leaving him a PFA Player of the Year and Golden Boot candidate, that Koeman owes Martinez for two exceedingly poor finishes which make 7th look like good progress by comparison.
John Pierce
69
Posted 25/04/2017 at 22:53:29
Graham, stop taking the mick! It's obligatory to get up when we score
Last time a player did something that got people out of their seat. Once this season to my mind: Tom lad when he chopped inside two Man City players.
That's flair. Bit more please. Less the automaton approach?
John Pierce
70
Posted 25/04/2017 at 23:26:58
Patrick.
All I can say since February at the latest, the ship had been well and truly stabilised in terms of our likely finishing position.
He's had the points picked up at home thing sorted pretty quickly of not the performances.
He's had a decent amount of time to give it a go away from home and I haven't seen any signs of departure from grinding it out.
Middlesboro, Stoke and West Ham are up there as examples were he could have tried something a little different without fear of a thwacking.
That's my concern, tough for someone with tendencies like that just change over night?
Why am I so impatient? This could be levelled at me, and a fair cop. However this summer is critical, really important we get it right as the teams above us are likely to usurp us in the market if we don't.
So, with no sign of any away win coming soon, big warning klaxon for me.
John Pierce
71
Posted 26/04/2017 at 00:37:50
Jim Hardin, somehow missed you post!
I think that's a fair shout, I think several of the clubs mentioned would have booted Ronko.
If that's the sandpit we want to play in then we need to act like we are at that level. Proper gear – not the plastic bucket n spade from the local newsagents!
Yes its always a risk to chop of a manager and start again. Spurs went through them like no-ones business, but they eventually found someone who could perform under the pressure of a targeted finish.
The Director of Football position makes that more possible as the club can effectively wheel managers in and out. Again it happened at Spurs some time ago.
Liverpool have recently been far more active in removing managers as have Man Utd and Chelsea. Only Arsenal have remained steadfast, that's very much a mess by the standards they set themselves.
Definitely a route to consider, if Koeman had not gotten us European footy this year then I'd want him gone for sure.
Everton cannot afford to drift, to date with Ronnie, we are there but at risk being set a drift if the summer is a fail.
Brian Williams
72
Posted 26/04/2017 at 01:06:46
Jim (#68).
Interesting point, but, if I may say. We're not a top four team and haven't been "consistently" since the inception of the premier league so I dunno if one of those teams sacking him is comparable. If those teams results were similar to ours then maybe, but that would represent them falling down the placings and we have moved up.
With the money spent and the time that's passed I know I didn't expect us to be challenging for top four this season.
That's not an acceptance of mediocrity. I want more than anything for us to be up there, I just felt/feel we weren't going to do it in one season. I believe (my opinion only) Koeman's remit was to get us up there challenging within his given timescale, 3 years.
That doesn't mean I'm happy with our away form coz I'm not, but from a purely personal point of view I feel progress has been made and I would hope and expect more progress to be made next season.
4 places improvement this season, 2 next season, 1 the following season, and stay there or better. But we'll still be outspent by at least 4 other clubs during the summer, probably more than 4 so others will improve too.
Paul Ferry
73
Posted 26/04/2017 at 02:09:13
My God what have we become!? We now have someone using a team losing 3-1 – John Pierce 54 – to have a pop at Koeman!! The barrel has been scraped.
Football is about erm results isn't it? The lengths and depths of how some on this thread – and the same fellas doing the same old on other threads – to attack Keoman is utterly unbelievable.
Note to self: wait for someone to pop on pointing out that 4-2 is better than 5-0.
Note to self: Saints lost but they showed so much more spirit than Keoman's deflated misled hapless legion.
Note to self: 4-2 and 5-0 = zilch points.
Note to self: Everton have more goal scorers – 15 – than any other team in the Premier League.
Note to self: a failure as gaffer has got us into Europe and in my calculation will get us our 2nd highest ever premiership points haul, our best ever goal difference though that is touch and go, and we are close to bagging our highest number of goals in a single Premier League season and are the 6th highest scores in the league.
Feck me, Koeman, you have had an awful 1st season lad. Sorry, but you have to go.
Darren Hind
74
Posted 26/04/2017 at 04:45:09
Mockers.
The world's top clubs have been sacking managers within a year of hiring them since time began. Its one of the things that make them the worlds top clubs. A ruthlessness, an unwillingness to tolerate the inadequate.
You call getting rid of a manager after a year "sheer idiocy" ... that my friend is because you are to ready to accept mediocrity. You think strictly small time.
Everton have a decent home record, but the scorelines have flattered us time and time again. We have scored a bag full of goals because we have a man who has been in the form of his life. But scratch under the surface: how many other players have been getting into the box, looking to hurt the opposition. Has any other player got five goals yet? How many goals can Lukaku file under "All my own work"? Where would Koeman be without the goals scored by the striker he inherited?
Our away record has been abysmal, truly abysmal. I'm not just talking about 3-4 games. Take a look at the 16 or so games we have played since we won at Davey Moyes's grotto. We have won one game and that was against a side that had very publically downed tools.
Don't just blind yourself by repeating half-witted stats ad nauseam. Take a wonder through the post match threads. observe the fortnightly outpourings of misery, not after one game, but after virtually every game. You don't have to leave this website to be reminded of the shite we have been served up. It would be enough to give Zombie football a bad name.
You're a happy clapper, Mockers, an accepter of shite. You will do your best to paper over the facts with your insignificant stats. You will find comfort in telling yourself the leopard will change his spots – he wont.
By persevering with the dullard you are trying to prove the guy who described doing the same thing and expecting different results as "Madness", wrong. For what it's worth, I think he was wrong too. I don't see it as madness, I see it as abject stupidity.

Jay Harris
75
Posted 26/04/2017 at 04:53:00
Darren,
Will you please stop peddling such nonsensical propaganda.
And while you are at, it will you please name the world's top clubs who keep sacking managers within 12 months where the manager has shown significant improvement.
Darren Hind
76
Posted 26/04/2017 at 05:06:24
"Shown significant improvement" ... On Martinez, Jay??? I didn't realise the bar had been set so low. In that case, I'll stand down... sigh.
If you think my analysis of our away performance is "nonsensical propaganda" – prove it wrong. Give us a list of the performances that you consider to be acceptable.
I'm all ears...
Darryl Ritchie
77
Posted 26/04/2017 at 06:17:14
Everton's 2016-17 season has been alright. Not outstanding, with lots of room for improvement, but okay.
Moyes did all he could with the resources available, and the skill he possessed as a manager. He took us as far as he could, got bored, and left.
Martinez inherited a solid, mi- table team, and nearly managed to manage us out of the league.
Koeman has us back up to where Moyes left us. We're not "the best of the rest", we're "top seven". There's a big difference. He's got a few things to sort out before we compete with the top clubs. The home/away record is a biggie.
Is he a good enough manager to pull it off? I, for one, don't know. Time will tell; and he will get the time, because he's the main shareholder's hand-picked choice for the position. He'll stay until he decides to leave or Moshiri fires him. Some of us may not like it, but it is what it is.
When Koeman leaves, we'll get another manager that some will love and others despise. No matter who he may be, he will leave the supporters divided as well. Guaranteed!
Will Mabon
78
Posted 26/04/2017 at 06:29:28
Some interesting to-and-fro going on. It's all there to be seen if viewed objectively.
- for several months, our home record has essentially been the equal of any team.
- team/squad fitness now up there with most.
- more scorers than any other team.
- good home performance against higher teams, and we've played some good attacking football.
- defence improved.
- individual players improved.
- sitting in 7th by a wide margin.
- improved team spirit and belief, at home.
- overall, improved beyond recognition from last season, at home.
All true I believe, though some may argue degree/extent of a couple of points. However we look a much worse team away from home, and we are... with the same players.
As we've seen, the players get well and truly stuck in at Goodison, and since we aren't Arsenal with an inbuilt fear of bad weather and Northerners in clogs, what's the problem?
It's the manager and his away tactics. The controlling influence. No way do those same players all turn to crap when they get off the coach. It's Koeman.
He's done more than enough with our home form to say, "Keep him". He's presided over enough unacceptable negative dross on the road to say, "He doesn't appear to be the answer".
I'd say the mean of the two so far is, give him next season, to see how we progress. Maybe our away game is his next "Project"... It has to be.
Brent Stephens
79
Posted 26/04/2017 at 07:02:25
(#75) "where the manager has shown significant improvement".
As the writer didn't mention Martinez (and from a quick wizz through the other posts in this thread I see no such reference but might have missed it), I interpreted that, rightly or wrongly, as meaning that Koeman has shown significant improvement in the second half of his first season (as opposed to Koeman v Martinez). A reasonable assessment I would say.
Graham Mockford
80
Posted 26/04/2017 at 11:16:01
Captain Blowhard (#74),
You either have no shame or no memory, perhaps both.
Just 5 days ago on another thread you described Lukaku as "He doesn't put enough in when the going gets tough. He has the touch of a jack-hammer< You couldn't get the Echo under his feet when he jumps."
You know claim the reason we have scored so many goals is because "we have a man who has been in the form of his life."
I mean seriously. Most of the rest is your normal standard Captain Blowhard schtik but just as a matter of fact. We have won two away games since Sunderland. I know accuracy is very important to you.
Sam Hoare
81
Posted 26/04/2017 at 11:42:33
Darren, I saw you mention Unsworth as a potential replacement or alternative to Koeman but where do you think we would be this season had he been boss? You think we would be in the top 4 now? Or is the performances that you think would have improved.
I really like Unsie but, if he had taken over this season, I think he'd be pretty delighted with 7th place and likely a spot in Europe next season.
I'm not sure on what ground you have such very high expectations?
Steve Ferns
82
Posted 26/04/2017 at 11:54:48
Koeman is paid a fortune. So I expect results.
He's got us to 7th at least now. So that's good enough. He's got us brilliant at home, but worse away. He's always got us more pragmatic and dynamic as a team. We can defend like a Moyes team, see Man City away, and we can attack like a Martinez team, see Bournemouth at home.
Where he has really surprised me is the introduction of youth and his unwavering faith in them. He threw Davies in for a game I wouldn't (Man City at home) and hasn't dropped him since (one rested game doesn't count). He also plays Calvert Lewin when others wouldn't. I would have liked to have seen Holgate more, but I'll defer to Koeman's better judgement there.
It looks promising for next season. I have hope. And for me, you can sum Koeman up with that word – he has given most of us hope. But he's not achieved anything yet and he's down on Martinez's first season but I can't see anything like Martinez's second and third seasons coming next.
Matthew Williams
83
Posted 26/04/2017 at 12:04:24
Darren Hind's right... our football is slow, ponderous, predictable, defensive, negative & fucking joyless to watch.
Always two holding players in midfield, no wingers each side, only one up top with not enough support, no guile or craft, no clever play, very little skill, poor basic passing, woeful set plays too.
No big names will come here; we won't pay silly money... we're not in the Champions League & wouldn't last long in it neither, and we're not a London club.
A decent gaffer would work with what he's got, craft a team, a style of play that works (home & away), build a decent team with the squad we already have. Let's not piss away more millions on players who look good on YouTube... it can be done,but with our Manager, we'll just coast along until we hit 7th place... job done... sigh.
Koeman... not good enough!
Ken Buckley
84
Posted 26/04/2017 at 12:14:47
I don't think I have watched a display like that for a very long time. To a man we were out of any sort of form. The only time their keeper was troubled was from a throw in from his own player. Not saying much for our attacking ability eh.
The man of the match was definitely the Ref for blowing the full time whistle.
Half time entertainment was Pixie Lott.
The footy entertainment was Not a Lot.
Let us hope this was just one of those days and we kick on again. Ever hopeful.
UP THE BLUES
Kevin Tully
85
Posted 26/04/2017 at 12:19:08
How does a manager approach a new job?
He'll come into a club like Everton, and assess all the players he has at his disposal. He will see who can carry out his instructions on the pitch and who needs to be let go.
We have definitely seen a ruthlessness in that regard, which will no doubt carry on this summer. For that reason alone, I want to see what happens at least up until Christmas next season. If the away form shows no sign of improvement, then we can safely say that we are not getting value for money as far as the manager is concerned.
Anyone who talks about signings has to agree that 9 months is not a particularly long time to shape a team in your own image. So you have to adapt, and pick a side who can get you results in the meantime. The free-flowing football should follow, once you have addressed the areas you have identified. Our home form is impressive, though there is still room for improvement.
If you're not prepared to give the manager half of next season, I would ask why? Surely on home form alone, you have to give the guy a chance to see if he can translate those results to away grounds? New signings, let a few old legs retire, and I believe we can move upwards. There is no evidence to say that Koeman is a busted flush – none whatsoever. Highest goal tally and one home loss all season tell us he can push the club towards those Champions League places if he does crack the away form.
If the next manager comes in and has us in 7th after 9 months, do we sack him and go back to the drawing board?
Gavin Johnson
86
Posted 26/04/2017 at 12:22:32
I think Darren is under the illusion we can be the Gallacticos of the Premier League, but on a shoe string budget.
Darren you said on the other thread that Moyes, Martinez and Koeman are parasites and have no allegiance to the club, so you want a cheap internal appointment. Yet, you won't accept nothing but the best. This seems a bit of an oxymoron, Darren. Unfortunately the only team that has been able to change managers like this are a few elite money clubs like Real Madrid and Man City.
I actually think Darren is trying to model us on Man City, the only problem is, it's the Peter Swales era.
I seem to remember that Swales had very high standards and liked a cheap internal appointment on their managerial merry-go-round – Malcolm Allison, Tony Book, Mel Machin, John Benson and a shed load of others. So we'll start with David Unsworth, before moving to Joe Royle and Kevin Sheedy, then.
Martin Nicholls
87
Posted 26/04/2017 at 13:02:44
Darren (and others who think everything is as shit as he does) – I take it you and other like minded posters haven't or won't be renewing your season tickets? I'm looking for one for my grandson – any chance lads?
ps: I was one of the thousands who travelled to West Ham on Saturday but don't feel I'm entitled to a refund (other than the partial one from Virgin Media) because I fully appreciate that, for most if not all supporters, being a fan of a particular club entails taking the rough with the smooth.
Jay Harris
88
Posted 26/04/2017 at 14:36:52
Darren,
Form has to be considered home and away.
That is the way football is measured.
I for one am very pleased by what I have seen overall this season with a comfortable top 7 finish given that we have been without Bolasie, McCarthy and recently Coleman for a number of games and have shipped out or isolated the "not up to standard" players such as McGeady, Niasse, Cleverley, Kone etc. and before the season started we lost Ossie and Hibbo to retirement (not that significant except for reducing squad numbers and wage bill).
We have seen a number of games including beating Man City 4-0 where we have scored a large number of goals.
I have to say that I have also seen unsatisfactory performances against the RS and Chelsea away.
I have watched Koeman put his stamp on the club in a way that I haven't seen since Moyes best days, improving fitness, organisation and individual ability.
Some people need to understand we cannot just wave a wand and recreate the "sometimes" halcyon days under Sir John Moores and Howard Kendall Mk 1 – especially with the advent in riches of Man City and Chelsea, so as I said earlier, I believe there is a 3-year plan to get Everton fighting for top 4 and silverware and am very happy with the progress made so far.
John Pierce
90
Posted 26/04/2017 at 15:53:02
Paul Ferry,
You need to come up with something more creative, substantial to back up your point.
Read my several posts on the thread, I acknowledge what I think Ronko has done well. His tenure is not without its merits. I think to compare this season with Martinez is flawed. Our standards our higher as a club. 7th and Europe IS the bare minimum. So he has done what is expected in terms of points.
But you cannot sit there and be happy with the home form acknowledging his skill and judgment and wave away the away form and just dismiss it like it will just get better. No manager approaches improvement in such a binary fashion. There is a significant problem there.
If we must lose, which was the point as you cannot win all your games, I rather lose having a go. To my point using the small section of the Chelsea Southampton game. Were Koeman has shown little progress is in performances.
That is my point, you count the progress you see by goals and 15 goal scorers? I see a mechanical way of playing, leeway to try other styles but steadfastly ignored even with games at Boro, Stoke and West Ham.
Anybody please explain why have we not tried to be more adventurous in light of a clear finishing position since Januuary / February?
Koeman that.
Paul Ferry
91
Posted 26/04/2017 at 16:16:06
John Pierce (#90). I am happy with this season so far for the reasons I listed and there are more that I could have added,
Here's the point: I am happy while recognizing problems that need to be addressed; you only talk about what you believe are problems and say zero about the good things this season. Relentless negativity that is so fecking boring.
Your sole barometer seems to be the style of play.
You also don't like Koeman or whatever the childish name you – you alone well done – have after deep thought come up with.
In other words, someone like you stuck permanently in the dark refuses to see any shafts of light.
In other words, you have made your mind up. You have reached a set-in-concrete position before the season is ended. Well done! Congratulations! You cannot be moved.
In other words, there is probably no point at all debating fine points with you.
In other words, you make threads boring.
Graham Mockford
92
Posted 26/04/2017 at 16:25:19
John,
You say 7th and Europe is minimum expectation. But it should be remembered our average finishing position in the last 12 years is... erm, 7th.
Our average across the 24 years of the Premier League is 11th.
We have qualified for Europe 6 times in 24 years.
And as for our away record against the Top 6 in 143 games we have won 15 times (6 of which are against Man City pre-Sheikh) So I suspect based on our record your expectations are over inflated.
I do acknowledge the improved financial position / new ownership should see us improving but Rome is not built in a day – or, in this case, nine months.
John Pierce
93
Posted 26/04/2017 at 17:23:53
Graham,
My expectations are that of my own, and based on very little football, even pre-Moshiri we are 7th financially before a ball is kicked. This does fluctuate a bit when Newcastle and Villa are about.
Unfortunately there is a clear relationship between that figure and were you finish. I would proffer we have actually grossly under-achieved in the metrics you show and that is not good enough for me. An average of 11th to 7th is not a massive jump, it often a handful of points.
I do continuously acknowledge Koeman has earned another crack at it, but I would like to see some ideas from those more pro-Koeman rather than using 'time' as a way around the away form. Let's be fair he sorted the home stuff pretty much straight up. Didn't need time there did he? That part of Rome got built pretty sharpish, eh?
Regarding my prior post, when Everton were set in 7th for months now in no danger of going up or down yet away performances have been so pitiful. Any thoughts?
I even offer my own take further up the thread as to why Koeman looks to be too defensive away from home.
Despite my openly critical stance of the current manager, 20-odd years of pants footy does that to a guy, I am open to an sound argument which carries merit to bring me back towards a favorable bent.
I'm not so dyed in the wool that, should he improve things further, that I won't credit him we're it's deserved. I would like to see his supporters be more objective and task him as easily as they promote him.
I'm desperate in my ways to be convinced, because ultimately it would mean success for the club I worship.
Graham Mockford
94
Posted 26/04/2017 at 17:53:03
John
You ask my thoughts about being 7th for months. It was actually only last month when we beat West Brom.
At that point we were 4 points clear. A win meant a 7-point gap which two weeks later was 10 points which more or less guaranteed Europe.
However before the RS and United games we still could have made a dash at 5th or 6th. 1 point put pay to that.
For me, the worst performances were Spurs and the RS. We did okay at Man United. I unlike some others don't mind us making ourselves hard to beat but the performance levels and aggression in two big games was way below requirement and definitely needs improving.
But there is no home and away tables, just the table. 60+ points represents progress.
Darren Hind
95
Posted 26/04/2017 at 19:01:32
Mockers,
You are chasing yourself up your own arse again.
Lukaku is in the form of his life. Is that at all contestable?
His goals have been a lifeline to clueless Ron, but here's the thing... Not everyone has your fanboy view of things. Most fans tend to recognise a players strengths AND his weaknesses.
They will understand that by recognising some aspects, they are not duty bound to turn a blind eye to others. Get what I mean??? Not many people view the game through the eyes of an innocent child who only wants to hear good things about his fav players.
Lukaku is in the form of his life, but he still has the touch of a Jackhammer. He doesn't do enough when the going gets tough and you would struggle to get the Echo under his feet when he jumps... No contradictions there.
Nothing wrong with my memory and I certainly don't feel shame for stating the blindingly bleeding obvious.
Darren Hind
96
Posted 26/04/2017 at 19:21:06
Gavin Johnson,
Time and again, you were pulled up for offering straw man arguments on a recent thread and your only response was to come back with another one. Now you return and, warra ya know, you put several in the same post.
I called the recent managers "hired hands" who don't have any affinity with this club, but you lie through your teeth again and say I used the word "parasites" ... What the fuck is the matter with you? Do you sit at your keyboard having imaginary arguments with yourself?
"Under the illusion that we can be Galacticos of the Premier League" ..."You said you wanted a cheaper version"... "Your trying to model us on Man City" ... "Peter Swales" ..." Malcolm Allison" ... "Tony Book" ... "Mel Machin" ... "John Benson" ... "and a shed load of others".
Where do you get this stuff from? Do you really believe you read it in my posts?
I know you probably sit there thinking you have made yourself look really intelligent with your response... but, when you continually respond to stuff that hasn't been said, you merely portray yourself as being as thick as a brick.
Graham Mockford
97
Posted 26/04/2017 at 19:23:56
Captain B
He's a poor player but he's in really good form.
That's cleared that up then.
Still waiting to find someone else to support your view we should sack Ronald.
Until then, it seems you are in a minority of one.
Come on – there must be someone out there who agrees with such a great footballing judge as your good self.
Gavin Johnson
98
Posted 26/04/2017 at 20:12:08
Darren 'Wicker basket' Hind – "Three complete shysters. I don't know what their exact combined wages were but 㿲m would be in the right post code. All three served up shite and all have failed miserably to get a result at the ground of a club who have finished top four ... in 15 years!!!"
So this isn't tantamount to calling the last three managers parasites? No, of course not, Darren.
Did you not say that we should make an internal appointment and you named David Unsworth? In your words quoted above you moan about the last 3 managers not breaking the top 4 and then your reasons for naming Unsworth are absolutely stupid and that's why you've been called out on them. Your reasons for naming Unsworth aren't even that he'd break us into the top 4. It's because he's cheap and he's a blue.
So you'd risk getting rid of a manager who is 14 points clear of 8th place for a gamble on someone who is absolutely unknown outside Everton Football Club. Today you're talking about sacking managers if they don't get results but you wouldn't hire a 'name' manager?!
I'm not sure you remember what you post from day to day half the time. At the end of the day you're talking shite Darren so don't spit your dummy out when someone challenges you on it.
Darren Hind
99
Posted 26/04/2017 at 20:23:09
You can't help yourself.
The word 'parasite' was never used . It was one of dozens of things you've completely made up.
I will respond to anybody, but I'm not interested in your steady stream of half-witted lies.
That's not debate.. it is fuck-wittery.
Jamie Barlow
100
Posted 26/04/2017 at 20:32:46
If Koeman were to get the sack this season, Darren, and Unsworth took over, would you be advocating Unsworth got the sack after nine months if he hadn't improved us from this season?
Gavin Johnson
101
Posted 26/04/2017 at 20:32:57
Okay Darren, I'll try and stop isolating you, as you claim I was doing the other day. I don't believe I was doing that. I was just saying that you seemed pretty isolated wanting Koeman gone after 9 months, and then I broke down why I thought your solution of David Unsworth was naïve, and maybe a little silly. No need to start playing the victim dear.
You like to try and play these games using little caveats about the wording to extricate yourself from the rubbish you come out with. Parasite, shysters, not the same words but it amounts to the same thing.
Darren Hind
102
Posted 26/04/2017 at 20:48:10
No Jamie,I don't think I would.
The reason I say that is because I think Unsworth is a more adventurous man. I think we saw that all season and when he took over last game. it looked as if we were watching different players.
The most successful club in English history (who we won'name) gained most of their success by promoting from within. a simple philosophy ensuring continuity. Barca always appoint people with historic ties to the club; Bayern have previous too.
I don't expect Everton to be storming the title. The opposition is too fierce and it comes from 5-6 different directions. I do however want an instant end to the Zombie football we witnessed at West Ham, Stoke, Boro, Southampton, Bournemouth... we barely mustered a shot on target in those games.
Cowering at places like WHL and Anfield has absolutely nothing to do with how long the manager has been here. Inexcusable, as far as I'm concerned
Gavin Johnson
103
Posted 26/04/2017 at 21:01:49
I've got to commend you, Darren. David Unsworth seems quite a left-field appointment for you and not the name I was expecting. I was expecting Big Sam or Tony Pulis. Big Sam would surely get us a few away wins against the top 4.
Paul Tran
104
Posted 26/04/2017 at 21:16:56
Darren's instinct is that Koeman won't succeed. His instinct says Unsworth would have done at least as well. My instinct says not sure and agree, in that order. Neither of us has definitive evidence.
I always find the 'get one of our own' argument lazy and sentimental. The stats are against me, but I would argue Royle had done a great job in overachieving at Oldham and Kendall was an up and coming manager at Brum. And both were top-notch players. By comparison, Unsy was a half decent defender who's done a great job with the youngsters. Could do more, you never know
Koeman has been dull and largely competent so far. He might buy some flair players and entertain us, he might graft us to a cup, you never know...
After nine months, I'm happy to live in hope. But I refuse to get excited or condemn him until he gives me reason to. And for the life of me, I cant understand how anyone can be so certain one way or the other.
Good fun reading the certainty, though.
Brent Stephens
105
Posted 26/04/2017 at 21:21:13
Paul "After nine months, I'm happy to live in hope. But I refuse to get excited or condemn him until he gives me reason to. And for the life of me, I cant understand how anyone can be so certain one way or the other".
Eminently sensible. My feelings exactly. Too early to ditch Koeman but we're watching him!
Gavin Johnson
106
Posted 26/04/2017 at 21:41:40
Paul,
I agree that the football hasn't been fantastic to watch at times and the away form needs to improve next season. That said, it's been better to watch than what we saw under Roberto in the final 2 seasons.
I honestly don't see how Koeman could have done that much better in his 1st season after inheriting a team that finished in the bottom half 2 consecutive seasons. League wise at least. The cups have been a shambles and there has to be an improvement next season.
I think Unsworth could be a realistic appointment in the future, but definitely not replacing a manager who's done pretty well after only 9 months.
My hope is that we have some level of success under an established manager (Koeman) whether that be a top 4 finish or a cup, If that happens we will raise our status. Koeman will probably get the Barca/Arsenal job he wants and leave. Maybe then Unsworth could step in after more experience in the U-23s.
It will be a lot easier for him if the club is on the ascendancy in terms of bringing players in, we've struggled getting players in under Koeman. It would be even harder under Unsworth unless the club raises it profile in the interim period, before this imagined appointment of Unsworth happens.
Darren Hind
107
Posted 26/04/2017 at 22:00:44
Paul Tran,
You are right, there is no certainty – only judgement and opinion.
"Koeman out" is simply an opinion.
Don Alexander
108
Posted 26/04/2017 at 22:09:47
Adi Viveash, Alex Inglethorpe, Simon Davies (not the one we had) and Steve Gatting. Ever heard of them Darren? No?
Well that surprises me because by your rationale they're all managers in waiting for the clubs currently employing them as Academy Coaches; Chelsea, Liverpool, Man City and Arsenal respectively. Man Utd have Nicky Butt, a high profile name all over the football world but I doubt the Glazer's have him in mind to replace the miserably unsuccessful Maureen this season and Spurs have just lost Ugo Ehiogu (RIP), but I don't think Pochettino felt under pressure from him.
But according to you, after one success, Unsy is fit to raise our worldwide profile by winning Champions League qualification. Amazing.
You'd have more success putting together an argument to prove the existence of Tooth Fairies mate.
Darren Hind
109
Posted 26/04/2017 at 22:26:13
"According to you, after one success, Unsy is fit to raise our worldwide profile by winning Champions league qualification."
That's my lot. I'm done with this thread.
How the fuck can you reason with people think it's a good idea to argue with you on things you haven't come even close to saying ?
Don, Try answering the things that have actually been said, don't embarrass yourself with dumb-arsed answers to things you WISH had been said.
Tony Hill
110
Posted 26/04/2017 at 22:27:20
If we had played with courage away from home this season, then I think we would have been very much in the frame for top 4. We have been generally cowardly instead and have paid the price. The very fact that we have been stronger at home should make us curse our dreadful away form.
These opportunities are not given as of right every season – other sides with more money will spend very big in the summer so there is no guarantee at all that the acquisition of players will launch us up the table or that Ronald will suddenly discover a new boldness at other sides' grounds.
I think Koeman could have done a lot better, especially when the cup exits are considered too. He is extremely well paid and it isn't good enough to say that he inherited a mess. He took over from a bad manager but that is not the same thing. In fact, we started very well and then had an horrendous dip when, in my opinion, he lost the players. That culminated in the atrocious performance at Watford.
In my more hopeful moments, I see the manager transmitting to Everton his arrogance and winning habit as a player. But he has much to prove and I share a good deal of Darren Hind's scepticism.
Graham Mockford
111
Posted 26/04/2017 at 22:30:05
Captain
'"Koeman out" is simply an opinion'
I can't argue with that.
Don Alexander
112
Posted 26/04/2017 at 22:31:33
It seems to me, Darren, that the only way you'd accept any alternative point of view is if the writer used precisely the same words as you, ideally in precisely the same order. I know what I call that....
Darren Hind
113
Posted 26/04/2017 at 22:34:28
"Koeman in" is simply an opinion, I can't argue wit that either.
Careful, Tony (#110); You are in a minority of five – on this thread alone.
Night all!
Darren Hind
114
Posted 26/04/2017 at 22:36:20
No Don
I didn't mention Champions League and you know it.
I know what I call that.
Graham Mockford
115
Posted 26/04/2017 at 22:37:04
Tony (#110),
Do you think we should sack him now?
Tony Hill
116
Posted 26/04/2017 at 22:57:57
No, Graham (#115), though in fact I called for his head after the Watford game which makes me even more in a minority than Darren.
He has recovered himself sufficiently to be given the chance to demonstrate next season the courage and attractive football both home and away which have been sporadic this season (at best).
I do agree with Darren, in particular, that we are far too inclined to be indulgent of mere adequacy at Everton. I think we've missed a big opportunity this season when Man Utd, Arsenal, City and Liverpool (in the latter half) have been well below par.
I also agree with Darren that Unsworth looks a very strong option indeed.
I give Koeman the chance to make quick strides next season following a productive summer of transfers, but if he doesn't, then I will want him replaced.
Graham Mockford
117
Posted 26/04/2017 at 23:14:05
Blowers,
You're minority just reduced by one. For the life of me I'm not sure who the other three 'Koeman Out' posters are.
But of course I'm sure they are out there.
Darren Hind
118
Posted 27/04/2017 at 06:18:46
"Koeman is a fraud"... "A shithouse."... "Not for me."... "The Dutchman makes Moyes look like Kevin Keegan." ... "Despite my open critical stance of the current manager, I would like his supporters to be more objective and task him as easily as they promote him." ... "I called for his head after the Watford game which makes me even more in a minority than Darren."
Hmm... It would appear that Koeman has taken a proper kicking here.
As the "minority of one", I don't think I need spend any more time on this topic. None of the above quotes are from me and despite the best efforts of 1-2 who will always keep returning to argue hysterically against any legitimate opinion, I think the "minority of one" is looking increasingly like a silent majority here.
I wonder how long it will be before one of the "Hysterical" jumps back in to shout them down and .... err, vote yet again.
My money is on Mockers...
Darryl Ritchie
119
Posted 27/04/2017 at 06:58:11
Yawn... time to move along, gents. Every argument for Koeman or against Koeman, was presented 50 or 60 posts back. No-one is going to change anybody's opinion, one way or the other.
It was kind of interesting, now it's just repetitive and boring.
Martin Nicholls
120
Posted 27/04/2017 at 09:27:31
Darryl (#119) – well said! Posters on here argue with one another about what they did or didn't say – @109 one most certainly did say "that's my lot. I'm done with this thread" then proceeded with three further posts! As you say Darryl, "repetitive and boring".
Dave Wilson
121
Posted 27/04/2017 at 11:20:12
For what its worth, I would swap Koeman for Unsworth as soon as the season is over.
Brian Furey
122
Posted 27/04/2017 at 11:38:11
When I read on Monday night that the U23s had won their league I was delighted as this will give the young lads and the club as a whole confidence and a great boost.
I however, did think to myself I wonder will there be lots of people now on TW calling for Rhino to be our next manager. We have seen lots of examples where new upcoming managers get promoted to their clubs first manager but, more often than not, it doesn't work out. I think it's a steep learning curve and with so much at stake money wise then they don't have a lot of time to get it right.
I wasn't sure when Koeman came in as our manager but I am a lot happier now as he's sorted out quite a few issues from last season. I think his first big task was to tighten up our defence and make us much tougher to score against. With ageing centre halves like Jags and the newly signed Williams I'm surprised how well we've done in this regard though Gana has has a big impact there too.
Funes Mori is always a worry and Baines isn't the player he was a few years ago, at least going forward. Central midfield is where Koeman has strengthened us a lot this year but there is still a huge lack of goals from midfield in general.
There's no doubt Koeman has got us playing in a way that gets a lot of goals out of Lukaku, especially at home but my worry is, now that we've got used to playing this way, how will we fare when he does leave.
We've scored 41 goals at home and only conceded 13 which is top 4 standard. Many are lamenting our away record against the top 4 or 6 but if you compare it to most of the other teams it is much the same. Chelsea's only away win against the top 6 was away to Man City and Spurs only managed a 2-2 draw as their best away result. All the top teams have excellent home records but it's the amount of away wins they get against the lesser teams that is important. We've not done that this year.
Still, I think we've made good progress this year. Koeman has stabilised us and brought in good players and got rid of most of the deadwood. He's quite ruthless and takes no shit but he still has major work to do this upcoming transfer window.
The back 4 and keeper all need replacing soon and, whilst it's great to see the young lads doing so well, it's a huge risk putting them into your first team and expect to finish top 4 or 6.
With Moshiri's money I think we have turned the corner and we can look forward to a new stadium and bringing in new players that will allow us to compete for Europe each season.
Watching how Spurs have moved forward each season since selling Bale has given me great hope that we can do the same. To me, the purchase of our next striker will have a huge bearing on how well we do over the next 4 or 5 years.

Brian Williams
123
Posted 27/04/2017 at 22:00:07
Just watched the Manchester derby and Man Utd were almost as bad as we were at WHU. One shot on target. One more than us like but what a waste of an hour and three quarters.
With regard to Unsy. He's done a great job with the U23s but installing him as manager at the end of the season is like saying "We're playing X team next who lost to Y team 2-0. We beat Y team 2-0 so therefore we'll win 4-0."
Because Unsys done superbly with the young 'uns doesn't translate to him doing the same or similar with the first team, whole different ball game. (I do realize it's actually not but you know what I mean.) I'd like him to get more experience before he lands the big one.
Brent Stephens
124
Posted 27/04/2017 at 22:02:43
Frustrating game, Brian. And what an idiot Fellaini is at times. Have to say, it's rare that I see Sterling play well. Maybe I don't pick my matches well.
Brian Williams
125
Posted 27/04/2017 at 22:11:25
You can say that again, Brent. Shoulda watched Mrs Browns Boys... haha!
Brent Stephens
126
Posted 27/04/2017 at 22:16:58
Love Buster Brady, Brian!
John Hughes
127
Posted 27/04/2017 at 22:20:36
Paul Tran (#104),
Just to put the record straight: Howard Kendall never managed Birmingham, I think you are referring to his tenure at Blackburn Rovers?

Brian Williams
128
Posted 27/04/2017 at 22:23:22
Really funny show, Brent, though some on here would find the racial stereotyping prevalent in the show totally unacceptable. ;-).
Brent Stephens
129
Posted 27/04/2017 at 22:24:56
Haha.
Brian Williams
130
Posted 27/04/2017 at 22:26:59
... and with that I'm off. C'ya, matey!
Phil Bellis
131
Posted 27/04/2017 at 22:27:41
Spot on John... He joined us from Blackburn.. was he ever player/manager at Ewood or Brum?
Peter Lee
132
Posted 27/04/2017 at 22:35:57
Phil, he was Player-Manager at Blackburn and retained his registration when he joined us; he played 4 games in 1981.

---
Add Your Comments
In order to post a comment, you need to be logged in as a registered user of the site.
Or Sign up as a ToffeeWeb Member — it's free, takes just a few minutes and will allow you to post your comments on articles and Talking Points submissions across the site.