Coleman takes first steps on road to recovery

46 Comments [Jump to last]
Wednesday 26 April 2017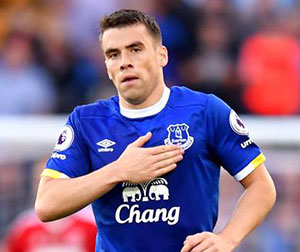 Seamus Coleman began his rehabilitation from the double leg break he suffered last month when he returned to Finch Farm this week.
The fullback has been spending time with his family in Ireland after the horrific injury that ended his season and will likely keep him out of action until late in the year at least.
True to his character, Coleman said he was keen to get back to Merseyside to start the first exercises to start strengthening his leg and admits he is ready for the challenge of getting back to his best.
"I'm a fighter and there's a part of me that's looking forward to this challenge," Coleman told evertontv.
"I've started with very small exercises in the gym. I've been doing some walking in the pool and aqua-jogging.
"It's just good to be back in and around the club and feeling like a professional footballer again.
"It was great to be around my family and friends back home but I've been itching to get back. It's small steps but I'm ready to work.
"I'm really enjoying it and looking forward to the challenge ahead because it's going to be tough but I've had tough journeys before and this is just another one."
---
In related news, Neil Taylor, the Wales defender whose reckless challenge led to Coleman's broken leg, has had his automatic one-match ban increased to two games on review by Fifa's disciplinary committee.
In a statement, the Football Association of Wales said: "Following a meeting of Fifa's disciplinary committee, the FAW can confirm that Neil Taylor has been suspended for two matches. He is regarded as having breached Article 48 of the Fifa disciplinary code."
---
Reader Comments (46)
Note: the following content is not moderated or vetted by the site owners at the time of submission. Comments are the responsibility of the poster. Disclaimer
Steve Ferns
1
Posted 26/04/2017 at 19:38:19
He's such a great guy. I hope he's back to his best and soon.
Stan Schofield
2
Posted 26/04/2017 at 19:40:52
As the old saying goes, when the going gets tough the tough get going. Get back to full fitness soon Seamus.
Colin Glassar
3
Posted 26/04/2017 at 19:53:02
Great news. Get back soon, Seamus lad.
James Marshall
4
Posted 26/04/2017 at 19:54:39
I just read that Neil Taylor has been banned for 2 International matches for the tackle as well.
Paul Birmingham
5
Posted 26/04/2017 at 19:58:21
Great news, a speedy recovery Seamus!
James Flynn
6
Posted 26/04/2017 at 20:21:34
We never know how any individual's body heals.
If Seamus is back in the side before next season ends, I'll be surprised.
Delighted, But surprised.
Declan Martin
7
Posted 26/04/2017 at 20:32:08
Neil Taylor gets a two match ban for a vicious career-threatening tackle.
Joey Barton gets 18 months for having a bet.
Brian Abbsey
8
Posted 26/04/2017 at 20:42:13
Declan,
I take your point totally but Joey had more than 'a bet'.
Great to see Coleman back in light training. By the time he gets back in the team, let's hope hes got a few more high-calibre team mates.
Ian Bennett
9
Posted 26/04/2017 at 21:07:24
Barton had 15,000 bets in ten years. He's clearly an addict. His ban is way over the top in comparison to drug violations that others have had. A break of the rules, but what factor compared to Suarez or Keane who set out to cripple Haaland?
Brian Abbsey
10
Posted 26/04/2017 at 21:19:45
Ian @ 9,
Keane and Suarez are virtually animals who think uncontrolled violence is in some way commendable.
The Barton ban is strange, but placing so many bets in your own sport does have a bit of a whiff to it. In any case, looking at the names at the start of this post, his tackles aren't in bad company!
Peter Gorman
11
Posted 26/04/2017 at 21:39:44
Barton bet against his own team, hence the ban.
Anyhoo, great to have Seamus back over.
Eugene Ruane
12
Posted 26/04/2017 at 21:40:52
Tough road ahead for Seamus, but if anyone has the will, strength and determination, it's this lad.
I expect to see him back sooner rather than later, ploughing up and down the right once more and giving his guaranteed 100%.
Colin Glassar
13
Posted 26/04/2017 at 21:43:40
One thing is having a flutter, another thing is match-fixing which Joey hasn't done. Michael Owen betted on anything that moved and he never got punished. I think Joey is a victim of his own reputation.
Peter Gorman
14
Posted 26/04/2017 at 21:50:13
Don't want to derail this thread but all the below taken from the Beeb;
"Between 2004 and 2011 Barton said that he also placed several bets on his own team to lose matches but added he was not involved in the match-day squad in any of those instances.
"I had no more ability to influence the outcome than had I been betting on darts, snooker, or a cricket match in the West Indies," said Barton. "On some of those occasions, my placing of the bet on my own team to lose was an expression of my anger and frustration at not being picked or being unable to play."
He might not have been on the pitch to influence the outcome but my God that is a hard one to expect the FA to swallow. A total no, no.
In any case, why are we even discussing Joey Barton?
As for Seamus, these days the medical staff within football make minor miracles happen all the time with serious injuries. I've no idea what aqua-jogging is but I'd wager a month after my broken leg I'd still be wallowing in my dressing-gown.
Colin Glassar
15
Posted 26/04/2017 at 21:54:00
To be fair, Joey did the same when he was with Rangers. He's a sick lad who needs sympathy or he could end up a wino or worse.
Chris Williams
16
Posted 26/04/2017 at 21:59:16
Sleep well tonight, Seamus, and welcome back home.
Sleep well, Tony Kay.
Jim Hardin
17
Posted 26/04/2017 at 22:18:01
Good news regarding Coleman. Hope he gets back fully fit sooner than later.
As for Barton, well that narrows the competition for Barkley to be the best midfielder north of London to have a last name beginning with "Bar." Ashley Barnes is still in the running though
Mark Andersson
18
Posted 26/04/2017 at 22:22:33
More players like Seamus need to be brought in or promoted. True professional understands the fans and appreciates his position.
Good luck, Seamus.

Darren Hind
19
Posted 26/04/2017 at 22:43:11
That is welcome news, Seamus is going to need all his fighting qualities. It's a long road.
Mike Rees
20
Posted 26/04/2017 at 22:49:32
Great that Seamus is back at Finch Farm. Don't give a monkey's about Joey Barton's situation which he will have to deal with himself; but wish Seamus all the best with the really hard task of getting back to the type of player we all know he was and can be again .
Declan Martin
21
Posted 26/04/2017 at 23:11:57
Mike (#20) has it right.
Go on, Seamie!
Mike Gaynes
22
Posted 26/04/2017 at 23:12:58
Plugging Joey Barton into a thread on Seamus Coleman is like inserting Mel B into a Kate Upton article. Some things are just wrong.
All the best, Seamus.
Brian Williams
23
Posted 26/04/2017 at 23:15:34
If Seamie needs any inspiration (which he definitely won't) he could do worse than watch "Paragon", the story of Andy Grant, a kopite (which I can actually forgive him for haha) who embodies everything good about the human spirit and a person's ability to overcome real adversity.
Graham Mockford
24
Posted 26/04/2017 at 23:19:52
I suspect if there was ever a player who could mentally cope with such a serious injury it's Seamus.
My favourite Everton player since Tim Cahill, and hopefully our future captain.
Jon Cox
25
Posted 26/04/2017 at 23:57:41
Seamus, you will be better than you were before.
Better, stronger, faster. We have the technology!
You'll easily be worth at least $6,000,000!
We know you can do it, mate, and we're all counting the days.
Jay Harris
26
Posted 27/04/2017 at 04:56:45
If Seamus is looking in, get your dancing shoes on boyo.
You'll soon be dancing up and down that touchline again.
I'll say next January.
Liam Reilly
27
Posted 27/04/2017 at 08:29:03
He also said "until something like this happens you don't always realise how fortunate you are to play for this Club"
Sounds like a lifer now.
He may have to adjust his game, maybe even further forward, but hopefully he can come back to something like the player he was. He certainly has the mental strength.
Eddie Dunn
28
Posted 27/04/2017 at 09:13:00
Really good to see pictures of Seamus at Finch Farm, and looking so bright. I hope that he enjoys being back at work and has a successful recuperation. A nicer person you surely won't find anywhere.

Sam Hoare
29
Posted 27/04/2017 at 09:37:49
What a hero. Hope the recovery goes well Seamus and we see you back sooner rather than later.
Brian Furey
30
Posted 27/04/2017 at 10:14:05
I was chatting to a man who knows a lot about these type of injuries and he was saying that the players attitude will determine how well he does with his comeback.
You would imagine Seamus will have a good strong attitude and work hard to get back. All the best, Seamy.
Barb Ellis
31
Posted 27/04/2017 at 10:44:16
I was there to witness Seamus playing in what was I think was his first appearance for the club. It was a pre-season friendly, please excuse the memory lapse if this is incorrect. I think we were playing Bury. Well, we watched this young lad come on to the pitch, and bomb down the wing at an electric pace. "Whoa... what's THAT?" our crowd exclaimed, all very impressed. Well we have been impressed ever since.
All the best, Seamus, a speedy recovery is wished for you.
Trevor Lynes
32
Posted 27/04/2017 at 11:49:07
The support for Barton is strange considering Tony Kay was banned for ever for doing the same thing.
Kay actually was MotM in the match he bet on, which is another equally strange situation.
Matthew Williams
33
Posted 27/04/2017 at 13:33:56
Top bloke, our Seamus... the kind of player that truly deserves a Winners medal!
Anto Byrne
34
Posted 27/04/2017 at 16:29:58
He is back on his feet quick. I wonder what magic they performed on his leg?
My missus broke her wrist at Xmas and it still ain't healed up. Reckon on a year or so. Imagine that we won't see Seamus in blue for about 18 months.
Gregory Kelly
35
Posted 27/04/2017 at 22:01:45
Keep it going, Seamus, we are missing you a whole lot.
Mark Siddons
36
Posted 28/04/2017 at 05:16:19
Get well soon, Seamus. Missing you. The perpetrator gets a two-game ban... surely in cases like this where it is so obvious he should be banned until Seamus is back playing again?
Gerry Ring
38
Posted 28/04/2017 at 07:44:23
I can't wait to have Seamie back. Definitely should be made captain. It's very obvious how much he loves the club & this was demonstrated by his huge determination when playing. It augers well for his rehabilitation. Can you imagine Goodison for his first game back?????
Frank Bortoli
39
Posted 28/04/2017 at 12:17:18
Why are we talking about Joey Barton in this thread?
Not only do we want Seamus back but we want him back as captain.
Speedy recovery, Seamus.
Patrick Eimsman
40
Posted 28/04/2017 at 13:51:16
Mike (#22). Pissed myself laughing here in the office.
James Marshall
41
Posted 29/04/2017 at 00:38:48
Aqua jogging is running underwater without touching the bottom of the pool - it's not particularly new but has zero impact.
Here's a link in case you're interested: Link
Mick Davies
42
Posted 29/04/2017 at 02:18:32
I can't remember how long Oviedo was out for with a similar break, but I'm sure he was available again with a year.
Anyway, great to see Seamus on The Everton Show talking about how determined he was to get back, and how it won't affect his play: a true legend in the making, and hopefully given the armband as soon as Jags calls it a day at Goodison Park.
Michael Kenrick
43
Posted 29/04/2017 at 05:00:42
You're right, Mick. Bryan was back playing in September 2014 after breaking his leg in January against Stevenage. But he really wasn't up to snuff for a long, long time thereafter (if ever), with a succession of other injuries, especially hamstrings.
Just such a horrible thing to happen to such a great bloke. I still get beyond how it happened in such a nonsensical fashion. Makes me more certain than ever there is no god.
Will Mabon
44
Posted 29/04/2017 at 06:59:26
Seamus is young, fit, will receive the best treatment, and take in the very best food and supplements.
With that all taken care of, the rest is down to luck of genetics. Even in the best circumstances, the rate at and extent to which people heal can vary surprisingly.
If he's suffered "Only" serious bone damage without heavy trauma to soft tissues and issues caused by swelling, he'll likely be just the same player he was. The biggest issue then is getting all the muscles, joints and tendons back into shape, balance and flexibility, in hand with carefully regaining the fitness, after a long lay off in professional sports terms. This varies a great deal from one player to the next, too.
I'm not a medical man but speak from personal experience and many points of comparison... all provided by football and motorbikes!
All being well, Seamus will be rocketing up and down the wing as well as ever. Hopefully it's just a matter of time.
Alexander Murphy
45
Posted 02/05/2017 at 08:06:56
Just delighted for Seamus himself. He has the inner strength. Even, so getting back amongst teammates and staff must have raised his morale.
Just get well Seamus.
Steve Ferns
46
Posted 05/05/2017 at 12:29:19
Great news to see the club have just got him to sign a new 5-year deal. It was agreed before the injury and Kenwright told him not to worry, the injury doesn't change anything and the contract is still there to sign. Whatever you think of Kenwright, that is a touch of class by Everton. It's things like this that must make the players realise they are at a special club.
Get back in blue soon Seamus.
Colin Glassar
47
Posted 05/05/2017 at 12:54:37
This sounds like it was a deal that was on the table before the injury.
---
Add Your Comments
In order to post a comment, you need to be logged in as a registered user of the site.
Or Sign up as a ToffeeWeb Member — it's free, takes just a few minutes and will allow you to post your comments on articles and Talking Points submissions across the site.