Koeman picked Barry over Barkley to counter Swans' formation

34 Comments [Jump to last]
Monday 8 May 2017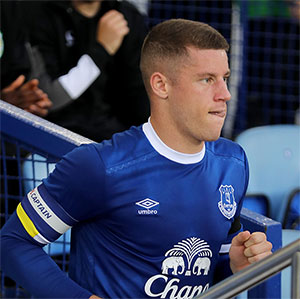 Ronald Koeman has put his decision not to start Ross Barkley against Swansea on Saturday down to the need to counteract Paul Clement's diamond system.
Barkley dropped back to the substitutes' bench for the visit to the Liberty Stadium, replaced by Gareth Barry in a midfield that was rounded out by Idrissa Gueye and Tom Davies, but was introduced at half time in attempt to spark life into another insipid attacking display by the Blues away from home.
Everton were on their way to a result that meant they have failed to score in their last three games, having plodded through a goalless draw at West Ham and then gone down 3-0 at home to Champions-elect Chelsea last weekend, and haven't won away for seven games and Barkley's introduction for Barry had little effect on the performance.
Koeman's side managed just two shots on target all game against the worst defence in the Premier League as Swansea registered what was a priceless win for them in their bid to escape relegation.
Barkley's omission was a topic of conversation before kick-off given Koeman's criticism of him at times this season, coupled with the fact that he has yet to sign a new contract with the club despite his existing terms expiring in just over a year's time.
Koeman said it was purely a tactical move, however.
"We tried to find productivity in the team, and we arrived with a different solution," the manager explained.
"But OK, you need to make those kind of decisions as a manager." "The diamond that Swansea play, that was the reason I brought Gareth in.
---
Reader Comments (34)
Note: the following content is not moderated or vetted by the site owners at the time of submission. Comments are the responsibility of the poster. Disclaimer
Ernie Baywood
1
Posted 08/05/2017 at 07:06:43
Hmm, we needed to find a way to beat one of the worst teams in the league... and came up with 36-year-old defensive midfielder Gareth Barry.
Okay...
Ian Burns
2
Posted 08/05/2017 at 07:45:40
We are 7th supposedly looking up. Swansea were in the bottom 3. Shouldn't we have gone with a far more positive attitude and let Swansea worry about our formation than the other way around?
Ian Jones
3
Posted 08/05/2017 at 08:26:18
Ernie and Ian. Are you both trying to make a point? If so, well done. It's one more than Everton made...
On a serious note, it does seem an odd tactic. I appreciate our away form has been poor but we were equally as poor at home against Swansea and only just managed a late equaliser. Perhaps Ronald was expecting more from the team he put out.
It would be great to get to the stage when teams worry more about how we are playing, home and away.
Jim Bennings
4
Posted 08/05/2017 at 08:28:24
Don't get me wrong I can understand the dropping of Barkley because his form hasn't been great and he's not much of an away game player but going back to Gareth Barry??
Surely there are other formations to try than that same old failure, it never ever produces a team that looks even remotely threatening.
As I say I'm ready and willing to go and give Koeman next season with this summer's big transfer behind him but he's got to get the balance right in the away games because there's no guarantee the home form will be as strong again.
It's been an okay season but at times it's felt much like David Moyes being here in his last season again really in away matches, looking simply turgid and merely looking to nick a goal.
Liam Reilly
5
Posted 08/05/2017 at 08:34:23
I fully support Koeman but don't understand why Everton should need to worry about Swansea's formation.
Just put out the best available players in their preferred positions and let them worry about Everton.
Thomas Lennon
6
Posted 08/05/2017 at 08:34:49
We are exactly where we should be on 㿾 million in wages. Top six starts at 𧴰 million.
Closing the gap relies on increases in commercial income – we are 㾻 million better off this year plus ٣ million allowed on TV money so halfway there. Can we add in new shirt income?
Koeman has the job of managing our results running up to the large boost our new stadium will provide. After that he may feel he can take us further... or not.
Getting us into top 5 or 6 is a big ask and will require a large input from our youngsters. Other than Leicester, how many times has that been achieved? For more than a single season = 0.
John G Davies
7
Posted 08/05/2017 at 08:35:52
Koeman sending Ross a message.
Jim Bennings
8
Posted 08/05/2017 at 08:59:49
Liam
You are right!
When is the last time we went away from home and let the opponents worry about Everton for a change?
You look at other teams even below us in the league and they are committing loads of men in the opposition penalty area, Palace recently won at Anfield, they had seven men in the Liverpool area at 1-1.
Watch us and on Saturday in the second half Lukaku pulled back a great ball across the six-yard box and the only man that even looked like reacting was Phil Jagielka, no other Everton player near it.
You will always struggle to break down opponents if you don't commit men.
Alasdair Mackay
9
Posted 08/05/2017 at 09:23:34
Very much not a Koeman fan – as documented on this site on numerous occasions – but I agree with this decision.
Barkley was not playing well over the last couple of matches and needed a jolt, plus we have missed Schneiderlin and needed someone with that footballing brain who can read the opposition a little better from midfield and spot a pass.
Good decision – didn't pay off because too many of our first team are already on holiday and Swansea needed the win!
John Keating
10
Posted 08/05/2017 at 10:29:41
I posted before the Swansea game that we should play more U23s and am still in the same mind for Watford. Half that shower against Swansea were already on the beach. Surely the youngsters would give 100% just to impress?
Give Holgate a start at his natural position at centre-half with Jags or Williams and Kenny at right back. Up top I'd play Calvert-Lewin and Lookman.
Drop Lukaku he's just not interested. Midfield with Gueye sitting deep, Davies and any other two.
The so-called first 11 are not performing so let's see if these kids can cut it.
Paul Tran
11
Posted 08/05/2017 at 10:37:43
Liam, Jim, it's because he doesn't trust our attacking players. No pace, frequently turning away from goal, one goalscorer in the team... I don't blame him. That's why he bought Bolasie, who runs at pace in the right direction.
What I do blame him for is not buying anyone in the January window to sort this out. He has to do it in the summer.
Eddie Dunn
12
Posted 08/05/2017 at 11:12:18
I think the idea of bringing Barry in was a good one. Without Schneiderlin we needed a holding player who can pass the ball. With Gana and Davies to do the hard running, there was sense in the selection, after all Barkley had been poor in the previous two games.
It is plain to see that the whole mindset of the team has just relaxed slightly. Although there are some seasoned pros in the side who perhaps should be able to maintain standards, there is always going to be a few per cent missing compared to opponents whose continuation in the top flight is under threat.
In contrast, our lot will have already been well aware that the likelihood of catching any of the teams above was pie in the sky. The little margins are what wins you these games. We are also an unbalanced crew at present, with poor Holgate at right back and Calvert-Lewin on a wing. Davies has probably been overplayed, which demonstrates our lack of depth.
Koeman's options are limited, hence the tinkering between Mirallas, Valencia and the odd cameo for Lookman. There has been too little competition for places since the January clearout.
Hopefully the start of next season will see us with a bigger squad, with more competition for places. This should reduce the complacency witnessed over the last few years, when some players have kept their places despite poor form.
It is looking like a rather flat end to the season, a run similar to the one we were on prior to Christmas.
I see a pattern emerging, our great start, our terrible pre-xmas run, and our excellent spring...and now a fairly tame run-in. The side seem to be blowing hot and cold, but in fairness to Koeman, this is the first time the side has lost two league games on the trot this season.
We are more resilient, and hopefully we can build on this and our good home form for a more successful campaign next time.
Derek Thomas
13
Posted 08/05/2017 at 11:15:40
Ernie @ #1; Too right, stinks of tulip to a flower show... going to this ground and that ground (not the ones that 'really' count mind) and trying to KITAP1 – and failing miserably to do either.
It's Swansea, Boro, etc, etc, ffs. We're 7th for a reason, they're 17th for a reason too. Go at them as best as we can given injuries and such... It's not as if we have anything to lose points gained-wise – or too many times in our case, lost.
Andrew Ellams
14
Posted 08/05/2017 at 11:26:14
He obviously watched Man Utd struggle to deal with the Swansea diamond when they were the home team and thought he had to make a change to deal with it.
It didn't work this time but, after 14 years of watching the last two blokes throwing the same 11 doing the same thing, week-in & week-out, despite the opposition, it makes a change to have a coach actually thinking tactically.
John Raftery
15
Posted 08/05/2017 at 11:27:29
Our away record, which is unlikely to improve with our final game at Arsenal, is 6 points worse this season than it was last season under Roberto. After winning the first two at West Brom and Sunderland we have taken only 12 points from the following 16 games. That is relegation form.
Fortunately for Koeman he has improved our home form to the tune of 17 points. It was our home form last season which cost Martinez his job. Our home form this season has probably saved Koeman.
Why is there such a difference between our home and away form? There are many contributory factors. For me away from home too many of our players go into their shells, playing too many safe passes sideways and backwards and thereby failing to move the ball forward quickly. This is especially so in the first half of away matches. Only once this season, at Manchester United, have we reached the interval in the lead.
We start so slowly, giving the opposition time to weigh up what we are about and allowing them to settle into the game. To an extent the same has applied in some home games but our results have improved at Goodison since the turn of the year because players have moved the ball and themselves forward with far more pace than they have away from home.
Despite his age, Barry is one of the few who can pick a forward pass and execute it without over- or under-hitting the ball. On Saturday I thought it was a waste requiring him to man mark Sigurdsson. Gueye is better suited to that role.
Gueye and Davies are full of energy trying to press the opposition but their industry rarely creates chances or goals away from home. The only time we look like scoring is from a set piece. Indeed our last three goals away have come from a free kick at Spurs and the two corners at Anfield and Old Trafford.
Chris Gould
16
Posted 08/05/2017 at 12:34:52
Paul (#11)
I agree completely with your first paragraph, but I don't agree that Koeman is to blame for not bringing in more attacking quality in January.
I think Koeman made it clear that he wanted a number of players in. He sent a public message to the board. However, it would seem that these players weren't available, or our board were unable to make these deals happen. In fairness to Walsh and the board, January is a notoriously difficult window.
Koeman has tried various starting 11s and formations and nothing has worked. I don't believe the squad is good enough. We just don't have the attacking options to trouble teams away from home.
Thankfully, when we play at home many teams have allowed us to play to our strengths, and Ross and Rom come to life (most of the time). Neither of these players seem capable of producing their home form in away games, and without Seamus, we have very little threat elsewhere.
Big summer clear-out required.

John G Davies
17
Posted 08/05/2017 at 12:39:04
Chris (#16),
That is the point mate. Obvious what we need but pointless bringing players in in January who are not your first choice.
Koeman achieved what we hoped for in his first season with a return to European football.
Ross Edwards
21
Posted 08/05/2017 at 13:16:42
Why should we need to be worried about what Swansea were doing? No disrespect to them but they are in the bottom three and we were supposedly chasing top 6. If we were playing Man City at the Etihad or Chelsea at Stamford Bridge I'd understand his urge to counter their threat, but against a team we're a lot higher than, we should have been a lot more positive.
Let teams worry about us, rather than us worrying about them. The mentality needs to change.
Mike Berry
22
Posted 08/05/2017 at 13:40:53
The good news "hopefully" is that Ronald will be able to use different formations, with better players in the future, providing his transfer targets come off.
Kevin Turner
23
Posted 08/05/2017 at 13:57:28
Well, that worked well, didn't it? Feck me, it's not the first time he's demonstrated tactical ineptitude and he thinks he's in with a shout for the Barca job. Do me a favour!

Kenny Smith
24
Posted 08/05/2017 at 14:19:49
This is more likely to do with forcing Ross's hand so he opts to not sign a new deal and that way moves on.
I can see where Koeman is coming from in wanting him out (if he does) without the backlash from the fans but opinions are split on Barkley and I for one think he should've gone last summer.
Oliver Molloy
25
Posted 08/05/2017 at 14:44:33
I am still not convinced with Koeman; this next season will be a big one for him, in my opinion.
Regards the game , this was a nothing game for Everton. Our players were never going to risk injury (especially those may be looking away or suspect they may not be in the managers plans). Swansea were always going to be "up for it" even more so when Hull got beaten.
Barkley for me isn't consistent enough and the only part of his game that has improved slightly is his work rate; he still runs round like a dog chasing his tail and I suspect Koeman may have had enough.
James Stewart
26
Posted 08/05/2017 at 14:46:27
First off, I don't like Koeman's approach in a lot of these away games. The sides above us would not be going to Swansea and changing their shape to combat their diamond.
That said, the choice between Barry and Barkley doesn't really make much difference in my eyes. Neither should be in the starting 11 next season if we have serious top 4 aspirations.
Koeman can be judged more accurately at the end of the next transfer window when it should be a team he is happy with.
Andy Meighan
28
Posted 08/05/2017 at 16:24:19
Oliver (#25). A nothing game. Try telling that to the poor fuckers who paid hard earned cash to go and watch that dross. Might have been a nothing game for the shite who masquerade as Premier League footballers but it wasn't for us. Every defeat hurts.
And changing the system to try and combat a team that at the start of play were in the bottom 3 was a joke. Then again, it's nothing we haven't seen before... As Jim 4 said, it's Moyes Mk ll.
Will Mabon
29
Posted 08/05/2017 at 18:13:24
Some crap team from above us in the league will buy Barkley. Who do those managers think they are? Can they not see that Koeman is a master motivator of men and creator of team spirit as well as a tactical genius, and if Barkley can't make it under Koeman, he'll fail anywhere.
Jeremy Jansen
30
Posted 08/05/2017 at 18:17:00
The change makes enough sense tactically I guess...
For me, the recent string of results show how much we miss Seamus as he was the only threat we had on the right-hand side. He provides some semblance of balance through his work effort and abilities but young Mason Holgate isn't a like-for-like replacement.
After seeing Kenny play the end of last game, I'd rather see him start at right back next game. That isn't meant to be a knock on Mason Holgate either. I feel he has been excellent given he isn't playing in his natural position, coupled with his young age. Kenny simply looked more the part for me.
The lack of Morgan's presence and passing range has also been a pain point the past couple of games as well.
It does seem like the players are playing as if the season is already over which makes me even more anxious for what happens over the summer. I would love to see Rooney back in a blue shirt and do like the looks of the Malaga striker we're being linked with.
If Rom goes I'd like to think we could put the proceeds to good use. (I know, this is Everton...) If Ross stays I feel he could learn immensely from Rooney should our prodigal son return. I just want to see more from Ross and on a more consistent basis and I fear, like many of you, he'll never get there.
Darren Hind
31
Posted 08/05/2017 at 19:14:46
I'm totally bemused by the argument that our players are good enough to play at home but not away... Do they feel they are out-numbered? Are the other pitches different to the one at Goodison? Are the goals in a different place? Do we still play with the same size ball?
The pressure was all on Swansea, just as it was on Chelsea and, for the second week running,Koeman has cowered away from a free swing. If we can't attack with conviction when the pressure is all on the opposition, when can we?
The defence of Koeman grows weaker by the game, There are no signs of ambition, not even against a team riddled with nerves. You don't even need to leave these pages to be aware of the growing feeling of dissatisfaction amongst the ranks.
Those who told us the season was only just starting after we'd been dumped out of both cups are now willing it to end. They realise now that we are still just one place above a Tony Pulis side which depends almost entirely on dead-ball situations.
Koeman's honeymoon was over the day he rolled over at Anfield. He's been rumbled. Evertonians will accept their players being beaten by better players; they will accept the occasional tactical boo-boo from the manager... but they will not accept hoofball without purpose. They won't tolerate young players being destroyed before they start by being repeatedly played out of position. They wont accept the fact that we can hardly muster a shot on target on the road... and they will not accept cowardice.
The tide isn't turning; it's turned. A season of nothingness will do that every time.
"We altered our team to counter what Swansea would do"... 'kin'ell... Get rid straight after the Arsenal game. There is no logical point in prolonging this misery.

Ian Riley
32
Posted 08/05/2017 at 22:02:43
Koeman tactically at times has bemused me. We were poor against an average side in Swansea. It was hard to know which team was fighting relegation.
The team lacks pace and drive to attack. Lukaku lacks service and defensively​ at times we are frightening. I would have taken seventh place. Koeman has brought discipline back to the players.
Five to seven players are required but I feel three at most may come in. Koeman is not a miracle worker but his team selection and tactics are being scrutinized by football pundits. Give him the players and judge him next summer.
Tony Draper
33
Posted 09/05/2017 at 05:20:35
Not playing Ross Barkley but playing Gareth Barry? If I was Ross, I'd be absolutely apoplectic with frustration!
Okay, so Schneiderlin wasn't available, so Koeman had to adapt his lineup both in terms of personnel and (to a degree) tactics. But, he didn't have Seamus either, did he? So Holgate gets a game at right back, because he adapts. Not perfect, but he got playing time.
So Barkley reads the teamsheet and thinks... Well, what does he think? Anything???
If that was me, I'd have torn down the bloody teamsheet (figuratively speaking) and marched up to Koeman and demanded an explanation!
Ross has absolutely everything that any footballer or potential footballer could possibly wish for... Everything! (I'm not talking about wages here. Not an issue.)
Ross Barkley, wake the fuck up, lad! Wake the fuck up! Because, Ross, in 10 years time, you will be a card-carrying member of the: "Woulda, Coulda, Shoulda Club"?
But I, for one, will have long since cashed in my sympathy card.
John G Davies
34
Posted 09/05/2017 at 06:58:08
Tony,
If I was Ross I would be apoplectic with rage.
I think that is the reaction Koeman is looking for. He doesn't see him as part of his team for next season.
I agree with that myself; I don't either.

Anto Byrne
36
Posted 09/05/2017 at 14:27:50
I thought we had our own diamond called Ross Barkley. Perhaps it's just pearls of wisdom we needed. Perhaps we shouldn't be too precious.
Ian Herbert
37
Posted 10/05/2017 at 02:42:40
Why does anyone want Rooney back!!? What is a fading, past-his-best player going to bring to the party?
Yes, we need more players and, undoubtedly, we need a lot more quality. Which Rooney simply cannot bring to the table any longer. So why waste a good chunk of wages on a player Man Utd can get rid of quickly enough?
It's not a role model for the young players we need, it's top quality players they can learn from.
Paul Burns
38
Posted 10/05/2017 at 08:18:08
That really worked didn't it.
Swansea don't have a formation, they're shit. We were worse. Again. New 5 year contracts all round.
Teddy Bertin
39
Posted 10/05/2017 at 10:07:44
It's not like Ross set the game alight when he came on.
Just shows how little attacking options we have. Unless Steve Walsh can unearth some gems I don't see us trying anywhere close to signing the type of players we need.
Everyone is after a striker and only Chelsea have genuinely class playmakers to spare, with Willian and Fabregas often on the bench. Everyone else needs another top class playmaker, even Spurs need back up for Eriksen.
I don't know who would come to us over another top 6 team, especially with Lukaku on his way out. Hopefully Walsh can find us another Mahrez...

---
Add Your Comments
In order to post a comment, you need to be logged in as a registered user of the site.
Or Sign up as a ToffeeWeb Member — it's free, takes just a few minutes and will allow you to post your comments on articles and Talking Points submissions across the site.