Mirallas to sign new long-term deal

155 Comments [Jump to last]
Wednesday 10 May 2017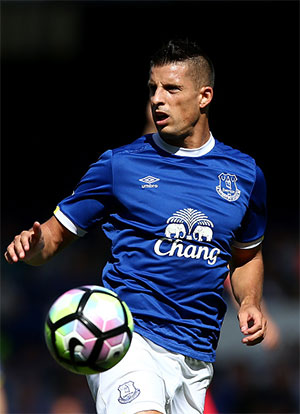 A new deal for Mirallas would extend his stay at Everton beyond 2018
Kevin Mirallas is set to finalise a new long-term contract with Everton this week, according to chairman Bill Kenwright.
The Chairman made the announcement at The Dixies end-of-season player awards night at the Royal Liverpool Philharmonic Hall.
Mirallas has just over a year left on his existing deal but has expressed on more than one occasion how settled he is in the area and with the Toffees.
The Belgian has been in and out of Ronald Koeman's starting lineup this season but it appears as though he is part of the Dutchman's plans based on Kenwright's comments at the awards ceremony.
Mirallas's compatriot, Romelu Lukaku was named Everton Player of the Season and Players' Player of the Season, while Tom Davies was the expected recipient of the Young Player of the Year award.
---
Reader Comments (155)
Note: the following content is not moderated or vetted by the site owners at the time of submission. Comments are the responsibility of the poster. Disclaimer
Gordon Crawford
1
Posted 09/05/2017 at 23:28:06
Mirallas to sign a new contract, so he's not going anywhere. I find that strange considering Calvert-Lewin played in his position the last few weeks.
Colin Glassar
2
Posted 10/05/2017 at 00:25:31
So Boys Pen Bill gives a Churchillian kind of speech only to announce the signing of the increasingly ineffective Kevin Mirallas to a long-term contract? No wonder Rom and Ross want to leave if this piss artist is still in charge of transfers.
Gordon Crawford
3
Posted 10/05/2017 at 00:52:54
It's slightly worrying.
Kieran Kinsella
4
Posted 10/05/2017 at 01:11:53
Colin,
Totally agree. If we were going to keep someone who doesn't cut the mustard I'd rather keep Cleverley. Mirallas has never produced consistently and he's in his peak years. He won't get better. Says it all about our supposed ambition.
James Watts
5
Posted 10/05/2017 at 01:26:14
Just seen the news on Mirallas. I don't think it's a bad move, after my initial surprise. Sure he's too inconsistent for a regular starting place but with one year left this protects us a little bit in that we won't lose him for free.
He should be a squad player next season and I'm sure there will be times we will need him with European games. And I'd still rather have him than Calvert-Lewin on the left wing if push comes to shove.
Andy Codling
6
Posted 10/05/2017 at 03:20:57
Another false dawn????
David Barks
7
Posted 10/05/2017 at 04:28:48
Please don't even compare Mirallas to Cleverly. Cleverly is absolute garbage while Mirallas is inconsistent. Well worth having as a player to come off the bench and add depth.
Agreed that if he's viewed as a starter next season, then the Moshiri era is already a complete fraud.
James Watts
8
Posted 10/05/2017 at 05:10:40
Well, after True Blue Bill's comments at the Dixies, we should know soon enough if Moshiri's era is going to be a good one or not.
I just hope the money hasn't been ring-fenced...
Jay Harris
9
Posted 10/05/2017 at 05:50:27
Mirallas is the only player besides Lukaku with a genuine goal threat.
I would certainly have him in any squad going forward.
Drew O'Neall
10
Posted 10/05/2017 at 06:06:55
Decent player who doesn't play enough minutes. An enigma.
Peter Howard
11
Posted 10/05/2017 at 06:28:04
Hopefully, we've done this simply to retain his sale value.
If we've done this because someone at the club thinks he's worth keeping, then God help us.
Michael Penley
12
Posted 10/05/2017 at 06:42:22
Genuine goal threat? He's only scored one more than Jags this season.
Christopher Timmins
13
Posted 10/05/2017 at 06:46:11
Let us hope this is not the highlight moment of our summer business!
Martin Nicholls
14
Posted 10/05/2017 at 06:56:59
He is clearly a squad player now and is to be retained as one. No problem in that.
Sam Fitzsimmons
15
Posted 10/05/2017 at 07:14:35
Michael, that would be one more than Barkley then. Mirallas is a sound enough impact sub and occasionally can produce a touch of magic. As has been said, a long-term contract is a good bit of business for his sell-on value.
Sam Hoare
16
Posted 10/05/2017 at 07:16:24
Mirallas did have a goal threat. Before this season, he was scoring goals for us at around the 1 in 4 mark which is pretty decent for a winger/wide midfielder.
Sadly this season that has dipped considerably. Due to bad form or more defensive responsibility put on him by the manager?
I still think he's capable of creating and scoring in the right system and as such is a good player to retain, especially given the large number of games we'll have next season if we progress in the Europa League.
Kunal Desai
17
Posted 10/05/2017 at 07:17:01
I said yesterday on another thread, Kenwright, Elstone and Woods (deadwood) will still hamper the club's progress.
Mike Allison
18
Posted 10/05/2017 at 07:21:02
Surely a Gibson style move to protect his transfer value. Not that Mirallas is a bad player, but it's the most obvious position in the team where we should upgrade to a-genuine match winner.
Brian Murray
19
Posted 10/05/2017 at 07:26:06
Wish you would all stop making excuses for that buffoon. It sums up our total ambition; he's a cancer and Moshiri can't or won't stop it. His investment will crumble or stay still.
He's done exactly the same with 31-year-old Kevin Campbell wile them lot were coming home with two trophies. I told him that to his face, refused his handshake and still would.
I live the club more than the likes of that idiot. It should reflect in season ticket sales sooner or later, he's a loser.
Gary Edwards
20
Posted 10/05/2017 at 07:31:23
And so another summer of false dawns and dented hopes begins, starring leading luvvie Kenwright and faithful aide, Bob.
It's commonly thought that Moshiri is a shrewd businessman; that being so, why would he let Bill and Bob loose with his fortune? Their track record during Moshiri's tenure is not good.
Mirallas being offered a new long-term deal is not the kind of news you expect to hear from a club on the up. He's inconsistent and often surly to the extent he's a liability.
Paul Smith
21
Posted 10/05/2017 at 07:33:09
One of our better players & vaunted by other fans (my mates anyway).
Unplayable on his day; inconsistent? Sure, but no doubting his passion & his "chicken lad" impression was worth a year's extension in itself. I think he respects the club, fans and what he has in the local area, never thought when he arrived some time ago he would settle.
Pleased in the main with this announcement.
Mark Tanton
22
Posted 10/05/2017 at 07:35:25
I hope Super-Kev isn't reading this!
He's a real attacking player and that puts him in the minority at Goodison. I for one am glad he's staying and I'd like to see him get more games. I don't understand why some have expressed worry about this – you can make marquee signings and retain the players you value already in the squad. It's surely not an either/or.
Gareth Clark
23
Posted 10/05/2017 at 07:53:49
I hope he's happy being a super sub...
I think he is good in the right system – but with too much tracking back, it doesn't allow him enough freedom on attack.
Rich Short
24
Posted 10/05/2017 at 07:59:07
Folk here will be quick to discuss the virtues of Kevin Mirallas and no doubt be equally quick to slag off the board. However, it is sensible business sense to maintain the value of your assets.
In monetary terms, player values are amongst the highest assets the club has. Mirallas may be worth £10-12 million in this climate.
What do you do? Preserve the value of the asset or write-off the dosh, allowing him to go on a free. I think it says no more or less about his long-term future than that.
Mike Berry
25
Posted 10/05/2017 at 08:09:52
Super Kev is a super player on his day, a real talent and goal threat. I think he has worked hard and put it in this season and improved his consistency.
I'm pleased to have him stay.
Paul Burns
26
Posted 10/05/2017 at 08:11:49
Has Kenwright got dementia?
This decision is even more insane than giving Seamus Coleman, who may never kick a ball again, a 5-year contract that will take him to 33. What's he going to be like then?
Mirallas is already finished at this level, he's 29 and no one else wants him. He's not worth an extra days contract, never mind a long one.
At this rate, we'll have the same misfiring, disjointed failure of a squad in 5 years time that we're stuck with now thanks to these insane contracts that are rewarding failure.
No wonder the Everton have become an ambitionless laughing stock. End the gravy train for non-performers; Kenwright out NOW before he kills off our future, like he's done with our present and past.
Mark Tanton
27
Posted 10/05/2017 at 08:15:30
Surely it's Koeman who has indicated to the board he wants Mirallas around?
Liam Reilly
28
Posted 10/05/2017 at 08:18:10
I rate him and I'm glad he's staying.
The squad will have several departures this summer and few replacements will be marquee signings, so there needs to be a sense of realism on this site.
The club is not yet at the big table, so why should we expect grade A players to come here if Champions League sides are interested in them.
Or should Moshiri just spend all his cash on insane wages? I doubt that's how he got wealthy.
Paul Burns
29
Posted 10/05/2017 at 08:21:12
What next, Gareth Barry to get a new 5-year contact?
Insane wages are those wasted on old, bad players.
Ajay Gopal
30
Posted 10/05/2017 at 08:23:23
I would rather that we keep Deulofeu than Mirallas. At 29, Mirallas is not going to get better. His career has truly stalled at Everton. It would be good for him and Everton if he were to be moved on.
We need far higher quality in that position – someone in the Fabregas, Mahrez or Sigurdsson mould.
John Audsley
31
Posted 10/05/2017 at 08:27:24
Not too disappointed, Kev is an inconsistent player but never plays in his best position which is main striker or just behind.
Has talent but needs to use it better.
Bill Watson
32
Posted 10/05/2017 at 08:30:27
A good squad player and a new contract enhances his sell-on value so a shrewd move.
I really can't understand posts saying this player or that player is not worth the wages/transfer fee. As long as the admission prices aren't increased, why should we be bothered?
Jim Bennings
33
Posted 10/05/2017 at 08:31:16
Next expecting to see Leighton Baines sign a new 4-year contract!
Not being funny but Mirallas hasn't been at his best this season, and hasn't always looked interested, especially when not been picked, I believe his best days are gone.
Are we just happy to float around with players who are limited to 7th place finishes?
Franny Porter
34
Posted 10/05/2017 at 08:41:34
I think this is a wise move, we need a bigger squad next season with Europe looming and at the very least he's a more than decent sub.
I agree he's maddeningly inconsistent but aren't most wingers?
Dan Egerton
35
Posted 10/05/2017 at 08:46:18
This might explain Koeman's recent comment that he doesn't control who we sign. I'm betting Koeman didn't want Mirallas to stay, but Kenwright did. With Koeman being informed about this new deal, it made him exasperated enough to make said comment?
John Charles
36
Posted 10/05/2017 at 09:07:34
As inconsistent as Barkley;
As inconsistent as Bolasie;
Better than Calvert-Lewin;
Better than Valencia;
Good squad player with moments of magic.
Laurie Hartley
37
Posted 10/05/2017 at 09:11:34
I am pleased about this. Hopefully we will buy a left winger and see the real Kevin Mirallas when he is brought in off the wing and played in his true position of second striker.
Lee Brownlie
38
Posted 10/05/2017 at 09:19:57
So we keep a very decent squad player and we're just a 'laughing stock' now? Sounds like the usual naysayers are at it again, trying to convince everyone else of their view!
How masochistic (and outright fucked up!!) is it to wish such negativity on yourselves, us, all in the pursuit of trying to be proved right???
Peter Larkin
39
Posted 10/05/2017 at 09:24:18
It sends the wrong message for me. The lad is bang average – no debate about it. Name me a top 10 team he would get into?
Here is a player that has been with us for 5 plus years winning zero,; apart from the odd flash here and there what does he offer? Koeman said he wants quality over quantity. For me this signing stinks of we need the numbers for Europe next season.
Loan Deulofeu to AC Milan and sign Mirallas on a long-term deal? This stinks. I'm prepared for another... "We tried to sign xxxx for £50 million, we just couldn't get it through bla bla bla."
No money will be spent until Lukaku is sold – just like the previous summer with Stones. False dawn again!
Ernie Baywood
40
Posted 10/05/2017 at 09:35:25
It's not exactly big news. He's a squad player re-signing.
If we only ever re-contracted stand-out performers, then we wouldn't have a big enough squad to finish a season.
James Morgan
41
Posted 10/05/2017 at 09:44:10
Paul Burns, wow sentiment really isn't your thing is it?
I'm all for cutting "deadwood", Gibson, Kone, McGeady etc, but Mirallas will be a good squad player for the extra games we will have next season.
As for Coleman, he was promised a new deal before his injury and it's only right we honour it. You wonder whether he will come back as good when he recovers, well imagine he does and we pulled the deal for him because of his injury. Who would blame him then for thinking "Thanks for the loyalty (sarcastically), I'm off!"
He's a great guy and a top player and its only right we stand by him.
Stan Schofield
42
Posted 10/05/2017 at 09:45:52
This is good news. He's a squad player, a very good one even though inconsistent (but most players are inconsistent).
On his day, which admittedly should be more frequent, he can rip a defence apart, and he's a pleasure to watch with that combination of skill and aggression.
Barry Williams
43
Posted 10/05/2017 at 09:54:18
I am a little perplexed by ToffeeWebbers sometimes. I really do enjoy reading the articles and the comments, I am happy for people to have a completely different opinion to me cos like everyone I can get things very wrong!
However, it is a case of damned if you do and damned if you don't. If Mirallas was allowed to run his contract down and leave for free, people would moan. He signs a new one, people moan, and we still don't have the full details yet.
Many seem to use anything on here to vent Kenwright hatred. I am neither pro or con Kenwright. There has been good and bad, but would this just be based solely on his decision? Would Koeman have zero say as to whom is on his playing staff? Would Moshiri be completely unaware of this too?
Mirallas I feel can be a frustrating player, but we now have resale value. Also, we're in Europe next season which, for those with a short memory, Europe is very very demanding on the squad. Mirallas can play left, right and through the middle too, pretty invaluable when you are going to pick up injuries and suspensions whilst trying to compete on 4 fronts. Also, we may have targets in mind, but whose to say the will come?
Also, for me the Coleman contract was a fantastic gesture for a player who has proved his worth time and time again. It is a great incentive for him to get back playing again. Everton have shown to be a class act their in a league that is increasingly becoming distinctly unclassy. If he doesn't come back, I am sure we have that covered too, financially speaking.
Also, as strange as the Gibson contract was, he signed and we ended up making a profit on him as far as I could tell as he could have walked for free. The few months wages were worth paying as, in an injury crisis, he could have been called upon, as surprisingly he has been fit most of this season. I seem to recall many being up in arms about that too!
Dan Egerton
44
Posted 10/05/2017 at 10:06:16
By the time his contract ends, Mirallas will be 34. What re-sale value?
I like Mirallas, I have two shirts with his name on it, but I feel he's only been playing decent lately to get a new contract. He will then return to his inconsistent level. I hope I'm wrong.
I hope he starts playing better due to a long term love and commitment to are club (tempered as it is due to possible World Cup duties). In any case, we'll definitely need a bigger squad for the Europa League and I hope he tears it up there.
Gareth Clark
45
Posted 10/05/2017 at 10:08:26
Barry (#43),
You sir are a genius! I agree 100% with what you wrote...
I think we need to be positive about the club, our players & where we are going moving forward.
Barry Pearce
46
Posted 10/05/2017 at 10:16:58
I'm in the disappointed camp.
Bill Watson
47
Posted 10/05/2017 at 10:26:00
Dan (#44),
Are you missing the point here? His resale value at the end of his contract is nil. The value is during his contract.
I'm reasonably happy with it as we'll need squad players next season.
David Ellis
48
Posted 10/05/2017 at 10:47:16
Dan (#44), so we can sell him during his contract before he gets to 34...
We either had to sell him now or offer a new contract, just like Barkley, as he only had one year to go on his current deal.
I don't think it's major news either way, so can't understand the fuss some are kicking up.
Thomas Surgenor
49
Posted 10/05/2017 at 10:51:59
Good news! I like Mirallas, he doesn't often pass it sideways etc. He gets the ball and the only thing on his mind is "How can we get a shot away".
Thomas Surgenor
50
Posted 10/05/2017 at 10:53:57
ps: It wasn't so long ago that he was keeping Mertens out of the Belgian side. I've always felt Mirallas is more effective up top rather than out wide.
Oscar Huglin
51
Posted 10/05/2017 at 10:56:52
Mirallas is absolutely a player we want to keep around. He's been playing well this season. Genuine goal threat, pace and invention. This is such a classic "We just lost, so any news is bad news" reaction.
Dan Egerton
52
Posted 10/05/2017 at 10:57:41
"Are you missing the point here? "
Name the clubs in for him that are willing to pay top dollar, Bill.
Dan Egerton
53
Posted 10/05/2017 at 10:59:22
"Dan (#44) – so we can sell him during his contract before he gets to 34..."
Name the clubs that have wanted to sign him since he came to us in 2012??? If you can name any at all, that number will clearly drop after he hits 30.
Also we play him mainly on the wing, ya know, a position where youthful speed is somewhat a factor... Sigh.
We deserve better than hoping an inconsistent player suddenly finds consistency.
Martin Nicholls
54
Posted 10/05/2017 at 10:59:57
Dan (#44) – what makes you think "long-term contract" means 5 years? I haven't read anywhere what the actual term is but I'd guess 3 years which is eminently sensible.
Paul Ward
55
Posted 10/05/2017 at 11:03:42
This is the philosophy that has kept our club in the depths of mediocrity for the last 20 years. Extending the contracts of non-producing players like Mirallas, Kone, Gibson and a few more, is ridiculous.
Talking of Mirallas being a squad player shows just how low our expectations are of the first team squad next season.
I foolishly thought this summer we would buy some top grade players to replace the deadwood but, as usua,l we will probably get more mediocre players to partner the deadwood.
Phil Walling
56
Posted 10/05/2017 at 11:04:16
Mirallas wouldn't even get to smell a new contract at any of the top six clubs in the Premier League. He's so average and inconsistent and at 29 is hardly likely to improve.
So much for the brave new world but Moshiri is obviously budgeting for 'seventh' – just like his trusted chairman!
Martin Nicholls
57
Posted 10/05/2017 at 11:05:37
As for clubs who have wanted to sign him since he joined us in 2012, if you check you'll see that Tottenham were heavily linked in mid-2015 – just before he signed his current 3-year deal with us.
Brian Harrison
58
Posted 10/05/2017 at 11:10:00
I have no strong feelings either way on Mirallas being given a new long-term contract. I also think it confirms that Barkley is on his way, I am sure if he was near to signing Kenwright would have been the first to tell everybody.
I heard Jagielka being interviewed before he went into the Dixies last night, he was asked about Ross and Rom and he said if they leave then Everton is bigger than any one player.
So a busy summer for Walsh and Koeman. I think if we sell both Lukaku and Barkley I don't think the fans will be happy with 6 to 8 journeymen signings with the money they get from these transfers.
Sam Hoare
59
Posted 10/05/2017 at 11:17:33
Phil @56; plenty of inconsistent or mediocre players in the top 6 squads. Man Utd just handed Jesse Lingard £100k per week, FFS.
Kevin Tully
60
Posted 10/05/2017 at 11:18:00
Lots of comments for a non-event really. We will need our squad padding out for the European campaign, so I can't see any harm in giving the lad a new contract.
I don't think this move is indicative of our ambitions, the manager knows his limitations and I don't see Mirallas being any more than a useful squad player.
I think people are reading more into this because of the way the luvvie announced it at an awards ceremony. You know Bill, he has to put a show on. Relax.
Chris Williams
61
Posted 10/05/2017 at 11:27:22
I'll make my mind up when the transfer window is closed and we see how it all fits together then. We already know that a fair few players are leaving at the end of the season, and that we have other long-term absentees, so we should expect a decent influx of new players, as well as maybe other departures we don't yet know about.
Within a good window this may prove a cost effective way of beefing up the squad for the additional Europa League demands.
We won't know until its over, but to rush to judgement on every development between now and then is to create angst or euphoria depending on your opinion.
Let's wait and see.
Stephen Scofield
62
Posted 10/05/2017 at 11:28:48
I for one am very pleased. His improved work ethic is a yardstick for the some unnamed members of the first-team squad.
James Stewart
63
Posted 10/05/2017 at 11:34:36
Makes the decision to start Calvert-Lewin over Mirallas even more strange recently.
John Charles
64
Posted 10/05/2017 at 11:49:02
Not sure how much people think we are going to spend this summer but by common consensus we need:-
A goalie / two centre-backs / creative mid / forward to play with, or two to replace Lukaku.
This is without left-back cover for Baines or any wide players
Now we should be letting decent players run down their contracts and leave.
Anyone who thinks we are going to spend the £150mil to cover this is misguided.
Joe O'Brien
65
Posted 10/05/2017 at 11:56:16
Initially, I thought... "Oh God," I had him down as one going out to make room for a better, more consistent winger coming in..the more I thought about it it might be a good bit of business. Kev is not going to get us challenging for the champions league spots next season.
I see him as a squad player, mainly for the Europa League. He'd be a good senior player for that. If Jags and Williams don't move on, they should also play that part in the squad. If Mirallas is being given a new contract with the view of trying to get us into the top 4... we're in trouble.
As Chris @61 says we'll know the answers once the transfer window closes.
Chris Williams
66
Posted 10/05/2017 at 12:07:22
John,
I completely agree. By my reckoning we will be losing 5 players who are on loan, plus Kone and possibly Valencia. We are missing Seamus, Bolasie, Funes Mori and possibly Lennon long term. That's a lot of gaps to fill. A lot of them are attacking and midfielders. Mirallas staying is part of that context.
I reckon we can get about 㿊M in fees for the loan players which will pay for one of the replacements maybe. So if we need say 5 to 7 players in, which I reckon we do, the idea of Rooney on a free might make some sense, or Martina from Southampton as a stop gap for Seamus.
Koeman has said we need to focus on 27- to 29-year-old players, players at their peak then who won't come cheap. He has also recently said that Baines is probably one of the players of the season, so possibly he's going nowhere.
It might also imply that someone will be sold... Barkley? His fee would pay for the likes of Sigurdsson.
But we won't know until its over, so probably best to avoid the bipolar reaction after every single deal between now and then.
Shane Corcoran
67
Posted 10/05/2017 at 12:08:22
After my initial shock, I'm guessing that Koeman realises that he needs to have at least a bit on continuity rather than replace everyone.
As Mirallas isn't at the top of the list of players to discard it's best to tie him down in the hope of getting a few quid for him eventually.
From Mirallas's point of view, he probably can't believe his luck and will most likely perform no better than he has this season.
Matthew Williams
68
Posted 10/05/2017 at 12:11:57
Jeez... why?
He's done; too many chances & failed to deliver... Please sell!
Matthew Williams
69
Posted 10/05/2017 at 12:23:32
Most Blues wanted him out after the West Brom game, he cost us then & still is doing so.
Bring back our loan players, add in quality from the teams that go down, and improve our existing squad to perform!!!
No-one of real top quality will come here at the moment, unless we pay obscene money (which we won't do).
Scott Hall
70
Posted 10/05/2017 at 12:32:29
Good player on his day so worth keeping around. But I would be much happier knowing that Deulofeu was going to be back playing next season.
Yes, he's frustrating and he can't defend, but if he's on the pitch we create chances. We have nobody creating chances at the moment and the last 3 games tell us we desperately need a creative player up top.
Ste Traverse
71
Posted 10/05/2017 at 12:34:06
He'll be a handy body to have around the squad with us being in Europe next season so, unlike the usual selection of cry-arsers and whingers, I'm fine with this.
Ian Burns
72
Posted 10/05/2017 at 12:41:23
I can't see the fuss over this. Kevin Tully (#60) has summed this up perfectly – no problem with this signing, so we move on to the next one, which might be a tad more exciting, hopefully.
Mark Rankin
73
Posted 10/05/2017 at 12:47:07
Yeh, Mirallas came out okay in this but check out Enner Valencia, ouch...
Jason Bowen
74
Posted 10/05/2017 at 12:48:26
Good news! Mirallas is a great player and he will probably be employed as a makeshift striker at times next season with the other fella constantly crying for a move!
Jon Withey
75
Posted 10/05/2017 at 13:03:14
Good Premier League squad player; no transfer fee; isn't injured the whole time.
Bill Watson
76
Posted 10/05/2017 at 13:08:28
Dan (#52),
I haven't heard of any clubs currently offering 'top dollar' but, once again, that's not really the point.
By tying him to a new contact we get a useful squad player and the guarantee that, if he were to go, we'd get some sort of a fee.
The alternative is to let his current contract run out so he can go for free and then we'd have to replace him with someone else which would cost a fee etc.
I'm far from his greatest fan but this one's a no-brainer.
Lewis Barclay
77
Posted 10/05/2017 at 13:18:52
Pretty simple decision, I think:
Deulofeu leaving, Bolasie injured, Calvert-Lewin breaking through, Barkley to his natural position, Valencia on loan, Kone leaving etc
I wonder if this will soften things a bit for Lukaku staying at least one more season???

Michael Penley
78
Posted 10/05/2017 at 13:20:23
If I were in charge of salaries, I would give him and his family enough to survive each week (let's say £1000 to be generous) and then £60k per goal he scores or assists. That should go for our strikers as well.
Tom Bowers
79
Posted 10/05/2017 at 13:25:11
Is this a joke? Does this reflect the ambitions of Everton to keep a player who is at best average?
They should be shipping him out along with a bunch of others while they can still get a fiver for him.
Do they really need him for 10 minutes late in the game? He hasn't shown he can do anything special except be anonymous these days. He is no better than McGeady.
Liam Reilly
80
Posted 10/05/2017 at 13:30:24
There might be a few selfish footballers on the field Michael if they can get paid more for scroing a goal than they get in their annual salary.
David Barks
81
Posted 10/05/2017 at 13:33:06
Michael,
And in your fantasy land I'm sure there would be players lining up to play for Everton. "And in my world, the players would wash their own kits. Why the hell should the club do it when I do my own laundry!"
My God...
Michael Penley
82
Posted 10/05/2017 at 13:51:51
Liam – If we do see such selfishness in players, then it's clear that performance and ability to score goals is influenced by pay (something which our current salary system denies) and then surely their performance should be rewarded in some way by financial incentives? I'd like to see a football club operated along those lines.
Jay Wood
83
Posted 10/05/2017 at 13:57:50
If Koeman, Moshiri and Co followed the recommendations of the accumulated wisdom of TW on who to ship out, we would be left with a squad that would struggle to make a 6-a-side game.
We will be playing on many fronts next season, including mid-week Europa League games. Yes, I anticipate there will be an interesting turnover of players this summer. Quite a number have already left the club under Koeman.
However, in addition to the natural attrition of aging players' contracts ending or being moved on, Koeman will be wise enough to understand he needs numbers as well as more quality. For that reason I have no issue that the club wishes to retain Kevin Mirallas.
He can frustrate, but I have in the past defended Mirallas. After he signed his last contract extension – between Roberto's 2nd and 3rd seasons – he was criminally under utilised by the manager whilst the team stank the place out all season.
I don't think he has performed at the levels or consistency he is capable of under Koeman this season, but his fitness and stamina levels appear to have improved, he tracks back better and – as he has always displayed – there is a bit of a nark and devilment in Kevin. Something our squad as a whole seriously lacks.
He may not always be first choice in the Brave New World we hope Everton is about to enter, but more than a useful squad player he certainly is.
Eddie Dunn
85
Posted 10/05/2017 at 13:59:41
Mirallas is an enigma. He has bags of skill but remains inconsistent.
Hardly the kind of announcement to fill the hearts of the faithful with hope of better things ahead... it suggests, more of the same folks!

Gary Russell
86
Posted 10/05/2017 at 13:59:52
I'm hoping the whole point is so he'll have a sell-on value.
Yes, I want to sell him. He has not contributed enough when looking back in however many seasons he's been an Everton player. And his attitude, well, it could be better, but doubtful that will change
Kieran Kinsella
87
Posted 10/05/2017 at 14:01:30
We should use the same wage structure as Fagin. Send the urchins out onto the field, see what they produce, then divvy up the spoils and the gruel accordingly.
Kieran Kinsella
88
Posted 10/05/2017 at 14:08:13
Imagine if Kenwright was in charge 25 years ago...
Five-year extension for Ian Wilson. We won't sign a midfielder because Mike Milligan is family. Neil McDonald's fit enough for one game – he's like a new signing.
Joseph Terrence
89
Posted 10/05/2017 at 14:24:35
Talk about overreacting. Mirallas is a good squad player and it is good business to tie him up as he can help out.
John Raftery
90
Posted 10/05/2017 at 15:04:10
As usual, there are many negative comments about anything the club does to keep hold of our better players. Mirallas is a decent forward who actually looks fitter than he has done at any time since he joined us.
We will be trying to unload more than a few players in the summer but it would have made no sense to include Mirallas in any clear out. In fact, it makes total sense to keep hold of him especially with the Europa League in mind.
John Raftery
91
Posted 10/05/2017 at 15:13:55
Kieran (#88),
As regards a five year extension for Ian Wilson, you might ask why we signed Ian Wilson in the first place.
Who was the Chairman at the time? None other than Phil Carter? Who was the manager? None other than Colin Harvey.
Every regime has made mistakes in the transfer market. We have made fewer under Kenwright than most clubs and certainly fewer than we did between 1987 and 1999.
Gary Russell
92
Posted 10/05/2017 at 15:14:28
Kevin Antonio Joel Gislain Mirallas y Castillo, to give him his full name. Fook, didn't know he had Spanish blood. Explains a lot. Overreacting Terence? Super Kev rarely overreaches. I moved my arse and Googled: we signed him Aug 2012 for ٤ mil.
I'd sell and upgrade, at a profit too, no doubt. Why keep someone, who for five years, has shown bugger all when all things considered? Younger, better, or am I believing too much into Moshri-Mega-Bucks?
And while I am at it, I have seen posts on this thread and others mentioning Cleverley. He has signed for Watford months ago, or do I need new glasses and/or a lobotomy?
Jay Harris
93
Posted 10/05/2017 at 15:31:55
A lot of polarised views on this post.
Pro Mirallas, Anti-Mirallas, Pro Moshiri Koeman, Anti Moshiri-Koeman.
Wouldn't the world be a lovely place if we could all just get behind the club and be part of the climb back to our rightful place at the top of the tree, enjoying the view from the banks of the Royal Blue Mersey?
As the saying goes "a thousand-mile journey starts with the first step" and I for one can see the progress at the club since Moshiri took over.
Phil Walling
94
Posted 10/05/2017 at 15:42:51
Whilst the focus is on new signings, I wonder how many of Unsy's 'wonder kids' will make a breakthrough next season?
My bet is that in 12 month's time Davies will be the only one in the side on anything like a regular basis. Calvert-Lewin has been given his chance to claim a spot and failed dismally – thus the necessary retention of Mirallas!
Peter Cummings
95
Posted 10/05/2017 at 15:43:59
I think given more game time he could once again be an asset to us, but being a talented player practically ignored by Martinez and only being a sub for most of this season he must be wondering what he has to do to please the hierarchy.
Kev knows he is well liked by the fans, inconsistent or not, and given playing time on a regular basis I believe his passion for both the club and fans will further show his value as a class act, just saying.
Tony Hogan
96
Posted 10/05/2017 at 15:58:46
Love him or loathe him, for me, he was the only player putting in any type of effort on Saturday.
Alan J Thompson
97
Posted 10/05/2017 at 16:00:27
My guess is that it is already known that Lukaku will move on in this transfer window and it is rumoured on BBC that Chelsea and Man Utd are interested. That being the case, it is unlikely that we will find a similar style player and Koeman doesn't seem interested in old-fashioned English type centre-forwards. Therefore, we are probably looking at two sharpish forwards, more like Vardy, which would make Mirallas a good cover at least.
Mike Gaynes
98
Posted 10/05/2017 at 16:25:43
Barry (#43), Kevin (#60) and Jay (#83 and #84!), great posts. I'm surprised myself, but I think he's worth the investment.
Paul Burns (#26), I'll wager you're the only one here who thinks the club was wrong to do the honorable thing and and follow through on a new contract for Seamus that was agreed before he was hurt.
And speaking of wagers, regarding your acidic comment that Seamus "may never kick a ball again"... I've got a hundred that says you're wrong. Loser donates the hundred to Everton In The Community. Got the guts to take me up on it?
Dermot Byrne
99
Posted 10/05/2017 at 16:27:45
On here sometime soon reminds me of Holy Grail.
"What have the Romans ever done for us?"
"Roads?'
"Well, yeah but..."
"Sewers?"
"Well ,okay but..." etc.
Paul Tran
100
Posted 10/05/2017 at 16:28:26
A good squad player, nothing more. If he's first choice at the start of next season, I'll be disappointed.
Jim Hardin
101
Posted 10/05/2017 at 16:42:54
As this is no more really than the club holding onto one of its better players and stopping speculation and poaching, I am not sure what the fuss is about.
I for one am glad to see the club doing what needs to be done to keep as many of its Belgians as is possible, since both happen to be better than the rest of the so-called strikers and forwards on the team. I find it odd that some of the posters citing his age and presumed decline in skills are the same who want to bring in a 31-year-old striker/forward who has clearly seen the best of his career and who would wreck the wage structure of the club. While Kev might not start for a top 4 club, neither would Rooney.
Play Super Kev in his normal spot and he will produce. Play him where he currently is with someone other than Ross "Black Hole" Barkley who can actually get him the ball and not run right into the same space Kev is headed towards, and he is a scoring threat.
A strong squad is going to be needed to try to win the domestic and Europa League competitions, and to do well in the Premier League. This just gets necessary business out of the way early and allows the club to focus on addressing needs rather than being hit suddenly with an unexpected hole in squad depth due to a club coming in for Super Kev over the summer.
I expect others will be signing extensions if they are deemed to be needed for the squad. Along this line and not to be unkind, but did someone really suggest Cleverley? Cleverley! Too much for me.
Steve Hogan
102
Posted 10/05/2017 at 16:45:24
Seriously? Only an imbecile (our current chairman), would announce to a 'packed house' that one of our most inconsistent players is about to sign a new long-term contract.
Did he expect a standing ovation for this 'exclusive, watch this space'?
Just how out of touch is he?
Nurse, where's my tablets...
Denis Richardson
103
Posted 10/05/2017 at 16:52:25
We still need to clear a few faces from the squad but Mirallas is not one of them, imo. He's a decent player and one of the few we have that is actually a goal threat. Good to have in the squad.
Let's focus first on replacing the likes of Barry, Jagielka, Besic, McCarthy, Kone etc. Also we need a new right-back as Coleman won't play till 2018 and we can't have a stop-gap for half a season. Never mind another striker and creative midfielder.
Alan McGuffog
104
Posted 10/05/2017 at 16:57:49
Overcome with indifference. Could be a decent player if someone like Tony Kay, Johnny Morrisey, Peter Reid pinned him against a wall and told him to get his bleedin' finger out.
Michael Kenrick
105
Posted 10/05/2017 at 17:03:11
Gary (#92),
I'm not sure what to recommend by way of medical intervention, but [dons tinfoil hat] I feel duty bound to let you know that Thomas Cleverley is still an Everton player.
Yes, he signed for Watford... but t'was only a loan deal. He's still ours; teary old Bill just can't let him go.
Michael Spear
106
Posted 10/05/2017 at 17:15:26
Erm, Michael @105, I would refer you to Watford FC's official site:
"The Hornets got their man on a permanent basis in March 2017, Cleverley putting pen to paper on a five-year-deal at Vicarage Road."
I'd add a suit of armour to that tinfoil hat if I were you.
Ross Edwards
107
Posted 10/05/2017 at 17:16:21
Mirallas is a good squad player and with us being in Europe next season, strength in depth will be important if we want to fight on all fronts next season.
John Pierce
108
Posted 10/05/2017 at 17:23:57
This surely should be footnote on the website? It kinda feels like Moshiri has let Bill do his pantomime bit for the cameras.
Make the club look and feel small time, contract shit should be seen and not heard as my bellowing father would say.
This despite the weirdness of the announcement it is key to how we behave as a club doing our business. To date I thought it had been professional and low key.
Just hope this is not a foreshadowing of the summer to come, like a landed fish flopping hopelessly in a bucket.
Paul Holmes
109
Posted 10/05/2017 at 17:49:48
Is Everton the new retirement home for players!
Hibbert played his one game a season for the last five years; OAP Barry has a new deal; now Mirallas. This is a joke, the players mentioned are multi-millionaires already – we don't have to increase their wealth any more.
Would a top team like Spurs do this? Answer: No; that is why they are a top team, moving forward every season, while we are going backwards with a rubbish management structure that sanctions these deals!
Ste Traverse
110
Posted 10/05/2017 at 17:53:18
John Raftery #91
Kenwright has been on the board since 1989, so for all but 2 of those years you mention so what's your point?

Spencer Glaze
111
Posted 10/05/2017 at 17:57:50
Kev has looked pretty good to me this season. I don't know what everyone's fuss is about. It's not like you're paying his wages or anything.
Kieran Kinsella
112
Posted 10/05/2017 at 18:27:38
John,
It's one thing to make a bad signing; it's another to keep giving him new contracts. Did anyone else find Kenwright's wording curious? "If someone wants to join us" – We can't force someone to join us against their will so why qualify his spending statement with that remark.
Unless blue smoke Bill is going to play the card "No point going after XYZ cause he said in a Belgian paper he wants a Champions League team. Joey Barton on the other hand is a true blue"
Mark Morrissey
113
Posted 10/05/2017 at 19:01:49
Picks the ball up outside the box and puts head down. Then runs in an arc across the box and beats a couple. Runs a bit quicker and then pulls the trigger and tries a shot whether a shot is on or not. Then disappears until he can do it all again.
I'll try it 3 or 4 times again and then stroll off. "An enigma" someone said. "Shite and predictable" I say. Disappointing news, very disappointing. I was made up when he was agitating for a move under Bobby cos he's shite and I wanted him to go. Now he's staying... "Why?"
Sam Barrett
114
Posted 10/05/2017 at 19:08:14
At least he puts in a shift and looks like he cares when we play the RS.
Mike Gaynes
115
Posted 10/05/2017 at 19:10:21
Michael #105 and Michael #106, you're both right.
Cleverley's permanent deal with Watford was signed March 31. However, it does not take effect until July 1. So legally he is still under contract to Everton.
Doff the tinfoil. It's not a good look anyway.
Ciarán McGlone
116
Posted 10/05/2017 at 19:14:48
This is sensible. Great player on his day and it would be financial idiocy to let him walk away for free.
Those complaining about this either have unrealistic expectations of Moshiri.. or are simply a bit daft.
Gio Mero
117
Posted 10/05/2017 at 19:19:37
Koeman said we need a bigger squad. With this in mind, we could do worse than extending Kev's contract. He knows the club and has good quality. I think it makes sense technically and financially.
Number-wise, one less worry for Koeman and more time to focus on building next season's squad. I would hope by now we'd have selected a few targets outside the obvious and often difficult Premier League market.
Let's go get ourselves a Dybala in Argentina, I say.
Lev Vellene
118
Posted 10/05/2017 at 19:34:05
My initial thought was "What???"
But as I've have been fond of reminding TW readers, next season we will ideally need close to two teams due to the Europa League spot we've (almost) achieved.
We have to stop thinking of every contract agreed, or offered, as being for the one player to fill that spot!
Ooh, I love this new era of thinking beyond only a first XI for any contract/purchase!
And as a sort of ps: Since Chelski became a thing, I've always hoped we'd find someone to "own" the club who would be financially able to incrementally, but unavoidably, bring us success on our own terms! Just to be able to say that we did it ourselves, and not by blindly throwing wads of money in all directions until we had all the mercenaries in our own camp!
But especially that by way of the youth we were developing, just like Man Utd did way back, we could make any progress a thing mostly of our own making!
Mark Morrissey
119
Posted 10/05/2017 at 19:48:20
You've said it all, Ciaran – "great player on his day."
That is, when it suits him. Why do we want a player who only turns up when he wants to? Bizarre.
Brent Stephens
120
Posted 10/05/2017 at 20:10:57
Lev (#118) – your final paragraph says it all for me. Couldn't agree more.
Eugene Ruane
121
Posted 10/05/2017 at 20:18:33
Lev Vellene
122
Posted 10/05/2017 at 20:35:46
Eugene, you're a cantankerous old bastard, and I don't really want to know how you have the time to find all those wonderful links!!! :D
Edit: Sorry about that, the word "wonderful" might be termed as positive... It should not be applied to Eugene without his specific agreement to it being confused with being identified as pertaining to being an Evertonian! Or whatever, clause pending, and so forth... ;P
Eddie Dunn
123
Posted 10/05/2017 at 20:42:42
Love that link, Eugene!

Mike Gaynes
124
Posted 10/05/2017 at 20:47:54
Mark #119, it's his performance that is inconsistent, not his effort... at least not now. He was often lazy in previous years, but Koeman kicked him in just the right places, and these days he always turns up.
I thought he was our only good performer against Swansea.
Lev Vellene
125
Posted 10/05/2017 at 20:54:37
Mike (#124),
Mirallas can be as good as he thinks he is, on his day..., but he might need a good kick to his ass to shake him up enough to make him have a new reality-check!
Mike Gaynes
126
Posted 10/05/2017 at 21:02:36
Lev, he's not a great finisher, never has been, but he's as good as anyone we've got with the ball at his feet. The first thing I ever saw at Goodison in person was him bursting through three defenders to set up Davies's goal.
As has been said above, sometimes it's his day and sometimes it isn't, but to me that's a function of confidence, rather than effort. When he comes out and gets immediately into the attack, he generally has a very good game. But if he's not involved early, he rarely comes in later.
Michael Kenrick
127
Posted 10/05/2017 at 21:04:05
Thanks Mike (#115),
Seems we missed that one back in March... and TransferMarkt still list him as an Everton player on loan at Watford. His contract ran through 2020... so what was the transfer fee? They list a value of €8M. Or did Uncle Bill just give him away?
Okay, I see now Sky reported it... undisclosed fee. Wouldn't ya just know it.
Clive Rogers
128
Posted 10/05/2017 at 21:15:15
Hopefully Kenwright has opened his big gob and blurted out something that is complete rubbish. Mirallas is a poor player and there is no way Koeman wants him. He's left him out far too often this season to rate him and has been picking Calvert-Lewin and Valencia before him recently. Got to be a mistake surely.
Mike Gaynes
129
Posted 10/05/2017 at 21:16:20
Michael, I assume the fee will be reported once the deal becomes official July 1.
It might not even be set yet. One story reported that the transfer option was triggered by Tom's number of appearances. Maybe the transfer fee is linked to that as well.
Oliver Molloy
130
Posted 10/05/2017 at 21:28:35
Cleverley would fetch between £6 - 8 million, you would think.
It's a pity Mino Raiola was not his agent – we may have gotten £30 million for him!
If it is true this guy made £43 million odd from the Pogba transfer, it is disgusting.
I wonder can FIFA actually do anything other than issue a statement of concern?
Jim Hardin
131
Posted 10/05/2017 at 21:29:07
Clive,
Mirallas is a known commodity to Koeman given his years of playing top flight football. Koeman surely has seen what he has to offer. On the other hand, he has not seen what Calvert-Lewin has to offer over a stretch of games.
With nothing left to play for (6th versus 7th) doesn't it make sense to give others a run out to see if they need to be loaned out, sold, or added to the squad for next season?
Mirallas not playing has nothing to do with Koeman's opinion of him but a lot to do with his forming an opinion about others.
Colin Glassar
132
Posted 10/05/2017 at 21:52:28
I'm still amazed that Bill and Bob didn't offer Ossie and Hibbo contract extensions. Or maybe there's a different rule when it comes to local lads.
Eugene Ruane
133
Posted 10/05/2017 at 21:53:42
Thinking about Mirallas (who I don't hate, despise, or loathe etc, but do think he flatters to deceive and often just..deceives).
Something both Mirallas and Lukaku do that makes me wonder if it is a Belgian 'thing.'
They both appear to believe they can defy the laws of physics and push matter through matter, simply by using... the power of wishful thinking.
Their 'thought' process seems to be..
"I'm running wide with the ball...I will cut inside..I have cut inside...I won't look up..I will shoot..but there is someone standing in front of me...I can't get a shot past him he's a dead big centre-half...his feet are together..there's no way I can get the ball past him and into the net...but wait! The power of wishful thinking...I'll try putting the ball through him!"
Shoots, hits leg of defender standing six inches away, ball understands the laws of physics so bounces off defender away from goal. 'Attack' comes to nothing, player reacts as though he's just missed a golden chance (three better placed players curse, sigh, point to where ball should have been passed).
Oh and I am presented with a signed shirt for uttering my 1 billionth 'For fuck's sake Everton!!' since my first visit to Goodison in 1966 (wasn't that hard, remember I saw Joe Harper, Bernie Wright and Tiger McLaughlin).
Ian Riley
134
Posted 10/05/2017 at 22:16:35
Might take a little bit more to challenge a top four finish. At least this will stop all the interest from Champions League clubs!!!
Eddie Dunn
135
Posted 10/05/2017 at 22:35:36
Eugene, they were both seen reading "The men who stare at goats" on international duty. Is it possible Everton are part of a CIA programme, and we have to keep Kev as the thing isn't over yet?
Don Alexander
136
Posted 10/05/2017 at 22:46:13
"Wishful Thinking" is a 100% genuine Belgian dark beer that's 10.5% proof (Google it to check folks)! Perhaps it's knocking it back that makes our Belgian pair play like they do.
Lev Vellene
137
Posted 10/05/2017 at 22:49:11
Ian (#134),
Tony Bellew in an elf costume visiting the strikers of the other "top 10"? That might work...... :P
John Raftery
138
Posted 10/05/2017 at 22:49:13
Steve (3110),
Yes, Kenwright was on the Board from 1989 but he was not leading on transfers until December 1999. So I would not give him credit for signing any of the team which won the FA Cup in 1995 or blame him for signing the likes of Brett Angell and many other duds in that decade.
Kieran (#112),
I don't think Mirallas can be described as a bad player. As regards Kenwright's remark 'if a player wants to join us' he also added something along the lines of 'and Ronald and Steve Walsh want the player, I can guarantee we will get him'. My interpretation of that was that money will not be the obstacle it has been in the past.
Michael Spear
139
Posted 10/05/2017 at 23:00:06
Mike (#129), Michael (#127),
I live in Watford and the locals here say Cleverley's transfer was triggered by the number of appearances, so that was why he could sign outside of the transfer window. But of course he can't, so that's why it will take effect in July. I didn't know that, so apologies Michael.
The locals also say the fee was ٦ million, cheap at half the price you might say... nah, maybe not.
Jim Hardin
140
Posted 10/05/2017 at 23:15:46
Eugene,
Surely you can't be correct since between them Rom has scored 164 times in his senior career thus far and Kev 99 times per the stats.
I'll take 263 goals from these two players and ask for three more Belgians to join them at the club. Can you imagine it? The total number of blocked and deflected kicks and goals would be astounding!

Ian Herbert
141
Posted 10/05/2017 at 23:27:45
Bad move for me. Good money tied up in a player who rarely produces. Way too inconsistent, doesn't score enough goals and doesn't get involved anywhere near enough.
If the idea is to use him solely as a squad player, then why not make it a 2-year contract? His performances have never won me over, although I did enjoy his revenge mission against the red shite and the toothy one in particular!!
Gary Russell
142
Posted 11/05/2017 at 01:16:17
Gary Russell
143
Posted 11/05/2017 at 01:19:38
Knew I had seen it somewhere. Story opens with 'Watford have completed the permanent signing of Tom Cleverley from Everton for ٦million, following the midfielder's successful loan spell at Vicarage Road.'
I know its the Mail, but didn't realise they operate in a parallel universe, too.
Kieran Kinsella
144
Posted 11/05/2017 at 01:20:47
John (#138),
I hope that's Kenwright's intent and on face value it is. But I've been hoodwinked by him many times so for me I guess seeing is believing.
Daniel Lim
145
Posted 10/05/2017 at 01:44:59
Michael,
That's an interesting idea and I too would like to see that. Not £1,000/wk though, maybe £3,000. And make every goal £1m. Lukaku would have earnt £24m in the current season.
How much would he get if he signs a new contract with £200k/wk? About £10m plus goal bonus.
Peter Thistle
146
Posted 11/05/2017 at 02:28:14
Kev has been hit and miss from Day 1. He rarely makes it the fully 90 minutes without being subbed and is most ineffective. Hopefully it's just a contract so we get more cash when he leaves, he's always expressed a desire to play in Spain.
James Newcombe
147
Posted 11/05/2017 at 09:33:15
I would much rather keep Deulofeu, to be honest.
Stan Schofield
148
Posted 11/05/2017 at 09:47:17
Daniel @145: Maybe the package could be 3 square meals a day, one hot bath a week, a canteen of 14% proof Belgian beer a day (to maintain the rate of blocked shots), vouchers from the local general store towards the costs of his kit, one bar of lie soap per month to clean said item, Sunday off to attend services from the local preacher, and one evening off per week for leisure.
In return, he'd have to sleep in a cardboard box (if he was lucky), get up before he went to bed, and train on the local tip with a tennis ball (after which, playing with a football on Goodison's hallowed turf would be easy).
Martin Nicholls
149
Posted 11/05/2017 at 10:05:02
James (#147) – I too like Deulofeu but this isn't an "either or" situation. If Koeman wants, he can keep both so long as Barca don't invoke their buy-back clause.
Tony J Williams
150
Posted 11/05/2017 at 11:43:16
"Five-year extension for Ian Wilson."
Oh just fucking brilliant.
Well! that's me having nightmares tonight .
Clive Rogers
151
Posted 11/05/2017 at 12:55:30
Jim (#131),
Mirallas has been in and out of the team all season really and has been subbed a lot. I feel sure Koeman doesn't rate him.
He's got 30 goals for us in 144 appearances (Premier League) and 4 in 33 this season. None since WBA, 11th March. Not good enough.
Mike Allen
152
Posted 11/05/2017 at 14:59:35
This is a lad that needs confidence-building on a regular basis; he's not as bad as some are making out. I think he has been the fall guy, even when playing well. I have no problems keeping him.
Eivind Nyhus
153
Posted 11/05/2017 at 15:39:32
Some in here are screaming for Lookman to play more, yet Mirallas isn't good enough? Kev might be a little unstable in his form, but he's still the best attacking winger we've got.
I have no idea why Koeman uses Calvert-Lewin or Lookman over him; it's silly, and has lost us more than three points.
Dean Ilott
154
Posted 11/05/2017 at 17:07:52
I welcome the news. I think Mirallas is a good attacking option, experienced and obviously happy to be at Everton.
Sure, he's been inconsistent, but if we dropped every player who was inconsistent we'd have a pretty small squad.
While we're at it, can we keep Deulofeu?
Nigel Johnson
155
Posted 12/05/2017 at 01:27:21
Guys, what is the matter with some of you on here? Barkley stays... Barkley goes. This is so simple – I don't understand why some people are making a mountain out of a molehill.
Why would any supporter want to support a player who doesn't want to play for the club? If he wanted to stay, he would have signed at least a month ago. So he clearly doesn't have the love for the club he once might have had.
Just because he came through the ranks means very little these days. A blue is just a blue in some players' eyes until they see red or white or a different shade of blue i.e Manchester red or Tottenham white or Chelsea blue or Manchester City blue – suddenly the Everton blue is not so true anymore.

Barkley won't be happy to stay as competition is arriving and he will be dropped if he doesn't produce more often than not. He is going to be happy winning a medal but being on the bench of another club – get rid and move on.
Kevin Dyer
156
Posted 12/05/2017 at 16:17:02
Squad depth move, clearly. I'm not sure Koeman rates him but he upped his workrate, unlike Deulofeu, so he got used.
Assuming Koeman saw this coming, I would've thought it might have been an idea to actually give him a run as a starter, like say 5 or 6 consecutive games, particularly considering our lack of options... but nope. So it's still unclear how useful he is. Baffling.
To those suggesting this is Everton protecting our investment etc like Gibson (???) that makes zero sense. He's 29 now with 1 year left. If we want to sell him then right now is the perfect chance to raise a decent fee. Extending his contract does nothing.
Ditto with Gibson. We offered him a new deal, presumably a signing bonus of at least a couple hundred grand, paid him to sit on his arse for 6 months (at presumably a minimum c £20k pw) then offloaded him to Sunderland. What'd we get for him? I'd be amazed if they paid over ٟm so all that effort earned us what? £500k at best. Utter waste of time.
---
Add Your Comments
In order to post a comment, you need to be logged in as a registered user of the site.
Or Sign up as a ToffeeWeb Member — it's free, takes just a few minutes and will allow you to post your comments on articles and Talking Points submissions across the site.