Gracious Cleverley among confirmed departures

63 Comments [Jump to last]
Saturday 1 July 2017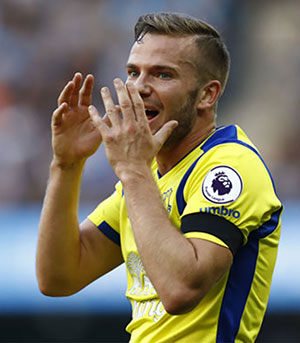 Tom Cleverley leaves for Watford after two years with Everton
Tom Cleverley and Arouna Koné are the two first-teamers listed among a dozen players leaving Everton this summer.
Koné is the most senior player to be released after his contract expired while Cleverley completes an £8m move to Watford, although the fee is officially undisclosed.
The former Manchester United midfielder spent the second half of last season on loan at Vicarage Road and made enough appearances with the Hornets to trigger a clause in the deal to make the switch permanent in the close season.
Meanwhile, one teenager looks to have been added to the academy at Finch Farm with a post on Twitter that 15-year-old Einar Iversen has joined from Stord IL following trials at Everton.
Another looks close to signing as well with journalist Jean-Seb Gallois revealing that 19-year-old forward Boris Mathis has signed a two-year deal with the Blues that will see him arrive from Metz although the deal has yet to be confirmed. A product of Lyon's youth academy, he has just broken into Metz's first team, making two senior appearances earlier this year.
And German winger Anton Donkor looks like he could be getting a second chance with the Under-23s after he posted an Instagram story of him checking into a Liverpool hotel room.
Donkor was signed on loan from Wolfsburg in January but his bid to impress David Unsworth were hampered by injury that prematurely ended his season.
Goalkeeper Louis Gray will be with Unsworth's team for another season after he signed a new one-year contract with Everton.
Full list of players officially leaving Everton today:
Arouna Kone
Conor McAleny
Jack Bainbridge
Delial Brewster
Michael Donohue
Tyrone Duffus
Russell Griffiths
Connor Hunt
Josef Yarney
James Yates
Cleverley had nothing but good things to say about the Toffees when he spoke following the confirmation of his permanent move south despite his time at Goodison Park not quite going to plan.
"When I look back on my career, to be able to say I've played for Everton as well as Aston Villa and Manchester United," he said, "historically three of the biggest clubs in English football, that's something I'm massively proud of.
"Before I joined, I knew what a historic place Goodison was and about the great atmosphere it creates.
"I made a lot of good friends at Everton, the chairman (Bill Kenwright) was great and I really have a lot of respect for both managers I worked under.
"I just want to say thanks to everyone at Everton for giving me the chance to play for such a special team.
"Unfortunately it didn't quite work out and I don't think they saw the best of me but good luck to them in the future, I'll always look out for the team's results and hopefully they carry on improving."
---
Reader Comments (63)
Note: the following content is not moderated or vetted by the site owners at the time of submission. Comments are the responsibility of the poster. Disclaimer
Charlie Lloyd
1
Posted 01/07/2017 at 16:27:19
He may not have been a success on the pitch but dignified parting words to be fair.
Liam Reilly
2
Posted 01/07/2017 at 16:38:08
Nice words from a gentleman; best of luck, Tom.

Brent Stephens
3
Posted 01/07/2017 at 16:44:22
Good man, Tom. Best of luck for the future.
Tony Hill
4
Posted 01/07/2017 at 16:54:39
Yes, indeed, what a fine exit.
Dave Abrahams
5
Posted 01/07/2017 at 16:57:00
He wasn't as bad as he is painted by some on here. He played in a variety of positions, never moaned, just got on with it whether he was sub or subbed, always gave his best.
The time I'll always remember is when the crowd (quite a lot ) applauded when it was announced he was being replaced as the sub, not a good memory either.
Good luck with your future career, Tom, wish you well.
Christy Ring
6
Posted 01/07/2017 at 17:03:38
Very gracious and dignified about his time at Everton, classy person.
Bob Parrington
7
Posted 01/07/2017 at 17:14:57
He also did some good work on the pitch. I remember one awesome cross from the left wing just in to the opposition half to "sorry I'm getting old so can't remember who latched on to it" for a great goal for us. This was not the only good thing but is the most memorable.
Nice guy and I'm sure most of us, if not all, would wish him luck at Watford.
Gordon White
8
Posted 01/07/2017 at 17:22:52
I agree with Christy Ring (#6) –Shame Lukaku and his agent couldn't act like that. No matter how much skill and talent a footballer has – respect and manners cost nothing.
All the very best to you, Tom.
Brent Stephens
9
Posted 01/07/2017 at 17:32:02
Bob (#7) – "one awesome cross from the left wing just in to the opposition half to "sorry I'm getting old so can't remember who latched on to it" for a great goal for us".
Well, you wouldn't want that name on the back of your shirt!
Andy Meighan
10
Posted 01/07/2017 at 17:36:18
Never his biggest fan by any stretch... but the lad has gone right up in my estimation after them words. Hope he gets a fantastic reception when he comes back next season and I'm sure he will.
Tom Bowers
11
Posted 01/07/2017 at 17:40:06
A decent player who just lacks that bit of extra pace that would make him top class as a midfielder.

Gordon Roberts
12
Posted 01/07/2017 at 17:46:15
Leaving the club with dignity and class; nice touch, Tom.
Dermot Byrne
13
Posted 01/07/2017 at 17:47:02
Nice comment.
But I am now like a little spoiled brat. I want more transfers! I want more spending, more deals, more insane wage agreements!!!
I also want to be released from this ward.
Jim Potter
14
Posted 01/07/2017 at 18:06:36
(New) Everton release an old Everton type player.
Good man for the gracious departure.
Good luck to all the departures, especially the young guys. It's a great life for the few who make it – and a very uncertain one for the great majority.
Kone was always just a cone. Pretty useless.
Terry Underwood
15
Posted 01/07/2017 at 18:15:39
Let's wish all our departing players well and give them a good reception when they return... even Lukaku – just cos he is a disrespectful twat doesn't mean we have to be the same.
Terry Underwood
16
Posted 01/07/2017 at 18:26:12
In my last post, I mentioned respect. I then went to the BBC news site and saw Jermain Defoe giving that terminally ill little boy a big hug. Full respect to Jermain, I would have loved to see him in a blue shirt.
I hope every ground gives him a big cheer next season. I met him when he was at Portsmouth, total un-starry, down to earth regular guy.
Lee Courtliff
17
Posted 01/07/2017 at 18:38:45
Bob, I think you are talking about Rom's goal against Stoke in that 4-3 defeat at Goodison, season before last.
Class from Clev... he was actually a better player than I gave him credit for before we signed him. And he was one of our better players in that Wembley semi-final.
Good luck to him.
Kristian Boyce
18
Posted 01/07/2017 at 19:05:05
Decent player and very gracious on his departure. Unfortunately for him, our system never really suited him. He's not a winger or defensive midfielder but was stuck out on the left for many games. I wish him good luck for the future.
Barry McNally
19
Posted 01/07/2017 at 19:18:27
He was probably our best player at the start of 2015-16 season but picked up a bad injury at Tottenham in the fourth game.
Mike Gaynes
20
Posted 01/07/2017 at 19:22:52
Classy gentleman.
Wishing him all the best.
Bill Gienapp
21
Posted 01/07/2017 at 19:26:22
Lee (17) – I'm pretty sure you're correct, that Bob's thinking of Cleverly's excellent long-ball assist to Rom in that 4-3 defeat to Stoke, which probably symbolized the Martinez era more than any other single match.
We'll also always have his at-the-death header against Newcastle on Boxing Day.
Hard-working, class act. Seems like a good move for all involved.
Sam Hoare
22
Posted 01/07/2017 at 19:37:43
I don't remember him often getting a good run in the team. Many players will struggle to show their best under such circumstances.
He should do well at Watford and best of luck to him.
Geoff Evans
23
Posted 01/07/2017 at 19:55:18
Dignified departure from a top lad. Good luck, best wishes and sincere thanks to Tom.

James Newcombe
24
Posted 01/07/2017 at 19:58:18
Nowhere near as bad as some make out. We always seem to have to have a Boo Boy! Spent a lot of time farmed out wide which just isn't his position either. Good luck to the lad.
Alexander Murphy
25
Posted 01/07/2017 at 20:53:06
Run out to Z-Cars, Tom.
Enjoy your career and may there be many many, more years of it to come.
It's been my genuine pleasure to have watched both you a Steven Naismith in recent years. There are many ways to dignify The Royal Blue Jersey, you two guys certainly did. Take care.
Andrew James
26
Posted 01/07/2017 at 21:52:11
He is a good professional but never really got me excited if named or on the bench. That said, when on the pitch he worked hard.
I just don't think we knew what his best position was - maybe he doesn't either. He didn't seem to be a playmaker, certainly wasn't a defensive midfielder and not quick enough to be a winger. Maybe he was a box-to-box type which meant the emergence of Davies was the end for him.
He got played out of position a lot; shunted out to the left from memory which is where Mirallas seems to be going now with similarly muted results.
Chris James
27
Posted 01/07/2017 at 22:08:29
Loving the way we're doing business at the moment.
We've been quick into the market in the areas we need and similarly decisive in terms of getting those who aren't going to play for the manager off the wage bill (as well as being clear/fair with them also by the sounds of things).
Always a shame when you have to let youngsters go (I did think McAleny could maybe have had more of a first-team chance), but it's a tough business and to be fair we have a fair number of kids who have broken / are breaking through in terms of Calvert-Lewin, Lookman, Holgate, Davies, Galloway and Garbutt plus Kenny and Dowell.
I'm also content to see Del return to Barça in return for a bit of cash back – he's obviously got talent but not sure he has quite as much as he thinks he has and certainly lacks the work ethic and toughness to compete in the Prem so I actually think his best value to us would've been in Europe.
With McGeady looking likely to shift to the North East, that leaves a smaller (but still notable) pool of players with question marks over their heads:
Definitely off (90% + sure)
> Niasse – Has enough talent for lower echelons of Premier League as he proved with Hull. I'd expect some interest later on in the window when desperation starts to set in among the lower clubs. If nothing else we should be able to shift off for ~£10M or on loan.
> McCarthy - Although he had a great first season for us and has the talent to succeed at the top level he's clearly not in Koeman's first team plans, so I'd expect him to shift for ~£12-15M in this window, maybe to one of the promoted sides.
> Lukaku - Much as I'd like him to stay, it seems his mind is made up (or at least his agents') and if we can command £75M+ for a player who's heart isn't in it, then I say take the money and run.
Probably Off (60% + likely)
> Robles – With Pickford in, the question is whether Joel fancies a number 2 slot, I suspect he'll not be keen and Koeman has made it plain he doesn't rate him as first choice starter. Has done enough to command a half decent fee, of £5M+.
> Besic – Like McCarthy, another player who seems capable of playing at the top level and one I'd be tempted to keep around as back-up, but his injury issues and fact Koeman doesn't seem to rate him suggest he'll likely be shipped out for c.£5M or at the very least loaned next season.
> Barkley – Obviously the ball is in his court as there is/was a contract for him to stay, but it looks like he thinks he can do better and Koeman isn't someone who tolerates nonsense. If money was no object,I'd like to keep him; if it was a choice of him or getting another top quality playmaker, then it's bye bye Ross for a realistic fee of £25-30M. Possibly Off (30% + could go either way)
> Barry - I expect we'll keep him on for his experience/influence around the team and as a sub to calm things down, but you'd have to expect his first team starts to be very limited and he won't get a new contract, so its possible he could move/be moved on – not with any fee of course.
> Lennon – For work effort and pace alone I'd be tempted to keep him as a squad player if there's no incoming interest as he could be a handy option in Europe/cups. If he goes you'd expect a ~£5M valuation.
> Jagielka – Probably the most divisive name on here as he's been a brilliant servant to the club who can probably play at the top level for another year or two... but last season the years were clearly beginning to tell. Could definitely do a job as back-up option in the league (or again as a starter in Europe/cups), but won't get a new contract and could maybe get a small fee of ~£2M and save some wages.
Assuming they all went (and our supposed signings for next week come in) we'd be left with a first team squad something like this...
Keeper:
> Pickford (new)
> Stekelenburg
Defence:
> Baines
> Coleman (Injured)
> ?? Keane ?? (new)
> Williams
> Holgate
> Funes Mori
> Browning
> Kenny
> Garbutt
> Galloway
> Pennington
Midfield:
> Schneiderlin
> Gueye
> Davies
> Klaassen (new)
> Dowell
> Mirallas
> Bolasie (Injured)
> ?? New Playmaker ?? (Sigurdsson?)
Forward:
> ?? Sandro ?? (new)
> Calvert-Lewin
> Lookman
> ?? New Lead Striker ?? (Dembele / Giroud?)
> ?? New back-up Striker ??
Obviously it's highly unlikely all nine players would go; more realistically I'd say we'd say goodbye to around 5 of the 9 meaning a little extra strength in depth.
Ultimately though it does underline the key remaining transfer business needed for me being focused solely on quality attacking options (from midfield and forward positions). I'd expect at least 3 signings in these areas (on top of Sandro) and to be fair the noises in the press around Sigurdsson Dembele, Muriel, Giroud etc all sound sensible.
We definitely should have the cash for it, even considering a c.£55.4 reported spend so far + another supposed £30M for Keane + Sandro, we'll have recouped in the region of £18.5M from Cleverley + Deulofeu, meaning a net spend of ~£67M by end of next week.
However that would surely be eclipsed by Lukaku alone and should we sell the rest off at anything near current market values we'd be looking at more like £140M coming in and equivalent of £70M of transfer cash to play with before we even dipped into a net spending budget.
John Daley
28
Posted 01/07/2017 at 22:09:51
Nobody is ever going to look back on his spell here with great fondness, but he was far from the worst player to pull on the shirt in recent times.
He would probably be entitled to feel ever so slightly aggrieved with the way he was utilised after signing on a free, bearing in mind Martinez made out he was so exceptionally gifted he should probably, by rights, have been replacing that boring bastard who could fire laser beams from his eyes as leader of the bloody X Men. Yet, he never saw fit to give him an extended run in the side, hardly ever played him in his favoured position and instead asked him to flit between sitting on the bench and filling in all over the shop, like a modern day Alan Harper minus the ability and facial hair.
Still, he never seemed to sulk or feel sorry for himself and always tried to put a shift in, even while struggling to make any sort of telling contribution in a number of games.
Wish him well at Watford.
Mike Andrews
29
Posted 01/07/2017 at 22:15:28
Lee (#17), living in Italy now, I don't get to many games but was at that Stoke one. I remember the Cleverley as you do. Fine work. Also a respectful farewell from him.
Alexander, also right that Tom and Naismith always acted with nothing but decency and reflect well on our club.
Paul Tran
30
Posted 01/07/2017 at 22:22:37
Always worked hard, was played all over the place. An unexceptional player who could always be relied in to...er...give his all.
Not his fault he was over-hyped by Martinez.
Seems like a good guy and good pro.
Best of luck Tom.
Chris James
31
Posted 01/07/2017 at 22:25:04
Just to complete my fantasy football posting, here's a preferred starting line-up (and subs). Formation-wise I guess it's effectively 4-3-2-1 but that can be a bit more fluid to a 4-4-2, 4-5-1 or 4-3-3 as the game demands (with Sandro and/or Siggy pushing up either side of a main striker much of the time, but also able to drop back).
Pickford
Baines, Keane, Williams, Kenny
Schneiderlin, Klaassen, Gueye
Sandro, Sigurdsson
New Lead Striker ??
Subs: Stekelenburg, Holgate, Funes Mori, Davies, Mirallas, Calvert-Lewin, Lookman
Youngsters to rotate in: Garbutt, Galloway, Pennington, Dowell
Injured players to come back in: Coleman (for Kenny), Bolasie (for Mirallas)
Drew Shortis
32
Posted 01/07/2017 at 22:28:52
Best of luck to Tom. I have a feeling he would have had a better time here during the Moyes era with the likes of Pienaar, Arteta and Osman showing that physical presence is not all there is to being a top midfielder.
Unfortunately he arrived at a time when the wheels were coming off Martinez's reign and clearly wasn't the kind of player Koeman is into. Hope he does well at Watford, just not when they're playing us!
Jay Harris
33
Posted 01/07/2017 at 22:29:38
Absolute class from a real gent unlike another who is set to depart soon.
I wish him well and an extended run in the Watford first team.
Other first teamers gone or about to go:
Valencia
Delofeu
Niasse - if we can find him a home
McGeady
Lulkaku?
Barkley?
So with Kone and Valencia already gone and Bolasie missing the first half of next season lets hope we are in the market for a few more forwards than just Sandro.
James Flynn
34
Posted 01/07/2017 at 23:13:03
Cleverley was never a top-rated player. That he's leaving is fine by me; especially given Roberto got him a 5-year contract 18 months ago.
Saying that, I feel his main problem at Everton was that he was brought in after the worm had turned regarding Martinez as Everton's manager. Then Roberto piling on the superlatives about him to a fan base that knew better and was well-tired of Bullshitting Bobby.
Just a bad situation for Cleverley; none of it his own fault.
James Marshall
35
Posted 02/07/2017 at 00:26:30
Decent player in my view – worked hard, did his job no matter what the job was and never got a run in the team. Probably deserved a better go at it, and nice of him to speak so highly.
He always comes across as a sensible kid, and good luck to him.
Laurie Hartley
36
Posted 02/07/2017 at 01:05:12
To use a cliche, Tom Cleverley, both on and off the pitch, and in his leaving Everton, has conducted himself like a "true professional".
I wish him well at Watford.
David Barks
37
Posted 02/07/2017 at 01:22:40
Enough of the sentimental crap – he was useless. wasn't good enough when we signed him and proved to not be good enough when in the team.
Laurie Hartley
38
Posted 02/07/2017 at 01:36:21
David - don't mind a bit of sentimentality myself.
Link
Mark Andersson
39
Posted 02/07/2017 at 04:32:39
Laurie, that link nearly spoiled my day, thankfully I clicked back before that awful song kicked in...
Good luck to Tom; nice man, nice hair cut, looks like an altar boy... and played like one.
David Currie
40
Posted 02/07/2017 at 05:06:33
Best post by David (#37). We have to become a much more ruthless club if we are to become winners. He was not good enough and never was. Aston Villa fans did not rate him and quite shocking that he was given a 5-year deal.
Alan J Thompson
41
Posted 02/07/2017 at 05:12:57
We know that McAleny is off to Fleetwood but it would be interesting to know how the kids that have been released fare. It can't be easy being told at that age that your career has to take a sharp turn.
Andy Walker
42
Posted 02/07/2017 at 06:40:21
I really don't care what these players reportedly say to the media, it's about what they do on the field that matters to me.
The comparison with Lukaku is classic, you'd think Cleverley had been some sort of talisman, a key player, whilst Lukaku just a journeyman. I know who I think is going to be a much bigger loss to our team and who I will be much sorrier to see leave, even though he doesn't say nice things about us to the media.
I know it might make us feel nice as fans when they say how lovely our club is, but nowadays the multi billion game we love is about winning and doing whatever it takes to be the very best you and your team can be.
Jim Lloyd
43
Posted 02/07/2017 at 07:00:04
Class. He was by no means the worst player I've seen at our place. He did a shift in every game I saw him play. More than that, he showed his class as a professional and as a man. He could have just stayed and collected his money but he wants to play and Watford offered him his chance. Good luck to him.
He's shown respect to one of the great football clubs in this country, one who we are lucky enough to support.
As far as I'm concerned, our club has never been solely concerned with winning and our motto says it all. Without doubt we will miss Lukaku if he goes, he's a top class goalscorer and if he stays he will score more.
But as a man? He's streets behind Tom Cleverley.

Mike Gwyer
44
Posted 02/07/2017 at 08:33:13
Why are some posters measuring Lukaku against Cleverley? There is absolutely no comparison at all, fucking zero – one was total shite and the other would probably walk into any first eleven on the planet.
If you want to pay me around £50k a week to sit on the bench or worse still, play like a twat, then I would get my agent to say what ever sweet things you wanted to hear. Let's get real!
Cleverley's saying how great the atmosphere was at Goodison, well what game was that? For me, most games under Martinez, Goodison was like a morgue with around 40 thousand fans sitting there looking totally pissed off.
Alan Bodell
45
Posted 02/07/2017 at 09:19:09
David (#37), ditto mate and the only time I remember him was that superb goal he volleyed against us when he was at Villa, bags of energy and fuck-all ball skill.

Ian Jones
46
Posted 02/07/2017 at 09:40:05
I think the majority of fans appreciate the words that Naismith and Cleverley have expressed on leaving the club. Most of us like the 'once Everton has touched you' comments.
Seems these were 'touched'. In my eyes these players are proper professionals. Expect they managed to think of a few things to say without checking with their agent. I cannot remember John Stones saying many great things about us this past year.
As Alexander has pointed out, he will be running out to the Z-Cars theme at Watford. Must be the reason he chose them.
Oliver Molloy
47
Posted 02/07/2017 at 09:43:37
Cleverley didn't have to say anything. He could have said "Everton was an okay club and the fans think they know about football but really don't and I made a mistake going there."
The lad has shown a little bit of class in my opinion and let's not forget was a free transfer that suited Kenwright's budget.
I remember over whelming positive vibes on here that his signing was a "no-brainer". When he was on the pitch he tried his best. And because of this, he is getting ripped to pieces by some on here.
There have been many a worse player that played for us. I say good luck to him.
Jim Lloyd
48
Posted 02/07/2017 at 09:47:02
The only difference that is being compared are the comments made by Cleverley and those made by Lukaku. One has shown respect to the club he played for, the other hasn't.
Derek Knox
49
Posted 02/07/2017 at 10:14:51
Yes, nice parting words from the player and I wish him all the best for the future.
Here is another classic case, of a fairly decent player, being signed by a manager, who subsequently is sacked; the new manager doesn't see him fitting into his style of play.
How many times does that happen in football?
Phil Walling
50
Posted 02/07/2017 at 10:15:50
Chris James @ 27 and 31 above gives us plenty to think about although I was surprised he had 'binned' Davies but thought we will see more of Garbutt and Galloway who I am sure are both on the way out!
As far as Cleverley is concerned, he was never quite up to it at his 'three great clubs' but comes over as a decent guy who will have a full if not fulfilling career.
Good luck to the lad!
Alan Bodell
51
Posted 02/07/2017 at 12:03:11
Good luck to Tom; definitely a nice lad and still has a few more years left earning £k000s p/w – and with a beautiful wife, good luck mate.
Derek Knox
52
Posted 02/07/2017 at 12:55:19
Alan @51
Where do you think it all went wrong for him? :-)
Paul Thompson
53
Posted 02/07/2017 at 12:56:48
Tom is not a top rank player, but 'useless' and 'fuck-all ball skill' – the usual graceless griping from these posters.
Tom is actually a technically accomplished player, with a good engine, but lacks pace and creativity. Like a number of others, he languished stuck out on the left, which did not play to his strengths. Sure, we can do better and we have, but a little bit of respect goes a long way in life and respect is a two-way street.
Mike Gwyer
54
Posted 02/07/2017 at 13:11:11
Seriously, we are now going to have a debate over a player who says he loved his time at Goodison, who thought the fans were brill but, being totally honest, was wank on the pitch.
Well he loved being at Villa as well, he probably loved their fans so much he played his part in getting them relegated so they could play Birmingham and Wolves. Fucking class.
Watford is probably his level, though I seriously doubt he picked them because they were playing Z-Cars during the interview,; I'm guessing Koeman told him he's now at a club who are thinking top 4 and aiming to win cups, so that's you finished at Goodison.
We will miss Lukaku's goals far more than Cleverley's love fest with the fans, but yeah, I would say good luck to the boy but I think he already has luck in bucket loads.
Phil Walling
55
Posted 02/07/2017 at 13:13:28
I hear he speaks well of you, Mike!
Mike Gwyer
56
Posted 02/07/2017 at 13:59:39
Come on, Phil, we are fans. If I was a player, like Cleverley, I'd be in Qatar, or Mexico or some other sunny climes getting ready for the big kick off. Not for one second would I be reading TW.
Now I read all your "we are going finish 7th" posts and I thought "what a load of shite" and then, bang, 7th it is. So well done you and it really showed how mediocre Everton really were.
However, the players made Everton mediocre and Martinez stubbornness for selecting players like Cleverley, who lets be honest was shite wherever he played, left wing, right wing, centre mid or probably even in goal. If he didn't disappear then he would take part in Everton's 80 percent possession "passing game", usually in our own half and usually against the likes of big rollers like Stoke, West Brom or Villa.
Now, Tom Cleverley's comments regarding his stay at Goodison are for him to spout, but I can state as a matter of fact that his comment regarding "a great atmosphere at Goodison" is a load of bollocks. Most teams came to Goodison, took all 3 points and then we had the joy of watching around 3,000 away fans taking the piss.
Well, the atmosphere at Goodison was not "great" it was totally fucking shite. You could usually hear a pin drop and you could definitely hear all the abuse aimed at the likes of Tom. I took the rest of Tom's comments as just blah, blah, blah...
Brian Wilkinson
57
Posted 02/07/2017 at 14:35:59
Nice touch and yes, he didn't get that many games in the middle, but some of the posters ripping into the guy are unbelievable.
Here is a player who we got on a free, sold on for £8 million profit, I could understand had we paid £10 million, but he never once sulked, tried his best, got stuck in without hands on his hips and walking around the pitch. Yes, he was not good enough in the position he was at times asked to play, but saying he was shite and enjoyed his wages sat on the bench is laughable.
Like I have said previously, Stones, Rooney, Lescott are no different on wanting to better themselves; each got rightly slated by Everton fans, yet a certain player by the sound of some will have the Red carpet rolled out when he returns with the rent boys next season.
It's all about respecting Everton Football Club and, for me, Tom Cleverley has done it with dignity and class.
John Daley
58
Posted 02/07/2017 at 15:03:57
Where does Cleverley mention there being a great atmosphere at Goodison
during
his time at the club and how did he 'play his part' in getting Villa relegated?
Pretty sure he started his sentence about Goodison with the words "Before I joined" (pedantic perhaps, but when countering pettiness...) and began the 2015-16 campaign as an Everton player.
He still hasn't revealed his whereabouts on the night Annie Chapman was killed though, if that helps.
Dermot Byrne
59
Posted 02/07/2017 at 15:16:08
Jesus, this really is searching for misery in the face of a nice comment.
Fear not... some transfers next week and, if you give it half-an-hour as a mark of having a brain, you can slag them off too.
Brian Williams
60
Posted 02/07/2017 at 16:12:39
Seems to me Cleverley has a "bit about him characterwise" and decided to leave on good terms and praise the club.
What the fuck is the problem with that?
James Hughes
61
Posted 02/07/2017 at 16:52:06
I never understand the need to bad mouth a departing player. I certainly don't understand it, when the player is paying respect to our club.
Whether he is/was a shite, wank, player is now immaterial, so why not accept the compliment? It wasn't his fault you could hear a pin drop, it was happening under Moyes.
I would love to see the reverse happen and players rate the fans.
"See the shit in the Lower Bullens is late sitting down again!. Every match 10 minutes late, then spends the game on his phone. Leaves early as well. Where is his commitment to the blue shirt?"
Habib Erkan Jr
64
Posted 02/07/2017 at 18:53:36
As exemplified by his goodbye, though Cleverley was the consummate professional during his Everton career although he could not find his way in the first eleven. Wages to high to be a squad player and can't fault him for wanting to move on to be a starter. Shame. Kone was never the same after the knee injury.
As for the academy boys I do hope they find their way, it is a huge disappointment to be so close only to be told that you are not good enough for a big team like Everton; I wish them the best.
Simon Jones
65
Posted 03/07/2017 at 10:05:01
Stay classy, Tom Cleverley.
Add Your Comments
In order to post a comment, you need to be logged in as a registered user of the site.
Or Sign up as a ToffeeWeb Member — it's free, takes just a few minutes and will allow you to post your comments on articles and Talking Points submissions across the site.