Lennon joins Everton players for pre-season training
Monday 3 July 2017

54 Comments [Jump to last]
The sight of a smiling Aaron Lennon was a welcome one as the bulk of Everton's squad reconvened at Finch Farm today.
Those players who were not involved at international level this summer began pre-season training today and Lennon, who was detained under the Mental Health Act for what was diagnosed as a stress-related illness two months ago, was among them.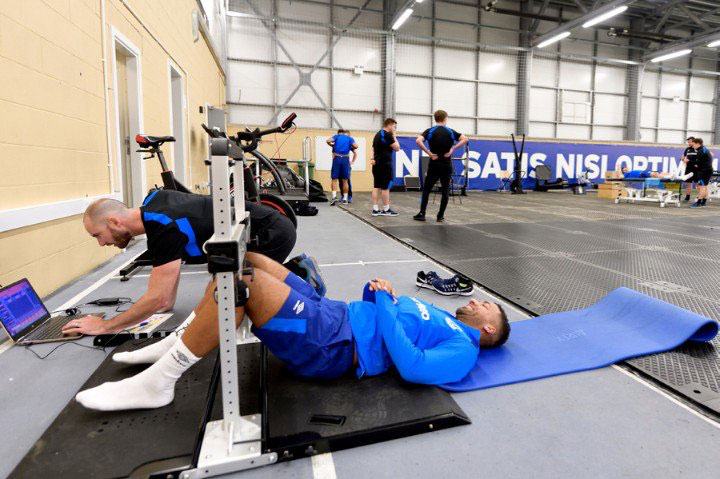 He was joined by Yannick Bolasie, who is continuing his patient rehabilitation from two knee surgeries, and Seamus Coleman, who is recovering from his broken leg, as Everton's players were put through a series of fitness tests.
Ross Barkley, whose contract situation remains unclear as he enters the final year of his current deal, was also present.
New signing Davy Klaassen and Romelu Lukaku are expected to return from holiday and join training on Thursday while those players involved in the U20 World Cup and U21 European Championships will be allowed a little longer.
---
Reader Comments (54)
Note: the following content is not moderated or vetted by the site owners at the time of submission. Comments are the responsibility of the poster. Disclaimer
Paul Mackay
1
Posted 03/07/2017 at 11:52:50
Just viewing the first day of pre-season training photos on the club website. There is a player laying on his back on the floor, is it Aaron Lennon? Hope so, as it's gone all quiet since his incident. Hope this shows he is going ok...
Tim O'Connell
2
Posted 03/07/2017 at 12:05:57
Paul, I think you could be right re the picture. I certainly echo your comments
David Barks
3
Posted 03/07/2017 at 12:19:17
Paul and Tim,
It's not Lennon, it's Browning.
Sam Hoare
4
Posted 03/07/2017 at 13:31:21
I saw Lookman featured in training photos today. He must surely have been able to take more time off after the U20 World Cup. Maybe i'm reading it wrong but would not surprise me if he cut his holidays short to return for training. That lads got a great mentality. Gonna be a big player for us if not this season then in the near future I reckon.
Steve Ferns
5
Posted 03/07/2017 at 14:12:29
The absence of Romelu Lukaku says volumes for me. There's no official reason for him not being there, no prolonged period of rest due to internationals or whatever. It now appears certain that he will not be starting the season with us. On the other hand, Ross is there and nothing is certain as far as he is concerned.
I just want to see the green light on Keane and Sandro. I expect Sandro will not turn up for a few weeks yet, the boy has to have some rest. I assume Kenny and the u20 heroes are also being given recuperation time. Not too long for Kenny I hope, I would like to see him play the first game in the EL.
As far as his back up goes, I would prefer to see Aaron Lennon get a run at right wing back, particularly if we play a back three.
Can't wait for the season to start. If we only sign Keane and Sandro, but keep Lukaku and Barkley, i'd be very optimistic for the season.
Jay Wood
6
Posted 03/07/2017 at 14:13:54
A collection of photos released by the club on today's 'first day of school.'
I can't see Lennon in any of the photos, but it is widely reported he is in attendance.
Check out the very last photo: is that Luke Garbutt displaying phenomenal levitation skills???

Peter Laing
7
Posted 03/07/2017 at 14:18:12
Any sign of Barkley? As far as I know he hasn't been on international duty so should be back in training today. Maybe he was transported into Finch Far incognito...
James Marshall
8
Posted 03/07/2017 at 14:18:52
I'm not sure, but it appears to be wear your best monochrome clothing day and Mo Besic has turned up in his pyjamas.
James Marshall
9
Posted 03/07/2017 at 14:22:19
Jay - Lennon is laying down on the massage table on the right halfway down the page.
Jay Wood
10
Posted 03/07/2017 at 14:29:45
I thought it might have been Lennon, James. He looks different with a more shaven, cropped hairstyle. Thought it was Browning. But I think you're right. It probably is Aaron.
Got to be good for him to be back in the group after the duress he evidently passed through recently.
Pleased for him.
Steve Ferns
11
Posted 03/07/2017 at 14:31:22
I can see Lennon in two of the photos.
The ToffeeWeb passage above says Barkley is there, but I can't see him on any photo.
Steve Ferns
12
Posted 03/07/2017 at 14:36:54
There's some more pictures on twitter. Ross is definitely there, interesting that Everton choose not to publicise him.
Pete Cross
13
Posted 03/07/2017 at 14:36:58
Steve, Rom is back on Thursday.
Jay Wood
14
Posted 03/07/2017 at 14:38:03
Interesting video of the fitness coach Jan Kluitenberg explaining what day one of pre-season training is all about. Very slick and professional looking.
Forget the running up and down Southport Dunes until you're sick (as some on here still advocate...).
Robert Leigh
15
Posted 03/07/2017 at 14:43:22
Jay Wood – I think the levitation expert is Hewelt the young keeper rather than Garbutt.
Mike Gaynes
16
Posted 03/07/2017 at 14:43:58
It IS Lennon and that makes me very happy.
Michael Penley
18
Posted 03/07/2017 at 15:17:48
Is that Cleverley in the photos? Why would he be there?
Steve Ferns
19
Posted 03/07/2017 at 16:03:15
No, it wasn't Cleverley there.
Frank Wade
20
Posted 03/07/2017 at 16:07:25
Steve (#5), Lukaku has had a couple of tough 5 a-side games in last week or two, so must have been given more recovery time.
Great to see Aaron Lennon back training.
Steve Ferns
21
Posted 03/07/2017 at 16:08:30
That must be it Frank!
Stan Schofield
23
Posted 03/07/2017 at 16:32:33
Jay@14: I recall them running up and down Formby sand dunes (Southport is fairly flat, I think) when Billy Bingham became manager in the 70s. Didn't seem to help them win games!
Dale Rose
24
Posted 03/07/2017 at 17:29:23
Great news for him. Wish him well.
Jay Wood
25
Posted 03/07/2017 at 17:36:10
Stan @ 23.
Ironically, Everton's stamina flagged in the final furlong when Bingham's side looked nailed on to be champions with about 5 games to go. Just don't mention Carlisle! Grrrrrr!
In truth, it was a dreadful Everton team, horribly functional with little or no flair. Far removed from anything under the previous incumbents, Catterick and Carey.
Jack Convery
26
Posted 03/07/2017 at 17:46:17
They ran up and down the dunes because Billy Bingham lived in Southport !
Great to see Aaron Lennon back at Finch Farm. Hope his illness is well and truly behind him.
Here's to a great season for one and all.
Mike Gaynes
27
Posted 03/07/2017 at 18:07:56
Can you imagine the roar Aaron's going to get at Goodison when he subs on in the 87th minute against Spurs in September?
Derek Knox
28
Posted 03/07/2017 at 19:00:05
I was a bit dubious when we first signed Aaron from Spurs, to me, from what I had seen of him, he made all the blistering runs, beating players with ease, and instead of crossing, always seemed to go for glory!
Gladly, he has matured, and definitely, lost a yard or two, but still feel he can be a valuable squad member.
Though can't stop thinking, when we signed him, there weren't too many others, competing for his signature!
However, he is one of us, while he is wearing that shirt, and I will back him to the hilt, albeit he may inevitably be a squad player, unless, he proves otherwise!
Jon Cox
29
Posted 03/07/2017 at 19:05:41
Great to hear about Aaron back. Brilliant footballer and he's in the right club with the right supporters to make him feel energized.
While we wait for Seamus, I think you'd be great in front of Jonjoe. And hey, make Seamus work for his place back into the side.
Tanvir Akram
30
Posted 03/07/2017 at 19:35:19
Would be brilliant if Lennon overcame his problems and had a brilliant season. What an inspiration he would be for others that suffer from mental health problems.
Geoff Evans
31
Posted 03/07/2017 at 19:55:52
Great to see Lennon back, hope everyone gets behind him and he gets back to his best. Three great pieces of news on the same day. COYB.

Eugene Kearney
32
Posted 03/07/2017 at 20:21:32
Good to see you back Aaron. Good luck.
Michael Kenrick
33
Posted 03/07/2017 at 20:26:48
As listing Everton players seems to be the thing, here is my full list of players returning today:
Ross Barkley
Leighton Baines
Morgan Schneiderlin
Gareth Barry
Aaron Lennon
Seamus Coleman
Yannick Bolasie
Tom Davies
Phil Jagielka
Ramiro Funes Mori
Mo Besic
Maarten Stekelenberg
Joel Robles
Matty Pennington
Brendan Galloway
Ademola Lookman
Tyias Browning
Shani Tarashaj
Oumar Niasse
James McCarthy
Luke Garbutt
Kevin Mirallas
Who have I missed?
Tony Hill
34
Posted 03/07/2017 at 20:29:29
Lovely news, he's got everything to hope and play for.
Brent Stephens
35
Posted 03/07/2017 at 20:31:31
Best wishes, Aaron. Good to see him back.
Peter Warren
36
Posted 04/07/2017 at 07:07:21
Let's hope he can force his way into the starting 11. Well done, Aaron.

Mike Gaynes
37
Posted 04/07/2017 at 07:18:17
Afraid you're dreaming there, Peter... but if he makes a gameday squad, he will have done brilliantly. Rooting for him.
Kieran Fitzgerald
38
Posted 04/07/2017 at 07:26:10
Lennon has worked his socks off and that is the type of player that Koeman wants. We aren't exactly spoiled for choice with wide players at the moment either.
His fitness may be a problem considering what has gone on for him. I think he will get game time if his fitness is up to scratch.
Gareth Clark
39
Posted 04/07/2017 at 08:00:02
So happy for Lennon!
I think he will be a squad player -– however I think he could do a very good job at right wingback in a back 5 – especially while Coleman is out.
Similar to that of Moses from Chelsea.
Martin Nicholls
40
Posted 04/07/2017 at 09:10:47
As Mike (#37) indicates, we need to be realistic. We all wish the guy well but how many prior to the shock news of his illness were clamouring for a team that a player of Aaron's abiIity would be a regular in? Squad player at best in my opinion.
Alexander Murphy
41
Posted 04/07/2017 at 10:57:52
Glad that Aaron is back from injury (isn't that just what it is) and preparing for our FOUR forthcoming campaigns.
Steve Ferns
42
Posted 04/07/2017 at 11:16:02
I was Martin. After watching Holgate labour at right wing back to the right of a defensive three, I was asking why isn't Lennon playing there. Asked a few times, to be told he was "injured" and then the news broke later in the season.
As Gareth says, there is no reason Lennon cannot play the "Moses role" for Everton. Whilst Coleman is first and foremost a defender, Lennon has far more of Coleman's attributes (playing as a wingback) than Holgate does.
Of course, playing a top side with a back four, it would be silly to play Lennon at right back, but if we go with three at the back and are really getting at a side then Lennon is an option for me.
Also, who have we even got down the right at the moment? Barkley played on the right at the end of the season, although he was 20 yards from the touchline and very much coming in from the channel. Deulofeu seems to have left, Bolasie is injured. Mirallas only seems to play left side these days, and never convinced from the right. So really, as things stand there's a good chance that if he is fit, then he can get a game or two.
Martin Nicholls
43
Posted 04/07/2017 at 11:58:23
Fair points Steve and I acknowledge that many did indeed question why he wasn't being tried as a wingback - no argument from me about that based on the players available to RK last season (and even currently, if RK doesn't yet fancy Jonjoe Kenny). What I was trying to convey though is that I hope we are building a team that will be too strong for a player of Aaron's ability to be a part of - Spurs did this and moved on.
Steve Ferns
44
Posted 04/07/2017 at 12:03:17
I agree Martin, what perhaps I have highlighted is the need for a pacy right sided winger. However, I think it is more by design that Koeman does not want width and instead prefers to have people like Barkley, Sigurdsson or Klaassen on the right of a narrow front three. And if that is indeed correct, then Lennon has no chance of getting a starting berth. However, Koeman is pragmatic enough to change things around, unlike Martinez, and would throw Lennon on to try and stretch the opposition if his plan is not working. That said, we do need better if we want to crack the top 4.
Teddy Bertin
45
Posted 04/07/2017 at 12:06:51
Having read a lot of other comment boards recently and seen a lot of nonsense, hatred and pointless anger expressed, it's really refreshing to read these comments of support for Aaron Lennon and reminds me what a bloody good bunch of people there are on here.
Dermot Byrne
46
Posted 04/07/2017 at 12:12:57
V true Teddy. He is one of our own, not just Blue but any guy having had MH trouble.
Dave Abrahams
47
Posted 04/07/2017 at 13:51:06
It was great to see Aaron back at Finch Farm yesterday, I hope he gets back to were he was, before his illness, and earns himself another contract at Everton, best of luck Aaron and wishing you continued good health.
John Smith
48
Posted 04/07/2017 at 15:58:12
Welcome Back Aaron.
I was happy when we signed him. I'll be happier when I see him play.
Habib Erkan Jr
49
Posted 04/07/2017 at 17:03:09
Really glad to see Aaron back at training. Like all inhabitants of the Toffee Nation, wish him and Jose Baxter the best this season in their fight against obstacles that have kept them from playing to their potential and living well.
Mike Gaynes
50
Posted 04/07/2017 at 17:10:22
Wouldn't put those two in the same paragraph, Habib, but I agree with your general sentiment.
Peter Mills
51
Posted 04/07/2017 at 20:44:39
Very pleased to see Aaron's return. He has qualities, namely pace and cool finishing. His final pass is not the best, but I have always thought that is something that could be improved upon. He is certainly a grafter.
If he can come back in a good frame of mind, simply enjoy his game, he could just have something to offer as a player. If not, then I am simply delighted for him that he has felt able to return to work, and proud of the club and the supporters for giving him such excellent support over recent months.
David Ellis
52
Posted 05/07/2017 at 05:04:44
I'd like to see him as a right back replacement for Seamus (unless Kenny is better).
Amit Vithlani
53
Posted 05/07/2017 at 06:16:01
Hope he has made a complete recovery and enjoys his football this season.
John Smith
54
Posted 06/07/2017 at 09:15:37
I forgot that he played RB once or twice for us. How well did he do? I can't remember.
Keith Glazzard
55
Posted 09/07/2017 at 17:18:59
Heaven bless you, Aaron. For those of us who have been so low, the only way is up. It worked for me, it will work for you. A few more hours on the static bike if you ask me, which I noticed you didn't.
Don Alexander
56
Posted 10/07/2017 at 22:54:46
The media quotes he's made this evening are encouraging for him, those he's close to, and everyone with a heart.
I hope he recovers everything he possesses, for his and everyone's sake. He showed great, great promise and really exciting play when he started out in his career. Whatever brought him to his awful halt is an unknown and should remain private but he'll hopefully make his greatest stride into recovery by maximising what talent he has.
Like any Evertonian, I wish him all the best.
Add Your Comments
In order to post a comment, you need to be logged in as a registered user of the site.
Or Sign up as a ToffeeWeb Member — it's free, takes just a few minutes and will allow you to post your comments on articles and Talking Points submissions across the site.