Reports claim McGeady to Sunderland is done

60 Comments [Jump to last]
Tuesday 4 July 2017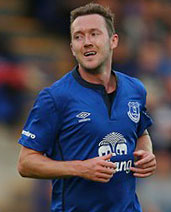 Everton look to have agreed a deal with Sunderland for the sale of Aiden McGeady, ending the player's 3½-year association with the club.
The Irish international spent the bulk of 2016-17 on loan at Preston North End and was named the Lilywhites' player of the season under manager Simon Grayson.
Grayson's move to Sunderland from Deepdale last month raised the prospect of McGeady following him to the Stadium of Light rather than staying with Preston and that appears to be the situation if a BBC Merseyside report is correct.
Reports over the weekend suggested that the Blues had agreed a £4.5m deal with the Black Cats but this has yet to be confirmed.
---
Reader Comments (60)
Note: the following content is not moderated or vetted by the site owners at the time of submission. Comments are the responsibility of the poster. Disclaimer
Tom Cuffe
1
Posted 04/07/2017 at 18:18:31
Best of luck Aiden, hope it works out for you.
Peter Morris
2
Posted 04/07/2017 at 18:23:04
£4.5m? I'd have their hands off. His wages won't be anything to be sneezed at either. This means we get Sandro for half a mill net!
Liam Reilly
3
Posted 04/07/2017 at 18:23:58
Can't see there been too many on here disappointed with this, but as an Irishman I hope he finds some form and consistency.
Good business for Everton if the price is accurate.
John Mckay
4
Posted 04/07/2017 at 18:28:11
Best bit of business this window by Everton!
Was excited when he signed just not fit enough for the PL.
James Stewart
5
Posted 04/07/2017 at 18:29:43
One of the worst players I have seen since the days of Walter Smith.
Lost all patience and time for him after his idiotic red card in the cup vs West ham.
Brian Williams
6
Posted 04/07/2017 at 18:30:21
£4.5m. Is that what it's cost us for them to take him?
Graham Coldron
7
Posted 04/07/2017 at 18:39:50
Not wishing to be disrespectful but when I first saw him walk on the pitch at Goodison when he was introduced as a new signing I honestly thought he was a fan who had won some competition - hope it works out for him at Sunderland though
Kenny Smith
8
Posted 04/07/2017 at 18:45:31
Never got a run of games .probably because he was terrible.
Steve Ferns
9
Posted 04/07/2017 at 18:49:57
Yeah Graham he looks like some clown off X factor, he doesn't look anything like an elite professional athlete. He had a bit of a paunch on him in the skin tight top.
I wish him the best. But ultimately he was a dreadful signing.
Mike Gaynes
10
Posted 04/07/2017 at 18:51:51
Liam #3, he found it at PNE last season. Was their player of the year. Everybody say thank you to him for raising his game -- and our fee.
£4.5M is nice. Probably would have been £2M a year ago.
Brian Williams
11
Posted 04/07/2017 at 18:55:12
Mike. £2m WAS the reported fee to PNE.
Daniel Lawrence
12
Posted 04/07/2017 at 18:57:17
Betting suspended on Niasse's next club as well!
Frank Wade
13
Posted 04/07/2017 at 19:09:20
Yes Graham 7, I was at that game, Norwich I think. I was amazed at how a professional footballer could have looked so overweight, even in the Russian mid season break. I was well aware of his ability from Ireland and Celtic, but that 'cameo' appearance at half time at Goodison spoke volumes. He was in the market for a move, so should have ensured he worked hard in off-season to be ready to go.
I think he is better suited to Championship level. Good luck to him. He's a nice guy who had it tough in Scotland after signing up with country of his father's birth. Just didn't have what it takes to play at PL level.
Derek Knox
14
Posted 04/07/2017 at 19:18:06
I won't be jumping for joy to see him go.
Not until I've seen him wearing the Sunderland kit officially!
Then, I will, because I will know there's no chance of him coming back!
Tom Bowers
15
Posted 04/07/2017 at 19:22:14
Just another of the many flops Everton have had over the years. Couldn't care less where he ends up.
Did well at Preston but he was never Premiership quality.
Tom Bowers
16
Posted 04/07/2017 at 19:22:14
Just another of the many flops Everton have had over the years. Couldn't care less where he ends up.
Did well at Preston but he was never Premiership quality.
Kunal Desai
17
Posted 04/07/2017 at 19:31:11
Well done Everland FC. Keep up the good work taking our dross.
Andy Crooks
18
Posted 04/07/2017 at 19:32:37
Players need a run in the side. Aiden was never getting it with us, which was right. He get it with Sunderland and I hope he does well. Frankly, the idea that we are actually getting a fee seems a great result.

Des Farren
19
Posted 04/07/2017 at 19:35:51
Good luck Aiden. If you happen upon this thread, no doubt you can ignore the miserable comments that seem to be part and parcel of every player's departure from this club. Enjoy the rest of your life.
James Morgan
20
Posted 04/07/2017 at 19:56:56
A waste of money but wish the lad well. I'd be interested to see a full list of all players sold and released and their transfer fees and wages in the Moshiri era. I cant be bothered looking it all up so if someone could please oblige. Thanks.
Chris James
21
Posted 04/07/2017 at 19:58:29
How many ex-Toffees does that make at Sunderland now then?
McGeady
Rodwell
Pienaar
Anichebe
Gibson
Oviedo
Plus: Galloway and Browning apparently lined up for season long loans!
Just 3 more for a full side!
Brian Wilkinson
22
Posted 04/07/2017 at 20:06:50
They may snap up Niasse as well Chris.

Peter Mills
23
Posted 04/07/2017 at 20:06:58
Coming into this season we all knew that a large number of good players needed to be signed, and a large number of lesser players needed to leave the club.
This sale is part of the excellent business that has been carried out so far. Long may it continue.
Teddy Bertin
24
Posted 04/07/2017 at 20:07:34
Talented as a youngster but never cut it at this level. Should never have gone to Russia, probably a decision that stopped him fulfilling his potential.
Glimpses of a great footballer so I hope he does well at Sunderland. My PNE mate's absolutely love him.
Can't believe we've got that sort of money for him. Just shows that if there is talent there then it's well worth sending a player out on loan to get their fee up. Many Evertonians demanding that he be struck off the books to save the wages but another good decision from the club.
Can't believe my eyes and ears at the moment. Everton FC seems to have money, be attracting top players and most astonishingly are being run really well.
Andrew Ellams
25
Posted 04/07/2017 at 20:08:01
Chris, Anichebe has just moved to a club in China but Sunderland are starting to look like Oldham did in the 90s.
Martin Reppion
26
Posted 04/07/2017 at 20:11:59
Sadly he never looked good enough for us or even a lesser top flight team. I hope he does well for our cast off XI in the north east. I like to see Sunderland do well, if only because it annoys the noisy lot north of the Tyne who are having one of their bounce up years.
Michael Sopt
27
Posted 04/07/2017 at 21:01:31
I wish him well. I don't recall him complaining about a lack of playing time and his last loan club loved him. And I still remember his cracking goal against Leicester that was perfect. Good luck Aiden
Andrew James
28
Posted 04/07/2017 at 21:58:22
For me, this was the first time alarm bells started ringing about Martinez when we brought McGeady in his first season.
There had been a lot of Wigan signings up until then but the overall form and style of football had made me think he knew what he was doing. Then McGeady came - a stubborn and self indulgent Martinez signing - and within months it became clear there were some problems with what Martinez was trying to do as we had the surrender in the FA Cup, the fiasco at Southampton and the usual humiliation over the road.
That was over 3 years ago and we're still clearing up the mess! I'm just trying to count how many Martinez signings are still left...
Graham Coldron
29
Posted 04/07/2017 at 21:59:38
I'm a season ticket holder who lives in the north east ( Blyth home of Blyth Spartans) and the animosity between the barcodes and sunderland goes well beyond footie and is akin to manchester and liverpool in many ways.I'm rambling a bit as I'm in Spain on holiday but all this transfer stuff has made a great holiday even better night all club!😀
Matthew Salem
30
Posted 04/07/2017 at 22:03:45
I suppose you could add Lescott to that list , although I believe they relieased him again
David Currie
31
Posted 04/07/2017 at 22:06:36
Good move and we get 4.5 million, he was utter shite and along with Alcatraz the two worst signings of the Martinez era.
Dave Abrahams
32
Posted 04/07/2017 at 22:12:31
I can't believe what is happening to Sunderland, a once great club with fabulous supporters, 'The Roker Roar', louder than the Kop and that is with no roof on, those supporters are much more discerning than Newcastle fans who would chear on eleven monkeys with black and white stripes on.
I hope the club rises from the mess they find themselves in now, it will be a long haul but those fans deserve much better than the way the club as been run the last few years and I hope that they get someone cares enough to sort the whole place out, how did the club disintegrate like this. I sincerley wish them well in the future.
Geoff Williams
33
Posted 04/07/2017 at 22:30:18
Not as bad a player as many on here say but wasn't good enough for us.
Si Cooper
34
Posted 04/07/2017 at 22:40:31
I agree Geoff. Flashes of talent but very little consistency at the level we need players to be performing.
Hopefully both clubs and the player will benefit from this deal.
Peter Lee
35
Posted 05/07/2017 at 00:05:38
Anyone else suspect that the fee might be inflated as a "payment" for the two loanees?
Don Alexander
36
Posted 05/07/2017 at 00:08:03
Bloody hell Peter, if you believed that you'd have to believe football was financially corrupt! As if!
Peter Lee
37
Posted 05/07/2017 at 00:22:42
Sorry Don, you're right, I'm just too cynical. Clearly Aiden is worth every penny.
Oliver Molloy
38
Posted 05/07/2017 at 00:32:18
No way are we getting 4.5 million , more like 1.9 million.
Paul Kossoff
39
Posted 05/07/2017 at 01:05:11
Another absolutely top class waste of time, space, place, money con man. Who in the name of all that makes sense sanctioned this transfer? Four and a half year deal on God knows what wages, beggars believe we signed him when all the signs were, don't buy him!!!
Surely even the nicest of dyed in the wool blue will not wish him all the best of luck? He's had that and then plenty on top.
Paul Kossoff
40
Posted 05/07/2017 at 01:08:57
Si 34, hopefully the club AND player.. will benefit from this deal! Don't you think Mcgeady has benefited enough??? 42 games, one goal, hello!!!! Unbelievable!!!
Si Cooper
41
Posted 05/07/2017 at 02:12:45
Paul, as has been said many times before, it's not the players who award themselves these amazing contracts. It hasn't worked out for McGeady at Everton but there is no need to be spiteful about it.
Do you wish I'll on everyone more fortunate than you?
Habib Erkan Jr
42
Posted 05/07/2017 at 02:25:43
Best wishes Aiden, sorry it did not work out for you here.
James Watts
43
Posted 05/07/2017 at 02:50:01
Never good enough, but like Niasse that's not the lads fault. That rests squarely on the shoulders of the idiot that brought him.
One more gone, happy days.
Loko Sanchez
44
Posted 05/07/2017 at 04:50:27
It is just unfortunate that it didn't work out for him at Everton. As a proud fan of the classiest club in England, I wish him all the best at Sunderland.
Mark Andersson
45
Posted 05/07/2017 at 05:55:39
Post of the day Dave Abrahams.. Good luck to the lad I say. Every player that comes to Everton I sincerely hope they do well. When they leave I wish them well. That should be the Everton way, not the snide remarks and good riddance attitude.
Darryl Ritchie
46
Posted 05/07/2017 at 06:54:52
Not good enough for the Premier League, however, he seems to have found his level in the Championship. He should do well at Sunderland, because, unfortunately, I think they're going to be down for a while.
Thomas Surgenor
47
Posted 05/07/2017 at 07:26:38
So who's left from Martinez?
Robles, lukaku, besic and Barry?
Yet we still have Mirallas, Coleman, Baines and Jags from the Moyes years.
James Wong
48
Posted 05/07/2017 at 08:10:49
How is he worth £4.5m?
I must be worth £10m!
Jer Kiernan
49
Posted 05/07/2017 at 09:05:35
Best of luck to him. One of the most frustrating players I ever watched in both the Blue of Everton and Green of Ireland. He no doubt has a talent but just could not apply it to his chosen trade.
A bit like a sprinter who can do the 100 meters in 6 seconds but can only do it running sideways!!
Peter Gorman
50
Posted 05/07/2017 at 09:38:00
James, 4.5 million is the new 250k.
Farewell to McGeady, in the final analysis he played for Everton and I can't recall any nonsense off the pitch so why not just wish him the best. Like other players not really good enough like Mark Pembridge, Tony Thomas and Mitch Ward (best crosser of the ball btw) he won't exactly be missed but there is hardly need for animosity, afterall we the club chose to employ them.
I reserve my meanness for those who leave in disrespectful circumstances, like Barmby and soon to be Lukaku, despite their better contributions to the club.
John Smith
51
Posted 05/07/2017 at 13:20:15
He looked great playing for Preston last season. I'm tempted to say we should keep him for rotation regards Europe.
Speaking of wingers, Steven Pienaar just signed with South African champions, Bidvest Wits. He is 35 years old now.
Damian Wilde
52
Posted 05/07/2017 at 13:37:14
Another Martinez dud, how Bob stole a living.
Sunderland are complete mugs. Hiw much crap have they bought of us now? 🤣
Peter Gorman
53
Posted 05/07/2017 at 14:00:31
So. Farewell
Then
Aiden McGeady
A Scottish Irishman
Or
Irish Scot.
Some think it
Important but
I do not.
You played for us and
In Scotland then
Moscow.
You're going to
A new club
Now
But like some others
I am not
Sure how
Alan McGuffog
55
Posted 05/07/2017 at 14:28:42
Peter are you related perchance to one E. J. Thrib (17 1/2 ) ?
Peter Gorman
56
Posted 05/07/2017 at 16:13:17
No relation Alan, just inspiration (with apologies to E.J. Thribb)
David Currie
57
Posted 05/07/2017 at 18:43:47
Aiden,
Let me know if you need a lift, happy to drive you there.
Colin Glassar
58
Posted 05/07/2017 at 18:46:02
I don't like to kick a man when he's down but he was awful. I'm glad he's gone.
Paul Kossoff
59
Posted 05/07/2017 at 21:24:41
Si Cooper (#41), so your nieve enough to actually believe that just because a player "plays" – can I use that word for Mcgeady? Plays for Everton, that they actually give a toss or even try to repay the club with putting the effort in?
Football is full of con men who are at a club for the contract, without giving anything back to fans or employers or having any respect for the club at all. McGeady is one of those players who not only don't put the effort in, but actually have the appearance of not giving a toss.
For your information, I wish Ill to no man, whatever they have or don't have.
Jeff Armstrong
60
Posted 08/07/2017 at 22:07:19
If you're 16, with a bit of talent, and someone said to you...
"If you can give a decent performance 7 times in the next 10 years, it will give you 15-year career at say £1 million a year, what do you think, Aiden?"
Well that's exactly what happened...

Jim Potter
61
Posted 09/07/2017 at 09:06:24
He's finally off? How much are we paying them?
Add Your Comments
In order to post a comment, you need to be logged in as a registered user of the site.
Or Sign up as a ToffeeWeb Member — it's free, takes just a few minutes and will allow you to post your comments on articles and Talking Points submissions across the site.