Reports: Lukaku close to Manchester United switch
Thursday 6 July 2017

525 Comments [Jump to last]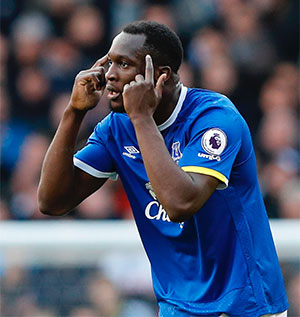 Updated
Manchester United have stepped in front of Chelsea in the quest to sign Romelu Lukaku amid reports they have had a bid accepted by Everton for the Belgian.
The BBC led with claims this afternoon that the Red Devils' have agreed a fee of £75m for Lukaku who has made no secret of his desire for Champions League football, something which United can now deliver despite the fact they only finished one place above the Blues last season.
Triumph in the Europa League in May handed Jose Mourinho's side a route into the Continent's elite competition and it could be enough to give Lukaku what he wants provided the striker is agreeable and Chelsea do not step in with a higher offer.
While there were reports that the Everton hierarchy had denied that a deal had been struck with United, multiple media sources are claiming tonight that Lukaku is set to undergo a medical in Los Angeles in anticipation of completing a transfer to Old Trafford where he will earn £200,000 a week.
Chelsea sources maintain that the London club are in the mix but could be hamstrung by the fact that Diego Costa's proposed move back to Atletico Madrid has yet to come to fruition.
The £75m fee United are said to be offering would be significantly lower than the £100m that Everton were reportedly holding out for for Lukaku but the deal is said to involve £15m in appearance-related add-ons and an agreement to waive Wayne Rooney's £10m market valuation.
Rooney is believed to be very close to securing a return to his boyhood club in a move that will see his reported £250,000-a-week salary cut in half.
---
Reader Comments (525)
Note: the following content is not moderated or vetted by the site owners at the time of submission. Comments are the responsibility of the poster. Disclaimer
Dennis Ng
1
Posted 06/07/2017 at 14:11:44
Only $75m? Surely they can pay more for him.
Mark Andersson
2
Posted 06/07/2017 at 14:11:58
I hope this is true.
Dog O'War
3
Posted 06/07/2017 at 14:13:07
Can't imagine if Rooney's coming that these deals have been done in isolation. Given the amount they paid for Pogba, there has to be more than that forthcoming.
David Harrison
4
Posted 06/07/2017 at 14:13:40
Everton now denying that a bid has been accepted
Tom Dodds
5
Posted 06/07/2017 at 14:14:48
History repeats itself:
Best striker to United 2004
Best striker to United 2017
(Old striker back.)
We may as fuckin well support them!.
John G Davies
6
Posted 06/07/2017 at 14:17:32
Thank fuck for that.
Cheerio, Rom.
Rahul Sreekumar
7
Posted 06/07/2017 at 14:17:53
Good!
I was almost scared that he wouldn't be going...
£75 mil seems about fair in today's market..
Dean Johnson
8
Posted 06/07/2017 at 14:23:54
Hurray
Wonder how long it is before he starts mouthing off about wanting to join Madrid?
Good riddance for me, but that's me. Maybe the odd game where he looked unbeatable was down to his lack of motivation of playing for "lil ol' Everton". Perhaps he will now perform every week for Man Utd, but I doubt it.
Erik Dols
9
Posted 06/07/2017 at 14:24:57
I would like Lukaku to stay as he is a great player and it would be a great signal. I also think a lot of ToffeeWebbers underestimate his ability.
But at the same time like most others I am fed up with the continuing saga around him. £75 mil in today's market seems okay, although I hoped for a little more to be honest.
Daniel Lim
10
Posted 06/07/2017 at 14:26:53
Tom, that's 13 years apart. It's not like it's happened every other year.
Mike Berry
11
Posted 06/07/2017 at 14:27:17
A strange one this as many thought that he would be going to Chelsea. Also cant see them retaining the title without a top goalscorer and Costa unsettled and wanting out.
I feel this has the legs to run a bit more yet, a bidding war would not harm us.
Also I expect two more strikers to Everton, so its going to get very interesting
James Morgan
12
Posted 06/07/2017 at 14:28:03
Question for my fellow blues: iIf Lukaku goes for £75m or more, and we then bring in Rooney, Sigurdsson and Giroud and that concludes our business, would you be happy?
I'll get the ball rolling. I would be happy because we will have massively strengthened our squad; however, I would like to see us bring in an understudy to Baines and a top drawer winger.
Two or more in every position is needed with league and cup games combined. We don't have real competition for Baines, and with Bolasie still injured and Deulofeu gone, we only really have Mirallas and Lookman for the wide positions.
Mike Green
13
Posted 06/07/2017 at 14:28:32
Assuming a bid of £75m has been put in it's good news for two reasons:
1) It looks like we have a serious bidder and he's going.
2) It'll be a minimum of £75m.
Great.
Dennis Ng
14
Posted 06/07/2017 at 14:28:39
They probably have no use for Rooney and Rashford. Would be good to take them the other way for free if possible, LOL
Tom Dodds
15
Posted 06/07/2017 at 14:31:00
No doubt we will get Lukaku back in 2030. After they've won the usual cups/league titles etc. While we also have to endure the Romelu Lukaku chant by them for the next 11 years.

Well done, Everton, keep feeding our Red Masters.
Seamus McCrudden
16
Posted 06/07/2017 at 14:31:19
Daniel maybe because they were the only two decent strikers we had in that 13 year period.
Jim Wilson
17
Posted 06/07/2017 at 14:33:50
Hopefully we will now see Everton playing more as a team with more movement up front and more pressing from the front. Would love Barkley to say he now wants to stay!
John Pendleton
18
Posted 06/07/2017 at 14:34:19
Cost us just under £0.5m per goal if true. Can we emulate or better with what we have?

Craig Harrison
19
Posted 06/07/2017 at 14:35:02
And after his agent takes a cut ,how much of the £75m can we expect to receive?
At least now Koeman will be able to select and layout his team the way he wants it to play instead of having to fit his plans around Lukaku. Should also help with the FFP.
Sam Hoare
20
Posted 06/07/2017 at 14:35:34
Can we have Rashford instead of Rooney? PLeeease.
Jer Kiernan
21
Posted 06/07/2017 at 14:36:12
I think Everton have performed quite well in the transfer market thus far. We should not allow ourselves to be mugged by United yet again
Jose is getting tetchy with the Man Utd board so the pressure is on and there is no shortage of wealth there, I would love to see us stick to our guns for once. £100 million or don't bother to contact us. This is a proven goalscorer whatever about his personality failings and delusions of grandeur
Hold out. Chelsea will come in with a bid I am sure as keeping Costa is now unworkable for them. The transfer window has a long way to go make them sweat it a little, besides we are supposed to be competing with them next year so let's not roll over at the first offer?
Michael Burke
22
Posted 06/07/2017 at 14:36:17
Great piece of business. £75m for a striker who traps the ball like my 2-year-old daughter!
We will seriously miss his goals though. As I've mentioned before, they will be almost impossible to replace.
Zahir Jaffer
23
Posted 06/07/2017 at 14:40:48
I'm turning into a transfer fiend. This daily dose of madness is priceless.
Lukaku is also priceless. I wouldn't sell him for anything less than £120M to our direct competitor. What is this? Daylight robbery can hold my shades.
If he's going outside of the Premier League for that quoted price than its acceptable.
There's no-one with his pedigree and age left in the premier league. With our new Chinese consortium, we don't even need to sell.
5 years in England and he's not only been consistent, but been drastically improving.
£120mill or Lukaku's first touch will be at Finch Farm.
Fran Mitchell
24
Posted 06/07/2017 at 14:42:19
Rashford? Is he actually good or is he just a young English player from Man Utd, so everyone says he is really good.
Of all the strikers from United, Martial is the one I'd like us to go for.
James Ebden
25
Posted 06/07/2017 at 14:49:39
I still think he will end up at Chelsea. I don't think he will want to go back to Mourinho. This smells of Man Utd trying to force the Morata issue.
£75m would also seem a bit low in today's market. The only way we would agree that is if Rooney came for free the other way, and not just on loan.
Bring on the bidding war from Chelski.
David Ellis
26
Posted 06/07/2017 at 14:50:13
Rashford...no. Lookman is the better prospect.
Paul Kelly
27
Posted 06/07/2017 at 14:50:50
Sorry but £75m in today's market ain't enough. There's a premium on strikers and and in today's ludicrous market it's even more.
Wouldn't mind it as an overdraft, what's the area code for China?
Daniel Lim
28
Posted 06/07/2017 at 14:51:15
Seamus, don't think we struggle to score goals between 2004 and 2013. So still can't see the big deal here.
Si Cooper
29
Posted 06/07/2017 at 14:51:17
If it's true, Michael, then the likes of Mourinho are presumably more interested in his goal-scoring ability than bothered about any deficiencies in his ball control. How strange?
Paul Kossoff
30
Posted 06/07/2017 at 14:51:42
TalkShite denying the rumours. I think its bait to get Chelsea to make a bid. I would take cash plus player from Chelsea. Batshuayi would have something to prove – almost a carbon copy of Lukaku's situation when he couldn't get in the first team.
Ken Buckley
31
Posted 06/07/2017 at 14:52:46
Jim White, who says he has the ear of Mr Moshiri, has said EFC have turned down offer. Echo say the same???
Rob Young
32
Posted 06/07/2017 at 14:53:20
I rate both Rashford and Martial; is the latter an out-and-out striker though?
He could well be available but I doubt they will let Rashford go.
Brian Williams
33
Posted 06/07/2017 at 14:53:53
No such bid accepted!
Paul Kelly
34
Posted 06/07/2017 at 14:54:00
Let the bidding commence!
Daniel Lim
35
Posted 06/07/2017 at 14:56:12
Paul, it's 86 for China and (0)10 for Beijing and (0)21 for Shanghai.
If you want the most powerful financial services group in China, it's (0)755
Mike Gaynes
36
Posted 06/07/2017 at 15:01:54
Nothing from either club, or from the Twitter-mad player himself.
Still just smoke here, folks. No fire.
Paul Kelly
37
Posted 06/07/2017 at 15:02:28
Cheers Mr Lim, they can only say no!
John Pickles
38
Posted 06/07/2017 at 15:03:33
Please God no, he's worth more than that.
One of the teams we need to better to get to a Champions League position get a world class finisher on the cheap while we dispose of their deadwood and pay him twice as much in wages for the privilege.
One month's positivity and then this.
Mike Gaynes
39
Posted 06/07/2017 at 15:05:21
Ken (#31), BBC now reporting the same, no agreement. Odd since the first report of the agreement was from them. Must be a little yelling in the office right now.
Daniel Lim
40
Posted 06/07/2017 at 15:16:27
I'm more interested in who's coming in rather than what's happening to him and Barkley. I have long had them 2 gone.
Tony McNulty
41
Posted 06/07/2017 at 15:17:15
I'd like us to do a Mrs Richards in that episode of Fawlty Towers.
"Tell them it's a £100 million and not a penny less. Why won't people listen?"
Robert Leigh
42
Posted 06/07/2017 at 15:20:47
£75mill with 2 years on his contract seems about right – that's £45mill profit over 3 years.
James (#12) – I would rather have Barkley than Sigurdsson with Rooney & Giroud; Sig with those two would be minimal movement. Giroud and a left back and we've had a good window, get a winger too and it's a great one.

Jason Broome
43
Posted 06/07/2017 at 15:20:53
From what I have read Man Utd and Everton have spoken to Wayne Rooney and have convinced him to take a pay cut to £125,000 a week in order to return to Goodison.
As a result Everton will save £13 Million over the next two years in wages, Man Utd will have him off of their books and the wage structure isn't violated.
If Wayne remained on £250,000 any player at the club
(i.e Barkley) or coming in (say Giroud) would almost certainly ask the same.
Moshiri is a clever man. Sell for £75 Million and save £13 Million on top comes to £88 Million. Not far off the £90 Million which was being quoted as a realistic sum for Lukaku.
This seems like a bloody good deal and clever strategy.
Alasdair Mackay
44
Posted 06/07/2017 at 15:21:18
If it's £75m up front I think it is good business.
If it is add-ons and incentives it is not. We need to walk away with £75m to immediately replace him, otherwise we may as well keep the bloke.

Michael Lynch
45
Posted 06/07/2017 at 15:24:35
Lukaku's record speaks for itself, as the BBC points out:
"With a double against Hull City in March, Romelu Lukaku became the first Everton player since Gary Lineker in 1985-86 to hit 20 league goals in a season.
Lukaku is also only the fourth player to score more than 80 goals in the Premier League before turning 24 (also Michael Owen, Robbie Fowler and Wayne Rooney).
He has also scored more goals than any other Everton player in Premier League history (68). Lukaku is one of only three players to have scored more than 10 goals in each of the last five Premier League seasons (alongside Giroud and Aguero)."
That's worth at least £75m to a club like Man Utd. On the other hand, take a look at that last statistic. I know Giroud has never been able to make the number nine spot his own at Arse, and I know he's 30, but his goalscoring record is excellent. Giroud and Sandro between them should be able to cover Lukaku's goals next season. I'd rather see us go to Arsenal than Man Utd for an 'old' striker.

Steve Foster
46
Posted 06/07/2017 at 15:25:06
Goodbye
David Fanning
47
Posted 06/07/2017 at 15:33:17
If he wants Champions League footy, why would he go to United? They will play a handful of Champions League games next season, then finish sixth again, if they are lucky. Rooney and Ibra can't fire them into the top four, so what chance would Lukaku have in their place?
This is all about inflating the price Chelsea must pay. United seem to be playing along with it, possibly as part of the deal for us taking Rooney off their hands.
Kevin Rowlands
48
Posted 06/07/2017 at 15:35:35
Fingers, toes, eyes, legs and anything else that I can cross, please let this be true, don't fuck this up Everton.
Pickford, Klaassen, Sandro, Rooney, Keane, and hopefully Giroud and Sigurdsson in, Lukaku out, for £75 mill; that is what you call an unbelievably good transfer window, so far. Now sign Ross up!
Rick Barnes
49
Posted 06/07/2017 at 15:39:03
Years ago I was thrilled when he signed. Over time his continual petulance on the pitch eroded any affection I once had. Instead of pointing at the
exact
spot on the tip of his boot where he wanted the ball placed, as if the pass was
Always
too long or too short, I just wished he'd try to get to the bloody thing - throw himself at it, dive headlong towards it... Now I won't have to worry. That's a frustration for the Utd fans (and his new teammates) now.
My memories of his time at Everton will be leaving Goodison utterly downhearted after a ridiculous draw vs Leicester when he sprayed seven or eight sitters everywhere but the goal, each time standing with both hands to his jaw like the Home Alone kid.
I'll remember the annoyance I felt when he tried to pinch goals from Bolasie and Davies.
The taking penalties from Baines debacle.
Forgetting he was even on the pitch in derbies, cup semi final, games vs Chelsea, Utd...
The good memories are when he was wearing army green vs Southampton and gave that woman a hug and his shirt after his wayward shot in warmup hit her in her face...and a hat trick in the same game. And a couple of good solo goals where he jinked side to side and beat a few defenders, I seem to remember a good one vs Chelsea.
...but I've a happy memory of watching Stracqualursi do that too, so I guess on balance I'll remember Lukaku as...a slightly better Straq (but without the heart).
Eddie Dunn
50
Posted 06/07/2017 at 15:42:12
Lukaku has made his intentions clear, and had said some time back that he knew where he was going. We presumed it would be to his former club, Chelsea, which he claims to be a fan of.
However, he has a friendship with another tall player with a penchant for American holidays. He plays for Man Utd, and they share the same agent, but the manager or Utd is the man who let Rom go, so there are a few questions still to be answered.
Could it transpire that in the light of Everton's transfer activity, that Lukaku is considering staying put? It would be a huge boost to the club, if he did.
Nonetheless, I am quite happy for us to pass him on to someone else, as long as we get in good money. For me, the reliance on playing one upfront limits the style of play, and in some matches Rom was marked out of the game, with two defenders nullifying his potency.
At Man Utd, Ibrahimovic showed how to hold the ball up, and bring others into the game. Romelu does not yet have that ability, and if he goes there, he can expect to be harshly treated if he performs, as he has done for us particularly in the season's run-in.
I think he will improve and in his late twenties, he will be a complete striker, but at the moment it looks like good business to cash-in now.
Nigel Munford
51
Posted 06/07/2017 at 15:44:16
Can't believe this to be true as why would we accept the first offer, I've heard that we've knocked them back, which would be what I would have expected. Why would we put a £100 million price tag on him and then let him go for £75 million. Watch this space I reckon.
Drew Shortis
52
Posted 06/07/2017 at 15:45:36
I'm torn over this. On the one hand he's a natural goalscorer and looks unplayable on occasions and I don't like the idea of still being a selling club. On the other hand his all round game isn't that of £75-100m player and his constant talk of a move is warning and must unsettle others. He was just the player we needed at the time of his initial loan and I was over the moon when he signed permanently, but goals aren't everything, its winning matches that matter most, and if we can spread the goals out across the team and win matches then who cares if we have the league's second-highest goalscorer.
Presuming the money spent so far was not dependent on this transfer then £75-100m will buy us two good replacements who can be expected to contribute 15+ goals as well as fit into Koeman's system much better, and this would still leave us with the change to get in Sigurdsson. Giroud, Dembele & Sigurdsson plus Rooney in and nobody will be looking back. Perhaps another centre-back and cover for Baines and we'll have one hell of a squad.
Normally I wish players the best of luck when they leave, but as he's off to a rival I have to keep my fingers crossed that he'll do a Stones and flop.
Graham Mockford
53
Posted 06/07/2017 at 15:46:14
#49
"I'll remember Lukaku as... a slightly better Stracq (but without the heart)."
They're all out today.
Nigel Munford
54
Posted 06/07/2017 at 15:47:05
Kevin (#48) we've tried getting Ross to sign, it's not up to us, it's up to him, he's the one not wanting to sign his new contract.
Kevin Rowlands
55
Posted 06/07/2017 at 15:53:33
Good post Rick, I think a lot of Evertonians have them same feelings.
As for Lukaku, boy oh boy, when them Mancs figure out besides the goals his overall game makes Fellaini, who they hate, look like Lionel Messi, he's going to be in for one rough ride. Its all going to end badly there, for him and Mourinho, imho.
Drew Shortis
56
Posted 06/07/2017 at 15:57:05
Just been checking out Manure fans reaction on Twitter. Someone posted up a compilation of Rom attempting to control the ball. Seems like a lot of them think he's Drogba Mk II. Could be closer to Fellaini Mk II. Great when the team sets up to play to their strengths but not the world beater they could be based on their physique.
I expect he will keep on improving but it will take time. With the likes of Mata providing the ammo he's bound to continue to score loads, I just feel he may not be quite what they think he is. To be fair a lot of them are questioning whether he's the real deal.
I guess only time will tell. I'm almost relieved it's over and we can get in a few who want to be here!
David Pearl
57
Posted 06/07/2017 at 15:58:47
The last time we sold our top striker to Utd we finished that following season in a champions league spot. Hopefully we can do the same with them in 5th (and the RS in 18th).
Lukaku with top players around him?? He won't be worse with them will he. He's 24 and improving. Koeman has it right though. It's nearly impossible to replace his goals with only one player.,, but spreading that out it can be better.
Ben Dyke
58
Posted 06/07/2017 at 16:01:37
Rick Barnes (#49) spot on! Exactly how I feel. I Would definitely settle for a slightly less potent finisher who actually looks like he cares and is willing to run around, chase after balls and people!
Paul Baker
59
Posted 06/07/2017 at 16:02:01
@Paul 30
You're absolutely right! Plus his first touch is way, way better than Rom's. Wonder if the lad is even considered by Ronald & the board, though.
Ben Dyke
60
Posted 06/07/2017 at 16:02:23
We didn't do too bad the season after Lineker left either, did we...
Julian Wait
61
Posted 06/07/2017 at 16:05:11
This headline just reiterates the, misleading info disseminated by Man Utd. In fact it is reported by journalists citing Man Utd sources that a fee has been accepted but Everton are denying it.
Nigel Munford
62
Posted 06/07/2017 at 16:09:30
Exactly, Julian; until EFC say a fee is agreed, then treat it as a poorly researched rumour.
John Dubay
64
Posted 06/07/2017 at 16:18:32
Rick Barnes (#49) – my sentiments exactly
Nigel Munford
65
Posted 06/07/2017 at 16:23:42
From the BBC Sport App
"Manchester United have agreed a fee of around £75m with Everton for striker Romelu Lukaku, senior club sources have told the BBC.
The 24-year-old Belgium international scored 25 Premier League goals last season.
United, who have been chasing Lukaku for most of the summer, will not now be pursuing their interest in Real Madrid's Alvaro Morata.
Everton sources say no deal or agreement has been reached."
The important paragraph is the last one, I'd say we all calm down and wait and see what happens, we would never accept the first bid, unless it met our asking price.
The article also states that this is in no way related to the Rooney business.
David Pearl
66
Posted 06/07/2017 at 16:25:29
David (#47): are you having a laugh?
It's not boring this window is it? It's been busier than the last ten years put together.
I can't wat for this season to start.
Alan Bodell
67
Posted 06/07/2017 at 16:26:42
Would it be remiss of me to dare suggest that his pimp agent is throwing logs on the fire attempting to kindle some, any kind of interest in his protege? Surely not.
Paul Holmes
68
Posted 06/07/2017 at 16:32:14
Lukaku nearly won the Premier League golden boot playing for 7th place Everton. Some posters on here need to take a reality check.
Lukaku is worth £100 million easily, he made and scored most of his goals himself, upfront on his own with no Everton player (Barkley) ever within 50 yards of him!
Playing for a team like Man Utd or Chelsea with their creative players he will reach 30/40 Premier League goals this season easily.
Why did Everton not get more for him when players like Pogba cost over £80 million, unbelievably bad negotiating from Everton!
John Pierce
69
Posted 06/07/2017 at 16:32:44
All I'm concerned about is Everton continuing to dominate the national narrative with transfer news, increased financial clout.
Its all encouraging signs we are serious, and hopefully Everton can play United off against Chelsea.
You would think with Everton preyed upon and players unsettled by Chelsea in the past perhaps the hierarchy are more amenable to selling to United?
Its feels United are in pole position with the Rooney deal still unfinished.
As for Rom, people say they'll miss his goals?! How? People, fans in this case make emotional connections with players not their goals. Its character people remember, not their stats I would say.
My immediate reaction is ambivalence and that tells me everything I feel about the player.
It will be interesting to see his development but I won't be surprised to see him back on loan at Everton in 18months
Andrew Ellams
70
Posted 06/07/2017 at 16:33:32
Jason Broome @ 43, add to that Rooney possibly coming for no fee then you start getting closer that £100million
Stephen Ashton
71
Posted 06/07/2017 at 16:35:14
Erik (#9). That is exactly the issue, non of us underestimate his ability, we dislike him for his awful attitude in not using that ability to its maximum. For that I will always regard him as a cheat and can't wait to see the back of him.
David Currie
72
Posted 06/07/2017 at 16:39:15
Great posts by Kevin (#48) & Rick (#49).
I'm really looking forward to seeing a new look team without Lukaku. Just glad I will never see him in a blue shirt again, hope you flop big time at your next club.
Barry Jones
73
Posted 06/07/2017 at 16:42:08
Alan (#67). Probably right. Agents, players, clubs; they all have various motives for leaking stuff to the media theses days. It's just a game.
Fake or not, I am just happy that there is some media activity on this topic for a change. Hopefully, it has the desired effect.
Jeremy Jansen
74
Posted 06/07/2017 at 16:44:20
Thank you, Rick Barnes (#49) for the Straq comparison/comment. I laughed out loud with that and surely appeared crazy to any passersby. The thought should help keep a smile on my face throughout the day.
James Welford
75
Posted 06/07/2017 at 16:46:55
Three things:
1) great that it's being done early doors, rather than the last week before deadline day.
2) great he's going - can we replace him with some players who want to put their all on the line for the blue shirt and realise how lucky they are to be playing for Everton (e.g. Sandro's 1st interview)
3) is the knowledge of this sale covering the other purchases? Will the Lukaku money be the new Arteta money and never get spent?
Most entertaining transfer window ever!
Steve Ferns
76
Posted 06/07/2017 at 16:47:04
Everton 4-3-3
Based on how we lined up towards the end of last season, this is how I think we will line up as we are now. Of course, Lukaku won't be here much longer. So we need to replace him. Giroud is mooted. I can't see Rooney playing as a number 9, and Sandro can't be expected to lead the line in his first season, and he appears better to me on the left of a front three. I would expect him to vie with Mirallas, Lookman and Calvert-Lewin for that spot.
On the right we will have Barkley and / or Sigurdsson, and this is where I would expect Rooney to line up. To the left of the striker, we would have pace, to the right would be the guy coming inside looking to slip the other two from the front line in. If we sign Sigurdsson and Rooney, I cannot foresee another right sided forward. Klaassen can also play here.
In midfield, I would expect Klaassen to take Davies' place, and to operate slightly ahead of Schneiderlin and Gueye (with Davies competing with those two for a place), but behind the front three. Sigurdsson cannot operate here. Barkley struggles here.
So, I would like to see two central strikers signed, to compete with each other. one of whom should be a top striker, with my preference for Dolberg. The other could Giroud, but I would like see Calvert-Lewin given some more game time centrally.
Charles Brewer
78
Posted 06/07/2017 at 16:58:13
Delighted to see him go. I thought we had found a great goalscorer and rescued his career after he was badly treated by Mourhino.
I was wrong. He was a lazy petulant player with a minimal range of skills, a terrible attitude and no capacity to change games. If the team was playing well, his physicality and scoring skill resulted in goals. If the game was seriously contested or Everton were on the back foot, he was absent.
His display in the semi final was the most incompetent display I have ever seen by a striker and persuaded me that he was only worth fobbing off on any club stupid enough to pay a large pile of money. Man Utd have bought a disruptive donkey.
Ramsey Sood
79
Posted 06/07/2017 at 16:59:26
Gave us 4 good seasons. Scored loads of goals. hardly ever missed a game. If we had a few more players of his calibre and won some trophies, Europe etc etc maybe we could of had him for another year or two
Could of done without the interviews on international duty about moving on, but all in all good luck to him.
Would like more money for him, but that is down to the club to sort out
This is more than Rooney has, or ever will give Everton, but yet people are welcoming him back and criticising Rom??!!
Mike Green
80
Posted 06/07/2017 at 17:00:02
Anyone remember the £20m bid by Newcastle for Rooney that smoked United out back in the day? Maybe we're calling a favour in again, ironically from the team we used the trick on the first time around...
Peter Morris
82
Posted 06/07/2017 at 17:05:07
What puzzles me is that both the BBC and Sky headline their report that Man United have agreed a fee of £75m, but then say much deeper in the same report that Everton have not agreed the fee. So who have Man United agreed the fee with then, themselves? Maybe Lukaku and his viper of an agent? I think the BBC and Sky are just hoping this goes through to be honest. They can't cope without Man United making the season's marquee signing and it's as simple as that.

In any event, I'm not sorry to see the lad go. He clearly doesn't want to play for us any more and would perform in a perpetual hissy fit if he remained here next year. The only credible message for him wanting to stay was a signed contract, and without that, he can eff off as far as I'm concerned. The same applies to any player who thinks the grass is greener elsewhere.. 'bye then'.

Be it £75m flat, or with potential add-ons, that's good enough in my book, he's not that special,and if this went through, it would be quite satisfying seeing those vulgar rats at Chelsea getting fucked over. At least Man United behave with some degree of class and respect.
Ary Lima de Moraes
83
Posted 06/07/2017 at 17:07:28
He has to go. I'd rather sign a hot prospect like Berardi instead of Giroud though
David Graves
84
Posted 06/07/2017 at 17:12:21
"Lukaku .a slightly better Straq (but without the heart)."
Stay out of the sun.
Steavey Buckley
85
Posted 06/07/2017 at 17:14:08
If the reports are true, and Lukaku has been sold to Man Utd for £75 million, Everton have sold more players in value than they have bought.
Cleverley, £8 million; McGeady, £4.5 million; Deulofeu, £11 million and Lukaku £75 million adds up to £98.5 millions in sales. The other loans deals would add up to £100 million.
So, Everton need to splash more cash on a left and right backs, centre-forward and another winger to show Everton fans they are serious about breaking into the top 4.
Ian Riley
86
Posted 06/07/2017 at 17:14:36
Expect Chelsea to bid and this could run. Everton accept United's initial bid, Chelsea will match it and leave it to Lukaku to decide. Hold your nerve, Everton. Another £10m or £15m more will do nicely!
Terry Smith
87
Posted 06/07/2017 at 17:19:45
Cant see Everton accepting £75m!! We can dig our heels in and not sell him for another year. He can't be in a position to sit off and sulk in a World Cup year. And if he continues to score goals and have a good world cup we should still get at least £75m plus.

In my own opinion I think this is to kick Chelski up the Arse and make a serious bid.
Brian Williams
88
Posted 06/07/2017 at 17:20:34
Well I hope he doesn't go for £75m because the word coming out of Old Trafford (as reported by Sky) is that they're "confident of the deal going through". So confident that they're considering buying him a ticket for the USA preseason tour.

The word from Everton is that there's no deal in place. I think it would be embarrassing now if the deal went ahead at that price. It would look like we'd been bullied into it to be honest and as much as I don't mind him going I feel if the club has put a price of £100m on him and then turned down £75m only to accept it in a day or two it would make us look bad.

It wouldn't surprise me if that rat Raiola is right in the midst of things trying to force things through at HIS price. Hope the club stick to their guns even if it means he's here 'til the end of the window. Do what's best for Everton!!!!

Peter Lee
89
Posted 06/07/2017 at 17:22:44
In a strong side that can play to his strengths, which never included playing off the shoulder and chasing hopeful long balls, he will show us what he can do. If he has any sense he will realise that the MUFC - divers is not that side.
Josie doesn't play the way RL needs.
He'd be better off at Chelsea.
Given the signings thus far and projected, he'd be better of staying than going to OT.
James Hughes
90
Posted 06/07/2017 at 17:25:11
Steve # 85 This is wonderful world of football and none of the players you mentioned asked to leave. That means we pay the contract wages due, unless agreement is reached.
i don't know what wages Cleverly was on but if he was on £40k per week and had three years left, then we would owe him £6 million.
Lukaku has not been daft enough to ask to leave. just turned down a new contract.
David Barks
91
Posted 06/07/2017 at 17:27:01
Some seriously deluded commentary on show by some. The claim of a bad attitude, not once has anyone at the club or any reports of any kind come out of the club about Lukaku's attitude. He played just about every single minute of every match for us last season.
Ridiculous posts would claim one week that he only celebrated his own goals and not his teammates, which were immediately disproved by readily available video and images of him jumping on teammates backs in celebration at their goals. Then the claim switched to him not celebrating his own goals, asserting he wasn't happy to be here. Again, readily disproven. Just endless BS.
What he is is a very talented striker who was the best we've had in over 20 years. He was a player who improved with us every season. He is a player years away from his prime who will now be going to another club that will compete for trophies every single season, with top quality at every position and in reserve.
His talents will be missed and he will improve. He did very well for us at a time where we struggled to attract any top quality players. He has only ever spoken of his ambition to compete at the top and continue to challenge himself and improve himself. That's not a bad attitude. It's the attitude that a person must have in order to be great at what they do. That's the type of person we need to be filling this club with. Because make no mistake, as you're celebrating Sandro joining us, that's exactly the type of player he is.
It's a shame that this type of investment wasn't made last season as we could have seen a real challenge from Everton with Lukaku leading the line. Instead, when he is sold we will be left with exactly one senior striker in the team who has never played a single minute in England. Might be a good idea to keep the saying "a bird in hand is worth two in the bush" in mind. In Lukaku we had a striker who eclipsed 20 goals and was improving every season. We have no idea what we have in the bush.
Stan Schofield
92
Posted 06/07/2017 at 17:30:42
As usual, to be treated with a pinch of salt in the absence of any official announcements.
Gavin Johnson
93
Posted 06/07/2017 at 17:31:43
£75m + £15m in add-ons with United giving a £10m payoff to Rooney sounds okay to me.
Brian Williams
94
Posted 06/07/2017 at 17:32:07
"Being at Everton next season is not an option." Said while under contract and said with two years left on that contract.
Smells like bad attitude to me. I'd argue and give examples of more but can't really be arsed.

Mike Gaynes
95
Posted 06/07/2017 at 17:37:15
Brian, you're never gonna stop repeating that quote, are you?
Peter Roberts
96
Posted 06/07/2017 at 17:38:17
Lukaku out for £75m = Giroud and Rooney in for a combined £20m plus wages and Wayne's signing on fee. No brainer.
Fwiw, £75m was the fee Barca paid for Ratboy 3 years ago. Even accounting for price inflation I cannot see how we haven't diddled United here even if we don't get more than this, Lukaku for all his goals is nowhere near the footballer that Suarez was then, or is now.
This window has been a complete 180 on our usual transfer dealings and I am loving every minute of it. Roll on July 27th.
Brian Williams
97
Posted 06/07/2017 at 17:39:21
Mike, not when it's required to add weight to what I feel is a reasonable and valid point.
David Barks
98
Posted 06/07/2017 at 17:40:33
Brian,
That must have just ripped your heart out when he said that, right? And I'm sure that you would never have dared to display such a bad attitude by calling for a player under contract to be sold. I mean, that contract is sacred and we must demand and express total loyalty, right?
We could have any hypocrisy in saying a player who is good must honor their contract while we demand underperforming players to be shipped out. They're under contract after all, with Everton, a family.
Mark Melton
99
Posted 06/07/2017 at 17:43:08
This is one player who obviously wasn't "touched by Everton". I will miss his goals, but not his arrogant, sulky demeanour. He could have at least pretended to like us. Give me a striker who scores 14 in a season instead, but gets decisive goals in crucial games, not against the likes of Stoke and West Brom.
Steve Hogan
100
Posted 06/07/2017 at 17:44:17
David Barks (#91), everything you say is true. I think some of our fans let themselves down badly with the vitriol aimed at Lukaku.
He is simply one of the current brand of young european strikers who move around the games top clubs. If someone had said he would be around the club for four years and finish top scorer each season, most people would have accepted that.
I've never seen him throw a 'strop' during his time here, despite playing in a 'brain dead' team very often under the deluded idiot that was Martinez.
Anyone who thinks he played 'for himself' and didn't celebrate his goals, need to cast their minds back a few years to the brilliant individual goal against Chelsea when he turned their defence inside out before slotting in the winner.
Did that look like a player 'not interested'?
Brian Williams
101
Posted 06/07/2017 at 17:45:05
Didn't rip my heart out, David, far from it. I do still believe though that's it's an example of his bad attitude.
Not arguing over anything else just whether I believe that was an example, and I believe it was. You and I have different opinions that's all.
Mike Gaynes
102
Posted 06/07/2017 at 17:46:12
David (#84), I think it's too late...
Rom goals for Everton: 87
Stracq goals for Everton: 1
And no, Stracq's goal wasn't a "solo effort"... it was a Donovan setup and was shot straight at Cech, who muffed it.
Damian Wilde
103
Posted 06/07/2017 at 17:46:21
Surely we should get £90 million? £75 million would not be a good deal for Everton.
Mike Gaynes
104
Posted 06/07/2017 at 17:49:10
Brian, my wife doesn't repeat her mantras that many times.
At least find another quote for godsakes... you've worn that one out.
Nigel Munford
105
Posted 06/07/2017 at 17:49:12
Damian, correct this is why EFC have rejected it. It's only MUFC that state it's agreed.
John G Davies
106
Posted 06/07/2017 at 17:51:12
Great business to make £47 million profit on Lukaku.
Bottom line? doesn't want to be at Everton. And he hasn't been shy in telling us for the last couple of years.
Brian Williams
107
Posted 06/07/2017 at 17:53:52
Hey Mike. You don't tell me what to do I won't tell you, how's that sound?
Ian Bennett
108
Posted 06/07/2017 at 17:54:17
I'll change that comment. Paul Joyce was linked with saying that £200k per week deal was agreed, and that he'd stay in LA for a medical despite being due back for pre season training. Linking up with United for season training on Sunday.
Everton have since denied a deal since the above post, so it could be premature although Joyce seems pretty reliable. £75m doesn't seem enough for a proven premier goal scorer, when you think Torres went for £50m plus years ago - and Pogba went for more…
I would be wanting £90m minimum, and would be wanting a better goal threat than Rooney. I'd see Rooney as an alternative to Sigurdsson. Sigurdsson, Rooney, Giroud doesn't have much pace….
Brian Williams
109
Posted 06/07/2017 at 17:56:22
Ian (#108).
Yeh just read that myself. Makes you wonder why the club is still denying the deal doesn't it?
Roger Sunde
110
Posted 06/07/2017 at 17:58:37
Selling Lukaku is a step back in my opinion. Why people think a striker that sat on the bench on the worst Arsenal side for 20 years is a better deal, I don't understand.
I'm getting Walter Smith flashbacks when we signed world beaters like Ginola and Gazza.
Mike Green
111
Posted 06/07/2017 at 18:11:32
My gut feeling is this will go through in some way, shape or form and we'll produce a striker out of the blue, like we did with Sandro, who will put Rom in the shade. All part of the plan, just watch the Acts unfold.
Nigel Munford
112
Posted 06/07/2017 at 18:19:09
Roger, I'd suggest EFC don't want to sell him, it's Rom that wants to go, so we have to look for alternatives and to be fair Giroud would be a worthy option. He may have spent a lot of time on Arsenal's bench but still has a better goals per minute stat than Rom last season.
Andy Crooks
113
Posted 06/07/2017 at 18:22:03
We can do nothing about Lukaku wanting to go but I don't see it as something to celebrate. Unless we spend big on a replacement it seems to me that a rival are showing more ambition.
Eddie Dunn
114
Posted 06/07/2017 at 18:22:12
Steve Hogan,#100, he did score THAT goal against Chelsea when their lumbering defenders all fell over, but it was something of a one-off.
He may well be one of these modern footballers plying their trade at top European clubs, but that is no excuse for a lack of effort towards the end of both of the last 2 seasons.
He could become a superb striker, however, he still has much to learn, and I would have been happy to watch him improve in an Everton jersey.
It is very annoying though, that he has made regular comments which make our club look small in the eyes of all and sundry. As an employee on excellent wages he should have had more respect to the club and kept his ambitions private.
His attitude and ego could be his eventual undoing. He said he could learn nothing from Harry Kane. Who won the golden boot?
Graham Coldron
115
Posted 06/07/2017 at 18:24:22
Sky are willing this to happen at £75 million so let's hope that we tell Man Utd to do one and come back with a more realistic offer.
Colin Glassar
116
Posted 06/07/2017 at 18:30:28
£75m is too low imo. If the super rich clubs want to buy him let them pay a super rich price.
Jay Harris
117
Posted 06/07/2017 at 18:36:20
Anyone who says Lukaku never throws a strop and hasn't disrespected the club and fans needs to take a reality check.
Personally I am glad to see the back of the big loudmouth and look forward to the money being spent on the likes of Modeste, Dembele, Dzecko, Giroud or even Vardy,
For me he only showed up when he could bully the center backs and went missing when he came up against quality and as the quality of CBs is improving in the Premier League suspect he will not be as effective as he has been.
For those comparing it to the loss of Rooney remember we qualified for the Champions League the year after Rooney left.
The game is more about team effort and cohesion than one egotistic superstar.
James Stewart
118
Posted 06/07/2017 at 18:36:53
We would be mugs to accept less than they paid for Carlton Pogba. Stinks of typical Man Utd behaviour leaking to the press before any deal is agreed.
Soren Moyer
119
Posted 06/07/2017 at 18:39:53
Nothing less than £100 million is acceptable. How come they pay that much for an average MF like Pogba, but won't pay the same for Lukaku? Hold out for the £100 million! And NO ROONEY!
Colin Glassar
120
Posted 06/07/2017 at 18:40:15
Can you imagine Rom and Pog together? The Kings of Bling and selfies. As much as I rate Rom I won't miss his childish and boorish utterings. His goals will be hard to replace though.
Paul Mackie
121
Posted 06/07/2017 at 18:42:27
People in this thread thinking that Giroud and Rooney is an upgrade on Lukaku. We've truly reached peak ToffeeWeb today.
Craig Walker
122
Posted 06/07/2017 at 18:44:47
The semi-final against United was his first game in a United shirt! He did everything to help them get to the final.
Malcolm Dixon
123
Posted 06/07/2017 at 18:45:33
If Rom had my right foot, he'd be a decent player. Fact.
Paul Mackie
124
Posted 06/07/2017 at 18:46:01
Jay (#117) – "For me he only showed up when he could bully the center backs and went missing when he came up against quality and as the quality of centre-backs is improving in the Prem suspect he will not be as effective as he has been."
Do I really need to show the stats of goals against the top 6 from last season again? Lukaku did far better than most.
I've no problem with losing Lukaku, he doesn't really suit the team Koeman is building, but he's still an excellent player and Man Utd are going to be vastly improved by him.
Jim Knightley
125
Posted 06/07/2017 at 18:49:08
£75 million for a player with two years left on his contract is a fair amount. There are only 4 more expensive players in history? That almost pays for Sandro, Onyekuru, Keane, Pickford and Klaassen alone. Then we can spend some money on Giroud/another striker, and a top creative player/someone for the amc role.
.
Ed Fitzgerald
126
Posted 06/07/2017 at 18:51:02
We should back away from this deal and only deal with Chelsea or potential foreign buyers. The cheeky twats at the Man Utd hierarchy think we are that desperate to get Shrek home, they can play fast and loose with the media. In fact we should walk away from both deals and leave them with Rooney on their pay roll and then sell Lukaku to Chelsea or whoever.
We need to be looking forward not backwards and stop behaving like we are a 'little club' and tell Man Utd to fuck off.
Malcolm Dixon
127
Posted 06/07/2017 at 18:53:50
I look forward to reveling in his every failure and frustration.
Maybe Jose can send him on a course to learn the offside law? Might take him a while to get it, though. Like, forever.Probably too late for him to learn how to trap a ball, though, at least not without it bouncing off him like he's a garage door or a concrete wall.

I hate him for thinking that he's bigger than the club when he can't even trap a ball 95% of the time!.

Goodbye, Rom, and bad luck. And I mean that most sincerely. Ta ta. Go and show yourself up for the second-rater you actually are.

And, relax...
Kevin Rowlands
128
Posted 06/07/2017 at 18:54:57
Jay (#117), your deluded, wink, wink. Of course you are right, he's disrespected our club and fans, plus team mates many times over the past few seasons on and off the pitch. I don't understand the posters on here who insist on denying that, but whatever.
We are about to make a £47 million profit on a decent goalscorer who is a very average footballer and who has made it plainly obvious that he doesn't want to be at Everton yet some on here are complaining that it's not enough?
As for Utd, if anyone thinks a trio of Pogba, Fellaini and Lukaku is going to take them to the promised land of League and Champions League titles, now that's someone who is really deluded!
Eugene Ruane
129
Posted 06/07/2017 at 18:56:16
Fuck me!
Just had a look at that News Now site (well, the Everton bit).
It's just this mad stream of..um..mad..er..mad stuff.
Like the site can't keep up with the amount of loon speculation and rumour.
It's as if rumours are meeting other rumours, getting married and having big fat kid rumours.
"Robles turns down Lukaku's bed.

United could lose out on being spared blushes or something.

Wayne Rooney hitches up his bills

Spurs identify Barkley as being Barkley.

Lukaku keen on things he's keen on."
Then in the middle of all this, there'll be a story that throws you - something that's fuck-all to do with transfers.
"Andy Rankin said the nickname 'Uptown Top' got on his nerves."
Then it's right back into the lunacy..
"Chelsea manager says he's reluctant to overpay for Lukaku..but adds 'fuck it, pay 200m for him..no 300m!'"
I try to take a bit of a break from the madness in the summer and Jesus, this IS madness.
Chris Leyland
130
Posted 06/07/2017 at 19:05:40
Paul (#124) – here are his 'amazing' stats last season against the top 6:
Chelsea played 2 scored 0
Spurs played 2 scored 1
Man City played 2 scored 1
Liverpool played 2 scored 0
Arsenal played 2 scored 1
So, 3 goals in 10 games and only one of them in a winning game.
Kunal Desai
131
Posted 06/07/2017 at 19:07:09
I am more concerned who we now spend the Lukaku money on. If Rooney and Giroud are brought in as our front two pairing we can forget about finishing beyond 7th.
Replace Lukaku with some absolute quality like a Morata or Aubameyang.
Paul Ferry
132
Posted 06/07/2017 at 19:08:10
Kevin Rowlands (#55) – "when them Mancs figure out besides the goals his overall game makes Fellaini, who they hate."
They do not 'hate' Fellaini Mr Rowlands. Far from it. He was high in their polls for player of the season.
After a lot of moaning, not least with the Moyes connection, many Man Utd fans – I won't use the blanket 'Mancs' you prefer to use – have swung behind Fella. For a good number of them, he is a little cult – that's 'cult', Mr Rowlands.
Why make up bollocks about one player to yet again – yawn – bash Lukaku?
Lewis Barclay
133
Posted 06/07/2017 at 19:08:29
Thanks for your efforts and goals Rom, good luck and all but will you please just go now.
Nigel Munford
134
Posted 06/07/2017 at 19:08:41
Ed, I believe we have told MUFC to fuck off, as it states quite clearly on Sky and BBC that EFC have rejected the offer.
Nigel Munford
135
Posted 06/07/2017 at 19:10:55
Chris @130 nice stats you wouldn't happen to have Giroud's would you? Just as a comparison like?
Stan Schofield
136
Posted 06/07/2017 at 19:16:07
I would absolutely love it if Everton simply announced that Lukaku is going nowhere. Unlikely maybe, but .
Roger Sunde
137
Posted 06/07/2017 at 19:17:05
Giroud has scored 3 goals in 21 games vs Spurs, Liverpool, Chelsea, City, United and Everton.
So that's your salvation.
Michael Mcloughlin
138
Posted 06/07/2017 at 19:20:25
Not too bothered about Rom going, or indeed the £75 million which at the end of the day is quite a jump on the £28m we paid for him. So bye bye Rom asks for the goals.
Now onto the Blues. Some good signings I think. Ramirez £5.2 million and only 1 goal behind Morata in La Ligue so quite and astute buy.
Klaassen looks like a class act and can also chip in with goals, and looking at some of them he is a lucky bugger which also helps.
Henry Onyekuru was 2nd top goalscorer in the Belgium league and although he is going out on loan for a year or two he is deffo an exciting prospect for the future.
If Rooney comes, I do believe we will get a good year possibly two out of him and he will bring in goals doubtless about that.
I really would like to see Gironde at Goodison as I think he will bring a lot more control up front holding the ball. A skill we saw Rom really lacking in. I'm sure there will be a big signing which is yet to be announced or picked up on. So bring on the season and COYB

Anthony Jones
139
Posted 06/07/2017 at 19:29:15
This is hilarious.
Mourinho must be completely shameless.
Lukaku must be masochistic.
They separated for good reason.
Just give us the money and watch as their relationship deteriorates once again.
Rob Halligan
140
Posted 06/07/2017 at 19:29:36
Stan (#136). I agree mate. Apparently Chelsea was a done deal, so why even bother announcing the manure interest? The way I see it is, if nobody offers the £100M then Lukaku stays. And I still think he will start the season with us.
Geoff Lambert
141
Posted 06/07/2017 at 19:30:36
Michael (#138).
I don't think you are allowed to play a town from the south of France in the Premier League yet!
Jim Knightley
142
Posted 06/07/2017 at 19:33:34
Chris (#130) – You've well illustrated the rubbish some people throw at Lukaku. Here are some issues with your post, and your erroneous stats.
First of all – have you bothered checking how the other supposedly top players did in the division against the top 5?
Next – Lukaku did not play in the first home game against Spurs. So he only played 9 games.
Next – Lukaku also scored at home against City in the Premier League – the first goal in that match.
So, your 3 in 10 is actually 4 in 9 – a pretty superb rate of goals against the top 5. In fact, I'd like you to tell me how many strikers bettered it? You might be surprised.
Another stat for you – Lukaku scored in 3 away games against the top 5. United scored 1 goal away to the top 5 all season.
The rubbish that gets thrown about in Lukaku discussions (not aimed at you Chris but some general comments) is bewildering - sometimes I think our fans don't watch other strikers. They are not all running around like Tevez, trapping the ball like Messi, and representing the loyalty of Tony Hibbert. If they were, they certainly wouldn't be playing for a team that finished 11th, 11th, and 7th in the Premier League in the past three seasons.
We will miss him – yes, we can make up goals elsewhere, but we could also score more goals from midfield and retain our highest scorer of the Premier League era. It's not Lukaku's fault that Mirallas, Calvert-Lewin, Barkley, Bolasie etc are inconsistent, and to be honest, a little average in the main.
Tom Bowers
143
Posted 06/07/2017 at 19:38:30
People criticizing Rom. haven't got a clue about football.
He is a top goalscorer, end of story.
Peter Roberts
144
Posted 06/07/2017 at 19:40:33
This will prove to be the best business we have ever done. Absolutely certain of that.
A ridiculously overrated player who nearly every manager in the league knows how to nullify... a player who if a centre half is prepared to get stuck into nice and early will go into his shell.
£75m Absolutely mind boggling.
Yes he scored goals for us. He had a team set up for him to do that. He was indulged like no one I've ever seen indulged before.
I actually think koeman played a blinder by relentlessly bugging him up and boosting his stats by playing him when he should have been dropped.
This lad will go on to have a career like adabuyor. Full of self entitlement and underachievement.
Gavin Johnson
145
Posted 06/07/2017 at 19:40:40
It all starting to make sense why Lukaku's holidaying in LA. Man Utd are playing LA Galaxy on their US tour.
I'll be happy enough if the final fee rises to £90m with add-ons and United give Rooney a payoff so we're not footing all his wages. But... if it's a flat fee of £75m, I think we'd have sold ourselves short.
I'm sure everything will be revealed by the weekend.
Stephen Brown
146
Posted 06/07/2017 at 19:41:40
Going to be really hard to replace his goals and clearly he is a very good footballer but he's one of the very few Everton players that I just can't take to!
I just don't like the 'I'm doing you a big favour being here' attitude!
I'd happily take 75m plus Rooney for him and spend the money on Dembele and Sigursdson.
Stan Schofield
147
Posted 06/07/2017 at 19:41:42
The recent signings are a positive and encouraging development, but no more than that. It's premature to liken what's happening to the John Moores era of the 60s, although some on ToffeeWeb have done precisely that.
However, if Everton announced that Lukaku is going nowhere, then I'd probably start feeling a bit excited. Even more if, in addition, Barkley signed a new contract. In contrast, if Lukaku is sold, then at this stage I can't help thinking of the recent developments (however encouraging they are) as close-season retail therapy.
Michael Mcloughlin
148
Posted 06/07/2017 at 19:42:01
Well spotted, Geoff, I should have proof read, I can see a few mistakes in there including Giroud. Thanks for pointing that out :-)
Andrew Keatley
149
Posted 06/07/2017 at 19:43:35
I hope this doesn't drag on – or if it does it only drags on because there is a Chelsea v Man Utd pissing contest/bidding war that pushes the price up.
Lukaku can go. He wants to go. We've acquired some exciting new players that will hopefully make the team stronger. Lukaku thinks he is destined to be leading the line in a team that is challenging for the Premier League title and Champions League trophy.
He lived a very charmed existence at Everton where there was literally no serious challenge for his starting berth. I think – wherever he ends up – he might well end up spending more time on the bench than he imagines, especially if his performances do not merit his transfer fee.
Peter Roberts
150
Posted 06/07/2017 at 19:44:57
Tom (#143). Quite the opposite.
Someone who was able to see through the lads goal stats and understand how he impacts the team from a possession and team unit perspective gets my respect.
To the untrained, easy to impress eye he looks an impressive player. To anyone who understands the importance of being able to control a ball and pass it accurately... or to be able make runs that aren't just involving running in a straight line pointing 15 yards ahead, he appears what he is a very limited footballer!
Kevin Rowlands
151
Posted 06/07/2017 at 19:47:02
Here's another couple of stats that you conveniently missed out on, Jim. He never scored a single goal in the last 12/13 games of the season before last which helped lead to his now international manager getting fired, and never scored a single goal in the last six games of last season whilst leading the Golden Boot.
As for those saying we can't replace him it's not about replacing him, it's about upgrading the team; we are clearly doing that so far in this window.
Mike Allen
152
Posted 06/07/2017 at 19:47:06
Lukaku and his team will want a severance pay off. He hasn't asked for a transfer so this may well drag on. I hope I'm wrong may well miss his goals but not the man.
NIck Walsh
153
Posted 06/07/2017 at 19:51:16
So much hate!
Yes, he doesn't seem to have the passion for the club that a Big Dunc had/has, and yes he says some silly things sometimes but he doesn't deserve the vitriol spouted against him. As many have said he has gone missing in many high profile games and seems to score mostly against 'inferior' opposition; I would love to see the stats of who he scored his goals against/how many points those goals were actually worse.
Give or take we will make £50-odd million profit for him, he has scored a good amount of goals for us (quite a few of them in that horrific Bobby browns shoes teams). He wants to play at the top level in the Champions League and good luck to him. Hope to god we will be there soon but who knows, so let him go with thanks but of course get every single penny you can for him.
Can't help but think that Walsh and Koeman have something lined up to surprise us based on the positive moves made so far...they have known for a few months he wants to Foxtrot Oscar, and the business so far has been very impressive (still in shock and pinching myself at it all so far!!)
So good luck Rom, thanks for the goals; looking forward to beating whoever you play for next season!
Alan Bodell
154
Posted 06/07/2017 at 19:53:06
I'm born of frustration that his agent is getting away with it all messed up and we (me and many) are not gonna miss you when you're gone.
Denis Richardson
155
Posted 06/07/2017 at 19:55:43
Fantastic news!!!!
Before people go on about 'who will score the goals now?', his replacement is the answer. Whoever that may be.
Guy wanted to leave, has done for at least a season. He bagged loads of goals for us, so thanks for that, but time to part ways. He didn't owe us anything and vice versa.
Just really glad this hasn't turned into some long drawn out summer saga – hopefully it'll be over the line by the weekend and we can finally stop talking about whether Lukaku is leaving or not. £75m to go back in the pot to help cover the cost of the other 4-5 signings. Keerrrching!!!
Hopefully we can sign another striker (not Rooney), creative mid, fullback and sort out the Barkley issue and we're all set.
(Forgot, need to offload Niasse at some point! Guess that'll be another loan as I can't see anyone offering £10+ for him.)
Mark Frere
156
Posted 06/07/2017 at 19:56:45
Lukaku leaving this summer was always inevitable. I'm just glad this ongoing saga has nearly reached its conclusion. Sooner the better.
I'm not too keen on the idea of BOTH Rooney and Giroud coming in to replace Lukaku as they're the wrong side of 30. One of them – fine (preferably Giroud).
I can't help feeling very envious of Leicester, who are on the brink of signing Iheanacho for £25 million. I think he would've been an excellent addition to our squad.
Graham Mockford
157
Posted 06/07/2017 at 19:57:38
Peter Roberts
"To the untrained, easy to impress eye he looks an impressive player."
Mourinho paying £75m of your English pounds with his untrained eye.
Don't worry – it will all be over soon.
Peter Roberts
158
Posted 06/07/2017 at 19:59:49
I keep hearing "Who will replace his goals?"
As long as no one replaces his first touch, hold up play, heading fresh air, moaning, offsides, laziness, then I'm pretty sure the team unit is going to look far more slicker, robust and cohesive.
Eric Paul
159
Posted 06/07/2017 at 20:04:54
Lukaku is a selfish twat who doesn't care about the team as long as he is scoring. Get rid and spread the goals throughout the side and we will be better off.
Remember the seasons either side of Lineker???
Mike Connolly
160
Posted 06/07/2017 at 20:07:34
Well said, Peter (#158).
David Pearl
161
Posted 06/07/2017 at 20:08:07
Yeahhhh. I never really loved her. She used to burn me tea, stop me going down the pub. And I think she was the one who threw a red sock in with my Everton shorts.
Unfortunately we need some continuity and not change most of the starting 11 to show early success. Good job we got a few in early though so fingers crossed we hit the ground running for a change! I hope we refuse the offer but doubt it. We can't sell at the last minute and bring in a late arrival. So I think this deal will be done soon.
Ste Traverse
162
Posted 06/07/2017 at 20:08:40
Some Evertonians don't half make me laugh. I keep reading stuff about Lukaku 'disrespecting' this club etc yet the same fans are embarrassingly swooning around that twat Rooney like love-stuck teenagers, almost begging him to come back, and he's someone who has openly disrespected this club in the past and kissed his beloved Manc badge right in front of us.
Beauts.
Brent Stephens
163
Posted 06/07/2017 at 20:09:33
You might want to rephrase that last para, Peter. To my untrained eye, there seems to be something wrong with it.
Brian Harrison
164
Posted 06/07/2017 at 20:13:27
What happened to "Lukaku won't be sold for a penny less than £100 million"? Especially as we have two of the richest clubs in Chelsea and Man Utd interested in buying him?
I don't know why you would agree to sell him for the reported £79 million with add-ons.
Tony Hill
165
Posted 06/07/2017 at 20:20:11
Mark (#156), I very much agree about Iheanacho. I think we've missed out.
Chris James
166
Posted 06/07/2017 at 20:22:17
I think the fee needs to be £85-90M really in the current market.
We're not in any massive hurry so we can afford to hold out and let Chelsea/others pitch in now the first bidder has shown their hand.
That said I'd prefer to get this done sooner than later if it's a cog holding up other transfer wheels. I'm totally up for getting Giroud in (alongside Sandro) and think Rooney on a fee or loan for 1 year could be worth a punt – but think we'll still need one more striker even if we get both of these and/or Siggy.
Someone who's got a record of scoring goals for fun like Dembele seems a sensible punt.
Paul Hewitt
167
Posted 06/07/2017 at 20:28:02
Let's just sell him for £75 million, and move on.
Denis Richardson
168
Posted 06/07/2017 at 20:28:10
David (#161), we signed 7 first teamers last year and didn't do too badly. Also Koeman managed to rebuild decently at S'ton when he had most of his first team sold from underneath him.
Still, get your point but I'd rather have a team of decent players who need time to gel than an average team who've played together for donkeys years.
All the signings also taken care of before pre-season so they'll have a whole pre-season and a couple of light Europa League qualifiers to get ready for the first league game.
(Trying to keep the glass half-full... until Rooney necks it.)
Brian Harrison
169
Posted 06/07/2017 at 20:30:56
The Liverpool Echo are saying that the Rooney deal will be a 2/3 year contract and not a loan deal. Also Giroud seems to fancy a move back to a French club.
Nigel Munford
170
Posted 06/07/2017 at 20:32:30
And in all this hubbub, we've all missed the news that QPR have accepted our offer for 18-year-old Bowler.
Ray Roche
171
Posted 06/07/2017 at 20:39:55
"Disrespect" (noun)
"lack of respect or courtesy."
Usually used by some half wit, smacked out, swaggering, knife wielding gobshite who insists on showing the world where he got his skiddies from ( Calvin Klein..or M+S in my case) before he screams off on a trail bike he "found" in Great Howard Street, the only helmet on view being him, with his snide North Face or Canada Goose jacket flapping in the wind behind him while the toothless Police look on from the comparative safety of their BMW 4x4 suv's.
Also used by overpaid footballers who have completely lost all touch with reality and think it's a good look to turn up for your first training session aged 21 in a £250,000 Bentley, and not on the 62c from Speke with the rest of us, but still feel ."disrespected" .
Dispespect...yet another word to join the over played "Human Rights", " Felt contact" and other feckin words/phrases that piss me off to the nth degree .
and...breath...
Nurse: "There Mr Roche, is that better now!?

Brent Stephens
172
Posted 06/07/2017 at 20:46:20
Ray, get back to Coronation Street. No disrespect, dad.
Steve Carse
173
Posted 06/07/2017 at 20:49:46
With all these U23 signings, it looks like the Club's focus in this coming season is going to be retaining the PL2 title!
Christy Ring
174
Posted 06/07/2017 at 20:51:10
If the deal is not concluded, what about £40m + Martial. He's not happy on the bench, and would be a super addition.
Ray Roche
175
Posted 06/07/2017 at 20:53:24
'Ere! Brent! You're not too big to feel the back of my hand. I won't have you disrespecting me like err on second thoughts...
Jason Broome
176
Posted 06/07/2017 at 20:56:50
Peter Roberts @158. Well said.
Dermot Byrne
177
Posted 06/07/2017 at 20:57:15
A fine rant, Ray!
John Hammond
178
Posted 06/07/2017 at 20:58:24
Sky headline states fee agreed then read the article and they say Everton have said no fee agreed. Full of shit! And only £75m??
Brent Stephens
179
Posted 06/07/2017 at 21:02:16
Give me the back of yer hand, and you'll feel the weight of human rights. No wonder there's no respect for parents these days.
Jason Broome
180
Posted 06/07/2017 at 21:03:21
Christy Ring (Loving the name) @174
£60 Million plus Martial would be perfect. Bring in Dembele and could you imagine the perfect storm of Santos, Martial and Dembele leading the line in a 4-3-3?
Peter Roberts
181
Posted 06/07/2017 at 21:10:01
Graham (#157),
Yes, the very same Mourinho who sold De Bruyne and Matic for a song
He also bought Pogba for daft money...
Along with Coentrauo, Cuadrado
Yeah... him.
Graham Mockford
182
Posted 06/07/2017 at 21:21:44
Was it the same Mourinho who has won 2 Champions Leagues, 2 Europa League trophies, 2 Portugese titles, 3 Premier League titles, 2 Serie A titles, 1 La Liga title and just the 11 domestic Cup competitions.
It might even be the same Mourinho who has been domestic manager of the year in 4 different countries, UEFA coach of the year and World coach of the year.
But hey what the fuck would he know?
Colin Glassar
183
Posted 06/07/2017 at 21:22:35
I wonder what our net spend will be after Rom and Ross have left? £20-30m?
Danny Broderick
184
Posted 06/07/2017 at 21:24:56
A few stats from Sky Sports News about Lukaku:
He had the lowest average distance covered of any striker in the Prem.
He was in the bottom 6 for sprints.
He made 0 interventions - not a great stat in a pressing team.
Against the top 6:
11 games
4 goals (1 a pen)
0 assists.
For goalscoring alone, I would hold out for £85-90 million. But my gut feeling is to fleece the Mancs (or Chelsea) for this lazy sod, and then bring in Rooney plus a top mobile striker to replace him.
If we can get in a Vardy, an Aguero or a Dembele to replace Rom, supported by the likes of Rooney, Klaassen and Ramirez, we won't miss Rom. Dare I say he might even end up on the bench wherever he ends up? In which case, I'd love to see a flag saying re-signing Rom is 'not an option'. Please God!
Jason Broome
185
Posted 06/07/2017 at 21:30:32
Romelu Lukaku is in for a shock.
Throughout his time Sir Alex build a team around his philosophy and not around any individuals. The moving bus principle.
Moyes copied that and got relative success especially after selling Rooney. This was destroyed by Martinez who built a team around the spoilt brat.
He build a team around the get the ball to Romelu mentality which provided Romelu with goals galore at the detriment of a very good team.
Now that Koeman has once again instilled an Alex Ferguson philosophy I think that we will do fine.
This however does not bode well for Romelu who could be off to United. A team that had one of the greatest craftsmen the game has ever seen leading the front line.
https://www.youtube.com/watch?v=RM_5tJncHww
So impressive and sublime was Ibrahimovic that Martial and Rashford were relegated to the wing or the bench whilst Rooney was placed as an attacking midfielder.
How sublime is Lukaku? Does he really think the team is build around his style of play?
As Moyes found out Manchester United is a very different, relentless and unforgiving beast unlike Everton.
Under the same pressure Lukaku failed to score for Chelsea in 10 games.
Mourinho has little patience with failure. As we (three years ago) already know.
Kenny Smith
186
Posted 06/07/2017 at 21:31:04
Gutted he's going but glad it's so soon in the transfer window.Yes, he's not the complete player but he's the finest goal scorer we've had since Gary Line Acre.

I for one wish him the best of luck at United. The boy's ambitious and you can't knock that but so are we now so let's move forward. He ll go on to bigger things in the short term and so will we in the long term.

25-goal-a-season players don't grow on trees so come on Walshie pull one out the bag .
Brent Stephens
187
Posted 06/07/2017 at 21:32:43
Graham (#182) – yeh, yeh, all those cups. But just imagine what Mourinho would have won if he hadn't had an untrained eye.
Dermot Byrne
188
Posted 06/07/2017 at 21:36:30
I hope he falls absolutely flat on his face.
Chris Leyland
189
Posted 06/07/2017 at 21:36:43
Jim (#142), it was actually the Man City away game I missed his goal out in. So, yes it is 4 goals in 9 games but just the one win amongst them. So, as I was wrong about it being 3 in 10, I though I'd look at the two season before that too sure that his record would be equally as impressive against these so-called 'big 6' in the league and here are the stats:
2014-15 played all 12 games against them managed 1 goal
2013-14 played all 12 games against them managed zero goals
Total for last 3 seasons 33 games 5 goals
Compare this to:
Olivier Giroud Against 'big 6' with us instead of Arsenal
2016-17 10 games 2 goals
2015-16 12 games 5 goals
2014-15 9 games 6 goals
Total 31 games 13 goals
Or Harry Kane
2016-17 11 games 5 goals
2015-16 12 games 6 goals
2014-15 10 games 6 goals
Total 33 games 17 goals
Not so impressive now is it?
Christy Ring
190
Posted 06/07/2017 at 21:38:53
I wish Lukaku all the best, when he eventually signs for Man Utd. He could have left last season, but stayed and had a super season. He missed very few matches, scored 25 goals last season, bought for £28m, sold for £75m+ so can we not thank him for his time here, and wish him well.
James Marshall
191
Posted 06/07/2017 at 21:43:22
Good luck to him. He's never been anything but honest about his intentions and there's nothing wrong with that. Players come and go. I never understand the ill feeling towards them when they leave. He's a footballer and we've had some good times singing his name.
We've got some new players too, so we just move on. We're the Evertonians not them.
Paul Tran
192
Posted 06/07/2017 at 21:43:26
Spot on, Christy.
Nigel Munford
193
Posted 06/07/2017 at 21:49:07
That's the sort of stats we need, Chris. Thanks, very illuminating and strengthens the case for signing Giroud.
Steve Gaskell
194
Posted 06/07/2017 at 21:49:21
He does not want to play for us anymore, he has made that clear, so lets get into an auction with Chelsea and Man Utd.
The important thing is to spend the money wisely and replace him with 2 out and out goalscorers. My pick would be to buy 2 from 3 of the following players all young and hungry to prove a point: Dembele from Celtic for £30M; Kelechi Iheanacho from Man city for £17M and Chelsea's Michy Batshuayi for £40M.
If we get at least £75M for Lukaku and I expect Everton go get more once the bidding starts this would give us potentially a stronger squad.
I am 47 years old now so remember the 80s with great memories like all blues who had the satisfaction of seeing that team who had a lot of young kids with potential: Steven, Sharp and Heath to name a few.
Buying Rooney would be the biggest mistake we make this year and would be a wasted opportunity. Remember, we have to replace a proven goalscorer and Rooney is not that man. COYB
Colin Glassar
195
Posted 06/07/2017 at 21:50:03
Christy, good post. Let's be generous for once.
Phil Bellis
196
Posted 06/07/2017 at 21:54:12
Big Rom isn't looming large in my Erdinger – influenced thoughts when I reflect on last season's highlights... Davies and Ade v City was probably the zenith.
I stand to be corrected but please note the alcohol caveat.
Brent Stephens
197
Posted 06/07/2017 at 21:57:24
Christy, a magnanimous post.
Gavin Johnson
198
Posted 06/07/2017 at 22:02:47
Yes, Christy. The guy did the business on the field for 4 seasons. if he feels it's time to move on, that's his right. As long as we get a decent fee (£85m+) I wish Rom all the best. I'm the same with Barkley. He can go if we get £35m+ although I would have some anger towards him if we get a situation where he refuses to sign a contract and we move into next season with him still on the books.
I'm very optimistic about Rooney coming in. 8 goals and 10 assists last season is still better than what Barkley managed. People are talking like he's gonna be like Ginola or Gazza...As if!!
I like Giroud and think he'd be a fantastic signing, but I do have some misgivings about Rooney and Giroud together. I think we need a No 9 with a bit more pace if Rooney's coming in. If it does happen I'm sure Koeman and Walsh have a plan on how to play them both in the same side.
Jason Broome
199
Posted 06/07/2017 at 22:08:27
I'm all for wishing him well, but he has two years left on his contract, pre-season has started and he's blinging it up in America!?
"Staying at Everton is not really an option." When Tevez refused to play against Bayern he was vilified and ostracized.
I hope Niasse and Cleverley have wonderful careers. As for Lukaku I care as much about him as he cares about us.
Alan Bodell
200
Posted 06/07/2017 at 22:13:03
Fake news, I just do not believe any club, never mind a 'top' one that his pimp keeps prostituting him to, will pay big money for a lard arse lazy lump.
Hope I'm wrong but it just goes on and on; fake news, folks – we are stuck with him.
Graham Mockford
201
Posted 06/07/2017 at 22:15:43
Alan Bodell
Let's test your faith in your Fake News theory. £50 charity bet he's gone by the start of the season for £75m or more.
Graham Mockford
202
Posted 06/07/2017 at 22:20:15
And I'll give you 4/1. Your £50 my £200.
James Flynn
203
Posted 06/07/2017 at 22:22:14
"Romelu Lukaku is in for a shock."
No doubt, after 4 years of "Hoof it up towards Rom."
Not likely, but I still hope the Club keeps him one more season. Would like to see how he does in an Everton side bolstered with attacking mid-fielders.
Mike Oates
204
Posted 06/07/2017 at 22:25:10
Giroud and his wife are confirmed City people though and through. He loves the life there, he will not not come up North. If he has to leave Arsenal, it will either be for West Ham or most probably Nice, Monaco, Marseille . Somwhere where he and his missus can strut their stuff

Brent Stephens
205
Posted 06/07/2017 at 22:27:19
Alan, "I just do not believe any club...will pay big money for a lard arse lazy lump."
We paid £28m several years ago for the "lard-arse". In today's prices worth, say, upwards of £60m?? So somebody already has paid big money. And that was before he was putting away 25 goals in a season.
Next?
Chris James
206
Posted 06/07/2017 at 22:27:25
Well said Chris and Christy - Rom certainly isn't the finished article and may well struggle at the top level he so desires, but he has done the job we hired him for and played a relatively straight bat about his aspirations from day one (unlike his utter fuck of an agent).
Ultimately it looks like he'll end up with a record of 166 games played in league and cup, 87 goals and 29 assists over 4 seasons (1 loan and 3 contracted) plus a c.£50M net profit on his transfer fee.
I know that he could sometimes be a flat-track bully and didn't hit the heights against the big guns, but the fact remains, being involved in 116 goals (i.e. averaging 22 scored and 29 involved in each season) is surely enough to secure a place in our history. Not loved certainly, but at least appreciated.
Danny Broderick
207
Posted 06/07/2017 at 22:32:14
We need players of better character than Rom now. His ship has sailed. Let's get as much as we can for him. Then bring in players of better character who can also score goals.
It's a great season for us to sell him in terms of strikers out there who we could get to replace him. I don't want Giroud, he doesn't move enough for me. It would be like replacing one statue with another statue if we get him to replace Rom. But I acknowledge that he would probably score goals.
In addition, I suspect we could have a crack at Vardy and Dembele. Personally, I'd go after Aguero. I could never have imagined writing that a few years ago. But we've laid down a marker so far, Aguero isn't first choice at Man City any more, why not?
There is life after Rom, let's just get £85-90 million for him first...
Geoff Lambert
208
Posted 06/07/2017 at 22:32:19
Yes, Christy, well said, sir!!!!!!
I do hope we can replace his 20+ bumbling toe-pokes he seems to score on a regular basis...
John Pierce
209
Posted 06/07/2017 at 22:33:06
I think Evertonians are reasonably consistent. If you think you are better than Everton and hanker for bigger your send off is erm, vitriolic.
Lukaku
Stones
Lescott
Rooney
Rodwell
Fellaini
Jeffers
Arguably one only on that list was a qualified success and Fellaini perhaps...
If you are run-of-the=mill, not so great, your send off is generous:
Naismith
Beattie
Yakubu
Jelavic
Pienaar
Oviedo
Stracqualursi
To name a few. All clubs are no different: if you sleight your beau for an upgrade, then expect some shade coming your way.
Brian Williams
210
Posted 06/07/2017 at 22:33:41
Mike Oates. Him and his Mrs could strut their stuff in the Bighouse just across from the Adelphi. They could stay in a suite there, save em driving home to Crocky.
Ian Horan
211
Posted 06/07/2017 at 22:34:36
Details of the deal now on Twitter:
£75 mill with £15 mill add ons and Rooney valued at £10 mill. Lukaku having medical in LA.
This is from Daily Express reporter Paul Brown's twitter feed 34 minutest ago.
Eddie Dunn
212
Posted 06/07/2017 at 22:35:38
Graham Mockford, Mourinho may well have had a successful career, but the man is a complete and utter twat.
His ego is the size of the average gas giant super-planet, and his shelf-life with any club is two years of bliss, followed by complete meltdown as he pisses-off everyone who doesn't give him what he wants. He will implode at Manchester United, as his side fail to make a Title challenge and exit the Champions League at an early stage.
If Romelu and Jose manage to squeeze their egos into the Man Utd dressing room, there will be no room for all the feckin' washbags and headphones could lead to a revolution!

Brent Stephens
213
Posted 06/07/2017 at 22:40:19
Eddie, I won't cut and paste your post but the first half attacks Mourinho's personality not his managerial record, which was the focus of Graham's post. But he does swear a lot.
The second half of your post is pure prediction.
Mark Melton
214
Posted 06/07/2017 at 22:40:41
Sun journalist tweeting that he is currently having a medical in LA. No idea if it's true...
Darren Hind
215
Posted 06/07/2017 at 22:41:24
Maybe someone at Man Utd has done the maths and sees commercial value in the acquisition of Lukaku. Maybe they know a way to recoup a lot of the cost.
But those claiming its Jose's idea to bring him to Old Trafford are stretching things a little. I can supply them with a few quotes if they want to know what he really thinks of Lukaku. One thing is certain: he will be dropped by Jose and dropped often.
I wasn't always a fan of the big fella, but he was the only one who got me out of my seat last season and his performance against Bournemouth was the only 10/10 I have seen in over half a century.
Oaf / Superstar The big fella has been both. but for those moments last season I can't help wishing him well – 'cept when he plays against us, of course.
Graham Mockford
216
Posted 06/07/2017 at 22:42:34
John Pierce
That's classic! By my rough calculations and assuming £75m for Rom your list of 'bad' departures
Money in £225 million
Your list of 'good' departures
Money in £24 million
Graham Mockford
217
Posted 06/07/2017 at 22:44:16
Eddie Dunn,
Normally before he pisses off, he wins a title or a European trophy or something like that. Fucking charlatan.
Tony Williams
218
Posted 06/07/2017 at 22:46:38
Why he's going there after the way that despicable creature treated him at Chelsea doesn't collate.
Brian Wilkinson
219
Posted 06/07/2017 at 22:47:18
The older generation have been spoiled by Everton in the eighties, so many class players we had the pleasure of.
The younger generation have had Lukaku and that's where I think the majority of gutted to see him goes is divided with our younger generation of supporters.
Be an interesting poll if the stay or go camp was bracketed by age of posters.
Well I am in the older generation camp and in the glad to see the back off with a decent offer.
When you have seen the likes of Bob Latchford celebrating every goal, some almost jumping into the crowd, when you see a screamer from Sharp at the Anfield road end, or Andy Gray nose diving at Notts County and battering the Bayern. Munich defender, you know just how much Everton football club meant to them.
A never give up attitude, busting a gut and pride in wearing that Royal Blue jersey.
Rom has given goals, but We never got his love for the football club who put faith in him, for 4 seasons he made it clear he will not be staying at Everton, never once heard him say Everton and its supporters are fantastic, has made it clear he does not want to stay at Everton.
Would you want to keep a player who does not want to play for your club, cannot knock his ambition and good luck to the guy, but I will not miss the guy, take the money and bring in someone who can get goals, wants to play for the club and have belief that they can win trophies at Everton.
This is what makes a forum, divided opinions, some agree, other disagree, but we are all Evertonians and whether we agree or disagree, every poster has a right to give their view.
Jason Broome
220
Posted 06/07/2017 at 22:50:08
Well said, Brian.
Eddie Dunn
221
Posted 06/07/2017 at 22:56:40
Brent & Graham, you're correct, of course, but I just dislike the man! I still predict it all to end in tears.
Si Cooper
222
Posted 06/07/2017 at 22:59:30
How useful are comparisons between Giroud and Lukaku over the last 3-4 years? One a seasoned pro at his peak in a generally consistent top 4 side, the other still a relative novice in a pretty inconsistent team.
For comparison, the last seasons stats could be argued to have the most merit as Giroud will be playing for Koeman if he does join us. It's not really accurate is it?
The only question that matters to us is whether Giroud is still in his prime or already declining? Throwing Ibrahimovic into the debate at this point is also pointless because we just don't know whether Giroud will match his longevity.
That's why I think Giroud is a gamble and I would prefer someone both younger and quicker than him.
John Pierce
223
Posted 06/07/2017 at 23:00:42
Graham, your are right in one sense, Rom is to be determined, but I do think Everton will be his high water mark.
The post wasn't about money was it? You introduced that. As all players on that list benefited the club financially, which one don't, right?
But all those players were perceived to have engineered their move away and were not sent on their way with a backslapping hurrah, thanks for them memories, see around la from the majority of Evertonians were they?
Just citing human nature...

Graham Mockford
224
Posted 06/07/2017 at 23:00:58
Brian,
A very considered post apart from the fact I'm the 'older generation'.
Personally I'll always have greater affection to Tim Cahill or Leighton Baines or even for that matter Leon Osman over Romelu Lukaku. The OP alludes to that point of view.
What I struggle with is posters who want to tell me he is an average footballer. He has strengths and weaknesses but he's still top drawer as a footballer. If he remains in the Premier League for his career I think he will break Shearer's goal record and once he's in a top 4 side he'll score 30 a season.
Brent Stephens
225
Posted 06/07/2017 at 23:01:03
OK, Eddie. Understood! And I can't say I like the man's pronouncements (Lukaku not Graham!). And I'm not saying your prediction will be wrong! I think the sooner the transfer is over, the better for all of us.
Dan Davies
226
Posted 06/07/2017 at 23:04:40
Oh for a squad of Duncs and Cahills... aye.
Sean Patton
227
Posted 06/07/2017 at 23:08:05
Nowhere near enough money and we have had our pants pulled down by United.
Look at it from their point of view they have got rid of an unwanted finished player an replaced him with the second highest scorer from last season and shaved 25% from our asking price.
Graham Mockford
228
Posted 06/07/2017 at 23:14:32
John
I agree, in most cases the players stated were sold for big fees on the back of good performances for us. (Rodwell excepted!)
Most fans would have wanted those players to stay until they indicated they wanted to leave the club. Therefore there is a sense of rejection or disloyalty which is why they become villains.
In reality the club has been unable to meet the ambitions of those players, either financially or in football terms. The good news is that it looks like it will happen less as our finances have improved. But it happens to nearly every club. Spurs lost Bale, RS lost Suarez, Man Utd lost Ronaldo
James Watts
229
Posted 06/07/2017 at 23:18:42
Sean (#227). £75m
HAS NOT BEEN ACCEPTED
. Straight from Moshiri's mouth, so don't worry. No pants have been pulled down just yet. I don't think Mosh will accept anything less than £80 to 85M up front – I'd be amazed if he did.
And it's being reported now he's apparently having a medical in America and not turned up for pre season training? Well if that's true, fine him 2 weeks wages and report United. Show this egotistical arse who the boss is.
Personally, I can't wait to see this guy, his ego, his attitude and his lazy arse leave. We'll be stronger for it overall.

Tom Bowers
230
Posted 06/07/2017 at 23:19:00
Some fans have their heads so far in the sand where Rom is concerned. Those who have hated him from the beginning will not change their opinions but he is just a goalscorer and has done that in 3 seasons at Goodison and one season at the Hawthorns in a way that makes him wanted by some other big clubs who are willing to pay big money for him.
I remember a certain Bob Latchford, Fred Pickering and Duncan Ferguson who did nothing except score goals. When they weren't they were doing nothing. In fact Ferguson when he didn't score was busy kicking and elbowing opponents but many idolized him.
Lukaku should only be defined by his best assets, scoring goals.
Max Levy
231
Posted 06/07/2017 at 23:19:45
Calm down everyone. Lukaku's still going to Chelsea.
It's just that his first touch took him to Manchester.
Peter Roberts
232
Posted 06/07/2017 at 23:21:51
Apparently Lukaku has to be really good because Mourinho is buying him. Mourinho's judgement is really good. Quite clearly he doesn't make mistakes.
Mourinho sold us Schneiderlin... a class act. Mourinho got rid of Matic and De Bruyne.
Mourinho hates players losing the ball but is going to sign a player who gives it away more than most.
Somewhere along the lines, I'm lost. But thanks for the £75m...

Brent Stephens
233
Posted 06/07/2017 at 23:24:36
Max, superb way to end the night for me! Love a bit of humour after the debate!

Sean Patton
234
Posted 06/07/2017 at 23:28:45
We'll see James perhaps it's the Manchester media machine in full swing but to me it looks like all the good work has been undone with this deal.
Lukaku's behaviour might not be missed but his goals will I trust the replacement/replacements are lined up or more clubs will take us to the cleaners.
Colin Glassar
235
Posted 06/07/2017 at 23:28:53
I still think this is going to drag out a bit longer. Chelsea will surely come in with a bigger offer and then it will be a bidding war.
Giroud has said he will give us an answer in early August, let's tell his two suitors the same, and then let PSG trounce the both of them.
Graham Mockford
236
Posted 06/07/2017 at 23:30:52
Peter Roberts,
Everyone makes mistakes, it's impossible not to. Of course, successful managers make fewer than most. And Mourinho is arguably the most successful of all time, given the number of different teams he has been successful with. Five major teams in four different countries.
The point is that I'm tempted to take the opinion of a multi trophy winning manager over the rantings of you.
Call me misguided.
Andrew James
237
Posted 06/07/2017 at 23:32:37
Speaking to a stupid Spurs fan today, he was going on and on that Lukaku is our best player and we're in trouble without him.
Mr "You haven't won anything for ages" (the irony) seemed to think Lukaku is what keeps us from the relegation zone. I don't agree. He's the one we can sell for the most granted and he scores a lot of goals.
But he changes the way we play, others are not passed back to, others lay it on for him instead of having a go themselves. The spread of goals across the team since Lukaku joined has narrowed.
I'm afraid I just cannot say a striker who gets to play week after week regardless of form (remember his criminally bad goal drought towards the end of 15-16) needs the ball to feet every time to have a chance on goal, who doesn't use his aerial advantages, has a woeful first touch is our best player.
He's the best player in his position but if you can't trust him to nursemaid the ball or to chase down defenders when the team needs it because he doesn't seem to have the composure nor the appetite – he's not our best player because he lacks certain technical abilities other players who have to run a lot more than him possess.
He struggles to get the ball out from under his feet or mis-steps a lot. That's why he needs so many chances. He's a wonderfully powerful player and when he is in full flow, there's few better. But he needs space, he needs a ball on the plate, he rarely shoots early like Kane and balletic he is not.
I cannot bear the histrionics, the disrespect for his team mates, the patronising shirt off and kiss to the Gwladys Street End when he scored a late and not crucial brace against the mighty Hull City in March. I can't wait to only think of Belgium's international breaks with a smile knowing that Roberto has probably got their top centre backs picking up some curious defensive tips, not waiting to hear another Lukaku wants to play in the Champions League quote.
And for those saying we didn't have a great striker between Rooney 2004 and Lukaku 2013, errr... Yakubu banged in a lot before his horrible injury, and Tim Cahill, anyone? Scored in double figures for best part of a decade, played the team game and worked his socks off. Now if we'd sold him after 4 years, I would have been very upset.
Mike Rees
238
Posted 06/07/2017 at 23:34:36
I'm one of the older generation who remembers the success of the 69-70 title winning team; and of course the successes of the eighties. I think it is sad to see a proven goalscorer of Lukaku's calibre go.
Since when have we had such a consistent goalscorer? Lineker for one season in 1986 whereas Lukaku has done it for 4 seasons.
In the expectation he is going I just don't want to see us ripped off in terms of the fee we get. I hope the hierarchy get as much as we can for him; and our management in turn can build a new team with a bit more of a spread of goals around the squad than happened last season especially.
We need goalscoring danger from more areas in the team than one player. Having said that, I'm encouraged by the business done so far this summer. Definitely need another striker of proven quality though be it Giroud, Vardy or whoever...
Brent Stephens
239
Posted 06/07/2017 at 23:35:40
Of course people make mistakes. And pointing out mistakes doesn't necessarily counterbalance the successes. I'd say all Mourinho's trophies speak for themselves.
What would you want, Peter? How about we make a few mistakes in the transfer market (bound to do so) and win a few trophies? Will you call out Koeman for that? Only a lard-arse would do so.
Brian Wilkinson
240
Posted 06/07/2017 at 23:37:40
Graham @224 that's fair enough. I did say Majority and there is some of the older generation in the Lukaku great camp. Most of the younger generation will rightly say Lukaku is the best they have seen.
I feel sorry for those who have had over 20 years of close calls, a rare Anfield Derby win, being Man Utd's bogey team unheard of.
I've been lucky, but for the younger generation, the wait could be over and I really hope we bring in a striker who can get the goals and see more guts and fight against the big clubs and give the younger generation and the older brigade some silverware.
Andrew James
241
Posted 06/07/2017 at 23:46:33
Hi Mike @239
I understand you need a big name striker with 20 plus goals to succeed but I would rather have goals from all over the pitch first. Because ,if the striker gets injured, suddenly you're struggling because you played towards him.
You mention Lineker but, as many have observed, we won nothing with him yet won a lot the seasons either side because the goals were shared out.
I know people knocked Moyes and strikers but our highest finishes were usually because the goals were being spread out across the likes of Cahill, Osman, Lescott et al. I won't get into the disaster that was Beattie...
We will need a striker who can score 15-20 goals full stop but not one that ultimately stands in the way of the team game.
And on that, didn't the 69-70 team spread the goals? I'm far too young but my Everton history VHS in 1989 made me think the likes of Husband and Morrissey were knocking them in as well as Ball and Royle... correct me if I am wrong, I always love knowing from the fans who were there!
Peter Laing
242
Posted 06/07/2017 at 23:48:36
Sirgurdson looking like it's a deal to be done. Alan Myers cryptically tweeting again tonight...
Gordon Crawford
243
Posted 06/07/2017 at 23:51:54
Heard he didn't turn up for pre-season training. I wish we could let him rot for two years, but then again I can't wait until he is gone. £75m ain't enough though.
I also heard from a certain arsenal fan, that £40m is closer to what Arsenal are looking for Giroud. If that's the case, and that's a big if, then I would say on your bike, Arsenal, and look for someone younger and better.
Andrew James
244
Posted 06/07/2017 at 23:54:54
I know a guy who knows Sigg's agent (I hated writing that) who is adamant this was happening.
The media were likewise but then it's gone all quiet.
Thing is, we have all assumed this could mean the end of Ross but I wonder about Mirallas myself.
Andrew James
245
Posted 06/07/2017 at 00:01:02
@Gordon
The noise I'm hearing in North London is £20 million...
Arsenal fans moan like mad about Giroud and he gets benched a lot so to charge us £40 million for a player of his age who isn't the main striker in a team only just above us in the league is ludicrous.
Can't see Walsh going for that one!
Ernie Baywood
246
Posted 06/07/2017 at 00:01:52
I struggle to understand how people get so passionate about this move.
He's going, he wants to go, we're getting a lot of money.
Not for one second would I criticise his ability. He's excellent at what he does. I do think, though, that we'll be a better, more unpredictable team without him.
Exactly when and where he goes is no longer any concern to me, and I honestly have no opinion on whether he'll be a good signing for whichever club he goes to because I just don't care.
Brian Wilkinson
247
Posted 07/07/2017 at 00:07:32
Well said Ernie.
Andrew James
248
Posted 07/07/2017 at 00:09:01
Ernie - agreed.
Although part of me wants him to sign for PSG for big money and not having to see him come back!
Si Cooper
249
Posted 06/07/2017 at 00:09:56
Andrew James, the season we had with Lineker was hardly a bad one though was it?
I know some people say Lineker changed the balance of the team too much, but it wasn't inconceivable that we could have been successful the following season if we kept him.
Personally, I think Gary Lineker gets too much stick because Everton isn't his out and out favourite club. I believe he did say it was the best team he ever played in.
Andrew Keatley
250
Posted 07/07/2017 at 00:10:17
This is not going to happen, but imagine if we off-load Lukaku to Man Utd for £80 million-plus, which in turn scuppers the Morata to United move, and then we sign Morata – either for a bit less than the £80 million, or even perhaps on a year's loan...
Graham Mockford
251
Posted 07/07/2017 at 00:16:58
Si Cooper
I saw every game of the 85-86 and 86-87 seasons bar a handful.
The Lineker team was a far better team than the one that won the League the following season. It was a better footballing team, more exciting to watch but small margins meant it won nothing.
The following season we managed to win the League because the competition (the RS) was poorer.
Of course in the end the record books are important but I challenge anyone who watched those two seasons to say the better team was the one that won the League.
Si Cooper
252
Posted 07/07/2017 at 00:24:24
Thanks for your input, Graham. I definitely thought we were unlucky to end up with nothing that season, and of course we didn't get our opportunity to tilt at the European Cup when we had an excellent chance of winning it.
Mike Rees
253
Posted 06/07/2017 at 00:27:52
Hi Andrew @242.
From my experience of supporting Everton; it's been a luxury having a striker like Lukaku for the last 4 years. Didn't get us a trophy though.
I did go on to say that I hoped our management would go on to create a team with more of a spread of goals amongst the team to avoid over reliance on one player.
I hope that Davy Klaassen for example can deliver in a similar way to Tim Cahill. I hope that Sandro can find success in a new league for him; the same for Klaassen.
In Lineker's day, Sharp and others shared the load of goalscoring. I'm sure you're right about the 69-70 squad.
Goal danger from more areas of the team is my hope from the aftermath of Lukaku's departure. We may however need another experienced striker or two to help cover for the immediate loss of Lukaku's goals...
Andrew James
254
Posted 07/07/2017 at 00:29:14
Hi Si & Graham,
I was 7 but I was reading into the recognised narrative that Howard Kendall let him go for the greater good.
In truth, we threw away the double given weren't we well ahead at Easter and were 1-0 up in the final?
You saw the games... because of the football telly ban for much of Lineker's season, I cannot verify how good we were on YouTube.
Andrew James
255
Posted 07/07/2017 at 00:34:45
Hi Mike
My brother (converted the day we beat Spurs 4-1 so whether he knows much is still in question) reckons Klaassen will be banging them in.
I hope so obviously!
On the 1980s team, I've always been impressed by how many came from Heath, Reid and Mountfield.
John Fieldstead
256
Posted 07/07/2017 at 00:38:26
I've always liked Lukaku and tried to give him the benefit of the doubt, even when he has been away on international duty and an interview he has given has been taken out of context (on more than one occasion), but I have to admit it and hold my hands up and say his pre-season antics whilst on holiday with his mate Pogba, have taken him down to a new low.
How disrespectful can you be? Who does he think he is? Being cryptic is not being clever and being disloyal speaks volumes.
Ever since we signed him he has spoke about unfinished business at Chelsea and how we don't match his ambition. If he bothered his lazy arse to notice what our club have been doing over the past few weeks, he would have seen our transfer activity has been the busiest in the whole of the Premier League.
He would have also noticed the players we have signed, have bought into Ronald's project, not wobbly gob's project or Jose Manurio's project, ours. How is this lacking ambition?
He could have been the one to send us into the Champions League, but how many times has he single handedly won us a big game? How many times has he taken a game against one of the top teams by the scruff of the neck and scored or even shown up? God help him in the Champions League against the top teams.
It also appears that we don't have to sell him cos we've got "loadsa money" but imagine if we used his money to buy Funes Mori's best mate Aguero??!!
Regardless if we get Rooney or Giroud (who I think both are using us to get a better deal elsewhere), we need a marquee signing, just to show everyone we are back, with or without Rom.
At the time of writing, he is still AWOL, apparently waiting to meet up with Man Utd on Sunday in America, how bad is that?
Kevin Rowlands
257
Posted 07/07/2017 at 00:41:12
Just in case anyone has forgotten, in the last 18 games of the last two seasons (12 + 6) when teams are in the most important part of the season Lukaku's strike record is ZERO.
Si Cooper
258
Posted 07/07/2017 at 00:44:56
Andrew, I think it's hard to be truly objective about these things and I don't really remember games in great detail so I'm left to operate more on my overall impression.
I do feel that Gary Lineker gets more criticism than he deserves simply because he wasn't a true Everton man like Sharpie, or as obviously passionate as Andy Gray.
Andrew James
259
Posted 07/07/2017 at 00:55:20
Yes, Si;
People forget that Gray was only with us – what – 18 months?
David Pearl
260
Posted 07/07/2017 at 01:28:44
Mike (#237).
I think there might be about 5 different accents within the city. It seems to change a bit depending on the age group and area. After a number of years in Canada, some people here ask where I am from. People around the world though recognise where I'm from. Although I do wear the shirt a bit more when I'm away.
That Under-23 team is full of young attacking talent. Have to wait and see who if any come through. Calvert Lewin and Lookman might find themselves out on loan.
The team in mid 80s was an amazing time with goals all around. I think only Bracewell and Reid didn't break double figures from the front 6. Even Mountfield got to that mark, his celebration stands out... long arms. Gary Stevens scored a few too. I can only remember one Pat goal. If we can emulate that, we'd be winning the league!
Don Alexander
261
Posted 07/07/2017 at 01:33:34
"Impressions" are what it's all about for true fans. Impressions are subjective, contrary to the objective, sometimes misleading, "stats". They're what sticks in the memory.
Andy Gray has in recent years given me the impression that he's a shit but when he played for us he gave me the impression that he'd have bled for us (and he visibly did on occasion). That's what I want from any player.
Having watched Lukaku, the impression I have is that he's lacking any empathy at all in the manner of an Everton player such as Gray. Lukaku is visibly unwilling to "get stuck in" and Leon Osman is of the same view, in terms, having trained and played with him. If true, as I see it is, that's really good news for opposition defenders and really bad news for aspirant Everton fans, and players.
Maybe his next club, spending the thick end of £100 mill to get him, will be happy to accept the ego, disrespect, and lack of basic skills to enhance his team's play for those other than himself. He has admittedly shown himself to be a good, not great, scorer but he has a lot to do to get anywhere close to the term "great".
Around 1970, Leeds had a similarly prolific scorer, Allan Clarke (our Wayne's brother). So uninvolved was he beyond scoring though that he rarely left the pitch with a mark on his kit. Clarke developed himself however, and became a consummate footballer. Leeds and England hugely benefitted.
The tragedy for me with Lukaku (not that he'll give a shit admittedly) is that, if he starts to finally do a consistent full shift for some other team, I'll resent him all the more.
Mike Gaynes
262
Posted 07/07/2017 at 01:34:59
David (#261),
I'd be shocked if Calvert-Lewin and Lookman were loaned out. In fact, I think Lookman is currently our best wing and I'd like to see him on the bench for every game... he can be of great value injecting a spark late in a game.
I'm less convinced by Calvert-Lewin. He could probably use a loan spell in the Championship. But I expect him to stay with us.
Mark Taylor
263
Posted 07/07/2017 at 01:47:56
Andrew (#242), the 69-70 side, which I had the great privilege of watching did share the goals in the sense that we scored a lot more that season than we do now, so they were inevitably shared round.
I recall both Morrissey and Ball chipped in with a decent number but Royle was our 20-plus-a-season man and the forgotten guy was Alan Whittle who came in late in the season because of injuries and scored nearly a goal a game. Mind you he hardly scored after that season.
As for Lukaku, I'm surprised people think he will get better. This is not a rookie, he's already spent 6 or is it 7 seasons in the top flight. If you still can't control the ball properly by that point, you never will.
He is what he is – a significant talent for finding the net but otherwise of very mediocre ability, so you have to decide if that is what your team needs most and if you can put up with his obvious drawbacks.
Fran Mitchell
264
Posted 07/07/2017 at 02:06:14
If Lukaku played for, say, Stoke and had the same goal record and we signed him, people would be jizzing all over these pages.
Why? Because, lie to yourself all you want, we all want a great goal scorer in our teams. The idea that we are almost guaranteed goals makes football more fun.
But he is off, so be it. Excellent player, and will be one of the best strikers in Europe for the next few years.
The deal seems good; hopefully we can adequately replace him and improve as a team.
Spurs got better after Bale left, does that mean Bale is crap? No. Over-rated? No.
So we will get better without him, but not because we are without him. Onwards and upwards.
Phil Jeffries
265
Posted 07/07/2017 at 02:49:23
I've 100% faith in Moshiri to get the best deal for the club. I've 100% faith in Koeman and Walsh to find a replacement.
We'll get around that £100m mark with the deal and I'd be surprised if this is the end of the bidding tbh.
It's sad to see him leave as goal scorer, but as for his agent, his dad, his own 'motor mouth'... I'm glad the circus is leaving town!
David Pearl
266
Posted 07/07/2017 at 03:07:36
Mike, it's just with us buying and bedding in so many new players, the younger ones might start to find things a little different now. I obviously hope not.
When was the last kid to really come through at Man City or RS or Chelsea?? I'm hopeful because of the way we are buying for both squads. Not many other teams, if any, have any budget set aside for the Under-23s. That's quite unique. You're probably right about Lookman. With Bolasie out our options are few. Mirallas might be going. Calvert-Lewin does have something about him... but I can't put my finger on it. Not that I'd want to.
Fran, spurs did get better after Bale left but not with the signings they made from the money from his sale. It happened a couple years later when Kane came through and Alli on the cheap. And Trippier and Rose too. They've since spent a little more wisely.
This is going to be one of the most interesting seasons in a while, not least because we may play a bigger role.
Phil Jeffries
267
Posted 07/07/2017 at 03:10:38
Independent stating they expect Chelsea to 'aggressively challenge' Manchester United for the signature of Lukaku. Whoever leaked this United bid to the press has played a blinder!
Hopefully we'll have scenes of Del Boy fainting when the bidding hits £100m and keeps going!!!
Jay Harris
269
Posted 07/07/2017 at 03:15:57
Graham,
I have a totally different opinion about the "Lineker" year.
I have watched all the successful teams from the 60s on and I have to disagree with you about the Lineker season.
I hated it because we became a long-ball team belting it up front for Lineker to chase because of his pace.
Give me Andy Gray and Graham Sharp anytime.
Eric Myles
270
Posted 07/07/2017 at 03:20:07
Ian (#108), so if Man Utd have agreed terms with Lukaku but the Club have not agreed to sell, isn't that the same as the RS did with van Dijk and Southampton??
David Pearl
271
Posted 07/07/2017 at 03:33:53
The Sunderland game when Trevor, Sheedy, Gray scored and players running in all directions to celebrate. Did Sharp get the other?
What a team. What a team! Off to YouTube!!!
Dennis Ng
272
Posted 07/07/2017 at 04:01:25
Eric 271, if that is true, that would be fantastic. I bet they will be more likely to pay the full price or more just to avoid us making complaints and perhaps get them banned from the transfer window. Mou can't resist buying players so a transfer ban will effectively mean he'll quit LOL
That said, it is likely a bargaining attempt to get Chelsea to start bidding.
Barry Jones
274
Posted 07/07/2017 at 04:15:14
Peter Roberts. I am with you 100% and always have been. Logic and sound rationale is difficult to contest, but alas, many still try. How is £75M not acceptable for such a limited player? If the offer is true, the I hope that we bite their hand off.
Also, the people saying we should hold out for a higher bid, where on earth do you think those bids are going to come from? Most top clubs don't even fancy him. Conte has no desire to sign him, but Abramovich does. Well that works well! Wake up. Any stupid bid over £70M should be accepted "toute de suite" before minds change.
Mike Dolan
275
Posted 07/07/2017 at 04:29:22
Quite frankly, if you give me the choice of the team we had last season with Lukaku in it, or the team we will have this season without Lukaku in it and £75 million on the sidelines, I choose the latter every day of the week and three times on Saturday.
I'll give you a little clue why. Last season our biggest problem is that we couldn't breakdown teams and score goals.
Everton are a better team without Lukaku. Man Utd are also. Mourinho had it right the first time. The game is keep possession and break real fast.
Lukaku is not a big time player. Never has been, never will be. We skinned them on this deal.

Barry Jones
276
Posted 07/07/2017 at 04:35:19
Tom Bowers, the fact that you refer to players such as Bob Latchford, Fred Pickering and Duncan Ferguson in defense of Lukaku's abilities shows that you have absolutely no grasp of the concept as to how football is played in this century. Why don't you compare him to Lewandowski or Harry Kane? Would it be because there is no comparison?
You may gain comfort in the knowledge that several other posters are also entrenched in the Jurassic period and are as deluded as you are.
Robin Cannon
277
Posted 07/07/2017 at 06:07:03
Mike (#276) – Sure, if you give me that choice; the more limited team of last year with Lukaku, or the signings we've made in the summer to improve the team, then I'll choose the latter.
But that glosses over the idea that the team we will have this season, if it had Lukaku in it, would be better than either option.
Now, it seems clear that we don't have that as a choice, and that his leaving is inevitable now. We may well be a better team this year, but that won't be because Lukaku isn't in it (except indirectly, if you accept that we need the Lukaku money to pay for the players we've already bought).
James Watts
278
Posted 07/07/2017 at 06:24:41
Robin, keeping Lukaku was never an option for this coming season so not sure you can argue that back. I'm surprised him and his ego stayed this long. Can't wait to see the back of him to be honest.
I mentioned this in another post. He'll score goals at Man Utd but it won't make them a better team overall. They don't play the type of football he would thrive on under Mourinho. I also don't believe their current players would create much more for him than we did.
Throw in that teams are typically defensive when they go to old Trafford, meaning Lukaku would have to work hard to create space for other players, which we know he is incapable of doing, and go up against 2 or 3 center backs who will mark him out of the game. Which we've seen on numerous occasions ourselves.
He's got Ronaldo's attitude without the skill to back it up.
I wouldn't be surprised if he falls out with Mourinho by October and found himself on the bench.
Nitesh Kanchan
280
Posted 07/07/2017 at 06:44:30
Get in Bakambu or Balde Keita as replacement with the money? Not much sure about Giroud if he can do the job up front?
I would have preferred Lacazette but too late. How about cheeky bid for Morata?
Robin Cannon
281
Posted 07/07/2017 at 06:45:40
I actually did think Lukaku was an option for this season, simply because, while good, he isn't as good as he thinks he is. At the £100m we were talking about, I didn't see any hugely enthusiastic takers (and I still am curious why the talk is of a deal 25% below our asking price; I would like more details).
I don't think it'll be in any way a disaster for us if he leaves. But that doesn't mean that we wouldn't still be a better proposition if he stayed and was part of a significantly improved overall squad.
All the "he's rubbish, mediocre, no great loss" about the first player we've had to score 20 in a season since I was 9 (I'm 41) is a bit excessive.
I tend to agree with you about his role at Man Utd, though. He doesn't seem to fit their style of play particularly well. And Mourinho has never struck me as the kind of manager who significantly improves individual players; and Rom still needs... and has scope... for continued improvement.
Peter Roberts
282
Posted 07/07/2017 at 06:55:06
So because I'm just merely a poster and Mourinho is a successful manager, that invalidates all criticism I've had of Lukaku?
Not in my book.
Mourinho is taking a huge gamble and he knows it. If he can isolate Lukaku to being a part of the team who's only job is to wait for the ball in a Van Nistlerooy style then he may work out but even then I have my doubts.
I am truly 100% relieved that we have got rid of this lad. The team will improve so much.
Imagine Pickford aiming his 50-yard passes at Lukaku? What a joke... ball after ball bouncing off him.
On the other hand we now have the likes of Sandro and Klaassen with their sharp technique.
Our team will look so much better and incisive.
James Watts
283
Posted 07/07/2017 at 06:59:04
I do think we'll get close to £100m, with add-ons, seeing as the £75m being reported has not been accepted.
The reason I want to see the back of him is because of the utter contempt he's treated us with. Respect works both ways. He has given us very little so he's going to get very little back.
I think he's a good player with potential to fulfil too, but if he carries on inflating his own ego the way it is he'll end up at west ham on loan in a few years.
Be interesting to see what happens if Chelsea match or better Man Utd's bid.
James Hill
285
Posted 07/07/2017 at 07:10:55
This guy should never have been near the Royal Blue shirt.
Average at best and we will see that very soon fortunately not in the Everton shirt.
Nitesh Kanchan
286
Posted 07/07/2017 at 07:11:06
Either Lukaku has taken a big risk in the World Cup year or Bobby has assured him of his place in the World Cup.
Now all his flaws will be criticised on higher level by the critics and talkative pundits. His ball control and static positioning especially in Champions League will not go unnoticed against the likes of Madrid, Juventus & Munich defenders.
I think he has jumped on the wrong ship here and at the wrong time.
Dermot Byrne
287
Posted 07/07/2017 at 07:28:00
The Manure and Chelski fans are used to a higher degree of skill recently and their fans will be in for a lot of disappointment. I think they will be a lot more unforgiving than our home crowd.
Watch for plenty of interviews in the Belgium press blaming whichever manager buys him and the adoption of a "victim" persona when the crowd tells him to sod off. This road leads to China and sooner than we may think.
Anthony Jones
288
Posted 07/07/2017 at 07:45:26
Agree with the posters who won't miss his first touch and hold up play.

He is a goal scorer but his style is not ideal for a club that has title ambitions.

It would be interseting to watch our other attacking players working off a better footballer.
Colin Glassar
290
Posted 07/07/2017 at 07:55:58
Very disrespectful, imo, of Rom not to turn up for spring training, discussing a contract with Man Utd and even having a medical with them.
I've supported the lad through thick and thin on here but enough is enough. Tell him, Mourinho, Conte and the whole fucking lot (media included) to piss off. We will sell him at OUR price and at OUR leisure.
Let them all sweat on it till the last day if need be. We are always told we don't need the money, he's under contract, he has a new contract on the table etc, so why all the angst? We hold all the cards.
Anto Byrne
291
Posted 07/07/2017 at 07:57:00
He scores goals and he tore Keane one so hopefully we can get in another top class forward when he goes, be it Man Utd or Chelsea. I don't give a rat's arse once he goes. I'm hoping Ross will stay and learn from Wayne.
Ian Bennett
292
Posted 07/07/2017 at 07:58:49
Tony Scott from the Echo on Citytalk claims it's £75m plus £15m add-ons, plus £10m rated Rooney.
As long as you get that £15m, I think that's a great deal. Rooney commercially will put Everton back up there, and is worth the £10m investment.
A £10m striker is a pure gamble, eg, Andre Gray from Burnley or Rooney, it's a no-brainer as long as we get more quality in.
John Sagar
293
Posted 07/07/2017 at 08:02:12
As a contender for the golden boot last season he has my respect. It's worth remembering that without his unique finishing skills we may well have finished bottom of the Premier League!
The question is: Will we miss him? The answer for most will be a No and it's just because he didn't bond with us, the supporters.
The power of money has got to him and he's got too big for his boots. Cash, please. Tat Tar!

Bob Parrington
294
Posted 07/07/2017 at 08:04:47
Wow, a lot of interest in this one!
Been in an amateur manager situation something similar to this and the dynamics are somewhat the same.
Player 1 – scores the most and assists the most. Big ego. Player(s) previous (2, 3, 4) scoring and assisting most become "envious" i.e. noses put out of joint. Team dynamics go out of kilter!
Answer: either (a) Get rid of the Player 1; or (b) Get rid of the players 2, 3 & 4. Don't see an alternative and so do either 1 or 2. Seems in this case to get rid of player 1 and hope we can find, either a direct replacement scorer or a group of players who each score and recognise they need the other team members to help.
No need for hateful comments about Rom. Just handle the human nature!
Tom Magill
295
Posted 07/07/2017 at 08:10:34
Keeping my fingers crossed he leaves soon. The contempt he has shown towards us is unbelievable, time after time.
I have never had this disliking for any previous toffee though Lescott came close.I will miss his goals but not his "couldn't care less" attitude shown too often, a total prima donna.
The team as a whole will be better not having to channel everything through him. So it's good riddance.

Ian Hollingworth
296
Posted 07/07/2017 at 08:14:41
Wow so his total disrespect for Everton FC continues to the end. Staying in LA with his new pal when he was supposed to report for training shows the total arrogance of this man.
I hope Everton refuse to do the deal until he returns to Finch Farm.
Good riddance and let's hope it is onward and upward for the blues.
Ray Robinson
297
Posted 07/07/2017 at 08:26:54
The problem with the hardline attitude – "he's our player and we'll only release him on our terms" – is that we need to identify and recruit a replacement
now
. The choice diminishes as the window progresses. Also, I suspect Moshiri's investment doesn't necessarily come from a bottomless pit and that we will need the money up front to pay for the replacement.
Encourage Chelsea to beat the Man Utd offer and sell within the week would be my choice. I'd rather he'd have stayed but he has well and truly burnt his bridges.
Lewis Barclay
299
Posted 07/07/2017 at 08:27:26
Wherever Lukaku goes, it will be interesting to compare the transfer, associated income to the club and his next ten years with Rooney's transfer to Man Utd and career.
Personally, I think Lukaku will never be the kind of player Rooney was at his peak but you can't blame him for having ambition and having a feeling that he might need to move (however unwarranted). Contracts seem to count for very little.
Very simplistically: What I do believe is different is that Rooney's transfer income potentially prevented a couple of years of relegation battles for Everton, whereas Lukaku's transfer money will likely push the club into competing with, or surpassing the very club's he's moving to.
If I'm correct, that just makes Everton the winners and Mr Lukaku rather foolish, the real irony would be Rooney coming back to the club and preventing the side Lukaku moved to from qualifying for the Champions League.
Surely that's the script for one of Bill's plays.
Tony Abrahams
300
Posted 07/07/2017 at 08:27:30
David (#272). Andy Gray scored two that day, his first was my favourite ever Everton, team goal, and this game was my favourite ever team performance.
I remember going one down and 5 minutes later there was a little scramble by the Sunderland goal. Peter Reid was the closet player to the flying boots, and I remember seeing him hesitate in both speed and thought? Then he just threw his fuckin head right in, and took a boot to the side of the head.
Football's not always about pretty football, I thought when I winced, well not if you want to be a winner anyway!
Colin, if he's not coming back I can actually understand Lukaku's reasoning, but why not pick up the fucking phone? Old Trafford has been many a strikers graveyard, and I honestly think it could become one for Lukaku, who I'm not sure will have the heart of a Peter Reid if things don't go that well for him?
Peter Mills
301
Posted 07/07/2017 at 08:27:34
Graham (#252), Jay (#270), just to throw in my tuppence worth, for me the 85-86 team with Lineker was a very efficient machine until the last few weeks of the season when it began to misfire. We had quite a number of games where we would go 1-0 up then sit back and play the long ball to Lineker and score a couple more – sounds great but I found it quite boring.
In the following season we played some sublime football, particularly in December when Sheedy seemed capable of anything. We dug in later in the season and had some unexpected heroes like Paul Power and Wayne Clarke.
Which was the better team? I don't know, but I know the one I preferred to watch, and it was the one that also happened to win the league.
Jim Potter
302
Posted 07/07/2017 at 08:30:48
A great goal scorer who failed to turn up in the big games.
This may be a mental weakness that will be exposed at Man Utd?
Sorry to see him go, but regardless – onto our brilliant future (minus one huge ego).
Paul Smith
303
Posted 07/07/2017 at 08:32:35
Great headline "Rom snubs USM FF for LA".
Much kickback on Twitter countering that headline. Apparantly Rom was given pernission to stay due to us selling him.
Nigel Munford
304
Posted 07/07/2017 at 08:34:31
Question: if Rom has his heart set on going to MUFC and being with his bestest chum but Chelsea come in with a better offer for EFC, e.g. they offer EFC £110 million, what happens then? Can we insist he goes to Chelsea?
Brian Williams
305
Posted 07/07/2017 at 08:37:00
Nigel (#305).
We couldn't insist. All we could do is accept the better offer and reject the other.
Lukaku couldn't be forced to go to Chelsea, though – he would have to be prepared to go there.
Damian Wilde
306
Posted 07/07/2017 at 08:37:18
Nigel, we can refuse Man Utd's offer and accept Chelsea's, but if he says no to the move, then he stays: stalemate.
Matt Traynor
307
Posted 07/07/2017 at 08:39:11
Medical in LA today apparently.
Russell Smith
308
Posted 07/07/2017 at 08:39:17
Get the £75 mill up front, £15 mill in add-ons, plus Rooney, then tell him we will leave his boots outside the gate at Finch Farm seeing as he can't be bothered to turn up for training.

Liam Reilly
309
Posted 07/07/2017 at 08:44:45
We'll probably never know if he went AWOL or was given permission to stay, but this needs to end now.
I don't think he works hard enough ever to be the player he thinks he is or can be and I don't think he has the engine to do it.
But I do know that I'm fucking sick of him and want him gone.
Colin Glassar
310
Posted 07/07/2017 at 08:44:50
Nigel, in a word – yes. We sell to the highest bidder, full stop!
We have the final say so, before Rom starts preparing his "I've always been a Man Utd fan" speech, he'd better make sure which team he's signing for, or he could end up like Robinho.
Mike Green
311
Posted 07/07/2017 at 08:47:39
Romelu Lukaku?
Generation Y's Poster Boy.
Brian Williams
312
Posted 07/07/2017 at 08:48:33
Colin. We couldn't insist he goes to Chelsea if he doesn't want to, mate.
I wish we DID have the final say but I'm afraid if he refused to go to Chelsea, despite their offer being better then Man Utd's, we'd have to let him go to Utd or keep him.
Ray Robinson
313
Posted 07/07/2017 at 08:50:19
Colin (#311), I'm not sure it's that simple. The player must have some say in where he goes. I'm sure that transfers are not as simple as transferring assets. I don't think it'd be a problem though as I've always suspected that he prefers Chelsea over Man Utd.
Jim Lloyd
314
Posted 07/07/2017 at 08:51:16
Jay (#270) I've also been lucky enough to watch the two great sides from the sixties and eighties and the similarities of the downfall of both. I go along with you that, when we bought Lineker our pattern of play changed. Not as blatant as we are with Lukaku in the side but heading that way.
The number of great goals which the eighties team scored before Lineker joined, became almost commonplace... 3 or 4 passes and in the net, or, 25/30 passes and same thing Bang... in the net. Wonderful and effective football.
I think that if/when Lukaku goes then our team will be trying to emulate the great way the sides of the sixties and eighties played.
Whatever we get for him, £75-100 million, is a massive amount and I think Koeman and Walsh will already have a replacement or replacements lined up.
Up to now, all I've seen is paper talk about Koeman being pissed off with Lukaku. I would think that Koeman already knew full well the situation with the player and wouldn't be including him in his plans.
I think it will take a couple of seasons for us to get all the players in we want to challenge for the top four, or even the top six; and for our style to gel but I think it's going the way of us becoming a much more fluid and exciting team and I can't wait for the season to start!
Ray Roche
315
Posted 07/07/2017 at 08:53:05
So, what happened to all that "Unfinished Business" this beaut had at Chelsea? All this love for the (other) Blues and the willingness to show what he can REALLY do in a Chelsea shirt?
A tsunami of bullshit, produced regularly by a bloke who doesn't appear to know what he wants, as long as it contains lots of money for his private jet and a couple of games in the Champions League. After all, only one team can win it and it won't be Man Utd... or Chelsea.
I'm tired of all this Lukaku crap; the sooner he does one, the better. Then, as Barry Jones says, us dinosaurs can argue the merits of footballers who wanted to wear the shirt and deserved to do so.
Stan Schofield
316
Posted 07/07/2017 at 08:53:39
For me, this is dead simple. If Everton is the big club we're supposed to be, and we're truly entering a new era similar to the John Moores era of the 60s, then Everton will issue a statement that Lukaku is going nowhere (whether he or anyone else likes it or not), until at least July 2019 when his current contract expires.
If this does not happen, then I would not be confident that we truly are a big club. We would still be the feeder club for the likes of Man Utd and Chelsea.
Ray Robinson
317
Posted 07/07/2017 at 08:56:20
Stan (#317), but why keep a player who clearly does not want to be here and waste north of £75m in the process? Apart from Real Madrid and Barcelona, all clubs are feeder clubs in the food chain.
Colin Glassar
318
Posted 07/07/2017 at 08:56:48
I think all this player power stuff is overrated. Why would Rom turn down his beloved Chelsea if they offer more for him and match, or better, Man Utd's wage offer?
His alternative to refusing to move is to stay with us. Apparently, we don't need to sell him so we keep him and see how he links up with the likes of Rooney and Sigurdsson.
Ray Robinson
319
Posted 07/07/2017 at 08:59:13
If he stays with us, Colin, he'd have a season-long strop on, that's why it would be nigh on impossible to keep him.
Peter Laing
320
Posted 07/07/2017 at 09:01:50
Colin – Lukaku is besotted with his mate Pogba, their trip to LA has demonstrated that there is a serious bromance going on at the moment.
Although Lukaku appears to have an affinity to Chelsea his next move looks like Man Utd with a medical even taking place in LA being mooted. The coverage on social media is nauseating – young men admittedly but the vibe seems more in keeping with a hip-hop star, not a footballer. I will be glad when he's gone – complete bellend.
Chris Gould
321
Posted 07/07/2017 at 09:02:25
Stan, what would be the point in doing that? He would sulk and under perform, be divisive, refuse to sign a new contract, and then leave for nothing.
Much better to get a huge sum of money for him and spend it on players who want to be here. We need players with a bit of fire in their bellies.
If Lukaku is often lazy and sulky now, how do you think he'd be if we forced him to stay?

John Davies
322
Posted 07/07/2017 at 09:07:40
Ray Roche (#316). From one dinosaur to another, spot on mate.
Michael Lynch
323
Posted 07/07/2017 at 09:08:29
Lukaku's Pogba obsession is getting a bit embarrassing now. He looks like Jimmy Five Bellies to Pogba's Gazza. Only with a six pack instead of the five bellies. And a few other differences I suppose. Anyway, get a room etc.
Martin Reppion
324
Posted 07/07/2017 at 09:09:50
If this goes through, then the deal would appear to be "worth" the £100m fee, ie, £75m up front, £15m in "add ons" and the £10m Rooney fee waived. That still gives us the money for Sigi and Giroud, with change.
The squad would now be stronger, with goal scorers and stoppers around a new creative middle. It would also have the depth to play the 60+ games we expect and want next season.
I wish the one-eyed contributors would just accept that Lukaku did a good job for us, but was always using us as a stepping stone on his own master plan. Don't get bitter. Just be glad that if our main striker picks up a knock next year we have cover, as we have all over the team.
Not so sure if that will be true at Old Trafford. Particularly if Rashford pulls a strop.
Colin Glassar
325
Posted 07/07/2017 at 09:10:33
Ray, he's been in a strop ever since he joined us. He will go this summer but I'm still not sure it will be to Manchester.
Peter Laing
326
Posted 07/07/2017 at 09:15:25
Colin, Man Utd head out to LA on Sunday. Lukaku appears to waiting for their arrival and certainly in no hurry to return to the UK. Personally, I think Chelsea have missed the boat on this one, intentional or otherwise; it seems like a done deal.
Ray Robinson
327
Posted 07/07/2017 at 09:15:57
Colin, agreed. That's why keeping him – to use his own words – is "not an option".
Carl Taylor
328
Posted 07/07/2017 at 09:16:07
No point debating whether we should keep him, he is gone and thanks for the odd memory, but goodbye Mr Lukaku and I hope you don't get found out, even though I think you may.
The key thing now is what WE do. Don't spend this money and we haven't moved on from the Boys Pen Bill regime. Spend it wisely, don't ask me for names (that's Walsh's & Koeman's job), and we can have genuine cause for optimism. COYB.
Dermot Byrne
329
Posted 07/07/2017 at 09:16:19
My advice, for what it is worth is steer clear of the hype and nonsense written about this overrated young lad and be patient. Your reward will come when he is dropped by whoever employs him. Then we can be smug. Until then, just let the star-struck kiddies exchange nonsense on social media.
Jim Lloyd
330
Posted 07/07/2017 at 09:21:04
Stan (#317),
You've said, that the only way we can prove that we are a big club is by making a statement to all that we are keeping Lukaku, and therefore, I assume, we are proving we are not a big club if we sell him.
I think we've always been a big club and now, for the first time since the days of Sir John, we are able to spend money without the need to sell a player.
My view is that no club can keep a player now, if he wants to go. Man Utd are a big club but they lost Ronaldo to Real Madrid and Liverpool lost Suarez to Barcelona. No-one can tell for sure but I'd guess that Lukaku would be as much use to us as a chocolate teapot if he stayed.
Liverpool nearly won the league, or should I say Suarez nearly won it for them, because he gave them that extra season. I think Lukaku has his heart set on going and will just be like a big kid with the sulks, if we kept him.
Ken Buckley
331
Posted 07/07/2017 at 09:21:45
I wonder if he had permission to stay in LA. If not, he should be told to return and be disciplined for breach of contract.
When all this is over I have a feeling the rumours about it will abound for years to come.
Laura Round
332
Posted 07/07/2017 at 09:25:41
Lukaku is an embarrassment. We should fine him before we sell him. His attitude is disgusting and I can't wait to watch him fail.
Sat watching Defoe talking about Bradley. What a gent and a credit to football. 💙
Dave Abrahams
333
Posted 07/07/2017 at 09:28:51
I've got to go along with Peter Mills (#302), we came very close to winning the double with Lineker in the team, only an unbelievable run by Liverpool, unbeaten in the last twelve games, when Daglish started picking himself, cost us the league and we were the better team in the final but lost.
As Terry says, the teams without Lineker were much better to watch, and I think we will be a better team to watch and perform without Lukaku, next season should tell us that. I think there is plenty to look forward to at Goodison Park and Bramley-Moore.
Colin Glassar
334
Posted 07/07/2017 at 09:30:23
Well he's Man Utd's 3rd choice (Griezsman 1st, Morata 2nd)... I wonder if he's aware of that?
Brian Porter
335
Posted 07/07/2017 at 09:30:46
Disrespect right to the end by Lukaku, not turning up for training. Koeman is rightly furious.
He needs reminding that until a contract is signed he's still an employee of Everton Football Club. Fine him and take away his locker!
Sooner he's gone the better for our club and for dressing room harmony. Disgraceful conduct.
Jim Lloyd
336
Posted 07/07/2017 at 09:36:29
Totally agree, Laura. A fine man indeed.
Colin Glassar
337
Posted 07/07/2017 at 09:42:34
I doubt he would have to personally return to pick up his stuff, as he probably has an army of skivvies to do that, but it would be funny if he did and we left his stuff outside Finch Farm in a plassie bag. I can just see the photo in the papers.
Jim Lloyd
338
Posted 07/07/2017 at 09:46:03
Haha, good one Colin... and make him pay 5p for the plassie bag!
Winston Williamson
339
Posted 07/07/2017 at 09:47:18
It'll be interesting to see the reaction of 'the special one' when Lukaku does have one of his 'can't be arsed to do much today' days. Jose Mourinho is not one to mince his words, is he? And in LukakuLand the king sits atop his throne all mighty, in a bubble of self-delusional grandeur.
Clash of egos??
Pogba and Lukaku have similar traits, in that, they have a pitch-demeanour of strolling for 87 mins interspersed with 3 minutes of being a class act. The image (to me) is of someone with an attitude of 'it's never my fault' – when the team is shite.
Fancy haircuts and showy celebrations – they're made for eachother.
Bitter? Most definitely, but it's not my fault...
Tony Cunningham
340
Posted 07/07/2017 at 09:52:25
Stan (#317), that would very much backfire on us.
For starters no matter how big a club is, £70 - £90 million goes a long way. Lukaku always planned on using us as a stepping stone and we always knew that (we just hoped we could get success quicker so as to encourage him to stay). Ultimately both sides have done well out of this.
Playing too hard with him will mean other players – who currently probably look at us as a good club to get experience at a high level – will probably start to get scared off if they think they'll end up being hung out to dry if they ever decide to move on.
Terry Aylward
341
Posted 07/07/2017 at 09:55:39
Fran (#265) – if Lukaku played for Stoke and we signed him, we'd all be jizzing is correct...
ust as the Chelsea fans were jizzing when they signed Torres from the Shite. Do I need to remind you how that turned out?
Kevin Rowlands
342
Posted 07/07/2017 at 09:58:03
Not sure how to link it but, for anyone who doesn't think we're getting a fantastic deal here, go to Analyst's Eye on Twitter and scroll down to Lukaku receiving skills... Too funny!
£90 million? You must be fucking joking!
Paul Smith
343
Posted 07/07/2017 at 10:02:51
I, like many others, am fed up with this charade... now let's just get the best deal we can and move on. I think when Rooney comes we will bring two more in hopefully another striker and a winger.
On the striker I hope its someone younger than Giroud like a Balde or Williams. This is to get a bit more speed up top as I feel if we have both Rooney and Giroud we will lack pace. The winger I would possibly target is Demari Gray from Leicester who again has good pace.
I would also get rid of Mirallas, Barkley and one of Besic or McCarthy. This should balance the squad and in the main give it a more youthful look to it. Then, in the next two transfer windows, we will need a centre-half to play with Keane and a replacement left back for Baines.
Brian Williams
344
Posted 07/07/2017 at 10:05:07
I'm just relieved to see I'm not alone in my feelings towards Lukaku and his behaviour.
David Ellis
345
Posted 07/07/2017 at 10:07:23
It's good that this is being dealt with relatively early in the transfer window. We forget that the window has only been open since 9 June (given all our pre-window activity) and most of our competitors have failed to sign anyone of note.
Unlike the Fellaini and Arteta departures, we do have time to get a proper replacement and already have strengthened in this department with Sandro replacing Valencia and Kone and the mid season signing of Lookman (and possibly the development of Calvert-Lewin). More is required though. It's a shame Bolasie is still injured
John Wells
347
Posted 07/07/2017 at 10:10:39
Cheerio you prick, never liked ya, never will.
The big lad against the teams below us and the invisible lad against those above us.
Great potential but all he has ever done is used us to get somewhere better. I can see him and Jose having a big row, interesting times!
I would be so happy when we play them away if Keane puts him in his pocket early and let's him out again to run back in the tunnel!!
Marc Hints
348
Posted 07/07/2017 at 10:11:15
At the moment we are looking at the first 11 below... What do you think?
Jordan Pickford;
Michael Keane, Ashley Williams, Leighton Baines;
Morgan Schneiderlin, Idrissa Geuye;
Tom Davies;
Ross Barkley, Davvy Klaassen;
Wayne Rooney;
Sandro Ramirez.
Subs: Robles, Funes Mori, Holgate, Besic, Calvert-Lewin, Lookman, McCarthy, Mirallas.
Steve Ferns
349
Posted 07/07/2017 at 10:12:02
Why are people saying that he's missed training? It was already confirmed long ago that he had an extra week because of Belgium playing a week later than everyone else.
Now it does sound like a shit excuse. But take it in the context of "I know where I am playing next season" and "Everton is not an option", the fact he's in LA and Man Utd are due there soon. It is very suspicious to me. It appears as if this was always on the cards and Everton were complicit in it.
Also the "holiday" is not quite what it seems. He's in the same position as Pogba last summer. The two of them are part of a group staying with their mutual super agent. Last summer, they did the same as the same agent thrashed out pogba's deal. Then this summer he's obviously doing the same for Lukaku. It appears as if he was always going to join Man Ud and Chelsea was a smokescreen.
Riola, the aforementioned agent, is agent to Pogba, Ibrahamovic, Mikiterayan (however it's spelled) and a few others united have signed in the past few windows. More importantly for me he's also Mourinho's agent. It seems very fishy what's going on at united. They're always signing players off this guy and last summer he trousered ⅓ of the total money paid in the transfer fee to Pogba. Which begs the question: Just how much of the £75m will Everton get?
Laura Round
350
Posted 07/07/2017 at 10:14:12
Brian, I'm personally looking forward to his return to Goodsion... as a visitor. Remember the incident between him and Ashley? Could be fun.
Jason Broome
351
Posted 07/07/2017 at 10:16:34
Colin Glasser @338
Can't stop laughing.
Alasdair Mackay
352
Posted 07/07/2017 at 10:16:38
Steve (#350),
He was due back yesterday (4 days later than the first group), but he has stayed in LA and is training 'alone' (with Pogba). I am assuming Everton have given him permission to do this, so a deal must be very close.
Good point about Raoila. I hope we get all of that £75m. Especially considering it is 25% lower than original asking price.
Brian Williams
353
Posted 07/07/2017 at 10:18:05
Steve Ferns. I hope we get the lot. I'd be telling that rat Raiola "If you want any money, get it off the buyer you conniving shit."
Some agents are no more than parasites living off the earnings of others for doing next to fuck all.
Where do I sign up?
Steve Ferns
354
Posted 07/07/2017 at 10:34:34
Lukaku hasn't put in a transfer request. He's been with us for three years as our player, one year on loan, and we are "choosing" to sell him, therefore, he will be entitled to a big fat loyalty payment. Riola will also demand payment for "negotiating" the sale on our behalf.
I think this shows just how bad modern football is. 'Loyalty' is not the quality I would use to describe Lukaku.
Stan Schofield
355
Posted 07/07/2017 at 10:34:45
I'm not sure a move to Man Utd can be inferred from Lukaku being in the USA a bit longer with Pogba. He did the same last year, after the Euros, and reported for training later than most.
Alexander Murphy
356
Posted 07/07/2017 at 10:36:41
Laura (#333).
I have been thinking exactly the same thing about Jermaine and Bradley.
I really wish that we'd signed him, not only for football reasons, though them alone would have been enough.
Steve Ferns
357
Posted 07/07/2017 at 10:40:08
It's all very suspicious, Stan. Have you seen Pogba posting pictures of them "training" together yesterday in an LA university?
Mike Green
358
Posted 07/07/2017 at 10:40:48
Steve (#350) – as I was reading your post it was as if I could hear the sound of a thousand pennies dropping all around me. Spot on.
"Everton is the only club I spoke to in regards to a transfer." – Davy Klaassen.
"Staying at Everton is not really an option for next season." – Romelu Lukaku.
Hello Davy. Goodbye Rom.
Ian Hollingworth
359
Posted 07/07/2017 at 10:44:13
BREAKING NEWS
A man looking very similar to Niasse broke into Finch Farm in the early hours and has emptied Lukaku's locker.
Ian Hollingworth
360
Posted 07/07/2017 at 10:45:55
Now let's move on.
I am more interested on who is coming into the club.
Laura Round
361
Posted 07/07/2017 at 10:46:34
Yes, Alexander, I was interested in him too. He's mobile, alert and committed. It might be naive of my but I need the full package from a player.
I understand they're not all Everton fans but the respect, even if it's just as an employee, is important for me. We are fans, this is our club and you're representing us!
Ian Hollingworth
362
Posted 07/07/2017 at 10:47:16
NEWS UPDATE
Niasse spotted outside Finch Farm and, when Koeman arrived he rushed over, asking if there was a spare locker going.
Derek Thomas
363
Posted 07/07/2017 at 10:47:47
Steve @350,
I think (hope) the buyers pay those costs, but these days who knows. He will always be an after thought when Goal scorers are mentioned... Oh yeah, forgot about Lukak-who?
Even at £75M we're mugging who ever ends up with him. He will divide their support just like he has ours – because he ain't as good as he thinks he is.
Jer Kiernan
364
Posted 07/07/2017 at 10:51:53
Play the waiting game here. We hold all the cards. Man Utd want shot of Rooney and Lukaku is in demand and tied to a 2-year contract. by the end of the transfer window there will be crazy money getting thrown about.
There is still a chance one of the monied clubs on the continent may get involved. Besides, it might put some manners on the lad before we send him on his way. What other job could you pull a sicky while posting pics of yourself and your mates clowning around the pool? Shameful
I have a sneaking feeling he will not fulfill his potential so let's cash in while his stock is high.
Mike Green
365
Posted 07/07/2017 at 11:03:36
He's a narcissist at the end of the day – and probably has been ever since he was followed around in reality TV show "De School Van Lukaku" (Lukaku's School) as a teenager.
He's basically Rylan Clark with a shot on him.
Kevin Tully
366
Posted 07/07/2017 at 11:05:05
I don't know if this has been posted on another thread, but a bit of well deserved exposure for our own Lyndon Lloyd, who has penned a piece for the Daily Mirror:
Link
Laura Round
367
Posted 07/07/2017 at 11:05:57
Sky Sports at Finch Farm saying Everton officials confirming he is MIA... still saying £75mil with achievable add-ons to £90mil. So £75mil then 😂
Colin Malone
368
Posted 07/07/2017 at 11:10:12
No successful team plays with an out-and-out centre forward.
Barca? Spurs??Chelsea??? Costa's workrate is exceptional.
The goals ratio from the Everton team was poor until now. Like the above mentioned, Everton will have that interchangeability up front with Lookman, Rooney, Calvert-Lewin, Sandro etc. Looking forward to the new season. COYBB.
.
Damian Wilde
369
Posted 07/07/2017 at 11:13:38
Nigel, we can refuse Man U's offer and accept Chelsea's, but if he says no to the move, then he stays, stalemate.
Ray Roche
370
Posted 07/07/2017 at 11:19:28
John Davies (#323),
Thing is, John, I'll probably be extinct in about 15 years.
Ciaran O'Brien
371
Posted 07/07/2017 at 11:19:52
I do hope we get the full cash from the sale and the slimy fat Raiola doesn't get half or a quarter of the sale like with Pogba. If that happens, FIFA need to get off their corrupt arses and sort out these greedy slimeball agents.
In regards to Lukaku, he has been a consistent goalscorer but will never be a legend or even an icon at Everton due to his constant blabbing about he's better than us and whoring himself to other clubs. His goals will be missed but hopefully Sandro and Klaassen can provide some goals alongside a top replacement for the "big man"?.
Rooney I hope becomes an asset and hopefully can help Davies, Dowell and Ross if he stays but as long as he is on a lot less what he's on now.
In regards to Lukaku's replacement I would look at these targets which I think are realistic.
Mauro Icardi, Inter, £40-60m
Arkadius Milik, Napoli, £20-40m
Carlos Bacca, Milan, £10-25m
Timo Werner, RB Leipzig, £15-35m
Moussa Dembele, Celtic, £25-40m
Olivier Giroud, Arsenal, £15-20m
Domenico Berardi, Sassuolo, £20-35m
Paco Alcacer, Barcelona, £15-25m
Vincent Aboubakar, Porto, £10-30m
Kaspar Dolberg, Ajax, £10-30m
Breel Embolo, Schalke, £20-50m
We could even put in cheeky bids for Aguero who is no longer guaranteed a starting spot at Man City and in my view is the most clinical striker in the league, and Benzema.

Damian Wilde
372
Posted 07/07/2017 at 11:29:21
"He's basically Rylan Clark with a shot on him."
🤣🤣🤣🤣
Zahir Jaffer
373
Posted 07/07/2017 at 11:35:36
I'm hearing we've launched a £60m bid for Van Dijk.
Lukak-who?
Zahir Jaffer
374
Posted 07/07/2017 at 11:42:38
"Sometimes I will speak to Vincent Kompany who was at Manchester City when it all happened. He said, 'Rom, one summer I just came in and boom, boom, boom, boom… Robinho from there, that guy came in, this guy came in, this guy came in (clicking fingers) and then everyone was criticising them but at the end they won league titles, FA Cup here, League Cups there.
"That is what we want as players.
"I don't know, I don't know what the board's plan is. I don't really know."
– Romelu Lukaku
James Watts
375
Posted 07/07/2017 at 11:43:37
Where you hearing that from Zahir?
James Watts
376
Posted 07/07/2017 at 11:43:37
Where you hearing that from, Zahir?
Laura Round
378
Posted 07/07/2017 at 11:44:48
That's an old quote.
Nigel Munford
379
Posted 07/07/2017 at 11:45:15
Thanks Damian, I thought it would be something along those lines.
Laura Round
380
Posted 07/07/2017 at 11:45:44
Sorry I guess you meant the VVD comment... 😂
Brian Furey
381
Posted 07/07/2017 at 11:47:13
I think Paul Pogba has had a lot to do with Rom's decision to move to Man Utd. They seem to have become best friends in the last few years and you would imagine Rom wants to become the superstar Pogba thinks he is. I suppose when he sees players similar to him making huge money, becoming very famous and playing at the biggest clubs in the world, it is no surprise he wants the same.
Both are 24 and both have brothers who play football as well. Both have African born parents but share the experience of being young football superstars now.
James Watts
382
Posted 07/07/2017 at 11:47:52
Yeah, I was asking about the VVD rumour.
The fuckwitkaku comment was back around March wasn't it if I remember correctly?!
Steven Jones
383
Posted 07/07/2017 at 11:49:45
This is great news – we get him for £28M – well done to Martinez, Kenwright etc
Then he gives us a shed load of goals and hope... then, when we want to re-build around a more mobile integrated forward line, he delivers a cool £50M profit plus plus on the original outlay.
If we had done this years business last year he might have stayed; I think we are better off now with him going.
Rooney in return is a worldwide profile lift for us – Boyhood Blue etc. I for one will wear a Rooney shirt in our colours.
Mike Green
384
Posted 07/07/2017 at 11:50:09
Zahir / James - on Oddschecker at 10.02am?
"This morning, Oddschecker witnessed a hefty bet on the Merseysiders signing Southampton defender Virgil Van Dijk at odds of 40/1. Van Dijk was expected to move to the red-half of the City earlier this summer but, this morning the bookmakers have slashed the odds on the Dutch defender completing a move to Everton to as short as 6/1.
In the last 48-hours, we've seen almost three times as many bets for the Dutchman to join the Toffees compared to their rivals."
Now wouldn't that be a bit, well, hilarious? :D
Laurie Hartley
385
Posted 07/07/2017 at 11:53:00
Decided to stay in LA with his new teammate? No week in lieu for him then.
Mike Green
386
Posted 07/07/2017 at 11:56:36
SkyBet have cut our odds on VVD to 7/2...
Laura Round
387
Posted 07/07/2017 at 11:56:46
Yes, the signing of VVD would certain put out a statement. All the haters saying we still have to sell our best player and how we must be gutted.
Not sure it will happen but I hope so. :)
Adam Bates
388
Posted 07/07/2017 at 11:57:48
Untied don't really want Lukaku – they only want him because Chelsea want him, he was in Jose's top 10 flops. He won't go on to become a Man Utd legend, he'll get bored after a year or two and want to move on again.
I'm certainly looking forward to seeing Sandro and Klaassen link up; then we'll all be saying Lukak-who? Wish Everton would hurry up and get it over and done with then concentrate on Sigurdsson, Andre Gray, Van Dijk and Kasper Dolberg!

Looking forward to seeing this Josh Bowler lad. Not seen much of him but hope he's a decent lad.
Steve Ferns
389
Posted 07/07/2017 at 12:00:22
Yes, it would be hilarious if we signed Virgil Van Dyke. We'd really get one over on Liverpool and we would have a great defence.
But what that mean for the forward line? We need to replace Lukaku. Koeman will go with three proper forwards this season, Klaassen will vie with Davies, Schneiderlin and Gueye for a deeper midfield role. Whilst, Barkley if he stays would operate on the right of the front three, as would Sigurdsson if he came to replace Barkley.
Who else can play there? I don't believe we have anyone else, and so expect Rooney to operate here too. So this position needs addressing. Centrally, we need a couple here, maybe Rooney could be the back-up option, but we need a big name player to lead the line as a number 9. Dolberg is the one I want. Bacca is a good alternative. Dembele is interesting if a little bit too much of a gamble at £40m+.
I would expect two / three more forwards to come in. That's going to take a big dent out of the Lukaku money, and makes me question spending £60m on Van Dijk.
Nitesh Kanchan
390
Posted 07/07/2017 at 12:01:24
"£75 million wasted" soon to be a headline.
I wonder if a day will come when the clubs will have to first buy agents before buying their players.
This is a win-win situation for us. So stop stressing, TWers. Lukaku is no Bale who can win big games. Bale after his transfer scored decisive goals in the Copa del Rey and Champions League final and won games on his own in the absence of Ronaldo and still we are getting close to Bale's fee.

Only noteworthy goal was that against Chelsea but the real Lukaku showed up in that FA Cup semi-final against Man Utd. Balotelli, Part 2.
Brian Murray
391
Posted 07/07/2017 at 12:01:59
Steven Jones's post: You make perfect sense up until "more mobile forward to sign". Errr Rooney... You're having a laugh. Man City's lad, etc but not him surely. Please someone overrule blubbering Bill.
Laura Round
392
Posted 07/07/2017 at 12:04:24
Remember the Chinese overdraft we just got for £60mil. 😬
John Schrempft
393
Posted 07/07/2017 at 12:07:40
Lukaku: Good character: no, Good footballer: no, good goalscorer: yes.
Yes, I'll miss his goals but certainly not him as a Person.
Contracts are not worth the paper they're written on. Rom has 2 years left on an agreement he willingly signed, not 5 minutes, but he can go anyway, just by spouting to the media. He even commented on Everton's transfer policy!
I've supported Everton for 60 years and it has been up and down and it looks like we're going to have an up. Well, in all those years, we were never relegated – and that's been an up too.
Joe O'Brien
394
Posted 07/07/2017 at 12:23:37
Tells you something when a player that has scored the amount of goals for us leaves and a lot of people are happy to see the back of him. I'm one of those people.
I just never took to him. He never took to us. As someone said above, he could have at least pretended to like us... we were far too reliant on his goals.
Move on, Rom, we'll spend the money and we'll be a lot stronger without you.
Tony Abrahams
395
Posted 07/07/2017 at 12:24:54
He never put in a transfer request, but he uttered those very words about Everton, the club he was under contract to, not being an option? sickening really, if he is to receive a loyalty bonus off Everton, but what do I know?
Thinking who the biggest winners will be out of this, Everton, or Man Utd, but after reading the diversity on this quality thread, I'm going for Lyndon and Michael!
Jim Knightley
397
Posted 07/07/2017 at 12:29:08
Heard rumours of a £65mil bid for Van Djik.
If that is true, then it would be the biggest statement yet. By far.

Mike Green
398
Posted 07/07/2017 at 12:32:40
Van Dijk, Keane, Jagielka, Williams, Funes Mori.
Not a bad little quintet to choose from.
Brian Wilkinson
399
Posted 07/07/2017 at 12:39:34
Stick the loyalty bonus, I would fine the player for not turning up Thursday and Friday for pre season training, and donate the fine to Everton in the Community.
As per usual I am Rom and will do as I like. He is still an Everton player until Everton say otherwise.
Mark Daley
400
Posted 07/07/2017 at 12:58:19
Norman Hunter went down in history as a master booter.
Luis Suarez goes down in history as a master biter.
Lukaku will go down in history as a master.... er, let me think...
David Ellis
401
Posted 07/07/2017 at 13:07:03
We need a striker rather than Van Dijk.
Peter Laing
403
Posted 07/07/2017 at 13:19:05
David (#402) – what if Uncle Farhad is saying we can have a striker as well as Van Dijk? This is the new Everton, you know!!!
Andrew Ellams
404
Posted 07/07/2017 at 13:27:18
If Van Dijk signed for us, I'll still be laughing this time next year.
Ray Roche
405
Posted 07/07/2017 at 13:29:04
#405
Yeah, because it'd be Dick Van Dyke.
Peter Laing
406
Posted 07/07/2017 at 13:29:44
Mark (#401) ...bater?
Dave Pritchard
407
Posted 07/07/2017 at 13:36:11
All these odds on a player joining us are not worth anything. Just there to get gullible people to have a bet.
Mike Green
408
Posted 07/07/2017 at 13:36:42
If Rom goes I cant believe we're going to be left short up front – I reckon we'll be looking at least one main target probably plus Rooney. If we do that and get Van Dijk, then we really will hit the headlines.
Peter Laing
409
Posted 07/07/2017 at 13:38:39
Koeman has the same agent as Van Dijk – he must have first hand information as to what will be required to make this deal happen?
Alexander Murphy
410
Posted 07/07/2017 at 13:50:56
Just jumped in from work, so haven't read the remarks to this thread properly. Give me some leaway.
1) I don't want Rom joining any Premier League Club at all at any fee. PSG? BM? Fine and Okay.
2) Wayne today is not Wayne of yesteryear, nowhere near. Proper Blue absolutely. Kissed the wrong badge? Yep, he did. He did, we didn't.
3) Some "cobbled up deal" that offloads Wayne and his bloated weekly income, that vile agent's fees, Rom's bloody "disloyalty" remark payments and some spin doctor sells that to us as some £100M deal?
4) If I thought that I could post "Fuck off and kiss this huge spot on my arse" and not offend TW then I would; I can't, so I won't.
Brian Williams
411
Posted 07/07/2017 at 13:53:51
I wouldn't want the club to spend anywhere near the rumoured £60m for Van Dijk. I've even seen rumours of £70m, which is ridiculous IMO.
I believe we should spend the mouthpiece's transfer fee on Dembele from Celtic and another young centre-back.

Brian Williams
412
Posted 07/07/2017 at 13:56:49
Alexander. As the little fella from "Rules of Engagement" would have said.
"I think you just diiiiiiiiiiiiiiiiiiiiiiiiiiiiiiiiiiid."
Fran Mitchell
413
Posted 07/07/2017 at 14:01:05
Van Dijk is way over-priced, BUT, if we did sign him we could arguably have the best centre back pairing in the league for 10 years.
Value is relative.
Alexander Murphy
414
Posted 07/07/2017 at 14:03:31
Brian (#412).
I'm not having any problems with that line of thinking at all.
Fran Mitchell
415
Posted 07/07/2017 at 14:06:31
If Kelechi Iheanacho is really available for the touted £25 million, I'd be gobsmacked (and annoyed) if we don't make a move for him.
A goal in 3 games at Man City with most coming from the bench. Plus having fellow Nigerian Henry with us (albeit only next year) as well as being in the North-West should make us a better option for him than Leicester.
Dennis Ng
416
Posted 07/07/2017 at 14:08:05
It's funny how this became a "Is Lukaku a good player" type discussion instead of what the future holds if the deal goes through or not.
Lukaku gave us a few good seasons, a lot of goals, but he also talked up his departure a lot. £75m (and I hope more) for him is a good deal for the direction we're going – and that direction, at least in my mind, does not work well with Lukaku on the field.
I would be worried if this doesn't go through as we'll have a "big asset" from last season that will be phased out by our future team. As for it going through, I would wish Lukaku well, not Mourhino obviously, and welcome the next great player we're going to buy with open arms, even if that player is journeyman Giroud.
Steve Ferns
417
Posted 07/07/2017 at 14:11:21
Agreed, Fran. Iheanacho, Bacca, Rooney, Sigurdsson and bank some cash for January.
James Morgan
418
Posted 07/07/2017 at 14:28:24
http://www.liverpoolecho.co.uk/sport/football/transfer-news/everton-virgil-van-dijk-southampton-13298043
Not in for Van Dijk or Gray
Fran Mitchell
419
Posted 07/07/2017 at 14:29:09
Dennis, what about Giroud's career make you suggest he is a 'journeyman'? 5 seasons at Arsenal, 2 at Montpellier, 2 at Tours and 3 at the club he began his career.
For me, Martial would be the best option (I feel that, if given the chance to play down the middle, he'd really shine) but know that is unlikely.
So Iheanacho, Rooney and Giroud would be 3 excellent attacking signings, to join Sandro and Henry – potential mixed with experience – this would give us high quality options for the Premier League and to make a real go at the Europa League this season.
Andy Osborne
420
Posted 07/07/2017 at 14:33:07
I always thought Iheanacho would be a good buy, and at £25 mil, it seems a steal in this crazy inflated market. I would also like to see a bid for Dembele at Celtic, I think he has a lot of potential.
I just read somewhere that Rooney will be played in his natural position of striker, I can't imagine he will be first choice, but I think he will be great off the bench and will score in cups and Europa League. He will have the added benefit of sharing his experience with the younger players, and giving us an experienced head in the big games that we will play (and need to win) if we are to break into top 6 or 4. There's no doubting he is a match winner with a winning mentality.
I must say, this is probably one of the most exciting times to be a Blue that I have experienced. I am old enough to have been a regular during the 80s, so that was the best (so far) of course, but what is happening now has taken me by surprise. I thought we would buy a few players this summer, but not this many, and not the players that have the potential to become the best in their respective positions.
If Koeman and Walsh have done their homework, then they have bought talented players with the right personality to gel as a team. So, hopefully we won't repeat the Spurs experience when they (mis-)spent the Bale cash.
I don't care that Lukaku wants to leave, it will be his loss. There is a very good chance he has moved to a team that will finish below us. Take the money, reinvest and let the new season start. I, for one, think this will be one of the most interesting and exciting seasons that I have experienced in a long time. Can't wait.
Tony Abrahams
421
Posted 07/07/2017 at 14:34:28
I was only thinking last week about most of the great teams in football being hard to score against, so if signing Van Dijk, gives us the best centre-back pairing in the league, then it would do for me.
Peter (#410), I don't know how true this rumour is, although Watched Toffee, is supposed to be a very reliable source, but if it is true, then surely logic would tell us that the only way we would bid, is if we have already been sounded out?
Gordon Crawford
423
Posted 07/07/2017 at 14:53:13
Not in a million years should we ever pay that money for a defender. £35m max.
Brian Williams
426
Posted 07/07/2017 at 15:06:05
Does anyone have anything approaching believable info on whether it's true that Lukaku hasn't reported for pre-season against the club's wishes?
Mike Green
427
Posted 07/07/2017 at 15:06:59
Andy – Moyes leaving was a biggy...
Ben Howard
428
Posted 07/07/2017 at 15:17:14
Rodney Marsh says without Lukaku we won't finish in the top ten next season. What a bellend! 😂
Gerry Quinn
429
Posted 07/07/2017 at 15:23:55
Bet Ashley Williams is getting more excited about "Loo-kack-who?" sodding off more than we are...
Terry Underwood
430
Posted 07/07/2017 at 15:23:59
Must admit to a bit of a chuckle when I read this. Whatever you think of them, Man Utd are a proper club with a long and distinguished history and a whole bunch of players we all respected and loved to see.

I would much rather see Rom go to them rather than Chelsea. Without the Russian money, they may well be a Championship side. They are a nasssssty bunch of chavvy twats. All fur coat and no knickers.
Mike Green
431
Posted 07/07/2017 at 15:24:11
Ben - #429. That's a cracker. Almost as good as Butch Wilkins saying Southampton were a bigger club than Everton when Koeman came over...
Brian Wilkinson
432
Posted 07/07/2017 at 15:24:13
He is ignoring Ronnie's calls and not returned to Finch Farm – disrespectful to the club even at this late stage, adios Rom.
No probs, Rom; now to phase 2 Operation Goodison rebuild.
Tony Hill
433
Posted 07/07/2017 at 15:26:17
Ah, yes, Rodney Marsh. The fuckwit's fuckwit.
Mike Gaynes
434
Posted 07/07/2017 at 15:42:44
John (#394), a "no" on character? Just because he didn't fall in love with the club and wanted only to use us as a steppingstone? That's not character, that's attitude, and they're not the same.
Character is a much bigger thing, and I have seen no sign that Rom ever lacked that. No drink-driving, no punch-outs in pubs, no confrontations with his managers, no ugly rumours of off-field misconduct, no issues with his teammates (judging by published comments, he was quite popular with them), and not one incidence of embarrassing the club.
And on the pitch, no idiotic red cards, no diving, no confrontations with referees or opponents, no lack of fitness or feigning injury. Again, he never once embarrassed the club.
Joe Clitherow
435
Posted 07/07/2017 at 15:43:15
Thanks for the goals, Rom. Bye, don't let the door bang your arse on the way out. Players leaving Everton are dead to me with only a few exceptions, apart from a token acknowledgement of a clap when they line up at Goodison, and not for all of them either.
I wouldn't mind a cheeky Diego Costa bid if only to stir up the pot, at around the £35M-£40M reported bid from Atletico. Surprised there hasn't been more interest in him.
Imagine (allegedly) stealing two strikers from the Madrid clubs in the same transfer window!
If not though, we need another striker to replace Lukaku (in addition to Sandro since we lacked numbers) and we don't necessarily need to spend all of the Lukaku money, whatever that is.
A young up and coming forward in the £20M-£35M range with bags of pace would fit the bill. That's what we bought when we got Lukaku same again please.
Jer Kiernan
436
Posted 07/07/2017 at 15:52:04
Glad to hear of Marsh's prediction; he has a canny habit of making unwise and ill-timed statements. Like most spent pundits, he his grabbing the coat tail of the hot story to try and get some attention
At worst we will stagnate without Lukaku.
Andy Osborne
437
Posted 07/07/2017 at 15:56:07
Joe, don't forget we have some good youngsters already here. I am not saying they are the answer "right now" but Lookman, Calvert-Lewin and Sandro are all 20/21.
So maybe what we need is a Rooney, Giroud or a cheeky Aguero bid, just to give us the goals until the young guns are ready to shoulder the responsibility of providing the bulk of our goals tally each season. From what I have seen of Lookman, in particular, he looks pretty special.
Brian Wilkinson
438
Posted 07/07/2017 at 16:00:48
Andy, don't forget we also have Onyekuru to add to your list of youngsters.
Mike Green
439
Posted 07/07/2017 at 16:01:59
Mike (#435),
I would take a few more confrontations with opponents over the snide comments he's made to the Belgian press over the past 3 years any day of the week. Maybe our definitions of character differ?
Stan Schofield
440
Posted 07/07/2017 at 16:04:29
Ray @318: You ask why we would do that?
Firstly, if we're a big club, because we can, and it would make a massive statement to the rest of the football world.
Secondly (and arguably more importantly), Moshiri might, from a business perspective, consider the value to the club of Lukaku staying until at least July 2019 as bigger than the £75M (or indeed £100M for that matter) potential loss of transfer fee.
His goals, combined with the intended improvements to the team from recent signings and others, could propel us forward significantly over the next 2-year period of the Everton 'project', compared with the relatively greater uncertainty that would accompany his leaving.
If Everton did decide he's staying until the end of the current contract, that time scale would also fit with the 2 years remaining on Koeman's part of the Everton 'project'.
Dennis Ng
441
Posted 07/07/2017 at 16:08:01
Fran, I'm just lazy when using that media favorite term about Giroud in my last comment. I like his goal returns and don't mind taking him at all.
I agree with Martial but I also like Rashford, very underrated because of his off-the-ball presence. I would take either one if that's part of the Lukaku deal.
I don't believe we need a like for like replacement for Lukaku. We probably can play two small strikers going forward, though a big body would be a good alternative.
Dave Abrahams
442
Posted 07/07/2017 at 16:26:04
Mike (#435), there is a lot of truth in what you say about Lukaku's character but what about the times, and there were quite a few when he didn't turn up? In those games,sometimes I thought he was a spectator who had strayed onto the field. There was no way you could explain why acted like this.
You can bet your life it won't occur under Mourinho if he goes to Man Utd; he certainly will find it a lot harder there if he does.
Ray Robinson
443
Posted 07/07/2017 at 16:27:19
Stan (#441),
In my eyes we're a massive club, none bigger, but in the football world, once I separate emotion from facts, we're not and haven't been for quite some time now. It's hard to turn £75m to £100m down when you probably need the funds to re-build (I don't believe Moshiri's pockets are as deep as some believe).
Your argument for holding Lukaku to his contract nevertheless has merit provided he maintains his form, doesn't down tools and ultimately propels us to greater things. Based on evidence so far though, I would predict that Lukaku would just have one massive strop.
Besides, anyone who states that seeing out the last two years of his contract is "not an option" is maybe the rotten apple in the barrel that needs getting rid of, no matter how big the club.
Arguably, dispensing with his services is a bolder statement that we intend to become a big club (again).
Dermot Byrne
444
Posted 07/07/2017 at 16:34:27
I'd question someone actually giving status to a Rodney Marsh comment?
Brian Williams
445
Posted 07/07/2017 at 16:36:26
Mike Gaynes (#435).
"If" it turns out Lukaku refused to return to preseason training and instead stayed in the US against the club's wishes, as is being reported by some here in the UK, would that count as embarrassing the club in your eyes?
Stan Schofield
446
Posted 07/07/2017 at 16:39:07
Ray, I see your point. But a difference between what you're saying and what I'm saying is that you make a prediction, Mystic Meg style, that he'd throw a strop. I'm not making any predictions, because life is too unpredictable. All I'm saying is that Moshiri might use the judgement I'd indicated from a business perspective, which indeed he might.
Regarding Lukaku, I believe it's important to put emotions about Everton to one side, as far as possible. I know he's said stuff that is disrespectful, but I'm more interested in his ability to score goals, and the likelihood (admittedly not a certainty, because nothing in life is, apart from paying taxes etc) that he continues to do so, particularly as we (hopefully) improve as a team with the current influx of new signings.
Joe Clitherow
447
Posted 07/07/2017 at 16:40:20
Not forgetting them for a second, Andy (#438). It is "right now" that we need to replace Lukaku with though in my opinion. If nothing else, the current spending spree has addressed numbers deficiencies in the squad.
By that I don't mean just the raw player numbers because I expect more pruning of the current squad before end of August. I mean that, to make a sustained challenge upwards, we not only increase first team quality and reduce average age of the first 11, but we need to include the quality of the squad also to around 20-22 "first team" players.
The test for that is clearly the match day bench. Beyond the 11 that started games last year, the bench was typically threadbare with players who could legitimately challenge for a first team place. Typically there were usually only 1-2 genuine first team challengers.
Look at someone like Mirallas who floated between starter and sub. Was he a first team selection choice? Definitely. Is he experienced? Absolutely. Would he be a contender for the Top 6 starting teams? I'm pretty sure not.
We needed a bigger squad with real competition for every spot as well as increasing the overall quality, and a plan to gradually bring in 2-3 youngsters each season. I think that has been recognised and is being addressed. I also, by the way, think it is no coincidence that that is quite similar to how Arsenal have done things in the past given Moshiri's connections there.
Previously, we sold first to raise funds and picked over the bones of other clubs late in the window whilst being on pins at the end of August over who we would lose. This early – and frequent! – business seems a much better plan to me and I think August 31 or whenever the window closes will be an exercise in sitting back and pruning the wages by shedding players we have upgraded, with maybe an opportunist eye on who becomes available late on rather than the despairing scramble of past seasons. No more Sissoko desperation shenanigans this year.
Far more enjoyable.
Darren Dennett
448
Posted 07/07/2017 at 16:45:17
So sad to hear the news Bradley lowery has passed away. God bless you little fella.
Ray Robinson
449
Posted 07/07/2017 at 16:53:09
Stan, don't want to appear smart-arsed but isn't:
His goals, combined with the intended improvements to the team from recent signings and others, could propel us forward significantly over the next 2 year period of the Everton 'project', .
hypothesis - i.e. as uncertain as my prediction that he would throw a strop. It might be that a change in style, without Lukaku, is just as likely to propel us forward. We'll know in due course!
I think we should recognise that we both see things slightly differently!
Mike Gaynes
450
Posted 07/07/2017 at 17:05:27
Brian (#446)... no, why? Would you feel embarrassed? I wouldn't.
It certainly doesn't show the best attitude, but the fact is that he has already agreed to leave. I doubt I would show up for training under these circumstances. Plus in LA he isn't besieged by the press everywhere he goes.
Mike (#440), we definitely do. Joey Barton gives great quotes and always turns up for training, but I wouldn't say he has character.
Dave (#443), that's for sure, but laziness in strikers is a pretty common phenomenon. Ibra isn't exactly industrious, and he and Mourhino seemed to get along okay.
Brian Williams
451
Posted 07/07/2017 at 17:12:53
Mike Gaynes. You sidestepped, and didn't actually answer my question, but never mind I'll just let it go.
Don't know whether it's a cultural thing and/or Americans have thicker skins than us but if you have a trawl through today's posts on here you'll see there are more than me referring to "that" quote and seeming to have a similar take on it.
I guess if you don't get it, you don't get it.
Stan Schofield
452
Posted 07/07/2017 at 17:30:12
Ray, you're not being smart-arsed, mate, it's a fair question.
No, I don't believe it is a prediction on my part, just a scenario with a likelihood. Although I try not to make predictions (every time I do, I get them wrong, like I said Hillary Clinton would be the next President of the US, and we wouldn't vote yes to Brexit), I'm prepared to make judgements of likelihood.
On balance, I can't see Lukaku throwing a big strop, not one that would undermine his reputation as a goal-scorer. He might sulk a bit, but then he might not, but sulking is fine so long as he keeps scoring goals, and I would bet good money that he would.
Maybe that's all you're doing as well, saying it's likely he'd throw a big strop, in which case I agree with you that we just see things slightly differently.
Kristian Boyce
453
Posted 07/07/2017 at 17:30:53
Rodney Marsh's career has plummeted so low that his 'job' now is a presenter on the 'Grumpy Pundits', a radio show here in the States. It's absolutely painful to hear him talk as a supposed pundit, he has absolutely no clue about the modern game.
I would not take anything he says or predicts seriously as he has no idea about teams other than the Sky 6 and Real and Barça.
Also, ask any Bradford fan about his predictions; he had to shave his head after guaranteeing they would get relegated that season they stayed up.

Joe Clitherow
454
Posted 07/07/2017 at 17:35:21
Brian
I'll chip in then if Mike doesn't. I'm a season ticket holder, Scouse born and bred and I go back to the late sixties as a very small child Evertonian.
I think "thicker skins" or whatever else that really is is what we all have to develop in recognising where football is now and where we aspire to be as a Football Club. Nostalgia about how football was is great for us (relative) old timers but it just isn't how it is now. That's sad, I will agree with you, and that type of comment from multi-million pound footballers also triggers a response in my loyalty bone, wherever that is.
But it is how it is today and the type of footballer we need to take us forward is not an Osman or a Hibbert or whoever else with loyalty to the club as the prime requirement for a first team place. To push on, we need superstar footballers.
Superstar footballers cost money, are ambitious and self-centred in horribly vulgar ways and come with baggage and personal ego like Lukaku. They also perform and are a tradeable commodity. I don't like it any more than you but as Mr Moshiri said (I was there in person when he said it and joined in with the applause) "We can't be a museum".
Filter the comments and the posturing and the shite that goes with it and strap in and enjoy the ride because Lukaku going for silly money is not the disastrous loss of a star player (or Joleon Lescott) that it was in the past. We are trading players and upgrading the team. Bollocks to anyone who wants to go; the Club is back to being bigger than the players leaving, in my opinion.
Joe Foster
455
Posted 07/07/2017 at 17:37:59
I won't miss him pointing to the ground at where he wanted the ball to be, that's for sure.
Mike Gaynes
456
Posted 07/07/2017 at 17:38:16
Brian (#452), yes mate, I get it, "that" comment irritated some people... but you are far and away the most outraged. I've followed this entire thread, and nowhere in the mentions of the comment do I see anger at the level of yours. Yank or not, I'd say my reaction is closer to the mainstream.
However, you're no doubt correct that we Americans have thicker skins about press comments. Perhaps it's because we have five major sports (and five times as many rich athletes popping off in the press), and certainly it's because "respect" for the team or the badge or the logo isn't nearly as significant to the sporting culture here.
I've never seen a baseball or basketball player kissing the team logo on the jersey or waving a team scarf. And when an athlete disrespects a team he's leaving, he might get a pitch under his chin or an elbow in the ribs at the next game, but he won't get scorn and rage heaped upon him from the press and the fans.
So no, I truly cannot understand your fury at one very quiet seven-word comment: "That's not really an option, I think."
We'll just agree to disagree.
Stan Schofield
457
Posted 07/07/2017 at 17:39:35
Brian @446: I would say that would be embarrassing both the club and him. He'd be throwing a tantrum, like a child. Whilst he has contractual obligations as a professional. Under such circumstances, perhaps Everton could withhold payments to him, like not giving in to a child's tantrums, to show that such behaviour gets you nowhere.
But, back to the discussion (just above) with Ray about 'likelihood', I can't see he'd actually do that. And surely you have to read any reports with a pinch of salt, they're such crap generally.
Mike Green
458
Posted 07/07/2017 at 17:48:43
Mike (#451) Joey Barton has stacks of character, most of it it would appear bad.
Rom has put his needs ahead of the club and the team from Day One, and unless he's been told to stay away, appears to be lapping the situation up in the sunshine, taking a huge wage while his teammates sweat their nuts off in preparation for the new season.
I don't think he's got particularly good character or bad character, I just think he's got very suspect character. You know what they say – there is no 'Rom' in 'Team'... ain't that the truth.
Alan Bodell
459
Posted 07/07/2017 at 17:54:41
The deafening silence from the Mancs is scary, very very scary. No bids, only chatter on social media and rumour. I wouldn't mind betting we're stuck with him.
He said "staying with us was not an option"but it looks to me like it fucking is.
Mike Gaynes
460
Posted 07/07/2017 at 17:54:54
Mike (#459), I think it's down to who Rom considers his team to be at this point.
Man Utd begins preseason workouts day after tomorrow... in Los Angeles.
I'm not sure, were I him, I would jump on a plane from LA to Liverpool only to have to turn around and go right back.
But, as Stan points out, we don't even know if the report is true or false.
Eddie Dunn
461
Posted 07/07/2017 at 17:55:52
Mike Gaynes, you mentioned Rom's good character, and correctly listed how well behaved he has been both on and off the park.
Perhaps, if he had a bit more "dog" in him, he might pick up a few yellows, and give centre-halves a bit of a wallopping, utilising that fantastic physique.
A bit of a snarl, and a bit of menace like Costa, for example. Perhaps he is too cool to get that riled?
Mike Gaynes
462
Posted 07/07/2017 at 18:02:35
Eddie, I've posted here on multiple occasions how much I wish Rom had a little Costa in him... but the focus and anticipation, not necessarily the combative aspects. More intensity would make Rom a better player. I'm not sure more yellow cards would.
Ian Riley
463
Posted 07/07/2017 at 18:05:33
Glad to see him gone. Yes, the goals are crucial and yes we need a replacement but I won't miss the attitude.
No one knows what goes on behind closed doors but if Lukaku was meant to turn up for work yesterday then he should be fined. He is still on the payroll until a contract with another club is signed. Get as much as we can with a transfer request put in to fulfill any loyalty bonus.
I admire anyone who wants to better themselves during their career but show respect to those who have helped you get there. Everything that is bad about modern football. Get the deal done and move on.

Brian Williams
464
Posted 07/07/2017 at 18:09:06
I think he's more likely to have a little Pogba in him. Boom boom!
Mike Green
465
Posted 07/07/2017 at 18:09:56
Mike (#461) - I think a lawyer might disagree with you on that one, but I'll go with it... By that rationale, in a couple of years he might be seen strolling around the Old Trafford pitch in a Man Utd strip but his team is really Real Madrid...?
Maybe he could play for a few teams at once...? This takes football to completely new level – it's like a re-run of 'Quantum Leap'.... or even Mr Benn...
Brian Williams
466
Posted 07/07/2017 at 18:12:14
On a more serious note, I can't understand how Man Utd have pipped Chelsea to the post, and Conte is up in arms etc.
All Chelsea have to do is offer more than Man Utd have because as yet there's "no deal" between Everton and Man Utd.
Steve Ferns
467
Posted 07/07/2017 at 18:15:25
Rom has low aggression. And he needs that. He plays like a little boy in a heavyweight boxer's body. He should be smashing defenders out of the way. He should be winning headers from corners. He hardly ever wins any.
Most of the best games he's ever had have happened because he's got angry about something. If only Duncan could have done more to get the aggression into him.
Chris Williams
468
Posted 07/07/2017 at 18:33:49
The most recent reports are focusing on the fact that Everton are looking for more guaranteed fees, maybe £90m, or more, before they agree the deal.
If they're playing hardball, good on them.
The other updates are saying that Koeman has met with Rooney now and is looking to play him as a striker.
Let life unfold I guess.
Kevin Rowlands
469
Posted 07/07/2017 at 18:35:19
Old wavy fists Phil Neville has posted a picture of Lukaku in a Man Utd top and has congratulated him on his Twitter account,. Not quite sure if it's legit or not.
Brent Stephens
470
Posted 07/07/2017 at 18:44:01
Agree, Chris. We don't want to be losing a goal-every-two-games for peanuts. Hardball it's got to be. And then a quality replacement.
Soren Moyer
471
Posted 07/07/2017 at 18:47:46
Rest in peace little man.
Kim Vivian
472
Posted 07/07/2017 at 18:54:39
Anyone seen P Neville's instagram pic of Rom in Man Utd shirt? Real? or mock up. The plot thickens...
https://www.instagram.com/p/BWQMDLeD5fs/?
Peter Roberts
473
Posted 07/07/2017 at 18:57:54
Alan (#460) – he's getting sold mate. Stop clinging on to some idea that he may somehow end up staying
Chris Williams
474
Posted 07/07/2017 at 19:02:22
Being reported as a mock-up, Kim. A jolly jape by Captain Pip seemingly.
Never knew he had a sense of humour!
Mike Gaynes
475
Posted 07/07/2017 at 19:11:13
Lovely, Soren.
Kim Vivian
476
Posted 07/07/2017 at 19:16:34
I know this will raise a few hackles and I hate to say it – but that suits the big man. Looks the biz.
Julian Exshaw
477
Posted 07/07/2017 at 19:18:26
Slightly off-topic but speaking of strikers, does anyone know what's happened to Shani Tarashaj? I know he was at Eintracht Frankfurt last year on loan. I wonder if he has turned up at Finch Farm?
Dermot Byrne
478
Posted 07/07/2017 at 19:21:58
Good you made the effort to do that Soren.
I sent an email to their fans chris.waters@safc.com
Good to show in the end we are just footy fans and it puts all the money and gossip in perspective eh?
Ian Horan
479
Posted 07/07/2017 at 19:25:00
Does anybody know what the situation is with Ross Barkley, his Instagram account is deleted and no Twitter activity??? No comments from the club or his agent on any contract status.
Colin Glassar
480
Posted 07/07/2017 at 19:25:46
This is the first time I can remember our best player being sold and it being met with total indifference by the majority of fans. Speaks volumes, I suppose.
Brent Stephens
481
Posted 07/07/2017 at 19:26:36
Soren, nice touch.
And Dermot.
Andy Walker
482
Posted 07/07/2017 at 19:29:54
Why don't we do a swap deal with Chelsea for Costa?
Brent Stephens
483
Posted 07/07/2017 at 19:31:11
Is that a small or large cup of, Andy?
Dan Nulty
484
Posted 07/07/2017 at 19:35:26
Presumably he is getting fined for not reporting back for training yesterday? Would guess he will have to out a request in also so no right to a portion of the fee?
Charlie Lloyd
485
Posted 07/07/2017 at 19:54:36
When he said "I know where I'll be playing next season", I just have big reservations thinking that it was Old Trafford and not Stamford Bridge. But that's what mercenaries do. They take the best offer on the table.
Never has an Everton striker who has scored so many goals in so few games been so unloved by the usually adoring fans.
Draw your own conclusions.
Brian Williams
486
Posted 07/07/2017 at 20:01:37
Got a strange feeling there's something just not quite right about all this.
Man Utd announce they have an agreement when they don't. Everton deny a deals been done. Surely there's no room for misunderstanding?
I don't know what it is but seems a very unusual state of affairs!
Soren Moyer
487
Posted 07/07/2017 at 20:02:56
And what happened to his "unfinnished business at Chelsea"!?
Brian Williams
488
Posted 07/07/2017 at 20:07:58
Soren. Perhaps his unfinished business didn't pay as much????
Jamie Crowley
489
Posted 07/07/2017 at 20:11:28
Rooney signed according to TalkSport...

Mike Kehoe
490
Posted 07/07/2017 at 20:17:58
Not too disappointed to lose Lukaku but worried about Rooney returning as he is way past his best and represents a huge backward step in the face of so much recent positivity.
If we're going to be sentimental let share the love and see Rooney take a modest wage and fund some good causes in the community. I can't get excited about Giroud but Iheanacho and/or Dolberg should be possible.

Will Mabon
491
Posted 07/07/2017 at 20:18:24
This is all starting to look like an engineered drama, choreographed.
Bread and circuses, anyone?
Brian Williams
492
Posted 07/07/2017 at 20:33:04
What price Chelsea make last ditch £90m offer?
Will Mabon
493
Posted 07/07/2017 at 20:39:21
Depends what's next in the script, Brian...
Martin Mason
494
Posted 07/07/2017 at 20:39:48
For me, if we were buying Lukaku in this wonderful phase of expansion I would say that it was the most amazing commitment we had ever made to achieve success. It seems so illogical to sell the hottest striking property available on the market today when we are making a commitment to joining the very best. My guess is that it was impossible for us to keep him although I'm sure that quite rightly we did our very best.
We're now post Lukaku and maybe it'll be an opportunity for us to learn to share the scoring burden across the squad but I believe that Rom would have scored 40 a season in our current squad as I'm sure he will at Man Utd or Chelsea. For me an amazing pleasure to see a player of his pure class at Everton after decades of pure dross. I wish him well.
Brian Williams
495
Posted 07/07/2017 at 20:59:21
Aaaaaand there you have it!
Sam Hoare
496
Posted 07/07/2017 at 20:59:45
Chelsea have matched the offer!! Apparently. Who'd you rather sell him too?
Brian Williams
497
Posted 07/07/2017 at 21:02:35
Whoever pays the most, simples!
Dennis Stevens
498
Posted 07/07/2017 at 21:03:47
PSG!
Nigel Munford
499
Posted 07/07/2017 at 21:06:56
Other European giants (PSG, BM etc) are very quiet on the saga, maybe they see his worth as considerably less than £100 million so aren't even bothering, or they have better strikers already in place.
Brian Wilkinson
500
Posted 07/07/2017 at 21:12:54
Not rocket science if Chelsea want him, up the bid a little.
David Barks
501
Posted 07/07/2017 at 21:16:06
What in the hell are you people celebrating? It's only being reported that Chelsea matched the bid. It's not as if we get both, nothing changes for Everton.
There is no bidding war, we accepted Man Utd's bid.
Peter Warren
502
Posted 07/07/2017 at 21:17:19
No we didn't, David.
Sam Hoare
503
Posted 07/07/2017 at 21:17:52
Erm, who's celebrating, David?
Strange post.
Carl Taylor
504
Posted 07/07/2017 at 21:18:59
When did we accept Man Utd's bid?
John Otway
505
Posted 07/07/2017 at 21:20:40
David. Calm down or you'll have a stroke!
This is what Farhad Moshiri and Co do!

Ian McDowell
506
Posted 07/07/2017 at 21:20:56
Exactly what we need, a bidding war. Brilliant timing.
Chris Williams
507
Posted 07/07/2017 at 21:21:23
Bread and circuses?
More bread now perhaps? You can see now why Everton have been playing hardball. No deal has been announced with Man Utd. So who blinks first?
David Barks
508
Posted 07/07/2017 at 21:26:54
There is no bidding war. If you're buying the one line from Everton and then total silence around the entire thing, I have a bridge to sell you.
Ian McDowell
509
Posted 07/07/2017 at 21:27:39
Accept bids of £80 million upwards and demand an increase of £2.5 million on each counter bid. Come on, Blues, make it work.
Colin Glassar
510
Posted 07/07/2017 at 21:34:19
Get Christie's or Sotheby's involved. Do I hear £85m? £85m from the shady Russian gentleman in the corner. Do I hear £90m?
Graham Mockford
511
Posted 07/07/2017 at 21:34:20
I'm outraged, my club has been disrespected, I've always thought he was a tosser, how dare he be so ambitious, let's not forget the semi-final, flat track bully, he even tried to get that Tom Davies goal, lazy fucker, first touch, that bloody agent, pointing, how dare he be friends with Pogba, top six goal scoring record, it's only fucking West Ham.
71 goals in 133 games. £50m profit.
I can't fucking stand the fella but that Stracq now there was a player who knew what being an Evertonian was all about.
Brian Williams
512
Posted 07/07/2017 at 21:35:04
502. No we didn't, and no we haven't.
Dave Abrahams
514
Posted 07/07/2017 at 21:57:24
Graham (#512), it will really hurt you when he goes won't it, not mocking, but there is always someone else and I honestly think we will be more attractive to watch next season with these new players coming in.
Zahir Jaffer
515
Posted 07/07/2017 at 22:05:08
There have been no official reports suggesting we have accepted a bid.
The offer is on the table and Chelsea have come with their head in their ass walking around the street buck naked; attempting to lure Lukaku away without a higher bid or any agent fees.
http://m.bbc.com/sport/football/40540231
Lukaku's not fucking leaving!
We have a team. We have a striker; The missing piece to both Moyes's or Martinez's era.
He's our golden generation. Reprimanding anything to the contrary.
"Lukaku's not nudging!"
Kunal Desai
516
Posted 07/07/2017 at 22:07:03
Bidding war. Keep going up by £10 million at a time.
Peter Laing
517
Posted 07/07/2017 at 22:18:28
No chance. The deal will be sealed by Man Utd over the weekend and be the centrepiece of their American tour. Chelsea are trying to save face.
James Lauwervine
518
Posted 07/07/2017 at 22:22:27
Can't wait for the tit to go. Goals, profit, whatever, just knob off. When Lukaku scores for us I celebrate. When any other Everton player scores, I go mental. Simple as that I suppose.
Ian Bennett
520
Posted 07/07/2017 at 22:27:25
£85m plus Batshuayi on loan for two seasons with an option to buy is the deal to get. We need a proven guy in return, and not a big risk of not getting a top striker.
Graham Mockford
521
Posted 07/07/2017 at 22:31:52
Dave,
I've always expected him to go this summer. As with any player, no one is bigger than the club. I think the criticism he receives is way over the top.
I genuinely believe he is good enough to be part of a top European team, and I guess we will find out.
As far as Everton are concerned,his departure is a big opportunity; the profit on his transfer gives us greater buying options. Hopefully we make the right decisions.
I've enjoyed him being an Everton player, full stop. I can't do all the faux outrage at being 'disrespected'.
Jim Knightley
522
Posted 07/07/2017 at 22:32:22
Interesting that the Premier League Champions and Man Utd want a player so panned on these forums...
I wonder what it suggests?
Peter Warren
523
Posted 07/07/2017 at 22:40:58
Jim – Champions wanted our manager and got him a few years back. How did that pan out?
Dave Abrahams
524
Posted 07/07/2017 at 22:44:41
Graham, I had a different opinion of Lukaku than yourself but must say we will make a lot of money on him which hopefully will help us to further improve the team and I think we are going places under Moshiri, Koeman and Walsh.
So I have no hard feelings about Lukaku and think we have done well out of him and he might prove a lot of us wrong by becoming a great player n the future. We will see.
By the way, did you deliberately leave Suarez out of your list on another thread or didn't you rate him?
James Lauwervine
525
Posted 07/07/2017 at 22:47:13
Dave (#525), I know some people swear on here, but you take it too far.
James Morgan
526
Posted 07/07/2017 at 22:55:11
The dilemma is who we get once he goes.
Part of me would love a big marquee signing like Belotti, but he isn't proven in the Premier League so it would be quite the gamble.
Dembele from Celtic would be a gamble also but would be far cheaper and knows British football.
Funny how it's gone very quiet with Barkley. With Rooney coming in and Sigurdsson likely not to mention Klaassen who can play as a Number 10, he must know his days are up.
Soren Moyer
527
Posted 07/07/2017 at 23:26:36
Just because they are paying crazy money, doesn't mean he is that good. So what is Kane worth then? £200 millions?
There is no way to tell it will work out for them. Look how it did pan out for Pogba (£89 mil), or Torres after he went to Chelsea.
Will Mabon
528
Posted 07/07/2017 at 00:02:01
"aaaaaand there you have it!"
I knew it, Brian - scriptwriter.
Barry Jones
529
Posted 08/07/2017 at 00:05:14
Jim (#523), it suggests that some clubs have way more money than sense.
Brian Williams
530
Posted 08/07/2017 at 00:06:31
Well, Will, what can I say? Wouldn't it be hilarious if another three or four Premier League clubs come in and said "Yeh we'll match that bid as well"?
Will Mabon
532
Posted 08/07/2017 at 00:19:36
That would really add to the "Entertainment". Then perhaps, a foreign participant.
You know, Brian, I actually am wondering if these things are getting sort of hammed-up for the drama – layered onto a genuine business process behind.
Sports Transfer Media Choreographer's Assistant, immediate start. Experience in forum posting or similar beneficial.
Brian Williams
533
Posted 08/07/2017 at 00:22:30
Well wait 'til you read the Rooney headline when his move is official.
"Everton recall Rooney from 13-year loan spell."
Barry Jones
534
Posted 08/07/2017 at 00:25:55
Excellent, Brian!
Rick Barnes
536
Posted 08/07/2017 at 03:06:37
Graham (#512), I'm a little amazed (and amused) that my quip way back at 49 about Stracqualursi was taken quite so literally by you and Mike Gaynes...
I can't believe I'm explaining this, but for the record "I don't think Stracqualursi is better than Lukaku." (In fairness I did say originally that I think I'll remember Lukaku as "a bit better..." 😉)
The actual point I was making was that in years to come, I'll remember Lukaku for a hat trick at Southampton, a good jinking goal vs Chelsea – and a lot of hands to mouth misses and pointing at his boot. The fact that even a limited footballer such as Stracq gave me almost as many happy memories was the point
Graham Mockford
537
Posted 08/07/2017 at 10:55:15
Dave Abrahams,
I couldn't bring myself to include him in a public forum. In private he'd be in there!
Brent Stephens
538
Posted 08/07/2017 at 10:58:35
Brian (#533) – very good!
Colin Glassar
539
Posted 08/07/2017 at 11:03:45
Deal is off. Rom facing 15 years in a state penitentiary for holding a rave party in Beverley Hills!!
Couldn't make this shit up. The Bling Kings ending up in jail. 😄
Andrew Ellams
540
Posted 08/07/2017 at 11:14:25
Yep, he's starting to act like a bit of a nob now. Still don't think Man Utd will improve him, but that's his and Mourinho's problem.
Stephen Ashton
541
Posted 08/07/2017 at 11:17:53
He has been arrested after police were called to his rented Beverley hills mansion on 6 occasions to deal with a disruptive 'rager'.
As Colin says, couldn't make it up.
Colin Glassar
542
Posted 08/07/2017 at 11:20:01
He will now have to go to court to face a misdemeanour charge. Hope they slap him with a $10m fine!
Gordon Crawford
543
Posted 08/07/2017 at 11:33:49
I hope they give him 10 years community service with the LA Galaxy.

Stephen Ashton
544
Posted 08/07/2017 at 11:38:20
Love it if he got deported!
Colin Glassar
545
Posted 08/07/2017 at 12:27:57
$50,000 gold chain for a $10 pair of handcuffs.
Add Your Comments
In order to post a comment, you need to be logged in as a registered user of the site.
Or Sign up as a ToffeeWeb Member — it's free, takes just a few minutes and will allow you to post your comments on articles and Talking Points submissions across the site.