Lennon thankful for support
Tuesday 11 July 2017

36 Comments [Jump to last]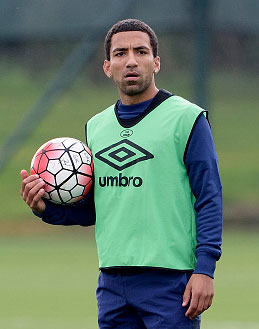 Aaron Lennon has expressed his gratitude for the support he has received from his family, Everton and the football world as a whole during what was a difficult period for him earlier this year.
The winger was detained under section 36 of the Mental Health Act in May and underwent treatment at The Priory in Darlington and Altrincham and also the Salford Royal Hospital but is back among his team-mates and looking ahead to the new season.
Lennon will be hoping to force his way back into the first-team reckoning at Goodison Park this coming season after making just eight starts in all competitions under Ronald Koeman last term.
Yannick Bolasie's injury and Gerard Deulofeu's departure for Barcelona have removed two obstacles standing in his way and he says he is "ready to kick on."
"It's great to be back after a difficult period," the 30-year-old said of his return to training for pre-season. "I've had a good first week of training and I can't wait to kick on now.
"I want to thank all the staff and patients at The Priory in both Darlington and Altrincham and all the staff at Salford Royal Hospital.
"The support I've had from Everton, Spurs, their fans, football fans and concerned members of the general public has been incredible.
"It's important to emphasise that there is amazing help out there and anyone feeling anything out of the ordinary should seek support because it is great and good to talk.
"Lastly, a special thanks to the staff at Everton, my team-mates, and especially my family and the people around me."
---
Reader Comments (36)
Note: the following content is not moderated or vetted by the site owners at the time of submission. Comments are the responsibility of the poster. Disclaimer
Tracy Shearer
1
Posted 11/07/2017 at 06:37:18
Welcome back Aaron! I really enjoy watching you play. Your pace, enthusiasm and hard work are inspiring. Nothing wrong with getting some help. Thanks for reaching out and encouraging others to do the same.
Looking forward to seeing you on the pitch very soon.
Best of luck!
Peter Lee
2
Posted 11/07/2017 at 06:50:30
He's never given less than his best and always played to orders. In a squad that generally lacked pace I could never understand why he was so little used.
His willingness to chase back gave Coleman more licence to go forward. Maybe his illness was part of the problem.
Whoever we sign he remains an option on the right from the bench and in cup games. Could be particularly useful in away legs in Europa League.
All the best, Aaron.
Mike Gaynes
3
Posted 11/07/2017 at 07:00:32
You're an inspiration for us all, Mr. Lennon.
When you complete your comeback, there will be a welcome waiting for you at Goodison the likes of which you cannot imagine.
Stay strong.
Darryl Ritchie
4
Posted 11/07/2017 at 07:16:29
I've always liked Lennon. Even at 30, he's one of the quickest players in the squad. With his illness behind him, maybe he can recapture a bit of his previous form, and become the two way, pressing right wing, with the devastating cross and occasional goal that Koeman has been searching for.
With the squad being so short of wingers, the opportunity for him to cement his spot is about as good as it will ever be.
I'm pulling for you, big guy.
Charlie Lloyd
5
Posted 11/07/2017 at 08:17:25
Great to hear him back on track.
In a sport of self-obsessed players, his plight makes us realise some of them are only human.
Dermot Byrne
6
Posted 11/07/2017 at 08:39:23
You'd get a bigger cheer than Wayne, I reckon.
Liam Reilly
7
Posted 11/07/2017 at 08:39:27
If the club can stay in Europe into next year and get a good run in the domestic cups, then this boy should see some playing time.
Good to see him back.
Eddie Dunn
9
Posted 11/07/2017 at 08:44:33
Good news and I hope we see the guy back to his best both on and off the field.
Mike Berry
10
Posted 11/07/2017 at 08:46:14
Great news that the man is in a good place now, and hopefully he can get back to his best.
Geoff Williams
11
Posted 11/07/2017 at 08:53:27
A good player and a decent guy, I hope he plays a big part in the coming season.
Dale Rose
12
Posted 11/07/2017 at 09:06:51
Just great to see him back. He will be pivotal in the Europa League campaign.
Dave Abrahams
14
Posted 11/07/2017 at 09:12:24
Well done Aaron, carry on improving and earn yourself another contract, you've got more than enough ability.
Steve Ferns
15
Posted 11/07/2017 at 09:15:57
Good to see him back. Hopefully he trains well enough to force his way back into the side.
Said it before, but for me, he's a better bet against lesser sides where we have more of the ball than Holgate, as a right wing back.
Brian Porter
16
Posted 11/07/2017 at 09:53:34
Welcome back, Aaron Lennon. Hopefully, the publicity given to his illness will go some way towards changing some people's minds about the many and varied forms of mental illness.
When I was struck down by clinical depression some years ago, I could have slapped no end of people who said "What have you got to be unhappy about?" It seemed impossible to explain to them that depression isn't about being happy or unhappy, but is an illness that can strike anyone at any time.
I'm sure it was a situation Aaron found himself in more than once, especially when you consider his position as a highly paid professional footballer, doing something most people can only dream about.
Hopefully he is now free of whatever demons possessed his mind at the time and can go on to rebuild his life and career and enjoy some success and fulfilment now he's back in the fold with his friends and teammates. I have a suspicion that Koeman has been a strong support for Lennon during his absence. He has certainly always spoken in very positive and supportive terms about him since his illness was made public. I'd like to think so.
It would certainly be great to see him make his first appearance since his illness. Whether it's from the start or as a late sub, I'm sure he will be amazed at the warmth of the welcome he's likely to receive.
Terry Underwood
17
Posted 11/07/2017 at 09:59:25
Just adding my best wishes. Always liked Aaron whoever he was playing for. Just one of those likeable players.
Paul Thompson
18
Posted 11/07/2017 at 10:48:06
Well said Brian (#16). Aaron's a good lad and a versatile player who can still bring something to the team. It will be tough, but hopefully he will get that extra boost from the fans when he does come back. Kudos to the Spurs fans too for the support they've been giving him.
John Smith
19
Posted 11/07/2017 at 10:56:04
Lennon and Naismith, best attitude and effort I've seen over the last few years.
Anto Byrne
20
Posted 11/07/2017 at 12:42:10
Brilliant support from Evertonians. I love this club the supporters I don't know I'm born sometimes. Best of all we have Amanda Holden in the ranks. Peace and Love lad from the greatest city on the planet.
Will Mabon
21
Posted 11/07/2017 at 13:28:08
Very best of luck to him, it's not easy. Hopefully he can place to the side some of the horrible insight "Gained" in certain mental illness.
Maybe he can recover some of the earlier form seen when he was on loan here. He was a very good player at Spurs a time back. There can be a real role for him in this squad this season.
Alexander Murphy
22
Posted 11/07/2017 at 15:33:21
Glad that you are fit and well again, Aaron.
Kevin O'Regan
23
Posted 11/07/2017 at 17:45:10
Support through thick and thin is what fans and family are all about. Let's remember that, whatever crazy amounts of money is being thrown around in football these days, it doesn't mean these guys are immune to the kind of pain or suffering which can hit anyone. You can see with this and young Bradley and EitC that EFC is a special family. Well done.
Paul A Smith
24
Posted 11/07/2017 at 17:53:51
It's great to see near any man find his way back after hard times. Credit to Aaron Lennon and all those involved in his recuperation, including a large number of concerned and supportive Evertonians.
Brent Stephens
25
Posted 11/07/2017 at 18:03:30
It couldn't have been easy for him to step back into Finch Farm. The male culture, and maybe football more so (?), hasn't always been a particularly understanding environment.
Well done, lad. Would love to see a few cameo appearances from him in the League Cup and in Europe.
Dermot Byrne
26
Posted 11/07/2017 at 18:10:36
Agree Brent. Overall this, the abuse cases where people spoke and others with alcohol, drug and gambling problems getting help, these may be steps whereby the culture changes. And if the "stars" tell the truth and get help and are supported, it may trickle down to grassroots too and kids looking at their heroes.
Give it a week and Theresa May will ban all this!
Peter Webster
27
Posted 11/07/2017 at 18:10:53
Made up for you, son. So glad you've beaten it. Welcome back.
Brent Stephens
28
Posted 11/07/2017 at 18:15:53
Maybot has other things to worry about, Dermot!
Jim Hardin
29
Posted 11/07/2017 at 18:52:34
Good to hear and see him. Welcome back, Aaron.
Ian Burns
30
Posted 11/07/2017 at 19:52:34
I so much want Aaron to have a successful season. Welcome back young man.
Brian Porter (#16) – excellent post and very well articulated.
Lennart Hylën
31
Posted 11/07/2017 at 20:45:58
Pleased to see you are back, Aaron. Welcome back!!!

Will Mabon
32
Posted 11/07/2017 at 21:51:01
"Give it a week and Theresa May will ban all this!"
Many a true word...
Paul Birmingham
33
Posted 11/07/2017 at 22:57:25
Great news, and well done Aaron.
True grit and belief and fighting spirit. Made up and here's to future hopes and success at EFC, this season.
Damian Wilde
34
Posted 11/07/2017 at 23:05:46
Nice piece, good to hear from Lennon, hope he has a good season.
As a Clinical Psychologist, I particularly liked this bit:
"It's important to emphasise that there is amazing help out there and anyone feeling anything out of the ordinary should seek support because it is great and good to talk."
As Freud said 'when someone speaks, it gets lighter.'
Peter Mills
35
Posted 11/07/2017 at 23:06:36
It's excellent to see Aaron back. I'm sure he has had the best of therapy, assistance and support, but the great effort can only have come from within himself.
I would love to see him play again, partly out of compassion and respect for him, but also because I think he is a decent footballer who could be very useful for us. The players we have signed this summer all have fight, leadership and the desire to win battles – in getting back to Finch Farm Aaron is demonstrating these qualities in his own way.
Brian Porter, in this and previous threads you have shared your own experience to shed light on mental health issues. Thank you for doing so.
Steavey Buckley
36
Posted 11/07/2017 at 23:15:04
It would be a good idea to give Lennon a free transfer so he can find a club who can give him regular football as part of his rehabilitation.
Matthew Collins
37
Posted 13/07/2017 at 01:17:43
We're not overly blessed with competition on the wings; I think if he's physically fit he can get regular game time at least as an early 2nd half sub with us rather than sending him off to a smaller club on a free.
Lukas Polster
38
Posted 21/07/2017 at 23:07:57
Brian (#16),
You explained about depression so well I felt no need to add much really but the bit about peoples attitudes rang a bell. I had the same reactions, people telling me to cheer up or thinking just because my life was fine on the surface, I should be thankful cos lots of people are worse off...
Anyway I imagined a lot more people thought because hes a highly paid footballer, Aaron didn't deserve much sympathy... however it seems I was wrong & so many fans have empathy & understanding about his illness. I'm so glad he seems back on track.
Add Your Comments
In order to post a comment, you need to be logged in as a registered user of the site.
Or Sign up as a ToffeeWeb Member — it's free, takes just a few minutes and will allow you to post your comments on articles and Talking Points submissions across the site.