Robles and Barkley absent from Tanzania trip
Wednesday 12 July 2017

187 Comments [Jump to last]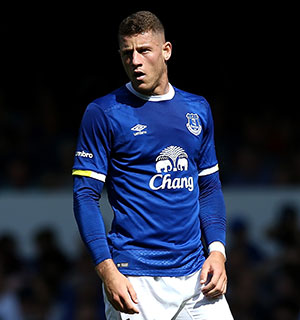 Ross Barkley misses the trip to Tanzania with a groin problem
Joel Robles and Ross Barkley are two names who weren't on the flight manifest as Everton jetted to Dar es Salaam for Thursday's friendly.
The Blues take on Gor Mahia in their first pre-season workout and Wayne Rooney will be the headline name in the party as he begins his second spell with Everton.
While Barkley has remained behind on Merseyside because of an apparent groin injury, goalkeeper Robles has reportedly been omitted because he is expected to transfer away from the club this summer.
Despite being given a squad number yesterday, the Spaniard feels his days are numbered at Goodison Park and he has been linked with a move back to Spain or one of the newly-promoted Premier League sides.
Yannick Bolasie accompanies the squad, no doubt in an ambassadorial role on his home continent, while he continues his rehabilitation from double knee surgery but Ramiro Funes Mori also remains on Merseyside as he makes his way back from a knee operation of his own.
Full squad: Maarten Stekelenburg, Mateusz Hewelt, Chris Renshaw, Tom Davies, Phil Jagielka, Ashley Williams, Callum Connolly, Jonjoe Kenny, Michael Keane, Muhamed Besic, Leighton Baines, Morgan Schneiderlin, James McCarthy, Davy Klaassen, Gareth Barry, Idrissa Gana Gueye, Joe Williams, Kieran Dowell, Kevin Mirallas, Wayne Rooney, Aaron Lennon, Dominic Calvert-Lewin, Ademola Lookman, Matthew Pennington, Yannick Bolasie.
---
Reader Comments (187)
Note: the following content is not moderated or vetted by the site owners at the time of submission. Comments are the responsibility of the poster. Disclaimer
James Watts
1
Posted 12/07/2017 at 01:10:11
Shame about Robles. He would have been a strong Number 2 but you can't blame the lad for wanting to leave.
I hope we don't see Stekelenburg in goal at any point this season though. The thought of Pickford getting injured for any length of time fills me with dread.
As for Ross, well if he's injured fair enough. If he's not, see ya lad.
Mark Riding
2
Posted 12/07/2017 at 01:15:15
Funes Mori isn't going even though he was pictured alongside Ross training yesterday with Rooney.
Michael Kenrick
3
Posted 12/07/2017 at 01:18:39
I think it's fantastic that he's taken all five of the U20s World Cup winners. I hope he gives some a run-out.
Drew Shortis
4
Posted 12/07/2017 at 01:44:18
If Ross wasn't a local lad, I doubt anyone would be getting too concerned about him leaving. Great potential but if his heart's not in it for Everton how on earth will it be for Spurs or whoever?
I would love to see him stay and learn from Rooney. He clearly has the talent, but does he have the determination to fulfill it? I think if he leaves he could end up regretting it. Remember Rodwell!
Kristian Boyce
5
Posted 12/07/2017 at 01:50:46
I've got a feeling, now that Kenwright has his prodigal son back in the form of Rooney. Barkley's days as his golden boy are now over.
The statement on Barkley which Koeman said was forthcoming at the end of the season, in which many felt was being held back by Bill, might actually happen now. With him either signing or departing ASAP.
I also wonder if Bill thought that, by bringing Rooney back to act as a mentor to Ross, would encourage him to stay. But ironically having Rooney back basically pushes Ross further down the pecking order.
Ernie Baywood
6
Posted 12/07/2017 at 02:21:13
Maybe it's an injury, maybe not. Unlikely that we'll hear any confirmation or otherwise from Ross. It does seem strange that a presumably minor strain (given he was running around the other day) would prevent him from travelling. Surely this tour is as much about players getting to know each other as it is match fitness.
I just can't fathom where he goes next. A couple of years ago, I thought he should have left for his own good. He was going backwards under Martinez and would have had very good transfer options. Now? The top 4 or so wouldn't want him and no-one is going to pay seriously big money.
Incredible to think he could end up somewhere like West Ham or Swansea for a relatively low fee.
He's really fucked this up! The best option I can see for him is to sign on and prove himself to Everton.
Kieran Kinsella
7
Posted 12/07/2017 at 02:34:34
I'd like to see Lennon get a run out. Not sure if/how he fits into Koeman's plans but he's been through a lot and always does his best.
Paul Kossoff
8
Posted 12/07/2017 at 02:45:24
Barkley groin injury! He's only been back a week for God's sake!
He's not signed a new contract, so Koeman's left him behind more likely, same as Robles.
Are my eyes going, where's Pickford?
John Pierce
9
Posted 12/07/2017 at 02:50:33
It's either confirmation neither is part of the plans going forward, in Ross's case, until he signs a new contract.
Or both are close to the door and need to be around for negotiations... sounds plausible too.
My reaction is ambivalence, and that is telling.
Robin Cannon
10
Posted 12/07/2017 at 02:55:54
Or it might be just as has been stated. Barkley is carrying a slight niggle, and Robles is being given the opportunity to find a new team.
Adam Fenlon
11
Posted 12/07/2017 at 02:58:24
Hope the security is rock solid for this game. Seems an unnecessary risk to play in East Africa given our profile.
Paul Ferry
12
Posted 12/07/2017 at 03:02:39
Sandro not going; nor Niasse?
Andrew Presly
13
Posted 12/07/2017 at 03:04:17
John (#9)) spot on. Nobody cares anymore, which is terrible.
Ross should sign on and prove himself. I fear for him otherwise.
Niasse & McGeady are still knocking about presumably?
Bill Gienapp
14
Posted 12/07/2017 at 03:21:29
Paul (8) – I believe Pickford, Sandro and Holgate are yet to report due to their involvement in the U21 Euros.
Bob Parrington
15
Posted 12/07/2017 at 03:23:43
Andrew (#13) – Didn't McGeady go to the Black Cats?
Ernie Baywood
16
Posted 12/07/2017 at 03:32:16
I care, but not so much from our perspective anymore. I'm more concerned for Ross. Regardless of how he's performed, he's a young blue – I'd like to see him do well.
Ajay Gopal
17
Posted 12/07/2017 at 05:06:35
There has obviously been a massive fallout between Koeman and Barkley, and both are to blame IMO. Koeman for publicly setting deadlines which put Barkley under unnecessary pressure and Barkley (and his agent) for not reading the situation and compromising with Koeman. Bill, is torn between supporting his Manager and a young lifelong Blue with immense potential.
I think the solution could be to offer a slightly higher (face saving) contract, and loan him out for a year or two (like Real Madrid have done with Rodriguez) to one of the better continental teams – Atletico Madrid, PSG, Monaco, Borussia, Juventus, Roma, Sevilla, etc, and then review his situation. I agree the posters above that our own young Evertonian should not be allowed to waste away his career with either sitting on the bench (for one of the Too 6) or playing for one of the lower Premier League teams. I don't want him to go the Jack Rodwell way.
Paul Ward
18
Posted 12/07/2017 at 06:09:48
Unfortunately Ross has contributed to his own downfall. All Evertonians wanted him to succeed but all the potential he has promised has never been fulfilled and I don't think ever will. He was given a free run by Martinez for 2 years and produced very little, so when we got a real manager, Ross received a rude awakening.
As for being a young blue he didn't think much of the club or fans when he refused a reasonable contract. The parallel with Jack Rodwell is very real.
Peter Lee
19
Posted 12/07/2017 at 06:16:49
First day training shots are all about PR. Funes Mori had strapping on his knee for what was no more than a jog. Individual treatment needed to get him nearer to fitness. Assume he's nearer than Bolasie or Coleman.
Specialist individual attention unlikely to be brought to/available in Tanzania. Sitting in a plane for 20 hours over a few days, even in first class, not great for groin strain, so could be true about Barkley. Availability for selling discussions a bonus in my view.
John Smith
20
Posted 12/07/2017 at 06:24:58
"Koeman for publicly setting deadlines which put Barkley under unnecessary pressure and Barkley (and his agent) for not reading the situation and compromising with Koeman."
Barkley has knocked back contract extensions for years. He sowed the seeds himself.
Mark Andersson
21
Posted 12/07/2017 at 06:27:22
Well nobody other than the men involved know what's going on with Barkley. Ross took a gamble for his own reasons, by not signing a new contract. Maybe he knew that Rooney was on his way back and felt he might not get game time.
Badly advised or just stupid, Ross is a blue so should have stayed, he will be gone, it's just a matter of time.
Unlike a lot of fans, I'm not excited about next season. The realist in me thinks we will be slow of the mark, because of all the new signings and loosing Big Mouth.
Peter Fearon
22
Posted 12/07/2017 at 06:28:18
Let me gently take issue with the remark about Yannick Bolasie. He was born in Lyon in France, played most of his career in England and plays for DR Congo by default because of his eligibility.
Many internationals have the most tenuous links with the nations they represent. So it is with Bolasie. The idea he is an ambassador to "his home continent" because he is playing in Dar es Salaam, 4,000 miles from the Congolese capital, is unintentionally patronizing and demeaning.
Africa is not his home in any sense. Would you say Funes Mori had some ambassadorial role in his "home continent" if we were playing, say, in Brazil? Probably not. At least Funes Mori is actually from South America.
Mike Green
23
Posted 12/07/2017 at 06:38:36
If a player doesn't sign a new contract offer, with less than 12 months to go on his current one, he should be put on the transfer list as club policy to see if there are any other offers out there for him. If they can't make a deal with the player maybe they can all make one with another club.
Ross, frankly, can do whatever he wants. It's his life, let him get on with it. My gut feeling is he's been advised to sit it out as in 12 months he should be open to lots of very lucrative options and Koeman, who I think is the crux of the problem for Ross rather than Everton or the contract, may even be gone.
Which is fine, but don't cry foul if you find yourself not playing a pivotal role next season and whatever you do don't get injured Ross, because then everyone, especially you, loses out.
Lewis Barclay
24
Posted 12/07/2017 at 06:45:43
Drew Shortis (#4) – my thoughts exactly.
Lewis Barclay
25
Posted 12/07/2017 at 06:52:12
No Niasse in there.
Ian Hollingworth
26
Posted 12/07/2017 at 07:04:59
I am sure a football club is like any other workplace. Not everyone likes or gets on with the boss. Some think they deserve more than they get. Some are disgruntled that others earn more etc etc.
The bottom line now is Ross if he stays has a serious fight be in the first eleven and that can only be better for Everton FC.
We have had too little quality options for too long now which led to the likes of Rom and Ross playing regardless of form or effort etc.
Ernie Baywood
27
Posted 12/07/2017 at 07:16:11
And Ross remains silent. Had he not been decked in a bar once you'd think he only left the house to train and play matches.
Something tells me his story would be very interesting. Who are his advisors? Did they really just stay quiet during his 4-year decline? What's their plan now?
My view is that he should have left the club years ago. Never a good fit with style or managers and, while he's absolutely responsible for his performances, I don't think you could say he was being developed well. Surely that's the advice he would have been getting? If so that would say he refused to follow it to stay with us? Or were all concerned happy with how things were? Not likely is it?
Never known anyone keep so quiet.
Mike Green
28
Posted 12/07/2017 at 07:36:05
Ernie (#27) – is his agent not David Moyes Jnr?
David Chait
29
Posted 12/07/2017 at 07:45:24
Peter (#22) you couldn't be more right. I saw on GOT someone said he's huge in his home continent... um no. Outside his own country he's hardly known at all.
It's actually a little condescending this thought that Africans unite. The French won't love Klose because he's German. When you think in that context it all seems a little silly.
The guys here in Tanzania are excited to see Rooney! Guys at my work have really got a fondness for Davies too. They want to see the best players in the game, end of.
Ian Bennett
30
Posted 12/07/2017 at 07:45:53
I hope that Barkley, Robles, McGeady and Niasse are lining up deals quickly. We need money in the bank, not deadwood in the stiffs.
Ed Fitzgerald
31
Posted 12/07/2017 at 07:54:27
Koeman handing ultimatums to Barkley saying if he is doesn't sign by the end of the season has proved futile and counter productive. If potential suitors know he has a year left on his contract and that Everton are willing to sell this summer, then they can either offer a derisory transfer fee with a year on his contract or just wait till next season.
Barkley is a good player not a great one like we all crave him to be. It can't however help your morale or performance if your boss is slating you on a regular basis whilst less talented individuals get away without any negative comment.
Once the all the hysteria and hyperbole has died down over the signings we have made, the mood on TW might settle down. On balance, I'm not sure our squad will be any stronger at the start of this season than at the end of last. In defence we will be definitely stronger but the loss of Lukaku will hurt us over the course of the season unless we get someone in who can get 20 plus goals a season.
I'd be amazed and delighted if we managed to surpass last seasons finishing position of 7th.
Steven Scaffardi
32
Posted 12/07/2017 at 07:59:05
Ed (#31) – do you honestly believe we won't be stronger? Granted we've lost Lukaku, who was always going to be difficult to replace, but we've strengthened in near enough every area with a healthy crop of youngsters on the fringes of the squad!
We've spent £100m and we're still spending!! How much money would it take if your eyes for us to have a stronger squad??
Tony Abrahams
33
Posted 12/07/2017 at 08:12:32
I know we are all guessing, but Ross Barkley's silence does seem very deafening. Keep quiet son, and we will come and get you close to the transfer dead-line for a song maybe? It looks that way to me.
Kenny Smith
34
Posted 12/07/2017 at 08:14:27
Ross has had enough chances to impress and to sign a contract and he's done neither. The boy isn't up to it. He's got the lot but showing it in glimpses is not good enough anymore.
Koeman's got it spot on by leaving him at home. This trips more about bonding because of the number of new signings rather than the result and you don't want some miserable kids moping around the place.
Daniel Levy will pop up with seconds to go in the window and he ll leave for buttons which is probably what he'll be worth if this drags on to January.
Paul Mackay
35
Posted 12/07/2017 at 08:30:08
Barkley will be off soon. I also think we will cough up $50m on Sigurdsson knowing that we might get $20m now for Ross knowing there is only 12 months left on his contract.
I think we also need to bring in another centre-back as I don't rate Williams and Funes is inconsistent. Would like to see Jags and Keane start the season as our first choice pairing.
Given we also lost Kone, Valencia and Lukaku this summer, we need another player up top. Be ready to roll then..
Dean Johnson
36
Posted 12/07/2017 at 08:46:15
Peter Fearon (#22),
You could say exactly the same about "British" sports stars. Perhaps we should check the eligibility of James McCarthy to Ireland.
Everyone loves to group people together to fit their agenda. Does Gareth Bale represent Wales or Great Britain? Would a Welshman or Scotsman support a fellow Brit who was English?
Bolasie's family clearly come from DR Congo so what's the big deal? Remember, all these African countries wouldn't exist if the superpowers hadn't carved them up ready for war.
It was a throwaway comment; stop trying to find racism where there is none.

Brian Williams
38
Posted 12/07/2017 at 08:55:51
Alan Moss
39
Posted 12/07/2017 at 09:52:51
Sky Sports News are reporting on just how popular Yannick Bolasie has been with the locals during visits in Tanzania.
Ernie Baywood
40
Posted 12/07/2017 at 09:59:21
And he's posted on Facebook that he's had a great reception from the Tanzania-based Congolese community.
James Morgan
41
Posted 12/07/2017 at 10:00:02
David Chait, I thought the same but his reception says otherwise.
Stan Schofield
42
Posted 12/07/2017 at 10:00:40
Peter@22: I think it's wrong of you to say that the association with Africa is patronising and demeaning. Like Dean@36, I think you're reading too much into it.
It's possible that if you asked Yannick if he felt he was an ambassador for Africa, he'd say Yes. But you certainly don't know.
Liam Reilly
43
Posted 12/07/2017 at 10:09:00
Agree (mostly) with Dean, I don't think it was a derogatory comment Peter, more speculative but to insinuate an undercurrent of racism is very harsh.
Re Barkley, could be Koeman playing hard ball and doesn't want a disruptive influence on a bonding trip, or it could well be a groin strain. We'll have to wait for the book.
Peter Malone
44
Posted 12/07/2017 at 10:20:01
Ross's stuffed up. Koeman's gone off half cocked as well saying he'd be transfer listed if he didn't sign by a Sunday that was passed 2 months ago.
Here we are looking a bit silly with no offers for a guy who we thought was worth £50m, but looks like will go on a free next year. Rooney's arrival might be the catalyst to break the impasse or the spark to make Ross want to stay...
Oh to be a fly on the wall!
David Morgan
45
Posted 12/07/2017 at 10:49:06
I am desperate for Ross Barkley to stay. I would love to see what he could do in this good team we are building. The team last year was awful and he was taking the shit, it's a different situation now hopefully.
If we can get him on board that is, we should be offering him a first team place ahead of Davies, Mirallas and Calvert-Lewin in my opinion.
Shane Corcoran
46
Posted 12/07/2017 at 10:50:05
He plays for an African country. Much like how some posters like to point out that McCarthy has a Scottish accent and so isn't Irish, we shouldn't presume to know where Bolasie feels an allegiance to.
He's hardly there to play and with others been left behind with lesser injuries, why else would he have travelled?
Steve Smith
47
Posted 12/07/2017 at 10:51:02
First off, I'd like to say that Barkley has conducted himself admirably throughout this period; he's kept his head down and kept quiet. Just because he refused to sign a new contract doesn't make him public enemy number one, he has his reasons and the longer it goes on, I'm guessing it's about more than money.
The fact that he isn't in Tanzania is significant, regardless of a reported injury; this trip is only about satisfying a contractual obligation for our new shirt sponsors, they will want all of our high profile players there for photo opportunities and hand shaking at every stage; the game will be a stroll in the park.
I think this is the final confirmation that Barkley's future will not be at Goodison Park, I wish him well.

Vinny Garstrokes
48
Posted 12/07/2017 at 11:02:20
A paltry offer from Daniel Levy on 31st August seems inevitable. I hope we tell him where to go!
Brian Williams
49
Posted 12/07/2017 at 11:09:27
It seems to be becoming more prevalent on here for some people to "jump" on others when they comment on anything that has race involved, or anything that "could" be deemed not 100% PC.
Now if someone is obviously being racist then yes they deserve to be called out on it.
But to accuse someone of making a patronising and demeaning comment because they suggest a player with African roots, a Congo DR international, could be an ambassador for our club is absolutely ridiculous.
Would we use Funes Mori as an ambassador should we play in South America? Of course we would because there would be more local interest.
Perhaps the original poster, haven't seen the post, committed the mortal sin (there's me upsetting fellow Catholics now) of choosing the wrong word when he chose "ambassador" and the zealots on here see it as their job to put him right.
If they'd stopped to realize what the Tanzania visit is all about, i.e raise the clubs profile in Africa, grow the fanbase in Africa, develop relationships in Africa then they'd realize there was absolutely nothing wrong with the comment.
There's too many on here ready to crucify posters for things which they've posted which may not necessarily be funny to some but to jump up and wave the racist or homophobic flag is ridiculous.
I suffered it myself recently over a comment about a former player of ours and Paul Pogba.
I did a little research and was very interested to find a story concerning Jonathan Ross. It was regarding a comment he made about considering having your son adopted if he wanted a Miley Cyrus mp3 player.
The complaints accused Ross of a homophobic comment. 61 people complained, out of an audience of hundreds of thousands maybe. Offcom's statement was: 'The comment was clearly presented as a joke intended to make light of the reactions that some parents may have if their child chooses a toy that is very widely recognised to be designed and marketed for the opposite sex.
'The humour was therefore based on the absurdity of the scenario and was not intended to cause offence.
The last line sums it up for me, though I'd be the first to admit that one has to be very careful in what one says, or prints. Having said that if someone prints something which 9,999 of the readers don't have issue with and one reader is outraged, who's got the problem?
An example closer to home. In 2011 I was diagnosed with prostate cancer. I went through the lot: surgery, radiotherapy, drug therapy, anything that was going that had free tea and biscuits. Some of it they reckon I didn't even need but when there's a chance of a Hobnob (careful Brian) who could refuse?
Anyway I returned to work after the surgery (not yet knowing I needed radiotherapy) and was subject to and party to numerous jokes: "Morning Mr Limpock", "Hey Brian did you order starch?" Stuff like that. The humour was"to a very small number" brutal.
To me? To me it was an acceptance that nothing had changed between me and those party to the jokes. I was there, alive, my mates were glad (I was quite pleased myself to be honest).
I've probably not put this across as well as the likes of Eugene and other wordsmiths on here would do (shoulda hired Eugene to copywrite it for me).
Anyway. Fuck it, up the Toffees! (No offence to caramel flavoured sweets anywhere no matter what their religion or sexual orientation.)
Arthur Westhead
50
Posted 12/07/2017 at 11:10:09
Steve, I think Barkley has acted disgracefully over the last few months. First he has contract negotiations going on for probably nearly a year and has a great offer on the table. But doesn't sign. Then says he wants to play Champions League football. He thinks too highly of himself – which English Champions League team would he get in? None. On the bench at best.
He seemed so confident he was going elsewhere, clearly doesn't want to play for us. So why hasn't he gone? Because so far there is no better offer! If he changes his mind and wants to sign the contract I would withdraw the offer and reduce it considerably. He doesn't deserve a new long term deal. He doesn't want to play for us!!!! With that attitude I don't want him playing despite all the ability and talent he has.
It saddens me that 'one of us', one of our potentially greatest talents has dug this hole for himself.
Brian Williams
51
Posted 12/07/2017 at 11:19:37
Ooh. Actually forgot to mention the most important point.
I wrote an email to every employee that worked in my "group." One of them was female.
The email explained how I'd "discovered" my symptoms and, errr, had to do with what gentlemen do in their private time. It was done to point out that if you're not aware and you don't pay attention, it could be too late.
I got over a hundred emails back commenting on how brave I'd been to put the email out there, all that good shit. Got a few funny ones saying they always knew I was a wanker etc...
But I got one, ONE email from a supervisor who said "I'm sure "Sally" will be very embarrassed next time she eats in the galley. Maybe you should have been more sensitive to her feelings."
Sally, incidentally was one of the first to say "Always knew you were a wanker, Williams."
Andrew Ellams
52
Posted 12/07/2017 at 11:24:25
Football supporters in Africa love the idea of anybody from their continent playing top level football in Europe, in particular the Premier League. Shame for them they won't be able to see Yannick play.

Mike Green
53
Posted 12/07/2017 at 11:24:35
The bottom line for me is he's been offered what was reported to be a record contract at the time (£100k a week) which he won't sign. If true I wouldn't need to be told twice and once refused would put him on the transfer list that day.
I cant see Ross or his agent forcing the issue so, if the club want to try and get anything for him, they need to do it. He can't say he wasn't given his chances on or off the pitch.
Brian Williams
54
Posted 12/07/2017 at 11:26:53
Andrew (#52).
Bolasie's that crazy, it wouldn't surprise me if he tried to get on for the last five.
Liam Reilly
55
Posted 12/07/2017 at 11:28:45
Brian (#49),
Sorry to hear about your personal challenges mate, but come on; no-one is accusing Peter of racism, but neither is the original poster.
It's a throwaway comment; nothing more. Let's just leave this were it belongs and concentrate on the actual post.
Brian Williams
56
Posted 12/07/2017 at 11:42:02
I take your point, Liam, and don't wanna turn things into a crusade but his comment was deemed "demeaning and patronizing and I was just supporting him.
Soz for the rant but what I tried badly to highlight has been creeping in here more and more.
But, to follow your suggestion: none of us know what's going on with Ross and he could have problems of a personal nature or whatever, which has brought him to where he is. Having met the lad he doesn't seem to be the conniving money grabber some think he is.
Mind you... you don't know people 'til you know em, as they say.
ps: My biggest personal challenge mate is being a bloody Evertonian!
Steve Smith
57
Posted 12/07/2017 at 11:50:31
Arthur (#50),
I wasn't aware that Barkley had said anything at all about wanting to play Champions League football, although it is the holy grail for any footballer it seems.
You may know more than me, but I haven't got a clue whether his contract offer is great or not, obviously he or more likely his representatives don't think its good enough.
Brian Williams
58
Posted 12/07/2017 at 11:55:38
http://www.dailymail.co.uk/sport/football/article-4688804/Rooney-Bolasie-mark-Everton-s-presence-Tanzania.html
Ernie Baywood
59
Posted 12/07/2017 at 12:07:50
Posters claiming he's acted impeccably, others claiming he's acted disgraceful.
You don't know!!! None of us do!
There isn't anything out there that we could even begin to form an opinion on.
Arthur Westhead
60
Posted 12/07/2017 at 12:12:17
Steve (#57),
I recall seeing him in an interview saying he wants Champions League. His contract offer has been widely reported at around £5m pa. Obviously I don't know that for a fact. But its supposed to be correct.
He must think he can get more elsewhere, although maybe he has personal reasons for wanting away. I'm amazed a journalist hasn't asked him!
What's the big secret why he hasn't signed? He should come out and say it. Maybe then I might have some begrudging respect for him. But whatever, as far as I am concerned I don't want to see him sign the contract now – only because he hasn't got a better deal from another club.
He needs to go now. Sad, but totally under delivered on the pitch and now off it as well.
Brent Stephens
61
Posted 12/07/2017 at 12:13:15
Kieran (#7) – aye to that.
Brent Stephens
62
Posted 12/07/2017 at 12:24:20
Brian "Sally, incidentally was one of the first to say "always knew you were a wanker Williams.""
How right she was, Brian! (Smiley emoji after that).
Phil Lewis
63
Posted 12/07/2017 at 12:25:47
I will be sorry to see Robles go. I thought he performed very well towards the end of the season, unfortunately with a couple of notable exceptions. He would have made an able deputy to Pickford. Good luck to him in his future career.
As far as Ross Barkley is concerned, I am at the point of despair with the lad. I can't think of any player who has been given as much playing time to prove himself, yet continually fails to deliver any sort of high level of consistency. I have willed him to do well and make me eat my words, but I am sorry to say that he has confirmed the belief I've had from the beginning, that is, he simply hasn't got it and never will have.
Please don't accuse me of jumping on the bandwagon of 'Barkley Bashers' because I have been a critic of his for many years, taking stick from most Evertonians, who thought he could do no wrong. Like many others, I have been astounded on occasions by rare flashes of brilliance, only to be bewildered and dismayed so often, at his complete inability to see and play the early simple pass.
I wish Ross Barkley well elsewhere. Nobody will pay £50 million for him. Most observers are not as blind to his deficiencies as the loyal Goodison faithful are. I would graciously accept £20 million from any bidder.
My guess is that it won't happen though. I believe he will sit his contract out and move on in a year, with EFC losing out financially. Koeman is no fool. He can see right through the Ross Barkley situation, both from a playing perspective and a financial one.
James Morgan
64
Posted 12/07/2017 at 12:39:32
Ernie (#59), he's acted impeccably disgracefully!
Dave Abrahams
65
Posted 12/07/2017 at 12:42:41
Philip (#63) I think that Robles deserved another run in the team and a vote of confidence to go with it.
I hope Pickford's performances match the huge fee we paid for him. He will make mistakes, as all goalies do, and I will not be quick to judge him, but I have a lingering doubt about left handed goalkeepers. I don't think I have ever seen a top class one.
Ben Dyke
66
Posted 12/07/2017 at 12:50:06
Barkley has only himself to blame for the situation. He is now between a rock and a hard place – stay and leave for free after another season (not going to happen) or wait my time until Everton are willing to negotiate with a club on my fee (ie, brinkmanship which means he'll leave for £25m on the last day of the window).
I can guess at two factors – he wants to move out of Liverpool to London where he wont get the same attention when out and he didn't really like Koeman calling him out a bit last year, which means he doesn't have a relationship with Koeman that he thinks is good for him (but its not been a proper falling out at all).
The good thing is that we now don't need to care! We have bought players in the midfield and forward positions and can continue buying in the future. He is not needed nor do all our (hometown) hopes fall on his shoulders anymore.
But it does leave me feeling a bit sad anyway. The dream scenario has always been seeing him blossom in to a top player in the Everton Blue but now we have doubts on both if he'll become a top player and whether it will be for Everton!
Brian Williams
67
Posted 12/07/2017 at 12:57:45
Brent (#62).
She was, mate, but now........... not so muuuuuuuch. :-)
I just hope you're not taken to task on here for making such a "wankerist" comment!!
Charles Barrow
68
Posted 12/07/2017 at 12:59:36
Too many people are making lots of assumptions about the Barkley situation. We have no real idea about what is going on – whether the stand-off is Barkley's fault or Koeman's or some sort of misunderstanding!
All I know is we need to keep our skillful players who can make a difference – and Barkley is one of those. If he leaves I think we'll regret it as i'm sure he will come good.
Yes he's inconsistent but, in the right team with the right players around him, he can be sensational.
Terry Underwood
69
Posted 12/07/2017 at 13:00:54
Notice anything about Ross? There has been no shouting and outrageous claims from his agent. Whatever happens, he does seem to be showing EFC some respect.
Daniel A Johnson
70
Posted 12/07/2017 at 13:03:09
Maybe its just me but I think that I'd rather have kept Robles and spend £30M on an extra striker such as (Dembele).
I always thought Robles, when given a run, did okay. Pickford is young and will make mistakes but, unlike Robles, he won't get hammered for them.
Steve Smith
71
Posted 12/07/2017 at 13:03:27
Looking at it from another angle, Everton have fulfilled their obligation to offer him a contract which would qualify them for a compensation payment, and a sell on percentage from another club if they signed him between now and December this year. Bearing in mind Barkley has already made a large number of first team appearances and is a full international, that payment would be substantial.
This is Burnley's award when Danny Ings moved to Liverpool.
Danny Ings signed for Burnley as a 19-year-old in the summer of 2011 after many years at Bournemouth. It was reported that Burnley had paid a transfer fee in the region of £1 million.
Danny appeared 122 times for Burnley in the League, scoring 38 goals, with 11 of those goals coming in the 2014/15 season in the Premier League.
Signing for Liverpool in the summer of 2015 as a free agent, the PFCC would ultimately order Liverpool to pay Burnley an initial compensation fee of £6.5 million.
Additionally, Liverpool must pay up to £1.5 million based on further appearances and also 20% of any profit they make in the event that they sell the player to another club.
Makes you wonder what is really going on, doesn't it?
Brian Harrison
72
Posted 12/07/2017 at 13:07:28
Dave (#65),
What about Ray Clemence?
Dave Abrahams
73
Posted 12/07/2017 at 13:14:22
Brian (72), I did think about Ray Clemence but I remember the story about Shankly, who went to look at Clemence when he was recommended to Liverpool and seeing him kick the ball out with his left foot, he was ready to turn his back on him, but then it was apparent that Clemence was right handed he decided to sign him.
Looking back, I can't remember if Clemence was right handed or left handed but remember that story so assume he was right-handed. Nevertheless I have to agree he was a brilliant goalkeeper.
James Ebden
74
Posted 12/07/2017 at 13:14:36
I'll be happy to see Ross go. He had great potential a few seasons ago, but despite continued game time he hasn't developed at all. His decision making is at times truly awful on the pitch, and his workrate simply isn't good enough.
He clearly rates himself higher than he is, and assumes top 4 clubs will swoop in for him. But, as has been said by others, he will not get anywhere near the starting line up in a top 4 team.
Some of the blame should certainly land with Martinez as he isn't the greatest coach around. However, Koeman is regarded as a top coach and has clearly challenged Ross to improve himself – something Ross seems either unwilling or unable to do so far.
His best/only real way out is to sign the contract, show commitment to the club, knuckle down and accept the increased competition for places that now exists and try and improve himself to land a regular starting spot.
I can't see him moving as no-one looks interested, especially at the figures we seem to be asking. If he stays quiet and sees out his contract to go on a lucrative free next year then that will just confirm what a lot of people suspect about him.
Brian Harrison
75
Posted 12/07/2017 at 13:18:01
Dave,
I am not sure if he was left-handed. I know he always took goal kicks with his left foot.
John Pierce
76
Posted 12/07/2017 at 13:22:49
Barkley has had 4 years to show he's that good, based on his champions use superlatives to describe him.
He has stalled, whichever way you look at it the lad is stuck and is going to get little chance to influence the manager if the contract remains unsigned.
Should he sign it, it still would be a long road back as the there's a growing queue to get back in the team. He's failed a seasons audition, the others now get a turn.
He's a player Koeman inherited, not bought, so his chances recede further in my mind. Much like Southampton, this close season has seen a high turnover of players and Koeman has shown he wants his team; fair enough. Although I do not buy into that bollocks, with the players 'long live the King n all that'.
I take the point that his silence is a mark of respect towards the club, unlike a mouthy Belgian we know, his behaviour merits a nod to him.
But I cannot understand why his agent hasn't made one single statement to help get out in front of a situation which has swallowed the lad whole.
Anyone know what his pyjama situation is?
Sean Smythe
77
Posted 12/07/2017 at 13:26:20
I heard in the last 4 months he's started wearing West Ham pyjamas, soa tad worrying.
Minik Hansen
78
Posted 12/07/2017 at 13:40:44
If Ross is to leave, his injury will set his price down. If the club is selling him, they wouldn't announce his injury as an excuse of his absence.
I can't guess what's gonna happen, is he signing, leaving, really injured? Time will tell, I hope he stays and we bring in other top players as well.
Dave Abrahams
79
Posted 12/07/2017 at 13:47:08
Brian (75),
I've just looked at two footballing sites, neither state which hand he was favourite with, but on two photos he is pointing with his right hand on one and throwing the ball out with his right hand on the other, so maybe he was right handed.
By the way, Brian, can you think of another top class left-handed keeper?
Mike Green
80
Posted 12/07/2017 at 13:47:14
He'll be sleeping in the buff if he's not careful...
Fran Mitchell
81
Posted 12/07/2017 at 13:51:32
I don't expect Ross to stay, which will be a great shame. He'd be an excellent option on the right-side of a 3-man attack.
I think some are grossly under-estimating his ability. He still has much to improve, but in the last 4 years our best performances were when Ross played well.
To think he'll be off to Palace or West Ham; don't be silly. He will be headed to north-London, either Spurs or Arsenal. Arsenal may well lose Oxlade-Chamberlain, and I'm sure Ross would be an upgrade on him, and the future of Ozil up in the air.
Their attacking options, such as Perez, Walcott, Akpom and Walbeck are either injury prone or not good enough and Sanchez will likely leave. So Ross would be an obvious option to them.
While he wouldn't take Alli's position at Spurs, he could easily play as a foil for Kane. A definite starter he wouldn't be, for sure, but them aiming for a title charge and European success, he'd be a great asset considering their only other attackers are Jansen and Lamela (who have hardly set the world alight) and Son, and while on the right of midfield they will likely discard of Sissoko. Also, at his age being English, his value will only increase.
Comparing him to Rodwell is also unfair. Rodwell was a crock even at Everton, his move to Man City was unwise, but he wasn't half the player Ross currently is.
I hope he stays. But we must plan for his exit; if he does stay then bonus. You can never have too many attacking options.
Tom Bowers
82
Posted 12/07/2017 at 14:03:09
If indeed Barkley is injured or if it's an excuse remains to be seen but I would guess he is injured. However, it would appear that the lack of media attention in recent weeks suggests he may be serving out his contract for the remaining year.
He is still young and may have gone through a bad period of self-belief but he has to get over it no matter which club he plays for. He wouldn't be the first player of immense talent not to fully develop into a world class performer.
Many have fallen short and ended up with a Jekyll & Hyde career. Remember Jeffers and Vaughan to name just a couple Everton have had.
I for one would love him to get another opportunity to prove himself at Goodison – especially with the newbies who may just provide the competition to boost his shortcomings – but, failing that, I still think he is worth a tidy sum to many Premier League clubs.
Steve Smith
83
Posted 12/07/2017 at 14:15:16
Just been looking at the finer detail of the compensation scheme; it appears we don't qualify for anything because he reached his 23rd birthday last season and that season has now ended.
We might as well let him go now for free, nobody is going to pay a single penny when they can sign him for nothing in 5 months.
Thomas Surgenor
84
Posted 12/07/2017 at 14:32:30
Naive as this may sound but I think Ross will stay. I believe Rooney may influence his decision. I hope that Rooney will go have a few words with him.
Ary Lima de Moraes
85
Posted 12/07/2017 at 14:34:54
If he refuses to sign and we fail to sell him this summer, he is going for a free. If he would do that to us, I'd let him rot at the U23s for the season.
Brian Williams
86
Posted 12/07/2017 at 14:40:46
It seems the Kopites quoted on one of the NewsNow stories (I know, I know) hold Ross in higher esteem than a lot of Evertonians do.
The Twitter postings that were selected would welcome him to the Dark Side!!
Eddie Dunn
87
Posted 12/07/2017 at 14:57:19
Rooney had an inkling that he was returning, and I suspect that the players would have got wind of the possibility well before us fans.
Therefore it could have been a factor in Barkley stalling on the new contract, because ,as a poster pointed out above, Rooney's arrival pushes Ross down the pecking order. It would explain a lot.
I also suspect that Ross not going on the jolly to Tanzania is because he is about to be transferred. My hunch (pure fantasy) is that he may go to Newcastle.
Alan J Thompson
88
Posted 12/07/2017 at 15:29:35
All this, "Barkley wants out of Liverpool as he is too well known and would prefer the anonymity of London" – Don't they know what the players look like in the Smoke?
Ben Dyke
89
Posted 12/07/2017 at 15:43:08
Alan (#88),
I'm sure they do but it's a bit bigger and there are a few more people there.
Alexander Murphy
90
Posted 12/07/2017 at 15:50:50
I'd be really disappointed to let Joel go, very.
Last sesaon this player was demoted. No question there. He was furious, yet he upped his game through his own determination and effort. That is not the attitude of a coaster or a quitter.
To my way of thinking, he is head and shoulders better than Stekelenburg in every respect.
Andrew Clare
91
Posted 12/07/2017 at 16:00:42
Alan (#88), I don't think they do.
London is a big city with a lot more going on than just football.
I am also disappointed that Robles looks like he's leaving. He is a good goalie and still only young.
The same applies to Barkley. He obviously doesn't want to play under Koeman and that's probably why nothing has been said as to why he wants to leave.
James Stewart
92
Posted 12/07/2017 at 16:12:00
@90 Interesting point of view. I can't see many agreeing with you. Joel is a car crash keeper IMO.
The derby clangers, the moment of madness taking down Vokes for the penalty against Burnley, I could go on.
Not even close to being good enough for a top 6 side, no surprise to see Koeman show him the door. We could sign Messi and some on here would still be pining over last season's squad, which let's be honest, at a lot of times were rubbish! I for one am enjoying the spring cleaning!
Nicholas Ryan
93
Posted 12/07/2017 at 16:28:51
Who is Chris Renshaw?
Michael Kenrick
94
Posted 12/07/2017 at 16:31:51
Chris Renshaw is a young goalie we brought in from Oldham Athletic last summer.
Do keep up!!!
Adam Luszniak
95
Posted 12/07/2017 at 16:34:59
The video on the link below (scroll down page) shows how well Bolasie was received in Tanzania. Clearly a popular guy in Africa!
http://www.liverpoolecho.co.uk/sport/football/football-news/everton-winger-yannick-bolasie-given-13318675
James Macdonald
96
Posted 12/07/2017 at 16:39:26
I cannot fathom the negativity towards Ross which must be a factor in him considering a new challenge.
The club have been at best negligent with him and arguably have treated him poorly. When he signed the last 4-year deal, why was that not 5 or even 6 years?
Last season before xmas Koeman brushed off his contract as not a priority and would be dealt within February/ march. It was no real surprise that theses factors allied to Koeman's indifference to him must have informed his decision.
I would love him to stay but in my view so far he has conducted himself brilliantly and I shall look forward to following his career wherever he goes.
On the playing side, I appreciate the disappointment that he might not be a great player but he is still a very strong Premier League player and for my money our best performing player in the second part of last season.
Chris Williams
97
Posted 12/07/2017 at 17:34:25
Ross is a player who has plenty of opportunities to prove himself for Everton. About 180 (from memory) of them over several seasons under several managers. He has had plenty of England opportunities, under several managers. He has not convinced any of them.
He divides opinion amongst supporters, frustrates and disappoints in a match. He consistently runs down blind alleys, loses the ball in bad positions and makes the wrong choices too often. He shows no consistent evidence of learning lessons. He is 24 next birthday.
Every so often he does something to delight you, but they are few and far between, and getting less frequent as time passes. I've sat at Goodison and watched him many times, and I am willing him to succeed, probably like many others, but he doesn't – he frustrates and you simply cannot rely on him to deliver as a member of the team. Even simple basic skills delivered often would suffice.
I just don't get the reluctance to accept this after all this time. I don't think we've ever had a player so unproductive where so many people cling to an illusion that flickered intermittently several years ago,but is not to be seen these days as other teams and coaches have sussed him.
Somehow it is the fault of others he doesn't succeed, managers, structures, the shortcomings of team mates, the supporters (and I genuinely believe there is no malice towards him). It's probably not a matter of fault at all, but aptitude, ability, mentality, whatever it is it, it isn't working.
I would love him to succeed but sadly I don't believe he has it in him for whatever reason, but I would be delighted if he proved me and many others wrong.
For him, for me and for Everton.
John G Davies
98
Posted 12/07/2017 at 17:42:30
Shrewd move by our new backroom to take Yannick.
More publicity and spreading the name of the club.
They haven't got much wrong up to now.
Mike Gaynes
99
Posted 12/07/2017 at 17:59:01
Adam (#95), cheers for that link.
Chris (#97), sad but true, although the second half of this season he did establish some consistency. The bullet cross to Rom against Leicester was a thing of beauty. But you're right that it happens too seldom.
However, James (#74), that's way too harsh for me. There is absolutely no evidence that "He clearly rates himself higher than he is, and assumes top 4 clubs will swoop in for him." He has made no such statements and projected no such arrogance... all he has done is refuse to sign a new contract.
John Pierce (#76), Ross doesn't have an "agent" like Riola... he's represented by a company in LA. They don't do statements unless there's something concrete to announce.
Jay Harris
100
Posted 12/07/2017 at 18:09:42
My feeling is that Lukaku and Barkley both let the side down quite a lot in important games by their lack of workrate and closing down.
I don't doubt that Ross is one of the most technically gifted players we have seen and has the right physique for the Premier League but his sense of awareness, lack of application and heading ability all let him down.
There is also something deep about the lad, yes he is quiet but there always seems to be something on his mind.
Anyway for me he has pissed on his own chips instead of knuckling down and signing a new contract he is basically sticking two fingers up at the club and Koeman quite rightly has had enough of it.
I also read a few months ago that a Spurs delegation had met with his representative and following the meeting were so disappointed with his demands that they diluted their interest.
Whether its a greedy agent or the player its up to Ross to decide whether he wants to play for Everton or not. I get the impression he has been left behind to sort his contract situation out with Boys Pen Bill... or not, as the case may be.
Will Mabon
101
Posted 12/07/2017 at 18:25:53
"Anyway, for me, he has pissed on his own chips instead of knuckling down and signing a new contract; he is basically sticking two fingers up at the club and Koeman quite rightly has had enough of it."
Jay, that is exactly for you – it's your guess. You have no way of knowing what's gone on. The only one that has spoken publicly, positively or negatively, is Koeman.
Barkley is not compelled to speak out. His silence may be respectful. Equally, it may be tactical, or advised by his management. The only one getting near to sticking two fingers up is Koeman. I say that because he's the only one that's given out anything for anyone to work with, should they wish to guess what's going on behind the scenes.
Rooney said he knew he was coming to Everton two weeks before it was announced. That didn't get out. No-one knows what's happening.
Dave Abrahams
102
Posted 12/07/2017 at 18:32:56
Mike (#99), can you elaborate on Barkley's agents: Do they have other football players under their wing? Can you name some other sports stars under their control?
Not doubting you, just asking for more information about them.
Brian Williams
103
Posted 12/07/2017 at 18:45:08
I wonder whether it's always the case that the supporters of the player/s at their own club are much more critical of him/them than the supporters of other clubs.
I know that sounds daft as we see Ross every week so would naturally be more critical but I have to say even them across the park seem to rate him very highly, and for them to do that it tells you something.
I have to admit to now not having a clue how I feel about the lads performances because I have been one of his detractors, certainly over this last season, but judging by what's being said about him just about every where else people really rate him.
Scratching my head so much I'm getting splinters!
Colin Glassar
104
Posted 12/07/2017 at 18:54:20
I would love it, just love it if Ross decided to stay and work, and learn, with Rooney. They are both local lads, boyhood blues, speak the same language, passionate about the club etc if Rooney could just instill that fire that he has in Ross's belly we'd have a player on our hands.
Chris Williams
105
Posted 12/07/2017 at 18:57:15
Brian, as you say, we watch him for 90 minutes every week either live or via media.
Others, including pundits and especially other teams supporters, watch a few minutes highlights or digest other people's views on television or in written media and get their views predominantly there.
One example was the Watford match at the end of last season, where Ross scored a nice goal. Some sources made him MotM, and Sky were raving. In the stand there were a few of us talking towards the end, and we thought Davies especially at right back second half, or Gueye, or possibly Valencia in the second half were all candidates, but no mention of Ross. Even allowing for bias, scepticism etc there was no way... but there he was MotM.
And maybe we're a bit more demanding too.
Mark Sheward
106
Posted 12/07/2017 at 19:01:52
Just when I thought Ross really was the next big thing, the two games last season vs the Red Shite stand out. He was absolutely horrendous.
Brian Williams
107
Posted 12/07/2017 at 19:03:12
Chris Williams. Fully agree there mate. I couldn't believe he'd got it for that game.
Will Mabon
108
Posted 12/07/2017 at 19:06:04
Brian, I've never heard a supporter of another club that I've spoken with criticize Barkley. Everyone thinks he's "Class". They can't understand why we'd contemplate letting him go. They also think he's been poorly treated by England. However, they mostly only see highlights, the good stuff.
I want Barkley to stay. I'm aware of the poorer performances but have seen the good things too, and still think he can be better used, and recapture form by his own input.
I was a little surprised several seasons back when Man Utd fans I spoke with starting to complain about Rooney as I'd seen nothing wrong in highlights (hopefully they were wrong!).
No doubt though, home grown players seem to get it heavy when things don't go well. Some of it is a bit much.
Phil Walling
109
Posted 12/07/2017 at 19:11:30
Ross isn't on the tour simply because Koeman has decided to freeze him out of the picture in the same way Spurs got rid of Lennon two years ago. Louis Van Gaal gave Cleverley the same treatment and look where he ended up!
My guess is that Ross is set to go out on loan with the metaphorical 'option to buy'. Odds are that he will come bouncing back to serve out his contract as a bench warmer?
Andy Crooks
110
Posted 12/07/2017 at 19:14:53
Is that a fact, Phil, or more conjecture?
Phil Walling
111
Posted 12/07/2017 at 19:17:29
Pure conjecture, Andy. Just like all the other posts on here.
If you want to deal in hard facts, stick to the OS!
Will Mabon
112
Posted 12/07/2017 at 19:19:01
Andy, I'd say conjecture but at least spawned by some real events that we've seen and heard.
Will Mabon
113
Posted 12/07/2017 at 19:19:59
Okay, pure conjecture it is, then!
Chris Williams
114
Posted 12/07/2017 at 19:22:02
I think we judge Ross and others a bit harder because the performances and results matter more to us. So maybe a little lack of balance or perspective too?
Brian Williams
115
Posted 12/07/2017 at 19:24:20
Will (#108).
I hear you Will. Just makes for things being even more confusing.
Personally, I hope he stays if that's what's gonna make him happy.
Phil Walling
116
Posted 12/07/2017 at 19:25:32
He's played under three Everton managers, three England chiefs and even Neal bloody Warnock. And one way or another, they all gave up on him.
I wonder why?
John O'Brien
117
Posted 12/07/2017 at 19:39:14
Re: Ross Barkley's agent: I don't know where you're getting your information from about his agent being in LA.
Ross Barkley's agent is called Paul Martin who is one of the most reputable agents in the game. He is agent for a lot of Everton players past and present including Arteta, Cahill, Stones and also Barkley.
The reason I know this as he also represents my nephew who also plays for Everton.
Steve Woods
118
Posted 12/07/2017 at 19:39:28
Phil @ #116 – that just about sums it up to me as well.
Mike Gaynes
119
Posted 12/07/2017 at 19:41:29
Dave (#102), sorry for the delayed response. Lunch was delicious.
Barkley is represented by Wasserman, a large agency in Los Angeles.
Other footballers they represent (or have represented previously) include Blues like Gana Gueye, Kone, Tim Howard, Timmy Cahill... plus Stones, Gerrard, Robbie Keane, Carragher, Jordan Henderson, Drogba, Sakho, Daley Blind, Smalling, Bony, Wilshere, Shay Given, Woodgate and some of the US women's soccer stars, including Alex Morgan.
They also rep NBA stars like Russell Westbrook and Anthony Davis, and several major NFL stars as well.
They're highly professional and corporate in their approach. No spouting off like the individual agents in Europe.
Mike Gaynes
120
Posted 12/07/2017 at 19:45:06
John (#117), your information may be outdated. If you check the news accounts of Ross being punched in that bar in April, the brief statement about the incident came from Wasserman. Quoting from the Mail:
A statement released by Barkley's agents Wasserman Media Group said: 'Ross was the victim of an unprovoked attack by a stranger who approached him.'
Mike Gaynes
121
Posted 12/07/2017 at 19:45:43
PS... who is your nephew? Dying of curiosity over here.
Phil Walling
122
Posted 12/07/2017 at 19:47:02
I thought Martin was now Wasserman's representative in UK?
Mike Gaynes
123
Posted 12/07/2017 at 19:49:04
Phil, you are correct... as are we all. Just checked their website. The fellow's name is Paul Martin, and he works for Wasserman.
He's based in the US but specializes in English footballers.
Dave Abrahams
124
Posted 12/07/2017 at 19:55:07
Mike (119), thanks for that information.
Derek Knox
125
Posted 12/07/2017 at 19:56:08
Colin @ 104, you say you would love to see Barkley stay and learn from Rooney. Rooney proved himself to be World Class, at an early stage, which prompted Whisky Nose, to sign him up for Man Utd.
The difference being, that Ross thinks he is a lot better than he actually is, and will still be showing glimpses of his potential two days before his testimonial, should he stay.
I arrest my case, m'lud. Glad Phil Walling, agrees with me!
Rob Halligan
126
Posted 12/07/2017 at 20:04:21
Pity they couldn't have made the trip, just to team up with Ossie and go on a tour of Tanzania. Magnificent landscape, and the Ngorongoro crater is absolutely magnificent. Spent seven days a few years back doing a safari round the Serengeti and Ngorongoro crater.
The Massai village is not really recommended though, especially their mud huts, as they are only about 6 foot high although they do drop a little inside, but are also pitch black, even in the middle of the day. I doubt Ross or Robles would be able to stand upright in them.
All in all though, a wonderful trip and Ossie will be thoroughly enjoying it.
Anton Walsh
127
Posted 12/07/2017 at 20:12:16
The problem with Ross is between the ears. He's not a winner.
Sam Bull
128
Posted 12/07/2017 at 20:12:20
I personally don't think you can rate all of Barkley's stats and performances on last season. I was never Rom's biggest fan, but have said many times that, if the ball is between Rom and the goal, there is not currently many better than him. And I also pointed out it was to the detriment of the team/tactics.
Since Rom started at the club, a ball into his feet would be a 50/50 chance at least, and I am being favorable to Rom, that something would happen with it; he got better, but as a teammate, there will surely become a point where you would have second thoughts of what to do with it, sometimes he should give it, others times he maybe shouldn't and that in itself is a big problem.
Its not all Ross's fault either! some of Rom's positioning and run's (mainly I'd admit towards the end of his time with us) were non-existent, he statistically spent 3 mins per game on average sprinting!
ill end with one example which happened a few times, I remember at least 3 occasions when Ross was wide, played the ball across / inside the 6 yard box. Where is Rom? he's on the penalty spot with his hand up.
by not making that run, Rom makes Ross look bad, if the ball does come back and Rom scores then fine and maybe Ross/Rom should know what to do in that situation. I mean they do more or less spend all day with each other, but by not making that run, Ross doesn't have options, if he Rom makes the run in close he takes the defenders in with him, creating space for on coming players; it was Rom's goals or no ones.
Jay Harris
129
Posted 12/07/2017 at 20:16:02
Will,
If a player refuses to sign a new contract for over 6 months, he is basically sticking two fingers up at the club.
Mike Gaynes
130
Posted 12/07/2017 at 20:32:07
No, Jay, he's just exercising his right to try for a better deal.
Brent Stephens
131
Posted 12/07/2017 at 21:02:41
Jay, in that case, I bet all players we've signed have put two fingers up to us – during the course of negotiations when they seek better Terms & Conditions than initially offered.
Brian Harrison
132
Posted 12/07/2017 at 21:05:06
I cant see where Ross will go, and whoever he and his agents think are interested are quite happy to watch the window clock tick down.
I know it is widely reported that Spurs are interested, but if he went there he would just be a bench warmer. With Kane,Ali,Erickson,Son no place there.
I think Koeman has made it perfectly clear that if Ross didn't sign when the season finished he would look elsewhere, and he has. I am sure if he had wanted to stay the contract would have been signed by now.
Not gone to Tanzania because of a groin problem... really? I think this is just Koeman underlining there is no future for him at Everton. But I wish him the very best and hope he finds a club that will get to unlock his potential.
Steven Scaffardi
133
Posted 12/07/2017 at 21:09:44
If Moyes or Martinez were still in charge, Ross would have his contract long ago. Whether you agree with him leaving or not, I actually like the fact we've got a manager willing to make these decisions. It's something we've lacked for a long time. Good luck Ross, but Everton come first!
Eric Paul
134
Posted 12/07/2017 at 21:19:37
Jay @100,
Ross has a sense of awareness second to none when he has movement in front of him. The problem with his game is when he has no options and he holds onto the ball too long. He will be a top player when he moves on and I for one hope he does.
Derek Knox
135
Posted 12/07/2017 at 21:23:58
Brian, the groin problem, was where Ronald, and the rest of the backroom staff, kicked him, and said, change your attitude, quell your ego, and hopefully, we can attend your leaving do, when we get back!
Peter Fearon
136
Posted 12/07/2017 at 21:32:49
I never said anything about the reference was racist. The word 'condescending' probably best describes it. The idea that Africa is some kind of homogeneous culture is ludicrous. And Bolasie is in any case European.
No one would say that Seamus Coleman is an ambassador to Serbia because he happens to be from the same continent but for some reason someone who was born in Europe and happens to be of Congolese heritage has "an ambassadorial" function in Tanzania. Nonsense.
Not racist, but nonsense nonetheless.
Eddie Dunn
137
Posted 12/07/2017 at 21:33:05
Quite a few managers have been frustrated by Barkley. Remember the World Cup in Brazil, when the team coach was kept waiting as Ross had either overslept or was taking his time doing his ablutions.
There have been the Hodgson grumblings and Warnock's knocking. I have little time for either of those two, but it does seem that there is a pattern developing.
Is it that Ross finds it hard to stick to the plan or does his keenness to get on the ball to make things happen get the better of him?
Koeman certainly seemed to have grown weary of him and in my opinion was trying to ease him out without upsetting our fan base.
All part of managing in the modern game I suppose. Time will tell.

Jay Harris
138
Posted 12/07/2017 at 21:54:32
Mike and Brent – not if he's had £5 million a year on the table and can't get better elsewhere.
Remember, this is the club that brought him through the academy through which he was recognised by England and now IMO he is sticking two finger up at the club.
You are all entitled to your opinions but I think Barkley owes the club and the fans more than this situation which is entirely of his own making.
Brent Stephens
139
Posted 12/07/2017 at 21:59:01
Jay, I don't really know what's going on. I don't know what contract he's been offered so don't know what he's rejecting.
Kevin Rowlands
140
Posted 12/07/2017 at 22:02:23
I'll be gutted if Ross goes myself as I think there is still a lot of potential there.
It didn't help the last few seasons where he had an unnamed one in front of him who would constantly be giving the ball back to the opposition. I always felt that Barkley was trying to do to much on his own because of that. I will admit though that his decision-making was questionable at times.
If given the option, though, £50 million for Sigurdsson or keep Barkley... I'm taking Ross all day long.
Don Alexander
141
Posted 12/07/2017 at 22:09:43
The longer Barkley stalls, the worse he can expect his reception to be if he stays, and rightly so. Okay, he's not verbally dissed the club in the way Lukaku did but his actions are making it quite clear to me that he's now as much a true-blue as Man Utd's latest disappointment.
The only caveat I'd accept is that IF the new contract is less than the previous one he has a right to stall. Otherwise he's just another egotistical, self-deluded, typically grasping "pro", end of.
The first thing Rooney could tell him is that his sale when he was just 18 saved our/his/Ross's club from financial melt-down, and he still got/gets pelters, so woe-betide any near-24-year-old player who feigns to be a fan but never got close in four seasons to delivering what Wayne consistently did before he could even vote, but still costs a fortune in wages and will deprive our/his/Ross's club of the maximum return from his sale by selfishly hanging on in the expectation that someone somewhere might offer him a few grand a week more than he's currently offered, millionaire as he already is.
Gavin Johnson
142
Posted 12/07/2017 at 22:15:54
I'd prefer Robles to stay as a Number 2 but don't begrudge him leaving. I don't think he is Number 2 material at this stage in his career and will have a decent career playing somewhere else. Stekelenburg is a Number 2 and can be called on if necessary.
I just hope that this Barkley business is concluded quickly. A £40m fee has been banded around from somewhere and looking at a Spurs site, their fans reaction is much like ours to the humungous fee Swansea have put on Sigurdsson's head. I'll be surprised if Levy pays that, but it's actually not that ridiculous going on other business this summer.
Derek Knox
143
Posted 12/07/2017 at 22:48:41
I haven't spoken about Joel (Robles) on this article, but I always thought, he would put in a couple of sterling displays, and just when you thought he had matured, and earned the spot in goal.
He would follow that up, with absolute howlers, woeful positioning, and inept dealings with crosses or close range stops.
My conclusion, yes, maybe okay in an emergency, but given the job on a permanent basis, complacency, would set in.
I wish him all the best, should he get another Club, but doubt very much, that it would be in the Premier League.
David Metcalf
144
Posted 12/07/2017 at 22:59:46
Chris Williams@97... You've summed Barkley up superbly mate. I agree with everything you say. I'd love him to become the player he's threatened to become for the past four years, but sadly I just don't think it's going to happen.
He's 24 now, so he's not an inexperienced kid. Yet on far too many occasions, he's making the same errors he was making three or four years ago. This is what so many Blues find so frustrating about him. And I'm afraid the odd glimpse of brilliance doesn't make up for this sense of frustration any longer.
We need to see real evidence that Ross is maturing, is learning from his errors, and is becoming the type of player who can truly control and influence a big game.
Mark Stone
145
Posted 13/07/2017 at 00:38:04
Peter, much as you might find the idea preposterous, the much publicised reception he received and the fact many fans travelled from from DR Congo, suggests otherwise.

Mike Dolan
146
Posted 13/07/2017 at 03:16:08
Barkley has to have the dopiest agent in the entire history of football. Has any agent devalued a player more than Ross's agent?
Ross Barkley may become next season the greatest English player of his generation but his stupid agent has put him into an auction where Ross could never at this point replace the player in his position in any of the players in the six clubs above us.
David Ellis
147
Posted 13/07/2017 at 04:17:20
Peter (#136) and Mark (#145),
This is interesting. Maybe an explanation is that the nation states that exist in Africa are the legacy of colonisation and quite unlike those in Europe. So, whilst there is a pan-African culture (just like there is a pan-European culture – so not homogeneous but still identifiable).
In Africa the nation states are much weaker so it may seem less odd to an African to embrace someone who's descendants are from another African nation state than would be the case in Europe (Peter's Coleman - Serbia example).
In Hong Kong the tennis following public went wild for the American tennis star Michael Chang in the early 1990s. He's not from Hong Kong and not a Chinese national. Nor did they go wild for fellow American Jim Courier who was playing at the same time (who was also not from Hong Kong or a Chinese national). I wonder what it was that they like about him... his height maybe?
Alan J Thompson
148
Posted 13/07/2017 at 04:59:10
Reading through, it occurred to me that Barkley's lack of pressing was capped by, I think, four headed goal-line clearances although two may have been in the same game.
I can't remember anyone else managing more than one, if that. Funny old world, eh?
Jay Harris
149
Posted 13/07/2017 at 05:00:27
Brent,
It was widely reported that he had been offered £100k a week and he turned it down.
Some Spurs players are on £75k a week but that's about as far as they would go with Barkley.
None of us really know the issue because the lad nor his agent have commented except to say he wants Champions League football – well, don't we all... but he is better placed than any of us to help EFC achieve it.
Darren Hind
150
Posted 13/07/2017 at 06:39:39
Barkley has conducted himself with dignity. If the club and manager had done the same, this matter could and probably would have been resolved long ago.
By leaving it until well into the spring before offering him anything, then issuing ridiculous deadlines (which were treated with the contempt they deserved), the club and in particular, the manager created this situation.
Koeman's constant public criticism and the painfully late contract offer gave the player and his agent the absolute right to take their time. I hope he stays, I don't want him flourishing elsewhere, but those who said with an absolute certainty that Koeman was bossing situation must now realise he has no control at all over it all and those who said Barkley would not be allowed to run down his contract must now realise that it is and always was a very definite possibility.
Mark Sheward
151
Posted 13/07/2017 at 07:04:07
After all the debate about how Ross fulfils his duties in midfield, what about trying him as a centre forward?
Alan @ 148, I remember that well. He can be on our line when defending corners and take up a static attacking role when we have the ball. 😊
Steven Scaffardi
152
Posted 13/07/2017 at 07:30:31
Mark (#151) – I don't think we need to go there! We can buy strikers at last rather than shoehorning players into positions. Plus we've been linked with Bony. :(
Trevor Peers
153
Posted 13/07/2017 at 07:41:44
Barkley's future with us will depend on the outcome of Koeman's ruthless pursuit of Sigurdsson. His chances of first team football will be zero if we sign the Iceland international.
If this happens, Barkley's career at Everton will be virtually over, the signing of Klaassen means he could be third choice; a move or loan would seem to be his only option.
He should of signed the contract he was offered, it would of secured his future. He has been very badly advised. I imagine that contract offer has now been withdrawn.
Charlie Dixon
154
Posted 13/07/2017 at 08:09:36
I'm slightly perplexed as to why people think Ross is still an option. The Club offered him £100,000 a week and he's turned it down! Anyone who's watched us over the past few years cannot possibly think he's worth that sort of money.
He'll go to Tottenham for £20m but at the end of the window as Levy is no mug. Sadly they have us over a barrel but that's not Koeman's, Kenwright's or Elstone's fault – the blame for that solely lies at Barkley's feet. His heads been turned and he clearly wants out of Liverpool.
I personally don't think he's anything like a £100,000 a week player. Davy Klaassen will be superb for us. Tom Davies will also get more game time if Barkley goes, which I for one am delighted about.
Duncan McDine
155
Posted 13/07/2017 at 08:20:57
Charlie (#154), I couldn't agree more. Despite his fairly impressive assist stats, I won't miss his lazy displays.
He frustrates me more than Lukaku, so a hard pressing front line sounds good to me. Evertonian or not, he's not good enough for our starting 11.
For me, the dilemma Koeman faces is who to sideline out of Davies, Gana & Schneiderlin... assuming Klaassen takes the attacking midfield slot.
Steven Scaffardi
156
Posted 13/07/2017 at 08:30:52
Charlie (#154), I think if we get anything upwards of £20m for Ross, that's good business for a player with one year left left on his contract.
Koeman knew he'd never get £50m but he has to play hard ball. The truth is, I don't think Spurs really need him. I wouldn't be at all surprised if Ross is still here after the window shuts. Maybe we'll then get the best out of him for a year as he puts himself in the shop window.
Steve Smith
157
Posted 13/07/2017 at 10:00:49
Mike (#146),
Barkley effectively has 5 months left on his contract before he can start speaking to other clubs. Whichever club he chooses will get him for nothing, and that will probably double whatever we are offering in terms of a weekly wage.
I think a few European Champions League clubs would take a punt on him for free, I'd say his agent is doing a pretty good job.
I'll be amazed if he does a U-turn and signs a contract with us.
Trevor Peers
158
Posted 13/07/2017 at 11:57:46
Steve @157, your living in cuckoo land if you think any Champions League club would pay Barkley £200k a week, at Spurs for instance, the player's preferred destination, paying Barkley that kind of money would start a player strike!
I doubt Kenwright will get shafted over Barkley, and we will receive a fee of some kind for him before the deadline. Feel sorry for all those who have loyally stuck by Ross, he obviously doesn't give a toss about Everton.
Stan Schofield
159
Posted 13/07/2017 at 12:12:55
All this talk that no top sides will be interested in signing Barkley reminds me of all the talk that no top sides would be interested in signing Lukaku, and all the talk that no top sides would be interested in signing Stones. Get real folks.
Tony Dove
160
Posted 13/07/2017 at 12:17:04
It is obvious we are going to pay crazy money for The Sig to replace him which makes the whole saga even worse.
Steve Smith
161
Posted 13/07/2017 at 12:34:39
Trevor (#158), I think you're right in regards to English Premier League Clubs, but there are plenty of European Champions League clubs who may be interested in him. Forget any fee, who is going to pay a fee when they can wait a few months and get him for nothing?
Barry Jones
162
Posted 13/07/2017 at 12:50:19
I would like to see Ross stay. I hope that Koeman has not given up on him (as Phil conjectured) as I think that he may be the right man to get something out of him. I think he has had some poor advice over the last year.
Rudi Coote
163
Posted 13/07/2017 at 13:10:47
The fact that he hasn't signed a new contract tells me he wants out...
Goodbye Ross... don't forget your boots.

Lewis Montgomery
164
Posted 13/07/2017 at 13:46:52
Peter @22 – I totally agree with you. I think the comment "home continent ambassador" suggestion points to some of the more unfortunate attitudes that sadly still exist regarding anyone seen as "African".
I think you're absolutely right to respectfully point it out where you see it, as you did.
Arthur Westhead
165
Posted 13/07/2017 at 16:12:18
Charlie (#154),
You summed it up perfectly.
Steven Telford
166
Posted 13/07/2017 at 19:40:31
I really hope Ross stays but come on, he has to show the cub some respect. If he conspires with his aged to get Levy a cheap deal, it will be unforgivable.
Will Mabon
167
Posted 13/07/2017 at 21:31:09
"
I really hope Ross stays but come on, he has to show the cub some respect, if he conspires with his aged to get Levy a cheap deal, it will be unforgivable.
"
Does Koeman have to show players respect in public too?
Barkley is within his rights to not sign. This leaves the club the options of either changing/improving the contract offer, or selling. Barkley and his agent are not obliged to find another club. The club have to consider offers as and when received.
Since we've heard of no offers yet, what would you suggest Barkley do? Maybe something's brewing now, with Ross left off the tour, or maybe not.
Levy or those at other clubs might well hang fire until late in the window, chancing their arm that Everton will drop the price down low. To imply that Barkley would actively conspire with Levy is frankly ridiculous.
Brian Williams
168
Posted 13/07/2017 at 21:36:28
I agree Will that it's highly unlikely that Ross is conspiring with Levy, but it's not beyond the realms of possibility that his agent might be.
I mean look at Moyes and his refusal to sign a new contract on the instructions of SAF. Underhanded things definitely happen for sure.
Mike Gaynes
169
Posted 13/07/2017 at 21:47:36
Mike Dolan (#146), Barkley's agency, Wasserman, is top class and has a longstanding reputation of doing very, very well on behalf of its clients. (And Brian (#168), they have no history of underhanded dealings.)
I agree with Steve (#157), his agency is doing what their client wants, and as long as Ross can handle the uncertainty, he's in a very good position.
Don Alexander
170
Posted 13/07/2017 at 21:56:19
Whatever the advice and activities of his agent may be, Ross Barkley contends himself as a professional footballer. He has aspirations to play for his country and next year is a World Cup year – ergo he should be busting his balls to play football as frequently as possible to do what any true professional aspires to; winning trophies, for us and his country.
But our Ross seems not to understand these simple things, as his dwindling performances have exemplified to me for over two years. His body language and expression tell me it's all just a little bit too hard for him, this pro footy business.
I wish it wasn't so, because he has skills other players can only dream about, but as he nears 24, I think he's missed the boat.
Tony Abrahams
171
Posted 13/07/2017 at 22:02:24
Why would it be ridiculous for Barkley, to conspire with Levy, Will?
Graham Mockford
172
Posted 13/07/2017 at 22:02:54
However, hearing posters complaining about Everton potentially spending money is priceless.
Fuck me – we've had 15 years of feeding on scraps and now everyone is an expert on what's good value.
Alan J Thompson
173
Posted 14/07/2017 at 10:19:16
Don (#171); May be Ross and his Agent understand what "busting his balls to play regularly" entails and doesn't see this as a possibility under Koeman who seems to have gone out of his way to drop and publicly embarrass Ross.
I don't seem to remember Koeman doing the same to Lukaku after "persuading him to stay one more season" despite having three years to run on his contract. Or may be that has just shown how this manager thinks this is the way that this business should be handled.
James Ebden
174
Posted 14/07/2017 at 14:21:01
Ross got publicly called out because his performances were lazy and simply not up to scratch, and Koeman felt he needed a cattle prod. Other managers have done the same to players.
Ross has been made a very generous offer by the club, and he has refused. All players in this day and age are mercenaries trying to exploit as much money as they can via their agents, so Ross is doing nothing that others wouldn't in terms of running the clock down and forcing a cheap/free move with a more lucrative contract at the end.
I can understand this from journeyman professionals like Ibrahimovich who move around constantly milking contracts, but not from a home grown local lad who came up through the ranks. I would have hoped he would have shown the club some more respect for all the resources they have pumped into him from an early age.
The fact he is letting it get this far shows his attitude to the club sadly. I will gladly take anything to get him away from the club. Over-rated, lazy, poor decisions, lack of progress, and ultimately lack of respect.
Onwards and upwards and lets hope he really regrets it if he flops at his new team while we crack the top 4! :)
Ian Horan
175
Posted 14/07/2017 at 14:52:07
I would say right Ross here is a contract that you want extend it by 3 years. Then I would sell him in January.
Andrew Keatley
176
Posted 14/07/2017 at 15:25:45
Ian (177) – So you're Everton manager, and you decide to offer Barkley a new contract offering him £140k a week (or whatever it is he wants).
But his form doesn't improve. No matter, you just want to sell him in January anyway.
But Barkley isn't playing regularly – or at all – between now and January, which means that other clubs are not exactly sniffing around him, and all the while he's collecting £140k a week.
And very few other clubs are going to be able to offer wages of more than £140k a week even if they do want him.
And any clubs that are interested know that he is sucking £140k a week from the club, and that soon we are going to be desperate to offload him, even at a stupid price.
The imagined clamber to sign Barkley for upwards of £30 million doesn't happen.
No problem. You could always loan him out at the very end of the January window – maybe he could discover some exciting form playing at Burnley, or Huddersfield, or Newcastle.
But they can't cover his £140k per week wages, so you agree to pay half just to get him playing elsewhere. So that's now just £70k per week that is being frittered.
And on. And on.
I'm not saying it's going to happen with Barkley, but when a player is on a bumper contract at a club then it can be hard to move them on if nobody else is going to offer them an equivalent salary elsewhere.
Andrew Keatley
177
Posted 14/07/2017 at 15:28:25
Also, I wonder whether Barkley's contract demands were tied to Lukaku; ie, he wanted parity with the club's top earner.
Now that Lukaku is gone and Rooney is here, I wonder where that leaves negotiations? Surely Barkley cannot expect to be earning the same wage as Wayne Rooney?
Ian Horan
178
Posted 14/07/2017 at 15:34:59
Andrew, You can then loan him out, but you protect his value.
Colin Fawdry
179
Posted 14/07/2017 at 15:40:58
I am not sure if it has been mentioned but it will be interesting to see if Barkley plays in the Europa League qualifiers.

Such a move would see him ruled out of any further European football this season should he move to Tottenham.
James Ebden
180
Posted 14/07/2017 at 15:47:44
How do you protect his value? I he is loaned to a lower half club and turns in lazy performances, how is that going to help his value?! He will only be getting older, and the fact he has a bumper contract already will hardly motivate him to put a shift in while on loan.
As Andrew says, once he is on big money, it will limit the clubs that can come in for him, especially as we would hold out for more because there is more time on the clock.
Time to cut our losses and move him on at whatever price, trim the wage bill, and set a precedent to others who want to try and play the system.
Will Mabon
181
Posted 14/07/2017 at 18:32:43
"
Why would it be ridiculous for Barkley, to conspire with Levy, Will?
"
Tony @ 171, I more accurately should've said, his agent, though he of course operates on Barkley's behalf.
Well in what way might he conspire? To wait around right through the window, whilst Levy tries to gauge the time to strike at a lower fee?
With Kane as Spurs highest earner on 80 basic, up to 110 under various rises and factors, Barkley is going to earn at very best, about the wages reportedly offered by Everton; but more likely on par with Alli maybe. If Levy "Pinched" Barkley on the cheap, it isn't going in the player's pocket as wages.
An inordinate signing on bonus would rather give the game away, and would pressure the Spurs wage structure to boot.
What if someone else comes in and has their offer accepted by the club, whilst offering higher wages to Barkley, and perhaps more chance to be a guaranteed first team fixture? Will Barkley turn that down?
I don't see any benefit to Barkley in sitting tight just to help Levy chance his arm in saving a few sovs. If the club should stick to a fee that Levy won't pay, Ross could be left hanging.
Despite that some have suggested it, I seriously doubt he wants to sit out his contract, rotting away on his existing wage. If he did, why make a "Deal" with Levy?
This said, as I type it occurs to me that the only scenario could be that Ross is so unhappy or unsettled here, that he just wants away so long as he doesn't lose money. I still think he'd want to keep his options open with other clubs.

Tony Abrahams
182
Posted 15/07/2017 at 08:52:48
Fair enough Will, I also don't think he wants to sit on his contract, rotting away on his existing wage, which is why I think the silence is deafening..? Very deafening.
Dave Abrahams
183
Posted 15/07/2017 at 09:09:43
Colin (#179), good point about Barkley and the Europa League matches. I was speaking to someone yesterday who told me that there have been talks (more than one) between Everton and Spurs and the thing which is holding the deal up is the £50M which Everton are asking for Ross.
This fella I was talking to has been correct many times before, he has also been wrong now and again. I can also see holes in this story, one being Spurs offer less money than Barkley has been offered by Everton, or the offer reportedly offered by Everton.
John G Davies
184
Posted 15/07/2017 at 09:10:40
Barkley, when he first came into the team, had us hoping he was the next Wayne Rooney, it hasn't happened. He has played 150 games now so the word "potential" needs to be stopped. He has gone backwards in his career. A real shame as there is nothing as good as a local lad and Evertonian who could be a regular in our first team.
Despite his situation, he us obviously up for sale, not one club has made an approach. If he was as good as people make out there would be clubs trying to steal a March, not waiting until late in the market to get a reduced fee but risk him signing elsewhere.
I don't think Barkley is the player some believe. If he stays and listens to the manager, with the attacking options he would have in front of him, he may become near to the player we hoped for, though not a top-of-the-shop player, in my opinion.
John G Davies
185
Posted 15/07/2017 at 09:16:27
Sorry Dave,
I was writing my post as you posted yours. Maybe a compromise can be reached. It would definitely been reached before Moshiri.
Thing is now you have got Levy on one side of the table and an equally astute team on the other side. Who blinks first....?
Dave Abrahams
186
Posted 15/07/2017 at 09:22:30
John G Davies (185), true John, and with Spurs getting a great deal off Man. City for Walker they might be more agreeable to up their offer for Ross, that is if my story is right.
Tony Abrahams
187
Posted 15/07/2017 at 09:24:46
Everton asking for £50 million sounds more ridiculous than one of Barkley's advisors maybe conspiring with Levy, to me.
Brian Williams
188
Posted 15/07/2017 at 10:17:31
As does Swansea asking for £50m for Sigurdsson and Man City paying around that much for Walker.
The world's gone mad... mad, I tell yer!
Add Your Comments
In order to post a comment, you need to be logged in as a registered user of the site.
Or Sign up as a ToffeeWeb Member — it's free, takes just a few minutes and will allow you to post your comments on articles and Talking Points submissions across the site.