Pennington gets Leeds opportunity

38 Comments [Jump to last]
Wednesday 19 July 2017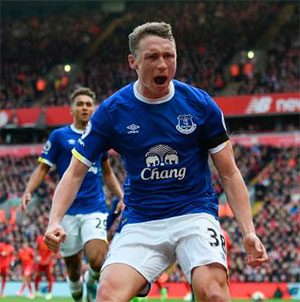 Matthew Pennington has signed for Leeds United on a season-long loan while Joe Williams will reportedly join Barnsley until January.
Pennington, who made three appearances for Everton last season that included scoring his first goal in a derby at Anfield, has joined the Yorkshire side for the 2017-18 season.
The move will provide the 22-year-old the prospect of regular first-team football and the chance to further develop in the environs of the Championship.
Williams, meanwhile, is set to sign a six-month loan deal with Barnsley.
The midfielder returned from a long-term knee injury last season and was named on the first team bench in a handful of occasions.
---
Reader Comments (38)
Note: the following content is not moderated or vetted by the site owners at the time of submission. Comments are the responsibility of the poster. Disclaimer
Peter Gorman
1
Posted 18/07/2017 at 15:38:18
A thoroughly likeable lad is Pennington and a good blue. Sadly he is not yet ready for the first team as there are times he has looked vulnerable. I hope the loan will see him iron out those kinks in his game and boost his confidence.
Robert Leigh
2
Posted 18/07/2017 at 15:44:08
It'll be very interesting to see him in the Championship against the same opponents that Galloway & Browning will be facing.
IMO Pennington is a good player but not ready (thus the loan) and would be behind Galloway as a centre-back with us if both were still at the Club; not sure if he's better or worse than Browning.
A good loan and he may come back ready to figure; a poor one and we know where we stand...
David Currie
3
Posted 18/07/2017 at 15:52:55
Good move and think he has a chance at the lower level, not good enough for a club with top 4 ambition.
David Ellis
4
Posted 18/07/2017 at 15:59:02
He has 3 A grades at A-level – so smarter than your average professional soccer player. Wants to be a doctor when he hangs up his boots. I hope he makes it back to the club as he could be a good long-term prospect for us, although he's never really done it for me so far, but then is only 22, so still time for him to improve.
Dave Pritchard
5
Posted 18/07/2017 at 16:00:43
So Pennington has gone on a season-long loan to Leeds. I wonder if something similar awaits Jonjoe Kenny? Looking forward to the thread on here if it does...
Peter Gorman
6
Posted 18/07/2017 at 16:03:03
Well, his goal in front of the kop did kind of do it for me.
Alan J Thompson
7
Posted 18/07/2017 at 16:06:59
We've signed so many into the Academy that it is inevitable some have to go out on loan.
Will Mabon
8
Posted 18/07/2017 at 16:58:55
Things have changed somewhat. It used to be more commonly felt that if a player was good enough, they'd break through by the end of their teens. Also, most were told they didn't have what it takes, and "Let go" by that age – or they moved down the leagues.
Now we have players still "Developing" at 22. We tend to hold that players hit their peak at 26/27, then talk with concern that players are getting on a bit from around 28/29, and will start to lose it.
It's going to be a short playing career in the future at top level.
Peter Roberts
9
Posted 18/07/2017 at 17:35:37
This would have been a good move had Garry Monk not just cleared off to the Boro at a time when Leeds seemed to be finally getting settled. They also appear to have gone and appointed some random fellow from a club in Norway with zero experience in the English leagues.
So I do fear for Pennington but hope he does get a chance of a decent run in the side and develop his game. I think he still has a chance to make it at the top level.
Will Mabon
10
Posted 18/07/2017 at 18:32:31
Peter - correct re. Monk. Leeds is football's official madhouse. How they fall.
James Ford
11
Posted 18/07/2017 at 22:28:03
Decent but very one-footed.
Mike Gaynes
12
Posted 18/07/2017 at 23:54:03
Matty is another player whose development was slowed by injury... impressed Koeman in the preseason, then finally had his chances in the spring but didn't quite step up. Looked particularly nervous with mistakes in the first half against Leicester.
Keane's arrival now may mean he's unlikely to break through with us, but this loan rather than a sale means the club isn't giving up on him yet.
Paul Kossoff
13
Posted 19/07/2017 at 01:26:01
Is the squad smaller even with the new signings? We seem to be letting a lot of players go.
Steve Ferns
14
Posted 19/07/2017 at 02:00:17
Personally I feel Pennington will make it. He needs to bulk up a bit and gain some experience and confidence. He reads the game well and should be a good Premier League player.
He's a clever and articulate lad. If he makes it, he's going to be a good asset to the club because of that.
Kieran Kinsella
15
Posted 19/07/2017 at 02:54:52
Paul Kossof
Yeah it's smaller but it got pretty bloated under Martinez. Then we had the emergence of quite a few youngsters too. I think it's about right now. If we have an absolute emergency, there are one or two more U23s who could fill in
David Ellis
16
Posted 19/07/2017 at 03:11:36
Last season, they changed the U21 league to an U23 league to allow young players to stay on longer at Premier League clubs before being discarded. This is why we are having more "older" youngsters still in the academy but not in the first team squad.
I assume it was part of the FA's plan to improve the national team as it was well recognised that development of players in England was excellent until about the age of 20 and very few developed further (because no game time in the Premier League).
I agree with Steve Ferns that Pennington will be an excellent ambassador for the club if he makes it because he's articulate and genuinely intelligent, and will stand out off the pitch from his fellow pros.
I don't think the squad is too small – actually it looks pretty bloated to me. With 7 newcomers and possibly two more to come in, I think we need to say goodbye to a few others to keep everyone happy. The 6 players have gone this window, but 3 of them were out on loan last season anyway (Deulofeu, McGeady and Cleverley). So its only really 3 (Kone, Valencia and Lukaku) that have left. Robles and Barkley will clearly leave.
I would have thought that at least one from Besic, Barry and McCarthy will depart, and Lennon as well it seems. So with Pennington on loan that would be 8 out and 9 in by my counting compared to where we were at the end of last season.
Will Mabon
17
Posted 19/07/2017 at 06:57:27
"
...although he's never really done it for me so far, but then is only 22, so still time for him to improve
."
That's a very patient and understanding attitude. Pennington has just less than a year until he's the age that Barkley is now. Hopefully he makes very best use of that time because, if not, 12 months from now, all hell will be unleashed upon him.
Sam Hoare
18
Posted 19/07/2017 at 08:15:45
Central defenders can often be late developers due to the need for strength and an understanding/reading of the game.
Pennington has possibly got further in his development than some people expected (with more attention given to Browning, Holgate and Galloway) and if he has a good year at Leeds then there's every chance he could contend for one of our first team centre-back spots next year, more likely as first backup rather than first choice.
I also expect Matty Foulds and Morgan Feeney to have strong showings for the U23s this season and possibly put themselves into first-team consideration next season if they continue to push on.
Shane Corcoran
19
Posted 19/07/2017 at 09:58:44
Peter (#9), Leeds have appointed a random Portuguese manager? Pulled him from a hat?
Good move, I suppose... but with Funes Mori out do we think Koeman is happy with Holgate, Martina and Jagielka as back-up to his own two recruits?
Joe O'Brien
20
Posted 19/07/2017 at 12:02:16
Two recruits, Shane? Only Keane in so far at centre-back... good move for Matthew. I'm thinking with his move, there is definitely another centre-half coming in. We're going to be short there if it doesn't happen. I would love to go all out for Van Dijk.
David Ellis
21
Posted 19/07/2017 at 12:14:15
Joe – I think Shane is referring to Williams as Koeman's other recruit (albeit not in this window).
Terry Underwood
22
Posted 19/07/2017 at 12:28:02
If he gets game time, this could be a great loan. Leeds will be fighting for promotion.
Joe O'Brien
23
Posted 19/07/2017 at 12:31:02
Yes, my mistake. Sorry, Shane; cheers David. Will be interesting to see if Koeman gives Holgate a shot at centre-back in the pre-season matches. He's only played at right-back from what I can remember, and I don't think he's up for that position.
Harry Wallace
24
Posted 19/07/2017 at 12:32:46
Pleased to read the news. He needs games!
Rob Baker
25
Posted 19/07/2017 at 14:03:46
From the limited highlights I have seen of him, he's an absolute donkey and never good enough for our first XI. I wish him well at Leeds.
Mike Gaynes
26
Posted 19/07/2017 at 14:24:55
"Donkey"? Ridiculous, Rob.
Not sure what "highlights" you've seen of a centre-back, or who you actually saw, but Pennington is quick as a cat and has tremendous pace. His problems are lack of physical presence and confidence, but he's certainly nothing resembling a donkey.
Shane Corcoran
27
Posted 19/07/2017 at 14:34:46
No worries, Joe. Yeah, I assume he'll make those two his first choice.
Williams was far from great last year but seemed to hold his position when Jagielka and Funes Mori were in and out of the team.
Steve Ferns
28
Posted 19/07/2017 at 15:26:47
Donkey is very harsh. If you mean he's a limited centre back, then so what?
Tony Adams was labelled a donkey by opposition fans and he did fantastically well for Arsenal. Our own Dave Watson had a very limited set of skills but was the finest centre-half we've had in the last 30 years.
There's nothing wrong with the centre-back hoofing it to Row Z, or just always giving it to Schneiderlin; as long as nothing gets past him, he wins all the defensive duels, aerially and on the floor, organises a defence, and like Watson did, pushes the team forward with his will to win.
Who forgets the 1995 Cup Final, where Rideout's goal starts with a crunching tackle by Dave Watson?
Contrast a donkey like Watson, to a cultured centre-back like Stones, and I will take Watson all day long. However, ideally you want a mix of the two, perfect example being Baresi and Costacurta of the greatest AC Milan side.
David Pearl
29
Posted 19/07/2017 at 15:52:32
He might not be a donkey but he ain't as quick as a cat, that's for sure! He's slow. He can't jockey his man properly and gets turned inside out. He should have those skills by now. So...
Yes, this is a good loan. It could make him or he might find his level in the Championship. There's time for him yet but he has to play and gain experience. Let's hope he plays and it's not wasted.
Steve Ferns
30
Posted 19/07/2017 at 15:56:34
Dave Watson was slow, so slow he might just be finishing the 100 m from his last training session for us any time now!
Pennington is not so slow, like the aging Watson was, that it forced the defence back another 10 yards to prevent balls over the top. The lad lacked confidence against Liverpool, he played like a rabbit in the headlights, and he did not do himself justice. He needs a good run of games at Leeds, to do his thing and to come back full of self-confidence and inner belief.
He ain't gonna be able to do all the stuff John Stones does, but there's no reason he cannot be a decent centre-half in the style of a good old fashioned English Number 5, and for me, that player still has a place in modern football.
Edit: I forget that Pennington also played a couple of games for us at right-back (in the first team - Barnsley in the League Cup I think) and whilst he cannot ever be a right back, he did look quick and he got forward well because of that pace. He certainly is not slow.
Mike Gaynes
33
Posted 19/07/2017 at 16:46:08
David (#29), his inability to "jockey his man" and getting turned is a function of body positioning and strength, not lack of pace. On the contrary, he covered his first blunder against Leicester with a 40-yard recovery sprint that was nearly as quick as what I've seen from Coleman.
In the second half, he matched Vardy stride for stride on a long ball, which ain't easy. Drew a "wow!" from the guy next to me.
Hopefully he gets lots of games at Leeds and improves the physical part of his play. Actually, what he probably needs most is to add a little "donkey"!
Mike Berry
34
Posted 19/07/2017 at 16:53:32
Great to see these young lads go out on loan, and especially too the Championship (providing they do get a run).
It's a tough league and always sorts out the boys from the men. Hopefully in 12 months he will be a man, improved and ready for the playing squad.
Good luck, Matt.
David Pearl
35
Posted 19/07/2017 at 17:16:58
Mike, it's not so much strength and positioning... it's having that defensive know-how. Watching the ball and yes being positioned properly that you can make those adjustments when you need to. That shouldn't have to be taught.
He needs to make some adjustments to how he reads the game. If he does, then he has a much brighter future.
David Pearl
36
Posted 19/07/2017 at 17:19:23
We have Pennington, Holgate, Browning, Galloway. Who, if any can break through (and save us £25-£50 mil next season?
Denis Richardson
37
Posted 19/07/2017 at 19:24:33
Decent move for the lad. Only saw him play a couple of times admittedly but didn't see anything to suggest he's ready for our team at this time (if ever).
Let him get some games at a decent standard side like Leeds and see where he's at next summer.
Alan J Thompson
38
Posted 20/07/2017 at 05:18:00
I don't think I've ever seen two slower central defenders than Weir and Stubbs... although Labby was certainly no whippet.
Steve Ferns
39
Posted 20/07/2017 at 14:46:33
Alan, what about Richard Gough and Dave Watson? I may be a year or two out, but weren't they 37 and 38 respectively? And to be fair Goughy was a class act, and Waggy was superb right up until the end.
Mike Gaynes
40
Posted 20/07/2017 at 19:38:17
David (#35), I was speaking more of body position and how you use your leverage to prevent an opponent from turning you... but yes, that all falls under the heading of "know how"... and many times it does have to be taught. Some players know it instinctively, others don't.
Best comparison I can think of is Baines versus Coleman. Physically similar, but Bainesy had that sort of nous from the start, while Seamus didn't have a clue and had to work hard to learn it. Clearly Pennington is in the latter category.
And regarding your post #36, I'd bet half the mortgage on Holgate. He can save us that £25-£50 mil right now if he can convince Koeman that there's no reason to sign a replacement for Funes Mori. And I think he can.
Add Your Comments
In order to post a comment, you need to be logged in as a registered user of the site.
Or Sign up as a ToffeeWeb Member — it's free, takes just a few minutes and will allow you to post your comments on articles and Talking Points submissions across the site.