Schneiderlin ready as Europa League campaign looms

40 Comments [Jump to last]
Monday 24 July 2017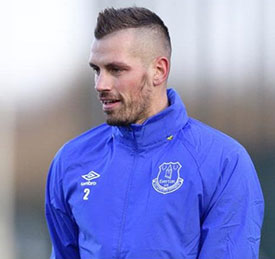 Morgan Schneiderlin says that Everton will need to be ready as the Blues kick off their Europa League campaign against MFK Ružomberok after a brief pre-season.
The timing of the third qualifying round of the Europa League is such that the first team have played just three friendlies when they begin the season in earnest on Thursday.
Should they progress, the Frenchman admits there is no way of knowing where they could find themselves travelling to in midweek but he is ready to apply the experience he has gained at his previous clubs.
"I [have] played in Europe before so I know what to expect," Schneiderlin told evertonfc.com. "We need to get qualified and hopefully we will. After that we don't know the teams we will get but we could find ourselves playing in Russia on the Thursday and then back home on the Sunday.
"It will be very demanding so we will need everyone to be ready and on their toes.
"I was very happy with my first six months and now I want to build on that. In football and in life, if you just keep doing the same things as before you will never progress.
"That's my aim: I want to have a good pre-season, feel sharp and then push on to have a great season with very good performances.
"That's individual but also collectively to win things — that's my ambition. Hopefully I will do that and show even more."
---
Reader Comments (40)
Note: the following content is not moderated or vetted by the site owners at the time of submission. Comments are the responsibility of the poster. Disclaimer
Liam Reilly
1
Posted 24/07/2017 at 16:37:16
The team sheet is going to be interesting on Thursday. They need to get the job done and make the away game just a formality, so strongest team possible is a must.

Chris Williams
2
Posted 24/07/2017 at 16:42:00
Especially as it's a sell out Liam.
Brian Furey
3
Posted 24/07/2017 at 16:48:06
You would imagine the team will be quite predictable up to the top 3. Maybe something like:
Pickford
Holgate
Keane
Williams
Baines
Gana
Schneiderlin
Klaassen
Sandro
Rooney
Lookman
That would be my final choice but maybe Calvert-Lewin.
Adam Luszniak
4
Posted 24/07/2017 at 16:58:51
Brian, I'm not so sure. So many questions all over the park rather than just the attacking births.
Will Kenny or Martina play right back?
Is Williams a shoe in next to keen or will Holgate get a chance?
Will Koeman revert to a back 3 which he played a few times last season?
We have a plethora of midfield options causing all kinds of selection headaches, and that's before we sign Sigurdsson.
Up top , the Rooney conundrum dominates, but like you say we also have Sandro, Lookman and Calvert-Lewin vying for the remaining two spots if we play 4-3-3.
Exciting times!
Harvey Miller
5
Posted 24/07/2017 at 16:59:22
Our strongest line-up for years – even if we still don't have the real cover for Rom.
Neil Thomas
7
Posted 24/07/2017 at 17:56:30
Brian, I agree except for Holgate. Why would you play a centre-back there when you have two right-backs in your squad? It's really a specialised position.
Holgate can defend well but his ability to cross could cost us. Play the strongest team, get the job done, and start the season flying.
David Currie
8
Posted 24/07/2017 at 17:57:39
Anyone know if they are showing the game in USA, I live just outside San Diego.
Martin Mason
9
Posted 24/07/2017 at 18:06:04
I'll be in New York but would love to see it. More excited for a first game than I've been in years.
I hope Kenny plays right back and it'd be harsh to ditch Davies now after such a great start last season. Does Dowell rate a start?
Derek Knox
10
Posted 24/07/2017 at 18:10:11
Don't think you are too far away with that team Brian @3, maybe one of the young lads (Kenny) at right-back. Without knowing much about the opposition, I think that team would be strong enough against most.
As I said on another thread, these are obviously no mugs, because we all thought because Brann won the away leg 1-0, it was a formality for them to go through. These should not be underestimated in any way, shape or form.
Hope this Sigurdsson saga is solved by then, still looking forward to Thursday.
Brian Furey
11
Posted 24/07/2017 at 18:32:45
I just think Koeman played Holgate there a lot last season and trusts his pace and reading of the game. I would expect Sandro to play right side of midfield or of a top 3.
I think it might take Klaassen some time to settle in but the lad scored 20 goals last season with a good few in Europe.
I was all on for Sigurdsson last season but with the players we've brought in I'm not sure would he now be first choice.
Isn't it great we have so many players under 25 who seem to be up and coming in their careers and 5 of them World Cup winners now also. For these young lads to be surrounded by Wayne Rooney and see the club being ambitious there must be a real buzz about the camp again.
I'd settle for the FA Cup, League Cup or Europa League. I think it will be very tough to do well in the Premier League and keep a cup run going.
Mike Gaynes
12
Posted 24/07/2017 at 18:35:12
I like Brian's lineup if Koeman goes with three at the back – Baines and Lookman as the wide players.
But I still think Jags will beat out Williams.
David (#8), no, I have been unable to find any US outlet showing the game. I think we'll have to watch it online.
David Pearl
13
Posted 24/07/2017 at 18:42:06
That might be the starting line-up but l think Mirallas will start. The only other change l'd make personally would be Davies at right back... but that won't happen. The team against Genk is pretty close.
Phil Walling
15
Posted 24/07/2017 at 19:29:17
If that's the starting line-up, Brian, I can see a queue of midfielders lining up to be out of the door by deadline day.
Which of Lennon, McCarthy, Barry, Besic and, of course, Barkley, do you see still being here in early September?
However many move on, it will, of course free up the money for the much loved Sissoko to get his loan move to Goodison Park!
Chris Williams
16
Posted 24/07/2017 at 19:41:43
I think we got a clue about the first choice line up last Saturday against Genk, in the first half.
I'm not sure Sandro will start on Thursday along with one or two others but you never know. From then on, Sigurdsson in for Dowell.
Of course the window is still open, so maybe another centre-forward, and as Phil, suggests there will probably outgoings too.
Rudi Coote
17
Posted 24/07/2017 at 19:42:29
Does Brian have inside information? Don't think so.
Best if we let Koeman pick the team. I'm sure he knows better than anyone eh? He gets paid a lot of money to know better. Let's hope we go all out for a win – no matter who plays.
Alex Kociuba
18
Posted 24/07/2017 at 19:47:38
David Currie, you'll be able to watch online on ITV4, you'll just need to fool your computer to think you're in the UK. Google "VPN" – there are free ones.
David Currie
19
Posted 24/07/2017 at 21:08:19
Thanks, Mike and Alex.
Jay Harris
20
Posted 24/07/2017 at 21:45:45
I bet if we all predicted our starting 11 for Thursday, only a few would get it right. I suppose it comes down to fitness and training assessments.
Personally I would like to see Lookman and Mirallas out there with just one holding midfield player.
Much as I really rate Gana and Davies, neither has stood out in the preseason so I would have them on the bench.
We really need goals in this game so I would go with:
Pickford
Holgate Keane Williams
Lennon Schneiderlin Baines
Lookman Mirallas
Rooney Sandro
Jamie Sweet
21
Posted 24/07/2017 at 23:24:09
I hope Morgan can stay injury-free this season. From the 14 games we've seen so far, he looks like the proverbial Rolls Royce, and hopefully we're going to see him go up a level now he is fully settled in.
So excited for the start of the season. Shame the early fixtures are so tough as it may take a while for the new line-up to really start clicking, but imagine if we win a few of those early ones against the "top 6". the shock waves we've sent out this transfer window will only start to get bigger.
Great to see we've sold out this first leg too. I think that tells us all we need to know about how the majority of Blues fans are feeling right now.
Barry Williams
22
Posted 24/07/2017 at 23:31:18
David Pearl,
I actually like the idea of Davies at right-back too. He has the energy to get up and down, has really good tackling ability and good positional sense for one so young. I thought this last season when I saw him in a rare appearance in that position.
He has the physical strength and presence too. Like you, I don't think it'll happen. I don't think McCarthy would be too shoddy in that role either, or Lennon as a right wingback if three centre-backs are played.
Frank Wade
23
Posted 24/07/2017 at 23:39:22
We have played with a back 4 in the games I have seen vs Twente and Genk. Why would Koeman do that, if he intended playing with a back 3 on Thursday? It wouldn't make sense.
I hope Jonjoe Kenny gets a run at right back.
Seamus McCrudden
24
Posted 24/07/2017 at 23:47:52
Hmmm... Davies at right back is a no for me. He gets caught in possession too much for it to be a realistic proposition, although at right back, the game would be in front of him.
Dave Abrahams
25
Posted 25/07/2017 at 00:21:46
Barry (#22), you have missed the one player who is a genuine right back and has earned the right to play there: Jonjoe Kenny. I like the other three players you name but do not think any of them will be better than Jonjoe in that position.
Steve Ferns
26
Posted 25/07/2017 at 02:14:32
Koeman hasn't played 3 at the back since he signed Schneiderlin. He won't play a back three and play Schneiderlin. Schneiderlin does the job of the middle centre back, and with much greater skill.
It'd be lunacy to play Lookman as left back. Koeman has shown he intends to play 4-3-3. So why change now?
Question is: Kenny or Holgate? Then Dowell, Mirallas or Calvert-Lewin?
I predict:
Pickford
Kenny Keane Williams Baines
Gueye Klaassen Schneiderlin
Mirallas Rooney Ramirez
Mark Andersson
27
Posted 25/07/2017 at 03:03:32
I don't think we will see another striker come in this window. The club new they were loosing Rom way before the season finished and started to plan accordingly.
Let's hope that this team Ron is building is something he thinks can take us to the next level, because the pressure is on, the none-Ron fans will be sharpening their knives.
Mike Commons
28
Posted 25/07/2017 at 03:26:10
David (#8) and Martin (#9) – the Europa League games are typically broadcast on Fox Sports... At least that's been true for the past 2 years.
David Ellis
29
Posted 25/07/2017 at 03:46:01
Mark (#27) – I think we'll definitely see a new striker coming in. One who is good in the air. Its the way Koeman sets his teams up (Pelle at Southampton).
At the moment, the odds are on Slimani as being the best available and at a club that wants to sell him. Maybe not the long term answer or quite the quality I had hoped for – but we need to hit the ground running now with the best we can get.
Steve (#26) – yes nail on head there. I think Kenny might start given the amount of attacking we expect to be doing in this game which will play to his strengths over Holgate. I think Holgate may be used against the top 6 sides.
I would like to see Dowell (or Lookman) in ahead of Mirallas. I think Lookman will do well as an impact sub.
David Currie
30
Posted 25/07/2017 at 06:38:01
I would like to see Kenny at right back and Holgate at center back alongside Keane.
James Watts
31
Posted 25/07/2017 at 07:15:58
Errm.... guys. There is very little chance of Kenny playing. He didn't play any part of the last game and only a portion of the game before that.
I fully expect either Holgate or his old pal Martina to play. Not saying that's what I would do as Holgate is not great at going forward and Martina should be no where near the team but don't kid yourself thinking Koeman will play him. Nothing hes done in team selection during pre-season would point to that or 3 at the back.
Mark McParlan
32
Posted 25/07/2017 at 09:18:28
Based on three separate sets of evidence (the way Everton shaped up last season, the formation we've played pre-season, and the formation Koeman deployed at Southampton), we are probably going to be using a 4-3-3 system for the foreseeable future. I therefore imagine the Ruzumberok lineup to resemble something like this:
Sandro
Mirallas Rooney
Klaassen
Gueye Schneiderlin
Baines Williams Keane Jagielka
Pickford
James Watts
33
Posted 25/07/2017 at 09:58:34
Mark (#32). I dont think you're far off. Jags at right back? Laughed at that one. No chance. Koeman hasn't played him once there, why would he start now? We have Holgate, Martina & Kenny ahead of Jags for a right back spot. I suspect it'll be:
Pickford
Holgate Keane Williams Baines
Gueye Schneiderlin Klaassen
Sandro Mirallas
Rooney
I would love to see Dowell in place of Mirallas, and Kenny for Holgate and Holgate for Williams but I think he'll go for experience until we get a few goals in front.
Barry Williams
34
Posted 25/07/2017 at 14:14:40
Dave Abrahams (#25)
Not missed him at all, I hope he does make the step up, he looks capable, but as yet none of us know. We have a lot of new players to bed in, so it makes sense to bring Kenny in at a later date when all has settled.
No matter what the attributes of Davies/Holgate/Martina they have all played in the Premier League. It is much better for an untried youngster to come into a settled team than one full of new players. Gently ease him in, me thinks!
Lee Brownlie
35
Posted 25/07/2017 at 17:16:00
Headline says 'Schneiderlin ready...', first paragraph cites him as saying that 'Everton will need to be ready'.. which we know. So thanks for the pointless headline and non-story, really. I'm ready, anyway.. leastways I know I'll need to get my computer connection sorted to stream it.. that the same thing?
Mark Taylor
36
Posted 25/07/2017 at 18:11:35
When you start naming a team for what will be an important match for us, it does become apparent the extent we are missing quality/pace in the wide positions and the yawning gap with a proper goal-scoring forward.
To me the forward line looks slightly square pegs for the round holes. I hope Sandro eventually shows he can be that goal-scoring forward and that the likes of Lookman fulfil the promise they have shown and become established starters.
Andy Meighan
37
Posted 25/07/2017 at 19:33:34
Dave (#25),
How has Kenny earned the right to play there? Because the U23s won the Premier League 2? The first team is a massive step up and I've had this off a good source: Koeman doesn't fancy the kid.
I personally think the lad is a gem but mine or your opinions don't really count – it's down to the manager and the manager only. I'd love to see the lad feature this season because he's got that bit of devil in him that I love. But, going off this source, it's not going to happen.
Brian Wilkinson
38
Posted 25/07/2017 at 21:56:18
This team will sit back and be on the backfoot for most of the match.
I like the other Brian's line-up but would certainly start with Kenny at right-back, a bit tough to leave Tom Davies out of the team as well so they would be my two starters.
Other than that, I pretty much agree with other predicted line-ups by fellow posters.
James Watts
39
Posted 26/07/2017 at 00:51:59
Andy (#37).
If that's true about Kenny with Koeman not wanting to give him a chance, that's a black mark against him from me. Unfortunately, with his team selection against Genk in mind, I suspect you're right.
The kid has done everything asked of him and more. He's come on leaps and bounds and certainly deserves some game time. I'd much rather have him playing there sometimes over one or two of our other options. At least to start with anyway.
Drew O'Neall
40
Posted 26/07/2017 at 09:30:19
Just doing this for my own clarification but I think he should go with this:
Pickford
Martina
Williams
Keane
Baines
Barry
Schneiderlin
Klaassen
Sandro
Mirallas
Rooney
Davies, Gana and Lookman unlucky to miss out – what a squad (minus a centre-forward)!
Drew O'Neall
41
Posted 26/07/2017 at 09:33:30
Mark (#36),
Absolutely agree about the centre-forward. When you try to get the names on the sheet, you realise the last thing we should be doing is spending £50m on another centre-midfielder, unless we have another £100m floating about somewhere for a centre forward.
I do think we are waiting for some clubs 'above us' to make their moves before we see what opens up towards the end of the window.
Mike Berry
42
Posted 26/07/2017 at 15:10:14
He is a class act and many teams wanted him when at Southampton. With a pre season under his belt we will see the best of him and realize what a bargain we have.
Add Your Comments
In order to post a comment, you need to be logged in as a registered user of the site.
Or Sign up as a ToffeeWeb Member — it's free, takes just a few minutes and will allow you to post your comments on articles and Talking Points submissions across the site.