Barry on the verge of Baggies switch

103 Comments [Jump to last]
Tuesday 15 August 2017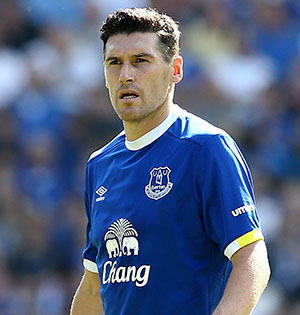 Updated
Gareth Barry could wrap up a move to West Bromwich Albion this week after undergoing a medical today.
The veteran midfielder was expected to recover from a minor ankle injury in time for next Monday's trip to Manchester City after missing the first leg against Hajduk Split but stepped up interest from Tony Pulis means he is set to leave Everton after four years at Goodison Park.
Barry, who missed the season opener against Stoke City at the weekend with the injury, is in line to pass Ryan Giggs as the player to have made the most Premier League appearances of all time this season and Blues boss Ronald Koeman admitted over the weekend that he would not stand in the 36-year-old's way if he needed to move to accomplish the feat.
With two new signings in his area of the park already through the door this year in the form of Davy Klaassen and Morgan Schneiderlin, plus the emergence of Tom Davies, Barry faces significant competition to get into the Everton team this season.
"It depends," the Dutchman told the Liverpool Echo when asked if he would consider selling or releasing Barry before the transfer deadline.
"If players are unhappy...
"Gareth is a great professional and I'm happy if he will stay but if he will like to move, OK, we will see what happens. I don't know.
"At the moment we don't have to make that decision."
There were reports late last night that Barry could undergo a medical with the Baggies as soon as today ahead of a proposed switch to The Hawthorns and that appears from sources to have been the case.
---
Reader Comments (103)
Note: the following content is not moderated or vetted by the site owners at the time of submission. Comments are the responsibility of the poster. Disclaimer
Franny Porter
1
Posted 14/08/2017 at 16:02:22
Bit off topic, but does anyone know if the UEFA game is being televised?
Ed Curry
2
Posted 14/08/2017 at 16:20:35
Just read that no one has picked up the rights to the match so atm it's not on Tele.
Karl Jones
3
Posted 14/08/2017 at 16:30:39
According to The Echo, BT are showing it Live. Can't find it in their schedules yet though. Maybe because there are still quite a few tickets left.
Nigel Munford
4
Posted 14/08/2017 at 17:26:14
Apparently no one has picked up on the TV rights for these two games.
David Pearl
5
Posted 14/08/2017 at 17:41:24
After the way we entertained in the last two games bidding is going to break all records.
I thought it was on lTV 4 Again
Karl Jones
6
Posted 14/08/2017 at 18:38:57
ITV 4 have the Womens Rugby WC Live At the time we kick off The last round has well and truly put them off!
Phil Sammon
7
Posted 14/08/2017 at 21:12:20
He's been a good player for us but it really depresses me when he trots on after 60 mins leaving younger players on the bench.
Max Murphy
8
Posted 14/08/2017 at 22:55:12
Franny, If it's not on normal TV, try the link http://www.usagoals.me/
If you can't get rid of all the little pop-ups, then there are other links available. I got all the British and Irish Lions games on this.
If you're not in the UK, you will need a VPN to change your IP address to a UK one.
Good luck
Laurie Hartley
9
Posted 15/08/2017 at 00:12:02
Barry, is one of my favourite Everton players of the last 10 years. As Koeman said in the interview he is "a great professional".
Hard as nails, calm with no histrionics (even when someone bites him), can pass the ball forward in an instant, and has a football brain.
I really hope he stays for another season. If we do have a run in Europe or the cups he will prove a very valuable member of the squad.
Charlie Lloyd
10
Posted 15/08/2017 at 00:41:42
Barry. Great pro. Wish he was 4 years younger.
Game time limited this season but I really hope he stays.
Andrew Keatley
11
Posted 15/08/2017 at 02:25:38
With Schneiderlin (amongst others) in disappointing form, I'd want Barry to stay (and play); he looked in great shape and form in pre-season, but his lack of game time in the first three games probably indicates that Koeman prefers his own signings.
I imagine he'd start significantly more games for West Brom, so would wish him well if he left. Has always seemed like the model professional in terms of effort etc.
Colin Metcalfe
12
Posted 15/08/2017 at 03:48:12
Let's hope we don't have to use him this season. In fact, a move to WBA would be best allround, a decent player in his day but he has been woeful over the last 2/3 seasons.
Jamie Sweet
13
Posted 15/08/2017 at 05:35:28
Woeful over the last 2/3 seasons Colin? Really? I'm not sure many will agree with you there.
He's only been with us 4 seasons, playing over 30 league games in each which is impressive in itself given his age.
I personally think he has more often than not been one of the best players on the park for us during that time, with only very occasional dips in form.
He has served us very well, and I hope he manages to beat Giggs's record whether it be for us or someone else.
Lee Brownlie
14
Posted 15/08/2017 at 05:42:38
Gareth Barry been woeful over the last 2/3 seasons? Bit too slow for us now, we simply need quicker against faster attacks... but woeful? Always a solid pro so I can't possibly agree with a comment like that!
Lee Brownlie
15
Posted 15/08/2017 at 05:57:34
Think some on here have started to think they should take a leaf out of Darren's book and 'say it like it is', ie talk negative.. . Nope, that's not saying it like it is at all, just picking out something 'contrary' to sound like you have something worthwhile to say!
Doesn't do it for me, sorry lads! As my dad always said, if you've got nothing good to say, don't fuckin' say it!!!
Colin Glassar
16
Posted 15/08/2017 at 08:44:51
Sounds like he's off to WBA for a nominal fee. Good luck Gareth and thanks for the memories. Personally, I'd have kept him for this season.
Geoff Williams
17
Posted 15/08/2017 at 09:31:35
What a loss he will be, he doesn't have the mobility of the other midfielders but his speed of thought and passing ability puts him head and shoulders above them.
Gary Edwards
18
Posted 15/08/2017 at 09:34:50
I'm with Andrew (#11) on this, i.e. I'd rather play Barry than Schneiderlin as regardless of Barry's form over the past 2 seasons he's still offered more than Schneiderlin.
Weren't WBA previously interested in Schneiderlin ? in the current market we should get our money back on him.

Keith Edmunds
20
Posted 15/08/2017 at 09:55:05
I don't want him to go. He still has a roll to play and can break the premier league record here.
Laurie Hartley
21
Posted 15/08/2017 at 09:56:34
Looks like he's off to West Brom - I am disappointed about this one. What would cheer me up is if we could bring Rondon the other way.
Franny Porter
22
Posted 15/08/2017 at 10:02:11
Cheers Max
Joe Clitherow
23
Posted 15/08/2017 at 10:18:42
Always sad to lose good players, always good to let them go before it is too late for everyone.
The facts are that a) I don't see much game time at all for Barry from now on and I wouldn't expect that to sit well with him; b) it has been clear that his value to the team is in slower paced games where he offers experience and 'game smarts' and Rooney demonstrated on Saturday that he can provide that and more; c) faster tempo games just pass Gareth by these days and it seems clear that the management wants our general play to be at a much higher tempo than the past two or three seasons.
Sad to say bye but the correct decision by the club to move the player on if he wants to play as I'm sure he does
Geoff Williams
24
Posted 15/08/2017 at 10:53:30
People's perception of players varies so much. Barry is accused of slowing the game down by some because he appears slow and cumbersome but his speed of thought and the sharpness of his pass sets him aside. I was always coached to believe the ball travels faster than a player.
He is also an excellent reader of a game and spots potential danger. Being proactive in those situations means he doesn't have to be as quick as a lesser player who has to react to danger. Where he struggles is when a player runs at him at speed but even then he's developed a strategy to nullify that. The yellow card.
He will be a huge loss to the club. I wish him well.
Kim Vivian
25
Posted 15/08/2017 at 10:53:44
I like Gazza a lot and was always a little saddened when he had a bad game. Can pass a ball, knows which direction the team is meant to be playing and contributes to a fair few goals. Always competitive as reflected in his card tally but he is well aware of his own limitations as time goes by.
I always thought he would wind down his playing days with us and then remain to contribute off the pitch. Don't know if he has his coaching badges but can see him moving into management at some time in the future. An intelligent and tactically aware footballer, and I look forward to him surpassing the most premier games record of Giggs. Only 5 to go I think - shame it will be with WBA not EFC, but there you go.
Best of luck for the future, Gaz.
Derek Knox
26
Posted 15/08/2017 at 10:54:09
I am sorry to see him go, because I think he is great reader of the game with vast experience, would have thought we could have accommodated him for another season.
However, with Koeman playing his favourites, there would possibly be not much game time for Gareth.
I do sincerely wish him all the best, should he go, and thank him for his time with us.
Sam Hoare
27
Posted 15/08/2017 at 10:55:51
Still our best DMC in terms of distribution and intelligence. I have been a little disappointed with Schneiderlin in this regard, especially of late.
Barry would definitely have a big role to play this season but fair enough if he wants to be starting day in day out while he still can. The guy has been very solid for us and is an extremely impressive professional.
For us moving forwards I hope that once he's more settled and got a bit fitter and stronger that Klaassen might play with either Schneiderlin or preferably Gana in that DMC roles as I think the Dutchman has the vision and intelligence to start moves quickly and incisively from deep. I think he will be a better box to box midfielder than an attacking playmaker where more might be expected in terms of pace and power and the ability to beat a man but time will tell.
Guy Hastings
28
Posted 15/08/2017 at 10:56:26
Shame to see him go - v astute buy on the part of WBA. That's them up for another season.
Chris Williams
29
Posted 15/08/2017 at 11:00:23
Shame if he goes, but understandable from his point of view.
If he leaves, followed by Barkley and McCarthy, we might ironically leave ourselves a bit short of PL experience in central midfield.
Good luck to you Gareth, you will be missed.
Tony Abrahams
30
Posted 15/08/2017 at 11:02:33
Good player, good pro, and one of the better footballers, I have seen in a royal blue shirt.
Got to be a good player if you are as slow as Gareth, and although I don't think he's good enough now for even a mid table side, I'm sure playing every week, might just help him to prove people wrong.
Good luck to him though because he's also a great competitor, doesn't lose many tackles, and can be a dirty fucker, if it means helping his team, and is quite possibly the main reason Pulis wants him?
Jon Withey
31
Posted 15/08/2017 at 11:05:33
Great player and a joy to watch.
Appreciate that we shouldn't stand in his way but it would've been good to have him in the squad.
Michael Lynch
32
Posted 15/08/2017 at 11:17:17
Bit slower than he was and a guaranteed yellow card in every game but, as others have said, can still pick out a pass better than anyone in our team bar the other "old man" Rooney. Surprised to see Koeman let him go to be honest.
Brent Stephens
33
Posted 15/08/2017 at 11:17:21
We got a few years' very good value from Barry. Always impressed by his coolness on the ball, his vision and awareness, and his ability to execute a pass. Oh for a younger version with pace.
There are some players that all Evertonians would wish the best at their future club, and if he does leave, then he gets best wishes from me (unless, of course, he's playing against...).
Stephen Davies
34
Posted 15/08/2017 at 11:17:55
At the moment Barry is better than Schneiderlin, who seems to have slumped since his marriage.
Barry is not the fastest player on the pitch but has the faster brain and can see a move or pass before almost anyone else on the pitch.
If he goes, good luck to him, while he has been at the club he has shown dignity off the pitch while demanding the best out of himself and team mates on the pitch.
Liam Reilly
35
Posted 15/08/2017 at 11:23:16
Comments such as "woeful" are way off the mark.
Top player and sound lad; sad to see him go. Definitely the Baggies gain and our loss.
Good luck Gareth.

Gareth Hughes
36
Posted 15/08/2017 at 11:28:37
Let's put this in perspective – at his peak for Everton, which was probably his first 2 seasons for us, Barry was superb. Certainly a far better player than his replacement, the woefully over rated Morgan Schneiderlin, has proven to be.
In fact Barry has probably been our best pound for pound signing since Nigel Martyn

Ken Buckley
37
Posted 15/08/2017 at 11:29:01
I have been a big fan of his since he joined us.
I just wish we could have been in a position to get him when he was 25.
Thanks for the memories Gaz
Best of luck and make sure you break the appearance record.
Stephen Brown
38
Posted 15/08/2017 at 11:51:57
Will be remembered as an excellent player who represented the blues with class!
Will get a big cheer from me when he returns with WBA!
Good luck
Peter Roberts
39
Posted 15/08/2017 at 12:32:45
Baggies is a good fit for him, back in Birmingham where he started, and they need a player in his mould having lost Fletcher to Stoke. Shame to lose him as he's been a model pro and a very astute signing by Martinez.
Colin Malone
40
Posted 15/08/2017 at 12:43:13
Woeful over the 2/3 season??? Unbelievable.
Class is what I have seen, got more guile in he's little toe than most defensive midfielders in the Premier League. I will be having a few drinks to celebrate him breaking Giggs's Premier League appearances record. Good luck, Barry Blue.
Andrew Keatley
41
Posted 15/08/2017 at 12:54:15
Wondered whether Brighton might have come in for him; local boy who started his career as a youth team player there before Villa nabbed him.
Trevor Peers
42
Posted 15/08/2017 at 13:07:08
Great player, intelligent footballer and a winner. Sorry to see him leave. Good luck Gareth.
James Stewart
43
Posted 15/08/2017 at 13:20:30
Makes sense for Barry, wish him well.
Slightly concerning that Schneiderlin has looked way off it to me.
Jay Harris
44
Posted 15/08/2017 at 13:29:25
Great reader of the game and good passing range too. Unfortunately time stands still for no man and he cannot be effective as a top 6 defensive MF player amymore.
I really hope he breaks Giggs record and does well at West Brom. A real model pro.
Tom Bowers
45
Posted 15/08/2017 at 13:29:31
A good left back who became an even better holding midfielder but age catches up with all of us and this could be his swansong. Had surprised me with what he had after joining Everton but like all 30 something defenders his tackling was getting a bit off.
Joseph Terrence
46
Posted 15/08/2017 at 13:33:04
Disappointed to see Barry go as I think he still has much to offer, particularly in the European games. As others have said, he has a first class footballing brain and it will be missed. Great servant and I wish Gareth the best.
James Welford
47
Posted 15/08/2017 at 13:35:02
I'll be sad if he goes. Was hoping he could stay one more season then move into a coaching role with us because of that footballing brain. I reckon he'll become quite the coachmanagerpundit.
What a career. What a pro.
May not be flashy but I'd rather have 1 Gareth Barry than 1 million Diego Costas.
Nick Armitage
48
Posted 15/08/2017 at 13:39:19
I've never been one to cheer on a snide - except when they play for us, and Barry is one of the best snides I have seen. However despite his awareness, his lack of pace does mean we defend a deeper line. He's been great for us though, sad to see him go.
Matt Williams
49
Posted 15/08/2017 at 13:41:53
Barry is a model professional, of that there is no doubt. What Everton needs definitely not.
Personally I will be glad to see the back of him. I don't buy into "he has great vision and is a wonderful passer of the ball". No doubt someone who knows all the stats will prove me wrong. But, sometimes when I've watched him I genuinely wonder if he's colour blind he gives the ball away that often.
He's slow and and can't tackle. He gives away a lot of fouls usually in dangerous areas and gets booked a lot. Apart from that I really like him.
Ajay Gopal
50
Posted 15/08/2017 at 13:52:26
Gareth Barry was one of the main reasons we achieved 5th place in Martinez' 1st season. One of the astute signings by RM - initially on loan from Man City and then permanently. A great player and pro to have in your side, I wish all the very best. All managers seem to like to have a senior pro with a winner's mentality in their side -
Moyes had his Phil Neville, Martinez had Gareth Barry and now Koeman's got Rooney. Can't argue with any of that.
David Pearl
51
Posted 15/08/2017 at 14:30:19
I'm really disappointed in Barry leaving. Far and away our best all around midfielder. Too many who are not as educated on tactics as they think they are use his age as an excuse while they fail to see the covering he does, how he reads the game... the passes he makes makes. He makes us tick a lot better if he is on the field. If we play with 2 runners in Davies and Gana plus a holding/covering midfielder in Schneiderlin we are relying on our full backs and front 4 to create our goals. We are short on quality going forward. 1-0 to the Everton a lot this season.
Paul Kossoff
52
Posted 15/08/2017 at 15:14:17
Barry,s just signed for WBA! Another one gone, and we aren't replacing enough of them.
Squad needs players in, he won't be the last out!
Brian Cleveland
53
Posted 15/08/2017 at 15:29:07
Agree with the sentiments that Barry has been a good solid player for us. He doesn't slow the game down at all really, he's just so cool on the ball it looks that way. He just doesn't panic, which cannot be perceived as slowing it down. I'd like to see him stay and break that record while he is with us. Consummate professional and still has things to offer.
Schneiderlin is still in honeymoon mode it seems, he looks shagged out and high on luvvvvvvvvvv at the moment, the football is secondary...
Mike Gaynes
54
Posted 15/08/2017 at 16:14:41
I'm very disappointed as well. He's been outstanding and is still a class influence, and we will miss him. Big mistake to let him go in my book.
Kevin Tully
55
Posted 15/08/2017 at 16:18:31
Nice lad, good footballer, wouldn't even get into the second eleven at Arsenal. Let's hope we see the back of a few more journeymen and some exciting signings coming through the door before the end of the window. We're not a charity...although sometimes, I do wonder.
Mike Green
56
Posted 15/08/2017 at 16:20:30
Great player and pro, transformed my opinion of him very quickly once he came to us and shame he didn't have a few more years in his side. Wish him the best of luck notching up some more top flight appearances before the sun sets on his career. Class act.
Martin Reppion
57
Posted 15/08/2017 at 16:21:57
I'm sure its all been said, but why not?
When we signed Gareth Barry I was a bit underwhelmed.
I was wrong.
He has done a sound job, making up for the deceptive pace (he's slower than he looks) with speed of thought and experience.
Its now time for him to move on. He wants to end his career being a big fish in a smaller pond. Not warming the bench, or more likely the directors box seats, week in week out. We have a plethora of midfield players both experienced and youthful. We won't be short of cover in that area of the park.
If He decides to move into coaching I would love to see him come back. But meanwhile, let him enjoy a swansong. And when he visits with the Baggies, give him the welcome a solid, dependable ex blue deserves.
Mike Berry
58
Posted 15/08/2017 at 16:27:16
A solid pro and very good footballer but at 36 we have to be realistic, wish him well and move on.
Ronald said he would have to trim the squad with loans and transfers and that before the wanted "3" signings have arrived.
Dermot Byrne
59
Posted 15/08/2017 at 16:30:21
John G Davies
60
Posted 15/08/2017 at 16:32:13
Great professional.
Wish him nothing but the very best.
Paul Hughes
61
Posted 15/08/2017 at 16:34:41
Great player, I wish him well, and will welcome him back when we play the Baggies
Charlie Lloyd
62
Posted 15/08/2017 at 16:37:59
Good solid pro.
Not a starter but as a squad member still had a part to play. You can understand him wanting to play first team football more though but that's to our detriment.
So McCarthy and Besic step up the pecking order. Hope they stay fit.
Phil Walling
63
Posted 15/08/2017 at 16:43:35
I think most of us would want to be away if we were midfielders seeing what's coming in as replacements. Hardly a decent midfielder left with Barry gone, Barkley here in name only, Cleverley written off and Macca always injured.
John G Davies
64
Posted 15/08/2017 at 16:45:35
Crap that Gana.
Tom Davies? Pffffff
Steavey Buckley
65
Posted 15/08/2017 at 16:46:47
Everton have swopped Barry for another player (Schneiderlin) who also plays far too deep for my liking. No wonder Everton are not asserting themselves in midfield, which Koeman appears not to notice.
Dean Johnson
66
Posted 15/08/2017 at 16:47:19
Garry Barry we will miss you. We had you too late in your career but man you've shown us your class frequently. Not the quickest but one of the best premiership midfielders who was cruelly overlooked for England, like Micheal Carrick in favour of the media darlings who could never play together.
Good Luck Gareth, a true pro
Gordon Roberts
67
Posted 15/08/2017 at 16:50:54
Fantastic to read all the plaudits being lauded on here for Gareth Barry, fully deserved. Makes a change from the all the crap being thrown his way on ToffeeWeb whenever he had a poor game. Short memories!!
Ron Sear
68
Posted 15/08/2017 at 16:56:32
There goes the safety net, the one player you could bring on when a game was getting frantic, we were only one goal to the good, the opposition was getting closer to scoring and Everton were rushing around in a state of panic.
Dave Evans
69
Posted 15/08/2017 at 17:00:36
Came to us in the twilight of his career but always gave of his best. In some games he was the most positive player we had. The Baggies have bought an example of a great professional. Wish him well.
Phil Head
70
Posted 15/08/2017 at 17:04:33
Like we don't have enough positions to fill already this summer, lets go and give away 1 of only two players that can perform in his position, inspired management that.

Add to that the complete waste of money in buying 3 players that all and can only, play in the number 10 position, not replacing Lukaku, covering neither of the wide attacking positions, not buying an adequate replacements for Coleman, Funes Mori or Baines and now we need competition for Schneiderlin, who lets face it, has been simply dreadful in the last few games.

I'm beginning to wonder whether Koeman's on Liverpool's payroll, with a special assignment to get us bankrupt and relegated. He's doing a bloody good job! The deep lying playmaker position is probably the hardest position to fill in football, so to offer Barry to a rival, is suicide.
David Currie
71
Posted 15/08/2017 at 17:10:43
Good solid player and the right time for him to move on and play more games.
Arild Andersen
72
Posted 15/08/2017 at 17:11:25
Sad to see him go. Always liked him, an honest professional whose experience is valuable. I thought he would be needed with the (hopefully) extra matches, but I guess it means more Besic and McCarthy, if he can get fit.
Brian Abbsey
73
Posted 15/08/2017 at 17:21:51
Great player to have in the squad and I'll be miffed to see him go. I always felt we looked more dependable with him on the field. 'Woeful over the past three years' is a frigging despicable comment. Does anyone else sometimes wonder about the mentality of some of the posters on here.
I can only wish Gareth all the best for the future. WBA looks like a perfect fit.
Brent Stephens
74
Posted 15/08/2017 at 17:25:53
I think one of the reasons I, and maybe others, like Barry so much, despite his only being with us a few years, is not just his football intelligence, but the fact that he's an unassuming guy. Would that the rest were like that. Not many players with us for such a short period who work their way into the appreciation of the fans.
Amit Vithlani
75
Posted 15/08/2017 at 17:27:35
Sad to see him go, but hopeful that this is room made for a younger player.
Wanted to say more, but must respect the word count.
Brent Stephens
76
Posted 15/08/2017 at 17:30:21
Amit, you do go on! But I read that all the way to the end. Agree with all you say. A well-developed argument.
Barry McNally
77
Posted 15/08/2017 at 17:33:28
A class act - no doubt he'll break the appearance record now but pity it wasn't in blue.
Don Alexander
78
Posted 15/08/2017 at 17:35:37
No fault of Barry's, a good player in his prime, but he's well down the slope to the end of his playing days and it shows. I'm just curious as to why he was awarded his very recent new contract by the Blues. Are we looking for a fee?
Andy Meighan
79
Posted 15/08/2017 at 17:36:23
If Martinez got one thing right, it was signing Barry. He's been a great servant and still one of the best midfielders we have at the club.
And what's all this shite about Schneiderlin's marriage affecting his game? The biggest load of bollocks I've heard in my life. You're either a good player or you're not. I'll say this though: I bet his is the first name on the sheet for the Split game.
Paul Thompson
80
Posted 15/08/2017 at 17:46:13
Like many blues was won over watching Gareth week in, week out. Such an intelligent, skilful player. He was well thought of at City. He will soon overtake Giggs in most PL appearances and I for one will applaud a great achievement by a genuine pro and likeable, modest guy.
Eddie Dunn
81
Posted 15/08/2017 at 18:00:54
Barry has been a solid performer for us, his longevity in the modern era shows that he has looked after himself and despite slowing down, his range of passing, his vision and his ability to take "one for the team" shows just how important he has been.
Good luck Gareth, and thankyou.
We are endowed with plenty of midfielders at present, so perhaps someone had to go.
Denis Richardson
82
Posted 15/08/2017 at 18:07:51
Wish him well at WBA, he's been a good servant but time to move on as he approaches his 37th b'day.
Gordon Crawford
83
Posted 15/08/2017 at 18:08:53
Great player on his day. Sadly he isn't getting any younger. He'll be missed. All the best Barry, thanks for the great service.
Will Mabon
84
Posted 15/08/2017 at 18:15:15
Been basically at or around the top level all through most all of his career. The number of appearances at Premier League clubs says enough itself.
Perhaps Barry himself has wisely spotted the pass early by recognizing the best type of team for the player he is at this stage of his career.
Best of luck to him. Full of the qualities that were once highly prized in a British player. The game record is now his, and well deserved.
Amit Vithlani
85
Posted 15/08/2017 at 18:22:58
Thanks Brent at 75. I took some Imodium earlier. Now I have writer's block. Whilst it stopped my verbal diarrhoea, my vocabulary is rather constipated.
Andy Crooks
86
Posted 15/08/2017 at 18:23:14
I like and admire him but Everton don't have good " servants," we have very well paid players.
Phil (Kelsall) Roberts
87
Posted 15/08/2017 at 18:25:30
Gareth Hughes #36 - he is better value than Nigel Martyn.
Martyn cost us £500k and Barry was a free signing.
So he has to be better value because he cost nothing and so pound for pound, dividing anything by zero gives infinity and that is a higher number than dividing by 500,000.
Pedant, me? Never :-)
Will Mabon
88
Posted 15/08/2017 at 18:40:20
Phil, you forgot to factor in wages, club operating costs by duration at club, effect on team success, resale and fifty other things. No pedant badge for you.
Brent Stephens
89
Posted 15/08/2017 at 18:47:22
No shit, Amit?!
Lee Courtliff
90
Posted 15/08/2017 at 19:04:41
I thought Barry was signed for £2.5M? He was out of contract but the deal was that if we wanted to keep him after the loan spell we had to pay an agreed amount.
Good luck to him, fine player and a great career.
Colin Glassar
91
Posted 15/08/2017 at 19:07:07
I'd have kept I'm for another season while the new/young players settle in. Barry could've played in the early cup rounds. Stupid move imo.
Dave Ganley
92
Posted 15/08/2017 at 19:23:04
Shame really but I understand why he's going and I think it's good of the club to let him go as he wants regular first team football not a bit part from the bench. He has been a good player for us and I just wish we had him when he was in his mid 20s. I think he will do a good job for the baggies who's main priority is consolidating in the premier league, not for a team that's looking to compete at the top table. Good luck Gareth and I'm sure we'll all give you a good welcome when you come back.
Paul Holmes
93
Posted 15/08/2017 at 19:28:10
Gareth Barry needs moving on, Everton is not a retirement home (Hibbert and Osman an example). Free his wage packet up for the young lads coming through.

Barry would not get in any of the top six so why should he stay and hold us back. Good luck to him at West Brom and maybe Leeds or Sunderland thereafter!
Julian Exshaw
94
Posted 15/08/2017 at 19:29:38
I wasn't his biggest fan at first, but I have grown to really admire and respect him. In the vast majority of games, we were better when he was present. I am not convinced (yet) by those in his position but time will tell. Good luck GB!
Jack Convery
95
Posted 15/08/2017 at 19:31:36
A model professional, who EFC should have bought a lont time ago. Always thought of him as an EFC type player.
He's given his all since signing, when it could have been seen on his part as a last pay day.
I wish him luck and a decent end to his fine career.
A pity he won't beat the Prem record for appearances with us but his need for first team football is commendable.
Rick Pattinson
96
Posted 15/08/2017 at 19:37:57
Great pro. Would've liked to see him go back to villa and help them out.
Peter Gorman
97
Posted 15/08/2017 at 19:44:15
So much garbage written above about the man.
Barry has been a great pro for us and it was a pleasure watching him for a spell. Now he can only be a bit-part player for us so if he wants to go, good for him, he will always be welcome back to the club.
I hope he does go and play many more games for Brom and in doing so smash the record for most Premier League appearances
Christy Ring
98
Posted 15/08/2017 at 19:50:44
A model pro, who has been a great servant for the last 4 years. Wish him well, and delighted to see him get a final swansong at Albion.
Frank Sheppard
99
Posted 15/08/2017 at 19:52:01
Good Luck to him, he did more than very well for us
Frank Wade
100
Posted 15/08/2017 at 20:11:58
Transfer confirmed on official site now. Good luck Gareth. Thanks for your excellent contribution. Once a Blue !
Mike Allison
101
Posted 15/08/2017 at 20:13:19
Yeah good luck, he's been fantastic for us, unbelievable really. A player you don't appreciate until watching him closely for your own team.
Radio 5 have just announced both this and the Sigurdsson deal (fee agreed) with loose ends tied up tomorrow.
Kevin Jones
102
Posted 15/08/2017 at 20:22:45
When where rumoured to be signing Gareth I actually put on here, hangs head in shame, I'd pay him 100 Grand a week to stay away. How wrong was I, his first touch was a left foot out to the wing inch perfect to someone feet, and I thought then whata mistakea to makea. Good luck to the man, also think he'll make a great coach or manager.
Duncan McDine
103
Posted 15/08/2017 at 20:31:13
Big fan of Gareth Barry. I hope he can play a part for West Brom this season. Best of luck fella
Dave Abrahams
104
Posted 15/08/2017 at 20:34:43
Gareth was a thorough professional who steadied Everton when he first came and he always gave his best, tantrums, unassuming, great player to have and although he is past his best, he would have been useful as the season wore on.
All the best Gareth,mope you have a good spell with WBA.
Add Your Comments
In order to post a comment, you need to be logged in as a registered user of the site.
Or Sign up as a ToffeeWeb Member — it's free, takes just a few minutes and will allow you to post your comments on articles and Talking Points submissions across the site.