Sandro a doubt for Hajduk visit

60 Comments [Jump to last]
Wednesday 16 August 2017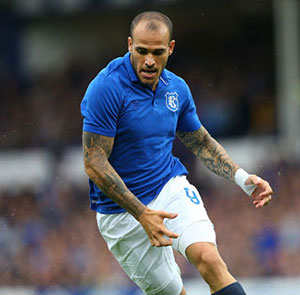 Sandro Ramirez could miss the first leg of Everton's Europa League playoff against Hajduk Split with an injury picked up against Stoke.
The Spaniard took a knock early in the match but was able to continue until he was substituted with 13 minutes to go in the Blues' opening-day victory.
Sandro grimaced as he left the field and Ronald Koeman told the media at his pre-match press conference today that the striker is a doubt for the first leg against Croatians.
It leaves the Dutchman, who said he still expects to sign more players once Gylfi Sigurdsson's acquisition from Swansea City is confirmed, short on options up front while he openly seeks reinforcements in that department following the sale of Romelu Lukaku to Manchester United last month.
Dominic Calvert-Lewin, Wayne Rooney and Kevin Mirallas are his three fit striking options, all three of whom were involved against the Potters on Saturday.
Additionally, James McCarthy is ruled out once more as he continues to battle a knee injury. The Irish midfielder has been sidelined for the past few weeks but has been included in his country's provisional squad for the next round of international fixtures at the start of next month.
"We have some problems," Koeman admitted. "James McCarthy is out with a knock on his knee. Sandro Ramirez is doubtful for tomorrow.
"We have 17 [out]field players but it's enough for tomorrow. Of course, we need more because everybody knows we have really a tough 11 days coming up."
---
Reader Comments (60)
Note: the following content is not moderated or vetted by the site owners at the time of submission. Comments are the responsibility of the poster. Disclaimer
Ajay Gopal
1
Posted 16/08/2017 at 15:51:10
Oh-huh, not good, but we should have enough firepower in Rooney, Mirallas, Lookman, DCL to get 2 goals at least. The key is not to concede any goals at home. So, 2-0 it is - Lookman and Keane the scorers.
Mike Gaynes
2
Posted 16/08/2017 at 15:53:25
Disappointing. And a perfect illustration of why we need to get a quality striker in the door.
Brian Harrison
3
Posted 16/08/2017 at 15:55:13
Guess it will have to be a 3 at the back and 7 in midfield because we don't have any back up strikers. Surely not back to Wayne as the main striker those days have long since passed, so we may see DCL in his best position. Certainly Mirallas isn't the answer either.
Alan J Thompson
4
Posted 16/08/2017 at 16:00:52
Niasse to the rescue!
Jay Harris
5
Posted 16/08/2017 at 16:00:59
Mirallas currently is our best proven goalscorer and should be given a decent run out. I would also play Lookman and DCL as a front three with Gana, Davies and Klaasen in MF. I would also give jonjoe a run out with Jags Keane and Baines making up the back four.
Give Rooney and Scneiderlin a rest before Monday and just go balls out for goals.
David Morgan
6
Posted 16/08/2017 at 16:07:58
Go get Dowell back before the window closes and give him a chance. Europa league is perfect for players like him and he has already made an impact at Forest. I suppose Lookman can fill in, if he gets sent out on loan too, I would be disappointed.
Chris James
7
Posted 16/08/2017 at 16:16:36
I'm with you David, I know it's super early but I have a sneaking suspicion Dowell's going to be a megastar. Looks a bit like Barkley with a quicker brain! ;-)
I also wonder if we should be giving Niasse a chance - we're obviously not going to shift him easily, especially if he's not playing and he could surely be a different option from the bench whilst we're searching for strikers
Dermot Byrne
8
Posted 16/08/2017 at 16:22:52
This won't be a huge prob. We will win handsomely because we are not on TV!
Terry White
9
Posted 16/08/2017 at 16:28:38
David (#6) and Chris (#7), just how do we "go get Dowell back" from his season-long loan?
Stephen Brown
10
Posted 16/08/2017 at 16:31:48
Niasse should be on the bench at least. He's being paid handsomely and will put him in the shop window if he comes on!
Pickford
Kenny Williams Keane Baines
Gana Davies
Lookman Klaassen Mirallas
Calvert-Lewin
Rooney to come off bench if necessary!
Kim Vivian
11
Posted 16/08/2017 at 16:34:17
Are we DEFINITELY not on TV. Ridiculous. That's what I signed up for. BT supposed to show all European ties aren't they?
Karl Jones
12
Posted 16/08/2017 at 16:40:03
BT is just an extension of LFC TV...All they do is make sarcastic comments about Everton..David James, Gerrard, McManaman, Owen..Why would they show Everton?
Derek Knox
13
Posted 16/08/2017 at 16:43:44
Kim @ 11, I am as confused as you are, yet they covered both legs of the Rozumberok tie. (ITV4)
I could have possibly understood no coverage of that one, because I think most people have heard of Hajduk, if only for the wrong reasons, but nevertheless a higher profile than Rozumberok.
I know we are not media darlings, but with the player's we have signed, and hopefully Siggy paraded in front of the fans, there would have been genuine interest.
Baffling!

Brendan Fox
14
Posted 16/08/2017 at 17:13:07
Hopefully Sandro gets passed fit tomorrow, if not then I think Koeman will likely go with Mirallas wide right or left with DCL up top and Rooney in the hole.
If Sandro doesn't make it then I would like Koeman to give Lookman some decent game time in as I think the lad has genuine class about him and is very quick to boot which would not make the team look so slow getting the ball up through or over the top for him to chase onto. Genuine pace with technical ability scares the s**t out of defenders!
Mike Gaynes
15
Posted 16/08/2017 at 17:15:17
Brendan #14, AMEN!
Joe McMahon
16
Posted 16/08/2017 at 17:15:55
Guys, maybe it's not being shown even on ITV 14+1 because Everton are not exactly aesthetically pleasing to watch.
As for Sandro, just one game into the season and already the injuries starting. Players loaned out that shouldn't have been and replacing last seasons goal machine with .
Still at least the Bramley Moore Dock update will be on 1st September.
Bill Griffiths
17
Posted 16/08/2017 at 17:23:09
Surely he has to give Lookman some game time soon.
He's not going to learn anything just sat on the bench game after game.
If he's not going to use him he would be better off going on loan.
Frank Wade
18
Posted 16/08/2017 at 17:28:58
Terry 9, usually loans can be recalled up until end of transfer window.
McCarthy injury a surprise. Who's fault is it this time?
JonJoe Kenny wasn't in the u21 squad last night, so maybe he'll get a game on Thursday and the way Koeman's selections have been going, it could even be up front !
I wouldn't propose resting Rooney for this game, a far more important game for the club than the Man City game. Actually, best to play the u21s at City.
I assume the deadline for Europa registration is long past and Sigurdsson won't be eligible tomorrow.
Brian Harrison
19
Posted 16/08/2017 at 17:38:56
Lets hope he does give Lookman a start whether Sandro is fit or not.
Jay Harris suggests Kevin Mirallas is our next best proven goalscorer and should play him if Sandro isn't fit. Well Jay in 2015/16 season Mirallas played 23 league games and scored 4 goals and 2016/17 season he played 35 league games and scored 4 goals.
You say he should be given a decent run out well I think 23 and 35 league games in 2 seasons for a paltry 8 goals to me suggests that he has been given plenty of chances. And the stats show his goal return is very poor. Playing someone with such a poor goals return is the reason why for the past 2 seasons our goal returns from everybody other than Lukaku has been diabolical. And unless we remedy this quickly our chances of challenging breaking into the top 6 are slim.
Ray Roche
20
Posted 16/08/2017 at 17:45:03
The game is being shown on the Everton Youtube site. It's on the Everton Official website now.
Kim Vivian
21
Posted 16/08/2017 at 17:45:26
I see BT sport 1 are scheduled to be showing live WTA tennis front 2.00 til gone midnight. That can't be fkn right surely - expect our game to slot in there (he says hopefully).
Tony Everan
22
Posted 16/08/2017 at 17:50:25
If Sandro injured on Thursday..
Calvert-Lewin
Rooney, Klaassen, Schneiderlin, Gana, Davies
Baines, Keane, Jagielka, Martina
Pickford
Subs: Mirallas, Williams, Lookman, Kenny.
Brendan Fox
23
Posted 16/08/2017 at 17:53:58
I hope Koeman does give Lookman game time whether or not Sandro is passed fit but just have this niggling doubt that Koeman just is too pragmatic and will go with what he sees as a safer choice in Mirallas if Sandro is not passed fit. This would be a big mistake in my eyes as we need to take it to the Hajduk Split tomorrow to try and take as much of an advantage as possible for the return leg.
If DCL does play up top which looks the better fit for him given the 2nd half against Stoke and grabbing the only goal against Ruzomberok at their place then the better fit to replace Sandro would be in my opinion is Lookman.
Two reasons for this firstly as Brian @ 19 has pointed out that Mirallas has had plenty of game time over the past two seasons with a poor goal return. Secondly Lookman played plenty of minutes with DCL in the U20 World Cup so their understanding of each others natural game is going to be much better which would benefit the team more.
I hope I am eating humble pie tomorrow when I tune in to hopefully watch the game to see Koeman is going for broke but I just think the natural defender in him will be to play it safe and go for KITAP1 ALA Dreary Dave...
Will Mabon
24
Posted 16/08/2017 at 17:55:02
Brian, 19:
I agree, and I'm hoping there's something going on in the background that we aren't yet aware of; surely there is? We're massively short of firepower and it will really start to show fast as we get into the season.
Jeff Armstrong
25
Posted 16/08/2017 at 18:27:33
Injuries...the thing Koeman seemed to have forgotten about up front, .just cos Lukaku played every game doesn't go for all strikers Ronald!
He's left us woefully short up front, Lukaku Valencia,Kone (ahem) replaced by an one unproven in the Premier league forward, Koeman has ballsed up once again .
Sigurdssen at £45 million,just can't get exited about this one,I was more interested when we got Delefeuo for £4 million tbh.
John Mckay
26
Posted 16/08/2017 at 18:28:41
Just to let you all know if haven't already seen game tomorrow night will be live on YouTube/Everton

David Cooling
27
Posted 16/08/2017 at 18:34:09
I hope Koeman freshens it up tomorrow night. I would like to see this line up.
Pickford
Kenny
Keane
Williams
Connolly
Davies
Besic
Gana
Lookman
DCL
Mirallas
I don't think koeman will go down this route, I'd also like to see Niasse on the bench, we need goal scorers he's surely worth a crack, again this is unlikely. We desperately need different variations instead of signing players who play the no.10 role. There's a lot of games to play so other players need to be given opportunities.
Sam Hoare
28
Posted 16/08/2017 at 18:35:50
An unbalanced squad, very heavy in the middle and low on striking options and wide quality.
DCL may become a star but he's very raw currently. Rooney is not a frontline striker as I see it.
Kim Vivian
29
Posted 16/08/2017 at 18:43:49
John - is that free streaming?
Brian Porter
30
Posted 16/08/2017 at 18:59:07
Could see he was limping when he came off on Saturday. BBC Sport says the game is live on BT Sport
Simon Bradley
31
Posted 16/08/2017 at 18:59:25
Striker needed. We all know that, and Koeman certainly knows that. And we will get one before the window closes, I'm 100% sure.
Who, nobody knows. And I agree with others we should have enough firepower (just) to handle this first leg.
Gareth Clark
32
Posted 16/08/2017 at 19:03:14
Pickford
Cuco Keane Jagielka Baines
Idrissa Schneiderlin Davies
Mirallas Rooney
Calvert-Lewin
Stek, Williams, Holgate, Kenny, Besic, Klaassen, Lookman

Sigurdsson in
Blind in
Dolberg in

David Booth
33
Posted 16/08/2017 at 19:05:18
I accept I am going to be a bit out on a limb here, but has it occurred to anyone else what a good - and often spectacular - finisher Mirallas is when inside the area?
Instead, we dump him out on the wing, start him from the bench, or hook him off before anyone else after 60 minutes.
As we remain without a main striker, and have Sandro doubtful, why not play Calvert-Lewin up top (not on the wing again Koeman, for god's sake...), with Mirallas, and the the default setting of Klaassen, Rooney, Gueye and Schneiderlin across the midfield?
Mirallas is not a winger, and neither is DCL, so play them in their proper positions and give the Hajduk defenders something to think about and get some much-needed movement up front.
Robin Cannon
34
Posted 16/08/2017 at 19:07:05
Good move on the Youtube broadcast.
After the pain of earlier pre-season friendlies, the broadcast on Facebook of the Sevilla game was excellent. I think a move to just using existing platforms, rather than trying to put together their own video platform on the website, is a much better approach.
David Cooling
35
Posted 16/08/2017 at 19:08:58
He needs to work out what formation suits us best, this 3 at the back doesn't work, also schniderlin and gana in midfield, limits what we can do in attack
Brendan Fox
36
Posted 16/08/2017 at 19:30:29
My prediction for the side for tomorrow:
Koeman's 11 in a 4-5-1:
Pickford (GK)
Martina (RB/CB/LB)
Keane (RCB)
Jags (LCB)
Baines (LB)
Schneiderlin (DM)
Gueye (DM)
DCL (RM)
Mirallas/Sandro (LM)
Klaassen (ACM)
Rooney (CF)
Bench:
Stek (GK)
Holgate (RB/CB)
Besic (MF)/Mirallas (LCF)
Davies (MF)
Lookman (LW/RW/ST)
The 11 I'd go for as a interchangable 4-4-2 or 4-3-3:
Pickford (GK)
Kenny (RB)
Keane (RCB)
Jags (LCB)
Baines (LB)
Gueye (DM)
Davies (RM)
Klaassen (LM)
Rooney (ACM/ST)
DCL (RCF)
Sandro/Lookman (LCF)
Bench:
Stek (GK)
Holgate (CB)
Martina (RB/CB/LB)
Besic (MF)
Lookman/Mirallas (ACM/LCF)
No room in my squad for Schneiderlin ATM as I think he is so out of form, looks lethargic with virtually no forward pass being played by him in any of the games I've seen him play slowing play down that goes through him. Besic gets picked in Schnieds place as he brings more energy, better in the air and more creativity going forward and can cover a number of positions.

Jeff Armstrong
37
Posted 16/08/2017 at 19:37:11
The Schneiderlin - Gana defensive mid partnership will not change anytime soon, no matter who we play or whether we are at home or away from home. For Koeman to change these two would mean having to come up with an alternative, and I don't think Koeman has the nous to do this.
Instead , in front of those two it will be the usual alternates of Rooney, Mirallas, Calvert-Lewin, Sandro, Davies with a bit of Lookman thrown in. I think Klaassen will be the odd man out once Sigurdsson is match fit.
Eddie Dunn
38
Posted 16/08/2017 at 19:41:30
David Booth- good shout!
Clive Rogers
39
Posted 16/08/2017 at 19:52:10
Brendan, 36,
Besic more creative? In his time at EFC, he has zero goals and zero assists. What he is really good at is hacking people down just outside the box.
Len Hawkins
40
Posted 16/08/2017 at 19:55:14
I get the distinct impression that Jeff Armstrong doesn't like Koeman.
Jay Harris
41
Posted 16/08/2017 at 19:59:32
Brian,
That may well be the case but who out of those available has scored more than Mirallas and I am sure most of the appearances you mention were as a sub in some cases coming on for the last few minutes.
Mike Gaynes
42
Posted 16/08/2017 at 20:09:11
Clive #39, you beat me to it. And the idea that the 5'9" Besic is better in the air... that's pretty far off too.
Tony Everan
43
Posted 16/08/2017 at 20:12:58
Koeman will be demanding a clean sheet tomorrow , with a couple of goals for us. There is a goal in DCL tomorrow and one from midfield.
I am not expecting fireworks , more like Ruzemberok+
Lenny Kingman
44
Posted 16/08/2017 at 20:22:51
Its not all bad news about Sandro. Its thought he would be better served defending the Street end when the Split fans come looking for some action.
Raymond Fox
45
Posted 16/08/2017 at 20:38:13
We should go all out to win this comp.
or
put players in the team who need experience and playing time.
Not a great fan of the comp. I admit, because if were not careful we will find ourselves falling between two stools.
It will impinge on our League performances if we pick our top players for both Europa and the League.
Depends where you personally rate them, but its London to an onion that we wont do brilliant in both!

Brendan Fox
46
Posted 16/08/2017 at 20:42:24
Clive @ 39 by creative I meant in the little time Mo has played he tries to be positive in playing the ball forward, Schneiderlin so far this season and for a large chunk of last season is forever playing short sidewards or back passes often putting the player receiving the pass under pressure.
Can anyone say they've actually seen Besic with a run of games under his belt for us? No is the answer to that being as he has been seriously unlucky with some serious long term injuries.
Schneiderlin is currently bang out of form so why not try Besic in his place and give him a chance to prove whether he has a future, if he doesn't play well in the next few games get shot in this transfer window.
Let Schneiderlin earn his place back by working harder and finding some form.
Another reason and dynamic is that Besic being Serbian would be extra keen to get one over the Croatians which should not be underestimated.
Mike @ 39 Besic has played CB for a number of teams in the past so must despite his height have a good spring in his step much like Timmy Cahill did despite only being a similar height.
Mike Gaynes
47
Posted 16/08/2017 at 21:04:52
Brendan, Besic has made 48 appearances for us, we've seen all we need to. And given his proclivity for flying in on tackles, the last place in the world we want him to be "extra keen" is against the Croatians. Unless Koeman has a strategy to win with 10.
As for Schneiderlin "working harder"... against Stoke he had the best all-round defensive performance of any midfielder in the Prem, with five tackles, six interceptions and eight recoveries. Certainly a bit out of form right now, but there's no lack of industry.
Andy Crooks
48
Posted 16/08/2017 at 21:14:42
David Booth, in my view your are correct. Mirallas is a good finisher who will get goals if he is not stuck out wide. He can be a revelation if played in the right role. Koeman worries me, in what I see, as the Moyes and Martinez trait of shoehorning favourites into the team.
Tony Abrahams
49
Posted 16/08/2017 at 21:23:53
I'm not sure I've seen alls that I need to with Besic, Mike. He has had a very stop, start career at Everton, but I've seen him produce moments of real quality, alongside the moments when he loses his head.
You might be right, but I would prefer to see him get a run in the side, before I could give such a view. I'm not sure if this will ever happen, but for me at least, I do see some things in Besic, that I like to see in a football player.
Onto Schniederlin, who looks like he's playing in 2nd gear? I like him, the starting positions that he takes up show real intelligence, and I love the way he creeps up on his opponents blind-side to easily disposses them, but he does seem very laboured when he's in possession of the football at the minute?
Mike, I promised you a present when you arrived in England, don't curse me I haven't forgot, and as soon as I bump into this Everton legend, your surprise will be on its way. Honest, I've got 3 year old twins, and they run me into the ground, bear with me mate! And give Mohamed a chance!!!
Brendan Fox
50
Posted 16/08/2017 at 21:55:16
Mike @ 47 I appreciate Besic has played 48 games most have been as a sub not always in his best position and certainly no competitive appearances under Koeman.
From what I've seen of Schneiderlin this season he generally patrols an area 5-10 yards in front of the defenders, rarely goes over the halfway line and mops up with interceptions or tackles usually from all the running around and pressing from either Gueye or Davies but hasn't showed any endeavor going forward.
Whose to say Besic could not do exactly what Morgan is doing ATM without being given the chance to prove himself. Morgan to date has been all slow sideways or backwards passes, putting other players under pressure by playing the safe ball,hence the very slow
and ponderous play. Besic distribution from what I have seen in the games he has played is generally him trying to be positive so why not see what he can do in the current team (not judging how he played in the Martinez systems) before passing judgement.
The lad is 24 has over 3 years on his current contract so all I am saying is let's see what he could bring to the current team instead of judging his previous displays under a totally different manager and system. He was after all trying to play as a defensive midfielder under Martinez where he was always generally chasing back or shadows which is where his "proclivity" to slide into challenges has happened.
If Besic doesn't cut the mustard when given a fair crack to show what he can bring to the team he's surplus to requirements and be sent on loan or sold and I'll happily admit I was wrong about him.
Jeff Armstrong
51
Posted 16/08/2017 at 22:05:22
I agree with Brendan, this is exactly the type of game where Besic should be given game time for the woefully out of form Schneiderlin,
he was excellent when he first came in January but currently does not deserve his place in the team,drop him and give the place to someone who can carry the ball forward and actually pass it forwards too.
This competition and this point in the season is when Koeman should be experimenting to find his best formation. Let's be honest, a few changes like Besic and Kenny would surely be an improvement on the last 3 turgid displays.
Kenn Crawford
52
Posted 16/08/2017 at 22:34:57
Glad to see there are so many EPL managers amongst our ranks. we should be ok after our current boss gets the sack for not having a clue at what he is doing.
(sarcasm)
Mike Gaynes
53
Posted 16/08/2017 at 23:18:57
Brendan #50, I'm sorry, that one statement is just plain silly. You don't produce eleven turnovers in one game, and win back eight lost possessions, by "mopping up" after other players do all the running. You ask who's to say Besic wouldn't do as well as Schneiderlin? I'll say it. Besic is completely, totally hopeless going forward -- even an obviously out-of-form Morgan is better, but hell, Hibbo was better. And Besic doesn't have half Schnei's intelligence and composure defensively. His ferocious tackling and never-say-die attitude are wonderful, but they are also his entire game.
Tony #49, a man with three-year-old twins has absolutely no apologies to make. I'll be honoured by any gift you're kind enough to bestow, and if it has to wait until your kids are off to university, that's fine with me.
I'm fine with benching Schnei until his passing game returns... Davies can start in his place, or drop Klaassen back and start Lookman outside. If healthy, Macca would be vastly preferred. But I have no use for Besic. His very first touch as a Blue cost me a $20 bet, and I've seen nothing from him since to change my mind. Maybe if he'd been involved in just one goal... nah.
Kieran Kinsella
54
Posted 16/08/2017 at 23:49:02
Brendan Fox
Besic isn't Serbian he is Bosnian. I'm sure if he's political he might be riled up to play Serbia rather than their Croatian foes. Plus he was actually born in Germany so he may not give a crap about Balkan politics anyway.
Brendan Fox
55
Posted 16/08/2017 at 00:01:49
Mike @ 53 we'll agree to disagree about Besic as far as I and others who have commented are concerned.
My statement about Schneiderlin is based on my observations of him playing in the last three competitive games this season, your comments are based on his stats from one game which are not the whole story on a players performance to date.
Shneids slowed the game down when in possession so much on Saturday and played many poor sidewards or backwards passes to team mates putting them under pressure to the point where they either got tackled or passes from them got intercepted against Stoke he was forced to go and try and win the ball back enhancing his stats when he did, that doesn't mean he performed well.
Hope you win your $20 back...
Brendan Fox
56
Posted 17/08/2017 at 00:17:17
Kieran @ 54 my bad on messing up on Besic' nationality.
When it comes to football being as tribal as it is and they certainly love their footie with a passion in the Balkans playing against neighboring nationalities teams can sometimes bring something extra out of players, not always for the best granted but sometimes it can bring something special.
Phil Bellis
57
Posted 17/08/2017 at 00:44:22
OK, I'll bite
What's a bad "on messing" ?
David Currie
58
Posted 17/08/2017 at 07:21:55
Schnerderlin should be dropped as he has been poor so far, against Stoke he was so negative with the ball. As a youth coach for over 20 years I would have said to Morgan look to pass the ball forward sometimes and turn with the ball instead of always playing the way you are facing.
Let him fight for his shirt and hope he can get back his form from last season.
James Watts
59
Posted 17/08/2017 at 07:38:22
Kenn #52. Those comments are silly. It's a football forum. Of course there will be plenty of people on here who have their opinions and stating what Koeman should do. That happens from u6 games upwards! Now some of those opinions are daft but so is playing DCL as a right wing back.
Clive Rogers
60
Posted 17/08/2017 at 07:52:14
Win this one lads for Joe Wright, new blues fan from Tampa, Florida.
Add Your Comments
In order to post a comment, you need to be logged in as a registered user of the site.
Or Sign up as a ToffeeWeb Member — it's free, takes just a few minutes and will allow you to post your comments on articles and Talking Points submissions across the site.