Koeman upset by pedestrian second-half

32 Comments [Jump to last]
Friday 18 August 2017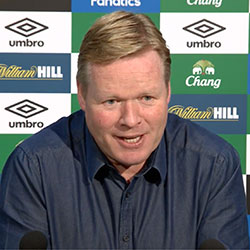 Ronald Koeman was unmistakably annoyed at his team's second-half performance in the first leg of their Europa League playoff against Hajduk Split this evening.
Even though Everton won 2-0 thanks to first-half goals by Michael Keane and Idrissa Gueye, the Dutchman said they made next week's second leg unnecessarily difficult by not maintaining the same level after half time which might have yielded more goals.
"I'm really happy about the first half and really unhappy about the second," Koeman is quoted as saying by the Liverpool Echo from his post-match press conference. "I think we lost a big opportunity to score more goals today and decide the qualification.
"The way how we dropped the tempo in the second half... I don't think our opponents made it more difficult, it was us.
"We dropped the tempo, we did not swap sides as fast as we did in the first half and we even had some good chances. We have to realise that Hajduk got two or three good chances to make it 2-1 and we were lucky.
"It's not about [needing] a striker, it's about the tempo of the game," he continued. "In the second half we didn't play to the maximum.
"We did it to ourselves by dropping the tempo. It's not about players or strikers; it's about intensity and how we need to play.
"If you are 2-0 up in a Premier League game then we know it's three points but this is two games and with a better result it would have been easier. It will be difficult now."
Having been kept at bay in the first half Hajduk became more adventurous in the second, forcing three saves from Jordan Pickford in front of the Park End.
Everton preserved the clean sheet, however, and avoided conceding an early goal that would have complicated their task in Split next Thursday.
---
Reader Comments (32)
Note: the following content is not moderated or vetted by the site owners at the time of submission. Comments are the responsibility of the poster. Disclaimer
Mike Gaynes
1
Posted 18/08/2017 at 03:34:11
Great comments by Ron, and he's right. Part of the problem was the necessity to sub out Schneiderlin because of the card... he was really setting the tone defensively and doing a great job with his distribution. But it was also a distinct easing off of the pedal by the front six as a whole, and the subs didn't have an impact. Lookman was electric in the first half, but it was predictable that he'd slacken in the second -- hasn't been playing much. And I think Rooney got a bit tired.
But I don't think the lack of a third goal will cost us. The defense remains solid and Split isn't exactly bursting with talent.
John Pierce
2
Posted 18/08/2017 at 05:43:09
Mike, a bit non pluses the managers comments. I get the feeling he told them to finish the tie tonight, allowing him a more generous hand with selection in a weeks time.
And if that is the case, then withdrawing Schneiderlin was only one persons fault, his.
He got the balance right as you said, and with the game going only one way should have kept him on. He is good enough to get through games on a card and it was his long diagonals that we're doing the damage.. Davies never came close to replicating that.
So irked he maybe but the players did fine, and credit to Koeman himself for the blended side he picked.
Blooding Lookmn in this competition and keeping back in the premier league is the right tactic.
Almost a touch of praise there from me for the manager, warranted and I'm encouraged.
James Watts
3
Posted 18/08/2017 at 05:51:09
Maybe Morgan was withdrawn because he took a knock? So maybe it wasn't tactical as such but forced?
Unless we've been specifically told it was due to the card and I missed it?
Mike Gaynes
4
Posted 18/08/2017 at 06:57:38
Could be, James... but I hope not. Koeman didn't address it after the game but I sort of assumed he wanted to save Morgan for City and avoid the possibility of suspension, since the game was under control. And Morgan certainly didn't play like he was hurting. He and Gana were the best on the pitch in the first half.
James Watts
5
Posted 18/08/2017 at 07:32:41
I remember him taking a rough challenge (as well as dishing out one) and he went down and rolled around a bit . But don't know whether that was the reason or the card. Either way, hopefully he'll be fit on Monday as we saw what we miss in the 2nd half when he doesn't play.
Peter Mills
6
Posted 18/08/2017 at 07:33:06
Schneiderlin did get hurt in a tackle quite early on and was holding his knee for a minute or two afterwards. That may have had something to do with it.
Colin Glassar
7
Posted 18/08/2017 at 07:56:49
I like the "I won't accept lacklustre performances" attitude from Ronald. It's about time we had a manager who sets the bar high.
Keith Gleave
8
Posted 18/08/2017 at 08:04:35
The substitution of Schneiderlin was to prevent a red in my mind. This was unfortunate as he and Everton were having their best game of the season so far.
There was a better blend of defensive and attacking players in midfield which allowed greater width to be used to good effect. Lookman was a constant thorn in their side not only with his running but also his pressing after losing the ball. Klaassen gelled better with Rooney but I would like to see him in the box-to-box roll he fulfilled with Ajax.
We now need to get Sigurdsson fit and get a new striker in, talk this morning of Costa on loan, somehow cannot see this. I also don't see Martina as an answer, although he didn't put a foot wrong the attack tends to stop when the ball arrives at his feet.
Jerome Shields
9
Posted 18/08/2017 at 08:40:47
I'm still a bit skeptical of Koeman's ability, but I did see some light in the first-half performance.
Mike Berry
10
Posted 18/08/2017 at 08:41:33
Ron is spot on, glad to have him, but that said a massive improvement on previous and encouraging that it will all fall together
Oliver Molloy
12
Posted 18/08/2017 at 09:21:35
It should have been 3 nil just before the break - Rooney missing sitter , even so a very decent performance and I believe we will score over at their place.
Jordan Pickford is looking the real deal , and played the best pass of the night.!

Stan Schofield
13
Posted 18/08/2017 at 09:22:40
I think he is spot on, because he's quite rightly demanding full intensity for 90min. However, he can't hide his body language, which looks like he was very pleased with the overall performance. As I was, and it was always going to be hard to maintain that high quality 1st half performance for the whole game. But it looks like we're finally getting there. And it looks like we can look forward to some great football. Some of the passing, both the intricate short range rapid interchanges, and the long range passes switching sides, was fantastic imo.
Lee Brownlie
14
Posted 18/08/2017 at 09:23:36
Yeah, could always have been better; shouldn't rest on yer Laurels (even Stan's!) and all that.. but hardly doom and gloom, suddenly, is it? We score even a single goal over there and they will need at least 4!! More concerned about their nutty fans setting the place alight!!!
Dave Abrahams
15
Posted 18/08/2017 at 09:25:11
I thought Schniederlin was taken off because of the knock he received in the first twenty minutes, whatever the reason Koeman was right to have a go at the second half performance, it was nearly as bad as the first half versus Stoke.
The last twenty minutes I was bored out of my skull again, some good performances in the first half which had me hoping we would see this tie finished at Goodison, but then they just sat back and relaxed, hope it doesn't go tits up over there.
Dave Williams
16
Posted 18/08/2017 at 09:28:59
Morgan was absolutely superb and for the first time there were clear signs that he and Gana CAN play in the same side.
His long passing was magnificent and if it had been creasehead the papers would be raving about him.
The key last night was width- first time this season we had two wide players which made the long cross field passes possible and therefore we could play a varied game.
I think Keith is a bit harsh re Martina- I thought he had a fine game.
Very promising.
John G Davies
17
Posted 18/08/2017 at 09:35:24
Stan 13.
Hear, hear.
Very encouraging signs last night.
And yes we are getting there.
Daniel Lim
18
Posted 18/08/2017 at 10:04:44
No more saying "Everton" now when he speaks. It's we, we, we... Hope this continues.
Paul Kennedy
20
Posted 18/08/2017 at 10:19:34
Very pleased. I thought Gana and Martina really good. Baines although instrumental in the first goal seems more and more to be running into blind corners; energy levels much better.
I was pleased with the involvement of Klaassen; I thought his pressing was excellent. He will come good.
Overall, a positive game and result. COYB
Andrew Bentley
21
Posted 18/08/2017 at 11:00:40
I may be in the minority here but I didn't think Lookman had a good game at all. Tried hard, but too many times he tried tricks that didn't come off and kept getting the ball stuck under his feet. It was frustrating to watch as so many times he had the opportunity 1:1 and failed to take the man on and beat him. He was always an outlet so credit to him for trying as I said but his execution with the ball was poor. Mirallas also had a poor game I felt. With the team model we now have we need the 2 wider players to stretch teams and create the space for the other players. Get that right and we will destroy teams. There were patches in the first half where we did that and it was a joy to behold.

Shane Corcoran
22
Posted 18/08/2017 at 11:07:48
Andrew, I agree completely on Lookman.
Forgot to mention on other threads, because I'm no negative that some of the long diagonal passing from several players was outstanding.
John G Davies
24
Posted 18/08/2017 at 12:31:55
I'm no negative either Shane, why would we be after the obvious signs of things to come.
Ciarán McGlone
25
Posted 18/08/2017 at 12:39:05
The various changes in personnel/formation didn't help the second performance.
Peter Gorman
26
Posted 18/08/2017 at 13:57:15
You can not leave Rooney on the pitch for 90 mins and complain about lack of intensity. Problem of your own making Ron, you are allowed to sub the golden one when he gets tired.
Andy Crooks
27
Posted 18/08/2017 at 14:28:31
I think I should say what the green shoots are. We have young players coming back next season. We have a good goalkeeper. We have a top class centre back. We have quality in midfield and, most importantly, we have Rooney. He thrives on game time and, to me, he will get better and better.
Paul Kossoff
28
Posted 18/08/2017 at 14:44:35
Lookman is not premier standard, yet. Dlc wouldn't get in most Premier league sides starting eleven. Super Kev is sadly not super.
But on the whole, the side was excellent first half last night.
The green shoots are starting to appear, let's hope we get one or two class additions in soon.
John Pierce
29
Posted 18/08/2017 at 15:00:25
Paul I like that post. The right kind of realism and a nod to an improved future.
Paul Kossoff
30
Posted 18/08/2017 at 15:09:23
Ta john, I watched the game with my son on YouTube and I was genuinely excited at the way we played. Just one or two more in, with added competition for places and, AND.. a regular 90 minutes effort put in, then I'm sure we will be top six. Coyb 😇👦😇
John G Davies
32
Posted 18/08/2017 at 18:02:59
The juices are flowing for the majority of Blues.
They are liking what they are seeing re the development of a squad and the potential, with a couple of additions, that we will be challenging come the business end of the season.
Colin Glassar
33
Posted 18/08/2017 at 18:10:10
We are about at 80% fitness levels so it's understandable that some players tired before the game ended. Only playing regularly will this improve.
As for Lookman, give me a break. The kid is class. Ok, still a bit naive but he also needs to be a regular starter to iron out a few kinks he still has.
John G Davies
34
Posted 18/08/2017 at 18:17:01
Potential to be a top player, Colin. I think more time coming off the bench would be better for his development. As it stands he is ready to be subbed after 70ish minutes when he starts.
Not good really knowing you need to keep a sub back, if we get an early knock it restricts the options. Similar with Tom he needs to be nurtured in his first season.

Stan Schofield
35
Posted 18/08/2017 at 20:22:10
Colin, John, I agree. Lookman is already one of those tricky players who cause defenders headaches, in that even if he's not going past them he's keepng a couple of them occupied, pulling defenders out, thereby creating space for others. He showed this last night, even though his passing wasn't great at times.
Frank Wade
36
Posted 19/08/2017 at 01:42:13
In the first half the Split back four played very narrow with full back tucked in tight and there was oceans of room for our wide players. In the 2nd half, they played wider, so it wasn't possible to play the same crossfield passes to the likes Lookman as he was more closely marked. Not much room for Baines either. This contributed greatly to the less effective 2nd half.
Add Your Comments
In order to post a comment, you need to be logged in as a registered user of the site.
Or Sign up as a ToffeeWeb Member — it's free, takes just a few minutes and will allow you to post your comments on articles and Talking Points submissions across the site.