Koeman puts decision over Barkley on hold

18 Comments [Jump to last]
Thursday 7 September 2017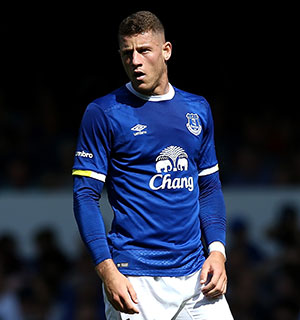 Ronald Koeman says that while he is under contract, Ross Barkley remains an Everton player but he won't make a decision over the player's future selection until he is fit.
Having rejected a new contract with the Toffees, Barkley came very close to joining Chelsea on transfer deadline day but changed his mind late in the process after travelling to London to complete a £35m move.
With his contract winding down to its expiration next June, there is plenty of speculation regarding a potential switch to Stamford Bridge or, perhaps, Tottenham Hotspur in January but, for now, he is on Everton's books and eligible to play once he regains his fitness.
Barkley has been sidelined all summer following surgeries to his groin and hamstring and is not expected to return to action until the end of November.
Whether he is eased back into the team in spite of his desire to leave the club will be up to Koeman but the manager says he isn't thinking about that yet.
"Ross came to see me on Tuesday and he explained to me why he turned down [the chance] to go to Chelsea," Koeman told the media today.
"That is a private talk with Ross and I am not the right man to explain to you about his decision or the reason for that decision.
"He was open to make a move to another club and from what I heard from the board, there was an agreement between Chelsea and Everton but finally the decision was [made] by the player and, finally, that is what happened at that time."
"He is still an Everton player and, to the end of this season, he has his contract. At this time he is injured and it will take another two to two-and-a-half months until, maybe, he is available.
"I don't have to take that decision now. I can wait to see what happens and then we will see what the decision will be at that time."
---
Reader Comments (18)
Note: the following content is not moderated or vetted by the site owners at the time of submission. Comments are the responsibility of the poster. Disclaimer
Will Mabon
1
Posted 07/09/2017 at 19:14:22
That one got by me. I knew of the groin surgery but not of one on the hamstring.
Steve Ferns
2
Posted 07/09/2017 at 19:47:58
So he comes back to training for the start of December, then is not fit enough to play and then leaves in January?
Paul Kossoff
3
Posted 07/09/2017 at 19:48:23
What a surprise!
Phillip Warrington
4
Posted 07/09/2017 at 21:50:15
Unless he is prepared to sign for the club now, he should never put on a blue shirt again. He has shafted the club out of any transfer fee.
Let's use the owners millions to pay his wages until the last second of his contract and let him rot on the bench of the Under-23s and miss a World Cup like we missed a transfer fee.
Robert Leigh
5
Posted 08/09/2017 at 08:12:41
Phillip (#4)
I don't understand why you would suggest letting him rot in the reserves?
If we get him back playing, he will help the team either through playing or by providing competition for those playing, which could push the club up the league earning us more than the transfer fee we could have received.
Also, and I think I'm among others here, if we do well, Ross might sign and stay.
If not, the £35mil we didn't get may be worth sacrificing for the higher league finish I think he can bring.
James Ebden
6
Posted 08/09/2017 at 09:38:37
Robert, Ross doesn't want to stay! He has made that blatantly clear. He has turned down a lucrative contract, and a move to the Champions.
He is going to Spurs for free and a bumper signing bonus, screwing the club that developed him and the fans who supported him. Why people like you still stand by him and want him to stay and think he can improve our team is beyond me. Even if fully fit, he would not get a starting place; he is a liability, gives away the ball endlessly and is non-existent in defence.
Good Riddance. The only regret is we won't get a fee for him.
And Phil, Ross won't go to the world cup, even if fully fit, because he simply isn't good enough. Southgate doesn't rate him.
Tony Marsh
7
Posted 08/09/2017 at 10:04:19
The Barkley situation is now completely out of the club's control so Koeman has no decision to make. I mean what can the Dutch Moyes actually do?
It is Koeman's fault we are where we are with Ross, slating him in public. Barkley will probably stay here while recovering and then go on a free in the summer. More ineptitude from this gormless mob who run the club.
Will Mabon
8
Posted 08/09/2017 at 16:32:22
"
Even if fully fit, he would not get a starting place; he is a liability, gives away the ball endlessly and is non-existent in defence.
"
"He has turned down a move to the Champions. "
"He is going to Spurs."
The champions and their manager wanted him. Spurs, the team so many here aspire to for Everton, and their manager, want him.
Oh, the cognitive dissonance.
Jamie Evans
9
Posted 08/09/2017 at 17:47:47
Ross, I know it was you. You broke my heart. You broke my heart.
Damian Wilde
10
Posted 08/09/2017 at 22:34:18
Will, he's not even good enough for Everton. Zero chance of England squad. Just because Chelsea bid for him doesn't mean he's good. Chelsea accumulate players for fun, how many are out on-loan, 20?
Steve Ferns
11
Posted 08/09/2017 at 22:40:22
still our best player. I watched a clip of the 3-1 Chelsea game from 2015 and then a few more followed on from that. The passing and vision of Barkley was astonishing. He's not lost anything from that. He's still one of, if not the, best players we have.
David Currie
12
Posted 09/09/2017 at 00:28:32
Darren 10, not good enough for Everton but Chelsea and Spurs the number 1 and 2 teams in the league last May both want him in their squads. Hilarious comment just like Philip at 4, who claims Barkley shafted our club out of any transfer fee because he turned down Chelsea, it is his right to sign for who he wants. The club and management got what they deserved in the Barkley situation because they handled it badly. Zero chance of playing for England but Henderson, Dier and Livermore all play and I know who I would rather have in my team.
William Cartwright
13
Posted 09/09/2017 at 08:54:35
Steve, inspite of all the nonsense surrounding the situation, you are right. Whether he wants to wake up after a hard dose of reality, recover from his injuries, move to Spuds, shafts the club out of 35 mill, whatever, he is still a footballing genius, albiet potentially flawed, but that's not a crime.
He may have been mismanaged, he may have lost the plot, but his stats last season were up with the best when playing in a not yet established system, whilst under enormous and insulting public scrutiny, from within and without the Club . . . .
I, like most ToffeeWebbers think it would be the best for all parties if he were to leave as life goes on and the Club are moving on too. For now we should let it play out and see what happens, but the public vitriol being thrown at him is just narrow-minded and stupid.
Winston Williamson
14
Posted 09/09/2017 at 09:12:01
I think we have seen the last of Barkley in an Everton shirt. I don't believe he'll play for us again.
He will move in January, but will not be fit enough before then to play. We'll get a fee, but not the 35mil we were previously offered.
It's unfortunate. But understandable. He's a good player. I think the Spurs manager may get the best out of him, if he can force his way into their very good team.
Terry Underwood
15
Posted 09/09/2017 at 09:13:11
We will survive without this overrated, over paid, injury prone, prima donna. Yes, from time to time he turns in a classy display, but they are outnumbered by his inept sub par performances. We have midfielders coming out of our ears. We will survive
Dave Abrahams
16
Posted 09/09/2017 at 09:18:29
William (13), a potentially flawed genius ?, well I suppose that's one way of looking at Ross, I would say very flawed but couldn't use genius, but each to his own.
Alan J Thompson
17
Posted 09/09/2017 at 11:12:48
If you're disappointed with Barkley's performances then I don't know how you'll feel about whom after this season.
Like Deulofeu, what happened to the "would any of the top clubs want him" argument?
Raymond Fox
18
Posted 09/09/2017 at 11:44:30
None of us know the true reason Barkley didn't sign ours and Chelsea's contracts.
My take on the situation, is the clubs contract was well under what him and his agent were expecting, so that was why it was refused.
He really wants to stay and does not want to go to Chelsea or Spurs.
Everton would be barmy to let him go for £25m or less. We will offer him a improved 3-5 year contract and he will sign it.
January will show us which version is the right one.
Add Your Comments
In order to post a comment, you need to be logged in as a registered user of the site.
Or Sign up as a ToffeeWeb Member — it's free, takes just a few minutes and will allow you to post your comments on articles and Talking Points submissions across the site.