Talk of Rooney hiatus dismissed

44 Comments [Jump to last]
Tuesday 12 September 2017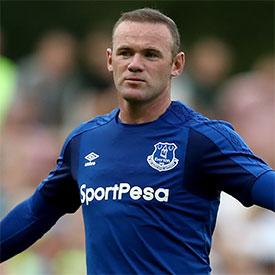 Wayne Rooney returns to Old Trafford for the first time since his move from Manchester United when Everton make the trip there this weekend
Suggestions that Wayne Rooney has asked for and would be granted a leave of absence to deal with his personal issues have rubbished.
Reports in the tabloid press this week have claimed that the 31-year-old would make the request of the club following his arrest and subsequent charge for drink driving and the media circus around the state of his marriage to Colleen.
Sky Sports say that sources close to Rooney have confirmed that the striker hasn't asked Everton for any such time off "nor would any such request ever be made".
Rooney returned to Goodison Park as an Everton player this summer after 13 years with Manchester United and has scored both of the Blues' only Premier League goals so far this term.
He plays his first game at Old Trafford since his reported £10m move when Everton face the Red Devils this coming Sunday.
---
Reader Comments (44)
Note: the following content is not moderated or vetted by the site owners at the time of submission. Comments are the responsibility of the poster. Disclaimer
John Grace
1
Posted 12/09/2017 at 18:12:00
Let him play with some anger and frustration in him. That is him at his best... running hot.

Liam Reilly
2
Posted 12/09/2017 at 18:30:05
Good, we've all got our problems and footballers have more time than most to deal with them, home for 2 every day.
Jon Withey
3
Posted 12/09/2017 at 18:31:16
Suppose the Rooney circus makes Everton newsworthy – I'd rather it was for decent football.
Darren Hind
4
Posted 12/09/2017 at 18:38:07
Can't see him missing the game at Old Trafford.
Phil Walling
5
Posted 12/09/2017 at 18:48:53
When I saw the headline, I thought he had a hernia. That would have given him a few weeks leave to salve his troubled brow!
Denis Richardson
6
Posted 12/09/2017 at 19:02:46
Read in a red top when the DUI came out that Rooney's apparently been 'losing it' for the last couple of months. This was supposedly said by his wife, linking it to leaving Man Utd and not being part of the national set up anymore... i.e. realising that he's no longer at the peak, playing with a Champions League club and on the international stage and he's taken it quite hard. Supposedly.
If any of the above is true, being back at Goodison Park obviously hasn't exactly been the answer he was looking for
It will be interesting to see how this one plays out. Odd storyline to come out if there's no truth to it given he's always been portrayed as someone who lives and breaths football and always wants to play.
John Keating
7
Posted 12/09/2017 at 19:25:26
Well, if that's what Rooney is like when he's "losing it" it'll be great when he's "found it".
His play when "losing it" is still a hundred times better than the rest of the wasters who are having no issues, personal or other.
As Liam mentions, players have enough time off to sort out any sort of self inflicted problems they may have. They can certainly afford to pay for any assistance they might need.
Colin Glassar
8
Posted 12/09/2017 at 19:38:57
The red tops are digging deep to see if they can find any other female friend who's happy to sell her "story".
Will Mabon
9
Posted 12/09/2017 at 20:08:38
He's probably seen through Koeman.
Gordon White
10
Posted 12/09/2017 at 20:20:05
Wouldn't have been so bad if it was Carragher's missus.
He needs to be sticking it in the opposition goal, not loose women.
Don Alexander
11
Posted 12/09/2017 at 20:25:28
I don't give a monkey's about anything to do with "our" Wayne (but in reality Wayne has only ever been "his" Wayne) providing he plays well on the pitch. I was not in favour of him coming back and said so, his life-style being a chief concern. At 31 and after a full pre-season it's a sad indictment that he's visibly unable to last even 90 minutes.
I expect, and hope for our sake given Gylfi's presence, he signs a contract within the year for some micky-mouse team in another continent.
Dermot Byrne
12
Posted 12/09/2017 at 20:42:44
Maybe being "being back at A GP" may help!
Dave Evans
13
Posted 12/09/2017 at 21:07:15
Don. Judging players by their performance over 90 minutes in a blue shirt and not any in depth knowledge of their lifestyle. Since the start of the season, Rooney and Calvert-Lewin have probably been our most commited and effective players.
Kunal Desai
14
Posted 12/09/2017 at 21:27:39
Not like its going to make any difference whether or not he plays on Sunday. We'll still be easily beaten.
Eddie Dunn
15
Posted 12/09/2017 at 21:28:41
This has got to be utter shite. If he has off field problems, then he would surely try to give his best on the field as that is where nothing else matters.
Every week, I run out on two evenings along with various mates from all walks of life and we put our worries behind us and play this great game. Nothing else matters until afterwards.
If we can all manage this with our meagre resources and then I am sure that Wayne can also do so.
We could do with a bit of a siege mentality at Finch Farm at the moment. We need everyone to pull in the same direction. I have the distinct feeling that we are seeing signs of a power struggle behind the scenes that has been distracting for all concerned.
something is afoot!
Dick Fearon
16
Posted 12/09/2017 at 21:39:03
Unlike some of his teammates, Wayne has not shirked on the field.
Brent Stephens
17
Posted 12/09/2017 at 21:40:08
Dermot "Maybe being "being back at A GP" may help!"
Superb line. I was going to post that myself but I thought you'd tell me that was one of my shit comments!
Neil Lawson
19
Posted 12/09/2017 at 22:15:07
Our performances to date have been dire. Rooney has featured throughout. He has been okay on the field. Better than some but not all. Our system is hapless. He is human. A sensible manager should rest him on Sunday. The team won't suffer. They may benefit from the freedom to play without the requirement for Rooney to be the centre of attention.

And Sunday is truly an accident waiting to happen. There won't be any fairy-tale endings. More likely an early ending. Play a winger. Play two strikers. Okay, if we lose, at least do so having shown some fight and invention.
Script probably already written. We know who is bound to score!!!
Dermot O'Brien
21
Posted 12/09/2017 at 22:34:29
"When I saw the headline, I thought he had a hernia."
Haha haha, nearly choked on my Cheerios there.
John Boon
22
Posted 12/09/2017 at 22:42:47
I am only interested in what he does on the field. His off-field antics are problems for his wife and Wayne.
When at his best he more than most earns his place. I am amazed at how many arm chair psychologists support Everton. Direct your advice to those who are screwed up on the field – or on the sideline, in the manager's case.
John Otway
23
Posted 12/09/2017 at 22:55:24
Dermot. You should do stand up. Comic genius.
Clive Mitchell
25
Posted 12/09/2017 at 23:49:00
Don (#11) – I take it you weren't at Goodison on Saturday? Most of the team didn't last half-an-hour. Rooney provided most of our fight, and all of our moments of talent.
James Stewart
26
Posted 13/09/2017 at 00:15:41
Rooney has disappointed me, yes he runs around and shouts at people – so what? He was bought as a playmaker and I have seen little evidence of that. Sigurdsson should be No 10. End of story.
Teddy Bertin
27
Posted 13/09/2017 at 01:04:50
The man's first rate on the pitch so I couldn't care less what goes on in his private life. His attitude is top class and he gives his all.
He could do with a world class striker to pass forward to and to create some more space for him but apart from that he's been great for us.

Dermot Byrne
28
Posted 13/09/2017 at 06:42:03
Ah, Brent... would I?
John Smith
29
Posted 13/09/2017 at 06:53:50
I thought Rooney put in his worst shift yet for us vs Spurs. Losing the ball, wayward passes, not chasing down his man etc etc.
Christian Watson
30
Posted 13/09/2017 at 11:08:13
No sympathy for him. If he needed or wanted time to sort his mess out, he should do it in his own time and not his employer's. His misplaced Lothario actions are all his own doing (just add alcohol).
Sort it out, Wayne, and stick it to Manchester United!!
Tony J Williams
31
Posted 13/09/2017 at 12:56:12
Can see him getting a red on Sunday after decking Lukaku.
Mick Conalty
32
Posted 13/09/2017 at 13:53:37
Will Mabon (#9) – nice point about Rooney and Keoman.
I don't know about Rooney drinking and driving, more like Keoman driving Rooney to drink!!!
Mike Rothwell
33
Posted 13/09/2017 at 14:15:03
20 April 2005 – Think back:
What is it with the timing of controversy in his personal life and his first return to his former club?
Remember the rousing Chorus "Yer fat and you allegedly have not been treating your lady quite right" - given to him and his acknowledgement of it? Just stood in the centre circle applauded the crowd, shrugged it off, and got on with the game.
I've got a feeling he'll do the same with the jibes from the Man Utd fans, but then again I'm expecting too much vocal creativity from the United fans.
Geoff Trenner
34
Posted 13/09/2017 at 14:44:20
Make it permanent.
Paul Kossoff
35
Posted 13/09/2017 at 15:15:45
Tony (#31), my fun of the day. "Can see him getting a red on Sunday after decking Lukaku." After Wayne's scored the winner, If only!
Phil (Kelsall) Roberts
36
Posted 13/09/2017 at 17:26:23
Yes, he finishes at 2 so plenty of time to sort out his problems. That is the problem, he finishes at 2pm. Got the whole afternoon and evening to worry about things.
The rest of the human race are working their socks off so don't have time to worry about personal problems before nightfall. So it is a negative having so much time.
Can't last 90 minutes! Let's take – Mirallas 37 of 104 of his games – has he been on the pitch for 90 minutes let alone lasting 90? Deulofeu: 29 games and 8 times he was on for the full 90 mins. But these fancy Dans are not expected to last 90 minutes because they just... well they just.
But a guy who everyone on here says is giving his all is also expected to give it for the whole 90 minutes and at the end appear so fresh he could play another game. We really do like to stick it in. Forgive him. He left for medals.

Tony Everan
37
Posted 13/09/2017 at 18:01:10
Imagine in any other walk of life..
Ambulance driver to boss "Got caught shagging my neighbours daughter, the wife's not happy. Any chance of a month off to calm the waters?"
Boss to ambulance driver, "No problem son, you take a few weeks off. Just let me know when you'd like to come back so I can iron your uniform and make yer a nice cup of tea."
Lenny Kingman
38
Posted 13/09/2017 at 19:41:10
Rooney has been a very good player and I'm not sure he really knows just what he has achieved in the game and records garnered. Possibly the red shirt coloured his appreciation of what greatness he was achieving. He's as thick as a brick and his Mrs isn't far behind him, and their lives off the field are a tabloid's dream.
But, he still has something left, not a lot, but a class above the rest of the also- rans alongside him.
I believe there's enough left in the tank for him to leave the blues with a little of the magic, and the occasional trophy, that the ungrateful Man Utd fans took as their right for so many years.
Derek Knox
41
Posted 13/09/2017 at 23:08:11
Good post, Lenny, I think that sums it up pretty much.
Derek Knox
42
Posted 13/09/2017 at 23:14:35
Lenny, good post, harsh, but intrinsically very near the speculated truth.
It's unfortunate in many ways, that we live in this have/have not society, it has always existed, and still foes today, people overpaid for whatever, and then they use their celebrity status, as an excuse, for being victimised.
In all fairness to Wayne he hasn't come out and blamed anyone, for his misdemeanours.
Paul Birmingham
43
Posted 13/09/2017 at 23:45:20
Seen the Celtic to the slaughter last night... now for Tomorrow. I reckon we can beat Atlaanta, and take strength for Man Utd. 😊
Peter Larkin
44
Posted 14/09/2017 at 01:17:37
Why would Koeman give too shits what Rooney's doing, when he is off on his jollies in Portugal!
The whole camp looks like it's ready to implode. Say what you want about this group of players but you can't question their football ability. They are not doing the yards for Koeman.
Something is 100 percent not right behind closed doors. We haven't played one decent full game this year. The manager's head will roll before Xmas. I just hope the next guy coming in has a chance to keep us up!
Lee Brownlie
45
Posted 14/09/2017 at 10:05:11
Whatever. Just getting tired of reading 'headlines' and/ or reports that aren't even written correctly!! 'have rubbished.' Whats that even mean?
If someone can't be arsed to correctly write an article or report, or at least then to properly proof-read and correct it, then how are readers like me supposed to be arsed to read (and maybe comment on) it??? (Go on, giz a job.. I can do that!' Really.)
Rob Hooton
48
Posted 14/09/2017 at 15:04:22
A couple of shots on target would be nice Danny, more than we've managed the last 2 games anyhow!
Colin Glassar
49
Posted 16/09/2017 at 09:38:13
There's a nice piece on Wayne in the Mail (on-line) today. Despite all his personal flaws, eg, boozing, gambling, granny shagging etc, Wayne does loads of good charity work and is considered to be a very humble lad.
We've had a shite start to the season but Rooney has been a bright spot amid all the darkness. I can see him scoring against the Mancs and not celebrating.
Brent Stephens
50
Posted 16/09/2017 at 09:49:04
Colin (#49) "Wayne does loads of good charity work and is considered to be a very humble lad".
And unfortunately the bad headlines drive out the good headlines. We need balance – just as we get on ToffeeWeb!
Colin Glassar
51
Posted 16/09/2017 at 10:02:27
True, Brent, these lads (footballers) are in the main, uneducated people from poor(ish) backgrounds who become multi-millionaires virtually overnight.
They aren't prepared, mentally or financially, for stardom and have one of the cushiest jobs on earth, ie, they train for a few hours, play once or twice a week, then go home and they don't know what to do with themselves.
They've got huge bank balances, loads of hangers-on who are only too happy to spend their money, and loads of gold-digging birds who would die to be seen with a professional footballer like the most recent Rooney slag who's having her 15 minutes of fame whilst trying to find some other dim witted fucker who will fall for her "charms".
If any player is in need of a Jiminy Cricket then I am available for a (high) six-figure number. I'll tell 'em to it straight!
Add Your Comments
In order to post a comment, you need to be logged in as a registered user of the site.
Or Sign up as a ToffeeWeb Member — it's free, takes just a few minutes and will allow you to post your comments on articles and Talking Points submissions across the site.