Manchester United vs Everton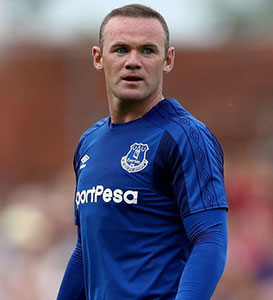 Wayne Rooney's first game back as an opposition player at Old Trafford will be a bog talking point
One of the last places Everton will want to go on the back of three awful performances would be Old Trafford but that is where they will be this Sunday to take on a Manchester United side who have started the season strongly.
Three comprehensive defeats with eight goals conceded without reply, including a disastrous start to the Europa League campaign proper, have left the pre-season optimism among Evertonians in shreds and Ronald Koeman, seemingly bereft of answers to the slump, has to try and pick his charges up for the latest difficult assignment.
It's a match that will be dominated from the media perspective by two players meeting their previous clubs, one under a heavy cloud, both personally and professionally, the other thus far justifying United's massive outlay for his services in July.
Wayne Rooney left the Red Devils with many feeling that he was already past his best. A summer dedicated to getting into the best condition his 31 years would allow and a renewed hunger seemed to be reflected in two goals in his first two Premier League games back with Everton.
He has not been capable of lifting a badly struggling team with either further goals or inspiration in recent games, however — a Herculean responsibility for sure but few could argue the veteran has been playing well Nevertheless, Rooney can be backed at 11/1 to score the first goal in Sunday's game or 33/1 to score twice on his return Manchester and with free bet offers available those odds could be worth an interest.
Meanwhile, if Everton fans at first felt apathetic about Romelu Lukaku's departure from Goodison Park given his constant talk of wanting away, the sight of the Belgian's early success at United while Everton battle to muster more than two shots on target a game can't fail to muster emotions of envy and frustration at the very least. He has hit five League goals already, more than twice the Toffees' tally thus far, as he benefits from the supporting cast that Jose Mourinho has deployed around him in a way that Everton often failed to do. Not surprisingly, Lukaku is 4/6 to net during the game and rub salt into Evertonian wounds.
Paul Pogba will be missing this weekend with a hamstring injury but United have plenty of depth in that creative part of the field, something Everton clearly don't and therein lies one of the big problems as Koeman seeks to steady the ship. The Blues' recruitment policy over the summer focused on long-term strengthening and functionality over flair and pace and, combined with the loss of Lukaku, it's created the glaring toothlessness in the final third. It has also severely limited the scope of any attempt by the manager to shake things up.
Having admitted that the team wasn't prepared for the Atalanta game — was something lost in translation there? — and accepted responsibility for the first time, it will be interesting to see how Koeman responds this weekend in terms of team selection.
The starting XI could, depending on how dramatically he reacts, could be hard to predict. Will he opt for another defensive posture and a five-man back line to stanch the bleeding at the back or will he opt for youth in the hope of drawing on their enthusiasm and desire to impress (unlikely in such a difficult game).
The obvious prediction would be for a reshuffled version of the same in the hope of seeing the kind of response he has demanded for the past couple of games but not seen. That means the supposed leaders and captains in the ranks stepping up and dragging this team to a better calibre of display than Evertonians have been served up for all but one match in 2017-18.
In that sense, this trip to Old Trafford should realistically be about taking a step forward in a bid to improve morale and then use the League Cup tie against Sunderland and the Bournemouth home game beyond that to try and get back to winning ways. In other words, keeping Lukaku quiet, avoiding a mauling, and giving the travelling Blues something to shout about even if it doesn't end with any points.
It shouldn't be like that of course, not with the amount of money Everton have dropped on new players this season but that is where we are. It's becoming tiring to repeat it but it's at times like these that a good manager finds solutions and finds ways of getting a collection of players to function as a unit and just execute effective football. Over to you, Ronald.
Kick off: 4pm, Sunday 17 September, 2017
Last Time: Manchester United 1 - 1 Everton
---
---