Manchester United vs Everton

271 Comments [Jump to last]
Friday 15 September 2017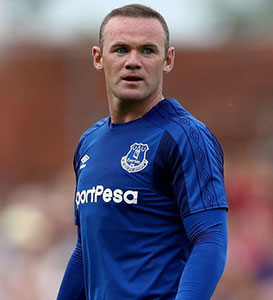 Wayne Rooney's first game back as an opposition player at Old Trafford will be a bog talking point
One of the last places Everton will want to go on the back of three awful performances would be Old Trafford but that is where they will be this Sunday to take on a Manchester United side who have started the season strongly.
Three comprehensive defeats with eight goals conceded without reply, including a disastrous start to the Europa League campaign proper, have left the pre-season optimism among Evertonians in shreds and Ronald Koeman, seemingly bereft of answers to the slump, has to try and pick his charges up for the latest difficult assignment.
It's a match that will be dominated from the media perspective by two players meeting their previous clubs, one under a heavy cloud, both personally and professionally, the other thus far justifying United's massive outlay for his services in July.
Wayne Rooney left the Red Devils with many feeling that he was already past his best. A summer dedicated to getting into the best condition his 31 years would allow and a renewed hunger seemed to be reflected in two goals in his first two Premier League games back with Everton.
He has not been capable of lifting a badly struggling team with either further goals or inspiration in recent games, however — a Herculean responsibility for sure but few could argue the veteran has been playing well Nevertheless, Rooney can be backed at 11/1 to score the first goal in Sunday's game or 33/1 to score twice on his return Manchester and with free bet offers available those odds could be worth an interest.
Meanwhile, if Everton fans at first felt apathetic about Romelu Lukaku's departure from Goodison Park given his constant talk of wanting away, the sight of the Belgian's early success at United while Everton battle to muster more than two shots on target a game can't fail to muster emotions of envy and frustration at the very least. He has hit five League goals already, more than twice the Toffees' tally thus far, as he benefits from the supporting cast that Jose Mourinho has deployed around him in a way that Everton often failed to do. Not surprisingly, Lukaku is 4/6 to net during the game and rub salt into Evertonian wounds.
Paul Pogba will be missing this weekend with a hamstring injury but United have plenty of depth in that creative part of the field, something Everton clearly don't and therein lies one of the big problems as Koeman seeks to steady the ship. The Blues' recruitment policy over the summer focused on long-term strengthening and functionality over flair and pace and, combined with the loss of Lukaku, it's created the glaring toothlessness in the final third. It has also severely limited the scope of any attempt by the manager to shake things up.
Having admitted that the team wasn't prepared for the Atalanta game — was something lost in translation there? — and accepted responsibility for the first time, it will be interesting to see how Koeman responds this weekend in terms of team selection.
The starting XI could, depending on how dramatically he reacts, could be hard to predict. Will he opt for another defensive posture and a five-man back line to stanch the bleeding at the back or will he opt for youth in the hope of drawing on their enthusiasm and desire to impress (unlikely in such a difficult game).
The obvious prediction would be for a reshuffled version of the same in the hope of seeing the kind of response he has demanded for the past couple of games but not seen. That means the supposed leaders and captains in the ranks stepping up and dragging this team to a better calibre of display than Evertonians have been served up for all but one match in 2017-18.
In that sense, this trip to Old Trafford should realistically be about taking a step forward in a bid to improve morale and then use the League Cup tie against Sunderland and the Bournemouth home game beyond that to try and get back to winning ways. In other words, keeping Lukaku quiet, avoiding a mauling, and giving the travelling Blues something to shout about even if it doesn't end with any points.
It shouldn't be like that of course, not with the amount of money Everton have dropped on new players this season but that is where we are. It's becoming tiring to repeat it but it's at times like these that a good manager finds solutions and finds ways of getting a collection of players to function as a unit and just execute effective football. Over to you, Ronald.
Kick off: 4pm, Sunday 17 September, 2017
Last Time: Manchester United 1 - 1 Everton
---
Reader Comments (271)
Note: the following content is not moderated or vetted by the site owners at the time of submission. Comments are the responsibility of the poster. Disclaimer
Christian Watson
1
Posted 15/09/2017 at 13:52:32
I'll be watching from behind the sofa!
Tony Marsh
2
Posted 15/09/2017 at 13:58:16
Get ready, guys – all of you who were happy to see Lukaku go. All of you that slagged the lad off for being a goal machine. Hat-trick is on the cards for Romelu. We will be lucky to get out of our half.
I fear the worst mauling we have seen since the 7 at Arsenal a few years ago. There is nothing we can do to stop it with Koeman having now completely lost the dressing room with his latest comments.
Koeman's players, Koeman's tactics, Koeman's lack of man-management. Koeman's fault.
David Milner
3
Posted 15/09/2017 at 14:00:12
It's our local Feria here in Spain so with 2 beers for 50 cents I probably will not be able to focus properly anyway. Might be the best way to view.
Brent Stephens
4
Posted 15/09/2017 at 14:07:54
"If Everton fans at first felt apathetic about Romelu Lukaku's departure from Goodison Park... the sight of the Belgian's early success at United while Everton battle to muster more than two shots on target a game can't fail to muster emotions of envy and frustration at the very least. He has hit five League goals already, more than twice the Toffees' tally thus far".
I was one of those who wasn't apathetic about him leaving. I wanted him to stay. But having left, he just had to be replaced early.
Robert Leigh
5
Posted 15/09/2017 at 14:09:13
I'll be very interested to see the lineup; will Koeman be bold and try to attack with a 4-3-3 or will he try and save a point with a 5-4-1?
The negativity is such that I don't think many Evertonian's will stomach a 1-1 or 0-0 like the Man City game, he'll need to have some sort of a go.
Pickford; Holgate, Keane, Jagielka, Baines; Davies, Schneiderlin, Gana; Vlasic, Calvert-Lewin, Sandro.
I live in hope!
James Watts
6
Posted 15/09/2017 at 14:09:55
Now Koeman has met the seniors players hopefully they've told him how shite his tactics are, they get changed as a result and somehow we mange to get something out of this.
Won't hold my breath though.
Williams vs Lukaku #shudder#
Derek Knox
7
Posted 15/09/2017 at 14:11:11
Robert, I don't think Schneiderlin deserves a place at all.
Jack Plant
8
Posted 15/09/2017 at 14:27:41
'Wayne Rooney's first game back as an opposition player at Old Trafford will be a bog talking point'
Bog talking point: a subject discussed in the awkward moment when you bump into someone you know at a urinal.
Jay Harris
9
Posted 15/09/2017 at 14:34:25
The main problem as I see it is we are playing far too deep with at least 8 players behind the ball even when we have it.
This stems from not having an out and out Number 9 even though Calvert-Lewin does make a difference and from lack of confidence either in the system or them selves in managing to press higher up and get back to defend.
Klopp had similar problems over there when trying to get his players to play the way he wanted but with so many veterans we haven't got the pace to recover and that is creating uncertainty in the players.
I also get the feeling there is disharmony upstairs too, which may not be helping.
Steavey Buckley
10
Posted 15/09/2017 at 14:38:52
Everton, the third worst goalscorers, is a miss match with the league's highest, especially, as United are playing at home with Lukaku and Rashford on 'fire'. The Everton defence with Williams and Baines will surely be tested and probably come out worse.
Upfront, Everton should play Sigurdsson as centre-forward with any 2 from Lookman, Calvert-Lewin, Mirallas and Lennon on the flanks to give the team a more balanced attack. The midfield should consist of Davies, Gueye and Besic, because they like a fight. Unlike Schneiderlin, Klaassen and Sandro who don't.
There is no starting place for Rooney because he is neither a midfield player, attacker or winger.
Jeff Armstrong
11
Posted 15/09/2017 at 14:41:54
There's disharmony everywhere within the club, upstairs, Finch Farm (Sheedy leaving), first team not playing for the manager, the club is falling apart at the mo.
Let's hope Bramley-Moore was not relying on the Commonwealth Games, although I believe it was... from the council's and pothole Joe's perspective.
Kim Vivian
12
Posted 15/09/2017 at 14:52:50
I'm afraid there isn't a single conceivable line-up from our current squad of available players that gives me any excitement.
I do not expect us to get anything from the game on Sunday but I am seriously hoping to see some fighting spirit demonstrated by whoever gets the nod from Ron, whatever the result. We are going to learn much from the next 10 days or so and I hope that it isn't that this looks the most likely season for the drop in a good many years.
Dreading Sunday.
I never predict us to lose but have gone 0-3 on Sunday in the hope of getting unlucky this time, if you get me. Will not be able to watch due to a social engagement but will be following you all on the forum for updates. Debating whether or not to record it for later viewing. I expect I will. Could be historic.
Peter Cummings
14
Posted 15/09/2017 at 14:57:00
I didn't post any comment on the Italian fiasco as over 200 ToffeeWebbers had said it all, none of it complimentary.
As a soon to be 80 year old and an avid Evertonian since age 5 I have never seen such anger and frustration as was posted yesterday after such a humiliating and poverty-stricken display by a so-called Everton team – not only from fans like myself but the Sports media in general, who likened the display to a major disaster and an unforgivable insult to the most loyal and honourable fans in the world, making a mockery of our pride in being labelled 'the peoples club'.
While most pundits have already written us off as any contenders for either the league or cups,starting on Sunday at Old Trafford, only a 100% effort will be acceptable both there and in the coming season which, being realistic, is now an exercise in damage control.
John Charles
15
Posted 15/09/2017 at 15:00:05
Difficult to pick a team as no-one is showing much.
But please... no Schneiderlin!
Lenny Kingman
16
Posted 15/09/2017 at 15:03:12
Unless Man Utd are feeling charitable a heavy spanking can be expected. Rooney will be berated and mocked from start to finish "if selected". Monday will be a bigger game for him of course.
Without his input, the blues will have nothing to offer in attack and at the back, United's strike force will have a field day. An ex-player once said football's a funny old game. I beg to differ.
Sam Hoare
17
Posted 15/09/2017 at 15:13:27
Hard to see anything other than a thumping but then Everton does have a habit of confounding me. At best, I see a scrappy 1-1 draw.
No idea what team to play as I wouldn't want to throw the youngsters into the current malaise. Schneiderlin will definitely start as Koeman loves him and there's not really anyone else who can play that role that I see. Oh for Gareth Barry...
If I had to pick i'd go for a defensive approach with as much pace up top as possible and hope for a jammy counter-attack:
Pickford
Holgate Keane Jagielka Baines
Rooney Schneiderlin Gueye
Mirallas Calvert-Lewin Lookman
Even I don't like that team...urghh...
Jamie Evans
18
Posted 15/09/2017 at 15:21:09
Could someone, anyone, please enlighten me about the apparent disharmony upstairs/everywhere at our club. On the pitch yes, we can all see it there... but behind the scenes? Who comes up with this?
Roger Sunde
19
Posted 15/09/2017 at 15:35:20
When we beat Man Utd with Oviedo's late winner, I felt before the match for the first time in many years we could get a result at Old Trafford.
This time, I feel it will be a horror show.
Robert Leigh
20
Posted 15/09/2017 at 15:36:32
Derek #7 & John #15
I don't want him to start either given his form, but who else can play there? Gana and Davies would be overpowered by Fellaini & Matic, so he's the only option I can see.
If only we'd kept Barry...
David Barks
23
Posted 15/09/2017 at 15:50:45
Robert,
How is a player that has been absolutely useless the only option? That is exactly the type of flawed delusional thought process going through our idiot manager's skull. Schneiderlin shouldn't be anywhere near the team, not even on the bench.
Let Gana do his job and be the holding midfielder and let Davies and Klaassen help in the more attacking role. Schneiderlin is pathetic. If he's not dropped now then he never will be. But what we absolutely do not need is to have a midfield pair of Gana and Besic, which does nothing more than invite the opposition to commit more men in attack knowing we offer very little going forward.
The job of a central midfielder is not to just break up play. I know that seems to have settled into the minds of many in England and like a cancer has infected the brains of many managers. The holding midfielder should shield the defense and offer support, but that should be with the goal of getting back possession and moving the ball forward.
For some reason that second part has been lost and I can not understand why. That's why Barry, even at his advanced age, was the best option we had when he was here. He was more than capable of picking the right pass to get the team back into attack.
Tom Bowers
24
Posted 15/09/2017 at 16:01:04
Pretty obvious this game will be another defeat unless there is a big turnaround in form from everyone involved. Although Everton have some experienced playmakers, what they don't have is that live spark in the front line and that is what is making it easy for opposition defenders to deal with.
Pushing the ball around nice and leisurely in the middle of the park is all fine and dandy but, unless the front players have some speed and constant motion, then that decisive pass cannot be made.
Calvert-Lewin tries hard as does Sandro but alas neither are good enough yet. The goals will have to come from those behind but that isn't happening either. However, when that isn't happening you do at the very least need to defend and that has been a real problem in the last 3 games surprisingly.
Is it the back four falling apart or the holding midfielders? Either way they are all at sea and Koeman has some serious work to do to right the ship.
Darryl Ritchie
25
Posted 15/09/2017 at 16:01:22
This has the potential to be even more embarrassing than the Atalanta fiasco. If we play the same way, I can see us giving up double figure goals vs no shots on goal for us.
We can't score. We can't defend. I've never looked forward to a match less.
Kevin Prytherch
26
Posted 15/09/2017 at 16:01:28
I'm going against most here but I think we should line up to tackle anything that moves and try and get luck on a break.
Keane, Williams and Jagielka at the back with Kenny and Baines at wing backs. Then Gana, Besic and Davies across the middle with the instructions to go in hard every time and tackle anything that enters our half.
Put Calvert-Lewin and Lookman upfront and tell them to try something special and enjoy themselves.
Disrupt their play and don't give them a second on the ball.
We then have most of our big signings on the bench if we need them or if someone is in danger of a red card.
David Connor
27
Posted 15/09/2017 at 16:04:42
Make no mistake, we will get murdered on Sunday. This is by far the worst Everton team I've seen since the Mike Walker days. No idea, no passion and most damning of all, no pride in wearing our great shirt. Absolutely criminal and an insult to both fans and club from these money chasing mercenaries.
Time to get rid of this shite manager and all his hangers on now before he takes us down. I want success for us at all costs. No more shite. I don't care if we change managers every season, all I want for our club is success at any price. Does Moshiri want it? I wonder.
David Edwards
28
Posted 15/09/2017 at 16:05:06
Top post, Peter (#14) – I share your pain.
Many times over the last decade we have had bad games and we could agree on most of them. However, it was the incompetence and lacklustre nature of the defeat that shook me the most.
I know we can field a stronger team and probably improve on last night – but it's not going to be good enough against most of the Premier League this season, because our manager has shown no tactical nous or ability to get the best out of our slow, unbalanced and demotivated squad.
I hope for the best but fear the worst. A 100% effort on Sunday – win, lose or draw –is the minimum. Let's have some pride, belief and something resembling a game plan on Sunday at least.
Steavey Buckley
29
Posted 15/09/2017 at 16:12:17
David Barks:
"The job of a central midfielder is not to just break up play."
The 'dogs of war' may need to return to get Everton going again. The nearest Everton have are Davies, Gueye and Besic.
James Ebden
30
Posted 15/09/2017 at 16:13:01
Triple captain week for Lukaku in my fanto team, I think!
Brent Stephens
31
Posted 15/09/2017 at 16:17:10
Robert (#5),
"The negativity is such that I don't think many Evertonian's will stomach a 1-1 or 0-0."
I for one would be pleased with a draw!
David Barks
32
Posted 15/09/2017 at 16:20:10
Steavey,
Then we will all have to sit and watch us defend with 10-11 men in our box for 70+ minutes and rely on hope and luck that a ball doesn't make its way into our goal.
No, sorry, that's not what we need. We need to actually offer something in attack. That "pray and hope" mentality is why we were completely dominated in the second half against Man City while having a man advantage the entire half.
Niall McIlhone
33
Posted 15/09/2017 at 16:20:14
The current Man Utd side appear to me to be the polar opposite of the current Everton side. They are well organized, they have a number of options for turning a game, they concede very little, and have power, skill and pace in attack, and with the likes of Lukaku, Rashford and Martial, will murder teams on the counter attack, even in very tight games.
My only hope is that the players realize, sooner rather than later, that their level of performance and, seemingly, their commitment to the cause, is unacceptable to the majority of fans.
As someone commented on another thread, even under Moyes we were hard to beat, and rarely thrashed. I do not see an on-pitch personality of the magnitude of (eg) Dunc, Carsley, Gravesen, Cahill or Campbell in this current squad; that worries me greatly for our prospects this season.
Steavey Buckley
34
Posted 15/09/2017 at 16:34:33
David Barks: The Everton Dogs of War consisted of Joe Parkinson, Barry Horne and John Ebbrell, who were mobile all over the pitch hunting the ball when Joe Royle, was their manager. He used to quip about them chasing anyone and anything that ventured on to the pitch.
Mark Morrissey
35
Posted 15/09/2017 at 16:38:24
If we don't win, I'm hoping 8-0 so that the boring, clueless Dutchman will be sacked. If it's a draw or a win for us then fair do's but I'd rather be battered than limp out as 1-0 losers because a humiliation is the only way the club might do the right thing and sack the half-wit.
Never been so bemused by the club as I have been over the procrastination to get Sigurdsson in and not sign a striker. It's so maddening I could my foot through the floor. Roll on Monday morning, so I can read the headline "Koeman resigns".
John Keating
36
Posted 15/09/2017 at 16:46:03
I just don't get the "drop Rooney" statements on various threads. In my opinion so far he has been one of our better performers, if not the best. For sure he's the only one that gives a shit!! The only one that gobs off to players and officials, something we've lacked for years.
I don't know why we can't just play 4-4-2 and give other teams something to think about defensively, so far every team we've played, including Stoke have really had no problems defensively.
The so called experienced players have let us down so far. Personally speaking I would play a natural right back in Kenny against United. Holgate is no full back and Martina is shite. Mirallas or Davis covering the young lad, the other on the left. Gana defensive midfield and Rooney behind the strikers.
We have to have a couple of young lads on the bench, we have to let these lads know they can and will be given a chance if the established wasters don't perform.
After that, well fingers and toes crossed and head below the parapet

Eddie Dunn
37
Posted 15/09/2017 at 16:49:42
We will witness 45 minutes of a team determined to make amends for the poor shows of recent weeks. Rooney will want to return to his former stomping ground and be able to hold his head up high.
Unfortunately, life is harsh and we will succumb to the inevitable defeat. It doesn't matter if Lukaku scores, as there are plenty of others who will if he doesn't.
Don't kid yourselves into thinking there is a magic wand that will make us a cohesive defending unit or a team capable of sustained attacking play.
We are capable of a bit of invention and perhaps a shock goal but normal service will be resumed soon enough. If we don't lose by more than two goals, it will be a good day.
Ian Hollingworth
38
Posted 15/09/2017 at 16:49:43
I don't understand the comments about people wanting Lukaku to go or not being bothered he went and how wrong it was to let him go etc.
You are forgetting a simple fact that Lukaku wanted to go, he did not want to play for Everton FC. In fact, the lad wanted to leave from the moment he signed; he always had bigger ambitions.
Therein lies the problem – our beloved Everton are not viewed as a big club with ambition to succeed and the sad facts are they have done next to fuck all about that for the last 30 years.
So we can moan and make veiled comments at each other regarding our opinions on players and "who's sorry now" attitudes all we want but it does not change the lack of ambition constantly repeated by the club.
The very same lack of ambition to succeed which is why the likes of Lukaku wanted away.

Martin Nicholls
39
Posted 15/09/2017 at 16:50:38
Mark – as one who is going to Old Trafford on Sunday, I don't want to witness an 8-0 defeat whatever it might precipitate. One thing it certainly won't bring on is Koeman's resignation – like players who want out but stop short of submitting a transfer request, he will do nothing that will cost him money.
Brian Harrison
40
Posted 15/09/2017 at 16:51:05
Well, Old Trafford, is the last place you want to go when low on confidence and unable to buy a goal. I wouldn't know were to begin in selecting a team for Sunday there are so many players out of form and playing a system they appear not to like.
I see Koeman had a meeting today with his senior players – let's hope he listened as well as talked. Although if he doesn't get a response after talking to the players, you do wonder were he goes from there.
We seem bereft of any attacking ideas and defensively look like they will concede every time our opponents attack.
Williams has been poor and I have to say so far I have been very disappointed in Michael Keane. What happened to that dominant assured centre-back when at Burnley? He looks slow and hesitant as do all our players at present.
I don't hold out much hope in getting anything from Sunday but there needs to be a marked improvement in the 5 games after that – otherwise, Koeman will be under serious pressure.
John Pierce
41
Posted 15/09/2017 at 16:54:05
Unless someone puts something in the water I can only see Koeman becoming ultra defensive Sunday. To limit the damage to 1 or 2 and proclaim it a base from which to rebuild from.
Much like my thoughts on Man City, the space is behind their full backs. For Everton to get a positive result they need to play 4-3-3. The two wide attacking players must be quick and stay wide.
Turning this side is important to get us a platform in the game. That would be Lookman and Lennon.
Midfield more narrow, Gana at the base Sigurdsson and Davies as two genuine central midfielders. The full back needs to push up into the wider midfield areas.
Centre-forward has to be Rooney, but he has to stop searching for the ball. Despite a decent start for us, that quality pulls the shape pf the team apart.
Anyway Koeman won't because his back is up against the wall. So any thoughts of bravery will be shelved. His post presser and Man Utd presser reek of parking the bus.
Out lad. Sorry – not acceptable to me.

Tony Everan
42
Posted 15/09/2017 at 16:56:23
Sunday is going to be torture. Backs to the wall. Raid after attacking raid. Referees give the Old Trafford crowd what they want.
If we come out of it with a win it will be a near miracle. A draw would be a pleasant surprise.
Tony Everan
43
Posted 15/09/2017 at 17:00:25
Totally agree, John, Rooney has to start as centre-forward.
He has to be given the responsibility of holding the ball up in Man Utd's half... by whatever means he can. Using every trick in the book. He needs to do it, week-in & week-out, as his priority. Agree he has to stop searching for the ball to achieve the above .
Colin McBride
44
Posted 15/09/2017 at 17:10:11
Let's go for it and play with two attacking wingbacks, some players in the midfield that can run and play and the biggest lad we have in the middle supported by Rooney who can drop back when we need to (sub Rooney for Sigurdsson if required). If the three lads at the back hold hands then Lukaku cant run straight through them!
Pickford
Keane Williams Jagielka
Kenny Baines
Lookman Gueye Mirallas
Rooney
Calvert-Lewin

Rudi Coote
45
Posted 15/09/2017 at 17:11:48
I know we will get slaughtered but, if it means we get a new manager, then bring it on!
Big Rom will have the easiest of games. The way our defence play will make Lukaku look as if he is the fastest forward ever!
Neil Lawson
46
Posted 15/09/2017 at 17:19:26
Hope Pickford has a virus and can't play. Will be unfair for him to have a blinder and still concede 5.
The reality is that Koeman will set up to defend and frustrate. In other words, we are not good enough to compete so let's see if we may just scramble a lucky draw or at least avoid a pasting.
Shocking. Not the Everton I have supported for over half a century.
Shane Corcoran
47
Posted 15/09/2017 at 17:23:25
Thankfully the All-Ireland final is on. A very welcome distraction.
I'll say 3-0. At 4/6, both teams to score – looks a good bet.
James Hughes
48
Posted 15/09/2017 at 17:25:47
The past three games we have witnessed teams just walking through us without a challenge or an attempted tackle. That needs to change asap.
It was pathetic to watch last night, during one attack they broke from their half, ended up shooting over the bar. No player got within two yards of the Atalanta player at all during that period of play.
Rooney is not a centre-forward. The widely quoted stat of 4 goal attempts in the past three games is a disgrace. If he plays up front, he can't be left isolated. Also Schneiderlin – er... enough said.
From a personal viewpoint, I do not like abusing our players; at present they are hard to defend.
Ian Bennett
49
Posted 15/09/2017 at 17:27:51
Shuffling the same out of sorts deck, on a team played two days after United...
Pickford
Holgate
Jagielka
Keane
Baines
Davies
Gueye
Mirallas (right)
Sigurdsson (centre)
Rooney (left)
Calvert-Lewin

Mark Morrissey
50
Posted 15/09/2017 at 17:31:05
Just seen his pre match interview and his smirk tells me he's been promised time.
John Charles
51
Posted 15/09/2017 at 17:39:05
Rooney has possibly been our best outfield player and is the only player to have scored in the Premier League. He needs to play centrally either just off Calvert-Lewin or instead of him.
Phil Smith
52
Posted 15/09/2017 at 17:49:30
Lookman, Davies, Calvert-Lewin and Kenny HAVE TO play now. We need some pace and frearlessness (is that a word???) in the side. The new players (except Keane and Pickford – Rooney has had his moments, I guess) aren't working. Schneiderlin has been awful so far and should be dropped.
Pickford, Kenny, Holgate, Keane, Baines, Davies, Gana, Rooney, Calvert-Lewin, Lookman and Lennon (or Kev 'Le Sulk d'Or'). 4-2-1-3 with Calvert-Lewin up top.
John Pierce
53
Posted 15/09/2017 at 17:52:32
Mark (#50). His words at the Man Utd presser killed me more than the performance last night.
If ever I knew he was miles from the sack, that was it. Absolutely gutted, no manager should ever feel that secure in his job regardless of results.
It's a high pressure, high reward environment, you cannot be afforded that level of comfort.
If it turns out to be true, I'll be disgusted in the Everton top brass. Saddening.
Daniel Lawrence
54
Posted 15/09/2017 at 17:54:21
Two hours of my life I won't waste, Sunday.
Dave Abrahams
55
Posted 15/09/2017 at 17:57:59
None of us know what team Koeman will pick or if different tactics will be used. Is this manager even capable of change, of surprising all of us with a different plan? I doubt it.
He has called Niasse back into the squad. I hope he makes the bench at least. More height and he has a go – scored twice against Man Utd last season. He most definitely can't do worse than what has been displayed up to now.
Come on, Ronnie – looks like you've been given a vote of confidence for now: try and make something of it.
Roger Helm
56
Posted 15/09/2017 at 17:58:53
Ian's team is as good as any. I just hope Schneiderlin isn't anywhere near Old Trafford.
I am hoping against hope for a fighting draw 0-0 or 1-1. A victory is clearly impossible.
It is quite like the last weeks of the Martinez regime where the worst things get, the better because they would hasten the departure of a failed manager.
At present, it seems Koeman is doomed, so the sooner the club bites the bullet, the better. Unsworth as caretaker until we source a permanent replacement, for me.
Martin Mason
57
Posted 15/09/2017 at 18:07:17
It'd be nice to say that Pogba being injured is a good thing but Herrera will replace him and is for me at least his equal.
Man Utd must fancy their chances of a big win against the team with the missing midfield. By that, I mean opposing teams drive through it without opposition and when we have the ball in defence there is no route to get the ball forward quickly via it.
Derek Knox
58
Posted 15/09/2017 at 18:15:00
I am as disillusioned as everyone else, and so very disappointed in Ronald Koeman, who was supposed to be the manager to take us to the next level. I didn't for one moment ever think that level would be down rather than up.
Some of his transfer targets are bewildering, let alone his team selections, which are also baffling. Even during games, he leaves substitutions far too late to have any chance of arresting a downward slide.
The only thing that worries me now as far as Everton are concerned, is the seemingly inevitable sacking. Firstly, who do we get?
Secondly as with most managerial changes, they come in and want to build their team; where is the funding coming from?
It is a worrying time for the Club, and at the end of the day, you can change the manager and the players, but we supporters remain disappointed and let down, again.
Dreading Sunday afternoon.
Dermot Byrne
59
Posted 15/09/2017 at 18:17:11
Ditto, Daniel.
John Audsley
60
Posted 15/09/2017 at 18:22:18
Moshiri won't sack him, not with that fool Kenwright in his ear.
Anyone who thinks he is going might just have forgotten Bill is proud to be the man who pretty much won't sack anyone.
Martinez would have been here last season if Bill was solely in charge.
Koeman is Moshiri's pick, He will see the season out at least.
Koeman has time based on the fact it's the Transfer Committee's fault he didn't get his striker.
If we finish 10th, it's not his fault at all. He can say that it's that tricky 2nd season thing but next season promises top 4 and so much more with 33-year-old Giroud finally in the bag.
Fucking idiots run this wonderful club.
Jim Bailey
61
Posted 15/09/2017 at 18:29:33
I'm done with Koeman. I've put a tenner on Everton to get beat 6-0 or 6-1 with Koeman to be sacked straight after. He's overrated and completely out of his depth. I really don't want my team to be stuffed like this, but if it takes a hammering to get rid of this charlatan, then so be it.
Everton should show some balls a la Crystal Palace, yes Crystal Palace who having realised their mistake by engaging De Boer have moved swiftly to attempt to put things right by getting shut.
If, and it's a big if for me, Everton are serious about breaking into the top 6 or 4, they have to act quickly. Take the hit financially and get rid.
Who to take his place I don't know, but this current situation is not acceptable.
Rant over.

Christy Ring
62
Posted 15/09/2017 at 18:29:42
I'd play Rooney on Sunday, he'd definitely be up for it, and to be honest, he's probably been our best player this season.
I'd play Kenny at full back, and Holgate in his natural position beside Keane. I wouldn't play Besic, he's a loose cannon and will probably get a yellow in the first five minutes.
I'm dreading this game, and if Koeman picks players out of position and we show no passion, he has to go.
Lukaku will be up for it, and I knew he was going to be a huge loss, but he wanted to go, so we had little choice. The biggest shock, is that Koeman had two months to replace him, but unbelievably spent £45m on Sigurdsson instead. A striker should have been his No 1 signing.
Christopher Dover
63
Posted 15/09/2017 at 18:31:26
What I cannot get is, if the manager has lost the players, then why did so many who came say they did so because of Koeman?
The team play like they have just met and, with the tough matches we have had, I did not expect miracles (even if I hoped for some) but they are not entertaining, not trying, and – like many others – I cannot see how he turns it around.
No doubt he will be given more time but, when the new majority shareholder has loaned £80 millions, I cannot see him being pleased and sitting on his hands too long as a drop into the Championship would cost to much.
Denis Richardson
64
Posted 15/09/2017 at 18:37:32
I'm going to give this one a miss – all the signs say that unless there is a dramatic change somewhere, this could be a cricket score. Will check the score at half-time and have taken Keane out of my FFL team!
Lukaku will score – you just know he will.
Danny Broderick
65
Posted 15/09/2017 at 18:37:44
We need width! Aside from the obvious striker problem, we are currently playing with 4/5 narrow midfielders in midfield. No wonder we are struggling to attack.
I would play Lennon on one side, and Mirallas on the other. Rooney has to start up front for me. The board have badly let all of us down (including Koeman) by not getting any of the strikers the manager was calling for. The best we can do is play Rooney up there, with cameos from Calvert-Lewin, until we can get someone in on January now.
Too many square pegs in round holes was the undoing of Martinez. Let's hope Koeman is aware of this, and starts playing Sigurdsson more centrally also.
Martin Mason
66
Posted 15/09/2017 at 18:37:47
Christopher, because he talks a good talk; they then find out the reality.
Colin Glassar
67
Posted 15/09/2017 at 18:41:28
I'm thinking of doing the same, Denis, but after years of being a blue masochist, I will probably watch it in dread. Lukaku (lazy, finger pointing, can't trap a bag of cement etc ) to score a hat-trick.
Paul Wyndham
68
Posted 15/09/2017 at 18:43:19
With confidence through the floor, disenchantment with the manager from the players and Koeman's clueless formations and tactics we need to be realistic, I can't see him breaking the mould and trying something different. Personally ,I think we should start like this:
Pickford
Kenny Baines
Keane Jagielka
Gueye
Lennon Sigurdsson
Rooney
Lookman
Mirallas
This would set up as a 4-1-4-1. Lennon would have to get up and down to support Kenny. A risk I know putting Keane and Kenny on the same flank but I think the link from defence to attack would be more fluid in this formation (I know three passes in a row would be an improvement on the recent constant concession).
I'm not a Mirallas fan,he's been far too inconsistent and moody but needs must,wishful thinking I know and it will never happen but that is the best chance we'd have of actually getting out of our own half and creating some goal scoring opportunities. What is there to lose?
Kenny Smith
69
Posted 15/09/2017 at 18:46:23
With nothing up top to worry about, Phil Jones will look like Franco Baresi. We are a shambles in the final third, the last third and the middle third.
Koeman needs to find a winning team and fast or we're in danger of losing too much ground on Huddersfield!
David Hughes
70
Posted 15/09/2017 at 18:59:20
For me, we have to go 4-4-2 now. Make no mistake we are in trouble, I have lost all belief in Koeman. Sick of it all every season same old same old.By saying 4-4-2 it's all about surviving we will get battered sunday,l ets let the kids have a go
Pickford
Kenny Keane Holgate Baines
Mirallas, Gana, Davies,
Lookman, Rooney, Calvert-Lewin
Let Rooney captain for this one. Koeman, you are like Martinez – crap! I'd really love to see if Big Rhino Unsworth could take this on. "Dogs of War" – we need to see that passion. COYB
Alex Bennett
71
Posted 15/09/2017 at 19:01:43
Only a waterlogged pitch can save us from a thumping...
I'm starting my rain dance now...
Kunal Desai
72
Posted 15/09/2017 at 19:06:34
Another pasting awaits. Once Man Utd break down our defence after the first 20-25 mins, the floodgates will open. I can see this being a real good hiding – 4 possibly 5.
Tom Bowers
73
Posted 15/09/2017 at 19:12:05
The midfielders Gueye and Davies have lots of skill but lack the great tackling against strong players. Besic is strong but rash, as is Schneiderlin somewhat.
Rooney is the key if he could play tucked in behind two quality strikers.

Geoff Williams
74
Posted 15/09/2017 at 19:13:18
Anything less than a 3-0 thumping will be seen as a victory!
Paul Birmingham
75
Posted 15/09/2017 at 19:15:51
The team is in a mess and that reflects on the board and who knows what will happen next.
This Sunday, only blood, sweat and true grit is acceptable. Bar a miracle,we will be routed by half time, and the Koeman Project will be in serious jeopardy.
Some thing is not right and the classic case of failing to meet the primary objective of this summers transfer plan, is there to see, but no care, no game plan and no fight is not acceptable. Everton were pathetic last night. The management and players betrayed the fans.
It's torture these days watching or listening to our games. It's gone back to the wretched stench and tedium of Walker's and Smith's, tenures as managers.
For all the grandiose plans and optimism made by Moshiri's reign, it is a nap in true Everton style that it goes flat and stagnant when with proper planning, it could have been, the start of something good.
For all I know there may be a wad for players in January, but who may want to join Everton?
Atalanta we're so much fitter and had more guile, we will get the same hammering in the home leg. The stench will be far reaching.
Damage limitation on Sunday... bar a miracle.
nb: I'm gonna do a bet for odds on 4 shots on target for us in the 90 minutes.
Ian Jones
76
Posted 15/09/2017 at 19:16:36
Geoff. I think 3-0 to Everton sounds great to me. Lukaku own goal to begin the rout. :)
Jackie Barry
77
Posted 15/09/2017 at 19:16:50
Pickford
Kenny Keane Jagielka Baines
Lookman Gueye Mirallas
Rooney
Sandro Calvert-Lewin

Tony Hill
78
Posted 15/09/2017 at 19:18:04
The only hope, and it's a faint one, is the fact that Mourinho's Man Utd have it in them to be flat and to cock it up against a side like us.
I know they're a different proposition this season but I think they're still a way off being title challengers despite the views of many to the contrary. If I were a United fan then I would be worried about all the expectation of a crushing romp (but I say that as an Everton fan...).
As I say, a faint hope.
Ian Jones
79
Posted 15/09/2017 at 19:18:59
Meant to add. Bring on Niasse as a wing back. That will surprise Jose.
Mike Berry
80
Posted 15/09/2017 at 19:24:58
I will guess that, with Ronald's usual fear of losing, we will again pack the midfield, have no width or pace, therefore the ball will keep coming back keeping us under pressure.
I am always optimistic but realistic enough to think we could get hammered, again.
Kim Vivian
81
Posted 15/09/2017 at 19:25:32
Tom (#73) – one problem with that. Where are the two quality strikers?
Brent Stephens
82
Posted 15/09/2017 at 19:25:37
Ian, don't give Koeman any more bad ideas! Go and have your gin!
Ian Jones
83
Posted 15/09/2017 at 19:28:52
I saw this earlier on Facebook. Think Ronald has this one sussed. Although he might park it in-front of the wrong end.
BREAKING NEWS. Everton sign new defender prior to Sunday's clash with Man Utd. 54-seater bus. Ronald says he will park it in-front of goal
Mark Morrissey
84
Posted 15/09/2017 at 19:30:35
I suspect that the fact Niasse is still with us and the failure to land a top striker plays right into Koeman's hands because he'll be saying to the likes of Moshiri and Kenwright,
"A few months ago I had Lukaku at my disposal and now all I have is Oumar and you lot promised me Giroud, so don't blame me for the current fiasco."
The worst thing is, I reckon they'll swallow that and allow him so much rope that, by Halloween, it will be just that, a fucking horror show with us languishing at the foot of the table.
Rooney will get sent off on Sunday – that's written in the stars.
Tony Graham
85
Posted 15/09/2017 at 19:32:15
The whole club is a shambles from top to bottom, all millionaires who cannot do their jobs.
I've given up on them.
John Pickles
86
Posted 15/09/2017 at 19:44:51
There's going to be kids growing up thinking that there's a team called Everton Nil.
David Hallwood
87
Posted 15/09/2017 at 20:05:22
Without a doubt the first half of yesterday's game was the worst I've witnessed by an Everton side in 50 years, easily eclipsing the early 80's and the Walker/Smith teams.
They looked like an unfit alehouse team, and made Atalanta look like Barca, but looking at the big lad up front who bullied the defence all night-and we couldn't sign a forward in the window.
So how should we approach the game? personally if I was Koeman, I would look at it the way a 2nd or 3rd tier team would approach getting Man Utd in the cup. Dogs of War, fight for every ball, unsettle and knock them out of their stride.
Make it the most boring heap of shite yet seen the season, because let's face it we ain't going to score a ton of goals, so we need to stop them going in at the other end. Everyone knows the stats but what makes it worse is that the 8 conceded should be more like 16.
One thing that's obvious is that the 2 holders should be scrapped because if the idea is to protect the back 4 it's failing miserably, so for this game I'd go 4-4-1-1, the midfield 4 being Davies, Schneiderlin, Gana & Besic. Horribly unbalanced admittedly but with instructions to chase everything down. Kenny at RB for width, and Mirallas up top and Rooney in the hole. I'd pick Mirallas because of his experience and when he can be arsed is a decent player.
Obviously there's no chance of this team seeing the light of day, but we need to stop this horrible run. At the moment, I'd take a Moyes performance and a 1-0 defeat from a goal in the 80th minute; yes, it's got that bad.
Joe Foster
88
Posted 15/09/2017 at 20:23:06
I fancy this as 5-0; both Lukaku and Fellaini to score and Besic to get sent off.
Danny Broderick
89
Posted 15/09/2017 at 21:18:57
David (#87),
The second half of your post was better then the first! When you say it was the worst performance in 50 years, it wasn't. It was shite, admittedly. But was it worse than the 4-0 defeat under Martinez away at Anfield? Was it worse than the 5-1 away at Man City under Moyes? Was it worse than the 3-0 defeat to Tranmere at home under Smith?
Sunday is not going to be pretty, but we have got to stick together. Last season, we had a dreadful run around November time yet we turned it round.
We've scored a massive own goal by not getting a couple of strikers in the transfer window, so it is going to be a struggle. But after Sunday, the fixtures get easier. We've just got to get through Sunday and then hope we can turn it round.
Colin Glassar
90
Posted 15/09/2017 at 21:21:33
Lose Sunday and we could be in the bottom three.
Harvey Miller
91
Posted 15/09/2017 at 21:26:42
We shouldn't have let Barry go, he was the only one in the middle with a real footballing brain. Pulis does not believe his luck as Barry still has one or two good years left.
Eddie Dunn
92
Posted 15/09/2017 at 21:31:20
As for team selection, I would pick Stekelenburg in goal, as in a meritocracy his performance in midweek kept the score to a reasonable level.
I would play Kenny at right back and Baines at left back. I would play Jags and Holgate in the centre half berths as Keane has been far worse than Williams or Jags in recent games, indeed it seems that Koeman's signings have all had the benefit of the doubt of late.
I would also drop Schneiderlin. I have been shocked at both his lack of fitness last season and his lethargy this!
Davies and Gueye for me with Rooney at 9 and Sigurdsson at ten. I would put Lookman on the bench and Henen too, after seeing how good he looked from a few clips last week.
Got to be worth a go.
John Raftery
93
Posted 15/09/2017 at 21:33:50
David (#87) It looks like you are moving to four holding midfielders!
Actually your team is not far away from one I would select but I wish we had an alternative to Schneiderlin.
Over the years many have scoffed at Moyes's knives to a gunfight analogy. As someone said earlier in the week we'll be taking spatulas rather than knives to Sunday's gunfight.
Colin Glassar
94
Posted 15/09/2017 at 21:35:30
I said we would regret letting Barry leave, Harvey. Another one of those players derided by a noisy minority on here who value hard work over skill and intelligence.
Barry with his experience would've been invaluable in Europe with some of the younger lads. Koeman hasn't got a fucking clue letting Deulofeu, Barry and Lukaku leave.
Denver Daniels
95
Posted 15/09/2017 at 21:38:30
i can see Our Wayne getting his marching orders inside the first 30 minutes.
No way in hell Koeman will play two up front. When last did an Everton team go to any of these "places" and actually go for it? I can't even remember. Maybe pre-Moyes.
We'll do well to keep the scoreline down. I hope some of the youngsters get a game. Can't do any worse than Morgan or Phil "I'll just watch the ball hitting my with ass" Jagielka.
Tony Hill
96
Posted 15/09/2017 at 21:46:46
What's quite funny, and we need some relief, is that if we were to sneak a win on Sunday, we'd be 3 points off the mighty Man Utd, the current league leaders. That's some sort of incentive to watch, isn't it?
Steven Telford
97
Posted 15/09/2017 at 21:53:58
Remember what it was like to look forward to watching your team play? Cling on to that memory, it may be a while before you feel it again.
And, blaming all this on the lack of a striker just wont wash. Sandro, Rooney, Calvert-Lewin, Lookman – the cupboard is not as bear as Koeman may wish to make out. He got 90% of what he was looking for over the summer.
Denver Daniels
98
Posted 15/09/2017 at 22:05:15
On the plus side Messi, Sanchez and Ozil are all in the last year of their contracts. ;-)
Anyone know what's happened to Garbutt and Tarashaj? They seem to have totally disappeared.
Tom Bowers
99
Posted 15/09/2017 at 22:11:29
Could be Koeman will park the bus on Sunday but you know it won't work. If Man Utd only win 1-0, you just know Rom will score it.
Colin Gee
100
Posted 15/09/2017 at 22:15:39
I'm dreading going to Old Trafford on Sunday. If Man Utd score in the first 10 minutes they could get double figures.
It could be embarrassing. We've seen a capitulation of sorts in the last three games. Mouriniho wont let his team slacken off in the second half like Chelsea, Spurs and Atalanta did, he will want and demand more from them.
I am hoping that he will play Kenny at right back and Lookman on the wing, at least that will give us some pace which has been seriously lacking in the least few weeks. Although no doubt it will be Martina at right back and feck knows who on the right wing, we seem to be playing a 10-0-0 system at the moment as no-one seems certain as to where they are supposed to be playing.
At times it's like watching the Under-10s; actually, the Under-10s would probably give our first team at game at the minute.
One thing is certain though, Lukaku is captain in my Fantasy team and, for the first time ever, Baines is on the bench!
Mike Doyle
101
Posted 15/09/2017 at 22:26:28
On the plus side... probably won't be long until Moysie returns.
Eric Paul
102
Posted 15/09/2017 at 22:32:05
If Moyes comes anywhere near our club, I will never set foot in the Grand Old Lady ever again.
For all those blowing smoke up Lukaku's arse, how many points would we have without his goals? And we will win on Sunday.
Raymond Fox
103
Posted 15/09/2017 at 22:46:59
We must retain some credibility with the betting companies, they are offering 1/3 Man Utd to beat us.
They only go 1/4 Spurs to beat Swansea and 2/7 Liverpool versus Burnley!
Sorry to say, though, measured against the likely top 6 clubs, we have a second rate manager, second rate players, second rate owners and a second rate stadium; doesn't make for pretty reading, does it?
Tom Dodds
104
Posted 15/09/2017 at 22:58:59
Out with the new and in with the old.
The 'New look' Everton.

Steve Bird
105
Posted 15/09/2017 at 23:00:27
Double figures!! We won't get out of our own half!! We will be obliterated!! I will be watching from behind the sofa !
The usual negativity from some on here, I thought we were supporters? Do you know the meaning of the word support??
Opinions are fine. Criticism is fine and well deserved after recent events. But get behind the shirt, encourage and support. Get behind the team, we don't hire or fire, we don't recruit, we are supporters, fans.
I honestly believe we have lost our way as a vocal tool at matches to contribute to a team's momentum.
I've seen much worse than this, and to throw our hand in after 4 league games is scandalous.
COYB

Sean Smythe
106
Posted 15/09/2017 at 23:02:52
3-1 to Man Utd I'm afraid.
Eric Paul
108
Posted 15/09/2017 at 23:19:13
Raymond,
The Old Lady second rate?
William Ralph, the Golden Vision, the last of the Corinthians, the Holy Trinity and the School of Science to name a few – not to mention Edson era Antes do Nascimento. Depois virou Pelé! and some Portuguese geeza to grace the only "ground" in this country to stage a World Cup semi-final.
Gordon Crawford
109
Posted 15/09/2017 at 23:24:48
4-0 to Man Utd. We are truly abysmal and I don't see that changing anytime soon. I really do hope I'm wrong and that we get something from this game.
Anthony Burke
110
Posted 15/09/2017 at 23:39:04
I don't want us to lose on Sunday but, if we did, but played with heart, passion and commitment, then that's fine; it's all we ask. I'm expecting a reaction although I was expecting a reaction v Atalanta – maybe I'm mad but I'm predicting 1-1... maybe even nick it 2-1. COYB Let's be positive!!!!
Anthony Burke
111
Posted 15/09/2017 at 23:41:38
Well said, Steve (#105) – I'm with you!
Clive Mitchell
112
Posted 16/09/2017 at 00:36:19
I don't want to see Everton humiliated for the third time in a week. I fear I will.
Dave Bowen
113
Posted 16/09/2017 at 00:54:54
If it's 4-0 or 5-0, which is likely, I can see a certain Dutch Ronald McDonald getting the sack on Monday.
Geoff Lambert
114
Posted 16/09/2017 at 00:58:05
Will be having a little wager on 3-0 by half time.
If we manage to keep them to 3...
Anthony Burke
115
Posted 16/09/2017 at 01:02:21
Koeman isn't going anywhere. Have faith: 2-1 Blues.
Anthony Burke
116
Posted 16/09/2017 at 01:07:06
A wager on 3-0 by half-time, Geoff?!? Call yourself a supporter?
Peter Larkin
117
Posted 16/09/2017 at 01:10:01
A rally cry. Let's fucking go Everton. Pick a team to attack and we will back you. Full 100% fight; passion from the team, management and fans a like. We are Everton. Never let anyone speak to the league founders as if we're a piece of shite... 9 league fucking titles... don't forget that.
This is more than Koeman, Kenwright, or Moshiri – this is about pride in the shirt, pride in the fans... pride in the legends that wore this shirt with passion.
Let's beat these Manc twats; fuck Lukaku, fuck Mourinho... fuck Pogba and his fancy boy haircuts... lets get fucking stuck in. Win, lose or draw... make sure them twats play the game of their lives to get any points.. do that and I'll back Koeman to the hilt. COYB
Steve Foster
118
Posted 16/09/2017 at 01:50:49
Firstly, Sigurdsson does not work on the wing. That's why he failed at Spurs. He is listed as a attacking midfielder so let's play him in midfield! He can't be any worse than Schneiderlin, who I can't say I have ever been impressed with since he arrived.
Lookman & Mirallas to provide pace and width, as we'll likely be sitting deep – this provides a fast counter-attacking threat.
Rooney in his preferred role, actually providing Calvert-Lewin with support.
Looks balanced to me. I think two holding midfielders just invited pressure. But we somehow think of that as normal now?
Pickford
Kenny Keane Jagielka Baines
Lookman Gueye Sigurdsson Mirallas
Rooney
Calvert-Lewin
Dick Fearon
119
Posted 16/09/2017 at 01:59:18
O ye of little hope, I think it was in the early 60s when I supported a poor Everton at Old Trafford. The odds on us copping an almighty hiding was very much shorter than for Sunday.
We were facing their mighty Babes when dear sweet Lord against all odds we marmalised them 4-0.
Right from the kick off we threw the kitchen sink at them and they fell to pieces. A bit of the fire we showed on that memorable day is needed.
NSNO
Andy Peers
120
Posted 16/09/2017 at 02:15:49
We will lose on Sunday, by quite a margin. Koeman has to be sacked right after the game and get Unsworth in. I would let Koeman have this game only to prove himself. If not, we will lose or draw to what are considered the easier teams, as all confidence will be shot.
A breath of fresh air is needed and Unsworth changed it right after Martinez got sacked and that was the best Everton performance of that season.
Mark Riding
121
Posted 16/09/2017 at 02:16:08
The absolute state of this thread. Some even suggesting putting money on us to get beat.
Derek Thomas
122
Posted 16/09/2017 at 02:22:52
James Watts@6;
Williams vs Lukaku? they might be well matched, both static, in fact I'd back Williams against him, because Lukaku was not noted for putting himself about... It's when all the new players around Lukaku feed him balls into the space and on to his toe, where it'll all turn to custard.
I fancy us to snatch a draw from the jaws of victory... it's the Everton way.
I wonder what the odds are for a Lukaku double and a Rooney sending off.
David @87; I like that... and repeat it for all the season's games
Phillip Warrington
123
Posted 16/09/2017 at 02:32:15
We will probably get a result against Man Utd like the Man City game, where they will give us a football lesson but we held on for a draw. That will save Koeman, just like Martinez's last season where we would get a result every 4 or 5 games and for the rest of the season we were shaking our heads until it got too much.
The board has to decide, forget about Europe, top six or anything else, is this the way they want to see "Everton play football".
Mike Galley
124
Posted 16/09/2017 at 02:50:49
Mark Riding at 121. Brilliant shout. Whilst I think I know what will happen at Old Trafford, I still go there with defiance in my heart.
If it happens, let's talk about it on Monday. Let's not fucking surrender beforehand. COYB.
Dan Kemp
125
Posted 16/09/2017 at 03:21:40
Okay, a little bit of balance then.
I have been a bit worried about the performances, but you have to balance that against the teams we played – Chelsea and Spurs didn't have to play their best, but they easily had the players to beat us, even if we played well. Atalanta were well up for it and we collapsed – before their first goal we were still in it. Like Koeman says, it seems we weren't prepared for them, plus we're low on confidence right now.
But if you look at the results against Stoke, Hadjuk Split and Man City – we didn't play that well but we got the results we deserved – mainly because they weren't top teams (Man City excepted). We did enough because our players were better than theirs (or the game plan worked).
So, on balance, with a team that's adjusting to playing with each other, we're not great but we're not as bad as people think. Yes, I think we'll lose against Man Utd - they're a top team, at home, and in good form.
But let's properly assess the team in the run of fixtures after that - we've got Sunderland, Bournemouth, Apollon Limassol and Burnley all at home. Then Brighton away. We may well be feeling a lot better after that run of fixtures.
I'm as worried as everyone else about the team's lack of fight and lack of attacking threat. I really just wish Koeman would pick an XI and stick with it for a run of games so they can settle into playing with each other. We have talented players, they can do this. Let's keep faith for now.
Pete Clarke
126
Posted 16/09/2017 at 04:58:23
Dennis at 64.
You are on something there.
A cricket score at Old Trafford!!
Mike Green
127
Posted 16/09/2017 at 05:14:29
Well said, Dan Kemp (#125).
Ian Lloyd
128
Posted 16/09/2017 at 06:25:02
Dan #125
You've just summed up what's wrong with our club from top to bottom.
"Let's Assess where we are after playing Sunderland / Bournemouth etc."
So The clueless one has spent over £150 million to compete with Bournemouth / Brighton etc – embarrassing!
Complete lack of ambition and embarrassing - we are EFC and should be comparing ourselves to Mad Utd & Man City etc
The whole setup stinks from beginning to end.
Dermot Byrne
129
Posted 16/09/2017 at 06:57:22
Mark (#121) – sometimes a couple of lines just cuts through the most complex argument!
Peter Barry
130
Posted 16/09/2017 at 07:42:52
Lose this and we could be in the bottom three come Tuesday.

Colin Glassar
131
Posted 16/09/2017 at 08:08:51
I see the Ronald has picked out Keane and Davies for public criticism but only mentions "senior players" as having to stand up and be counted.
He also, very publicly, has said Jonjoe Kenny isn't good enough to start in the Premier League (but fucking Martina is?) so what does this do for the lads confidence?
If he had called out Baines, Jagielka, Williams, Schneiderlin, (I won't include Rooney as at least he's trying), Gana etc for being shite then that would balance things out; but he doesn't – he just picks on the kids.
Lewis Barclay
132
Posted 16/09/2017 at 08:11:43
Pickford
Martina Keane Jagielka Baines
Gueye Davies
Lookman Rooney Siggurdson
DCL
Ernie Baywood
133
Posted 16/09/2017 at 08:14:45
I'm usually blindly optimistic in the face of all reason but I just can't see this team suddenly turning up.
We're not going to suddenly 'gel' as an attacking force so we're hoping for a fighting performance... and this side just doesn't have that in it.
Reckon it's going to be very messy and Mr Koeman might have a new meeting added to his diary on Monday.
Robert Leigh
134
Posted 16/09/2017 at 08:21:01
Brent #31
I'd take a draw too - but can't bear to watch us camp like in the City game again
Gerard Carey
135
Posted 16/09/2017 at 08:24:58
Lewis (#1320, same team except Kenny for Martina.
Andy Meighan
136
Posted 16/09/2017 at 08:29:22
Our own fans betting on us to get beat... Sad fuckers.
We may well get beat but betting on them to lose – you really need to have a long hard look at yourselves. Fucking pathetic.
Kim Vivian
137
Posted 16/09/2017 at 08:33:47
Colin - where are you reading/hearing these criticisms? I must be only finding abridged interviews or something.
If that is all accurate, I agree, we have a serious problem with him. Added to which, I personally do not see any benefit in criticising individuals publicly anyway. One wonders how much of the dressing room he actually still has left.
Rob Dolby
138
Posted 16/09/2017 at 08:37:21
The only way we will cope tomorrow is if we go back to playing players who defend. You can't play with more than one luxury player in the Premier League and get away with it.
We have seen with Roberto that we would get overrun playing Mirallas, Barkley and Deulofeu, it's the same now with Sigurdsson, Vlasic, Sandro, Mirallas and Klaassen.
Play Rooney up top with Sigurdsson behind then pack the midfield with workers and leave Martina at home.
Koeman has to realise that the players he has bought might look good on the ball but off it they look awful. Workrate first, then try to play.
Kim Vivian
139
Posted 16/09/2017 at 08:40:39
Off topic but I am really happy for Bournemouth last night. Eddie Howe – now there's a lad I would like to see given a shot with us.
Denver Daniels
140
Posted 16/09/2017 at 08:41:08
When did he say that, Colin? Maybe Cuco can play as an attacking right sided midfielder. Definitely not as a defender. We need to go for it. We have nothing to lose.

Colin Glassar
141
Posted 16/09/2017 at 08:42:49
In today's Guardian, Kim. He talks about Keane losing confidence, Tom starting to think too much, Kenny might be good in Unsy's team but not good enough for him etc
The "senior players" are not mentioned by name. Must be easier picking on kids I suppose.
Rob Hooton
142
Posted 16/09/2017 at 08:45:27
Dreading tomorrow but will still be watching and hoping for something, anything!
I wouldn't throw Kenny in tomorrow, definitely start blooding him mid-week though. It appears our manager is seeing what he wants to see – though I am very unhappy with him at the minute I don't think he should get the bullet just yet, though if things don't turn around sharpish he will have to go.
Perhaps a little introspection has done him some good, he might start working his nuts off to sort it out as opposed to swanning off on his golf holidays when it is obvious so much work needs to be done?
Colin Glassar
143
Posted 16/09/2017 at 08:45:43
"Koeman calls crisis meeting". Hope it's not on a golf course.
Geoff Lambert
144
Posted 16/09/2017 at 09:07:46
I love the optimism of some on here I don't want us to lose ever, but have you been in a coma for the last few weeks.
The last few games have been worse than Bobby brown shoes and you think we will go to Old Trafford and pinch a win or a draw!!!!
Die hard or deluded?
I am so far in to Darren and Tony's camp now.
Koeman Out!
Ray Roche
145
Posted 16/09/2017 at 09:13:43
Colin Glassar (#131),
Collin, that's not how I read it, he does say that if things don't improve Kenny may well get his chance. The pertinent parts are printed below,
"League this season, he is among those who Koeman has asked for a reaction. "I know we need to change some things but Sunday is not the time to change a lot of things," the manager added. "Sunday is a game for men and experience. They need to show it."
That gameplan would again exclude Jonjoe Kenny, despite Cuco Martina's struggles at right-back since he arrived on a free transfer. Kenny, 20, impressed in Everton's under-23 Premier League 2 title-winning side last season and the England Under-20 World Cup-winning campaign in the summer. The defender has featured only once, as a substitute last season, under Koeman, to the bewilderment of many Evertonians, but that may soon change.
"He is one of the talents," Koeman added. "I know, because I hear a lot of times the name of Kenny. I mentioned one time that the Under-23 competition is not the Premier League. The standard of performing is a training session by the first team. He is on my list, of course, but I think it's not the moment to put Kenny in. But if I don't get enough on Sunday and next week then maybe there comes an opportunity for the boy because he is a talent.
"But you can't say that if someone is playing well for the Under-23s he is ready for the first team. That is too easy. Tom Davies was an exception but now Tom Davies is struggling a little bit more. Last season he came in the team and he was playing out of nothing. Every weekend he was playing out of nothing. Now he is thinking, he is thinking, and he lost the spontaneity a little bit. If you saw the team yesterday [at Atalanta] there was no football that I like. They started and they went for it. We started afraid. That's what we need to change."
Dave Williams
146
Posted 16/09/2017 at 09:19:49
I don't think Ron is a very good judge of a player. Last season, he resisted playing Tom until his regular match changing performances from the bench forced his hand and he seems to be doing the same with Kenny. He can't do worse than the rest of the defence so give him a game with Lennon or Tom in front of him to support.
Team selection is a total lottery for this game because whoever is picked we will lose badly IF there is still the lack of effort,fight and structure to the team. That said on paper we have a squad of good players and if they go out with that dogs of war attitude we could be competitive. I think we need Williams to play to cope with the physicality of Lukaku, Fellaini and Matic and we need a really big performance from Rooney who will Ben fired up for this.
Pickford
Kenny Keane Williams Baines
Davies Gana Schneiderlin (one last chance cos we need him)
Sigurdsson Rooney
Mirallas
Niasse on the bench
For heavens sake... fight for the club – if you're not prepared to, then leave!!!!!!
Steve Ferns
147
Posted 16/09/2017 at 09:24:26
"If you saw the team yesterday (at Atalanta) there was no football that I like. They started and they went for it. We started afraid. That's what we need to change."
He's right of course. But whose job is it to make them confident and fearless? Who is putting the fear into them?
If only we had a £6m a year, world class manager,who been there and done that, who could help these players?
You all hated Mr positivity, Martinez. But he was doing the exact opposite of Koeman right now and you'd bet Kenny would be playing. I want to see the manager exuding confidence, even if it is all a sham. I want to see him reaching for the stars.
We finished 7th and spent a fortune. This isn't Moyes and finishing above where we should be. He can't argue a knife to a gunfight anymore. If he does, he spent the price of a gun on a knife. So this is all his doing.
Colin Glassar
148
Posted 16/09/2017 at 09:24:55
To me he sounded a bit like Roy when he was constantly asked about Barkley, Ray. "Is he the only player you want to talk about?", when asked about Kenny.
I might be being a bit harsh on Koeman regarding the younger players but he brings it on himself imo. He constantly "criticised" Ross last season but didn't mention half so much the deficiencies of other players. Maybe it's his way of trying to motivate certain players but it doesn't seem to be working.
Dave Williams
149
Posted 16/09/2017 at 09:34:32
You're absolutely right Colin. He picks on the younger ones in the press but doesn't comment on Jagielka, Williams, or Baines – 3 aging players who are not providing the leadership we need.
Every management course I have ever been on emphasises never to pick out individuals. If things are going well then you praise the team. If badly then you criticise the team but not individuals because that will alienate the team, some start to blame the people picked out by the manager and regard themselves as doing okay and you quickly get a team bereft of team spirit and boy do you then have problems.
His man management is poor hence the fall outs with several players,his buying of players is poor as the squad has no balance and no main striker,his team selection is poor as it lacks balance,lacks width and players are out of position.
More and more he is looking like Mike Walker to me and maybe Joe Royle can step in again to guide Unsy along with the first team.
Joe O'Brien
150
Posted 16/09/2017 at 09:39:00
Kim, That's what I was thinking too last night watching Bournemouth. I think it might be too much of a risk tho. Eddie Howe's players seem to play for him, unlike our players at present. He's a self-confessed blue as well.
Colin Glassar
151
Posted 16/09/2017 at 09:45:40
To clarify the first paragraph the above quote (#148) was from Hodgson when asked about Barkley, not Ronald when asked about Kenny.
That's what I meant to say Dave, you just said it better.
I expect this will be his team tomorrow:
Pickford
Martina
Williams
Jagielka
Baines
Schneiderlin
Gana
Sigurdsson
Besic
Rooney
Sandro
4-5-1 to try and keep the score down.
Dave Williams
152
Posted 16/09/2017 at 09:56:12
That's a good strong team, Colin, if they give it a real go. Packed with experience, physically strong in defence and some attacking ability.
Will they give it a real go? – that is the burning question!
Chris Corn
153
Posted 16/09/2017 at 10:01:23
I note in his press conference he mentioned Kenny not being ready but, if it carries on, he may consider him. He's obviously being asked the question we all ask about why he hasn't given him a go. You cannot tell me he is not a better bet in his natural position than Martina and Holgate.
Get Holgate in his natural position and dispense with Williams who has become a massive liability.
So disappointed because the recruitment seems on the face of it to be a bit of a shambles. Top heavy with central midfielders and so-called Number 10s who have no pace and offer no goal threat albeit we were told he was bringing in more creativity.
I would love to see the minutes on the transfer strategy meetings. What is the plan? What is the proposed style of play? And where do they all fit in?
This was supposed to be the season we put the old Everton to bed, but we have merely become a laughing stock.
Kim Vivian
154
Posted 16/09/2017 at 10:11:02
Joe – for anyone given the unlikely chance to take over this car crash it will be a big ask. However, I think the players would welcome the opportunity to have someone to mentally embrace and play for.
Eddie Howe is no soft touch but as a man manager seems streets ahead of Koeman who (certainly right now) seems quite unable to empathise with his players. I know they have had a rocky start to the season but just look what Howe has got from Bournemouth – hardly a squad of Galacticos.
It will be interesting to see how we get on against them next weekend... I do not predict us bagging another 6 goals!
Steavey Buckley
155
Posted 16/09/2017 at 10:13:36
Everton are a shambles on and off the field before a ball is kicked tomorrow. But if Koeman has a wicked plan, he is certainly not telling anyone, yet.
Amit Vithlani
156
Posted 16/09/2017 at 10:14:58
"You all hated Mr Positivity, Martinez. But he was doing the exact opposite of Koeman right now and you'd bet Kenny would be playing."
Steve. This particular pearl from you follows a quote where you also believed Martinez bequeathed a better squad than what we have now.
We jettisoned Howard, Osman, Hibbert, Gibson, McGeady, Stones, Kone, Lukaku, Deulofeu, Cleverley, Oviedo, Barry.
I would only have Stones and Lukaku back – Barry at a push.
Still leaves NINE players who were not good enough. I take it you have some sympathies towards the Phenomenal One.
The fact that Koeman is stinking the place out does not change facts and history.
Martinez presided over some horribly appalling performances. That Koeman has also managed to sink the team to such lows does not make Martinez a better manager.
One was shite and deserved to be removed and the other is rapidly heading in that direction.
Jimmy Salt
157
Posted 16/09/2017 at 10:17:53
Just watching the goals from the U21s again. Power, pace, direct running.
I know the first team is different gravy but the ideology,tactics etc are what the team is built on. How can the first team be so devoid of this?.
Martinez had his philosophy running right through the club, continuity was there to see. (I know it never worked out but you get my poin.) I don't see anything resembling this in our current manager.
Kevin Tully
158
Posted 16/09/2017 at 10:20:40
Does anyone think we will set up any differently than the Man City & Chelsea games? It's absolutely depressing that we are going to these grounds and setting out to play like lower League opposition, hoping for damage limitation.
It's not only damage limitation to the score line, you get the feeling the manager and the players would actually be okay with a 1-0 defeat.
What a gang of bottlers we have at this club. Ambition? You're fucking kidding me. Not fit to wear the shirt.

Steve Ferns
159
Posted 16/09/2017 at 10:23:41
I said Martinez left a very good side Amit. Not one that is better now.
Koeman was so focused on getting rid of everyone rather than using what he had and making it better.
And Martinez may have presided over some appalling performances but he also presided over the best performances of the last 30 years. There's no way Koeman will come close to 72 points, never mind thrashing good sides.
Chris Corn
160
Posted 16/09/2017 at 10:27:47
Jimmy Salt, I don't get your point. Martinez was a poor Everton manager as per Amit's post. We lament the loss of Lukaku but we still managed to finish mid table two out of the three seasons he was with us under Martinez.
Whatever is happening with the U23s is down to Unsworth and Ebbrell.
Paul Kennedy
161
Posted 16/09/2017 at 10:29:52
Cannot remember when I have looked forward to a match less than this.
As the film line said "Be afraid... be very afraid." Well, I am.
Paul Smith
162
Posted 16/09/2017 at 10:30:37
I don't believe the U23s are the answer. In the past, they have come in, performed well for a few games, then tailed off.
It will most likely happen again. Thing is, they can be no worse than the seniors who are an embarrassment.
Chris Corn
163
Posted 16/09/2017 at 10:30:56
Steve (#149). We beat City 4-1 last year. The 72 points. So what? It was a bottle job not to finish in the top four that year. It was ours for the taking after Arsenal at home and we threw it away.
Ray Roche
164
Posted 16/09/2017 at 10:33:08
Jimmy Salt (#157)
You're right Jimmy, I have watched the Under-23s a couple of times and they play a far better style of football than the first team do. And that's a problem for any youngster who gets a chance in the first team.
Instead of fast flowing football with plenty of pace and movement he is faced with slow, turgid football with no movement up front or through the middle. How can any player shine and grab his opportunity when he's face with that?
It just gives Koeman the opportunity to say he's not ready yet. The fact is, he is ready but the first team aren't good enough.
Steve Ferns
165
Posted 16/09/2017 at 10:34:35
72 points so what?
So what?
It's the fourth most we have ever got!!!
Geoff Lambert
166
Posted 16/09/2017 at 10:37:14
Chris Corn "bottle job"
What do you think is happening now?
And it's only the start of the season the way this manager is performing we will be lucky to amass 42 points never mind 72.
Steve Ferns
167
Posted 16/09/2017 at 10:40:08
That season is the only time in my life (I was 8 in '87) that I could hold my head high as an Evertonian and was not patronised by fans of other clubs. Other teams feared us and the Shite were genuinely scared of us.
All our other peaks were on the back of good management making the team greater than the individual players (Royle and Moyes).
Joe Edwards
168
Posted 16/09/2017 at 10:40:09
My line-up:
Pickford; Kenny, Holgate, Keane, Baines; Gana, Sigurdsson, Davies; Lennon, Calvert-Lewin, Rooney.
Koeman will play this:
Pickford; Martina, Williams, Holgate, Baines; Klaassen, Schneiderlin, Gana; Sigurdsson, Rooney.
We're doomed either way until he is sacked and Rhino takes over.
Tony Twist
169
Posted 16/09/2017 at 10:42:23
I see Rooney as the new Peter Reid, directing things from midfield, not running all over the place tiring himself out.
My team would be (3-5-2): Pickford, Holgate, Keane, Jagielka, Kenny, Davies, Rooney, Gana, Baines, Sandro, Calvert-Lewin.
Koeman will never pick this team though.
James Lee
170
Posted 16/09/2017 at 10:56:56
Koeman was asked if he was worried about his own future because of the current form – "If it is the board of Crystal Palace, maybe not," he said.
Steavey Buckley
171
Posted 16/09/2017 at 11:02:35
It is laughable when fellow Evertonians pick a team out of a mess called the Everton first team squad that has difficulty 'showing up' who ever is picked.
Koeman must be the first manager to sell the premier's best goal scorer and replace him with anyone but.
John Malone
172
Posted 16/09/2017 at 11:06:29
Tony (#169), can you explain how a 3-5-2 would work with Rashford, Lukaku and Valencia all so quick and direct coming down both flanks??
For me, it's got to be the old Moyes tactics 4-5-1 with Martina playing in front of Holgate stopping Rashford and providing some pace going forward.
Sigurdsson in front of Baines with Schneiderlin and Gueye holding with Rooney ten and Calvert-Lewin lingering wide right between the centre half and full back waiting for the diagonal ball over the top from Rooney!!
Give up the the space up front allowing United to push on and counter with Calvert-Lewin and Martina's pace with Rooney and Sigurdsson arriving late at the back stick!!
I wish it was that simple as above but for me it's the best plan to go up a United full of pace and goalscoring quality!!
Colin Malone
173
Posted 16/09/2017 at 11:10:34
Where do we play Klaassen? The only outlet for me is, just in front of one holding midfielder, where he has more time than in the crowded number 10 role.
Regarding Lukaku, if you put Brett Angell with all them players that are around Rom, Brett would score tap-ins. Thierry Henry even said Rom is lazy on live TV.
Tony Twist
174
Posted 16/09/2017 at 11:24:44
Fair comment John, I think my team has a bit of everything with the youth triangle of Holgate, Kenny and Davies who know each other inside out, same on the other side with Jags, Baines and Gana, with Rooney directing play and youth and running up front.
I wouldn't use Jags but we have no one else, maybe is it Gibson (newbe from Newcastle) but too soon for him. Play Martina...hmmm, no don't think so.
Steve Ferns
175
Posted 16/09/2017 at 11:47:47
United are likely to line up in a 4-2-3-1:
De Gea
Valencia Lindelof Jones Blind
Herrera Matic
Mata Mkhitaryan Rashford
Lukaku
I would play the much maligned Williams to tackle the physicality of Lukaku. Remember Lukaku ripped Keane a new one last season, and the lad's confidence is suffering at the moment. Keane can be the spare man. Rashford I would tackle with Holgate. Mata with Baines. Mkhtitaryan with Schneiderlin, with Gueye free to press forwards and pick up runners.
Matic is the key man here, he is a good passer of the ball and he is the one who has transformed United in the transitions. We need someone to get about him, to close him down and stop him playing. Davies would be great at that. However, we also need to take advantage of getting the ball off him and being high up the pitch and in a great position. Therefore, Klaassen or Sigurdsson would be the man.
Blind is not the best player and you can get at him. He is slow. Meet this with pace. Play Aaron Lennon. On the left, they have Valencia comes in, who fails to convince me as a right back. So play Lookman down the left and get at him. Pin him back. I would play Calvert-Lewin up top.
Sadly, no room for Rooney, which removes the whole Rooney return sideshow. He can come on as an option later in the game.
Calvert-Lewin
Lookman Sigurdsson Lennon
Schneiderlin Gueye
Baines Williams Keane Holgate
Pickford
Mike Benjamin
176
Posted 16/09/2017 at 12:03:54
Blimey... right now, Kone and Valencia would improve this team!
Steve Stobie
177
Posted 16/09/2017 at 12:39:13
Team for Sunday:
Pickford
Kenny Holgate Keane Baines
Gana
Sigurdsson Klaassen
Lookman Mirallas
Rooney
Blend of youth and experience with 2 wingers who don't really cross so no need for height, but both fast and tricky and willing to shoot. Rooney must be told to stay up front!!
Raymond Fox
178
Posted 16/09/2017 at 13:33:42
Eric (#108), second rate in the sense of facilities and condition. Memories are good but we need to live in the present,
Steve (#147), I for one didn't hate Martinez.
Amit (#156), your observations about jettisoning is somewhat one eyed is it not, Stones and Lukaku brought us £125m+. Cleverley came on a free we got £8m. Osman and Hibbert were retiring when Koeman arrived. Deulofeu was tied to his contract with Barcelona.
Martinez is doing very well with Belgium so far is he not. Koeman managed 6th and 7th in two seasons with Southampton. See the connection there!
I still want Koeman gone though, the main reason being I simply don't like the guy as a person. Add to that his mismanagement of Barkley etc, his negative tactics and some of his signings. It just seems strange though how he did so well at Southampton and his performance with us at present.
Nathan Snell
179
Posted 16/09/2017 at 13:54:19
1-1. And we will build from here.
Grant Rorrison
180
Posted 16/09/2017 at 14:40:04
Pickford
Kenny Williams Jagielka Baines
Davies Gueye
Sigurdsson
Lookman Sandro Mirallas
Amit Vithlani
181
Posted 16/09/2017 at 14:57:08
"And Martinez may have presided over some appalling performances but he also presided over the best performances of the last 30 years. There's no way Koeman will come close to 72 points never mind thrashing good sides."
I repeat, Steve. Comparing Martinez to Koeman does not make Martinez any better. Both have royally stunk the place out.
And I see you continue to laud Martinez's achievements. Certainly achieving 72 points was laudable. But it was compeletely offset by two consecutive seasons of being in the bottom half and achieving less than 50 points.
Koeman's shiteness has resulted in something I never expected to see on this forum: a harking back to the doomed days under the brown shoed bullshit merchant.
Amit Vithlani
182
Posted 16/09/2017 at 15:13:22
"Martinez is doing very well with Belgium so far is he not.
Koeman managed 6th and 7th in two seasons with Southampton.
See the connection there!"
No Raymond @178 I don't see the connection.
Belgium play international football. Different game to managing in the Premier League. Ask World Cup Winner Luiz Felipe Scolari.
Big Ron deserves some credit for his achievements at Southampton, but I put it to you that he would have achieved 1 place lower had Bobby bothered to set us up to defend and worked on set pieces, amongst other things he chose to neglect.
Both Koeman and Martinez are not good enough for this club. The board chopped Martinez 1 season too late. I hope it does not do the same with Koeman, or we will continue to be the best of the rest, which these days starts from 7th onwards.
Robert Workman
183
Posted 16/09/2017 at 15:48:55
There is understandably a lot of negativity around after the last few games. This game represents the last in a tough run of Premier League fixtures. Eventually our form will return, maybe during the next few home games.
All I wanted to say is that if the team is going to go on a bad run, surely it is preferable against the top teams. Just imagine if we had these same results against teams like Palace, West Ham, Bournemouth, Newcastle etc. Then we would be in real trouble with fixtures against those top teams still to come.
We could play well against the top teams, if that were the case, and still get beaten by a better team.
I know this is little consolation and will only be relevant if we put in improved performances, along with points, against Bournemouth, Burnley and Brighton.
Rob Halligan
184
Posted 16/09/2017 at 16:06:17
Robert # 183. The run we are about to end in terms of difficult premier league games, palace are about to embark on. Their next three games are Man city and United away, and Chelsea at home. Can only see them losing all three, making in 8 losses out of 8.
If we had their start, Huddersfield, Swansea and Southampton at home, the RS and Burnley away, I would have expected at least 10 points from those games.
Grant Rorrison
185
Posted 16/09/2017 at 16:07:45
I don't know why people automatically assume someone like Burnley will represent an easier 3 points. They've already taken 4 points away to Chelsea and Spurs and are currently drawing at Anfield.
The way we set up and attack we will struggle to score against anyone and our only saving grace until recent games was a reasonable defence. That's gone too.
Wont be surprised to see us in the relegation zone and (as good as) out of two cups in the coming weeks. We are that shite.
Rob Halligan
186
Posted 16/09/2017 at 16:16:06
That expectation would have been before the season kicked off, Grant. I would have expected a draw at least at Burnley. Last week palace should have well won at Burnley.
Anthony Hughes
187
Posted 16/09/2017 at 16:23:33
The mentality of some of our fans amazes me sometimes. It like the inevitable acceptance that when we're playing the so called big teams and it's sort of okay we get beat.
If we aspire to join the top group of clubs then the whole mindset of the fans, players, management and board members need to change. After the money we've spent and the money we're paying our "coach" then the start of the season should be viewed as completely unacceptable.
If Koeman isn't cutting it then he should be axed. The "big clubs" don't fuck abut if their manager isn't performing. In the cut throat league we play in there's no longer time to patience.
Michael Lynch
188
Posted 16/09/2017 at 17:12:27
Anthony, the fans have got no influence on the way our team plays! Unless Koeman is planning on calling me up to play right back of course, which is probably more likely than him giving Kenny a game.
Meanwhile... a defeat by more than two goals – which let's face it feels probable rather than possible right now – and we're in the relegation places.
Steve Ferns
189
Posted 16/09/2017 at 17:17:07
They do, Michael. Read what players say about crowds. Why do foreign players, coached by foreign managers play in the "British way"? The crowds insist on it.
You don't need to speak English to know the crowd is happy when you've made a tackle, that they are happy when you have a shot or do a trick, or they are unhappy when you piss about with it at the back in the more "continental style".
You could take Barcelona and dump the in Stoke and watch the team be influenced by the crowd.
Tony Everan
190
Posted 16/09/2017 at 17:28:28
We've had a tough start, but so have Burnley .
They are fighting for everything, full of passion, taking something from Chelsea Spurs and Liverpool, away games too.
If they can show togetherness and passion for the cause, well so should we. Our players and manager should be fighting tooth and nail over every blade of grass.
Evertonians will never settle for anything less from any player or manager.
Charlatans are not welcome.
John Charles
191
Posted 16/09/2017 at 17:37:16
When we beat Man Utd tomorrow, we will only be one point behind Liverpool!?!?
Dave Williams
192
Posted 16/09/2017 at 17:37:41
Tony, totally agree and this is what makes me so mad. Defeat against a better team I can accept provided we fight for 90 minutes,don't give up and have a real go at scoring a goal.
Slow laborious passing, no movement, no effort, no guts, no system, no leadership and basically no idea is just not acceptable under any circumstances.
James Marshall
193
Posted 16/09/2017 at 17:38:20
With regard to playing the 'British way', I've always found this to be something of a negative, especially at Goodison. Our fans don't appear to find any enjoyment in the game when it's played in a more Continental manner.
We're pretty quiet until someone makes a big tackle, or something aggressive happens to get the crowd up. You have to balance out the physical side with the technical side, and I'm not sure we currently have a problem with physicality. We do however have a problem with our technical side.
Too many similar players for my money – too many midfielders all doing the same things, just in different positions, and nowhere near enough width.
We've been so narrow in all our games it's painful. Stick Lookman, Lennon, or Mirallas on the pitch and get at the opposition down the flanks a bit, open the game up, play at a higher tempo and stop giving teams so much time & space.
Simple eh.
Tony Everan
194
Posted 16/09/2017 at 18:12:28
James, I couldn't agree more, the team needs width to create an outlet. This in turn helps the team keep its shape and organisation.
It is the same when you have a centre-forward who can hold up play in the opposition half or win a free kick or even a throw.
It buys time to maintain shape and get organised.
And god forbid, a bit of width and a dedicated centre-forward may even get us a goal at some point!
James Marshall
195
Posted 16/09/2017 at 18:20:02
Even without a full blown centre forward on the pitch, a bit of width would give our midfield more space and shape, as you say Tony.
It's not rocket science!
Paul Goodchild
196
Posted 16/09/2017 at 18:58:33
Schneiderlin is desperately short of confidence and should not be picked. I would drop Rooney back to play in his role. He can play there along side Gana Gueye. Holgate is a natural central defender. Now is the time to play him there along side Keane and Williams for this game. Jagielka sadly is past his best. I would play Tom Davies at right wing back and go for a bit of pace up front. I still do not think Calvert Lewin is quite up to this level as yet. I think Sandro will come good quite soon if we persevere with him.
Pickford
Davies
Holgate
Williams
Keane
Baines
Rooney
Gueye
Mirallas
Sigurrdson
Sandro
I am not confident any side koeman picks from the current crop available is likely to win at Old Trafford but that team seems to have a bit more mobility and pace which I think is what we need at the moment.
John Charles
197
Posted 16/09/2017 at 19:10:33
Paul, I mostly agree with that team, particularly Rooney in and Calvert-Lewin out. No matter how in decline, I am still not convinced Jags is not a better bet than Williams.
I seem to spend half my time at the game swearing at him and, since I am taking my lad tomorrow, I could probably do with him not playing
Martin Mason
198
Posted 16/09/2017 at 19:27:32
John @191 Wonderful positivity.
Tom Bowers
199
Posted 16/09/2017 at 19:48:03
Both Williams and Jagielka have been 2 of the most consistent defenders over the years but they are both past their best and should only be subs. However, with Funes Mori out (and many don't rate him either) Everton have to go with one of the other two for now.
Bainsey's left wing raiding is also very limited now and Seamus is injured. Neither Holgate nor Martina have impressed at full back so far so defensively apart from Keane it's been tough.
When you turn to solidarity in front of the back four (or three) Schneiderlin nor anyone else has been outstanding and perhaps letting Barry go was a tad premature.
Whatever, the players they have should be able to park the bus effectively when necessary such as Swansea today but of all teams Everton are the most inept at it. It's likely to be backs against the wall tomorrow and as long as it stays 0-0 it will be another nail-biting afternoon because our boys have very little offensively. Dare I say they need divine intervention.
Julian Exshaw
200
Posted 16/09/2017 at 19:57:37
We have good players, most are internationals. Quality players don't turn into duds overnight unless they are made to look like duds due to a certain system they have to play or there is an unwillingness to go out and perform.
I don't see the latter being the case at all. There is simply no consistency, neither in personnel nor formation. Instead of good players expressing themselves and getting on the ball, they are hoofing it forward and hoping for a miracle. We have no archetypal Number 9 anymore which renders this archaic style of football obsolete, pointless and frankly unworthy of the 'School of Science'.
TV pundits usually try to be diplomatic but just this past week we have heard our team being described as 'awful' a 'shambles' and 'boring'. I won't be nervous tomorrow because I really don't expect anything. It shouldn't be this way, though.
I do, however, expect them to go out, give 100% and show some pride in wearing the blue shirt. Some passion from our coaching staff would also be nice!
Paul Wyndham
201
Posted 16/09/2017 at 20:20:06
Today I've watched Burnley and then Swansea play with passion, cohesion and a game plan, something we have lacked under Koeman. Both of those teams looked balanced and fitter than us and they played for each other as a unit, no-one hid or looked like they didn't know where they should be or what they should be doing.
As much as the senior players undoubtedly need replacing, now is the time we need them to stand up and be counted; it wont happen but this would be my team;
Pickford
Kenny, Jagielka,Keane, Baines,
Gana,
Lennon, Rooney, Sigurdsson, Lookman,
Mirallas
Lennon and Lookman would have to put a shift in covering the full backs but at least this team would give us some pace on the counter and much needed width. Wishful thinking I know, it will never happen under this dull, uninspiring charlatan. Bottom three tomorrow I think.
Paul Hewitt
202
Posted 16/09/2017 at 21:10:51
We I'm going for a 2-1 win. We need to start somewhere.
Raymond Fox
203
Posted 16/09/2017 at 21:25:14
Amit (#182), the connection is they are in Martinez case and in Koeman's case – they have done well with different sets of players. There's many facets to a managers job, but his fate depends a great deal on the his players abilities. I'm not sticking up for Koeman as I said before he's left a lot to be desired in more than one area of management, especially this season.
Martinez made no secret of the fact that his emphasis was on scoring goals. Guardiola has the same outlook, but you can get away with it if you have an attack that can score for fun.
I've no doubt if Martinez lost the dressing room, the defenders were the most vocal. Throwing players forward does not do any defenders any favours and reflects badly on them.
Getting back to the topic.
Logic says that at present we have no chance of getting anything out of this game, but certainties have a habit of often getting beat when least expected.
What I would say is if we go there to only defend we will get murdered. Koeman should put an attacking side out and go for broke, if we get beat going for it, so be it.
Everybody expects us to get beat anyway!
Rick Tarleton
204
Posted 16/09/2017 at 21:33:46
I know, Koeman will pick Kenny and Davies, Rooney will score a hat-trick and Schneiderlin will run the midfield. Williams will be a rock and we'll win four-nil.
Bill Watson
206
Posted 16/09/2017 at 22:56:44
I expect Koeman to select a side to get a point. A side packed with square pegs in round holes who lack any sort of pace, whatsoever.
Expect half time substitutions!!
Andy Crooks
207
Posted 16/09/2017 at 23:02:48
I find it surprising that some Evertonians want us to lose and, indeed heavily. The implication being that their support is greater than those who just want our team to win.
I have supported Everton for 50 years and, for me, when the day comes when I want us to get thrashed, I will no longer consider myself a supporter.
I have lost faith in Koeman. I am gutted at the apparent lack of effort. However, there is some bile on here that is disturbing. It is like an anger contest.
If you don't use the word shithouse then you are not an Evertonian. If you only ever post when want to vent spleen you will always at some stage to have the chance to boast that you told us all along.
Chris Neubauer
208
Posted 16/09/2017 at 23:10:08
Tomorrow will be a hard watch; we're gonna get spanked – there's no doubt about it. I'm prepared for it.
What is most of concern, is the lack of application and just plain positional sense or lack of it. They are playing like a bunch of uninterested individuals, that are laughing all the way to the bank. Every team in the league would suffer the same fate, if they didn't have a strong and respected manager at the helm.
Unfortunately Koeman does not possess either of those qualities. He needs to have both before any tactics can be adhered to. He has shown himself to be pig-headed, stubborn and a poor communicator. A recipe for getting the sack. (And putting the fans through the mill.)
John G Davies
209
Posted 16/09/2017 at 23:23:29
I'm not surprised at all Andy. It's more important for some to be proved right than for Everton to turn it around.
I can't understand that at all.
Chris Gould
210
Posted 16/09/2017 at 23:43:57
I don't think anybody expected us to be as poor as we have been in the last 3 games. It's been soul-destroying.
However, I felt at the start of the season that 7 points after 5 games would represent a decent return after such a difficult start. If we win tomorrow then we're on 7 points and just a single point behind Spurs and Liverpool after having a far tougher run of games.
Of course, at this minute, it's difficult to envisage us winning tomorrow, but we were close to beating City and it is certainly not an impossible task.
A win at Man Utd and perhaps we can look forward with a little more optimism. Whether we win, lose, or draw tomorrow, I am not ready to give up on Koeman yet. He went through poor runs with Southampton on a few occasions before going on winning streaks. Hopefully tomorrow can be a catalyst for an upturn in form and results.

Neil Wood
211
Posted 16/09/2017 at 23:56:32
Andy. Fully agree.
We are Everton. We expect our side to give 100% when they put on that shirt but I also expect our fan base to give 100% support when it comes to match day.
How can anyone possibly sit typing away hoping we get thrashed call themselves a true fan? Yes it's shit at the moment but most would have taken 7 points come 5 games into the season with the start we were given
Win tomorrow and things will look awfully different. Have faith.
I have a very strange feeling about tomorrow and feel their could be a shock and I for one will be cheering until my throat hurts. I am an Evertonian. COYB
Oliver Molloy
212
Posted 17/09/2017 at 00:13:49
Haven't read all the posts on here, so someone else may have mentioned it, but I've just read that Koeman has never lost at Old Trafford. It's going to be tough ask to keep it this way but you never know.

John Pierce
213
Posted 17/09/2017 at 00:44:18
I do get a touch mystified when rightly Koeman gets pelters for his selections and formations yet Sages' & Magi on here keep picking wing backs!?
We have one actual wing back at the club, Seamus Coleman, even he was fit we still could not play that way.
Even if it mean dropping better players, play with balance and a geniune thought for cadence within it.
So up for mockery is my effort for tomorrow. A genuine attempt at 4-3-3 with the wide forwards high and wide, balls in that space behind the United full backs.
Pickford; Martina, Keane, Jags, Baines
Davies, Gana, Sigurdsson
Mirallas, Rooney, Lookman.
The wider mids are disciplined and better passers than most.
Yeah, in my head it was pretty good 🙄

Dennis Ng
214
Posted 17/09/2017 at 01:10:39
Given our form and recent Koeman's comments, I want to see the lads give Man Utd a go. Would love to see young lads like Kenny and Holgate play instead of Jags and Martina. Aim for the future, be aggressive, take it to the top dogs and make it a game. Even after tomorrow, there is no easy games.
As Paul (201) mentioned, Swansea and Burnley looked good, but ultimately it comes down to drive. We need to show our drive tomorrow and for the entire season or we won't challenge no matter how much money we spend.
David Israel
215
Posted 17/09/2017 at 02:16:07
I'm not making any predictions, other than RK will probably return to three centre-backs.
But, of course, I cannot be optimistic. I haven't lost my marbles yet.
Now, I know everyone's a bit depressed, but to try and rehabilitate Roberto Martinez is beyond the pale. Any minute now, we'll have someone on here longing for the good old days of Mike Walker.
Neil Gribbin
216
Posted 17/09/2017 at 08:05:19
I want to see us play with a bit more "oomph". Go for a win, don't be slow, don't be negative. I certainly do not want to see us get tonked again. No one can deny that the last few games have been poor, but we have had a tough start, but I'm not going to start storming the barricades until the end of October if there isn't a massive change in display.
Paul Smith
217
Posted 17/09/2017 at 08:20:16
My team for today would be as follows
Pickford,
Kenny, Keane, Holgate, Baines,
Gueye, Schneiderlin,
Lennon, Sigurdsson, Rooney,
Calvert-Lewin
I think Lennon deserves a run as he is the only player we possess who looks to get in behind teams and give us natural width. Rooney and Sigurdsson can interchange positions and Calvert Lewin plays up front because Sandro hasn't shown much yet. I would play Kenny and Holgate at the back for their extra mobility.
The player I've most been disappointed with this season is Schneiderlin whose form has not been up to much. Personally I can't wait for Coleman and Bolasie to come back as they are both dynamic and will add more pace which we lack badly.
Again its not so much the result I'm hoping for more an improved performance where we at least stand up to them and have a go.
Mark Murphy
218
Posted 17/09/2017 at 08:43:12
I don't think Man Utd away is the game to blood youngsters. I expect an experienced back four and a predictable defeat. This team is only half built, for whatever reason, and we need to be patient for the improvement to kick in
After this 4th test against this seasons top four our season begins in earnest and the youngsters can be introduced gradually for the future.
Personally I'm frustrated but in the cold light of day the fixture list has been cruel to a new and developing team.
Shaun Wilson
220
Posted 17/09/2017 at 09:07:22
Gray. How's that for a line up tomorrow? Predicting teams is bullshit lads, let's just big Ron fuck it up for himself
John Roberts
221
Posted 17/09/2017 at 09:21:43
My predictions are that Ashley Williams, if he starts, to get booked trying to nip in front of Lukaku for the ball only to wipe him out from behind!!!
Gareth Clark
222
Posted 17/09/2017 at 09:34:22
We clearly need pace out wide - so I'd do something a little bit different. Something that some people disagree with. Playing Rooney up front & Calvert-Lewin off the left. Rooney tracks back too much & leaves Calvert-Lewin isolated, and takes away our width.
Pickford
Cuco Keane Williams Baines
Idrissa Schneiderlin
Sigurdsson
Mirallas Rooney Calvert-Lewin
Stek, Jags, Holgate, Davies, Klaassen, Vlasic, Sandro
But I think we might go with the following: which is more solid at the back (Holgate needs to play in a back three)
Pickford
Holgate Keane Williams
Cuco Idrissa Schneiderlin Baines
Rooney Sigurdsson
Calvert-Lewin

Matt Butlin
223
Posted 17/09/2017 at 09:35:02
Absolutely dreading this...
David Booth
224
Posted 17/09/2017 at 09:43:20
Lose by two or more today - the likelihood of which seems inevitable - and we drop into the bottom three.
Barring a miracle, where do we go from here?
This is a complete shambles of a start to the season.
Koeman has spent £200m so far to completely build a new team: the 12th most expensive one in the world allegedly. And we seem further away than we have been for years.
Comparisons have been made with the worst of Martinez, Moyes and Smith, but this is Mike Walker-esque.
We are drifting hopelessly towards further humiliation, capitulation and oblivion with Holland's Donald Trump at the helm.
The scene is set for a significant drubbing today, with Lukaku and Fellaini teed-up perfectly to rub our noses in it. You couldn't write the script could you?
Sadly, despite a senior player summit, I still despair for both our immediate and mid-term prospects.
How Koeman expects to do anything without a proven centre forward beggars belief.
And we pay this Dutch dunce £6m a year?
He hasn't got a clue.
Jay Woods
225
Posted 17/09/2017 at 09:44:11
Prediction: we'll have a defensive set-up (shock!) with no counter attacking capacity, and we'll sit deep and pass it sideways or backwards every time we get the ball (which won't be that often). A shot on target once in either half (for us) will be the maximum as we stumble to another heavy defeat without reply.
Oh, and Lukaku to be "respectful" by curtailing his celebration(s) when he scores.
Clive Rogers
226
Posted 17/09/2017 at 09:51:08
If Ron picks Cuco, we will get thrashed. He is an accident waiting to happen. You can absolutely rely on him to give a goal away.
Sam Hoare
227
Posted 17/09/2017 at 09:52:52
Can't recall ever feeling less confident heading into a match!
Stephen Brown
228
Posted 17/09/2017 at 10:06:01
Positive hat on !! Win and we are a point behind 'world beaters' Spurs !!!
Bollocks to it I'm going to put a fiver on a 2-1 win with Rooney winner!
Anthony Hughes
229
Posted 17/09/2017 at 10:13:47
Koeman isn't going to Old Trafford today to attack them. Be prepared for at least 8 defensive players on the pitch. He will be hoping for 0-0.
Sam Hoare
230
Posted 17/09/2017 at 10:32:07
City, Utd, Spurs and the RS showing that speed and strength up front allied with top energy and movement is the way forward in the PL. Koeman has decided to ignore that and opt for experience and 'nous' instead. A narrow team full of brains over pace. It's a vanity project that's gone wrong so far and shows little sign of bearing fruit.
Today we'll see again how it measures against one of the top teams. Badly I expect. Over the next few weeks it will be tested against a lower tier of team and if it fails those tests too then it must be ended before it does lasting damage to our club.
Andrew Clare
231
Posted 17/09/2017 at 11:06:38
Sam (#227),
All I can say is that you must have a short memory.
Colin Glassar
232
Posted 17/09/2017 at 11:16:30
City, Utd and Spurs can all defend Sam, the other lot can't. That's why they'll never win the league.
Big loss or bore draw today.
Geoff Williams
233
Posted 17/09/2017 at 11:19:49
Even Koeman must realise that under no circumstances should Williams play in this match. Kane had him on toast last week and Lukaku is bigger and stronger than Kane.
Trevor Peers
234
Posted 17/09/2017 at 11:20:47
Sam's #230 post is spot on, when we appointed Koeman we thought he was a manager with all the right attributes.
How wrong we all we're, he's a football dinosaur, his type of football would of graced the Italian ultra-defensive approach of the 1960's.
Trevor Peers
235
Posted 17/09/2017 at 11:20:47
Sam's 230 post is spot on, when we appointed Koeman we thought he was a manager with all the right attributes.
How wrong we all we're, he's a football dinosaur, his type of football would of graced the Italian ulta defensive approach of the 1960's.
Kim Vivian
236
Posted 17/09/2017 at 11:28:25
Remember lads, we KNOW Lukaku and will probably have some pretty good idea how to contain him. Put Besic on him? with Williams to cover the aerial threat? (That'll get some replies on here :-) !
Plenty more danger however from Utd but they are miles behind City (especially with no Pogba) and look how we did there.
I'm up for this. COYB
George McKane
237
Posted 17/09/2017 at 11:33:46
I have just realigned my Blue armchair - - I moved it into our TV room at the top of the House - - too watch the game at Home today - - some Blue friends are coming around to watch it later - - I will make a little buffet for them and we will "sit and eat and watch" together - - my Chair ( like Van Gogh's is simple) is Blue and comfortable - - as I now sit in it - - I look directly out of my window - - I can see the site for our proposed New Blue Heaven - - the sky above has a greyness about it - - but as I look down The Grey River towards Garston and onto Runcorn Widnes - - there is a long stretch of Blueness/Sky in-between the layers of grey - - there is a slimmer - - a glimpse - - of Blue - - and on The River at the end of my eyeline - - yes there is - - A Silver Lining.
Now, I am not stupid - - but I do believe in symbols and signs - - not in any "goodluck charm' way - - but that there are certain things that we either believe in or we don't and if we hold such beliefs we can convince ourselves of the signs - - "was Jesus an Alien - - did he arrive and go back to the stars via a worm-hole - - a stargate" - - (should have stayed and Managed Everton)" - - then my belief is that I - - and you gang - - all of you - - are and always will be - - no matter what happens today - - or what happened last week - - we - - me and you - - are Evertonians -- are and always will be - - its unchangeable - - its inside us - - it is who we are.
I do see a Silver Lining - - or else what is the point of us all writing on here, nervously waiting for the game to start - - making sure we have our Season Tickets - - smiling when we think of our history - - who we are and what we stand for - - putting ourselves constantly through The Sacred and Profane - - forever treading and following Dante's Journey through Inferno to Paradiso - -and what ever today brings knowing that we will again get up and begin again on Wednesday and Saturday - -"and we all shine on like the moon and the stars and the sun - - and we all shine on and on and on and on and on".
This is a battle between belief and reality - - believing in something in the face of everyone else ridiculing your beliefs - - between Logic and Love - - this is a belief in The (very ) Heart of Being Blue.
"Fate's arrow, when expected, travels slow."
"O grace abounding and allowing me to dare
to fix my gaze on the Eternal Light,
so deep my vision was consumed in it!
I saw how it contains within its depths
all things bound in a single book by love
of which creation is the scattered leaves:
"How substance, accident, and their relation
were fused in such a way that what I now
describe is but a glimmer of that Light."
My shout to those men in Blue who will march on to that Gladiators field in our name, in our cause and in our stead - - "Behave like men, and not like witless sheep..."
We are and always will be Blue - - no matter what is thrown between us - - We Are Brothers and Sisters - - All - - We Are The Blues.
With a firm handshake - - and "posso waves" and those cosmic grooves all the way - - your friend - - George
Brent Stephens
238
Posted 17/09/2017 at 11:38:00
Will watch with a degree of resignation (and naive anticipation). Just make me prouder than the last few weeks.
Brian Harrison
239
Posted 17/09/2017 at 11:42:56
Well seeing as most agree that there is little chance of getting anything from todays game, then lets hope this encourages Koeman to at least have a go. Yes it still may mean we get beat but surely thats better than playing 8 or 9 behind the ball for 90 minutes.
We struggle when we play 3 at the back so lets stick with a back 4. I doubt he will play Lookman or Davies as he has already said that this is not a game for youngsters. But please can we have at least 1 wide player with pace. I would rest Schneiderlin he has probably been or most ineffective player this season, so bring in Gueye for him.
John G Davies
240
Posted 17/09/2017 at 11:52:18
Michael, Lyndon.
Can you please frame the post at 237 from George and leave it at the top of the site on the homepage.
Colin Glassar
241
Posted 17/09/2017 at 11:53:43
I see we've signed a sleeve deal (whatever the hell that is) with Angry Birds. Does that mean Wayne will have a picture of Colleen on his sleeve?
Fran Mitchell
242
Posted 17/09/2017 at 12:11:38
Our team lacks pace and width, has no striker in which to build our attacks upon.
But what has been most damaging os the lack agression. The team has Just been too passive, to easy to play against.
Schneiderlin and Gueye should be a nightmare for any midfield to play against, but Erikson and co wouldnt have believed their luck.
What we need Today is see the players try and make this a miserable afternoon for Herrera and co in Utds midfield. Everytime Lukaku gets near the ball, we need players closing him down, clipping his heels.
How we miss Barry for a game like todays.
Ben Howard
243
Posted 17/09/2017 at 12:36:49
----------------- Pickford --------------
Kenny - Holgate - Keane - Baines
----------- Gana ----- Davies ---------
----------------- Sigurdsson -----------
Lennon - Calvert-Lewin - Rooney

Clive Rogers
244
Posted 17/09/2017 at 12:58:41
Good one Colin 241
Tom Bowers
245
Posted 17/09/2017 at 13:04:16
Upsets can happen and Everton have had some luck at Old Trafford on occasions but although they may play better today they just don't have enough to get the win but it may help the cause that Pogba is absent. The offensive dementia is a worry and 2 goals so far says it all.
On the Koeman side of things, I just don't think he has the kind of personality to change or boost things. He will have to be suffered a while longer.
Paul Tran
246
Posted 17/09/2017 at 13:15:51
I suspect most of us are hoping for two things:
1) The players 'respond' and miraculously look like they know what they're doing and want it badly.
2) Those in charge of the club are doing some due diligence on managerial plans B, C & D.
Please, just perform today, will you?
Ray Said
247
Posted 17/09/2017 at 13:28:49
Koeman could start by giving three dead basic instructions;
1. is for our attackers to be on the half turn facing the opposition-way too many of our players have the back to the opposition and play facing OUR goal leading to the sideways and backwards passes.
2. is for the front players not too drop off into the centre circle-run behind their defence, run wide of their defence but don't run away from their defence toward OUR defence
3. try running forwards, passing forwards, try pressing and tackling their players-you never know it may just work!
Derek Knox
249
Posted 17/09/2017 at 13:53:39
Maybe, Colin, and Lucy Lastic on the other.
Darren Hind
250
Posted 17/09/2017 at 14:02:46
Wonderful stuff George.
My Grandson is probably your youngest admirer -being nine he never fully understands what you are talking about but he loves your posts.
I gave up trying to explain Gus Foley to him last week, where do you start ? but he instantly got the battle of Belief v Reality - Logic and Love... and he is seeing a silver lining too. It must be catching. I notice Dave A responded to your last post, Proof positive that your cosmic grooves a reaching all age groups.
I don't hold with this "We will get hammered" lark. Every match is a new opportunity for everyone at the club to turn things around
Your post was a breath of fresh air, even when we end up miserable after a game, you have a very nice way of making sure were aren't before it.
Tony Mace
251
Posted 17/09/2017 at 14:04:29
Paul # 246
I'm hoping for a 3rd
I'm hoping people will stop moaning about Lukaku leaving and the decision to let him go
He wanted to go
He went
Simple
Colin Glassar
252
Posted 17/09/2017 at 14:10:04
And wasn't replaced Tony, hence all the concern.
Darren, have you been dropping acid? Unlike you to be the optimist on here.
Brian Williams
253
Posted 17/09/2017 at 14:14:57
Coutinho wanted to go. Van Dijk wanted to go. Sanchez wanted to go! Simple?
Jay Woods
254
Posted 17/09/2017 at 14:17:28
Brian Williams: Be careful, that kind of dot-connecting might destroy some people's entire worldview!
Matt Butlin
255
Posted 17/09/2017 at 14:17:55
Arsenal playing really well here. I'm sure the expectation was that they'd end up with their pants down, which might still happen obviously but how we could do with a fighting performance like this today. I know, I know... We'll end up looking like 11 chocolate fire guards.
Brian Williams
256
Posted 17/09/2017 at 14:18:49
Ha. Point taken Jay ;-).
Anthony Hughes
257
Posted 17/09/2017 at 14:31:41
Right Ronnie boy, time for you to "step up". Let's have a balanced team selection with the remit to go out and attack the other team please and have some sort of go at winning a football match.

George McKane
258
Posted 17/09/2017 at 14:32:36
Darren - thank you for such lovely comments - - my Grandson is at Old Trafford - - nice to hear that your Grandson reads stuff from old romantics like us - - but that is who we are - - that's why our gates are constant - - in this pretty mediocre world of nothingness and non-opinion its nice to hear that other people are similarly moved towards "the oneness" and something different - - Evertonian's are indeed Avatars - - the rest are mere humans - - give your Grandson a "posso" wave from me - " we are all born poets - - unfortunately the man normally survives".
We are Lovers Artists and Poets.

Dave Abrahams
259
Posted 17/09/2017 at 14:36:59
Darren (250), I always try to respond to George's musing as they do give you a lift, I like your grandsons understanding and grasp of belief and reality, kids are great because they always tell the truth about how they see things, they don't try to put a mask on it.
Back to George, he's telling us to believe in our team even though they have thoroughly depressed us in the last few weeks, well I'm looking for that silver lining George and maybe it will show through the darkness today.
There was a short poem I team once that shows how to believe in the darkest hours.
I believe in the sun even when it's not shining I believe in love even when I cannot feel it I believe in God even when he is silent.
That was written by a Jewish prisoner in one of Germany's death camps, well if he had belief in those times so can we over a game of football.
Derek Knox
260
Posted 17/09/2017 at 14:40:51
Watching the Chelsea v Arsenal match, the Arse look the better side, and they are the away side, so there is always hope.
George McKane
261
Posted 17/09/2017 at 14:46:39
Dave - - another thank you for your nice comments - - I needed to tell a good friend of mine that "yes its pretty bad but it is only football and things change" - - quite recently - - a good guy - - so your comment and poem touched me - - as you know I Founded and Run a Charity - - The Yellow House - - named after my hero Vincent Van Gogh - - and my other great inspiration (on a daily basis) is Primo Levi - - perspective set.
We are The Blue Phoenix - - we will always rise again and again. No matter what.
Some fantastic knowledgable people on here - - could publish and Anthology of TW Letters.
Paul Gallagher
262
Posted 17/09/2017 at 14:46:50
I think I will watch the All Ireland Final Football Today instead of the mauling at Old Trafford. At least I will see 2 amateur teams that are prepared to do anything to win. I will see guts, passion and a unwilllingless to let their fans down, or give the usual predictable soundbites that we hear from Koeman and players alike after another couldn't care less performance.
The Premier League players live in a bubble unlike Gaelic football players, who work alongside fans, and are happy to do so, not mucking about on social media every 2 mins. The Ron tactics will be predictable, Koeman will wait until 75 mins when we are 3 down to change anything. The Ron subs will be brought on. Lukaku is a cert to score.
Colin Glassar
263
Posted 17/09/2017 at 14:48:55
Good points to reflect on David.
Right now, instead of feeling like I'm going to be executed at dawn, I'm feeling remarkably relaxed about this game. I don't know what it means but we could be pleasantly surprised.
Bill Watson
264
Posted 17/09/2017 at 14:59:38
Hi George, long time no see (Co-op link from a few years back and the film your guys made).
The problem of continually rising from the ashes is we're continually dumped in a position where we have to do just that.
I'm sitting outside Old Trafford waiting for the team news but fear more of the same, to be honest.
Evertonians are ever the optimists: we have to be!
Tony Hill
265
Posted 17/09/2017 at 15:01:24
Ah, Primo Levi, Mr McKane - and there am I getting furious about Everton. Lovely stuff, as always, and balm for the soul.
Steve Ferns
266
Posted 17/09/2017 at 15:03:32
Official:
Pickford
Martina Keane Williams Jagielka Baines
Gueye Schneiderlin Davies
Sigurdsson
Rooney
As defensive as it gets.
Tony Hill
269
Posted 17/09/2017 at 15:07:24
Dave (#259), that's beautiful mate, thanks. I came on here to rant about our team selection but it doesn't really matter. Although it does, of course.
Mike Corcoran
270
Posted 17/09/2017 at 15:09:58
Bunchy you are Walter Smith. Jog on.
Joe McMahon
271
Posted 17/09/2017 at 15:10:53
Anthony (269) Everton in Premier League = starved of goals for most of last 30 years. Not gonna change this season. Even the days of Limpar and Kanchelskis running at teams down the flanks (remeber the win at you know where), seems lights years away.
Anthony Hughes
272
Posted 17/09/2017 at 15:11:16
£6 million and year and £150 million spent in the summer and this is the best he can come up with?
Paul Setter
273
Posted 17/09/2017 at 15:15:45
It's got pull the pants to one side all over it.
Steve Ferns
274
Posted 17/09/2017 at 15:16:41
Joe, To be fair, Big Joe used to get some stick on here when he had Limpar and Kanchelskis. I loved Kanchelskis but Limpar was my favourite (not saying he was better just he was my favourite) and I used to be frustrated that he was often on the bench, with Kanchelskis down the right and someone like Hinchliffe on the left. He rarely played the two in tandem, for obvious defensive reasons.
I think Kanchelskis would have been better in this era as a wide forward in a 433, and Limpar was a more natural 10 than out and out winger.
Ray Said
275
Posted 17/09/2017 at 15:19:13
Subs are;
9 Ramírez
11 Mirallas
20 Klaassen
21 Besic
22 Stekelenburg
29 Calvert-Lewin
30 Holgate
Paul Gallagher
276
Posted 17/09/2017 at 15:29:51
I'll b surprise if we haven't conceded in 25 mins, Martina will be ripped apart by Rashford.
Steve Ferns
278
Posted 17/09/2017 at 15:38:40
I think Ron will be doubling up on Rashford with Davies.
Dave Abrahams
279
Posted 17/09/2017 at 15:39:24
Tony (269), it's hard not to rant and rave at the team selection, Koeman doesn't seem to be doing himself any favours.
My grandson set his computer for the two Sunday games, it's just gone off now, I'm useless at getting it back on, so that's it, hope that is not the silver lining I was looking for, me missing the inevitable.
No, still hoping for a better performance.
Jay Woods
280
Posted 17/09/2017 at 15:41:13
It's plain the manager himself doesn't believe in the "project".
Tony Mace
281
Posted 17/09/2017 at 15:42:28
Colin # 252
Brian # 253
I'm also concerned. Very concerned - but a whole load of concern ain't gonna bring Lukaku back. I would rather be without him than with him at Everton and unwilling to play.
As you rightly said Colin the sin was not replacing Lukaku not selling him
Koeman talks about pace and sticks Rooney in the team. Should have had his contract ripped up after his drink drive episode.
Where's Lookman?
Apart from Pickford they all need to grow a pair - including Koeman who is just confusing the shit out of everyone.
Still
Rant over
COYB
Add Your Comments
In order to post a comment, you need to be logged in as a registered user of the site.
Or Sign up as a ToffeeWeb Member — it's free, takes just a few minutes and will allow you to post your comments on articles and Talking Points submissions across the site.