Everton sign sleeve sponsorship deal with Rovio Entertainment

43 Comments [Jump to last]
Sunday 17 September 2017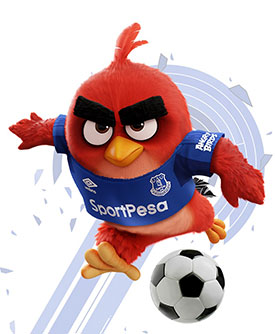 Everton have signed a multi-year shirt sleeve partnership with Rovio Entertainment, the games giant behind the Angry Birds franchise.
The Angry Birds logo will feature on the left sleeve of the players' jerseys during today's match against Manchester United.
Since launching in December 2009 Angry Birds has become a worldwide phenomenon with more than 3.7billion game downloads. The partnership with Rovio Entertainment, a Finnish-based company, will open a range of marketing opportunities to new global audiences for both parties.
With 97% global brand awareness, over 450millon game downloads in 2016, 80million monthly active users, 25million followers on Facebook and more than 3billion YouTube views; Angry Birds' worldwide digital reach offers Everton and Rovio the opportunity to create innovative branded content using the Club's crest, players and stadium - as well as giving users of the games the chance to win some exclusive Everton prizes.
In a short-animated film to launch the partnership, the lead character in the Angry Birds universe, Red, is seen signing for the Blues at the Club's USM Finch Farm training ground. The animation is a cheeky nod to the player signing video craze that became a signature of the summer transfer window by football clubs all over Europe. The campaign was launched with #RedisaBlue.
Everton's Chief Executive Robert Elstone said: "We're delighted that Rovio Entertainment has become Everton's first shirt sleeve partner.Angry Birds is one of the best-selling game apps of all time and is also a remarkable success story in terms of the way in which the brand has crossed over from gaming to become part of popular culture. Everyone here is excited about being able to work with such a creative, dynamic and ambitious brand." 
Alan McTavish, Head of Commercial at Everton, said "Rovio Entertainment recognise the global reach that Everton can deliver through its international fanbase and the global exposure of the Premier League. In return, working with Rovio and the Angry Birds brand gives Everton exposure in key international markets through their breadth of digital channels in gaming and animation, as well as a wide range of co-branded merchandise.
"The lead character in the Angry Birds universe is known as Red - and it is great to know he is now a Blue.
"We look forward to working together to deliver some innovative and exciting worldwide activations in what I'm sure will be a long and successful partnership."
Ville Heijari, CMO of games at Rovio Entertainment added: "We are excited to bring Angry Birds into the top flight of English football in partnership with Everton. In Everton, we have found a partner who shares our values of putting the fans first, and creating a long-lasting legacy for our community of players. This is Rovio's first partnership in the most watched sports league in the world, and a logical continuation of our global Angry Birds brand partnerships."
Details of how fans can add the Angry Birds logo to the shirt sleeve of 2017/18 replica match shirt are available here:
---
Reader Comments (43)
Note: the following content is not moderated or vetted by the site owners at the time of submission. Comments are the responsibility of the poster. Disclaimer
Alex Kociuba
1
Posted 17/09/2017 at 13:32:09
The news we've all been waiting for
Paul Doyle
2
Posted 17/09/2017 at 13:32:36
Angry fans more like it!
Minik Hansen
3
Posted 17/09/2017 at 13:35:33
Everton of all, with our shirt sponsor not on kids shirt, this is great news. I used to not watch football and I was chosen by Everton. Let's hope kids around the world notice this and will be chosen by Everton. Let's start this with a good game! COYB.
Jim Bailey
4
Posted 17/09/2017 at 13:40:44
Let's hope some of the "anger"seeps through the shirt into the players.
Habib Erkan Jr
5
Posted 17/09/2017 at 13:50:06
Dang it now I have to buy my grandson another Rooney Jersey
David Connor
6
Posted 17/09/2017 at 13:50:08
Thats great news.Use it towards getting rid of that useless bastard we have in charge of our first team.
Colin Glassar
7
Posted 17/09/2017 at 13:59:50
Alan McTavish? I bet he's Scottish.
Damian Wilde
8
Posted 17/09/2017 at 14:07:06
Can the players get angry?
Paul Hewitt
9
Posted 17/09/2017 at 14:18:49
How much do we get?
John Harrop
10
Posted 17/09/2017 at 14:39:32
The supporters certainly are!
Barry Williams
11
Posted 17/09/2017 at 14:43:02
Personally I've had enough of dealing with angry birds!
Guy Hastings
12
Posted 17/09/2017 at 14:45:44
A pic of Coleen on each sleeve?
Soren Moyer
13
Posted 17/09/2017 at 14:52:48
And looney tunes on their right sleeves!
Mark Wilson
14
Posted 17/09/2017 at 14:53:43
Ok, Coleen comments aside, surely there will be no red of any description on our shirts ? I mean this, no bloody red on our shirts .
Chris James
17
Posted 17/09/2017 at 15:46:39
Depending on how the promotional deal works, this could be a VERY smart deal from our commercial team.
Angry Birds is THE most recognised brand in mobile games, with an incredible reach, especially amongst a younger and more casual games audience. It also has a genuine international recognition (was absolutely huge in China for instance) and historically has associated primarily with BIG brands (Star Wars, Nasa, NBA, etc) and obviously has the movie/sequel coming out.
Robin Cannon
19
Posted 17/09/2017 at 17:10:24
I'm glad it doesn't look tacky at all...
Phil Smith
20
Posted 17/09/2017 at 18:19:36
Aye, I had to do a double-take when I saw that on the shirts today. Won't be long before the whole jersey looks like a NASCAR race car.
Paul Smith
21
Posted 17/09/2017 at 22:25:04
Has anybody seen the new sleeve sponsor – Angry Birds?
It's shocking. So tacky – official Everton just tweeted a picture. I thought it was a wind-up. Concerned about the club at the moment.
Soren Moyer
22
Posted 17/09/2017 at 23:03:05
As if it wasn't enough that we've become a laughing stock, now we have Angry Birds written on our shirts too! What is going on with this club?
Tony Everan
23
Posted 17/09/2017 at 23:11:34
Angry birds sponsorship? I don't like it at all.
Rather take less money for something that wasn't so ridiculous.
What next? Nintendo Switch stamped on the players foreheads?
Tony Everan
24
Posted 17/09/2017 at 23:20:15
They can wear whatever they like wherever they like, play in pink leggings and mankinis for all I care. Wear 1970s knee length glitter boots.
Just score us a goal! Win us a game!
Oliver Molloy
25
Posted 17/09/2017 at 23:26:03
Yeah, I must agree regards the Angry Birds on the sleeve of the shirt, just doesn't look right at all – absolutely awful. How much do the club get from this?
Si Cooper
26
Posted 17/09/2017 at 23:48:35
Why are people bothered about the 'Angry Birds' sponsorship? I've never played it and expect I never will, but it's popular and legitimate money.
Get some perspective.

Matt Butlin
27
Posted 18/09/2017 at 00:59:15
It'll be the 'Clash of Clans' stadium next.
Gordon Crawford
28
Posted 18/09/2017 at 01:11:02
Also whoever thought Angry Birds on the sleeve was a good idea, needs sacking. Looks awful and sounds ridiculous.
Will Mabon
29
Posted 18/09/2017 at 06:40:32
Whilst the team goes down the toilet, I see the commercial side seems to be functioning fine & dandy.
Here's the perspective I got: It doesn't surprise me to see such a sponsor. All part of the huge push to the infantilization of the population into a zombie existence of "Entertainment", hollow "Fun" and spending life playing silly little computer games best suited to 10-year-olds.
Charlie Lloyd
30
Posted 18/09/2017 at 07:34:49
I'm sure that commercially it makes sense and it's added further revenue to the club. However, it's truly shocking!!!
Tim Sharpe
31
Posted 18/09/2017 at 09:37:38
Should be more Meek Mice than Angry Birds. I can just see the John Cleese dead parrot sketch doing the rounds

Nigel Munford
32
Posted 18/09/2017 at 12:17:46
Investment is surely a good thing?
Robin Cannon
33
Posted 18/09/2017 at 14:31:40
Any investment? Regardless of quality, morals, adherence to Everton's own brand image, tackiness, or any other factor?
Ian Burns
34
Posted 18/09/2017 at 14:33:57
Angry anything just about sums up EFC at the moment, from Colleen to the fans. I just hope Moshiri gets a bit of the Angry stuff and does what he should do – ie, slap the Angry Birds logo on Koeman's forehead to see if he takes the hint.
Liam Reilly
35
Posted 18/09/2017 at 15:51:42
This is a great idea and a coup for the commercial department to get Angry Birds.
I don't get this 'no red' nonsense. They don't own the colour and they, United, Arsenal often wear Blue second kits, because they don't give a monkies about their rivals. We on the other hand, spend far too much time talking about them. The logo on the top could easily be integrated into the shirt and kids would love it, but because of the moaning about a hint of red, we get tacky text instead.
Shirt sponsorship is drifting into the game at an alarming pace. Sleeves, shorts, socks can have different sponsors for each competition. Its going to be a huge revenue generator over time and the club are getting in early for once.
Peter Thistle
36
Posted 18/09/2017 at 16:28:56
Just embarassing. Yet again EFC fail and make us a laughing stock. I give up.
Geoff Harrison
37
Posted 18/09/2017 at 16:45:53
Mark Riding... brilliant! Best laugh in a while Only laugh in a while.

Jack Convery
38
Posted 18/09/2017 at 21:08:51
When I first heard about this, I thought the 2 Liver Birds atop of the Liver Building had got angry and had sodded off after finally realising who owned the building.
What next? Jewson Ladders so we can climb up the table.
Jack Convery
39
Posted 18/09/2017 at 21:14:22
Mark Riding, truly a comic genius – do you want to play in our back 3 v Sunderland?
David Pearl
40
Posted 18/09/2017 at 21:30:36
It should be taken for what it is. Marketing. And for once it includes them kids. That's intheir millions, from all around the world. Had to look twice at first sight but it opens us to a whole new world. The Bird Is Blue.
David Barks
41
Posted 18/09/2017 at 21:36:55
Didn't the Angry Birds fad die off like 3-5 years ago? I remember getting little hats for my nieces around that time, more likely 5 years. Then I think some movie came out 2-3 years ago and that has been it.
But we're grabbing on to that franchise now? Apparently they're about to go through their IPO. I guess we need to hope they have a bit better success with that than others have recently.
Brian Wilkinson
42
Posted 19/09/2017 at 18:19:50
Think it looks alright myself, could have been worse, could have been Tampax for those bad periods... hang on – that could be a winner.
James Marshall
43
Posted 19/09/2017 at 18:29:22
We may not like the lettering (I agree it's all a bit childish) but the brand is well known worldwide, and has recently been racking up some decent numbers.
The movie grossed nearly $350m and there's a sequel coming in 2019 – that alone means it was worth it, and is still a financially viable product.
The video games are still being downloaded in their multiple millions – it's thought that 200 million people a day play the game!
Surely those numbers mean this is a good move, regardless of whether we like the product?
James E Evans
44
Posted 21/09/2017 at 17:05:59
Who cares? It's a great deal for the club. We should be directing our anger at the performances of the players and manager, at the moment not the club for getting a well known global brand as our sleeve sponsor
Add Your Comments
In order to post a comment, you need to be logged in as a registered user of the site.
Or Sign up as a ToffeeWeb Member — it's free, takes just a few minutes and will allow you to post your comments on articles and Talking Points submissions across the site.