Koeman has full faith in Klaassen

117 Comments [Jump to last]
Tuesday 26 September 2017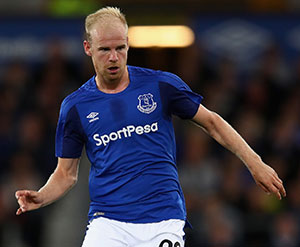 Ronald Koeman says that Davy Klaassen needs time to find his feet in the Premier League, insisting that he has no doubts about his compatriot's ability.
Klaassen arrived as a big-money signing over the summer when Everton splashed out almost £24m to bring him in from Ajax where he had just captained his team to the Europa League final.
The Dutch midfielder hasn't completed a full 90 minutes for the Blues since the away leg against Ruzomberok at the beginning of August, either because of injury or because he made way for an on-coming substitute and he was the one to make way in central midfield for Tom Davies against Bournemouth on Sunday.
That has led to increasing discussion over the wisdom of his acquisition by the club and his ability to either settle in England and/or function in a side boasting three "No.10s".
"He needs time," Koeman said in the Liverpool Echo, something he said should be afforded the academy graduates and other new imports like Sandro Ramirez. "He is okay. He is intelligent on the ball.
"I think he can improve in fitness and he can improve physically in battles in the midfield. That is what he needs to learn and improve, but that is normal.
"The Dutch league is not the Premier League and the boy gets time for that. It is all about the player himself.
"It is the same question for other young players and players like Sandro to keep quiet and keep patience," added the Dutchman.
"[Klaassen] will come [good] because I don't have any doubts as to the quality of the player."
---
Reader Comments (117)
Note: the following content is not moderated or vetted by the site owners at the time of submission. Comments are the responsibility of the poster. Disclaimer
Sean Smythe
1
Posted 26/09/2017 at 22:38:34
Keep quiet? Yes sir!
Brian Wilkinson
2
Posted 26/09/2017 at 22:47:42
So how can he need time to settle and find his feet when Niasse was given one pre season friendly?
Oh yes, I forgot... Davvy is one of your signings; Niasse is not.
Fran Mitchell
3
Posted 26/09/2017 at 22:59:39
I think is fair to say he does need time. All players deserve such.
I remember Pires at Arsenal being woeful for 6 months. Bergkamp also was called useless for a year.
More recently Firmino was very average when he first arrived (he is now pretty good albeit not great). No doubt there are countless examples.
So no judgement yet, hopefully he turns out a goodun. But, none of this means he should be in the team above Davies. Davies is class, possibly our best player. So Davies in the First 11 from now on, alongside Gueye and Sigurdsson.
Lookman/Vlasic, Lewin, Rooney/Sandro up top.
Sorted for ya.
Derek Knox
4
Posted 26/09/2017 at 23:06:44
As I have often said on here, I do believe Klaassen has a great football brain; up to now though, his feet and body are not in synchronisation with it.
I really hope he does come good, and he was given a heroes welcome at the weekend when he returned to Ajax to pick an award up. So they must have seen a lot in him to do that.
Although I don't think Dutch football is as quick as the Premier League, he may adjust quicker than we think.
However, I don't think it helps when he is crammed in the same team with Sigurdsson and Rooney, and evidently little game plan or strategy.
Clive Mitchell
5
Posted 26/09/2017 at 23:07:48
We'll give him time, Ron, if you don't ever again play a struggling Klaassen and Rooney and Sigurdsson in the same starting 11 – no pace, no strength, no desire, no obstacle to the opposition.
If you want to play him, make sure you've got Davies, Calvert-Lewin and another tougher guy – Rooney, or Niasse for example – in the front four with him. Bring him off the bench when we're two up with 25 to play and his weakness probably won't harm us.
We'll give him time, but right now you know we all know he looks unlikely to make it and he makes it harder for us to win.
Jack Convery
6
Posted 26/09/2017 at 23:13:47
Klass will out and I believe he's class. Niasse took time as did Koeman to see it. Time sorts everything out.
Christy Ring
7
Posted 26/09/2017 at 23:20:56
Nothing against Klaassen, but it's a pity you didn't show the same faith in Barkley.
Andrew James
8
Posted 26/09/2017 at 23:23:01
Clive
I was about to post similar remarks. It's been like having 10 men some days with him in the side. Koeman's insistence on playing him at the expense of Tom has been stubborn.
I hope he will come good but he does come from a league that is a shadow of what it was 20 years ago. I went to see an Alkmaar match last season and the standard was English League One.
Alright, Davy played for one of the better sides in that league but still, it's slower, less physical and you have space and time so that poor first touches or losing control isn't as punished.
With that in mind, he should be getting the game time drip fed to build his confidence and stamina.
Steve Ferns
9
Posted 26/09/2017 at 23:23:33
I would agree with Cruyff's assessment that Klaassen is one of the best at receiving the ball at pace, controlling it and passing it quickly. He plays some superb one-touch stuff. Problem is what's the point of a one touch footballer when they don't play it to him at pace, and when they receive it back, they put their foot on it.
He's a great player, he just doesn't fit in with the rest. And that's Koeman's fault as he crafted this midfield.
Keith Monaghan
10
Posted 26/09/2017 at 23:29:22
Koeman showed a lot more faith in Barkley last season, giving him loads of options to show his worth – far more than you seem to be prepared to give Klaassen, Christy.
Not to mention Martinez telling us how much of a diamond Ross was – but that's the same Martinez that signed Alcaraz & McGeady, and nobody has yet figured out why!
Andy Peers
11
Posted 27/09/2017 at 00:24:42
Let him play in the U23s. Unsworth will get the best out of him. No point in him playing shit and losing confidence in the first team.
Phil Sammon
12
Posted 27/09/2017 at 00:44:42
I really like Klaassen but I know he's going to be a player that divides the fans. He's not going to beat a man or hustle other midfielders off the ball. But, he can receive the ball under all sorts of pressure and always finds a teammate.
The problem with this kind of player is that you have to play to his strengths. Maybe we'll learn to do that, but right now it isn't happening. That said, I don't by any means think he's been playing badly so far.
Of course, I'll end this comment the way I pretty much end every comment on TW lately. How is any team going to work with three number 10s and no wide midfielder?
Jim Harrison
13
Posted 27/09/2017 at 01:05:16
Brian, 2, Niasse had been at the club for 6 months. Coaching staff would have seen him. He also wasn't the captain of one of Europe's most prominent clubs.
Criticism is fine me, but why try and use the same stick to beat Koeman every time? Team played shit? Yeah, and he wrote Niasse off too. Trump could cause nuclear Armageddon? Yeah, but Koeman's treatment of Niasse is akin to a human rights crime.
Of course he is showing faith in a player he chose to sign.
Will Mabon
14
Posted 27/09/2017 at 01:24:22
Keith, people may be questioning Klaassen on what they've seen on the pitch. A
few
good touches is all he's shown. He doesn't look a player who's a little unfit, rusty or getting up to speed; he looks lost.
Without knowing the context, whether answering a question etc. Interesting that Koeman has had to speak and address the situation.
Excepting Rooney, none of his signings have come near Ross Barkley's level.
Will Mabon
15
Posted 27/09/2017 at 01:25:39
Jim, 13 - you're right. We should be using a selection of sticks.
Dean Cooper
16
Posted 27/09/2017 at 02:00:07
Like I have said before, and sort of what Steve has already mentioned. From what I've seen of Klaassen, he looks a very good footballer and a team player.
But we won't reap the rewards until we start functioning as a team. He's the kinda guy that would look like a Ballon d'Or contender at Barca, but wouldn't look special at Barnet.
Bill Gienapp
17
Posted 27/09/2017 at 02:09:05
I'm not particularly worried about Klaassen – he clearly has the sort of football brain that so many have bemoaned Barkley lacking.
The biggest issue is acclimating to the Premier League while finding his niche on the team – inconsistent playing time and getting shoehorned in with Rooney and Sigurdsson has made the transition that much more difficult for him.
Will Mabon
18
Posted 27/09/2017 at 02:31:24
"
I'm not particularly worried about Klaassen – he clearly has the sort of football brain that so many have bemoaned Barkley lacking.
"
Bill, since we have diametrically opposed views on Barkley and Klaassen, I ask you, and not for argument, but in good faith, what have you seen that so indicates a notable football brain in Klaassen?
Btw, I could equally say that Klaassen clearly lacks the sort of pace, power and strength that Barkley has, which is largely what appears to so compromise him, in my opinion.
Phil Lewis
19
Posted 27/09/2017 at 03:42:24
For quite some time, I have to confess to being Ross Barkley's biggest critic. I for one welcomed Koeman's signings and was quite happy to see Barkley leave. But to be perfectly honest, from what I have witnessed so far, with the exception of Rooney, none have proved to be any improvement on Barkley.
In fact to be fair to Barkley, even though I stand by my criticism of him, at least when he was in the team, the gaping space in the link up play between our defenders and attacking players, was never so glaringly obvious. That is something I didn't think I would ever hear myself admit, but sadly performances have shown it to be true. The £70 million or so spent on Klaassen and Sigurdsson alone, could have brought one world class creative player to Goodison.
Some have been quick to criticise Rooney. Nobody said he was going to turn us around single-handedly, or show the pace of yesteryear, but what he brings to the team is a brain as sharp as ever. Yes, some of his passing goes astray, but I firmly believe that between him and Tom Davies we have two players with vision and imagination, capable of splitting even the tightest defences.
The shirts should be given to the players in form, its as simple as that. On the most recent evidence, that suggests to me a starting eleven in a 4-4-2 formation of:
Pickford, Kenny, Williams, Keane, Baines, Gueye, Davies, Rooney, Sigurdsson, Calvert-Lewin, Niasse.
I believe with this line-up, we could at least take the game to the opposition. Let them worry about us for a change!
To the Koeman critics, I say that this transformation will take time. Fans must be patient. History has shown that certain players who eventually became Everton legends, took time and many poor performances, from when they first arrived at the club, before their true talents materialised. Howard Kendall ( in both player and manager capacity), Neville Southall, Peter Reid, Adrian Heath, Dave Watson, to name but a few, come to mind and many other eventual 'stars' over the years, also took stick off the crowd for long periods to begin with.
In fact when Kendall first took charge his first signings were a right hopeless crew, Alan Biley, Mick Ferguson, Alan Ainscough, etc.etc. Thankfully they were shipped out almost as quickly as they arrived. Kendall then bought wisely and brought young players through the ranks.
Comparisons could be made, what with both players signing in the Autumn of their careers, to Andy Gray's contribution to the all conquering 80s side and potentially what Rooney's experience and undoubted talent, with the right players around him, could give us today. It's about balance, blend, effort and determination.
Certain players in this present team seem to be uncomfortable receiving the ball and terrified of making errors. A few good results could see a massive improvement in confidence and that can only be good for the team.
It could be that when everyone is fit, we will only need to make one or two new signings in January. It may well turn out, that we actually don't need to make any.
Ajay Gopal
20
Posted 27/09/2017 at 03:55:33
I think we bought one midfielder too many this summer. That money should've been spent on getting a top class striker.
Having said that, at this point, I would sell Schneiderlin and Besic and do everything to keep Barkley and (a fit again) McCarthy. Use that money to buy a Baines replacement (buying a striker is a given, if the rumours of a €70 million bid for Costa is true).
Steve Bingham
21
Posted 27/09/2017 at 04:39:03
Ajay @ 20 – sorry, I cannot agree; Schneiderlin is a far better player than McCarthy... and Ross seemingly no longer wants to be at the club. Besic simply cannot stay fit.
Take those three off the wage Bill and, along with giving Sigurdsson a more central midfield role, get a striker in who knows how to score 15-plus goals a season.
Gavin Johnson
22
Posted 27/09/2017 at 05:23:57
We're missing Ross Barkley in midfield.
Will Mabon
23
Posted 27/09/2017 at 05:35:46
Probably right about Ross not wanting to be here, Steve. It's the widely suspected reason for that, that doesn't sit well.
I wonder if the Chelsea episode was some sort of epiphany to him, perhaps he isn't so sure, or waits to see Koeman's future? Mention made again in the press though for what it's worth, of Tottenham.
Interesting, but as much as we all have our opinions and as widely as they often vary, the general consensus is starting to focus; people are seeing the problems, and the possible solutions, and they're becoming more defined.
Ajay – I agree about the midfielder/striker purchase.
Brent Stephens
24
Posted 27/09/2017 at 06:20:55
Will (#18),
"I could equally say that Klaassen clearly lacks the sort of pace, power and strength that Barkley has, which is largely what appears to so compromise him."
Agree. I think Klaassen does have a very good football brain and awareness of what's around him on the pitch – but lacks the physical side. It will be interesting to see what time Ross gets when fit again.
Kunal Desai
25
Posted 27/09/2017 at 07:17:28
I agree with Ajay. Three number 10s, really? If the long term target was Sigurdsson and Rooney was rumoured to be coming back then there was no need to bring in Klaassen. Happy to give Klaassen time; however, the Dutch league is ordinary at best.
He was also very poor in the Europa League final against against Man Utd. The money paid for Klaassen and the wages which went on Rooney should have been put towards bringing in another two strikers.
Steve Solomon
26
Posted 27/09/2017 at 07:25:49
I'm more concerned about Sigurdsson to be honest. I think Klaassen will be fine and prove to be a good signing.
I'd also like to see Ross playing again, I think he still has something to offer us. He blew his chance to be transferred and now he must honour his contract and give us his best.
Filip Lillevars
27
Posted 27/09/2017 at 07:29:18
I wish he'd given Barkley the same patience...
Why doesn't he just play him (Klaassen) in the cups so he can find his feet? Trying to force-feed him pl-games in that position on the pitch and in the team just seems... foolish. He is supposed to link up with all the other players and make the attack flow, but he doesn't know a single player well yet, he doesn't know the league or the new formation/system Everton uses yet.
It will take time; but we should not be dropping points because of it.

Peter Larkin
28
Posted 27/09/2017 at 07:31:18
Sorry, but those who say Klaassen has a good football brain must be watching a different player to me!! I haven't seen one thing in any game that makes me think, yeah this lad is quality.
Haven't seen any through balls, does not take the ball on the half turn. Yes he first time passes it, but its all simple 5-yard or 10-yard balls which either goes sideways or backways. The amount of times I've seen him lose the ball at the slightest touch of pressure is mind-boggling.
I'm willing to give the lad time to adjust to the Premier League, but those who are trying to big the lad up – let's be truthful here, the lad has been fucking awful. Let's hope he can turn it around.
Danny Broderick
29
Posted 27/09/2017 at 07:52:33
We can all learn from the example of Niasse when it comes to judging our new signings. Let's give them a chance and time.
None of the centre-mids have done well this season. It's because the team has been so narrow and lacking in movement up front. Once we get a well balanced team, the performances of all of the centre-mids will improve.
Colin Glassar
30
Posted 27/09/2017 at 08:02:47
Klaassen will come good, no worries on that front. Modric and Ericksen both had very poor first seasons in the Premier League and look at them now.
Charlie Lloyd
31
Posted 27/09/2017 at 08:20:26
I'm not writing Klaassen off yet but I'm with Peter @ 28. I've not seen much from him currently. Not the lad's fault – he just isn't on it currently.
Why he starts above Davies is what mystifies me most at the moment though. If need be introduce him later in the game from the bench. I don't get £6m a year to make those decisions though.
Nigel Munford
32
Posted 27/09/2017 at 08:23:47
One thing I'm pleased about is that most on here have realised how to spell his name correctly.
Tony Marsh
33
Posted 27/09/2017 at 08:28:36
Klaassen is hopeless and will never make the grade in England – not even in the lower league's. English football is the most physically demanding in Europe and Klaassen looks like a netball player trying to play Rugby League. Deathly Davy doesn't have it.
It is easy to recognise a quality player. Even if said player is not match fit or out of form, there is just something there you can see. Not Davy Klaassen there isn't – he looks lost and afraid of the bigger boys... Need to send him back to Ajax .
Anthony Hawkins
34
Posted 27/09/2017 at 08:38:54
The current team has the old Gerrard and Lampard conundrum going on. Who do you play and who do you leave out? Ultimately everyone plays and that's to the detriment of the whole team.
Against Bournemouth, Koeman stumbled upon what should be the crux of the team. Will he recognise that and make the appropriate changes? Davies and Niasse work well together to get the goals, so structure the team around them. The big names may not like it but what's more important – keeping big names happy or winning games?
Two up front, 4 at the back and 4 in midfield. It works and we have the players to succeed with that formation.

James Hughes
35
Posted 27/09/2017 at 08:44:45
Wish we had someone with the class of Lampard, sigh.
Dermot Byrne
36
Posted 27/09/2017 at 08:56:59
I watched him closely in last game. He did look lost and I think that may be down to coaching and not knowing his role. And also down to the grudgingly slow pace of our play before subs were made.
It is not about the sprint speed of players, it is about the quick thinking and pass. And knowing where each other will be. Man City last season a times had games when quick thinking destroyed them.
I do think many of our players have that in them but it will take time to click.
John Smith
37
Posted 27/09/2017 at 09:06:42
Klaassen is a faster more agile Naisy. I remember people rubbishing the latter on here before he became very popular.
Phil Sammon
38
Posted 27/09/2017 at 09:33:34
If Koeman has it in him to do a U-turn on Niasse... surely a 180 on Ross Barkley is not out of the question.
David Hallwood
39
Posted 27/09/2017 at 09:40:06
Anthony (#34), I know I can't read Koeman's mind, but a) he was a top class player who played in some of the all-time great sides; b) he's been a coach for sometime, so he isn't making rookie mistakes.
So that being said, he must want to set up with 3 No 10s, presumably to pass our way through the other team with the width and pace being supplied by the wing backs supplying a lone (or the way our transfer policy's shaping, a loan) striker.
I can see the logic or the theory behind it, I just think it's a lousy one-dimensional way to play, and goes against the current orthodoxy of counter-attacking with pace to burn.
The line up vs Burnley will be interesting as I'm willing to put money that it will be the team that started vs Bournemouth; put your money on Davies playing on Thursday and benched on Sunday.
James Stewart
40
Posted 27/09/2017 at 09:43:04
Let's not pull any punches – Klaassen has been awful. Playing him at the moment is the worst of both worlds because playing him not only virtually equates to playing with 10 men, it also keeps the excellent Davies out of the side.
Now as other's have rightly stated it took Modric, Eriksen etc a season to settle to the league. Klaassen was Captain of Ajax and obviously a hero there so he could be a player, but is he a player we really need? For me that is a resounding no.
I can't believe we spent £45m on Sigurdsson to play out of position. We are also paying Rooney £150k p/w for that same position with Barkley still on the books and Lookman developing into a more Sterling-esque central player.
Sam Hoare
41
Posted 27/09/2017 at 09:57:19
I like Klaassen. He's clearly not up to speed but I do think there's an intelligence visible there that I'd like to see in our team. I think the Europa League may hopefully be where he does his best work for us this season – a bit like Mkhitaryan last season.
I don't think he should not be starting yet in the Premier League and as others have said I have no idea why we bought him considering that Rooney and Sigurdsson especially were clearly long term targets. The strategy behind this Summer's transfer business continues to baffle.
I hope that Klaassen may develop into a longer term deeper midfielder, able to play alongside Gueye or Schneiderlin but to do so he needs to get fitter, faster and stronger. Work to be done.
Peter Larkin
42
Posted 27/09/2017 at 10:02:20
Can someone please explain the reasons as to why people keep telling us that he has a great football brain? Give me examples in an Everton shirt? The best thing I've seen from the lad was a last-ditch touch defending our box!
Colin Malone
43
Posted 27/09/2017 at 10:22:05
Klaassen goes through the same movements as a referee does. To me he hides in crowded areas, does not come deep for the ball, he's a yard behind play. I would play Klaassen along side one defensive midfielder and see if he is more comfortable at this stage of his Everton career.
John Daley
44
Posted 27/09/2017 at 10:44:20
His instinctive first-time touch to steer the ball into Leighton Baines's path, in the lead up to the first goal against Hajduk, is probably the best example of his alertness thus far.
Can't think of much more, admittedly. A couple of well timed (but fruitless) darts into the box, while others have looked dead to the opportunity?
There's no doubt he's found it hard going.
Dermot Byrne
45
Posted 27/09/2017 at 10:44:52
Peter, do your homework and watch before Everton. Then give me a tube link when he was crap for one game to prove you narrow point. Good chance then of developing here to be good too. Wise up.
Dermot Byrne
46
Posted 27/09/2017 at 10:49:12
If you were him, John, to do a quick pass to Baines who just does the predictable cut back, how would you feel? Must make him dream of a coffee bar!
Derek Knox
47
Posted 27/09/2017 at 11:02:21
Dermot, I agree with a lot of what you say, and I know a lot on here defend the manager to the hilt. Let's just examine the evidence, through the Manager's Keyhole.
He is the manager, we have established that, therefore he should take any blame for collectively bad performances; we all know any player can have an off day, they are human.
I have asked this question of myself many times: most of the players we have were decent players at their previous Clubs, which prompted us to buy them in the first place; for some we have paid over the odds, but still, they don't suddenly become bad players overnight.
So, I have come to one conclusion, it must be the training, they are either acting to orders, or confused. Either way, the buck stops firmly and squarely with the man at the helm!
George Cumiskey
48
Posted 27/09/2017 at 11:14:02
Anthony @34,
I completely agree with your assessment of what's going wrong, and that he stumbled upon a winning system.
Let's see if the manager realised what he has done. The teams he selects on Thursday and Sunday will answer those questions.
Bill Gienapp
49
Posted 27/09/2017 at 11:15:02
Will (#18) - I don't disagree re: Barkley's superior pace/power. His issue has always been those painful moments when you can tell he's almost paralyzed with indecision, rather than just playing instinctually.
As for Klaassen, I think he's shown good spatial awareness and an ability to make smart passes in tight spaces around the box. Admittedly this has mostly been against lesser competition in the Europa League qualifiers (he was particularly good in this respect in the first Hajduk Split leg, setting up both goals and assisting Rooney on what should have been a third).
There's an intelligence to his play that I think bodes well long-term, even though he's still struggling to get a foothold in the Premier League.
Daniel A Johnson
50
Posted 27/09/2017 at 11:15:25
Look no further than Mkhitaryan. Bundesliga star player but Mourinho used him sparingly last season as he wasn't up to speed.
The difference being Mourinho had the balls to acknowledge that and not leave the team exposed by playing him – unlike Koeman with Klaassen.
Peter Larkin
51
Posted 27/09/2017 at 11:17:02
Dermot. I couldn't care less if he was playing like Pele for Ajax. It's what he does here that I'll judge by. The lad has been shite. All this "fast brain, fast feet" bullshit won't cut it with me!
He was bought to be "productive", ie, score goals or make assists. He has done fuck-all, mate. There's no doubt he needs time and he should be given that imo. But to sugarcoat things is wrong, end of.
Daniel A Johnson
52
Posted 27/09/2017 at 11:20:13
Interesting though that Klaassen had a mare in the final – and against a Premier League club, let's not forget.
Kevin Tully
53
Posted 27/09/2017 at 11:26:35
Klaassen has been poor in a new League, but what excuse do Rooney, Sigurdsson & Schneiderlin have? Those four players look lost on the park, without a clue as to how they are supposed to be playing.
If you're going to pick out Klaassen for criticism, then be fair to the lad, the rest of them have been as bad since pre-season.
Adam Carey
54
Posted 27/09/2017 at 11:28:12
I've only seen Klaassen in highlights and a few of the early Europa League games on TV but he does look to be an intelligent player, albeit half a yard off the pace.
He looks to always be making runs into the box and his passing to teammates, while not 40-yard cross field balls, seems quite clinical. I think he just needs time to get up to speed to the kick and rush/counter attacking style of play we have in the Premier League.
You don't get to captain Ajax in your early 20s by being shite, as has been quoted a few times in these comments. In my opinion he looks to be the first player since Ossie that can play those neat interchanging passes, then ghost into the box like Cahill.
As a said though, I don't watch the team every week and TV can make you look better than a pair of eyes watching from the sidelines. Maybe season ticket holders can give a better scouting report?
Daniel A Johnson
55
Posted 27/09/2017 at 11:29:09
He was effectively signed to replace Barkley yet right now he's nowhere near as good as Ross.
Eddie Dunn
56
Posted 27/09/2017 at 11:37:44
Klaassen is one of those neat and tidy players that is more of a cog in the machine, a component in a well organised outfit.
Comparisons with Barkley are unfair, as they are very different styles. He reminds me of many Eastern European players, they pass and move, play little triangles, in a collective way.
I am sure that Klaassen will become an important member of our team and in a few months we will be extolling his virtues.
Dave Abrahams
57
Posted 27/09/2017 at 11:46:56
Kevin (#53),
I think you have summed it up very well, you forgot to add that the other three players have been playing in the premier league for a few seasons more than Klaassen.
Brian Harrison
58
Posted 27/09/2017 at 11:55:54
I think its far to early to judge Klaassen, I thought Koeman summed up the situation perfectly when he said he needs to and will improve his physicality, and get used to the Premier League. The team has had a tough start and we are not playing well, added to also trying to accommodate 6 or 7 new players.
I don't see why some are saying lets hope Koeman does a u-turn with Barkley like he did with Niasse. They are totally different cases, Niasse was given no game time and told to find another club. Whereas Barkley played in at least 95% of games under Koeman and the club have reportedly offered him a contract of £100,000 per week to stay.
Now I cant think of too many players who play for a club outside the top 6 who are on that sort of money. So, far from being left out Koeman actually played him; yes, he had a go at Barkley but he was hardly pulling up trees when he did.
Now if he was offended by Koeman's comments then don't ever think of signing for probably the World's best manager Jose Mourhino as he does it all the time.
Peter Mills
59
Posted 27/09/2017 at 12:01:21
We actually played some pretty slick football for the first few minutes against Bournemouth, and Klaassen played one superb pass on the half-turn out to the overlapping Martina.
Exhibit 1 for the defence.
Anthony Hawkins
60
Posted 27/09/2017 at 12:05:16
David Hallwood (#39) – It's not about being a rookie or making 'rookie' mistakes. Each consecutive England manager weren't rookies either, yet they insisted on trying to prove they could get them to play in the same team together.
Klaassen's performance may be a symptom of trying to play too many No 10s in the same team. Klaassen, Rooney and Sigurdsson etc are all previously trained or hardwired to play in exactly the same zonal space and look for the same opportunities.
If you play more than one in the same team then one or more is going to become ineffectual. They're not played out of position – they're being asked to play in a position that doesn't exist.
Imagine trying to field two 'keepers. Someone's going to be sat on their arse the whole game as someone else is stood between the sticks.
Dave Abrahams
62
Posted 27/09/2017 at 12:13:36
Peter (#59), that was indeed an excellent pass, placed perfectly for Martina to take it in his stride and carry running with it and pick his spot to centre the ball.
Seems to me that sort of pass was second nature years ago with lots of players; now you mostly see the ball passed square to the man or even behind him, players having to stop and taking seconds to get the ball to their liking, does my head in.
A good pass (like Klaassen's) should be part and parcel of every professional footballer; sadly it isn't.
Dale Rose
63
Posted 27/09/2017 at 12:33:28
We seem to be buying these players and then saying they need time to settle. How long exactly do they need? These are pro athletes earning a lot of money; they should be settled and ready to go.
John Pierce
64
Posted 27/09/2017 at 12:37:24
Any comparison with Barkley is rubbish. Totally different players, one is a runner the other a dribbler.
For those advocating Barkley was given time. He's had four years in the first team. That's plenty.
Klaassen needs a more graded introduction into British football, absolutely needs to understand the physicality of it all.
I expect him to play Thursday, the Europa League is his best route to building his confidence up. Then off the bench in Premier league games.
Fair to say his start has been, like Sandro, the most difficult. I think he's a good player. So time will tell.
Peter Warren
65
Posted 27/09/2017 at 12:38:12
Dale – My memory is that Henry was rubbish (particularly his finishing) for several months and I think Rodney Marsh said something along the lines he would never get more than 5 goals a season. He didn't turn out too bad.
Some players take longer to adapt; some fire on all cylinders (like Torres) immediately. Time is needed for both him and Sandro and usually quality will shine through.
Bergkamp at Inter and Paulinho at Spurs are examples where it didn't quite go to plan despite them being quality players.
Jim Harrison
66
Posted 27/09/2017 at 13:18:06
Will (#15),
Fair enough. There are plenty of talking points. Let's not just make cheap shots.
As for Comparison between Barkley and Klaassen? One player wants to play no father part in Everton Football Club's future, so how he measures up like for like is a bit moot.
I don't know if Klaassen will make it. But, given his past, I am willing to give him a season to adjust. If he were ready made world class he would have cost a hell of a lot more!!
Dave Pritchard
67
Posted 27/09/2017 at 13:22:04
Davy needs to be given a personal trainer and spend some serious hours in the gym building up his strength. At the moment, I wouldn't have him in the starting 11 as I think, if he carries on like he is, his confidence, which already looks fragile, will be completely shattered.
Will Mabon
68
Posted 27/09/2017 at 13:54:07
"
One player wants to play no father part in Everton Football Club's future, so how he measures up like for like is a bit moot.
"
Jim, I always have to respond when someone posts that as it seems to imply the situation was a simple case of Barkley wanting to leave as the first event. Whilst not having 100% proof, activities strongly indicate another story, a driver behind the situation: I take the view that he felt compelled to leave.
To Klaassen. Yes, everybody deserves a chance. The guy must be feeling the pressure. I watched everything of him on video. He looks neat and tidy, a very swift linking player, a few goals in him but little more, I thought. The Eridivisie is a very different prospect to the Premier League nowadays. It might be too much.
Hopefully it works out for him but things have to be managed to help him get to wherever he can get without holding the team back. He really has been a waste of a slot in the team most of the time, in my opinion.
Brian Murray
70
Posted 27/09/2017 at 14:23:15
Those who say there's no place for a one-touch and go player, a little ginger fella wasn't bad at that, was he?
It's more about Ron getting the balance right which so far he has failed miserably unless forced to. Plus his total lack of belief when playing the top six. God help us when we go the Piggery, again.
Lee Jackson
71
Posted 27/09/2017 at 15:31:23
My feeling is that Klaassen needs to play in a fast moving side set up for counter attacks. This is why he was so good in the Ajax side with all their fast/direct players like Dolberg, Ziyech, Traore, Younes.
Here, he has sloths all around him. I think he will play on Thursday and, with the likes of Davies, Vlasic and hopefully Lookman, he will have some pace to work with.
Gerard McKean
72
Posted 27/09/2017 at 15:33:01
I am with Will (#68) and many others on the Barkley situation. If you knew Ross or anything about him, you would never write this nonsense about him engineering a move away. The lad is an Evertonian through and through. He grew up wanting only one thing; to play for Everton. Is it so hard to accept that, when push came to shove on Transfer Deadline Day, he just wanted to stay at Everton?
We all know that footballers are paid huge, some might say obscene, sums of money, but it is wrong to castigate Barkley's agent for turning down what for most of us is a King's ransom when the only way that players actually measure their worth to a club is by their place in the pecking order. This is done usually by comparing salaries; so was Lukaku worth 50% more to the club than Barkley at a point in time when the former was making it clear that he was going to leave anyway?
I have said this before; if you want him to stay, make Barkley the same offer as Sigurdsson. If you want shut, have the decency to say so and stop blaming the lad himself for a flawed and failing transfer policy.
Nor is there any point in bringing Barkley into the debate about Klaassen. Klaassen is more a Tom Cleverley than a Ross Barkley: neat, tidy, lacking pace. Cleverley was sold for £8m. Klaassen was bought for three times that amount.
Oliver Molloy
74
Posted 27/09/2017 at 15:39:58
Christy @ 7,
That doesn't make sense to me!
David Barks
75
Posted 27/09/2017 at 15:43:20
Gerard,
So you're friends with Ross? I assume you've sat down and had a pint with him recently. So you can confirm that he won't be going to Spurs and his only reasoning in rejecting the move to Chelsea was out of his love for Everton?
Tony Everan
76
Posted 27/09/2017 at 15:54:52
I like the personal trainer idea, to get the lad tougher for this league. He needs to get stronger and meaner.
It's still too early to write him off; he could become invaluable to the squad later in the season. Be fair – it's not just him; the whole team and manager have been disjointed. Hardly a good environment to settle.
Once his fitness is improved and his adjustment to the Premier League is given another few months, I expect him to do well. I think, with extra fitness and a confidence boost, he will be a success.
Phil Smith
77
Posted 27/09/2017 at 16:01:10
I watched Klaassen a few times for Ajax last season and we was the standout player, for me. He definitely needs time. He'll come good.
I think Sigurdsson is still behind the others for his lack of pre-season and I think the price tag is adding a little extra pressure on him at the moment. More worried about him, although we have seen moments of brilliance from him, but he also took a free-kick the other day and send it right into the stands!
Sandro also needs a little bit of time adapting but he'll come good sooner as he loves to play physically – that's why he moved to England. He wants to get stuck in and I'm sure he will.
I'd give Rooney a rest this weekend but play him on Thursday.
Gerard McKean
78
Posted 27/09/2017 at 16:08:44
David (#75), the people who run our club must love you. I suppose you believe that Kenwright was in the Boys' Pen, too?
There is too much smoke-and-mirror stuff going on at Everton and people trying to be too clever by half. As it happens, I do not believe that selling Ross makes any sense but, if you are determined to do so, then at least try not to appear too anxious. Daniel Levy eats these people for breakfast.
And ps, I'll sit down and have a pint with anyone to talk Everton!
Jim Hardin
79
Posted 27/09/2017 at 16:17:09
Gerard,
Finally, someone who knows Ross and his family then. So please tell us how do you know Ross? How long? When did you and he discuss his long-term plans for football? What are the terms of his unsigned contract? How is his recovery going? Why does he think that he got punched in the nightclub?
Your first paragraph implies a level of familiarity with Ross that other posters do not have, but lacks any details. You then use this "status" to tell other posters that they are wrong and should stop posting. If you do not actually have the relationship implied then, just stop it. You only look foolish. If you do have such a relationship, then tell us what we are missing!
Those of us who do not presume to know Ross personally do know that he was offered a contract that is as yet, unsigned. On the surface, this does not seem to be consistent for a player who wants to remain an Evertonian. There are other stars in other sports that have taken less money to play for a team in a city where they wanted to be but, as of yet, Ross is not one of them.
Personally, I do not rate Ross at his age now, as anything but slightly above average technically and below average tactically. He has pace and power, but those are subject to decline as he ages. If he stays or goes, then, either way, I wish him a long career free of injury.
So long as he sleeps in Everton jammies he will always be welcome... right?
David Barks
80
Posted 27/09/2017 at 16:32:27
Gerard,
If you'd read anything I've posted about the Board, I think it would be fairly clear the club wouldn't like me very much.
But back to your chastising supporters who don't know Ross the way you do. So, what did he tell you? Is he signing up or another five years? Definitely not off to Spurs? Please help us be better informed.
Phil Walling
81
Posted 27/09/2017 at 17:17:25
The most we can really say is that to date he has been next to useless and at £25 mil a rotten signing as with a few more. But give him time whilst we struggle at the bottom end of the pile.
T'was always "jam tomorrow" – and Koeman ain't no different!
Christy Ring
82
Posted 27/09/2017 at 17:29:03
Oliver @74
What part of 'a pity he didn't show the same faith in Barkley' doesn't make sense?
All Koeman did last season, apart from taking him off, was constantly criticising his performance in the public domain. He was his scapegoat, for our bad performances. I'm not saying Ross was our best player last season, but he certainly wasn't the worst. He was the one player who kept looking for the ball, to move us forward.
I'm not blaming Klaassen, it's a big change from the Dutch league, and he needs time, but if Ross performed like he has this season, he'd be called ashore long before half-time, and do you think Koeman would defend him? He'd hang him out to dry.

Dermot Byrne
83
Posted 27/09/2017 at 17:55:41
Peter Larkin (#51): You really expect anyone to discuss anything with someone who finishes a post with "end of "? Never the crap you write before it about "sugar-coating".
Derek (#47): Yeah, I agree about the coaching being the issue.
Colin Glassar
84
Posted 27/09/2017 at 18:02:29
Phil, even so-called elite players can struggle in new leagues/countries. Some take to a new environment like ducks to water, some struggle and some never adapt.
The only thing we can do is wait and see. Otherwise we may as well write in a six game cut off clause in all their contracts. Don't perform from the off and you're out.
Derek Knox
85
Posted 27/09/2017 at 18:05:52
Slightly off topic here; if anyone can get the Anderlecht v Celtic game tonight, which, I believe is on BT Showcase / BT ESPN, we will get a look at Onyekuru, and possibly Mousse Dembele and the Celtic youngster Rolston.
The latter two have been linked before, and we do need quality in addition to what we have.
Colin Malone
86
Posted 27/09/2017 at 18:08:01
Kevin @53.
Klaassen has been poor in a new League, but what excuse do Rooney, Sigurdsson & Schneiderlin have? Those four players look lost on the park, without a clue as to how they are supposed to be playing.
OMG, Rooney, Sigurdsson stand out like a sore thumb, you can see they are class players. But yes, the formation does not help these players.
Colin Glassar
87
Posted 27/09/2017 at 18:14:41
I will be watching the Atletico - Chelsea game, Derek, but I'll be switching channels to see how our kid is getting on.
Ste Traverse
88
Posted 27/09/2017 at 18:17:43
I do find it amusing and hypocritical that some fans are writing Klaassen off in no time, yet have berated Koeman for doing the exactly the same thing regards Niasse.
England is one of the toughest leagues in the world. Give the lad some time to adjust to it. Klaassen certainly hasn't hit the ground running but not every player does at a new club.
Dermot Byrne
89
Posted 27/09/2017 at 18:34:18
Ste (#88): I hear the rumble of people running from their guns, sorry keyboards. Great point.
Frank Crewe
90
Posted 27/09/2017 at 18:47:12
Rumblings in paradise eh? Excuse mode activated.
Darren Hind
91
Posted 27/09/2017 at 19:22:38
Ste Traverse,
Here's something that doesn't seem to have occurred to you... The people who are writing off Klaassen (if indeed they are) may not all be the same people as those who are berating Koeman for doing exactly the same thing. And those who are defending and supporting Klaassen (looks like the majority) are not all the same people who defended and supported Koeman.
Is it not more likely to be different opinions given honestly by people who are treating the two things as separate issues... because they are two separate issues?
Will Mabon
92
Posted 27/09/2017 at 21:06:07
Ste, is it not amusing and hypocritical to you that the people that supported Koeman's considered tough love policy for Barkley ("Designed to give him the push he needs" etc.), are not advocating the same for Klaassen?
Shouldn't the same people now be castigating Koeman for "Blowing smoke up Klaassen's arse"?
James Marshall
93
Posted 27/09/2017 at 21:23:01
Will – Barkley has played a lot more games in the Premier League than Klaassen so it's not a great comparison, in my view.
Will Mabon
94
Posted 27/09/2017 at 21:45:29
That's true, James... and Klaassen has played more games than Niasse at Everton, who got none under Koeman until last week.
Perhaps Koeman tried to play Barkley in a way that didn't suit his game or abilities. Back then people called it "Improving him", but now, the concept of Koeman playing people wrongly or out of position is better understood.
I guess it will be interesting to see the threshold point at which Koeman starts his intelligent, no-nonsense public improvement programme on any of his new signings, should they continue to struggle. I reckon Sigurdsson has enough Premier League games to qualify. The guy needs to get his ass in gear – assuming Koeman gives him the chance to play to his strengths.
Ian Ainslie
95
Posted 27/09/2017 at 22:00:47
I genuinely think he will be alright – a lot of the noise around me in the main stand is about how slow he is, what does he do etc.
My view would be that he currently loses possession a lot and hasn't adapted to the pace of the Premier League or to the physicality (such a Martinez phrase, I know...)
However I don't see a current a player who's prepared to pass the ball forward and first time as much as he does and as he improves we'll all see that. He's different to lots of the current midfielders and I do think he'll be great!
James Marshall
96
Posted 27/09/2017 at 22:23:21
Will – My take on Sigurdsson is fitness/no proper pre-season & all that, plus being shoehorned into the team.
Koeman clearly has some sorting out to do in terms of the lineup. Until we have a clearly defined way of playing that suits the players, and he stops playing Rooney, Sigurdsson and Klaassen in the same team, I think it's difficult to judge...
Danny Broderick
97
Posted 27/09/2017 at 23:48:46
Give Klaassen a season to build up his stamina and get used to the pace of English football. Put him in the side with wingers either side of him, and you'll see him passing the ball nicely.
He linked up nicely once or twice in pre-season with Rooney this way, but admittedly he has struggled to find the same time and space in the Premier League. But he will come good – lots of players struggle initially.
Off the top of my head, Baines, Jagielka, Osman and Naismith all struggled at first, and they all turned out to be good servants.
Peter Gorman
98
Posted 27/09/2017 at 23:52:04
People on TW should not be making large, sweeping claims and then refuse to entertain the possibility of there being any rebuttal.
End of.
Don Alexander
99
Posted 28/09/2017 at 01:05:59
You're obviously not saying that with Hind-sight are you Peter? Well said indeed.
Ashley Roberts
100
Posted 28/09/2017 at 02:07:19
I am sorry, I just don't buy the comments about giving Klaassen a season to adjust to the physicality of the premiership? This lad cost £24M which is 3 times what we let Cleverly go for. For £24M, he should have shown some qualities by now. I have yet to see anything that makes me think he will make it. In fact, I see him as a lesser able Cleverley.
Also you just cannot compare him to Ross. Ross was always looking for the ball and wanting to be in the action. Other than Rooney and Tom I do not actually see anybody in the team crying out to be given the ball at the moment.
This is the big difference, good players always want the ball and are able to turn nothing in to something. I really have not seen Sigurdsson grab a game by the scruff of the neck yet either. Maybe for £45M we should give him half a season to get up to speed?
So essentially we are saying two players worth £70M combined need considerable time to bed in. For that sort of money I would have thought they should hit the ground running but maybe you can only expect that if you pay £200M?
David Barks
101
Posted 28/09/2017 at 02:56:54
Ashley,
I, like you, have no idea if Klaassen will net out. But Eriksen also took over a season to adjust at Spurs. De Bruyne was sold off to Germany before coming back as a star at City. Mkhitaryan Couldn't hold his place at first.
There is a long list of players that come to England and take time. Hell, Arteta was a flop league after league before coming here.
Derek Knox
102
Posted 28/09/2017 at 08:32:08
We are all entitled to opinions, after all we are all human, and to differ in those opinions invites what should be a healthy debate. That is the essence of what makes ToffeeWeb such a great site.
However, I have noticed that some on here take a different opinion as an alien concept, or a challenge to their thinking. Don't take things personally folks; who is to say, who is right, or who is wrong? It is not about right or wrong, it's about different points of view, so please, no alienation.
One thing that unites us all, is Everton, and I appreciate that feelings at the moment are running high, due to a number of factors. I can't remember the author of the quote, but remember it's content: "While I don't agree with what you say, I will fight for the right, for you to say it".
Oliver Molloy
103
Posted 28/09/2017 at 08:43:21
Christy ,
Well now you are talking about the personality of the manager which is a different subject altogether.
Considering Barkley is a seasoned premier league footballer of four years with Everton, I think Koeman has shown lots of faith in him and has also said he wanted him to stay, another sign of faith in him don't you think.
Klaassen won't get four years to prove he has what it takes. Koeman has also told Klaassen he must work extra with fitness guys – I see that as a first warning he needs to do more.
Paul Tran
104
Posted 28/09/2017 at 08:58:07
Klaassen looks to me like a player in a shitstorm of settling into a faster, more physical league in a team with no pace and little idea of what it's meant to be doing.
He is a good player among other good players. The real question here is what's happening to make these good players look slow and awkward?
Tony Everan
105
Posted 28/09/2017 at 09:33:48
Paul, the 'no pace' aspect is significant. A player like Klaassen needs someone to stretch a defence, to force a space between the defence and midfield. A player who forces the opposition defence to think differently and pull them out of shape.
This would give him a fraction more time to get the ball forward fast with increased options.
There's no doubt, and Koeman agrees, that he needs to toughen up. He is a player who will finish the season strong and benefit greatly from the return of Bolasie and Coleman.
Martin Nicholls
106
Posted 28/09/2017 at 09:58:35
Derek (#102) – well said! One thing in particular that I don't like is directing words such as "fella" and "pal" at people with whom one disagrees in an apparent attempt to belittle their opinions.
James Marshall
107
Posted 28/09/2017 at 10:38:22
On Klaassen, and my tuppence. I think he's a good player, he understand the game, has a lovely touch, and is a good passer. He also has excellent timing when used in the right setup – he scored plenty from midfield for Ajax and reminds me of a (lightweight) Frank Lampard.
Some might say that's nonsense, but don't take it too literally – I say he 'reminds me' of Lampard, not he's as good as Lampard. (It's becoming increasingly more important to put disclaimers on your posts these days!)
He has a similar style, almost languid at times, which appears lazy/slow but actually he has the football brain that a player like Barkley lacks from what I can see.
At the moment, he's a bit of a conundrum, but as someone above has said, once we start playing with some width & pace I think you'll see Klaassen flourish in midfield. Currently our games are so narrow and congested that he's struggling a little bit to find any time or space, but it'll come. You don't captain Ajax at 23 for no reason.
Tony Abrahams
109
Posted 28/09/2017 at 11:20:55
I like Klaassen, but I'm not convinced he should be in the team right now though. Haven't really read this thread, but just saw what Paul Tran said, and I'm convinced it's down to width, so I hope Tony (#105) is right, and he will improve once Coleman and Bolasie are playing again.
Stan Schofield
110
Posted 28/09/2017 at 11:59:12
I'm sure Klaassen is a good player based on seeing his performances with Ajax. Whether Koeman can get the best out of him (or any other Everton player) remains to be seen. I wouldn't bet money on it.
It's interesting to read all the posts on ToffeeWebb that are defending Koeman. They seem to vary from personal comments on those posters who express concerns about Koeman, to attempts at comparing the current situation with Kendall. Apart from those arguments, which are pretty thin and desperate, there is little to nothing if substance in Koeman's defence. That in itself could indicate how his time here might be nearly up.
Lee Brownlie
111
Posted 28/09/2017 at 12:18:50
Manager says 'He needs time' like it's down to the player he's been put into a team with no room to get his runs going!! Just another deflection of responsibility, while trying to sound 'understanding' (of someone else's issues!) isn't it?
Laurie Hartley
112
Posted 28/09/2017 at 12:27:06
Phil Lewis (#19) – your team is without a doubt in my mind, the best starting 11 Koeman can put on the pitch at this point in time.
That team can play joined up football, can defend, and attack. It can also switch to 4-3-3 because of Rooney's presence in midfield from whence he could control the game. He should have the armband also.
The other big plus is that both Calvert-Lewin and Niasse are prepared to press and track back if needs be. Niasse won the ball back on the left wing just inside their half to start and finish the move for the equaliser against Bournemouth.
The other quality of that team is that is full of fighters. If you and I can see that surely Koeman can. The question is does he have the courage to leave two of his signings on the bench – Schneiderlin and Klaassen.
If he can and does we might start seeing some performances that look like Everton is on the pitch. Let's hope so – it's the hope that keeps you going.
Amit Vithlani
114
Posted 28/09/2017 at 13:29:54
Coherent tactics and a lack of a proper centre-forward have contributed to the team, collectively, doing badly.
But Klaassen, against Sunderland, looked off the pace. I have no idea what he is like at top form, but I am still willing to say that it might just be that his confidence is low and his form has been affected.
He probably needs a "diplomatic" injury and to be taken out of the firing line. Why we should not give him time to bed in is beyond me. It's not like we can get rid in January and recover our cash? Of course not. Give the boy a chance.
What's more, its not exactly like we are short of options. An even more compelling reason, however, is that leaving out an off form central playmaker and introducing some genuine width and pace might actually be a win-win for player and the team collective.
But I don't get paid £6M a season to make these decisions, so I defer to the bloke who is.
Martin Mason
115
Posted 28/09/2017 at 13:41:33
Phil @19
Do you not feel that Davies and Sigurdsson are not the type of wide player that you need to make 4-4-2 work? It may be that they would be our normal square pegs in round holes? Can our defence survive with a single defensive midfield player?
You need very good players to make 4-4-2 work and very few teams use it now. In the Premier League, I can only see Man City and Chelsea who could do it. Leicester City won the title with it but they had good specialist wide players and Vardy who is perfect for that set up.
When Everton have tried 4-4-2, as when they try 3 at the back, they have normally been very poor. Perhaps Bolasie and Vlasic could make it work. Mirallas perhaps but Davies wide on the right? He'd be perfect as the second midfielder for sure.
Mike Berry
116
Posted 28/09/2017 at 14:28:59
The problem is for Klaassen is where Koeman plays him? For him to make any impact at all, he needs to be played in his favoured position, not shoehorned to accommodate Rooney.
His automatic inclusion is really what is and will in time be our downfall; too many are playing in unfamiliar positions because of this.
Derek Knox
117
Posted 28/09/2017 at 16:10:24
Tonight is truly the night for Koeman to show us he's either the Dutch Master, or the Dutch Masturbator.
I hope and pray he selects a side with a sense of urgency, forward thinking, and capable of scoring a few, while keeping things tight at the back.
Tall order maybe, but we have decent players, it's getting the combination right, and not just throwing them all into the mix, with no strategic plan.
Laurie Hartley
118
Posted 28/09/2017 at 16:35:25
Martin (#115) – I will be interested to see Phil's answer to your question about the roles of Davies and Sigurdsson in his 4-4-2 set up as our midfield needs sorting out.
I have my own view on that but the key to it is Rooney's role which I see as very much like Okazaki's contribution to Leicester's success.
I really believe that, if he plays Rooney there, we will start seeing some proper football.
Will Mabon
119
Posted 28/09/2017 at 16:56:30
Derek, the players matter of course, but the main thing would be for Koeman to let them off the leash. He might have no real visible plan but I remain convinced he's stifling them.
Any combination of the players, left to their own devices, would be an improvement, I believe.
Andy Crooks
120
Posted 28/09/2017 at 19:41:05
Martin, for 4-4-2 to work, and to work well, you need Roy Keane or someone like him. I would also reckon we would need the Rooney of five years ago. I like that formation and I believe we could be effective with it, however,our coach will not touch it in a million years. It requires taking a risk. Koeman does not take risks.
Joe Edwards
121
Posted 28/09/2017 at 23:56:04
For the life of me, I cannot see anything whatsover – not a pass, tackle nor assist that leads me to believe that this fella has anything to offer this team.
Look at Vlasic: we have seen flashes; Sigurdsson, tempting tidbits...
This guy hasn't shown a halfpenny of anything at all to even so much as make me raise an eyebrow.
Iain Johnston
122
Posted 29/09/2017 at 12:21:25
That's nice of you Ron, giving your fellow Dutchman time. It's a shame you couldn't extend the same luxury to Niasse.
Maybe young Davy needs to have a chat with his teenage teammate. Nikola Vlasic who seems to have hit the ground running?
Sorry mijn Nederlandse vriend, it's just another in a long line of excuses.
Add Your Comments
In order to post a comment, you need to be logged in as a registered user of the site.
Or Sign up as a ToffeeWeb Member — it's free, takes just a few minutes and will allow you to post your comments on articles and Talking Points submissions across the site.