Koeman bemoans lack of creativity
Sunday 1 October 2017

133 Comments [Jump to last]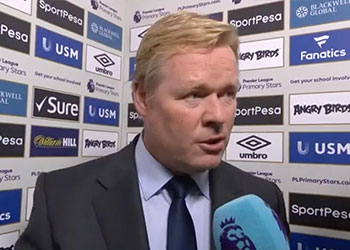 Ronald Koeman put the blame on his players' inability to create enough chances as well as some bad luck for their failure to beat Burnley today.
The Blues followed up Thursday's disappointing 2-2 draw with Apollon Limassol with a 1-0 defeat to the Clarets that prolongs what has been a poor start to the 2017-18 season.
Koeman, who beat a hasty retreat down the tunnel at the full-time whistle, was in full support of the attitude of his players, however, and despite admitting "we don't have the 'creativity' type of players at the moment, says that he saw enough signs from them to suggest that they can improve their iffy form when the Premier League campaign resumes after the international break.
"I can't complain today about my players," the Dutchman said to the BBC cameras after the game. "We showed the right attitude, we showed really that aggression and commitment that we needed to play with to win the game.
"We had big chances in the beginning then the game would be totally different.
"You know when you go down against an opponent like this it is tough. They drop back even more and are good defensively, organisationally and physically strong. You need to be at your best to create and we didn't create a lot. We tried everything but it wasn't enough.
"In these circumstances you need to score the goal," he told Sky Sports. "I thought we started really well but we missed some good chances. You need to be at your best to create and that wasn't at the level that we need to get at least one point.
"The start was really good. It was aggressive, it was direct play and we won a lot of second balls. If you get a lot of chances then you need that goal.
"But OK, we tried everything. We had many crosses, we had many headers and we created good chances but we were not lucky. In the way that we fought is the direction to go and we will continue.
"I'm pleased with all the performances of the players. They did everything. The commitment that was showed today is positive.
Asked by the BBC reports if he was still enjoying the job despite the current challenges, Koeman was unequivocal: "Yes, I like it. I like my players, I like my team and I think we can turn it around.
"What I saw today — that is how we can turn it around and how we need to continue. The solution starts with the commitment of the players and, of course, we need to improve in our ball possession and we need a little bit of luck to score that goal in the beginning because, again, [in that instance] it's a totally different game.
"Every manager is under pressure and it can change really fast. It can be one way today and in two weeks it can be different. It's part of the job; if you don't like it, go home."
---
Reader Comments (133)
Note: the following content is not moderated or vetted by the site owners at the time of submission. Comments are the responsibility of the poster. Disclaimer
Tahir Abdullah
1
Posted 01/10/2017 at 16:58:54
Koeman (post match): "We don't have the 'creativity' type of players at the moment"
Phenomenal insight that...
Karl Meighan
2
Posted 01/10/2017 at 17:03:45
We don't have creative players, or a left sided midfielder either, Ronald.
David Connor
3
Posted 01/10/2017 at 17:10:19
£200+ million wasted by this bastard. Bite the bullet and fuck him off. We were better off with Bobby Brown Shoes. I can't believe I'm saying that.
Still blaming the players for our demise. Saying our players ain't good enough. He fuckin' signed them, didn't he? This is his team and we are absolute dog shit.
Make no mistake this twat will take us down. Next 2 games have defeat written all over them & that should be the end of him. When is our luck gonna change?
Kristian Boyce
4
Posted 01/10/2017 at 17:40:50
But you pick the team with twin defensive midfielders. Stop deflecting blame!
Luke Welch
5
Posted 01/10/2017 at 17:41:46
Deluded
Tanvir Akram
6
Posted 01/10/2017 at 17:42:52
Shocking! Rooney? Vlasic? Sigurdsson? Morgan?
You've lost the dressing room. Stop making excuses.
Paul Kennedy
7
Posted 01/10/2017 at 17:49:19
"If you don't like it, go home." – how can he say that to the fans??? Unbelieveable!
The guy is a first rate prick; get rid.
Paul A Smith
8
Posted 01/10/2017 at 17:57:09
Get this fat tomato-faced excuse making virus away this club. And Walsh. And anyone who sees positives or gloriously hold patience in that cool dude pundit fashion.
None of these things are good for a club with ambition. If you have had the balls to apologise or simply acknowledge Darren Hind or anyone with a bit of nouse when it comes to football and footballers, then credit to you.
Mark Tanton
9
Posted 01/10/2017 at 17:58:25
Did Koeman say that? If he did, he his position is surely untenable.
Nick Lacey
10
Posted 01/10/2017 at 17:58:43
No creativity in the team, so you constantly refuse to play the likes of Lookman and Mirallas. Shame on you, Koeman.
Colin Glassar
11
Posted 01/10/2017 at 18:01:08
What's tulip-head talking about? We do have creative players but they are all on the pitch together, getting in each other's way.
Also, how many times did our players get in each other's way at set-pieces? Don't they practice? Aren't they drilled?
Gerard Carey
12
Posted 01/10/2017 at 18:02:28
This just gets worse!!. He picks the team, he sets out the tactics, and the buck stops with him.
Let's hope the board reacts and gets rid of him. It's your fault, Ronald, and nobody else.
Brent Stephens
13
Posted 01/10/2017 at 18:09:48
Dire tactics again. Just post the analysis from previous games. Koeman can't last.
Geoffrey Hall
15
Posted 01/10/2017 at 18:13:20
When the team plays 4 out of the top 6, confidence his very low the team I agree is playing shit two more games for Ronald Koeman, then the sack for me, if it doesn't improve.
Paul A Smith
16
Posted 01/10/2017 at 18:15:59
Lack of creative players? This prick is unreal. He ridicules Barkley who had most assists at the time and couldn't be arsed with Deulofeu who could play absolute dreadful and still create 3 good chances and was basically an assist specialist.
Then buys a gang of productivity players who produce absolute dire football.

Paul Setter
17
Posted 01/10/2017 at 18:16:23
There is not a chance I will make the 8-hour round trip from Exeter again until this buffoon is gone, and I have done it 4 times this season already.
He bought the players, he is in charge of tactics – the blame is completely his.
Sadly to the financial side of things, our board will plod along as normal with their head in the sand and do absolutely nothing.
Anthony Jones
18
Posted 01/10/2017 at 18:21:13
#7: Nope. He was talking about being a manager, not the fans.
And the personal insults are ridiculous. Criticise decisions all you want. Even criticise Koeman's demeanor but please don't lower the argument to personal insults.
Jamie Morgan
19
Posted 01/10/2017 at 18:26:41
Time to go... four home wins are all that should have saved his job. I actually think it's small margins we are losing in and we are not as bad as it comes across.
Something as easy as the right man in charge will have a massive positive impact on the squad we have, and give them time to assess what else is needed in January (apart from the bleeding obvious).
International break – now it the time to sack him and appoint Unsworth on an end-of-the-season deal.
Lawrence Green
20
Posted 01/10/2017 at 18:28:39
I saw today an end of season match with the outcome, it would seem, of no importance to those involved with Everton FCs staff and their players. But it wasn't an end of season game, it was a home match that should have been a competitive and hard-fought battle between two bang average Premier League sides.
Being beaten is not a crime even to an average side such as Burnley who merely stuck to their game plan and showed this current Everton team to be what many of us thought they were, rudderless, aimless, heartless and leaderless.
All of the people who run Everton FC including Moshiri, Kenwright, Elstone and Koeman are responsible for our current predicament because they appear to have forgotten that no amount of spin can disguise the fact that the team has been assembled without any clear style of play, without any sort of partnerships within any part of the team and worst of all showing no sense of pride in the shirt they are sporting.
I've seen some terrible displays during my time watching the Blues but this seemed worse than most if not all of those games, because the players who were on show should be performing far in excess of what they have shown so far this season. No amount of tinkering with the team or alterations of tactics can overcome a lack of desire and belief.
The manager has to be responsible for the players and how they respond to any given situation, but to only concentrate on the first 20 minutes and forget the other 70 minutes is to ignore the deep rooted issues facing this Everton team.
As for the local paper I'm aghast that David Prentice seems to suggest that it is the atmosphere at Goodison Park which bears responsiblity for the poor showings by the players so far this season. Has Mr Prentice forgotten that Everton Football Club has won once away from the poisoned atmosphere of Goodison Park this calender year in the Premier League?
It is still early in the campaign but this time there may not be a get-out-of-jail card to stop the rot, the club could find itself well and truly battling to protect it's Premier League status for the first time in over a decade. Changing the manager may not be enough, changing the tactics may not work, but one thing is certain blaming the fans is not the solution and it is an insult to all those who have supported the club through thick and thin. Where I sit we may not have been shouting from the rooftops in support of the team but I didn't hear cat-calling or people getting on the players backs either, just a quiet acceptance that this Everton team is far poorer than we had expected or have seen for many a year.

David Prentice: Everton analysis – Goodison Nark rears its head as Koeman faces huge task of restoring shattered confidence
John Roberts
21
Posted 01/10/2017 at 18:32:16
Around 14 games now and no improvement whatsoever. In all the games our creativity has been terrible. Lukaku cannot have made that much of a difference.
I did think another two games but I really don't see the point, do us a favour, Koeman, and resign – don't waste anymore of our money.
Mark Morrissey
22
Posted 01/10/2017 at 18:36:00
Get your coat. Taxi for Koeman and his entourage. The players don't want to play for you and I don't support you either.
William Cartwright
23
Posted 01/10/2017 at 18:36:16
Anthony, I admire your respectfulness, I really do. But there has to come a time when the fee paying fans are at least acknowledged as one of the critical aspects of a football club. Koeman's "take them or leave them" attitude is not appropriate and never has been.
Time for respectful patience has passed. Strangely if the performances were better but the results the same, and both he and the team were seemingly unified in their efforts then they probably would get far more patience from the terraces. It is his inconsistent logic (or no logic) in team selection, and his demeanor not just the manner of delivery, but his way of dealing with players whom (it seems) he is capable of taking an instant dislike to, that is pissing me off.
(Quite apart from judging him on results, which in all honesty shows him up to be a crap manager of a football team.)
James McPherson
24
Posted 01/10/2017 at 18:45:49
Goes against the grain but I will quote... "twat, tomato face, prick, tulip-head, bastard" – just some of the adjectives volleyed at Koeman. Having attended today, I am so disappointed. At this rate, he will be justifiably dismissed. However, this mob mentality of plying all the blame at Koeman's feet is nothing short of personal abuse.
Koeman is making mistakes but the the highly paid players are not even doing the basics. If Koeman goes, they should too... but hey it doesn't quite work like that – our anger I feel is more aligned to our disconnection with lazy footballers than the misery we are experiencing with results. Doesn't translate that way mind.
Lyndon and Michael, where are you on observing standards in personal abuse? It seems to be rather inconsistent and subjective. And I speak from experience.
Björn Kausemann
25
Posted 01/10/2017 at 18:54:25
No movement, no creativity, no plan. Koeman spent a lot of money for standard players.
You can spend £45 million for an excellent player but not for Sigurdsson. And Klaassen £20 million? Sorry that's a joke.
Wasted money. So please Koeman take your hat an go!!!
Paul A Smith
26
Posted 01/10/2017 at 19:00:25
James, I would love to have your composure. So much frustration in fans comes out differently.
That is the case in all walks of life. If you haven't heard far worse at the game I would be very surprised.
Every player could have been called names if people were that bad but its just usual frustration handled in different ways by different people.
Michael Kenrick
27
Posted 01/10/2017 at 19:04:12
That shit is so typical of fucking Prentice. Yea, blame those awful fans. What a dick. He was just the same defending Moyes as I recall.
Tony Twist
28
Posted 01/10/2017 at 19:08:07
He is a joker. I know we didn't get a striker, whether that is Walsh's fault or did Koeman say I want Giroud and no one else? I think we have enough creativity perhaps not to live with the top six teams all season but you can get around that on match day but not with this clown of a manager.
It is his fault solely, he is not flexible, he doesn't react in the match and change things just as he doesn't change things when players come into form. There are good, very good managers out of work at the moment but obviously this is Everton who will wait and wait and wait until only big Sam is available.
Paul A Smith
29
Posted 01/10/2017 at 19:10:34
James 24. Seems Michael has the same frustrations as the majority ha ha. Or the riff-raff as you may now assume. How ironic.
Ian Pilkington
30
Posted 01/10/2017 at 19:11:28
This afternoon,I didn't see a glimmer of hope that Koeman can turn this around after yet another utterly mediocre performance.
The forthcoming international break gives Mr Moshiri a golden opportunity to bring in Ancelotti before he is snapped up elsewhere.
Koeman is beyond redemption; there is no point in delaying the inevitable – sack him now.
Mike Hughes
31
Posted 01/10/2017 at 19:17:33
To be fair, Burnley are one of the top sides in Lancashire.
They were also "up for it" which is unfair as it immediately puts us at a disadvantage.
In many other organisations, this kind of performance would be rewarded with a P45.
Clueless, gutless, desperate.
(Those riots in Barcelona are possibly in protest at Koeman being touted as their next boss).
Sur Jo
32
Posted 01/10/2017 at 19:18:50
Give him time for what? He is half-way through his contract, this season is a quarter-way over, it's his team all over the place... Are we waiting to get relegated?
When someone is on £3 million a year, if he's sacked after a week that's enough money to live a lifetime.
Fans are crying their heads off to play wide players, pace... instead, he ignores us. This guy has no connection whatsoever with the fan base and more importantly he does not give a fuck.
Will Mabon
33
Posted 01/10/2017 at 19:19:00
James 24, Michael 27,
Thanks for the unintended comedy double-act interlude. Best thing I've seen all day.
Sur Jo
34
Posted 01/10/2017 at 19:22:16
If we get relegated, then all the pundits will say we did not act early enough. As long as we have not reached that spectre, then they say give him time.
For god's sake, let the voice of the fans be heard, lord pundits! It's us who go through the emotions day in day out, the fans. We collectively know better what's good for our club.
He has to go.
John G Davies
35
Posted 01/10/2017 at 19:22:54
It's like a competition who can come up with the most insulting name for him.
Pack it in lads.
Jonathan Miller
36
Posted 01/10/2017 at 19:24:42
So things aren't going our way and what does Koeman do? Flood the pitch with No 10s because that's worked all season! Baines was crying out for someone in front of him. It's becoming gross mismanagement now!
Damian Nolan
37
Posted 01/10/2017 at 19:25:58
James (24), I echo your sentiments.
Yes, Koeman is making errors. What manager hasn't or doesn't? For those errors he is open to legitimate objective criticism. I don't think anyone in the spectrum of fans would disagree. However, we debase ourselves and the arguments we submit by indulging in personal abuse.
Equally, if we are apportioning blame we need to be even handed. So, why do the players consistently provide the same worn out platitudes about "working to put things right" and get away with them without evidencing the said assertions by providing measurably improved performances? Why don't the players own up?
6 of that current team are way short and they, in truth, are hiding behind the current malaise around the manager. Am I the only one who wants to freeze frame in a match and say to one of the 6 "Why are you doing this or that when you know it isn't what is required?"
Players have to be accountable too. They truth is that they are so disconnected to the supporters that beyond the superficial pandering (waving to fans in the kick in – though for Sandro it is generally an apologetic wave for hitting a fan in Row Q in the face when engaging in shooting practice) there is nothing.
Accountability will never arrive when the solution is only ever going to be just sacking the manager.
Christy Ring
38
Posted 01/10/2017 at 19:27:49
He is totally to blame for the current shambles. He made a total mess of the transfer window, and he has us going backwards. He bought 3 no.10's, having spent a month signing Sigurdsson for £45m, instead of replacing Lukaku. We're so unbalanced, no left sided centreback, no other left back, I couldn't believe he didn't even make an offer for Gibbs, who Pulis signed for £5m. How can he be left in charge.
Dave Abrahams
39
Posted 01/10/2017 at 19:31:49
The manager really lets himsel down with ridiculous statements like I was pleased with the effort, commitment and endeavour of the players today or words to that effect.
The manager changed the team but the tactics stayed the same, no width, two defensive midfielders again, he was right we did play well for twenty minutes but after the goal I think we all resigned ourselves to another defeat we just never looked like scoring.
Mr. Koeman only a Liverpool supporter would have been happy with that performance, in fact they would have been highly delighted, we were very poor again.
How long Mr. Moshiri? Our history hasn't been great over the last twenty odd years, it could get a lot worse unless you pull the trigger.
Brian Williams
40
Posted 01/10/2017 at 19:33:20
I don't believe he's the man for us but I have to say he can't do anything about players actually avoiding receiving the ball which happened on more than one occasion today.
John G Davies
42
Posted 01/10/2017 at 19:41:08
Dead right, Brian. Plenty of them hiding today. Not good enough nevertheless.
As Dave mentions, no width and no pace. The two biggest requirements in modern day football.
When Rooney came on the change in formation lasted for 10 minutes before the players themselves changed the midfield shape.
Saying that, the shape he asked them to play is better than the two holding midfielders. I hope he tries that from the off in the next game.

Sean Kelly
43
Posted 01/10/2017 at 19:43:19
Surely for the sake of Everton Football Club it's time for the board to sack him.
I hear people saying give two more games, give him until Xmas. Why? We owe him nothing. He seems to think he's doing us a favour by being here.
Mr Moshiri, if you are in this for the money then wake up. You might lose £10 million getting rid of Koeman but you will lose multiples of that if he's allowed to stay another day. Get Ancelloti and get him now!
Tony Marsh
44
Posted 01/10/2017 at 19:45:48
Trouble is, a lot of our supporters don't see the bleeding obvious until it kicks them in the teeth. The section of fans who slagged off Lukaku when he was here and didn't realise he was all we had as a club I hope you see it now?
Those of us who last season called Koeman a fraud were derided on here and in general by fellow Evertonians are taking no pleasure in what's going on at the moment.
I was worried pre-season about the whole situation at the club. The Lukaku fiasco,the bullshit regarding new stadium,the lack of real funds from a so-called Billionaire owner. The sickening cosy relationship with Man Utd. None of our lot seemed concerned. I am sure they are concerned now.
Nothing has changed at EFC since Moshiri took over – in fact, it is even worse due to the expectation of fans not being met.
Koeman must go right now if we are to start the process of recovery but we all know he won't be sacked. We have idiots running this madhouse. It's a crying shame what these tests are doing to us.
James McPherson
45
Posted 01/10/2017 at 19:47:49
Paul A Smith (#29), in response to Michael (#27) and Will Mabon (#33) – I can't be certain, but have a feeling that Michael Kenrick's response, though undoubtedly sincere, is framed in a way to make a point towards my mail. His prerogative. I will however, do as many do, and wait for Lyndon's take.
Habib Erkan Jr
46
Posted 01/10/2017 at 19:49:27
Koeman was wrong about Niasse; wrong to prefer Gylfi over Ross; and even wrong to prefer Klaassen over Cleverley (just look at where the Hornets sit this season). Tactically his preparation seems to be inferior to all of his opponents, except maybe Pep.
And, by the display this week it appears that the squad (except ironically Niasse) do not want to play for him. If he can't assess talent, can't prepare for matches and can't motivate players, please someone explain to me why he is still our manager.
James McPherson
47
Posted 01/10/2017 at 19:50:16
Christy Ring – the board sign players. It was they that took a month to sign Siggurdson.
Anthony Jones
48
Posted 01/10/2017 at 19:53:21
Disappointed to see my earlier comment moderated.
Very strange that the content controllers will not allow a comment suggesting that fans hurling nationalistic/appearance-related insults should consider supporting another club, but are quite happy to leave said insults unaltered.
James McPherson
49
Posted 01/10/2017 at 19:53:24
Habib – Koeman agreed with you and offered Barkley a contract to play for EFC long before going for Sigurdsson – indeed, he only went for Sigurdsson because Barkley turned it down and wants to play for either Spurs or Chelsea.
James McPherson
51
Posted 01/10/2017 at 19:55:42
Anthony Jones – I agree – think Koeman is well short at present – and on present form will be down the road justifiably, but does that mean we get personal and abusive? No.
Ray Barnes
52
Posted 01/10/2017 at 19:59:07
Whilst I agree with the concept of giving Koeman more time, surely there has to be an inkling that there's a vision of how he wants us to play? We should have seen a hint that there's something that might be worth waiting for?
I honestly don't see anything. The football were playing is an absolute disgrace. He doesn't even seem to be able to shut out teams like Moyes could and there's no solid foundation to build on.
Because of the lack of width we've got nothing coming from our full backs, they're completely isolated and one of our main attacking threats in Baines is a virtual bit player. He's honestly got to go.
Anthony Jones
53
Posted 01/10/2017 at 20:00:37
Exactly, James. Personal insults about appearance drag down the club. They serve no positive purpose.
Neil Wood
54
Posted 01/10/2017 at 20:00:53
How you can be losing 1-0 at home after 60 minutes, have Lookman on the bench and bring on Davies is absolutely absurd.
I like Davies. But a game changer he is not. Lookman however has the skill to unlock a defence (perhaps the only player we have that can do that) and he's left looking on .
Gross incompetence and surely has to go. Give me the job until the end of the season and I guarantee you I would do better. Shambles
Andy Crooks
55
Posted 01/10/2017 at 20:01:15
Well said Anthony. Personal insults, bastard, coward, shithouse are, simply, wrong.
Christy Ring
56
Posted 01/10/2017 at 20:05:48
James (#47),
Well done James, the one thing you criticise, out of my comment, is that it's the boards fault it took a month to sign Sigurdsson. My point was that Koeman made a mess of the window, by signing 3 No 10s, no left sided centre-back, no left back.
Jamie Barlow
57
Posted 01/10/2017 at 20:06:59
It doesn't help, Michael @27.
Karl Meighan
58
Posted 01/10/2017 at 20:09:15
Creativity starts with a balanced team, you can play as many strikers as you like but if its Gana and Schneiderlin who are supposed to supply these strikers then goals will be in very short supply.
Wing backs in a back four – you want find this anywhere else in the world except at are Club. Baines is the wrong side of 30 Martina wasn't good enough to get his game at Southampton yet there expected in Baines case without a midfielder in-front of him to not only supply service to strikers but also defend and stop crosses coming into are own penalty area.
More baffling substitutions, Vlasic the only wide player on the pitch hooked for another central midfield player and Sandro well its difficult to guess what his instructions were as he seemed to pop up everywhere except were a striker should be, on the last man and in and around the penalty area.
A long hard winter awaits if he cannot see fault in Thursday's or today's performances, either his nonsense system has to go or Koeman himself has to go. I believe almost every fan in that stadium today could and would have picked a better and more balanced side than Koeman did today.
James McPherson
59
Posted 01/10/2017 at 20:10:49
Christy – I wasn't criticising at all. I know from your posts that like me you're a big Evertonian and feeling the pain.
Merely pointing out the reality is that the board sign players – you can't level the time factor taken to sign Siggurdson at Koeman's feet. Angry though we are, we need to be fair, yes?
Lawrence Green
60
Posted 01/10/2017 at 20:11:45
I think Michael's response @27 was in reference to David Prentice's article in the Echo rather to any individual posts on here this evening.

James E Evans
61
Posted 01/10/2017 at 20:14:00
Good at this blame game is our Ronald.
James McPherson
62
Posted 01/10/2017 at 20:15:23
Lawrence - yes I would agree on reflection.
Richard Lyons
63
Posted 01/10/2017 at 20:16:53
This team plays like a blend of the worst of Moyes (negative, slow, turgid, boring) and the worst of Martinez (sideways pass, back pass, sideways pass, back pass, desperate forward pass and lose possession – as consistently as a line-dancing routine).
Imagine what the team would be like if they played the best of Moyes & Martinez at the same time: solid in defence, pacy, energetic and creative in attack. Maybe we have the squad for that (Okay, apart from a centre forward), but Koeman is clearly not going to get them playing in that style: the self-belief is gone for one thing. And he's the one to blame for that, so it's obvious to me that he's not the one to get it back.
Please, Mr Moshiri, sack him NOW and replace him with someone who knows how to get players excited about playing, and bring back some flair.
Rick Pattinson
64
Posted 01/10/2017 at 20:19:54
This is scary bad there's no way out of this mess it has to be a sacking now... no fucking excuses.
Players have to take some responsibility for this too... most aren't worthy of gracing this club based on their shite performances.
Get Ancellotti in quickly.
Paul A Smith
65
Posted 01/10/2017 at 20:20:48
James (#45), why wait when you have given them a get-out already? Very picky of you to decide how the editors take is after an insult.
I will read the match posts from now on.
Nick Dogan
66
Posted 01/10/2017 at 20:23:07
Yes, the board took forever to sign Sigurdsson but should anyone have been wasting time chasing a 'poor man's Barkley' with a huge wad of cash when we all knew what we needed was a striker and a better centre half than Williams?
Koeman needs to go and it needs to be tonight otherwise we'll miss the bus with Ancelotti. For once we've got a chance to try to bring in an absolute winner, won stuff everywhere.
He's out of work and will come if the money's right same as when Benitez went to Newcastle, but we can't have the Unsy/Dunc talk, we need to at least try 'big' first.
Koeman's managerial record is pretty woeful and he lives off his reputation from his playing days. Do it Everton, do it tonight.
We've had a good first half away to Man City till they went down to 10 men; the rest of it has been painful this season with no bright horizon visible Time to act.
Liam Reilly
68
Posted 01/10/2017 at 20:38:21
Everyone keeps saying Koeman continually plays 2 defensive midfielders. He doesn't consider Schneiderlin to be a defensive midfielder, but the lad just doesn't have the confidence right now to play the ball forward.
He's a shadow of the players from Southampton and that's not Koeman's fault.
There's a lot of these players not standing up and they had a chance today and blew it.
James McPherson
69
Posted 01/10/2017 at 20:38:57
Rick – I agree it may be a parting of the ways with Koeman; however, I am keen to hear what players you want to ship out too. What players who cannot at present do the absolute basics.
Players who, if their anticipated uplift in performance on the absolute basics duly happens with a new manager, have thereby confirmed that they knowingly underperformed on the basics and hid behind a struggling manager – let's be even handed and have some names.
Gordon Roberts
70
Posted 01/10/2017 at 20:44:48
All Evertonians are frustrated and angry in regard to the current situation at our great club. However, personal insults, some bordering on racist tones, should not be tolerated on here. Hopefully the editors will deal accordingly.
Karl Meighan
71
Posted 01/10/2017 at 20:47:02
The left sided midfielder couldn't stand up Liam as he doesn't play one, whilst players are under performing that system gives them no chance. Pot shots from 35 yards from Rooney and Gana just about summed it up.
James McPherson
72
Posted 01/10/2017 at 20:49:27
Gordon – I did pose that question and as yet we've had no response .
Mike Allen
73
Posted 01/10/2017 at 21:00:32
Don't go foreign (not a racist comment), promote from within and get Sheedy back to run the academy.
Sean Patton
74
Posted 01/10/2017 at 21:01:44
Earlier in the season after one of the friendlies somebody called Koeman clueless iand nobody batted an eyelid expect one poster who went on and on saying how dare you say that and seemed almost personally insulted at the mere suggestion.
Well I hope that poster is reading this as I would love to see an explanation as to how this manager is not only clueless but hopeless and hapless to boot.
After every match we all see the mistakes but come the next game he makes them all over again the definition of someone who has no idea what he is doing.

Paul Welsby
75
Posted 01/10/2017 at 21:06:57
Get this fraud out of our great club. Its already long overdue. I fear the Championship is staring us all in the face.
That is whats coming, folks; we have gotten away with it before by the skin of are teeth on a couple of occasions but, with this daft, deluded blag artist I fear are luck has finally run its course.
Stan Schofield
76
Posted 01/10/2017 at 21:12:11
There is no need for any further debate. This man needs to be replaced, and pronto.
Si Miles
77
Posted 01/10/2017 at 21:12:37
Dead man walking...
Mark Morrissey
78
Posted 01/10/2017 at 21:18:58
You all seem to be underestimating the power of the players. They can all play better than they did today. They have chosen to play shit because collectively they want rid of him.
They don't really consider the club's position, they don't care if they lose. He could have put Ross on today and publicly apologised for bullying the lad but we would have still lost.
Can you not see, it's all about Koeman. They don't want to play for him. Forget the summer transfer window, that's history. Forget Romelu, that's gone.
These players want him gone and they will do their very worst now to ensure that happens. We need to be patient and accept more dreadful performances because they are coming, trust me. He's a dead man walking.
That's not me being abusive by the way, it's just a turn of phrase. Ron's goose is cooked and Moshiri needs to terminate his contract now. Our season is easily salvaged if he acts now and buys the new manager a couple of players in January. Top 6 maybe 4 is still a possibility but leave Koeman and we're relegation fodder
Brent Stephens
79
Posted 01/10/2017 at 21:23:50
Mark "They have chosen to play shit because collectively they want rid of him".
Mark, that's some inside knowledge. Or speculation. I guess it's the latter. Can't go along with that.
James McPherson
80
Posted 01/10/2017 at 21:36:50
So Sean and Stan – as I have asked previously, what players are you going to ship out too?
If it is the case that the players are giving 100% then how can you sack Koeman as he's getting the best out of them? If it is the case that the players are knowingly giving less than 100% then how can we keep them?
If as is likely the case, Koeman is moved on, then I would expect you to accept as reasonable a new manager coming in saying, "You you you you you you you you you (apply names as you see fit ) can't control a ball, can't pass can't tackle, can't shoot, can't play to instructions, can't find space as we coach you, can't cross a ball, can't head, you're mentally weak, you're fragile, and you all cost the previous manager his job which is not going to happen to me – you're gone in January."
Ask yourself how many players are left?
Colin Glassar
81
Posted 01/10/2017 at 21:41:51
I don't think Koeman's lost the players, I think they've lost each other.
Sur Jo
82
Posted 01/10/2017 at 21:43:54
It is time to fly the aircraft & the banner above the stadium asking him to leave. We need to make a move… Make our discontent heard loud & clear!!!
Brent Stephens
83
Posted 01/10/2017 at 21:47:31
James #80 I think you make fair points. But the possibility is that the players are giving 100% but are being asked by the manager to play inappropriate tactics – too narrow, no pacey winger. A narrowness that leads to, eg, no cover for Martina (see previous post) and no room for a pacey winger.
Ian Burns
84
Posted 01/10/2017 at 21:49:51
Like a few old codgers on TW I have been following my beloved for Everton far too many years - in my case since 1959. I have had some wonderful experiences and many more not so wonderful experiences.
I was desperate when Walker and Smith were in charge. However, never have I felt so disengaged with a manager and so badly let down as I feel with RK.
No matter what his team pick, he has literally no idea how to motivate them; how to set them up and watching my Everton team perform against Burnley today I was wishing Dyke was our manager and Koeman was managing Burnley, they looked far more in tune with their manager's motivation and instructions.
I hope I wake up to headlines over the next day or so to say he's gone and Unsy is in temporary charge.
Enough is enough.

Amit Vithlani
85
Posted 01/10/2017 at 21:53:33
Why has this man not bern sacked yet?
Rudi Coote
86
Posted 01/10/2017 at 21:54:24
Anthony Jones – Koeman is dragging the club down, not the fans.
James McPherson
87
Posted 01/10/2017 at 21:54:53
Brent, when Baines is in a crossing position with men in the box and instead of whipping it in at pace, he opts to loft it gently to the keeper's arms – is that him giving 100% – playing to Koeman's instructions? Really?
No, it's a player not playing to the best of his ability – end of. There is a legitimate argument to cubs used terminating Koeman's contract.
However, to exonerate the players' role in this demise is patently wrong, and as such, with Koeman's exit we should be shipping out those players that have knowingly not given 100%. I would ask that every poster calling for Koeman's head please state which players are to go with him.
Gerard Carey
88
Posted 01/10/2017 at 21:59:43
Nine of the starting team were Koeman buys, plus two of the sub's(Rooney and Sandro). I would love to know what goes on at Finch Farm. Surely Koeman and his staff had time to get ready for this game.
They knew how Burnley would approach this game. Sit tight and hit us on the break, which they did. Once they scored it was practically game over. We have no one to put the ball in the net, we create little and playing two defensive midfielders at home is crazy.
Things need to be sorted out fast, or we really will be in trouble.
Seamus McCrudden
89
Posted 01/10/2017 at 22:00:42
And was Baines the captain today?
David Barks
90
Posted 01/10/2017 at 22:02:46
The only thing I would caution is that simply changing out the manager will not suddenly fix everything. It all goes much deeper than just Koeman. Granted, he seems hopeless. Even Neville was calling out the fact that Schneiderlin and Gana do not work together in midfield, I think it was 5 minutes into the match.
The funny thing is I couldn't bring myself to watch the match live. I fully expected us to somehow squeak out a win while playing horrible football, and then for the debate to continue regarding Koeman. But as it moved into the 60th minute, then 70th, I started to realize we just weren't going to escape this time.
Calling for creative players while starting with Gana and Schneiderlin in the middle, Martina at RB, not allowing Gilfy to play the number 10 role. I can not figure out what exactly he is trying to do. You want creativity, put Mirallas on one wing with Vlasic on the other. Play either Gana or Schneiderlin but not both. Pair that player with Davies or Klaassen, allowing them to play further forward. Let Gilfy sit in front of them as is his strength.
Or, go with three at the back and let Davies play as the wing back, or Vlasic or even put Lookman in there. I don't want them their for the defensive ability, they are there to attack and provide support when needed. Last time I checked Victor Moses wasn't a wold class defender before Conte put him there. He is there to provide width and numbers in attack.
How can Lookman not get on the pitch right now? Mirallas is frozen out similar to Niasse now, and Deulofeu before them. Hell, even Lennon. I can't believe I'm asking for Lennon but at this point, he'd add width and pace.
How such an unbalanced team could be allowed to be assembled is not just a Koeman failing though. What is Walsh's role if he has no part in the squad we currently have? Our injury list is not that long. Jagielka, Funes Mori, Barkley, Bolasie, McCarthy and Coleman. And the club had sold Barkley before he said no. We are just absolutely awful to watch and can't even get results at home against supposedly weaker sides. Useless against talented teams, toothless against everyone else. Don't let the ownership off the hook for how far backward we have went in the past couple of years. Moshiri didn't just arrive, he's had a couple of years now and we are in worse shape than before he arrived. That's shocking.
Brent Stephens
91
Posted 01/10/2017 at 22:03:40
James, I totally agree he fails to whip in that cross. Annoys the hell out of me! I obviously don't think he's playing to instructions. But I don't think it's because he's not giving 100% in the sense of 100% effort. I just think that for whatever reason he's not performing to 100% of what he used to be able to. (Not "end of," just an opinion.)
James McPherson
92
Posted 01/10/2017 at 22:08:56
Well Brent, what a sorry state of affairs we have if a player of his experience needs constant reminding of the absolute basics. How on earth can that be Koeman's fault?
Brent Stephens
93
Posted 01/10/2017 at 22:09:35
James "to exonerate the players' role in this demise is patently wrong".
And again, totally agree (I don't think we're that far apart in our opinions). I don't see a lack of effort in them, maybe a lack of ability??? Maybe a lack of concentration??? Okay, maybe that amounts to effort!
Brent Stephens
94
Posted 01/10/2017 at 22:12:44
James, I'm not saying it's all Koeman's fault. I don't see things as black and white as that. Players have to stand up and be counted as well!! Totally agree. I'm just making the point that his tactics I think are wrong. We're not far apart in our views.
Brent Stephens
95
Posted 01/10/2017 at 22:15:21
And the other thing, James, that pisses me off about Baines is his doubling back when in possession out wide. He had acres of space to run into today, beyond the line of the midfield player, to make himself available for a pass in an advanced position. And didn't.
Brent Stephens
96
Posted 01/10/2017 at 22:16:40
Sorry that should be when NOT in possession.
David Barks
97
Posted 01/10/2017 at 22:18:26
Could it simply be that Baines is finished? He lost his pace after those years of ankle and foot injuries. And since those injuries his set pieces turned to absolute shite. It would stand to reason that his cross from open play would also suffer heavily.
And I think his horrible habit of turning back instead of running with the ball down the wing is simply down to the player knowing that physically he can not do it anymore. I think he might just be washed up at this point, sadly.
Gordon Roberts
98
Posted 01/10/2017 at 22:19:45
James #72. I've seen your previous post, and alas, still no response I see?
Brent Stephens
99
Posted 01/10/2017 at 22:21:05
David, as you say, sadly that's probably it.
James McPherson
100
Posted 01/10/2017 at 22:21:32
Brent, life is too short I know, but if you can, look at Baines's right shoulder blade when waiting for a pass,. It is always pointing towards Pickford. Hence his natural body position is to go backwards with the ball.
I actually think this is a trait he picked up on England duty. That said, it constantly slows us down. That's not Koeman – that is Baines!
Brent Stephens
101
Posted 01/10/2017 at 22:24:10
James, don't disagree on the shoulder!
Sean Patton
102
Posted 01/10/2017 at 22:27:45
James @80
Were you the mystery man who stood up for him?
I think the problem is the manager and couple of the players, namely Williams and Schneiderlin who are both terrible. Take Williams for instance (please somebody take him); after the way he played on Thursday, why did he get picked today?

Steavey Buckley
103
Posted 01/10/2017 at 22:31:32
Koeman spent £71 million pounds on buying two players to create and gave another £175,000 pounds a week as a down payment on a retirement package.
Sigurdsson cannot score even with the help of goal-line technology, while Klaassen sat on the subs bench wondering when he will ever play again, while Rooney knows his best days are over as soon as when Alex Ferguson retired.
I am sorry to say, Everton looked doomed at the moment even with a new manager, because all the basic ingredients of a good football team are sadly missing.
James McPherson
104
Posted 01/10/2017 at 22:37:08
Sean, I actually think that if the situation doesn't improve then Koeman should go. My point this evening, as it has been of late, is the level of personal abuse (bordering on the nationalistic / racist) that had been directed exclusively at Koeman – players and board getting away scott-free it seems.
Just I think EFC should be better than that. The fact that the editors have turned a blind eye is also a cause for concern, but of course their prerogative.
James Power
105
Posted 01/10/2017 at 22:44:10
Fully agree re Baines and England - that's when it started!! I've been saying that to anyone who will listen!
John Roberts
106
Posted 01/10/2017 at 22:46:34
David @90
Exactly my thoughts your post. Although I think Everton like arsenal win the injury league table a lot of the time . Bolasie and Coleman probably the only starters we are missing, most teams have a few key players out.
We have a lot of average looking players at the minute , even Davies looks very clunky. Nobody is worried about playing against any of our players!! There simply is no positives at the minute.
Oh Calvert-Lewin looks a bit physically stronger this year but will never be a goal machine we so desperately need. I feel like last season we were 2/3 players from pushing into top 4 challenge. Now I'd only choose 2/3 players to keep us in the league! I'm truly gutted!
Peter Cummings
107
Posted 01/10/2017 at 22:53:04
We are fast becoming the whipping boys of the Premier League. Today's performance highlighted the fact that we are way behind the quality needed to make any headway up the table in the forseeable future, let alone the Europa League.
The bald fact is we could even face a relegation situation unless drastic action is taken somewhere up in the Ivory tower that is the boardroom.
We long suffering fans shouldn't have to suffer such humiliation year after year by a board that has turned our motto into a sick joke, with the 'couldn't care less' attitude which has always been adopted by the club as far as supporters are concerned.
We have a long and distinguished history which is being ruined by a bunch of football retards who now regard EFC as surplus to their collective desire by making us a laughing stock. Enough is enough.
Charles Brewer
108
Posted 01/10/2017 at 22:54:51
I think it's really wrong that we should call the manager a moron, inept, incompetent, a cloghead, cheese brain, useless, worthless, half-wit, or suggest that his man-management skills make David Brent look like Napoleon or that his pitiful team selection is crap, or that he demotivates and alienates the players, the crowd and the only people who would pay to watch this crap are poor deluded loyal Evertonians.
I think it's wrong that anyone should mention that he is Dutch and that Dutch managers are (with the exception of the best footballer I've ever seen, Johann Cruyff) uniformly crap; I would never think of mentioning that the stories about Dutch World Cup teams playing brilliantly and then fighting in the dressing room so that the entire team falls apart.
No, I think it's judgemental and not politically correct to mention that this halfwit is the worst ever manager this club has ever seen.
Michael Kenrick
Editorial Team
109
Posted 01/10/2017 at 22:56:32
James (& Gordon),
Yes, it would be nice if we were all luvvie and never said a nasty word to each other or denigrated those who we believe are responsible for the abysmal state of our football club...
Meanwhile, in the real world, robust exchanges are somewhat inevitable and social media enables the worst of this to go unstemmed.
On here, we do have some control, and we do hold back the more egregious posts... but the line is very fuzzy, as I'm sure you would understand if you thought about it a little.
It's a reason why we ask for real identities when you register, in the perhaps forlorn hope that seeing crass and tasteless posts next to your name may make you think twice about insulting someone.
The ones you list are insulting, but (in my opinion) they are relatively mild and I decided not to change or delete them; I appreciate your opinion on this may differ... as may that of many other readers.
Anthony Burke
110
Posted 01/10/2017 at 22:58:05
I might get slated but don't care:
Koeman will get it right.
COYB!!!!
Dennis Ng
111
Posted 01/10/2017 at 22:58:46
We lacked creativity because he chose to bench it...WTF is he smoking?
Damian Nolan
112
Posted 01/10/2017 at 23:03:45
James, all night you have posed a viable question re the players. You have fared better than I have in the past. When I have sought to have the players examined critically I was told "Koeman gets him like that" – whoever that may be.
I think Rooney was an error but I will say this – he looks like he cares – why else is he stood next to Baines taking the ball off Pickford 25 yards out. However, that isn't enough and I think he now realises that himself.
Players who have abandoned their personal responsibilities to the club are Williams, Mirallas, Barkley (yes Barkley; though I would be glad if he saw sense and signed the extraordinary contract offered), Schneiderlin, McCarthy, Besic. All have turned in multiple performances unworthy of top flight football.
Michael Kenrick
113
Posted 01/10/2017 at 23:10:29
Oh, and this business of blaming the players versus blaming the manager always come up without fail.
Again, like the previous point, it is going to be very much down to your personal perspective as to whether you blame the manager, who should be ultimately responsible and can be sacked at any time... or whether you blame the players, whose form and performances differ from game to game, reflecting the manager's influence or not, as fits the bill; players who cannot for contract reasons be sacked, and who could well perform very differently under a fresh manager.
James, I suspect you are upset that we aren't looking at things in the same way as you are. Unfortunately that's a fundamental aspect underlying this whole forum "exchange of views" dynamic we have going on here.
Frank Crewe
114
Posted 01/10/2017 at 23:12:43
"We lack creativity" I thought buying Sigurdsson was supposed to fix that. But Koeman insists on playing him out on the left. Then there's our two DM's he keeps putting in the side that barely pass the ball forward. He bought them both.
It's not creativity we lack it's pace and dynamism. Our players are lethargic hence our build ups are slow and laborious. We had 60% of the ball today but most of it was in our own half.
Until we can get the ball forward quicker we are going to struggle. The only players we have with pace Lookman, Barkley, Mirallas, Bolasie, Coleman are either benched, injured or out of favour with the manager.
Paul Smith
115
Posted 01/10/2017 at 23:15:00
Not arsed about morals I don't want to be visting Championship grounds next season, end of.
Just an opinion but Baines looks to have given up. I had the same sense about his performances for BBS.
If my hunch is right it succeeded in getting RM the boot but look how it turned out. Player power can be as destructive and counter productive as an arrogant & obstinant manager.
Careful what they wish for.
Phil (Kelsall) Roberts
116
Posted 01/10/2017 at 23:19:03
The key issue is that we sold a 25 goal a season striker. Last season our next best goal scorer was Barkley (5), Mirallas & Coleman (4). All 4 of them have not played (OK 21 minutes from Mirallas).
The answer was that we would spread out the goals and we would score our 60+ goals from a number of different players. That our midfielders would chip in with 8-10 each and therefore we would be a more rounded team and not rely on one player.
In all the depression of 4 goals from 7 games and not one from these new midfielders, it does seem that none of them even seem like scoring. So we may moan that the forwards have only scored 4 but we are not creating the opportunity for the midfielders and if we have they are not able to take them.
Gordon Roberts
117
Posted 01/10/2017 at 23:19:44
Michael. I think you have possibly attempted to take my comments out of context. Do you condone the use of racist/nationalistic terminology during debates?
Your last sentence ".., as may that of many other readers" is a cheap shot at enticing a big response from other posters, and I personally find that disappointing in you.
Tony Farrell
118
Posted 01/10/2017 at 23:22:55
Why as fans, are we allowing this debacle to unfold in front of us. The board, the manager, the players and now the fans are being accused of being at fault. I agree -- it's not all Koeman's fault... but at £6 mil a year, he should shoulder the majority of the shit that's going on at our club at the moment.
Would a new man at the helm be the answer? Yes, all the talk that has gone on about him being clueless gutless etc are correct, his post match comments are not what we want to hear. Does he honestly believe that it will turn around with his style of play? He was happy with his team really... ask all those supporters at Goodison Park if they were happy with that performance???
All supporters at every club want success; we at Everton are knowledgeable and diehard. We don't need bullshit; we can accept defeat if it's been warranted... but what we can't accept is a team that doesn't bust a gut for the shirt.
Yes, the players should take responsibility, but surely we all know what the problem is... it's our stubborn manager who's making us a laughing stock. The also stubborn board should listen to the fans.
Damian Nolan
119
Posted 01/10/2017 at 23:39:16
I will say this for Ronald Koeman. He always fronts up the press conference for better (rare nowadays) or worse (far too common for our liking).
Can someone name one player who has put his head above the parapet and had the decency and professional honesty to accept that the players are under-performing consistently? They all know that with enough pressure the manager will go and they live on.
Nigel Munford
120
Posted 01/10/2017 at 00:03:17
Paul, my thoughts entirely, be careful, very careful what you wish for fellow blues, we wanted rid of BBS for a better manager and now we want rid of Koeman for the same reasons. We can't keep sacking managers we'll be like Crystal Palace soon.
Nigel Munford
121
Posted 02/10/2017 at 00:08:39
And chins up, at least we've won two games, Palace haven't won any and have a GD of -17, oh and they haven't scored a goal either. So when you see stats like that our position seems quite good.
Michael Kenrick
122
Posted 02/10/2017 at 00:11:18
Gordon (#117), I'm not sure it's possible to take your comments out of context, even if I tried. You think some of the insults posted are racist/nationalistic. Fair enough, that's your opinion.
And exactly how does me acknowledging that the opinions of our various readers differ widely on these issues, constitute "a cheap shot at enticing a big response from other posters"?!?
I assure you... that's the last thing I want.

Soren Moyer
124
Posted 02/10/2017 at 02:57:35
He makes me sick!
Habib Erkan Jr
125
Posted 02/10/2017 at 04:27:07
James McPherson, the board offered Ross a new contract. There is no evidence that Ross wished to leave until a season with Koeman. Wonder if Ross would have a change of heart if Koeman is sacked, would love to find out.
Shaun Wilson
126
Posted 02/10/2017 at 06:10:58
Nigel (#120),
We are Crystal Palace, in denial.
Jim Harrison
127
Posted 02/10/2017 at 06:22:38
I think we have gone far enough now. Have been willing to give him time but really there was not enough on show in the past few games to show it is turning round.
Burnley look more hungry, pressed the way we should and moved the ball through midfield far quicker.
Ancelloti is out of a job!!
Nitesh Kanchan
128
Posted 02/10/2017 at 07:51:15
No real surprise here, again clueless after that win over Bournemouth. Does he actually watch the videos from the past games to figure what went wrong or what went right against Bournemouth?
It was the triangle between Niasse, Calvert-Lewin and Davies which got us the goals and then Kenny joined in. There was nice smart movements,link up and interchanges between all 4. But yesterday that link got dead when Davies and Kenny were left out.
He changed the winning combination and fully deserved that result. About others, lesser said,the better. The clueless one strikes again. He can't figure what his players strengths and weaknesses are.
Alan J Thompson
129
Posted 02/10/2017 at 07:57:21
Mr Koeman is right, we haven't got the luck and it starts with team selection. So, may I suggest that we buy a new bag and marbles with the players numbers on them.
Then get someone blindfolded to pick them out one by one then, when we win we'll know we have the luck because, let's face it, we have bugger all expertise!
James McPherson
130
Posted 02/10/2017 at 08:09:48
Michael (#113) – if you read my posts, I put forward the view that culpability for our situation ought to be shared across Koeman, players and the board, as oppose to solely Koeman.
Players have massively underperformed – on a consistent basis, on the absolute basics. If a player is so poor that a modicum of pressure induces a complete collapse in the mastery of football basics, or, a player feels it acceptable to play within himself and make repeated basic errors to make a point about the manager, he is not a player that is worthy of staying at our club.
These players I suggest ought to depart with Koeman.
Will Mabon
131
Posted 02/10/2017 at 08:30:28
If it's true to say the players should shoulder a portion of the blame by not being good enough, the following inferences might be drawn:
1. Since most of those playing this season's games are Koeman signings, Koeman's signings are poor.
2. Players used this season but not signed by Koeman are poor.
3. The players not signed by Koeman, now sold or having otherwise left but used in the protracted run of home victories whilst remaining unbeaten later last season, must be better than those playing this season.
4. Koeman's earlier signings were better than those of the recent transfer window.
This would all be rather damning of Koeman's selections and transfers, if it were all a matter of player quality. Since most of Koeman's recent signings though, have not lived up to their previous form prior to arriving, or shown it only briefly before fading, this more indicates:
1. The players are being badly coached/set-up/managed.
2. The players are confused, demotivated or fearful.
3. The players are not equipped for what's been asked of them.
4. The players or several are consciously not fully committed.
This all points to inadequate management. I tend not to go with the belief that there is deliberate non-playing afoot, but with zero team spirit and belief, the effect could be basically the same.
Remember Chelsea though. Played a slow start to the season under Mourinho. Mourinho insults physio. Team immediately turns to crap, drops down league. Conte arrives late in the season. Next season, same playing staff with just the addition of Kante and later, the rejuvenated Moses, win the league. Those players did oust their manager.
Almost all players individually go through transient periods of poor form. No way though are so many collectively all off their game to the extent that the team would perform so badly across so many games. This is down to Koeman.

Dean Johnson
132
Posted 02/10/2017 at 08:42:50
James McPherson
Give it a rest. We don't care if you think you are of a morally higher standing than us. We don't care if you want to show the world "that you care more than others"
Just get a fucking grip on life ffs, what a baby.
Koeman out, we just all express it differently, learn tolerance
Stan Schofield
133
Posted 02/10/2017 at 08:43:18
Will, good post.
It's very simple, we have a decent squad of players, and they need to be organised effectively, the manager needing to select them properly and use good tactics. This hasn't happened, it's clearly a problem of inadequate management, so the manager needs to be replaced. Unless of course, he miraculously comes good, which isn't going to happen.
Fraser Auld
135
Posted 02/10/2017 at 13:52:06
Some front this guy! The nerve to bemoan a lack of creativity after the high handed manner he treated Ross Barkley.
James McPherson, wrong to say that Koeman only brought in Siggy, Klaasen, Rooney because Ross wouldn't sign a new contract. When asked in a press conference before the end of last season if Ross Barkley would sign a new contract he said words to the effect of "okay, I don't know but if he signs a new contract then he will have increased competition anyway because we will sign new players in his position. We are looking for productivity..."
He was signing these duds regardless, the way he has mismanaged the Barkley situation is criminal.
Michael Kenrick
136
Posted 02/10/2017 at 15:57:43
James (#130), I understand the point you're trying to make about the players. However, I suggest you read Will Mabon's excellent post at #131, where he explains what happens to players when they are poorly managed. I believe this is what you are seeing and reacting to.
"These players I suggest ought to depart with Koeman."
If Koeman were to leave before January, this would not even be an option, unless you are suggesting sacking these players outside of the transfer window. Not only is that virtually impossible given the players' contracts, it would be utter financial madness in terms of the compensation they would demand. If you think we're a laughing stock now...
Even in January, forcing out the players whom you have decided "are not worthy of staying at our club" would be the height of foolishness, depriving the incoming manager of the very talent he needs to rectify the damage Koeman has wrought, and to make a go of taking the club forward.
Sorry, I don't think you've really thought this through properly.
Paul A Smith
137
Posted 02/10/2017 at 17:51:31
Fraser 135. Great post. Restoring me some faith in Evertonians.
Dennis Heaton
138
Posted 02/10/2017 at 20:09:45
Has anyone noticed that Baines has hardly put in a decent cross in this season? Also Sigurdsson is even worse.

I think that if he hadn't scored that lucky goal against Split we would have been out of Europe now.
Dave O'Connell
139
Posted 04/10/2017 at 14:41:47
Crystal Palace made a statement of intent getting rid of the other Dutchman. Aren't we a far bigger club with more ambition? Get rid of him now before he causes more damage to us. A fine footballer he was; out of his depth as a manager.
Add Your Comments
In order to post a comment, you need to be logged in as a registered user of the site.
Or Sign up as a ToffeeWeb Member — it's free, takes just a few minutes and will allow you to post your comments on articles and Talking Points submissions across the site.