Koeman bemoans lack of creativity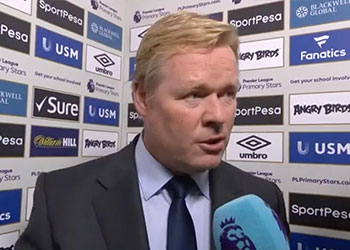 Ronald Koeman put the blame on his players' inability to create enough chances as well as some bad luck for their failure to beat Burnley today.
The Blues followed up Thursday's disappointing 2-2 draw with Apollon Limassol with a 1-0 defeat to the Clarets that prolongs what has been a poor start to the 2017-18 season.
Koeman, who beat a hasty retreat down the tunnel at the full-time whistle, was in full support of the attitude of his players, however, and despite admitting "we don't have the 'creativity' type of players at the moment, says that he saw enough signs from them to suggest that they can improve their iffy form when the Premier League campaign resumes after the international break.
"I can't complain today about my players," the Dutchman said to the BBC cameras after the game. "We showed the right attitude, we showed really that aggression and commitment that we needed to play with to win the game.
"We had big chances in the beginning then the game would be totally different.
"You know when you go down against an opponent like this it is tough. They drop back even more and are good defensively, organisationally and physically strong. You need to be at your best to create and we didn't create a lot. We tried everything but it wasn't enough.
"In these circumstances you need to score the goal," he told Sky Sports. "I thought we started really well but we missed some good chances. You need to be at your best to create and that wasn't at the level that we need to get at least one point.
"The start was really good. It was aggressive, it was direct play and we won a lot of second balls. If you get a lot of chances then you need that goal.
"But OK, we tried everything. We had many crosses, we had many headers and we created good chances but we were not lucky. In the way that we fought is the direction to go and we will continue.
"I'm pleased with all the performances of the players. They did everything. The commitment that was showed today is positive.
Asked by the BBC reports if he was still enjoying the job despite the current challenges, Koeman was unequivocal: "Yes, I like it. I like my players, I like my team and I think we can turn it around.
"What I saw today — that is how we can turn it around and how we need to continue. The solution starts with the commitment of the players and, of course, we need to improve in our ball possession and we need a little bit of luck to score that goal in the beginning because, again, [in that instance] it's a totally different game.
"Every manager is under pressure and it can change really fast. It can be one way today and in two weeks it can be different. It's part of the job; if you don't like it, go home."
---
---