Vermaelen backs Koeman for success with Everton

67 Comments [Jump to last]
Thursday 5 October 2017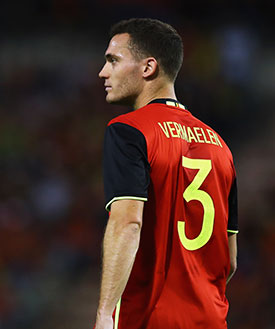 Dean Mouhtaropoulos/Getty Images
Thomas Vermaelen says that Ronald Koeman, has the experience and know-how to turn things around at Goodison Park.
The Belgian international and former Arsenal star was asked about Koeman's current struggles with the Blues and he expressed little doubt that his former boss can find the solutions.
"He's shown at Southampton and Ajax that he's a great manager," said Vermaelen, who played under the Dutchman in Amsterdam, to Sky Sports.
"He has the experience to turn it around for sure."
Vermaelen came close to reuniting with Koeman this past summer when Everton approached Barcelona about signing him as cover for the injured Ramiro Funes Mori.
The defender doesn't go into details but hints that there was substance to those reports.
He wouldn't be drawn either on speculation that he still might return to the Premier League.
"I don't want to go into details," he said. "Barcelona always said they didn't want to let me go. All big clubs need at least four centre-backs.
"They were happy with my pre-season and kept me."
---
Reader Comments (67)
Note: the following content is not moderated or vetted by the site owners at the time of submission. Comments are the responsibility of the poster. Disclaimer
Phil Malone Jnr
1
Posted 06/10/2017 at 00:29:10
We should've bought Ben Mee and Michael Keane.
Honestly, lost so much interest at this stage that I couldn't give two poos who he buys, unless he changes into Carlo Ancelotti overnight.

Andrew Presly
2
Posted 06/10/2017 at 00:36:23
Thanks Thomas. I now believe in the project again. Send my warm regards to Roberto.
Will Mabon
3
Posted 06/10/2017 at 07:11:11
Same here, Andrew. Hearing the words from a pro' has helped me to realize I was wrong about Koeman all along, and now understand what a great manager he is.
John G Davies
5
Posted 06/10/2017 at 07:19:31
I made an assumption based on all the above comments as well.
Oliver Brunel
6
Posted 06/10/2017 at 07:35:03
Thanks Vermy. Thats all we need to know. Case for the defence is clear; he's a top top manager after all, what were we worrying about?! Its also nice to know Keane and Pickford are going to be legends aswell according to Walsh. I doubt however we will see Vermaelen in anEverton shirt, or even average footballers like Picks and Keane when we are playing football in the Championship. I think questions need to be asked and answers demanded about the management at Everton Football Club- going to Barcelona on a jolly in the middle of a huge crisis is not acceptable where is the explanation for that?
Tony Marsh
7
Posted 06/10/2017 at 08:14:51
It is now apparent that the legendary status Koeman had as a player has masked over his inability as a manager. In effect Ronald Koeman has duped the world while being bang average as a football coach.
Anyone with half a brain can see Koeman is a fraud. Big Ron is dead in the water and basically killing our club with him yet twats like Vermalen come out with this horseshit.
Koeman is now a legend only in his own mind and the sooner Barcelona come and take him the better.Oh wait a minute isn't Ronald next up for the Arsenal job? Koeman will be lucky to ever work again at the top level. FC Twente Koeman is all yours.
Declan Campbell
8
Posted 06/10/2017 at 08:31:34
Tony Marsh – you are a hate filled man. It would be better for you if Everton had no manager, because you despise everyone of them.
Stan Schofield
10
Posted 06/10/2017 at 09:16:56
Thanks Thomas, very insightful. If you agree to pay for me to go the match, I might consider continuing to watch this shite.
Brian Williams
11
Posted 06/10/2017 at 09:32:30
Come on lads why all the sarcasm? After Vermaelen's backing I fully expect us to start moving up the league swiftly, culminating in a lovely Christmas present of a top four position.
Paul Doyle
12
Posted 06/10/2017 at 09:44:48
Crisis over, seems we are watching a different team, silly me.
Hope Ronnie didn't catch sunburn over in Barcelona – well, you what these gingers are like in the sun.
Ian Burns
13
Posted 06/10/2017 at 09:49:03
I don't believe in RK; I don't believe in Moshiri; I don't believe anything Jim White says because I don't believe in Moshiri. Now damn it I have to add Vermaelen to the list.
What I do believe however is if Vermaelen's hero stays here much longer we will be in deep ess aitch I tee.
Dennis Stevens
14
Posted 06/10/2017 at 11:34:17
"Vermaelen backs Koeman for success with Everton" - what odds is he offering??
Kim Vivian
15
Posted 06/10/2017 at 12:16:50
Strewth - Thank Christ for that.
And there was I thinking things were not at all well.
Peter Fearon
16
Posted 06/10/2017 at 13:37:45
All this nonsense about being relegated should stop. It is not going to happen. I don't like Koeman or the way he communicates but it is crazy to talk about either relegation or sacking the manager this early in the season. If things have not significantly improved by mid season the argument for changing course would strengthen but a new manager would face precisely the same problems: a set of players unfamiliar with each other and one or two unfamiliar with the Premiership who need time and a target man to become a successful team. In 2014 there were similar cries to sack Pocchetino. You don't hear those voices now.
Steve Ferns
17
Posted 06/10/2017 at 13:49:39
One of the problems with Relegation talk is that because it will not happen, the fact that Koeman then pulls us up to say 11th, we then breathe a sigh of relief and say, that's ok then.
I don't think we are going to be in any relegation fight, but we have a manager who refuses to select more than one of 5 world cup winning youngsters, has mainly dropped our 18 year old future midfield general, won't play a pacy young centre half, instead preferring a creaking old fading centre half; then refuses to pick wide players, or anyone with pace. Chops and changes formations and systems so no one knows where they are meant to be or what they are meant to be doing, often in mid match. I'm sorry but it is a complete mess and there is only one man responsible for it.
But nevermind, maybe he will get an idea or two from the golf course in Spain. It's not like he can get the players left behind in and do some work defensively or watch some tapes.
Joe Foster
18
Posted 06/10/2017 at 14:20:00
This is odd indeed. It's usually our own players trotted out to spout the party line "All is good". Now we have other team's players doing this.
Maybe none of our team fancies backing up Koeman.
Soren Moyer
19
Posted 06/10/2017 at 14:24:15
Wow! Sorry Koeman. What was I thinking!
Ernie Baywood
20
Posted 06/10/2017 at 14:49:51
Ajax and Southampton... neither of those are Everton.
We all know he'll be gone by Christmas... I just can't see the point now.
Tony Marsh
21
Posted 06/10/2017 at 15:21:38
What many of our fans and people in the media fail to realise is Koeman last season was a disaster. Was it 2 wins away all season and only 2 wins from the last 12 games?
Lukaku kept us respectable and teams coming g to Goodison were petrified of Romalu. Who do we have now to worry defences?
No I'm sorry this season's crap is a continuation of last season's crap.Weve been shite since the end of February. Time to go now Ronaldo.
Daniel Lim
22
Posted 06/10/2017 at 16:14:47
Peter @16 and Steve @17
I bet Leeds and Newcastle fans had the same thought as you have now.
Will Mabon
23
Posted 06/10/2017 at 16:43:23
"
In 2014 there were similar cries to sack Pocchetino. You don't hear those voices now.
"
Koeman is patently not Pochettino.
Oliver Brunel
24
Posted 06/10/2017 at 16:52:15
Sparta Prague recently appointed an Italian manager. They brought in a load (10 I think) new signings. The football is woeful whilst their neighbours (who play in red) Slavia are playing better and are in the Europa Lge. Sparta are out of the Europa league, there is infighting between players, the manager is playing players out of position, and the older players are downing tools, the new players are crap. He's lost the dressing room. Sounds familiar?
One difference- the fans are boycotting the matches so the stadium is empty. Moshiri would have to sort this out if Goodison is empty besides Kenny and Woody exchanging worried glances and the toffee lady has no one to throw sweets too .
Martin Nicholls
25
Posted 06/10/2017 at 17:00:20
Oliver - you're right that an empty stadium could normally prompt action by the owners but were EFC differs from Sparta is not only that most seats in the ground are, in the form of season tickets, already paid for but also and maybe more importantly, the majority of a PL club's income does not come from supporters attending games. In a nutshell, fans voting with their feet would be unlikely to affect Moshiri's thinking.
Will Mabon
26
Posted 06/10/2017 at 17:15:00
Martin, and you're technically right of course re. the money - but imagine the media shitstorm, the Sky attention, if say, only 7-8 thousand turned up for a PL home game. The embarrassment would be crippling to Moshiri and the board, Koeman would be out by catapult.
Not that it's ever going to happen.
Stan Schofield
27
Posted 06/10/2017 at 17:15:28
Martin, what you say is true, up to the point where you say Moshiri's thinking wouldn't be affected. If, for the sake of example, supporters boycotted games (even season ticket holders) to make Goodison empty or nearly empty, I think that could be very embarrassing for Moshiri, especially given the global TV coverage of the Premier League.
Image is surely important for the 'brand', and annoyed supporters voting with their feet could wield power 'effectively' if not directly.
Will Mabon
28
Posted 06/10/2017 at 17:16:57
Disappointed minds think alike, Stan!
Oliver Brunel
29
Posted 06/10/2017 at 17:22:30
Martin, yes I'm aware of all that and its mostly about the TV money (actually the Czech League is the same its also about the TV money now). But surely Moshiri seeing a half empty Goodison would start having second thoughts about the new stadium etc. Anyway that wasn't my main point; I think we are too tolerant and passive and most of the hierarchy at Everton are taking the piss as are the players who see Everton as a an easy touch; there is no ambition. We need a much more fiersome noisy fan base . I'm the same as most others- I love Everton but never get off my arse to protest. You need a Manager and owner who demand ambition. They don't. We need to act.
Dermot Byrne
30
Posted 06/10/2017 at 17:29:03
Oliver- the same qualities we bang on about (Born a Blue, loyal fans, etc etc) will ensure this never happens.
Even if it did and you got the desired reaction, it would mean nobody with half a brain would ever manage the club again.
Then, if you take TW as a guide, you'd also have partial walkouts, walk-ins by others, people claiming they walked out first, others who despise walkers full stop and want run-outs. Now that would cause huge tactical confusion for some of the intellectually challenged fans.
Then there is press coverage. Red-BBC would be damned for not reporting the crowd was 6 and continuing to focus on the 48,000 who enjoyed the last RS draw. Half of the six were reporters anyway the diehards would claim and the debate would get toxic when Paul Ferry proves that Jim Fallow is a reporter and a Blue. Jim gets personal threats and Ferry is accused of not looking at the big picture.
So yeah Oliver, might work!
Robin Cannon
31
Posted 06/10/2017 at 17:57:25
One day it'd be funny to have one of these interviews instead be along the lines of; "no, he's shit, it'll be a disaster".
Andy Tudge
32
Posted 06/10/2017 at 18:11:07
i was a fan of the straight talk when he first arrived - a refreshing change from the phenonimal talk of before.
but I keep going back to what happened with Ross - there is much more to that than meets the eye, that must have had an effect on the others and indicates an underlaying trend of "my way or no way"
i have long been an admirer of the ginger Mouhrinio - we should move for him now, yes he has no European experience and yes he was relegated with Burnley (don't compare that to Wigan) but he gets the job done, sometimes ugly, sometimes overly defensive but what he does do it get everyone fighting for the cause with their last breath and that is what we need to be doing. I don't want Ancelotti or any other of the big heads - maybe Eddie Howe but there is a streak if Roberto in there that worries me. The one thing that keeps coming back is how did Ross fall out of love with his boyhood club, and for that my gut feeling is Koeman. You know what they say about the Dutch - wooden boats, wooden shoes, wooden listen .
Martin Nicholls
33
Posted 06/10/2017 at 18:28:28
Will, Stan and Oliver - I do take the point about the negative image that a near empty GP would create but would a majority of our home support, being season ticket holders, boycott games? I for one wouldn't and, being a glutton for punishment, probably wouldn't fail to renew either. Sad I know but (for some at least!!!) as the saying goes, "Once a Blue, Always a Blue"!
Andrew Heffernan
34
Posted 06/10/2017 at 18:36:44
Not sure I think RK is the man to take Everton forward, but I'm not sure he's the dad's army panic stations people are making out either. We were never going to finish above 6/7th this season no matter who we bought, or lost, because there are 5/6 squads better than us in the league.
Yes performances have been off, and yes we didn't replace our striker and the Ross contract is an odd one; but we have also taken on a lot of new players and had a horrible opening run of fixtures.
We are work in progress and will have to go through more pain before we can consider ourselves serial challengers for top four and cups; see Chelsea 1990s and City 2000s, it was not overnight, and throw in Spurs, who for all the money they've spent have achieved nothing - this club is 10-20 years behind in terms of structure and revenue; a new stadium will assist. As a fan, I'm part of that and will do my bit, good and bad...
Dermot Byrne
35
Posted 06/10/2017 at 18:51:08
My point Martin
Will Mabon
36
Posted 06/10/2017 at 19:07:29
Dermot and Martin, an organized successful protest of the type would likely never happen but the point is that it could theoretically be successful. Personally I'd never want to see such chaos and turmoil, with the attendant loss of face for Everton (as opposed to Moshiri and other staff).
However, the lack of any real fan power or voice, means the people behind the transition of football clubs to the intense businesses they now are, have played on fan loyalty without compunction for too long. Most businesses can't get near that kind of following. It's not ideal from our end.
Martin Nicholls
37
Posted 06/10/2017 at 19:08:20
Sorry Dermot - and you went into greater detail than I did!
Martin Nicholls
38
Posted 06/10/2017 at 19:10:37
Will#36 - agreed
Dermot Byrne
39
Posted 06/10/2017 at 19:11:04
Ha! Aside from my silly arsing around, I do think you are like most season ticket holders.
Oliver Brunel
40
Posted 06/10/2017 at 19:23:57
Martin yes you're right about the season tickets I forgot about them.
Howe and Unsworth- the dream ticket….
Barry Thompson
41
Posted 06/10/2017 at 19:32:04
Maybe Stan or Ollie could send Koeman an e-mail to inform him that's another fine mess he's gotten us into.
Ciarán McGlone
42
Posted 06/10/2017 at 19:36:44
Very odd comment from someone who has no current connection with our club.
I would also wholeheartedly disagree with him. Koeman has shown no evidence whatsoever he has any idea how to rectify this mess.
Oliver Brunel
43
Posted 06/10/2017 at 19:37:09
Barry ha ha nice one..
Jerome Shields
44
Posted 06/10/2017 at 21:53:18
If you where earning £6 million a year, you would call in a view favours from old pros and produce young pros at press conferences to talk things up to extend your contract as long as you can.
What has Koeman to lose? The longer he can keep it going the better, especially with the gullible Board Everton have, and he will get a big pay out anyway. He may also believe that magically things my turn around and Barcelona will come calling.
At the end, there is no chance – you need ability. The last thing Koeman cares about is Everton.
I am not looking for the nonsense and PR garbage that is going to be associated with Everton in the near furture. Hopefully Koeman is gone sooner than later.

Peter Gorman
45
Posted 06/10/2017 at 21:54:34
"We were never going to finish above 6/7th this season no matter who we bought, or lost, because there are 5/6 squads better than us in the league."
Andrew, are you aware where we currently sit in the table?
6/7th in a chimp's cock!
Lawrence Green
46
Posted 06/10/2017 at 22:03:04
An interesting piece by Chris Beesley in the Echo, reading between the lines, it looks as if the board won't do anything this side of Christmas but they may not purchase the necessary reinforcements in the January window either, as it's never a great time to purchase players. I wonder how Ronald will react if that is the case?
On another note I do hope that Sky see sense and don't move our home game with Chelsea to Xmas Eve.

Lev Vellene
47
Posted 06/10/2017 at 22:57:30
Maybe little RK will have to reconsider whether he'll just wish for a new L-CB, or any £-eating striker , for his X-mas present this year? I think it'll be up in the air, as he'll not be able to make a choice without having a spontaneous brain-combustion...
Hari Matardri Ranamthram
48
Posted 06/10/2017 at 22:59:31
The only way out of this is either Koeman staying or leaving. I could see more benefits if Koeman leaves and someone new takes charge.

I guess the new manager can decide a first team the way he wants without the reputation rather the sharpness. At least the players will start playing for the club rather than for the manager. New face can wait and see how Unsy does before taking charge.

Anyhow, I believe players can play good in all the matches. I hope after the break all players and manager starts the match in a happy mood. COYB!!!!
David Barks
49
Posted 06/10/2017 at 23:03:39
Or the club isn't planning on reinforcements in January because the failed sales of Barkley and Niasse blew up what would have been a negative net spend. Why would the manager make a huge difference in the player acquisition if that is supposed to the job of Walsh and his team?
Tom Bowers
50
Posted 06/10/2017 at 23:12:03
Things may indeed turn around under Koeman but when ? I remember we all said the same about Moyes in the early days and then Martinez and they didn't have the money available like Koeman has had.
I don't think I have ever seen an Everton team of the last 15 seasons play so poorly and they have had some poor players during that period.
The big question is what the position will be before things change or when Koeman is fired.
Andrew Gaule
52
Posted 07/10/2017 at 04:23:23
I am with Vermaelen
Will Mabon
53
Posted 07/10/2017 at 04:26:56
Andrew, really? Ask him who told him to say that about Koeman.
Rudi Coote
54
Posted 07/10/2017 at 04:53:11
Well That's alright then isn't it?
John G Davies
55
Posted 07/10/2017 at 06:32:41
Me too Andrew.
Mark Morrissey
56
Posted 07/10/2017 at 09:52:08
I am not with Vermaelen. Koeman has shown me that he is bereft of ideas. Has no plan A never mind plan B. He bullies players rather than manages them.
The word 'Okay' is starting to become as annoying as 'Phenominal'). So 'okay', he might have been a good player but he's not a good manager and he's proved that himself.
His management of Barkley makes me spit bullets. The thought of Ross going to Spurs and getting back into the England fold angers me because that is what will happen if we don't retain him. He is better than Klaasen all day long and he's a blue.
I'm with Vermaelen... not I, says I.
John Daley
57
Posted 07/10/2017 at 11:24:32
"I am with Vermaelen"
If Vermaelen had been anywhere near you then more might be inclined to listen.
How many Everton games do you reckon he has sat down to watch, this season or last?
He has been near Koeman in the past and may hope to get close to him again at some point in the near future. He's speaking out of loyalty (whilst leaving the door to a possible escape route ajar), not after taking a long hard look at the teams current failings and thinking "I can see what Ron is trying to do there".
John G Davies
58
Posted 07/10/2017 at 12:19:11
Don't know about Andrew.
I was talking about Pancho Vermaelen out of the Wild Bunch.
Looks through squinted eyes with a curled lip... "Si Senor"
Hard fucker him.
Lawrence Green
59
Posted 07/10/2017 at 12:21:06
Ronald is backing himself to get Everton back on track as he writes in his column for De Telegraaf, the 54-year-old said:
"Everyone is entitled to their opinion but as a coach, I don't run away from criticism.

"We know that we our not playing at our normal level and the results should be better. When I made the move from Southampton to a club with such ambitions, I knew I could be in a difficult situation if the results were not there.

"I am calm and will will work with my staff to get those results. I am exactly the same coach as when it was going well."
Let's hope he is right and that many of us are wrong as that's what is best for Everton FC in the short-term at least.
Andy Meighan
60
Posted 07/10/2017 at 12:39:50
When was it going well? Oh yeah.., Man City home last season. Other than that, I'm struggling.
Derek Knox
61
Posted 07/10/2017 at 12:49:15
I am still extremely sceptical, no matter how much verbal backing he gets from fellow pros in the game. Conspiracists would say, well they are going to say that backing a fellow pro, for vested interests.
The thing that wrinkles my fur, is that so many good players, even Ashley Williams, I used to watch Swansea and Wales and think, he's Mr Consistent, and many others, under Koeman's coaching, have suddenly become headless chickens.
Then there is young Lookman, what a breath of fresh air he was, when he first came, and now he won't even play him, you can tell by player's body languages that something is amiss, both in spirit, (or rather lack of it) and their demeanour and lack of game plan on the pitch.
It would by a travesty if Lookman and a few other talented young guns were to drift away. There is a posse of Clubs with Spurs at the head after Ademola.
They obviously see something that we all can, but Koeman can't, it's as if he stifles talent for some unknown reason. Play well, and you get dropped.
I think most would agree that Schneiderlin has been awful this season, and yet, if he is breathing, he gets the nod over anyone, who could do a much better job.
Personally, I would give him the next two games, a win and a draw, or, two wins, playing with some style, anything less is, Taxi!
Oliver Brunel
62
Posted 07/10/2017 at 12:52:02
Lawrence, interesting read but I fear the Echo, Radio Merseyside and the BBC are perennial fence-sitters; they don't want to destroy their privileged status as journos with the club. So they constantly regurgitate the usual 'Jags promises to lift the club out of rot', 'Baines knows we have to improve' tripe which happy clappers love because it doesn't challenge them to face the issues.

The club is a shambolic disgrace. I find it insulting that no-one from the club has actually come out and apologised for the results, especially Atalanta away, to the fans (many of whom are shareholders).

Remember the contempt with which they hold us: Koeman is on HOLIDAY in Spain …..?!!!
Colin Grierson
63
Posted 07/10/2017 at 13:10:18
Go and put a bib on or something Tommy! Work on your golf swing if you like, but if your after a career in punditry, ditch your mates and start talking sense. Thanks for your opinion though, it was very insightful.
Paul Tran
64
Posted 07/10/2017 at 13:38:57
I've never been impressed with the 'work 14 hours a day' brigade. To me that's an irrelevance compared to competence and, in my view, doesn't equate to 'commitment to the job'.
I'm not Koeman's biggest fan at the moment; I understand his holiday is giving his daughter away at her wedding.
Will Mabon
65
Posted 07/10/2017 at 13:46:32
Paul, is she marrying Vermaelen?
Will Mabon
66
Posted 07/10/2017 at 13:57:22
"
His management of Barkley makes me spit bullets. The thought of Ross going to Spurs and getting back into the England fold angers me because that is what will happen if we don't retain him. He is better than Klaasen all day long and he's a blue.
"
I feel exactly the same, Mark... and you just know as sure as the day dawns that Ross will be gone if Koeman and let's face it, certain of the club's higher management, get their way. It borders on a deliberate lowering of quality.
Klaassen, Sigurdsson and others are better than Koeman's mess is allowing them to be, but they'll never get near what Barkley is.
Dermot Byrne
67
Posted 07/10/2017 at 13:59:38
Paul: so with you re. time spent working equalling productivity. The talented work much less hours for better output. Those 14 hour a day incompetents drive me nuts and are, ironically, the biggest clock-watchers around.
But experience tells me you need to be self aware. I've had times when younger that I rested on past successes and did less hours but also achieved sod all. This was a direct route to being in the shit!
Will Mabon
68
Posted 07/10/2017 at 14:05:30
"
They obviously see something that we all can, but Koeman can't, it's as if he stifles talent for some unknown reason. Play well, and you get dropped.
"
Derek, the unknown reasons are:
1. This is Koeman's management and team playing "Style".
2. He was brought in to do this job. Consolidate with lower level players.
Those running the club are not blind to anything. The only spanner in the works of the plan so far is that Koeman has not quite managed to get the team playing to the level of 7th in the table. Should he do that or we scrape through the group in Europe, it will be business as usual.
Kim Vivian
69
Posted 07/10/2017 at 18:37:49
Off topic but for something to talk about because everything Everton's getting a bit boring over this break - but did anyone watch the BBC documentary "Chris Coleman - Dare to Dream"? A good watch and a good insight in to getting the players on side and making good times out of bad. Coleman had a horrible task stepping in to Speed's shoes and the film demonstrates many things; not least of which the sheer importance of the man at the helm.
Inevitably one tries to draw parallels and certain aspects of the film made me feel quite hopeful for Everton as one is reminded that after every storm there is a rainbow. And as the saying goes..."If you have eyes you will find it, if you have wisdom you will create it"...
Over to you, Ron.
Derek Knox
70
Posted 07/10/2017 at 19:31:56
Kim, the only rainbow I foresee, is a brown one, with a crock of shit at the end of it!
Add Your Comments
In order to post a comment, you need to be logged in as a registered user of the site.
Or Sign up as a ToffeeWeb Member — it's free, takes just a few minutes and will allow you to post your comments on articles and Talking Points submissions across the site.