Steve Walsh sees big England future for young duo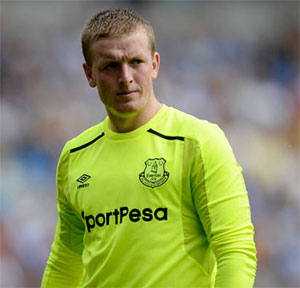 Steve Walsh says that new Everton signings Michael Keane and Jordan Pickford have what it takes to form the bedrock of the national side in years to come.
The Blues' director of football is thought to have been the driving force behind bringing the pair to Goodison Park, from Burnley and Sunderland respectively, for what could eventually be a combined fee of £60m.
Both players are automatic starters for Ronald Koeman's side at the moment and Walsh sees them only getting better with experience.
"Pickford will be the number one goalkeeper in England," Walsh said in an interview with club sponsor, Sure. "I think he'll play for England and be at Everton for a long time and be a bedrock on which to build the team.
"Michael Keane is young, he's got all the attributes to be a future leader, maybe captain of England."
"You need somebody who is good in the air, who is competent and who can be strong. Upper body strength is a key role to be able to block shots, and want to defend.
"You get modern day defenders who are quite happy to play out from the back but when it comes to the hard core of the job, they are maybe not up to it.
"You're looking at strength and passion to put your body on the line when you need to. If you can play out from the back as well that's obviously a key role. Michael Keane fills both respects.
"He is able to defend but he's also able to play the ball and breaks the line regularly with his passes into midfield."
Both players were named among the substitutes for England's World Cup qualifier against Slovenia this evening but only Keane saw action when he replaced Raheem Sterling with five minutes left in the 1-0 victory.
The result confirmed England's qualification for next year's World Cup Finals in Russia which could provide both Toffees players with the opportunity of representing their country on football's biggest stage.
---
---