Bolasie: Support has been incredible

33 Comments [Jump to last]
Sunday 8 October 2017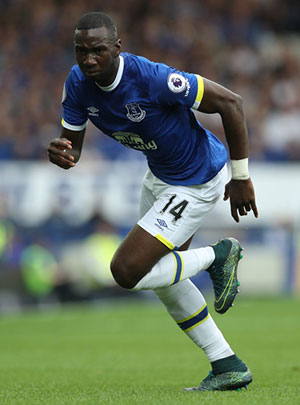 Yannick Bolasie has expressed his gratitude for the support he has received through 10 months of recovery from a serious knee injury and says he can't wait to return to action.
The Congolese winger has been sidelined since last December after rupturing an anterior cruciate ligament and damaging the meniscus in his knee which required two separate surgeries to repair.
A recent video clip of himself posted to social media doing ball skill exercises on grass was the first indication to fans that he was entering the final stages of his rehabilitation and while he admits that he is still a way away from playing, he is pleased with his progress.
"It's a beautiful feeling [to be back on grass]," Bolasie told evertontv. "I've been on grass for a while now and I'm just happy to be back out there, moving the best I can.
"I'm getting stronger by the day and I'm looking forward to coming back.
"There's still a way to go but I'm happy where I'm at at the moment and I couldn't ask to be in a better place.
"Everything just seems to be clicking into place. I've got time to practice and do things I need to so I'm happy."
Bolasie revealed that in addition to being bolstered by tremendous backing from Evertonians, he has received support from fellow players including the likes of Didier Drogba which has spurred him on.
"The support [I've received] has been incredible and it just makes me want to come back stronger," he said. "The fans have always been on my side since I've been injured so I'm looking forward to coming back and showing them what I really can do.
"They've seen a side of me at Crystal Palace and I'm sure I can provide that side [again] when I come back."
Though they suffered very different injuries, Bolasie's anticipated return is more or less in line with that of Seamus Coleman who is also back on grass at Everton's training complex as he battles back from a double leg fracture.
Manager Ronald Koeman says that neither will be rushed back into action, however, as the club's medical staff look to ensure that they are completely ready.
"They really are working hard to come back as soon as possible," Koeman said. "If you go out with the ball and are training, and are out on the grass and close to the team, it is really a boost and a big step forwards.
"Let's hope they are back as soon as possible. But it is about making sure they come back as strong as possible – and healthy. That is the most important thing; it is not about coming back one week faster, it is all about being one hundred per cent."
---
Reader Comments (33)
Note: the following content is not moderated or vetted by the site owners at the time of submission. Comments are the responsibility of the poster. Disclaimer
Peter Fearon
1
Posted 08/10/2017 at 17:37:02
I imagine every Evertonian wants to see Yannick Bolasie and Seamus Coleman back in action. I have been sceptical about Bolasie's end product but at least he is prepared to attack in the final third and try inventive football, not pass backwards or sideways like his team mates appear addicted to doing. Good luck to both on a swift and complete recovery!
Jack Convery
2
Posted 08/10/2017 at 17:40:03
He had the pace and power we now lack. Just hope he's got it back when he makes his reappearance in the 1st team.
Paul Smith
3
Posted 08/10/2017 at 18:01:39
Lets hope Koeman doesn't alienate them for running towards the opposition with the ball.
John McGimpsey
4
Posted 08/10/2017 at 18:20:29
Well if he stands on the ball and cuts inside isolating the full back, I will personaly choke him.
Trevor Lynes
5
Posted 08/10/2017 at 18:32:01
Bolasie is a player that opponents will fear and ensure that he is marked. If he is supplied correctly he can win games for us.He does get in the box which is something we need and he has the pace and trickery to unsettle the best defences.He is the type of player who can inspire the whole side. I just hope we are not too long operating without him.
Clive Rogers
6
Posted 08/10/2017 at 19:32:18
I wasn't impressed with Bolasie in his brief spell before he was injured, especially the last few games. His record before we signed him is not good. He has only averaged one goal every ten games, even in non league and the lower divisions. Only nine league goals for Palace in four seasons. Not what we need. His main asset is pace, and after 15 months out at 28, he will struggle to regain it. A bad buy in my opinion.
Colin Grierson
7
Posted 08/10/2017 at 19:35:46
You've really cheered me up Clive, cheers.
Charlie Lloyd
8
Posted 08/10/2017 at 19:55:41
Colin @ 7
Your comment has actually cheered me up. Well said.
Tony Sullivan
9
Posted 08/10/2017 at 20:49:34
Clive Rogers (6)
That's Bolasie written off then.
A good news story about a player striving to achieve fitness after a serious injury is hijacked.
So uplifting on ToffeeWeb these days.
Clive Rogers
10
Posted 08/10/2017 at 20:57:41
Colin, Charlie, have a look at his stats on Wikipedia. They're pretty shocking. A year at Rushden and Diamonds, no goals, two years at Barnet, five goals. A year at Bristol City, one goal, four seasons at Palace, twelve goals. He was a below average non and lower league player till he hired his own personal trainer and got super fit and Palace took a gamble. Most of his shots balloon over the bar as we've already seen, one goal in 13 games.
Mark Morrissey
11
Posted 08/10/2017 at 21:01:20
I hope Koeman doesn't get the chance to play him. I hope Koeman is gone before Yannicks back because he might help us win a match and then Koemans gets a stay of execution and not something I want. Best of luck to Yannick though
Andy Meighan
12
Posted 08/10/2017 at 21:01:29
Tony 9, come on. Nearly everything Clive wrote was spot on. Bad buy? Well, that remains to be seen but he's only had a handful of good games.

But my own opinion is there's a player and a really good one in there somewhere, it just hasn't surfaced yet.

What I love about the lad is though as well as always coming across as humble and a great kid he always mentions the fans. Spot on, Yan. Hurry up and offer us something different.
Tony Sullivan
15
Posted 08/10/2017 at 21:23:13
Get that Wikipedia fella in as manager, sounds like he will be able to sort it out.
John Dyer
16
Posted 08/10/2017 at 22:26:16
Week after week I read all the comments posted and feel so much negativity. I know we are struggling and not doing that great but Bolasie is quality through and through and he will come back a better player which will give us options going forward.

Let's be positive. Maybe the right team isn't being picked or the results aren't going our way but Koeman is a good manager and wants the best for the team and fans.
Peter Fearon
17
Posted 09/10/2017 at 02:34:07
All this is no doubt what Yanick means when he says he is delighted to have had the full support of Everton fans.
Ernie Baywood
18
Posted 09/10/2017 at 06:34:49
I'll agree with Clive... he's not a good footballer. Nor is Niasse for that matter.
I'd still have both of them around the team though. There's not many ways we can introduce some pace into the attack. At least you know Bolasie won't be playing narrow and passing backwards.
The Straq wasn't a good player either... but he was the right choice when we needed someone to inject a bit of effort into the side.
Phil Sammon
19
Posted 09/10/2017 at 07:15:31
Yeah he probably doesn't score enough. Nor did Pienaar, but I'd have him back in a heartbeat. Bolasie will get crosses in all day long. If we actually get anyone in the box he could be a really positive player for us.
I get the feeling some people are never happy. We all moan about the boring sideways crap we are being served up. Here we have probably one of the most direct players in the league and it's still not right for some.
Drew O'Neall
20
Posted 09/10/2017 at 07:34:18
Ernie - 'He's not a good footballer'
I don't know who you've been watching but this guy is a mercurial talent. When he played for Palace at Goodison in January '16 he looked like Maradona such was his time and composure on the ball.
The only thing I was concerned about when we signed him was if he would be a bit enigmatic but since he's arrived at Goodison he's been one of the few players you could be sure would give 100% every time he got on the field.
I know you're not alone in your opinion and I see plenty of posts like Clive's but I'm afraid stats and sublime passing don't tell the whole story and this guy is one of, if not our most, dynamic and dangerous players when fit and he seems like a bloody nice chap to boot.
Richard Lyons
21
Posted 09/10/2017 at 08:14:13
Before his injury I thought he was starting to develop an understanding with big Rom, and I coined the word Bo-kaku (although I don't suppose any of you noticed), because I was hoping the combination would become legendary...
Obviously that's not going to happen now (unless Manure buy him)... But maybe we could hope for Bo-rooney or D-CLasie? Bo-anything really - I can only think he will improve the team.
Laurie Hartley
22
Posted 09/10/2017 at 09:02:19
Good to hear Yannick has stayed positive. I like him as a player because he is very direct. I am looking to the future - imagine the headaches this 433 would present to any back four in the premier league:
Pickford
Coleman, Keane, Williams, Baines
Davies, Gueye, Rooney
Bolasie, Calvert Lewin, Lookman
I'll keep dreaming. Nothing better to do football wise.
Tony Everan
23
Posted 09/10/2017 at 10:10:21
Richard
Be careful what you wish for.
If he played up front with Rooney we could have a Bo-loony.
Steve Bird
24
Posted 09/10/2017 at 10:37:33
Bolasie, Coleman, Barkley, McCarthy even Funes Mori!! Not to be overlooked, there is a lot of talent there to come back and help turn things around, we must view the return of each of them as a positive.
Bolasie, there's the width we keep going on about;
Coleman, bombing on and getting behind defences;
Barkley has been very quiet, I wonder where his mind is at?
McCarthy, he has had great days in an Everton shirt;
Funes Mori, can play across the back four – he's no worse than what we've seen there so far this season.
Tony Marsh
25
Posted 09/10/2017 at 11:08:31
In all my time watching football I have never known a player to come back the same from a major leg injury the. I fear for both Bolasie and Coleman's top flight career.
Brian Oviedo is a prime example. Funes Mori is in the same boat also. The break to Coleman's leg was horrific
I wouldn't be expecting too much from any of our Injured players when or if they return.
Ernie Baywood
26
Posted 09/10/2017 at 12:03:32
Drew #20. Mercurial talent, seemingly good guy, and one of our more dynamic players he might be... but I still don't rate him as a footballer.
His decision making is beyond awful. He'd much rather be flashy than effective. He's Mr Woo with pace.
Tony J Williams
27
Posted 09/10/2017 at 12:48:15
John 16
"I know we are struggling and not doing that great but Bolasie is quality through and through and he will come back a better player which will give us options going forward"
What are you basing that bold statement on?
In footballing terms, he is no spring chicken, so just wondering why you think he will come back better?
Drew 20
Not really a hard thing to look good against us when we were playing shite.
My overriding memory of him is where he made himself look like a twat on the touch line, unmarked and trying to act like a smartarse and lost control of the ball for a throw in.
I hope he comes back as fast as he was, as we are sorely missing some pace I doubt it though
Peter Fearon
28
Posted 09/10/2017 at 13:43:29
Tony Marsh, Ross Barkley came back from a major leg injury as I am sure you are aware. So did Eduardo, who scored for Arsenal in a 6-1 drubbing of us after coming back from a nightmarish leg break. There are many others. Dave McKay suffered breaks to both legs at a time when treatment was comparatively primitive and came back. Every break is different as is every player but age and the quality of initial treatment are major factors. Defenders have a harder time coming back than strikers. Sometimes the injury can be repaired but the player's confidence going into every tackle cannot. The only thing to do is to keep making the player feel that he can come back and threads like this which harp on the negative, are not helpful. I know Seamus Coleman reads TW. I hope Yannick and Seamus skip this thread.
Dave Evans
29
Posted 09/10/2017 at 14:07:36
Yannick has remained positive and worked hard through a terrible injury. He appears genuinely thankful for the on going support from fans and others at the club. I suspect Goodison will give him a great reception when he returns. Speedy and successful recovery Yannick.
James Marshall
30
Posted 09/10/2017 at 14:41:16
Losing him and Coleman is a huge part of what's fucked us this season so far - they both play with direct pace, and even if Bolasie's end product isn't world class, he opens the pitch up for others, as does Seamus.
I truly believe Koeman's job has been made that much harder by not having these two, as it has by not replacing Lukaku.
Michael Lynch
31
Posted 09/10/2017 at 14:46:23
I saw this lad play when he was a teenager and let me tell you he stood out a mile in the lower leagues, even as a kid. He's bulked up since, but nevertheless he already had the pace, skill and desire when he was a skinny little nobody. I had no doubt that he'd get a chance in the PL back then. I hope he comes back at 100% fitness and has a fantastic 2018.
Bobby Thomas
33
Posted 09/10/2017 at 21:41:31
Peter (#28),
Eduardo was clearly not the same after his injury. It's also a lot different coming back from a major injury as a teenager (Barkley) than when your 28 (Coleman).
The injury Coleman sustained means that it is almost inconceivable he will return the same player. He was at his peak.
Bolasie did an ACL & has had 2 operations on his knee. He will not be as quick. Again, that is virtually certain. But as he was very, very quick anyway, he will still have very good pace. But he can't be the same. You don't do an ACL & come back the same. You just don't.
I don't particularly rate Bolasie & thought that in terms of age, fee & "productivity", it was a bad buy. However, as the construction of this squad has been mis-managed ,we really miss him as he has qualities that we just don't possess and his presence would provide the team with some much needed pace and balance.
It's strange. When we signed Bolasie and were then looking to get Sissoko (bullet dodged), I thought that there was a clear policy of trying to get more strength, pace and physicality into our team and midfield. Wanyama types. Since then we appear to have gone in a different direction.
The transfer policy is all over the place. They need to review the summer & sort things out before they spend anymore money. Spending another £20 million plus on Giroud, in his 30s, on massive wages, on something like a 3-year deal, makes very little sense to me.
Andrew James
34
Posted 10/10/2017 at 00:20:58
Bolasie is a player who entertains the likes of Palace. But for us, no. For me he's a Royston Drenthe but without the natural quick feet but he has discipline and is a professional.
I like him but from what I saw he isn't going to offer much more than frustration. I think my main objection was that Koeman played him come rain or shine often at the expense of Ross yet when Bolasie got injured, our form improved.
Hope he comes back fit but under a different manager.
Andrew James
35
Posted 10/10/2017 at 00:26:02
@Peter Fearon
You know Seamus reads TW?
How? You been hacking him?
Seriously though, I think Seamus is a wonderful player born at the wrong time like Leighton. Those two full backs would easily have got into our Championship sides of the 80s.
Dave O'Connell
36
Posted 10/10/2017 at 19:33:53
Can't wait for him to get 100 per cent fit but he has pace and he attacks. Will Koeman play him?
Add Your Comments
In order to post a comment, you need to be logged in as a registered user of the site.
Or Sign up as a ToffeeWeb Member — it's free, takes just a few minutes and will allow you to post your comments on articles and Talking Points submissions across the site.