Bolasie: Support has been incredible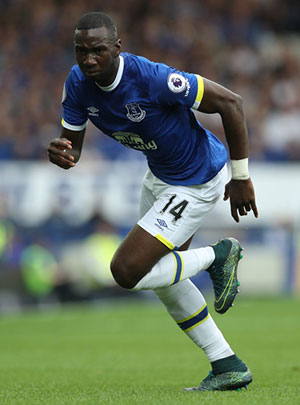 Yannick Bolasie has expressed his gratitude for the support he has received through 10 months of recovery from a serious knee injury and says he can't wait to return to action.
The Congolese winger has been sidelined since last December after rupturing an anterior cruciate ligament and damaging the meniscus in his knee which required two separate surgeries to repair.
A recent video clip of himself posted to social media doing ball skill exercises on grass was the first indication to fans that he was entering the final stages of his rehabilitation and while he admits that he is still a way away from playing, he is pleased with his progress.
"It's a beautiful feeling [to be back on grass]," Bolasie told evertontv. "I've been on grass for a while now and I'm just happy to be back out there, moving the best I can.
"I'm getting stronger by the day and I'm looking forward to coming back.
"There's still a way to go but I'm happy where I'm at at the moment and I couldn't ask to be in a better place.
"Everything just seems to be clicking into place. I've got time to practice and do things I need to so I'm happy."
Bolasie revealed that in addition to being bolstered by tremendous backing from Evertonians, he has received support from fellow players including the likes of Didier Drogba which has spurred him on.
"The support [I've received] has been incredible and it just makes me want to come back stronger," he said. "The fans have always been on my side since I've been injured so I'm looking forward to coming back and showing them what I really can do.
"They've seen a side of me at Crystal Palace and I'm sure I can provide that side [again] when I come back."
Though they suffered very different injuries, Bolasie's anticipated return is more or less in line with that of Seamus Coleman who is also back on grass at Everton's training complex as he battles back from a double leg fracture.
Manager Ronald Koeman says that neither will be rushed back into action, however, as the club's medical staff look to ensure that they are completely ready.
"They really are working hard to come back as soon as possible," Koeman said. "If you go out with the ball and are training, and are out on the grass and close to the team, it is really a boost and a big step forwards.
"Let's hope they are back as soon as possible. But it is about making sure they come back as strong as possible – and healthy. That is the most important thing; it is not about coming back one week faster, it is all about being one hundred per cent."
---
---