Peter Reid: Everton need a 'depth of desire'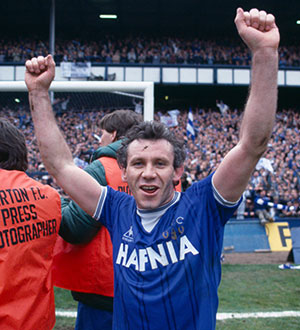 Goodison legend Peter Reid has thrown a gauntlet down to Everton's current players by suggesting they lack the stomach for the fight that's ahead of them following their poor start to the season.
The former Toffees midfielder, who won two league titles, the FA Cup and European Cup Winners' Cup in his time with the club, was interviewed in the press as part of his promotional tour for his autobiography, "Cheer Up Peter Reid".
His career may have taken him to the likes of QPR, Manchester City and Southampton as a player and City, Sunderland, Leeds and Coventry as a manager but Reid remains a Blue at heart and he says Everton are in danger of getting sucked into a dogfight they might not be equipped to win.
"This Everton team is in a scrap," he said. "The team I was in could scrap. I am not sure this team can. Has this team got the character? Has this team got enough to scrap? Forget about all the nice stuff at the moment, it is a scrap.
"There is a lack of confidence and it is showing on the park because if we are not careful we are in a dogfight and I am not sure, looking at them at the moment, that they are ready for that.
"Everyone knew Lukaku was going," Reid explained, echoing the frustrations felt by other Evertonians at the mixed transfer window that failed to bring in an adequate replacement for the Belgian. "So, go and get one. And when the owner comes out and says lower expectations? No, you are wrong mate. As an Everton fan, expectations are higher than that, so I disagree.
"I think it was a mistake not getting a striker. They are the most difficult to get, but you know you need one so you have to [pool] all your resources into getting one. I know it is hard but when you are Everton, go and get one.
"Without being too critical of Mr Koeman," he continues in reference to the team's struggles for consistency and fluency, "if I am buying a player for £45m, I want to play him in his position.
"But he has brought in a few players who play in the same position so it was always going to be a problem."
Asked how he would address the Blues' woes, Reid is typically frank.
"I would ask them to roll their sleeves up. You get back to basics. You have to say: 'Lads, we have to make it hard for them when they have the ball.' I'd love to be part of that.
"I am not saying I want to be the next Everton manager but this is what the club needs — it needs a depth of desire."
---
---