Koeman proud of players' response

252 Comments [Jump to last]
Sunday 15 October 2017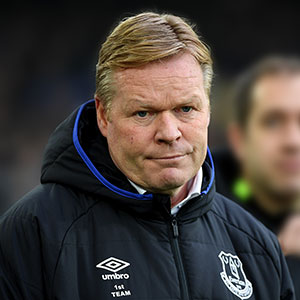 Ronald Koeman was taking the positives from Everton's ability to grab a late equaliser at Brighton rather than dwelling on the close brush with defeat despite having largely dominated the game.
The Dutchman was heading to a fifth defeat in six league games and another match without his side scoring a goal when defender Bruno checked Dominic Calvert-Lewin with an elbow to the neck that handed Wayne Rooney the chance to level the match from the penalty spot in the 90th minute.
Eight minutes earlier, Anthony Knockaert had notched his first Premier League goal with a well-struck opener after Jordan Pickford had denied José Izquierdo from a similar position in the same Albion move.
Under fire because of the Blues' poor run of recent results, Koeman seemed happy with the fact that his was the better side in terms of possession overall even if that superiority yielded few clear-cut openings, particularly in the first half.
"In the situation that the team is in, you need a little luck," he said afterwards. "We did well the first 30 minutes; we didn't create a lot but we were the dominant team.
"In the second half, it was more difficult, it was more up and down. Brighton are a good team with good organisation so it was more difficult to break them down.
"We did everything and then you see the goal against... but I'm proud of the players and everything we did after that. OK, we took a risk and maybe they had one good chance to score the second goal but we had the belief to et at least one point and maybe [ultimately] we deserved another two points.
"The goal [we conceded] was really sloppy defensively, because you need to stay on your feet," Koeman continued, in reference to Calvert-Lewin's attempted slide tackle in the left back position. "You can't go down like that in the first situation with Dominic against Bruno and the second situation in the box for Morgan Schneiderlin. You need to stay on your feet [otherwise] it makes it really easy to score the goal."
Asked why he felt his side has been unable to perform consistently for 90 minutes, Koeman didn't contest the point.
"I think we lost a klittle bit of control after one or two mistakes in our ball possession and that's maybe a problem of [a lack of] confidence.
"But the way to get out of this situation is working hard, to show the belief and commitment between the players and that is what we showed today.
"Maybe it's only one point but it's a totally different picture after the game from a defeat if we don't get the draw. At least we deserved one point today."
---
Reader Comments (252)
Note: the following content is not moderated or vetted by the site owners at the time of submission. Comments are the responsibility of the poster. Disclaimer
Matthew Williams
1
Posted 15/10/2017 at 20:53:32
Proud ?...we got a point away at Brighton!
Unreal.
Colin Glassar
2
Posted 15/10/2017 at 20:54:29
Words of a dead man walking, methinks.
Eugene Kearney
3
Posted 15/10/2017 at 21:04:40
I want to go into a deep sleep until we win a match again.
Jason Wilkinson
4
Posted 15/10/2017 at 21:11:57
Proud? Non-league teams who earn a replay in the cup can be proud. Everton getting a draw at Brighton!!!!! Is Bobby writing Koeman's post match script?
Dick Fearon
5
Posted 15/10/2017 at 21:16:44
Message to Ronnie: Go man.

Stan Schofield
6
Posted 15/10/2017 at 21:20:12
Okay, dish ish football. Shometimes it ish not what we like to shee.
I vill go and get my coat now.
James Stewart
7
Posted 15/10/2017 at 21:21:55
Embarrassing how inept we are at present. Only at Everton would this be allowed to continue.
Paul Smith
8
Posted 15/10/2017 at 21:23:20
5th from bottom, 8 points from 8 – just played Burnley & Brighton – the bankers that never were... and he's feeling proud.
Duncan McDine
9
Posted 15/10/2017 at 21:32:36
We didn't feel too proud today, did we, Paul?!!! Good to see you though, despite the footy.
Paul Smith
10
Posted 15/10/2017 at 21:36:13
Yes Duncan, loved the "weird cunt" reminiscence 😂 best part of a typical and expected display .see you soon.
Bobby Mallon
11
Posted 15/10/2017 at 21:36:22
I was at this game sitting right behind the goal we scored in. Let me tell you this, we did NOT dominate any of the game, we where rubbish. 4-3-3 does not work– it's flawed.
The only players who can walk off with heads held up are Calvert-Lewin Vlasic and Mirallas. We where shocking and Koeman needs sacking now.
Andrew Laird
12
Posted 15/10/2017 at 21:44:03
I think it is fairly obvious that Koeman wants his contract paid up so he can walk in to another job telling anyone who will listen that he asked for a striker and didn't get one, so his hands were tied.
Minik Hansen
13
Posted 15/10/2017 at 21:44:06
Time to start Mirallas, Niasse and Davies. COYB.
Andrew Laird
14
Posted 15/10/2017 at 21:45:12
Why isn't Mirallas an option to play as the striker?
Ray Smith
15
Posted 15/10/2017 at 21:51:30
I couldn't believe what I saw today. Brighton were there for the taking, they offered nothing in the shape of a threat in the first half.
Jags was solid and long may he remain fit.
Schneiderlin committed a schoolboy error to gift them their goal. It could have been Williams in disguise, instead of Row Z, he loses it and bang – 1 down.
Rooney and Sigurdsson cannot play together. There was pace in today's side, and Rooney slowed everything down, as well as what appeared to be advising Sigurdsson on how to take free kicks.
Thanks to Bruno, we got a penalty and a point which we didn't deserve. We almost nicked it at the end, except for two excellent saves from Ryan.
I actually apologised to several Brighton fans who couldn't believe they had drawn and said it felt like a loss.
By half-time, we should have been ahead, then Brighton woke up in the 2nd half. If we can't beat the Brighton side I saw today, we are in for a long hard season.
Gordon White
16
Posted 15/10/2017 at 22:00:34
My concern is that I can't see anything changing. Same old, same old. It doesn't work, week after week. So what do we do? More of the same. We're not even trying anything.
Brighton were awful. But we made them look better. To be honest, as soon as I saw the team, my heart sank. It's starting to affect individual players as confidence is slipping away.
Wondering how much more pain we will have to suffer before someone does something about it. Southampton fans have to be smiling.
Dave O'Connell
17
Posted 15/10/2017 at 22:00:35
Koeman –please do us all a favour and take the Holland job.
Victor Jones
18
Posted 15/10/2017 at 22:02:07
What exactly has Koeman got to be proud about? Eight points from eight games. That is just bloody awful. What did Koeman have the players working on during the International break? Did Koeman himself not check out Brighton? Koeman had two weeks to work on a plan. Two weeks to come up with something different. But no nothing new. Just the same old shite.. Just the same old unworkable nonsense . Just the same old rubbish.
Koeman is one jammy basturd. Getting paid for overlooking that rubbish. And he's proud. I give up .Well almost. Never ever thought that any manager could be worse than Walker...Smith and Martinez. What the fook is wrong with our brain dead football club? Why does Koeman not try something different? I'm really lost now as to what he is trying to do. (Have our players stopped playing for him?). Surely not the new recruits. I just don't know. Who does.
Anyhow My predictions for the next few weeks. We are rock bottom of our group in the Europa League. Almost out. We are in the bottom three in the league...A relegation scrap. We go crashing out of the League Cup. Losing to Chelsea's reserve team.
And our board still have faith in Caveman. We are still giving him time.
Then the penny drops. The youngsters are all thrown into the fray. They had better get us out of this mess. Because as sure as Caveman is a Dutchman .they will be blamed for this mess. Because this is not Koemans fault.Its everybody else's fault. It must be soon time to start blaming Barkley.
Then when Kenny Holgate Davies Lookman DCL and Niasse win us a few matches , and get a little momentum going, and dig us out of a hole. They are all then promptly dropped. And normal service will then be resumed.
That's my predictions.
Let's hope I'm wrong. Let's hope that in the next few weeks that we all actually see something to be really proud of. Let's see let's hope.
Or we cou!d just get rid of Caveman now. Give some hope that the next few weeks could just save our season. Unsworth and Royle in.
Ray Robinson
19
Posted 15/10/2017 at 22:14:14
Ray (#15). Just back from the same game as you. Yes, we were poor again and, no, I don't absolve Koeman, but a draw was the least we deserved today. We were poor again but Brighton were awful and even worse to watch than we were. You needn't have apologised.
Paul Hewitt
20
Posted 15/10/2017 at 22:16:24
And there, gentlemen, is the problem. Koeman is proud of a 1-1 draw at Brighton.
Jerome Shields
21
Posted 15/10/2017 at 22:21:12
Koeman is proud because his not so perfect defensive and nick-a-goal tactics where pulled out by a last minute penalty, nearly nicking a goal at the death, got him out of jail and saved his bacon.
These tactics are the Koeman project. They are not about getting a top 6 place, never mind a top 4 place or silverware. They are about saving his bacon and keeping his £6million going as long as possible.
Koeman is definitely not worried about boring us all to death in the process. He couldn't care less about Everton or Evertonians.
I will be proud when he is gone.
Eddie Dunn
22
Posted 15/10/2017 at 22:27:48
So Koeman thinks that Brighton are a "good side, well organised". Brighton are absolute relegation certainties.
Rooney slowed us down with every touch, Calvert-Lewin is not a left winger and Schneiderlin looks like he is on the training ground. Gana Gueye is awful, passing to them and falling over at the slightest contact.
Koeman played for the draw and then made the changes he should have made on the hour. A stubborn fool of a man who is trying to preserve his reputation, in the hope that a modest improvement will lead to mid-table security and perhaps a Cup run will put a bit of gloss on this pitiful season.He is merely hoping to make his resume look credible for his next job.
Benitez still lives in Caldy, he would be interested in a job on Merseyside, only a Klopp implosion and an Anfield return would suit him more than the Everton job. Failing that, get Big Sam in with Unsworth as his side kick.
Tony Marsh
23
Posted 15/10/2017 at 22:34:00
Why us FFS? Why ever since I was a kid do Everton end up employing awful embarrassing managers?
I remember the Kopites ripping us over Gordon Lee. We've had Mike Walker ,Walter Smith,Roberto Martinez all terrible and full of shite but this dour fucker Koeman is the worst ever by far.
Koeman is the first manager in my life time to be able to go out and out spend Liverpool and Spurs yet take the club backwards? Doesn't this brilliant business man Moshiri want to know were his dosh is going. I'm lost for words with Koeman.
Kevin Moorcroft
25
Posted 15/10/2017 at 22:51:16
Has he gone yet?
I can't see him being here at Christmas unless there is a miraculous improvement. I don't think this lot can manage that.
Great shame... on paper, we've a very good squad – they just don't seem to have any motivation or idea.
Rob Young
26
Posted 15/10/2017 at 23:22:57
He had two weeks to figure out what has gone wrong.
Yet nothing has changed.
Brian Wilkinson
27
Posted 15/10/2017 at 23:35:18
Nothing will change until after the Lyon game; lose that and I think it's the end of the road for Ronnie.
Kase Chow
28
Posted 15/10/2017 at 23:38:56
Koeman is absolute moron. It's so clear.
He obviously has no brain to think Sigurdsson and Rooney can play in the same team. Yet he persists because he spent so much on them both.
He's a moron to keep playing two defensive midfielders. Even a fool can see Schneiderlin is rubbish. His mistake for the goal was awful. How does he get in ahead of Davies? Oh yes. Because Koeman has to justify spending big on him.
Why not play two wingers? Oh yes because he constantly picks fights with people and Lookman and Mirallas are the latest to incur his wrath.
Why not play two strikers given we struggle to score goals? Oh yeah, he doesn't want to look stupid after publicly humiliating Niasse.
There's so much wrong with this cretin that I cannot wait for him to leave our club.
We're boring to watch. We're achieving rubbish results. There's nothing positive I can see.
He's wasted the Stones money. He's wasted the Lukaku money andwasted a further £100M – it beggars belief as to where it's all gone.
And it's depressing.
Lawrence Green
29
Posted 15/10/2017 at 23:40:11
If the mood around the various Everton FC websites are anything to go by, Ronald may not be in charge for the Lyon game, Brian:
Lawrence Green
30
Posted 15/10/2017 at 23:43:16
Kase (#28),
One of the main reasons that I wanted Martinez removed was because I was afraid he would waste a fortune in poor transfers, that wasn't the sole reason but I never in a million years expected our next manager to be culpable of the same misuse of funds.

Colin Glassar
31
Posted 15/10/2017 at 23:51:20
Tony (#23), I think Gordon Lee was great for one season (77-78?); then he was shit but that season we were great (I think).
Liam Reilly
32
Posted 15/10/2017 at 23:51:26
Could that just be our 'Heath' at Oxford moment?
Lyon on Thursday may well tell us.

Raymond Fox
33
Posted 15/10/2017 at 23:59:55
Lawrence, do you mean when he paid £24-£26m for Lukaku, brought Stones and Barkley through into the first team also?
Another £75m + for the club if Barkley also gets sold!
Koeman on the other hand has hardly inflated the value of the players bought in the summer, has he?
Darren Hind
34
Posted 16/10/2017 at 00:08:00
Lyon may tell us a lot of things
Lawrence Green
35
Posted 16/10/2017 at 00:11:49
Fair point, Raymond, but I don't believe I was the only one who believed that quite a few of Martinez's signings were over-priced and not good enough to improve upon what we already had. I'm also sure that many of Ronald's signings are below the standard we required and the inflated prices paid by all clubs in the recent past makes any mistakes in the market far more expensive and difficult to justify.
Making an argument for Martinez versus Koeman tells us everything we need to know about the current situation – it's dire and very upsetting, especially as many of us had such high hopes at the beginning of the season.
David Booth
36
Posted 16/10/2017 at 00:17:17
Andrew (14) I have never viewed Mirallas as a winger and think he is a wasted talent there.
Of all the players on our books, he knows where the goal is and has belted in some quite spectacular and unstoppable finishes when getting hold of a loose ball in the area.
Definitely think he could be a solution there, particularly in light of our chronic shortage of striking options right now.
That being said, he's more likely to get a game as a holding midfielder under Koeman's myopic vision for the future!
Brian Porter
37
Posted 16/10/2017 at 01:24:01
After yet another international break, after having two weeks to sort out the problems and no doubt reading in the press much of what is being said here and in other fan outlets, what does Clueless Koeman do? Nothing! My heart sank when I saw today's team selection. More of the same absolutely guaranteed from the kick off.
It should be blatantly obvious to Moshiri that Koeman is learning nothing from the current run of disastrous results, and is incapable of changing his 'philosophy' whatever it may be, as none of us seem to have an inkling.
If he is allowed to continue in his position we are likely to lose a great prospect for the future in Ademola Lookman, plus god knows how many more flair players that he obviously has no time for.
I've said it before and I will keep saying it, it's like Valencia all over again. There, he alienated the players to the extent that they not only went public about their treatment by him, but one even went to court to get his contract cancelled so he could find a new club after being told by Koeman he had no future at the club. (Unlike Niasse, this was one of the club's three most senior players.)
He alienated the fans and confused the players by sending them out to play the same kind of turgid, defensively minded football we are seeing every week, and refused to change his style of play as the team went from 5th in La Liga when he took over, just 4 points off the top, to just 2 points from the relegation zone when he was finally sacked after just 22 weeks, with four games of the season left to save themselves from the drop, which they managed without him in charge.
It was a similar situation at AZ Alkmar where he was 'relieved of his position' as they announced it, following a string of eight poor results, with the great Koeman having made no attempt to change the team's fortunes by changing the style of play that saw them plummeting down the league.
Just how many markers does Moshiri need in order to see that his first choice of manager is an intransigent bully who has he only one way of doing things, and is either incapable or unable to respond to poor results by making changes to either the team selection or his one-dimensional tactics.
Koeman is a fraud, as shown up by his previous record which seems to have been totally ignored or whitewashed by Moshiri in the belief he would prove to be some sort of messiah for our football club.
I think it's painfully obvious that Koeman is a false prophet and history has shown that those who follow false prophets usually end up being led like sacrificial lambs to the slaughter. That's kind of how I think other clubs now view us, an easy touch, a rudderless ship, and worst of all, a laughing stock. This is the point to which Koeman has led us.
Do we go on following this false prophet into the wilderness of the Championship, or do we, as a club, wake up to the painful reality and cast him aside before we are put to the sword?
I know which path I and, I think, a sizable majority of fans want to follow. The big question is, does Moshiri, who doesn't seem to have a great knowledge of football, have the guts to admit he made a grievous mistake in appointing Koeman and have the equal guts (and sound business sense) to get rid of him before he devalues the Everton 'brand' irreparably".
He came, he saw, he failed to conquer. Time to go, Ronald, before your reputation lies in tatters on the training ground.
Derek Thomas
38
Posted 16/10/2017 at 02:44:21
I've seen and read plenty of threads here and elsewhere and tbh, there's nothing much left to say. You know what the score is, I know it, and I suspect (hope) Moshiri knows it too. The only excuse for the continued in-action is there are 'Eye's' to dot and 'Tees' to cross on the fine detail of the departure and arrival of the new guy.
The longer we leave it, the narrower become our options. It's Early now and a top class (or even novice) replacement should be able to turn us around.
Leave it until it's really bad and the only options maybe a proven relegation avoider like Pullis or Alladyce...perish the thought.
If we keep staggering from one shite performance to another all this does is make us more of a laughing stock than we already are. Will it take a Man City / Stoke City debacle to prompt action, because we can't keep depending on last minute Pennos and a once in 50 years Niasse/Trebilcock fairy tale to save us.
All we are at the moment is another Leeds in slow motion.
Darryl Ritchie
39
Posted 16/10/2017 at 03:00:55
Andrew and David;
Mirallas as striker is an interesting theory. He came to us as a 20-goal striker for Olympiacos, and has been pigeon holed as winger ever since. My biggest worry about him on the wing, has been his 'Screw the pass, I'm gonna shoot' attitude. Slot him in as striker, and that isn't a concern any more.
However, for the theory to become practice, requires the manager to implement it... but Koeman won't... and unless Koeman starts to think outside the box, Koeman will get fired...and Mirallas will probably get sold.
Phillip Warrington
40
Posted 16/10/2017 at 03:02:36
Is this for real? An Everton manager who has spent the most money any Everton manager has spent ever, says he's happy and proud we got a draw against Brighton???
Everton have become a joke, the manager's post-match comments non-Everton supporters are seeking out to have a laugh... even Championship teams and League One teams would be queuing up to play Everton.
Christ... wake me up! This has to be dream; it can't be real – this is Everton FC.
William Cartwright
41
Posted 16/10/2017 at 03:56:47
Do players and management teams read ToffeeWeb? If not can the local media please tell them to do so. Of the hundereds of consistent knowledgeable views expressed to date the following stick in my mind:-
Appoint Unsy before it is too late.
Play Mirallas as a striker.
Play Tom Davies and Rooney in midfield.
Try / play Sigurdsson as a Number 10.
Play Kenny as right attacking wing back.
Try Garbutt (revelation or what) as attacking left back.
Play Lookman and Vlasic as wingers.
Try Keane alongside Holgate (or even Feeney).
Reintroduce Barkley into the fold.
Last but not least put Koeman on gardening leave if not removing him completely.
Phil Sammon
42
Posted 16/10/2017 at 04:42:59
Heaven forbid we have an opinion, William.
Would you rather we all sat on our hands and kept quiet?
'William Cartwright' - If Bill Kenwright set up a ToffeeWeb account, I wonder what he'd call himself. Hmmm...
Lee Brownlie
43
Posted 16/10/2017 at 05:51:54
Yeah, see what he means after scrambling a penalty for a last-minute draw against Brighton! Proud as fuck aren't we all!! What a twat!!!
Daniel Lim
44
Posted 16/10/2017 at 06:07:31
Good spot, Phil @42
William @41, are you?
Lev Vellene
45
Posted 16/10/2017 at 06:33:14
Erm, I read William's post as a good summary of much that has been said, and that he wishes for that summary to be forcibly presented to the manager and the players. I see no sarcasm there, and if if you guys know him well enough to think there is, then it's badly executed...
Rob Young
47
Posted 16/10/2017 at 06:57:47
How poor were Brighton? We were lucky yesterday. If Chris Hugton had shown some cojones and gone for it, they'd have won easily.
Lyon will tear us apart. Arsenal will find it too easy. Chelsea will walk right through. Pfff.
He wasn't fired in a two-week international break and unfortunately I cannot see him being sacked in between games coming thick and fast. We'll have to wait until November, when we're in the bottom three and out of two cups.
Let's bring the white flags on Thursday – isn't that what they would do at his beloved Barcelona?
Colin Glassar
48
Posted 16/10/2017 at 07:41:17
After careful thought, I've decided we should go Italian. Mancini or Ancellotti for me. Both have excellent track records, know the Premier League and (apparently) are desperate to return to England.
Andrew Clare
49
Posted 16/10/2017 at 07:59:29
Darren (#34),
Lyon will tell us what we already know. That we are a very poorly managed / organised / motivated team. Moshiri will tell us that we were not expected to win after the game and that the same applies for the Arsenal and Chelsea games.
I think Koeman will go in early December not before. Why we are waiting so long, I don't know, as I can't see a win coming from anywhere.
No doubt we will appoint the wrong person. We are not very good at these things. I groaned when we appointed Walter Smith and again when we signed Williams.
For a long time, the Everton board have had no idea about football and that's why we are at this point.
Paul Tran
50
Posted 16/10/2017 at 08:14:25
Stan (#6), does that make him a shite for shore eyesh?
I want him out now.
He has as long as Moshiri's pride and stubbornness hold out.
Ian Hollingworth
51
Posted 16/10/2017 at 08:33:41
Whilst Kenwright and his cronies reign at Goodison it will not matter who the manager is, we will just keep getting more of the same. Some highs, lots more lows and overall it will be failure.
22 years Bill, 22 frickin' years, yet no doubt you will have a dream of a musical about a young boys rise from the Boys Pen to running the club – and how that plucky little club survived in the big league, against all odds.
Christine Foster
52
Posted 16/10/2017 at 08:43:35
I suspect the wheels are in motion, and discussions underway with likely candidates. If not, they should be, because our reputation, for what it's worth is being irreparably damaged. There is no point in prolonging the decision, because the longer it continues the greater the risk.
Managers get sacked not just because of results, but style, attitude and club fit. At this point in time, he has not got the results, alienated players, and is tactically stupid. The board no longer have to make a choice on keeping him – rather just when he goes. There is no other option.
Mike Berry
53
Posted 16/10/2017 at 08:43:50
I cant see him lasting. If we lose to Lyon and the fans chant him out, the board with have no choice. I can't see them alienating the fans by supporting him.
Nothing is going to change as he and his tactics do not change, its as if he expects a sudden miracle for us to click. His comments are in the realms of fantasy, its amazing that they are so similar to Martinez's towards his end.
Moshiri is no fool, as a businessman who has made investments as he wants us to succeed; he will only put up with Ron's incompetence for so long.

Mike Doyle
54
Posted 16/10/2017 at 08:54:03
Rob (#47), the white flag/handkerchief is a European thing.
We should go retro and bring back cushion throwing from the Main Stand. (I think this was another Everton first – along with under-soil heating, stands on 4 sides of the ground etc, etc.)
Kenny Smith
55
Posted 16/10/2017 at 08:59:12
Like I've said before, I'm not for sacking him but, if we lose at home to Lyon, then I think that'll be it. We'll effectively be out of Europe and that plus spunking a shit load of money equals the sack.
The question should be who do we get in instead? AVB, Mancini, Benitez or, dare I say it, Brenda Rogers?

Ray Smith
56
Posted 16/10/2017 at 09:04:35
Ray (#19),
Your probably right about the apology. However, I was on a long weekend on the south coast where my daughter lives. My son-in-law and grandson are Brighton season ticket holders in a group of 10 who I found myself drinking with. They would take 17th place and stay up on goal difference as a result this year.
On another note, what has happened to Big Dunc? A couple of games ago he was seen jumping up and punching the air when Niasse scored and Koeman no reaction.
Yesterday, Big Dunc, almost in front of me in the warm-up, looked as if the stuffing has been knocked out of him. All he seemed to do was look at his watch with his head down and not involved. Not the big man I have total respect for as a true Evertonian. What's happened to his up-and-at-em personna? Koeman?
Carl Taylor
57
Posted 16/10/2017 at 09:29:52
I can't believe I've just heard Joey Barton on Talksport saying Koeman should be given time and Sean Dyche would see Everton as a good stepping stone. Then he said Unsworth was a non-starter. Actually, I can believe he would spout such utter nonsense!
Koeman trying to be positive about yesterday should make him more sackable this morning, surely?
Dave Abrahams
58
Posted 16/10/2017 at 09:34:22
Darren (#34), never mind the Lyon game – yesterday and Burnley told us and those in charge of the club all we need to know.
I just hope Holland will save Everton paying out another massive redundancy payment.
Can we sell Rooney in January? That would save a few million as well.
Rob Young
59
Posted 16/10/2017 at 09:43:21
Mike (#54),
Do the club shop sell cushions? That's a business opportunity for them, right there!
Maybe I should get the paint out and bring a sign saying "Sack Koeman, keep Barkley".
Anyway, I expect Goodison will be dead quiet Thursday.
Tony Everan
60
Posted 16/10/2017 at 09:53:12
Mirallas as a striker is something to consider. At least until we rectify the Lukaku situation.
There are flaws whoever is considered to play there Calvert-Lewin a bit inexperienced, Rooney a bit slow, Niasse, all round game not good enough. Sandro doesn't look like scoring at all when he plays.
I'm not saying it is the answer to all of our problems, but an option worth considering.
Mark Dunford
61
Posted 16/10/2017 at 10:57:27
I hate losing, yet accept that – in most minds – the next three games have been lost before a ball has been kicked and there seems to be a common view that this may actually be better for the long term good.
Koeman recognises this when he talks like the proverbial dead man walking. –Dispensing with his services may be the cheapest option, not that it is free – say the cost of another Number 10 or the unnecessary Davy Klaassen. (Who could yet prove to be a decent player somewhere or other).
I expect Koeman to go in the next international break – at least it will be something to cheer during the hiatus. No doubt Moshiri will go target a big name with pedigree and successful experience while Unsworth operates as the sane interim, again – demonstrating his ability to pick 11 players across 11 positions with the necessary degree of flexibility and purpose.
Whoever rocks up will be helped by the return of Coleman, Bolasie and probably Barkley. As I said, I hate losing.
Thomas Surgenor
62
Posted 16/10/2017 at 11:22:18
This man's press conferences are getting worse! It's beyond repair for me. In fact, the beginning of the end for me was the red Christmas tree, lol, as silly as it sounds. It showed he had no connection with the club or fans. Didn't understand what we want or need.
Get Unsworth in at next international break no matter what. At least he talks well about the club. I remember his Norwich press conference and the demands he made of his players to treat it like a cup final.
Also, hasn't he banned the Under-23s from wearing gloves and pulling there socks up too high in cold weather? Good old fashioned manager who demands 100% passion. It's what I want! Not some big time charlie ex international "legend" who doesn't know what it means to manage our club.
Pride, passion, purpose!
Mike Allen
63
Posted 16/10/2017 at 11:24:53
Would Lukaku, Giroud or Costa make any difference? It's not as if we are creating and spurning or missing chances. We can't even see what the manager is trying to do or put in place.
Nothing to suggest Koeman is the man to take us forward, this or any other season. We had a poor side when he took over – nothing has changed.
Joe Edwards
64
Posted 16/10/2017 at 11:29:51
It is indeed a sad indictment of the trouble our glorious club is in when the manager states he is proud of rescuing a point against a club like Brighton. Koeman's dogged insistence on playing round pegs in square holes is reminiscent of Walter Smith's disastrous tenure and I fear the boards reluctance to act to end the debacle of Koeman's reign will end in relegation for our club.
The longer this is allowed to go on the deeper the hole, there is no signs of improvement at all , there is no sign of the players adapting to whatever it is Koeman is trying to do (does he even know)?
There is no sign that the fans are behind him, so it leaves us in an uncomfortable and disappointing limbo of hovering above being totally shite and way, way below being what we should be.
Please Mr Koeman do everyone , including yourself a massive favour and walk away from Everton. I fear you are waiting for the board to give you a massive golden parachute payment for the havoc you have riven on our club and that for me is even more unforgivable than the woeful, inadequate and disjointed amateurish job you have delivered in your time here.
James Ebden
65
Posted 16/10/2017 at 11:53:07
I don't know how he has screwed it up so badly. At Southampton you could say he overachieved given their resources and selling model. A bit like Moyes consistently did with us. Yet here he has made a right pigs ear of it. Despite having a vast transfer budget. I don't remember Southampton playing such dire football while he was there, quite the opposite in fact.
Time to ship him out. Need the new manager to have a couple of months to assess the squad before the transfer window. Who we get though, anyone's guess.
Ancelotti – won't touch us, his reputation is far bigger.
Mancini – possibly, and I think he would do well.
Big Sam – safe option, would get us into the top half I expect, but won't be exciting.
Moyes – don't think that's a goer.
Unsworth – certainly knows the club, but he hasn't managed any first teams which is a bit of a risk. He could have it as caretaker for a few games, but I don't think they should jump straight in with him on a contract.
Tuchel – maybe, if he has ambitions about working in the Premier League.
Let's just hope whoever it is shows a bit of passion and fight to get the team going.
Lewis Barclay
66
Posted 16/10/2017 at 12:06:51
Meanwhile our Under-23 players (and current English champions) whip Man City's Under-23s 3-0.
Ray Smith
67
Posted 16/10/2017 at 13:05:12
Lewis (#66),
How about Moshiri making it compulsory for Koeman to attend U23s training and matches, also take the first team squad with him and make them sit through it all.
Their current training regime is obviously not working. They might even remember that's how the game should be played and enjoy it.
Mike Doyle
68
Posted 16/10/2017 at 13:32:14
Rob (#59), thankfully I live to far away to get to Goodison very often these days - but if memory serves me right the art of cushion throwing reached its height during the Gordon Lee reign (apologies to Gordon if I've referenced the wrong manager).
The levels of accuracy – particularly from the Top Balcony of the Main Stand – were to be admired. The paper plane thrower at the recent England game wasn't a patch on these boys.
I suspect the club shop doesn't sell them, but I'd bet that a few ToffeeWebbers in the 50+ category have a couple gathering dust at home.Time to give them an outing!
And far more impactful that a plane dragging a banner across the sky.
Ray Smith
69
Posted 16/10/2017 at 13:39:28
Does anybody know or have access too:-
Dominic Calvert-Lewin
Tom Davies
Oumar Niasse
Mason Holgate
Ademola Lookman
Jonjoe Kenny
If Koeman has chosen the above from the U23s, and he has, can any of the above say what's the difference in training methods between the 2 squads?
Because one works and the other doesn't?
Oliver Brunel
70
Posted 16/10/2017 at 14:10:06
Mike, I remember them cushions, I think they took them away after the Gordon Lee era. Actually there were some very good exciting players in the Gordon Lee team: Latchford, King, Thomas, McKenzie, Dobson etc.
An overly maligned team and miles better than the present plodders like Jagielka, Baines, Sigurdsson, Martina.
Terry Underwood
71
Posted 16/10/2017 at 14:27:57
We did enough to win. With an experienced striker, we would have won. Koeman failed to sign a front man. Calvert-Lewin is not quite ready. All the midfielders in the world are no good without a striker to feed.
BTW, I agree with trying Mirallas up front. Wasn't he played as a striker in Greece?
Mike Doyle
72
Posted 16/10/2017 at 14:30:08
Agree Oliver (#70). Around this time, I used to play for the Sunday League team managed by Mick Lyons – a great bloke and a player with the sort of attitude we could do with today. The type that Peter Reid had in mind with his comments of last week, I think.
Oliver Brunel
73
Posted 16/10/2017 at 14:40:10
Mike, I was just thinking… Dave Thomas (and Gary Jones... maybe Bingham era)... pace used to fly past defenders and put great crosses in.
What we could do with someone who can run past defenders!! Why does the ball always go back and sideways? I know people will tell me the game has changed etc… I despair.
George Freeman
74
Posted 16/10/2017 at 15:09:36
Terry (#71)
Kevin was a striker before he joined us:
"Mirallas was deployed as a centre-forward for Olympiacos but since his move to Everton he has been deployed mainly as a winger or a free roaming forward. He is known for his pace, close ball control, passing ability and proficiency in one-on-one situations" according to his profile anyway.
That explains why he always tries to cut inside and get a shot away when he can. Is this why Koeman doesn't like him?
Darrel Pugh
75
Posted 16/10/2017 at 15:51:42
Let's get Steve McClaren in: same hair, same accent, same result.
Ray Said
77
Posted 16/10/2017 at 16:03:54
Mike Doyle (#68), I remember throwing a few cushions from the top deck of the Main Stand. In those days we would throw cushions if we were in 4th place not like now when we would release a DVD if we were in 4th.
Oliver (#70), you are right. Lee's team, which was the subject of much cushion throwing, had some cracking players and played footy much better, faster and more attacking than the cack we are being served up now. We were not content with that though and demanded a winning team – those were the days.
Tony Marsh
78
Posted 16/10/2017 at 16:26:39
Oliver @ 70
If my memory serves me right the players you mention were already at the club when Lee took over. They were Billy Bingham players.
Wasn't Billy sacked when we where still in a semi-final? Soon after, Gordon Lee stamped his football all over Everton and it was the start of the end for us. Gordon Lee hated flair players. He hated Duncan McKenzie from what I remember, still at school?
Kopites and others had a field day with Gordon Lee. He looked like Herman Munster in a duffel coat and was a dour fucker. My dad and uncles all stopped going under Lee and never went back.
Mick Davies
79
Posted 16/10/2017 at 16:27:11
Robles made a mistake which led to a penalty (never cost us the game) and is thrown on the scrapheap.
Barkley is out of form and lambasted publicly.
Schneiderlin makes repeated mistakes which cost us plenty of points and looks out of his depth but is a team regular.
The difference? Koeman bought him – and Sandro, and Williams but he let go our biggest striking asset since Latchford and never replaced him.
He's a buffoon and being paid a kings ransom to do absolutely bugger all... Time to go, and let Unsy take over until the end of the season.
Mike Powell
80
Posted 16/10/2017 at 16:38:20
Proud off the players for scrapping a draw with Brighton...
Yes, that's Brighton... FFS – just go away.
Stan Schofield
81
Posted 16/10/2017 at 16:38:40
Tony@78: Dead right. When Lee took over, I started getting the piss taken by reds, because I'd always gone on about the quality of our football. Reds are still trying to take the piss, aided and abetted by the buffoon Koeman.
Michael Stevenson
82
Posted 16/10/2017 at 16:39:36
Mick (#79). I think I might be in a minority but, personally, I'd still like Barkley to sign a new contract and stay. There's a lot of bad feeling now and it's unlikely, I admit; but it would be considerably more likely if Koeman were gone. Yet another reason to give him the boot, IMHO.
Ray Said
83
Posted 16/10/2017 at 16:56:28
I could not stand the footy Lee's team played or his treatment of McKenzie who was my favourite player and worth the admission money alone... but looking at his record versus Koeman, Moyes or Martinez makes for an interesting read.
"Lee steered an Everton side verging on the relegation zone back up to finish a respectable ninth, losing only two matches out of eighteen league games, and winning through to the League Cup Final and the FA Cup semi-finals, only to be denied by Aston Villa and Liverpool respectively.
The next season saw Everton finishing in third place and attaining the First Division's highest goal tally with 76 goals. The 1978-1979 campaign got off to a flyer with the team unbeaten in their first 19 league games, including a memorable win over Liverpool.
Finishing 4th, Everton again seemed to be heading downhill and Lee was sacked by Chairman Carter the next season."
That was when the board or the supporters would not put up with failure.

Dale Rose
84
Posted 16/10/2017 at 17:02:18
I don't know what's going on at the present. There is nothing there. The youngsters are doing okay, but the rest just aren't doing it. It's all a bit like alcohol-free beer: looks the same but just isn't right.
James Hughes
87
Posted 16/10/2017 at 17:11:05
Watching Koeman's post-match interview, I got the impression he is only just realising the size of the job in hand.
James Marshall
89
Posted 16/10/2017 at 18:02:47
8 from 8... so 38 points should just about be enough to stay up.
Will Mabon
90
Posted 16/10/2017 at 18:19:52
Some great memories evoked here. Cushions, Gordon Lee,
expectations
– remember those. Some of the cushion incidents were hilarious – and
some
of that football in the mid-late seventies was better than remembered in more recent years. Players, too.
What I do remember was the start (to me) of a noticeable anti-Everton attitude in the media. It reluctantly went away for a time in the successful period of the 80s but I believe it still echoes to this day.
The Daily Mail gave an entertainment rating to teams for every match and we were nearly always marked down. They called us for a time, "Bingham's robots"... they didn't like that we could go away from home and grind out wins.
We really were one of the big teams then, so those table position finishes were considered not good enough. It's another world now.
Will Mabon
91
Posted 16/10/2017 at 18:22:47
Michael @ 82 - I'd like Barkley to stay, too. I wouldn't think you're in a minority.
Andy Dempsey
92
Posted 16/10/2017 at 18:24:15
Dale (#84),
I think I know what's going on; it's Koeman, he's a thick twat.

William Cartwright
93
Posted 16/10/2017 at 18:34:44
Michael @ 82:
I don't think you are in a minority at all, in fact I suspect the needle has moved into the silent majority zone! I believe that Koeman's treatment of Barkley, some possibly / probably behind the scenes, has been such to prompt a lifelong Evertonian to turn his back on the Club he loves.
I trust I am not coming across as a dewy-eyed Bill Kenwright in this assumption, but it is what I 'believe' – I can't prove a word of it!
Kim Vivian
94
Posted 16/10/2017 at 18:46:21
I wasn't a participant on ToffeeWeb while Moyes was in charge so cannot compare, but I have never seen such a unanimous opinion about any one issue as there is regarding the tenure of Ronald Koeman.
There must be a quiet minority somewhere because according to the TW poll over a quarter of us do not want to see him fired, yet it seems 100% of people posting want him moved on.
Any of that minority want to give us an alternative perspective?
Oliver Brunel
95
Posted 16/10/2017 at 18:52:14
Tony, yes maybe some of them were Bingham players; not sure, Pejic, Rioch were good. That team had some good displays 6-0 v Coventry, 6-0 v Chelsea etc.
They also almost beat Dukla Prague, basically the Czechoslovak team which lifted the '76 European Championship – they were superb. We deserved to beat them under Gordon Lee. I think his main error was not getting a top goalie in.
Paul Doyle
96
Posted 16/10/2017 at 18:55:06
Moshiri is a bean counter, a number cruncher. Apparently he is a good one, so if Goodison is sold out week-in & week-out and Sky TV money keeps flowing in by the bucket load and each week he brings in more advertising dosh, USM Finch Farm naming rights flogged off and that gremlin on the shirt sleeves then he couldn't give a fuck what kind of garbage is served up.

The only language far removed people like him and Kenwright understand is anger from the terraces and the more personal the anger gets then the better. I remember as a kid standing behind the old glass dug out in the Enclosure, we were playing Ipswich on a freezing day,

Whymark, Mariner etc ran riot and we got twatted 4-0 I think. Anyway, all through the game this arl fellar was banging away on the glass to get Lee's attention "Are you watching this shite, Mr Lee?" All through the game, I honestly believe if someone had given Frankenstein a gun he would of gladly blown brains out. Lee lasted till the end of the season.

Sadly until the fans kick off, pull Koeman in the street, Give Moshiri a mouth full while he sits in first class on the Liverpool to Euston train etc then I am afraid this ginger gobshite will be here for the foreseeable.
Julian Exshaw
97
Posted 16/10/2017 at 18:57:54
I think Thursday night will make or break him. Under lights at Goodison, worthy opponents, good atmosphere. A win, 'Grand old Team' ringing out around the ground, might just turn the tide. A humiliating defeat, however, may well seal his fate. I
have nothing against Koeman, nor do I like the name-calling he gets (although I understand it). I simply don't think, and have never thought, he is an Everton man. I think he is fighting for his own reputation as a coach now much more than for any love for Everton FC.
At the moment, we are stinking the Premier League out, we are 'poor boring Everton' and this can't go on.
Martin Mason
98
Posted 16/10/2017 at 19:02:16
Kim,
I went to the Brighton game and one thing that surprised me was the lack of overt hostility displayed by the many away fans to the players and even Koeman apart from the wonderful "Sacked in the morning" song. I believe that TW represents a minority of Evertonians (a key minority) and that a minority of TW'ers are screamers but I'm surprised that the poll on Koeman wasn't more of an overwhelming majority supporting sacking him.
Btw, I was incredibly impressed with the away support at Brighton. I expected chavs, racists and nutters and instead found a bunch of fantastic fans – just normal fantastic people. They (can I say we?) really do deserve better.
Lewis Barclay
99
Posted 16/10/2017 at 19:14:59
There are two words that are striking fear when I think about a successor to Koeman: David Moyes
I wasn't a Moyes hater. In fact, I believe he did a better job than the current manager or his predecessor, but the thought that he might get his old job back is troubling me as I fully expect it's a possibility and shows a genuine complete lack of progress for about the last 10 years.

Terry Farrell
100
Posted 16/10/2017 at 19:21:47
I think we did play better, closing the ball down quicker, and Vlasic, Holgate, Jagielka, Keane and Pickford all played well.
Ronald Koeman needs longer than what he's had. He steadied the ship, improved the defence, and had a good home record last season. Away performances need improving.
Calvert-Lewin out wide is a waste but, if it takes the season and next transfer window to be ready to challenge again, I think that is better than starting over.
The negativity on here is unreal. Also the calls for Mirallis to be reinstalled as striker are desperate.
Bill Watson
101
Posted 16/10/2017 at 19:31:03
The cushions went back at least to the Carey/Catterick era.
I well remember a game v Sheffield Wednesday when we got a 0-4 home drubbing and the cushions rained down. Tony Kay was still playing for Wednesday and they were a top side at the time. I think Catterick was still their manager but I stand to be corrected.
Cushions were much more effective than the white hankies of Barca.
Tony Abrahams
105
Posted 16/10/2017 at 19:40:50
Martin, the thing you are most likely to find when travelling with the loyal/royal blue army, is knowledge.
Lawrence Green
106
Posted 16/10/2017 at 19:43:03
So pleased that Martin Mason was pleasantly surprised that the Everton travelling army was not full of 'Chavs, Racists and Nutters' – to say I take extreme offence that a fellow Evertonian should have such a pre-conception of the travelling fans from the Blue half of Merseyside is an understatement.
FA Cup Finals, Semi-Finals, European finals, tours of Europe and elsewhere, thousands upon thousands of Blues have travelled with the club, mostly well-behaved and well mannered and a credit to the club they support. If any single statement gives us an insight into the outlook of the writer, then Martin's will take some beating.

Tony Abrahams
107
Posted 16/10/2017 at 19:57:05
He's to be enjoyed, and not taken too seriously Lawrence, just don't get tied up with The Duke!
Martin, I'm glad you had a great time, because nothing beats being inside the stadium watching Everton, mate. I take the silence you mention as a resignation that Koeman has got to go now?
Martin Mason
108
Posted 16/10/2017 at 19:57:23
Lawrence, I didn't say "full of", only that I expected to see. I can see that you struggle with comprehension but never mind.
I haven't been for a while now as I'm retired and living down South but please don't try to educate me on aspects of a team that I've supported since the 1950s and seen every key game since then. The last time I watched Everton away, I saw exactly what I stated above; yesterday, I didn't see it at all but a fairly major upward shift in age and so many families.
Clive Rogers
109
Posted 16/10/2017 at 20:02:23
As Ian (#51) says, Kenwright is a millstone round our neck. The sooner he is gone, the better. He very nearly finished EFC off and still has a negative influence. That or he is just a jinx.
Kim Vivian
110
Posted 16/10/2017 at 20:04:03
Martin - Presumably living in Horsham you don't get to many games. I am in Kent now and do not get to as many as I would like (cost of travel and difficulty getting tickets) but when I do get to away games down here, I relish the company of the travelling Blues whose company and camaraderie it is a privilege to be part of.
My sons who are all born and bred 'Men of Kent' (as opposed to 'Kentishmen') are committed Evertonians and love the all too rare occasions.
I think either consciously or subliminally the travelling fans will not openly disrespect their team in favour of demonstrating undying support and any 'hostility' is probably saved for the home games.
I was sorry I could not make the game this weekend (only 30 odd miles from me) despite the performance.
Neil Lawson
111
Posted 16/10/2017 at 20:13:06
Koeman is deluded or dishonest. I struggle to think of a period of play in excess of 5 minutes in any game this season where it would be possible to say "we are looking good".
It is nigh impossible to find any positives to date. This is Koeman's team. The players he has purchased and promoted. His tactics. His abject failure.

Martin Mason
112
Posted 16/10/2017 at 20:14:25
Tony,
I haven't been for a while but it was great to be back, I had to pay £350-plus for 3 tickets (plus son and wife) but we had a great time. I'm not working away now and plan to go to all of the away games that I can get tickets for at a reasonable price. Very hard to get tickets though if you aren't a season ticket holder.
I can't get tickets for big home games neither because they have a system to stop away fans buying Everton end tickets and I don't have enough buying history.
Tony, I hate Koeman with a passion and would love to see his ass run out of the club.
We'll be up for a home game shortly (5 of us) and staying overnight as it's a long journey from the South coast. My daughter-in-law is Serbian and I've told her about the magic of Goodison. The grand daughter at 1 is ready to receive the Everton Communion.
Don Alexander
113
Posted 16/10/2017 at 20:15:15
There's comment above, and plenty on other threads, alluding to fans' unanimity in wanting Koeman sacked. I don't see that as being the case. He has few if any outright supporters and, whilst we're all getting increasingly exasperated, we surely must realise that sacking him is unlikely to put the club on the right track in terms of the vaunted "project".
Some fans, me included, have pointed out the unacceptability of players with sod all else to do not being able or willing to do the basics in a game, basics that should be demanded of a team of 11-year-olds, such as pass, move, receive with control, pass, move etc etc. It seems that our lot are unable or unwilling to do this for some reason but I'd be stunned if they're in some weird conspiracy with Koeman to perform so ineptly in order that he can engineer himself the sack and the compo that'll go with it. I've seen that being conjectured on recent threads whilst other fans state he's "lost the dressing room". The fact is none of us know.
All we do know is that, results aside, the performances have been insipid. Pro footballers in my opinion should accept that on the same basis they'd accept playing stark bollock naked in next year's World Cup in Russia (assuming any of the current squad get selected, Sigurdsson aside).
Finch Farm is where this has to be tested before the test is taken on by the boardroom but it's fair comment from what I've seen that Koeman seems as inactive as our team when in comes to coaching.
I remember Moyes in his early days said he had a "clear the air" day with the squad, and results improved. I remember the more mature players saying they'd had a "clear the air" day with the Catalan Clown and results improved, a bit. I suggest that another "clear the air" day, or two, or three, is necessary to try to achieve what's needed right now, but – without the signings he said he wanted, and inferred he'd been promised – I don't think the buck stops with Koeman alone.
If we're in the bottom five by Christmas he'll pay the price (ha-ha!) by way of receiving that eight-figure pay-off though, and that'll be another £10 mill that won't be available in January for the skilled centre-forward we needed before this season started. Bah humbug!!!
Martin Mason
114
Posted 16/10/2017 at 20:16:57
Kim
That's right, getting to games and getting tickets is difficult and I was also working away for so long. The game yesterday was like getting back to my roots.
Kim Vivian
115
Posted 16/10/2017 at 20:23:08
Martin - sorry mate. I guess you're not from Horsham but unsure where you park yourself, but you get my gist I trust.
Good people 99.9% of travelling blues. Always the odd loon there somewhere!
Kim Vivian
116
Posted 16/10/2017 at 20:25:48
Hah Martin... Our posts keep crossing. Looks like you're back in Horsham now. If opportunity presents, we should get together – I think someone mentioned the HADIT club recently?
Martin Mason
117
Posted 16/10/2017 at 20:32:07
Kim,
I live in Horsham; where are you?
Hadit Club would be great for me. Where is it?
Kim Vivian
118
Posted 16/10/2017 at 20:57:51
Martin - Tunbridge Wells, as in Horsham and District Including Tunbridge Wells.
It hasn't actually been inaugurated yet(!) but I would say any handy pub near to where EFC might be playing down here, or any mutually convenient pub showing Everton games. I would have to look back to see who it was that mooted HADIT a week or so ago before the Brighton game but they live in Horsham also I think.
Tony Abrahams
119
Posted 16/10/2017 at 21:04:17
Martin, I haven't travelled that much since Roberto's last season, and wracking my brain, I haven't watched Everton away since Ronald took the job.
It's hard enough going to Goodison at the minute, mate, but my young twins are getting older, and once the boysees through the other side of his family, I'm sure I'll be back on the road and the train again.
I miss the traveling, especially the company of my mate's and my sons. Nothing beats the camaraderie, the laughter, and taking the piss out of each other. It keeps you young, even if the team can put years on us!!
Martin Nicholls
120
Posted 16/10/2017 at 21:36:03
Martin Mason (#112) – want two tickets (concessions for over-65's) for Leicester away at face value? My mate and I have them but can't go. If so, let me have your mobile number or email and I'll get in touch.
Neil Copeland
121
Posted 16/10/2017 at 23:10:14
Andy (#92), thanks for making me laugh! Couldn't agree more, by the way.
Soren Moyer
123
Posted 17/10/2017 at 01:42:07
After spending 150 mill in the transfer window:
Moshiri: "We are expected to be beaten by top six teams." Check.
Koeman: "Teams outside of top 6, such as Brighton, Burnley etc, are well organised!! so we can not beat them. Check.
This club has become a joke indeed!
Steve Solomon
124
Posted 17/10/2017 at 07:49:24
All this talk of results and expectations. We are forgetting the human factor. This guy is ruining careers here.
Look at Ross Barkley, here is a kid with talent and charisma, at a club on the rise financially and bringing in players to add to the story. Yet he is poorly managed, side-lined, criticised by a manager that has no respect for anyone. Is it a surprise that he wants to leave?
Mirallas, a guy with pace and ability, sometimes. Sidelined and criticised, unhappy.
Niasse, heavily criticised by and sidelined, by fans too. He should be unhappy but because he has a big heart, is happy. Still sidelined again though.
Klaassen, hailed as the next midfield maestro, playing in a system that he doesn't understand (who does?) and now barely earning a place on the bench.
The list goes on...
The players seem to be wandering aimlessly around the pitch in a system better suited to, frankly, the Dutch league. How many times have we seen Baines or Schneiderlin on the ball and unable to find a player to pass to, throwing their arms out in frustration?
The players look down and unhappy on the pitch, playing a game they all love and yet seem to hate being there, knowing that the boos will come from the fans when we barely beat Brighton. Who would want to play in those conditions?
Koeman must leave now. He has to. Too much damage has been done and it will only get worse. How can he say that he is proud of the players for squeaking a draw at Brighton? I don't believe him at all.
This is just a stepping stone for him, he doesn't care about the club, the fans or the players as people. I would go as far as to say that anyone would be better as manager here. Even big Sam, god help us.
Kim Vivian
125
Posted 17/10/2017 at 09:16:14
Andy Meighan
126
Posted 17/10/2017 at 09:56:16
I'll be honest here... When them cushions were being thrown, it was no fun being in the Enclosure because some of them lads in the Main Stand and the Top Balcony couldn't throw for toffee (no pun intended).
Neil Copeland
127
Posted 17/10/2017 at 17:59:23
I see Leicester are showing more ambition than EFC at the moment; sad indeed that we cannot get our act together.
John Wilson
128
Posted 17/10/2017 at 18:25:56
Leicester have fired two managers and we're supposed to be bigger club yet we keep our apparently incompetent manager. Man Utd get rid of their incompetent managers. The Premier League get rid of their incompetent managers but we'll keep ours until we're being relegated from the Championship.
Tony Marsh
129
Posted 17/10/2017 at 18:42:34
Guys, we can't sack Koeman if the Club doesn't have the pay-off money. Moshiri won't or can't pay the gazillions it will take to off-load Koeman...
Brent Stephens
130
Posted 17/10/2017 at 18:53:37
Tony, if we can't afford to pay off Koeman, how would we be able to afford new players?
Mike Doyle
131
Posted 17/10/2017 at 19:06:41
Andy (#126), Sorry if the cushion-throwing story brings back painful memories. It was great to watch from the safety of The Paddock.
I've only ever been in the Enclosure once – by then, I think it was called the Family Enclosure. I remember the young lad & his dad behind me constantly referring to Gary Stevens as "Shagger". It was heart-warming to witness such family values on display. Happy Days.
Soren Moyer
132
Posted 17/10/2017 at 19:08:23
Even Leicester showing more ambition than us. And the football they are playing is way better than ours, but we won't fire this joke of a manager because our board is incompetent and doesn't care.
Koeman Out!
Will Mabon
133
Posted 17/10/2017 at 19:08:51
"
Guys we can't sack Koeman if the Club doesn't have the pay-off money. Moshiri won't or can't pay the gazillions it will take to off-load Koeman.
"
Tony, the money to pay him off would be available. The fear is them waiting til January to sell someone, to pay him off. We have an accountant here, first and foremost.
Martin Mason
134
Posted 17/10/2017 at 19:09:22
And we see sacking a manager as ambition? No, it is an admission of defeat and sign of total incompetence. We have become a baying mob for the sacking of Koeman (as we were for Moyes and Martinez) and we'll be baying for the new manager to be sacked soon enough because we'll never give anybody the time needed because of our irrational demand for success. Believe me, we'll hang Unsy out to dry if he becomes manager.
I hate Koeman with a passion but we won't be able to attract anybody with a lower risk profile who could make a good side of what we have. The answer is to give our young players a chance and be prepared to see the team lose a few times while they gel. But no new manager will do this and it's Impossible because we are in the relegation zone.
Koeman is cack but so is a very large and rich portion of our squad who should be taking more flack than Koeman because it is them who play shite once the whistle is blown. Believe me, we are well and truly in the shit and I see relegation as a possibility this season and then the loss of Moshiri as the project fails. At that, we are finished and the media will get its wish of there only being one good side in Liverpool for ever.
This is existential and yet we will still continue to whinge and believe that all we need to do is sack the idiot Koeman.
Oliver Molloy
135
Posted 17/10/2017 at 19:19:42
Tony,
I would think the club would not have to pay up Koeman's contract if sacked. They would just keep paying his wages , and you would hope there would be clauses in there protecting the club much more than last time round.
The club shouldn't have any money issues with Moshiri on board – right!!!

Dermot Byrne
136
Posted 17/10/2017 at 19:21:46
Oliver, we all swallowed the "rich club" dream...
Colin Glassar
137
Posted 17/10/2017 at 19:25:57
I'm afraid I have to agree with you, Martin, re the failure of "the Moshiri project". If he fails, we fail... and if we fail, we could end up like Accrington Stanley.
Like you, I can't stand Koeman but there's always the danger that we become a trigger-happy club and simply fall apart as an institution.
We have been treading water for so long now, I think any major upheaval (Moshiri leaving) could be the end of us.
Tony Marsh
138
Posted 17/10/2017 at 19:27:01
Oliver @135,
Moshiri is merely a shareholder – why would he pay off Koeman's salary when it's the responsibility of the club? I am not even sure that would be allowed under FFP rules?
Moshiri doesn't own Everton like the press keep saying. Moshiri owes the club nothing. Moshiri is another conman milking us dry.
Tony Everan
139
Posted 17/10/2017 at 20:18:19
Don't forget, Koeman did ask for a striker and left sided defender.
The recruitment side (appointed by Kenwright or Moshiri) are equally inept and yet take next to no flak.
The total imbalance of the summer's recruitment was the precursor for this poor and disjointed start to the season.
Oliver Molloy
140
Posted 17/10/2017 at 21:17:49
Tony,
I'm with you that Moshiri is in it for the money; however, at this moment, he's not milking us dry. The plan, as we all should know by now, is to get us up and running competitively and move us to the proposed new stadium.
This has to happen for Moshiri to get his money back; he may be a shareholder for now but he IS the money man.
Neil Copeland
141
Posted 17/10/2017 at 21:33:05
Martin, I think it depends upon what we expect to happen by sacking the manager.
At the moment we are totally shite and whilst I agree 100% that the players should accept at least some of the blame, we have a manager who continues to play them out of position and persists with tactics they clearly do not understand. I am not normally one for calling for the managers head.
I was very pleased when Koeman came to us because I thought it showed ambition. However, he is well out of his depth and getting worse. So,the board needs to show that they are more ambitious than accepting a relegation fight or 7th place finish for that matter.
There are 30 games to play and we should be aiming to win as many as we possibly can. That is not going to happen with Koeman so we need the board to show that they care and want success. Therefore, in this case, I believe that sacking the manager is showing ambition.
Geoff Evans
142
Posted 17/10/2017 at 22:07:06
Proud!!!!! Unbelievable.

Stan Schofield
143
Posted 18/10/2017 at 10:20:53
Martin @134: Moshiri has invested in Everton, and the performances on the pitch are not consistent with the investment maximising dividends. If the ambition is to get to 'top-6' level, Moshiri might well wish to act quickly to sack Koeman, to try to protect the investment, through damage limitation.
You mention Liverpool. Over the last decade and more, they have averaged only 10 points more than us, and 15 points less than the top of the heap. They are becoming more Evertonesque. Their hype man Klopp isn't even performing better than the man he replaced. They look to be stagnating. But that's the level which would likely satisfy a lot of supporters, and the board, because of the money generated by being in the Champions League etc.
It's that level which is achievable by our current squad (IMO), and if Moshiri and the board see things that way, then they could be getting rid of Koeman sooner rather than later.
Martin Mason
144
Posted 18/10/2017 at 11:09:10
Tony, can you please list the people who have milked Everton dry, how much they've taken and reference the accounts where I can see this information.
Tony Marsh
146
Posted 18/10/2017 at 11:55:02
Martin @ 144
I don't have exact figures – how could I possibly? Your question about people who have milked us dry... hmm... let's see. Do you remember Kieth Wyness? He had his fat head in the trough for years. Kenwright let him do as he pleased. How about the out side caterers who got the contract from Wyness to take over all refreshment bars and corporate lounges within the ground?
Then there were the pathetic deals with Kitbag and Chang – only two winners there. We were selling kits and making zilch in real terms. How about all those behind the scenes directors, Philip Green, Lord Granchester etc all made a pretty penny without doing much. Then there was the massive pay off for Martinez when he was sacked for being shit
How about the outside companies who all made money from the club with the two failed stadium bids? Do you think they all worked free? The legal teams, the architects, the middle men etc. Do you think Dan Mies is doing work now out of the goodness of his heart on what will be another lame duck? Yes, Dan is just like Moshiri – he loves Everton, works for nowt.
How about Kenwright himself? He has made a fortune without putting in a carrot. How about Moshiri? What do you think he is really here for, Martin? The love of the club or money? Moshiri will make an absolute killing in the next few years when he sells. Next, you will be asking me if I ever saw Moshiri and Bill together in the Boys Pen.
Typical head-in-the-sand gullible Evertonian response, mate. We are a laughing stock. Even on the Lukaku deal we got ripped off yet again. Sold Lukaku for £50 million under price... Man Utd squids in but I suppose you think that's acceptable?
Martin Mason
147
Posted 18/10/2017 at 12:13:07
Tony, I accept your inability to substantiate what you claim in any way. I respect your right to state an opinion but respectfully wish you wouldn't peddle stuff that has no basis.
All of these people are innocent until proven guilty and it is totally your responsibility to provide this proof – not for them to show they are innocent. Of course there were costs associated with failed projects, should companies – do work for nothing?
Alan McGuffog
148
Posted 18/10/2017 at 12:20:42
Bill (#101). That game was my debut 1961. I think it was early September. A four-nil battering and I was hooked!
Tony Marsh
149
Posted 18/10/2017 at 12:34:58
Martin, it is well documented the freedom to fleece that Wyness was given.To be honest, mate, you can believe what you like but if you think EFC is run properly then there is a problem. So in essence your agreeing with the Lukaku deal and can't see a problem there either? That is worrying mate.
John Otway
150
Posted 18/10/2017 at 12:36:24
Tony Marsh. Think I've said this before but, for the sake of clarity, if I was Farhad Moshiri and read libellous comments like "Moshiri is another conman milking us dry", I'd take my investment, piss off back to Monaco and leave you and Kenwright to sort out the mess. Oh and I'd sue you so hard and so fast you'd be living on the streets before you knew what hit you.
John Keating
151
Posted 18/10/2017 at 12:51:27
Well now that Martin has reverted to type asking for proof, figures, statements and God knows what else, the thread to all intents and purpose is finished.
Tom Bowers
152
Posted 18/10/2017 at 12:51:32
I concur Moshiri's investment is looking bad in the short-term. There will be nothing made this season and, the way things are there is little hope Everton will make Champions League for next season. Champions league is where the big money is recouped so he will have to look further ahead.
I am sure he is bouncing around the Koeman problem in his head right now. The people holding the purse strings act very quickly these days, as Craig Shakespeare has just found out, and there will be a few more before Christmas.
Dave Wilson
153
Posted 18/10/2017 at 12:54:13
Come on, Martin,
You don't need to know the time the dates and the exact amount stolen to realize you have been burgled while you were on your jollies.
Tony is right, it's the degree to which he is right you should discussing.
Martin Mason
154
Posted 18/10/2017 at 13:12:33
Dave, absolutely incorrect. Unless the events are shown to have happened they didn't happen. That they could have happened doesn't mean they did. The people who are accused are innocent of what they are accused of until proven guilty.
John, I don't ask for proof honest, I want to learn the truth, I only want to see that what is stated clearly as fact can be shown, based on weight of evidence, to be correct. All I ask is that if somebody states something as fact then they can back it up somehow. There is not a shred of evidence that these accusations are correct, never mind weight of evidence.
If I was Moshiri or Kenwright and read some of the stuff on here, not only would I break off the relationship with Everton but I would look at taking legal action for libel. People get sent down for less.
I'll stay out of the thread if people feel that to keep it going we need to have no accountability over what we say. Please think about what you say though before saying it. We all want to know so if we have info then we should state it but not make it up. It destroys our credibility and means that we are deceiving each other.
What is the end benefit of constantly denigrating the people who manage the club unless there's something to it?
Dermot Byrne
155
Posted 18/10/2017 at 13:45:07
Interesting philosophical issue, Martin.
"Unless the events are shown to have happened they didn't happen."
If a tree falls in the forest, and there's nobody around to hear, does it make a sound?
Tony Marsh
156
Posted 18/10/2017 at 13:51:06
John @ 150
Point taken, mate; sorry you're right. Farhad Moshiri is not involved in EFC as a money making exercise or business venture, he is in it because he loves the club. He has supported the club from birth like the rest of us and was a regular match goer back in the good old days.
Do me a favour, mate. Is it any wonder the board here pull the wool over the supporters' eyes time and time again. The naivety of it astounds me.
David Barks
157
Posted 18/10/2017 at 13:55:25
Martin,
You play this game over and over again, demanding proof of claims of mismanagement. Then when I and others, including Michael and Lyndon at times, do provide a list of events that actually did happen and documents from company accounts, you simply start dodging and redirecting your questioning.
You do it every time. The Kitbag deal was a horrific deal made by those running his club. During Kenwright's time, they did sell of asset after asset in order to continue to refinance and shift other debt around. They did have shady financiers, Link
The Destination Kirkby debacle, they lied and lied throughout the debate. It was only killed off due to matters the club couldn't control, thank God.
But none of that matters to you.
Kevin Tully
158
Posted 18/10/2017 at 14:25:41
Come on, David. Unless you've got photographic evidence of Green with an Everton debit card taking money out of a cashpoint in the middle of town, it's all supposition & conjecture!
The Duke has spoken. Now don't even think about anyone being involved in Everton shenanigans, where hundreds of millions of pounds are at stake.
ps: Duke, you do know how many major corporations, never mind little old EFC, have told porkies to the auditors, don't you? Accounts signed off, no problem.
How about the most recent example I can think of?
Dermot Byrne
159
Posted 18/10/2017 at 14:35:14
Ha! A huge billion-pound industry and you expect morality.
Shit man... back to philosophy and now all human history.
David Barks
160
Posted 18/10/2017 at 14:39:37
By the way, found this quote from Osman to be very interesting regarding Mirallas and our play in general under Martinez.
"Under Roberto he was told, because of Roberto's style of play, that he didn't need to track back. He was told 'don't worry, we have other players who will do that. You use all your energy going that way' which is fine, but sometimes it isn't really because sometimes you're up against it and it took us a season to get rid of that attitude – from a few players."
Martin Mason
162
Posted 18/10/2017 at 14:52:51
David, never at any time has anybody on here offered a shred of evidence of illegal acts carried out by the people who run the club and I'm really sorry but you offer nothing new in your post above.
That nobody has provided evidence, as against lists, I state as fact. As soon as anybody can show the correctness of certain accusations based even on weight of evidence, I'll accept it immediately but definitely not on speculation.
What illegal act does the Guardian article show to be correct? What is illegal about making a mistake if the Kitbag deal was a mistake? Remember that this is only an opinion you hold though, not a fact. What is illegal in selling assets, borrowing and refinancing to run a business?
The attempt to finance a new ground on the back of a commercial development was done openly, voted on by the fans, and turned down on Planning Permission in very transparent procedures. Can you please advise what was illegal about any facet of the deal?
Why do you complain when the perfect outcome was that the deal failed? Please answer these questions to make your point as I wouldn't like to accuse you of dodging and redirecting.
What matters to me David? The truth – not supposition and fallacy. Btw, I have answered every question put to me on here and will continue to do so.
Tut, tut Kevin. That Tesco did it doesn't mean that everybody does, and they were caught. That is what corporate law and the legal system does. That is, somebody showed that they were guilty.
Kevin Tully
163
Posted 18/10/2017 at 14:58:47
Duke, there was no evidence Sir Greedy sold off BHS so he never had to address with the pension deficit, but most people using their common sense would conclude that was precisely the reason why he couldn't wait to off-load it.
I must ask, do you think Sir Greedy has made any financial gain through his association with the club? Not asking for concrete evidence, just your guess?
John Otway
164
Posted 18/10/2017 at 15:10:22
Tony Marsh (#156). Of course it's a business venture and what's wrong with that?
I know no more about Farhad Moshiri's driving forces than you do but I'll have an educated guess, that being a self-made billionaire, it revolves around sitting in the front row of the Director's Box at a Premier League club. Kroenke blocked that at Arsenal so he sold up to Usmanov and came to Everton.
Hopefully Usmanov will find a buyer other than Kroenke and join us in the big seats in the Directors Box. In the meantime " Moshiri is another conman milking us dry" is an utterly libellous comment. Calling you out on that – and on "nievity"... 'mate'.
Si Cooper
165
Posted 18/10/2017 at 15:15:38
Martin, why are you insisting on evidence of illegality? What upsets most fans is the idea that the people in charge of our club do not really share their ambition, ie, they are happy to keep the club bumping along in the knowledge that, as long as they avoid relegation, they can share in the revenue generated by the club and / or look forward to a tidy profit when they decide to sell.
I know there isn't anything wrong in that per se, but there is if those people are merely pretending to be wholly committed to getting us to a higher level in order to sell more season tickets. That is what people are suggesting.
It is better to take everything posted here, or said in the pub, as hearsay or mere opinion unless it is declared to be proven, rather than insisting that people with a passionate interest refrain from venting.
David Barks
166
Posted 18/10/2017 at 15:23:52
See how Martin does that? He shifts it to focusing on whether every act is illegal, as opposed to gross mismanagement. And no, the Kitbag deal being bad isn't subject to opinion. It was a horrible financial deal.
Martin Mason
167
Posted 18/10/2017 at 15:30:35
Si, I'm worried about correctness when misconduct is accused.
Si, how do you know that the board doesn't share their ambition or that they are happy to keep the club bumping along as long as they avoid relegation? These are valid opinions but not fact.
I don't mind people venting, I mind people stating as fact that which isn't fact. What is the point of saying anything that you can't support in any way?
I believe that the insinuation is that we could have been a much better team if our crooked directors hadn't bled so much money from the club by illegal practices. I don't dispute that with the benefit of hindsight they could have done better but that isn't illegal and I'm not sure how when they had no means of raising funds.
I'm not trying to be a twat btw, I'm trying to be objective in the face of misinformation.
Many thanks.
Alasdair Mackay
168
Posted 18/10/2017 at 15:36:58
I don't understand the hatred of Kenwright. He is a passionate Evertonian with no money but good connections and he never pretended to be anything else.
Those connections and that passion have kept us afloat when we were vastly underfunded. Got us Moyes, Finch Farm and Moshiri. All of which have taken the club forward in their own way.
Do people not remember the end of the Peter Johnson era?
Martin Mason
169
Posted 18/10/2017 at 15:42:49
David, syphoning money from the club is illegal if it is transparent in the accounts and due tax is paid.
Gross mismanagement is only something you can have an opinion on as you have no knowledge of anything that has gone on at the club. You possibly have no knowledge about what is mismanagement.
You can only state that something was mismanagement Unless you can show that selection of an alternative option would have resulted in increased cash flow.
As I say, I'll answer any direct question you can ask and I will accept when you demonstrate that the charges raised against the board are correct.
David Barks
170
Posted 18/10/2017 at 15:56:48
Would being a Director at a publicly traded company qualify as management Martin?
Michael Kenrick
171
Posted 18/10/2017 at 16:11:55
Given the same information, different people will process that information to reach a vast array of conclusions. In the case of Everton finances, this ranges from the wildest conspiracy theory spouted by Tony on one side ("Moshiri is another conman milking us dry") to the grovellingly over-generous court-of-law nonsense spouted by Martin ("Innocent until proven guilty").
I'd like to think that most who are reading this but don't join in the debate here can see that 'the truth' is likely somewhere in-between these two extremes, but virtually impossible to establish with certainty, for all the reasons cited.
However, that doesn't justify the 'statements of fact' that Tony annoyingly presents as universal truth when they are at best inferences based on snippets, fueled by rumour and innuendo. Let's just examine one he's gotten away with so far: that Moshiri bought his shares in Everton "on the cheap".
The price he paid is around £5,000 per share. That values the club at £175M. I contend that was a fair market valuation of Everton FC Co Ltd in February 2016. However, I understand that shares in private transactions through Blankstone Sington are still trading at 'only' £2,000 or even less. So how can the price Moshiri paid possibly be considered cheap?
On Martin's side, he continues his revisionist mission to rewrite what really happened with Destination Kirkby, and deliberately ignores the malfeasance that was diligently documented by fan groups (as he has been told countless times) – precisely because he rejects point-blank the activism of fans against the club (he always has and always will), and he will always give the custodians the benefit of the doubt.
Tony Marsh
172
Posted 18/10/2017 at 16:13:38
John @ 164
We don't need a guy coming in to be a business man – we need an Abromovich, Shiek Mansour type. We are that far behind the big 6 in all departments now that I think fans got false hope from Moshiri and Kenwright. We all thought Moshiri was going to throw some money at us but it appears not to be the case.
As for the club being milked dry – I never mentioned It being done illegally. Wyness was given free reign with his activities. Kitbag and Chang were pathetic deals. The catering was a massive loss when we let it go to a private company. Not a drink a pie or a steak dinner belonged to the club.
The Lukaku deal was another big loss in terms of what we should of received for his sale We got done up like a kipper for at least £50 million. Lukaku's agent probably made more than the club on the deal.
All of these examples and more have gone towards milking us dry mate?? What is libellous or incorrect in what I'm saying?? It's all fact – none of it made up. Go and do some research please or stay in denial.
John Otway
173
Posted 18/10/2017 at 16:29:39
Tony Marsh. (#138), "Moshiri is another conman milking us dry." Stop squirming. You're banged to rights and in a libel case.
Tony Marsh
174
Posted 18/10/2017 at 16:43:15
Ha ha, John, I'm not squirming. Get back to me in a few when no stadium goes up on the docks site. If you have blind faith in Moshiri and Kenwright, that's your prerogative... I've witnessed too much to ever trust Kenwright and his cronies again.
Michael Kenrick
175
Posted 18/10/2017 at 16:43:19
There's something fundamentally inconsistent with your strident condemnation of the custodians and everything they do, Tony. It's so over-the-top, it's hard to know where to begin, you spout such a load of nonsense in your desperation to do them down.
Some facts: Moshiri has picked up around £80M in the club's debt financing, converting that to an interest-free loan. Hardly the actions of someone who is somehow "bleeding the club dry" at the same time.
And you may resent the capitalist essentials of club ownership, investment in equity, and long-term rate of return – but that is exactly what enables the club you presumably 'love' to exist and carry on in the Premier League. That is why Kenwright made what he did on his shares. It is why Moshiri will rightly expect to make money on his shares.
You crave an Abromovich, Shiek Mansour type, and yes, we were all fooled by idiotic articles in The Echo and elsewhere promising a £100M transfer warchest. The reality appears to be very different and we have not been enlightened as to why that is, although we've seen again a vast range of speculation on these pages attempting to fill that particular credibility gap.

But raking up crap about Wyness and Kitbag is such old news, I don't think it helps us at all moving forward. Yes, there are valid questions and concerns about the path ahead, and the status of Bramley-Moore Dock... but your ridiculous demand for site work to be happening now has been shown up for it's utter stupidity in the context of the Planning Permission process...
I'd ask you wind it in a notch and stick to statements that have some semblance of validity, but I know I'm probably asking far too much...
Tony Abrahams
176
Posted 18/10/2017 at 16:45:03
We supposedly got £90 Million, for Lukaku, which was a massive price, until PSG went berserk and inflated a completely already inflated market.
Mourinho said he got him cheap, which was very easy to say after the start that Romelu has had for Man Utd, but I don't reckon they will ever sell him for over £100 Million, which is obviously just my opinion.
Lukaku, scores goals, which can be priceless, but unless his general play, and workrate improves, then he will always hold loads of debate, I'm sure. But what is not up for debate is the fact that we never got round to replacing him.
I wondered why we acted so unprofessional, because it's left us so underprepared. And I couldn't work out if it was because we never sold Barkley and Niasse, or because people at the top had maybe stopped trusting the manager?
Whilst Kenwright remains at Everton, then a lot of the fan-base will never feel that they can trust the board, and this is an undeniable fact.
Tony Marsh
177
Posted 18/10/2017 at 17:01:32
MK, I was asked by Martin Mason for instances of money leaving the club unnecessarily, hence my delving in to the past. It has gone on for years under Kenwright. Even the Finch Farm fiasco was a drain.
Maybe 'milking dry' is the wrong phrase and maybe some of what I say is conjecture but I think you all get my drift. After all the drums and whistles of the coming of the Moshiri era, the party has gone predictably flat.
Groundhog Day – it kind of makes me cynical. I know one thing – the way this pre-season went is not what we were told or expected. Were we kidded or was it genuine? I will keep my thoughts on that to myself as it upsets certain blues fans.
Tony Marsh
178
Posted 18/10/2017 at 17:05:24
Tony @176
During Last season, when asked about selling Lukaku, Moshiri said he wouldn't leave for a penny less than £100 million. Do you remember that? Man Utd paid £75 million with add-ons up to £90 but this was during the huge price hike. So we sold for £25 million less than Moshiri said. Theres £25 million gone right there...
Tony Abrahams
179
Posted 18/10/2017 at 17:29:27
I don't remember that, Tony, but I'm not disputing it, even though this tells me that Lukaku was always for sale. I think most people were happy with the money we got, until PSG turned the market totally crazy.
I'm more worried about Bramley-Moore now, because I think it would be the final nail in a lot of Evertonian coffins if this never happened now.
Just saw the Koeman interview, and although I'd still love him to turn it round (even though I'd bet big money he won't), he does look like he's on his last legs now.
I've got a funny feeling for Allardyce (I don't know why) which might be a big "Be careful what you wish for" but it wasn't that long ago that he was manager of England, so that just might satisfy Moshiri?
Tony Marsh
180
Posted 18/10/2017 at 17:41:33
I would take Allardyce over Koeman right now. At least we would escape the drop zone.
Tom Bowers
181
Posted 18/10/2017 at 17:42:46
Just watched a complete rerun of the Brighton game. Why are referees so gutless at times?
Propper should have gotten a red card for his studs tackle on Gana and even more so Bruno should have gotten a red card for the deliberate elbow on Calvert-Lewin for the penalty. What is the point of wasting wages on fourth officials ?
One other thing for sure is that Vlasic's name should now be first on the teamsheet and Schneiderlin should be sent packing. He is totally out to sea.
Paul Doyle
182
Posted 18/10/2017 at 17:53:47
Tony (#170):
Surely Moshiri didn't say that we won't sell Lukaku for £100m or less, ono, and I am positive Billy Liar would not accept anything less than £50 m for Rooney... in fact, we would never sell our star players in return for finished-up shite. Read Rooney for Saha and Lukaku for Rooney.
No, not Everton... in fact, we would never bid £3m for Shearer to give the impression we are one of the big boys, when a bid of £3:6m was already accepted for him. Or sold Lineker at the first opportunity. We always keep our star men.
Good young nurtured talent, like Jeffers, Ball, Stones, Lukaku all fought tooth and nail to stay here.
Wrong – each one and loads more we're all nudged out of the door when there was a shekel to be made.
Martin Mason
183
Posted 18/10/2017 at 19:38:46
Michael @175 et al.
Very good posts but innocent until guilty is the whole basis of UK law, not grovelingly generous nonsense.
While it sounds crazy, Tony is committing a serious libel too, he is at risk and I would guess that the custodians of the site are equally at risk?
Tony also has a very small grasp of how businesses are run, especially in the area of farming out services including Finch Farm to benefit the finances. Were I so low on this knowledge, then I'd tend to keep quiet.
Steve Ferns
184
Posted 18/10/2017 at 19:54:43
Why would anyone crave ownership from a group of people such as the Abu Dhabi lot or Roman Abromovich. Would you sell the soul of your club to someone who has endless money, providing he could wipe all the blood off it, who is trying to use the club to launder their reputations?
I'd take Bill Kenwright any day of the week. Man City is not the Man City I used to know, and I would not want Everton to be changed in the way they have been so that the identity of the club, and everything it stands for, is gone, and all that remains is the name and the colours.
Martin Mason
185
Posted 18/10/2017 at 19:57:44
Kevin@163. Like you, I don't know the answer. Based on a commercial loan at 9% when we couldn't get one from the banks though then he made a little money but nothing compared with the benefit we got. It isn't illegal or immoral to make money from commercial lending.
What he did at BHS has no relevance to what he did as an external loan provider. Sorry, shocks and gasps, a shadow financier.
David @170. Yes, surely he is the top of the management tree.
Tony Abrahams
186
Posted 18/10/2017 at 21:35:17
Martin, that farming out of Finch Farm, to finance services, was a fucking disgraceful piece of business, and when Elstone called it 'innovative', it was a piss-take of the highest fucking order.
The fact that Kenwright was behind such a deal, told me, that his best interests were not our football club, but more to do with staying in-charge.
From holes in his shoes, to holes in the operating costs, Bill Kenwright, is a hard-hearted theatrical phoney, who knows how to play the game, whilst pulling people in with his love of the club.
I might be wrong, but I'd take a libel case off Bill tomorrow, with my first question being what happened to that center-forward you told us you was going to buy with your own money, all those years ago?
The way he let the outside of Goodison rot, was another pointer to how Bill operates. He talks of how much he loves that ground, but let it go to absolute ruin, before Moshiri's tarpaulin covered it up!
Tony Marsh
187
Posted 18/10/2017 at 21:46:07
Tony @ 186
Do these fans also remember the "I have our part of the deal ring-fenced" when lying about Kings Dock?
Kenwright did lie about that stadium or we would be in there now. Why can't our fans see when they are having their chains yanked?
Martin Mason
188
Posted 18/10/2017 at 21:56:22
Tony @186, how do you know it was disgraceful? Can you show figures to support this? Farming out of non-core services is common.
Tony @187, there was never any claim that the deal on King's Dock was ring-fenced. The only promise (not a contract) was that if finance was achieved to seal the deal, it would be ring-fenced and it was never achieved. Please get your facts correct.
Tony Abrahams
189
Posted 18/10/2017 at 21:58:39
He plays the game, Tony, keeps the right people on side. Trades on "The People's Club" but why did Stubbs choose not to sign a new contract, with the club he loves, after leading Everton, into the Champions League qualifiers?
The money is ring-fenced, is a phrase that makes me sick, a bit like the timeline around Goodison really, with the only thing missing, being a picture of Bill Kenwright crying in the Boys Pen.
Andy Dempsey
190
Posted 18/10/2017 at 22:07:37
Tony (#180),
The more this goes on, we are looking at Allardyce realistically. If we wait too long though, he's going to go somewhere else and then we could be in real trouble.
Big Sam, maybe through compromising with his wife about retirement, seems to have carved out a niche career path; only working from February to May each year as a survival specialist. Nice work, and obviously he's really good at it too.
Depressing situation, but I would take him now. The window is closing on who appoints him first though.
Koeman won't be sacked until a humiliating defeat at Anfield I reckon – December 10th. I can see him fluking 3 or 4 wins over the next 12 games that'll just barely keep him in a job for the Derby. Massive Koeman Out banners could prevent this though, I read that on your earlier post, I'm with you on that.
Tony Abrahams
191
Posted 18/10/2017 at 22:11:19
Martin, I can't show you no figures, but I remember the terms of the original sale, compared to the yearly payments in return, being the type of deal that a Liverpool fan would have loved to have got for Everton.
The council have since bought Finch Farm and, even with a reduction in the rent, Everton are still paying a ridiculous sum, considering how much they got for the land in the first place.
It was a classic robbing of Peter to pay Paul, but desperate men do desperate things, although it's definitely paid off for Bill Kenwright in the end.
Tony Marsh
192
Posted 18/10/2017 at 22:19:37
Martin (#188) I am pretty confident that Kenwright issued a statement to say not to worry, we have ring-fenced our part of the deal. The company Kenwright said he was using was the Fortress Sports Fund.
Ah, tell you what – sue me I'm making it all up.
Andy (#190), well said, mate. As much as it goes against the grain, I think we actually need Big Sam, the mess we are in.
John Keating
193
Posted 18/10/2017 at 22:36:57
Martin (#185), How do you know we couldn't get a loan from a bank?
Can you show me proof that no bank were asked by the Club for a loan and if they were, what their interest rate was at that time which caused the Club to reject that loan?
If you make a statement of fact, you should be able to support this.
Martin Mason
194
Posted 19/10/2017 at 10:49:47
Tony, you are going to have to accept that you don't have the understanding of economics to say that Finch Farm was a disgraceful bit of business. Will you accept that?
Tony @187. Kenwright didn't say that he had the deal ring fenced. He said that if he obtained the £30M as was being negotiated then it would be ring-fenced for Kings Dock and not used for players. Do you understand the difference? He didn't get the £30M as the person offering it insisted on terms that Kenwright couldn't accept. Kenwright didn't stop Kings Dock happening, he tried and failed but £30M was a small fraction of what was needed anyway. Everton had no money, that was the fact and KD was never going to happen.
John Keating@193. I read the financial press especially on anything Everton related. What they were saying was that Everton were on the verge of their secured loans being foreclosed by the Bank and were having to fire sell players just to avoid it (Jeffers, Ball, Dunne). This doesn't matter though. It is obvious that if they ended up having to take an unsecured offshore loan at 9% then they couldn't get finance from the banks at a couple of % points less. If they could have they would have done so. They were broke and had run out of assets that they could offer as security. 9% was cheap money given the circumstances and kept the club running at the time.
As I say, there is not a shred of evidence that any of the events that happened at the club were morally wrong, criminal, gross mismanagement or not in the best interests of the club. There isn't a shred of evidence that directors syphoned money out of the club.
Why do we need to make these baseless allegations against the people who work hard running the club? If the insinuation is that we would have been a successful top club if this money hadn't been syphoned out, then I call this as the biggest load of bullshit ever. We did amazingly well to keep going when we were technically bankrupt. How about the alternative reality that the board did amazingly well to keep club afloat.
Martin Mason
195
Posted 19/10/2017 at 11:40:35
Just for info, please have a look at this Wiki entry describing Everton in 2000-2001.
https://en.wikipedia.org/wiki/2000–01_Everton_F.C._season
It's a good starting point for fact finding about what was happening and even how our shadow directors were trying to arrange deals to help the club.
John Keating
196
Posted 19/10/2017 at 11:58:17
Martin, reading a newspaper article means absolutely nothing as you well know. Unless you have indisputable facts, I would recommend you stop making statements.
If you have proof that the Board of Everton Football Club were knocked back by banks, not a bank, prior to borrowing money from a lender associated with a director, I look forward to seeing it. You made the statement – the onus is on you to prove it.
Dave Wilson
197
Posted 19/10/2017 at 12:09:48
Martin,
You desperately try to denigrate other peoples opinion and understanding of the situation because you have a better understanding . You have the "facts".
Then you point people in the direction of your source... Wiki.
You are a very funny man, Martin.
Martin Mason
198
Posted 19/10/2017 at 12:15:01
John @196,
Given that they were forced to sell players to stop the UK banks foreclosing on the loans, how would they have got finance from UK banks and why would they have taken out an unsecured loan at higher interest? What you need to look at is weight of evidence and likelihood. My version is looking very good against the no-evidence-at-all alternatives.
Martin Mason
199
Posted 19/10/2017 at 12:22:07
Dave
I certainly don't denigrate others' opinions based on having a better understanding. I denigrate opinion only based on having no basis at all. It's empty opinion.
Wiki is a good source in areas where it isn't clouded by politics. It is certainly better than the nothing which is generally offered. As I said, use it as a starting point, look at the timing of events, learn as you go and enhance your opinions.
It isn't for me to act as a librarian, you guys need to find your own information on what has really happened at the club rather than parroting what could just be a bit of misinformation.
Dave Abrahams
200
Posted 19/10/2017 at 12:35:42
Martin (#199), with all the facts that you do know, could you tell us the history of how and when they bought Finch Farm and how much they paid for it, please? Then tell us when they sold it, who to and the price they received for it, please.
Then Martin, if you don't mind, could you tell us how much per year they were paying to lease it back. Then could you please tell us the price they agreed to buy it back at, and how much per year they are paying to finally get it back and for how long.
Thanks for your trouble in advance Martin.
Martin Mason
201
Posted 19/10/2017 at 12:43:30
Don't thank me, Dave, as I said I'm not going to be a librarian for people. If there was any point in it, I'd do it for the interest but otherwise no chance.
If you want to demonstrate mismanagement then you have to make the effort to show it, it's not up to me to show that there was not mismanagement.
At the moment, I can see that this is never going to happen. Why is it so difficult to provide support for a point of view? I guess that the answer is because it's social media and you don't have to follow normal social rules?
I can't really see much point in wasting my breath further.
Dave Wilson
202
Posted 19/10/2017 at 12:56:23
Martin
As you say, it isn't you who should act as librarian. especially when Wiki seems to be the place you go for information. I think those who are genuinely interested in events would have done their research a little more thoroughly.
By peddling what you have picked up on what are renowned pages of fiction as fact, you are merely doing what you accuse others of doing – parroting what could just be a bit of misinformation.
Martin Mason
203
Posted 19/10/2017 at 13:12:52
Dave
I did what anybody could do on the internet. I googled post 2000 Everton finances and the top of the list was the one I linked. Please don't blame me or Wiki for your inability to support your arguments in any way or to see any other view, if it gave no information, it'd be more than you've given.
Remember you have to validate your own allegations against the Everton board, unless you do that you aren't correct. What is in Wiki is correct unless you can show it not to be.
Phil Walling
204
Posted 19/10/2017 at 13:20:10
I'm struggling to see what this verbal sparring over Finch Farm etc. has the vaguest relevance to the title of this thread. Or is it that these pedants are fed up with football and have decided to replace it with semantics?
Dave Abrahams
205
Posted 19/10/2017 at 13:26:09
Martin (#201), I know most of the facts I asked you to provide, I know you know them as well; I just wanted them shown as they don't make very good reading for the way Kenwright and Everton did these deals. A lot of money was lost and is still being lost over them, as you well know.
I didn't expect you to provide them – the real Duke had nothing on you!!!!
Dave Abrahams
206
Posted 19/10/2017 at 13:29:22
Phil (#204), just ignore them then!!!
Martin Mason
207
Posted 19/10/2017 at 14:27:12
I know most but nobody but EFC know all. Actually it was a superb deal for Everton.
Firstly they were able to build a state of the art and massive training facility when they didn't have 2 pennies to rub together. They got a private company to put up the money.
Secondly, LCC bought the site from that company at a price way below the estimated commercial value and hence at a significantly reduced rent with all capital spending to improve the site to be by LCC. The financial situation has been improved by things like selling of naming rights. What makes it win-win is that every 5 years we have the option to buy the site if it is better financially.
This is Everton Myth 2 after Kenwright loses Kings Dock Myth 1. This was a superb move obviously carried out with the absolute good of the club in mind and brilliant in terms of discounted cash flow. It was a great deal.
Sorry guys to include this here in the circular discussion with David but it was important. I'll try to make this the last.
John Keating
208
Posted 19/10/2017 at 14:28:16
Martin (#198),
I don't understand it when you say the Club were forced to sell players to stop UK banks foreclosing on their loans. Where have you actually seen this?
I know many people "assume" this was the case but I cannot recall having seen any proof that this was actually the case.
If indeed this did happen, then why not try non-UK banks? I would be very interested to see this information you have to support your statement.
Dave Wilson
209
Posted 19/10/2017 at 14:39:32
Martin,
Not sure what you mean "my ability to support my argument". I didn't offer one. I simply observed that you were dismissing others and using Wiki as your source.
I haven't made any allegations either, I was pointing out that you seem to think others have to substantiate the points they raise whilst having no substance at all to your counter claims.
Seems everyone has to produce the smoking gun for you – everyone except Wiki, that is.
Brent Stephens
210
Posted 19/10/2017 at 14:46:33
Good grief, Martin. You'd get thrown off Unit 101 of a degree course for relying on Wiki!
Martin Mason
211
Posted 19/10/2017 at 14:59:08
Brent, I didn't rely on Wiki, I showed a link to Wiki and recommended that the info there be used as a starting point.
There were 3 points of interest apart from all of the statistics. One was that the banks had been on the verge of calling in the loans and that Jeffers and Ball were sold to stop this happening.
It also referenced an interesting story of our shadow director who was working hard to bring in investment. You need to read the whole saga not just the link to Wiki.
David also missed the point completely, I didn't need Wiki to support any of my arguments and I didn't use it as a source for my argument. Whilst Wiki couldn't be used as a definitive source of info, the vast majority of what is in there is correct.
Whatever I say here is open to discussion and I claim no monopoly on being right other than that which I can show to be right.

Dave Wilson
212
Posted 19/10/2017 at 15:04:06
Which so far, Martin, has been nothing.
Dave Abrahams
213
Posted 19/10/2017 at 15:16:15
Martin (#207), you are like Frank Carson – it's the way you tell them.
Everton bought Finch Farm then sold it to Hudson Holdings for just over £2m. Hudson then built up Finch Farm, the contract was for £9M, the job was completed behind schedule in 2006.
In Everton's Annual Report for 2006-07 'Other Operating Costs' increased from over £11M to over £21M – a bit of a coincidence there, Martin...
While it was getting completed, Finch Farm cost Everton over £1M per year to lease. When LCC bought Finch Farm for over £12M in 2012, they leased it back to Everton who are still paying nearly £750k per year to lease it with the option of buying it back every five years...
A bit different from the story you told, Martin.
Martin Mason
214
Posted 19/10/2017 at 15:17:04
Dave, except on there being no evidence of gross mismanagement or illegal activity by the board. Similarly for syphoning off funds. These are the points that I have been making.
On the balance of probability and on information that is out there if looked for, the 9% loan was anything but mismanagement and I quoted the reasons why. Are my words invisible or just not read?
Dermot Byrne
215
Posted 19/10/2017 at 15:21:52
Phil Walling – great post but such debate takes most threads that began on any subject into the hundreds. Bottom line to me is we have a great training facility!
Martin Mason
217
Posted 19/10/2017 at 15:34:40
John @208
I read about it in the financial press at the time and my memory is very good. What I read was a fire sale of any player with commercial value which was at least Ball, Jeffers and Dunne.
They did get the money from a foreign bank in the end at a slightly higher rate than they would from a UK bank at the time. Again, why would they pay any extra if they could have got a normal bank loan at a lower rate?
Martin Mason
218
Posted 19/10/2017 at 15:41:13
David @213, I stand by what I said about Finch Farm.
I still see not a shred of evidence of gross mismanagement or criminal activity. If you have any, please get out of this circular discussion and state it.
Many thanks

John Keating
219
Posted 19/10/2017 at 15:41:16
Martin, you have NEVER accepted "balance of probability". You continually ask for proof! Irrefutable proof is your trademark... Proof, Martin.
The onus on you is to prove the Board got the best deals. Players had to be sold. The board tried everything to get the Club a better deal than running to the BVI, etc etc.
Come on, Martin, play the game.
Proof.
Jay Wood
220
Posted 19/10/2017 at 15:48:40
Good post MK @ 171.
It nails the 'absolutism' of the two (bi-) polar opposite views as represented by Tony Marsh and Martin Mason. A whole gamut of alternative views on the stewardship of the club by resepective boards and their officers down the years is possible (and many more valid) than the (flawed) fundamentalist views as offered by the M&Ms.
Tony Marsh has recently reappeared on these pages from his primordial swamp and doesn't seem to have evolved much, continuing as he does to spout his bilious rabid views against the club's custodians and its manager. As you say MK, they represent the wildest conspiracy theories, offered as statements of fact and universal truths.
Martin Mason by contrast deigns to descend upon us from his elevated seat amongst the Gods, backed by a Holy Chorus and bathed in a heavenly halo of higher virtue, to 'enlighten' the ignorant and unknowing to the true path of knowledge.
Again MK, you correctly point out Martin has repeatedly and deliberately ignored the malfeasance that was diligently documented by fan groups. He continues to have the gall to demand 'proof and facts' on these issues when offering none – none at all – to support his own position.
Until now. For the first time EVER today, Martin offers a link that he considers supports his views. To six lines in a Wikipedia entry.
That's. IT!
Wow! Well, that's me convinced then. If the word 'parody' did not already exist in the English lexicon, it could be created and attributed as a 'Masonism' instead.
To summarize my own position:
Tony Marsh's 'throw mud, will stick' ramblings are nonsensical. His contempt and hatred of the board and its officers is not worthy of deeper consideration.
Martin Mason's 'paragon of truth and virtue' stance has been challenged and exposed numerous times. Never, IMHO, have I seen so much empty unsubstantiated rhetoric spouted from one person here on TW.
I personally do not hold to the view that funds are being siphoned out of the club's coffers to fill the pockets of board members. I do hold the view that there has been gross mismanagement and many a missed opportunity for Everton to retain its place at the very top of the Pantheon of English football during the Premier League era.
Martin Mason has stated as FACT on several occasions that Everton has been in decline since 1970 and by extension exempts Bill Kenwirght from any blame. He repeated this claim just 3 days ago on the post-match thread stating @54:
"The concept that Everton have only been bad in the last 20 years is a rewriting of history. We have been in managed and under-financed decline since 1970."
Putting aside that his statement conveniently ignores the club's most successful team and manager of the mid-80s, let's examine Martin's claim that Everton has been in "managed and under-financed decline since 1970."
Now on the one hand, Martin is all over threads like this defending club officers of malpractice. So I wonder if he cares to explain his phrase "managed decline." Because for me that reads as a deliberate and malicious policy to undermine the welfare and well-being of Everton FC. The absolute antithesis of the defence Martin makes for those overseeing the club.
Ironically, it is a phrase also attributed to Margaret Thatcher's Lord Chancellor Geoffrey Howe who urged her to "to abandon Liverpool to managed decline."
Martin also consistently claims Everton were in no position to take advantage of the newly formed Premier League in the early 1990s. As a paragon of facts, truth and evidence, would he care to share with us any indisputable proof to support such an oft-repeated claim?
The reality is Everton, along with the Man United, the pinkies, Spurs and Arsenal were part of the Big 5, with Everton's very own Phillip Carter as chairman of the then Football League very much one of the driving forces behind the PL's formation.
At the time, we had more league titles to our name than everyone, other than Liverpool, parity with Arsenal and ahead of United. At the time, our head to head records with United was vastly superior, compared to today. Indeed, in our very first away match in the newly formed PL we went to Old Trafford and twatted them 3-0.
In addition, Martin's exoneration of Bill Kenwright for any blame of Everton's "managed and under-financed decline" conveniently ignores the fact that BK has been on the board 29 years (which pre-dates the PL era) and bought out Peter Johnson 18 years ago. At the time of the takeover, he stated:
"Acquiring Peter Johnson's shares is only the first step to restoring a great club to where it belongs – to where it should be. If you are going to run a successful football club you need two qualities: you need to be realistic and you need a plan. I'm realistic and I have a plan."
I leave it to others to reflect on Bill's words and if he realised them.
Martin, the man who claims to have read every word of the Kirby Stadium hearing and closely reads financial papers on matters related to Everton, offers one pitiful link as a "starting point" for us to follow on his road of enlightenment, demanding others do their own research and offers their own links.
Here's a few in response:
Bill Kenwright Wiki biography, showing his association and history with Everton, including quotes:
BBC report on the intention of building the King Dock's stadium, including the BK quote:
"If my final legacy to my home town is that I am part of a fantastic monument to entertainment that will bring a lot of pleasure to people on the banks of the Mersey, then I will be a happy man."
BBC report on first signs the King's Dock proposal is at risk:
BBC report on the collapse of the King's Dock stadium:
Official Everton site story on the Sports Fortress Fund:
Liverpool Echo story on Chris Samuelson exonerating the Sports Fortress Fund of any blame on the collapse of any investment deal:
Football site reporting the myth of the "£30 million ring-fenced" claim that Bill Kenwright most certainly DID make:
YouTube post-match interview in 2007 – TEN YEARS AGO! – in which BK (around 30 seconds in) repeats on live TV that 'very soon' Goodison Park will not pass the necessary Health and Safety certificate.
In closing, at post 167 in this thread Martin states "I have answered every question put to me on here and will continue to do so."
I wish! Martin bobs, weaves and deflects before simply disappearing in a moral high ground huff.
One final link, just for you Martin. Relying on Wiki as your source? Take a look again at the link you offered us.
Wiki is so easily played with.
John Keating
221
Posted 19/10/2017 at 15:50:27
Martin (#217), What paper did you read that in? Are you suggesting just because it was in a newspaper, it's correct?? Seems to me newspapers have made many phony stories up in the past... Hillsboro springs to mind.
To use Wiki – as you suggested – as a starting point is ridiculous. If by any chance Wiki is wrong, then any further decisions and observations would be well off the mark.
Martin, you are the one always requesting proof and not "balance of probability" – so please do not change your tune and turn it on it's head. Many a thread have been devalued by your intransigence on people supplying "proof" yet you appear to go missing when the tables are turned.
The site is more interesting when posters give their opinions and assumptions – please accept this and don't be so dogmatic about things.
Brent Stephens
222
Posted 19/10/2017 at 15:56:49
Martin (#199) "Wiki is a good source in areas where it isn't clouded by politics. It is certainly better than the nothing which is generally offered. As I said, use it as a starting point..."
You CANNOT trust Wiki, whether or not "clouded by politics"! So it's NOT a good source, even as a starting point, if it can't be trusted! If it's wrong, it's WORSE than "the nothing which is generally offered"!
Jay Wood
223
Posted 19/10/2017 at 16:02:46
No Brent! Not fair!
Wiki is a TOTALLY legit source.
Check Martin's link again:
Martin Mason
224
Posted 19/10/2017 at 16:10:51
Brent, Wiki is a red herring.
John @221, the selling of the players is a red herring. I know what I've read over the years and it matches up exactly with events. As always, it has to be balance of probability based in several sources.
My point is that there is still not a shred of evidence supporting gross mismanagement or criminal/immoral activity. I despair of seeing a validated argument with any basis of reasonable probability, never mind fact
You're down in the weeds when there's a big picture to be seen. Player sales in 2000-01 and Wiki are irrelevancies. All you're saying is I can't disprove what you say but I can fudge it by trying to shoot down your credibility. Remember, I don't have to prove that the accusations aren't true; those making the allegations have to show that they are.
I have yet to see this happen, if it ever does I will accept it. Given the total lack of substantiated claims so far I could safely say that I'll show my arse in M&S Horsham Window if it ever happens.
Brent Stephens
225
Posted 19/10/2017 at 16:35:51
Martin, I didn't realise that your name featured in the link Jay provided (see #223 above)! You are now famous.
Why use Wiki if it's a red herring, Martin?
Eric Myles
226
Posted 19/10/2017 at 16:49:20
Martin (#211), "I claim no monopoly on being right other than that which I can show to be right."
You have never shown that you are right at any time; to do that, you have to offer evidence, not just your version of events which have consistently been proven wrong.
Ian Pilkington
227
Posted 19/10/2017 at 17:17:12
Even if Kenwright's 18 years as Chairman could be proven to have been conducted in an impeccable manner financially, Jay Wood @220 has provided an excellent summary of just how far we have slipped backwards during his tenure.
Apart from falling way behind the other members of original Premier League big five, plus Man City and Chelsea, Kenwright has presided over the longest trophyless period in the entire history of the club, his only achievement being the avoidance of relegation which occurred during the the second longest barren sequence between 1947 and 1963. 18 months after the arrival of Mr Moshiri, he's still there and we are enduring another season of misery.
Just a thought about the manager debate; would the supporters of any of the six teams who finished above us last season remotely consider Sam Allardyce or the coach of their U23 team as suitable choice for their next manager?
David Graves
228
Posted 19/10/2017 at 17:26:04
Jay @ 223.
Fantastic.

Andy Crooks
229
Posted 19/10/2017 at 17:42:31
Jay Wood, a superb demolition of a lame thesis. I enjoyed that.
Martin Mason
230
Posted 19/10/2017 at 17:49:43
Evidence of mismanagement or illegal activities by Everton's board please. I know you see me as a pop star but the issue isn't me – it's EFC. Come on, anything reasonable on anything, surely it must be easy given all of the bad things they've done?
That Everton have only been in decline for the last 20 years for sure is a rewriting of history. Shall I call it Myth 3? I'll maybe write a book sometime on EFC myths? Could you girls stand it?
Martin Mason
231
Posted 19/10/2017 at 18:03:05
btw, the concept that all of Wiki is beyond trust is equally bollox. How about the extracts which are supported by references? See the difference between this and those who slag the EFC board? They actually provide links and references.
David Barks
232
Posted 19/10/2017 at 18:15:11
Evidence of mismanagement is smack in all of our faces, you are just a religious follower of Kenwright, Martin. No league title for 30 years. No trophy in over 20 years. Watching clubs that were behind us establish themselves at the top while we continue to move backward in both league finishes as well as finances.
Repeated failed stadium moves. Marketing deals that lag behind our rivals in both monetary terms as well as global exposure. And financial terms that were and continue to be investigated, as detailed by a MP and in The Guardian.
John Crawley
233
Posted 19/10/2017 at 18:15:34
Martin, when Kenwright bought Everton as a business, there was £20m of assets on the balance sheet. In 2013, there was no assets on the balance sheet, only £44m of liabilities due to combination of record debt and the selling off all tangible assets. If that's not mismanagement, I'm not sure what is. Add to that the failure to secure a single trophy.
Martin Mason
234
Posted 19/10/2017 at 18:18:30
Jay@220
I didn't post the link to Wiki to support any views I held. Please read the above posts.
There is nothing in your post or links that provides a shred of evidence of malfeasance by the board.
I would be pleased to refute every link, easy though this would be, as long as the owners and users of the site would put up with this.
Brent Stephens
235
Posted 19/10/2017 at 18:20:19
Martin (#232), "Btw, the concept that all of Wiki is beyond trust is equally bollox. How about the extracts which are supported by references?"
Your trust of references to support Wiki articles really is naive. Can they all be trusted? Peer-reviewed?
Brent Stephens
237
Posted 19/10/2017 at 18:25:28
That was my last post, Eric. Off to the game. I can prove it.
Jay Wood
238
Posted 19/10/2017 at 18:36:35
It is obvious to me, Martin, as it is to others what you are attempting.
You are homogenising and conflating different issues and misrepresenting what a good many posters are actually saying.
Corporate malfeasance if proven is a criminal offence. I have already stated in this very thread I do not believe this is a charge easily levelled at the Everton board or its officers down the years as (for example) Tony Marsh rabidly attempts to do.
By contrast, corporate mismanagement is simply evidence of incompetence and ineptitude. The burden of 'proof' on this score is less stringent than the previous example. Sadly, on Bill Kenwright's watch in the 29 years he has been on the board, there is ample evidence of said incompetence and ineptitude.
Yet you (deliberately, I believe) tediously demand of others 'proof' that the second scenario has indeed been the case at Everton.
Such proof has been presented to you time and time and time again. Your response is to rewrite history and claim that Everton was already in 'managed decline' since 1970, the year in which The Holy Trinity won us the title playing exhilarating football.
I will repeat again for the hard of understanding, if your own stated belief above is true it could constitute corporate malfeasance.
If you are unable to see how in the Premier League we were equally well placed at its inception as ANY of the historical GREAT clubs (of which Everton was undoubtedly one of them); if you are unable to see how second- and third-tier teams that sat outside the Pantheon of Great English Clubs have now superseded us; if you are unable to question why the guardians of our Great Club allowed this to happen, then it is an exercise in futility to debate further with you.
Neil Copeland
240
Posted 19/10/2017 at 18:57:22
Meanwhile, Koeman is still talking rubbish and the team performances are shite. Maybe all will change tonight and we can look forward to a new dawn tomorrow.
John Keating
241
Posted 19/10/2017 at 19:11:53
Martin, please show me proof that Everton had to sell players in order to stop banks calling in loans. You made the statement so back it up.
Martin, you said the Club could not obtain loans from any banks so had to use the loan shark in the BVI. You made the statement so show proof to back it up.
So many posters in the past have – like you – assumed or spoken in the balance of probability. You have NEVER in the past accepted assumption or balance of probability and have always insisted in proof.
So, Martin, the worm has turned and the twisting has begun. Show us proof of your statements. The onus is on you.
Tony Abrahams
242
Posted 19/10/2017 at 20:01:43
"The Book of Myths"
Martin Mason
243
Posted 19/10/2017 at 20:45:16
John Keating,
As I have said, you have to prove malfeasance, I don't have to prove that there was none. Whether Everton had to sell to pay off loans is irrelevant. I introduced this only, correctly, to show there was no malfeasance over taking an offshore loan when there were no other options.
Please go ahead and show any malfeasance. That is, not attacks on me but show unequivocally that the board was guilty of gross mis-management or criminality. If you post again, you must do this and nothing else.
Jay Wood, please stop waffling and show any clear evidence of any gross mismanagement by the board. Surely it must be easy with the knowledge?
John Keating
245
Posted 20/10/2017 at 06:28:00
As usual, Martin, you make a statement you cannot support with proof yet you expect others to do so.
Pathetic, Martin, a complete waste of time and another thread spoilt.
I made no statement whatsoever in any of my posts and only responded to your incredible assumptions, yet you ask me to prove something... unbelievable.
Eric Myles
246
Posted 20/10/2017 at 06:29:21
"I know you see me as a pop star but the issue isn't me."
But the issue is you Martin, in your own mind, it is all about you. You crave attention and can only achieve that by being a wum on social media, continually ignoring evidence presented and diverting the discussions with red herrings.
Nobody sees you as a pop star. What we really see you as would get us banned for posting it.
John Keating
247
Posted 20/10/2017 at 07:55:09
Martin,
At no time in this thread have I mentioned wrongdoing on the Board. I have asked you to show me proof of two statements YOU made:
1. Everton had no other option other than to sell players or banks would have called in loans.
2. NO bank would make a loan to Everton, thus the only alternative was our mate in the BVI.
I still await to see your proof. Not some Wiki article or some article written by some journalist some time ago in some newspaper or "balance of probability" – Proof.
Now Martin, if you don't have any, then just say they were assumptions based on balance of probability; that's fair enough and I will accept that. Something you NEVER allow others to express.
Still waiting...

Jay Wood
248
Posted 20/10/2017 at 15:05:50
Did I just read Martin Mason tell me to stop waffling? Oh, what delicious irony!
Post count before this post in this thread to date:
Martin Mason 32. Jay Wood 2.
Posts full of empty vacuous rhetoric 32.
Detailed posts with supporting links 2.
As I said in my first post @ 220 "Martin bobs, weaves and deflects before simply disappearing in a moral high-ground huff."
We've quickly reached the bobbing, weaving and deflecting stage. Only the disappearing huff required to complete my 'Bingo' card.
Martin contends @ 162 that he "answers every question put to me on here and will continue to do so." Only he hasn't and doesn't. Myself, John Keating and others have put direct questions to him. Cue more bobbing, weaving and deflection, but actual answers? Pah!
Martin offers a pitiful 6-line entry in the dubious Wikipedia as proof positive in support of his position @ 198. Specifically, that is in 2000:
1) Everton was forced to sell its best young talent in 2000 to balance the books or risk UK banks foreclosing on the club's loan and credit lines.
2) Everton took out punitive overseas loans when the UK banks finally did foreclose on the club's loan and credit lines
Now although he demands of others @ 154: "I only want to see that what is stated clearly as fact can be shown, based on weight of evidence, to be correct. All I ask is that if somebody states something as fact then they can back it up somehow" – it is a stringent demand he never ever places on himself, although frequently challenged to do so.
But let's indulge Martin a wee bit. Let's accept his above premises as 'fact.' A more inquisitive mind might just reflect along the following lines:
* How, in the year 2000, just 8 years into the Premier League era, had Everton's financial position become so precarious?
* What decisions were made (or not made) that resulted in this position, whereby the club's brightest young talent and future hopes had to be sold off to pay the debt collector banging at the doors of Goodison Park today?
* What steps were made (if any) to improve on this clearly unsustainable financial model?
* How and why were our historical peers (with whom Everton was on at worst an equal footing at the formation of the Premier League) able to either:
1) Radically redevelop their existing stadiums (for example, Man United demolished two stands and grew their capacity from 44k to 68k by the year 2000. They continued that development into this century and now boast a 76k capacity)
2) Relocate to a modern purpose built stadium (for example, in 1999 Arsenal took the decision to relocate to the 60k capacity Emirates and played their first game there in 2006).
Of course, further stadium examples similar to the above are available whilst in the same time, Everton has failed in two new stadium locations and we wait with baited breath for Moshiri's stadium plans come to fruition.
Everton, by contrast, other than the forced move to an all-seater stadium imposed on all clubs by the Taylor report following the Hillsborough disaster, have only built the Park End stand in 1994, the only serious modification to Goodison Park in nigh on 50 years.
* How and why were those same peers able to attract vastly superior sponsorship deals than Everton?
For example, in 2000, Man Utd signed a shirt sponsorship deal with Vodafone worth £10 million a year. Today, their shirt sponsorship deal with Chevrolet is worth £57 million a year. By contrast, Everton's shirt sponsorship deal with SportPesa (Who???) signed this summer is (allegedly... the club has never released actual figures) the value of Man Utd's Vodafone deal of 17 years ago, £10 million a year.
Now Martin (deliberately, I fancy) conflates two distinct issues: that of corporate malfeasance and another of corporate mismanagement, as I expound in my post @ 238.
The meanderings of an inquisitive mind I offer above might reasonably conclude, on a considerable body of evidence, that whilst there is no proof of corporate malfeasance by the Everton board, nonetheless their 'performance' and apparent incompetence and ineptitude can be legitimately questioned and challenged.
Time for your moral high-ground huff disappearing act, Martin?
BINGO!!!
Jim Lloyd
249
Posted 20/10/2017 at 15:36:06
If gross malfeasance means "up shit creek without a paddle", then I think Kenwright and Co overwhelmingly proved that by the state we ended up in since Kenwright took over the running of our club.
ps: Anyone can contribute to Wikipedia... and have probably done so.
Jay Wood
250
Posted 20/10/2017 at 16:05:16
Jim "anyone can contribute to Wikipedia and have probably done so."
Tut-tut. Now who would POSSIBLY do that?
Read the last line in Martin's link.
Wiki Rules, OK?
John Keating
251
Posted 20/10/2017 at 20:34:50
Jay (#250),
Nice one.
We will never get a reply, though... let alone "proof".
Martin Mason
252
Posted 20/10/2017 at 20:50:55
As I said, the Wiki thing was a red herring, I asked for proof of gross mismanagement or criminal activity. As always, there has been none.
Jay, you continue to waffle and I'll answer your waffle shortly.
Martin Mason
253
Posted 20/10/2017 at 21:11:24
Jay
Read through your post at 248 above and as always it was painful waffle.
Can you please post proof of criminal activity or gross mismanagement by the board? In your case I won't answer questions as you pose none. I can't answer paragraphs of waffle.
In the end you have to answer your questions yourself, I can't account for ignorance. The trick is ask yourself what is fact, I realise though that this is a concept you aren't so familiar with.
Try one question at a time and I'll shoot it down or ask my grandkids to do it for me now they are 2. Don't post War and Peace and expect answers.
Evidence of malfeasance or no response, is that understood?

Martin Mason
254
Posted 20/10/2017 at 21:25:31
Just to clarify, one point at a time and unless it is reasonable evidence that there has been criminal activity or gross mismanagement, then it wont get a response.
I'll respond to any valid post on this basis as long as it isn't an attack on me.

John G Davies
255
Posted 20/10/2017 at 21:37:34
Lads, he's been playing you for four days now.

John Keating
256
Posted 20/10/2017 at 21:43:32
Martin,
Any chance of replies to my posts, eg #247?
Martin Mason
257
Posted 20/10/2017 at 21:46:15
John
I've answered your question several times above. I'm not going to hold your hand.
Can you answer the questions that I have asked?
John Keating
258
Posted 20/10/2017 at 22:13:05
Martin,
Can you please tell me one post where you answered my questions?
Yet again I tell you at no time have I ever questioned the boards actions at any time in this thread. Seems as usual once you are put on the spot you change tack.
I don't know why you are being so evasive as I said if your statements are assumptions based on balance of probability then just say so.
You made those statements, now back them up... simple.
Martin Mason
259
Posted 20/10/2017 at 22:25:06
John,
As I've said, I'm not going to hold your hand. Everything you ask for has been answered above, if you would like a specific answer to a specific question I'll give it but one at a time – not fog spraying.

John Keating
260
Posted 20/10/2017 at 22:27:41
Martin,
One question at a time? You said the Club were forced to sell players or banks would call in loans.
Proof please – not your vague recollection of some newspaper article years ago.
Martin Mason
261
Posted 20/10/2017 at 22:39:25
John, I answered this above and provided a valid supporting link. Of course it was based on weight of evidence which is all I ever ask for. Will you please make your point if you have one and I'll be glad to answer it.
Andy Crooks
262
Posted 20/10/2017 at 22:40:37
Jay Wood, I don't know if you are a fan of boxing? If you are, you may recall Thomas Hearns v Denis Andries. The game, gallant Andries was on the floor about fifty times. He kept getting up until Hearns showed mercy and literally got tired hitting him.
Act like Hearns, Jay.
Martin Mason
263
Posted 20/10/2017 at 22:45:52
Andy, I've asked Jay for one shred of evidence of gross mismanagement, criminal activity, syphoning of money or anything that was done by the board to the obvious detriment of the club. Surely that is reasonable?
Nobody has provided this yet, surely it is easily done? I've asked Jay for his Hearn's punch but he's gone missing again.
John Keating
265
Posted 20/10/2017 at 23:24:00
Martin,
Thanks for that reply. So you can't actually show proof of the statement you made rather you made it on weight of evidence. That's fine.
So, I take it the second point I asked you to prove is similar in that it is also based on weight of evidence? And you have used wiki as starting points, amongst other kosher reputable info sites. Great.
It's good to know that you have completely changed your stance from your usual demanding 100% proof, like your #144 post, and now accept what many of us use I.e. Weight of evidence.
I take it now if someone mentions the board are incompetent you will now accept it . What with weight of evidence and if it looks like a duck, quacks like a duck then it probably is a duck.
Thanks, Martin.
Derek Thomas
266
Posted 21/10/2017 at 00:54:17
"Get your facts first, then distort 'em as you please" – Mark Twain.
Martin Mason
267
Posted 21/10/2017 at 09:39:04
John, like you I know nothing about what happens in the club. I never use Wiki as a source and didn't in my posts above, it was an after thought to help people to get an alternative view on what happened other than the nonsensical version that the owners were guilty of gross mismanagement or criminal activity.
I know what happened at the time and I stand by what I said absolutely. If I'm given a credible shred of weight of evidence for the gross mismanagement or criminal activity charges I will accept it. You have to understand that there is a difference between weight of evidence or evidence of any kind and rumour and gossip.
There is a massive difference between the points I made on very strong weight of evidence (all I have ever asked for btw – never facts which don't exist) and the completely fact- and evidence-free claims that some make against the board. If you can be bothered looking you will find very strong evidence that what I said is correct but you need to do it. You will never find a shred of credible evidence to support the more ridiculous allegations made against the board.
Was I correct about Everton having to go offshore for loans because the Bank option was closed? If not then why did they not borrow from the banks? Was I correct about selling players to forestall the banks calling the loans in? We didn't sell to buy new players, we were absolutely broke and trading while technically insolvent and we kept the banks at bay so what do you think? A lot of the things we did in those days were to keep the club from going under.
Many thanks.

John Keating
268
Posted 21/10/2017 at 09:57:22
Martin
We will never know if we HAD to go offshore for loans, as we don't know what banks were approached to knock us back, if any.
We will never know if we HAD to sell players, where there no alternatives? Who knows ? We can assume we did but we will never actually know.
I think why sometimes things get heated with some of your posts is that you really do insist posters provide dates, times, letters etc etc etc whereas you now say you accept weight of evidence, this is definitely a departure from your usual requirements!
As I say most people look at things not so black and white as you want. Many times you have asked to supply specific proof of board mismanagement and when given you ask for, well more or less actual paperwork!!
As I said previously, if it looks like a duck .
Eric Myles
269
Posted 22/10/2017 at 01:48:09
John, in the case of Arteta the sale was a result of the bank requesting the Club pay down the overdraft as it was increasing to around £25 million...Arteta's sale raised £10 million.
The oft asked question "where's the Arteta money Bill?" was answered by Moyes when he said "everyone knows the Arteta money went to the bank."
Regarding the BVI loans, the weight of evidence could lead to the conclusion that they were taken out, and renewed un-necessarily several times, because there was some connection with one of our shareholders.
Add Your Comments
In order to post a comment, you need to be logged in as a registered user of the site.
Or Sign up as a ToffeeWeb Member — it's free, takes just a few minutes and will allow you to post your comments on articles and Talking Points submissions across the site.