Koeman: We will fight to turn situation around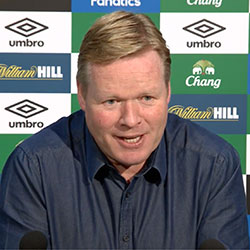 Ronald Koeman appears unfazed by the increasing pressure on him and his Everton side after last night's defeat to Lyon as he restated the need to get a win to improve the atmosphere around the club.
The manager has had little time to dwell on a result that leaves the club with slim hopes of progressing to the knockout stage of the Europa League and he was back in front of the media at Finch Farm this afternoon.
Koeman was asked for his thoughts on how Everton are underperforming not only the sky high expectation among supporters that was prevalent in pre-season but also that from outside the club based on the moves made in the transfer market, particularly early in the summer.
"It's not the time to talk and to mention reasons why [we are not performing to expectation]," the Dutchman said. "We need to take the situation as it is now and prepare our team for Sunday.
"Of course, we have discussions inside and talk about fixtures, tough start to the Premier League and Europa [League] football but the position in the table is not where Everton and where we need to stay.
"That's what we need to change and I still believe in the players; I still believe in the signings [we made] in the summer because maybe everybody can have some doubts about several signings but the future will show that the signings were really good signings.
"I think what we need to improve is still sometimes we try to play short and we don't think we have enough options for the defenders to play short.
"If you analyse yesterday, with the exception of the last 10 minutes, the chances came out of mistakes by us in playing out from the back and losing balls in the midfield.
"We don't have that confidence in ourselves. We need to make it easier on ourselves by being a little more direct and to fight for second balls. That's the easiest way to come out of this period."
While seen by many supporters as an easy way to explain away the Blues' poor results, it was put to Koeman once again that the failure to replace Romelu Lukaku was a key factor in what has become an awful start to 2017-18.
Koeman agreed and offered another plea for more time to bed in his new signings, some of whom are struggling to adapt to life at Goodison Park under difficult circumstances.
"Everybody knows we failed to sign a striker or at least a target man for the team," he continued, "and we have Dominic (Calvert-Lewin) who is a great talent but he's only 20 years old and you can't expect that he will be at that level for 38 games.
"We brought Niasse in, Sandro is a different type of striker and that needs time and, of course, that makes it a little different than it was last season."
"Frustration is a part of life and of football if you won't win because I hate to lose but I am still the man and we will fight for everything to turn it around.
"Of course, the pressure is on the manager. I watch television and I'm sometimes on social media so I know what's going around. But that's normal, that's football and I don't step back, I go forward and let's hope for three points and after Sunday everybody is happier than they are today.
"[The support from Farhad Moshiri] has not changed," Koeman replied. "Of course, we have daily and weekly contact. Everybody is a little bit worried about the situation but that's normal."
---
---