Koeman: We will fight to turn situation around

138 Comments [Jump to last]
Friday 20 October 2017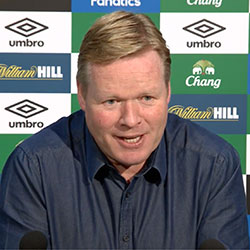 Ronald Koeman appears unfazed by the increasing pressure on him and his Everton side after last night's defeat to Lyon as he restated the need to get a win to improve the atmosphere around the club.
The manager has had little time to dwell on a result that leaves the club with slim hopes of progressing to the knockout stage of the Europa League and he was back in front of the media at Finch Farm this afternoon.
Koeman was asked for his thoughts on how Everton are underperforming not only the sky high expectation among supporters that was prevalent in pre-season but also that from outside the club based on the moves made in the transfer market, particularly early in the summer.
"It's not the time to talk and to mention reasons why [we are not performing to expectation]," the Dutchman said. "We need to take the situation as it is now and prepare our team for Sunday.
"Of course, we have discussions inside and talk about fixtures, tough start to the Premier League and Europa [League] football but the position in the table is not where Everton and where we need to stay.
"That's what we need to change and I still believe in the players; I still believe in the signings [we made] in the summer because maybe everybody can have some doubts about several signings but the future will show that the signings were really good signings.
"I think what we need to improve is still sometimes we try to play short and we don't think we have enough options for the defenders to play short.
"If you analyse yesterday, with the exception of the last 10 minutes, the chances came out of mistakes by us in playing out from the back and losing balls in the midfield.
"We don't have that confidence in ourselves. We need to make it easier on ourselves by being a little more direct and to fight for second balls. That's the easiest way to come out of this period."
While seen by many supporters as an easy way to explain away the Blues' poor results, it was put to Koeman once again that the failure to replace Romelu Lukaku was a key factor in what has become an awful start to 2017-18.
Koeman agreed and offered another plea for more time to bed in his new signings, some of whom are struggling to adapt to life at Goodison Park under difficult circumstances.
"Everybody knows we failed to sign a striker or at least a target man for the team," he continued, "and we have Dominic (Calvert-Lewin) who is a great talent but he's only 20 years old and you can't expect that he will be at that level for 38 games.
"We brought Niasse in, Sandro is a different type of striker and that needs time and, of course, that makes it a little different than it was last season."
"Frustration is a part of life and of football if you won't win because I hate to lose but I am still the man and we will fight for everything to turn it around.
"Of course, the pressure is on the manager. I watch television and I'm sometimes on social media so I know what's going around. But that's normal, that's football and I don't step back, I go forward and let's hope for three points and after Sunday everybody is happier than they are today.
"[The support from Farhad Moshiri] has not changed," Koeman replied. "Of course, we have daily and weekly contact. Everybody is a little bit worried about the situation but that's normal."
---
Reader Comments (138)
Note: the following content is not moderated or vetted by the site owners at the time of submission. Comments are the responsibility of the poster. Disclaimer
Anthony Hughes
1
Posted 20/10/2017 at 17:14:59
Jesus wept, 6 big ones a year and he's advocating a long-ball game.
John Davies
2
Posted 20/10/2017 at 17:16:29
Bloody hell! The man is deluded. If that interview doesn't spark Moshiri into showing him the door, then nothing will.
Tony Everan
3
Posted 20/10/2017 at 17:19:55
And who are we firing these long balls to?
Does Ron know something we don't?
Lawrence Green
4
Posted 20/10/2017 at 17:27:27
The lack of a proper replacement for Lukaku is Ronald's Get out of Jail Free card. But how many times is he allowed to use it? He may not have said much about it previously but he will continue to bang that drum between now and January. Reading between the lines I would think that he is assured of his position as manager at least until the next window and probably until the end of this season.
He is Moshiri's man and for that reason he will be given time; how the board react to fan frustration may be key in determining Koeman's future, but I think we can forget about seeing him removed from his position in the near future.
What league position the club will occupy by the time the window opens is anybody's guess, but if we revert to hoofing the ball up the pitch and hoping that something good happens, it will be around 15th or lower.
Phil Davies
5
Posted 20/10/2017 at 17:35:39
I'm sorry, but this "lack of Lukaku" excuse is just ridiculous. Lukaku was never going to help an ageing/mistake prone defense, just as he was never going to help with the fact for the majority of the season we haven't played with any wingers.
Shocking managerial decisions and some horrific performances are to blame for where our season is at – not because we didn't replace one player, especially one player whose hold-up play wan't even that good.
Dave O'Connell
7
Posted 20/10/2017 at 17:37:34
The board must act before it's too late; this man will take us down.
Stan Schofield
8
Posted 20/10/2017 at 17:41:01
The January window and the loss of Lukaku are largely irrelevant to our current predicament. Koeman is a classic political bullshitter. A snake-oil salesman of the highest order.
Simon Bradley
9
Posted 20/10/2017 at 17:44:09
"It's not the time to talk and to mention reasons why [we are not performing to expectation]," the Dutchman said
Jesus wept. When is the fucking time to talk about it? In the summer, after we have been relegated??? Get lost Koeman. You do not 'get' Everton.
Dave Evans
10
Posted 20/10/2017 at 17:51:27
To be fair, a more direct playing style and the winning of second balls would not be a bad idea as part of an overall game plan at the moment. At least it gets everyone playing and thinking forward. Quick carries and pass and move in these higher positions could really get the crowd going, which is also a bonus.
Don Alexander
11
Posted 20/10/2017 at 17:52:11
Tony Everan (#3) hits the spot, as does Koeman when pointing out how hopelessly inadequate we are at centre-forward. It seems to me that Koeman is not responsible for that. That cock-up did for our whole season before it even kicked off and may well drop us well down the bottom half when it ends because no other team in the league is as poorly off as we are for a centre-forward of meaning.
Without such a player, we are forced to play far deeper than ideal. We therefore invite the opposition onto us and they love it. "Gelling" is hard enough without lacking the gelatine provided by a centre-forward. It's like trying to march in perfect synchronicity whilst having a left boot of each foot, the opposition being already well-drilled in good boots allowing them to advance with ease.
At Southampton Koeman had the gelatine in the shape of Lambert, Rodrigues, Pelle and Long, not to mention talented midfielders like Tadic who therefore had confidence when going forward that they'd either hold and pass the ball back to them as they neared the penalty area or, God forbid, make a meaningful attempt on goal themselves. With these basics in place, Koeman did well, in successive seasons needing time to gel. Without them he's ordinary, at best, but I don't know of another manager with a proven track record of success without the inclusion of an accomplished centre-forward.
Someone sabotaged our season before it began. That's the scandal.
John Pierce
12
Posted 20/10/2017 at 17:58:06
The board clearly feel they owe Ron big time for their inability to buy ready-made belting players for Ron. And didn't he let everyone know.
That makes me feel worried, as they will wait for January to buy him his player then sack him. Moreover, as our form dwindles away who in their right mind would come to Everton for a scrap?
Sacking him now, gives a fresh start a window for a new manager to bed in and a chance to get a striker or two booked in before the FA Cup 3rd round. Koeman talks about the excuses, and then cleverly dismisses them. That's still making excuses, Ron laa. Do the board realise he's taking them for a ride?
The utterly deathly silence from the board is shithouse behaviour of the highest order.
Peter Gorman
13
Posted 20/10/2017 at 17:58:46
Cuco Martina. Signing him and playing him. Fuck you, Ronald.
Joe Hurst
14
Posted 20/10/2017 at 18:03:06
Fighting to turn things round should really have seen Williams sent toward an early bath anyway.
Okay, he may have done the only useful thing I've ever seen him do at club level afterwards, but anyone else should have been binned for that kind of silliness.
David Israel
15
Posted 20/10/2017 at 18:08:14
And so, having hired a supposed master of the Dutch School of Total Football, we end up with someone hoping to be Sam Allardyce Mk II. At least, with the original product, I don't think we would be hovering just above the relegation places.
Get ready, Oumar, the balls are going to be coming your way fast and furious!
Gordon White
16
Posted 20/10/2017 at 18:15:23
Lawrence I tend to agree. As it stands at the moment. I can't see anything significant changing before January/February, unless Bolasie and Coleman can work a bit of magic.
The illusions about a top 6 finish evaporated some time ago. Realistically, at present, the board must be thinking about survival. It's too late to be worried about the embarrassment – we're past that stage already, and there's a huge job ahead, whoever the manager is.
Two things anger me more than anything. Romelu Lukaku out – no replacement in. And the apparent inability of Koeman to make changes and alter thinking when his game plan clearly isn't working. Martinez did that. Stuck to his guns, come what may.
It's not helped because it doesn't look as if there is much in the way of inspirational talks and leadership going on, rather a blame culture. I've noticed Big Dunc is not his usual self either?
Doesn't look like it's going to be a happy footballing Christmas for us Evertonians this year.
Will Mabon
17
Posted 20/10/2017 at 18:16:32
"
That makes me feel worried, as they will wait for January to buy him his player then sack him.
"

I wonder, too. Or buy the player then not sack him, having sold Barkley and/or others to fund the transfer.
This lack of a centre-forward is a serious issue but it must not be used to override and cover up the litany of failings of and by Koeman.
I don't think Koeman would have been sacked if he'd joined in the fracas on the pitch last night.
Christy Ring
18
Posted 20/10/2017 at 18:17:31
He was more interested in three No 10s, when a No 9 should have been his top target. It's time to get rid before it's too late.
John Pierce
19
Posted 20/10/2017 at 18:18:06
Don,
I won't pretend that the lack of a recognised centre-forward was a huge error. Unacceptable.
Surely you would accept a coach deemed to be worth £6m a year should have alternate strategy to get himself to the next window in the face of this error?
So what can we make of changing the line-up every game and doing so with many changes? In particular the back four which has been a revolving door around Keane. That has nothing to do with no centre-forward.
I'd argue strongly picking the same back 4 in the same formation would give you the stability you need to get through to January. Chopping & changing so erratically has given none of the new signings a decent chance to gel.
Even his epiphany of direct football will flounder if he cannot pick a settled side and let them connect.
So many questions remain unanswered beyond the failure to land a centre-forward. My view of his style and pragmatism were formed with Lukaku in the side; failing to replace him is the crutch he clings too.
Gordon White
20
Posted 20/10/2017 at 18:24:17
Koeman said he wanted a pressing game?? Anyone else seen this? During the brief moments in some games when we've started to do it, things improved and chances started to come our way.
But why just occasionally? Like by accident more than design. Can't understand why, if that's what the manager wants, we're not doing it?? Why? Anyone?
James Stewart
21
Posted 20/10/2017 at 18:27:52
Groundhog Day with this guy, only not as funny.
Koeman is paid more than Pochettino, Allegri, Emery, Simone. Just let that sink in
Martin Mason
22
Posted 20/10/2017 at 18:30:34
The problem is that, because of the independent Director oF position Koeman always has the excuse that the club didn't provide the players that he asked for. He also has the excuse of missing players who will certainly improve us when they return. This is a criticism of the Drector of Football position as it takes a lot of accountability from the Head Coach.
Based on this I don't believe now that Everton will sack him unless relegation becomes a real threat. What we would lose in compensation payments for Koeman and the new man and the disruption caused is probably higher than the loss of income for finishing low in the Premier League so there is no penalty for wait and see for the rest of the season. Why would they not adopt this strategy?
The question then is, can they resist pressure from the fans and the answer to that is that they will possibly try to neck it out in the knowledge that if results improve bit by bit then the protests will stop. A drop in gates would make them sit up and think but that isn't going to happen in a big way. Add to the mix that Kenwright is loyal and that Koeman is Moshiri's man then I believe we are going to be complaining for a lot longer yet.
Danny Broderick
23
Posted 20/10/2017 at 18:45:15
The only way he can turn this around is by coming up with a way of playing that suits the players that we have got. Moyes did this in some bad moments. He got us playing with 1 striker in his 3rd season, after a disastrous 2nd season. He also came up with 2 false 9s, with Cahill and Fellaini playing up front on another occasion when we were weak up front – I think it was the season when we had Stracqualursi and Anichebe up front at times!
The summer has shafted us big time, and I believe the board and Walsh have let us all down, including Koeman. But Koeman is not blameless either. The only way he can emerge with some credit is by finding a way to win football games. We need to stop conceding and start creating.
If Koeman can't adapt to the players at his disposal, he will probably not be here in a month's time.
Phil Walling
24
Posted 20/10/2017 at 19:00:26
He's here for keeps, then. Well, if Moshiri has already written off games like Sunday's clash with Arsenal, he probably is. But if our 49.9% owner can't see what damage is being done to his investment, he's a bigger mug that the guy who sold it to him!
Rick Pattinson
25
Posted 20/10/2017 at 19:08:16
Fight, my ass – none of these fuckers know what the word means... weak poor bunch of sissies.
Peter Laing
26
Posted 20/10/2017 at 19:10:07
Looking to draw parallels – prior to appointing Pottechino, Spurs had 10 Managers in 12 years. Villas Boas was relieved of his duties after a wholesale policy of recruiting players in the wake of the sale of Bale to Real Madrid. At the point of dismissal in the December, Spurs were sitting seventh in the table and still in the Uefa Cup but had experienced a bad run of results and a couple of heavy defeats.
Now consider the situation at Everton. There is absolutely no evidence to date that Koeman is going to turn this around. He is a dead man walking, fans are in revolt and the Players have clearly given up on him and his attempts at man-management.
So what is the difference between Spurs and Everton? Levy is ruthless, that's what, whilst we have chairman Bill and Moshiri fiddling whilst Rome burns.
Roy Steel
27
Posted 20/10/2017 at 19:14:30
Just when you thought it couldn't get any worse ,we witness that disgraceful exhibition last night. This mob are bringing our great club into disrepute – both the playing squad and the management team.
There are no thinkers in this team, no cohesion, no basic skills. We have multi-million-pound players who are unable to control the ball and pass it 6 yards to a teammate.
£27 million for Keane – that's got to be a joke: we should have signed Ben Mee for a fraction of that.
But, after all is said and done, it's up to the manager to get something out of these duds and that is not going to happen. Time for a change.
Ian Jones
28
Posted 20/10/2017 at 19:18:12
Nothing really to add other than Koeman hit a bad patch at Southampton and turned it round.
Whilst he is ultimately responsible for the current mess, and you could argue his way of playing does not instil confidence in the players, he can't be held totally responsible for the basic errors by the players.
Lawrence Green
29
Posted 20/10/2017 at 19:21:41
Danny (#23),
Ronald didn't adapt last season, the players had to adapt to his methods and tactics and some of those involved have either been sold or cold-shouldered.
I remember a few TW posters, about this time last year, asking should the manager make a team from the players available using tactics that suit those players or should it be the players who adopt the managers tactics. A difficult question to answer and in most cases it's the manager who sets the style of play and the players follow his instructions.
The amount of upheaval since Ronald joined the club has been phenomenal and has been pretty expensive too. Are we any better off now than we were this time last year? – the answer would have to be no. Are we seeing the emergence of a recognised style or identity for his team? – The answer again has to be no. Will Koeman still be here in three months time? – I would have to say, regrettably yes.
My personal nightmare scenario, apart from relegation, is that by the summer, Koeman will be joined by Moshiri in a new project somewhere else in Europe, and Bill if he can find somebody to buy Moshiri's shares on his behalf will once again become the master of Everton's destiny and we can live out the rest of our days watching the Blues at Goodison Park.
Same play, same script, but with different actors, so much for my dream of Usmanov following his mate to Everton FC and pushing us towards that elite group of European clubs.

Denis Richardson
30
Posted 20/10/2017 at 19:27:52
What's the spread for the Arsenal game?
I'm forecasting a 3-1 defeat, our goal an OG.
Colin Glassar
31
Posted 20/10/2017 at 19:36:45
I can't even imagine watching this game now, Denis. For the first time ever, I feel total detachment from the team. Thank you, Mr Koeman.
Joe McMahon
32
Posted 20/10/2017 at 19:40:28
Lawrence (29)... and don't forget in our Championship game at Goodison at home to our new local rivals, Fleetwood Town, in 2021, the team running out to Z-Cars, "The Grand Ole Team" being blasted on a cheap PA system, and our Chairman (Kenwright) has a tear in his eye as he gives the thumbs up to Everton's 40-year-old captain, Leighton Baines.
Mike Allen
33
Posted 20/10/2017 at 19:41:03
Bottom line is, it's not a case of bad luck in games... Fact is, we are a poor side with some poor players. Nothing but nothing is in place to suggest that this is only a blip until we get a genuine goalscorer – and the manager appears to be unfazed?
Well, all of us would be unfazed getting a multi-million-pound pay-off for failure. Time for a few rounds of golf in the sun, then get my CV circulated... and bingo! Another job falls into my lap. Funny ole game.
Lewis Barclay
34
Posted 20/10/2017 at 19:45:10
I honestly think Ronald Koeman needs to go but, until he does, I'm going to get behind him because, if we lose our next three games, we might be in massive trouble.
Ray Smith
35
Posted 20/10/2017 at 19:49:20
Gordon (#16)
Re Big Dunc, I was quite close to the team warming up at the Amex last Sunday and he looked totally flat. He was continually looking at his watch with his head down. He didn't appear to make any contribution either.
I remember him a couple of weeks ago jumping up and punching the air when Niasse scored against Bournemouth with Koeman straight-faced with his hands in his pockets. After the warm-up, he trudged off, having taken no part whatsoever that I could see!
The total opposite to the Big Dunc we all know and love. He looked like he had had the stuffing knocked out of him.
Something is going on big time to see him like he was; I have said the same on a previous thread.
Kunal Desai
36
Posted 20/10/2017 at 19:55:26
Last time I looked at the date, it was 20 October – not 1 April. Is the joker having some kind of laugh? He's an absolute fucking piss-take of a human. 'We will fight to turn this around'.
The only fight I have seen is the physical stuff which was kicked off by Williams yesterday. There is no fight otherwise in this team where football is concerned. Worse than the Martinez School of Bullshit.
Gerard Quinn
37
Posted 20/10/2017 at 20:01:39
Let's break the bank to get Alex Ferguson in as manager. He can have Moyes as his assistant. Then we can sign Cristiano Ronaldo up top. He loves Fergie. Job done.
Gordon White
38
Posted 20/10/2017 at 20:05:04
Ray 35. Yes I agree. Says a lot in my view.
Tony Marsh
39
Posted 20/10/2017 at 20:22:06
We are well and truly fucked. Right across the board. A vast majority of our fans are gullible and don't think like we are a big club. Small club mentality is rife. Prime example the Lukaku situation.
The amount of times I have read on here or listened in person to someone saying Koeman didn't get a replacement for Lukaku?? WTF. They should be saying things like "Why did we sell Why was he allowed to leave?"
Why didn't we do what Liverpool did with Coutinhio or Arsenal with Sanchez?? Big clubs say No! We just sell. Why can't the fans see this? Fuck the replacement – don't sell in the first place until we have cover. I've given up trying to get through.
Moshiri, Kenwright, Koeman all gave the nod for Romelu to leave, let him go cheap, and spunked the money they got for him. We didn't need a replacement when Lukaku was still contracted to EFC.
Tony Hill
40
Posted 20/10/2017 at 20:22:09
John (#12), "the utter deathly silence from the board". It's what happened with Martinez, of course, and before that, Kenwright seemed to be the last man in the footballing universe to know that Moyes wanted out. We do hear from him and Moshiri though: Bill, whenever he can gush and ramble about how marvellous and warm everything and everyone is when dressed in Blue; Farhad, whenever he fancies a chat on Murdoch TV.
Set aside questions of financial governance, what makes our owners contemptible – what has always distinguished Kenwright in his time at the club – is that they only care to address us when they are spouting self-indulgent shite. Otherwise, we can fuck off and damn our insolence for asking.
I agree with those who say that the only way we shall see change is if the ground is emptying and if the fans demonstrate noisily and persistently. The RS, I am afraid, showed us the way last year over ticket prices when 10,000 of them walked out. We need to show the same balls.
I am going to the Arsenal game because I am committed to others, but after that I shall not go to Goodison again while Koeman is the manager.

Denver Daniels
41
Posted 20/10/2017 at 20:22:40
Meanwhile, Ancelotti and Tuchel are in the frame for the vacancy at Leicester. Unless it really starts going downhill quickly, Koeman will be given time. And by the time he get's the sack, we'll be left with the scraps.
The worst thing about this whole mess is that it seems like such a wasted opportunity. All that money spent on shite basically. We cruised to 7th last season. Instead of wholesale changes, 2-3 top class signings would have strengthened the team.
How do you spend that much and actually get worse?
Colin Glassar
42
Posted 20/10/2017 at 20:24:51
Under this regime, we couldn't fight our way out of a wet paper bag. Moshiri should sack everyone at the club from the board down (not the players and staff, obviously) and get some new blood in with fresh ideas.
Phil Walling
43
Posted 20/10/2017 at 20:33:34
Ray (#35); I don't think it is just the players who are unhappy in their work. I suspect it won't be long before one or other of Big Dunc and Unsey move on. Perhaps even both of them.
It will take Koeman to turn it round a bit and recover some of his authority at Finch Farm but, if he pulls it off, just wait for the blood-letting to begin!
Lev Vellene
44
Posted 20/10/2017 at 21:06:59
Getting the needed players in was not Koeman's responsibility, he told us that when he joined. I assume he'd be the one to say a final 'yes' or 'no' to prospects, though. And he did say he was not happy as the window closed!
What was Koeman's responsibility was to take a very good look at his available squad after that, and then find a formation that suited that squad (and not force anyone into his non-existing dream-squad of perfectly fitting players!). And if that could only be done partially, then he should have found a first-choice first-team with all the bases covered, before making maybe 1-2 replacements as needed due to fatigue!
Our teams thus far could have been assembled just as successfully by anyone with no footballing experience at all, it seems! It's all a shambles, no-one having time to learn to work with any others.
I'm not a fan of Niasse, but he played a lot with the U23s; and Davies provided 2 of his goals so far, citing how they knew each others' way of playing at the U23 level as being very helpful...
How often have they played together for more than a few minutes after that?
Soren Moyer
45
Posted 20/10/2017 at 21:08:29
"That's football"!!! For the love of god, stop saying that! This man is fecking hilarious.
Denis Richardson
46
Posted 20/10/2017 at 21:19:27
Colin 31, know exactly where you are. Unfortunately I've been there too often over the last 7-8 years or so.
Ever since Moyes started dampening down expectations so he wouldn't have too much pressure, it's been the same for me and my joy and enthusiasm gets sapped that bit more year on year.
Martinez for a short while looked like he was going in the right direction then showed us he's a loon. Koeman came in saying the right things then this summer it's gone off the rails. £140m spent and we're actually worse. Takes some skill that!
Koeman needs to go but many of us know it probably won't really change anything. Kenwright needs to leave as well. The club hasn't been run professionally for decades.
My first live game this season will be the comedy / Coraoyawhatta? Cup next week; if Chelsea take that seriously, that'll be a fun night wasted!
Fun times...
Mick Conalty
47
Posted 20/10/2017 at 21:20:04
At least we can enjoy our Saturday Night this week. As Arsenal are a top six side (re Moshiri) we expect to get beat, so this week is a freebee for Keoman.
Some of the comments that have come from Keoman (Lukaku needs to leave to further his career) and Moshiri (we expected to get beat} beggar belief. Everton have been sold down the river by this pair of tossers.
Mark Morrissey
48
Posted 20/10/2017 at 21:22:51
I read a post like Lewis's at 34 and my heart sinks. "If we lose the next 3 games we will be in massive trouble!!!!" No shit Sherlock.
Do you not see who has put us in this mess Lewis? It's the man you are planning on getting behind.
Lewis, you're no doubt a top man because let's face it you support Everton but it's your kind of attitude that is shared by Kenwright and the rest of the board.
"Lets get behind him otherwise we will be in trouble." I'll fucking get behind him alright when he's stood on the dock waiting for the next ferry to Holland and I'll make sure he fucking gets on along with his brother, Stekelenburg, Klaassen, Williams and Martina.
Stop fucking supporting him and he might just feck off.
Ray Smith
49
Posted 20/10/2017 at 21:26:42
Guys, do me a favour on Sunday, watch and tell me how you reduce Duncan Ferguson to a no comment non-participating member of the bench.
I'm not trying to labour the point, but would you have ever imagined the big man being subservient to anybody? Ask the 2 idiots who broke into his house.
Tell me I'm wrong after the match.
Lev Vellene
50
Posted 20/10/2017 at 21:28:12
Soren (#45),
Yes, that is football! But if you can't win an away-game anywhere more often than 5 times (?) for a year-and-a-half, then it's not bloody footballing luck that is to blame!
(As Gordon Strachan said when defender Lundekvam finally scored for Southampton after umpteen seasons without any goals at all: "As long as he's in front of the goal on every corner, one day it was bound to bounce off his head and into the goal!")
So "bad luck" and poor refs lately, do not make any valid excuses when divided over this season and last season!

Steve Ferns
51
Posted 20/10/2017 at 21:40:20
I wouldn't want Ancelotti. He's not a good coach. The players at his last three clubs were very critical of his coaching.
We need a good coach right now, first and foremost. Forget the old-fashioned English manager. We need someone who makes a difference on the training ground and can get these players playing together. Last thing we need is to get rid of another 8 and sign another 10.
Marco Silva is showing he could be that man.
Lev Vellene
52
Posted 20/10/2017 at 21:46:20
Ray (#52),
I've read some comments about how Duncan should have to leave if Koeman goes, but that is so much hogwash it hurts even my toes having to read it!
I don't think Koeman had too much choice there, so he's learned to live with Big Dunc, whether he wanted him or not!
With either Martinezor Koeman utilizing his zest, I still think of Duncan as fitting best with the Unsworth ethos! I can't see either of them (Unsworth or Big Dunc) saying 'no' if the club asks them to do anything that's hoped to be good for EFC!
So don't piss on Duncan for Koeman's dourness and overall defensiveness, when he is in no position to say anything aloud (except through his instinctive reactions)!
Well, that is how I see it...
Kunal Desai
53
Posted 20/10/2017 at 21:47:37
Someone with plenty of experience in the Premier League and did a damn good job at Newcastle before being unfairly sacked.
Not necessarily saying he would be the one for us but Chris Hughton may deserve a crack at a bigger club sooner rather than later. He has done a brilliant job with Brighton over the last few seasons.
Colin Glassar
54
Posted 20/10/2017 at 21:47:38
Steve, to say a man who has won everything in the game is a poor coach is a bit strange. Hasn't he won the league at his last three clubs? Correct me if I'm wrong.
Jay Woods
55
Posted 20/10/2017 at 21:49:12
There is a fundamental coaching problem (setting aside the playing staff elephant in the room) that has been manifesting all season.
Take Schneiderlin and his crab-like tendencies, for instance. That could and should have been punched out of him long ago on the training ground; it wasn't until the crowd made it clear to him last night that it wasn't on that he stopped doing it for the first time this season. Coached by the crowd. That's Everton in extremis, for you.
Martina is another one, running to a stop. Passing the ball to him in a forward position has been a dead-end of late, at least when he's playing on the wrong side of the pitch.
Another example, perhaps, Mirallas cutting inside far too far up the pitch, although he was a brighter spark overall last night than previously.
Again and again, it looks like the players have been left to do their own thing, as if being a specialist in their respective positions is enough. But we all know – and we're merely fans – that coaching is a never-ending process, a form of husbandry that never stops.
Steve Ferns
56
Posted 20/10/2017 at 21:54:42
Yes, he has. But read the comments of the Munich players. Read the comments of the Chelsea players. Read the comments of the Madrid players.
Ancelotti is a good manager. I won't say he isn't. But he's good at managing top players and getting them motivated and keeping them happy.
He's not a good coach. He isn't good at sorting out a mess like we have on a training pitch. You won't find anything on Google praising his training, his drills, his tactical insight or his coaching.
Ray Smith
57
Posted 20/10/2017 at 21:55:58
Lev (#58),
Where are you coming from, man?
I'm not pissing on the big man, and unless I've misunderstood you, feel somewhat aggrieved at your suggestion.
Perhaps I didn't put my original comments across properly, but never suggest I (your words not mine) would piss in the big man!!!
Colin Glassar
58
Posted 20/10/2017 at 21:56:25
I think we should get Duffy and Dunk for Williams.
Steve Ferns
59
Posted 20/10/2017 at 21:59:37
There's a difference between Unsworth and Ferguson. You can see in the different players Unsworth has had, and the way the team stays the same, that he is a good coach. He develops the players well. His tactics work. Also the players love him.
As for Ferguson, it's impossible for us to know what he actually does, whether he does it well, and whether he can go beyond coaching the strikers to coaching a side. For me, Ferguson should take over the U23s if Unsworth is given a chance, even on a temporary basis.
Colin Glassar
60
Posted 20/10/2017 at 22:00:34
I've heard similar comments, Steve. I believe Ancelotti leaves a lot of the coaching to his coaching staff and he concentrates on tactics and motivation.
There were rumours that the German players wanted a German coach after Guardiola and weren't too happy with another foreign coach. They are all chuffed now with Heynkes.
Steve Ferns
61
Posted 20/10/2017 at 22:04:19
It's fair enough if he brings in top coaches with him, who know him well and can deliver.
It's so very early, but I really like what silva has done. His players have responded well at two clubs now. He's getting a tune out of players that the previous boss couldn't.
This is what we need. Maybe he's a flash in a pan. Maybe he's committed to Watford. Maybe £6m a year would tempt him. We should definitely be sounding him out now (not after we pull the trigger).
James Marshall
62
Posted 20/10/2017 at 22:15:02
I keep reading that people are completely disenchanted for the first time due to Koeman, but I remember the same people saying they felt disenchanted for the first time under Martinez as well!
Come on lads, we're Evertonians, we always feel disenchanted because we're all cursed with the lifelong affliction of being a football supporter!
My long departed Nan always said, "football is a silly game, 22 men all running around after a football...they should have one each and be done with it!"
Maybe she had a point.
Ray Smith
63
Posted 20/10/2017 at 22:15:21
Chris Hughton just summed it up when referring to Duffy and Dunk, they have been an almost permanent item most of last season and this.
Not rocket science, when did we last string a regular combination together for 2-3 games let alone a whole season!!!
Shaun McGough
64
Posted 20/10/2017 at 22:17:13
We have the most lightweight unphysical squad (apart from possibly three players) in the Premier League.
Trying to play like Sam Allyardyce's Bolton team is doomed before it begins. Some of them are too scared to shout at each other, never mind go hell for leather on a 50-50.
Andy Crooks
65
Posted 20/10/2017 at 22:18:31
Colin Glassar, mention of us signing Shane Duffy hurts me more than I can say. I would ask you please, don't raise it again.
David Israel
66
Posted 20/10/2017 at 22:21:20
I'm totally with you, Steve # 56. We definitely need someone who can work with players out on the training pitch, improve them both individually and as a team. These Continental elder statesmen don't do that, anymore.
I also agree on Marco Silva, but I'm sure it would be hard to prise him away from Watford at this stage.
Kunal Desai
67
Posted 20/10/2017 at 22:21:23
I think the board really do some real research in appointing the next manager. Good european managers out there. Southampton got Pochettino, Hull got Silva. There are numerous up and coming managers in Europe. Roberto Di Zerbi is just one who currently managea Palermo.
James Marshall
68
Posted 20/10/2017 at 22:22:58
Our problem albeit appearing differently, is exactly the same at this point in time under Koeman as it was under Martinez – he plays the same players each week, in the wrong positions half the time.
Sigurdsson is a central playmaker so play him in the middle. Nowhere else.
Play with some runners/width who will get beyond Sigurdsson and support Calvert-Lewin up top.
Only use one of Gana or Schneiderlin as the shield.
Give Davies a freer role to roam and get forward.
Stop using Holgate at right back – he's a shit fullback.
Don't play Martina – he's shit.
Baines is old, but still our best left back. Play him.
Use Keane and Jagielka. For every game. Jags is still better than Williams and Holgate. It's all we have.
Use Rooney sparingly. Tell him not to go into his own half.
Give me a game.
Ian Horan
69
Posted 20/10/2017 at 22:25:51
Koeman needs to watch Bilic's interview after the hammers defeat. Slav took full responsibility and ownership for the hammers poor performance. Classy and dignified by Slav.
Jer Kiernan
70
Posted 20/10/2017 at 22:29:33
I will give him til November, the whole thing is a shambles and he is a major part but not the only one. The Board have once again hoodwinked us with half a transfer window and replaced 25 goals a season with a washed-up striker.
Some of the players have been piss poor and in Holgate's case, contemptible, laughing his ass off at the final whistle on Thursday night, the little cunt – he has been tripe all season and deserves a punch in the mouth for showing such disregard for this Club – and it's not about being played out of position – just plain shite.
Keane likewise – a lad at his prime, he looked like 40-year-old Steve Bruce on Thursday night, he's not been played out of position?
Ray Robinson
71
Posted 20/10/2017 at 22:32:22
At the beginning of last season, I wanted Koeman to be our manager. Now it's undeniably time for him to go.
However, the next choice of manager will be just as risky and subject to the whims of fortune. Consider Koeman's main "rivals" at the time: De Boer (sacked twice), Bilic (surely a gonner after tonight) and Eddie Howe (currently next to bottom). There'll be no magic bullet.
Bobby Thomas
72
Posted 20/10/2017 at 22:32:56
Ray (#69),
The problem we have is the idiocy of only signing one centre half when we were in the Europa. I thought we needed two new first-choice ones before Funes Mori got injured. That would have Jagielka, Williams or Funes Mori as cover, with one of those being dealt out.
However, as we only signed one centre half we are left with Keane and the 34-year-old Jags and 33-year-old Williams. Jags can't play twice a week. Williams has been exposed for what he is away from playing in the middle of a three and defending deep for Wales. Playing in a back 4 he is exposed and scared. Going forward, in the summer we badly need a new strong, pacey centre half. We lack pace at the back and its a problem.
For me, Koeman's first choice, and clearly our best pairing, is Keane and Jags. But he cant play that twice a week, so he has to mix his rather inadequate options. The scary thing is that if he had gotten another centre back in he would probably have let Jags leave.
Andy Meighan
73
Posted 20/10/2017 at 22:33:11
Fuck me... Duffy has had a couple of good games for Brighton against two shit sides and it's all of a sudden: "Oh my god, we missed a trick."
Sorry, he's no better or worse than what we've got... end of!
Dick Fearon
74
Posted 20/10/2017 at 22:35:43
By suggesting we use fewer short balls and more long ones, he has at last cottoned on to how opponents succeed against us. Our defenders struggle to cope against that tactic whereas it is like taking candy off a baby to opposing defenders.
The road to successful top level management is strewn with great players that failed to adapt to the latest developments. Big Ronnie is one of them.

Tony Hill
75
Posted 20/10/2017 at 22:47:03
As usual, we're all mouth and no trousers. Bill and Farhad know it and rely upon it, ably assisted by the Liverpool Echo Women's Institute and the other invertebrate local media. This site has shown some teeth recently, praise be, and it should continue to do so.
We're talking among ourselves while we slide into ever deeper crisis and, in my view, into a Birmingham City, Nottm Forest, Sheffield Wednesday twilight zone. But, hey, let's not embarrass ourselves by actually doing anything about it. That would be to join those ugly winners.
Neil Copeland
76
Posted 20/10/2017 at 22:47:59
Based upon Moshiri's expectations, should we now expect to lose the next 3 games and draw at Leicester?
I really don't know what to make of the situation with Koeman anymore. I was convinced that Moshiri would be planning behind the scenes and although that may still be true it seems very unlikely at the moment.
I am not one for swapping and changing managers but, when things on the pitch are as hopeless as they have been this season and the end of last, it is difficult to support Koeman. His man management and overall personality do nothing for him either.
However, if he is going to be here for at least another few months I think we have no choice but to get behind him. We don't have to like him but we can still support him so perhaps we are at the point of grin and bear it and pray that the team will put a few performances in.
Tony Hill
77
Posted 20/10/2017 at 23:17:01
Have a look at Souness's interview with Martin Samuel in the Mail (apologies) and see what winning looks and sounds like. It should be nailed up on our dressing room wall.
And yes, I know he was a shit manager at the RS, and I hated him as a player, but he shows everything that we are missing now and have been missing for years.
Don Alexander
78
Posted 20/10/2017 at 23:19:27
John (#19), I think all of your questions are valid re selection in our defence, and beyond come to that. Koeman must have seen what I have seen, namely an ageing Jags, a deteriorating Williams, and an increasingly ineffectual Baines. And it's not the fault of those same players in fairness, but they're getting on a bit. That's why, centre-forward aside, someone sabotaged our season by failing to sign another centre-back and left back. They were the specific areas Koeman stated he needed reinforcement as the window went on after our early flourish as buyers. Zilch was delivered in those areas.
Why we signed Rooney is the mystery to me. Gylfi and Davy yes, "1" and "2" for the "10" shirt, but Rooney too? Madness. He'd only be good in an already good team that's able to carry him. That's why Man Utd got rid. Even they're not good enough to do that. But our saboteur obviously thought otherwise.
Regarding Koeman's inability to conjure winning football from the ingredients at his disposal, well, I'm not surprised. I'd be more critical of him had any manager I've ever known achieved success with the same squad limitations forced on him but I can't think of anyone having been so badly let down by his board. But that's not an endorsement of Koeman the manager. Maybe that'll come when he has a full deck to play with. Maybe it won't.
It's only the fans who suffer though, whilst the Finch Farm Pussies trouser their next million.
Jason Lloyd
79
Posted 20/10/2017 at 23:45:27
In the modern Premier League you absolutely must have pace in full-back and wide areas. Bad luck with injuries like Coleman and Bolasie (effectively first choice right flank), then ageing players like Baines who last season seemed okay, reached 33 years old and hit a wall.
We look on the bench and realise we lost Funes Mori too and not even Garbutt, who is out till January from the first team.
We have also never found a fast left-wing replacement for Pienaar to create a partnership with Baines down the flank. Mirallas and Baines have never clicked.
The injuries we have had are a leading cause of our problems but Koeman has been exacerbating it with the most stupid selections possible: playing three or four No 10s in the same team, Holgate at right back, the list is endless.
What I saw vs Lyon was, for the first time, he seems to realise we need pace, width and direct football. I hope for his sake he follows what he's learned. Lose again and it's over, I reckon.
Tony Farrell
80
Posted 21/10/2017 at 01:14:37
So he reads social media, and he knows whats going on? Really...
After Sunday we will all be happier when we beat Arsenal and collect 3 points Will all be forgotten, Ron, if we beat Arsenal? Are you serious? Will we forget the shit you've put us in?
Correct me if I'm wrong but didn't he quote this same shite weeks ago? Please, the powers that be, get shut of this pretender before he takes this great club of ours on the same path as Leeds Utd, Sheffield Wednesday etc. His arrogance and stubbornness are making us all sick to our stomachs. Act now... Today!
Vinny Garstrokes
81
Posted 21/10/2017 at 06:44:49
Imagine a situation where Koeman is sacked, Rhino gets the gig with Sir Alex as mentor. Danny Murphy on MotD says that Everton can never win anything with kids! Oh and Ross decides that he doesn't need another challenge elsewhere and signs a new contract.
Rick Tarleton
82
Posted 21/10/2017 at 06:50:19
We've bought three, four, five Number 10s and no Number 9s and he wants a long-ball game. Is this for real? Is this the tactical acumen for which we pay £6million a year?
I go back to my point this man doesn't want the job, but he wants to be sacked for full compensation. If it's not cynicism, it's idiocy and I don't think he's an idiot. But he does think we are.
Neil Cremin
84
Posted 20/10/2017 at 09:24:21
Tony (#39)
Firstly, Koeman early last season suggested that Lukaku would probably move on to a bigger club.
Secondly, I remember at one stage Lukaku was thought to be signing a new deal but eventually decided to move because the club was not ambitious enough. Proves your point.
We have the mentality of a small club as can be seen when we play the traditional top six clubs or play away from home. Look at how Brighton did at West Ham or Burnley did at Chelsea, Liverpool. This mentality is the responsibility of a manager who thinks small.
Moyes did it well with limited resource. Koeman is not able to do it with limitless resources because he is a bad man-manager who installs no self belief into players. Instead, he has cold-shouldered at least six players that we know of. How would you expect a team to perform together in that sort of atmosphere. Therein lies the problem.
Neil Cremin
85
Posted 21/10/2017 at 09:36:20
Andy (#71),
We should never have sold him, which I said at the time, because even then the age profile of our two centre-halves was too old. He is old-style, like Jags, but we still need a footballing centre-half and the jury's out whether Keane can fill that role.
Tony Marsh
86
Posted 21/10/2017 at 09:38:38
Neil @ 90,
Moyes was the founder member of our 'small club' mentality while he was here. Moyes dragged down expectations to a new low. Not once in 11 years did Deadly Dave get an away win at the then Big 4.
This club is still suffering from the general apathy and losers' mentality that Moyes engrained right throughout EFC. Koeman has picked up the baton while Kenwright looks on and smirks.
Phil Walling
87
Posted 21/10/2017 at 09:52:14
Tony, I don't think Moyes 'thinking big' would have made much difference with what he had available in talent.
I know you detested the man as much as I did his successor but, all-in-all, he did pretty well with the money afforded to him.
All this 'big club' stuff became history when the Russian and the Arabs got involved whilst the Yanks have done much to keep Arsenal and Them punching top six.
By comparison, we still have a pauper in charge with both managers since Moyes left – decidedly worse than average!
Andrew Clare
88
Posted 21/10/2017 at 10:45:28
I'm beginning to see the argument for giving Koeman more time. Like most on here I have been very angry and very impatient with how things have panned out.
We have to consider that we have practically signed a new team and it takes time for them to gel. Koeman is still trying to work out who his best eleven are, this also takes time. I do think that if Koeman and the players turn the corner we will be a much stronger outfit as a result.
If we sack Koeman we will be set back for another season or two. I want us to win every game we play but maybe this time we shouldn't worry about the cups and just concentrate on building a very strong team for the long term.
I don't think a Kendall moment will happen like the Oxford game turning point but I do remember us being absolutely dreadful the season prior to our great period in the mid eighties.
People moaning about Ratcliffe and others being useless – then look what happened. Sometimes you have to take the hits to make yourself stronger.
Jim Burns
89
Posted 21/10/2017 at 10:52:55
Tony Marsh @ 39– "a vast majority of our fans are gullible" etc.
How do you know – have you spoken to all of them?
I'm not gullible, and the 7 or 8 sat near me at Goodison every week aren't – nor the mates and many fans I've chatted to at the away games.
Oh – and none of us can remember talking to you.
Paul Hay
90
Posted 21/10/2017 at 10:58:27
Stan at #8,
I tend to agree with most of your comments and, sadly concluding that your contribution here is correct also.
It perplexes me though how so many professional players of note urge us all to stand by Koeman. Granted, they should know and see more than us here on TW, but, to a man, they tell us to give him time. Why?

Tony Hill
91
Posted 21/10/2017 at 11:08:26
Andrew (#94), as one who desperately wants Koeman out, I understand that argument in his favour and I actually think it's a strong one in theory. There have been fleeting glimpses of improvement over the last month amid the dross, including on Thursday.
But I don't think we have the time available to build as you suggest (even supposing that the manager is a better tactician than he has shown himself to be so far) and he doesn't have enough support within the club I suspect. The Premier League doesn't let you take years to make a transition, and I believe instead that we are in a relegation fight already.
Losing is now becoming habitual and once that happens you are deeply in the shit of course. He isn't the type of manager who can get us out of trouble and, as Peter Reid has noted, we don't have many players who are up for a fight either. Add to that our lack of goal threat and you have a deeply concerning combination of factors.
I don't think it's all Koeman's fault by any means but he has to go as a first step because I think the threat of relegation is serious. We have to avoid that above all else.
Amit Vithlani
92
Posted 21/10/2017 at 11:12:11
Kunal – this board do research? Not a chance.
Moshiri and Kenwright have shown no imagination in their appointments. Walsh, Koeman and Martinez all arrived from the Premier League.
Biggest signings by transfer fee paid – Sigurdsson, Keane, Pickford, Schneiderlin, Bolasie. Biggest earner – Rooney.
Yes these signings are Walsh/Koeman picks but the board hired people who perpetuated the formulaic Premier League mentality.
When they ventured off shore to pick up players, we ended up with Klaassen and Ramirez. The entire set up is showing zero signs of finding an imaginative way of breaking into the top 4.
I think we will spend heavily again in January and June, but unless we get a board which does some research and puts the effort in, I can see Koeman being replaced by Sean Dyche and continuing to buy average Premier League players, bequeathing us a plodding, dull mid table destiny.
Moshiri and his team have put money into the club and managed our finances a lot better. But, when it comes to the football side of things, I am rapidly losing faith that they will deliver anything different to what we have endured for the past two decades.
Steve Carse
93
Posted 21/10/2017 at 11:12:35
Don (#11), why does not having Lukaku mean we've 'got to' play deeper? Liverpool don't play with a recognised centre-forward, I don't see them fannying around with the ball and producing nothing.
The reason? They play with pace, both in the movement of players and the speed with which they play the ball. They also press high up the pitch, as do Man City.
So put all together 'playing deep' just doesn't come into it. No, the reason we play deep is because Koeman hasn't got a clue.
Ron Marr
94
Posted 21/10/2017 at 11:14:03
I'm guessing Moshiri is expecting losses against Arsenal and Chelsea so the taxi may arrive after the Leicester game. One would think Moshiri would protect his investment.
Frank Crewe
95
Posted 21/10/2017 at 11:29:21
There was an article on MSM today regarding managers' salaries. Apparently Everton are paying Ronald Koeman £1.5 million a year more than Real Madrid pay Zinedine Zidane. Amazing!!!
Steve Ferns
96
Posted 21/10/2017 at 11:42:25
To the guys wanting to give Koeman more time, I ask this:
What is the plan here, then? Koeman has stated he has a three-year project, he made it clear he was here for three years and three years only. So, let's imagine that we start winning and we start winning quickly and consistently and somehow we limp home to 7th or 8th, maybe without the distractions of any cup competition.
What next? he's into the last year of his project. What basis, if any, would he then have to achieve the stated goal of Champions League football. This season was to be about closing in on that top 4, targeting 6th or 7th, but ultimately closing in.
Of course, you don't have to go up in steps, you can go down and then shoot up, see Leicester for an extreme example.
I don't see a top 4 side from our current squad. I see how we struggled to attract top 4 players in the summer, and the idea was surely to sign the best players from all of the other clubs to push us into the top 6 so that we could then go out and get that top 4 quality on the back of it. I cannot see that happening.
So, what next for the project? Is Koeman going to aim to keep us in 7th and then extend his project to 5 years?
Phil Walling
97
Posted 21/10/2017 at 11:52:04
Maybe we should all stop worrying and accept the fact that the Club is once again on a downward plunge. After all, we've done pretty well in 2000s so far and must be prepared for the (reasonably) good days to end.
As I've said many times before, there is never a guarantee that season on season will see an improvement, although 'doing better next term' is always predicted on here!
Peter Larkin
98
Posted 21/10/2017 at 11:52:22
Forget everything for a minute here, forget tactics long ball short ball etc etc – someone tell me who will score the goals to keep us up? That right " keep us up " shambles at the back and even worse up front.
Reminds me of West Ham, a team full of good players but that didn't work. We will go done under this fool.
Steve Ferns
99
Posted 21/10/2017 at 11:53:56
It's the hope that kills you, Phil.
Paul Tran
100
Posted 21/10/2017 at 11:58:07
The only reason for keeping Koeman is the hope that things suddenly click. I can't see it.
I don't think Koeman & Moshiri 'expect' to lose certain games. They're both indulging in excuse-making & expectation-dampening to justify their choice/existence.
We need a manager who can communicate clearly, whose team plays the way he says he likes.
That's not Koeman.
Steve Ferns
101
Posted 21/10/2017 at 12:06:42
It could be Marco Silva, though, Paul.
He turned things around with Hull very quickly. You know this because they were playing very differently. He even had Niasse playing well and scoring. Now he's at Watford and got them playing exceptionally. Some yard dogs actually look like footballers.
This is done on the training pitch. Drill the defence. Drill the midfield. Drill the attack. Make them do things "instinctively" because you've got it rammed into them.
What we mean here is you run drills such as when Pickford has the ball, how we will get it up the pitch so that he has certain options. You limit those options to say three things. Once he hits the specified player, everyone knows that they now need to move into certain areas, and this could be as easy as the left winger running an arc into the 10 position to collect the ball and then feed the right winger who is now running into the box.
There's a million and one drills you can run. I just don't see any evidence of Koeman running drills on the training pitch. The only thing I have seen is Calvert-Lewin continuously pulling onto a flank to receive the ball off Pickford on his head. But after nothing came of that for two matches in a row (Burnley and Brighton) it seemed that the drill was flawed.
It's not hard to get footballers to run across a training pitch in a certain way, and to get them to recognise that when the ball goes to a certain player then that's their cue to run a play. Why aren't we doing it?
Let's get rid of this fool, and get a proper coach in who can teach the art of defending, moving, passing, and shooting. Someone who will also get the players playing for him.
Steve Ferns
102
Posted 21/10/2017 at 12:20:44
Let's hope they take Allardyce back and off the market.
Lawrence Green
103
Posted 21/10/2017 at 12:24:09
Ronald Koeman speaking yesterday to Andy Hunter of The Guardian said:
"We know that we don't have that striker in what we expected and that makes it more difficult," said Koeman, who will have regrets when he sees Olivier Giroud, a striker he wanted, in the Arsenal ranks on Sunday.

"It is not straight and honest to expect Dominic to be that already. He will grow and is improving and nobody else of that age is playing as often in the Premier League and in a difficult position.

We had someone who scored 25 goals last season and that is a big miss. It is not easy to find something that is better than it was. And that's normal.
"On the football side Steve Walsh [the director of football] and I were working on getting a good one in. We didn't get anyone in who was better than the players we had and then there was the cost of several players who were not the first options. Finally we decided not to sign.
It seems that Walsh and Koeman made the decision to go into the season with what we had and chose not to bolster the squad with a forward or two. Of course, it could be that the bean counters prohibited their choices, due to the failed moves of Niasse and Barkley. Whoever is responsible has consigned this season to the dustbin of history unless of course it results in our Premier League status being removed.
For those that keep waiting for an 'Oxford' moment, guess what we were hoping for that moment to arrive in 2001-02 and possibly every season since 1995. Goodison Park – the home of the Déjà Vu Blues, but for all the wrong reasons.
Paul Tran
104
Posted 21/10/2017 at 12:27:08
He'd be my first choice, Steve.
Raymond Fox
105
Posted 21/10/2017 at 12:31:19
Silva is a flavour-of-the-month manager. You have to see how he goes over a much longer period to get a good idea of how good he is.
Bilic was thought of as an excellent manager not long ago, look where he is now. Very often its the players who get the manager dismissed, but of course clubs can't sack all the players!
Stephen Davies
106
Posted 21/10/2017 at 12:34:12
Steve (#107),
I will be watching the Watford game today with interest. I rate Silva..hes ambitious, a motivator and likes to play attractive football.
It will be a tough test today and it will be interesting to see how they play against Chelsea. I suspect he will not fear them (he will respect them) but he will give them belief that that Chelsea are not a better 'team'.
Steve Ferns
107
Posted 21/10/2017 at 12:34:44
Mine too, Paul, but there are doubts. We're talking about less than six months at either Hull or Watford. Ideally, I'd like Koeman to have succeeded and then brought him in, having had sustained progress at Watford.
We can't afford to wait around though, plenty will be knocking on his door, Leicester and West Ham firstly.
Edit: agreed, Raymond – hence the above.
Phil Walling
108
Posted 21/10/2017 at 12:55:43
Lawrence at (#110). Andy Hunter tells it how it is. We can never be a top club – or even one that challenges to be such – as long as we sell our best players to raise funds to sign inferior ones.
No matter that we pay 'big money' to sign them and pay them, only players on the way up or the way down will be interested.
I don't blame managers, directors and chairmen because it's natural for those who become 'stars' here to want to chase glory with teams with the wherewithal to get it. Only when (and it's never going to happen in my lifetime) we can be on equal terms with the 'big boys', can we hope to improve on our acquisitions and retentions. So let's just accept it and come to see top third as the measure of our success.
Otherwise we are in for more decades of heartbreak!
Steve Ferns
109
Posted 21/10/2017 at 13:01:11
Phil, you get in a Pochettino type manager who signs enough of those on their way up, and develops them, that they are happy to stay together as a group, working for a star manager, and to take the club to the next level.
Surely, this is the blueprint for Everton.
Phil Walling
110
Posted 21/10/2017 at 13:14:47
You are right, there, Steve, but even the journos' favourite club have won absolutely nowt in the Premier League era. And they did have to sell Bale because, like Lukaku, he wanted to go!
Lawrence Green
111
Posted 21/10/2017 at 13:32:28
Ronald Koeman: "I think every football player plays for himself for the club and for the fans and not for the manager or the coach."
Okay Ron, that's football, at least the 2017 version of it, can somebody remind me why is it we pay this guy £6m pa, because I'm really struggling to work out what it is that he is actually responsible for.

Martin Mason
112
Posted 21/10/2017 at 13:38:03
Phil, sorry mate, nothing you read in a newspaper is true. :-)
Kunal Desai
113
Posted 21/10/2017 at 13:58:19
Amit – yes wishful thinking on my part or perhaps the decision making process will change from the top when Kenwright resigns or sells his shares.
Either way with Moshiri on board, I agree there have been no signs on or off the pitch to indicate the club is moving forward. Lazy appointments with no real thought process or strategy in place to consider and accommodate the longer terms plans of the club. Everything has been a mishmash.
Get those banners out and start those plane engines Kenwright and Co. It's time to go!
Stan Schofield
114
Posted 21/10/2017 at 14:05:46
Paul@96: I don't know mate. I think the pundits tend to be full of bullshit as well. Last match I watched was the Burnley game, on French TV when I was on holiday.
The commentary was quite pleasant on this occasion, because I couldn't understand what they were saying. I did manage to understand a comment on the screen, 'Pour Koeman, victoire obligatoire'.
Dave Newall
115
Posted 21/10/2017 at 14:09:31
I can't see Koeman turning this around now but I do think he was hung out to dry by Steve Walsh. I think he should be sacked before Koeman or at least on the same day.
Steve Ferns
116
Posted 21/10/2017 at 14:11:42
They shouldn't be coached in passing and moving, Tony. If they need that then they should be sold to a non-league side.
What we need is drills so that the player knows where his teammates will be without looking. No one knows where each other is on the pitch and they spend too long looking, or just his a hopeful pass or cross, like Martina. Instead drills will make players know where they have to run to and where their teammates have run to and so they can look to where their teammate should be and then pass their quickly, or better still have a quick look before getting the ball.
A player should not receive the ball and then decide what to do. They should already know. Drills make them know. That is a decent coach. Our players get the ball and don't have a clue.
What the hell is Koeman doing on the training pitch? What is he doing off the training pitch? Are they watching videos? Does Koeman make tapes or disks for his players?
Does Koeman just turn up and expect to say a few things and everything will work out? This is the post Jose Mourinho era. The Harry Redknapp style manager has been left behind.
Raymond Fox
117
Posted 21/10/2017 at 14:13:02
Steve, you may well be right suggesting Silva, but can we afford to take a chance on him the state were in now.
I think I'm right in saying I was the first yesterday to dare to recommend Sam Allardyce to take over as our manager. Ok he might not be every ones cup of tea but he knows the Premier League inside out and will play the way his players are best suited to and get the maximum out of a squad. He's not a one trick pony he's adaptable to any style of play.
When he managed Bolton he played mostly the long ball game against the 'big boys' because he knew they couldn't win trying to play them at passing football and out skill them, Wenger hated playing Bolton.
Where we are at the moment I think he's a perfect fit.

Steve Ferns
118
Posted 21/10/2017 at 14:15:02
If we appoint Allardyce, then I won't go to a single game. I don't want that anti-football, corrupt, bung taking, dinosaur anywhere near my club and I certainly do not want to watch his long ball game. No thank you.
Soren Moyer
119
Posted 21/10/2017 at 14:22:06
How are watford losing this game is beyond me. A big no to Big Sam. We should take a chance with Silva.
Dave Evans
120
Posted 21/10/2017 at 14:37:17
Steve 107 great post. Players don't seem to be coached and drilled enough in an overall system and individually within that system. In so many situations players are hesitant and the runs they make for each other (when they are made} seem arbitrary/not co-ordinated.
David Barks
121
Posted 21/10/2017 at 14:57:52
I've been asking what Koeman's system is since the start of last season. I still have no idea what it is supposed to be. More importantly, it doesn't seem like the players have been able to figure out the answer to that question either.
Watching Watford today it was easy to see what Silva's system was. Certainly not slowly passing it around in defense. It was get it forward quickly by either making a quick and straightforward pass to a man ahead or driving forward with the ball. But every single Watford player knew to come toward the player with the ball to offer easy passes.
Same with Chelsea, easy to pick up their system. Play quick short passes in the middle and get it out wide as the opposition inevitably gets sucked in toward the ball. Get the ball to the wings with pace and don't just send a long cross into the box. Instead, drive in from th wings and send a shorter cross into box.
The only issue with Watford was they missed multiple open goal opportunities. When I watch Everton I struggle to understand a single thing they are trying to do. I have no idea what they must work on in training because whatever it is it does not seem to make its way to the match.
Raymond Fox
122
Posted 21/10/2017 at 14:58:35
Steve, I can't deny the bung taking, but anti football dinosaur Is way off the mark. He was way ahead of his time as far as sports science was concerned.
Who said he would play long ball football at Everton, he might play more direct against certain teams when it suited us to, what's wrong with that.
I've had enough of being bored to death watching this fannying around backwards and sideways in the middle of the field possession and getting nowhere football that we are playing.
Pretty football might be the ideal but we need to win first and foremost. If we had players on par with Man City or some from Man Utd etc we then could be picky, but we haven't.
Steve Ferns
123
Posted 21/10/2017 at 15:04:58
Allardyce can only play one way. I'm as bored as you of a certain type of football, only for me that's hoofball. I can't stand it. I would rather see the fannying about you talk about than launching long balls down the channels and trying to work the lines like a Sunday league side.
Also, Allardyce is all about the percentages. So we'd encourage diving to win free-kicks then send big grocks like Ashley Williams up to try to score.
That's my absolute worst nightmare. No thanks.
Paul Tran
125
Posted 21/10/2017 at 15:27:59
Allardyce is a unique manager who is both over and under-rated. Very good at organising a team, getting the best out of half-decent players. Very good at managing decent players in the twilight of their careers. Very good at measuring all the peripheral stuff that doesn't really matter to anyone except the stats obsessives.
He's make us committed and solid, people on here will welcome the return of the 'real' Everton. It would then become clear that he'd do no more and some of us will hanker for what we call the 'real' Everton.
Not for me.
Andy Crooks
126
Posted 21/10/2017 at 15:56:35
Paul, I would have him right now. His sacking by England was was, in my view, a response to the right wing press who had him condemned without trial.
He has , with the right players, the ability to be excellent. We have the right players.
Tony Hill
127
Posted 21/10/2017 at 15:57:42
Raymond, I'm with you on Allardyce but we're in a tiny minority on here. He wouldn't be my first choice but his Bolton side was attractive to watch and he had Palace playing attractive (and winning) football too.
I am not sure anyone will be hastening into the Everton job at the moment – in the unlikely event that our board acts – given where we are, even if the money will be an incentive.
I keep saying it: we need to stay up and that's all that matters this season now.
Paul Tran
128
Posted 21/10/2017 at 16:02:20
Andy, I agree he was shafted by the FA. Other than that, we'll disagree.
Mark Morrissey
129
Posted 21/10/2017 at 16:04:03
I was wowed when Moshiri arrived. Talk of strong links with Usmanov. Bringing in a Russian hit man to the board, talk of a new ground. I felt that Bill had found us "the man".
In truth, there is no new ground as yet. He has sold off the family jewels in my opinion for sanctioning the sale of Lukaku. In doing this he showed us all that he needed to sell before he could allow Koeman to enter the market. His pockets aren't quite as deep as we all thought.
Yes, it looked promising because we were out there buying player,s early doors... wow, this looked good. The reality is that he knew that Lukaku was being sold and so that sale wold offset the monies forked out for Keane, Pickford and Klaassen.
Rooney was a sweetener by Bill. He knew Evertonians would lap it and lap it up you did. I say "you" because I am talking about the majority of you. I was screaming at the TV when we brought him back. I couldn't bear the thought of it and it was then that I knew. That confirmed it for me. It's a contrick.
Moshiri is a confidence trickster. He knew that most Evertonians would lap up the Rooney cup trick. Bring back the prodigal son and they'll forget we ever sold Rooney. What a con. In front of our eyes and under our noses. He pulled of a trick.
Well the game is up Farhad. The smoke and mirrors has lifted and your trick is exposed. Your a con man along with your man Koeman. A perfect match. Both of you know nothing about Everton. Both of you have been exposed.
We are in freefall and Bill's the only one with a parachute. He's sitting back and watching it all unfold because he's no longer to blame. It's all on you, Farhad. The game is up and it's time to put Koeman to the sword and salvage your car crash of a club. Lose to Arsenal and you need to take positive action.
Telling the world on Sky Sports that Barkley was to be sold also exposed your naivety about all things blue. I'd take Ross over Koeman all day long.
By the way, chaps, make no mistake, if we keep Koeman and we can't sell Ross – then there will be no money for a striker come January. Sell to buy
Eddie Dunn
131
Posted 21/10/2017 at 16:44:30
Steve Ferns and Paul Tran, remember some of the football he had Bolton playing with Ochocha, Djorkaeff and Campo?
I think he is an intelligent manager who knows how to grind out results, but when he has the players and the circumstances are right, he can get his men playing good stuff.
He may not be the romantic's choice but we are talking about staying in the Premier League.

Kunal Desai
132
Posted 21/10/2017 at 17:07:26
Tell you what I wouldn't want Allardyce but if he keeps us up with his anti football then i'd take him for this season. Beggars can't be choosers and we are beggars make no mistake. We are in a relegation scrap.
Today's results have pushed us closer to that bottom three. We have been shite for 30 plus years a mediocre club since the inception of the Premier League. Nothing since Moshiri has joined has convinced me otherwise.
Ron Marr
133
Posted 21/10/2017 at 17:17:21
The Suits at Everton took Dithering Davism to a new level with the Sigurdsson fiasco, and I expect that even Allardyce will be unavailable by the time they get their ass in gear.
Will Mabon
134
Posted 21/10/2017 at 17:49:30
"
By the way, chaps, make no mistake, if we keep Koeman and we can't sell Ross – then there will be no money for a striker come January. Sell to buy
"
Let's speculate that Ross would re-sign if Koeman leaves – but Koeman stays. Perhaps then Ross and/or his management decide there will be no transfer to a club unless to his satisfaction (Chelsea?). Or even if an interested club appeals, but the salary is considered insufficient or terms unsuitable.
Ross has nothing to lose by seeing out his contract and much to gain monetarily when finally moving somewhere for a sizable signing-on fee.
I tend to agree that the centre forward issue may largely depend on the sale of Barkley, or perhaps others. Either way, the Barkley saga has further chapters to unfold, I feel. A fine example of what "Playing hardball" can lead to.
Tony Hill
135
Posted 21/10/2017 at 18:22:44
Ah yes, Barkley. Thank goodness we gave him his marching orders a year early, otherwise there would have been no room for Sigurdsson, Klaassen and Rooney. Only Ronald can see these things.
Eddie Dunn
137
Posted 21/10/2017 at 20:20:56
Tony, yes, due to his injury, he has been conveniently out of the discussion, but the craziness of all of our number tens and Ross available prompts more questions about just what did go on in that window?
Whatever Koeman's failings (and there seem to be many!) it was a travesty that we were all aware of Lukaku's pledge to stay for one more season, so the whole world and his dog knew we needed at least two new strikers, and we failed to get our target,(Giroud) and then decided that the secondary targets were not worth the money.
This suggests that not a lot of money was available, especially as we had shelled out so much for Sigurdsson. Barkley's collapsed transfer indicates that financially we are much more stretched than the fanbase and the rest of the footy public are aware.
I now hear every day that we spent £140 million on players, on TalkShite, on the BBC and on BT Sport. The Lukaku money has been merrily forgotten as the headline sounds better than the net spend.
Take a look at our unbalanced squad, with journeymen like Martina, aging guys like Williams, Baines, Rooney and Jags and then lots of kids. It is crystal clear that the money hasn't gone very far, and worrying if we really don't have the dosh for a striker (if one is available and wants to come), without selling first.
Koeman could jog-on, and we could still be up shit creek.

Terry Underwood
138
Posted 21/10/2017 at 21:16:47
We've gotta be realistic. No top striker is coming here for a relegation scrap.
Somehow we have to trawl the lower leagues and find the next Rush, Sharp or Vardy. Someone who can score and is up for a fight. If things don't improve it will become harder for our young guns to resist a move – then we really will be in the shit.
Tony Williams
139
Posted 22/10/2017 at 00:47:15
He knew last season Lukaku was going, all that time to replace him with midfielders. Absolutely no excuses.
Karl Meighan
140
Posted 22/10/2017 at 08:51:32
We can talk about strikers untill were blue in the face the fact is we don't create chances.
We need to get back to a system players understand and with a plan of how we are going to approach games.
Rooney up top with Sigurdsen behind him, the only reason for this is at the moment they are the best we have and can hope for. Calvert Lewin and Niasse for all there hard work imo are a pair of Championship standard strikers.
We have to begin games in midfield with natural wide players, Mirralles, Lennon, Lookman or Vlasic. Gueye and Schniederlin playing central sitting helping to break up play the other offering to push on, work that out for themselves who does which, christ there paid huge wages should be a fucking doddle.
Baines and Holgate playing fullback concentrating on stopping balls coming into are 18 yard box, getting forward is a bonus. Centreback is any 2 from 3 and injury permitting give them a run of games together. For home games maybe Davies could play alongside either of the 2 defensive midfielders with him taking the ball from the centrebacks as his passing is streets ahead of most of are players.
Terry Underwood
141
Posted 22/10/2017 at 10:22:33
I really feel sorry for Holgate Left back, centre back, right back. No wonder the poor lad gets caught out of position. It is fine having many strings to your bow, till some bastard wants to pluck 'em. He will never develop to his full potential till he has a settled position. Once he has learned his trade as say, CB, then he can expand to cover as a FB
Steve Ferns
143
Posted 22/10/2017 at 11:51:44
I was talking to my mate last night when we came up with a novel solution based on Italian football. You will be aware that in Italy they can sack and re-hire a manager in the same season and it often happens.
What they do is, in simple terms, to put the manager on "gardening leave" and hire someone else. The guy is still under contract to the club and must wait for the length of his contract. If he wants a new job he must negotiate a release. If he new guy doesn't work out, then he's back in!
So why not send Koeman off to play golf in Portugal, give Unsworth until Christmas and see how it develops. Maybe bring back a refreshed and reengergised Koeman if it's not going well.
It's not actually what I'd do. But it's an interesting concept.
William Cartwright
144
Posted 23/10/2017 at 15:32:22
Steve, I think its a brilliant concept. Why have we not been aware of this before now!
Add Your Comments
In order to post a comment, you need to be logged in as a registered user of the site.
Or Sign up as a ToffeeWeb Member — it's free, takes just a few minutes and will allow you to post your comments on articles and Talking Points submissions across the site.