Everton vs Arsenal

249 Comments [Jump to last]
Saturday 21 October 2017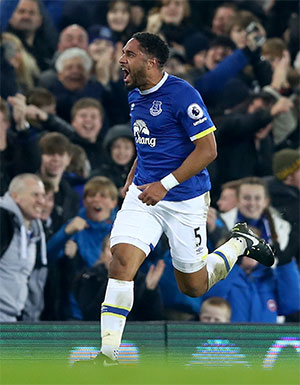 Might Ashley Williams keep his place after his goalscoring intervention Thursday against Lyon?
Ronald Koeman's quest to find a morale-boosting win continues with the visit of Arsenal this Sunday.
Everton have won just twice in two months in all competitions, a timespan that includes 12 matches and it has left the manager in what you would think would be a very tenuous position, with an even more daunting task awaiting him at Stamford Bridge in the League Cup on Wednesday.
Last season, this fixture proved to be a turning point for Everton under Koeman, at least in terms of their home form — while Goodison Park would become a fortress for a few months after Ashley Williams headed home the winner over the Gunners in December, the Blues have won twice on their travels since.
In what was a foretelling of the current crisis, the Dutchman had been struggling through his first few months at the helm to mould his team into a cohesive, winning unit. Everton's form had fallen away following an unexpectedly impressive start to the 2016-17 campaign but from a particularly demoralising 3-2 defeat at Watford came a pivot in the form of a 2-1 triumph over Arsenal.
Koeman will be hoping for a repeat this weekend, although it is going to take many more victories before the majority of Evertonians will be convinced he is still the right man for the job. A lot of damage to his credibility has been done in recent weeks and privately he might wish for easier opposition than Arsenal — although as he has pointed out, Arsene Wenger's charges haven't been anything to shout about away from the Emirates.
"If you look back to last season," he said, "we had some great games against really big teams in the Premier League and why not against Arsenal?
"Because Arsenal are not unbeatable, they're not the strongest team away from home this season.
"We know we need to improve, we need to play better but I think if we bring the fight on the pitch and the aggression in a good way then we have a good chance to win the game."
Koeman will welcome back some of the players he rested, for better or for worse, against Lyon on Thursday evening but he may have to do without Morgan Schneiderlin who came off with a heavy knock that now seems to have looked worse than it was on the night.
The Frenchman will be assessed before Koeman makes his decision but the manager confirmed that all three of Phil Jagielka, Wayne Rooney and Leighton Baines will return. James McCarthy has a chance of being included in the squad after coming through 45 minutes' worth of action for the Under-23s last Tuesday.
Gylfi Sigurdsson, a substitute in the Europa League match, is also expected to be restored to the starting XI, although how Koeman might go about arranging his team this time.
Williams's feisty performance and goal against Lyon drew praise from the boss while Michael Keane, who had a rough night overall, was singled out as one of the players making too many mistakes in Koeman's eyes and it would not be a surprise to see him taken out of the firing line for a bit.
Up front, Dominic Calvert-Lewin might get the nod again over Oumar Niasse who was disappointing against Burnley and failed to set the world alight at Brighton while Kevin Mirallas may have to make do with the bench again despite being one of the brighter spots in the defeat to Lyon before he came off.
Arsenal, who have not been without their critics or pressure from supporters themselves this season, will welcome Alexis Sanchez back but Danny Welbeck, Calum Chambers and Francis Coquelin are doubtful. Aaron Ramsey and Laurent Koscielny will undergo late fitness assessments.
Despite being winless on the road so far, Arsenal always represent tough opposition so it goes without saying that they will pose a stern challenge for Everton. Given the way the Blues have been playing, a win seems like wishful thinking but Koeman will hope he can harness some of that fight he saw against Lyon and get a dose of luck, the lack of which he has been lamenting after every poor result lately.
Kick-off: 1.30pm, Sunday 22 October, 2017
Referee: Craig Pawson
Last Time Everton 2-1 Arsenal
Predicted Line-up: Pickford, Martina, Jagielka, Williams, Baines, Gueye, Davies, Vlasic, Sigurdsson, Rooney, Calvert-Lewin
---
Reader Comments (249)
Note: the following content is not moderated or vetted by the site owners at the time of submission. Comments are the responsibility of the poster. Disclaimer
Mike Kehoe
1
Posted 21/10/2017 at 07:36:28
There were some odd comments in his interview yesterday. Most alarming for me he said "This is not where Everton want to be or where we want to be": Am I alone in finding that worrying as it seems to signify some kind of disconnect between him and the club? I get that he is an employee but I don't suppose I would expect that comment from the likes of Unsworth or previous stalwarts who felt more for affection and passion for the club.
I have been slow to join the clamour for Koeman's removal but I'm struggling to see a way out this situation. Although we lost the other night, to a very good team it should be remembered, introducing pace and width had the obvious effect we have all been demanding but Koeman has stuck rigidly with a formula that has only delivered disappointment and frustration in equal measure. It isn't rocket science, attacking players attack and make chances.
Napoleon asked "is he a lucky general" and I'm sure that if Koeman were to fall into a bucket of tits he would emerge sucking his thumb. Missing out on targets may have been unfortunate but missing those targets and leaving Niasse out of the Europa squad is just poor management: for £6 million a year I expect more insight and awareness.
But I also demand more of him, when he talks of hating to lose it feels like he hates that it maybe damages the Koeman brand and may effect his chances of getting a job at the top table of European football. The only times we have seen success at this club in living memory has been when people connected to the club take over: Kendall, Catterick, Royle.
End this shite now and give Unsworth a go.
Dave O'Connell
2
Posted 21/10/2017 at 08:06:19
A likely defeat against Arsenal... then what, Koeman? More excuses?
Tired after Thursday? Arsenal played Thursday away, so we will see... Hopefully this could be Koeman's last game in charge, leaving us in the bottom three.
Paul Ritchie
3
Posted 21/10/2017 at 08:27:17
I agree with you, Mike. The board funked Koeman over when they didn't sign the left back and pacey centre back he wanted. And never mind signing a forward, they criminally let a leading Premier League scorer (that was under long term contract) leave the club with no more than a whimper.
That all said, we are where we are, and who's the man to get the best out of what we've got? It's not Koeman anymore! Give the job to someone that cares and that us supporters feel connected with / will get behind; Rhino deserves a go.
Mike Berry
4
Posted 21/10/2017 at 08:39:32
I fear a defeat on Sunday, I am always optimistic but realistic too, resulting in Koeman clearing his desk Monday morning.
Ajay Gopal
5
Posted 21/10/2017 at 08:40:36
I think Koeman may eventually stumble on to his best Premier League XI, the team seems to be slowly, very slowly improving in performance, and Koeman is beginning to realise who is up for the fight and who is not.
I would go flat back 4, Martina and Baines on the flanks, Keane and Jagielka in the middle. Gueye protecting the CBs. For width, I would have Vlasic playing in front of Baines.
Baines needs an intelligent footballer playing in front of him, and I believe Vlasic's energy will provide the necessary protection to Baines. I would really like to see how the Baines-Vlasic combo works on the left, could they recreate the Bainaar magic?
On the right, I would pair Lookman with Martina – they both attacked and defended well as a unit in the home leg against Hajduk Split, especially in the 1st half. We can only hope that they recreate that brief moment of brightness.
I would play Sigurdsson and Davies just in front of Gana and Rooney as our striker, we need all his experience in finding the back of the net. Calvert-Lewin needs a bit of a break at the moment.
My team:
Pickford
Martina Keane Jagielka Baines
Davies Gueye Sigurdsson
Lookman Rooney Vlasic
Subs: Stekelenburg, Williams, Holgate, McCarthy, Mirallas, Niasse, Calvert-Lewin.
This should win it for us: 3-1 (Rooney, Lookman and Niasse).
John Keating
6
Posted 21/10/2017 at 08:42:51
I think you might not be too far off with that team Lyndon but I might swap Vlasic with Mirallas. Still a bit unbalanced though isn't it. I must admit I still prefer a 4-4-2 or 4-3-3 formation at home.
I see Koeman thinks the Europa League might be a bit of a hindrance, well there's a surprise! The most useless competition ever devised especially, these Thursday kick-offs. Just a pity we can't bail out right now without having to play another 3 useless embarrassing games.
Hopefully Arsenal have a completely bad day with a total melt down, we get dead lucky and scrape a 0-0 draw. One thing is, if we go down a goal, we've had it!
Ian Bennett
7
Posted 21/10/2017 at 09:03:11
This is his last game I believe:-
Pickford
Martina
Jagielka
Keane
Baines
Davies
Gueye
Vlasic
Sigurdsson
Mirallas
Rooney
Mark Daley
8
Posted 21/10/2017 at 09:04:23
Meanwhile in other news, Captain Donnelly is due to tie up at the Albert Dock any day now, and reports are coming in of a squadron of Gloucester Old Spots making their final approach to Speke airport.
Rick Pattinson
9
Posted 21/10/2017 at 09:10:04
Another 3 points gone. Sorry about the negativity but I actually expect to lose every week now. It's that fucking bad. Put whatever fucking team he puts out they're all a disgrace.
Anthony Hawkins
10
Posted 21/10/2017 at 09:12:02
Ian @ #7 – I don't recall a time when Koeman played anything like an attacking side your formation suggests.
It should be his last game, though.
Tony Everan
11
Posted 21/10/2017 at 09:17:39
I am afraid Arsenal are in a different league to us.
They have Sanchez, Lacazette, Giroud, Walcott, and Welbeck, ie attacking options , some pace some height and top quality. They can change it and adapt in games.
They are having a tough time in the Premier League but it pains me to say it, I will be very surprised if they don't score 2 against us. We just can't score; I can't see us getting more than 1 goal.
Having said that there were glimmers of hope , for about 20 mins against Lyon we looked like the real Everton. Sigurdsson looked a bit more in tune and Lookman looked good for a short while. That is Until their equaliser zapped our confidence.

Gareth Clark
12
Posted 21/10/2017 at 09:20:45
Williams is showing a lot of fight... so I'd be hesistant to leave him out:
Pickford
Kenny Keane Williams Baines
Idrissa Davies
Sigurdsson
Vlasic Niasse Calvert-Lewin
Subs: Stekelenburg, Jagielka, Holgate, Schneiderlin, Klaassen, Rooney, Sandro.

It's also difficult to leave out Jags...
Vlasic has been fantastic.
Kenny offers pace & delivery down the right.
Rooney doesn't deserve to start, but offers a lot off the bench.
McCarthy needs more time to get fit.
Pace upfront, a solid midfield & defense & Sigurdsson in space in the attacking third.
Jason Lloyd
13
Posted 21/10/2017 at 09:23:24
Agree with Ian Bennett and others, this feels like his last match if we lose again.
Derek Knox
14
Posted 21/10/2017 at 09:46:15
I have never wanted Everton to lose a match, but if it gets rid of this clown, bring it on.
Having reluctantly said that, I don't think we could beat the Arsenal anyway, with the proposed team selection. Even if we had the best combination, and that includes our injured, confidence and spirit is almost non-existent.
I just want this idiot gone before the damage gets any worse, if that could be possible. I doubt whether Moshiri and Kenwright can tolerate this rubbish any longer, or maybe I am wrong on that one.
The other things that irk me, and yes there are many, is that when he gets sacked, he will be clutch the thick end of £8-9M – what other job would reward abject failure?
Ciarán McGlone
15
Posted 21/10/2017 at 09:58:06
Bench Sigurdsson. Put Rooney in the Number 10 position behind Calvert-Lewin and play Vlasic and Mirlalas either side of him. Put Davies and Gueye behind him and play our actual first team left back. Oh and tell that moron Williams he's no longer required.
I don't expect the above, I expect something weird as we see the last throes of Koeman's desperation... hopefully he'll start shouting Monkey Tennis and run out of Goodison with a large cheese, never to be seen again.
Eric Paul
16
Posted 21/10/2017 at 10:21:38
Why is Williams a moron and Duncan Ferguson, who holds the Premier League record for red cards, a hero?
Granted he is shite but he was our best defender on Thursday.
Geoff Evans
17
Posted 21/10/2017 at 10:30:21
Going to Plan B, where Williams knocks all the Arsenal players into the crowd leaving room for the rest of these no-hopers to have free shots on goal.
With a bit of luck one might go in, therefore recreating that Oxford moment everybody has been waiting oh so long for.
Wake up and realise this club's only heading one way...
Dave O'Connell
18
Posted 21/10/2017 at 10:34:16
If we lose again, what excuse will Koeman use? Players tired after Thursday? Arsenal also played away on Thursday. Anything other than a win, it has to be goodbye to Mr Koeman. Give it Unsworth to boost morale and get players playing for him.
Eddie Dunn
19
Posted 21/10/2017 at 10:34:23
Williams should keep the captaincy – he showed true passion the other night, and I suspect that the manager had asked them for more "aggression" before the game. We are in a dogfight and we need players who don't meekly accept defeat.
If we sit off Arsenal and watch them play, they will merrily give us a football lesson, so let's get in their faces, put in some big tackles and go for it.
Derek Knox, do you want us to lose? I certainly don't – it will do us more harm than good, and even if we did, there is no guarantee that he would get the axe.
I saw some improvements over the last two games. Sigurdsson is getting into his stride and hopefully Schneiderlin's knock could mean at more attacking midfield.
Never mind the managerial situation – let's beat the Arsenal.
James Hughes
20
Posted 21/10/2017 at 10:40:00
Geoff, I like the plan except we would still pass it sideways for 10 minutes before hitting the post!
Denis Richardson
21
Posted 21/10/2017 at 10:48:06
Well, another weekend and another match.
Width seemed to improve us last time out so I would start with Vlasic and Mirallas in the side. Rooney needs to be left out of the starting line-up as we need pace.
Bit risky in the middle but I'd like to see a 4-3-3 at home.
Martina, Keane, Williams, Baines
Davies, Sigurdsson, Gueye
Vlasic, Calvert-Lewin, Mirallas
Turning into a 4-5-1 when we haven't got the ball with Vlasic and Mirallas dropping back. Could also morph into a 4-4-1-1 with Mirallas and Vlasic dropping back and Sigurdsson stepping up.
Wishful thinking though as I'll bet anything Schneiderlin and Rooney will be back in.
Geoff Evans
22
Posted 21/10/2017 at 10:48:55
James, was going to say, in the last minute, Schneiderlin would shoot sideways along the goal line, the ball would hit the post and...
Brian Harrison
23
Posted 21/10/2017 at 11:09:11
For me I would give Keane a rest and play Jagielka and Williams, I think Calvert-Lewin also needs to be given a breather and put him on the bench. I hope we play with some pace and width on Sunday.
I think this team needs the crowd more than ever, when they equalised against Lyon, for the first time this season the crowd really got behind them. You could see them grow in confidence all be it until Lyon scored again. But it did highlight the difference it makes when Goodison really gets behind the players.
I know some fans will rightly say these guys are getting paid a fortune – they should perform whether the crowd gets behind them or not. But this is our club and anything that we as fans can do to help then thats what we must do.
These players and managers will move on over time whereas we fans our here till death. I want to see us to stay in the top flight – with or without this manager.
Iain Johnston
24
Posted 21/10/2017 at 11:18:29
Until he stops using just the fullbacks for width, stops playing so narrow, stops playing two holding midfielders, stops trying to play around the opposition rather than take them on and generally bins the overtly possession based attack stifling 4-2-3-1, nothing will change.
He want's them more direct? Fine, lose the 4-2-3-1 which is all about containing the opposition rather than attacking them. A truly continental non pressing indirect approach which is fine in less competitive leagues.
We see it week-in & week-out. Maybe Koeman needs to spend some time in the directors box so he see's it too or have a TVmonitor next next to him because he clearly sees fuck-all standing below pitch level in the dugout.
Lyon played their own game on Thursday and always had a man over on the flanks. Koeman didn't even bother to adjust his narrow tactics after they overloaded our right side for the early penalty.
Martina, Keane, Jagielka, Baines... Mirallas, Gana, Davies, Lookman... Sigurdsson, Calvert-Lewin.
Trends are cyclic, many managers in the EPL are returning to the more traditional formations of 4-4-2, 4-4-1-1, 4-3-3 and the narrower diamond, moving away from the continental styles. The use of opposite-footed players on either flank is diminishing too.
COYB!
John McGimpsey
25
Posted 21/10/2017 at 11:18:36
I agree with another post that Williams played okay the other night and yet fans clamour and suck the arse of the big jock. Who cost us tons and tons of points and is only there as Blue Bill's Plan C – if he ever got in charge and we went tits up, Bill would say "Well, you asked for him".
Clear the whole front bench along with Blue Bill. You would be a star, Moshiri... ffs, get shut of them all.
Frank Crewe
26
Posted 21/10/2017 at 11:20:37
If I was going to drop anyone, it would be Keane. If Williams has struggled then so has Keane. Just go back to Jags and Williams. Lacks pace but does have experience. Put Gana in front of the back four for protection. Schneiderlin has been poor lately also so bench him.
The front 5 need pace so I go for Davies or Lookman wide right and Vlasic wide left. Sigurdsson at no 10. Finally something a little out there.
Mirallas up front with Calvert-Lewin. Mirallas has played up front in the past and he has pace, movement, strength and a decent shot. Calvert-Lewin has pace and height.
I would put Rooney on the bench because he simply won't play to a system. He'll try hopeless long range shots or impossible passes. Plus he always drops back to get the ball. He basically dominates our play when he is on the park and overshadows everyone else.
Pickford
Martina Jagielka Williams Baines
Gana
Davies / Lookman Sigurdsson Vlasic
Calvert-Lewin Mirallas
Ciarán McGlone
27
Posted 21/10/2017 at 11:20:48
Because Duncan could play football.
He's not a hero because of his moronic antics... certainly not to me anyway.
Eric Paul
28
Posted 21/10/2017 at 11:39:35
He left us down to 10 men on 8 occasions, regardless of how good he was, which was followed by a 3- or 4-match ban for violent conduct. On more than one occasion, he was captain.
Steve Ferns
29
Posted 21/10/2017 at 11:46:21
Duncan didn't play much football in the treatment room where he spent half his career whilst smoking too many fags and drinking too much booze which always delayed his return from injury. He was a disgrace in so many ways.
He is ultimately the biggest waste of talent the club has ever had. It took Lukaku 3.5 seasons to do what he did in 10.
Colin Malone
30
Posted 21/10/2017 at 11:54:12
One holding midfielder again is a positive.
Kim Vivian
31
Posted 21/10/2017 at 12:10:33
I like the look of Ajay's line up (#5) but based on Thursday's evidence, I would have Williams in front of Keane. I think Arsenal could target Keane and William's experience could count for more in this game. And his fight.
Off-topic but has anyone read the Burnley piece on the BBC site. Pay particular note to that "State of mind" board on the wall behind Dyche at their training ground. We could do with a bit of that.
Tony Dove
32
Posted 21/10/2017 at 12:23:35
Martina and Keane were diabolical on Thursday. Martina needs to be binned and Keane given a rest. The summer signings are looking worse each week.
If Kenny is fit he must start; at least the crowd will be behind him. That would not apply to Martina, and as for Klaassen, I imagine he would be petrified of even warming up.
John Hammond
33
Posted 21/10/2017 at 12:23:36
Same shit different week. Let's play Rooney upfront so he can then spend the whole game closer to Pickford than the opposition goalkeeper. We know playing him and Sigurdsson works well so let's keep that up.
Forget what happened on Thursday when we played (in my opinion) the best we have all season and let's revert back to the dog shit we get served up every game.
Mirallas has to start and I'd give Niasse another chance. Rooney on the bench until the 80th minute. Gueye and Davies in midfield. Vlasic or Lookman on the other wing.
Matthew Williams
34
Posted 21/10/2017 at 12:25:14
Drop Williams for stupidity & Holgate for taking the piss...
Play wingers, play the players in their proper positions, try and keep the ball on the floor... and don't fuckin' water the pitch!!!
Kevin Tully
35
Posted 21/10/2017 at 12:32:40
The most damning indictment of our summer recruitment policy is the fact that a 20-year-old Nicola Vlasic seems to be our best signing so far. We only went after this guy after we had played Hajduk Split in the Europa Qualifiers. It makes our transfer policy look like chimps throwing shit at a window hoping some of it will stick.
So much for our 'super scout' Steve Walsh, eh? It all reeks of nobody at the top taking control of our transfers, or having any control over the people spending the kitty. Kenwright got Rooney, Koeman got Klaassen & Sigurdsson, and no-one got a fucking goalscorer!
This is what happens when you have a neutered CEO in place – does anyone think Elstone got Koeman in his office to give him what for? No, me neither. He's Bill's man and will not rock the boat. He must wake up with a massive grin on his face every morning.
Absolutely nothing will change until a whole new management structure is in position. I thought Moshiri would ease out the old regime after an initial handover period, but it seems he has put all his trust in Bill and his failed cronies, even bringing the CEO of EitC onto the board proper – to achieve what exactly?
We've had the perfect storm of individuals being let loose with a bag of cash, and each individual has had their own thoughts on what would make a successful team. That's got us where we are today, a mish-mash of players who have no idea what they are supposed to be doing on the pitch and the duplicated positions in midfield.
Until the old guard are pensioned off, and a completely new team are appointed at the top, we will not be able to move onwards and upwards. Millions are being squandered without people being answerable – a recipe for disaster.
Steve Ferns
36
Posted 21/10/2017 at 12:43:11
Kevin, to be fair to Steve Walsh being a "super scout", we will need to judge him in about five years time when we can assess Josh Bowler, Boris Mathis, Henry Onyekuru, and Lewis Gibson. These are the players who should come good if Walsh is a super scout.
A super scout finds players no-one else does, and that does not include Sigurdsson, Keane, Pickford or even Sandro Ramirez. Anyone with a Sky subscription can scout these guys.
The aforementioned are the ones he will earn his money on. Onyekuru looks promising, but there's been less shown by the others, even at youth level, except maybe Gibson.
Alan McGuffog
37
Posted 21/10/2017 at 12:50:29
Big Dunc, eh.
"When the legend becomes fact, print the legend"
The Man who Shot Liberty Valance.
Andy Meighan
38
Posted 21/10/2017 at 12:53:50
Ian (#7),
How are you so sure it's going to be his last game? Is that an educated guess or have you heard something? Hope it's true... Come on, Ian, let us know...
By the way, Stewart Lowe – how many are you betting on us to lose by tomorrow? I'm intrigued... You've got a nice little 38 quid to play with there.
Steve Ferns
39
Posted 21/10/2017 at 12:59:03
Some great players know absolutely nothing about football. Turn on soccer Saturday and see Jeff Stelling talk to some very entertaining ex-pros. Sure they can tell you who scored and who's on top, but they have little insight.
Case in point is Paul Merson. If you met that guy in the pub, and didn't know who he was, you'd say he was an idiot. How he can do anything other than Soccer Saturday, such as "The Debate" is beyond me, as every time he does he demonstrates how little he knows about football.
Duncan Ferguson may well be one of the games great thinkers, like Guardiola or Zidane. But I have seen no evidence of it. He talks to the press so rarely, that we simply do not know what his knowledge and understanding of the game actually is.
Until he demonstrates some capability to do the top job, can we stop touting him for it. As for insisting he is Unsworth's Number 2, surely Rhino should be able to select his own? Whether that be Ebrell or Jeffers or even bringing back Kevin Sheedy.
Derek Knox
40
Posted 21/10/2017 at 13:05:03
Good post, Kevin Tully, as you most succinctly point out, the rot is deep rooted, the finger can't really be pointed at one individual, but rather quite a few, who seemingly are all covering each other.
The painful part for us supporters, is that we all know what is going on, but are almost powerless to do anything about it, apart from boycotting the matches, where these muppets who are slowly ruining our Club, will walk away, with pockets bulging and no remorse whatsoever.
Which brings me to Boy's Pen Bill, who obviously puts profit before pride, in the decline of the Club he claims to love so much.
Getting back to tomorrow, what will probably a farce against the Arse, I don't hold a lot of expectation. I know Arsenal are having an unusually erratic string of form themselves, but can't imagine they are quaking in their boots either.
Having seen many of the expected line-up for the game, I cannot for the life of me understand, why many choose Martina at right-back, he has proved time and time again, his defensive qualities are non-existent. He can't/won't tackle, his passing is bad too, although his balls into the box aren't bad, but that is the other end of the pitch.
I would go for Lennon if fit or Kenny, I would even play Stekelenburg there if that was a remote option, anything but Koeman's clown.
Peter Gorman
41
Posted 21/10/2017 at 13:11:05
"If you look back to last season," he said, "we had some great games against really big teams in the Premier League and why not against Arsenal?"
Does anybody know which games he is referring to? Obviously Man City and maybe Arsenal again but seem to remember us getting hammered twice by Chelsea, losing twice to Liverpool, and giving up to Arsenal on the last day amongst others...
So the answer to 'Why not against Arsenal?' is probably your record, Ronald.
Neil Roberts
42
Posted 21/10/2017 at 13:11:50
Reading through some of the comments and I can't understand why any Everton fan would say "I hope we lose so it gets rid of Koeman". Never in a million years would I want Everton to lose – I always want to win!
PG Malcolm
43
Posted 21/10/2017 at 13:13:22
I've a feeling we will win tomorrow.
Steve Ferns
44
Posted 21/10/2017 at 13:14:12
The draw with united, that was an "expected defeat" so that draw is as good as a win.
Bobby Mallon
45
Posted 21/10/2017 at 13:24:00
Lyndon,
I have one complaint: Stop putting Martina in your predicted line-up – he is rubbish and puts me on a downer soon as I see him. Cheers!
Gordon Roberts
46
Posted 21/10/2017 at 13:24:29
Mike Kehoe (#1),
Interested in your theory on Catterick, Kendall and Royle. Do you think this still applies in the modern era?
Are you suggesting Unsworth is the long-term solution?
Stan Schofield
47
Posted 21/10/2017 at 13:31:03
Derek @40: I wouldn't say I've boycotted watching, but I got to a position last season where I couldn't be bothered. It's not entertainment, and even if it were free, I wouldn't waste my time. To think about actually paying to watch this shite, and adding to the coffers of those in the management structure, is a no-go.
I've become a part-time Evertonian, and will resume my normal watching routine if and only if EFC sorts their act out and makes the whole thing entertaining, with results to match.
Peter Gorman
49
Posted 21/10/2017 at 13:40:29
If we define 'really big teams' as Man Utd, City, Chelsea, Arsenal, Tottenham and our friends across the park, the record last season was;
Played - 12
Won - 2
Drawn - 4
Lost - 6
For - 14
Against - 23
So far this season the records against these same teams is as follows;
Played - 4
Won - 0
Drawn - 1
Lost - 3
For - 1
Against - 10
Yeah, think we can file "great games against really big teams" as anything other than the norm.
Bobby Mallon
50
Posted 21/10/2017 at 13:40:33
This team will be controversial but here goes:
Pickford
Besic
Kean
Jagielka
Gana (right wing back)
Davies
Lookman
Schniederlin
Vlasic (left wing back)
Klaassen
Calvert-Lewin
Plenty of pace and, for me, right wing back for Gana looks nailed on, he has a great engine, good tackle and can pass. He is always looking forward. I also think Klaassen is our missing link... just my opinion.

Kim Vivian
51
Posted 21/10/2017 at 13:41:40
Not being funny, and it's too late now, if he knows what he wants and how he wants to use it, why not have the manager drive the signings? It seems to me, other than in rare examples this Director of Football model is not the answer. Just more cost.
Koeman probably was behind the Vlasic move and it seems he also initiated the chase for Giroud but no-one seems to be in the firing line for our failures. It appears Walsh is the man who bombed but seems to be immune from threat although not criticism on here. If (when) Koeman goes, Walsh should go with him.
As for tomorrow, I anticipate another fairly spirited effort á la Lyon, hampered by our usual shortcomings, with a narrow defeat or possibly grabbing a draw. However, as with every game I am hoping for our 'Road to Damascus' moment and a well earned win to cheer us all up, although if it means a protraction of Koeman's tenure, many if not most will not be as cheered as we would like. Cheered we would be though.
And, FFS – Watford lead at Stamford Bridge. Not saying they'll hold on but I've championed Silva before and continue to do so.
Eddie Fazal
52
Posted 21/10/2017 at 14:28:12
It has been a very miserable season so far – I live in Sydney, and getting up in the early hours to watch such awful performances is not fun, let me tell you.
I have been supporting Everton for over 50 years, and those of you who have a similar tenure have experienced some nightmare times – The Billy Bingham years, Gordon Lee, Mike Walker, and for me, the worst of the lot, Walter Smith!!
Whilst I agree with most of the posts on here regarding the appalling performances we have seen this season, and the sentiments about Ronald Koeman, I can't help thinking (and hoping) that we need one big win to turn the corner, We do have some very good players and it takes time to gel as a unit.
I remember calling for the head of Howard Kendall in late 1983, early 1984, when Everton were in dire straights. One Kevin Brock mistake, one Adrian Heath goal, and it all changed – we enjoyed the best time in our history and Howard became, quite rightly, an Everton Legend.
Let's hope and pray for a similar outcome very soon.
Andy Meighan
53
Posted 21/10/2017 at 14:32:47
On a different note altogether, did anyone see George on Granada Reports last night? Just watched it. Came across great there, George, very articulate. Although I hope you don't mind me saying you've got the perfect face for radio. All due respect, like George!
ps: I'm a bit of an oil painting myself. (Ahem!)
Tony Marsh
54
Posted 21/10/2017 at 14:40:47
Guys, it's time to stop blaming Koeman and or the players for the situation we are in. This shite has gone on way to long now and apparently only one man has the power to swing the axe. Come on down, Farhad Moshiri.
The Iranian Billionaire is acting like a stall holder on Greaty Market rather than a man who runs Billion dollar empires. We can all see Koeman is useless and the players are rejecting him so only one person to blame for this lingering death.
With each day that passes with Rigid Ron still in charge, my faith and trust in Moshiri evaporates a little more. The lack of real money being invested in to the club is bad enough but the new stadium has always been a concern of mine. I just don't see Moshiri having the investment or the know-how to get things done.
Moshiri and Kenwright together – what a double act they are. I am convinced Kenwright would accept relegation to avoid new stadium issues and if it meant him staying in charge and Moshiri would go along with it. That's how low an opinion I have of these two jokers.
Peter Gorman
55
Posted 21/10/2017 at 14:42:43
For fans looking for something (or someone) to cheer today, we should see the following;
Joe Williams starting for Barnsley at home to Hull.
Matt Pennington for Leeds away to Bristol City
Kieran Dowell on the bench for Forest at home to Burton.
Last but not least; Conor Grant for Crewe at home to Accrington in League 2.
Steve Ferns
57
Posted 21/10/2017 at 14:48:58
I've seen Forest a few times. Dowell is certainly a player of interest. I think he's short of Premier League quality and is exactly where we need him to be to get experience.
I haven't seen anything of Leeds, but I remember reading Pennington wasn't playing, is he back in the side now?
Joe Williams is the player I know least about. He looked solid in centre mid on the few occasions I have seen him. How's he getting on, on loan?
John Otway
58
Posted 21/10/2017 at 14:49:10
Tony Marsh (#58),
"I just don't see Moshiri having the investment or the know-how to get things done."
Check out the commodities that USM invests in.
Steve Ferns
59
Posted 21/10/2017 at 14:51:54
Tony Marsh
60
Posted 21/10/2017 at 14:57:56
John @ 62,
I mean where EFC is concerned. I don't think Moshiri realised the magnitude of the job here and he fell for Bill's sweet talk.
Let's have it right: when Moshiri goes public he comes across as a real gobshite. It's embarrassing. I don't care what Moshiri has done in the past, it's the here and now that concerns me. I am concerned.
Charlie Lloyd
61
Posted 21/10/2017 at 15:00:01
Steve @ 61,
Pennington returned from injury about 2 weeks ago. He starts again today. Not sure how he is playing though must be okay to get his place back and Leeds are near the top six. Is he the future centre-back we need though?
Williams has started all games so far for Barnsley. I don't think he's scored but he is deployed more as a defensive midfielder from the few clicks I've seen. Can't say as I know how he's getting on but he's kept his place up to now which is okay.
Steve Ferns
62
Posted 21/10/2017 at 15:06:37
Thanks Charlie
Mike Kehoe
64
Posted 21/10/2017 at 15:35:21
Gordon,
I have to say that, on the evidence of what I've observed in my lifetime, the only time I can truly recall anything like sustained progress and success is when ex-players with a clear love of the club have been in charge. I can't remember Catterick as I was a baby, but I remember Bingham and the effervescent Gordon Lee (i realize Bingham was an former player and this won't strengthen my point) before Kendall and Harvey transformed the club in the eighties.
Following the catastrophe of the European ban – which undoubtedly set the club back decades and incapacitated both Harvey and Kendal in their subsequent reigns – we have endured abject dross in the form of Walker, Smith and now Koeman: Moyes was merely competent and Martinez flattered to deceive before his credibility was removed by a succession of piss poor incomprehensible decisions. Amongst all this, we had Royle who got everyone behind the team and looked like the answer before boardroom issues ultimately did for him.
I know people will criticize and say the game has changed since these bygone times: but has it? Surely it's still fundamentally the same, with the same basic requirements of skill, determination and desire. It is my opinion these basic elements have been absent for a long time and the only times I can recall anything like the presence of all three has been when the management were committed blues.
So I would certainly get behind Unsworth as manager given his successes at lower levels as I feel he fits the bill; certainly for the remains of this season. I would like to see the younger players given a try and assess what we have.
I feel we would at least play with passion and pride which would be a welcome change from the European tactical geniuses that we have recently endured.
John Otway
65
Posted 21/10/2017 at 16:01:54
An utterly pathetic posting, Tony Marsh. We were debating whether Moshiri could deliver a new stadium – not if he could play centre forward and replace Lukaku.
Brian Wilkinson
66
Posted 21/10/2017 at 16:09:41
I am going against all logic here. Somehow I think Ronnie is going to pull a result out of the hat to buy him more time. Niasse saved his arse a few weeks ago; I have a feeling someone else will do the same Sunday. Buy a few weeks, then it will all spiral down again.
His last throw of the dice playing wingers and a striker, then when a corner looks to have been turned, he will revert back to his unbalanced style of play. Worrying times ahead.
Mark Morrissey
67
Posted 21/10/2017 at 16:17:17
Neil @ 48, if we win then we keep Koeman. Then surely we are all losers because Koeman is a loser.
If I was given a choice of lose to Arsenal and Koeman goes, or win and keep hold of Koeman, I'd happily take a 0-10 loss because my long-term aim, as it has always been, is for Everton to rule the footballing world.
I don't want Koeman at our club because he is a shite manager. I'm not offending the club by saying that. I love our club as do you.
Tony Marsh
68
Posted 21/10/2017 at 16:19:33
John Otway, I was discussing Moshiri not being able to deliver what he has promised. I doubt him on all levels. You mentioned USM commodities Co – I don't care about that. Mike Ashley has transformed the Sportswear industry with Sportsdirect yet he is a useless football club owner.
Moshiri has done nothing yet to make me sit up and say "Wow!" You can gush all you like about Moshiri's business acumen but this football club isn't seeing jack shit at the moment.
George Cumiskey
69
Posted 21/10/2017 at 16:25:45
Chris Sutton hit the nail on the head when he was commenting on Thursday. He said he keeps talking about aggression and confidence and fight; after spending £150 million, he should be talking about quality and why isn't he?
He also said, if we lose to Arsenal, he can't see him keeping his job. Which I agree with entirely.
Brian Williams
70
Posted 21/10/2017 at 16:38:42
Like Tony M, I have my doubts about Moshiri too. He's obviously put some money in but has he and will he put enough in.
His ridiculous utterances on two major transfer deadline days add to the feelings of doubt I have.
The lack of professionalism shown in the latest transfer window must be a worry to all Evertonians?
Peter Gorman
71
Posted 21/10/2017 at 16:54:56
Steve Ferns, the loanees are having a mixed bag today and generally.
Joe Williams has played pretty much every minute but Barnsley are near the bottom. Pennington is still on at Leeds 3-0 up and Dowell came on at 73 minutes, winning 2-0.
I'd be surprised if Liam Walsh plays for Birmingham later and maybe Callum Connolly will be playing for Ipswich's next game.
Ian Hollingworth
72
Posted 21/10/2017 at 17:00:48
I am with Tony Marsh in that I think we have been fooled by Moshiri.
I never believed that Bill Kenwright could find an investor who would leave him in charge etc and that, along with being so starved of success and ambition from our great club, II fell hook line and sinker that Moshiri was the man we had been waiting for,
Sadly he quite clearly is just a man brought in by Bill who has more business contacts etc but is not the big investor with massive ambition for Everton FC.
Whilst the men at the top continue to stink the place out we have no hope of real progression on the pitch regardless of who is in charge.
Is it just me or has any stadium news gone very quiet since Liverpool did not win the Commonwealth Games?
Mind you what use is a new stadium when you have a poor team who cannot compete on the pitch.
James Marshall
73
Posted 21/10/2017 at 17:02:45
For all Williams faults, he has at least shown some fight, literally and figuratively. I'd keep him in the team, with Jags next to him, Baines and Kenny fullbacks – Holgate is getting roasted every week at fullback and he can't cope in that position.
Play Mirallas wide left, Vlasic wide right, Gana and Davies in the middle with Sigurdsson behind Calvert-Lewin. Use Rooney late on for game management purposes when we're a few goals up!
Apart from the Stoke game, have we taken the lead once this season?
Kim Vivian
74
Posted 21/10/2017 at 17:06:13
Well, a win tomorrow will keep us clinging on to the heels of Huddersfield. A heavy loss drops us to 18th.
Jeez – Just what is it coming to? What can we look forward to?
Charles Brewer
75
Posted 21/10/2017 at 17:08:21
If Arsenal win by 3 tomorrow, Everton are in the relegation slots. We have just been overtaken by Leicester. So clearly sacking the manager has no effect...
I can really see why we should keep Koeman for another transfer window. He could spend another £100 million and buy, say, Peter Crouch or Andy Carroll, or maybe a striker from Palace or maybe Brentford for £50 million and another No 10 for the other £50 million.
It is absolutely beyond me why Koeman has not been sacked.
Paul Holmes
76
Posted 21/10/2017 at 17:10:56
How can anybody blame Moshiri and Kenwright for Koeman and the players mess. Koeman has had more money than any other manager to buy players, do you honestly think Moshiri and Kenwright would pay £25 million for Klaassen, without Koeman's input, exactly! What other clubs like Watford, West Brom would be overjoyed to have Moshiri as the chairman.
The board have backed the manager, it's Koeman's and Walsh's fault for buying too many average players instead of 2/3 quality players. Take your frustration out on the dross out on the pitch, not on the people who have backed the manager.
James Marshall
77
Posted 21/10/2017 at 17:15:10
To be fair, Klaassen was outstanding for Ajax over the last few years – sometimes it just doesn't work for players so I don't actually blame Koeman for signing what so far appears to be a lemon in Klaassen.
Ian Hollingworth
78
Posted 21/10/2017 at 17:20:00
Backed the manager? Really?
We spent the Lukaku money and tried to sell Barkley to break even for the transfer window. That is hardly investing in the team.
Yes, the quality of players bought is very questionable and whose fault that is we probably will never know.
Yes, the manager and players are absolutely to blame for the dross they are serving up.
However, it is 22 years since we won a trophy and let's be honest in the last 30 years we have hardly ruffled the feathers of the teams who have been winning trophies.
So yes, I absolutely do lay the blame at the door of the people running the club as we are a joke who are more than happy to just exist in the Premier League.
Graham Coldron
79
Posted 21/10/2017 at 17:22:28
Not wishing to be totally negative but I cannot see anything but another defeat tomorrow before a gleeful Sky with the usual kopite so-called expert pundits...
Hope I'm wrong as I'm getting sick of all this – Wagner the next manager?
Martin Mason
80
Posted 21/10/2017 at 17:23:06
Ian @73
Yeh, he's shown no commitment whatsoever... apart from the £80M interest-free loan from his own pocket. All that to have no ambition other than keeping us bobbing around in the relegation zone and avoid trying to win anything. You couldn't make it up.
Ian @79, we had the financial backing this year to commit to making early high-cost buys, we screamed in years gone buy because we didn't have this. I applaud the club for trying the live within its means and keep the budget in reasonable balance,
It looks now as the appointments and player purchases has been a failure but it's easy with the benefit of hindsight. Nobody here did or would ever have predicted it.
I'll write and ask Kenwright if he can keep you better informed on the new ground. Would you prefer text bulletins or e-mails?

Ian Hollingworth
81
Posted 21/10/2017 at 17:31:51
Martin @81 I think the clue might be in the word 'loan' that implies the club will be paying him back; I doubt he will be out of pocket.
Similar to the world's greatest Evertonian as I am sure he has made good money out of the club he loves – all whilst we have won zilch for 22 years and not really competed during that time.
Facts are we are bobbing around the relegation zone and there is nothing to indicate that we will challenge for honours in the near future, so I suppose we will see in the next 6 to 12 months just how ambitious the current owners are.
Brent Stephens
82
Posted 21/10/2017 at 17:34:21
Problem with announcements on the new ground is that they are seen as ways to distract from poor results.
Dennis Ng
83
Posted 21/10/2017 at 17:34:30
How long did it take to get Koeman to sign his contract when we first went for him? That would be how long we would take to find a manager if Moshiri started say 2-3 weeks ago when we drew/lost the first "easier" game against Limassol and Burnley.
I would like to think Moshiri is considering options but he may not be approaching it "right" where we think he should. I do believe he is trying to improve us. To say he is unambitious and disinterested is silly. Would you lend –80m out of your own money interest-free if you're unambitious and disinterested?
I don't doubt Koeman's competitiveness and fight but I want him gone because I do not believe he has the nuances to bring us further. If he can turn it around, sure, but there are no more easy games these days for him to play in mud with.
Ian Hollingworth
84
Posted 21/10/2017 at 17:35:15
And by the way, don't bother contacting Kenwright on my behalf as I do not believe he will have anything of interest to say.
Facts speak for themselves and he has presided over our worst period.
Neil Lawson
85
Posted 21/10/2017 at 17:37:10
Those of you who post your suggested team line-up really are missing the point. It doesn't really matter who Koeman selects, they are poorly managed and directed.
Yes, width and pace may well improve the overall performance and give us something to cheer and get behind. The reality though is that it would be a false dawn. Until Koeman goes we will continue to underachieve and be poor. The change has to come from the top.
Dave Lynch
86
Posted 21/10/2017 at 17:37:53
IMO it's a mixture of everything mentioned.
Diabolical ownership and the running of the club for the past 15 or more years, a shit manager without any vision and football acumen and a bunch of players who are not fit for purpose.
I also don't believe the new ground is on the immediate agenda, more smoke and mirrors by Bill and his sycophants.
Remember when we where a whisker from being relegated. What did Bill say?
"I will never let this happen to this football club again, as long as I have breath in my body." Or words to that effect.
The problem is, this all goes hand in hand. Shit owners equals shit running of the club, equals shit transfer funds and employment of shit managers who but shit players and sell the best ones.
We're fucked I fear.
Darren Hind
87
Posted 21/10/2017 at 17:42:36
Martin Mason
Wrong again. There were plenty of people saying we were not signing the type or quality of player. What you really mean is YOU are using the benefit of hindsight to give the transfer dealings the thumbs down.
Alan J Thompson
88
Posted 21/10/2017 at 17:43:00
Head on block; after saying that Kenny is not ready Koeman will probably start him against Arsenal, of all teams.
As for "google" Moshiri; do we honestly believe that an Iranian accountant who made his billion working for a Russian oligarch and resides in Monaco for tax reasons would have all his business dealings put for the world to see? If only life was that simple.
George McKane
89
Posted 21/10/2017 at 17:47:11
Andy - - thank you for the compliment - - much appreciated - - you may know I do a 40 minute Live piece on City Talk every Tuesday - - but the interesting thing about Granada was when they rang me they know I can usually crack a joke in there - - like "Rooney is our girlfriend" which the loved but just before going on Live we agreed it was a serious subject and no jokes - - that's my excuse for the face.
A massive day and game coming up tomorrow.
Keep cool - George

Ross Edwards
90
Posted 21/10/2017 at 17:50:01
Believe it or not I think we might win this one tomorrow.
It seems whenever Koeman's been in trouble in England, he beats Arsenal. In his last season at Southampton, they were on a run of 5 defeats in 6; they played them and won 4-0 with Martina scoring. After that it seemed to spark a turnaround and they went on to finish 6th.
And of course last season we were on that run of 1 win in 11 and we beat them 2-1 which sparked the run which took us to 7th.
Will history repeat itself for a 3rd season in a row for him? Possibly, if not surely he'll be finished.
Trevor Peers
91
Posted 21/10/2017 at 17:50:44
I desperately hope we beat Arsenal, screw Koeman, but I want a win so we pull away from the dreaded relegation zone.
The manager's position will be sorted out soon enough, but if we lose we'll be edging closer to the awful bottom three places.
Like most fans I doubt we will get a result, I just hope we do.
Steve Ferns
92
Posted 21/10/2017 at 17:51:30
Alan, he is a very curious character. I cannot come to a definitive conclusion on him. Is he his own man or is he a pawn for Usmanov? If the latter, then Usmanov is taking his time about defecting from Arsenal to Everton. Time will tell here. The investment is real for sure.
Tony Marsh
93
Posted 21/10/2017 at 17:52:05
Aston Villa and Nottm Forest both won European Cups back in the day. Leeds were always known as a big club they went mega for a while in the 90s.
Sunderland were top 8 team with a brand new stadium not so long ago. Ask The fans of these teams did the ever think it possible the fall from grace so quickly never to return...
We must act now or follow these other clubs in to Oblivion. It is not impossible.
Ashley Roberts
94
Posted 21/10/2017 at 18:11:15
While I would like to see the back of Koeman, I cannot in all justification hope we lose tomorrow to precipitate that reaction.
Pickford is class and Keane will come good and I will go against the grain of most folk and say Rooney was a good acquisition. I have to say the rest of the new boys are pretty much redundant or a waste of space.
When will Ross be fit again? The team is crying out for somebody with his quality on the ball. For me I would put Rooney and Davis as the holding midfielders. Rooney and Davis can see a pass forward. Hans and Schneiderlin have been woeful and I would not play either of them.
This then allows Sigurdsson to play in his natural position and then we need Vlasic and Mirallas out wide. Then that just leaves the centre-forward and I think I would just go with Niasse over Calvert-Lewin just because of his physical presence.
I know this mid field and forward line up will never happen. Also I would like to see Kenny start at right-back but don't see that happening either. We will revert to Gana and Schneiderlin tomorrow and I cannot see anything better than a draw at best. I honestly feel watching teams around us that we are real relegation candidates unless something changes soon.
Martin Mason
95
Posted 21/10/2017 at 18:16:02
Darren @88, effectively nobody criticised either the appointment of Koeman or of any of the purchases we made apart from the fact that we were tending to overpay, absolutely nothing compared to the noise that's going on now. As it happens, Rooney apart, all of the buys had been very good players and not really likely to all have become bad players overnight.
I'm not using the benefit of hindsight to criticise the purchases because I'm not criticising them. The appointment of Koeman, yes, and that is purely with the benefit of hindsight. I neither welcomed or complained about his appointment, he was selected by the club and if he had succeeded then I would have been praising him.

Alan J Thompson
96
Posted 21/10/2017 at 18:19:53
Steve(#93); the one thing I do like, of all his public utterances, was the one about all the Evertonians he meets want to buy him a drink and he doesn't, and we thought Ramadan and Kone was a concern.
Anyhow, many thanks, I was starting to believe that I was one of the very few who thought that he knew little about the man.
Also, I have my doubts about new life being breathed into Liverpool through the redevelopment of former dock areas despite the apparent success in most parts of the world of such projects. Still, water views and all that...
Neil Copeland
98
Posted 21/10/2017 at 18:26:13
Ashley, I like the look of your team although undecided about Niasse vs Calvert-Lewin.
I cannot bring myself to wish for defeat either although I am not so sure as others that if we do lose, it will be the end of Ronald.
I think we have to hope that team turns things around in spite of Ronald's best efforts. I cannot bear to think of us being relegated and would rather keep Ronald than have that happen. Perhaps going out of the Europa League and Carabao Cup (as I think we will) will help us to sort out our league form.
I don't know why but I am quietly confident about tomorrow, I hope I am right.
George Cumiskey
99
Posted 21/10/2017 at 18:41:17
Martin, why keep talking about hindsight? Surely it's a bit of foresight we need now.
When you get in touch with blue Bill can you ask him what he's going to do about the dire predicament we are in now, or does he think everything will work itself out?
Martin Mason
100
Posted 21/10/2017 at 18:47:14
OK George, I'll see what I can do.
George Cumiskey
101
Posted 21/10/2017 at 18:50:48
Cheers, Martin, maybe he'll listen to you because he certainly doesn't listen to what the vast majority of the fans want.
James Lauwervine
102
Posted 21/10/2017 at 18:54:55
What team would Unsworth pick I wonder. Let's hope we find out before too long. I'd go for:
Pickford
Kenny, Keane, Holgate, Baines
Gueye, Davies
Vlasic, Sigurdsson, Lookman
Calvert-Lewin
Subs: Robles, Jagielka, Mirallas, Rooney, McCarthy, Niasse, Lennon

George Cumiskey
104
Posted 21/10/2017 at 19:02:26
James I wouldn't have Holgate in my pick, I don't think he's up to the job.
He's too slow thinking and gets caught out of position for me.
Colin Glassar
105
Posted 21/10/2017 at 19:03:52
17 points behind Man City now. I think our title hopes are looking slightly dim.
Rick Tarleton
106
Posted 21/10/2017 at 19:15:30
I know let's play guess the formation and then guess the team. No-one will get it right because the mind of the Dutch master is unfathomable. I'll just guess whatever idiotic formation he picks we'll lose.
Neil Copeland
107
Posted 21/10/2017 at 19:16:49
Oh I don't know, if we win our remaining 30 games I think we might do it!
Ray Smith
108
Posted 21/10/2017 at 19:30:32
We have a large squad of very talented footballers.
You can put the best 11 of them on the pitch, however, a team requires 11 people who all know what they are doing as a team, not 11 individuals which is what we currently are.
Even if we manage to win tomorrow, my mind will not change regarding the future of Koeman and Walsh. P45s for both Monday morning.
Neil Copeland
109
Posted 21/10/2017 at 19:33:08
Okay, here goes:
Pickford
Martina Jagielka Williams Holgate Keane Baines
Gueye Rooney Davies Sigurdsson
With no definable formation other than 10 men behind the ball and playing very deep. No further forward than the edge of the penalty area (our own that is).
Andy Crooks
110
Posted 21/10/2017 at 19:38:32
Tony, many on here want Koeman gone but you if you want to be anything other than an angry man parody you really you reconsider stuff like post # 55.
Oliver Brunel
111
Posted 21/10/2017 at 19:50:08
Play Mirallas right down the centre. Like at Olmypiakos. Calvert-Lewin on the right wing. Kenny bombing up and down. Klaassen, yes Klaassen as the No 10 , he needs game time.
Gueye as defensive mid. Sigurdsson as centre mid. Vlasic on right. Lookman on left.

Oliver Molloy
113
Posted 21/10/2017 at 19:55:19
McCarthy should be involved tomorrow
Joe McMahon
114
Posted 21/10/2017 at 19:58:50
Colin (#106),
Worry ye not as there is always next season's title to go for (providing we are in the Premier League, of course).
Joe McMahon
115
Posted 21/10/2017 at 20:01:43
Oliver (114) sorry I have to disagree as we have enough players who can't pass a ball forward, and our yellow/red cards and bad tackles will be under the spotlight after Thursday.
Ray Smith
116
Posted 21/10/2017 at 20:10:29
We have one (not easy) slot to fill, a 20 goal striker, otherwise all positions are covered with quality individuals, who need blending into a team.
Not rocket science, is it?
Sean Kelly
117
Posted 21/10/2017 at 20:21:52
Where does Koeman hang out all week. Amsterdam coffee shops me thinks.
Explains his fucked up team selection and tactics. Mind blowing.
Oliver Brunel
118
Posted 21/10/2017 at 20:30:48
I fell asleep during our last league match it was so dull. Such is the state of affairs we are in.
Paul Welsby
119
Posted 21/10/2017 at 20:40:55
I just don't care anymore. Its all talk and nothing changes, so why do people keep debating team selections and formations? Every person who watches this team knows until konman has gone it won't change or improve. At this moment being an Evertonian for me is soul destroying.
This club is and has been rotten to the core from top to bottom for as long as I care to remember except for us supporters who just keep believing the shit fed to us.
Oh ye forgot because that is the Everton way just put up and shut up. Don't dare question, demonstrate or bring banners letting the board, manager or players know that its just not good enough because only the shite across the park act like that, well when we are playing in the Championship next season we can be very happy to say at least we don't act like them twats across the park because as much as I hate them they would never sit on there hands and shut there mouths if they was getting served up the shit we watch or the complete bullshit from are owner and board.
Raymond Fox
120
Posted 21/10/2017 at 20:43:03
I'm attending the game tomorrow depressingly with very little expectation of a good result. Consequently if we do happen to get anything, it will be a happy bonus.
I've been trying to be intelligent and devise a cunning plan to beat them and failed miserably. The pathetic best I could muster is to somehow get the ball into their box and hope for the best.
Their defence has undoubtedly been their 'achilles heel' for a few years now. What I find surprising is that Steve Bould, Wenger's assistant and a top centre half in his playing days, never seems to attract any criticism from the media for Arsenal's defensive weakness.
It's always 'bad loser' Wenger who cops all the flak.
Darren Hind
121
Posted 21/10/2017 at 20:46:03
Not true, Martin;
Many people found the signings underwhelming and criticised them. You didn't so you simply assume nobody else did.
Do some research – you won't even need to leave this forum.
Martin Mason
122
Posted 21/10/2017 at 20:48:53
Not true, Darren.
Len Hawkins
123
Posted 21/10/2017 at 20:52:55
Road to Damascus?? I don't remember that one although Bob Hope would give us a bit of a laugh and Bing can sing.
Tony Hill
124
Posted 21/10/2017 at 20:59:01
Colin (#106), you are forgetting that we have a game in hand.
Neil Copeland
125
Posted 21/10/2017 at 21:07:28
And Citeh have to come to Goodison yet.
Gavin McGarvey
126
Posted 21/10/2017 at 21:08:55
I think there were lots of doubts about the signings. I think most people thought Klaassen would be okay, but there were a lot of doubts about Sigurdsson. Most fans were reasonably positive about Keane and Pickford, but there were doubts again as with Sigurdsson.
If any want to see the doubts about Rooney, well I for one started a thread on it ages back, I'm sure it wasn't the first and I'm also sure there was at least one after it.
To be honest, nobody cared about the signings until we sold Lukaku (in the sense that they were all seen as improvements to what we had). But once you've sold your striker, people are bound to look askance at 3 No 10s and rightly so.
In my opinion, Koeman really needs to be pragmatic and change things round. He was counting on Giroud, I imagine, but he didn't get him so something has to be done with the players we actually have to change things around. To be fair, there were some encouraging signs against Lyon, but we have it all to do now. Does Koeman have what it takes to turn things around? I don't think so, but I hope he proves me wrong starting against Arsenal tomorrow. COYB.
Darren Hind
128
Posted 21/10/2017 at 21:11:49
Yes, it is true Martin
You seem to think you can stick your fingers in your ears and make it so. You can't.
Plenty criticised the signing of Sigurdsson, many pointing to the fact that he couldn't get into the Spurs team. Some criticised the signing of Keane, his lack of speed recalling how Lukaku had left him for dead.
You only have to visit the Rooney thread to see what many thought of that little coup. Then there's The Southampton right back...
There was of course those who cheered and actually claimed they didn't care how much money we spent, but most of our signings were criticised by people who knew we were paying too much for players who were no better than what we had.
Your claim that "nobody" criticised is ridiculous. Not everyone spent the summer with their fingers in their ears.
Paul Birmingham
129
Posted 21/10/2017 at 21:16:42
Tomorrow it's time for us to save time, else we EFC could drown in the Premier League melee, of games, and the angst of what really should have been, but looks like the worst own goal since the fall of Troy. (Transfer policy at the time of the best transfer resources in the clubs history.)
It's that or bust almost, tomorrow, but the crowd, more than ever tomorrow , I'm sure will do the business whatever happens tomorrow, surely the club must learn and galvanise and be up for the fight, and the players try and break their own mental barriers and play freely and naturally.
For me, Thursday, worse than the result was the melee and fracas caused by the captain. He should be made accountable and I hope he is, as the discredit caused to the club, by this incident plus the media over hype of HJS, will do the club no favours across the press mercenaries.
I hope we play Williams, as he did give his all, and may be that bight and the ongoing aggro, will instill a level of fight and spirit, perhaps this squad, didn't know they had,.
Forget the rest, Everton, is the best and will always come first. I'm living in hope and more hope, but blood, sweat and tears is needed tomorrow and some luck. Can we do it?
"What's Our Name?"
Neil Copeland
130
Posted 21/10/2017 at 21:37:48
Paul, that's more like it - COYB!
Tom Bowers
131
Posted 21/10/2017 at 21:48:17
Well, guys we keep on hoping that things will change with the next match, or the next match, or the next match, and so far they have shown little or no improvement to suggest they can and certainly not against teams like Arsenal.
However we continue to live in hope even with Koeman still around and that the mind-set of these players (whichever 11 start the game) is 100% or even 75% better than in most games this season.
It's not just that they haven't looked like winning in most games they haven't even played well apart from maybe the Man City game against 10 men but even then City should have won. Thank God Everton haven't had to play City in the last few weeks.
We all can see the biggest problem and there doesn't seem to be anyone at the club who can change that. Calvert-Lewin tries hard as does Niasse. Sandro is a bust and Rooney is not a target man anymore. Vlasic can be the matchwinner (if we have one) but Mirallas appears to be more of a back number playing from deep.
Let's cross all our fingers and toes tomorrow.
Paul Holmes
132
Posted 21/10/2017 at 21:49:43
Apart from the usual top six, Everton have spent the most money on players. Thirteen clubs in the Premier League would like Moshiri as the chairman.
So do the maths: six clubs would not want our chairman, thirteen clubs would, so the answer is easy, Koeman, Walsh and the players are at fault for how poor we are.
Blaming the chairman for the rubbish on the field this season is at best clutching at straws; mathematics never lies.
Steve Pugh
133
Posted 21/10/2017 at 21:54:00
Win tomorrow we go back to 13th. Lose by 3 goals and we're in the drop zone.
Which one is more likely?
Neil Copeland
134
Posted 21/10/2017 at 22:01:55
A win tomorrow followed by a long overdue win at the Bridge, hammer Leicester to move into the top half and murder Lyon to re-ignite our European dream.
Oh yes I can feel it in my water - COYB!
Raymond Fox
135
Posted 21/10/2017 at 22:07:00
Paul 133, what about the £100m+ worth of players the club has sold?
Derek Knox
136
Posted 21/10/2017 at 22:11:18
Neil, I suggest the doctors on Monday mate, he'll give you something for the water infection. :-)_
Tony Marsh
137
Posted 21/10/2017 at 22:13:24
Paul @ 133
It is the chairman and or Moshiri who have employed Koeman and Walsh despite Koeman's track record being awful. To make things worse they have stuck with Koeman far to long as the club disintegrates around us.
I think it's fair that the blame goes all the way to the top. As in any business, the buck stops with the men at the top.
Oliver Molloy
138
Posted 21/10/2017 at 22:15:54
Hi Joe @ 116,
I meant I heard he would be available for selection, and if true he would be involved.
I'd say he will start if fit.
Neil Copeland
139
Posted 21/10/2017 at 22:16:21
Cheers Derek, my mental state may be more of concern though. I best go and lie down.
Gordon Roberts
140
Posted 21/10/2017 at 22:16:32
Mike (#65).
Thank you for your response, you make some very important points. The reason I questioned the relevance in the "modern era" is I'm struggling to believe the so called "Big Six" would adopt the same policy of appointing the U23 coach. The exception to this of course is Pep Guardiola who was prompted to manage Barcelona's first team from within, but he is probably a 'one off'.
Personally, I would like to see Unsworth move to another club to gain experience first, with a view to one day returning to manage our great club if he's deemed good enough.
Mikel Arteta is another ex player gaining invaluable experience working alongside Pep Guardiola at Man City.

Neil Copeland
141
Posted 21/10/2017 at 22:18:02
Tony 138, yes but shit rolls downhill...
Tony Twist
142
Posted 21/10/2017 at 22:25:47
I haven't seen an Everton team so timid and void of professionalism than this side since probably Mike Walker days. I can't see where the next win is coming from.
We should put Koeman on gardening leave, that will piss him off quickly, allow Unsworth to run the first team until New Year, bring back all players we have on loan so Unsworth can pick from all that we have and therefore really assess whether we are short of certain players.
Then if things go well then keep him on for the season else get a manager who has excellent results as a coach. Simples! Good luck blues tomorrow – show some pride and put the spotlight on Arsenal's shortcomings, not our own.
Steve Ferns
143
Posted 21/10/2017 at 22:30:17
Martin @96, I criticised the appointment of Ronald on this very site. I looked past his record with Southampton and pointed out how shit he had been with every other club except Ajax, where he won less than de Boer in a longer spell.
Koeman is the only manager I have ever wanted to be sacked. He won me round towards the end of last season as we seemed to have a plan and a style but with his antics over Barkley and the mess he's made of everything since, I'm firmly in the get rid camp once more.
Tony Marsh
144
Posted 21/10/2017 at 22:36:47
Niel @ 142
The whole club must be rolling down hill then mate.

Neil Copeland
145
Posted 21/10/2017 at 22:38:10
Tony 145, ha ha nice one
Sam Barrett
146
Posted 21/10/2017 at 22:43:02
Apparently Koeman has requested a meeting with the Everton board immediately after Arsenal game tomorrow.
Neil Copeland
147
Posted 21/10/2017 at 22:44:05
Sam, where did you hear that? Very interesting if true.
Sam Barrett
148
Posted 21/10/2017 at 22:50:59
Neil, obviously can't name names but someone within club. If true, maybe he will do the honourable thing and walk away.
Neil Copeland
149
Posted 21/10/2017 at 22:51:56
Sam, understood. Wow, here's hoping!
Tony Hill
150
Posted 21/10/2017 at 22:57:43
He will not resign, he would be an idiot to do so. I am afraid this is an empty rumour.
Sam Barrett
151
Posted 21/10/2017 at 23:01:50
You are right, Tony, he would, but only passing on what I've heard. I've just also heard Unsworth is to be offered the job till the end of the season. Please lads don't shoot the messenger!
Rob Halligan
152
Posted 21/10/2017 at 23:08:16
If Sam's correct and Koeman decides to call it a day, then according to tomorrow's Sunday mirror, David Moyes is lined up as a replacement.
.http://www.mirror.co.uk/sport/football/news/david-Moyes-lined-up-sensational-11385759
John Keating
153
Posted 21/10/2017 at 23:09:13
The only reason he would want to meet the board is to blame them for our present plight. They're the only ones he hasn't blamed so far.
Plus he'll demand more money for working with a load of dopes.
Len Hawkins
154
Posted 21/10/2017 at 23:10:24
The Gossip on BBC Sport has Moyes coming back. Only Kenwright could do something like that the man has failed in his last 4 jobs. If he comes back the price of the New Ground will plummet for the size of crowd he would entice to watch another 10 years of sitting on a first minute one goal lead.
Tony Hill
155
Posted 21/10/2017 at 23:10:40
Nothing against you Sam at all, of course. I'm far more worried at the suggestion that Moyes might be returning as I've just posted on another thread. I'm hoping that is just a cruel horror story.
Neil Copeland
156
Posted 21/10/2017 at 23:11:16
Jesus, I think I would prefer Koeman. Surely Ginge is not an option.
Regardless, we need to wait and see because Koeman resigning does seem unlikely butwecan still hope.
Clive Lewis
157
Posted 21/10/2017 at 23:13:14
When you sack a manager you have to pay out their contract. Not only that you have to buy out the contract of any replacement.
Is it not a no-brainer considering Ancelotti is available for nothing now?
Brian Williams
158
Posted 21/10/2017 at 23:15:19
If Koeman resigned he'd be advertising openly that he hasn't got what it takes and he would probably kiss goodbye any chance of a decent job in the future, and I just can't see him doing that.
Kim Vivian
159
Posted 21/10/2017 at 23:15:20
Moyes with Unsworth a possibility?
Tony Marsh
160
Posted 21/10/2017 at 23:17:42
If David Moyes comes back to Everton I'm done with them.I would sooner become a Kopites than accept that Tosser. Moyes is a useless negative cowardly excuse if a manager. Guns to knife fight mentality for 12 years helped the rot set in stone this club.
Surely it will be the cruelest of sick jokes if Deadly Dave returns.I don't think Kenwright is that stupid thought. Imagine if Bk brings Moyes back and Davey took us down? Let's see what pull Moshiri really had around here.
Sam Barrett
161
Posted 21/10/2017 at 23:19:26
Tony, haha yes, it is nearly Halloween after all!

Kunal Desai
162
Posted 21/10/2017 at 23:21:16
Moyes no full stop. He's failed as a manager since moving on, besides a double managerial combination doesn't work either.
Ray Smith
163
Posted 21/10/2017 at 23:23:28
Len 155
When did we last have a first minute one goal lead.
I'm not advocating a DM return, but a few 1-0 leads would see an upturn in our fortunes, rather than giving teams a goal start.
I wouldn't mind Big Sam and Sammy Lee to get us out of this mess.
Unless RK has been tapped up for the Dutch job I can't see him walking.
Tony Twist
164
Posted 21/10/2017 at 23:23:29
To be honest, though I hate Moyes and the way he treated us, I don't care who they bring in as long as it brings success. Maybe it is Moyes with Arteta. Arteta being the sweetener. Unsworth as well may be a good combination. Moyes returning is laughable though!
Ron Marr
165
Posted 21/10/2017 at 23:28:40
Unfortunately I think Kenwright is that stupid and is probably more interested in staging a version of My Fair Lady in the Rovers Return
Tony Marsh
166
Posted 21/10/2017 at 23:31:08
Lets assume the rumours about Koeman have substance. Maybe Ronald is thinking If I get sacked which is almost a certainty it looks bad on the CV.. Maybe I can negotiate one of those mutual consent agreements which suits everyone involved??
A mutual consent would get shitbag Bill off the hook of having to sack Ron plus it look better for Ronny Boy when he applies for the Barca job ha ha!!
Makes sense does a mutual.
Neil Copeland
167
Posted 21/10/2017 at 23:31:27
It may be possible that Koeman negotiates a deal with the board. He receives a payoff but less than if the club actually sacked him. Then the club announce that Koeman has been relieved of his duties which helps his credentials a little. The problem with all this is Koemans arrogance although on the other hand he has seemed very stressed for a few weeks now.
Neil Copeland
168
Posted 21/10/2017 at 23:32:43
Tony 167, beat me to it mate
Andrew Oxton
169
Posted 21/10/2017 at 23:36:44
Moyes? No please. Odds in to 16/1. Terrifyingly...Big Sam is in to 6's on some sites, but so is Ancelotti. Rhino favourite at the moment. Spanish waiter not far behind this lot. Tough job for the board, I don't know who I would want.
Kristian Boyce
170
Posted 21/10/2017 at 23:37:02
When I saw the the Moyes article, I said exact what Tony Marsh said, I'll be done with them. We're a laughing stock now with the media bringing up constantly the £140m being spent in the summer. But if dithering Dave walks back into the job, we deserve everything that anybody would throw our way. The sad fact is that with Kenwright still at the helm I sadly see it happening.
Tony Marsh
171
Posted 21/10/2017 at 23:39:02
Ki Niel it makes sense for both parties.Lets hope it's true but not the retutn of Deadly Dave. I hated Moyes and all he stood for.Stabbed us in the back when he left done nothing since. Not good enough for Everton.
The thought of Moyes returning would give Freddie Kruger nightmares.
Tony Hill
172
Posted 21/10/2017 at 23:45:15
It won't happen. Kristian. Not even the sentimental narcissist, Kenwright, would countenance the return of Deadly Dave, surely. Although there are still some poor souls on here who think Bill is an astute operator with the club's interests at heart, so we should not rule anything out, however absurd.
Ron Marr
173
Posted 21/10/2017 at 23:57:04
Moyes? It's like a bad smell that won't go away. You can get rid of it for a while but it always seems to return
Neil Copeland
174
Posted 22/10/2017 at 00:08:53
I watched the Chelsea vs Watford game earlier. I was very impressed with Watford, they played some good stuff and only poor finishing stopped them from being 3 or even 4-1 ahead. A little concerning that Chelsea came back at them and scored 2 late goals though. So not sure whether or not I would like Marco Silva but got to be a better option than Moyes.
Charlie Lloyd
175
Posted 22/10/2017 at 00:32:51
Moyes! Honestly. Why waste time contemplating it. This will not happen.
Clive Mitchell
176
Posted 22/10/2017 at 00:33:45
Get McCarthy in the team.
Stephen Davies
177
Posted 22/10/2017 at 00:45:19
Neil #175.
Hes a very good manager and ambitious.
Besides Deeney Cleverley & the GK..( all average players) who had heard about any of the other players.
He goes into games giving the players confidence and belief in themselves as a team tgat they can win...they were playing the League Chanpions today and never did they think of themsrlves as second best.
Yes tgey could and should have won that game but he really cant do much himself about the gilt edged missed chances.
A bigger team will take him at some stage and I really wouldnt be suprised if it was Arsenal .
He will be a success.
Will Mabon
178
Posted 22/10/2017 at 00:53:01
Trying to consider a team line up or envision tactics feels futile to my dispirited soul at this point.
More easily, on no more considered a basis than the sooner-or-later angle, I'm going as first choice (guess) for a 2-2 draw, second choice, 2-1 win.
If things go to plan, I'll catch some of you chasps later for the usual snarling on the live forum.
Gavin McGarvey
179
Posted 22/10/2017 at 00:58:11
Koeman resigning? I can't see it happening. He'll be here until he's sacked (like all the rest except DM). As for our next manager (if RK can't turn things round), Unsworth is the obvious candidate, although Ferguson is an option too. I do think the only chance of Koeman being sacked is if we're around the bottom three by Christmas. Still, who knows, maybe Moshiri is more ruthless than Bill Kenwright, we'll soon see.
Pete Clarke
180
Posted 22/10/2017 at 00:59:42
Neil 135 .
I would really love this to happen. Win the next three game to cheer us all up and then Kenwright gives Koeman a six year extension for fear of losing him to Barca . Sound familiar ?
Steve Carse
181
Posted 22/10/2017 at 01:11:48
Koeman played it cannily when coming to Everton, playing it down publicly but privately raising the stakes, and his deal at GP. It wouldn't surprise me if he has it planned to take on the Holland job whilst publicly denying interest. If he plays it to perfection he will be hinting to the Dutch that he will take the national job on should Everton sack him. That way he gets his big contract pay off from Everton and then walks immediately into another big paying job.
Brian Porter
182
Posted 22/10/2017 at 01:18:40
I posted this on another thread but I am repeating it here as I am totally exasperated by those who still think of Koeman as a top class manager. Apart from his time at Ajax, who at the time were head and shoulders ahead of the rest in Holland and even Ronald McDonald could have coached them to success, Koeman does NOT have a particularly glittering CV. Between leaving Ajax and arriving at Southampton his managerial record is hardly impressive, nor it would seem is his level of ambition with Everton.
There is no way we were ever going to win the league this season, so Koeman should have prioritised the cups as our best chance of silverware, which he must know the club and supporters are desperate for. Especially the Europa League, with its passport inti the Champions League for winners. Instead the Clueless one put out a weakened team against Lyon, inviting another defeat and they duly obliged. Was this classed as an 'expected defeat?'
My heart is just not in it anymore. After 59 years as an Everton supporter, Koeman has succeeded in making me feel totally indifferent towards the team, simply because I now expect defeat every time they take the field. The man who has made me feel that way is Ronald Koeman of course, our so called top manager.
Does everyone realise that in his three managerial roles before Southampton, this 'top manager' was first sacked by Valencia after taking the team from 5th in La Liga to the verge of relegation in 22 games, then he was sacked by AZ Alkmar after recording 7 defeats in his first 15 games, and he then spent two years at Feyenoord, where, after failing to win the league, he threw his toys out of the pram and walked away, resigned, saying he wanted to pursue 'other interests'.
That, in a nutshell, is the most recent pedigree of our so called 'top manager.' Southampton's fans are laughing their socks off at us now, as are virtually every knowledgeable football fan in England.
What the f**k was Moshiri thinking when he hired this fraud on £6 million a year?
Paul Holmes
183
Posted 22/10/2017 at 01:40:01
Raymond fox 136 and Tony Marsh 138,im as gutted as you are with the state of the team under Koeman and Walsh,but imo Moshiri has backed the manager and yes we have received alot of money in from transfer fees but that money has been used on the average players Koeman and Walsh wanted,not held back.If Newcastle under Benitez had Moshiri as the chairman instead of Mike Ashley they would get in the top four. To break into the top six you need to sign QUALITY players,something Koeman and Walsh have proved this season that they know very little about !.Koeman,his brother and Walsh out !.
John Pierce
184
Posted 22/10/2017 at 01:54:42
So what selection will come out of the Ronald Koeman lucky dip tomorrow?
Whilst I'm being facetious, as there will be nothing lucky about tomorrow! As a seasoned watcher of football and many other sports I'm at a liss to envisage the line up and how me might approach the game.
But the whole point about Koeman is no one knows what the line up will include, he chops and changes at will the sign of a man throwing darts at a board.
If Arsenal play well tomorrow, and thats no given, we could be thrashed.
Gavin Johnson
185
Posted 22/10/2017 at 02:32:38
I believe Koeman will include Vasic, Lookman in the first 11 and will play Davies alongside Gana and we'll win. Optimistic I know...And probably because I've just got back from having 6 pints at the local boozer.
William Cartwright
187
Posted 22/10/2017 at 03:43:19
141Gordon @:
I am a total Unswoth fan. I think he would do a remarkable job. But your comments are correct. A chance to run a club to get some direect experience may be the best course.
The situation at Everton is going to be pretty strange, a mix of the euphoric and toxic when RK finally does depart! Probably not fair to parachute Unsy into that situation.
I never thought I would say this, but Big Sam looks to be a good option at this point, to steady the ship and if he were to work closely with Unsy, a) to bring him closer to the 1st team, and b) to bring the U21's closer as well we could be onto something which has a short term solution and a long term strategy . . . . . .
Ernie Baywood
188
Posted 22/10/2017 at 04:29:17
I'm feeling slightly more positive.
Despite defeat against Lyon there was something to hold onto in the energy of the younger players.
Feels a bit like the Moyes era where we occasionally stumbled across players who could get us back to basics and turn out a few results. Players like the Straq and Landon. For all that managers keep complicating the game, hard work will always be an ingredient.
I'll go for 1-0 in a tense, battling effort.
COYB!
Alexander Murphy
189
Posted 22/10/2017 at 04:35:06
Just read in BBC Gossip, that the mirror reports that Moyes is being lined up.
Dear sweet baby Judas, no !
No !
NO ! !
NO NO ! ! !
NO NO NO NO NO ! ! ! ! !
I'd rather have Bonny fuckin Langford in charge.
Oh, hang on, we already have.
Please Farhad, relieve Wormtongue of his responsibilities immediately and get him to take Gollum with him.
Wayne McNee
190
Posted 22/10/2017 at 04:37:11
Two crazy rumours ( for me ) circulating.. 1/ Moyes returning!? 2/ Benitez. Of the two I'd take Rafa. Never thought I'd actually contemplate that but with pending investment I doubt he'll be going anywhere. As for Moyes. I couldn't think of a worse scenario or step in the wrong direction.
Alexander Murphy
191
Posted 22/10/2017 at 04:48:09
Wayne, as repulsive as Benitez was as custodian of Mordor, he went to Chelsea and in spite of their undiluted vitriol towards him, he won them silver.
He did so with dignity (a quality which I was convinced that he lacked).
Just imagine the agony and ecstasy of us winning a trophy with him in charge.
Their agony.
Our ecstasy.
Gary Gibson
192
Posted 22/10/2017 at 05:36:50
Arsenal may boast players of the calibre of Mesut Ozil and Alexis Sanchez, but in this case the whole is not greater than the sum of its parts. Much like our side, Arsenal's is one of despondence and a lack of cohesion.
If we fans shout for every ball instead of shouting at our own players then we will have a chance of getting something out of this one.
Gordon Roberts
193
Posted 22/10/2017 at 05:41:42
William # 187/188.
Unsworth certainly appears to have the respect of the U23 squad, and in my humble opinion, he should move away from Everton in order to further develop his skills/career.
The whole debate seems to be developing with the rumours circulating about David Moyes and Sam Allardyce, and in all probability, Evertons Board members will each be pushing their arguments about the best way forward. Interesting times at our great club, I hope they (Board members)! make the correct decisions.
Peter Barry
194
Posted 22/10/2017 at 06:07:36
How many more 'Must Win' games must Koeman lose before our spineless owners act?
Christopher Dover
195
Posted 22/10/2017 at 06:35:14
If Koeman is meeting the board after the game he is probably asking for a pay rise :)
Sam Hoare
196
Posted 22/10/2017 at 07:03:52
I don't believe for a second that Koeman would resign. Very few managers want to resign after a bad string of results, they'd rather stay to try turn things around and collect the big pay-off if they get sacked.
He will have to be pushed. If we lose to Arse and Leicester then I think he may be.
In terms of replacements:
1. Unsworth- I really like the way he goes about his job. He's an Evertonian who has got his U23s over achieving whilst playing very attractive football. The first team is a huge step up though and I'd be worried about handing him such a damaged squad. Perhaps promoting him to first team assistant manager is a sensible interim step? Though if he did get the main job I'd be quietly optimistic.
2. Big Sam - Whatever you think of him he has proved repeatedly to be an effective manager who can get the best out of his players. Personally it doesn't feel the right fit to me for a team with eventual top 5 aspirations and his shenanigans as England boss leave an undesirable taste.
3. Benitez - Would be a very controversial pick but the man knows the game well. He'd have to hit the ground running as any missteps would have the crowd baying for his blood given the history. I think potentially he'd do an excellent job but can't see it happening and not sure he'd want too either.
4. Ancellotti- Don't think he'd come and not really sure I'd want him too. Has not managed a club at our level for a long time and looks like he might have lost some of his love for the game. If he did come it would surely only be for an inflated paycheck like Koeman.
5. Marco Silva- A fashionable option marked for better things (perhaps as Koeman was two years ago). Unlike Koeman he has achieved a degree of success at every club he has managed, even his Hull team almost beat relegation against the odds and recorded some great wins. He looks a top manager to me and his (fairly mediocre) Watford team play good football with no fear. Would he leave them whilst doing so well early in his contract? Possibly not.
5. Paulo Fonseca- Similar to Silva Fonseca has done well at most clubs bar a slightly disappointing though not disastrous spell at Porto. He has done especially well in his first foreign job at Shakthar and is keen on a move to England. Would be a risky move though he is a highly thought of young manager.
My dream combo would probably be Marco Silva with Unsworth assisting him but perhaps that is unlikely for a few reasons. If the board think Silva is worth waiting for (and perhaps he is) then maybe an interim team of Big Sam and Unsworth would steady the ship? Or maybe throw Rhino in the deep end and see how he does? Tough decisions for the board but hopefully ones that will be taken sooner rather than later.
Sam Hoare
197
Posted 22/10/2017 at 07:22:00
Perhaps I should have added Moyes to my list!
I can't see it myself, it's a step backwards and his stock has dropped rather than risen since leaving. I was always a fan of his time here and don't think I've seen a better team since his departure other than the first half or so of Martinez' debut season perhaps. Maybe as an interim he could do a job with Rhino but even as an 'apologist' I'd say steer clear.
Tony Everan
199
Posted 22/10/2017 at 08:22:49
Or perhaps RK has an offer to manage Holland . Takes a reduced payoff and walks away.
Part of the problem has always been that his heart is not quite in the job. He was reluctant to take it and was swayed by cash alone. He always talks about Everton with distance, like an observer or an outsider.
There are many many things causing our hopefully temporary demise. We have pored over them all time and time again , dissected and anylised .
The essence of the problem is that Everton to Ron doesn't mean enough. A transient stepping stone. As a result he has never really fitted. All this makes it impossible to build a cohesive force.
Smaller teams with weaker players have it , and are outshining us.
Maybe Ron can change And learn to love us?? I have been living in hope for a while.
Problem is love is not an on/off switch , it is an affair of the heart.
Derek Thomas
201
Posted 22/10/2017 at 08:54:44
Sam @ 197; Your dream would be Fonseca with Unsworth assisting, I could live with that - or the same deal with Silva.
The 'Anti Dream' would be Moyes with Unsworth assisting.
The barely liveable with option would be Unsworth with Moyes as his assistant (I'm loath to have him back in any official capacity...I can still see that clip of him, just after the United news broke, walking along the street with a big shit eating grin on his grid)
The Nightmare would be Moyes on his own.
Now then gentle reader, which do you think is more likely? with Bill still clanking his chains like the ghost of Christmas past.
Tony Everan
202
Posted 22/10/2017 at 09:05:43
Would Moyes be any better than Ronald? Judging by his most recent stint at Sunderland no.
I know he is still on BPB's Christmas card list , but getting Moyes back would be regressive and a timid unimaginative mistake.
It is obvious now though that BPB and Mosh are having discussions about it. Moyes is being touted as a safe pair of hands that knows the club. An interim solution .
The limit of our season has become now to stabilise and ensure premier league safety.
Eddie Dunn
203
Posted 22/10/2017 at 09:11:00
Silva is flavour of the month but he is having a good time at Watford but who knows what his contract contains. There is little loyalty in football as De Boer recently discovered so managers are more likely to take a bigger job if it is offerred.
I would imagine that there are two notables that we would approach without the need for compensation, Sam Allerdyce and Chris Coleman. I won't mention our former manager as I don't want him near our club again.
Either of these two would be ideal on a two year deal, unless Big Sam would consider doing the job till the end of the season.
Then we could be lining-up a long term replacement.
The other, cheaper alternative is Unsworth, but whether the board would take such a chance is questionable.
Their number one target is maintaining PL status, Moshiri and co will not want to risk losing on their investment.
Perhaps they should have considered this posibility when they failed to replace our goal machine.

Dave Abrahams
204
Posted 22/10/2017 at 09:16:00
I'm going to Goodison today hoping that the twenty minutes of passionate football on Thursday can continue today for the whole of the game, hope James McCarthy is on the bench and contributes to that passion, I've got to believe that we can play much much better than we have up to now this awful season.
The news that Moyes might be in the running to replace Koeman is absolutely depressing and I refuse to believe that he would be even thought of to come back here, more depressing is the fact that some Evertonians would welcome the snide back.
Neil Copeland
205
Posted 22/10/2017 at 09:16:18
I heard somewhere (don't know where sorry), that Benitez would not be interested although I think he would do a good job.
Perhaps the board will go for Rhino with Big Joe supporting him as per the last game of season against Norwich a couple of years ago.
Whilst I think Moyes did a decent job initially, the whole club then went into a plucky little Everton state receiving all sorts of plaudits for punching above our weight when we strung a few results together. Despite the current plight we need the club to take the hit and look forwards - Moyes is not an option.
Was there a rumour about Chris Coleman? If so, not sure if I would want him either despite the job he has done at Wales.
Everton FC are the greatest club on the planet and as such need to show their ambition. Any appointment made is a big risk but I would like to see us bring in someone who will get us playing decent football and not be afraid of anyone.
Obviously we are limited to who will come here and who is available. Fahrad Moshiri needs to show the sort of ambition that got us RK and by that I mean not accepting no for an answer (actual selection process needs to be better though!).
I really don't know who would fit the bill best but I do like the idea of Rhino taking over at least in the short term. The style of football played by Marco Silva would make him popular I think. Rhino or Silva would get the crowd on board quickly also, so good in that respect.
I am hoping that Moshiri has already sounded a few out and is in a position to hatch his plan quickly. We may have a better idea around 4pm today.
Tony Marsh
206
Posted 22/10/2017 at 09:20:01
I could hardly sleep last night. Hurricane Brian is blasting across Merseyside and the Spectre of Deadly Dave kept appearing in my nightmares. Why is it Evertonian have to suffer more than any other fan base in the country? We suffer most at the hands of one of our own.Bungalow Bill.
If Boys Pen Bill has even considered bringing Davey Kruger back to this club he needs locking up. Moyes is a grade A shitbag. Scared of his own inability to beat good sides or take on the top managers. Moyes hates larger than life characters or big personalities. Everything people on Merseyside warm to. Moyes is like a Vampire on virgins neck sucking the life blood away.
.Deadly Dave was part of the reason Wayne Rooney left the club so quickly back in the day. That would be the only reason I would like to see The Scottish Koeman at Finch Farm. To have a fight with a pissed up Wazza. Two washed up has beens on the cobbles knocking shite out of each other over that book Wayne had somebody write for him.
That would be the only time this season it has been worth the ticket money. !!
Neil Copeland
208
Posted 22/10/2017 at 09:22:01
Tony, never thought of that - comeback Davey, all is forgiven!
Eddie Dunn
209
Posted 22/10/2017 at 09:29:33
Hopefully Rooney's presence will make a Moyes return less likely.
Laurie Hartley
210
Posted 22/10/2017 at 09:32:24
If BK brings Moyes back I am going to seek counselling.
Williams, Siguardson, Gueye, and Mirallas must start.
Up the Blues!!!!
Oliver Brunel
211
Posted 22/10/2017 at 09:38:47
I think there would be mayhem and a lot of fan anger if Moyes came back. Fans would vote with their feet. I for one would never go to Goodison again and I've been all around Europe watching the blue boys. There would be many Nyarko moments I suspect but it fits the profile for Bill and USM- mediocrity to keep us in the Premier League.
Oliver Brunel
212
Posted 22/10/2017 at 09:41:56
Nurse Ratched..I want my tablets…my tablets Nurse Ratched…please I promise I'll love Davey…nurse!
Ed Fitzgerald
213
Posted 22/10/2017 at 09:45:33
Is it possible we could become even more of a laughing stock? Yes if the BBC are to be believed with Moyes name being touted as a replacement.
Big San don't make me fucking laugh his teams are dreadful to watch. Even if Koeman stays we won't get relegated so appointing someone like Alladyce makes no sense. Benitez is a good manager but won't come here with all its attendant problems, plus he has publicly said he hankers for a rerun to Mordor.
The sensible thing to do would be to give Unsworth a chance, the crowd would get behind him and the situation could be reviewed at the end of the season. My personal choice would be to go for Eddie Howe he has got a fair bit of experience and his teams play progressive football.. I think going for another current premiership manager such as Howe, Silva or even Dyche is highly unlikely.
Neil Copeland
214
Posted 22/10/2017 at 09:56:32
A Moyes return may depend largely upon how much influence BPB has over the appointment. I can just hear him telling Moshiri that I told you so in respect of RK and you should have listened to me as we'd be looking forward to finishing seventh now with Davey. Also, there would no need to worry about a new stadium as we wouldn't be able to fill GP. Think of the money we can save on transfer with Gibson, Anichebe and Pinenaar coming back!
Aaaaargh! Has anyone got a gun?
Paul Smith
215
Posted 22/10/2017 at 09:56:50
If we're talking about new managers I would not go anywhere near Eddie Howe who looks tactically inept to me. When Koeman gets the bullet I would give it to Unsworth till Christmas and if he's doing well again to the end of the season.
My personal preference would be for Thomas Tuchel but would not be averse to Marco Silva. I just want the new manager to have his teams playing on the front foot and aggressive. We look further away now than we did under Martinez.
Steve Bell
216
Posted 22/10/2017 at 09:58:56
Is it too late hire a plane with 'Moyes Not In!' as the message?
James Marshall
217
Posted 22/10/2017 at 10:07:51
Neil@215
A gun? You mean a knife, right?
Who on earth would take a gun to a gun fight?
Neil Copeland
218
Posted 22/10/2017 at 10:09:39
James 218, you're right I need to get a grip.
James Marshall
219
Posted 22/10/2017 at 10:10:47
Bringing in Rhino as manager is a massive risk IMO - someone above said it would get the crowd on-side with him as manager, but we could well still have a lot of the same problem with the team, and what then if the crows turns on them/him at that point?
I feel that bringing Unsworth in when the team is a pile of shit, is a lot of pressure to put on the guy for his first time as manager of a PL team. Huge pressure, huge risk, and one that could spectacularly backfire unless the tea is suddenly vastly different overnight - which seem highly unlikely to me.
Gary Willock
220
Posted 22/10/2017 at 10:11:00
Would be very interesting to understand more about how Steve Walsh is doing behind the scenes. We've done an awful lot of buying, but we've seen only a few 'potential gems' in that; Gana, Vladic, DCL and Lookman? Only Pickford is really standing out as an 'absolute worldy'.
One option here then may be to think about bringing in Moyes in the DoF role? He could be there to give Unsy some guidance as needed, act as a bridge to the board, and ultimately find the next Cahill, Artetas, Baines, Jags, Stones, etc.
(Yes I know there was shite too!)
This feels like win-win-win to me. We get to tap the clear potential of Unsy. We get a safety net of experience, and we put the WE back in Everton .a phase the Dutch dickhead has not mentioned once, and a perhaps a huge part of the current problems; what the fuck is our current identity?

Paul Birmingham
221
Posted 22/10/2017 at 10:14:08
I hope this rumour about Ginger Snap, isn't true. Unfortunately in life HG Wells stories don't come true.
I'd like to know the source of the rumour but IMO it must be a rumour.
Today the club must focus on winning the game, and a vital 95 minutes, in the clubs history.
I hope and hope, today we win.
George McKane
222
Posted 22/10/2017 at 10:16:36
Woke up this morning to a howling wind and grey skies over New Brighton. Bit of a rush day today with early KO.
Not sure if I feel like the character in Munch's The Scream but I prefer to be Van Gogh's The Poet (Eugene Boch) - - 'I should like to paint the portrait of a fellow artist who dreams great dreams. Behind the head I paint infinity, I give it a plain background of the richest, the most intense Blue'.
Today is going to be a very interesting day. I am sitting thinking lightly of The Dead Poets Society - - Carpe Diem - - and of course my thoughts drift off towards Walt Whitman "To think of time - - of all that retrospection! To think of to-day, and the ages continued henceforward!"
I am of course getting ready soon for my journey under The River to those places that no matter what, I will always hold dear in my heart and to connect again with those mutual friends that are tied together with Blue Heartstrings.
We wish for a win, for a great game, for players to show us that they are with us, feel like us and share our dreams and passions and fears and visons. This is a Shakespearean day - - a day of destiny - - our St.Crispan's Day: - -
"Once more unto the breach, dear friends, once more;
Or close the wall up with our English dead!
In peace there's nothing so becomes a man
As modest stillness and humility:
But when the blast of war blows in our ears,
Then imitate the action of the tiger;
Stiffen the sinews, summon up the blood,
Disguise fair nature with hard-favoured rage;
Then lend the eye a terrible aspect"
Who makes our destiny. Is the holder of our history and future worth our trust. I wonder.
"But rain spoiled all.
The day began uncertain,
With clouds low trailing and moments of rain that misted.
The young folk held some hope out to each other
Till well toward noon when the storm settled down"
Rumours of Bored (sic) Meetings. I want to go to The Dark House and walk to Goodison with my friends, and foes for the day, with football in my heart, only thinking of the game - - not Boards and Committees and Managers and Owners - - this is what we have been reduced to over these past few years - of spending and budgets and Managers and Agents.
"No, I do not feel that good
When I see the heartbreaks you embrace
If I was a master thief
Perhaps I'd rob them
And now I know you're dissatisfied
With your position and your place
Don't you understand
It's not my problem?
I wish that for just one time
You could stand inside my shoes
And just for that one moment
I could be you
Yes, I wish that for just one time
You could stand inside my shoes
You'd know what a drag it is
To see you"
Thank you Mr Dylan ( Another good Evertonian from his time in The City in the early 60's).
Just sitting here in a bit of a rush today - - trying to find my own "posso waves" - -
"No, and I ain't lookin' to fight with you
Frighten you or uptighten you
Drag you down or drain you down
Chain you down or bring you down
All I really want to do
Is, baby, be friends with you"

It's a tight tough line between violence and hatred and having a string opinion - - I firmly believe today must be the day - - it's time for Everton to wake up - - to listen - - to ACT:-
"Call out the instigators
Because there's something in the air
We've got to get together sooner or later
Because the revolution's here, and you know it's right
And you know that it's right
We have got to get it together
We have got to get it together now"
Having a little listen to The Youngbloods: - -
"Love is but the song we sing,
And fear's the way we die
You can make the mountains ring
Or make the angels cry
Know the dove is on the wing
And you need not know why
C'mon people now,
Smile on your brother
Ev'rybody get together
Try and love one another right now
Some will come and some will go
We shall surely pass
When the one that left us here
Returns for us at last
We are but a moments sunlight
Fading in the grass
C'mon people now,
Smile on your brother
Ev'rybody get together
Try and love one another right now"
And now I have just closed my eyes and allowed myself to float - - to fly - - to be inside the clouds - - to look down like young Ivan in Ivan's Childhood and see my world - - to see you all - - to dream - - flying across The River into The Blue - I spoke with a bird and asked " why is it so easy for you to fly - - she answered 'love lifts me above the earth" .
Got to finds some possos in this current state we find ourselves in.
For now I am tuning into Van:
" We were born before the wind
Also younger than the sun
Ere the bonnie boat was won
As we sailed into the mystic
Hark, now hear the sailors cry
Smell the sea and feel the sky
Let your soul and spirit fly into the mystic
Yeah when that fog horn blows
I will be coming home
Yeah when that fog horn blows
I wanna hear it, I don't have to fear it
And I wanna rock your gypsy soul
Just like way back in the days of old
Then magnificently we will float into the mystic"
Well I can dream can't I and pretty soon I will be walking along Scotty on a Sunday morning with thoughts drifting back to Two Way family Favourites - - to Me Mothers after mass breakfast - - Rond The Horn and Jimmy Clitheroe around dinner - - but mainly to friends from the time and friends now - can't wait to get to The Dark House and to Goodison"
"There are places I remember
All my life though some have changed
Some forever not for better
Some have gone and some remain
All these places have their moments
With lovers and friends I still can recall
Some are dead and some are living
In my life I've loved them all
But of all these friends and lovers
There is no one compares with you
And these memories lose their meaning
When I think of love as something new
Though I know I'll never lose affection
For people and things that went before
I know I'll often stop and think about them
In my life I love you more
Though I know I'll never lose affection
For people and things that went before
I know I'll often stop and think about them
In my life I love you more"
Friends and cosmic travellers - - We Are The People.
Your friend George

Ray Roche
223
Posted 22/10/2017 at 10:18:45
Tony#207 I have this nightmare vision of "The Shining" poster with the ginger dick going "Here's Davey".
Ray Roche
224
Posted 22/10/2017 at 10:24:20
George old son, you've left out Billy Cotton's Band Show!
Neil Copeland
225
Posted 22/10/2017 at 10:24:45
George 223, wow! 2-1 it is then!
George McKane
226
Posted 22/10/2017 at 10:33:54
Yea forgot that Ray - - Rock and Roll - -have a good day Blues. Keep it cool but mainly keep it cosmic.
Brent Stephens
227
Posted 22/10/2017 at 10:36:24
"I want to go to The Dark House and walk to Goodison with my friends, and foes for the day, with football in my heart, only thinking of the game - - not Boards and Committees and Managers and Owners - - this is what we have been reduced to over these past few years - of spending and budgets and Managers and Agents".
Amen to that, George.
"Friends with you..."
Sam Barrett
228
Posted 22/10/2017 at 10:38:29
Brilliant as usual George. Shakespeare and Dylan quotes eloquently put together, I now feel 'posso' too, COYB!!!
Colin Glassar
229
Posted 22/10/2017 at 10:40:06
Paul, if the ginger one returns (engineered by Kenwright) then I wouldn't be surprised if Moshiri sells up and heads into the sunset.
It's obvious that BK is running the show at Everton, as Moshiri appears to be fucking clueless when it comes to football, and nothing has really changed. They still sell to buy, they still accept mediocrity, they still lead us on about new stadium planes, they start still bullshit us about everything etc...
Until BK leaves, or is kicked out, this club of ours has no chance, no hope of ever being anything but mid table average.
Steve Brown
230
Posted 22/10/2017 at 10:42:18
Having hired a manager who had just got his team relegated - Martinez - can we put a hiring criteria that no manager who has taken his team down in the last three years will be considered?
And given that I like Rhino, a further criteria must be that internal candidates will not be considered. I was trying to remember a single example when a member of staff stepped up to manage a premier club in the last five years and was still in a job two years later.
Finally, the key criteria should be that the new manager must have won a trophy with a top five club in either England, France, Spain, Germany or Italy in the last three years. From Sam # 197s list, that leaves Ancelotti or someone of that calibre. Either we are ambitious and want to be winners or we don't.
George McKane
231
Posted 22/10/2017 at 10:43:17
No matter what shade of Blue we are -the one thing I feel when I read your comments, gang, is a feeling of something - - of beauty - - I mean that - - of a Love of Life - - as Vincent said "To Know Life is To Love Many Things" - - Vincent Van Gogh sat next to me for years in The Park End - - I would talk to him all day and it would go in one ear and stay there.
Love and Cosmic wishes from me To You All. We Are The People.
Steve Brown
232
Posted 22/10/2017 at 10:45:06
Colin, unfortunately Moshiri is still under the illusion that Kenwright kmows what it takes to run a successful football club. Unbelievable I know.
Tony Hill
233
Posted 22/10/2017 at 10:54:15
Nice one, George. And a bit of the fine Robert Frost thrown in too.
Peter Mills
234
Posted 22/10/2017 at 10:58:27
I understand that Shakespeare once stayed in Knowsley, and was also an Evertonian. No doubt this was the inspiration for his Hamlet soliloquy:
"To be or not to be, that is the question;
Whether ''tis nobler in the mind to suffer the slings and arrows of outrageous fortune,
Or to take arms against a sea of troubles and by opposing, end them".
That's how I'm feeling today. I will be going to the match, others will veto it. I understand that. I have never left a match before the final whistle and won't today, no matter how it's going. If it's bad, some will show their anger by leaving early, I respect that.
I am hoping for a battling, skillful victory. But if the opposite is happening, how can I show my dismay at what is going on at our club? In former days the cushions would be sold out for a match like this. The first stirrings of the slow handclap would develop, then arise into a crescendo. A cry of "What a load of rubbish" would ring around Goodison. None of these things are what we want at our ground but they were, at least, active signs of discontent - nowadays it tends to be silent contempt for what we are witnessing on the pitch.
Geoff Evans
235
Posted 22/10/2017 at 11:06:21
David Moyes, Why not. Sounds spot on to me. We've already brought Rooney back, a player who couldn't wait to get away, why not a manager who negotiated behind the clubs back to leave.
Some clubs are accused of going two steps forward and three back. Everton go two backward and then another three back.
Players used to be rewarded for loyalty with a testimonial game. Now we reward disloyalty and underhand negotiating with 5-star pension plans.
The whole thing stinks of Boy's Pen Bill to me.
Ray Smith
236
Posted 22/10/2017 at 11:09:46
The only way imo to break into the top 6 is to attract a manager capable of attracting top 6 players.
Who from our summer intake was courted by last seasons top 6?
What player in the top 6 and the European equivalent would join us?
Unless we attract said manager, get somebody in to steady the ship for the rest of the season. Big Sam might go for that!
It seems a bit of a 50-50 on here re Unsy, however, he moulded the U23's into title winners, at least 5 of those are now in and around the first team squad, so why not.
Big Sam and Sammy Lee for me.
I expect the sky cameras to find Moyes in the Stadium if he's there.
I am looking forward to post match reports. Even if we win (and I want us to win) Koeman looks like a dead man walking. Shame, what could have been has fizzled out after a dozen games in all comps.
Peter Mills
237
Posted 22/10/2017 at 11:12:02
George223, I have always asscociated "Everybody get together" with the Dave Clark 5. I've just listened to The Youngblood's version, which is far superior. Thanks.
I'll get myself psyched up, gather those positive vibes, and get down to Goodison.
Neil Copeland
238
Posted 22/10/2017 at 11:15:19
Peter 235, you will not be alone, I am going also and like you never have and never will leave before the final whistle. Whatever develops today I truly hope we win or at the very least leave nothing on the pitch. A passionate performance will get the supporters on board and god knows do we need that at the moment.
COYB!
Neil Copeland
239
Posted 22/10/2017 at 11:18:34
George 223, your post has certainly lifted the mood on this thread - thank you.
Frank Crewe
240
Posted 22/10/2017 at 11:19:46
@ Steve 233
It depends on what you define as success. Everton are one of only 6 clubs from the original 22 clubs that have not been relegated since it started back in 1992. The other being Manu, Liverpool, Spurs, Arsenal, and Chelsea. Now considering that means that big famous clubs like Leeds, Aston Villa, Sheffield Wednesday have gone down and have yet to return and numerous smaller clubs have come and gone and some big clubs such as Newcastle and Sunderland and have both been relegated several times weren't even in the league when it started I don't consider that is doing too badly.
On top of that the other 5 clubs are either being run by a billionaire with money to burn or rich consortiums. He has kept us in the top division on a shoestring budget. Then along comes Man City whose owners billions literally comes out of the ground in oil form who just buy their way to success. Yet the moment the club gets a billionaire who appointed a big name manager who was given free reign to spend money like water on crap players somehow it is still Kenwright's fault. Amazing.

James Hughes
241
Posted 22/10/2017 at 11:24:45
If we are going back in time, then instead of Dour Dave then resurrect Kendal and take us back to 1984.
Marty get the Doc and the delorean ready
Eddie Dunn
242
Posted 22/10/2017 at 11:25:56
George- another marvellous preamble to the trials and tribulations that lie ahead.
So many wonderful lyrics and images swirling around the Goodison skies today- I hope it brings inspiration to our team, and belief to our support...COYBs.
Andrew Clare
243
Posted 22/10/2017 at 11:27:11
George your music taste is without question.
To all the blues out there have a great day!
Brian Harrison
245
Posted 22/10/2017 at 11:37:48
George
I will try and keep your positive thoughts as I walk up City road, and hope that we play with passion and spirit. We know Arsenal do not like teams who get in their face, but if we are nervous and stand off them then we will be playing into their hands. I know some may boycott the game or leave early if the game is not going our way, and as the saying goes you pay your money so you have every right to express your views in which ever way you want.
But I hope today we can put to one side our individual views over the manager or certain players, today is a day to show that we as fans can alter the mindset. As we have proved over the decades sometimes we are at our best in adversity, non more so than when 2 goals down to Wimbledon and on are way to relegation. But the fans were fantastic that day and screamed and sang and chanted and as impossible as it seemed at half time helped the club avoid relegation. Maybe not quite in the last day of the season predicament but some of that Goodison fervour is needed today just as it was back then.
Tony Marsh
246
Posted 22/10/2017 at 11:40:08
Frank @ 241
In the last 2 years Everton have a net spend of about £7. Million quid. All that has happened is the dopey manager with a terrible track record employed by KENWRIGHT !!! Has blown the Stones and Lukaku money on shite. Kenwright and hid Gobshite mouthpiece Moshiri brought Koeman to the club despite the horrendous catalogue of mismanaged at other club's on the continent. Who's fault is it that EFC employed our worst manager in living history.?
Wake up mate you falling in to Kenwrights trap again.Weve spent nothing in real terms. We are by far the worst team in England to watch.
Koeman is a product of the Moshiri / Kenwright axis of evil. Look no further than these to Muppets when it comes to dishing out blame for our problems. It is certainly not the players fault that Koeman signed them or Walsh was allowed to mess things up.
Gordon Crawford
247
Posted 22/10/2017 at 11:52:34
So the rumours are picking up steam that dithering deceitful Dave will be coming back to our club. As fans we can't let this happen, this would break the clubs back. Shocking.
But we do need to get rid of Ronald for a top manager.
Also it's been rumoured that Henry Onyekuru won't play for Everton at all. Now again this sounds like crap, but with the way our club is run, then who knows. Reportedly Juventus and other top teams are after him this January.
Oh the joys of being a toffee.

Steve Ferns
248
Posted 22/10/2017 at 11:55:32
Gordon, there's no way the kid will refuse to play for us! Maybe he might have his head turned by juve, but he would relish playing here if only to get his big move. He's on a long contract so we hold all the cards here.
Len Hawkins
249
Posted 22/10/2017 at 12:13:42
Ed #214
Big San ? Let me state categorically my Mrs has no interest whatsoever in the Everton managers job.
Are there any legal eagles on here who can apply for an exclusion order to prevent Moyes from coming within 20 miles of Goodison Park.
Tony Dove
250
Posted 22/10/2017 at 12:19:50
How about Tony Pulis? Dont worry only joking.
Kunal Desai
251
Posted 22/10/2017 at 12:28:07
Kenny starts. 3 at the back then.
Darren Hind
252
Posted 22/10/2017 at 12:30:57
George
I was sick with nerves when I got up. I think we all know this is a biggee, but If soul soothing was a profession, you would be a rich man my friend.
2-1 to the blue boys, but wear something to protect your finger nails.

Nev Renshaw
253
Posted 22/10/2017 at 12:35:48
Tony (11) It was us that equalised not Lyon.
Kevin Prytherch
254
Posted 22/10/2017 at 12:36:20
3 at the back, 2 wing backs, 1 wide midfielder/winger (Vlasic) 2 attacking midfielders (sig & Rooney), 1 striker and then just 1 midfielder who'll be prepared to try and break up play.
Poor Gana will get overrun by their midfield with very little support.
At the very least Davies needs to be in there with Gana and ideally another midfielder who'll graft.
I feel a big scoreline...
Ed Fitzgerald
255
Posted 22/10/2017 at 12:38:12
Len @250
Those of certain age shouldn't use iPhones to post messages, I.e. Me
I am sure your Mrs could do a better job than Koeman or Moyes.
Colin Glassar
256
Posted 22/10/2017 at 12:45:01
If Dithering Dave comes back will he re-sign his favourite players like Weir, Faddy and Naismith? Nothing like an old boys reunion and BK is a sentimental old sop isn't he?
Phil Walling
257
Posted 22/10/2017 at 12:45:24
All change, yet again although a semblance of 'a shape'- at last.
Find myself praying for a win rather than just hoping.
If the alternative is Moyes, Cyprus will not be far enough away !
Phil Walling
258
Posted 22/10/2017 at 12:45:24
All change, yet again although a semblance of 'a shape'- at last.
Find myself praying for a win rather than just hoping.
If the alternative is Moyes, Cyprus will not be far enough away !
Phil Walling
259
Posted 22/10/2017 at 12:45:51
All change, yet again although a semblance of 'a shape'- at last.
Find myself praying for a win rather than just hoping.
If the alternative is Moyes, Cyprus will not be far enough away !
Dave Abrahams
260
Posted 22/10/2017 at 12:57:27
George(223) that's it. ' Keep right on to the end of the Road' if we all have your spirit and belief in the Blues and show it today then Everton and us will give Arsenal a game, you give most of us a boost.
George I hope you were singing that first Dylan song with Dour Davie in mind. ' you don't know what a drag it is to see you' very appropriate.
Enjoy the day George and I hope you and The Dark House are all singing well into Sunday night.
Steve Brown
261
Posted 22/10/2017 at 13:04:31
Frank 241, it is all Kenwright's fault and has been since the moment he took control of the club - he has been the epitome of mediocrity masquerading as passion and romanticism. My point is Moshiri still relies on him when he should be given a club blazer and a red wine and told to limit his activity to dinner dances and community work.
If the extent of our ambition since the start of the premier league was not to get relegated, then that explains 25 years of failure. Plenty of us expected and expect more.
Add Your Comments
In order to post a comment, you need to be logged in as a registered user of the site.
Or Sign up as a ToffeeWeb Member — it's free, takes just a few minutes and will allow you to post your comments on articles and Talking Points submissions across the site.