SportPesa tweet draws Evertonian ire
Sunday 22 October 2017

37 Comments [Jump to last]
A tweet from the official account of the club's main sponsor, SportPesa, congratulating Arsenal on their 5-2 win at Goodison Park has caused outrage among Everton fans.
The Kenyan-based betting firm, which also has a partnership agreement with the London club, have since deleted the post which revelled in the fact that the Gunners had five different goalscorers in their decisive victory over the Blues this afternoon.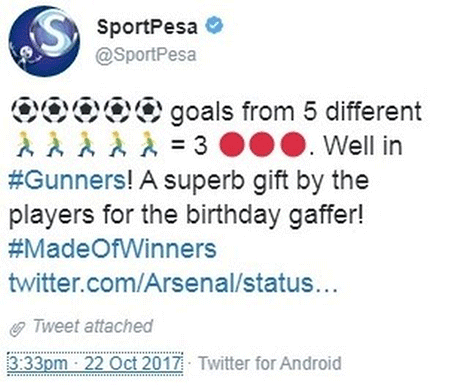 ---
Reader Comments (37)
Note: the following content is not moderated or vetted by the site owners at the time of submission. Comments are the responsibility of the poster. Disclaimer
Amit Vithlani
1
Posted 22/10/2017 at 17:21:05
Well, this just about sums up the state of this club. Clowns to the left of us and jokers to the right.
Oliver Brunel
2
Posted 22/10/2017 at 17:32:28
The club is a disgrace and Moshiri has changed nothing.
Gordon White
3
Posted 22/10/2017 at 17:32:38
Well it can only get better. Can't get any worse.
Colin Glassar
4
Posted 22/10/2017 at 17:35:38
Final nail in the coffin this. Next we'll have Angry Birds taking the piss...
Paul Smith
5
Posted 22/10/2017 at 17:36:30
It's worse under Moshiri than Kenwright. His barnet all jovial-like as his beloved Arsenal knock in their 5th.
What do we do? He needs to know we're fuming...
Anthony Newell
6
Posted 22/10/2017 at 17:38:27
That's a disgrace, pure and simple
Yes, angry birds launching destructive pieces of shit via catapult would probably sum up the transfer policy
Brent Stephens
7
Posted 22/10/2017 at 17:47:12
I don't expect a commercial sponsor to actually support us but this is crass.
Paul Columb
9
Posted 22/10/2017 at 17:55:51
The game is a joke. Top to bottom. Watched the Bayern Munich Goodison game a few days ago to remind myself why I ever gave a shit.
Jimmy Salt
10
Posted 22/10/2017 at 17:59:28
I've got that game on dvd somewhere Paul might dig it out.
Brian Denton
11
Posted 22/10/2017 at 18:22:10
Good night, that.
Daniel A Johnson
12
Posted 22/10/2017 at 18:23:45
This totally sums us up even our shirt sponsors are run by morons and idiots.
Dan Davies
13
Posted 22/10/2017 at 18:25:25
That's like the Red Shite's sponsor congratulating us when we hammer them in the derby.
Ian Horan
14
Posted 22/10/2017 at 18:26:05
Guys I think the tweet is the last of our problems, the reality is more concerning!!!!
What direction are our beloved blues going? Kenwright and Moshiri are custodians of our club; time to take responsibility and more importantly action.
Bobby Mallon
15
Posted 22/10/2017 at 18:26:46
We need to boycott the games just once don't fucking go
Geoff Lambert
17
Posted 22/10/2017 at 18:56:46
Bobby! that is spot on but it wont happen till its to late.
Steve Croston
18
Posted 22/10/2017 at 19:25:00
One calamity after another...we should run out to the Benny Hill theme tune instead of Z Cars.
Actually, now I've written that,I'm imagining it would be the best way to get 40,000 angry scousers smiling again, might be worth a try.
Eric Paul
19
Posted 22/10/2017 at 19:27:22
Only people who don't go to the game would suggest a boycott,as the club already have my cash I'm not going to miss a game as bad as it is
Jack Convery
21
Posted 22/10/2017 at 19:51:44
This tweet is a symptom of all that is wrong. The Corporate elite don't get it and never will. We need to take the club back.
Jack Convery
22
Posted 22/10/2017 at 19:53:12
If Hills Angels ran out with the team I'd agree with you.

Eric Paul
23
Posted 22/10/2017 at 19:54:20
Sport peas don't even know who we are we were just a prem club with shirt space available
Phillip Warrington
24
Posted 22/10/2017 at 19:54:52
Every Evertonian on the planet should write a simple letter to the club without malice simply stating we as members and fans give Moshiri, Kenwright and especially Ronald Koeman our vote of no confidence and they need replacing immediately.

This can not go on week after week, it's not that we are getting beat game after game, or it's at a stage where teams are resting players against us and still winning easily. It's the way we play and the lack of fight. 42 years of supporting Everton and I really fear for the club we are heading into a leeds situation.

We have spent big, and by Christmas we will be knocked out of every compition facing relegation. Koeman will spend big again and we still be in the same situation and Moshiri is not what he promises to be and puts the club in huge debt of which they will never recover from.
Charles Brewer
25
Posted 22/10/2017 at 20:03:40
I'm watching W1A and it seems like Everton is the football equivalent of the total stupidity shown there
Franny Porter
26
Posted 22/10/2017 at 20:06:25
Who gives a fuck about this shite? Faux outrage at a fucking sponsor.
Think we have more important things to worry about.
Brent Stephens
27
Posted 22/10/2017 at 20:13:01
Franny, stop worrying about this thread. More important things...
Franny Porter
28
Posted 22/10/2017 at 20:17:13
Brent, touché!
Stan Schofield
29
Posted 22/10/2017 at 20:24:12
I'd never heard of SportPesa before they became this season's sponsor. Who gives a fuck what they tweet? The only important thing is how we do on the pitch, and we're shite under Koeman. If we were good, nobody would give a shit about SportPesa.
Brent Stephens
30
Posted 22/10/2017 at 20:29:37
Respect, Franny.
James Marshall
31
Posted 22/10/2017 at 20:32:42
Running out to the Benny Hill tune really cheered me up! Hahaha!
Colin Glassar
32
Posted 22/10/2017 at 20:36:42
We're not quick enough to run out to the Benny Hill tune.
James Marshall
33
Posted 22/10/2017 at 20:42:26
Good point, Colin. Is Ronald Koeman the new Bob Todd?
Gerard Carey
34
Posted 22/10/2017 at 21:39:56
I think more Keystone Cops than Benny Hill.
Steve Bell
35
Posted 22/10/2017 at 21:41:20
The Vision On theme would be more appropriate at the moment!
Steven Astley
37
Posted 23/10/2017 at 00:06:49
Only thing that has improved with Moshiri is the cladding on the Old Lady
Alan McGuffog
38
Posted 23/10/2017 at 10:21:34
Does anyone give a 4 X anymore ?
Lee Brownlie
39
Posted 23/10/2017 at 11:48:26
Piss taken by Sport Peas? Angry Birds looming like (red-green-blue?) vultures? This is getting fucking surreal!.. Please, someone, lets now go the whole hog, take a big fuck-off stereo to the Chelsea game.. and blast out that Benny Hill runaround theme as suggested!!!
(Maybe we can even invoke him as Ernie, lending us - much-needed! - pace with his fastest milk-cart, to at least go down fighting till that stale pork pie catches him in the eye!!).. or did that already happen in the Lyon game with Ashley Rock-Cake, haha, Williams?.. like I say, fucking surreal this!!!
Tony Marsh
40
Posted 23/10/2017 at 12:09:00
Sportspesa is run by Bulgarian and South African gangsters. Dodgey fucking outfit that we should never have got in to bed with..They won't know who We are so who gives s fuck..Another thumbs down for the Moshiri top buisness man accolades.
Will Mabon
42
Posted 24/10/2017 at 05:07:43
What a typically latter-day fuck up. Rushing to impress the millennial hipsters by social media. Thoroughness secondary.
Add Your Comments
In order to post a comment, you need to be logged in as a registered user of the site.
Or Sign up as a ToffeeWeb Member — it's free, takes just a few minutes and will allow you to post your comments on articles and Talking Points submissions across the site.