Koeman: I still believe I can change our situation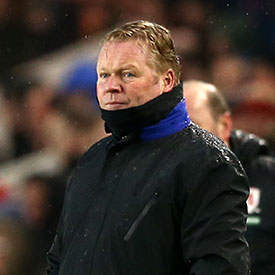 Ronald Koeman seemed rattled in his post-match interview following another chastening defeat that saw Everton fall into the bottom three on the back of their fifth league defeat in seven games.
The Blues took the lead in the 12th minute through Wayne Rooney's impressive strike but had given up the lead eight minutes into the second half to goals by Nacho Monreal and Mezut Ozil.
Idrissa Gueye's sending off after 67 minutes made the task of getting back on level terms that much more difficult and the Gunners padded their lead to 4-1 before Oumar Niasse grabbed a consolation in stoppage time and Alexis Sanchez completed the rout with an individual effort.
Koeman was asked in the tunnel aftwerwards if the 5-2 defeat was the kind of result that costs a manager his job, and the Dutchman offered the only answer he could which was to acknowledge that the decision was out of his hands.
He suggested, though, that he didn't believe it was too late for him to rectify the team's parlous position.
"I don't know, I don't know. I told the players that I believe [in them] and I believe in the commitment of the players but if you are thinking negatively and everybody is doing that at this moment…
"On one side I can understand it but if you take all the things in a negative way… even not telling that we played with 10 men [at] 1-2... because the final result is really poor.
"But once again, these kinds of decisions aren't in my hands.
"The feeling that I have [is that the players are playing for me], but I don't know. For any manager working with 28, 29 players you can't keep everybody happy.
"I think there is enough understanding but that is my opinion. I don't know."
Major shareholder Farhad Moshiri and club Chairman Bill Kenwright were both in attendance in the Goodison Park Directors' Box and watched another home defeat unfold.
Asked if he felt the Board should be more concerned than they would have been before now that Everton have dropped into the relegation zone, Koeman offered a rambling answer where he harked back to the tough run of fixtures early in the season that proved so problematic for his side.
"That's normal because that's football," he said of the potential threat of getting the axe. "We've played nine games and we played again the [top] five teams in the Premier League of last season but this is not the position in the table that is good for Everton.
"I understand. I have worked a long time in football and have been managing a long time and don't tell me what can happen. First of all, I don't think it's too late.
"It's not the time to be crazy. I am the one responsible for this team. We lost 5-2 today, it's a big result, even against Arsenal and, okay, we will see what will happen."
Koeman was understandably uncomfortable but more composed in his full press conference in the media centre later on, admitting that even though his team started well, they found it difficult dealing with Sanchez.
"The way they made it 1-1 before half time was disappointing. We had to change something to stop them. The first 10 minutes after half time was better but the quick counter attack to make it 1-2 and the sending off of Gana made it really difficult.
"It was already difficult 11 against 11 but it was even more difficult, impossible, 10 against 11.
"I spoke with the players. Everybody is so disappointed. If you start to think negative there is no solution but I'm not like that.
"All the rumours in the newspapers are normal. The team is under-performing and in a difficult situation, Mentally, confidence... they are struggling and that's what we need to change.
"Personally, I still believe I can change the whole situation but everybody knows how it works in football. That's the situation and that's all I'll answer on this question. Ask somebody else."
Asked what positives he could take from the game, Koeman said: "Don't ask about positives because the final result is a 5-2 defeat at home. Write what you like to write tomorrow."
---
---