Koeman: I still believe I can change our situation

122 Comments [Jump to last]
Sunday 22 October 2017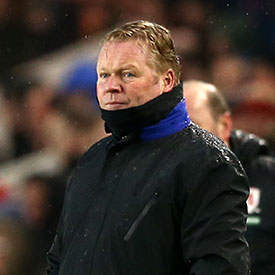 Ronald Koeman seemed rattled in his post-match interview following another chastening defeat that saw Everton fall into the bottom three on the back of their fifth league defeat in seven games.
The Blues took the lead in the 12th minute through Wayne Rooney's impressive strike but had given up the lead eight minutes into the second half to goals by Nacho Monreal and Mezut Ozil.
Idrissa Gueye's sending off after 67 minutes made the task of getting back on level terms that much more difficult and the Gunners padded their lead to 4-1 before Oumar Niasse grabbed a consolation in stoppage time and Alexis Sanchez completed the rout with an individual effort.
Koeman was asked in the tunnel aftwerwards if the 5-2 defeat was the kind of result that costs a manager his job, and the Dutchman offered the only answer he could which was to acknowledge that the decision was out of his hands.
He suggested, though, that he didn't believe it was too late for him to rectify the team's parlous position.
"I don't know, I don't know. I told the players that I believe [in them] and I believe in the commitment of the players but if you are thinking negatively and everybody is doing that at this moment…
"On one side I can understand it but if you take all the things in a negative way… even not telling that we played with 10 men [at] 1-2... because the final result is really poor.
"But once again, these kinds of decisions aren't in my hands.
"The feeling that I have [is that the players are playing for me], but I don't know. For any manager working with 28, 29 players you can't keep everybody happy.
"I think there is enough understanding but that is my opinion. I don't know."
Major shareholder Farhad Moshiri and club Chairman Bill Kenwright were both in attendance in the Goodison Park Directors' Box and watched another home defeat unfold.
Asked if he felt the Board should be more concerned than they would have been before now that Everton have dropped into the relegation zone, Koeman offered a rambling answer where he harked back to the tough run of fixtures early in the season that proved so problematic for his side.
"That's normal because that's football," he said of the potential threat of getting the axe. "We've played nine games and we played again the [top] five teams in the Premier League of last season but this is not the position in the table that is good for Everton.
"I understand. I have worked a long time in football and have been managing a long time and don't tell me what can happen. First of all, I don't think it's too late.
"It's not the time to be crazy. I am the one responsible for this team. We lost 5-2 today, it's a big result, even against Arsenal and, okay, we will see what will happen."
Koeman was understandably uncomfortable but more composed in his full press conference in the media centre later on, admitting that even though his team started well, they found it difficult dealing with Sanchez.
"The way they made it 1-1 before half time was disappointing. We had to change something to stop them. The first 10 minutes after half time was better but the quick counter attack to make it 1-2 and the sending off of Gana made it really difficult.
"It was already difficult 11 against 11 but it was even more difficult, impossible, 10 against 11.
"I spoke with the players. Everybody is so disappointed. If you start to think negative there is no solution but I'm not like that.
"All the rumours in the newspapers are normal. The team is under-performing and in a difficult situation, Mentally, confidence... they are struggling and that's what we need to change.
"Personally, I still believe I can change the whole situation but everybody knows how it works in football. That's the situation and that's all I'll answer on this question. Ask somebody else."
Asked what positives he could take from the game, Koeman said: "Don't ask about positives because the final result is a 5-2 defeat at home. Write what you like to write tomorrow."
---
Reader Comments (122)
Note: the following content is not moderated or vetted by the site owners at the time of submission. Comments are the responsibility of the poster. Disclaimer
Daniel A Johnson
1
Posted 22/10/2017 at 18:23:04
Koeman is taking us down a one-way street straight to the Championship.
Liam Reilly
2
Posted 22/10/2017 at 18:38:08
It could be in his hands if he wanted it too, but an honourable exit wouldn't bring any cash, so he'll wait to be pushed.
It's just awful st the moment; dreading the derby and God knows it'll be a cricket score when we eventually play at Wembley on that massive pitch against Tottenham unless this is sorted out.
Anthony Newell
3
Posted 22/10/2017 at 18:40:49
I'm hoping that rattled means he is about to go into his 1-2-1 on progress
Jason Lloyd
4
Posted 22/10/2017 at 18:50:37
We are in relegation mode until we address the defensive and striking issues. This will cost another £50- £100m for sure.
Geoff Lambert
5
Posted 22/10/2017 at 18:53:58
Why am I looking at the Koeman out poll to the right and 24% of fans think he should stay???
Pat Kelly
6
Posted 22/10/2017 at 18:55:23
Do the right thing, Everton and Koeman. It's clear the game is up. Carrying on will do neither any good. He tried but failed. Time to be brave and move on.
Oscar Huglin
7
Posted 22/10/2017 at 18:59:37
I think he should go.
Having said that, at least he showed that he cares in this interview. And that he understands what an utter shambles the last few weeks have been.
Phil Greenough
8
Posted 22/10/2017 at 19:03:07
Those votes were cast weeks ago, when members still believed in him. I cast my vote about three weeks ago and it was at 22% then.
Zaid Omar
9
Posted 22/10/2017 at 19:05:43
There is an air of inevitability about Everton results these days . normally you feel gutted when the opposition score - but now it's just expected !! Not only has Koeman drained all confidence out of the players ,but he has killed the optimism that this season promised for fans .
Cathal Naughton
10
Posted 22/10/2017 at 19:23:45
For Mr Koeman I theorize it's a question of how uncomfortable it gets and how much he can handle. He hung around at Valencia until they released the hounds so I can only see a similar senario.
Giving the impression that he is not a quitter makes the likelihood of future profitable employment infinitely more likely.
His comments after the match were open to interpretation but it will be for him I envisage a case of wait and see
David Johnson
11
Posted 22/10/2017 at 19:46:27
I've supported him so far as I doubt he's responsible for the final composition of the squad. Even Mourinho would struggle with this squad. He has to go and the sooner the better. As does Bill Kenwright.
Jason Wilkinson
13
Posted 22/10/2017 at 19:50:25
As Stewie Griffin said to Brian "where's my money? You got money for fake moustaches ."

Moshiri should be asking Koeman something similar. Sack him and tell him his compo is in Swansea with a bloke called Huw.
Mike Oates
14
Posted 22/10/2017 at 20:01:16
That's the problem David # 11, it's not just Koeman but his own staff, Steve Walsh and his own staff, and finally probably Kenwright needs to take a back seat. It will cost us millions , probably lots more than Martinez and his bunch.
What we don't know, is who was actually responsible for the disaster of the summer transfer window. Other than Klassen, Martina and Sigurdsson who were clearly, Koeman's choice, but who chose Bolasie, Williams, Pickford, Keane, Sandro, Vlasic, who cocked up for lack of left sided midfielder and centre forward.
I feel as though the squad is an absolute shambles and whoever comes in will know that, and other than Unsworth, who in their right mind will want the job - yes Allardice, right down his street and still lives in Bolton, just down the road.
Eugene Kearney
15
Posted 22/10/2017 at 20:02:21
I don't like to see anyone get the sack, but a Premier League manager is always going to walk away with a few million severance pay anyway.
Is it possible to organise a "petition" for fans to sign - RK has got to go. Get Unsy in there to save our season.
Dave Lynch
16
Posted 22/10/2017 at 20:02:38
Can't we demote him to tea lady.
He would be the best paid tea lady in the universe but it would save sacking him.
Then promote Unsy to the top job.
Charlie Lloyd
17
Posted 22/10/2017 at 20:02:42
One word on koemans situation was mentioned on five live sums it up.
Inevitable.
Paul Kennedy
18
Posted 22/10/2017 at 20:08:55
After 60 years a blue I am absolutely distraught with the club I have supported my whole life If he is still in the job lunch time tomorrow, then I am resigned to thinking the club does not care one iota for the fans or the opinions of the same.

I will always be a blue but will stop putting myself through the mill every game and adopt the attitude of the players coach and management and say what the hell.
Chris Watts
19
Posted 22/10/2017 at 20:14:50
Awful press conference. Koeman looks haunted like every manager who has no idea how to turn things around. There is nothing to be optimistic about. No green shoots. We are every bit as awful as in the first pre-season game. We've not come on one iota.
This is a slow burning catastrophe and the sooner Koeman goes the better. Whether the squad is good enough to avoid relegation is now in dispute but unless he goes it is inevitable.
Supporting Everton has always been up and down but this truest is the low point - we're in a black hole and yet again need a complete rebuild of the squad, new manager, new ethos. Utterly depressing.
Kevin Moorcroft
20
Posted 22/10/2017 at 20:37:47
Deep rooted problems at our club.

Good squad of players on paper just performing too bad to be true week in week out. Ronald doesnt seem to be able to galvanise them into a unit that plays together Easy capitulate when a goal is conceded and usually no way back. I didnt agree with the signing of Walsh Moyes managed scouted and signed with no money and didnt do bad no matter what people say on here Timmy Cahill Steve Pienaar are testimony to that for a start. Dont think Walsh has done any good in fact has probably driven a wedge in. I have watched since the late 60s and this team is as poor as we have had as regards to fight and aggression and it has to be said both manager and players are to blame.

I can remember when we brought the great Leeds side to a haltearly 70s -the football that day was as good as you'll see. Every game you expected to win now every game you expect to lose. Unfortunately all cup games should be made little priority this season. The priority is to stay up and I think most fans will agree with that. Whatever it takes Bill/Mosh- over to you.
Dennis Ng
21
Posted 22/10/2017 at 20:39:40
Dave 16, they will probably negotiate a settlement if they decide to fire him. However, we need to decide on a replacement first, whether it is Unsworth or Tuchel.
Peter Carpenter
22
Posted 22/10/2017 at 20:50:29
Can't believe anyone would mention that negative, neanderthal, long-ball, dross-merchant Allardyce. No, it's Tony Pulis all the way for me.
Dave Lynch
23
Posted 22/10/2017 at 20:51:20
Your probably right Dennis.
Can you imagine the shite he'd serve up, he'd give tea ladies a bad name.
Best get rid now.
Oliver Brunel
24
Posted 22/10/2017 at 20:59:10
I think they may take a look at Martin Oneill. Not my choice at all but prob keep Everton in Premier League.
Dennis Ng
25
Posted 22/10/2017 at 21:00:08
Yep Dave, but I don't think there will be any news for today. Hopefully Moshiri hires 2 cabs tomorrow, one for RK and one for BK. Would love to see Tuchel holding our jersey however unlikely it will be.
Didn't O'Neill get relegated or something similar? I do not think MoN is a good progressive choice. Ideally someone who can come in with a long term plan and turn it around quick.
David Johnson
26
Posted 22/10/2017 at 21:03:46
Whoever comes in will struggle. No PL standard right back. Baines not able to get up and down anymore at LB. Jags and Williams getting on. DCL still learning his trade. Rooney not got the legs to play up top anymore. I fear we will be relegated as I can't see where our next points are coming from. Koeman needs to get to fuck for sure but so does whoever was responsible for our squad. Koeman clearly stated what he needed and all we tried for were loans.
Brian Harrison
27
Posted 22/10/2017 at 21:11:35
Well it looks almost inevitable that Koeman will lose his job, but I take no joy in seeing someone under so much pressure. Yes he is largely responsible for what has happened, and I hoped things could have worked out better. I know even when he leaves he will still be a very wealthy man but its never nice when this happens.
I fear that this is going to be a long and testing season, and it will take a lot to get these players to function. I think as a group of players they are bang average, only Rooney who had been a top player the rest just journeymen players.
Whenever and whoever we appoint as the new manager he has a massive job on his hands. I would also suggest that this board cant get the next appointment wrong otherwise we will definitely be looking likely to go down. I know the cry used to go up this team is too good to go down, well I have seen better teams than this go down.
Chris Watts
28
Posted 22/10/2017 at 21:13:30
Anyone who thinks we are too good to be relegated could be in for a shock I fear. We are every bit as bad a villa a couple of seasons ago and Sunderland last season.
Andy Walker
29
Posted 22/10/2017 at 21:22:19
Brian 27, that's spot on mate.
Greg Hasbrouck
30
Posted 22/10/2017 at 21:24:43
While I agree wholeheartedly that Koeman has to go immediately, it's too soon to start panicking about relegation. We're 6 points from the top half of the table with nearly 30 to play, Coleman and Bolasie on the mend, and reinforcements on the way come January. There's plenty of quality on this team to turn it around with the right man at the helm.
Paul Kossoff
31
Posted 22/10/2017 at 21:25:14
Oscar 7, he dosn't care at all! What makes you think he does? From day one he's never gave the impression that he wants to be here.
The wage he's on is the only reason he's our manager.
Bull that he cares, utter bull!!!
Dennis Ng
32
Posted 22/10/2017 at 21:30:00
Greg, the problem is that losing can become a habit and things tend to stay the same as long as no jolt/change is made. No team is too good to get relegated.
Anthony Newell
33
Posted 22/10/2017 at 21:30:05
Interesting reading:
https://thesefootballtimes.co/2017/04/11/making-a-manager-the-rise-of-ronald-koeman-from-the-ashes/
Seems Koeman either gets it right or very, very wrong
What Everton now need is people in charge who care about the club, not a chancer who merely regards it as another project
Christy Ring
34
Posted 22/10/2017 at 21:33:01
I think he's cold, totally lost the dressing room, we have no system, his formation completely clueless. The bottom line, and the most important thing, he has us in the bottom three. He has to go know.
Stephen McNally
35
Posted 22/10/2017 at 21:33:41
Everton are a team that will definitely be in a relegation scrap. I don't think the board should dwell on making important decisions because the club's long term future is at stake. A relegated club with an antiquated stadium and a dwindling fan base won't be of any appeal to would be investors.

I hope, just hope, the Blues don't end up in the football wilderness like former top flight clubs: Villa, Leeds, Notts Forest, Shef Wed etc. The days when Everton were a formidable top 5 club look to be truly over.
Andy Crooks
37
Posted 22/10/2017 at 21:39:02
Greg, it is not too soon to talk of relegation. We are the worst team in the premier league. I would not back us to beat any team in all four divisions. We have a poor coach, an utterly inept chairman, a shareholder who can best be described as bewildered and a squad shot of confidence, spineless and lacking in anything remotely like affinity with the ordinary folk who pay good money to watch them disgrace the shirt.
I have often disagreed with Tony Marsh, but you know what, his anger is justified. Something stinks, putridly stinks about our club.

Jerome Shields
38
Posted 22/10/2017 at 21:44:01
Everton are now at a even bigger crossroads. Koeman will obviously have to go. But will his replacement be a survival specialise to keep us in the Premiership or a manager who will return to the School of Science and the Dogs of War. The longer the decision is taken on Koeman, the more difficult it will be to return to the latter.
First of all, the organisation and tactics of the team will have to be overhauled and new players brought in January with this in mind. Also the players that Koeman brought in will have to be sorted out accordingly (some are not suitable) and the existing Everton players that have been below the standard required for at least two seasons need replaced.
Our new owner hopefully has learnt by the expensive mistakes he has made and has the wisdom to apply the above changes to safeguard his investment. That's how serious things are and how bad the damage Koeman has done to Everton Football Club.
Both Moyes and Martinez build on what was there and did maintain the Everton Culture to some extent; Koeman tried to build god knows what, but has damaged Everton in the process.
Over to you, Mr Owner, the Future of Everton is in your hands, and may your god be with you.
PG Malcolm
39
Posted 22/10/2017 at 21:45:36
Good read that Anthony. Cheers

John Audsley
40
Posted 22/10/2017 at 21:47:21
Moshiri and Kenwright didn't look too bothered.
Not having a striker is Koemans get out and that is Walsh/The boards fault.
Will he go?
Doubt it, not yet.
Can't believe these idiots in charge went into the season without a proper striker, what made them think that was a good idea?
Set of fuckwits.
Paul Holmes
41
Posted 22/10/2017 at 21:48:49
Everton need a change because lets face it we are in free fall,we struggle to have shots on target and we leak goals every game.That is relegation form.A new manager can get rid of the dross we have bought because he did not buy them,with Koeman we are stuck with these below average players for 140 million.
I have watched every game this season and we are that bad !.Make the change to play dogs of war football to stay in the league,then recruit a manager to hopefully develop an identity like Watford seem to have found to entertain the fans.
Soren Moyer
42
Posted 22/10/2017 at 21:59:16
He won't be sacked because according to our majority shareholder we are expected to get beaten by the top teams. Same goes for our next game at chelsea. On the other hand, Leicester is one of those teams that, according to our manager, are REALLY well organised and we shouldn't expect to get any results there either.
So, based on the above-mentioned comments, we are going to lose most of our games untill the end of the season!
Therefore, I suggest we all take a deep breath, lean back and enjoy the ride to the championship.
Paul Welsby
43
Posted 22/10/2017 at 22:02:41
I keep seeing names like Moyes, Pulis, big Sam, Martin O'Neil for the job of managing this once great club, when I read it with my own eyes I despair at how unambitious and desperate some of are fans have become. It really saddens me.

Koeman has to go now and I will hold my breath and be fearful of who are inept owner and chairman employ to steer this club back to greatness. But lads and lasses please do not lower your ambitions just because we have had to put up with utter shite on the pitch and bullshit from the board. We are EVERTON, let's not forget that just because others have.
Chris Watts
45
Posted 22/10/2017 at 22:07:41
Greg. Who could you see us beating now? We scraped a win against Bournemouth who are themselves in the bottom 2. I honestly would bet on us to beat any premier league team. This is genuine relation from. If he stays we will go down. It's not the results. We've stank the place out all season.
Name any redeeming play in the whole season from game one pre-season. Rooney and his goals are th only thing that has made me smile. We've been awful and scraped a win against Bournemouth Stoke and in the Europe league qualifiers.
Then there is the weird formations. No width again from July. No pace. Truely depressing stuff. We are the definition of relation fodder.
Matt Butlin
46
Posted 22/10/2017 at 22:16:24
I remember the mid 90s, against Wimbledon, the last game of the season where we needed a result and rely on others to fall in to place. .There we were with our trousers down, grabbing our ankles until Horne and Stuart delivered us from evil. At that time we were bad and I counted us lucky to beat the drop. It's different now! The Moshiri money, the new(?!) stadium have us 'expecting'. This is a hugely wasted opportunity. How have the board, the management the players got this so wrong when it could.. should have been so different!!! COYB's. Let's sort this out.
Neil Carter
47
Posted 22/10/2017 at 22:21:25
If (hopefully when) RK goes, whoever comes in will inherit a mixed bag of players, low in confidence, not understanding their role, or their future in the club. The new manager will need to be of sufficient experience to manage this situation and be able to turn it round quickly.

Passionate Evertonians like Unsy and Big Dunc are not the answer. Passion will only get us so far. Just hoping this doesn't drag on too long. Every time my phone pings I'm praying it's ToffeeWeb breaking the news that he's gone. To be honest, we all should have expected this to happen. How often have we had our early season optimism shattered over the years? Fingers (everything) crossed!!
Terry Underwood
48
Posted 22/10/2017 at 22:33:05
If the man had any self respect he would go. I have NEVER seen so many downbeat posts on TW. I have never felt that the fans expect relegation and are resigned to it, but now? Forget Europe and cup competitions, like it or not our top 4 aspirations have turned into a relegation dogfight. Now we find out who are the scrappers and who are the quitters. Sadly, we seem to have more of the latter. At least the much maligned Niasse seems to be trying, Tom D is a terrier. Rooney, Jags And Baines will fight, but may not have the legs for it, add one or two of the kids, but the rest of the over paid layabouts don't give a monkey's.
John Roberts
49
Posted 22/10/2017 at 22:39:15
Agree john - it was so obvious we needed a striker for the season. That first europa game baines deflected shot was the only effort on goal in the whole game , its was terrible ! Every team in the premier league needs atleast one established striker and we have none. What were they thinking?? Llorente , Austin even bloody Peter crouch just someone to make something happen. Because we look totally inept offensively. Totally shocking the club let this happen!
Karl Meighan
50
Posted 22/10/2017 at 23:02:41
The best striker in Europe would struggle to score goals in are team, we don't create chances. Koeman today had one of are few wide players Vlasic and played him in a central role from what I could make out.
Different right backs every game, playing in the same criminal formation with nobody infront of them and asked to defend against 3 or more players when we don't have the ball.
Koeman still don't know his best team and formation fuck me its like watching kids, they just follow the ball. Arsenal missed and or Pickford saved three great chances before Rooney scored today.
Strong nowhere on the pitch, out fought by Arsenal, its shambolic. Every team in the Premier League I can make a case for or they have strengths, we have no pace lack strength, leaders and leak goals galore.
It would be a start to play players in positions they are familiar with with keeping clean sheets the aim.
Andrew James
51
Posted 22/10/2017 at 23:17:38
Ok...
We don't shoot. Whether or not you have a Lukaku, if your cultured midfielders or left backs (Sigg, Baines) don't shoot on sight, you won't get goals. Rooney is our top scorer. Quel surprise.
The one touch passing triangles under Moyes and Martinez have gone.
No pace down the flanks.
We keep changing formation.
RK must go now. Last season was disappointing given we had no cups and Lukaku and Barkley papered over the cracks. Now we're just about the worst team in the Premier League.
For those of you saying Tuchel...err he fell out with Dortmund for exactly the same reasons we dislike Koeman. For those of you suggesting Big Sam...no. Moyes...he knows the club but not many of the players now. So I reckon a backroom staff sort of arrangement to keep us up and then Sean Dyche in the summer.
Jamie Crowley
52
Posted 22/10/2017 at 23:26:53
But once again, these kinds of decisions aren't in my hands
Was it NOT your decision to leave Gana in and switch to a 4-4-2 at halftime?? It completely left Gueye exposed and he was a red card waiting to happen! Midfield overrun, two men in the center of the pitch, one of which was fantastic in the first half, but surely on a yellow and with his style of play should have been withdrawn?
Your direct decision was the reason we looked shite in the second half and went down to 10 men!
He's completely delusional!!! STFU already and just go!
Liam Heffernan
53
Posted 22/10/2017 at 23:27:23
After watching that performance today , I'm sad to say this but I honestly think we are the worst team in the premier league . I also believe that is down to the manager and his staff . Let's hope the board do the right thing and sack RK and co. I think Unsy should take over as interim manager and bring a bit of Everton passion to the dressing room .we can't do any worse .
Andrew James
54
Posted 22/10/2017 at 23:34:48
@Jamie
He keeps not starting with Tom who will chase up the pitch and upset the opposition hence we end up being penned back so players like Gana get cards.
We're in trouble now because next match we have no defensive midfielders.
Christine Foster
55
Posted 22/10/2017 at 23:35:25
Even when we scored we were lucky to be in front, yet it was the best first half display this season. Taking Williams instead of Gana was a tactical mistake waiting to happen. But in truth by that time we were struggling. We let Arsenal play and time and time again were guilty of poor shape, ball watching and failure to get back, cover and positional play.
Fabulous goal from Rooney, but too little in a team of paucity of any quality.
Where are all the posters complaining of negativity now? Without change the rot will deepen and drag us down.
Like him or not, the club has no choice.
Nicholas Ryan
56
Posted 22/10/2017 at 23:45:28
What is particularly annoying about the current mess, is that the players who could put it right; Olivier Giroud & Co. are not going to want to come, to a sinking ship!
Jamie Crowley
57
Posted 22/10/2017 at 23:48:28
Andrew -
Against a team like Arsenal who moves the ball wonderfully (it is beautiful at times tbh), don't you minimally clog the midfield to attempt to mitigate that?
And if you're going to keep Gana in the game on a yellow, why in the hell do you open up midfield by REMOVING a midfield player in a 4-4-2, leaving TWO midfielders, one of which is known to go in quite hard, quite often - ON A YELLOW?!
I personally love Gana. I think he's a great little tough player. He was, in my opinion, superb in the first half. He was completely put in a terrible, no win situation by the manager second half.
But as Ronnie says, those types of decisions aren't in his hands...
I realize you're basically agreeing with me and you recognize a recurring theme with a solution to the problem - a high-pressing Davies relieving pressure from Gana / whomever is sitting deep.
I'm venting. Why?
Because I absolutely fucking despair!
The man must be gone tomorrow.
Ernie Baywood
58
Posted 22/10/2017 at 23:55:24
Flicking through the fixtures... I can see him being given a couple of weeks stay of execution just to avoid Unsworth being thrown straight into tough fixtures.
If things haven't turned around by the time Watford roll into town I expect Rhino to be in charge.
Mind you, Watford are no pushovers either. How sad that I'm worried about a home game against Watford!
David Edwards
59
Posted 22/10/2017 at 00:02:36
Apologies if it has been mentioned already on another post, but Phil McNulty's piece on the BBC Sports website, is a great piece of main stream journalism - even though a look at TW over the last few weeks would have given him all of this material!
Like Lyndon's excellent piece more recently about Koeman - Phil's piece articulates the 76% of us who see where the club is going unless Moshiri acts now! He's a prog rock fan too - so he's okay with me anyway (McNulty that is, not sure if Moshiri likes any Gabriel-era Genesis!).
Seriously though, if the 24% who have decided that keeping with Ronald is still the best option ( and I appreciate the thought of a Moyes return us a touch uncomfortable) - please tell us why we are bring too premature and need to be patient? I'm at a loss!
David Edwards
60
Posted 23/10/2017 at 00:05:54
Excuse the auto-correct errors and the fact that those supporting Koeman have dropped to 23% on the poll as I typed!
Phil Sammon
61
Posted 23/10/2017 at 00:10:55
Ernie 58
I agree with you. If we're going to be losing games, I'd rather we do it under Koeman. There's no point bringing in Unsworth yet. What a sad way this whole sorry affair has me thinking.
Barry Williams
63
Posted 23/10/2017 at 00:47:24
Whoever comes in, or if Koeman does stay, in my humble opinion we need to get massively back to fundamentals and have fighters in the team. Plus we need pace at the back. I am all for players playing in their correct position, but at the moment I would play Davies as a right back. Why, well it would be with a combination of other energetic back to the wall type players. McCarthy should be in as soon as he is fit. Niasse should be starting as he brings energy, enthusiasm, unpredictability and goals too. Rooney should be playing further back and we need to look at how we can rest Baines. Bring in Garbutt and if possible, which it may not be, get Galloway back. Promote Feeney for some games as he seems to have a tenacious attitude and obviously young legs, though anyone arguing against this because of the situation and his youth, I fully understand.
What is clear, we need to drastically change it. More of Mirallas in central positions, more of Lennon when he is fit and pick a team of aggression and pace. I think so many players are being overplayed at the moment, older ones too, it is untrue.
I am probably stating the obvious, but we need to act quickly, we are relegation fodder imo.
Ron Marr
64
Posted 23/10/2017 at 00:53:11
Keeping Koeman on would be a cruel and unusual punishment for everyone involved. Get rid.
Dennis Ng
65
Posted 23/10/2017 at 00:55:36
Andrew 51, Tuchel will function well in a team that gives him full reins, e.g. Mainz, which in our current state will do if he can turn it around. He probably will not get that at any of the UCL teams unless he wants to manage in Turkey or Greece. When you say that he fell out with BVB, you do remember that he walked out AFTER he beat Bayern for the Pokal, right? How many fans would take that over our managers for the past 30 years? Pretty sure that would be almost everyone. It's a long shot but we have to always show ambition, even when we're down like today. #tuchel4EFC
Derek Thomas
66
Posted 23/10/2017 at 01:30:05
Ernie @58; They're ALL tough fixtures in the Prem...when you're in the bottom 3 (for good reason) they're Very Tough.
Like I've said before - There IS no good time, not Wed, not Leicester, none. The 'good' time to get rid has past, there is only what took you so fucking long.
And then there's the 'being Everton factor' they haven't even started looking. I'll wager a pound to a piece of shit that they haven't anybody on speed dial they can say to 'Did you see the result? are we still on? yep, good, give me a day and I'll get back to you'
Andy Peers
67
Posted 23/10/2017 at 01:44:10
At least our two top goal scorers scored again today!!!
Clive Mitchell
68
Posted 23/10/2017 at 02:19:04
I said I'd give this clown ten PL games before passing judgement on him and his team but what the hell.
The side has stunk the place out week after week. There have been one or two games or parts of games with positives - away to City, Niasse's cameo, the rally against Lyon - but for goodness sake we've beaten Stoke and Bournemouth and didn't deserve either. Koeman is the man who has failed to keep Lukaku, ruined Barkley, frozen out McCarthy and Deulofeu and brought in the likes of Klaassen, Sigurdsson and Ramirez who'd get beaten up in the under 20s. This is the man who whined on about 'productivity' and said it wasn't 'a priority of Everton' to give Ross a new contract when Ross was creating goals and chances galore because he has pace, the strength of an ox and football talent to burn. And Koeman brings in to replace him people who'd get blown over in a stiff breeze. This is the only Dutchman I know of whose English isn't brilliant, the only manager who has to have his brother working for him, the only person on the planet who pronounces 'half' to rhyme with 'golf'. For god's sake he's managed to make Roberto Martinez's recruitment look phenomenal.
With Ramiro injured it was obvious to a dog that we needed a new left back, two cente holfs and a striker to replace the incredible sulk. We get one out of four and a job lot of No 10s who make Eden Hazard look like Patrick Vieira.
There isn't a single positive about him or his time at the best club in the world and he needs to be gone NOW.
Denny Kerr
69
Posted 23/10/2017 at 02:36:01
I think he can change our position too .from a Premiership side ,to a Championship side!
I can also see the press release from BK "Unfortunately,because of the loss of our Premiership status,a new ground on the waterfront is no longer viable at this time"
Ian Linn
70
Posted 23/10/2017 at 02:44:49
I just can't see him turning it around, whatever he is doing ain't working now and I see no reason why it would work in the future. We have a good squad - a bit light on strikers but that's not the problem when you ship 5 at home. Bye bye Ronald, I never really took to you.
William Cartwright
72
Posted 23/10/2017 at 03:42:20
Therapy gentlemen, therapy is what we need. The situation is not as dire as we imagine. look at the positives:
We have only played 9 games, and Ron will be gone soon, with enough time ahead to recover. We have a rich owner which means we should still be able to compete on a reasonably level playing field with other clubs at the high end. If Watford and Burnley can, then so can we.
We have a very good squad if not great, with many players, possibly too many, who have proven themselves with us or other clubs and who should and will come good sooner rather than later.
We have a plethora of young talent in and around the club, the likes of which we have never had before; Kenny, Davis, Walsh, Lookman, Oneyekuru, Dowell, Calvert-Lewin, Holgate, Garbutt, Galloway . . . . . . and we still have Ross . . ?
We have players to come back from injury, Coleman, Bolasie, Mori, McCarthy, as well as players who have to rediscover form, who may well do so if managed correctly.
We have the new stadium (land) waiting in the wings.
Do you honestly think the Club will let that awful prick Koeman derail the aspirations of thousands and the invested millions? Absolutely no chance. Koeman either goes as soon as the replacement plan is organized, or he comes to his senses and turns it around (which I doubt will happen). If he doesn't then a new manager, preferably Unsy when the time is right, will provide the professional service they are paid to do. Give Moshiri credit, we all make mistakes from time to time, its just that at his operating level, and in the public eye its not as simple as changing an ill-fitting pair of shoes . . . . . .
It's a win win situation, just a bit more stressful than the norm, but certainly more interesting.
Keep the faith, COYB.
John Pierce
73
Posted 23/10/2017 at 04:07:03
Lets put it in a way which might make people realise relegation is now a clear possibility.
8pts from 9 games. 40pts the accepted tally which gets you safety.
32pts from 29 games required. We have to win 1in3 games for the rest of the season.
Can we see this team under Koeman achieve that? Absolutely not.
The sad fact is any, and I do mean any new manager will pick a team and stick with it. In no more than a month the side will look better, more cohesive and harder to play.
Why has this fella not even tried to do that? He has chopped and changed, never given any changes chance to take root, strengthen and grow.
Basically he thinks hes too clever, often changing to outsmart his opponent. He has shot himself in the bollocks.
The issues are self inflicted in my opinion.
Quite amusingly as Koeman gets the bullet, Ross will be saddling up his white charger.
Will Mabon
74
Posted 23/10/2017 at 04:53:52
"
32pts from 29 games required. We have to win 1in3 games for the rest of the season.
"
Assuming we lose all the rest. Basically we have to average about a draw every game.
Jeez - we're discussing the maths of avoiding relegation...
Will Mabon
75
Posted 23/10/2017 at 04:59:12
We have a TW article about possibly recalling Onyekuru from loan.
Meanwhile this morning, there's a rumour that he may be sold for a double-the-money profit. Strange rumour.
It's all going tits up for sure.
Matt Traynor
76
Posted 23/10/2017 at 05:05:15
How much compo did we pay Southampton for him?
How much will we have to pay him off if we sack him?
I really have lost the enthusiasm for the "modern" game. Maybe it's part of getting old. Players agitating for a move but refusing to demand one as reluctant to give up their "loyalty" bonuses... All of these clauses were from a day when there was no huge pay day, and a dodgy tackle could leave a player on the dole or worse... These days the youth players are millionaires before appearing in the 1st team. The only performance stats they're interested in is how many social media followers...
The money in the game these days - we should be well on the way to a new state of the art stadium, with the most expensive tickets being less than £20 - should be the same for every team. Feel for the fans who give up their hard earned and their time to watch this. Bad enough in another country on a dodgy stream...
John Pierce
77
Posted 23/10/2017 at 05:13:00
Will - hyperbole never hurt!
But you catch my drift, Everton under Koeman have no scrappers for a fight.
A soft touch at home and excruciating away from Goodison.
The main ingredients for a relegation battle.
Will Mabon
78
Posted 23/10/2017 at 05:19:01
I agree, John. It's a genuine concern and I wonder at some, seeming confident that we're ok (perhaps in the club itself, too). There's nothing to base that on.
No need for excessive doom nor misplaced optimism; a simple look at the table tells the facts as they are right now.
John Pierce
79
Posted 23/10/2017 at 05:32:13
I think the interesting thing is 10 wins & 10 draws, would get us 48pts.
Martinez was sacked for that total.
I think that would be the top end of our points this year, based on that a new man who can concentrate on stability and bedding the younger players, with emphasis on the fa cup or the season will just implode.
Grim times.
Will Mabon
80
Posted 23/10/2017 at 05:45:29
Hmm - seeing it there in type, 10 & 10... looks unlikely as things are.
Phil Sammon
81
Posted 23/10/2017 at 06:24:32
Clive Mitchell 68
Had me laughing out loud, that one. Probably the only smile I'll crack all day, mind you. Cheers!
Ian Jones
82
Posted 23/10/2017 at 06:27:25
Does anyone think we miss Gareth Barry?
Brian Porter
83
Posted 23/10/2017 at 06:29:26
I have deliberately refrained from posting before giving myself a chance to calm down after that result. If I had posted last night U would probably have been banned for the overuse of foul, abusive and profane language.
I've been saying for months that Koeman would do to us what he dd to Valencia, that is, take the team from a position near the top of the league and turn them into relegation fodder. He's used the same tactics with us, both on and off the field, as he did in Spain, before he was sacked.
Let's not forget, he was also sacked from his next job at AZ, after 7 defeats in 15 matches, then walked away from Feyenoord after failing to win the Dutch league. I was then surprised to see him turn up at Southampton and was dismayed beyond belief when he was announced as our replacement for Roberto.
His only real success as a manager came at Ajax, who were so far ahead of the rest for n Holland that Ronald McDonald could have won the league with them.
Since then it's been a liturgy of sackings and walkouts. So why did Moshiri think he was the man for us. He's a fraud, a serial failure, who will take us into the championship if allowed to remain in his job.
Is anyone doing the maths for Moshiri? Does he not realise the amount of points we now need just to achieve safety in the league? Next week could be a week too late. For God's sake, he must get rid now!!
Everton have been a constant state n the top division of English football since the year I was born. I do NOT want to spend my old age watching us in the championship or lower as we struggle to regain our top flight position.
The proud history and heritage of Everton F C demands that Koeman is sacked, this very day, or we will be facing dire consequences. I take no pleasure in being proved right about Koeman but just hope the club do the right thing while there's still time to save ourselves from disaster
Carl Taylor
84
Posted 23/10/2017 at 06:43:03
Ian Jones, yes we miss Gareth Barry .nearly as much as we miss Lukaku at present. Calming influence, positional nous and a leader on the pitch. What am I on about, we've got Davy Klassen now and he brings all them qualities and much, much more!!
Bob Parrington
86
Posted 23/10/2017 at 07:20:12
Over the past 60 plus years I can't recall us ever playing as badly as we are and, a problem is, I can't see us having a rabbit to pull out of the hat either. The midfield looks dreadful but it has supposedly good players. We're shipping goals at the back and mostly look like we don't have much of a clue how to score!
Is a change of manager going to make any difference before the January window. We need to replace Williams with a younger, faster player and bring in a top target man up front, clean up the cluttered midfield etc. Busy window coming up, eh?
Who will be the manager to do this?
Eddie Dunn
87
Posted 23/10/2017 at 08:04:27
Clive 68, very funny. We need cheering up.
Eddie Dunn
88
Posted 23/10/2017 at 08:15:01
Koeman has run out of ideas and the some of players look bewildered, particluarly the young lads.
The selections, the tinkering, the changes all smack of desperation and panic.
I watched the warm-up and the stoney faces said it all.
These guys are waiting for the board to act.
I thought they all tried hard on Sunday, but were found out be the clever movement of Arsenal.
Sadly the clumsy Arsenal defence were never under the sort of pressure that our poor backline had to withstand.
There were positives, Pickford and Gana played well and Vlasic showed some dribbling skills. DCL also looked good and Rooney scored a super goal.
We wont play against this kind of quality attack every week so we should not be so down -hearted.
We will recover from this .
Hopefully the board will remove Koeman today and give everyone a boost.
James Newcombe
89
Posted 23/10/2017 at 08:26:52
Imagine selling your best forward, running creatives like Barkley and Deulofeu out of the club, letting Barry go, and then spending all the money (and more) on a bunch of lightweights. Make no mistake: we're in a scrap now, and we don't have the squad to win one.
Geoff Williams
91
Posted 23/10/2017 at 09:21:34
Tactically Koeman is clueless. His team selections are laughable and his use of substitutes is questionable. His poor man management skills are there for all to see and his recruitment of new players has been disappointing.
Giving Koeman more time will be a foolish act on the part of the board. Everyone knows that he will ultimately be sacked and any delay gives his successor fewer games to turn things around.

Rob Young
92
Posted 23/10/2017 at 09:32:51
He's not going, is he?
Charlie Lloyd
93
Posted 23/10/2017 at 09:33:47
Barry @ 63
You advocate playing either Garbutt or Galloway at LB. Garbutt failed to hold down the position at loans with Wigan & Fulham over the last 2 seasons and his performances for the U23s this season have not been encouraging. Galloway is on loan at Sunderland for the season so isn't available. And by the way he started the season in the LB birth lasted about half a dozen games and was dropped. He can't even make the bench now. The current LB there is Oviedo. Also, Tyias Browning can't get a game there.
It's not the answer to simply promote all the youth players like Feeney. I have wanted the inclusion of Kenny for a while but watching him yesterday was hard. Here was a promising young player who was played in a team bereft of confidence and it showed. It badly effected him. Where was the tough tackling overlapping full back who graced the U23s as they won their league last season? Nowhere to be seen. He didn't show for the ball and didn't get close enough or track runners. I'm not really blaming Kenny and I really hope he'll get further chances but that's the problem of bringing young lads into this septic environment. Our focus should be on the seasoned pros who earn the big bucks and have mostly been shocking. They need to quit the talking before games and actually just do it on the pitch like they give a damn.
Karl Meighan
95
Posted 23/10/2017 at 10:26:28
Charlie my guess is Kenny had a midfielder infront of him who also got back to help him defend whilst playing for the u23 and England teams. The fullbacks in are team are hung out to dry with a central midfielder or number 10 trying to play infront of them which just leaves them exposed.
This different rightback every other week is as silly as Koemans wingback system with a back four.
To many youngsters may do more harm but if the promotion to first team is earned then whoever it maybe should be eased along to help and improve us. The way Davies was used last season and in his correct position should be a template.
Kunal Desai
96
Posted 23/10/2017 at 11:02:16
Get shut of both Koeman and Walsh. DoF doesn't work. Both Spurs and RS got rid of Commoli didn't they?
James Lauwervine
97
Posted 23/10/2017 at 11:56:01
Koeman absolutely has to go, no doubt at all in my mind now, but hearing the names Moyes, Allerdyce, Pulis, O'Neill has left me totally depressed and truly alarmed. If Moyes comes back I will literally switch off from football completely. Has the club no fight, no pride, no honour? Fucking hell, this is as bad as I can ever remember. Give Unsworth the job until the new year, NOW! THIS FUCKING MINUTE!
Charles Brewer
99
Posted 23/10/2017 at 12:19:08
Has he gone yet?
Barry Williams
102
Posted 23/10/2017 at 12:50:10
Charlie Lloyd - 93
An oversight on my behalf, even if we wanted Garbutt in, he can't play until January as he isn't registered.
I can't argue with what you have said, but it does highlight the lack of options and the desperation of the situation. Any alternatives?
Christian Watson
103
Posted 23/10/2017 at 13:19:13
Now living in Glasgow I don't get to many games. Thinking I knew the outcome of yesterday's game, I opted to go shopping in Buchanan Galleries and shut myself out of football. Had a great day. Heading back to the car park , we got into the lift pressed the required button and the voice said 'going down' I thought, shit, even the lifts taking the piss now . . . .
Mark Boulle
104
Posted 23/10/2017 at 13:28:36
So it looks like we'll now have to endure the misery of inevitable cup defeat to Chelsea's second string team with Koeman still at the helm.
Is the Board going to act? How can he possibly stay on? Unless the club cannot afford to sack him ?! I wonder if the same gormless prat who 'negotiated' Martinez's contract has again merrily accepted the clause ensuring full payment to the end of the contractual term, regardless of being dismissed for failing to perform...
I have only the sliver of hope of a quick sacking and the new manager bounce to look forward to now. Mind you, if that new manager is Moyes, I will officially give up on Everton and start supporting my local team Oxford United instead.
Michael Lynch
105
Posted 23/10/2017 at 13:30:52
Rumour is that Mosh and Bullshit Bill have arrived at Finch Farm. Probably just there to make sure Koeman enjoyed his meal out in Manchester last night and check out the Barcelona memorabilia he keeps in his office.
Michael Lynch
107
Posted 23/10/2017 at 13:32:27
Actually I'm hearing Koeman is gone? Anyone else hear this?
Soren Moyer
108
Posted 23/10/2017 at 13:32:31
Sky reporting that BK and Elstone are at Finch Farm! Is it the Taxi moment I wonder?
James Watts
109
Posted 23/10/2017 at 13:33:43
He's gone!!! On the Everton FC Offical FB page!! Get in!
Michael Lynch
110
Posted 23/10/2017 at 13:33:46
Gone.
Steve Ferns
111
Posted 23/10/2017 at 13:34:19
Party!!
Brian Hennessy
112
Posted 23/10/2017 at 13:34:21
It's official, he is gone. Best news I had all year. Onwards and upwards
Soren Moyer
114
Posted 23/10/2017 at 13:36:29
Hurray!
Colin Grierson
115
Posted 23/10/2017 at 13:37:20
The Konman has gone! Now come on you Blues, sort yourselves out!
From rock bottom we can now build strong foundations.
Viv Sharma
116
Posted 23/10/2017 at 13:37:53
Reported on the OS. Sacked!
Welcome back ROSS BARKLEY!
Richard Lyons
117
Posted 23/10/2017 at 13:38:14
Rob #92 - you're right, he won't be sacked. Everton never do anything in haste.
My best hope is that he will last until we've been knocked out of the Caramac Cup, and been defeated by Leicester.
So, our search for a new manager will begin officially on Monday 30th October. I really hope they are already talking to Tuchel or Ancelotti...
Derek Thomas
118
Posted 23/10/2017 at 13:39:10
Yahoooooo... now the hard bit.
Soren Moyer
119
Posted 23/10/2017 at 13:39:20
Thats the way to handle things.
Christy Ring
120
Posted 23/10/2017 at 13:39:22
He's sacked, glad to see they grew a pair. Hopefully Barkley will stay now.
David Pearl
121
Posted 23/10/2017 at 13:39:31
Thank rod for that. And now get rid of Walsh !!! What's the point of him? Brings in a couple of one season wonders and he's hailed as a genius. He's as much to blame as Ronald
Cindy Cole
122
Posted 23/10/2017 at 13:39:32
Not a moment too soon!
Richard Lyons
123
Posted 23/10/2017 at 13:39:39
Wow, in the time it took me to write my comment above, he's been sacked!!
Oscar Huglin
124
Posted 23/10/2017 at 13:39:58
Richard #117
Ha!
Apparently we do now.
Steve Ferns
125
Posted 23/10/2017 at 13:40:02
Er Richard .
Kevin Tully
126
Posted 23/10/2017 at 13:40:28
They've thanked him for taking the club into 7th place last season. Hahahahahahahahahahah
Charles Brewer
127
Posted 23/10/2017 at 13:40:33
He's gone!!!! I DO like Mondays- when the news is this good
Soren Moyer
128
Posted 23/10/2017 at 13:40:51
Datsh futbol!
Dave Lynch
129
Posted 23/10/2017 at 13:40:55
Halleu fucking lugha
Kunal Desai
130
Posted 23/10/2017 at 13:42:09
Gonnnnnne!!!
Colin Gee
131
Posted 23/10/2017 at 13:44:06
Bye then
I wonder if Ross Barkley is knocking on Kenwright's door and asking him if he has a pen?
Charles Brewer
132
Posted 23/10/2017 at 13:45:06
In other news: "Entire Everton playing staff empty all Liverpool off licences of champagne"
Michael Lynch
133
Posted 23/10/2017 at 13:45:21
I'm assuming Unsworth takes charge temporarily while they search for the next idiot... I mean the next manager.
Good to see Everton catching up with modern football. Managers are expendible: give them 18 months but keep hiring and firing til you find a Pochettino.

Colin Glassar
134
Posted 23/10/2017 at 13:49:00
I think the final straw was the photos of Ronald out on the piss last night in Manchester. He looked very happy.
Unsy, as interim manager, for me
Dennis Ng
135
Posted 23/10/2017 at 13:54:02
Kevin, when you say loss, do you mean sacking or watching the manager lose? We don't want the manager to lose but if he can not turn it around, better firing him fast than suffer together. That's how I see it.
Add Your Comments
In order to post a comment, you need to be logged in as a registered user of the site.
Or Sign up as a ToffeeWeb Member — it's free, takes just a few minutes and will allow you to post your comments on articles and Talking Points submissions across the site.