Niasse: I wouldn't let Ronald Koeman get to me

80 Comments [Jump to last]
Wednesday 25 October 2017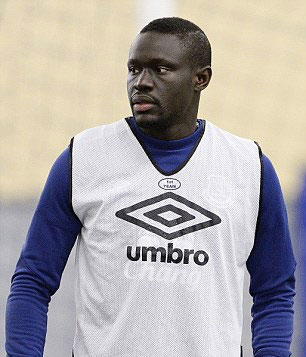 A frank interview has emerged where Oumar Niasse explains his version of the events surrounding his introduction to, and subsequent ostracisation by, ex-Everton manager Ronald Koeman.
Speaking with French-speaking football journalist, Claude Atcheba, during his time at Hull City, Niasse talks of what many supporters now know — how he was relegated to the Under-23s and told to find another club — but he paints a more vindictive picture of the Dutchman that, if true, lends credence to assertions that Koeman was a cold and aloof character at Finch Farm who never truly connected with the players on a human level.
The 27-year-old, a big-money acquisition by Koeman's predecessor, Roberto Martinez, was quickly written off by the Dutchman on the evidence of early training sessions and 45 minutes of a practice match at the club's pre-season camp in Austria and stripped of his locker and then a squad number, with Koeman no doubt assuming he would quickly be on his way.
Niasse eventually joined Hull during the January transfer window and scored five times as the Tigers made a valiant attempt to avoid relegation from the Premier League.
That they weren't able to preserve their Premier League status meant that they weren't able to activate a clause in the loan deal whereby they could purchase Niasse outright for around £10m and he was forced to return to Finch Farm until he could secure a move away.
The prospect of another permanent move for Niasse to Crystal Palace over the summer collapsed on transfer deadline day while subsequent speculation around a move back to Turkey never amounted to anything substantive.
"I didn't ask for an explanation," Niasse replied when asked if his former manager had explained his reasons for dismissing him so readily. "Honestly, because he made his choice. If he decided it was going to be like this, I didn't ask for an explanation.
"He told me, 'I didn't want you. You are not good, that's all.' I said, 'Okay, thank you.'
"He took my stuff out of the first-team dressing room. He sent me to the Under-21s. Even with the U21s I didn't have a locker.
"He was difficult. He took away my shirt number and gave it to another player. He told me: 'You don't eat with us. You are going to eat with the U21s.' A lot of things happened even beyond that.
"I was coming to have some treatment. They told me, 'you have to wait.' Things like that, to see if I was going to give up, to push me to the edge, like you said. But things like that don't affect me. They did that, I smiled and left.
"I didn't embarrass myself. In some ways, nobody disrespected me but on some occasions they wanted me to react negatively but I didn't react.
"I said he hurt me, but I a hurt him, too because he wanted to show to people that I was going to lose it and do something stupid. But I told him, 'you are not able to get to me."
Niasse was handed a lifeline at Everton when Koeman and Everton's recruitment team failed to sign a striking replacement for Romelu Lukaku who was sold to Manchester United for a club-record fee in July.
Koeman was forced to eat humble pie by drafting Niasse back into the first team and the former Lokomotiv Moscow man responded by scoring three goals in two games.
The brace he scored against Bournemouth turned a defeat into Koeman's only Premier League victory in his last eight in charge and he would, somewhat poetically from his perspective, score the final goal of the Dutchman's reign in the ultimately decisive 5-2 home defeat to Arsenal last Sunday.
---
Reader Comments (80)
Note: the following content is not moderated or vetted by the site owners at the time of submission. Comments are the responsibility of the poster. Disclaimer
Martin Reppion
1
Posted 25/10/2017 at 16:46:09
A good honest pro. Its not his fault if he isn't the world beter we hoped for. But from the reports of those who saw him in the u-23 side and his performances for Hull it was clear that he wasn't so bad that he should have been treated the way he apparently was.
He has always appeared to give 100% effort, which goes a long way to making a player a fan favourite. The fact that he took the insults and provocations of Koeman and kept quiet, got his head down and just played speaks volumes for him.
When it is time for Oumar to move on, and we are probably a couple of striker signings away from that happening, he will leave with his reputation intact and the best wishes of the fans.
Oliver Brunel
2
Posted 25/10/2017 at 16:46:10
Even more shocking is his assertion 'they' implying it wasnt just Koeman but some of the coaching staff. As I have maintained again and again.
Brent Stephens
3
Posted 25/10/2017 at 16:50:06
I admire Niasse, and detest Koeman, even more, if all this is true. Head held high.
Peter Warren
4
Posted 25/10/2017 at 16:53:18
I get the feeling (not saying it was in a bad way) that Unsworth has been priming himself for the job. The way he conducts himself, the U23, his comments on Niasse, his transfer dealings m, comments about young players needing a future in first team and we have a great crop of youngsters always seemed at odds to Koeman. I understand he has a very good relationship with Walsh and Kenwright (again I don't know whether this is good or bad).
However, like Niasse deserved more of a chance (although I think he is not good enough on limited playing time admittedly I've seen him play) I think we should definatley persevere with Unsworth as long as possible. It would be great to see one of our own do well.
John McGimpsey
5
Posted 25/10/2017 at 16:54:04
Well done, Niasse!
Mark Burton
6
Posted 25/10/2017 at 17:01:31
I like his attitude and he has performed for Unsy when he was locker less. Just the goal against the arse shows his enthusiasm but if his ball control was as good as his head control, only then would he be a class striker. I hope he does well and proves me wrong
Neil Wood
7
Posted 25/10/2017 at 17:14:25
If I dealt with a colleague in this manner I would be sacked stripping me of any entitlements (Pension, benefits etc)
Why are the employment laws seemingly inactive when dealing in footballing circles?
James Hughes
8
Posted 25/10/2017 at 17:16:04
Wow that is shocking treatment of an employee regardless of job/position. Got to take my hat off to Oumar for having such dignity.
The PR at the time was completely different and must admit I did not condemn his treatment at the time.
I was just was under the impression that he would be sold as soon as possible. He would have had his contract paid up and would be laughing all the way to the bank.
That the exclusion treatment seemed to go on for so long is not excusable.
If anyone comes back with 'well for £60k a week I wouldn't mind' needs to take a hard look at themselves.

Paul Mackie
9
Posted 25/10/2017 at 17:19:18
There's no excusing the way Niasse has been treated, but he's a bang average footballer and should have been shown the door long ago on that basis alone.
Raymond Fox
10
Posted 25/10/2017 at 17:22:32
Why the hell do people keep saying he's not good enough.
He's a striker that keeps scoring, what more do you want.
Lukaku was commonly criticised for his control, he doesn't do too badly does he!
There's been plenty of strikers over the years who were not outstanding footballers, but boy couldn't they put the ball in the net!
Brent Stephens
11
Posted 25/10/2017 at 17:25:45
The Grauniad argues that mangers successful at one club might not be successful at another club not attuned to his style (and lack of success at one club does not mean lack of success elsewhere). "A great racing driver may not be the best fit for the school bus".
I think we've just said goodbye to a bus driver. And I hope Unsy is our Hamilton.
Derek Knox
12
Posted 25/10/2017 at 17:27:07
Good on Oumar for giving his account of his deplorable treatment by Koeman. I suspect now he has broken the ice, as it were, there may be a few more coming forward with accounts of Koeman's austerity.
Bring it on, if that be the case, people should not be allowed to treat fellow human beings like that, in this day and age.
It has increased my respect for the lad even more now.
Chris Gould
13
Posted 25/10/2017 at 17:30:01
Umm for 60k a week, I wouldn't mind.
I'm taking a hard look at myself.
I don't like what I see.
Now I'm in tears and doubting my values. I'm not the man I thought I was.
James, for £3 million a year I would have run around Finch Farm every day in a Borat mankini.
But that's not the point. Manners don't cost anything and money has nothing to do with it.
Brent Stephens
14
Posted 25/10/2017 at 17:34:13
"I would have run around Finch Farm every day in a Borat mankini".
Spare us, Chris. Spare us. Not very naaaas, I'm sure.
Roy Coleman
15
Posted 25/10/2017 at 17:38:01
Raymond at Number 10: absolutely correct some great strikers over the years have been silent during games then pop up to score the winner. I don't care if it bounces off his shin, his knees, his chest, or his arse. If it ends up in the onion bag, he has done his job.
Simply facts are he is the only person scoring right now and dare I say the only player giving it his all. Give the lad a chance; if it does not work, then fair enough.... but, from what I can see, he is trying hard for the team – and that must count for something?
James Hughes
16
Posted 25/10/2017 at 17:41:34
Chris. I doubt it very much. A couple of months tops.
You turn up at work and keep getting told you aren't welcome and aren't important. That takes it toll, you must have a very thick skin.
Totally agree with your last sentence, good manners and treatment cost very little.
By the way wouldn't run around in a Borat mankini for any amount of money. Jeez wouldn't wish that on the missus, let alone anyone else.
Chris Gould
17
Posted 25/10/2017 at 17:44:54
You're spared, Brent. The mankini has been chafing recently. Plus it's got a picture of Koeman on the front that I now need removed.
Each to their own, James.
Stan Schofield
18
Posted 25/10/2017 at 17:56:29
To handle such treatment from so-called professionals implies control and intelligence. Smiling in the face of adversity.
As soon as Koeman said publically what he said about Niasse, I considered Koeman unprofessional. A conclusion only reinforced by his subsequent public utterances about Lukaku needing to go to a bigger club, about Barkley, and about Mirallas.
Liam Reilly
19
Posted 25/10/2017 at 17:58:29
'I didn't want you. You are not good, that's all.'
Wow, Koeman, did you like him or not,? You really need to stop sitting on the fence.
Ray Said
20
Posted 25/10/2017 at 18:00:06
If true then the words used to the player 'He told me .You are not good, that's all' came back to bite RK good style.
Ajay Gopal
21
Posted 25/10/2017 at 18:01:59
The board missed a trick by sacking Koeman. They should have first taken away his locker, then his RK training kits, then his suits, then finally be told that he has to manage the U-17s. He would have surely resigned and save us 10 million or whatever obscene amount in compensation.
Victor Jones
22
Posted 25/10/2017 at 18:05:20
Was the "They" that Koeman's brother? Surely it wasn't Unsworth. He nurtured him through some under 23 matches. And what about Duncan Ferguson. Nobody celebrated more than him when Niasse scored against Bournemouth. Surely he had no part in all this poor treatment. But who knows?
Methinks that Dutch managers and coaches need to brush up bigtime on their man management skills. They seem to be non-existent. And have been now for a few years. None of them have in recent times have been covered in much glory. And didn't a Dutch world cup squad not so long ago all fall out with each other. It seems a Dutch thing. Everything ends in a fall out. Yes I'm generalising. But they do fall out a lot.
But Koeman and his cronies take some beating. Niasses treatment was appalling. It doesn't matter what he earns. What has that got to do with anything?
Moshiri and BK should have put Koeman on gardening leave. Let him nowhere near the first team. Take away his office. Take away everything. Force Koeman and his brother to walk away.
But does anybody really care what he does anymore. I don't really. But it is galling paying for failure
Anyhow .how about a few goals from Niasse tonight. This could just be the fairytale that we all wish would happen. And I don't care how scrappy the goals are.
Koemans gone. And The Niasse man just keeps on and on. More power to the guy. Is he our modern day Trebelcock. Well lets hope that he plays and scores a few more than that guy managed.
Good luck to all tonight COYBs.
Jamie Evans
23
Posted 25/10/2017 at 18:08:14
Arrogance is a horrible quality.
David Tennant
24
Posted 25/10/2017 at 18:09:03
hmmm if I'm being honest, and this might be a bit controversial, but the lad scores goals and big ones at that. Utd and Liverpool last year, winning brace this year and two others when brought on for limited time. Each time he has improved the team.
people may feel even Valencia was better, but, he has already outscored him in a fraction of the games.
His control and out of the box play isn't great, however, he plays in the shoulder has pace and tenacity, closes the ball down intelligently and is rather composed in one on one situations and in front of the goal generally. These are his qualities. That shouldn't be sniffed at. Additionally his mental strength has helped him carve a career out.
At this moment in time he is valuable to our squad and more than just a cult hero or martyr, he has demanded to be involved on form alone.
Christine Foster
25
Posted 25/10/2017 at 18:09:18
It merely adds credence to the fact that Koeman has treated players badly. Tough love or tough sh*t? It sums up Koeman as an arrogant man, a controlling man who has shown the door to others in the club. I wonder if the woodwork will now leak the other story lines, McCarthy, Mirallas, Barkley, Lukaku, Lookman, Barry, Jags, Baines, Robles, thats a long list.
The truth is out there.
Kim Vivian
26
Posted 25/10/2017 at 18:11:45
As someone on the twitter thread says - Karma is a bitch!
Raymond Fox yes. Wouldn't it be great if Oumar could become our Fox (in the box)! Get someone else do the fancy control and skill work and feed him balls to pounce on. That's what he seems ok at.
Koeman (and cohorts) is/are a disgusting cretin of this is true. No wonder the players wouldn't give their lives for him.
I think I read somewhere that the Niasse family suffered quite badly at home as a result of the political landscape where he come from. Not sure that they may not even have been displaced or something but I could be way off the mark there. I could have just dreamt all that.
Anyway, the point is if that has been his upbringing and introduction to life and authority, and the family pulled through, then having to deal with arrogant sods like RK is probably no big deal. But if Oumar's skills were as adept as is brain we would have the African Messi on our hands.
Jon Withey
27
Posted 25/10/2017 at 18:12:51
If ii was just Niasse that they tried to freeze out then okay – not nice but not unheard of... but his handling of Ross Barkley was a joke. Then I was starting to worry about Tom Davies and Ademola Lookman!
Moving forward I'd rather we had more of a coach than a manager – I don't like the ivory tower stuff.
Tom Bowers
28
Posted 25/10/2017 at 18:22:28
We have all wondered what was going on here and to some degree the Ross Barklay scenario.
If we believe what Niasse said then it does appear to some degree to answer questions about Everton as a team this season.
To watch a team with so much talent disintegrate from last season was alarming to say the least and although Everton are offensively deficient the performances could have been a hell of lot better than they have been.
We will have to see if the spirit of the team changes over the next few weeks and if it does then we will all know Koeman just didn't have what it took.
Nicholas Ryan
29
Posted 25/10/2017 at 18:22:30
I know Niasse isn't the most skilful player around, and can look out of his depth sometimes, BUT, he seems to put the ball in the net, with some regularity (Add his goals at Hull, to those at EFC.)
At the end of the day, however ungainly he might be, isn't he employed to put the ball in the net? And isn't that what he does, reasonably often?
Hari Matardri Ranamthram
30
Posted 25/10/2017 at 18:30:39
I like Niasse. His comments cements his simplicity. His mentality is awesome and everything else will come with practice.
Timothy Sebastian
31
Posted 25/10/2017 at 18:43:11
My goddess, treated the way he was, Oumar could have sued Koeman and Everton Football Club for constructive dismissal.
Brian Porter
32
Posted 25/10/2017 at 18:43:12
Niasse scores goals. That's it. It's what he's good at. In some ways he reminds me of Alan :Sniffer' Clarke from the detested Leeds Utd of old. Could never be described as a gifted footballer but give him a sniff of a chance and the ball was in the back of the net.
With regular game time, Niasse could surprise us all. It remains to be seen if he gets the chance. Koeman has persisted with DCL who so far hasn't scored once in the Premier League. Niasse, with limited game time has already hit three plus one in the league cup. Not too shabby, Kumar.
His treatment at Koeman and his cronies hands doesn't surprise me at all. This, after all, was Koeman's style at Valencia and other previous clubs. His arrogance and dictatorial attitude perhaps explains why he isn't fondly remembered at any of his previous clubs, except perhaps at Ajax.
Bad manners and poor man management will mean Koeman will probably never achieve the greatness he craves as a manager. He is millions of miles away from managing Barcelona who would never tolerate his methods, and as for Holland, his country has enough problems without allowing him to upset their best players. In short, I fear his time with us has exposed him for what he really is, a very poor manager, dining out on the back of his reputation as a player, with little to recommend him as a football manager or as a compassionate, caring human being. Glad to be rid of such an appalling man.
Stan Schofield
33
Posted 25/10/2017 at 18:43:48
Jamie@23: Too true. Koeman said things publically that he didn't need to say, which is also a sign of stupidity as well as arrogance. The combination of stupidity and arrogance = buffoon. A buffoon on £6M/year. Probably not too improbable, given that shit floats.
Tom Bowers
34
Posted 25/10/2017 at 18:52:02
I would love Niasse to do well to help the team recover and who knows when Bolasie and Seamus return, the season may still give us things to shout about especially if Unsy is still around and maybe Ross Barklay.
Zaid Omar
35
Posted 25/10/2017 at 18:52:57
Koemans treatment of Niasse is absolutely disgraceful! And even more concerning was that this treatment of niasse has only come out publicly because Everton have performed poorly and he was given a chance as a last resort.. so the treatment would have been condoned had Everton performed successfully this season ?!
Micky Norman
36
Posted 25/10/2017 at 18:54:17
Just thinking about what Ajay said, is it too late to justify RKs dismissal on the grounds of professional misconduct, ie workplace bullying? or attempting constructive dismissal of an employee. This is what the behaviour amounts to. Football managers should not be above employment laws. Regardless of his performance on the pitch, Oumar Niasse deserves respect. And the Board should not have tolerated Koeman's treatment of him.
John McFarlane
37
Posted 25/10/2017 at 19:01:09
Any person, in any walk of life with skill [or lack of it] deserves to be treated in a dignified manner, and while I don't know either Koeman or Niasse, [or the issues that existed between them] I think that the treatment meted out to Niasse reflects badly on Koeman, and shames the good name of Everton Football Club. I wish Niasse every success, whether it be with Everton or any other club.
Colin Glassar
38
Posted 25/10/2017 at 19:03:28
If true, this is disgusting and the club owes him a formal apology. Good, bad or shite, no human being needs to be treated in such a manner in any place of work.
John Roberts
39
Posted 25/10/2017 at 19:05:31
If true that sort of behaviour would have
had a negative impact on the squad even though not directed at them!! Nobody likes working for a manager who treats people like that.
Steve Hogan
40
Posted 25/10/2017 at 19:07:28
Christene (25)
I'm not looking to defend Koeman in his treatment of players, but of the nine player's you have mentioned, possibly only Lookman and Barkley have been dealt poor hand's.
McCarthy should have known better than to turn out for Ireland on at least three ocassions, when clearly not fully fit, and EFC have paid the price for that in him not being available to select from, that's hardly Koeman's fault, you probably need to blame the arrogant git O'neill for that.
Mirallas has constantly spat his dummy out almost on a regular basis since his time at Everton,either when he's been 'hooked' or not selected. How many opportunities has he been given at this club? His attitude stinks the place out, how's that the fault of Koeman?
Barkley need's to 'grow a pair' quite frankly, he certainly hasn't 'kicked on' in the manner we all thought, but I concur, Koeman's public comment's about the player were not helpful, but neither is being in a dodgy bar in Liverpool City centre, and putting yourself at risk from the lowlife such establishment's attract.
Lookman hasn't been given a fair crack of the whip, and after a bright start was dumped by Koeman, never to be seen again. Simply not fair on the young player.
The other's, Jags, Barry, Baines etc, should have been 'eased' out a couple of year's ago in my opinion, great servants, but their clearly past their best.
But certainly Jags and Baines can't have too many complaints about their treatment surely?
Robles was a disaster waiting to happen, how has he been treated badly by Koeman?
You clearly made your mind up about Koeman a long time ago, but to blame him for treating ALL of the above named player's badly is simply unfair.

Martin Mason
41
Posted 25/10/2017 at 19:12:56
I could be wrong but I doubt Koeman and the players are on normal PAYE contracts but as Consultants with tax efficient Limited Companies and not subject to normal employment contract law. Koeman will get his money because it is in his Contract even as a contractor.
Joe McMahon
42
Posted 25/10/2017 at 19:17:43
This is only one side of things, but it is looking like Ronald Koeman is about as nice a person as John Terry.
Mike Berry
43
Posted 25/10/2017 at 19:19:08
A little research on Koeman and his history will find that at at Valencia and PSV and also with some players at Southampton, would show that his man management skills are poor, disruption seems to follow him and he does not appear to learn ?.
I love the fact the that Oumar is till on the books and Koeman has shown the door.
The Dutch National side are welcome to him ! !
Bill Watson
44
Posted 25/10/2017 at 19:22:21
Maybe Blue Bill should have got Niasse to give Koeman his P45!
Will Mabon
45
Posted 25/10/2017 at 19:22:42
Micky, not that it's right but the club, any club, would be very reluctant to be seen getting heavy on a manager or former manager, unless completely unavoidable.
Always in the back of their mind would be the thought of scaring off future employees.
Tom Evans
46
Posted 25/10/2017 at 19:34:05
Cast your minds back to when Niasse scored the first of his goals against Bournemouth.
Camera panned to the dug out where you saw Duncan doing a jig of delight. Koeman hands in pockets looked at the ground and spat.
Knowing what we know now, it Koeman must have been sickened
Des Farren
48
Posted 25/10/2017 at 19:47:17
I must say I find the Niasse love-in on these pages a contrast with the abuse Martinez received for signing him.
I also feel that Niasse criticising Koeman the day after his dismissal does not do him any favours. Only my opinion,mind.
Mark Tanton
49
Posted 25/10/2017 at 19:52:13
He didn't criticise him recently, someone dug it out after Koeman had gone.
Mark Morrissey
51
Posted 25/10/2017 at 19:59:07
I've been saying it for months, his treatment of both Ross and Oumar is pure and simple bullying. He should be fucking investigated for bullying in the workplace. The man is an arrogant, self-centred prick. I hope gets to Barcelona and fails miserably or better still , we play em in the final of the Champions League and Oumar and Ross score a pair in the last 2 minutes and then run over to him in the Barca dug-out and give him a slow cranked hand. I'm being very childish but this thick galoot needs a come-uppance. I'm prepared to bide my time.
Top man Oumar, humble and decent
Andy Crooks
52
Posted 25/10/2017 at 20:33:37
How very timely of Oumar, we now know that Koeman failed because every waking hour was spent in a vendetta against Oumar. " He took my stuff from the first team room", He said " you don' t eat wth us",
Poor Oumar, forty grand a week, at a guess. Koeman the bullying bastard and poor Oumar, forced to sleep rough. This is really kicking a man when he is down. Oumar, is shite and if we have any aspiration at all then poor Oumar should not be remotely part of our future. He is not a fucking martyr.
Stephen Davies
53
Posted 25/10/2017 at 20:33:43
Des # 48
Look at what kit he is wearing in the vid.
Clue...its not an Everton one
Tony Abrahams
54
Posted 25/10/2017 at 20:48:54
Des, Andy, this interview is from a few months ago. He who laugh's last, laughs the longest, I just hope Niasse can get us a goal tonight.
Des Farren
55
Posted 25/10/2017 at 20:54:08
No shit Stephen?
Jim Jennings
56
Posted 25/10/2017 at 20:55:51
Andy Crooks #52
What an absolutely rotten, ill informed comment. The suggestion that Niasse's wages somehow make him immune from being impacted by a humiliating attempt from his ex boss (that in any other profession would be grounds for disciplinary action) to ostracise and manage him out is among the most reductive, ignorant of arguments I've seen on these pages.
Mark Morrissey
57
Posted 25/10/2017 at 21:43:13
Wow Andy, who's crawled up your arse ? you must have gone to the same finishing school as Ronald and Joey Barton. An appalling post
Christine Foster
58
Posted 25/10/2017 at 22:04:33
Steve Hogan 54. Yes I did make my mind up a while back (end of last season and this pre season confirmed it..) You are right in that Baines and Jags need to be replaced in the near future (end of season) but then so does Williams Fumes Mori is a better defender than Williams and Barkley / Lookman / McCarthy have not had a look in this season irrespective of injuries..
The point being, its clear that some players respond better to positive feedback than hard nosed abuse ( what else could you call Niasse's treatment?)
I am glad he is gone, tonight was the best performance of the season, with a team of players that have not played together they looked better than any match this season.
Phil Rouse
59
Posted 25/10/2017 at 22:08:25
Ajay #21. Brilliant idea mate!!!
Andy Crooks
61
Posted 25/10/2017 at 22:18:29
I didn't see the " an interview has emerged", part of this leading article. I took the view, obviously wrongly, that Oumar had waited for Koeman to be sacked before making these comments.
Obviously it changes the context of things. Therefore I accept that my post # 52 was unfair and ill judged. I withdraw it unreservedly.
Phil Hoyle
62
Posted 25/10/2017 at 22:43:23
Neil #7 - spot on. I am fed up at certain industries being able to treat people like crap.
Ok you don't rate a player but don't humiliate him. Tell him you are not in your plans and it would be best for the club and him we found a new club for you.
Regardless of the money these guys earn everyone needs to be treated with respect. Manner, politeness and decency cost nothing!
I have a feeling Koeman ruled by fear! Niasse was an example and gave a clear indication of what could happen it you don't follow his line. That never works in my view and starts a rot inside out.
Too indicative of what happens too often in the corporate world. Senior execs ruling by fear with their own personal ambitions ahead of the good their staff and the company.
I am down from the soap box!
Phil Hoyle
64
Posted 25/10/2017 at 23:33:48
Steve #40 - Not that I played to a massively high standard but I know when my confidence was high I would be a better player. In my professional life it is also true.
Even if an environment is toxic a good manager will try to protect/deflect that from his staff so they can perform to their best ability. I don't think Everton (the company) is toxic. In fact I think it is the other way - too soft!
In that you then have Koeman who I think it is being shown is a self-centred bully who cares about himself. Had the 3 year project worked he would have been off - we were a stepping stone in his eyes.
When we talk of senior players they are still relatively young in life. If you have a big personality of a manager who rules by fear that can be difficult to challenge.
Ari Sigurgeirsson
65
Posted 25/10/2017 at 23:52:56
Raymond Fox #10.
Exactly my thoughts... why do people always have to tell us that he isn't good enough when he is scoring goals for fun...?
You are completely right in your post (#10)
Phil Hoyle
66
Posted 26/10/2017 at 00:57:37
Ari and Raymond I fully agree.
The 'pundits' keep talking about us missing a striker. That is bull! Lukaku was never the striker that made his own chances. The team did his work. The problem is we are not making chances.
Everytime we play him he scores. He reminds me a bit of Kevin Campbell. He is not Ronaldo but he will get you goals!
He also must have a steel backbone! I am not sure I could have been as gracious being humiliated like he has been! Full respect for him!
Ian Linn
67
Posted 26/10/2017 at 05:15:29
I think more stuff will out over time showing what c**t (maybe bully would be a better word) Koeman is. Glad to see the back of him.
Alan J Thompson
68
Posted 26/10/2017 at 06:16:37
I said at the time that this was a situation entirely of the club's making. If this is true then it is disgusting treatment and disgraces the club. The article should be published worldwide so that no other club will touch Koeman and the man who first leaked his opinion of Niasse should also be taking a long, hard look at himself before issuing his most public apology. I won't be holding my breath though waiting for the club to put in place conditions that will stop anything like this happening again.
Everton NOT in the community!
Gary Russell
69
Posted 26/10/2017 at 08:02:00
DCL's goal last night against Chelsea was mainly down to Niasse winning a header from Baine's long ball and his determination and persistence right after, beating two men...
http://hoofoot.com/?match=Chelsea_2_-_1_Everton_2017_10_25
Terry Underwood
70
Posted 26/10/2017 at 09:38:16
Always two sides to every story, but it does seem that Niasse has been badly treated. I really hope he scores shed loads, not just for EFC but also for himself, really show RK up for a twat. This sort of treatment in private industry would be classed as managerial bullying and would be grounds for complaint to HR dept
Ernie Baywood
71
Posted 26/10/2017 at 11:40:51
Plenty of Evertonians found this behaviour 'refreshingly honest'. Admittedly, we only had part of the story at the time, even if it seemed fairly clear what was happening.
Money's got nothing to do with how you're treated at work. This was massively out of order.
So, we've seen another pro at the club treated with a similar cold shoulder. Regardless of what he earns he's a young man who is widely considered to lack a bit of confidence. He's been publicly criticised and ridiculed/lied about by the club's management.
So let's see what comes out next. Doesn't show our club in a great light.
Ernie Baywood
72
Posted 26/10/2017 at 11:42:27
Terry, do you not think that the club should have done more? It was public knowledge.
George Cumiskey
73
Posted 26/10/2017 at 13:06:15
I wonder were that great humanitarian Bill Kenwright was while Niasse was getting shit on ?.
George Cumiskey
74
Posted 26/10/2017 at 13:06:19
I wonder where that great humanitarian Bill Kenwright was while Niasse was getting shit on?
Scott Hall
75
Posted 26/10/2017 at 13:20:23
Nobody says DCL isn't good enough and should be sold yet Niasse has scored 3 prem goals in only a handful of minutes and DCL is yet to hit the back of the net despite having played almost every minute of every game.
This isn't a criticism of DCL but more to make the point that you want a striker to score goals and Niasse seems to have that ability. In my mind, he's worthy of at least being in the squad.
Christopher Marston
76
Posted 26/10/2017 at 13:40:52
I'd never liked Koeman ever since he brought down Platt in the WC Qualifier and only got a yellow and then went on to score a free kick against us. Bullying shit.
Anthony Dwyer
77
Posted 26/10/2017 at 14:09:31
Massive failing by our club to allow this bullying IMO.
Koeman should have been sacked for treating a player this way and taken to court, surely it wouldn't have cost us a penny of his contract as he must have broken many rules with this behaviour.
Also no wonder he lost the players, who in the right mind would give 100% for a twat like that.
Mike Allen
78
Posted 26/10/2017 at 14:32:18
The ghost of Martinez hangs over this, lame excuses for not playing him after his transfer can't have been just a wrist injury pity he didn't speak about that.

What a prick Koeman turned out to be. He pissed off a lot of good players as well as Niasse. His statement regarding his sacking relating to Giroud proves we have made the right decision.
Derek Thomas
79
Posted 26/10/2017 at 15:04:13
One isn't a very good footballer, one was. One is a decent person, one isn't...another reason I'm glad he's gone...As somebody said, nailed on Constructive Dismissal.

Martin Nicholls
80
Posted 26/10/2017 at 15:14:44
Anthony#77 - like you I find it unfathomable that Koeman's bosses at our Club didn't rein him in over his behaviour. Even if they weren't interested in the human side, surely they could see that Koeman was reducing the value of an expensive "asset" (in the same way as he has with Ross).
Brian Porter
81
Posted 26/10/2017 at 18:26:50
He might not have scored last night but his determination in the box created created DCL's goal scoring opportunity. So that's an assist to add to his four goals in all competitions so far,
with very few overall minutes.
The lad knows how to operate in the box, and isn't that exactly what we need and want? So why are people still knocking him? He has a better strike record than DCL and only one goal less than Rooney. Let's get behind him and give him the support he's earned.

Neil Copeland
82
Posted 26/10/2017 at 22:43:11
As well for Koeman that Niasse is such a decent bloke, anyone else might have smacked him on the nose, arrogant twat!
Neil Copeland
83
Posted 26/10/2017 at 22:49:49
Brian 81, spot on mate.
Terry McLavey
85
Posted 27/10/2017 at 12:36:15
This is nothing less than bullying and mind games from Koeman... we are well shut of this (and I hesitate to say) "man"; I hope these facts follow him wherever he goes!
Add Your Comments
In order to post a comment, you need to be logged in as a registered user of the site.
Or Sign up as a ToffeeWeb Member — it's free, takes just a few minutes and will allow you to post your comments on articles and Talking Points submissions across the site.