Niasse: I wouldn't let Ronald Koeman get to me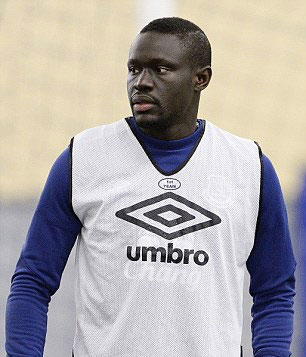 A frank interview has emerged where Oumar Niasse explains his version of the events surrounding his introduction to, and subsequent ostracisation by, ex-Everton manager Ronald Koeman.
Speaking with French-speaking football journalist, Claude Atcheba, during his time at Hull City, Niasse talks of what many supporters now know — how he was relegated to the Under-23s and told to find another club — but he paints a more vindictive picture of the Dutchman that, if true, lends credence to assertions that Koeman was a cold and aloof character at Finch Farm who never truly connected with the players on a human level.
The 27-year-old, a big-money acquisition by Koeman's predecessor, Roberto Martinez, was quickly written off by the Dutchman on the evidence of early training sessions and 45 minutes of a practice match at the club's pre-season camp in Austria and stripped of his locker and then a squad number, with Koeman no doubt assuming he would quickly be on his way.
Niasse eventually joined Hull during the January transfer window and scored five times as the Tigers made a valiant attempt to avoid relegation from the Premier League.
That they weren't able to preserve their Premier League status meant that they weren't able to activate a clause in the loan deal whereby they could purchase Niasse outright for around £10m and he was forced to return to Finch Farm until he could secure a move away.
The prospect of another permanent move for Niasse to Crystal Palace over the summer collapsed on transfer deadline day while subsequent speculation around a move back to Turkey never amounted to anything substantive.
"I didn't ask for an explanation," Niasse replied when asked if his former manager had explained his reasons for dismissing him so readily. "Honestly, because he made his choice. If he decided it was going to be like this, I didn't ask for an explanation.
"He told me, 'I didn't want you. You are not good, that's all.' I said, 'Okay, thank you.'
"He took my stuff out of the first-team dressing room. He sent me to the Under-21s. Even with the U21s I didn't have a locker.
"He was difficult. He took away my shirt number and gave it to another player. He told me: 'You don't eat with us. You are going to eat with the U21s.' A lot of things happened even beyond that.
"I was coming to have some treatment. They told me, 'you have to wait.' Things like that, to see if I was going to give up, to push me to the edge, like you said. But things like that don't affect me. They did that, I smiled and left.
"I didn't embarrass myself. In some ways, nobody disrespected me but on some occasions they wanted me to react negatively but I didn't react.
"I said he hurt me, but I a hurt him, too because he wanted to show to people that I was going to lose it and do something stupid. But I told him, 'you are not able to get to me."
Niasse was handed a lifeline at Everton when Koeman and Everton's recruitment team failed to sign a striking replacement for Romelu Lukaku who was sold to Manchester United for a club-record fee in July.
Koeman was forced to eat humble pie by drafting Niasse back into the first team and the former Lokomotiv Moscow man responded by scoring three goals in two games.
The brace he scored against Bournemouth turned a defeat into Koeman's only Premier League victory in his last eight in charge and he would, somewhat poetically from his perspective, score the final goal of the Dutchman's reign in the ultimately decisive 5-2 home defeat to Arsenal last Sunday.
---
---