Koeman on losing Giroud, tough fixtures and 'unavoidable decisions'

95 Comments [Jump to last]
Thursday 26 October 2017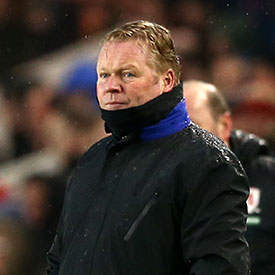 Ronald Koeman has given his first interview since losing his job at Everton where he admits that he knew his neck was in the proverbial noose after the home defeat to Lyon.
The 54-year-old's tenure at Goodison Park came to an end on Monday when the Blues lost to Arsenal the previous day, their seventh defeat in 11 games in all competitions that had left the club in the relegation zone in the Premier League and one foot out of the Europa League.
Speaking to VI Magazine in his native Netherlands, as serialised by The Mirror, Koeman says that he feared for the season once he saw the early games the FA's fixture computer threw up for the Blues and then when Olivier Giroud decided against joining the club in late August.
He says that he "had Giroud in the building … but at the very last moment he decided that he'd rather live in London and stay at Arsenal. That was really hard to swallow. You tell me where you can get a better striker?"
"Lukaku was so important for us, not just because of his goals. He had a certain way of playing as a striker — strong. If things were not going well in a game, if we could not play the way we were used to, there was always the option to use the long ball towards him.
"All of a sudden, we were missing such a player."
Koeman says he knew losing to Lyon had put him in a highly vulnerable position but he wondered after the Arsenal defeat whether he would get at least until the international break to prove he could turn things around.
He acknowledged that he felt that Farhad Moshiri and the Board of Directors were behind him to the end but that they felt compelled to make a decision to appease the fans by sacking him when they did.
"Last Thursday, after our defeat to Lyon in the Europa League, I knew it was crisis time," Koeman continued. "I am not daft, I know how the football world operates. I could figure out how things could go.
"At some stage in football, people are left with unavoidable decisions. Even though they were right behind me, there is such a thing as a decision for the eye of the public.
"When we had to face Burnley at home, after a poor start, everyone expected an Everton victory. We lost 1-0. That is the Premier League for you.
"The strength of all the clubs in the Premier League makes it really difficult to climb out of a crisis, once you land in it.
"I have been racking my brain. Sometimes in football you just can't get a grip on something. I was not doing anything different from what I have been doing in all the years before as a coach.
"During my last season as a manager of Feyenoord, we had a similar awkward period, where we lost the chance to become champions.
"I woke the team up with a different tactical formation, I changed to 5-3-2 and we won seven of our last eight games and qualified for the Champions League. The tactical change woke-up the players.
"That is what you need in tough times, players staying close with the manager. You must not lose them and I always make sure I keep the squad together and keep the right connection with them.
"If I look at the intensity of our training sessions (at Everton), I had no fear at all that I would lose my grip on the players. But at some stage you do need to get something in return from them on the pitch in the shape of a good victory.
"When that does not happen, you know as a manager that your job will depend on the verdict of those above you.''
---
Reader Comments (95)
Note: the following content is not moderated or vetted by the site owners at the time of submission. Comments are the responsibility of the poster. Disclaimer
Terry McLavey
1
Posted 26/10/2017 at 06:56:34
Wasn't his fault then?!

'Kinel. I think the 2nd half performance against Chelsea says otherwise !
Peter Warren
2
Posted 26/10/2017 at 06:59:55
All of a sudden we lost Lukaku - it had been coming for years!
Andrew Lum
3
Posted 26/10/2017 at 07:20:27
Basically it's everyone else's fault, even the fixtures...but ok, that's football.
Will Mabon
4
Posted 26/10/2017 at 07:25:56
Like an interview of a different manager, about different events, at a different club. Interesting to see what wasn't mentioned. Nice start to your damage limitation, Ronald. Have to hope the Niasse interview tape doesn't gain too much traction, among other things. 'Bye now.
Kim Vivian
5
Posted 26/10/2017 at 07:33:04
"I was not doing anything different from what I have been doing in all the years before as a coach."
Clearly not able to learn from your own mistakes then, Ron? What a horrible interview to read. Can't stand the man. Like the only reason he went on Monday was a supportive board bowing to pressure from the fans.
Sudden loss of Lukaku? -
"...No fear I would lose my grip of the players"? -
"... I keep the squad together and make the right connection with them"?
Blah - Blah
Fuck right off Ronald.
I just want to forget about him now and hope the damage of his tenure is reversible. Judging from last night at Stamford Bridge, with the right person (Unsworth) it clearly is. But it will take hard work to get there, more than a good 45mins in the Carabao, but the signs are good at last.
Peter Mills
7
Posted 26/10/2017 at 08:22:49
Sounds like we Evertonians, as "the eye of the public", can take a pat on the back.
Liam Reilly
8
Posted 26/10/2017 at 08:22:50
Like him or not, what's clear is that the club had banked on Giroud moving north at the very last minute on TDD.
It's unlikely that was Koemans strategy.
Amateur hour and he shouldn't be the only one to fall on their sword.
Andy Mead
9
Posted 26/10/2017 at 09:00:55
Never wanted him or rated him but obviously Giroud told the club he would sign, rightly or wrongly Koeman must have thought he had his target man in the bag so he can't be blamed if the players mrs told him he couldn't sign as she wanted to stay in London. Koeman says he keeps the squad close but there is little evidence of that from what we saw and the amount of players he was supposed to have fallen out with. Anyway, a respectable performance last night so let's move on.
Tim Locke
10
Posted 26/10/2017 at 09:01:46
I totally get lossing your key striker is going to make a difference. What was annoying fans was not the lack of goals, it was everything else.
Players in wrong positions.
Buying tooooo many of the same players for loads of money.
Saying you had no creative players when you just bought some.
Playing with no passion.
Shipping 5,3,4 goals a game. Fair enough you can't win 3-0 any more but you can at least shut up shop.
Playing 7 defensive players and still shipping 3 goals.
Losing and drawing to Brighton and Burnley.
Playing your new signing when they weren't up to speed.
Not looking at younger or older players to create balance.
Not knowing what your best 11 was, in fact I don't think you still know.
Your best bet is back at Mcdonald's where at least the kids still love you.
George Stuart
11
Posted 26/10/2017 at 09:16:58
Wouldn't we have a plan B Hanging on the phone? Or plan C D or E ?
Be up front, we're signing Olivier Giroud, but if it falls through at the last minute, your our second choice.
As Ronnie said where would you ever find a better striker than Giroud ?
I bet he got a fair wedge for the article too. Isnt there something about not profiting from a crime ?
Anyway he was a clueless dick. Good riddance. Not even as worthy as Mike Walker or Martinez.
Dave Wilson
12
Posted 26/10/2017 at 09:22:47
There are some who believe unrest amongst the fans will have little or no effect on those who sit in the boardroom.
Koeman clears thinks otherwise
Brian Cleveland
13
Posted 26/10/2017 at 09:55:12
Liam, he didn't fall on his sword, he was pushed onto it... but understand the sentiment, he was not the only one to blame...
Brent Stephens
14
Posted 26/10/2017 at 09:55:48
"He acknowledged that he felt that Farhad Moshiri and the Board of Directors were behind him to the end but that they felt compelled to make a decision to appease the fans by sacking him when they did".
Still in denial. My guess is Moshiri and the Board saw what the fans saw and wanted exactly what the fans wanted.
"Even though they were right behind me, there is such a thing as a decision for the eye of the public".
Really?
Stan Schofield
15
Posted 26/10/2017 at 09:58:24
This is just a continuation of what he did while managing us, diverting blame from himself onto others. A classic political manager of the toxic variety, with an approach to man-management that is as defensive as his approach to football. And he wears it so blatantly on his sleeve. Manipulation of the facts, arrogance and stupidity combined.
Joe O'Brien
16
Posted 26/10/2017 at 10:13:46
It feels a lot like trying to save face. As Tim said.. there was a lot more factors in play besides just missing out on Giroud. Ron you got sacked, we're happy with that. You thought you were a lot bigger than thr club from day on. Funny how it turned out that the club is a lot bigger than you.
You never got us, we never warmed to you.. bye now and stop talking about us. Move on, we have.
Tony Abrahams
17
Posted 26/10/2017 at 10:17:06
He never got his centre forward, so he didn't feel the need for width? Only speaking for myself, but I hated playing wide, but if that was my position, I'd do a job, and get back to help my fullback.
If I hated playing wide, then when I played inside, I really hated getting pulled wide, and always found this the hardest thing to do, which is obviously what was happening to Koeman's players with the system he continued to play?
He's gone because he never tried hard enough, and tried to change a squad instead of trying to change himself?
John Wilson
19
Posted 26/10/2017 at 10:34:44
EFC collectively were to blame for letting Lukaku go too early in the transfer. '...couldn't run a piss up in brewery' springs to mind. EFC company's most prized asset and they let him go either too early, or should they have let him ago at all, is the question. I listen to Talk Sport and it's almost like propaganda radio - the same with other sports SKY/ other media.
It's like two different narratives Lukaku.. he's shit - he's a bully. He leaves Everton, now he's the best thing since sliced bread. RK - he has to go. Now, 'Everton should not have sacked him yet.' About Lukaku - since his signing at Man U - now it's more pro Everton, 'oh, yes, they had to let him go.'
The propaganda is like 'commercial'...the biggest successful teams = controlled sports/ tv/ radio media. It's just shocking actually.
Mike Berry
20
Posted 26/10/2017 at 10:38:59
Fans rule football not the board, Moshiri and Kenwright saw the terraces emptying against the Arsenal and new Koeman had been found out !
Tactically inept, unable to decide on his best team and blaming it on not getting a target man.
I think its a blessing in disguise that we did not get the striker, as it would have prelonged the misery...
We move on, and hopefully quicker than Koemans teams !
Kunal Desai
21
Posted 26/10/2017 at 10:43:12
Don't think getting Giroud would have made much difference to results. Who exactly was going to provide the width to get crosses into him?
Brian Williams
22
Posted 26/10/2017 at 11:23:18
Our inability to play hardball (the boards) didn't exactly help. Lukaku should have been told "You have two years left on your contract, you'll do another year unless we receive an offer we can't refuse, and that would be somewhere north of £100m, and if we DO receive an offer like that you'll only be allowed to leave after we have secured the services of a replacement."
There are very few gentlemen left in this game so a gentlemen's agreement shouldn't exist, if there ever was one.
Professionalism has to start at the very top and as yet we don't have that, and haven't had for many years.

Carl Sanderson
23
Posted 26/10/2017 at 11:25:34
Damage limitation, with one eye on his next job, no doubt.
Colin Glassar
24
Posted 26/10/2017 at 11:37:34
I don't know why we are spending energy on this guy. He came, he failed, he left. We move on.
Peter Morris
26
Posted 26/10/2017 at 11:43:47
I don't know whether it is down to the effects of translation, but it appears to me that there mustn't be a Dutch word for the English word 'contrition'?
There appears to be not a hint of it in anything that Ronald says. His apparent contemptuous treatment of the club, its history and its remarkable fan base also seems to come through. I'm left with the sense that he feels we are a baying mob of plebs lacking the wit to appreciate how things really are.
It's very clear now that the cultural fit between Koeman and EFC was completely wrong on all fronts. Let all parties learn from this and move on. Plenty of time to worship at the altar of the Nou Camp now Ronald. You just might have to keep paying for your own tickets for the time being, most likely forever.
Mike Allison
27
Posted 26/10/2017 at 11:45:26
Agree with Colin. More importantly, that old phrase 'like a new signing' can have a little run out, and be applied to decent players Koeman had simply written off. Niasse and Garbutt are the two most obvious examples. Yes, both players have limitations, but a good manager works within limitations, and tries to coach players on their weaknesses. Koeman seemed to feel that that simply wasn't his job. Players like Lennon and Mirallas may get a go and be able to play with a bit of confidence, and also younger players like Kenny and Baningime will be made to feel ten feet tall rather than that they're not good enough.
On the flip side I wouldn't want to be Klaassen or Martina right now. Klaassen at least has heart, it will be interesting to see how he reacts.
Ernie Baywood
28
Posted 26/10/2017 at 11:47:15
His comments seem pretty fair to be honest. Of course he thinks he could have turned it around. And it could have been different if the fixtures had been kinder, or if he'd got a striker in.
The interesting bit for me is the reminder of the influence that the fans have. We'd do well to remember that.
Kim Vivian
29
Posted 26/10/2017 at 11:54:48
Not getting Giroud (or Bakayoko or anyone for that matter) was tantamount to dereliction of duty but for crying out loud, Ronald, was he going to stop your system conceding the 18 goals we have shipped this season? Or score enough from non existent crosses to compensate for them?
I'm tired of this Giroud debate now - I would have liked him and said so months ago but we must and can actually look forward now, and hope for better things to come.
What's the latest on the striker we do have - Onyekuru? (with apologies if the spellings off)
Bill Rodgers
30
Posted 26/10/2017 at 11:59:39
Phew – it sounds we got rid of him far too late but just in time. There is not a sign of any recognition in his words. His failure to motivate, organise, react, communicate or connect. He is a serial blamer and has stumbled through management based on a playing reputation.
Richard Reeves
31
Posted 26/10/2017 at 12:10:43
"You tell me where you can get a better striker?"
How about one that you thought was good enough? but that's the thing about Koeman, he didn't seem to know much about players in general.
A lot of the players brought in were established Premier League players who came with a ridiculous price tag. He didn't seem to know the world market. Sometimes I thought it suited him not to so that he could avoid responsibility if things went wrong.
I'm just relieved he's gone. If he had his way he would've spent a lot more money and we would've ended up with one of the most expensive, average bunch of headless grafters ever assembled with a resale value being a tenth of the purchase price.
John Keating
32
Posted 26/10/2017 at 12:15:41
Pathetic. However, when the dust settles I hope Moshiri has a good look at the whole set up from choosing Koeman until his termination.
I am sure there are lots of lessons to learn and more importantly, not to repeat.
Steve Solomon
33
Posted 26/10/2017 at 12:18:32
Luckily Kenwright and Moshiri are Everton fans too.
Obviously RK never was.
Slight flaw in his 'logic'.

Paul Tran
34
Posted 26/10/2017 at 12:31:35
Mike, I also suspect that the players signed in the summer will thrive in a regime where there is a balanced team given clear instructions. Which may make us more attractive to potential new strikers.
John Wilson
35
Posted 26/10/2017 at 12:37:32
This shows how Koeman thinks of people, players, staff, in Everton, he has a hierarchy (ie RK sees people in an elitist way, ie on different levels): 'he and the coaches were always first in the cafeteria queue', and 'he chose when players should eat.' (paraphrasing). It explains why he was always wearing suits and speaking in the third person: 'Everton...' not, 'we .'
The only quite disappointment with Unsy was that he brought Niasse on too late - even though without Niasse it's highly unlikely the Everton Unders would be as successful as they were. One thing about Niasse he does not usually miss goals. As much as I like Rooney, Lookman, DCL - these do miss many chances to score.
If Unsy could integrate Niasse in the right position with the right support, Niasse has scoring potential at least in the final third (say no later than 30 mins to end of match). The odds of him scoring in a period of less than 30 mins to go means there is less opportunity for him to score. This is just not rocket science!
**Caveat: Niasse could be brought on earlier (than final third) But he needs the right support so that he can score.** Except for these suitable adjustments, I can't see Niasse being effective for Everton. Unsy should know better! I hope he does this in the Premier League.
Brent Stephens
36
Posted 26/10/2017 at 12:42:49
From Unworthy to Unsworth. A simple change.
George Cumiskey
37
Posted 26/10/2017 at 12:46:13
Why does he keep going on about Giroud, in my opinion he wouldn't of made much of a difference.
He wouldn't of brought any pace to the team which we were desperate for.
It's ok playing in a team with Sanchez and Ozil banging in the crosses for you, in our team I think he would of been isolated.
Andy Meighan
38
Posted 26/10/2017 at 13:00:02
If we didn't have to play United, City, Spurs, Chelsea, Arsenal home and away, we'd have been fine and Ronnie would still be in a job? Ffs, partly blaming the fixture list. Unbelievable!
Anthony Hawkins
39
Posted 26/10/2017 at 13:07:07
There's a reason both Kenwright and Moshiri were at his final game - it wasn't to show solidarity!
Koeman has to be seen to be saying these things. Most of them are inaccurate and zero acceptance of blame apportion to himself.
It'll be very interesting to see how the players now perform in the premiership under Unsworth. Get ready for the "Unsworth got the easier games" excuse.
Ray Smith
40
Posted 26/10/2017 at 13:21:00
Don't get me wrong, I couldn't wait to see the back of Koeman.
However, when is Walsh going to be held to account?
He may have made some good signings for the future, but a striker was always going to be a priority when it was known that Rom was on his way.
When was that Jan/Feb this year, if not earlier. Speaks volumes about how we conduct business.
Giroud's transfer fell through on the last day of the window. So what's Walsh been doing for at least 8 months???
Kevin Tully
41
Posted 26/10/2017 at 13:32:32
I don't think Koeman was particularly arsed about Everton, the money he has frittered away, or anything to do with the club in general. He certainly thought highly of himself, and he probably thought we were lucky to have him.
It is only the damage to his reputation that he is now concerned about. It's absolutely win-win for him though, as he's rightly stated, the club never replaced Lukaku. Who was at fault? We will never know. This one glaring fuck up has covered a multitude of other sins, which we all witnessed unfolding week by week.
The team had absolutely no tactical identity whatsoever, and with the cobbled together nature of our signings, we are fully dependent on Bolasie and Coleman, plus a few of the kids saving our skins. Let's hope their recoveries are going well.
George Stuart
42
Posted 26/10/2017 at 13:58:39
According to Soccernet Ronnie has told a Dutch magazine that Ronnie had Olivier Giroud in the building. I wonder if that was late in the afternoon of the deadline day?
Also, Lukaku was vitally important to us because "if things were not going to plan in the game, we could loft the ball upfield to him"
Total football it ain't.
Don Alexander
43
Posted 26/10/2017 at 14:08:22
Quite agree Kevin, the window fiasco needs explaining but, as we all know, it never will be on a reliable basis. That said, I don't necessarily share your view re frittering money away apart from the signing of three no.10's to go with the underachieving one we already have. I expect two from Siggy, Rooney, Klaassen and Barkley will be offloaded as soon as possible to enable us in January to sign a forward in preparation for next season's assault on the Champions League places.
At the moment only Sandro and Klaassen have seemed in difficulty to me. The rest of the signings have had encouraging moments, but not enough of them. Sandro would obviously benefit from having had that missing centre-forward alongside him but Klaassen might just turn out to be the Dutch Kroldrup I suppose. It happens, to all clubs occasionally, but in terms of recovering money him and Barkley seem the most likely two to go as far as I'm concerned.
Whoever's made manager the need to sign a proper forward is paramount on every level, no matter what it takes.
Kevin Tully
44
Posted 26/10/2017 at 14:19:17
I fully expect a number 9 to be holding up the shirt on New Year's Day, 2018!
No excuses.
Sean Patton
45
Posted 26/10/2017 at 14:38:07
Just like his selections and his pursuit of Sigurdsson there is no flexibility he genuinely thinks there is no better striker than Giroud.
One target only and if he can't get the player then he can't be arsed to find an alternative or make do and mend. The mess he has made of this team and the money he has wasted makes him a strong contender for the worst manager we have ever had.
Mark Riding
46
Posted 26/10/2017 at 16:06:19
Decent sounding excuses to anyone not connected with Everton.
Interview given to Dutch press.
Koeman strolls into the Holland national job with his reputation in tact.
Soren Moyer
47
Posted 26/10/2017 at 16:19:03
Stop pretending as if not having a no 9 was the only reason we were crap! The whole team setup was a joke. Mind boggling substitutions, conceding so many goals, ultra defensive lineups regardless of playing at home or away, etc.
Mark Morrissey
48
Posted 26/10/2017 at 16:55:44
That would be perfect for him because he wouldn't get the chance to bully people week in week out. Found out at Everton. No clue. Bully. Boring. Egotist. Has-been. Glad you are gone and will form no part of my wonderful memories of our club. Erased from my mind. Ronald who ?
Gary Fenton
49
Posted 26/10/2017 at 17:01:57
https://www.youtube.com/watch?v=XHd8fLnwywk&feature=share
Quite funny
David Midgley
50
Posted 26/10/2017 at 17:03:15
Nero ?
John Pierce
51
Posted 26/10/2017 at 17:16:05
Home comforts for the man who thought he was bigger than Everton FC.
The interview conducted by a dutch magazine for his own ego and just a mouth piece for him to spout to his next victim how horrible Everton were to him.
His words offend everyone at the club, from top to bottom.
I cannot wait for the day he brings a team to Goodison, and it will come, that day will be fun.
My last post on the poor fella, he's in the rear view mirror now.

Denis Richardson
52
Posted 26/10/2017 at 17:40:45
On the one hand the whole Giroud/ striker signing issue was a complete cock up. We knew for at least 6 months before TDD that Lukaku was off - why did we place all our eggs in the Giroud basket, on the last day? What happened to plan B?
However, after failing to sign him; why did the likes of Mirallas and Lookman hardly get a game when we were crying out for width and pace? Wtf happened with Niasse and Barkley? Why did we sign Sigurdsson when Klaasen was supposed to play in the same position and Rooney was coming back?
Why did we not sign a left sided defender? E.g. if Shaw has fallen out with Mourinho, could we not take him on loan?
RK is/was not to blame for all the above, some real amateur hour stuff as usual. However, it's clear to see his man management is not great as he alienated at least 4 members of the senior squad. That's not going to help you to build a close knit team by any stretch of the imagination.
He's gone now so we can move on.
Everton have now committed to paying out £20m to two managers relieved of their duties. Given the chance of failure is higher than success can we maybe, just maybe not hand out multi million pound contracts like confetti?
I know the prem is bonkers but there are surely dozens of decent managers who would walk over hot coals to manage Everton for less than £1m/year. We don't need to be handing our £4-6m/ year contracts!

Victor Jones
53
Posted 26/10/2017 at 17:50:57
Of course our fixture list could have been kinder. But did we really try in any of those matches. Or did we just give up before a ball was kicked. We were awful. Look at how Burnley performed in similar matches. But Everton football club from top to bottom just moaned and cried about everything. Koeman had us beat and is still having us beat before even kicking a fucking football.
And Koeman wanted us to get into the Champions League. Would we then just have bowed down to the likes of Barcelona or PSG. All just pointless nonsense from a pointless manager. We can all pick holes in everything that he has said. Burnley and Brighton .were they on the difficult to beat list?
Des Farren
54
Posted 26/10/2017 at 18:49:47
I liked Martinez,despite his faults. I did not particularly like Koeman but understand the constraints he was under.
Can I ask those more knowledgeable than I am, how we can win games with a defence that contains Jags,Williams and Baines, all of whom have confessed their inability to play the ball,on the ground,out of defence?
Tom Bowers
55
Posted 26/10/2017 at 19:00:18
Forget Giroud and Costa. Koeman proved he did not have what it takes. The strategies and team selections he employed were not acceptable.
One could see from his body language and also that of the players gave rise for concern from the season's start.
He and his cronies just couldn't raise the belief, spirit or intensity levels in the squad making it one of the worst to watch in the club's history.
Thank God some normality was restored in last night's game which was good to see. We all hope this carries forward to the Leicester game although they are still offensively challenged.
Alan McMillan
56
Posted 26/10/2017 at 19:28:02
a bad workman always blames his tools...why did I even read this? He's yesterday's man. Good riddance.
Keith Monaghan
57
Posted 26/10/2017 at 19:46:44
Brian @ 22 - totally agree with your comments on the Lukaku/Rooney deal - our business strategy was totally naïve and mis-guided for the reasons you point out (N.B. Countinho still at RS, Van Dyke still at the mighty Saints, Sanchez & Ozil still at Arsenal).
Your final sentence is sadly or so true! One of the frightening things for me is to read in the Echo that Bill K finalised our transfer deals after Walsh & RK had done their stuff - and he's in charge of appointing RK's replacement!
Unsy clearly had an impact in the 2nd half at Chelsea - I wish him well and want him to succeed at Everton. One of his problems is that he's an Evertonian and is in danger of his heart over-ruling his head and being too easily influenced by Bill K & sentimentality - will he be strong enough, for example, to use Rooney (who's been a spent force for 2+ seasons - and therefore not good enough to play in a top 6 team) mainly as an impact sub?
N.B. His slow reaction & consequential poor attempt to score from very close in, and shocking back-pass - just 2 examples from last night.
Under BK's tenure, too much focus has been on basking in our history rather than building our future - BK's a great Evertonian and has given some good service to the club - but needs to be moved on. However, good some of it was, we cannot live in the past.
Steve Ferns
58
Posted 26/10/2017 at 19:58:54
I think we need to be a bit more sympathetic with the club over the striker. Look at the business we did. There's 3 different categories for me.
The early deals: Pickford, Keane and Klaassen. All wrapped up nicely and quickly. Yes we paid over the odds, but we had to, in order to get them in early. They came easy enough as Everton raised the bar on the price and made other suitors look elsewhere. In other words we paid a premium to get them in early.
The Protracted Transfer. Sigurdsson was a similar deal to the above. We tried to pay over the odds to get him in early. Only, this time Swansea raised the price and kept doing so. Eventually we paid over the odds by some way, maybe paying twice as much as we should have done.
The failed transfer. This is the striker. We now know for certain that Giroud was in the building and the deal was complete, and all that was needed was a signature on the contract. We can assume that the deal fell through due to the rumour that Mrs. Giroud was determined to stay in London, to the detriment of her husbands career. We also know from Vlasic that he was refused 19 because Everton told him it was reserved for Costa. Just how close we were to that, we will need to wait for more from Koeman.
Now, if Everton chased Giroud all summer, it was obvious it would go to the end of the window. I'm repeating myself here, but i'll say it again. The top level players do not want to come to Everton. They wait until the last minute to try to find a better club and will only come at the very end. Also, imagine Giroud's agent. I bet he did everything to force that transfer through. Giroud has one move left in him, and this was it. The agent would want the deal to get his payday. The guy will have told Everton everything they wanted to hear. So, can you really blame us for falling for it?
Who else was there? Well we went big for an ambitious Costa deal as well. How close that was, I don't know. But this is Plan A and Plan B. We also know from Koeman that we had a few other targets. Can you imagine us really keeping Plan C on tenterhooks as a backup? He'd tell us where to go. Then imagine Benteke came in for £50m+ maybe as much as £70m as Palace try to fleece us knowing how desperate we are. We'd have nothing left for the January window, moshiri would say he's spent on Benteke, Rooney, and Sandro and we also have Calvert-Lewin. Would he really sanction another deal in January? Would Benteke (assuming he didn't get injured) really be a better option than Calvert-Lewin? Koeman and Walsh thought not.
No one likes what happened in the summer. Giroud played us. I can't see how the club could really have done more. We got the player into the building and he pulled out at the last minute. I doubt we will be so naïve again. It's going to be harder to get a Giroud level signing in in January, unless we pick up, and we pick up fast. We would also need a big name manager.
Steve Ferns
59
Posted 26/10/2017 at 20:01:51
Des #54, Baines is a great passer of the ball. Martinez wanted to do a Philip Lahm with him because of this and make him into a defensive midfielder, sensing his legs were going. Jags is better than average. He can hit a decent long ball. His passing is a bit wayward under pressure. Williams has been terrible, mostly, but a younger Williams was a good long passer at Swansea. Holgate is a good long passer too, but not quite as good as he thinks he is.
Christy Ring
60
Posted 26/10/2017 at 20:04:38
Total bullshit, we new last January Lukaku was going, as for Giroud, who was going to cross the ball, as he won't play winger's. He knew we needed a centreback and left back. Against Arsenal he played Vlasic in midfield, ahead of Davies who he doesn't rate. Enough said, good riddance.
Joe McMahon
61
Posted 26/10/2017 at 20:08:22
Steve, it is also difficult for Everton in their current position (last 20 odd years). This is in terms of trying to attract strikers from London based trophy winning clubs, to come Up North to Everton, a club that have never played in the CL, not won a sausage since 1995 and the stadium is Clapped out Goodison. London is a big pull for these Millionaires, and is Everton a big attraction for them?
Bill Gienapp
62
Posted 26/10/2017 at 20:08:44
Pretty sure the Giroud ship had sailed long before the transfer window closed. After he scored the game-winner against Leicester in the season opener, he declared publicly his intention to stay at Arsenal. Maybe Koeman and Co. were still working on him behind-the-scenes, but they shouldn't have been caught with their pants down on deadline day.
Anyway, as others have pointed out, his presence would have helped, but he'd hardly have been some magical cure-all.
Daniel A Johnson
63
Posted 26/10/2017 at 20:09:54
Also, Lukaku was vitally important to us because "if things were not going to plan in the game, we could loft the ball upfield to him"
LOL
When plan A fails, hit it long. £6m a year for that logic.
That's total football folks!!!!
David Hallwood
64
Posted 26/10/2017 at 20:10:06
Ok let's pretend that Lukaku didn't go, or that we got Giround or Messi, is there anybody here that thinks it would've made any difference to where we are at the moment?
Run the Spurs, or the Chelsea or Arsenal game through your mind, nothing in midfield defence all over the place, ever changing players and systems, he became the Donald Trump of football management-same barnet too.
Paul Holmes
65
Posted 26/10/2017 at 20:20:03
Koeman was on 6 million a year,his brother was on 1 million a year,he spent 140 million,the 7th most spent on recruitment in Europe !.Everton are third from bottom,cant win a fucking game,cant win a fucking european game (even though all the english clubs are doing great in europe).And he wonders why the fans wanted him out !.
Oh I forgot every match this season the display from the team was awful,shearer said on motd Spurs could have scored 7 or more against us at home and Arsenal could quite easily have scored 10 against us .Send him this fact statement to why everybody,fans,media etc.. said he had to go !.
He still got a multi million pound payoff like Martinez for being rubbish (not a bad payday for failure).
Tony Marsh
66
Posted 26/10/2017 at 20:24:14
Christy @ 60
We knew in January Lukaku was going?? In the summer Lukakus agent said he was 99.9% certain he would sign again but he never did.. Anyway Lukaku could not of gone anywhere unless we released him from his contact.
There was evidence from several clubs in the summer that if you don't have to sell you can't let a player force a sale.Trouble is Everton are not Liverpool or Arsenal.Even mighty Southampton kept hold of there top player from Liverpool..
No one is going anywhere unless the clubs so so.We are skint and sold Lukaku to fund transfer dealings.I personally would of kept hold untill January.If Romalu sulked so be it but we would of received more money for him than we did and wouldn't of ended up with the shite we have now.
Some fans just don't get it
Steve Ferns
67
Posted 26/10/2017 at 20:26:20
Bill, I am pretty sure than you are right. Koeman was in Portugal playing golf on Deadline Day, he knew full well Vlasic was done and nothing else was happening. We then tried hard for Costa and then decided to gamble on Calvert-Lewin and try to find someone else for January.
Brent Stephens
68
Posted 26/10/2017 at 20:27:54
Alan #56 and a tool always blames his workmen.
Steve Ferns
69
Posted 26/10/2017 at 20:30:18
Tony Lukaku tried to leave 2 summers ago and we said no. Then last summer Koeman came in and he was persuaded to stay. To do this we had a verbal agreement that if we failed to get top 4 he would leave. That and we would sign Bolasie, Lukaku's mate, who he hoped would get the crosses in for him to score more.
Having failed to deliver on our promise to get top 4, we had to let Lukaku go. There's no way we could have kept him. All we had to do was get the fee we agreed on, which was vastly below what he was worth once Neymar happened.
Kase Chow
70
Posted 26/10/2017 at 20:34:57
Sorry, he thought one striker would be enough?!?!
ONE striker?!?
We're about 3 established strikers short and he intended to buy ONE striker
He's an even bigger idiot than I thought t
Tony Marsh
71
Posted 26/10/2017 at 20:38:15
No Steve Fearns your wrong mate. First off I do t give a shit about verbal agreements .Lukaku was under contract and that's that. We should of said to Lukaku you can go when we have someone else.At least kept him untill deadline day.
Moshiri said towards end of last season before the huge price hike that It would take £100 million to buy Lukaku.We sold for£25 million less than that during the early days or the window. Fucking clueless gobshites.
Ray Smith
72
Posted 26/10/2017 at 20:42:08
Although we already have Luke Garbutt (another RK brainless decision) in the U23's !!! , what about a punt on Luke Shaw?
I'm contradicting myself from previous posts, but maybe Shaw is worth a punt!
Gavin Johnson
73
Posted 26/10/2017 at 20:44:43
Tony #71
The deal for Rom was £75m + £15m in add-ons and Rooney who was valued at £10m. So we got £100m really. Pity the deal wasn't done after Naymar went to PSG. We could have asked for another £25m easily.

Steve Ferns
74
Posted 26/10/2017 at 20:50:41
The verbal agreement would have stood up in court. It would also put other players off joining us, as they would not see Everton as a springboard to the big time. Instead we tempt the next Lukaku on the basis that either get in the CL with him, or we will let him go.
Keith Monaghan
75
Posted 26/10/2017 at 21:08:26
Gavin @73 - you miss the point.
The deal was done in early July - because MU wanted Rom in time for their summer tour to the USA & because BK was desperate to bring his beloved Wayne, who dumped us 13 years ago, back to EFC & feared if he didn't bow down to the mighty MU that he wouldn't get his "boy" back.
If we decided to sell Rom, the deal should have been done AFTER WE HAD AT LEAST ONE DECENT STRIKER SIGNED UP.
Steve @ 74:-
Remember the "verbal agreement" Bill had with Dan Gosling!!!
You're obviously happy like Bill to brand us as a feeder club to ManUre etc!!!
Rob Halligan
76
Posted 26/10/2017 at 21:10:33
Gavin the £15M in add on's is on the assumption of man utd winning the premier league, the champions league, the FA Cup or the league cup,
It is probably a few million for winning the league or champions league, a few hundred thousand for winning the FA Cup and next to nothing for winning the league cup. There might be an add on for the amount of goals he scores?
I know these add on's probably apply for the duration of his contract with United, but equally it could also only apply for the first two or three years. I'm not sure how exactly these add on payments work?
At the moment I can only see any add on payment for the amount of goals he scores, as I can't see United winning the league or champions league this season. Them winning the FA Cup or league cup will not really be beneficial for us.
So it's not really £100M but £85M. We should have demanded United pay £100M up front, or tell them to do one, after all what are we, their feeder club? I still think we should have kept hold of him.
Robert Workman
77
Posted 26/10/2017 at 21:24:22
Alan 56, yes I can vouch for that!
Andrew James
78
Posted 26/10/2017 at 21:52:55
One of RK's less annoying interviews I would say. I can understand his frustration about Giroud although why wasn't there a Plan B? Rumours swirled around in August that Giroud wanted more football but didn't want to leave London.
But there's one bit that reinforces to me why he wasn't up to it. He talks about Lukaku being an out ball and that our current forwards want the ball to feet. Errr...during last season so many times I witnessed Lukaku remonstrating because the ball wasn't to his feet and making no effort to go chase down a 50/50. And sure enough if he was alone up front, the ball was gonna come right back at us quickly unless Barkley or Davies carried it to him or kept the ball themselves.
That wasn't what you were missing Ronald. But if that's what you thought, then it is probably best you are not there now to fix the problems.
Andy Crooks
79
Posted 26/10/2017 at 22:04:04
Tony, # 71, other clubs dig their heels in, Southampton and Liverpool, it seems to work out okay for them. We do not( Stones and Lukaku). We appear, in my view, happy to sell to what we appear to think are superior clubs.
Incidentally, the final straw for me with Koeman was the realisation that the sale of Lukaku was not the problem. We just stopped creating chances. We were not unlucky, there was no idea that we would start getting the breaks. We simply did not deserve them.
Christine Foster
80
Posted 26/10/2017 at 22:35:51
He must think we are all stupid, blaming the fans for him getting the sack? Since when did an Everton board listen to any fans?? Self delusional, trying to make the facts fit his CV.. not my fault, would have worked.. Fans hated me..
The reality is that the club and Koeman f***ked this up bigtime.. not delivering a centre forward unforgivable. Signing 3 No 10s when we still had Barkley? Unbelievable. (Why didn't BK say no?) No LHS defender?
Who ran the transfer strategy? They need sacking because it probably wasn't Koeman.
Come January I can see Klassen, Morgan offloaded if Unsy stays..
Ray Smith
81
Posted 26/10/2017 at 22:42:55
August 31st 2017 RK in Portugal.
RK on Giroud transfer, I had him in the building?
In Portugal?
Come on RK.
Is it me or have I got it wrong. RK is in Portugal, is Giroud in Portugal?
Dont think so!
Steve Ferns
83
Posted 26/10/2017 at 23:48:43
He doesn't say this was on deadline day ray. It would fit the previous chronology that we know if it was three weeks before then.
Jack Convery
84
Posted 26/10/2017 at 00:01:47
Just another failure - plenty of them left within the walls of Goodison Park.
Ray Smith
85
Posted 27/10/2017 at 00:02:35
Steve 83
Perhaps I got it wrong.
More vino please.
Still happy with Unsy at the helm regardless.
COYB
Ian Linn
86
Posted 27/10/2017 at 00:56:36
So how would have Giroud helped after we shipped 5 goals vs arsenal at home - scored 6???
Bob Parrington
87
Posted 27/10/2017 at 02:56:57
Ian - if it were only as easy as that?
Christine - I'm glad he's blamed the supporters. You and many others have been active proponents of him being sacked for quite a while. Take the credit!
Well, 30 more league games left and probably 32 points needed minimum. Good we didn't wait any longer, eh?
Rob Baker
88
Posted 27/10/2017 at 08:31:19
Ronald "Teflon" Koeman. Nothing sticks to this guy. Mr delegation of blame. What a loser!
Andy Williams
89
Posted 27/10/2017 at 11:15:26
Interesting comments from Canizares from Valencia saying he was unsurprised at the debacle, as a friend at Ajax had told him that, whilst Koeman was good at continuing a project, he was useless at implementing one. Wish someone had spoken to such inside sources before he embarked on his rebuild.
Tony Abrahams
90
Posted 27/10/2017 at 12:18:32
It looks like Kenwright still has a big say in matters, but the man who I'm most interested in is Moshiri. He's got to learn quick, that it's no good throwing money at something, if we don't have a long=term plan.
Koeman, only signed for three years, and it never looked like he was remotely interested in having such a plan for Everton, so for that reason alone he should never have got the Everton job?
It's easy saying things after they have happened, but without a long-term strategy, then we will never move forward. Hopefully Moshiri, was trying to make a high profile statement, by going after Koeman, and there will be a lot more thought before we make our next appointment?
Colin Glassar
91
Posted 27/10/2017 at 12:31:06
Tony, didn't Moshiri state publicly, after the Sissoko fiasco last summer, that this would never happen again? And what happened this summer? I rest my case m'lord.
Phil Walling
92
Posted 27/10/2017 at 12:38:43
Thinking back, Martinez did okay with Moyes's squad but when he got 'his own' team around him it went tits up. Seems history repeated itself with Koeman.
For gawd's sake don't let Unsy sign anybody then!
Tony Abrahams
93
Posted 27/10/2017 at 14:03:40
It's very fuckin worrying Colin, because it looks like he never learnt, and decided to give the reigns back to the man who said we couldn't get a better chairman.
Sometimes there is a lot of truth in your posts Phil, and I can just imagine Kenwright, doing his best Ron Moody impersonation, when he sings to the New manager, about reviewing the situation!

James Hughes
94
Posted 27/10/2017 at 14:46:45
Tony don't do that please, For over 15 minutes I had that song going round my head. had to you tube it to get rid.
Your previous post about koeman I have to agree he just never looked interested in Everton at all, well except on pay day.
In contrast I have Just watched Rhino's presser and he is saying all the right things. When asked about the comments Vlasic had made about not getting the results the performance deserved. He basically said it didn't matter as we didn't get the result and it is now the past.
anyway back to Mr Moody
Tony Abrahams
95
Posted 27/10/2017 at 14:56:50
Thanks for that James, without doubt one of my favourites, and this my favourite song, in the play. You have just got your own back anyway mate, because I can't seventy out my head now!
Oliver Brunel
96
Posted 27/10/2017 at 17:13:41
Doesnt surprise me him blaming the fans, a totally insincere dutch phoney.
Amit Vithlani
97
Posted 27/10/2017 at 17:35:57
Does he provide any explanation of the dreadful away record or the complete tankings we have been on the end of against Spurs, United, Chelsea, or Arsenal?
David Israel
98
Posted 27/10/2017 at 23:03:35
I wonder what Sean Dyche tought of Burnley's fixture list when he saw it!
Damian Wilde
99
Posted 28/10/2017 at 10:39:14
Steve Fearns (59), Jags is the WORST passer of the ball EVER. His long passing is WOEFUL.
Incredible 😏
Add Your Comments
In order to post a comment, you need to be logged in as a registered user of the site.
Or Sign up as a ToffeeWeb Member — it's free, takes just a few minutes and will allow you to post your comments on articles and Talking Points submissions across the site.