Koeman on losing Giroud, tough fixtures and 'unavoidable decisions'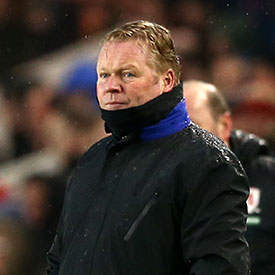 Ronald Koeman has given his first interview since losing his job at Everton where he admits that he knew his neck was in the proverbial noose after the home defeat to Lyon.
The 54-year-old's tenure at Goodison Park came to an end on Monday when the Blues lost to Arsenal the previous day, their seventh defeat in 11 games in all competitions that had left the club in the relegation zone in the Premier League and one foot out of the Europa League.
Speaking to VI Magazine in his native Netherlands, as serialised by The Mirror, Koeman says that he feared for the season once he saw the early games the FA's fixture computer threw up for the Blues and then when Olivier Giroud decided against joining the club in late August.
He says that he "had Giroud in the building … but at the very last moment he decided that he'd rather live in London and stay at Arsenal. That was really hard to swallow. You tell me where you can get a better striker?"
"Lukaku was so important for us, not just because of his goals. He had a certain way of playing as a striker — strong. If things were not going well in a game, if we could not play the way we were used to, there was always the option to use the long ball towards him.
"All of a sudden, we were missing such a player."
Koeman says he knew losing to Lyon had put him in a highly vulnerable position but he wondered after the Arsenal defeat whether he would get at least until the international break to prove he could turn things around.
He acknowledged that he felt that Farhad Moshiri and the Board of Directors were behind him to the end but that they felt compelled to make a decision to appease the fans by sacking him when they did.
"Last Thursday, after our defeat to Lyon in the Europa League, I knew it was crisis time," Koeman continued. "I am not daft, I know how the football world operates. I could figure out how things could go.
"At some stage in football, people are left with unavoidable decisions. Even though they were right behind me, there is such a thing as a decision for the eye of the public.
"When we had to face Burnley at home, after a poor start, everyone expected an Everton victory. We lost 1-0. That is the Premier League for you.
"The strength of all the clubs in the Premier League makes it really difficult to climb out of a crisis, once you land in it.
"I have been racking my brain. Sometimes in football you just can't get a grip on something. I was not doing anything different from what I have been doing in all the years before as a coach.
"During my last season as a manager of Feyenoord, we had a similar awkward period, where we lost the chance to become champions.
"I woke the team up with a different tactical formation, I changed to 5-3-2 and we won seven of our last eight games and qualified for the Champions League. The tactical change woke-up the players.
"That is what you need in tough times, players staying close with the manager. You must not lose them and I always make sure I keep the squad together and keep the right connection with them.
"If I look at the intensity of our training sessions (at Everton), I had no fear at all that I would lose my grip on the players. But at some stage you do need to get something in return from them on the pitch in the shape of a good victory.
"When that does not happen, you know as a manager that your job will depend on the verdict of those above you.''
---
---