Olympique Lyonnais vs Everton

120 Comments [Jump to last]
Wednesday 1 November 2017
Europa League Preview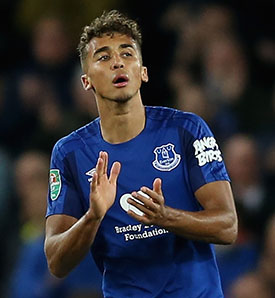 Will DCL lead the line again in Lyon?
Everton travel to Lyon for their latest Europa League Group E fixture in what is effectively a win-or-bust scenario for the club.
Having lost two of their first three group games, the Blues' chances of progressing to the knockout rounds largely rest on their ability to come up with a victory in what is, on paper, their toughest assignment of the competition thus far.
For David Unsworth, it's a chance to demonstrate to the Everton board that he can do better in charge of the first team than was the case on Sunday at Leicester City where his side went down meekly to a 2-0 defeat. The 44-year-old former defender had only been in his caretaker role for six days at that point but now, with 11 days in the hot-seat, he will be hoping be in a better position to rally his troops into a better display.
As Unsworth is no doubt discovering, the Everton job comes with a number of challenges, not least the lack of a recognised, experienced striker to provide a focal point up front but also age and a lack of pace at the back. Phil Jagielka, Ashley Williams and Leighton Baines's combined age of 100 was exposed at the King Power Stadium at the weekend and 18-year-old Morgan Feeney's promotion to the first team training this week was an indication that the stand-in boss has recognised the need for more youthful legs in defence and to give the older heads a break.
Whether Feeney will follow fellow teenager Beni Baningime in going straight into the starting line-up remains to be seen but Jagielka and Baines haven't travelled to France. Mason Holgate, 20, is also a candidate at centre-half but he was overlooked in that role for the past few weeks by Ronald Koeman who preferred to use him as a right back.
Further forward, with Rooney also staying behind, some other frequent question marks remain: is Dominic Calvert-Lewin, Oumar Niasse or Sandro Ramirez a better option to lead the line; should Aaron Lennon's experience trump the energy and inventiveness of Nikola Vlasic or Ademola Lookman; and what of Kevin Mirallas, arguably the best attacking player in a grey shirt in the first half on Sunday but sacrificed at half-time for the manager's substitutions?
With a vital game against Watford looming this coming Sunday and Everton a long shot to qualify from their Europa League group, Unsworth may feel he is on a hiding to nothing in this fixture. That could influence his team selection and might see his line-up skew younger, allowing some of those greener players to press their claims for more regular action.
The scenario for the Blues is fairly simple: win, and they are right back in the qualification mix and with the additional factor of a morale-boosting win under the belts; lose or draw and it's more or less kiss goodbye to the Europa League and focus on the Premier League.
Kick-off: 6pm, Thursday 2nd November, 2017
---
Reader Comments (120)
Note: the following content is not moderated or vetted by the site owners at the time of submission. Comments are the responsibility of the poster. Disclaimer
Brian Porter
1
Posted 01/11/2017 at 00:02:53
No Jagielka, Baines or Rooney! If Usworth is serious about going for a win in Lyon, then I think he's showing his immaturity and unsuitability for the full time job by leaving three of our most experienced players at home and not even having them on the bench. With Niasse not part of the Euro squad thanks to Koeman's stupidity and personal dislike, and Rooney not there, our two top scorers this season are going to be absent.
Will he play Sigurdson and Vlasic, who with DCL and Williams are our only other scorers in any competition this season?
With DCL our only striking option, he has, I fear, hog-tied our attack before a ball has been kicked.
He said today he has two cup finals in which to prove his credentials for the full time job. Well, David, you of all people should know that you don't win cup finals by leaving out your top goalscorer and your most experienced defenders.
Whatever team you now decide to send out against Lyon is on a hiding to nothing. I was right behind you when Koeman left and you got the caretaker role, but I think you have missed the boat with this game and putting it bluntly, as far as the full time managers post that you obviously covet is concerned, I think you've blown it before a ball's been kicked.
I'm almost afraid to watch the match, but my Evertonian masochistic streak will probably compel me to suffer along with everyone else.
Charlie Lloyd
2
Posted 02/11/2017 at 00:29:51
Are Feeney and Baningime eligible to play in the Europa League?
Jack Convery
3
Posted 02/11/2017 at 00:38:51
I hate to say it lads but we couldn't beat Mayonaisse right now. Those going enjoy the food and wine.
Ian Pilkington
5
Posted 02/11/2017 at 00:52:46
I agree entirely with Brian Porter.
The Europa League may be a second rate competition with a ridiculous number of fixtures but it is still a reward for winning a cup competition or attaining a relatively high league position in the previous season. Any club aspiring to be successful in the Premier League should regard qualifying for it to be a minimum attainment each season.
David Unsworth's decision to leave out three senior players suggests to me that the likelihood of yet another defeat and the humiliation of finishing 3rd or possibly bottom of the group doesn't concern him. I shall be going to the pub to watch it but I feel desperately sorry for the supporters making the trip to France, and it certainly concerns me that this utterly hapless season seems set to continue at least until Sunday.
Vin Genova
6
Posted 02/11/2017 at 01:07:22
Not sure I agree with Unsworth using euros to try out even more of his kids, but it's not like Everton was winning games with the senior players!
Hopefully they get a win and we can look forward to a competition for a few more weeks.
How about Mirallas as a striker? He's done it before and he certainly won't be upset about leaving behind defensive responsibilities.
Phil Davies
7
Posted 02/11/2017 at 01:24:20
Sorry Brian and Ian, I have to completely disagree.
This redundant idea that experience is needed to win games is a joke, the reason our defense has been nothing short of abysmal is down to having players that are far too old and far too slow, Baines and Jagielka both should have had replacements brought in years ago, but the clubs ridiculous sentimentality in keeping these players around because they've been here for a long time is detrimental to the club.
We signed Keane for roughly £30m , whose been unsettled and lost confidence because at right back its been the inexperienced Central defender Holgate or the inadequate Martina, and his central defensive partner has been the old, slow, mistake prone jagielka or the old, slow, mistake prone Williams.
Rooney is a whole other topic of conversation, one in which I am amazed few other evertonians see. He's stealing a spot in the starting 11 from someone who is better than him for no other reason than "Wayne's come home!" His passing has been inconsistent (some truly spectacular passes mixed with "he was probably united's best player when we lost 4-0") he's slow, his shooting isn't good enough for the chances he gets and he quickley loses his temper and starts acting like a child, but because he's scored 4 goals he needs to be playing!!!
In an age of football which is clearly showing that speed is the most powerful weapon teams have to attack with, wether through quick players a la Liverpool/Leicester or quick play a la Man City/Arsenal/Barca we're being left behind the top teams because of players that are just too slow and too old.
Paul Kernot
8
Posted 02/11/2017 at 01:25:11
Brian/Ian. Sorry lads but I couldn't disagree more. Even at this early(ish) stage of the season, we're obviously in trouble with the squad we currently have. My guess is that Unsy's talked to Moshiri & agreed that the league is the most important focus. Therefore, let the young lads have a go in what is very likely as good as a dead rubber. If they surprise us, they may get a chance in the league. If not (as expected), the more experienced guys are rested for what in theory at least is a run of 4 winnable games.
Brian Wilkinson
9
Posted 02/11/2017 at 02:11:55
You can rule Niasse out Lyndon, he is eligible to play in the tie, personally I would put Lookman and Calvert Lewin in attack, with Mirallas Siggerson and Schniderlin further forward in midfield with Gana, tough call but trying Schneiderin further forward might just work.
I have been disappointed with Davies so I would bench the guy and see how Schnids does in a more advanced position.
Defence wise Is our big worry, let's hope Unsworth gets it right.
Ajay Gopal
10
Posted 02/11/2017 at 02:57:51
I agree with Unsworth's decision to leave out Rooney, Jags, Baines. He is telling the others - mainly the 'expensive flops', show me what you got.
I would not be disappointed to see:
Robles
Martina Holgate Williams Lennon (as LB)
Beni Schneiderlin Besic
Vlasic DCL Mirallas
Subs: Pickford, Feeney, Klaassen, Kenny, Henen, Sandro

Barry Williams
11
Posted 02/11/2017 at 03:10:54
Crazy as it might sound, I would like to see Davies at RB (not sure if Kenny is even registered). It will mean less responsibility than cm and will also mean his confidence won't drop cos he has been well, dropped! Also, he plays well there and will bring good energy to the position. Who will play left back? Well we only have 2 fit cbs that have traveled, so it won't be Holgate and Feeney has been earmarked for a place on the bench. Martina maybe, or possibly Besic? You heard it here first! Saying that I wouldn't put a wager on it! Has Besic traveled? It'll at least be an interesting line-up tomorrow.
David Pearl
12
Posted 02/11/2017 at 03:29:28
Probably Martina left back. I'd like to see Mirallas up front. Maybe 3 at the back? Who knows. We all know we are woefully short in certain areas. How Walsh is still in a job...
Anyway, we have enough good players to do something positive. Who knows. Unsworth is two wins away from turning it around. Ahem
Alan J Thompson
13
Posted 02/11/2017 at 04:14:38
Thank heavens some sanity is being shown at least by the latter half of posters. Unsworth has a choice of using the players who have got is in this position or trying some of the youngsters. It is all he has to work with. I suppose he could have taken the easy way out and said Keane and one other are injured and another has trouble at home but "honesty" hasn't worked for other of this season's managers and if he said he would rather experiment in this competition rather than the Premier League then I would probably agree with him knowing that he too probably wants to win all games.
Derek Knox
15
Posted 02/11/2017 at 04:40:58
I really don't see anything other; unless a miracle, and miracles and Everton together don't occur, than another defeat, or possibly a draw.
Either way, although not technically, that's us out of this competition.
I wouldn't knock Unsy for leaving Baines and Jag's out, because they were very poor against Leicester, however Rooney, although too eager at times, at least is our most realistic chance of a goal.
In all fairness to Unsy, the damage was well done before he got involved in first team affairs. I just hope that whoever plays, does so with some purpose and style, and gives us something to cheer, albeit too late.
Dean Cooper
16
Posted 02/11/2017 at 04:43:27
Think it took me 3 attempts to correctly read: "Whether Feeney will follow fellow.."
Derek Knox
17
Posted 02/11/2017 at 05:04:11
Dean, that auto correct, which is on nearly all PC's, Tablets and IPhones is more of a hindrance than an assist.
I have submitted posts, edited them, submitted them again, and the same auto-incorrect has re-appeared after re-submission.
Now that was almost a tongue twister.
Andy Walker
18
Posted 02/11/2017 at 05:16:14
Maybe he's going to rest the under 23s for the lnext eague match and play the under 18s instead.
Will Mabon
19
Posted 02/11/2017 at 05:50:47
Is Royle's mouse eligible?
Mark Riley
20
Posted 02/11/2017 at 06:09:43
Phil (7).
I don't understand having a pop at Rooney. He's our top goalscorer and the only one who has looked like scoring all season apart from Niasse off the bench. For me the only player who seems to want the ball and have time with it when he does...every other player treats it like a hot potato. Not sure what more he could be doing in a sh## side who are struggling.
Christopher Timmins
21
Posted 02/11/2017 at 06:34:07
Leaving out the elder statesmen, all of whom are playing badly in my view, is the right decision. We effectively exited this competition when we lost at home to Lyon.
Let's see who impresses and stakes a claim for Watford on Sunday. Sorry to have to say this but we simply are not going to get out of the mess we are in if we are depending on Baines, Jags and Rooney.
David Johnson
22
Posted 02/11/2017 at 06:36:44
I find reading these pages quite depressing. Unsworth like Koeman coming in for a fair amount of stick. Who was responsible responsible for our disastrous transfer window. We let Kone, Valencia and Lukaku go and replaced them with Rooney on a free and Sandro a £5m signing. Koeman didn't get the defensive cover he was after either. Get off the managers back and start demanding answers from those responsible. I doubt it was Walsh because he'd have been out of the door before Koeman if it was. It all points to our illustrious chairman. In the meantime Unsworth seems to be getting a little bit more out of the squad than Koeman did so I'm hoping for another energetic performance if not the required result. Nothing will change at Goodison while Kenwright remains except for a bit of blue cladding.
Pete Clarke
23
Posted 02/11/2017 at 06:41:43
Will. It was me who brought the mouse into this club. Unfortunately and typically Everton, he was not registered on time...
Will Mabon
24
Posted 02/11/2017 at 07:00:23
Now come on, Peter. You get the credit for
revealing
the mouse but we all know who brought him into the club. You said it yourself in your original scoop - "Royle's mouse".
At least he'll be rested for Sunday. We may need him.
Kieran Fitzgerald
25
Posted 02/11/2017 at 07:15:37
These older players were going to have to be dropped at some stage. Unsworth can't lose by doing so. If he gets the job permanently, he's already ahead of himself. If there is blowback on the decision, he's only the under 23 manager promoting the kids.
In a practical sense, the older players were going to have to be phased out at some stage. If we are going nowhere with them playing then twice the reason to drop them and bring in players who might improve things on the pitch.
John Keating
26
Posted 02/11/2017 at 07:26:11
I think Unsworth is entirely right to leave those 3 at home. In fact he should have left more.
This useless competition was over for us after the first game and the sooner we are put out of our misery the better.
We have enough problems at home and that is where we should be fully focused.
We can't expect players at the end of their careers who are having a hard time to play 2 games in 3-4 days, not these days.
I hope he gives as many youngsters as he can a game.
Unsworth is on a hiding to nothing and I feel for the guy. He obviously wants to do well and get the managers job full time but look at what he was left with ! A team in freefall, devoid of confidence, players at the end of their careers. A terrible situation for Unsworth to be thrown in to.
It's just a great pity our fantastic supporters who have taken time off and paid good money to travel over there are not going to be able to get the result they deserve. I hope they all make the best of it.
Eddie Dunn
27
Posted 02/11/2017 at 07:32:51
Unsworth is right to rest the old boys and try out Feeney, with Keane crocked we are stretched to the limit and need to know if the young lads can do a job.
Andrew Haizelden
28
Posted 02/11/2017 at 07:43:31
Regarding Wayne Rooney. It seemed to me that once he was withdrawn at Leicester our attempts at getting into their area fizzled out completely. He has his failings but he helps the side.

Thomas Surgenor
29
Posted 02/11/2017 at 08:10:17
I'm 100 percent behind Unsworth! I think he should have already been given the job full time.
He speaks so well about the club.
I can't see anyone having the immediate effect that a lot of posters on here want. Mourinho couldn't turn this round in a week!
Itll take players time to come to terms with playing at pace again after being so pedestrian and negative for 12 months.
Perhaps that's why our younger players are our better performers of late? Because they weren't as exposed to koemans "tactics".
I'm probably biased as I didn't want Koeman in the first place. His history spoke for itself and most (who follow European football) were aware of it.
I'm also not a believer in "a big name Manager will attract big name players" - what like Ashley Williams??
What we need is someone who is dedicated to the job. The job is his life. Someone who is as passionate as us fans. Unsworth is that man.
Koeman would rather go on holidays or golf.
Steven Astley
30
Posted 02/11/2017 at 08:14:52
Ajay #10 - Were you stoned when you picked that team out?
Ajay Gopal
31
Posted 02/11/2017 at 08:38:48
No, Steven, I wasn't, I just came off it recently :-)
Although looking back at my team, I realised that I had left out Siggy and Lookman entirely! So, if I am allowed 1 more shot at the team, I would go:
Robles
Martina Holgate Williams Besic (LB)
Beni Schneiderlin
Lookman Siggy Mirallas
DCL
SUBS: Pickford, Feeney, Gueye, Klaassen, Lennon, Sandro, Vlasic
Ciarán McGlone
32
Posted 02/11/2017 at 08:38:51
Whenever Koeman was appointed, his repeated errors for an entire season were overlooked on the basis that it was all Martinez fault.. now after 2 games Unsworth is being hammered.
I don't agree with leaving Rooney out, but let the guy have his go before we sharpen the knives.
David Pearl
33
Posted 02/11/2017 at 08:44:36
Oh it's all Kenwrights fault, I should of known. Let's say he wanted Rooney back.
Pickford and Keane, Lookman and Sandro were Walsh picks.
That' leaves Koeman with Schneidelin, Sigurdsson, Klaassen, Martina.
Asking Baines and Jags to play 3 games a week is unfair. Maybe BK will play left back tonight, not many options. How can Garbutt be worse than he was 3 years ago. Wtf I'm going back to bed... getting up Sunday tea time. Where's the left sided defender and striker Bill??
David Pearl
34
Posted 02/11/2017 at 08:48:22
AJay, you should have another go!
David Pearl
35
Posted 02/11/2017 at 08:49:13
Ajay out!!
Kunal Desai
36
Posted 02/11/2017 at 08:54:08
If anything we could do with a morale boosting win and just get a bit of confidence going into the league games. Happy for Unsworth to experiment in this game, he's not going to get the job full time. This and Watford will be his last games.
Mike Berry
37
Posted 02/11/2017 at 08:55:11
If we are competitive in midfield, then there is no reason why we cannot get a result.The players likely to occupy the attack and wide areas are very good and can cause Lyon a lot of problems.
Our bad run of form has to break soon, and with the bookies offering 6/1 for an away win, it may pay for a good weekend, keep the faith !
Tony McNulty
38
Posted 02/11/2017 at 08:59:00
Leave Ajay alone.
He is adopting the ancient Greek device of testing the quality of decision-making by taking decisions twice - once when drunk, and once when sober.
Derek Knox
39
Posted 02/11/2017 at 09:02:12
Ajay, you seem to have swapped one hallucinatory for another!
Derek Knox
40
Posted 02/11/2017 at 09:02:13
Ajay, you seem to have swapped one hallucinatory for another!
Mike Corcoran
41
Posted 02/11/2017 at 09:02:35
Pickford
Kenny Holgate williams Martina
Beni gana
Lookman siggy Mirallas
Dcl

Len Hawkins
42
Posted 02/11/2017 at 09:05:01
Reading these posts just proves that whoever comes in or is promoted to Manager is not going to be good enough and is on a loser from Day 1 if the first match isn't a complete walkover, whoever the opposition may be, then the calls for his sacking will be immediate.
I think one hell of a lot of ToffeeWeb posters need a bloody reality check.
I always thought the Rednecks had their heads so far up their own ar5es they were looking out of their own mouth but it seems to have spread across the Park.
NO TEAM has a divine right to do anything or be anywhere everything you get like in life has to be earned (unless you are a gobshite thief) .
Ian Pilkington
43
Posted 02/11/2017 at 09:18:22
No one has answered Charlie Lloyd's question @2. How can Beni or Feeney be qualified to play tonight? We know Niasse can't as he wasn't selected by Koeman to be in the squad submitted to UEFA, so how can they be?
Regarding the 3 senior players omitted, they may not be performing well, but from the evidence so far this season are Sigurdsson or Klaassen better than Rooney? Is Williams better than Jags? Is A N Other better than Baines?
David Unsworth has done a great job with the U23's but he simply lacks the experience required at senior level to be awarded the position of manager at present.
James Watts
44
Posted 02/11/2017 at 09:22:50
Ian #43. I don't believe we have to register U21 players. Any player under that age can then be used in the 'free' spots that we didn't fill up in full squad upon registration.
So any player U21 could in theory play for us but Niasse obviously doesn't fit into that category and would have to have been specifically registered.
Kevin Tully
45
Posted 02/11/2017 at 09:26:56
Let's be honest, when you leave your captain, your highest scorer, and your only fit left back at 'Grinch Farm' you are waving the white flag before you step foot on the plane. Saying that, I would have left more of the feckers there to work on just about everything, so I have no problem with slinking out of this competition.
The League is all now, we're in deep shit.
Ray Roche
46
Posted 02/11/2017 at 09:30:19
Well Kev, we're visiting the home of white flag waving...
Pat Kelly
47
Posted 02/11/2017 at 09:31:27
Another defeat tonight is a racing certainty. We are bereft of experienced quality all over the pitch. I feel sorry for Unsworth but he has stepped up to the poisoned chalice. All he can do is tough it out till a manager is appointed.

May as well play whoever he feels deserves a chance and will give their all. It won't make any difference to our exiting this competition. The season is a write-off bar securing safety. After that, a major rebuild is required.
John Graham
48
Posted 02/11/2017 at 09:45:15
might as well give the youth a try with one or two of the experienced guys to help.
for me the best option at number 9 for me is Mirallas. stick him up front with Lookman and Vlasic either side. then with two central defensive midfielders of Baningime and Schneiderling with Siggurdsson supporting the attack.
maybe give Martina a try at the center of defence with Williams the have Kenny and Feeny as the fullbacks.
so my team would be
Pickford
Kenny
Martina
Feeny
Baningime
Schneiderling
Siggurdsson
Vlasic
Mirallas
Lookman
John Hammond
49
Posted 02/11/2017 at 09:47:48
Looks like Feeney and Beni are eligible . Player list B, whatever that is -
http://www.uefa.com/uefaeuropaleague/season=2018/clubs/club=52281/squad/index.html
As for tonight I think no matter what team and formation we send out we're going to need a ton of luck. Do we sit back and keep it tight and hit them on the counter? Is that even possible with this defence? Mirallas, Lookman and Vlasic as the front 3 to break at speed?
James Lauwervine
50
Posted 02/11/2017 at 09:48:44
I'm pleased Rooney hasn't travelled as, for me, he has a negative effect on the team in terms of morale and performance. His 'Why are you taking me off?' bollocks to Unsworth in the Leicester game pissed me right off and was disgracefully disrespectful. His ego is out of control and he needs to be fucking put in his place. In fact I don't want him anywhere near Everton. Unsworth has done exactly the right thing in leaving him at home. He should be sold in January.
I feel strangely positive about tonight. Unsworth can hopefully use the fact that we have been written by pretty much everyone to fire the team up.
Jamie Evans
51
Posted 02/11/2017 at 09:52:25
Fair enough if he doesn't want 2 pick those 3 'departed' but at least take them along. Leaving 3 vastly experienced international players at home sounds a bit daft to me. It's not like our squad are all European veterans and when you consider the young players who've made the trip, surely it makes sense to bring along your club captain, etc, etc. Is there a limited space on the plane ?
David Hallwood
52
Posted 02/11/2017 at 09:52:58
Nice one Ray(#46) agree with the vast majority. Leaving the 30plusses behind as they can't play 2 games a week and Sunday's game is so much more important.
As for the team I'd put Mirallas up top, because he's a proven goalscorer and he can also press from the front. I also like the idea of Davies at RB and I'd bring in Lookman and Vlasic to complete the 3 up top.
Midfield Gana Siggy and Macca if fit or Beni if eligible. Defence, how about trying out schiederlain as he wouldn't be under the physical assault he'd have to cope with. And we are short of bodies.
And as for Royal's mousse, if it can get the 👍in France it's good to go anywhere
Tony Everan
53
Posted 02/11/2017 at 10:01:26
It's a good opportunity for David Unsworth.
Incorporating the young players he knows so well , with some experienced ones. I will be hoping that something clicks and we get a win.
I would like to see Lookman Vlasic and DCL all start. I think it will be the best chance of getting the 2 goals we will need if we have any chance of winning.
Neil Copeland
54
Posted 02/11/2017 at 10:33:33
I thought that fat cat Koeman ate Royles mouse?
Sam Hoare
55
Posted 02/11/2017 at 10:35:23
Stick or twist? A tough as our Europa campaign is all but over anyway and Watford on Sunday is a really important game, both for the club and any realistic ambitions Unsworth has of keeping the job.
I think we have a big enough squad to play a second(ish) XI that's still high on quality...
Pickford
Kenny Holgate Williams Martina
Schneiderlin Banigime
Lookman Siggurddsson Vlasic
Mirallas
You could play DCL up front if intending to start Niasse on Sunday but the youngster has had quite alot of game time and could maybe use a rest. Plus i'd quite like to see Mirallas given a shot as striker so long as they can play the ball to feet and get runners near him.
Brian Harrison
56
Posted 02/11/2017 at 10:37:50
I think with all the different players and systems suggested by the posters just highlights what a difficult job Unsworth has been left with. Since he took over he has had a widweek game and a weekend game so very little time on the training ground.
We don't have a main striker who can lead the line effectively, and his choices to fill the other forward roles are players who have poor goals per game ratio. Out of this group that consistently seem unable to score more than 1 goal a game, he has to fashion a result while having to rest some of his most experienced players.
So whoever he picks he will be critisized, and no doubt if we fail to win a lot will come on here tomorrow urging the board to appoint XY or Z. I feel extremely sorry for Unsworth he has been left with a squad that is devoid of strikers and a team massively low on confidence, as well as an ageing team as was exposed against Leicester. Yet despite all of this he is expected to produce 2 performances and results in the next 2 games to have a chance of an extension to his role as manager.
Ian Pilkington
57
Posted 02/11/2017 at 10:37:58
James@44 and John@49 thanks for answering the eligibility question.
Let's just hope we get a morale boosting win tonight.
James Marshall
58
Posted 02/11/2017 at 10:39:19
If we win in Lyon tonight, I'll eat my trousers.
I never bet on football, and certainly never bet on Everton to lose, but given the shitshow this season I might have a punt on Lyon by 2 goals tonight.
Andy Williams
59
Posted 02/11/2017 at 11:24:35
Sam #55. Your team looks as good as any I have seen. Although considering the chances of us actually getting through I might even start with Feeney (ideally in place of Williams but that won't happen). I think Schnides and Siggy could work well together if they have that pace and trickery around them.
Tom Bowers
60
Posted 02/11/2017 at 11:34:16
No point in expecting anything except maybe a miracle but they still have to score a goal and leading goalscorer Rooney won't be there.
Another chance to play the ''unregulars'' and that's about all.
Peter Gorman
61
Posted 02/11/2017 at 11:37:56
Feeney's inclusion is a bit of an eyebrow-raiser and the eyebrows will fly off if he gets some game time.
There is no doubting the kid is talented; he has been playing for the U23s since about the tender age of 17 and I believe he is now captain of that side at 18. Plus, watching him play he is a 'no-nonsense' defender in the old mold.
But is it fair to the lad to throw him into this baptism of fire, away to Lyon of all people? In this Everton side? There is no doubting the potential of Davies, Kenny and Baningime but the former two have suffered from the shitty form of a side stock full of supposedly more experienced and professional players. Meh, on the other hand if anybody can coax a game out of these kids it is their proven manager Unsworth. I've no idea anymore.
Paul Holmes
62
Posted 02/11/2017 at 11:42:14
Play the Koeman and Walsh 140 million signings,they said they would turn out to be good players lets see tonight,Sandro,Klassen,Sigurdsson ,Vlasic ,Pickford all need to play !.
Dave Williams
63
Posted 02/11/2017 at 11:48:26
Pickford
Kenny Holgate Williams Martina
Beni Schneiderlin Siggy
Vlasic DCL Lennon
Bench: Robles Feeney
Besic Mirallas Davies Lookman Sandro
Colin Malone
64
Posted 02/11/2017 at 12:09:00
Unsworth is great, at talking the talk and shite, at walking the walk. Just like the Shearers, the Wrights, the Nevilles, Danny Murphy, Robbie Savage. All great at talking the talk.

Until we get a top class coach, who can give this squad a big kick up the backside? Joe Royle, the manager who turned Horne and Parkinson into top battling midfielders. The man never lost a derby. Who was the last manager to win a trophy for Everton? Big Joe Royle. Takes over with no strings attached, as big Sam wants.
Dave Abrahams
66
Posted 02/11/2017 at 12:35:09
A game and a chance to practice some tough defending, the result is of little importance to me, sorry to the fans travelling (sincere), the performance is the main thing with one eye on Sunday and every league game until we are hopefully out of this mess, a mess created by the fools in charge of the club.
Kim Vivian
67
Posted 02/11/2017 at 12:41:40
Tom(60) - I agree. I will watch every minute, and the build up, tonight but not with any great optimism or expectation but plenty of hope. If we can pull off the unexpected it will indeed be miraculous and whatever happens tonight I simply pray we see more signs of togetherness and progress under Unsworth.
Of all the candidates under general discussion as manager I would like most to see him given a shot but only if there are those definite signs of improvement with Unsy - not just in the wish he can produce something.
These next two games are going to be decision makers for the board I figure and I really hope the lads play well for him.
Charlie Lloyd
68
Posted 02/11/2017 at 12:43:02
Ajay @ 31
Besic at LB!
There's a scary thought.
I hear Pat Van Den Hauwe is back working for EITC. I'd prefer him.
Kim Vivian
69
Posted 02/11/2017 at 12:47:56
I think Besic has played reasonably successfully as a FB in the past but I thought it was on the right.
Paul Goodchild
70
Posted 02/11/2017 at 12:59:08
Sam (55) - That's a good looking team. Can't improve on that
Dale Rose
71
Posted 02/11/2017 at 13:03:46
We have been playing since the start of the season with the usual suspects. Good lads but now very sadly getting past it. Its a long time until January even if there is any money, are we going to get the right players, I remain unconvinced.
Unsworth has no choice but to experiment and tune the team he wants. Is it brave, is it foolhardy ? . only by trying will we find out. I think they are starting to play better, and given some consistency will improve. We have quality young players here, who need to be given a chance.
The foundations now will enable strong building in the future. I've said before we don't have the players for a European campaign, especially this one. The older players have been magnificent in there day, and have passion for the club. What we need now is fresh legs and hunger.
Nick Lacey
72
Posted 02/11/2017 at 13:04:37
I think the criticism that Unsworth is getting on this thread is unfair.
He had 6 games within the job and has improved us against Chelsea and Leicester (he was a little naive with his selection against Leicester), even though the results don't show this. We've had more shots, more possession and more aggression than at any point during the season.
Jagielka, Baines and Rooney (less so Rooney) have been very, very poor, along with other older seniors.
Unsworth takes the brave step of leaving them behind and will probably play youth, which have impressed, and people complain about it.
What do you suggest? Should we all moan and complain about how bad Jagielka and Baines have been and then moan some more because Unsworth has been brave enough to drop them. Maybe if some of these senior players were dropped earlier and they knew that they were not untouchable then maybe, just possibly, they would have uped their game and we wouldn't be in this situation that we are currently in.
Mark Riley
73
Posted 02/11/2017 at 13:14:41
Can we not name Martina in lineups, its tempting fate. I'd rather have a one legged Pistone at full back.
Iain Johnston
74
Posted 02/11/2017 at 13:15:53
I'd go so far as to start Mirallas as the lone striker with Vlasic, Sigurdsson & Lookman behind him then Beni & Gana. The back 4 pick themselves... Kenny, Holgate, Williams, Martina.
Brent Stephens
75
Posted 02/11/2017 at 13:18:36
Peter #61 love that post! My thoughts exactly.
Dale Rose
76
Posted 02/11/2017 at 13:21:33
Iain #74, great choice.
James Lauwervine
77
Posted 02/11/2017 at 13:43:25
Peter 61, your closing line is taken straight from Koeman's final team talk. Agree with your team Iain 74, except would prefer another option to Martina. Don't ask me who that is though!
Mark Frere
78
Posted 02/11/2017 at 13:48:36
It really is a shocking state of affairs when our only Left-back - who's legs are gone - has to be replaced by Martina!
Martina was shocking last time at LB - what other options do we have though? None! Garbutt was not even registered for this competition or the Premier League. The amateurish incompetence shown by our club is beyond comprehension.
I can't believe we went into this season without addressing our aging defence. We look completely vulnerable at the back and I find it hard believe that we will score more goals then we will concede in most games, regardless of Which players are selected. We simply don't have the personnel.
Unsworth has a thankless task on his hands with a piss-poor defence and no recognized striker. Niasse looks about our biggest threat in front of goal (as limited as he is) but wait... he also hasn't been registered for this competition!
Koeman, Walsh and the rest of the people running the club have left us in a right mess. It's a huge shit sandwich and we're all gonna have to take a bite.
Bill Gall
79
Posted 02/11/2017 at 13:50:23
We may not like what Unsworth is doing for tonight's game, but taking a look at the squad it looks like he is putting out an attacking side, instead of parking the bus. Best of luck to him I believe he understands that Moshiri will not make him manager and is trying to impress whoever is coming in, what kind of squad is available to work with. If Lookmon, and Vlasic are used I would like to see Sandro as the striker.
Minik Hansen
80
Posted 02/11/2017 at 14:21:09
Jags, Baines and Rooney has agreed with Unsworth to some extent to stay and themselves have put faith in their teammates to do the job. That's something, faith don't hurt, it puts confidence higher. That's what I like to think about in this game. I hope Lyon sleeps a bit, having less things to worry about, with Everton players willing to kick the ball, there's something to look forward to in this, if you put your fear aside, trust Unsworth in this matter and especially the players. Trust boosts energy. I'll support them from Greenland, as best as I can. COYB.
Tony McNulty
81
Posted 02/11/2017 at 14:31:58
When I think back to my level of optimism after we signed our new keeper, and then Keane, both of them early in the Summer, I find it amazing how far we have fallen.
Allardyce being openly discussed as a survival strategy. One of the worst performances ever by an English team to date in European competition. Clueless performance after clueless performance. Tactically inept. Some quality players (and some of them are) looking totally lost.
And so to France tonight. Come on lads. Surprise me.
Iain Johnston
82
Posted 02/11/2017 at 14:35:43
Bill#79, yep Sandro has good pace too plus I don't think we've seen him as a lone striker yet which is a role he's supposedly decent at. It's the position Luis Enrique gave him his debut playing for Barca.
As many have said, tonight is a bit of a dead rubber so why not try our pacier forward options up top rather than wide left or right, we've nothing to lose and we may just discover a goalscorer?
Gareth Clark
83
Posted 02/11/2017 at 14:41:50
Pickford
Kenny Besic Williams Holgate
Schneiderlin Baningime Klaassen
Sigurdsson
Calvert-Lewin Sandro
Robles, Feeney, Cuco, Idrissa, Davies, Vlasic, Lookman
Derek Knox
84
Posted 02/11/2017 at 14:42:35
Tony McNulty, spot on mate, your first paragraph encapsulates, certainly my feelings, and I am sure many thousand others.
It could only happen to us, you couldn't even write a script, that drew a similar conclusion.
The only parallel I can think of, but not to the degree of us, was when Van Gaal went to United and bought a lot of expensive players who didn't seem to gel.
Oh wait a minute, I've just thought he was a Dutch Gobshite too!
Robin Cannon
85
Posted 02/11/2017 at 14:44:50
I think Sandro has looked lost as a lone striker the few opportunities he's had.
...that being said, he was really highly rated, and being touted as one of the bargains of the summer because of his release clause. So I can't believe he's fundamentally a bad player, however underwhelming he's looked for us so far.
Europa League, with potentially a little less pressure, and less physicality, might be a good opportunity for him to get some minutes.
The season so far has really brought into sharp relief the huge gaps in our squad. Far worse than I think most had predicted, even though the worries were there.
I can't think of a Premier League squad with a less threatening attack. We have a promising, but no more, striker in DCL. A trier who, despite a couple of goals, doesn't look close to having the talent for this level in Niasse. A very lightweight player who hasn't come close to adjusting to English football yet in Sandro. And then Rooney, who really doesn't have the legs to play up front any more.
Paul Holmes
86
Posted 02/11/2017 at 14:45:22
I read these posts like everybody else,and like everybody else I have a view.But some of these team selections on here ,really ?. Imo Sandro the Malaga striker who scored 15 goals in la liga and the Spanish reporter on sky says he was valued at about 30 million in Spain,should be given a chance.If Malaga played Lyon Sandro would be their striker,so get unsworth to tell him to pretend he's playing tonight for Malaga !(surely he must have something about him,he plays for Spains U21 team).Likewise Klassen tell him to play like he does for Ajax and not Everton .
Lee Jackson
87
Posted 02/11/2017 at 14:50:13
Brian Harrison #56 - You beat me to it and hit the nail on the head.
The fact that barely any of our fans can pick the same side/system shows that we have very few (none?) top quality players. The only player you can probably pick that we would all (or at least most) agree on for a starting role is Pickford (and Coleman when he's back).
Compare that to the mid 80's side where almost every position had a known starter because that player was invariably world class.
Or even the Arteta/Cahill/Pienaar/Baines side...
Joe Hurst
88
Posted 02/11/2017 at 14:59:01
How some still hold a candle for Big 'Schnorbitz' Sam amazes me every time.
So many able to forget, far too quickly, that he HAD to quit the Eeengerland job.
I hate our press as much as anyone. Quite aside from the horrible infamous insult to our city (that still hasn't been properly apologised for by Rupe's bog roll), he was too easily set up and hung out to dry. He doesn't deserve anyone's sympathy. That and any rescue acts he may have performed have been done with an atrocious long-ball anti-football, which I don't ever want to see carried out in our royal blue. Nein danke, ta v much.
David Reid
89
Posted 02/11/2017 at 15:09:36
Rooneys position is like the best player in the playground when they cant get it out of defence he goes back and gets it, when it needs a pass from midfield he makes it, when the team need a player in the box he is it David Undsworth wants someone else to have a kick hence Waynes at home.
I wonder why nobody wants world cup winner Lookman in their starting Xl?
Tony McNulty
90
Posted 02/11/2017 at 15:36:17
Derek (84) Thanks. It's a small consolation to know I'm not alone.
Your Van Gaal parallel is interesting.
I re-read Gerald Ratner's book recently (he of the "total crap sherry decanters"). He remarked that it was, "frightening how vulnerable big high street brands are."
Made me think: it is frightening the speed with which a team can drop like a stone, and how hard it seems to get that confidence back.
Tony Waring
91
Posted 02/11/2017 at 15:42:52
According to one paper Funes Mori is playing !!!!!!!!!!!!!!!!!
Steven Astley
92
Posted 02/11/2017 at 15:52:16
I really hope so Tony Waring.
I feel Funes Mori coming back could be the turning point in our season.
Imagine when we have him back and Seamus Coleman as well...
Nick Lacey
93
Posted 02/11/2017 at 15:52:53
Tony 91. Hope you're right, don't think I've been so happy to see Funes Mori play if true. How sad that when fit, he is probably our best central defender at the moment.
Derek Knox
94
Posted 02/11/2017 at 16:03:49
Steven Astley, I do so hope you are right about the turning point.
However the words 'clutching and 'straws' keep springing to mind.
COYB
Michael Ward
95
Posted 02/11/2017 at 16:05:21
Team for me, has to give some of our summer signings a lifeline. When we signed Sandro I don't remember anyone bemoaning the fact. It was the opposite, we all thought we have pulled off a coup in getting such a talented young player with proven top division experience for so cheap. Let's play him then!
My team would be
Pickford
Kenny Holgate Williams Martina
Schneiderlin
Sigurdsson Klaassen
Vlasic Lookman
Sandro
Schneiderlin could do with looking at what young Beni has been doing the last couple of appearances in terms of defending. I still think there is a player in Klaassen, the team has just been playing too slow for his one touch game (and his confidence is shot). I agree some of his performances have been awful but we paid £20m+ for him for a reason.
That is a team that is full of legs and effort (maybe lookman withstanding) will get at the opposition has a proper defensive midfielder (Gana doesn't have the discipline to be the lone DM) and also has a decent mix of experience and youth.
We were the better team overall in the home tie against Lyon and were unlucky in the end. I fancy us for this tonight, I really do.
Steve Ferns
96
Posted 02/11/2017 at 16:13:23
Ramiro Funes Mori had surgery in July and was ruled out for 6-9 months. That's January to April. He's not playing tonight.
Brian Murray
97
Posted 02/11/2017 at 16:16:34
I was trucking on the M6 yesterday and saw a couple of our coaches en route to France . Heart and admiration goes to them all. They don't deserve the support they get and are so fortunate it runs through families something them shiesters can't brag about.

Enough will be enough though If we continue to act small time the next generation don't want or need it. Keep the faith. Not
Steve Ferns
98
Posted 02/11/2017 at 16:19:56
U21 players are those under 2q on 1/1/17. If they have been at the club for 2 years or more, then they do not need to be registered.
This means we can use Baningime and Feeney without trouble, but Vlasic did need to be registered.
David Graves
99
Posted 02/11/2017 at 16:20:55
A return for Funes Mori? Where the hell has that come from.
Agree with Steve above he's scheduled for a March return isn't he?
Ian Pilkington
100
Posted 02/11/2017 at 16:23:42
Tony@91, it wasLuke Edwards in the Telegraph who suggested Funes Mori would be in the team. I contacted him by email and he described his error as "a complete and utter brain freeze".
Nick@93, I fully agree that Funes Mori has been seriously missed. His many detractors seem to overlook the fact that he has was first choice for Argentina, the home of the rugged and dominant central defender, a quality totally lacking in our current squad.
Arild Andersen
101
Posted 02/11/2017 at 16:33:15
I think I've mentioned it on another thread too, but I would actually like to see Mirallas tried up front.
Roger Sunde
103
Posted 02/11/2017 at 16:40:15
When people are missing Funes Mori in the side you know we're in trouble.
Mark Tanton
104
Posted 02/11/2017 at 17:01:16
Harsh on Funes Mori. He has pace and athleticism. Sideways Sam, AKA Leighton Baines is currently inferior to him in my opinion.
Ray Said
105
Posted 02/11/2017 at 17:04:18
I think Sandro plays as if he is better dropping off the striker then attacking the box.
To me we have to select a team that allows the defence to sit deep as they have no pace and cant push up without getting caught out so I would play 4-1-2-2-1. A sitter in midfield with a bit of pace Benji , a narrow midfield with Gana and Davies/Besic as ball winners, Sigurdson and Lookman/Vlasic creating and drifting wide and I would give Mirallas a go up front with instructions to run in behind and create space.
Steve Ferns
106
Posted 02/11/2017 at 17:05:03
Interesting side. Could be good. Could be a nightmare.
Lee Jackson
107
Posted 02/11/2017 at 17:05:30
Team: Pickford, Kenny, Williams, Hollgate, Martina, Schneiderlin, Gueye, Baningime, Lennon, Sigurdsson, Lookman
Phil Walling
108
Posted 02/11/2017 at 17:06:34
Well, what is the side ? Has Unsy come out of retirement ?
Lee Jackson
109
Posted 02/11/2017 at 17:06:43
Mirallas, Klaassen, Besic, Vlasic, DCL, Feeney are the subs

Lee Jackson
110
Posted 02/11/2017 at 17:07:36
So no CF (pretty much like all season really)
Steve Ferns
111
Posted 02/11/2017 at 17:07:39
433 with a solid middle and width and pace. Sigurdsson is going to be leading the Line, I think.
Phil Walling
112
Posted 02/11/2017 at 17:08:28
Who needs a striker in the team?
Rob Dunleavy
113
Posted 02/11/2017 at 17:08:56
Who's he playing up front you think Siggy? Looks to be Lennon and lookman out wide with free holding midfield? I really want Unsy to get the job but im just not overwhelmed by that at all. Agreed with most about giving Mirallas a go up top and Vlasic should be playing instead of Lennon every day of the week. No Sandro in squad again?
Derek Knox
114
Posted 02/11/2017 at 17:10:51
Just seen the team on News Now origin Echo :
Pickford
Kenny Holgate Williams Martina
Gana Schneiderlin Beni
Lennon Siggy Lookman
Obviously no striker, but there again we don't really have one Niasse, ineligible.
I am surprised with that line-up to be honest but who knows, we have almost got nothing left to lose.
COYB
Steve Ferns
115
Posted 02/11/2017 at 17:11:14
Mirallas has never played upfront. He doesn't work hard enough either.
If you mention his time in Greece then he played on the left of a front three. He doesn't play central. He lacks height and he lacks killer pace. He's at his best on the left coming in off the right and playing off a striker who can play him through.
Michael Ward
116
Posted 02/11/2017 at 17:11:48
I am still desperate to win but that team has just taken all the wind out of my sails. 3 defensive midfielders and no striker! We need to win!
Steven Astley
117
Posted 02/11/2017 at 17:11:52
Oh no. No Vlasic in the squad again Hmmmmm.
Lee Jackson
118
Posted 02/11/2017 at 17:12:45
he's a sub Steven
Tony Marsh
119
Posted 02/11/2017 at 17:13:35
Oh Dear what a load of bollocks.Like I've been saying all week Unsworth so out of his depth.
Lennon come on guys give me strength..WTF is Unsworth thinking no striker? Well at least Rhino has sealed his fate with this line up.Worse than Sunday's fuck up.
Chris Gould
120
Posted 02/11/2017 at 17:13:44
Derek, surely that can't be right?
Can't see a goal threat in that team.
Ciarán McGlone
121
Posted 02/11/2017 at 17:18:15
I assume fans and baningime will be playing in front of schneiderlin... At least it has width.
Ciarán McGlone
122
Posted 02/11/2017 at 17:18:55
Fans = gana
Joe McMahon
123
Posted 02/11/2017 at 17:21:39
If we lose (yeah right) it's not becasue Baines isn't playing. He's the reason we concede so many goals over the past 3 - 4 seasons.
Rob Dunleavy
124
Posted 02/11/2017 at 17:24:36
finding it difficult to gain any enthusiasm from that. Hopefully proved wrong but don't we need to win this game? It feels like a team that needs to grind out a point away form home against a great. They aren't that and we need more than a point!
Add Your Comments
In order to post a comment, you need to be logged in as a registered user of the site.
Or Sign up as a ToffeeWeb Member — it's free, takes just a few minutes and will allow you to post your comments on articles and Talking Points submissions across the site.