Unsworth: 'Incredible' win was for the fans

89 Comments [Jump to last]
Sunday 5 November 2017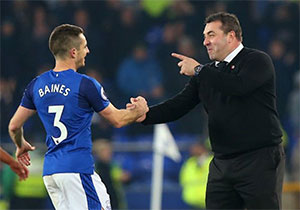 David Unsworth dedicated Everton's thrilling 3-2 victory over Watford to the club's long-suffering fans as his team followed another depressing defeat in Lyon last Thursday with the Blues' first Premier League win since the 23rd of September.
The 44-year-old, possibly in the dugout as caretaker boss in place of Ronald Koeman for the last time, oversaw a rollercoaster game at Goodison Park that saw Everton come back from 2-0 down to win a League fixture for only the second time since that Wimbledon game 23 years ago.
The club's plight this afternoon might not have been as desperate as that relegation-defying encounter in 1994 but the Blues were in danger of losing a sixth successive match and remaining second from bottom heading into the international break.
Unsworth was full of praise for this players, many of them young and relatively inexperienced, and he credited them with the spirit to overcome a difficult situation after goals from Richarlison and Christian Kabasele had put the Hornets into a 2-0 lead.
Oumar Niasse halved the deficit, Dominic Calvert-Lewin equalised and Leighton Baines scored the winner from the spot late on before former Everton midfielder Tom Cleverley despatched a penalty of his own the wrong side of the post.
"Incredible!" Unsworth beamed in the tunnel after the game. "I'm just delighted for the club and the fans that they can go home tonight happy.
"I didn't expect the second half to pan out quick like the way it did but to get the win and the manner of being two goals down [makes it] very special and it's a night that will live in the memory for a long time.
"The players have been magnificent. I've said all along that they've given me everything and they have. We've had a tough run of fixtures but that's no excuse. When you play for this great club you know that you've got to go away from home and give big performances and get results because our fans demand that.
"It's really important that we always go into every game and try and win. It was great to come back here tonight, to come home and bet 40,000 Evertonians behind us and that one's for them tonight."
Unsworth's prospects of succeeding Koeman on a permanent basis appeared remote before kick-off after three successive defeats but he stressed that he did not know if he would be offered the post in light of today's win or if the board will look elsewhere for a new manager.
"Whatever will be will be," Unsworth said. "I have been the proudest man in the world to take charge for the last two weeks and no one can take that away from me.
"I know nothing about it. I'm sure I'll speak to the chairman and owner and I'll keep giving my best for this wonderful club."
---
Reader Comments (89)
Note: the following content is not moderated or vetted by the site owners at the time of submission. Comments are the responsibility of the poster. Disclaimer
Paul Hewitt
1
Posted 05/11/2017 at 20:30:50
The players showed real fight at 2-0 down. If Koeman would have been in charge it was game over. Maybe Unsworth is worth a go, till the end of the season.
Andrew Presly
2
Posted 05/11/2017 at 20:31:03
Class as always.
Peter Anthony
3
Posted 05/11/2017 at 20:39:05
He is proud to be our manager and I am proud that he is our manager.
Long may he remain so. Good luck Rhino. Now you actually have, for the first time, time to work with the first team for a decent period on the training ground, I believe the only way is up.
It seems clear the players are trying to give everything for Gaffer Rhino, but Koeman left a mess that no one could turn around overnight.
Would we have come back from 2-0 down with 'next Barca manager's Koeman at the helm??
Please Mosh, Rhino deserves a proper crack at this.
Dave Williams
4
Posted 05/11/2017 at 20:40:56
Peter- well said!!
Dennis Stevens
5
Posted 05/11/2017 at 20:50:26
None of the likely alternatives convince me that they're any better than what we already have & the managers that are of top quality will not be in the frame. I wouldn't be looking to give Unsworth a five year contract but I'd keep him in post for now & probably for the rest of the season.
Steve Ferns
6
Posted 05/11/2017 at 20:53:32
The roar he got as he came onto the pitch and punched the air. The team is behind him, the crowd is behind him. His words about the fans are genuine.
I'm not sure about his managerial abilities long term, but there's no outstanding candidate for the job, why not let him have it until the end of the season and let's see if Silva can prove himself a better candidate than Unsworth. I'm not sure on Dyche being anothing other than another Moyes at best, fat sam is too corrupt and should be banned from football not just England, tuchel is hardly banging on our door. So let's see how well Unsworth can do Given time.
It's worth remembering that he's still yet to have two consecutive days of training yet, such has been the speed of games. I think he is a coach, and can coach this team to play better and to win and with a striker in January we can climb back to 7th.
Jamie Sweet
7
Posted 05/11/2017 at 20:58:56
He's given us a real conundrum.
If he isn't our next manager, then you can guarantee that whoever it is will not have the same level of passion for our club.
They would however, undoubtedly have more managerial experience.
It is heart, desire and a genuine love for the club, verses experience. Ideally we could find someone with both but I'm not sure that person exists.
At least under Rhino, we have shown that we wouldn't go down without a fight.

Eric Paul
8
Posted 05/11/2017 at 21:03:30
Dennis
Absolutely spot bollockin on
Dennis Stevens
9
Posted 05/11/2017 at 21:04:05
Jamie, I honestly don't think we would go down.
Steve Ferns
10
Posted 05/11/2017 at 21:09:01
If Unsworth did a "Sherwood" and came up short, with safe mid table finshes, but left a squad were the key players from the title winning u23s were first team players, im thinking Kenny, Feeney maybe, Garbutt, Dowell, Calvert-Lewin and Lookman. So the new manager would inherit a side with the youth already established, then I don't think that's a bad thing.
Unsworth is unlikely to squander millions in the market. He will put his faith in the youth and just buy where he is short, like a striker.
A new manager is likely to want to spend big on 5 or more players and that's just a complete waste of money.
Providing he can keep us in at least mid table (12th or above) this season, then let's see what he can do and if there can be some long term progression.
Richard Lord
12
Posted 05/11/2017 at 21:12:31
I know one sunnt weekend does not a dummer make, but I would be happy with Rhino til January at least. I don't think we should rush in to an appointment. It's a no from me on Dyche and only big Sam if we are in danger in January. Wait to see whether we can get a cheeky shot at getting Joachim Loew to join in the summer.
Steve Ferns
13
Posted 05/11/2017 at 21:17:06
I still think Silva is the best candidate. But he will not come before the end of the season, and we would really want more time to evaluate him.
Dyche also needs to show he can do more than just back to the wall defending, so rest of the season for him might be good.
Tuchel is someone I would like, but the board would have appointed him already if he did want it. There'd also be some rumours and it's all quiet really.
There's no other candidates for me really. So I'd hope for Unsworth until the end of the season. If it is not the turning point then you can get your brown paper bags ready and call up the bung master.
Iain Love
14
Posted 05/11/2017 at 21:19:24
Whilst I would love Unsworth to be the man in charge to take us to the next level , I do have grave concerns. Today's win has been a great lift but the managers position shouldn't be based on one fortuitous game.

Rhino is an Evertonian through and through and has done a sterling job with the u23's . Right that's the reasons for him getting the job done and dusted.

The reasons against appointing him are many and i'm not going to list them all , but simply his tenure has been won 1, lost 3 goals for 4 goals against 9. That's relegation form. Relegation form.
John Catto
15
Posted 05/11/2017 at 21:24:37
We all love Unsworth but he is not the man to save us. We don't have time for him to learn the job. Can he be trusted in January to buy the players we need?
Mick Conalty
16
Posted 05/11/2017 at 21:25:31
I bet Usmanov is totally pissed that Moshiri spent
200m of his money. You just cannot trust empoyees
can you.
Lawrence Green
17
Posted 05/11/2017 at 21:30:10
Mick#16 Not as pissed of as Moshiri is with Koeman spending the same amount on players for Everton.

Minik Hansen
18
Posted 05/11/2017 at 21:32:09
Good hard fought win and Everton is now a bit more attractive to manage. Whoever comes in, he will have a good at this squad from this very last game. I hope it's someone who likes attacking football, that can give solidity at the back four. I trust in our club to make the right decision at this point, 'cause we've reached the bottom, the people in charge have been scared out of their seat, and Everton's direction is one way, we are on the way up.
Steve Ferns
19
Posted 05/11/2017 at 21:33:14
Interesting to see the toffewweb poll, I thought Unsworth would be higher and would then fall over the coming week as the euphoria of the win wears off. I still he will fall over the coming week and that means he'll only have 30% or so support on here.
I bet the crowd at the game would have had him at 80% or so, falling over the coming week.
Mick Conalty
20
Posted 05/11/2017 at 21:34:54
My post 16# Should have read Wasted 200m

Andy Riley
21
Posted 05/11/2017 at 21:37:37
The last time we recovered from 2-0 down at Home to win 3-2 was Wimbledon 1994 apparently. The manager that day was Mike Walker. Does much more need to be said?
Steve Ferns
22
Posted 05/11/2017 at 21:40:26
Really Andy?
Chad Schofield
23
Posted 05/11/2017 at 21:48:13
I've just written a rant in th post-match bit - so I'll keep this short(er).
I'd like to see him until Christmas. If we need a change then, we'll we need a change... But I can only see that being us having to get in an escape artist.
A top notch manager is going to need more control than we can give them mid season. And frankly, name's like Dyche just aren't top notch - he is only their through his club backing him. Let's not hurry ourselves to another expensive 'experienced' mistake.

Oh, and I fucking love Rhino's passion!
Jay Griffiths
24
Posted 05/11/2017 at 21:55:18
We had a four leaf clover rammed up us today. For 65 mins we were on the ropes. Then the clover appeared!
Post 10 thinks we only need a striker and that four or five signings would be a waste. Jesus wept. Did you see our back four today and how disaster prone they all are?
So grateful for the points but we need a strong leader.
We'll be at Selhurst watching through our hands.
Also, why do we use the moniker "Rhino"? Probably pisses him off too. A cumbersome yet powerful, short sighted animal from Africa or Asia.
Can't we stick with Unsworth.
Rob Davies
26
Posted 05/11/2017 at 22:17:09
The only way I think Unsworth stays in the job for the season is if we can't get our top target straight away.
We can't settle for second best as no doubt we'll we'll be in this position again in 12 months or so from now. Plus we can't afford another $100m+ on a short term project.
I'd like Silva long term and would wait for him to come. Allardyce is another option until the end of the season if Unsworth is not deemed to be up to the Job.
Great 3 points today but in terms of building a cohesive team nothing has changed and maybe won't until key players are fit and we can bring in players in Jan window.
Steve Ferns
27
Posted 05/11/2017 at 23:00:47
Jay, just as "Rhino" annoys you, "Unsy" annoys me.
Too many players, especially the younger ones, moved up from the u23s, talk about "Unsy". Clearly, they love the guy and will do anything for him, but they wouldn't have called Koeman a nickname, not to his face!
10 years ago, it would be Mr Unsworth or Gaffer or Boss. The players should stick to that.
Chris Watts
28
Posted 05/11/2017 at 23:38:28
Sky are reporting Kevin m and schiederlin sent away from the training ground due to lack of effort which would explain their absence today. Both seem destined to leave in January.
Eric Paul
29
Posted 05/11/2017 at 23:50:34
I don't believe any of the managers linked are any better than David Unsworth,he is not the man to take us to the next level but the players will respond to him and he will stabilise us.
We need a proven winner but no top manager would risk their reputation on a bottom half side so we need an interim manager
Steve Ferns
30
Posted 06/11/2017 at 00:28:13
Chris, it was not a lack of effort. They were fighting each other. Or so the rumour went at the ground today. Now it has been confirmed that they were sent away, I expect the rumour to be confirmed as correct.
Brian Porter
31
Posted 06/11/2017 at 00:41:08
One interesting statistic for those worrying about the need for a new striker. Oumar Niasse is currently officially the Premier League's top scorer rated by number of minutes played. Who knows how many more his enthusiasm and sheer will to win will be rewarded by if he gets a decent starting run in the team. The bottom line is, Niasse scores goals. What more can we ask of him?
While we're at it, could anyone have seen Lukaku getting his head down and getting stuck into the opposition in an attempt to get us back into the game when we'd gone two nil down?
Niasse positively pulled the team along with him an a wave of positivity and enthusiasm this afternoon. That's the spirit that wins matches. Give him a gold plated locker and another new suit.
Steve Ferns
32
Posted 06/11/2017 at 00:43:22
Meantime Brian, United fans are laying into Lukaku with all the old stuff. The honeymoon period is over. The Big Belgian hasn't changed and now the goals have dried up, they question what he actually does!
(Maybe we should put in a cheeky bid to take him back)
Clive Mitchell
33
Posted 06/11/2017 at 03:12:29
Steve, 32 - maybe £45m plus Sigurdsson?
Bill Gienapp
34
Posted 06/11/2017 at 03:54:16
Steve (32) - some of the stuff about Lukaku on Twitter is absolutely scathing. Honeymoon period well and truly over. Here we are, furious that the board didn't get more for him and United fans are claiming we ripped them off.
Kevin Moorcroft
35
Posted 06/11/2017 at 06:21:53
Made ip for him Just his manner after the win - one of us. Say no more.

As regards to Schneiderlin and Mirallas... ha ha, just get rid. At least David has the bottle for a fight. It would never have happened under Koeman.

Onwards and keep fighting lads. Great day.
Kevin Moorcroft
36
Posted 06/11/2017 at 06:27:07
Niasse is no Ronaldo but what he lacks in skill he never stops trying. Ran himself into the ground and scored again. Deserves a chance and is responsible for both wins really.

What a genuine lad. Mr Lukaku would never have run his bollocks off for us. If his goals dry up then he is fooked. At least we got 90 mil plus.
Brian Porter
37
Posted 06/11/2017 at 07:04:25
I've been reading that too Steve #32. I know for sure who I would want in the team in a fight, to lead a backs to the wall fightback against the odds, and it sure is NOT Lukaku.
Give me Oumar's guts, determination and humility any time against Rom's ego and "I should be in the Champions League" mentality, and to hell with the team that nurtured and developed him for three years. Has he said one good thing about Everton since he went to Utd? Not a sausage, and just compare his attitude with Niasse who has gone through hell under Koeman, been called all kinds of crap, and yet still appears to love pulling on the blue shirt and being an Everton player .
When looking at Oumar Niaase, a line from the movie Cool Runnings, the film about the first Jamaican bobsled team comes to mind...
"I see pride, I see power, and I see a bad assed mother who won't take no crap off of anyone '
Like the guys in that movie, Niasse has just got on with his task, done everything that's been asked of him, and done it all with everyone deriding him and laughing in his face.
Now, who's laughing Mr. Clueless Koeman? If he continues his current strike rate, Niasse is currently on target for between twelve to fifteen goals for the season, not too bad from the number of minutes he's had so far. I think most of us would accept that as a good return, given that his league season didn't really start until the Bournemouth game and of course, a few days before that, he scored against Sunderland too in the League Cup.
We are into November and he is currently our joint top scorer, with Rooney. More power to his elbow, I say. He's a breath of fresh air and given a decent run in the team, he can only continue to improve as his understanding with his team mates gets better and better with each game he plays.
Lukaku is already looking for excuses at Utd, now saying he still has lots to learn and that he wants to learn to be a provider as well as a scorer. Hey, guess what. Rom. They shelled out for a goal machine, like you told anyone who'd listen was what you are. Now it seems you aren't as perfect as you think you are.
When the going gets tough...and all that. Man Utd fans are perhaps beginning to learn that Lukaku has a dark, sulky side and can go to sleep in games and doesn't always put in a full shift, as most of us know, unlike Niaase, who just keeps going, chases lost causes and never gives up.
Maybe, just maybe, there was something in that Russian player of the year award after all.
Richard Lyons
38
Posted 06/11/2017 at 08:13:43
What a manager!
Steve Ferns
39
Posted 06/11/2017 at 09:43:57
What I said was completely in jest, Brian but would you really not have Lukaku back?
Did anyone hear talksport this morning. Jim White had a lengthy chat with Alan Brazil, as a taster for his show to come, starting in 20 minutes. He said he had been at Everton for the game. That he was a guest in the "boardroom" ( I think he meant he was in the directors box). There was some fluff Moshiri wants passed on to the fans about what a great club, what great fans etc etc.
What was of interest was this. I now believe that there will be no manager announcement just yet. It sounds like Moshiri wants a big name again, and there is no big name available. He said how Unsworth embodies the qualities associated with Everton, and that he is on the shortlist.
This sounds to me like Unsworth is going to get the job on an interim basis until the end of the season and meantime they will work on bringing in a big name.
I won't be listening when the show comes on, and would appreciate if someone can keep us informed. Cheers.
Mike Keating
40
Posted 06/11/2017 at 09:49:16
If the club care so much for the fans why were we kicking off at 4.30 on Bonfire Night when it wasn't even on telly?
Steve Ferns
41
Posted 06/11/2017 at 10:00:02
Isn't the 16.30 slot reserved for EL teams? Didn't Arsenal kick off at the same time? Doesn't really matter now anyway, only 2 games left.
Dave Evans
42
Posted 06/11/2017 at 10:06:44
Unsworth is a great Evertonian and a decent man but I doubt he is manager long term to take us forward. It was a tremendous heartening win last night but honestly we were fortunate.
It would be a worry that if Unsworth is manager the serious and long standing problems with the coaching at Finch farm will carry on.
In a few months time when the honeymoon is over and things may not be going so well, I doubt that the fact he is a great blue and a decent man will save him from some of the fickle bile on here.
Martin Nicholls
43
Posted 06/11/2017 at 10:16:00
Jay/Steve - Unsworth's nickname as a player was Rhino. Similarly van den Hauwe's was Psycho and Dean's was Dixie! These nicknames stick whether the player (e.g. BILL Dean) and we supporters like it or not!
Steve Ferns
44
Posted 06/11/2017 at 10:16:54
Jim White's twitter says:
"Moshiri: Unsworth embodies the spirit of @Everton and is on on shortlist to be Boss."
Brent Stephens
45
Posted 06/11/2017 at 10:19:39
Steve, Unsy might be on the shortlist as a way of letting him down gently. My guess, no more.
Tony Marsh
46
Posted 06/11/2017 at 10:28:38
This weekend just gets better. Deadly David Moyes is going to be next West Ham manager.Thats them down then.Inly two places left to fill.
West Ham fans doing there nut on Talksport.
All those out there who mentioned Moyes for a possible return to Everton just watch this dour negative loser ruin West Ham. Thank God we deserved the Grim Reaper.
Derek Knox
47
Posted 06/11/2017 at 10:54:22
Brent, think you are right there unfortunately, trawling the various sites; they all seem to have a similar report; Fat Spam is being interviewed and rumoured to want Craig Shakespeare as assistant.
I have nothing against Craig Shakespeare; but that Fat Maggot is a different story altogether. No doubt he will ensure safety, but I'd rather stick with Unsy than him.
I still maintain that we really need a long term solution as opposed to a quick fix. We have had more than enough mediocrity and inept management over the last thirty years.
Personally, although I have said Unsy as opposed to Allardyce; I would rather long term have Dyche or Tuchel.
Mal Van schaick
48
Posted 06/11/2017 at 11:26:07
Refreshing to see genuine passion from another past player who loves the club. He obviously lives and breathes the club. Support him with more past players and let's remind some present players of the great history of our great club, urge them to embrace our passion.
Perhaps give Rhino a run of games until New Year, and make a decision then.
I want it to work out for him and the fans, but everyone knows, it's a result and performance business.
Steve Ferns
49
Posted 06/11/2017 at 11:50:51
Derek, so Jim White goes to Goodison, spends time with Moshiri and Kenwright and is told we are going to get a top manager and in the meantime we are happy with unsworth, he puts this message out, and yet they then appoint Big Sam? Why would they do that? Why talk up getting a big name, why talk up Unsworth having more time? Why do this and then appoint Big Sam? If we want to appoint Big Sam, we could do so quickly, he's out of work. There's no chance Big Sam is coming. There's also little chance it is Tuchel. The next manager will be someone currently in work, that's why it's taking so long.
Steve Ferns
50
Posted 06/11/2017 at 11:57:12
If Unsworth is to get the job for a bit longer, then we need to make it official. There's a mess in the coaching at present.
We have lost:
Koeman - manager
E. Koeman - coach
Kuiltenberg - fitness coach
? - goalkeeper coach
Unsworth and Ebrell replace the Koeman brothers, Unsworth brought in his mate as goalie coach, i'm unsure about a fitness coach. This also has a knock on effect on the Youth Academy, who are down coaches.
If Unsworth gets it until the end of the season, he can bring in some much needed coaching additions, both to the first team and to the academy.
Derek Knox
51
Posted 06/11/2017 at 12:12:23
Steve, hopefully Sean Dyche then, I know alot of people on here just think he's Moyes Mk2 but I think he has a lot more than that.
He has transformed Burnley on a budget, okay they went down, probably because of that limited budget; not easy competing against teams who have paid more for one player, than you have spent on the entire squad.
Having gone down, he bounced straight back again, not many do that. He has regularly beaten the big guns with his limited side. His motivation skills can't be questioned.
I don't think he tolerates passengers or gravy train freeloaders. Glad to note that Unsy reprimanded Schneiderlin and Mirallas for the same trait.
John Wilson
52
Posted 06/11/2017 at 12:27:18
Niasse saved RK against Bournemouth, and has made Unsy look good. Without Niasse, Everton would simply not have come back what would likely have a been a 4-0 thrashing. I hope Unsy gave Niasse credit in his comments in front of the media.
Steve Ferns
53
Posted 06/11/2017 at 12:28:58
Derek, It doesn't fit in with the picture that Jim White is painting right now on talksport. Looking at a stellar name, but then keeps dropping Silva's name.
I'm still thinking the message is we want a big name and in the meantime that we would leave Unsworth in charge until the end of the season.
Alex Rowe
54
Posted 06/11/2017 at 12:46:45
I would like to see Unsworth given a real crack until the end of the season to prove, given the time to drill in his ethos to the team, if he has what it takes to to make the step up. If he does then hand him the reins longer term, if not then look for the best alternative we can get then.
Rahman Talib
55
Posted 06/11/2017 at 12:47:37
In fact all Unsworth needs to do now is to stop easy goals from.being scored against us.
Thats all.
And we will finish 7th at.least
Steve Ferns
56
Posted 06/11/2017 at 13:08:25
Whoever the new manager is a risk, a big risk.
For example:
Ancelotti - would he properly motivated (or just here for the money)? Can he manage well at the wrong end of the table? Can he sort out our issues on the training ground? Would he just want to buy 15 new players?
Tuchel - Can he do it outside of Germany? Would his personality translate to the Premier League? Would his tactics work? Can he adapt?
Silva - he is still new to the Premier League, he did well at Hull but ultimately he fell short and they were relegated. Watford started very well, but their current trend is dropping down the table, so is this normal Watford? are they actually any better? Can he actually fix our issues? Is he solid enough defensively? Can he fix our defence?
Allardyce - can he fix our defence and team without signing players? Will he sign a load of old players for a short term fix at the expense of our brilliant youth setup? Will there be lasting damage as a result? Will a high turnover of playing staff lead to massive losses on our big signings from the Koeman era? If Allardyce does fix the issues in the short term, can he change his tactics and adapt a more passing / attacking game to chase after the top 6? Would he want a contract beyond the end of the season, and would this be non-negotiable? How would he close the gap on the top 6, for which he has no experience?
Dyche - very good at managing Burnley, but this is a particular setup where he is on the backfoot and defending and countering. Can he make the switch to attacking teams and getting wins against teams who setup the way he is used to setting up? Can he fix the problems with us defensively in the short term? Burnley do not score a lot of goals, how can he get us scoring again? Burnley have only scored the same amount as us! Can he attract the big players? Can he work magic away from Burnley? He has a relegation on his record, so is he actually a good manager in a relegation dogfight?
Unsworth is risky. Aren't they all? If we play the Unsworth card, manager until the end of the season, and it fails, then we can still play the big Sam card and in circumstances where you are only worried about the short term and all the long term questions are forgotten.
Derek Powell
57
Posted 06/11/2017 at 13:40:17
My view is it not worth sticking with Rhino? Who else would take on this poisoned chalice not knowing the heart of the club and the heart in its fans? Let him have the rest of the season. He knows the kids coming through. Let him have one transfer window and see where we sit come the end of the season.
He took on a disoriented team down on its luck and confidence and we all know it's now a fight for survival and he loves the club to the bones. Who else would come with the appetite for a survival battle? We never know, he could be the man. I hope he is.
Jay Harris
58
Posted 06/11/2017 at 15:39:02
Over the 4 games Unsy has shown class and dignity but little else to deserve the hotseat. His selections have been as bizarre as Koeman's and although the players have been more motivated they have been just as disorganized and toothless.
We need a strong experienced manger to get the setup, team selection and tactics sorted out pronto.
I love Rhino but he just doesnt have enough experience in the "fine margins" of the premier league.
Michael Williams
59
Posted 06/11/2017 at 15:51:49
Unsworth will develop a young inexpensive core that will allow the club to buy more expensive pieces to take us to the next step. The opportunity to create a new project based on home-grown youth should be taken.
When the time comes to take the big step up that is when we should look for big name coach - one who has real winning experience.
John Hammond
60
Posted 06/11/2017 at 16:16:49
I always try and be positive about things but it's been hard this season. Last night, as great as it felt to get a win in those circumstances, luck was on our side more than anything else. Unsy has pretty much continued where Koeman left off. We've been marginally better at times but nothing suggests anything is going to change. He's tried to make big, bold decisions but to me they've been the wrong ones and at such a critical time too. Surely the first thing that needed to be done was shore up that defence and get some confidence back into the likes of Keane who looks like he's daydreaming most of the time.
As much as anyone else I want him to succeed - he's one of us - but I'm not fully convinced.
Jay Woods
61
Posted 06/11/2017 at 16:21:59
Should Unsworth should be appointed after all because a once-in-a-decade freak comeback win happened under his watch?
We can't stake the future of the team on the basis of that. It would be akin to buying sledges for your kids for Chirstmas just because there was a blizzard last year.
Under him, it has been 4 games defined thus:
Played poorly, lost.
Played poorly, lost.
Played dismally, lost heavily (Lyon).
Played poorly, freaked a win with the help of the jammiest alignment of circumstances imaginable.
Dunno about the rest if yis, but I'm seeing a common thread here.
James Royston
62
Posted 06/11/2017 at 16:23:11
Don't know just like everyone else who will manage us. But if Rhino stays in place why not get some short term help from someone like Joe Royle or Peter Reid just to help him put some fire in the weak links bell. Better than Allardyce. With all the names mentioned I will throw a firework in " Brendan Rodgers" never mind past history if he can repeat anything like what he has done at Celtic.
Brian Hennessy
63
Posted 06/11/2017 at 16:27:38
I'm gutted
All our dilly-dalling around and now West Ham have stepped in and snapped up David Moyes from under our noses. We will regret this when the Hammers win the FA Cup and qualify for Europe this season just you watch...
John Davies
64
Posted 06/11/2017 at 16:35:22
Jay Woods #61 you are spot on mate. Unsworth's record to date is one fortunate win from 4 poor performances and he's now the second coming of Christ if you believe half these posts.
And I wish he'd stop shoving his tongue up Kenwright's arse all the time with his ridiculous interviews. "I talk to the chairman 3 or 4 times every day". Jesus Christ! WHY WOULD YOU? That clown is responsible for the mess the whole club is in.
Get on with the job David, we all want you to do well while you have it, but please stop all the drivel for the cameras and for Bullshit Bill.
Alan McGuffog
65
Posted 06/11/2017 at 16:43:41
James 62. Our family has suffered a major bereavement only recently. My head is befuddled with malt whisky and grief so I'm unsure ( genuinely) whether or not you are taking the proverbial. I don't dislike Rodgers particularly but I would imagine most regular ToffeeWebbers could make a decent fist of managing the Tims ?
John Hammond
66
Posted 06/11/2017 at 16:44:49
John #64: Thanks for that image of BK bent over his desk mate!
Jay Harris
67
Posted 06/11/2017 at 17:01:23
James
my dog could win stuff with Celtic now Rangers are out of the picture.
No more ex RS connections please.
My solution is staring us in the face = Ancellotti. Experienced good tactician, good man manager, prem experience and used to handling and attracting top players.
Chad Schofield
68
Posted 06/11/2017 at 18:32:02
Good analysis Steve Ferns!
I feel a bit like I'm sounding like an over eager cheerleader, but I think they're all much bigger risks short and long term.
Of course we shouldn't be super excited about nicking a win at home against Watford, but there's so much more to it. Anyone coming in is going to have to work with the players we have, not Burnley's well drilled but limited players, for example.
Anyone in now will have barely been given a decent crack before the window opens... So is Dyche/Silva going to be given a ton to spend?
I think it's too early to call in Allardych. It might not work out with Unsworth, and we might need someone who can steer the ship from the rocks... But we're not there yet.
A Hiddink/Ancelotti/Another could be tempted in the summer, especially with a large war chest to spend... But signing players in January is notoriously hard unless they're out of form or favour. This type of manager would also spell the end of the old boys really... Koeman was an in between, but acted (by the sound of things) as though we were a stepping stone to Barcelona.
Do we really need to take more expensive risks, or give our home grown manager a real chance?
Jay Griffiths
69
Posted 06/11/2017 at 18:32:55
Post 61. Bang on JW.
People calling for cultured managers, Ancelotti, Tuchel, even Rodgers! Big no.br>We only need a F1 car if we're in a F1 race. At this moment we're not. We're in a proverbial stock car race now. We need to crash and bang our way through this tough track. For this one race we need the right car then move onto the more cultured vehicle as soon as possible.
Martin, thanks for the history lesson on our lads. Nicknames, who'd of thunk it?

Oliver Brunel
70
Posted 06/11/2017 at 18:49:44
I'm hearing a horrible rumour that Big Sam is on his way to L4.
Brent Stephens
71
Posted 06/11/2017 at 18:52:05
Oliver "Im hearing a horrible rumour that Big Sam is on his way to L4".
That was a BBC reporter who misheard somebody saying Sam was "on his way to 'ell - for dodgy deals."
Phil Walling
72
Posted 06/11/2017 at 18:54:15
If that's true, Oliver, he'll already be working on 'some nice little earners'. Seem to remember him and his little mate were featured on Panarama or some such when he was at Bolton so he'll be in good company here !
Tony Twist
73
Posted 06/11/2017 at 18:55:29
I will be hanging my head in shame if big Sam becomes the new manager. He is not the only manager who can organise a team. It will be a dark day if he gets the job.
John Harrop
76
Posted 06/11/2017 at 20:23:35
According to The Independent, Steve Walsh has advised Moshiri to go for Allardyce. This is the Steve Walsh that was involved in the disastrous player recruitment this summer. I'm beginning to wish he'd been sacked along with Koeman.
John Harrop
77
Posted 06/11/2017 at 20:24:36
http://www.independent.co.uk/sport/football/premier-league/everton-next-manager-sam-allardyce-farhad-moshiri-owner-marco-silva-a8040596.html
Oliver Brunel
78
Posted 06/11/2017 at 20:26:40
Okay, so I was right about Allardyce. When are some people going to listen to me about The Emperor Palpatine?
Phil Walling
79
Posted 06/11/2017 at 20:38:07
And we all thought we'd stepped up in class when Moshiri took the helm - or bought half of it (nearly ). Now we're to be blessed with a manager who whilst not 'a fit and proper person' to manage England is to be welcomed to Everton. As our saviour.
How low can we get !
Will Mabon
80
Posted 06/11/2017 at 20:42:00
I agree, Tony, @73. Are we really so cowardly and panicky as a club that we are already prepared to leap headlong into
that
kind of "Future" for our club?
I think what's being overlooked is not just the damage that's been done by Koeman, but the nature of the damage. The heart and soul was torn out of this squad. Without that, anything Koeman himself tried was never going to work - and it didn't. His one final, almost, mini-reprieve, came from the inclusion of perhaps the one player who hadn't wilted under his dour, destructive persona; Oumar Niasse.
Without spirit in the team, all else becomes irrelevant. The repair and early stages of the return of team spirit is the abiding thing we have seen since Unsworth took charge. Those first three mixed, stuttering performances, culminated yesterday in the return of fight.
No-one's tactics, set-up, nouse, genius, experience would have done anything out of the box, absent that fight. Not Guardiola, not Conte. It's back. The players are trying to play. That crazy, chaotic comeback yesterday was impossible without it.
We shouldn't underestimate what Unsworth has done. Nor should we yet judge him too inexperienced or tactically naive. The squad is only now becoming ready to respond to that. It's easy and understandable that we should compare him to Koeman, post up formations, discuss width, players, substitutions, tactics. What did any of that mean under Koeman - Zero.
Unsworth has seen the players now - how they respond to his instructions (which he seems to like calling, information), his intentions. That yesterday, was massive. Pulled out the fire on the back of three straight defeats. Never mind the technicalities for now, that comeback took balls, and they're welcome back.
Do we really want Bungy in to start again? Start again he will, sweepingly. He will regiment and robotize. There will be no flair, no heart. Not so much spirit, more a stiff working commitment to a rigid, and yes proven, framework of defensive thinking that runs unwaveringly along the safety line on the graph.
It would take some time to batter into the players, and it wouldn't be pretty. It's highly likely we wouldn't be relegated - and that's it. That is all. Once this is dyed in, it is hard to wash out in the future - and that's ugly.
Those who were lucky enough yesterday to experience the increasingly-rare electric atmosphere of Goodison at her best, remember and relish - it will be gone for a long time if Allardyce gets anywhere near.
Kevin Tully
81
Posted 06/11/2017 at 20:48:01
Football certainly is a funny old game. Allardyce now 1/7 to take over, which means the bookies have seen someone lumping on.
Just think, the two mangers in the dugout on the 29th of this month may well be Allardyce & Moyes!
Who'd have thought that was a possibility this summer? I'm slowly losing faith with this brave new world of ours.
Dennis Stevens
82
Posted 06/11/2017 at 20:49:14
I don't think Allardyce will prove as effective for Everton as he has at some other clubs. I fear he will take us down - or jump ship before we go under!
If this is the best the Board can come up with then I really do think we'd be better off continuing with Unsworth, at least for this season.
John Davies
83
Posted 06/11/2017 at 20:50:45
Allardyce? OMG where is this farce going to end? Please no, surely not. I have been arguing that David Unsworth is not the man for the job full time but I would prefer him over Allardyce any day of the week.
Mark Tanton
84
Posted 06/11/2017 at 20:52:07
I'd like us to stick with Unsworth until the end of the season and then try to get Silva in. That would be the perfect scenario for me. Really not sure about Big Sam - but he has credentials. No denying.
Dennis Stevens
85
Posted 06/11/2017 at 20:55:59
I'm desperately hoping the prospect of Dirty Sam being offered the job is being deliberately leaked so as to test the response. If so I can only hope that the overwhelming tide of disgust ensures that such an appointment never happens.
Will Mabon
86
Posted 06/11/2017 at 21:02:50
Dennis - a very good hope to have; I'll join you!
Tony Hill
87
Posted 06/11/2017 at 21:12:45
Hope all you purists get the man you want and think our shitstorm needs. Whoever that turns out to be, we will deserve him.
Allardyce, if indeed he can wade through the abuse to take over, will be entitled to claim any and all credit as his own.
Laurie Hartley
88
Posted 06/11/2017 at 21:15:57
I remain of the opinion that Moshiri intends to grow this club - new stadium and all. If that is the case all the financial planning will have been done and the "go" button ready to be pressed.
But the "go" button won't be pressed until our premier league status is secured. So regardless of who the fan base want, Moshiri will appoint a manager who he is confident will keep us up.
Who that manager might be I don't know but I do know this - if he keeps us up there is a huge personal prize in that he will be involved over a two or three year period in the transformation of the club. That may attract a candidates(s) that neither we or the press are aware of.
The flip side of the coin doesn't bear thinking about. There is a lot a at stake in the next month.
So whoever the new manager is - David Unsworth or A Another he will need the support of the whole fan base irrespective of personal preferences, biases and opinions. We have to put all that stuff aside.
Stan Schofield
89
Posted 06/11/2017 at 21:20:59
I would be surprised if the media reports linking us to Allardyce had any substance to them. Hiring someone like him would go against the grain of the 'project' that the board made such a highlight of 18 months ago. The most likely scenario is that we stick with Unsworth short-term, possibly until January, and then appoint another 'high-profile' manager in the wake of Koeman, given that he was in this category and on £6M/year. Even if we're still struggling by then, there's a good chance a 'high-profile' manager can be attracted, given the potential salary.
Will Mabon
90
Posted 06/11/2017 at 21:22:08
Stan - see the new thread. Disappointing, if true.
Stan Schofield
91
Posted 06/11/2017 at 23:56:04
Will, you mean 'Allardyce and Unsworth on four-man shortlist'? If that's the thread, it doesn't seem to change much, if anything, from what we thought already. That said, I'd expect (in terms of what the board had said about the 'project' 18 months ago) the preferred option to be Unsworth continuing short-term, followed by the high-profile foreign manager. Supplemented, of course, by a commitment for resources to secure decent new signings such as a left-back, centre-back and striker.
Will Mabon
92
Posted 07/11/2017 at 03:23:47
Stan - I hope you're right. With the follow-on manager if needed.
Frank Bortoli
93
Posted 07/11/2017 at 10:39:43
Lets face it we wont be attracting any major names to the managers job apart from the ones currently mentioned. It would be nice to know who the foreign candidate is but if we can stay up this season and build for next season by getting rid of the dead wood and getting in those critical players we should be OK.
I don't see the point in bring in a short term appointee together with his entourage. We could end up wasting more money getting in players that the permanent manager does not want.
Lets give Unsworth a chance till at least Christmas and see if he can turn things around. He has ticked off one of the major boxes in that he can instill some passion and fire in the team which they are prepared to do for him. I think the team also believe in his capabilities which is something our board should listen to.
Add Your Comments
In order to post a comment, you need to be logged in as a registered user of the site.
Or Sign up as a ToffeeWeb Member — it's free, takes just a few minutes and will allow you to post your comments on articles and Talking Points submissions across the site.