Pickford helps England hold Germany

88 Comments [Jump to last]
Friday 10 November 2017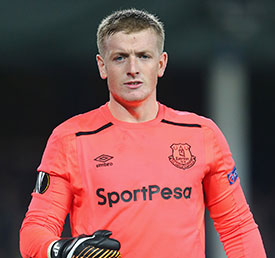 Jordan Pickford earned his first senior cap for England this evening after Jack Butland was forced to withdraw from the squad though injury.
The Stoke City goalkeeper, himself looking forward to getting a start in place of Joe Hart, broke a finger at the St George's Park training camp and is ruled out of the friendly with Germany.
With manager Gareth Southgate keen to run the rule over his fringe players this international break, that meant an appearance for Pickford who has impressed at Everton since joining the Blues from Sunderland over the summer.
The 23-year-old made some key saves, particularly early on, to keep the Germans at bay and help in earning a goalless draw.
Pickford could be joined in the England team by fellow Blue Dominic Calvert-Lewin for the upcoming match against Brazil, too.
Calvert-Lewin looks set to be promoted from the Under-21s following yet another injury in Southgate's squad.
---
Reader Comments (88)
Note: the following content is not moderated or vetted by the site owners at the time of submission. Comments are the responsibility of the poster. Disclaimer
Gordon White
1
Posted 10/11/2017 at 07:20:15
Good opportunity. Hope he makes the most of it.
Tony Everan
2
Posted 10/11/2017 at 07:38:06
Good luck to Jordan , a difficult start for him against Germany. He a cool customer so he will handle it.
He is good enough to make the job his own , still young and will make the odd mistake ,but is the best England have got.
As an Evertonian I wouldn't swap him for any of the alternatives.
Harry Wallace
3
Posted 10/11/2017 at 07:54:41
Lets hope so. Hearing different though. I think Davies may have made it too if he hadn't got injured.
Jimmy Salt
4
Posted 10/11/2017 at 08:41:46
Well said Tony, especially the last sentence.
Robert Leigh
5
Posted 10/11/2017 at 08:50:26
I agree with the sentiments above; good luck Jordon and we know how lucky we are to have him.
It's great to finally have a 'keeper we know is one of the best in the league AND will only get better, hopefully when some of the injured players come back he can be more confident in the back four in front of him.
Brent Stephens
6
Posted 10/11/2017 at 08:54:27
Good luck, Jordan. Very young still for a keeper. So even further learning and improvement probably.
Jon Withey
7
Posted 10/11/2017 at 09:02:24
I guess it had to happen sometime but we could do without the England keeper form curse. They are going to get battered.
James Ebden
8
Posted 10/11/2017 at 09:50:44
I'm happy our players are getting experience at a high level (well, as high as England are these days!). Just hope they all come back with no injuries.
On a different note, saw in the paper this morning that Bolasie is back in full training with the main squad on Monday.
Anyone heard a timescale for Coleman?
Derek Knox
9
Posted 10/11/2017 at 09:58:05
Congrats Jordan, hope you play well and make the job yours on a permanent basis.
Nitesh Kanchan
10
Posted 10/11/2017 at 10:38:25
All the best to Jordan. It is going to be tough against only two outright favorites teams for the World Cup.
Alan Bodell
11
Posted 10/11/2017 at 11:56:38
Hope he plays, the more experience at his young age the better and he's had loads of practice already in games this season thanks to a shitty defence in front of him so he should be well honed for the Germans.
I don't bother watching England unless there are Blues involved so I will watch this one.
Danny Baily
12
Posted 10/11/2017 at 12:08:15
In my opinion, Pickford's performances have not merited his place as a guaranteed starter at club level. Both Everton and England should be wary of picking players based on the media's perception of them.
Mike Berry
13
Posted 10/11/2017 at 13:38:14
Hope he does, Pickford is one of the few pluses this season.
John McFarlane
14
Posted 10/11/2017 at 13:39:19
Congratulations to Jordan Pickford on his England selection, I hope he has a longer international career than his Everton predecessors.
Ted Sagar kept goal for his country on 4 occasions between 19 October 1935 and 9 May 1936; Gordon West played 3 times between 11 December 1968 and 1 June 1969... but the most interesting was Benjamin Howard Baker whose 2 appearances were on 21 May 1921 (while at Everton) and 24 October 1925 (while at Chelsea).
I grew up listening to tales of Howard Baker from my Granddad and uncles; he was a most extraordinary character: an amateur throughout his career. He also represented England at amateur level on 10 occasions, and represented the Football League.
He starred for Great Britain in the high jump in the 1912 and 1920 Olympic Games, finishing 6th in the latter (being the British record holder). Baker was also a useful cricketer, scoring 2 centuries for Liverpool Cricket Club. He played in goal for a local water polo team and was a useful lawn tennis player.
He played 176 times for Corinthians, and he was also a Welsh Cup winner with Northern Nomads.
I began by saying that I listened enthralled by the tales of my Granddad and uncles, but I must confess I have taken the statistics from the "Who's Who of Everton" and "Football League players' records 1888-1939" I trust that I haven't bored anyone with this little nostalgic ramble.
By the way, he joined Liverpool in 1919 but didn't figure in their league side, his league record was:
Everton 1920 (2 appearances)
Chelsea 1921-25 (92 appearances and credited with 1 goal)
Everton 1926 (11 appearances)
Oldham Athletic 1928 (1 appearance)
Kevin Prytherch
15
Posted 10/11/2017 at 13:47:22
Wow - didn't see the Calvert Lewin call up.
Are England short on strikers or is he rated that highly by Southgate??
Paul Holmes
16
Posted 10/11/2017 at 14:17:39
Fuck me are England goalkeepers that bad?! (Only joking.)
Hopefully he plays well as, let's face it, he will be busy, no different than playing for Sunderland and Everton – have you seen our goals conceded column this season!
Robert Leigh
17
Posted 10/11/2017 at 15:09:39
Be great to see Calvert-Lewin in the squad - though it's very soon.
Did anyone else see this from Lookman in u21 training?
https://www.youtube.com/watch?v=INEJfXV0qUc
OUTRAGEOUS
Oliver Molloy
18
Posted 10/11/2017 at 15:31:22
James @ 8 ,
It would be a welcome surprise to see these two get on the football pitch before the end the year but in reality it's doubtful.
Most likely we won't see Coleman nor Bolasie till mid to late January at the earliest... Coleman needs to go through the actual physical contact also to really test himself... easier said than done!
Alan Bodell
19
Posted 10/11/2017 at 15:38:09
Danny Bailey # 12, in my opinion Danny you need to go and watch our games, not watch the highlights on match of the day.
James Hopper
20
Posted 10/11/2017 at 16:19:46
Headline says Pickord instead of Pickford.
In any case, I can't disagree with the call-up. He's been our best, most-consistent player this season.
Bobby Mallon
21
Posted 10/11/2017 at 16:42:37
Any news on a manager? Come on, ToffeeWebbers – get your fingers out! I don't care about Pickford or any other player. New manager... where is he???
Michael Lynch
22
Posted 10/11/2017 at 16:53:26
Well done Jordan and all that, but fuck me what has happened to English football if he's a starter and Calvert-Lewin is in the squad? Lovely lads both of them, hopefully with a great future ahead, but neither of them would have got near an England team a generation ago. I'm hearing Solanke from the Shite might get a game too. Does he even get on the bench for that lot at the moment?
Anyway, from a selfish point of view, I'd rather none of our players get the opportunity to be tapped up by the arseholes from the Sky six. And if any of our players gets injured in a meaningless friendly I'll be even more pissed off.
Rick Pattinson
23
Posted 10/11/2017 at 17:25:29
So he should be called up... he's better than the shite we've already got.
Paul Birmingham
24
Posted 10/11/2017 at 18:14:28
Best of luck, Jordan, well earned.
Lee Brownlie
25
Posted 10/11/2017 at 18:27:34
Danny Baily (#12).. not sure what you're on with, there, mate.. not worth his place even at Everton? Think he's clearly the only newbie been pulling his weight with us, despite that he's still young and sure, clearly not the 'finished article' yet! Nevertheless, I really don't know how you think we'd have got on with someone else in goal!!!
Danny Baily
26
Posted 10/11/2017 at 19:27:06
Lee #25, we'll never know but I suspect we'd have fared better with Robles as first choice so far this season. Great for Pickford to get his call up though, I'll be watching tonight and cheering him on.
Paul Kossoff
27
Posted 10/11/2017 at 20:01:31
Write the script. England will get battered by the Krauts and once again the Everton players will get the blame while the clever teams have withdrawn their "stars". Would you believe!

Paul Kossoff
28
Posted 10/11/2017 at 20:05:11
John 14, great! Do a regular stats please on t w, enjoyed the read.
Tony Hill
29
Posted 10/11/2017 at 20:14:57
Dowell with a neat little pass leading to Solanke's goal for the Under-21s. There are times when he looks so graceful, an Everton throwback. Leave him at Forest and then let's hope he prospers next season. Could be gold for us.
Mike Jones
30
Posted 10/11/2017 at 20:20:21
Not good enough for England. Neither is Calvert-Lewin or Davies or Keane. None of them are good enough for Everton either. I respect your opinion to disagree, but that's mine.
Darren Hind
31
Posted 10/11/2017 at 20:27:26
Good save from Jordan!
Darren Hind
32
Posted 10/11/2017 at 20:43:31
Another good stop, strong right hand.
Matt Muzi
33
Posted 10/11/2017 at 21:19:41
Is it just me or everytime Jordan does something well Glenn Hoddle has to throw a but if he'd only... comment in!
Will Mabon
34
Posted 10/11/2017 at 21:25:34
Matt, I'm not watching but I'll give you the answer:
England, Everton.
Simon Smith
35
Posted 10/11/2017 at 21:59:07
It's just you, Matt.
Too many Evertonians are paranoid! Pickford played well and he was given credit! I hate the anti-England vibes that come from some ToffeeWeb posters!
Jason Wilkinson
36
Posted 10/11/2017 at 22:02:11
Well done Jordan. Come back to Finch Farm now, before you get crocked by John Stones or Phil Jones. Couple of suicide back passes to our Jordan tonight.
Ian Jones
37
Posted 10/11/2017 at 22:13:56
Paul @ 27. You were saying :)
James Flynn
38
Posted 10/11/2017 at 23:01:55
On Internationals, I see Roberto's defense had trouble against Mexico.
Jon Withey
39
Posted 10/11/2017 at 23:14:37
Well done Jordan.
James Flynn
40
Posted 10/11/2017 at 23:25:26
An ESPN reporter, who covers English football, Nick Miller, had this to say about Pickford after the game:
"Joe Hart has been the incumbent since before Euro 2012 but in the past couple of years it's become increasingly difficult to justify his automatic selection. And yet he has has retained the starting job broadly due to a lack of viable alternatives: Jack Butland has been injury-prone, Ben Foster overlooked and Fraser Forster has no place near an international team.
But now there is a credible candidate in Pickford. Both Hart and Pickford are playing for struggling Premier League teams but one looks like the only thing between his side and complete oblivion, while the other seems to be a key part of the problem. Pickford's form for Everton justified his inclusion for this game on merit, not just the rotation that international friendlies bring.
On the basis of his showing against Germany, he should stay there. Pickford was assured and assertive (aside from an early wobble when he was nearly dispossessed by Timo Werner) and made a couple of excellent diving saves: in short he was everything that Hart thinks he is, or at least was once upon a time."
From this American's view, the TW discussion over the years, on England's national team, is always interesting. Neutral myself, but like the positive talk about Pickford's chances.
John Ronnie
41
Posted 10/11/2017 at 23:30:47
I've heard tonight Unsworth has been given the job – not sure till when.
Will be confirmed tomorrow.
Brian Williams
42
Posted 10/11/2017 at 23:43:03
Have to be picky and point out that Pickford didn't have the wobble – it was the backpass from Maguire that was the wobble. Pickford saved Maguire's blushes and did really well to prevent a goal.
We just need Calvert-Lewin to score against Brazil now!
Brent Stephens
43
Posted 11/11/2017 at 00:32:09
Well done, Jordan. A young lad with room to develop even further.
Phil Sammon
44
Posted 11/11/2017 at 00:46:14
Brian (#42),
Totally agree! How can you call that a 'wobble' from Pickford?! He cleaned up after a team mate's error.
Lee Brownlie
45
Posted 11/11/2017 at 07:24:17
Danny Baily (#26) "I suspect we'd have fared better with Joel Robles as first choice so far this season"??? Well, I reserve the right to call that exactly as I see it... absolute bollocks!!!
Kept a clean sheet, made some good key saves, on his International debut against the World Champions, Germany... you still think so? Like I say, (sorry, not sorry, but..) 'Absolute bollocks!!!'
(And, no, I still think he's a way from the finished article, but still...)
Kim Vivian
46
Posted 11/11/2017 at 09:05:23
BBC..."Goalkeeper Jordan Pickford is outstanding on his debut, as he keeps a clean sheet."
Say no more.
Dave Abrahams
47
Posted 11/11/2017 at 09:13:44
Danny and Lee, I think we are well off for goalkeepers.
Unfortunately Robles will not stay as the reserve keeper for much longer.
Martin Nicholls
48
Posted 11/11/2017 at 09:52:43
Apart from the "pure goalkeeping", Pickford's distribution last night was superb – didn't waste a ball. If there's one aspect of his Everton game that I've been a bit disappointed with, it's his distribution – could it be that in contrast to last night when there were willing runners throughout the team, there are none in ours?
John Smith
50
Posted 11/11/2017 at 10:37:49
"In my opinion, Pickford's performances have not merited his place as a guaranteed starter at club level. Both Everton and England should be wary of picking players based on the media's perception of them."
I agree with you Danny (#12).
Paul Kennedy
51
Posted 11/11/2017 at 10:39:42
Sorry to be pasting Phil McNulty but Pickford did play well!! And how the 23-year-old took his chance, producing an outstanding display of such confidence and assuredness that he has now surely given Southgate food for thought.
Pickford was alert from the first minute, reacting quickly to clear a poor back-pass from Harry Maguire, then further distinguished himself with fine saves low to his left and right from Werner.
He commanded his area and also gave England an extra dimension with his superb distribution. It was a very good night for Pickford, who looked right at home on the international stage against the World Cup holders.
Denis Richardson
52
Posted 11/11/2017 at 11:11:51
I was at the game last night and whilst both sides had a few of their A teamers missing, there was still a lot of quality on the park.
Pickford did himself proud and played completely unfazed by the occasion. Commanded well, distributed well and pulled off a few decent saves. He's certainly just as good as either of the other England keepers.
Overall, quite an encouraging display from the young England side. Makes so much difference when you don't have oafs like Henderson in the side.
Steven Jones
53
Posted 11/11/2017 at 11:34:20
Mike Jones (#30) – silly and totally wrong post.
These are at their age and stage of development they better than Fergie's Fledglings and have proven it by winning a World Cup at their age group.
You may have an opinion that they are too young as yea, developing, some weaknesses etc but – they are proving better than Spain, Germany, Brazil, Italy, Holland youngsters – they have the medals both a Premier League 2 winners medal and a U20 World Cup winners medal.
Jack Convery
54
Posted 11/11/2017 at 11:38:54
He had a very good game on his debut. His confidence will be up to.
On another note Nigel Martyn played for England and in my opinion he's the forgotten man of the game v Greece, when Beckham scored that frre kick to take us to the world cup. Twice Martyn denied Greece certain goals when faced with one on one situations. A very good keeper who should have played a lot more games for EFC - Ta for that Hamper Man.
Steve Ferns
55
Posted 11/11/2017 at 11:44:17
You know Pickford is a great young keeper when you can read numerous goalkeepers tell you so.
To my eye, he seems to have a problem with the ball hit hard at about 7 feet in the air. He's been beaten a lot there and obviously that's well within his reach.
Chris Kirkland spent a season with Jordan. He rates him as the best English keeper already. What's in it for Kirkland to say this? Must be true then.
David Preece is an ex goalie turned journo with a niche in reporting on goalies. He's from the north east and so is the go to guy for Pickford having championed him as a great since before the start of last season.
There's a few other goalies who really rate Pickford. So it must be that he really is a great young keeper. They know far more than you or I?
John McFarlane
57
Posted 11/11/2017 at 12:34:40
Hi Paul (#28),
I'm pleased that you enjoyed my last post [(an unintended pun on this special day).
To be truthful, I can really only respond to either a contribution from a fellow "Webber" or an occurrence, such as Jordan Pickford's selection for England.
I suppose that, as a regular contributor yourself to ToffeeWeb, you will be aware that I am in my 80th year, and that as a youngster in the immediate post war days, I lived for Everton Football Club (as many did), and still do. I have no doubt that something will crop up, and that what small part of my mind remains, will be triggered into action.
I would like to apologise in advance to anyone who finds the ramblings of an old man annoying. I appreciate that the current situation of Everton will be debated thoroughly on this site, but I believe that a post or two regarding past times may stir forgotten memories for supporters of my generation, and give younger fans an insight into why this Club means so much to all of us.
I would like to add that this applies to supporters of every club; try telling a 10-year-old Rochdale fan that his club is not the best club in the land.
I must also add that time has mellowed me, and that my passion has waned a little but not completely, and that the family loyalty will be maintained through my 13-year-old Grandson.
By the way, I did state on another thread that, when the Football League was formed in 1888, my Granddad himself was 13 years old, and though he never claimed it, and I have no way of proving it, I do believe he would have been a "True Blue" from the start.
To all who have had the patience to read this post... thank you, and "Keep the Faith".
Steve Ferns
58
Posted 11/11/2017 at 13:18:23
Always good to read your posts, John. You have a perspective that few possess and I hope to look back as a wise old Evertonian when I'm 80.
Neil Copeland
59
Posted 11/11/2017 at 14:29:16
John (#57), I can only second what Steve has written – nice one!
Paul Kossoff
60
Posted 11/11/2017 at 14:49:13
I told you he would have a great game! I told you all!!! Actually I thought England would get battered and Pickford would get the blame.😋
Tom Bowers
61
Posted 11/11/2017 at 15:07:19
Honestly cannot see England getting anywhere under this Southgate character. This was a nothing game so I suppose it didn't matter what kind of team he put out but I suppose had it been a something game then players wouldn't have arbitrarily skipped it ''injured'' as always happens.
I find it hard to believe that players who are not holding down a place at top level yet are worthy to be called up regardless of how they perform at under 21 level. It just seems that players can get an England call-up just by getting their name in the papers once especially if you belong to a top Premier League money club.
John McFarlane
62
Posted 11/11/2017 at 15:10:32
Hi Steve (#58), thank you for your kind words. I must confess that it has taken a lifetime of enjoying the highs, and learning to accept the lows, to bring about a sagacious (if that's what it is) outlook on life in general and football in particular. Believe me, despite what the revered (in some quarters) Mr Shankly is reputed to have said, there are some things much more important in life than football.
I'm glad you posted, Steve, because you gave me the title of "Inverting the pyramid" and although I haven't been able to read it, I followed another link, which may well have been posted by you, and to be truthful the only things that differ are the terms.
What is now classed as a false Number 9 was a deep-lying centre forward. (Our first glimpse of that was when Hungary beat England 6-3 at Wembley in 1954.) This role was taken up by Hidegkuti, and introduced into our game by Manchester City, with Don Revie taking up that role.
In today's game, people constantly refer to the Number 10 position; I don't see why it should be confined to the Number 10 position, why can't we refer to a Number 8 doing exactly the same job?
In our day, we had what were regarded as attacking wing-halves, and defending wing-halves (together with the inside forwards) – they did exactly what today's midfield players do.
The forerunners to the wing-backs, were full-backs who were given license to attack, and when they did so, someone would drop back to cover their position. The greatest exponents of attacking full-backs in my opinion were Jimmy Armfield (Blackpool) and Alex Parker (Everton).
Someone once said that football is a simple game made difficult by coaches, or maybe that's something I've just made up?
Tom Bowers
63
Posted 11/11/2017 at 15:11:28
It always galled me when Howard Kendall kept getting ignored by previous managers and it was positively criminal that he never got one England cap and these days you see second rate players like Lingard and Livermore getting picked.
Steve Ferns
64
Posted 11/11/2017 at 15:46:52
John, you might be interested to know that one of the trendy titles for football hipsters these days is the "half-back". Of course you will be familiar with the term and it gave way to what most people call a central midfielder.
Because a midfielder is a vague term that does not define what a player does, ie Zidane was the opposite of makelele but both were midfielders. So half-back is a revived term to try to define a particular type of player epitomised by Sergio Busquets of Barcelona, who act as a defensive midfielder with this as their primary function, but also they are encouraged to get forwards to support attacks. They also need to bring the ball out of defence.
Anyway, thought you might be interested in the revival of certain terminology from yesteryear.
The big thing with numbers though is that football is a world game, and if you said trequartista to a Spanish fan they would know exactly what player you meant (Zidane, Platini, Riquelmhe), but 90% of English fans wouldn't have a clue. If you then talk about a no10 they would.
A number 8 is quite different from a no10. A classic trequartista is epitomised by Zidane. watch the brilliant documentary on him that lasts for just one match. It's amazing to see how little he does off the ball. Now a no8 has lots of defensive responsibilities. He has to be a box to box players, though with more concentration on attack rather than defence (as compared to a no6). Paul Bracewell was a great example of an 8.
Davy Klaassen is often called a 10 on here, but he's actually an 8. He can go box to box, and whilst not defensively sound, he covers a lot of ground. He does his best work initially in the transitions and getting balls forward, before getting forwards himself and trying to finish moves.
Anyone who really thinks Klaassen is shit should watch him in action in 2015/16 playing in a variety of positions and showing off his sublime control and one/two touch game. I accept he's done none of that for us, but do you really want to write that player off?
Stan Schofield
65
Posted 11/11/2017 at 15:59:03
Other examples: Wing-half (No 4 on the right, No 6 on the left). Howard Kendall (No 4) was often listed as that. Inside right (No 8). Alan Ball.
Davy Klaassen's style, from the videos I've seen, and from one or two isolated snippets playing for us, reminds me of Alan Ball. I'm not saying he's that good, very few would come close, it's just his style.
Steve Ferns
66
Posted 11/11/2017 at 16:12:31
I know what you're saying Stan, there is a player there. We just need to unlock it.
I thought Koeman had started something at the end of last season. He had a 433 working well:
Robles
Holgate Williams Funes Baines
Gueye Davies Schneiderlin
Barkley Lukaku Mirallas
I thought that we would keep this shape, would better develop our passing game and improve the squad:
Pickford
Holgate Keane Funes Baines
Gueye Klaassen Schneiderlin
Sigurdsson ? Sandro
I thought Keane would replace Williams, Kenny might replace Holgate, but he did well enough at the end of the season to start the new season.
Midfield, I expected more of the same, but Davies to be squeezed out by Klaassen. Klaassen playing just slightly ahead of the other two. Sigurdsson I thought would slot into Barkley's role as the payer to come inside and dictate play. Sandro to be cutting in off the other flank with more speed and directness than Mirallas. And the big factor remaining who would replace Lukaku.
In this team there is still pressing as last season, Klaassen does have good energy and puts in a shift. He can get forward from the 8 to the 10 position. Sigurdsson cuts in to take up the 10 position. But it all relied on a big focal point up front. I didn't see where Rooney fitted into a 433. The answer was Koeman threw the 433 out the window and went for a 4231 and the midfield 3 was narrow and stocked with players tripping over each other to be the 10. The 10 is meant to play others through. If the 10 is on the ball and has no 9 ahead, or a 7 or 11 wide, then what's he meant to do? And that in a nutshell has been the story of our season.

Stan Schofield
68
Posted 11/11/2017 at 16:27:48
Steve, I haven't got your insight into tactics, but your analyses always seem sensible. Although I thought the new signings weren't great, they are good (or were at their previous clubs). Before the season started, I thought we'd be playing fast one-touch passing movements, particularly having seen Klaassen, Sigurdsson and Rooney doing that kind of thing in the past. More like City (without being City) perhaps, with no big target man.
It's disappointing, and frustrating that that hasn't happened. There have been flashes, like the first half against Split at Goodison, but then nothing happened. I feel it's there for the taking, if only the right approach is taken by the manager.
Steve Ferns
69
Posted 11/11/2017 at 16:42:27
I agree Stan. Which is why we need to go back to basics. It's also why I think Unsworth is right to "freeze out" Klaassen and Sandro. I hope he's spoken to them at length, to tell them that we need to go with what worked in the past, to build some solid foundations, and then add attacking flourishes (ie them) once things have started working.
Dennis Stevens
70
Posted 11/11/2017 at 16:50:52
Steve, I suspect Unsworth appreciates what a pile of pooh he's trying to sort out, even if only for the short term, and is focused on character at least as much as ability at the moment.
Paul Mackie
71
Posted 11/11/2017 at 16:59:32
The fact that Neville Southall rates Pickford is enough for me. He certainly knows more about goalkeeping than some ToffeeWeb posters by the looks of it. Anyone who thinks Robles is a better keeper than Pickford needs to get themselves down the opticians sharpish.
Steve Ferns
72
Posted 11/11/2017 at 17:08:25
I queried asking for Southall's analysis of Pickford and found something. But all it was was a tweet saying Pickford was "very good". I'd love to see an actual detailed analysis of Pickford by the great man, but sadly, there doesn't seem to be one.
John McFarlane
73
Posted 11/11/2017 at 17:13:16
Hi again, Steve (#64), and thanks for attempting to bring me up to date, but I think you will be familiar with the phrase "You can't teach an old dog new tricks".
I fully understand the point you make regarding the responsibilities of the players in certain positions, but as you also refer to household names in football, wouldn't it be simpler, if instead of allocating numbers, you quoted names?
For example if you spoke to me of the Number 10 turn, I wouldn't have a clue as to what you were on about, but if you quoted the Cruyff turn, even an old fool like me would know exactly what you mean.
I'm afraid I never managed to master painting by numbers, so I don't imagine I'd have much success with "Football by Numbers". I do however believe, that I could recognise talent in a footballer (and his contribution to the cause) – even if he wore a shirt without a number.
I also believe that all this jargon may be of benefit to someone who is sitting an examination for an appointment with the FA... but I can't for the life of me see how it's going to add to my matchday experience in Row Q of the Park End stand.
I think I'll just soldier on with my full-back, wing-halves, inside-forwards, and centre-forwards; they've served me well for nigh on 70 years, but thanks once again for attempting to enlighten me, and I'm sure we'll have many more discussions, I thoroughly enjoy them.
Steve Ferns
74
Posted 11/11/2017 at 17:18:59
Will do, John. Make sure to ask for the book (Inverting the Pyramid by Jonathan Wilson) for Christmas – I'm sure you will enjoy reading about the tactics of the 30s, 40s and 50s and the development into the modern game. I'm sure there will be lots in there that you can relate to and it may even make you see things in a different light, as it did for me.
Tom Bowers
75
Posted 11/11/2017 at 17:36:21
Guys, shirt numbers mean nothing in the modern game. Yes, once they determined your position and then later helped radio and TV commentators identify players. Of course names on shirts now do that job although all those unnecessary double-barreled names cause problems today.
As far as I can see, it's simple. You are now part of a system that says you have to be able to defend and attack when necessary. Keep possession and make no mistakes. Better to pass the ball 3 yards sideways or backwards rather than try a 30-yard pass forward and lose possession.
Things change but not always for the best. Football used to be an entertainment and, although it still is to some degree, it is now big business which controls much of it... like Trump in the White House – all the riches but churning out garbage at every turn.
Tony Graham
76
Posted 11/11/2017 at 17:43:31
I think Kenwright will get his way, and persuade Moshiri to part with more cash for Dyche to come in and try to sort out the mess we're in...
Nobody else seems to want it.
Steve Ferns
77
Posted 11/11/2017 at 17:44:19
We weren't talking shirt numbers, Tom, we were talking the number 10 position (trequartista, enganche, or as John would like to call it, the Cryuff position), the number 8 position (box-to-box midfielder, the more attacking of a central midfield two, the Alan Ball position), the number 6 position (box-to-box midfielder, but the more defensive of a central midfield two, the Peter Reid position).
We don't actually mean the shirts the players wear. After all, Zidane played Number 10 for Real Madrid but wore Number 5.
Stan Schofield
79
Posted 11/11/2017 at 17:55:32
Tom @75: I think you've nailed some of the problems there. There's too much worry about getting things wrong, but to be creative you have to take risks.
Similar problems exist in other disciplines, like music. Some musicians worry about hitting bum notes, and this can stifle their performance, because they're focusing too much on getting everything technically 100%. This contrasts with realising that bum notes don't matter so much (so long as there aren't too many!), so long as the overall performance has passion. Sufficient technicality, but also passion and creativity.
Maybe players are being over-coached on playing things safe, and there should be more coaching on drills, so that players do things second nature when they get on the pitch.
Stan Schofield
80
Posted 11/11/2017 at 18:15:50
I meant to add @79, when there's too much worry about getting things wrong, ironically this can increase the number of mistakes, so it has the reverse of the intended effect. It's a mental thing, but can be trained away. Maybe that's been one of the problems under Koeman, especially in away games, which Unsworth will be trying to rectify.
John McFarlane
81
Posted 11/11/2017 at 18:19:53
Hi yet again, Steve (#74), if you're a match-going supporter, it may be possible to meet up one match day. I have already made a new friend in Dave Abrahams; being in my age bracket does help a bit, although I've always been of the opinion that when it comes to football, there is no age barrier – we're all capable of talking rubbish.
Steve Ferns
82
Posted 11/11/2017 at 18:23:17
Sure thing, John.
John McFarlane
83
Posted 11/11/2017 at 18:57:18
HI Tom (#75 & #78), I think you and I are on the same wavelength.
I will be perfectly truthful, when I go to the match, I don't think for one minute "I wonder if Tom Davies is going to play in the Number 10 role or will Gueye operate as a Number 8?"
As you rightly say, numbers were to aid spectators identify the players, and were made compulsory in 1939. The players presumably lined up in the same formation from right back to outside left before this came into effect.
Others may disagree with me, when I say that that if you wish to go on an FA coaching course, it would pay to be familiar with this jargon, but as a spectator it matters little.
At the risk of sounding facetious, I think that when it comes to false Number 9s, Rod Belfitt, Bernie Wright, and Brett Angell were ahead of their time.
Alan Bodell
85
Posted 11/11/2017 at 22:21:48
This is not for posting but I say a big thankyou to Lyndon, Michael and all you people that put this together and have given us a red poppy.
I'm ex-service and I really love to see the support, thanks guys.
Brian Williams
86
Posted 11/11/2017 at 22:25:30
John#83.
We've watched an awful lot of number 2's this season mind!
Steve Ferns
87
Posted 11/11/2017 at 22:35:24
Salute to you Alan. And to any other soldiers this Remembrance Day. Thanks for your service.
John McFarlane
88
Posted 12/11/2017 at 09:29:52
Hi Paul [[28] it would appear that David Prentice of the Liverpool Echo, may be a reader of ToffeeWeb, because in today's edition [12 November 2017] he has published an article on previous Everton international [England] keepers.
All the information is accessible via many sources, mainly "Wikipedia" which I used, after I had consulted my Everton and Football League reference books. I'm just pleased that I beat him to what can hardly be described as a "scoop" but, as they say in the "News Game"– you read it here first.
Martin Nicholls
89
Posted 12/11/2017 at 09:36:35
John#88 - you should demand part of Prentice's fee for that article! I think it's called plagiarism!
John McFarlane
90
Posted 12/11/2017 at 10:36:31
Hi Brian [86] in my original post I did refer to not wanting to see Seamus in the number 2 position, I think Steve was too well mannered to pass comment on such a vulgar suggestion.
John McFarlane
91
Posted 12/11/2017 at 12:33:18
Hi Neil [59] belated apologies, thank you also for your kind words, I know it may annoy some people to read of bygone times, but at my age, I think it's safe to say that I have more to look back on, than I have to look forward to, and to be fair the present is a bit depressing.
I have no intention of getting involved in the debate regarding the appointment of a new Manager, because whatever my preference may be, I can't influence the Boards decision.
I have said on a different thread that in my opinion the successful candidate, could be the best thing, or alternatively the worst thing to happen to Everton Football Club, something that will be revealed in the fullness of time.
One thing I can guarantee, is that he will receive my complete support, and I hope that he will turn out to be Everton's longest serving Manager. Once again apologies for overlooking your post.
Kim Vivian
92
Posted 12/11/2017 at 13:38:16
Steve Ferns - Bit behind the thread here but regarding that clip of Klaassen on Youtube. Looks good there but it strikes me we are playing him in a different position or is it just that all our guys are getting in each others way rather than structuring into the cohesive unit that Ajax appear to be?
John McFarlane
93
Posted 12/11/2017 at 15:28:34
Hi Martin [88],
Moorhouse was first.

Many thanks to reader John McFarlane, who contacted us following last week's Laurie Hughes feature.

We billed Laurie as Merseyside's first World Cup footballer in 1950, but John knows better.

"That honour belongs to George Moorhouse," he explained "who represented USA in the 1930 competition Uruguay.

George was born in Liverpool in 1901 and played for Tranmere Rovers twice in the 1921-22 season. He emigrated to Canada in 1923 where he played for Montreal CPR, then Brooklyn Wanderers, New York Soccer club, New York Yankees, and New York Americans.

George's first game in the World Cup was against Belgium, a 3-0 win for USA, followed by 3-0 victory over Paraguay. He then featured in the semi-final where the USA suffered a 6-1 defeat to Argentina.

"I don't want to appear as a clever clogs but many a pint could be won and lost on misinformation."

Quite. Thanks again, John.

I hope you don't think that I'm a "Smart Alec" Martin, [I probably am], but I don't want you to think so. It's just another bit of useless information I've picked up over the years, and believe me there's plenty more. If the opportunity arises to bore fellow " Webbers" further, I'll probably grab it.

Add Your Comments
In order to post a comment, you need to be logged in as a registered user of the site.
Or Sign up as a ToffeeWeb Member — it's free, takes just a few minutes and will allow you to post your comments on articles and Talking Points submissions across the site.