Unsworth: Injured players 'coming along nicely'

37 Comments [Jump to last]
Friday 17 November 2017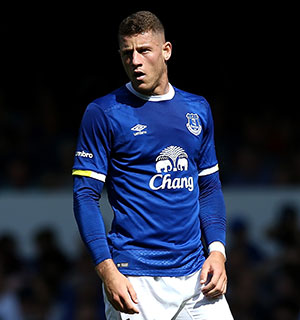 David Unsworth has provided a positive report on almost all of Everton's long-term injured players, confirming that Tom Davies will be fit again for this weekend's match against Crystal Palace.
The midfielder was forced to pull out of the England U21 squad over the international break but is available again for the Blues as the Premier League programme resumes.
Unsworth was asked about the injury situation during his pre-match press conference at Finch Farm this morning and he gave updates on all but Ramiro Funes Mori and Shani Tarashaj, both of whom underwent corrective knee surgeries over the summer.
"[It's] as we were," Unsworth explained. "Ross is back in the gym and I saw him running the other day in the gym. So he's coming along nicely.
"Seamus was away with Ireland and he did some work over there so Seamus is progressing nicely as well.
"Yannick has started training. He's had a couple sessions with our Under-23s group, which is great. We've introduced the ball with him now with players around him so that's great.
"He's champing at the bit so we've just got to be controlled with that after he's been out for such a long time with such a serious injury.
"So, yeah, as we were but all progressing nicely."
The caretaker manager was also asked about James McCarthy and Tom Davies, two players who suffered minor hamstring strains recently.
"James is coming along nicely as well," Unsworth contined. "He won't be available for the weekend but Tom is fine after the scan and there was nothing there so Tom's available for the trip to Palace."
---
Reader Comments (37)
Note: the following content is not moderated or vetted by the site owners at the time of submission. Comments are the responsibility of the poster. Disclaimer
Dermot O'Brien
1
Posted 17/11/2017 at 16:09:34
Good to hear that the injured lads are improving. We need everyone of them back.
This made me smile though:
"He's had a couple sessions with our Under-23s group, which is great. We've introduced the ball with him now with players around him so that's great."
It's a bit like: "I've had loads of driving lessons, and next week we'll actually be starting the car."
Steve Bingham
2
Posted 17/11/2017 at 16:11:57
Great to see him still at the helm rather than most of the names bandied around so far.
Jay Woods
3
Posted 17/11/2017 at 16:44:14
I'm glad our injured players a coming along nicely. We'll need them in the push to get promoted next season.
Tony Dove
4
Posted 17/11/2017 at 16:53:49
They all seem to be miles away from playing.
Richard Lyons
5
Posted 17/11/2017 at 17:07:50
James McCarthy.... remind me who he is?
Tony Everan
6
Posted 17/11/2017 at 17:23:57
The sooner they are all fully fit, the better.
They will refresh the squad just in time for Christmas, we need them back and firing on all cylinders.
John Pickles
7
Posted 17/11/2017 at 17:28:51
Until we get the injured back, wonder if we will see a Full English served up this year, it is possible.
Pickford, Kenny, Jagielka, Keane, Baines, Davies, Baningime (still eligible I think), Lennon, Lookman, Rooney, Calvert-Lewin.
Of course Holgate as well.
It's been a while since 11 English players started a Premier League match, I bet.
Paul A Smith
8
Posted 17/11/2017 at 17:32:57
Got the feeling McCarthy has run himself into the ground. He seems to have become one of those who will be injured after a hard run out? I didn't rate him but to be fair he would be a great squad player.
I have honestly put the long term injured to the back of my mind. I really cannot see them getting up to speed until late in the season.
I also worry their return may have the board feeling the January window isn't as important with the squad looking healthier and they won't consider how long these players will need to get back to their best. If that's even possible in Coleman's and Bolasie's cases?
John (post 7), that would be great to see. Good shout mate. It's not the worst side we could put out either.
Steve Ferns
9
Posted 17/11/2017 at 17:33:11
Ashley Williams is English too. You only have to listen to him talk. He's from Wolverhampton.
Phil Walling
10
Posted 17/11/2017 at 17:43:57
We've signed so many dumbos in recent windows, I'd rather we relied on what we've got!
Brian Cleveland
11
Posted 17/11/2017 at 17:46:43
Steve (9) thanks for reminding us! Perhaps we were trying to forget that... better to leave him out even so, prefer the team named!
Sean Kelly
12
Posted 17/11/2017 at 17:50:01
They will all be like new signings when they return.
Jason Wilkinson
13
Posted 17/11/2017 at 18:02:18
A fit McCarthy is probably better than Gueye or Schneiderlin. (All round play) Seamus is probably the best player at the club Yannick is... well, er, Yannick.
Funes Mori is an interesting one. Almost universally slated when he was getting a game but we miss him now. I remember how the RS used to slate Ronnie Whelan. He then got a long-term injury and the gobshites would tell you how much better they would be when Ronnie was back in the team.
I have always thought Ramiro will come good and feared that when he does he'll be off to a "bigger club".
It's funny how injured players become better or more important when their replacements are shite.
Alastair Donaldson
14
Posted 17/11/2017 at 18:15:46
What exactly did Barkley do to himself to be out this long and still only in the gym?
Steve Ferns
15
Posted 17/11/2017 at 18:22:43
He had an operation on a groin injury and then it is reported he had a hamstring injury. It all seemed very fishy to me. Maybe he got an infection having his tattoo removed?
Paul A Smith
16
Posted 17/11/2017 at 18:24:21
Ashley Williams is English too. You only have to look at where he was born, Steve.
Steve Ferns
17
Posted 17/11/2017 at 18:26:09
Jason, I don't think Funes Mori is a very good player, but we miss what he offers, which is pace at the back, confidence on the ball and his aerial ability.
Steve Ferns
18
Posted 17/11/2017 at 18:28:30
I know he is, Paul; I was reminding John Pickles.
Dermot Byrne
19
Posted 17/11/2017 at 18:35:18
This game tomorrow will be interesting regardless of those recovering. Unsy has had a 2 weeks to work with the squad (which came at the right time for him) to assess their strengths and decide his best team and tactics. Also to work on team spirit and motivation. I hope he has been strong and enthusiastic and has used the time well.
I have no real idea what his tactics are or will be but further improvement in passion and effort would be good... and a record financial penalty for every time Baines cuts back!
Will Mabon
20
Posted 17/11/2017 at 20:08:49
It was reported somewhere that Barkley had a hamstring op too, so two operations.
Derek Knox
21
Posted 17/11/2017 at 20:11:29
Dermot @1, I had a bit of a titter at that one too. Surely, although he has been out for a while, he has not forgotten what a ball is like, and to have players around him too.
I was under the impression that he had been at Grinch Farm, for his treatment and rehab, not Desert Island Discs. :-)
Christy Ring
22
Posted 17/11/2017 at 20:31:06
Phil @10 We signed a few dumbos this summer, so it's essential we buy a striker, centre-back and left back in January.
Mick Conalty
24
Posted 17/11/2017 at 21:35:42
Great to hear some positives for a change.
Tomorrow we need one big positive – namely, 3 points.
Pat Kelly
25
Posted 17/11/2017 at 21:57:11
McCarthy is finished. He can't tie his laces without getting inured.
Barkley has had more than enough chances to develop.
Hopefully Coleman will get back to his best, he's sorely missed.
Bolasie never got going but I'm looking forward to seeing him add a bit of speed and flair to the attack, hope he's learnt how to cross.
Funes Mori is marginally better for the heart than Williams.
Andy Crooks
26
Posted 17/11/2017 at 23:04:21
Pat, how do you know McCarthy is finished? Do you have an inside link to the club or is it pure conjecture on your part?
Neil Wood
27
Posted 17/11/2017 at 23:46:52
Hulk to Everton in January... you heard it here first!
Chris Watts
28
Posted 18/11/2017 at 00:42:38
I would love to know exactly what was wrong with Ross. He just disappeared after the nightclub incident. I'm not saying it isn't the hamstring but I can't remember the club actually saying what is wrong. And muscle injuries don't usually last months
And he seems desperate to leave the club. All very strange.
Don Alexander
29
Posted 18/11/2017 at 02:03:20
Regarding Barkley, I've read the posts extolling his distantly remembered superlative skills since his serious, but mysteriously unidentified, injury and it seems to me that some of us now have a "Ross-In-Our-Community" attitude to supporting him. All very worthy of course because "he's-one-of-us" (presumably meaning "he's-one-of-us-millionaire-shirkers" when fit) but worth the square-root of fuck-all in getting an improvement in results, which is all that matters right now.
Whatever his skills as a goal-scoring/providing midfielder, and at best they're fleeting, and by now fairly historic, some of us now contend him as the answer to our forward line!
As if! By way of consistent performance he's known up and down the land as "frit" and is therefore the opponent of choice for any defence in the league.
By that logic let's reintegrate McCarthy back into the first team by sticking him in the nets for a month or two. After all, what harm could it do?
Ernie Baywood
31
Posted 18/11/2017 at 03:05:31
Firstly, he tore a hamstring. I hope that resolves the mysterious part of your post.
Secondly, I think we're missing him more than anyone else that's out. That's not through a blue tinted memory of his consistency, but he provided far more than anyone else has so far this season despite his maddening mistakes.
If I was an opposition midfielder or defender, he's the player in the Everton squad I'd least like to play against. He might not exactly give you a hard time for 90 minutes but he can make things happen when his moment comes.
Would I play him when he comes back? Absolutely. I wouldn't be basing a team around him but he's a worthy member of the team if he's fit and we're paying his wages.
Darren Hind
32
Posted 18/11/2017 at 03:34:10
Those who criticise Barkley only have to look at the way we have played in his absence. Whatever your thoughts, he is superior to any of Koeman's expensive would-be replacements.
His "mysterious" injuries must be the most reported upon injuries we have suffered for a decade

Will Mabon
33
Posted 18/11/2017 at 07:27:59
"And he seems desperate to leave the club."
I have to say, Chris, I've never seen anything to show him as "desperate" to leave the club. The one reported chance he did have, to go to Chelsea, was seemingly rejected.
Whilst there's been no news of him staying since Koeman went, speculation of him leaving seems to have died down for now.
Anthony Hawkins
34
Posted 18/11/2017 at 08:09:10
Whatever we think about the existing injured players, they performed and played better than the current squad members.
Sam Hoare
35
Posted 18/11/2017 at 09:03:10
When he comes back, we will have Barkley, Rooney, Sigurdsson, Klaassen and arguably Sandro too who do best in the No 10 slot behind a striker. And we'll have just one left back. Woeful squad balance!
Christine Foster
36
Posted 18/11/2017 at 09:40:12
You know, I remember exactly all the same comments about John Stones.. rubbish, get rid, inconsistent, a liability, others far better, not worth his place, sell him for what we can get, another Jack Rodwell, spend all his life on the bench at Man City.
So... never a peep out of any of you now eh? Brilliant performances for England... and Man City – is he fulfilling his potential? Sometimes the player needs quality around him to excel.
You could slot any name into the frame, Rooney, Sigurdsson, Barkley... what we need is someone to get the best out of then, not kick the crap out of them on here, they get that from incompetent managers. On their day, in the right position, with the right set-up, they do the business. That's why we have a manager, that's why we have several No 10s; we had a crap manager.
Trouble is, as the saying goes, it's hard to soar like an eagle when you are surrounded by turkeys...
Drew O'Neall
37
Posted 18/11/2017 at 09:52:19
Richard (#5),
James McCarthy played a month ago at Chelsea in the League Cup and played quite well.
He could do a job at right back given the plethora of options in the middle or could play in a pair of box-to-boxers with Tom Davies.
Neil Cremin
38
Posted 18/11/2017 at 11:50:09
A bit Smart Alex her Richard 5
Same could be said for Fumes Mori. Bolasie even Besic etc who have all spent more time injured at the club than playing. Martinez created his injury problems through playing him when he was injured. I think he would be a far better option than Sneids or Gana.

Ian Hollingworth
39
Posted 18/11/2017 at 14:51:28
John Stones didn't leave because the fans fans didn't love him enough or that some thought he wasn't good enough.
John Stones left because he wanted to play for an ambitious club with much better players.
Two Seasons on of course he is a better player but it helps being surrounded by better players and at a club who have ambitions.
Basically, a John Stones or a Lukaku will always look to leave us because we simply do not have the ambitions as a club to match their own.
Add Your Comments
In order to post a comment, you need to be logged in as a registered user of the site.
Or Sign up as a ToffeeWeb Member — it's free, takes just a few minutes and will allow you to post your comments on articles and Talking Points submissions across the site.