Niasse rejects accusations of 'diving'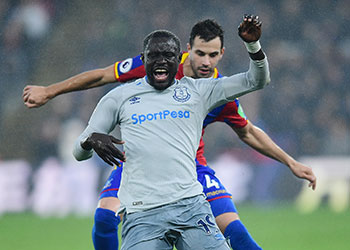 Niasse: "He was coming into contact. When I felt the contact, I knew then he pushed me away."
Oumar Niasse has defended himself against claims from Scott Dann that he dived to win the penalty that brought Everton back level at 1-1 in Saturday's draw with Crystal Palace.
Everton had made an awful start to the game, conceding inside the first minute, but were handed a route back to parity just four minutes later when they were awarded a penalty from which Leighton Baines scored.
Referee Anthony Taylor adjudged Dann to have fouled Niasse when the pair came together in the Palace penalty box but Dann felt aggrieved, saying: "If there was [contact] it was minimal. I haven't tried to tackle him; he has gone past me and you can see on the replays he has dived."
The Senegalese striker, who would score the Blues' second equaliser later in the first half, insists, however, that there was sufficient contact and he says he would be very surprised if he is pulled up by the Premier League in accordance with their new anti-diving regulations.
"People were saying that I fell down easily," Niasse said. "I don't know. I didn't see the video again. To get into the box, I tried to dribble the guy.
"He was coming into contact. When I felt the contact, I knew then he pushed me away.
"The contact was on my upper body but when I felt the contact I was in the box so that is it: that is all I have to do, go on the floor. It was because I was running so quick.
"I will be shocked [if I am charged with diving] because there is contact."
However, presumably in response to the inordinate media furore kicked up by numerous pundits, the FA have indeed referred the matter to their review panel as the first case of its kind to be considered retrospectively.
"It is alleged he committed an act of simulation which led to a penalty being awarded in the 5th minute of the game," the FA statement continued.
"He has until 6pm on 21 November 2017 to respond.
"Incidents which suggest a match official has been deceived by an act of simulation are referred to a panel consisting of one ex-match official, one ex-manager and one ex-player.
"Each panel member will be asked to review all available video footage independently of one another to determine whether they consider it was an offence of 'successful deception of a match official'.
"Only in circumstances where the panel are unanimous would the FA issue a charge."
---
---