Everton vs Atalanta

119 Comments [Jump to last]
Wednesday 22 November 2017
Match Preview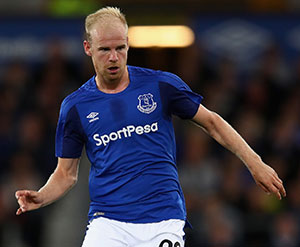 Davy Klaassen will be hoping for a rare chance to press his claims for more first-team involvement
Everton face Atalanta in what is, for them at least, a meaningless Europa League fixture but which could hand chances to impress for some of the fringe players.
By virtue of their 3-0 defeat in Lyon, the Blues are out of contention in Group E with no chance of progressing but the Italians are joint top with the French side with top seeding at stake for the team that finishes first after the final group matches next month.
Caretaker manager David Unsworth is expected to field some of the players who have not had much game time since he took over from Ronald Koeman last month.
That could include the likes of Davy Klaassen who Unsworth confirmed is fit and available; Sandro Ramirez, who came on as a substitute at Crystal Palace last Saturday; and Nikola Vlasic who has been, arguably, the most perplexing omission from the stand-in boss's plans.
Vlasic was a stand-out performer in the last few games under Koeman who signed him from Hajduk Split on transfer deadline day and scored his only Everton goal to date in the Europa League against Apollon Limassol.
While nothing is riding on the result, Unsworth stressed that the team will go out to win, not only as a matter of expectation but also because it will help in terms of morale where the Premier League campaign is concerned.
"We've needed a bit of fighting spirit. I think when you're in our position," he said in his press conference at Finch Farm today. "That's what helps you win and put points on the board until the confidence is as high as it should be and the players can start expressing themselves as individuals.
"Now, we can't play as individuals at the moment because we're in a perilous position. What we want to do is add team performances and within that, a strong unity, a team spirit and a desire and fight to win every single game.
"We need to perform and we need to win to get ourselves out of a tricky start to the season and I believe, looking at the performances, looking at the points on the board over the last couple of games, looking at performances in spells — not 90-minute spells where we need to be… but you've got to have those foundations and those building blocks.
"And you need a starting point and I think we've had that and I think we've have got better with each game. The lads have won a game and drawn a game and this is another game we want to win.
"We represent Everton and every time you pull on that famous Blue shirt we have a responsibility to win the game."
Phil Jagielka is expected to be rested and Morgan Schneiderlin won't figure either while Mason Holgate is ruled out because of a groin problem.
Kick-off: 8.05pm, Thursday 23 November, 2017
Reverse fixture: Atalanta 3 - 0 Everton
---
Reader Comments (119)
Note: the following content is not moderated or vetted by the site owners at the time of submission. Comments are the responsibility of the poster. Disclaimer
Zaid Omar
1
Posted 22/11/2017 at 20:05:12
Looks like Unsworth favorite now for job – Everton have given up on getting Marco Silva, as per exclusive report in The Independent.
Nigel Munford
3
Posted 22/11/2017 at 20:06:34
It seems no one wants it!
Zaid Omar
4
Posted 22/11/2017 at 20:09:33
It's an absolute shambles, this manager search. Has gotten really embarrassing.
James Stewart
5
Posted 22/11/2017 at 20:16:26
@3 Dyche wants it.
Colin Glassar
6
Posted 22/11/2017 at 20:19:19
George Galloway is always after a cushy job. Like others have said, this is a typical Everton cock up.
As for the game tomorrow I'd go with:
Robles
Kenny
Holgate
Williams
Martina
Schneiderlin
Beni
Klaasen
Vlasic
Sandro
Mirallas

Steve Ferns
7
Posted 22/11/2017 at 20:19:54
Silva wants it too, it's just Watford won't let him go.
On Dyche, did you know the youngest player to play for Burnley this season is 25-year-old Tarkowski? Now that would worry me.
Drew O'Neall
8
Posted 22/11/2017 at 20:20:22
I would like to see a fire sale in January and then just let Unsworth run it as lean as possible with the youngsters getting maximum game time until the end of the season.
The young emerging talent is the most exciting and appealing thing about Everton Football Club currently so why not give them a platform which will both; encourage other talented youngsters to join us, and show potential managerial candidates we have a bright future.
Clear out some of the high earners and let a new manager come in with as blank a canvas and as empty a wage bill as is possible im the summer, then perhaps we might get a few more candidates.
Kim Vivian
9
Posted 22/11/2017 at 20:22:06
Nigel – Silva's definitely interested but baulked by his club.
Noleen Daya
10
Posted 22/11/2017 at 20:22:34
I agree – this is indeed a shambles. What ticks me as well is that the club has released no statement to the news at least to the fans. Rumours flying left, right and center with no word from the club. I find this utterly appalling!

Kim Vivian
11
Posted 22/11/2017 at 20:22:57
Whoops - as Steve says
Steve Ferns
12
Posted 22/11/2017 at 20:24:24
Drew, the club lack the money to just write off so many players and sell them off cheap. We'd need Moshiri to authorise spending another £200m to build a new squad. Surely it's better to rejuvenate what we have, under a new manager, and then clear out the ones who do not respond.
My guess, and it's only a guess, is that Moshiri will not authorise a spending spree. He came out and said to Koeman, you got your team, get on with it. I expect he'll buy the new guy a couple, but not more, and he'll appoint the new guy on the basis of promises the new guy made for getting the best out of the present squad + a striker.

Zaid Omar
13
Posted 22/11/2017 at 20:25:23
Unsworth, as passionate as he is about the club, just doesn't seem right for the role at this stage. I genuinely fear us losing our way even further in the next few weeks under him.
Joe McMahon
14
Posted 22/11/2017 at 20:25:46
Re the Manager – sadly, Everton in 2017 have become a shambles. I fear our only chance was Kings Dock. I can't see Bramley-Moore Dock happening anytime soon, if at all. Goodison Park is an embarrassing antiquated dump and we are just not attractive, compared to where we want to be.
Just look at how Spurs have overtaken us, Stadium on the way and a manager making a real impact. Christ we are bottom of our Europa group and Spurs top of their Champions League group with Real Madrid in it.
Steve Ferns
15
Posted 22/11/2017 at 20:34:45
Spurs are in London. All the London clubs have suddenly shot up the league. We were ahead of them only when they were in turmoil under a succession of poor managers. However, they have had far more investment than us since the Premier League began and we cannot compete with that.
Andy Meighan
16
Posted 22/11/2017 at 20:51:27
Steve (#15),
Nothing to do with geographics We've had investment as well and Koeman was backed to the tune of £200M. It's just that Spurs bought wisely as well as bringing a few academy players through. While that clown Koeman squandered ours on the likes of Schneiderlin, Sigurdsson, Sandro, Klaassen, Keane etc
Our best players have been Pickford, Vlasic, Niasse and Baningime. The season has been a complete shambles – and we are still in the shit big-time.
Tony Abrahams
17
Posted 22/11/2017 at 20:53:56
I'm pretty sure Spurs are one of the most prudent clubs in the Premier League though.
Steve, when Dyche went to Burnley five seasons ago, they were favourites for the drop, but he worked a miracle, and got them promotion instead. Went down, went back up, stayed up and now he's moving Burnley forward. Under the circumstances that he's managed Burnley, why would going with experience worry you?
Burnley were favourites to go into League One when he went there, mate, and taking that into consideration, then he's surely worked wonders since he became their manager.
Dave Williams
18
Posted 22/11/2017 at 20:56:30
Sorry but I don't buy into this "embarrassing" stuff.
The manager had to go but all the really good ones are tied to their clubs and there isn't an outstanding candidate. Nothing has been said by the club so we don't know who has been asked in reality.
As far as Goodison is concerned, I'm not embarrassed by it. I love it to bits, have done for 55 years, now and prefer it to any of these shiny new stadiums.
I accept the need to move.... but embarrassed??? No way – and never will be.
Steve Ferns
19
Posted 22/11/2017 at 20:58:19
It worries me that we have relied on youth more than any team this season, that we have a load of youth talent, that we are seen by young players as the team to join if they want to play first team football. Yet if we appoint a manager who wants experience instead, we could lose all of that.
Koeman is responsible for leaving us with a disjointed team where we have loads of players under 23 and loads over 28, but none 23-28. He sold players in this bracket, and did not replace them. I would not want to see Dyche do the same.
By the way, I am not totally opposed to Dyche, there's a lot of pros, and they probably outweigh the cons.
Steve Ferns
20
Posted 22/11/2017 at 21:00:07
Dave, have you been to any of the '90s stadiums recently, I'm thinking Boro, Sunderland, Derby, Reading... places like that. They've not aged at all well.
Rob Halligan
21
Posted 22/11/2017 at 21:04:00
Colin (#6). Schneiderlin is suspended! 😞😞
Dave Williams
22
Posted 22/11/2017 at 21:05:22
I haven't Steve but having done Wembley a few times, I prefer the old one. Okay the loos were pretty rank but like Goodison it bristled with character whereas the new one is cheap and plastic in parts and just doesn't do it for me. I am proud of our ground and some of my fondest memories are of afternoons and evenings spent there.
How could that wonderful old stadium ever embarrass me? Some of the current players do, but that's another matter!!

Charlie Lloyd
23
Posted 22/11/2017 at 21:10:58
Steve @ 7
That's because Burnley don't have the players under 25 that we have and it's a totally different situation.

Dave Williams
24
Posted 22/11/2017 at 21:13:44
We bought Keane, Klaassen, Sigurdsson – all 24 to 28 – and look how they have played!
Dave Abrahams
25
Posted 22/11/2017 at 21:15:10
I'm going to the game tomorrow but hope Kenny isn't picked, save him for Sunday along with Calvert-Lewin, Lennon, Pickford, Jagielka, Keane and and Gana. Play Sandro, Klaassen, Robles and Beni Banginime, not because I don't rate them but because they need games,
We are out of this competition, the only games that matter are the Premier League games. it is vital that we stay in this league, fuck the other competitions for now, desperate times need desperate measures.
Derek Knox
26
Posted 22/11/2017 at 21:15:53
Like I have said before, the next manager has not only got to be a football tactician, but a man management expert too.
I was weighing up the other day the vast majority of players in the squad, are not that bad, but really lacking in confidence, and to a degree motivation too.
While I agree there is some dead wood; and some we have grossly overpaid for; but a new broom and a couple of additions, could turn things round.
While I love Unsy, as he is basically one of us, like Zaid Omar @ 13, says I don't think the job is right for him at the moment. I do hope as many do, that it gets sorted before the rot gets any worse.
Steve Ferns
27
Posted 22/11/2017 at 21:16:32
Charlie, if they don't have players under 25, and Dyche has been there 5 years, doesn't that cement my point in stone?
Colin Glassar
28
Posted 22/11/2017 at 21:17:53
Rob, we should play him anyway so he gets a 10 game ban. He's been awful this season.
John Davies
29
Posted 22/11/2017 at 21:19:07
Bloody hell, we're totally screwed. No-one wants the job apart from Unsworth and Silva. We can't get Silva and Unsworth is unfortunately nowhere near good enough for the job of first team manager.
The club is an absolute joke from top to bottom and Moshiri either now shows what he's made of and shows some REAL steel or that fucking bellend "Luvvy Bill" will finally run the club aground.
I have followed my football club for over 55 years and I have never seen us in a worse situation than we are today. I am so totally deflated, completely disillusioned and seriously worried that my beloved Everton FC is certain for ruin.
Steve Ferns
30
Posted 22/11/2017 at 21:19:35
Or maybe so we get thrown out the competition and don't have to play the last game, and our record is expunged and we have a big * disqualified next to our name instead of 015.
Steve Ferns
31
Posted 22/11/2017 at 21:24:43
My team for tomorrow would be:
Robles
Kenny Holgate Williams Martina
Baningime Rooney Davies
Vlasic Calvert-Lewin Sandro
Derek Knox
32
Posted 22/11/2017 at 21:26:36
Colin, a ten game ban, that's letting him off a bit lightly there mate!
He deserves a much harsher sentence than that.
Be interesting to see how many turn up for a nothing game, they really don't deserve the support of late.
They have collectively, let the die-hard supporters down.
Dave Ganley
33
Posted 22/11/2017 at 21:29:31
I'm going to the game tomorrow too Dave, but can't agree with "fuck the other competitions". Winning breeds winning and we need all the wins we can get. You can't just turn it on and off at will.
Unsworth is right about this; we have to fight to win every single game we play. It's all about getting results. I want us to win every game, we're not in a position to choose which ones we want to compete in nor should we ever be. We are Everton and we should be going to try to win every game we play. Unfortunately this has been lost over the years and we are where we are.
As for Everton being an embarrassment, no Everton will never be an embarrassment. The people running it may be but Everton is my club, our club and I for one am proud of my club. We just need the people running our club to finally realise what our motto stands for, something Kenwright forgot a long time ago
Steve Ferns
34
Posted 22/11/2017 at 21:29:44
Tell me about it Derek, I'm struggling to offload a ticket in a lounge! Maybe it's because no one wants to sit next to me!
Tony Abrahams
35
Posted 22/11/2017 at 21:32:11
That's the thing with Dyche, Steve, we don't know what he would do because he would never have been in this position before?
I'm not sure I want Dyche, but we need to start playing as a team, and defending as a team, and Burnley do both these things very well. I admire what Burnley did the first time they came up, because they lived within their means, and didn't just gamble money at trying to stay up.
I think they knew they would probably go down, so they used the whole experience as a learning curve, and it looks like they've learnt. They didn't waste money on mercenaries, they spent the money on making themselves a better football club, and it looks to be paying dividends for them now.
I'm only really interested in Everton's new manager though, and now I'm reading about a German from Leipzig?
Colin Glassar
36
Posted 22/11/2017 at 21:32:29
Derek, I thought Schneiderlin was great at Southampton, hard done to at Man Utd (their fans say he wasn't given a proper chance) and incredibly poor at Everton.
When I watch him play his body language is poor like, I'm a celebrity get me out of here! I just think his heart isn't in it.
John Dean
37
Posted 22/11/2017 at 21:38:22
Is Liam Walsh available to play in this competition?
Nigel Munford
38
Posted 22/11/2017 at 21:40:07
James and Kim, have either Dyche or Silva actually said they want the job?
Nope, didn't think so.
Rob Halligan
39
Posted 22/11/2017 at 21:41:21
Dave (#33). 100% spot on mate. With you all the way there.
Nigel Munford
40
Posted 22/11/2017 at 21:41:39
Colin, he has got a sore toe.
Steve Ferns
41
Posted 22/11/2017 at 21:41:55
He has Tony. Dyche has managed a big club in Burnley when in the Championship. Tell me that they played good football back then, or that because he was not the underdog he played in a freer way?
And why has he not invested in youth?
Ralph Hasenhüttl is the Leipzig manager. All I know about him is he took Ingolstadt up. Leipzig at the MK Dons of Germany and everyone hates them. But they've got a load of money to spend.
Now if he comes and brings Timo Werner with him, I'll pick him up from the airport myself.
Nigel – they both get asked repeatedly. All they have to say is "I am happy where I am". They both refuse to commit to their current clubs. The fact that Dyche is not first choice and hasn't ruled himself out, means he must still be talking to us and fancy his chances.
Steve Ferns
42
Posted 22/11/2017 at 21:42:33
John Dean – yes, he is.
Dave Abrahams
43
Posted 22/11/2017 at 22:17:34
Dave (33) I'm sure your last paragraph wasn't meant for me and Everton will never be an embarrassment to me. I will always support them, but they were an embarrassment to watch on Saturday and I want to continue to watch Everton in the Premier League, where we belong.
The best players we have need resting for a game, where if we win 10-0 will not mean a thing and the same goes for the last game in this competition with all due respect to the fans who are going there.
Staying up is paramount to Everton's future, if we go down we will be down for a very long time and you might not be embarrassed with us in the Championship but it certainly doesn't bear thinking about.
Tony Abrahams
44
Posted 22/11/2017 at 22:19:42
I don't know about Burnley playing good football under Dyche in the Championship, Steve, because I don't watch that much football anymore. I saw them on Match of the Day the other night and when Cork scored with a header they had 5 men running into the opposition's box, which is not something I've seen whilst watching Everton in recent years.
I think to say that, because Burnley haven't got many young players in the first team, doesn't mean they haven't invested in youth either. Unless you know about the workings of that football club, Steve, it's a throwaway remark, and I'm not sure it's as set in stone as it looks to you, mate!
Nigel Munford
45
Posted 22/11/2017 at 22:21:15
Steve, but neither has said, "Yes, count me in" have they, the fact they haven't said "Yes, I'm interested" could be seen the same as "No I'm not" couldn't it?
The fact that neither has said yes or no leaves us all in the dark like mushrooms as usual.
Looks like Bielsa is available though, and he hasn't said "No, I'm not interested".
People can read such a lot into any news story.
Hugh Jenkins
46
Posted 22/11/2017 at 22:22:49
Tony (#17) – He's ginger haired, going bald, has a beard and has a croaky voice when he talks = therefore not a media darling.
His record is wonderful – but if he isn't going to "excite" the masses – then he has no hope.
I know Howard Kendall didn't excite the fans at first (I also know Bill Shankly and Bob Paisley didn't for those across the road) and I know , that at the moment Unsey is not inspiring blind faith – but I think that either Unsey or Dyche, given their past performances – can do a good – even a great job at Everton.
They just need a chance!

Lenny Kingman
47
Posted 22/11/2017 at 22:29:33
The man Unsworth is certainly a waffler of epic proportions if that load of twaddle above is anything to go by. Sounds like he's swallowed a Thesaurus on the psychology of sports buffoons.
Maybe his old mate Nev could be his number two and we could have the binman dream team.
Hugh Jenkins
48
Posted 22/11/2017 at 22:32:19
Nigel (45) – No-one in a secure job is going to say "I'd love to leave my current employer and go to another rival company", unless they are certain that the other "Rival Company" really wants them / needs them / will pay them more / will offer them a long term contract / et al.
If EFC got in touch with Dyche's or Silva's agents and said:-
"we are offering £4M per annum and a 3-year contract – do you think we would be further along the negotiating path?
Hugh Jenkins
49
Posted 22/11/2017 at 22:37:44
Colin (#28) – know what you mean... but realistically, never pick him again and put him on the transfer list for January.
Nigel Munford
50
Posted 22/11/2017 at 22:48:35
Would that not be tapping up Hugh? Or doesn't that count for managers.
Jason Lloyd
51
Posted 22/11/2017 at 22:49:53
The club is poorly run from top to bottom and really does need a complete overhaul. It's not clear why Moshiri won't take overall control of the club and yet he buys the Liver Building and drives the new stadium development.
I truly believe the decision to move to a Director of Football and Head Coach model has been the complete wrecking of recruitment at a time when a series of key players needed replacing. We're now in limbo, we didn't replace the key positions we needed or moved the ageing players that are still in the first eleven onto the subs bench or out of the club.
Generally this type of mismanagement results in relegation. All the signs suggest unless the Board bring in an experienced manager in December and back them with £100 million in January to fill 4-5 positions, we are gone.
Rudi Coote
52
Posted 22/11/2017 at 22:50:12
Colin Glassar, I don't think Unsy gives a shit of who you'd go for. You're not the manager.
Nigel Munford
53
Posted 22/11/2017 at 22:56:58
On a similar theme, Hugh, Lukaku said he wanted to go to anyone that'd pay a decent wedge for him and he was still contracted to us. Made it very public, if my memory serves me correctly.
I believe we have made it public that we'd offer Watford compensation for Silva but he still hasn't said he's interested, just that he has a job to do at Watford.
Anyways, doesn't matter as the only one that seems to really want it is Rhino.
Steve Ferns
54
Posted 22/11/2017 at 22:57:26
Jason, what do you think the Director of Football actually does? How has it wrecked the recruitment? And how would things have been better if Koeman was doing Steve Walsh's job as well as his own?
Nigel, if Dyche didn't want the job, why wouldn't he say to the press, "No thanks, not for me, I'm committed to Burnley?" Why has Silva refused to rule himself out too?
And the press reported what salary Silva was on, and what we had offered him. So that is something we did tell his agent, or something he can read in the press anyway.
Darryl Ritchie
55
Posted 22/11/2017 at 22:59:08
A good opportunity for the bench warmers to impress? Hell, the starting 11 (and just who that is, is another matter entirely) haven't exactly set the league on fire, have they? The entire club, right from the highest management to the ball boys, seem to have lost their way.
I don't believe this is a "meaningless, nothing" game. We've sucked big time, all season long. To think that things will turn around with this match, is fantasy stuff.
Don Alexander
56
Posted 22/11/2017 at 22:59:28
Given the apparent inertia from our owner/board, doing the opposite of what Moshiri said to the world on arrival, we'd be lucky to get Sean Dyche.
One thing's for sure though; the/his expenditure at Burnley has been minimal, their/his sales have produced profit, and he's now created a team playing football the like of which we've rarely seen in recent years (and only fleetingly since the Premier League started) by ingraining virtual nobodies with the fitness, gumption and determination to do the jobs demanded of them, and all credit to them and him.
Might be attractive to a billionaire, especially one who might just be feeling a bit stretched money-wise since the failure of the Commonwealth Games bid but with his promise to make reality a new state-of-the-art stadium, a squad full of apparent couldn't-give-a-shits, and a 50th of his £billion now languishing in the bank accounts of Kenwright's and his own "What a Manager"s.
What a cluster-fuck.
Tom Bowers
57
Posted 22/11/2017 at 23:05:12
It goes without saying how poor Everton have been this season, even against supposed weak teams and in the Europa league. A lot of work has to be done and maybe Unsy is not yet qualified to do it with the question of Vlasic's recent omission coming to mind.
Everton do have a lot of talent but getting the best starting eleven and strategy has been a big problem. Some players are not what they once were and have somewhat let down the younger players.
Everton need to look beyond Rooney, Williams, Jagielka, Mirallas, Lennon and Baines for the new year. These guys are past their best and should be playing bit parts. Sandro, Klaassen, Sigurdsson and Schneiderlin have not produced anything like what was expected for the money spent on them.
Generally, Everton have no speed, either in midfield or up front, which has been a big detriment. Vlasic, Calvert-Lewin and Niasse have all shown more determination than most of the others but, much like the first minute at Palace, Everton have been all at sea in most games.
Any new manager will have a tough task with what is here and January will not come soon enough. On the plus side, the squad may be boosted in January by the full fitness of some players who have been out for a long time.
We shall see... but, in the meantime, tomorrow's game may just be a meaningless encounter for the Blues but an opportunity maybe for some bench warmers to impress so everyone has had their chances. Although Atalanta have slipped a little, they need to win this game.
Steve Ferns
58
Posted 22/11/2017 at 23:12:55
There is a massive difference in the development of the "manager" in of the UK and on the continent.
In the UK, we had a system like in Cricket. The Captain would pick the team, and the Club Secretary would do all of the other tasks. There was no real training. Then The Club Secretary developed to start picking the team, after all he was buying the players, so he wanted to see them played. And then he oversaw the coaching of the team.
On the continent, they have never had the English or British concept of the Captain. They fail to understand why being the Captain is such a big deal here. Often the guy with the most caps, or the oldest player at club level is the Captain. He does the handshake before the game and that's about it.
The continent was quicker to coaching than we were, and so the coach picked the team, rather than the Club Secretary. As clubs started to become more professional they established a role similar to the club secretary and so they had two distinct positions. One picking the side and coaching it, and another handling transfers and contracts.
It is 2017. Clubs are worth over a billion pounds. Should we really have a manager operating in the way they did in the 1940s, or should we get into the 21st Century like the rest of the world and accept that someone else, preferably with more financial acumen, handles the transfers and contracts. By all means, let the guy picking the side have authority over who actually signs, and allow him to request certain players, and also allow him to have a say over who gets new contracts and for how much, and how that will effect the budget. But let's leave the old fashioned English manager in the past. 75% of the Premier League have anyway, and the 25% who haven't are the smallest clubs by far. Others have DoF by other names, so perhaps we should adopt the american term of "General Manager" and rechristen the manager to "head-coach" so it is clear for all.
Charlie Lloyd
59
Posted 23/11/2017 at 00:28:27
Steve @ 27
Not really.
They have had plenty of U25s but sold them on. Like Keane and Trippier. Ok so they weren't brought up through the Academy more like Calvert-Lewin, Holgate or Lookman for us.
As for players who have progressed from their Academy to the Premier League. Let's face it their network and legacy is no where as revered as ours so what do you expect. We are a much bigger club with a hotbed of natural talent on our doorstep and a better pulling power for any decent country wide youngsters.
So no your argument isn't set in stone.
Eddie Dunn
60
Posted 23/11/2017 at 00:37:20
This game is a chance for us to continue to build some momentum. Unsworth may rest players for the Saints game, but the result is important as we so need our confidence to increase.
He is still learning about his squad – remember he had little contact with the first team before his appointment. Let's see what he can do with them. It's a dead rubber but we can still use it as a stepping stone.
Don Alexander
61
Posted 23/11/2017 at 00:44:56
Steve, sorry, your input at #58 isn't clear to me and I understand cricket.
You state that we need to have a team-picker/coach and a general-manager sort of person (and a captain... and a secretary, but whatever) and it's should be the general-manager's role to sort out incoming transfers providing the team-picker-coach hopefully assents to them.
S'far as I know that pretty much describes what all parties at Everton have said about the relationship between Koeman and Walsh from the outset so why do you hold Koeman solely responsible for the debacle we're now in regarding the transfer shambles? My opinion is based on repeated media releases from those in charge at the club, including Walsh and Koeman, so what's your opinion based on please? Do you have "insider" knowledge?
And I'm not defending Koeman. It's just that if he wasn't solely responsible we've still got muppetry of the highest order at or close to the top of our club, and that's scary given where we are and what we urgently need in signings.
Bob Parrington
62
Posted 23/11/2017 at 01:41:16
Are we short of a striker? Anybody heard of Sam Kerr? Just scored an absolute screamer for Australia! Sign this player up to replace Lukaku!!
Oops! Well the truth is that Sam is a woman! She plays for Australia (The Matildas) and I think for a club in USA. Goal stats I've been told are 28 in her last 24 appearances for club and country. The goal I just watched was from just outside the area, a little left of centre and under some pressure. It screamed past the 1.88 m tall Chinese goalie and in to the scorer's top right corner of the net.
I would have loved to see us score one as good as this during this season so far!
Sign her up Everton. She looks to have more of an eye for goal than any of our current men's team!
Karl Graham
63
Posted 23/11/2017 at 04:12:31
My team for tonight would be.
Robles
Kenny Keane Williams Martina
Klaassen Besic Vlasic
Mirallas Rooney Sandro
It gives players a chance and minimises the risk to players who we will need for 2 Premier League games in 4 days. That team should be strong enough to compete and gives a few of them a chance to stake there claim.

Ajay Gopal
64
Posted 23/11/2017 at 04:56:57
How did our defence become so bad? Are Feeney and Garbutt eligible to play in the Europa League? If so, I would make only two changed from Karl's team above (63).
Robles
Martina Feeney Williams Garbutt
Klaassen Besic Vlasic
Mirallas Rooney Sandro
Subs: Pickford, Kenny, Jagielka, Gueye, Sigurdsson, Lookman, Calvert-Lewin
Nigel Munford
65
Posted 23/11/2017 at 07:19:10
Steve (#54) I think we are all a bit fed up with this manager farce now.
To be honest I'm getting a lot fed up with it.
Henrik Lyngsie
66
Posted 23/11/2017 at 07:36:55
Good one, Colin (#28). Ten-match ban in Europe could be well into next century!
Mike Gaynes
67
Posted 23/11/2017 at 08:16:14
Just had a look at our youngster Henry Onyekuru in a late-night Champions League replay, coming on as a sub for Anderlecht against Bayern.
Holy shit, is he fast. Not many touches in his 20+ minutes on the pitch, but he looks totally confident on the ball, and his pace is absolutely breathtaking.
And unlike Dowell at Forest, he can be brought back from his loan in January. Has reportedly expressed a desire to do so.
Dermot Byrne
68
Posted 23/11/2017 at 08:16:24
This is an important game. Why? Frigging dignity...
Dermot Byrne
69
Posted 23/11/2017 at 08:27:48
Mike G... just great to hear in tough times. Thanks for posting that mate.
Ognjen Mojovic
70
Posted 23/11/2017 at 08:42:09
I am always optimistic about Everton, and I like that Unsworth said that tonight we'll go for the win. This is excelent opportunity to practice winning. I am hoping for the win. NSNO
Mark Dunford
71
Posted 23/11/2017 at 09:15:00
If Henry can come back "home" to Everton in January then he should really be here before the last of the last verse of Auld Lang Syne is sung.
On a slightly different tone – Unsworth remains unproven in my eyes. The team is certainly better than it was under Koeman, Unsworth is restricted in what he can do by the lopsided nature of the squad and the underwhelming performances of many Koeman signings. Some of the blindingly obvious changes have been made – who beyond Koeman, for example, ever considered Martina better than Kenny? Taking the failures out of public view has been sensible. I'm not convinced anyone else could have done much more than Unsworth has with the same.
The worry is obviously the transfer window in January but then again we have a guru called Steve Walsh to look after that. The bigger worry is who had the final call on the more obvious failings under the Koeman era.
Phil Walling
72
Posted 23/11/2017 at 09:30:58
Don @56, I don't think Moshiri knows enough about the game to consider anybody for the job who is not an international name. Certainly not Dyche whose growl does nothing to illustrate the finesse of his methods and success as a manager.
We hear that he is now pursuing some obscure German who was once a manager but retired to become a DoF although how he could be seen as 'a name' puzzles me no end.
What a tragedy that when, at last, BPB finds HIMSELF a billionaire, he turns out to be a pillock of the first order – rather like Randy Lerner at Aston Villa!
Alex Mullan
73
Posted 23/11/2017 at 09:37:53
This must be the least anticipated game in the history of Everton Football Club. Just get it over and don't get injured. Stay off the pasta.
How strange it will be to see our £100,000,000 second string team being allowed a run out.
Gary Drain
74
Posted 23/11/2017 at 09:51:28
How is it embarrassing that we haven't got a permanent manager in yet? Surely it shows more ambition that we want to get the right person rather than just someone who is available at the moment.
If the people on the list of who we really want aren't currently available then you could do worse than having Unsworth until the end of season. We need to be patient.
Sam Hoare
75
Posted 23/11/2017 at 09:52:54
Karl @63 I like that team but think maybe Lookman should be starting as I reckon he'll be dropped for Premier League this weekend for Calvert-Lewin.
Tony Abrahams
76
Posted 23/11/2017 at 10:00:46
I like that phrase that you use for Dyche, Phil, but because his methods are mainly based on simplicity, people who want to over complicate things, will be shaking their heads at the use of the word "finesse"!
James Power
77
Posted 23/11/2017 at 10:40:19
Alex I'm not sure about 'least anticipated'. Did you get to any of the Simod cup games?
Rob Halligan
78
Posted 23/11/2017 at 10:57:43
Looks like there are eleven flights coming over full of Atalanta fans. Should make for a decent atmosphere if nothing else.
Alex Mullan
79
Posted 23/11/2017 at 11:22:00
They'll make a lot of noise and we won't. And can you even blame the Everton fans if they don't? It's hard to get excited about a pile of shite no matter how hard you try.
Steven Jones
80
Posted 23/11/2017 at 11:31:47
Lenny (#47) – Unsworth is spot on emphasizing team, fight, fitness and togetherness. It is not babble just straight plain speaking and spot on!
Just watched his press conference and he comes across much better than Koeman, Martinez and Moyes.
Unsworth is building and rebuilding the spirit in these group of players.
I am seeing great signs of a turnaround and looking forward to tonight to see the fighting spirit, the running, the closing, the positivity and pride back in the shirt and our great club.
Unsworth is bringing that spirit in wagon loads right now and it is how he led the U23s against the Man City, Chelsea golden boys and won the Premier League 2.
Given a little more time we will see weekly improvement in spirit, confidence and even if the odd result does not go our way then Unsworth would have put some pride and gumption into Everton – which was lost under Koeman.
Brian Williams
81
Posted 23/11/2017 at 11:38:49
Rob (#78).
If reports are true they've already made their presence felt in Liverpool mate.
Tom Bowers
82
Posted 23/11/2017 at 11:54:55
Atalanta have every reason to win this game and the Everton team no matter what it is will just use it as a training exercise as usual. I wouldn't pay sixpence to stand on the terrace for this especially without the leading ''goalscorer".
Paul Smith
83
Posted 23/11/2017 at 12:03:56
My team for tonight is:
Robles
Holgate, Feeney, Williams, Martina
Baningime, Besic,Klaassen
Vlasic, Rooney, Sandro

Kim Vivian
84
Posted 23/11/2017 at 12:09:19
Ajay (#64) – I'm not very good at this team set up lark but quite like the look of that team so long as Martina puts in a good defensive shift, although I'd like maybe to see Sandro or Mirallas given a go at leading the line. Rooney (as captain tonight) would need to drop deeper, and put Lookman on one flank. I think Klaassen would have to make way for Rooney/Lookman and then move Besic wide right.
I do believe Klaassen has potential despite the evidence to date but unsure whether our movement through the pitch will be quick enough to see the best of him. It's a really tough call with the squad we've got so as the game is materially unimportant although psychologically valuable it might be the time to experiment (again). The lads are probably going to be well up for it as a face saver in this Europa League and if we could get 6 points from this and Limassol over there we can regain some respect.
One can but hope.
David Hallwood
85
Posted 23/11/2017 at 12:13:46
Couple of points.
Good team by Ajay (#64).
Part of the problem with Vlasic is that he's not blessed with pace which is probably why he's fallen down in the pecking order.
If Onyekuru can be recalled in January IMHO the money should be spent on the defence, cos we'll have Henry, Niasse, Rooney & Calvert-Lewin which should be enough to see us through the season and then take a look next season.
As this has come yet another manager thread, what is clear that on TWebbers bring new meaning to short-termism. Unsworth has been caretaker for a month, and don't forget what he inherited. I even read a post about the u23 derby, that Jeffers 'wasn't ready' for management-that's after one game.
Whoever we get, they'll be a lot of disappointment if he doesn't hit the ground running. Dyche has been given five years to get Burnley where they are.
In fact the only candidates I can see that would make a difference before the window is either Harry Potter or Gandalf and they can magic up 5 years off the age of Jagielka, Williams and Baines, because even Pep, Mourinho etc would be stuck with a creaking back 4.
Let's start with a 'they shall not pass' formation; football's like hotels, clean sheets are everything.
Rob Halligan
86
Posted 23/11/2017 at 12:43:32
So I believe, Brian:
http://www.liverpoolecho.co.uk/sport/football/football-news/who-german-football-hooligans-linked-13941978
Steve Ferns
87
Posted 23/11/2017 at 12:44:54
Don #56,
Apologies for not making myself clearer. What I was trying to explain was that in England an administrator took control of team affairs and this is why the position is called a "manager". Whereas in Europe the Head Coach never had any administrative duties.
The reason that Koeman is solely accountable for the transfer fiasco is that he can total control over all first team players. He swatted away all the suggestions of players that Walsh had lined up. Koeman said himself that he believed that what they were looking at was not better than what they had (Sandro, Rooney and Calvert-Lewin presumably).
Therefore, if Walsh has identified players, and Koeman turns them down, and if Koeman has identified players and Walsh has signed them, then has Walsh not done his job. Of course, if Walsh's players were shit, then that's a different story.
Koeman was the one who let us go into the season without a striker, Koeman was the one who insisted on Sigurdsson, Rooney, and Klaassen and completely changed the team, without factoring in time for the team to adapt to a radically different set-up, formation, and style. It took him 9 months to get the team playing well under his previous style after slowly adapting from Martinez's ways.
So yes. it all boils down to Koeman. Now, the next question is: is Walsh actually up to the job? We will find out in January.
Andy Crooks
88
Posted 23/11/2017 at 12:54:26
Mike (# 67), I hope you are right because he could be the catalyst. I would not want to build our hopes on such a young player but if he is as fast as you say, bring him back. Does he really want back in January?
Andy King
89
Posted 23/11/2017 at 13:10:03
Assuming Holgate is injured, looking at the Europa League squad and resting some players for the Premier League, I'd go with the below 4-4-2:
GK Robles
RB Martina (just to rest Kenny)
LB Connolly (rest Baines/experience)
CB Keane (hope he doesn't get injured)
CB Williams (no Feeney in the squad)
RW Vlasic
LW Lookman
CM Besic
CM Davies
CF Ramirez
CF Calvert-Lewin
For the weekend I'd go 4-4-2 again but with
Pickford
Kenny Keane Jagielka Baines
Lennon Gueye Sigurdsson Lookman
Niasse Calvert-Lewin
The 2 teams rest everyone except Keane, Lookman and Calvert-Lewin. The only reason Vlasic is dropped is for Lennon to protect Kenny a bit more. Davies makes way for Sigurdsson as I think/hope he's going to improve with a run of games. Both young lads should figure significantly in the manager's thoughts for the league though as they've both got bright futures with us.
Steve Solomon
90
Posted 23/11/2017 at 13:13:00
Tonight is a great opportunity for a "practise" game using fringe and out of frm players. I hate that we are out of Europa League already but thankful now that the season is looking pear shaped.
Pickford
Martina
Jagielka
Keane
Baines
McCarthy
Davies
Klaassen
Ramirez
Vlasic
Calvert-Lewin

Kevin Prytherch
91
Posted 23/11/2017 at 13:26:24
As far as I'm aware looking at teams above...
Garbutt isn't automatically registered for Europe as he is 24 And wasn't included in the squad.
Connolly is on loan at Ipswich and played central midfield for them 2 nights ago.
McCarthy is still injured.
Holgate is injured.
That doesn't leave us with many options at the back assuming he wants to rest Jagielka and Baines.
I doubt he'll throw Feeney in so the only viable option would be...
Kenny, Keane, Williams, Martina.
Brian Harrison
92
Posted 23/11/2017 at 13:29:25
Many are saying cant give the job to Unsworth as he doesnt have enough experience and then go on to suggest a list of names. Yes all got experience in the Premier league and none of them have won anything except maybe promotion. Well if thats the criteria then we might as well hire Warnock.
The one thing you get from most of the names suggested is route 1 boring football, yes they may be good in avoiding relegation but is that the sort of manager we want for the next 3/5 years. Surely we want someone who has a vision of trying to play football the right way rather than 10 men behind the ball.
Steve Ferns
93
Posted 23/11/2017 at 13:32:56
Brian, even the likes of Dyche lack experience. He will not be allowed to make Everton into Burnley, so he will have to change, and he does not have any experience in being the manager we want him to be.
Steven Jones
94
Posted 23/11/2017 at 14:06:23
Unsworth has more experience than when Dalglish became player manager of the shite and Howard had only had player coach experience at Blackburn for a season or so – The style of football Unsworth wants to play is passing through the lines, wide men and high tempo pressing that then provides space and opportunities for players to express themselves. He knows how to set up a defence and has great passion pride and a formidable presence about him. He has a clear a set way of playing and it may just work a treat.
With John Ebrell a la dogs of war, Duncan and the focused attitude and hunger of the younger players, plus Rooney's positive attitude then we may be able to change the current malaise created by the Koeman brothers. .
I would like Unsworth to get longer and if as some are claiming he gets undone because of lack of premier league experience or the team balance or quality is not good enough then bring in a fresh face - who will be a risk no matter who it is with no matter what experience they have.
David Pearl
95
Posted 23/11/2017 at 14:08:35
We have to draw the line under looking for another manager and concentrate on pulling together and getting stronger. Let's stop this bullshit – it's dragging our name in the mud. We need a striker and another left sided defender. We don't need anything else for now.
Let's face it. Klaassen was a replacement for Barkley, Sandro was a replacement for Barkley, Sigurdsson was... Rooney was... and Barkley is still here!!?? We also have Lennon, Mirallas, Lookman blah blah blah. We have enough. We have more than enough.
That's the problem. We don't have any idea what's our best 11. Its impossible. I have to go the match tonight cuz I'm driving. Other than that I'm gonna be sat there just miserable and pissed off. The football will be shite. We will have no shots, not able to pass to one another, no possession and no religion too. And if Walsh goes and gets another Under-23 squad player while our first 11 is such a mess, I'm moving back to Canada .
George McKane
96
Posted 23/11/2017 at 14:09:13
Not one of my normal match day posts. I am in the middle of a very busy day at Yellow House (
Link
) and will be going straight to the game via TDH – but here is my 2 penny worth as they say.
I would not use this game as a dead match and play anyone. I would play the team that I want to play most weeks for 2 simple reasons: the players need to play more together after all the chopping and changing. Also, go for a win – winning is good; losing is bad. Need to want to win and get into the habit of winning.
See you there in body, mind and spirit, my Fellow Blues – cosmic grooves and a firm handshake.
John Wilson
97
Posted 23/11/2017 at 14:18:09
Put Everton girls on – at least they have a good striker.
Mick Conalty
102
Posted 23/11/2017 at 14:57:39
Mirallas, Martina, Williams, Schneiderlin, Klaassen – These players should be in the team... the Tranmere team!!!
That's if they will have them?? Their time should be up at Everton.

Steve Bird
103
Posted 23/11/2017 at 15:11:57
The Club needs wins, irrespective of in what competition. Confidence and mentality will improve massively if we can go on a run, we have 4 games to boost those aspects before Mordor.
Whoever the manager is players need to contribute individually and collectively to a general improvement in mindset and application.
We can turn things around with what we have irrespective of the incompetence and futility of our board.
Jer Kiernan
105
Posted 23/11/2017 at 15:36:56
Was just about to jump in and ask if any TV channels are ever arsed to show this and what a downer this club is on right now but clicked on the Bramley-Moore Dock link and has swung my mood a bit.
This can only be good for the club/local economy etc and should give all involved a lift.
John G Davies
106
Posted 23/11/2017 at 15:42:57
A rumour doing the rounds the club is giving free tickets out for tonight's game. Has anyone heard similar?
John McFarlane [Snr]
107
Posted 23/11/2017 at 16:04:52
Hi John G. you shouldn't hold your breath, but it would be good news for me and my 13 years old Grandson, as we would receive a refund, because we purchased our tickets a couple of weeks ago.
Brian Wilkinson
108
Posted 23/11/2017 at 16:08:08
Doubt it John, there's some German ultras already over joining up with the Atalanta ultras, if they get hold of tickets in the home end it could kick right off I think it will anyway going off last nights disturbances in the town centre.
I have taken my 12-year-old daughter to all the home Europa League games but giving this a swerve for my daughter's sake.
Let's hope the game passes without trouble and some of our fringe players get a run out.
Here comes another fine for Everton...
John G Davies
109
Posted 23/11/2017 at 16:10:44
To be honest, I am not going tonight, John. You are right though, it would cause a problem to those who had bought tickets weeks ago. Probably not true.
Enjoy the game with your grandson anyway. I enjoy reading your posts. They remind me of the posts from the late, great contributor to TW, Harold Matthews.
Dave Abrahams
110
Posted 23/11/2017 at 16:37:26
George (#96), first time I've ever disagreed with you George, understand your reasoning and others who have posted regarding confidence and getting a winning run going.
I think the Premier League games coming up are the most important ones in our recent history, and we have two coming up on Sunday and next Wednesday, best to keep players fresh and fit for them.
John Keating
111
Posted 23/11/2017 at 16:46:55
Totally agree Dave.
Although the lot have been bad this season we cannot afford injuries in what is in effect a pointless game.
Robles in goal, Holgate, if fit, with Williams central defence, Beni defensive midfield, Klaassen a run out at No 10, with Vlasic, Mirallas and Sandro. As for the rest play the kids.
Next two Premier League games are an absolute priority if we are to get away from getting involved in the bottom scrap.
Jay Wood
112
Posted 23/11/2017 at 17:04:00
A really revealing article on Atalanta on the BBC's footy pages.
Much to admire about them.
Danny Baily
113
Posted 23/11/2017 at 17:05:58
I'd like to see Robles, Klaassen and Sandro given a run out. Let's keep Rooney and Calvert-Lewin fresh for the weekend if possible.
Steve Ferns
114
Posted 23/11/2017 at 17:34:44
I have a spare ticket for tonight in The People's Club. Anyone want it for free?
John G Davies
115
Posted 23/11/2017 at 17:43:57
Only if you promise not to give a 90-minute tactical breakdown commentary, Steve. 😁
Only kidding, I find your posts very interesting.
Steve Ferns
116
Posted 23/11/2017 at 17:57:13
You don't have to sit next to me, John!
John G Davies
117
Posted 23/11/2017 at 17:59:52
👍I'm giving it a miss tonight, mate.
If you get a chance, have a look at my post to you on the Unsworth thread. I'm genuinely interested in how your team selection for Sunday would look.
Brian Wilkinson
118
Posted 23/11/2017 at 18:05:27
Spot on, Dave and John, give the fringe players a run out, no-one likes to lose a game but for a nothing game, we need to keep players free from injury and suspension.
It's also a chance for them to step up and try to win a place in the team, give a couple of the youngsters first team experience and the likes of Robles, Klaassen, Vlasic and Sandro a run out, not sure if Henen qualifies but if so give the guy a chance.
Steve Ferns
119
Posted 23/11/2017 at 18:10:41
Will do John. Getting off to the game now. Anyone want this spare ticket for the peoples club. Even to "upgrade" from a crap view or to come into the warm. First one to say they want it can have it. I'll check here in 45 mins and arrange to meet you outside the entrance. To the right of the box office in the Park End.
John G Davies
120
Posted 23/11/2017 at 18:20:25
Thanks Steve.
Enjoy the game.
Derek Knox
121
Posted 23/11/2017 at 18:22:14
Off topic, but has anyone seen the clips of Andrei Kanchelskis pledging his backing of Unsy?
I know we all grow older and age does take it's toll, but he he is almost unrecognisable, even given that it's 20 years or so ago.
Steve Ferns
122
Posted 23/11/2017 at 18:37:15
No traffic, car parks and pubs empty. This looks like being a record low crowd.
But figures will be inflated as I know at least 4 guys who have paid but aren't going.
Charles Brewer
123
Posted 23/11/2017 at 18:45:24
Okay, someone has to ask. Is the match on TV anywhere?
Colin Glassar
124
Posted 23/11/2017 at 18:47:56
BT sports, Charles.
Charles Brewer
125
Posted 23/11/2017 at 18:55:02
Thanks, Colin

Add Your Comments
In order to post a comment, you need to be logged in as a registered user of the site.
Or Sign up as a ToffeeWeb Member — it's free, takes just a few minutes and will allow you to post your comments on articles and Talking Points submissions across the site.