Unsworth: Senior players need to take responsibility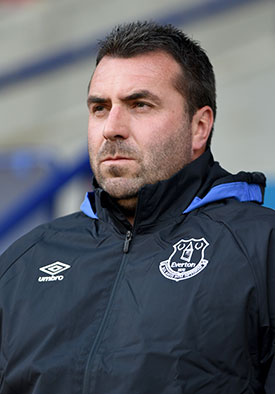 David Unsworth says Everton fans will rightly be furious after the 4-1 defeat to Southampton and has called on his team to take some responsibility for the team's increasingly worrying plight.
The caretaker boss oversaw a second heavy defeat in the space of four days in which the Blues' defence crumbled in the second half, with very little to offer at the other end either, leaving the club in crisis and hovering above the relegation zone.
He cited the failure of his central defenders to deal with crosses and the loss to controversial suspension of Oumar Niasse but he said the second-half display in particular was unforgivable after Gylfi Sigurdsson had brought them back level with a sensational strike.
"I'm absolutely gutted," he told evertontv afterwards. "I'm sorry for all the Everton fans who came down here today and all the ones who were watching because we can't keep performing like this, certainly. It's just not good enough.
"You just can't keep conceding goals the way we are from crosses," Unsworth had complained earlier to Sky Sports. "We've got three centre-backs then two centre-backs but people are getting between us and it's the manner of the goals that's killing us at the moment.
"We missed Oumar. There's no getting away from the fact we missed Oumar Niasse today and, in my opinion, he should have been on the field today but anything that's going against at the minute is having a big impact.
"Injuries are killing us as well so we need to regroup and I can't stand here and defend the players today. It was a totally unacceptable second-half performance and the Everton fans are, quite rightly, going to be furious but so am I. It's not good for our football club."
Asked how the team bounces back against West Ham in what is a huge match between two struggling teams on Wednesday evening, the manager said that it was vital that spirits are lifted and that certain players stand up and take responsibility.
"It's a massive week for us on the pitch. What happens off the pitch will be decided by other people so we need to just come back in in the morning, we need to regroup, we need to do what we always do and go through what we've done well and what not so well.
"We need to pick everybody up but the players have to take responsibility. It's really important that senior players take the responsibility. We're in a fight and the only way you get out of it is by standing up and being counted.
"You can't shirk your responsibilities, you have to stand proud and stay together and there's not enough of that at the moment. I'll stand here and take my responsibility — absolutely not a problem — but the players have got to come with us and the football club as well.
"If players aren't ready to take responsibility then you get players in who [are].
"It's got to a [point] now where if any of the players are looking at the [managerial] situation and making excuses it now has to be solved.
"If it's going to be me, fine. If it's not then let's get somebody in as quickly as possible and we need that to happen fairly quickly."
---
---