Unsworth: As an Everton man I'm hurting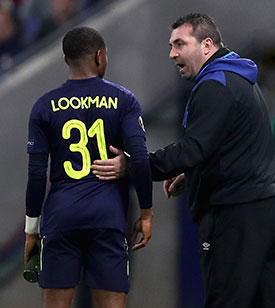 David Unsworth says that he has no regrets about stepping into the void created by Ronald Koeman's dismissal but concedes he is pained by the club's current plight.
Everton's director of coaching and manager of the Under-23s was asked to take charge of first-team team affairs five weeks ago in the hope that he could provide some stability while the Board of Directors lined up a permanent appointment.
Just one win in seven and two particularly heavy defeats in the last two games has ramped up the urgency for the club hierarchy and led to some regrettable scrutiny of Unsworth's performance in what have been very trying circumstances.
"I'm hurting," Unsworth admitted in his press conference this afternoon. "As a proud Everton man, I'm hurting. I think I have to tell the Everton fans how much it hurts me just as much as it hurts them.
"But I don't think you ever turn down the opportunity to be standing where I'm standing and that's the case at the moment. I'm hurting but I still remain a proud Everton man."
Asked if he felt he had been hung out to dry during what has been a challenging period for the club in which he has been the sole representative of the club facing the media's questions, the 44-year-old reiterated his stance that not answering the call from his beloved Blues would have been unthinkable.
"You never turn down the opportunity to be Everton manager. I think it's really important that you try and help the club out in a difficult time. Five weeks ago I was asked to come in and do a job to lead the team. I did that and I've been doing that.
"I wouldn't have turned [the opportunity] down. I didn't turn it down five weeks ago, five days ago, five minutes ago I would have done exactly the same. I'm a proud Everton man, this is my club and I love this football club.
"At the moment we're in a difficult time and it's been tough but it's time for people to stand up now. I'll stand up there as long as I have to and as long as I need to to help my football club."
Everton are reportedly in talks with at least two candidates, believed to be ex-England boss Sam Alladyce and Shakhtar Donetsk man Paulo Fonseca, but Unsworth is expected to be in the dugout for tomorrow's huge match against fellow strugglers West Ham United.
"As we sit here now, I believe the Board are talking with a few people," Unsworth explained. "Talks are ongoing but nothing has been finalised as yet with anybody so I continue to do what I was asked to do five weeks ago which is prepare the team, pick a team and a win a game on Wednesday.
"Until somebody tells me differently, I'll continue to do what I've done for the last five weeks.
"I don't know [if the West Ham game will be my last in charge], is the honest answer," Unsworth continued after admitting that he would be committed to continuing his work with the U23s and youth teams once he steps down as caretaker boss. "If it is, I'd just like to take this opportunity to thank all the staff, in particular John Ebbrell, all the fans for their amazing backing because they have been terrific and we'll continue to give our all. "If it's not, we'll come in Thursday and Friday and we'll just keep rolling. Like I say, whoever gets the job will get my full support and my backing."
---
---