Allardyce takes first press conference as Everton boss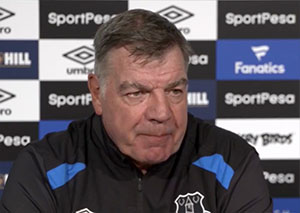 Sam Allardyce says he would like to be more than just a short-term fixer at Everton and expressed his hopes of bringing a "winning brand" of football back to Goodison Park.
The one-time England manager was confirmed as the Toffees' new boss yesterday when he agreed an 18-month contract and he said the draw of such a big club made the offer to come out of retirement impossible to turn down.
"Everton was always going to be a temptation to come back out of retirement and take up the challenge," he said at his first press conference since taking the role. "I'd been offered a number of jobs since retiring from Crystal Palace and, finally, Everton came along and in the end it was done within 48 hours, even with me being in Dubai.
"I'm delighted that I've come back into a club of this size, magnitude and history. The name of the club says it all. I couldn't say no when they came back; I didn't really have a tough decision to make.
"[The club] is in a difficult place at the moment which nobody expected which is probably why they've asked me to take the reins and bring a bit of stability.
"But this I want it to be much more than that, really. I want to see the club grow and live along with the ambitions it's had recently. They finished seventh last season and got into Europe and everybody expected it would be a good season.
"That has happened for whatever reason and it's my job to steer them back in the right direction and then try and get them back in the European places and FA Cup Final.
"The first and foremost thing is to get back to winning ways, bring some stability to the club and get them playing as well as they did the other night consistently."
Allardyce was asked whether he viewed the job as a longer-term project than the 18-month contract he signed suggests and he was pragmatic in his assessment of the current environment for top-flight managers.
"Yeah, because contracts don't really mean anything much these days except that you need to sign a written contract in terms of the negotiations but if you do well, that contract gets extended and if you don't, you get sacked.
"That's what we have to face these days. I think the average life of a Premier League manager is about 14 months or so. So, if you're going forward and the club is going in the right direction and you can deliver the ambition of the football club — and this club has a lot ambition, certainly from the owners down; we all know the fans have ambitions, they always have done…
"So if we get the right recruitment and we can galvanise the players that are already here… and the most important thing we can do here is keep the players fit because nine of them are injured.
"I have to resolve all those problems because even though Europe will finish next week, we're going into 10 games in December because of the Christmas period so getting those players fit will be a crucial part of our success."
The hiring of Allardyce, has dismayed many Everton supporters who see it as a step back from the ambitious targets that Farhad Moshiri and the Board had when they appointed Ronald Koeman and a reflection of the club's desperate plight.
The Dudley-born former England manager was asked if he felt he had to win the fans over at Goodison Park and he said that he would be looking to bring a "winning brand" of football to his new club.
"Everybody has to win the fans over," Allardyce replied. "If you lose, the fans criticise you; if you win, the fans are okay with you. There's nothing I can do about whatever perception the fans have of me. [Those views have been expressed] over many, many years. It's not true, of course — we play the game of football to try and win it.
"With the players we have available, my job is to try to allow the players to play to their strengths and that has always been the case wherever I've been. I've never played the same way at any football club I've managed and I've managed seven in the Premier League now, which is more than anybody else.
"Each club has had a different philosophy on how they should play, a different way that they should play, and all I've tried to do is live up to that philosophy and, luckily, wherever I have been, I've been able to leave the club in a far better position than when I've taken over.
"Who knows how far we can take Everton? Only time will tell."
---
---