No question for Allardyce over derby penalty but Klopp fumes

162 Comments [Jump to last]
Sunday 10 December 2017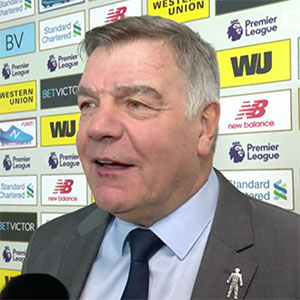 Sam Allardyce was taking the positives from what he saw as an impressive defensive display in this afternoon's Merseyside derby that saw Everton withstand Liverpool's dominance in possession to grind out a point at Anfield.
The reds enjoyed 71% of the ball in as one-sided a derby as there have been in recent years but they were restricted to just a few clear-cut openings and they failed to really trouble Jordan Pickford in the Everton goal until Mohamed Salah's impressive opener broke the deadlock shortly before half time.
The Blues hung in at 1-0 until the 76th minute when Dejan Lovren's shove on Dominic Calvert-Lewin sent the young striker crashing to the turf and referee Craig Pawson awarded the first penalty to Everton an Anfield since 1988, which Wayne Rooney converted in emphatic fashion.
"It was a huge point," Allardyce said, "because we didn't create much in possession of the ball today which was very frustrating [given] the quality of the players we have.
"Maybe they were a little nervous, a little tentative at the start of the game and I think that set the tone for us not to be as good in possession as we would have liked to have been.
"But our defensive shape as a team was extremely good today and it stopped one of the mist fluent attacking and goalscrting sides in Eurioew at the moment. So credit to the players.
"12 goals in two games they've scored and they've had to score a brilliant goal here today from Salah to get 1-0 up but I can't honestly say they've had too many clear cut chances after that or that Jordan Pickford's had to make a great save.
"So, while we didn't do a lot in possession, we've completely and utterly shut Liverpool down as an attacking force and waited for what had to be just one opportunity through the penalty.
"The referee's had to be very brave to make a decision like that. Personally, I've looked at it [and Calvert-Lewin's been] pushed over, but we've seen those before where it's difficult for the referee to give it.
"But he did, it's the right decision and Wayne Rooney's put it away. After that, whatever they've thrown at us we've [dealt with like we'd done] for the most of the game. We focused correctly and played the game out in the right way."
Pawson's decision was one of much debate by pundits after the game but when it was put to him that the decision was a soft one but probably the correct one, Allardyce argued that there was, "no such thing as a soft penalty.
"He's either impeded or stopped our player in the box from trying to score or shoot. No matter how little or how small [the contact], it's a penalty because it's an infringement on the player."
Jurgen Klopp, meanwhile, fumed at what he saw as a decision awarded for a non-existent foul by his defender and questioned the footballing knowledge of his interviewer in the tunnel after the game before being informed the majority of the pundits in the Sky Sports studio felt it was a penalty.
The German also felt that Gylfi Sigurdsson should have been sent off for what looked to be an accidental stamp on Jordan Henderson in the first half.
"I can't believe that with all the challenges… we were completely clean," Klopp insisted. "We didn't make any fouls but Sigurdsson on Henderson is a red card like in all the derbies I've been [involved in] — there's always one nasty one that they give.
"But after all the challenges in this game, where only one team is playing, to give such a penalty is unbelievable. Calvert-Lewin makes it smart; he makes a step in this direction and even then it's nothing."
When the interviewer stated that in his opinion it was a soft decision but a penalty nonetheless, Klopp laughed sarcastically. "Then we can stop the interview," he replied, "because I only want to talk to people that have a little of an understanding of football."
---
Reader Comments (162)
Note: the following content is not moderated or vetted by the site owners at the time of submission. Comments are the responsibility of the poster. Disclaimer
Steve Brown
1
Posted 10/12/2017 at 16:36:45
Jurgen Klopp, speaking (arguing) with Sky Sports: "Our performance was good. We didn't score often enough. I saw only one team playing. I can't believe the situation with all the challenges. We were clean and didn't make any fouls. There is always one nasty one - Sigurdsson made that. A clear red card. You see the picture of the penalty. Calvert-Lewin is smart but it is nothing. But it is a penalty and one team can celebrate and we can't.
"I don't understand why the ref is doing that [give the penalty]. I didn't use one swear word. Only one team is trying over 95 minutes to win it. The other team are not in our box and didn't have a shot on target bar the penalty."
After a minute of arguing with Sky's interviewer over whether it was a penalty, which included the interviewer saying he thought it was and Klopp laughing...
"Lovren doesn't make a challenge. Calvert-Lewin makes a step.The hand is on the back. If you think it is a penalty say so. Does my opinion change anything?
Steve Brown
2
Posted 10/12/2017 at 16:37:23
Klopp the clown.
Scott Hall
3
Posted 10/12/2017 at 16:40:26
Klopp is fucking furious! Hilarious!!
Stephen Brown
4
Posted 10/12/2017 at 16:49:26
Klopp interview – priceless!!!
It's a penalty!! End of story! Soft penalty but a penalty!
Paul Hughes
5
Posted 10/12/2017 at 16:55:18
That Klopp interview, followed by Sam's, taking the piss out of him, is one of the funniest things you'll see all year.
David Barks
6
Posted 10/12/2017 at 17:00:42
I think we broke Klopp!!!! Hahahahahahahaa
Paul Tran
7
Posted 10/12/2017 at 17:14:53
I haven't seen Sam's interview, but Klopp went into meltdown, whinging about the 'hand on his back, Calvert-Lewin took a step' penalty and how Siggy should have been sent off. He asked who thought it was a penalty and apparently all the journalists' hands went up. He then asked to stop the interview. Poor lad.
That was the kind of battling draw I often saw at Anfield in the 70s and 80s. Good to see us so solid, so quickly. We'll see in time if Sam can give us any more.
Paul Hughes
8
Posted 10/12/2017 at 17:14:59
Klopp saying "it wasn't a penalty." The interviewer says ' I thought it was, but a soft one'. Klopp "you know nothing about football". Interviewer 'maybe not, but the guys back in the studio, who do, agree with me'. Klopp "So I must be wrong then." And a further minute of him arguing.
Big Sam, grinning like a Cheshire Cat "There's no such thing as a soft penalty, it's either a foul or not, and it was."
David Barks
9
Posted 10/12/2017 at 17:39:23
Can the editors please put Klopp's most ridiculous facial expression during that interview on the homepage and keep that interview on a constant loop? I can't get enough of it. It's just too damn good!!!!
Merry Christmas. My city has been burning down all week here in California but my God that result and Klopp's pathetic interview afterward have brought a smile to my face for the first time in a week.
James Hughes
10
Posted 10/12/2017 at 17:41:06
Colin have some cheese with that port.
Oh my... isn't Klippety's post-match interview wonderful. Just petulant and all the toys thrown out the pram.
We may have been lucky but I don't care, they didn't take their chances and only had one more attempt on target than us. COYMB
Charlie Lloyd
11
Posted 10/12/2017 at 17:42:32
Let's be fair.
Possession they were far better than us and retained it well.
Chances. They didn't have many.
Klopp. Idiot!
James Newcombe
12
Posted 10/12/2017 at 17:48:28
Here is more of Klopp, glorious:
Link
Barry Pearce
13
Posted 10/12/2017 at 17:53:36
Love it, seeing their smacked arse faces.
Colin Glassar
14
Posted 10/12/2017 at 17:54:21
Sams' reply to Herr Klopp was brilliant, "He can moan all he wants". I don't think Herr Klopp is a Big Sam fan.
Tahir Abdullah
15
Posted 10/12/2017 at 17:54:36
Those questioning the tactics and associated performance today; have a look at Sam's post match interview for some perspective. Great day to be a blue...
Ray Roche
16
Posted 10/12/2017 at 17:58:51
James.
Brilliant, thanks for that. What a complete and utter arrogant gobshite Klopp is.
Andrew Heffernan
17
Posted 10/12/2017 at 18:00:54
Get long term injured back and sign a couple including a striker and we will be 7th pushing 6th before the end of February. I can see us being a team that does not going to give a lot of goals away and will hopefully pick up a habit called 'winning'.
As for Klopp, comedy gold.
David Barks
18
Posted 10/12/2017 at 18:03:43
Lyndon and Michael, you guys are great!!
David Pearl
19
Posted 10/12/2017 at 18:04:12
They created very very little considering possession. Even though the Rooney ball came from the right side he should've been more central. I'm a lot more confident of us moving in the right direction and buying the right players in January under Sam. Klopp lost the plot. Brilliant stuff
Raymond Fox
20
Posted 10/12/2017 at 18:07:50
Tahir, right on the money Tahir.
I said much the same thing.
Charles Brewer
22
Posted 10/12/2017 at 18:11:25
The Klopp interview is hilarious. He appear to be heading down the Dalgleish "total mental breakdown" route. Hahah!
I look forward to hearing about him being found at the Pier Head dressed in nothing but a rubber chicken hat screeching about how "Ze worrrld is against uns und wir mussen ein neues Referee haben, has zis man neffer heard of ze Clattenburg orders (vich must be obeyed)???"
Andy Crooks
23
Posted 10/12/2017 at 18:14:54
I thoroughly enjoyed the ludicrous Klopp' s comments. We hurt them today.
Stan Schofield
24
Posted 10/12/2017 at 18:16:21
Jurgen Klopp made a fool of himself in the Sky interview. He's like a spoilt pre-pubescent adolescent. All smiles when things go his way, but throws an embarrassing tantrum when they don't. Difference between him and Sam Allardyce, the latter acts and speaks like an adult.
Brian Williams
25
Posted 10/12/2017 at 18:16:41
Just watched Allardyce's post match interview and I have to say that I can't remember a more accurate, honest, and common sense interview from an Everton manager for a long long time.
Peter Mills
26
Posted 10/12/2017 at 18:23:15
This just rounds off a very jolly end to the afternoon. And you've got to hand it to Mr Allardyce, he can deliver a put-down.
Mike Hughes
27
Posted 10/12/2017 at 18:25:57
The usual entitled RS crap from Klopp. 3 shots on target at home.
Sam had a pragmatic plan that succeeded. Dummy spat out of the Anfield pram.
Andy Meighan
28
Posted 10/12/2017 at 18:27:41
Arrogant fucker disrespected us, dropping players . It backfired on him. Like many have said, all the possession but did Pickford actually have a save to make?
Oh 'Carra', by the way ... You certainly won't fuck up my Xmas. I'll have a great one and a Happy New Year.
I bet they're not looking forward to the cup match as they were a few days ago... Smug bastards!
Peter Howard
29
Posted 10/12/2017 at 18:28:14
Surely, after that interview Klopp should be given an extended contract-come on Moshiri offer to pay his extended contract for a further six years.
Dermot Byrne
30
Posted 10/12/2017 at 18:32:34
Just watch Sam's interview. He is no fool. Did he put his tongue in cheek about the pen foul? I think so and will piss them off even more. (Sorry, late back, so others may have seen this.)
Brent Stephens
31
Posted 10/12/2017 at 18:43:53
The best part of the interview was when Klopp asked who thought it was a pen. Initially no hands went up - "so nobody", he says.
Then a few hands went up - "so only 3" he says.
Then all hands are up - brilliant. Face liked a smacked arse.
Jeff Armstrong
32
Posted 10/12/2017 at 19:22:32
Klopp's specs had obviously fallen off when Gomez made that challenge on Martina in the first half, definite yellow and possibly a red in other games.
I thought the ref gave them everything throughout, there was a spell before our goal when 2 deflections off their players should have gone our way but he gives them a corner and an attacking throw that should be ours.
I was surprised when he pointed to the spot cos he could've bottled it given his performance throughout.
As an aside, I thought Allardyce messed up breaking up the Kenny - Lennon partnership, as proved second half.
And why, oh why, was Schneiderlin allowed in a blue shirt again? Vlasic should have been that sub, at least he can run with the ball and create... Schneiderlin on the same pitch as Gueye is like playing with 10 men.
Gueye or Charsley for Martina at the Barcodes please, he's a shit right back and even worse on the left!
Dermot Byrne
33
Posted 10/12/2017 at 19:24:11
In my simple way... I love Sam.
Jay Woods
34
Posted 10/12/2017 at 19:27:11
Klopp committed the traditional German offence of underestimating the opposition. They never learn and it always comes back to bite them sooner or later.
Ian Riley
35
Posted 10/12/2017 at 19:35:43
Take a draw. Mr Klopp, play your best team and take your chances! It was a penalty in the modern game. Brave by the referee but correct decision.
Tony Everan
36
Posted 10/12/2017 at 19:42:52
We will have a bit more confidence for the cup match and get something out of that game too.
Klopp will have steam coming out of his ears when we do a repeat then beat them at Goodison.
Pat Kelly
37
Posted 10/12/2017 at 19:44:08
Comedy gold, that Klopp meltdown. The most revealing point is the inference that the ref shouldn't have awarded the penalty because Liverpool were doing all the running. Talk about a sense of entitlement. Time to grow up, Mr. Klopp, and accept this is not Liverpool's year. Again.

John Boon
38
Posted 10/12/2017 at 20:08:03
Great draw considering their recent form... and at Anfield. When we play them, I don't really care how we get a point.
Definitely a penalty, even if it was a soft one. To be honest, Lovren was stupid. I really like to see them lose their cool. On the other hand, I wouldn't want to see us play like that every week.
I constantly get annoyed thinking of how Koeman wasted so much money. I just hope Allardyce still is given funds for the New Year. I have never been a fan of Allardyce but he is having a positive effect on the team.
I would still like to see Vlasic and Lookman given more opportunities. We really do need more creativity and an ability to hold on to the ball when we have it... Just booting the ball up field is not the football of Everton.
We need a trio like Harvey, Ball and Kendall Yes, I know I am living in the past but the past has often been good.
Kevin Moorcroft
39
Posted 10/12/2017 at 20:12:42
Klopp, the typical RedShite moaner... Sam just about summed the wanker up in his post-match interview.
Well done, lads – onward and upward!
Mike Galley
40
Posted 10/12/2017 at 20:15:32
Am I the only one thinking that we have just witnessed Klopp's equivalent of the infamous Rafa 'facts' tirade. Hope so. That was brilliant viewing!!!! Up the Toffs!
Ross Edwards
41
Posted 10/12/2017 at 20:22:49
Great to see Klopp's head rolling across Stanley Park there. Points earned when you probably don't deserve any are the most satisfying, especially against that lot.
I was totally against Big Sam's appointment. I thought it was a small-time decision made in a panic, but credit to him, we've looked more organised in the games he's had than we have done in a long time.
He'll stabilise us this season and probably get us top half – top 8 maybe if we keep this little run going – but he needs to prove that he's more than just a firefighter if we're to push on under him.
Christy Ring
42
Posted 10/12/2017 at 20:25:04
Klopp showed his true colours in his post match interview on Sky, not the smiling nice guy he tries to portray. A total disgrace.
Last week he praised the referee for giving Mignolet a yellow card against Stoke, when everyone else knew it was a stone wall red card. A total Wanker.
John Keating
43
Posted 10/12/2017 at 20:28:43
Klopp is a disgrace. He has embarrassed both himself and his Club. Just like his Club, he has absolutely no class.
When they score or win he's up and down the touchline. Thing's don't go to his plan and he becomes a petulant child. Embarrassing.
I hope the Premier League take action against Lovren for his after-match antics towards the ref. If it were us, we'd get done for sure.
I just can't believe anyone can say it wasn't a penalty. We've been watching similar penalties being given for years. Top top strikers and pundits are continually telling us once they feel contact they go down, rightly or wrongly that's it.
Even our mate Carragher is supporting Calvert-Lewin, not that there's anything to support I suppose.
Real RS supporters, not the plastic ones, will be totally embarrassed by Klopp's antics tonight. Disgrace.
Marc Jones
44
Posted 10/12/2017 at 20:31:29
Having watched both interviews, I'm beginning to buy into Sam Allardyce. His honesty is refreshing, not as blunt and cold as Koeman and certainly not delirious like Martinez. Klopp, on the other hand, as others have said, has lost the plot.
Twitter is awash with Reds defending him as though he was ambushed by the Sky interviewer. I see a man cracking under the pressure because we didn't roll over as expected. All-in-all fucking hilarious!!!
Charles Brewer
45
Posted 10/12/2017 at 20:32:22
John Boon, a good manager plays the team in front of him. Even if you are running Manchester City, unquestionably the best team in Britain, you need to understand what you are up against and play to your strengths and their weaknesses.
The current RS team is good at scoring when the other team plays open football, but is fragile defensively.
Today showed supreme tactical awareness by Allardyce. The Everton team is still a mess structurally and psychologically. There was no way a team playing the current versions of Gueye, Sigurdsson, Williams and Calvert-Lewin (to pick a few) would competence with the high scoring, fast running Liverpool team, so Sam built a defensive array which broke just once when Martin was fouled and Williams went the wrong way.
Allardyce's plan restricted a totally dominant (possession wise) Liverpool to just 3 shots.
If the ref had got all the calls right, Everton would have won 1-0.

Today was a magnificent success.
Oliver Brunel
46
Posted 10/12/2017 at 20:36:06
Huge psychological win against the RS and Kloppity. Make no mistake, that could be a great mental boost for the younger players...
Steve Cotton
47
Posted 10/12/2017 at 20:39:41
Spot on, Charles... in fact the only red card challenge I saw was by Gomez on Martina – reckless and dangerous.
Neil Cox
48
Posted 10/12/2017 at 20:40:54
For all Blues viewing pleasure. Klippitty in full flow.


Phil Parker
49
Posted 10/12/2017 at 20:41:44
Great to have a manager in charge who knows what he is doing, knows how important this game is to us, and yes, got a bit of luck. Well done Sam, and little Sam, I can enjoy Christmas, which just two weeks ago today was a hopeless dream.
Also, well done to the board for appointing the right man for the job, it can't have been easy knowing the opposition of some on this site and in the general Everton support base. I think Sam will be a big success with us. He has made a brilliant start.
Len Hawkins
50
Posted 10/12/2017 at 20:42:56
It would be interesting to hear what Herr Lip would have said if that pen was at the other end and wasn't given. The two-faced redneck's other face must be a belter when he keeps using the same one. A gobshite in charge of the gobshites – a perfect fit.
Steve (#43), what about Mane sliding in towards Pickford with his foot raised? If he'd connected with Pickford, it would have finished him, but not even a yellow for dangerous play.
Geoffrey Cadman
51
Posted 10/12/2017 at 20:47:51
Klippitty Klippitty Klopp
You really lost the plot
It was a push
Just shut your mush
Klippitty Klippitty Klopp
Jason Wilkinson
52
Posted 10/12/2017 at 20:59:10
Never wanted Sam. The thought of his pal Gollum (Sammy Lee) sitting in our dugout sickened me. Don't get me wrong – I'm not like Bill, all teary eyed about former blues.
Now he is in charge maybe some professionalism might prevail. We need strong leadership and a good coaching team to get us into a position to attract the best players to our club.
Three weeks ago, we were staring into the abyss. Most of us realised Unsworth was not the answer. If Sam and team can get us anywhere near the top six, it will be a good result.
A decent FA Cup run and a top 10 finish will hopefully be enough to get some agents knocking on Farhad's door to improve the roster for next season.
James Morgan
53
Posted 10/12/2017 at 21:06:42
Klopp raging... 😂
People said we would get battered, well we were – but only for possession– not chances. We wanted a point and got it. With a few signings in January and more coaching from Sam, we can only improve.
Steve Hogan
54
Posted 10/12/2017 at 21:10:39
Over many years, I've witnessed many near hysterical reactions from football managers in post-match interviews.
Perhaps the most famous in the last 25 years or so, was Kevin Keegan's brilliant anti-Fergie rant after one Newcastle game when he exclaimed with tears in his eyes, "I'd love it if...", listen to the rest on YouTube if you're too young to remember.
However, in terms of absolute delusional obsession, our friend from across the park takes some beating in his 4-minute diatribe with the Sky Sports reporter in the aftermath of the 1-1 draw in the derby on Sunday.
For me, and the majority of punters, it was a 'stonewall' penalty, albeit a soft one at that. However, according to Herr Klopp, Calvert-Lewin deliberately ran into Lovren... really?
He then questioned the validity of the reporter's questions and also of the panel in the studio who had been watching the game live, before telling the same guy, rather sarcastically that "They must be right, and I must be wrong!"
I actually like Klopp as a manager, but in all honesty, he made an absolute tit of himself 'live' on television.
Judging by his team selection, he clearly saw this as an odds-on home banker but, sorry Jurgen, it just doesn't work like that.
He weakened his argument even further by using that old Liverpool manager 'red-herring' excuse, "Only one team was trying to win today... they never tried to play football." (I read that as he expected to beat us 6-0.)
Overall, very embarrassing, Mr Klopp.
Stan Schofield
55
Posted 10/12/2017 at 21:16:09
Derby games are both a football battle and a psychological battle. Regardless of the football battle, we've been losing the psychological battle for too long. Today, we won that battle.
Herr Klopp was truly rattled, he made himself look a complete idiot, someone who becomes completely unstable in the face of not getting what he wants. In contrast, Sam was the perfect example of calm and professionalism, which of course will only make Klopp and Co. go off rails even more. Wonderful stuff.
Jamie Sweet
56
Posted 10/12/2017 at 21:23:35
You've got to hand it to Big Sam, he hasn't really put a foot wrong since he arrived, and that's pretty impressive considering most of us were sharpening our pitchforks ready for even the slightest cock-up.
I didn't want him. We got him. And now I realise why we got him, and am already feeling much more positive about the remainder of the season.
He is a man with a plan. He works on his own team's strengths whilst trying to expose the opposition's weaknesses.
He took a plan to Anfield, and pretty though it was not, it worked where so many other teams this year have failed.
His post-match comments saying we "mastered them" were brilliant. We've rattled them lot now and it's undoubtedly started with the attitude of our manager.
We certainly won't be taking any knives to gunfights whist Mr Allardyce is in charge!
I feared he was going to turn us into a laughing stock, but in actual fact, he is already instilling a new sense of pride. Long may it continue!
Stan Schofield
57
Posted 10/12/2017 at 21:32:00
Jamie, same here, I didn't want Sam, but now I see why he's here at this time. To be honest, even if the football is crap, it's been crap under Koeman. So long as we become difficult to beat, that gives us a basis on which to build in this Moshiri era.
Under Koeman, it was generally agreed that getting us to the next level would take a bit of time. Well, the same should apply now. At least we now have a solid platform, with what happened today giving a much-needed mental boost, which is what we've been crying out for.
Jamie Crowley
58
Posted 10/12/2017 at 21:33:17
Today was fantastic.
I really, really like Big Sam's pressers. He just talks 100% no nonsense and it's wonderful.
I do want to see a much better "brand" of football from Everton. Sam pointed out as much as he noted how poor we were in attack.
But for today there was no option. We did what we had to and got a result.
So well done, Sam. I pray we're not seeing this 12 to 18 months from now, but you did very well today.
Klopp fuming makes it feel like we played like Barcelona. :0)
Stan Edwards
59
Posted 10/12/2017 at 21:35:55
That's better – after 6 hours of Carragher shite on Friday, Klopp has made himself look as daft as those crazy teeth he has.
We are defo moving in the right direction! Roll on transfer window, maybe Charlie Austin as a stop gap cf. coyb
John McFarlane [Snr]
60
Posted 10/12/2017 at 21:43:54
Hi Stan [51], in all my football watching days [quite a few actually] I have always believed that there are two types of games where the results are of paramount importance, and they are derby games, and Cup matches.
Of course you want to win in style, no matter who you play, but as I say, in derby games and Cup matches, the pain is more severe and lasts longer.
Liverpool over the years, particularly In European competitions, used to adopt ultra defensive tactics and were lauded by all and sundry, but now that Everton have played them at their own game, it becomes anti-football. Short memories don't you think?
Tony Abrahams
61
Posted 10/12/2017 at 21:51:46
Jamie, I said it when Carragher was giving Allardyce some advice about toning it down? Everton, get a new manager and one of their "ex-players" was giving him advice on how to get by in our city!
They hate it when they know someone or somebody, doesn't give a fuck for them, and they know Sam Allardyce has always treated them with the same respect as they afford others. (Tone it down = worried?)
They make me laugh (not really) but look at Klopp tonight? Everyone is laughing at him because he's lost it, but it was the snide remark about us always making a really bad tackle, which proved something I've always felt I've known about this fella.
He's alright when he's winning, but like most Liverpudlians, he fucking hates it when he doesn't get his own way, and hopefully Allardyce can become our new Joe Royle, who,was really great at getting under their skin.
Michael Long
62
Posted 10/12/2017 at 21:51:55
It don't half feel like a win. Genuinely thought we would be in for conceding 4 or 5 today but credit to the back and players with hard work. However going forward we were petrified.
Liverpool dominated first-half yet only 2 chances they had was the goal and Mane scuffing it. Second half we were no better but for once at Anfield, we got a bit of luck and a penalty.
It's nice that we have finally got underneath the skin of a Liverpool manager. Klopp's cage was rattled big time. It's a penalty all day long. About a referee didn't bottle it at a so-called "Big six" ground for the opposition.
The second the window opens in January, a left back has to be a priority. Coz Baines is finished and Martina clearly is not a footballer. Sigurdsson was none existing and Davies just didn't know where he was playing. But listen, we all would have taken 1-1 before the game, so am happy.

Ian Burns
63
Posted 10/12/2017 at 21:57:00
On the Live Forum, I predicted a 1-0 win for us – so Sam Allardyce let me down big time by letting them score!! (Only joking Sam!).Rooney's sheer joy when he planted that ball into the onion bag was only slightly less joyful than Klopp's ridiculous interview.
It has to be said though that whereas the tactics were right for today, we need to be a little more expansive when meeting such as Newcastle etc on Wednesday when I just hope there isn't a big come down after today's result!
In the meantime, me gin tastes so good tonight, I'm Lovering it.
Mike Hughes
64
Posted 10/12/2017 at 22:08:33
Neil Cox (#48),
Thanks for posting that Klopp interview. I wasn't around for the final days of Der Fuhrer but I imagine the tone and posturing were similar.
The part where he confronts the Evertonian in the room was particularly satisfying: "it worked!" One word sums Klopp up – bitter.

Stan Schofield
65
Posted 10/12/2017 at 22:11:02
John @60: Absolutely! I always remember the 60s (the time when I became an Evertonian), when we played truly beautiful football. We lost quite a few derbies despite our wonderful flowing play, and often Liverpudlians would say that all our fancy football counted for nothing if we didn't score more goals than them. Well, now the boot is on the other foot.
They can play all the possession football they like, but if they can get only three shots on target, then their supposed great attack counts for nothing. Plus, today, I thought that Sam Allardyce was the model of professionalism and coolness, whereas Jurgen Klopp seemed to lose the plot. A clear and very welcome mental victory for us.
Colin Glassar
66
Posted 10/12/2017 at 22:14:48
I've seen that interview about 5 times now and it just gets better each time. I think it's up there with "four candles" "a bland British", "spam", and "basil fawlty whipping his car". Comedy gold.
Jerome Shields
67
Posted 10/12/2017 at 22:18:03
It's all about consistent results. How many times over the years after a good result, when it was vital to get a good result in the next match, we fell down? We could never depend on a Everton team to do that. This new realism brought in by Big Sam is a breath of fresh air. The so called ugly football, will with some fine tuning, in the case of Everton, turn us into a side that will win something.
Moshiri advised by Jim White, with his stupid yellow tie, by default has landed us the Manager we always needed.
In the School of Science, ugly football, will change from ugly Duckling into a Swan.
Paul Birmingham
68
Posted 10/12/2017 at 22:22:41
That's Life, as the old maestros song goes, But the RS today sold themselves, but we at last believed and you could see the Klopp hype faded today...?
One winner tonight, and perhaps in 3 weeks time, we will see an EFC win at our old ground.
We didn't loose today.
John Raftery
69
Posted 10/12/2017 at 22:22:49
'Bitter' was the word which occurred to me when I watched the post match interview with Klopp... five times!
Having had easy wins against us in his previous derbies at Anfield, it must be really hard for him to stomach a draw against a team which played without the ball.
Mike Hughes
70
Posted 10/12/2017 at 22:27:51
Nice one, Colin! Very true.
Don't forget the Rodders Chandelier scene; the Delboy leaning on the bar scene; any episode of Shooting Stars (hilarious after a few beers); the Bottom Christmas episode or anything involving our very own Leonard Rossiter in Rising Damp.
Klopp - comedy gold!

Tony Abrahams
71
Posted 10/12/2017 at 22:28:41
They are bitter though John, whereas I think we are just more honest? They hate Chelsea, Utd, City and Everton, but I've only known most Evertonians to only really hate one team!
Ray Roche
72
Posted 10/12/2017 at 22:35:25
Mike Hughes, I thought he could slip seamlessly into the "little tank" in "Allo Allo" although I think his kipper would look just right sticking out of the conning tower of a U-Boat: "Dive! Dive! Dive! I tell you it vas a dive!"
Mike Hughes
73
Posted 10/12/2017 at 22:41:51
John / Tony - the problem I have with them is not just the bitterness. It is when it is combined with their sneering self-entitlement; collective fawning; and blindness to their own faults of which BITTERNESS is right up there.
(I'm only on here as the Manchester-based BBC – having barely recognised the Merseyside Derby today – has put the Manc lot in first. And I'm Only watching MotD for the Klopp interview.)
Ray – we could put out a comedy Christmas DVD with all these clips. I'd buy it. We could call it "Klopp a load of this!"
Peter Cummings
74
Posted 10/12/2017 at 22:52:29
I couldn't get the game live over here so had to listen to the commentary, expecting a red rout as they attacked in waves after their seven goal rout in mid week.
Then they scored in 1st half stoppage time, and like most Evertonians I thought it signalled a washout of any comeback.
But miracles do happen and this was one of them, from being under the cosh for most of the game we suddenly started coming together a little late in the half and stole a point we hardly deserved.
This compounded a great result in that our 'adopted' team we now support here Toronto FC won the MLS Champions Cup Final 2-l.

Ernie Baywood
75
Posted 10/12/2017 at 23:04:50
I usually don't care what they say and not one to take too much glee having just watched my blues go to Anfield to do nothing more than defend...
But that interview is funny. Yes Calvert-Lewin 'takes a step'. It's called putting your body between the ball and the defender so they can't challenge. Yet Lovren still did challenge – into his back. That, my annoying friend, is the definition of a penalty due to a rash decision.
Liam Reilly
76
Posted 10/12/2017 at 23:05:12
Jesus H Christ! You're all going on about Klopp. His team attacked for 90 minutes and we have one pass worthy of note and that's OK.
Fuck me; easily pleased. This was a disgraceful performance.

Mike Hughes
77
Posted 10/12/2017 at 23:13:58
Not a penalty? Calvert-Lewin could have lost an eye or had organ damage with that 'tackle'. Not that I'm biased or anything.
For once, Shearer (and even Murphy) called it right. Shearer is also right in stating that everyone knew how we'd play today. And we got a very decent point.
(Liam – go and watch Belgium. Their manager is really into 'performances'...)
Why people are suddenly expecting School of Science given developments just beggars belief. Have you been watching the shite on display for most of the past 3 years? At least we're getting results now. To my knowledge, only ice skating score for artistic interpretation.
Get behind the manager who has had one of the best ever starts to a managerial career. He's been here all of 2 weeks by the way. Well done Sam!

Roger Helm
78
Posted 10/12/2017 at 23:31:03
The MotD team unanimous it was a penalty. They also referenced the Sky interview with Klipperty which underlines how much he lost it.
What will the FA do about his post-match antics? Probably the same as what they will do about Chelsea Man U and Man City players diving to get a penalty – bugger all.
Nice to see Rooney has scored as many as Lukaku!
Neil Cox
79
Posted 10/12/2017 at 23:33:39
Mike Hughes (#64),
He made himself look like a petulant child. Even Murphy on MotD agreed it was a penalty (amazingly) and it clearly was.
His reaction to the Sky interviewer and at the post-match conference shows his lack of class. A mate of mine is a Palace fan and was on a train with a match official recently who said that Klopp is despised by most officials due to his behaviour.
Colin Glassar
80
Posted 10/12/2017 at 23:37:52
After watching it about a dozen times, it was deffo a penalty. It reminded me of when Jags "pushed" James Milner (Man City) a few seasons ago and the ref gave them a penalty and we lost 1-0.
Brent Stephens
81
Posted 10/12/2017 at 23:40:08
Mike (#77)
"To my knowledge, only ice skating score for artistic interpretation."
I'll frame that one!
Neil Cox
82
Posted 10/12/2017 at 23:42:30
Liam (#76),
I'm not easily pleased but I am realistic. I want us to play good football and win (especially against the RS) but know that won't happen given what has happened this season.
I'll take being defensive and organised and getting a point when not playing well – particularly against that lot.
The Klopp thing is just something that makes me, and I suspect others, laugh.
Stan Schofield
83
Posted 10/12/2017 at 23:57:02
Liam @76: It wasn't pretty, but nobody expected that at the moment. We expect it to be pretty eventually.
Re Klopp. We've had a psychological issue with derbies for too long. The Klopp incident was of major significance psychologically. He has suddenly lost his arrogance, his snearing, about derbies, and instead made a fool of himself. That has already embarrassed reds (I know this), and has probably diminished the respect he had amongst his squad.
They won't be looking forward to the next encounter. They will be nervous, increasingly so if our results continue to improve. That is so important in terms of how fragile we've seen our team be in the last. Football is part mental, and today we jumped a mental hurdle.
Jerome Shields
84
Posted 11/12/2017 at 00:28:19
Rooney has been transformed by Unsworth's middle field role and the arrival of Big Sam, who in his limited period with England seems to have struck up a good relationship with him.
I have changed of mind on the signing of Rooney. He was a good signing by default, as was Sam himself. It could only happen at Everton. It's the prayers of the fans that has done it.
Daniel Lim
85
Posted 11/12/2017 at 00:33:43
Haha... the reaction of the clown makes this even more satisfying. Satisfied with the one point, and certainly over the moon after reading this.
John Boon
87
Posted 11/12/2017 at 00:45:55
Interesting to read all the responses to Klipklop's interview. Klopp obviously thinks he is only speaking to RS supporters and he is astonished that people have the nerve to disagree with him.
Penalty all the way I actually thought that Lovren was trying to get a piggyback ride...
He has proved to be a useless defender and desperately wants his Boss to agree with him. Pathetic. He continues to prove that not only is he a lousy defender he is also stupid.
Soren Moyer
88
Posted 11/12/2017 at 01:28:56
Sky Sports News headline:
Pawson awarded a penalty to Everton!!!
Will they ever shut up?
Laurie Hartley
89
Posted 11/12/2017 at 02:23:10
Looks like our manger has got the wood on the RS manager then. I like it - it makes me feel happy.
I suspect that we will, in the future, look back on this result and the post match interviews as the day Everton Football Club turned the table on its Nemesis.
Paul Holmes
91
Posted 11/12/2017 at 02:40:17
Klopp's reaction shows that, despite our derby record against them, they still fear us as a club. Why else would you react like that over a draw!
Formed in 1878, nil satis nisi optimum, we are the People's Club in this city! If you don't believe me, watch Klopp's meltdown on Sky!
Brian Dagnall
92
Posted 11/12/2017 at 02:46:13
Klopp says "I saw only one team playing out there". So no change there then, he only ever sees one team. Williams fouled Solanke more than 50 times not given. Really, are you sure? All media outlets, and all people at his press conference were 100% sure it was a pen, but Klopp, Henderson and Lovren were 100% sure it was not. Maybe they are a teeny weeny bit biased. Poor chap needs round-the-clock care.
But other than enjoying the antics of a joke manager, I was disappointed with Everton. The team's ball control is close to pathetic, 10 yards passes missed, booting the ball aimlessly upfield. No pleasure watching that even though a point gained is welcome.
Many people here say things will get better in the New Year. Hope they are right.
Jay Harris
93
Posted 11/12/2017 at 04:44:56
I thought from first sight to seeing the replay it was a stonewall penalty but I couldn't believe the little turncoat Phil Neville who was commentating that it was a blatant dive and kept going on about saying no way was it a penalty and the refs been conned etc etc and repeated it about 20 times till I switched the commentary off.
The media are trying to run games decide who plays for who who manages who and so on. Will these has-beens please give it a rest your commentary should be neutral and on the game not opinionated and antagonistic.
David Barks hope you and the family stay safe and unaffected by the atrocities that have ravaged California the past few months.
Daniel Lim
94
Posted 11/12/2017 at 04:44:57
Soren @88
Maybe this will make the referees more willing to give penalty to Everton in the future, because the next day their names will appear on some headline. OMG, a bitter Klopp actually brings the ultra positive out of me.

David Currie
95
Posted 11/12/2017 at 05:55:53
Cometh the hour , Cometh the man Rooney. Klopp is a fucking prick. The charming, smiling twat that he is when they win and a big spoilt baby when things don't go his way. Complete wanker.
Gomez made the worst challenge in the game and no yellow card. Good to see us show some fight in a derby game and not roll over.
Karl Brightman
96
Posted 11/12/2017 at 06:25:33
So Big Sam rightly rests most of our entire first team for a nothing match against Limassol but Klopp, despite being 3-0 up at half time, continues to play his best squad to humiliate an already destroyed Spartak in a group they'd already won with an already massive goal difference.
Then he rests some of his key players against us for another home game this week against… West Brom? No disrespect to WBA but this is just poor team selection and very poor management.
Two points thrown away by Herr Klopp and no moaning about penalties can disguise his poor team selection. He underestimated us and has been out-thought by Big Sam and it hurts.
We'll see who he puts on the field against us in the cup tie in January – unless they've already been sold.

Kevin Moorcroft
97
Posted 11/12/2017 at 07:18:22
Those Red Shites are a different breed as us Evertonians. They just cant take defeat – and my days of working alongside them in Kendall's era typified yesterday's farcical comments from their leader.
Our man was cool and calm – he's been about and he knows what's required and handles these situations like a true professional. Shot him down like a clay pigeon.
Hes only been here a couple of weeks or more and we know more than we ever did under Bobby Brown Shoes and that arsehole Koeman and his brother who didn't give a flying fuck about us.
A morale victory and as the great Brian Labone would say "One Evertonian is worth Ten Liverpudlians".
Hold your heads up today, lads – not that we ever hide anyway!!!
Jeff Spiers
98
Posted 11/12/2017 at 07:30:37
Have the shite ever got dodgy penalties against us!? Klopp lad you are one phoney embarrassing prick. Welcome to the real side of the Mersey. The Blue part.

Peter Roberts
99
Posted 11/12/2017 at 08:14:17
Little thing in contrast but Rooney's celebration of the penalty was absolutely wonderful. He's now level with Lukaku on goals. If only we'd bought a Number 9 rather than 3 Number 10s, who knows where we'd be? I said at the time he'd be a good signing for us and so it's proved.
Rob Young
100
Posted 11/12/2017 at 08:35:22
Very true, Jay, about the media.
The MotD commentator after Jesus went down for Man City said 'there was no contact, but it wasn't a dive'.
Niasse would have been banned for that.

Mark Palmer
101
Posted 11/12/2017 at 08:47:30
I partly agree with Liam (#76). Apart from a resilient defence and Rooney's pass and subsequent penalty, the quality was poor from Everton.
I'd rather have snatched a draw than played well and lost but we seem a long way behind being able to match the top teams for actually playing footy.
I say that fully aware that we probably carried out Sam's game plan but I'm sure part of that plan wasn't to give them the ball so often.
Gerry Quinn
102
Posted 11/12/2017 at 08:48:41
Allardyce had a good response to Carragher. He said: "You get forced back, if Jamie's listening to this, by two teams. One is by the talent of the opposition and the other being the failure of your players to play out when you get possession. I will give him a lesson on coaching so he can understand next time he is commentating."
Ha, ha, brilliant...
Kenny Smith
103
Posted 11/12/2017 at 08:58:34
There are two important sides to a team: defence and attack. We wish we could attack like them every game and they wish they'd of defended like us yesterday. We sat there and got the ball long at every opportunity to try and win free kicks and eventually it paid off.
Klopp got what he deserved he rolled the dice and showed us no respect. The 2 points dropped by them proves he's no tactician. Anyway, I don't give a shit about them what a great point. COYB
Les Martin
104
Posted 11/12/2017 at 09:05:31
Superb response from Sam, his words summed it up brilliantly, great to have him in charge.
Trevor Peers
105
Posted 11/12/2017 at 09:07:14
Klopp is a flat track bully of a manager, as demonstrated last week at Brighton when his celebrations bordered on intimidation and he had to apologize to Chris Houghton.
In fact he apologizes most weeks for his bad behaviour which mysteriously goes unpunished, this time he picked on the wrong guy. Sam put him firmly in his place, and like all bullies, when challenged, he began to cry for his mummy. A pathetic excuse for a human being he is.
Len Hawkins
107
Posted 11/12/2017 at 09:41:30
I cannot believe some of the absolute shite some people are posting. The bloke has been manager for 10 days and still he has not got the team playing like Barcelona?!? Does anyone actually think if Koeman was still here it wouldn't have been a massive beating yesterday?
Alan McGuffog
108
Posted 11/12/2017 at 09:51:08
Len, spot on. A week or so ago I suggested to my RS mates that they should visit Ladbrokes and invest heavily in a win by at least six goals.
John Brereton
109
Posted 11/12/2017 at 10:05:11
Does anyone think that Salah blatantly pushed Martina in the chest prior to their goal – seemed like a foul to me.
Andrew Ellams
111
Posted 11/12/2017 at 10:13:37
We kept the supposed best attacking team in Europe down to three shots on target, only one of which actually got our keeper off his feet. 8 weeks ago that would have been a cricket score.
Steve Ferns
113
Posted 11/12/2017 at 10:27:55
I see BBC online had Jonjoe Kenny as the (overall) man of the match, whilst MotD singled out Gueye. Both were excellent.
It's obviously difficult to assess everything from the Anfield Road end, but the guy who (continued) to impress me most was Dominic Calvert-Lewin. I thought he was our best player.
First half Niasse was played centrally then on the left wing, and he just couldn't do anything right and was rightly taken off. I thought it was odd not to play Lennon and go with the same team from Huddersfield. Niasse's pace against a tiring Liverpool team seemed the best option to me. Sorry Niasse, but I think you're much better as a sub.
Lennon also offered much more in defence and allowed Sigurdsson to give more protection to Martina and could have helped prevent their goal, though there was enough blue shirts around him. I have slated Martina as much as anyone, but goal aside he was excellent. And there is a question over whether Salah pushed him over.
Calvert-Lewin was often on his own, he was often 20/30 yards ahead of all the blue shirts. And yet he did not give up. He is going to be a dominant player in the air. That's clear to me. Maybe it's Duncan's influence, maybe it's his natural skill. He gets his head on near enough everything and we just need to support him.
There were times he won the header, flicked it on, and chased after it himself. Absolutely brilliant. Just look at what he did to win the penalty. He runs tirelessly all game. He never moans. He never stops. His link up play needs work but is improving rapidly. He's got some nice flicks.
Some on here have been overly critical of him. I would ask that you consider the Liverpool striker, Dominic Solanke. He played alongside Calvert-Lewin in the World Cup. He scored more and won the Golden Ball. The consensus was that Solanke and Tammy Abraham were both better than Calvert-Lewin.
Yet here we are 6 months later. Solanke made his second start of the season, and who would say on yesterday's performance that he is anywhere near the level of Calvert-Lewin? He needs games, but Calvert-Lewin has had games and is getting better and better.
Tammy Abrahams has had games and looks similarly like becoming a top player. However, he's 5 goals to Calvert-Lewin's 6. Abrahams also lacks the all round game of Calvert-Lewin and similarly he finds himself isolated, but is unable to win the ball in the air, knock it on, chase after it and bring others into play.
I'm not saying Calvert-Lewin will be a great striker, I'm saying that because of playing, because he's developed his all round game, because of the way he plays, he's become essential to us, and can only get better. How much better, only time will tell. Given a choice between Calvert-Lewin and Troy Deeney, I would go for Calvert-Lewin. I want us to sign a top class striker, like Aubameyang, but I want to ensure Calvert-Lewin continues to play and gets enough game time to develop.
Brian Williams
114
Posted 11/12/2017 at 10:33:36
Steve. I agree on Calvert-Lewin. I still think lots of Evertonians underestimate this lad and I think he does brilliantly week in week out.
He's also not afraid to try little flicks and tricks that seasoned professionals wouldn't dare to do. I hope he keeps doing them as to "frighten" them out of him would be a tragedy.
I was disappointed yesterday to see some of the comments about Davies on Twatter. I wish the supporters that put on these comments would realize they're picked up and repeated ad nauseam on other sites by lazy journo's.
I feel for Davies if he reads "shocking, out of his depth, rubbish" by his own supporters on sites.

John G Davies
115
Posted 11/12/2017 at 10:38:00
"I have slated Martina as much as anyone, but goal aside he was excellent"
Steve, you would do well to watch the game again.
Steve Ferns
116
Posted 11/12/2017 at 10:39:17
Brian, agreed on Davies. I saw an article highlighting the Twitter comments during the game laying into Niasse, Davies, Martina and Calvert-Lewin.
Unfortunately, Twitter makes frustrated people (drunk as well?) look a fool. I wouldn't want to read back some of the things I have said at the game or in the pub during a game. I'd look even more of a tit than normal!
Steve Ferns
117
Posted 11/12/2017 at 10:42:30
I'll watch the 20-minute highlights, John. I could only see him properly for the first half and even then, as I was so far over on the right my view was obscured by the standing fans. But what I did see in the first half was him doing a good job on Salah. It wasn't pretty but it was effective.
I would also like to have a proper look at whether or not Salah did push him over. My mate reckons he did, and I was a bit too drunk / tired last night to properly assess it myself.
Andrew Ellams
118
Posted 11/12/2017 at 10:47:25
Martina had a mare starting with a terrible pass in the first couple of minutes that nearly let them in. He was definitely fouled in the build up to the goal though.
Steve Ferns
119
Posted 11/12/2017 at 10:54:19
Did the TV cameras pick up that Lookman was ready to come on when we scored? He was then sat back down and a few minutes later Jagielka came on.
Shame Lookman didn't get a run out, but hopefully he will have some patience. I expect him to get a start against the Barcodes.
Geoff Williams
120
Posted 11/12/2017 at 11:02:56
I have lost all respect for Klopp, the man is a fool.
Tony Everan
121
Posted 11/12/2017 at 11:14:47
Other teams need to take a look at what Big Sam and Everton did.
Get organised stay deep, take the pace of Mane and Salah out of the game as much as you can.
Wait for the chances that Liverpool's defence will inevitably give you.
All teams have a chance to take points off Liverpool, and provide some more entertaining Klopp interviews!
Tony Abrahams
122
Posted 11/12/2017 at 11:31:35
I couldn't agree more with Jay Harris, @93, about how much control the media have now got in football and it makes me fucking sick if I'm being honest.
I don't watch that much footy now, and have even stopped travelling away, but I couldn't do with that telly, unless it's on a foreign channel because the fella's in the studio, seem more important than the players on the pitch for too many people now.
Equally agree with Len Hawkins @107, when he states that if Koeman, was still here we would have been slaughtered yesterday, and what can people seriously expect after 10 days of Allardyce?
The people who "know anything" ha-ha will know this, but I've read a few reports from different newspapers and it's easy to spot a red nose journalist, because some are even saying that Liverpool had a game in mid-week but Everton could afford to rest their team?
These one eyed reporters, must get along great with Liverpool's one eyed manager, especially because the same people must have watched Everton at Southampton, just a fortnight before, and thought they were in for a cricket score!
Bradley Smith
123
Posted 11/12/2017 at 11:32:00
Brilliant performance! In life, you have to be realistic and keep in your lane. At this minute, with no real centre-forward and 5 big players out (Coleman, Funes Mori, Baines, McCarthy and Barkley – who for me would all start) we have to be realistic. They are scoring for fun.
I feel like Big Sam and Little Sam have made me fall back in love with Everton again, the fire is burning inside strong! I am gripped by his interviews – last manager who I paid attention to like this was Moyes, the man's ideal for us. Sammy lee is a great coach, we are lucky to have him.
I thought every player In blue the second half did well, even Martina. Davies and Niasse were poor first half when we needed someone to put their foot on the ball, they were sloppy so good move taking them off.
Onto the greatest centre-forward this land has ever produced in Wayne Rooney: they say he's finished, scored the best goal of his career last week and I can imagine that's the goal he's always wanted to score more than any yesterday!
Good times to be blue, we have a manager who is in the real world, no daft philosophy, no ego! He knows football and understands this league inside out. He understands Everton, he loves being here.
We are going in the right direction. Onward Evertonians to victory, there is no retreat and there is no surrender.
John G Davies
124
Posted 11/12/2017 at 11:39:54
Ballbags to a man Tony. You're either with them or against them. No in-between.
Steve,
Martina jumped out of 3 possibly 4 tackles. One down by our corner flag when it was 1-1. Rooney ripped the back off him.
He knocked an attempted clearance down onto the penalty spot. He was simply out-strengthened by Salah for the goal.
I thought he looked overawed yesterday. Btw I'm not one who thinks he is as bad as he is made out to be.
Paul Hughes
125
Posted 11/12/2017 at 11:45:02
I'll get my tin hat on, but I've got some sympathy for Martina. He's an average right back, forced into being a left back due to massive dereliction of duty by Walsh and Koeman.
Steve Ferns
126
Posted 11/12/2017 at 11:45:38
To go on from that, Tony, the media is very important. Last season, they were all ready and had their knives sharpened and they really laid into Guardiola. Someone christened him "Fraudiola" and they are took great pleasure in reporting that.
The press sets a narrative. Such as when Everton were stumbling through the start of the season, playing poorly, but just getting enough results to be mid table and making it past the weaker teams in the Europa League to the group, they didn't really go for Koeman. But once we lost a few in a row, they made an "Everton in crisis" narrative that made his sacking inevitable. They also continued to push an Unsworth "out of his depth" narrative. You see this enough, in all the media, then you start to believe it.
And not just us the fans, but surely the players will doubt him too. Not just the players who couldn't be arse (like Schneiderlin and Mirallas) but some of the others who were going to give him a chance and Everton their all. it's funny how the press can remove or add in the European results as it suits them to make their point.
The main thing is, the power of the press, and when they all have the same narrative, how can anything but that story reach it's logical conclusion? Examples of narratives being Koeman getting sacked, Unsworth being out of his depth, and Big Sam getting the job. I really do not believe that Everton ever seriously considered appointing Big Sam from the start. We appeared (yes guessing on my part by trying to read between the lines) to interview him because the press told us we needed to. We dismissed him as we the fans told the club to, and we then turned back to him, because the media told them Unsworth was out of his depth and the results were backing this up and, after the Atalanta and Southampton games, so were the performances.
I just hope that all of Allardyce's media pals stay behind him and promote us, and keep the Everton narrative positive. We've laid the foundations for them to do so. Only time will tell though.
Tony Abrahams
127
Posted 11/12/2017 at 11:50:50
I thought Martina also,looked overawed yesterday John G, but to be fair to him, Salah has got most people up the wall, at the minute.
Shows Koeman's recruitment policy really, because he's worked with him before, and although he's not the worst player I've ever seen, I would maybe question his will at times, and would have thought that managers should be only interested in signing "real winners"? Defenders who don't mind getting stuck in, and ruffling a few feathers, maybe.
Tony Abrahams
128
Posted 11/12/2017 at 12:05:47
Fair points, Steve;, maybe I'm arrogant but I like to think I've got my own mind though.
I also think Unsworth was out of his depth, Koeman should have gone at least a few weeks before he did, and if Moshiri, could have got Silva, Big Sam wouldn't be in a job now?
Steve, it's when you hear people talking about football, and they think it must be right because someone on the panel said it was. It gives people so much more belief they are right because maybe Shearer or Murphy said it?
I was talking about yesterday, and thinking that if Allardyce had been in the Everton job for a few months, then yesterday's tactics, or at least our inability to string 3 passes together could have been questioned, but anyone who watched Everton just a fortnight ago at Southampton knows that how they have suddenly become a defensive unit again, in such a short space of time, is a major credit to the people they have brought in.
Steve Ferns
129
Posted 11/12/2017 at 12:16:04
Yes Tony, and as I said so many times in defence of Unsworth, and it applies to Allardyce now, when exactly do we get the chance to actually train the players?
Allardyce conveniently had a doctor's appointment and missed the Thursday game, so he had a full week, 7 days, to train the team for the game yesterday. Only Schneiderlin got a second on the pitch from the lads who went to Cyprus and this meant he finally had time to drill them. It didn't half show.
He has limited time, and he can only focus on the essentials for now, and that's the defence. 1 goal in 4 games will give them their belief back. The confidence will be there now. They held off Liverpool, even the big guns came on and couldn't do anything. Only 1 of the back four can stake a claim to being in our first choice back four, and that's Williams, and he wouldn't make many of the fan's first choice back four!
I think we cannot judge Allardyce's progress in an attacking sense until the middle of January. But these guys are talented professionals costing massive transfer fees. It's one thing telling them where to stand to defend, how deep to be, when to hold position and when to close down; attacking is different and their ability should take over. What we will like to see though is the cohesion from running drills to attack as a team so they can run set plays and know movements of where people will go.
The case for the defence is a strong one.
Peter Murray
130
Posted 11/12/2017 at 12:37:09
Just amazed supporters surprised by Evertons' tactics – football's all about goals - possession zero points - or do you scrutinize the Premier League without points info!!!
With Martinez, Koeman or Unsworth, we would have lost, defo!!
Just get real and understand we'll get much more of this similar tactic thoughout the season, maybe not so severe.
As a supporter of 60+ years – in my book, I support Everton and whoever the Red Shite play!!!
COYB
Tony Abrahams
131
Posted 11/12/2017 at 12:37:34
All good points, Steve, but the biggest difference between the two teams imo, wasn't so much the quality, but more the intensity.
Liverpool, play with such intensity, that it continually forces mistakes out of the opposition. Good players will relish this, but if you are not on top of your game, then you will be swamped.
I don't think we will improve offensively against the better teams, until we sign some real quality – not loads, just enough to make the difference!
Steve Ferns
132
Posted 11/12/2017 at 12:49:51
Tony, I think we still have good attacking quality.
Last season's front three of Lukaku, Mirallas, and Barkley were very good, but were probably the 7th best of all the attacks in the Premier League.
Lukaku is gone, Barkley is injured and future unknown, and Mirallas is just waiting to be sold. Bolasie is a good squad player if he fully recovers, but he's not a top 6 player, Vlasic and Lookman show potential, Calvert-Lewin (despite my glowing report above) is not a top six player (yet?).
If we want to crack the top 6 this season, we need a new front 3, a left-back and a centre-back. If we are aiming for next season, then Aubameyang and a left-back would do me, especially if we can persuade Barkley to sign a new deal. Shaw for £20m and half his current wage wouldn't be a bad deal. He wouldn't have to move house which would be a big pull for him. But loads on here don't want another Man Utd reject, and he's certainly one of them.
Rahman Talib
133
Posted 11/12/2017 at 13:11:01
We need to buy a left-winger that can help Baines out. Kinda like a left-sided Lennon. Then we will be smoking.
The reason we can't play with width is that our left side is exposed.
Daniel Lim
134
Posted 11/12/2017 at 13:20:11
To make it even sweeter, I just read that Lukaku had 2 assists for Man City at the Manchester derby.
Stewart Lowe
135
Posted 11/12/2017 at 13:26:03
Didn't we have to endure Gerrard going down in the box at the slightest breeze???? Suarez was the same as he went down in the box clutching his teeth, whilst cameras showed no contact at all. Liverpool have been the kings at diving for many years, sour sauerkraut me thinks.
Karl Jones
136
Posted 11/12/2017 at 13:43:49
With all the controversy over the Derby yesterday, I don't know why nobody has mentioned Salah clearly pushing Martina over just before he scored. If you watch it, it is a clear foul that was missed by the Ref.
It's funny with all the Sky camera angles and "expert" pundits, that this was not spotted.
Gary Russell
137
Posted 11/12/2017 at 14:14:43
Steve, 113 'but the guy who (continued) to impress me most was Dominic Calvert-Lewin. I thought he was our best player.
Just my tuppence. What I saw in the first 30 minutes of the game, and I posted on the live forum, was Calvert-Lewin strolling around without an ounce of urgency or desire to close anyone down. I like him and as has been mentioned too many times, some need patience and to acknowledge these are men just out of their teens. Mental strength is not a given, it comes with experience for most of us.
Martina too, was getting it from the commentators and most of us. I remember one of our players going over to him to reassure/encourage him as he was having a bit of a mare.

James Flynn
138
Posted 11/12/2017 at 14:17:00
Daniel (134) – I see Man Utd supporters were giving it to Lukaku pretty good.
I usually don't bother with stuff not about Everton, but this one was pretty good from a Manc:
"I layeth a table down, for my enemies" – Lukaku 4:25
Haha.
Dave Wilson
139
Posted 11/12/2017 at 14:25:46
I thought we were a little nastier than usual. Non of these silly fouls we have been giving away all season. we made sure most of the fouls committed yesterday counted.
I felt Sam and his team had err... "identified" Henderson as the guy to be introduced to our new attitude. Gana caught him a treat, Holgate was about a week late and Sigurdsson's challenge had Klipperty going absolutely Klopperty.
I wont be condoning any of that...Honest! ...swear down lad.
Mike Price
140
Posted 11/12/2017 at 14:48:59
Karl (#136) I was wondering the same, as well as the clear push on Kenny when Mane went through for the 3 on 1 before half time. These things should be highlighted by management, ie, the things that always go for the favoured few and don't get pointed out by Sky. Highlighting them may affect future games... remember Wenger highlighting Andy Johnson? He never got another penalty despite a parade of clear fouls.
Terry Underwood
142
Posted 11/12/2017 at 15:27:17
Next time a gobshite calls you "Bitter" just refer them to Klipperty's interview. How bitter is that twat?
Jay Wood
143
Posted 11/12/2017 at 15:45:40
Went out soon after the game finished yesterday, so just now catching up with the 'afters'.
The various post-match interviews by the respective managers make a striking contrast. And our Sam plays it brilliantly!
Like Pat Kelly @ 37 I also picked up on Klopp's warped logic and sense of entitlement, claiming the ref shouldn't have awarded the penalty because the pinkies dominated throughout. Der-wot?!
Stonewall penalty, no question. It is a credit to the Liverpool (cough!) that in 80 years of Merseyside Derbies, they have played with discipline and rigid fair play (cough! cough!) to never have committed a foul in their penalty area to concede a penalty to us, other than to the 2 Wayne's Clark in 1988 and Rooney yesterday.
We robust Blues have, of course, shown much less Corinthian spirit as in the same time frame, the pinkies who won 9 penalties at Goodison.
I also liked the interview when Klopp asks for a show of hands from attending journalists – who thought it was a pen. He gloats when initially only 3 hands go up, then is taken aback when ALL hands go up! Comedy Gold, as others have mentioned.
As for those (very few) claiming those rejoicing in the result should be ashamed of themselves and the club, celebrating escaping Anfield with a draw, that's not what I'm reading in general at all.
There are plenty – including the manager himself – acknowledging our ball retention, passing and attacking threat was virtually zero. But there are also plenty, given just how porous and easy to beat we have been this season, putting the result and performance into context and delighting in the fact that the auld enemy, flying high, scoring goals for fun, did not absolutely tank us as many on this very site were predicting in the week leading up to the match. That may have been the case with Koeman or Unsworth still in charge. It is clearly evident Sam and his coaches are addressing and prioritizing our defensive frailties. The razzmatazz can wait.
It is allowed and legitimate to hold both views simultaneously.
As for Martina, he is a player I have defended more than once on TW. Even Sam spoke in praise of him yesterday. But I saw a defender already in difficulty straight from the off. Sigurdsson dropped deeper to give him more support and cover, but he was simply walked through, brushed aside by his attacker, at least 3 times. His headed and kicked clearances were not clean and brought more pressure on us. He was berated by more than one team mate on different occasions for his poor defensive play or positioning. In a close up, he was seen to shake his head after another poor play by him, seemingly acknowledging his failings.
This is not said to hang the guy out to dry. I feel a great deal of sympathy for him actually. He is being played out of position to cover for the injured Baines as a result of an unbalanced summer recruitment and loaning out players who could cover better at left back. But 'top notch' and 'excellent' as some posters have claimed he most certainly was not for me.
And those looking to claim a foul by Salah on Martina in the build up to his goal are clutching at straws for me. Martina is also pushing and shoving Salah. Salah was simply stronger and more determined. His cut inside of Gana, rather than going around him, further created problems for Everton. Hard as it is, at times you have to doff your cap to the individual determination and brilliance of the goal scorer.
I would have been well made up if an Everton player had produced the same.
Matthew Williams
144
Posted 11/12/2017 at 17:21:20
Our lovable neighbors still crying over the penalty... ha, the joy... fuckers.
It's because of pens that they've sadly won so many pots over the years, try winning any final in 90 minutes! Only Red Shite teams need extra time and penalties to win a final!!!
Onward Blues to Geordieland and 3 points.
Peter Murray
145
Posted 11/12/2017 at 17:40:06
Martina – just not good/pure enough; January window will see his total removal of any Everton existence. Purely rubbish – not good enough. He will be played upon consistently by good sides, always to the detriment of any attacking player we select.
Allardyce was forced into a corner selecting him – but hopefully not for long... please!!!
Tony Everan
146
Posted 11/12/2017 at 20:14:07
Now the dust has settled and the penalty / interview circus has left town, it needs to be acknowledged just how bad we were.
We stank. It was a mismatch.We weren't even 2nd best.
I don't want to watch any more derbies like this, we were embarrassing, an excuse of an Everton side. Liverpool were resting players too.
There's no joy in me saying any of the above, just desperation in longing to be competitive. I want this derby to be the lowest of low points and for us to build and get a competitive team together to take the game to them. I am sick to death of watching wave after wave of Liverpool attack in every derby match.
No more.
Jeff Spiers
147
Posted 11/12/2017 at 20:37:51
Tony @146. I concur.
Peter Lee
148
Posted 11/12/2017 at 20:47:12
We started the game with one left-footer on the pitch, Pickford. We had three potential first-choice defenders injured, plus others. Our overall squad is wildly unbalanced and has, in addition, been totally lacking in confidence, shape and discipline. We have been conceding goals like Christmas presents, they have been scoring for fun.
Some posters are unhappy with a gritty display at Mordor that pissed off the orcs and sent the chief orc, the one with the teeth, mental. Get real.
Klippetty was banging on all last week about knowing how we would play. I think what really pissed him off was that he thought we would set up to counter Coutinho and the three musketeers. I reckon he thought that not playing them and having Solanke to lump the ball at would screw us up. We looked set up to do as he expected but we adapted and hung on in a 4-4-2. Not 4-5-1 by the way.
Sam changed it at half time to better suit but maintained 4-4-2. As soon as they brought Coutinho and Firmino on we moved to the 4-1-4-1 that we'd probably been working on all week.
This showed intelligence, discipline and bravery. Until we are in a position to address our shortcomings, as I outlined earlier, I'll take that.
Karl Jones
149
Posted 11/12/2017 at 20:52:12
Jay Wood (#143). Have to disagree with your last point. That was a clear foul by Salah on Martina. It was a two-handed shove that put him on his arse rugby style. A worse push than the one which we all agree was a penalty.
If an Everton player had done the same in that game there would have been outrage from Redshite the world over.
Ron Sear
150
Posted 11/12/2017 at 22:21:04
Peter (#148)
According to Ken Dodd, Klipperty is the name of Klopp's daughter so you can't use it to describe the deeply upset one.
Tony J Williams
151
Posted 12/12/2017 at 02:06:57
Tony (#146), More embarrassing than the usual capitulation at Anfield with the usual 3/4-0 scoreline?
Keith Glazzard
152
Posted 12/12/2017 at 04:51:35
Pity poor Craig Pawson. He has now to enter the derby refs' "Hall of Shame". Not such a bad thing in itself, but he will have to be rubbing shoulders with Clive Thomas, Mark Clattenburg and a few others who have not only given us nothing, but taken away many things over the years.
Of course it was a bloody penalty. Has this man never played football?
Julian Wait
153
Posted 12/12/2017 at 05:37:05
So if Coleman and Baines are fit, do you still find a place for Kenny? Does he play at left-back instead of Leighton Baines? He'd be hard done by to get dropped, the rate he's settling in / adjusting / improving.

Bill Watson
154
Posted 12/12/2017 at 06:08:01
Tony (#146).
"Liverpool were resting players, too".
Coleman, Bolasie, McCarthy, Barkley and Funes Mori have been out for so long they're now rarely mentioned as absentees. Add Baines to the list, for good measure, and we had far more missing then they did!
Yes, I too was acutely embarrassed that we only created two shots on target compared to their three. Give me a spineless 4-0 defeat, any day.
Andrew McKernan
155
Posted 12/12/2017 at 08:38:13
Klopp the whinger maintains he is a 'Guru' when it comes to defending, he has also stated that he could write a book on the subject.
No doubt Lovren will be advising him on the Chapter entitled 'When an opposition player is running away from goal in your penalty area, whatever you do , don't make contact...'
Christian Watson
156
Posted 12/12/2017 at 09:00:00
As recent history (Niasse) suggests, the FA will happily make a retrospective decision on simulation to get a decision. The fact that this hasn't been mentioned by anyone other than Klopp suggests to me that it was a penalty. No question!
Grow up, Jurgen, you clown!
John Keating
157
Posted 12/12/2017 at 09:50:48
Tony (#146). Bit of selective memory there mate.
Did you post a similar message after last seasons Goodison game when I don't think we had one shot on target. Then, when we went to Mordo,r and completely embarrassed the Club.
Tony I could go back years and make a similar post to yours.
Yes we were crap but it has to be put into context. Right now, more important than any sort of attractive football, we need points. That's exactly what we got.
I'd sooner walk around town after drawing with a shit display rather than last season having to walk around town after getting hammered with a shit display.
Of course if it's just for an anti-Allardyce agenda then that's different.
Rob Young
158
Posted 12/12/2017 at 10:06:07
The one thing I would like Calvert-Lewin to do is to make defenders work a bit harder. I hardly ever see him make physical contact with a defender clearing his lines. Not in a nasty way but just a push here and there.
As a striker I feel he should always be at least rubbing shoulders with the defenders whenever there is a ball to be won. I think he doesn't do that enough.
Stan Schofield
159
Posted 12/12/2017 at 10:11:10
Rob, that's right, but Calvert-Lewin is only young. He's making rapid progress towards being top class. Already he's changed a number of Everton games recently. His physical nuisance value shows more and more as he gains experience.
Chris Gould
160
Posted 12/12/2017 at 11:00:16
I'm not sure Klopp dropped Firmino and Coutinho because he underestimated/disrespected us. I mentioned before the game that the colder and wetter the better, as their Brazilians wouldn't cope well with it.
I think Klopp may have felt the same. They may have been worse if those two had started in those conditions. If anything, we were slightly more comfortable when they did come on.
With regards to Calvert-Lewin, I think he's been directly involved (5 goals, 6 assists) in 11 goals so far this season. That's really not bad for a young player thrown in at the deep end in an under-performing side.
Stan Schofield
161
Posted 12/12/2017 at 12:35:27
Chris, that was more or less my feeling as well. Although Klopp clearly isn't the sharpest tool in the box (as shown by the inept way he handled the Sky reporter), I don't think he's stupid enough to knowingly undermine a result by trying to disrespect us. He obviously tries to disrespect us in words, but they cost nothing.
I imagine he thought Salah and Mane could do an effective job, and then put the others on to finish us off without being overly exposed to the conditions and having played midweek.
Jay Wood
162
Posted 12/12/2017 at 13:12:44
I really don't get the questioning and doubting some have about Dominc Calvert-Lewin.
He is clearly highly regarded at Everton. Even last season under Koeman, he was frequently selected for the match day squad ahead of the likes of Mirallas and Valencia, even though he was only 19.
This season – still only 20 – he has been a virtual ever present, contributing 6 goals and 6 assists across all competitions. He has excellent movement, showing, chasing and harrying for the ball across the width of the park. He has excellent control plus the ability to shield the ball well, Sharpesque-like. He is a good header of the ball. He has shown time and again he can take on and beat a man in tight quarters, with good pace to carry him away from chasing defenders.
For someone of seemingly slight build, he handles the physical aspect of the game very well. Indeed, he displays canny game craft, as witnessed by his winning of the penalty Sunday and in seeing Kyle Walker sent off at City.
More than anything else he needs to sharpen his finishing skills, but again, he has already demonstrated a cool head and clean finishing. He needs to raise his consistency levels in this area.
By comparison, as an 18-year-old he scored 8 goals in 26 appearances on loan at Northampton. At the same age Harry Kane scored 5 in 18 on loan at Leyton Orient.
At 19 Kane scored 9 in 27 on loan at Milwall in the championship. At the same age, Calvert-Lewin was playing exclusively for Everton in the Premier League, scoring 1 in 11 (mostly as sub).
At the age Calvert-Lewin is now, Harry Kane was loaned out to both Norwich (Premier League) and Leicester (Championship) scoring 3 goals in 20 appearances all up.
Kane was a barely used squad player on his return to Spurs for a season or 2. His breakthrough year came in 2014-15 when he was 21, going on 22, scoring 25 in 38 Premier League appearances.
Internationally, Kane scored 6 in 14 for England U-19s, 1 in 3 for the U-20s, 8 in 14 for the U-21s. And he flopped at the Euro U-21s when England were eliminated at the group stage and flopped again for the seniors at the Euros last year.
Dom has 6 in 14 for the U-20s and won England the World Cup in the summer. He is currently 1 in 5 at U-21s.
We have a wonderful talent on our books. He strikes me as a serious dedicated professional, intent on going all the way.
Stan Schofield
163
Posted 12/12/2017 at 14:24:46
Jay, excellent post, those facts speak for themselves.
Alex Mullan
164
Posted 12/12/2017 at 14:32:20
I took such great pleasure from Klopp's meltdown. A real sick pleasure.
I can't explain it. Months of frustration just released by watching that slimy git try and argue his way out of a paper bag with the Liverpundits on every station for miles throwing their dummies all around them. (John Barnes was a particular highlight.)
I can honestly say it felt like a win for that reason alone. It actually made me feel smugger because we played quite poor. Am I bitter? Possibly, but who cares.
Brent Stephens
165
Posted 12/12/2017 at 14:41:55
Jay (#162) – with you all the way on Dominic Calvert-Lewin. And I'm impressed by the number of high balls punted up to him that he wins... and not infrequently controls the ball as it comes down off his head. If he had more support (on the field and on TW!)...
Tony Everan
166
Posted 12/12/2017 at 16:28:50
Jay 162
It was a travesty that Solanke got the call-up ahead of Dominic.
Calvert-Lewin has been fantastic and a work rate second to none over the last few months. Never once shirked responsibility during that very difficult period. He is determined and single-minded, a model professional even at his young age. With these attributes he is only going to be better.
We have a potential killer attack in the making with him, Lookman and Vlasic. All have got the class to do it. It will take a bit of time, that is all.
Talking about diamonds, what about Kenny – the lad is improving by the game. At this rate, Seamus will find it hard to dislodge him.
Jon Withey
167
Posted 12/12/2017 at 17:20:03
I love Calvert-Lewin – but watching him head ball after ball to nobody as the lone front-man was painful and a little pointless.
Hope he has more support around him for the next game and can build up some partnerships.
Jay Wood
168
Posted 12/12/2017 at 17:32:15
We certainly need reinforcement in Calvert-Lewin's position.
I know it's a low-key 'attraction', but the FIFA World Club championship is being played this week. The first semi-final between Gremio of Brazil and Pachuca of Mexico has just kicked off.
For any one interested or watching the game, look out for Gremio's number 7, Luan, who plays as a central attacker. He plays for the national side, but is down the pecking order (naturally) behind the likes of Neymar, Jesus and Firmino.
Here in Brazil, he is regarded as the best player currently playing in the Brazilian league. Not sure about that myself, but he is a very tidy player. Worth a look.
James Hughes
169
Posted 12/12/2017 at 17:41:05
We played like amateurs but came away with a point, they are moaning like nobody's business about how unfair and unjust that is.
Better to play bad and get a point than be awesome and lose , in this game at least. If we play like that every week then we need to question the management, again.
People seem to forget that we have changed playing styles in a relatively short time from-
Moyes = KIPTAP1 – defend, press, erh... end of tactics
Martinez = we are Barca, pass like them and don't defend or press
Koeman = The Project , not really sure what he was trying to achieve
Rhino = FFS, come on.stop leaking goals like as Sunday team
Allardyce = Well we know what to expect, but let's wait and see
Throw in shed loads of players in's and out's and now, as they say - It Is, What It Is !
I really don't care that we got lucky, as it was better than losing and if the RS want to moan. Well we can teach them a few things about unfair and unjust, Ah sorry, we are bitter,
Add Your Comments
In order to post a comment, you need to be logged in as a registered user of the site.
Or Sign up as a ToffeeWeb Member — it's free, takes just a few minutes and will allow you to post your comments on articles and Talking Points submissions across the site.