No question for Allardyce over derby penalty but Klopp fumes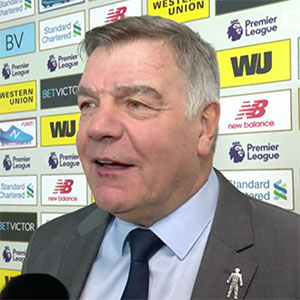 Sam Allardyce was taking the positives from what he saw as an impressive defensive display in this afternoon's Merseyside derby that saw Everton withstand Liverpool's dominance in possession to grind out a point at Anfield.
The reds enjoyed 71% of the ball in as one-sided a derby as there have been in recent years but they were restricted to just a few clear-cut openings and they failed to really trouble Jordan Pickford in the Everton goal until Mohamed Salah's impressive opener broke the deadlock shortly before half time.
The Blues hung in at 1-0 until the 76th minute when Dejan Lovren's shove on Dominic Calvert-Lewin sent the young striker crashing to the turf and referee Craig Pawson awarded the first penalty to Everton an Anfield since 1988, which Wayne Rooney converted in emphatic fashion.
"It was a huge point," Allardyce said, "because we didn't create much in possession of the ball today which was very frustrating [given] the quality of the players we have.
"Maybe they were a little nervous, a little tentative at the start of the game and I think that set the tone for us not to be as good in possession as we would have liked to have been.
"But our defensive shape as a team was extremely good today and it stopped one of the mist fluent attacking and goalscrting sides in Eurioew at the moment. So credit to the players.
"12 goals in two games they've scored and they've had to score a brilliant goal here today from Salah to get 1-0 up but I can't honestly say they've had too many clear cut chances after that or that Jordan Pickford's had to make a great save.
"So, while we didn't do a lot in possession, we've completely and utterly shut Liverpool down as an attacking force and waited for what had to be just one opportunity through the penalty.
"The referee's had to be very brave to make a decision like that. Personally, I've looked at it [and Calvert-Lewin's been] pushed over, but we've seen those before where it's difficult for the referee to give it.
"But he did, it's the right decision and Wayne Rooney's put it away. After that, whatever they've thrown at us we've [dealt with like we'd done] for the most of the game. We focused correctly and played the game out in the right way."
Pawson's decision was one of much debate by pundits after the game but when it was put to him that the decision was a soft one but probably the correct one, Allardyce argued that there was, "no such thing as a soft penalty.
"He's either impeded or stopped our player in the box from trying to score or shoot. No matter how little or how small [the contact], it's a penalty because it's an infringement on the player."
Jurgen Klopp, meanwhile, fumed at what he saw as a decision awarded for a non-existent foul by his defender and questioned the footballing knowledge of his interviewer in the tunnel after the game before being informed the majority of the pundits in the Sky Sports studio felt it was a penalty.
The German also felt that Gylfi Sigurdsson should have been sent off for what looked to be an accidental stamp on Jordan Henderson in the first half.
"I can't believe that with all the challenges… we were completely clean," Klopp insisted. "We didn't make any fouls but Sigurdsson on Henderson is a red card like in all the derbies I've been [involved in] — there's always one nasty one that they give.
"But after all the challenges in this game, where only one team is playing, to give such a penalty is unbelievable. Calvert-Lewin makes it smart; he makes a step in this direction and even then it's nothing."
When the interviewer stated that in his opinion it was a soft decision but a penalty nonetheless, Klopp laughed sarcastically. "Then we can stop the interview," he replied, "because I only want to talk to people that have a little of an understanding of football."
---
---