Allardyce looking for more from 'surprised' Schneiderlin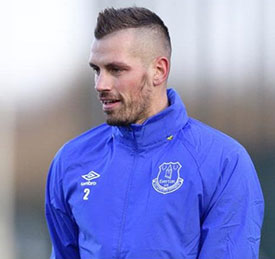 Morgan Schneiderlin has reiterated his commitment to Everton and again indicated his surprise at the negativity that built up around him at the time of his reported ejection from training last month.
Along with Kevin Mirallas, the Frenchman was said to be have either been sent home from Finch Farm for lack of focus or left the Blues' training complex of his own volition after being given an ultimatum regarding their conduct.
While Mirallas has admitted that he acted irresponsibly, Schneiderlin has always denied the reports and urged supporters not to believe everything that they read in the media.
Perhaps because the former Southampton and Manchester United midfielder has been back in the team recently under new Everton manager, Sam Allardyce, the issue was raised again this week and Schneiderlin wasn't changing his stance.
"For myself I was surprised [at the reports] but there will always be some people who are going to believe what they read in the press," he is quoted as saying.
"My only thing is to show them on the pitch that I'm 100 per cent focused. I can assure everyone that I am focused, that I'm just thinking about Everton and to improve the results and myself every day."
"It was the choice of the manager (Unsworth) not to put me in the squad, it was not because I behaved bad or something. It was just a choice for him."
Schneiderlin came on as a second-half substitute against Liverpool almost two weeks ago and was named in the starting XI for the two subsequent matches against Newcastle and Swansea, suggesting that Allardyce was confident he was re-finding his form.
He was substituted in the second half against the Swans on Monday night, however, after which Everton's forward momentum improved, indicating that the new boss still feels Schneiderlin, along with the team as a whole, has some way to go before he rediscovers his confidence and best form.
"I would like to see Morgan hitting the heights of [his time at Southampton] and hitting the heights of last year when he first arrived [at Everton]," Allardyce said.
"That would be the way Morgan would try and get back and get back to his peak performances as quickly as possible.
"If we can help him along the way, we'll obviously do that and our doors are always open to support what he wants to do to get back to that top, top level that he's played at before.
"He isn't quite there yet but he's getting better and better and the quicker he gets back to his old self the better it will be for everybody.
"There's a lot players who have under-performed for one reason or another but if this run hasn't given them the confidence to get back to their best, I don't what more we can do really.
"So hopefully that will come and he'll get selected more and play more and deliver more [of the] performances we know he can.
"Before I came the players were playing it safe because they didn't want to take too many risks and because [of that] we ended up playing negative football, if you like.
"Too many balls went backwards and sideways and then too many mistakes were happening within the team and confidence drained.
"I was disappointed by the first-half performance against Swansea and our negative passing — not just from Morgan but the whole team. We seemed to want to play towards the wrong goal with the amount of balls Jordan Pickford was kicking.
"So, it's positive football, positive passing and Morgan being a key member of that that will get us going forward and in behind defences and hopefully scoring more goals."
---
---